Are you deeply attracted to a clean white-coated sun-lit wall that you feel is elegant and appealing? Alas! You could not find the shade you desire for your wall, a dazzling white look. Simply White OC-117 might be the option you've been looking for.
Numerous homeowners use the cozy, sophisticated Simply White Benjamin Moore OC-117 for their siding, ceiling, cabinetry, and casing. In 2016, it was named Benjamin Moore's Color of the Year. The "OC" in the color label indicates that Simply White is a component of Benjamin Moore's Off-White Collection. It has a definitively greyish tinge blended with an undertone of creaminess. Technically speaking, it is a yellowish-white, which places it in the yellow zone of the palette table, although it is intensely bright.
To determine whether Simply White by Benjamin Moore is the appropriate color for your house, continue reading this article.
Know the Color-Simply White Benjamin Moore Oc 117
Many house owners like the pleasant and fashionable shade "Simply White (OC-117)" for their home exterior and interior, shelves, moldings, and ceilings because of its bright hue. It earned the distinction of 'Benjamin Moore's Color of the Year' in 2016.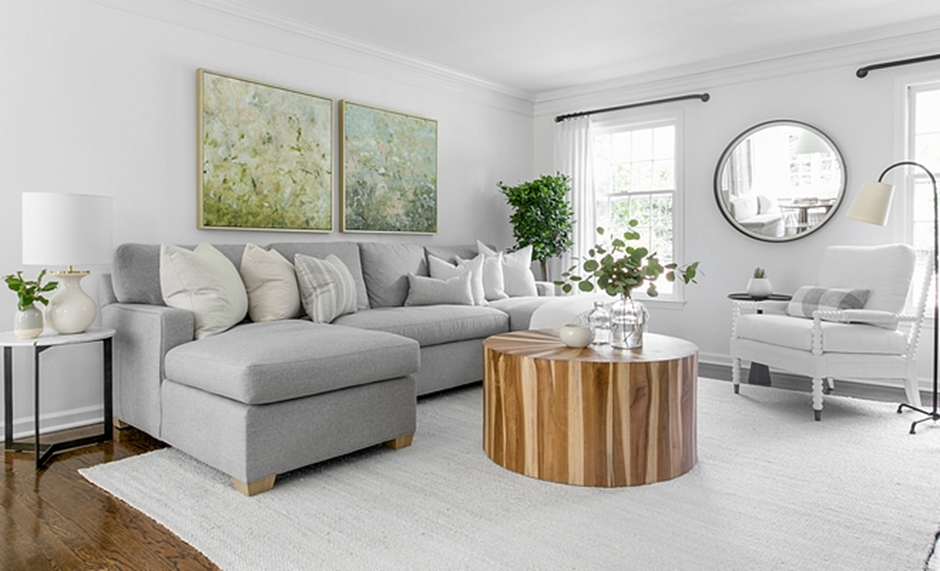 Lrv of Oc 117
The shade has a fascinating, crisp off-white tone, enhancing the brightness in a dimly lit room. Simply White illuminates the room because it contains an undertone of yellow. Its Light Reflectance Value (LRV) is 9.7, a unit of measurement for measuring the level of brightness (LRV = 100) or dimness (LRV = 0) of a color. Simply White is really an impressive shade since it is the lightest and brightest possible color.
Warm or Cool
Every color falls into one of two categories: warm or cool. Red, yellow, and orange and their blends are warm colors. Cool hues include blue, green, and purple. In accordance with their undertones, gray and white can also tilt toward a warmer or cooler shade.
Poetically, Benjamin Moore illustrates the Simply White. They say it's clean and crisp, like recently fallen snow. Besides, it is a color that suits any room or space. If you're interested in using Simply White paint, you may want to know what kind of white it is. Is it a warm or cool white?
According to its creator, it is a cozy white. In the right setting, particularly in south-facing spaces, you can notice its yellow undertones, which give it a warm character. It becomes possible due to the presence of warm southern light. Since northern light has a tint of blue, Simply White may exhibit more subtle warmth in north-facing spaces or spaces with dull lights.
You need good indoor lighting to make it pop. Additionally, it is an adaptable shade that complements a variety of hues. Now you know why Simply White is one of the most widely used warm white paint colors this decade.
Color Pairing with Simply White
The adjustable off-white paint color OC-117 complements a wide range of other hues from Benjamin Moore (BM). The colors green, blue, gray, beige, earthy colors, red, and yellow act fantastic with Simply White.
Always make sure you are comfortable with the color combination by testing it in the space and lighting where it will be used.
1. Green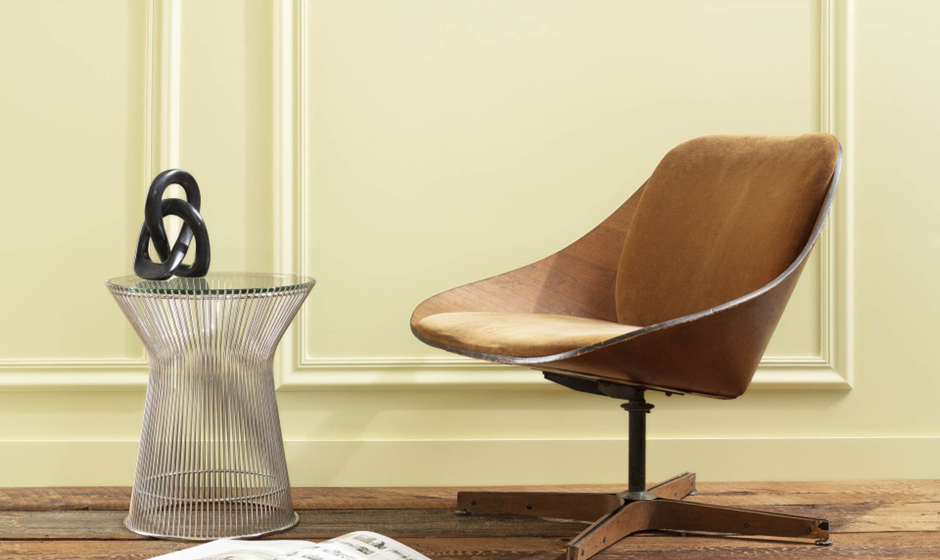 Turkish Bay Leave (CSP-885) and New Lime(2025-30) pair beautifully with Simply White. While New Lime is a vivid yellow-green for the interior, Simply White is a warm white with a yellow undertone. If you want a high-contrast look, they can go well together.
2. Blue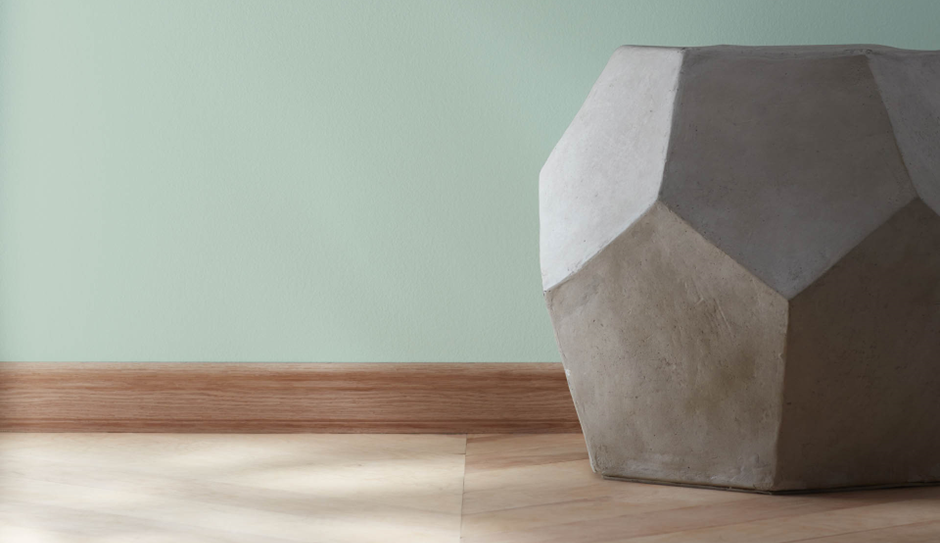 Combine shades of blue like Baltic Sea (CSP-680), Majestic Blue (2051-40), or Florida Keys Blue (2050-40) as an accent against Simply White. The light blue creates a subtle, serene look when compared with this white shade.
3. Gray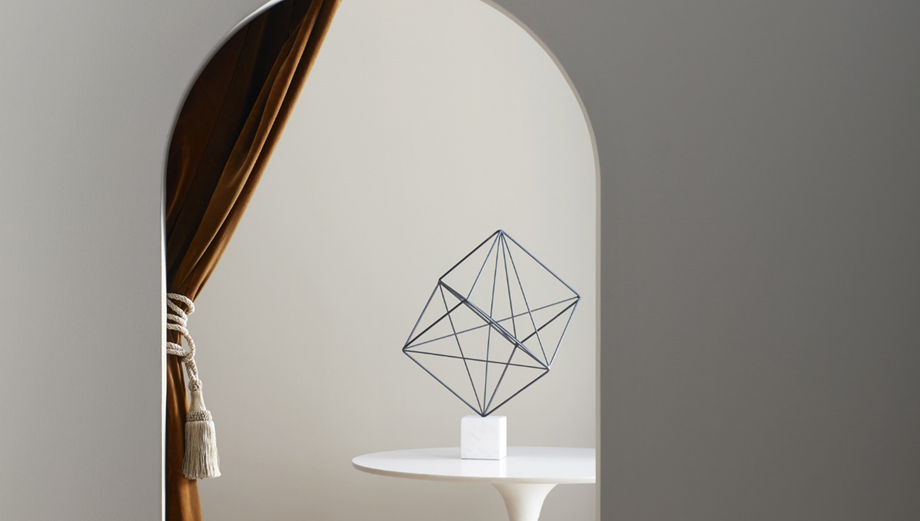 Shades like Cumulus Cloud (1550), Gray Horse (2140-50), and Rockport Gray( HC-105) go well with Simply White. Create a cozy, welcoming space using different hues of grey with it. Gray Horse is a good choice for trim.
4. Neutral gray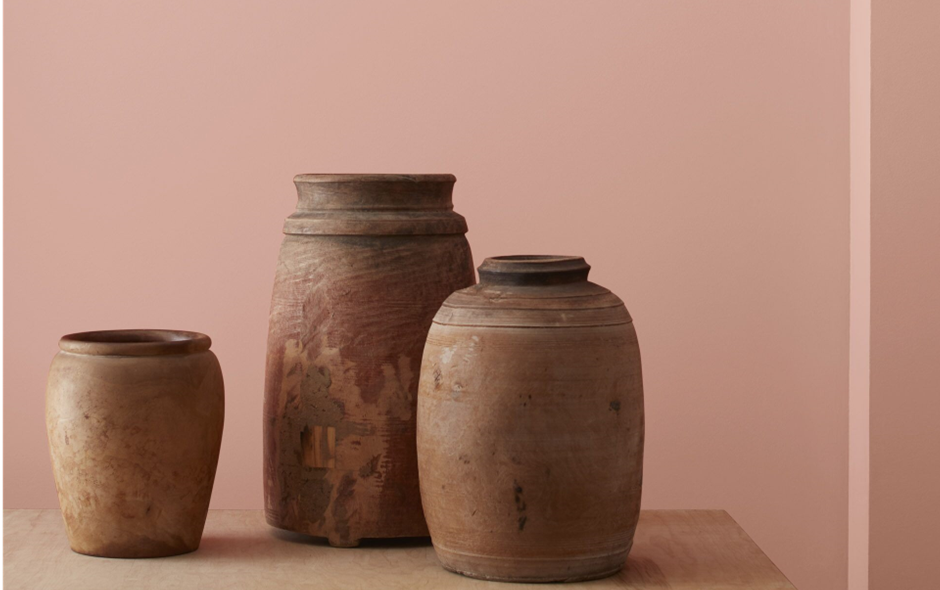 Any neutral gray or beige will appear restful and elegant when coupled with Simply White. Pair neutral gray hues, such as Ciao Bella (1187), Early Sunset (2096-70), or Pale Cherry Blossom (2101-60), for an eye-catching view.
5. Red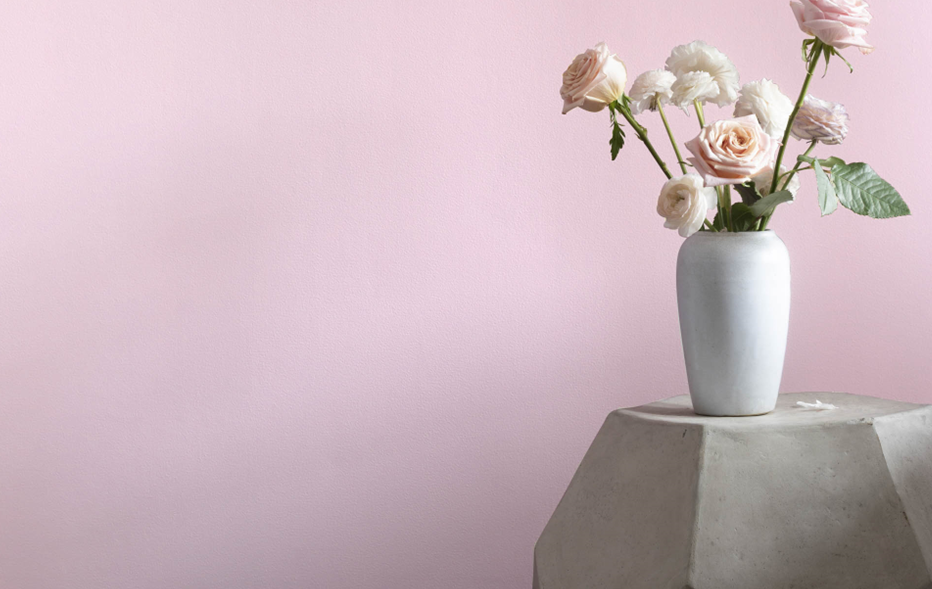 You may try some of the popular hues of red paint that pair well with white shade. They are Nursery Pink (2076-70),Tropical Rose (1355), and Rosy Peach (2089-20) for your home. Brilliant pink color Tropical Rose can give off a strong, tropical vibe when coupled with this shade.
6. Yellow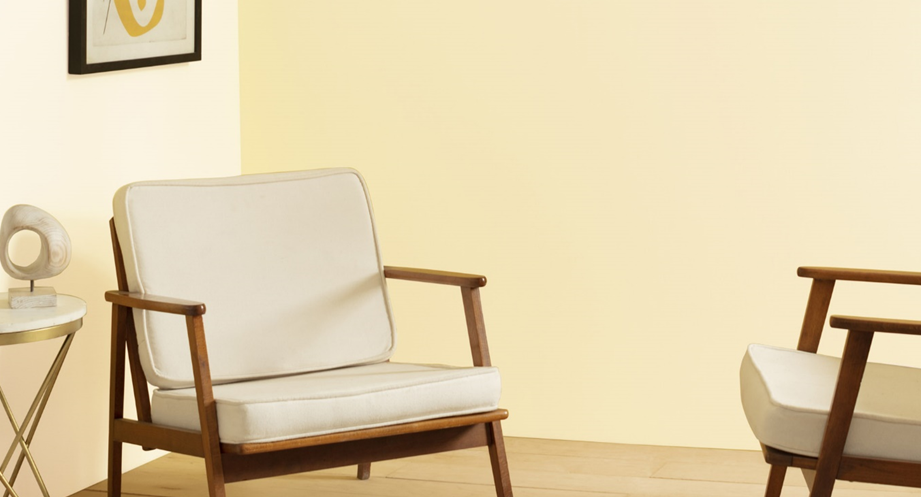 Combine Simply White with Concord Ivory (HC-12), Windham Cream(HC-6), or Hawthorne Yellow (HC-4) for a visual delight. For instance, Windham Cream is a soft, beige color with warmth and looks beautiful with Simply White.
7. Earthy Hues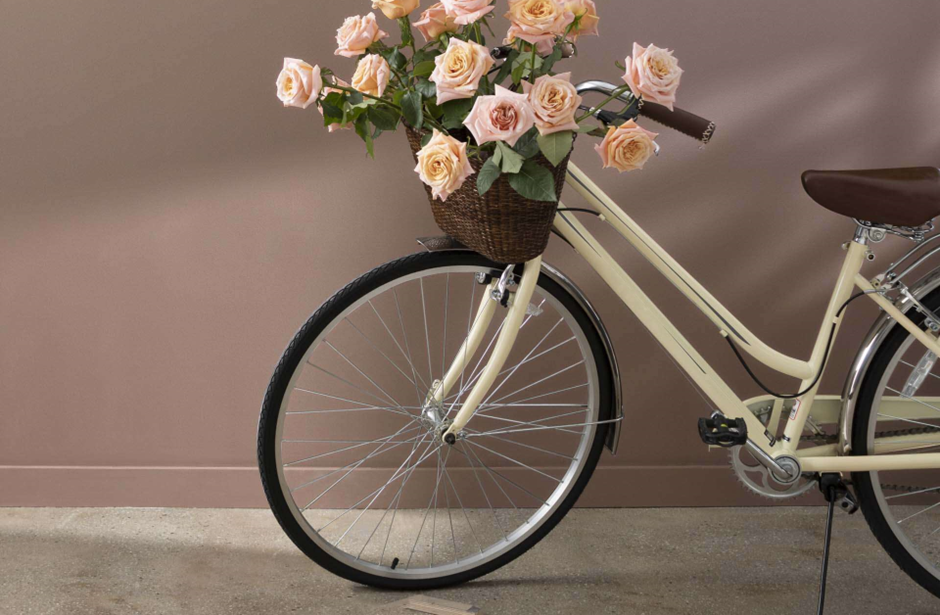 Simply White complements warm earthy hues well. The medium brown shade of BM Cougar Brown or rich-hued Earthly Russet creates a visual balance of colors in a space. Apply Cougar Brown on the walls and White on the ceiling for a unique look.
Home Decoration Ideas with Bm Oc-117
Do you need a dollop of creative color inspiration with Simply White? We present here some fabulous wall-coating ideas with this versatile white shade. You may apply the same for any part of your dwelling exterior or interior. Let's begin with the living room idea, followed by the bedroom, kitchen, bathroom, home office, hallway, and many more!
1. Living Room
BM OC-117 can display a calm and serene vibe against darker decorations and furniture in a living room of any size. It has appropriate matchups with browns, blacks, and warm earth tones. Additionally, you can create a hint of green with hues like BM Intercoastal Green and Newport Green. Black, brown, or other warm earth tones go well with it.
Simply White, gray, blue, and rusty hues are dominant throughout the decoration. Two oval off-white chairs resembling a compact igloo appear adorable and comfortable. A fluffy couch that is stylish yet welcoming with delicate detailing and excellent proportions, along with two chic armchairs, all contribute to the room's artistic appeal.
The grey-white wallpaper enhances the brightness of the white wall of the family room.
2. Bedroom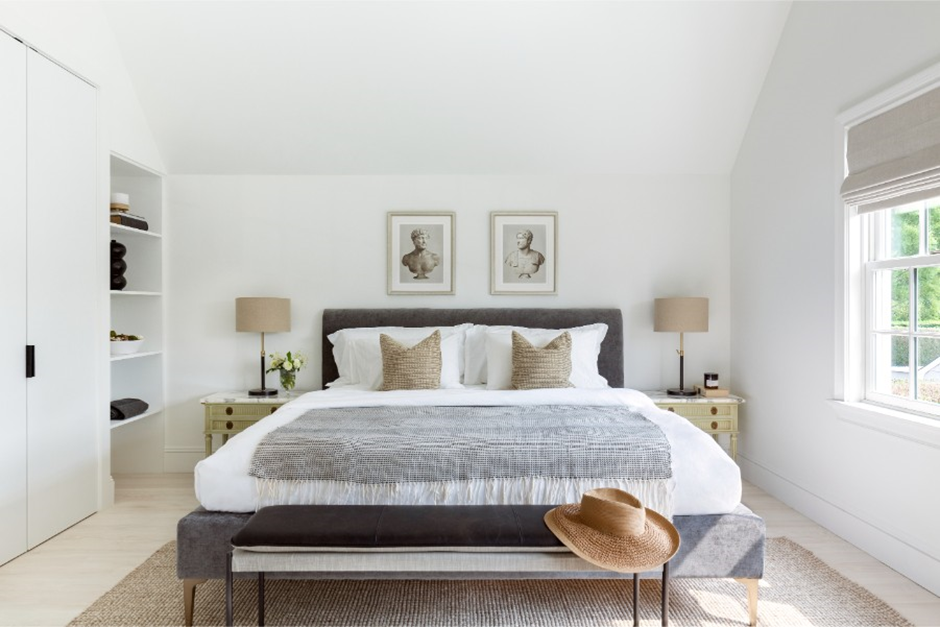 In a bedroom, Simply White can foster a tranquil and restful atmosphere. Combine it with neutral gray hues. Colors like BM Pale Smoke and Beach Glass can create a warm yellow vibe with Simply White.
The bedroom is the best place to unwind and rest. You start and finish every solo day in the bedroom, undoubtedly this particular space you genuinely adore. Your mission of redesigning your bedroom may seem daunting, although it isn't as knotty as you think.
Our recommendation is to stick to the fundamentals and embrace the classic color white rather than muddle up your remodeling arrangements with a variety of hues and designs. A white-on-white bedroom is a peaceful zone that appears both contemporary and comfortable.
Molblly Twin Bed Frame with Adjustable Headboard, Linen Fabric Wrap, Strong Frame and Wooden Slats Support, No Box Spring Needed, Non-Slip and Noise-Free, Easy Assembly, Dark Grey
Adjustable Headboard: The headboard can be adjusted to 42-47 inches in height, suitable for an 8-14 inches mattress. It is made of high-quality linen fabric and wrapped with high-resilience memory foam. The high-density foam is soft and breathable, bringing you a comfortable backrest experience.
Sturdy and Durable: Molblly bed frame is made of high-hardness metal and high-quality wood with high-density foam wrapped around the side, with support brackets in the middle of the bed frame, which can be up to 900lb. Which can effectively prolong the life of memory foam or spring mattresses, no box springs are needed.
9 Support Points: Compared to other bed frames, molblly bed frame provides 9 supportive feet increasing longevity. Equip with foot pads at the bottom of the bed feet can effectively protect your beloved floor from scratches.
Noise-free Design: the slats of this upholstered bed frame are specially designed with velcro to prevent friction. in addition, the foot of the metal bed frame has non-slip feet pads to protect the floor and reduce noise, giving you a quiet and comfortable resting environment.
Easy to Install: Assembly in 30 minutes. We package the entire bed frame in a box. For all installation parts and instructions, please unzip the headboard. If you have any questions, please contact us by clicking the "Contact Seller" button. 5-year worry-free warranty.
3. Kitchen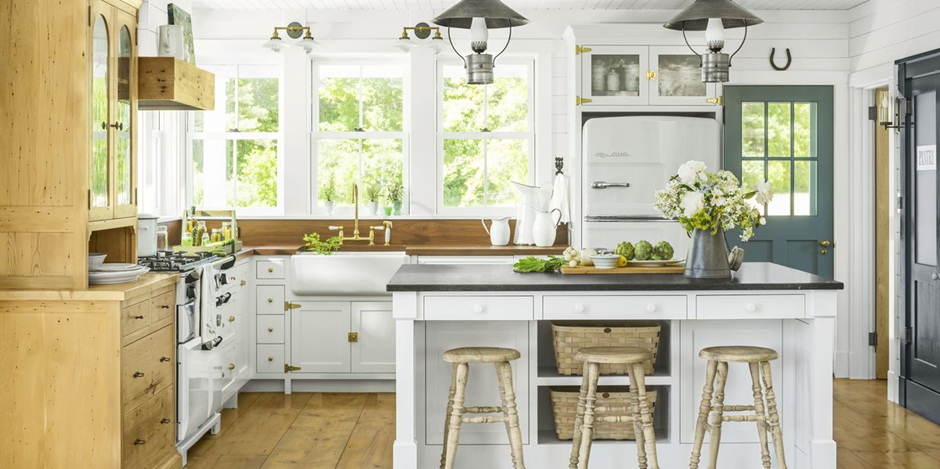 Besides walls in kitchens, many people choose Simply White for kitchen cabinetry and window trims. It complements gray hues like Dove Wing, Casco Bay, and Silver Satin.
Shades like Crystal Blue, Bird's Egg, and Tranquil Blue are good options for adding a hint of blue. You can design the cooking space of your imagination by starting with a white color arrangement.
Since Simply White is a multi-purpose shade, you can get any style you wish, an instance, a cozy and rustic home kitchen, an attractive and organized cottage-styled or the coastlines look, or a more contemporary setting. White as a wall color is particularly advantageous for narrow and petite kitchens because it helps to brighten the area while making it feel and appear spacious.
In this picture, the Simply White beadboard layout on the ceiling and shiplap walls perfectly display a country home ambiance. Floor tiles and the shade above the cooking range made of recycled painted pine give the space a warm feel. The accents, like two gray-hued suspended lampshades and bright lamp bulbs, arrest the diners' vision.
Sale
SEEBLEN Farmhouse Semi Flush Mount Ceiling Light,Wood Grain Metal Industrial Ceiling Light Fixtures for Dining Room Hallway Entryway Porch Laundry(2 Pack
Farmhouse Style Design: SEEBLEN ceiling light features a handcrafted faux wood grain finish that exudes a rich rustic country style. The open cage maximizes light while casting beautiful shadows on the ceiling, adding a touch of ambiance to your home.
High Quality: The industrial flush mount light is made of high quality sturdy metal, durable, no need to worry about quality, longer life can help you save the time and effort to replace the lamp.
Easy Installation: Hardwired, the hardware needed to install the hallway light is included in the package to ensure smooth installation,Dimension: 5.8" x 5.8" x 8"(L x W x H); Ceiling Canopy: 4.3" in dia. Please confirm the size before purchasing.
Wide Application: The minimalist design of the black ceiling light makes it suitable for modern and rustic home decor. Perfect for kitchen islands, hallway, stairway, laundry room, bedroom, living room and even outdoor spaces under roofs such as porches and gazebo.
Recommended Bulbs: Standard E26 base, can be matched with basically any medium E26 base bulb for CFL, incandescent, LED, halogen, etc. Recommended Edison bulbs if you want to add a vintage touch to your space. Maximum wattage 60W. (Bulb not included)
4. Bathroom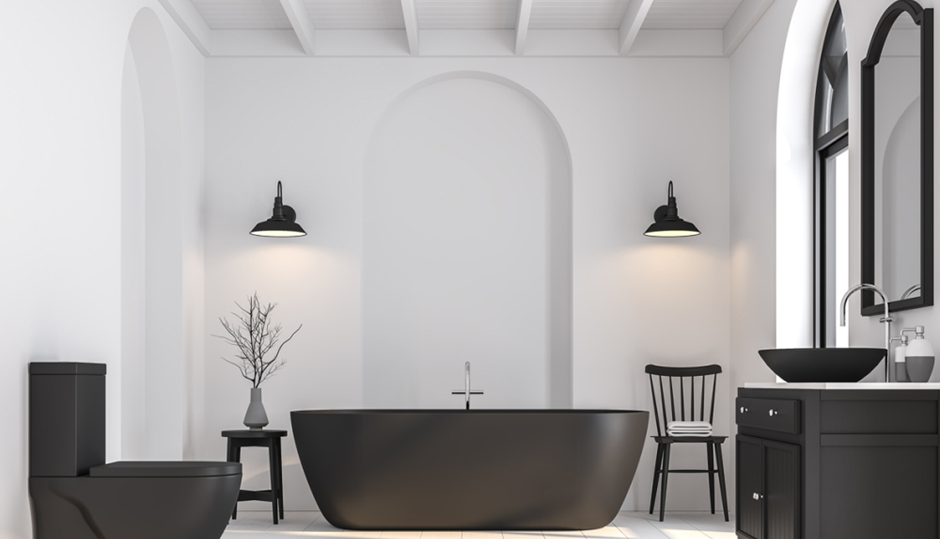 A bathroom can have a fresh, modern look by using Simply White. For a layered look, combine it with other off-white or white hues. Additionally, you can add a splash of blue with colors like Crystal Blue or a trace of gray with colors like Silver Satin.
The bathrooms have smaller space than other rooms, though you wish it to look stylish while viable. Choose a black-and-white color scheme in demand in contemporary bathroom designs. Look for sleek, fashionable bathroom components similar to the layout shown in the picture if you enjoy modern design. The black oval standalone tub, vessel basins, and cabinets are simple picks. They are well-liked by both owners and design professionals.
The white coating of the ceiling, flooring, and walls creates the impression of space and brightness in this bathroom. This optical illusion also benefits from an expansive mirror and bright wall-mounted light sources.
5. Home Office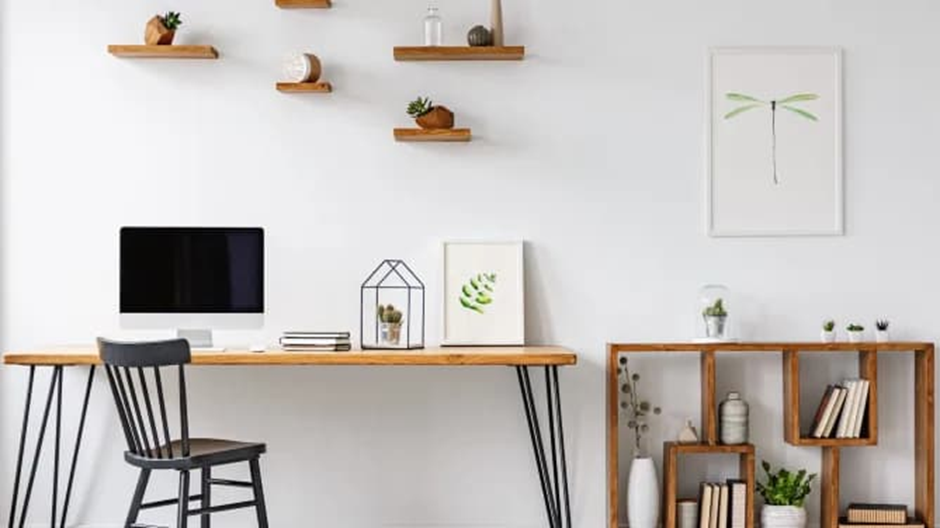 In your at-home workplace, walls with Simply White coatings bring out a light and spacious atmosphere. Combine it with hues like Somerville Red or Dove Wing. Make it more elegant with colors like Newport Green which adds a hint of green to make the environment lively.
Even though you don't have a spacious and separate work area, you can create your home office setting fashionable and practical. The key is to create an exclusive zone within the room. If you choose Simply White for your wall color, decorating your room will be facile.
You can build a beautiful, coordinated space ideal for a smaller office by making floating shelves from the same wood. Place your documents and files in order on the cube storage shelves nearby your desk.
If working near a window interferes with your ability to concentrate, place your workspace slightly inside the room. Add gray-hued floor-to-ceiling curtains to enhance the look of the space. Neutral gray works well with BM OC-117. If your room is spacious, a big floppy rug will make the room look cozy. Create a relaxing area with a comfy Chesterfield that offers you to read or take a short nap.
6. Hallway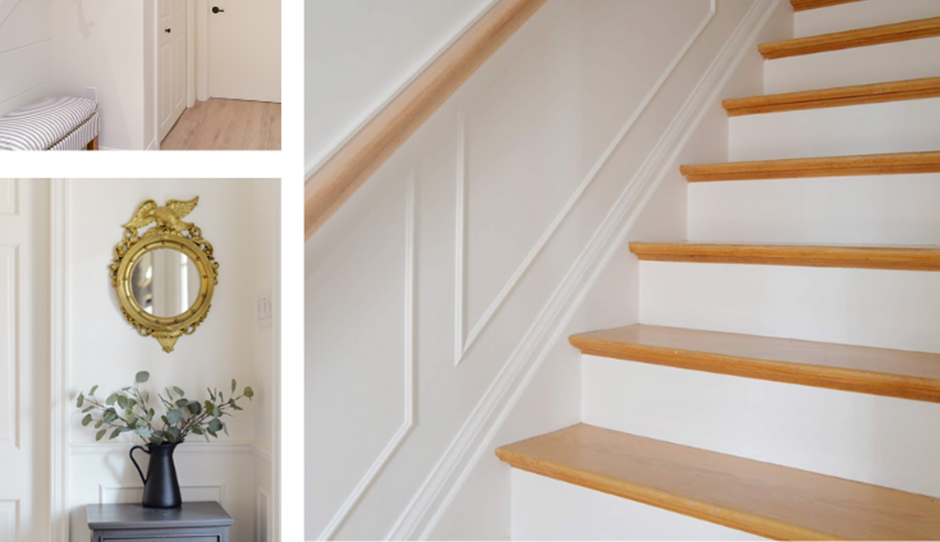 Simply White can make a hallway look harmonious and spacious in a minimalist setting. For a tidy and contemporary appearance, apply it across the walls. Additionally, if you want to give a different look to your hallway, apply Somerville Red. It will add a unique charm to the space with a dab of pink.
Many homeowners notice that their stairwell appears dark and complain about a power issue. What if the actual reason is the wishy-washy paint on your walls rather than the wattage problem of your area? Next time, while renovating your home, choose the most ideal bright and inviting shade for your hallway walls, the award-winning shade, the BM Simply White.
Your dissatisfaction with the chandelier that glows over your stairwell, as you believe it doesn't cast enough light, will go away forever. Since there was no power issue, the brightness will be more than enough with the freshly colored white walls. Design the upper surface of the steps with wooden panels. Hang a beautiful antic mirror in the hallway corner to enhance the brightness.
7. Exterior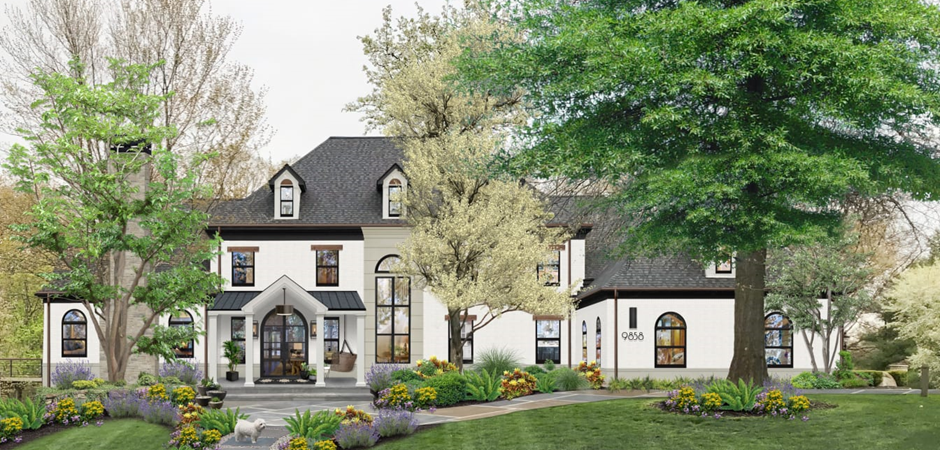 You may hardly find exterior paint shades for homes as versatile and radical as a bright, pure white. It's one of the reasons why BM Simply White Paint won the 2016 title of the color of the calendar year. It has since enjoyed the status of one of the company's best-selling products. This trendy shade can make an impression when used liberally to cover your entire home or sporadically to highlight details.
BM OC-117 complements practically any architectural style thanks to its subtle warmth. It can stand out as the primary shade of paint in a farmhouse or beach-styled villas or as a bold accent to darker or more organic tones in stylish and luxurious contemporary homes.
This shade is bright enough to highlight outside specifics like siding and molding, despite being combined with different shades of white paint. This adaptable color contrasts with other hues of whites that have rich undertones to the fullest.
The homeowners applied BM OC-117 on their conventional home's exterior, giving it a more contemporary look. BM's shade Winterwood, a combination of green, gray, and neutral hues, enhances the curb appeal with the stucco and siding finish and complements the 2016 winner incredibly.
Conclusion
The article discussed the various advantages and features of Simply White. True to the label, Simply White Benjamin Moore is an excellent color scheme. The color exhibits a uniquely white glimpse with a warm vibe enough to stand out from a distance.
Yet, as in every paint evaluation, it is also associated with personal taste, and what one person considers too vibrant or just proper could be different from your opinion. You can, therefore, verify a substantial amount of this coating on the walls or brick to see how it responds to the varying lighting indoors or outdoors.
We would love to hear from you. Please share your 'Simply White' experience with us in the comments.