A stairway picture gallery wall is an amazing way of transforming your home and making it an eye-capturing spot. It uplifts the whole stair area and gives a new look and a perfect way of adding your memories and experiences in the form of photographs and embracing your preferred arts works.
But hanging a stairway picture gallery wall in a systematic order with proper alignment can be tricky and challenging but never an impossible task, so don't worry.
Here are we to guide you little by providing you with proper instruction so that you can give your home an outstanding stairway picture gallery wall which will give your different home style furthermore will reflect you in the form of art and will grab the attention of one who will walk through it.
So, let's start this journey together and learn how to hang an eye-capturing stairway picture gallery wall.
Guidelines to Elevate Stairway Picture Gallery Wall
Here are a few steps which you can follow to achieve an eye-capturing yet systematically aligned stairway picture gallery wall that will become the center of attention of your house and eyes that will see this spot will be admired by your creativity.
Step1: Planning is Smart Before Hanging
Planning is the most important and will give your stairway picture gallery walls a proper structure. Choose a proper design for your gallery wall picture before hanging it; otherwise, you will end up digging holes in your wall, which might be a problem for later. Find the style in which you want to hang this will help you find the proper frame size. And go with the pattern only. Do not try to mix more than one style; otherwise, it can be problematic and confusing.
Let's Plan to Hang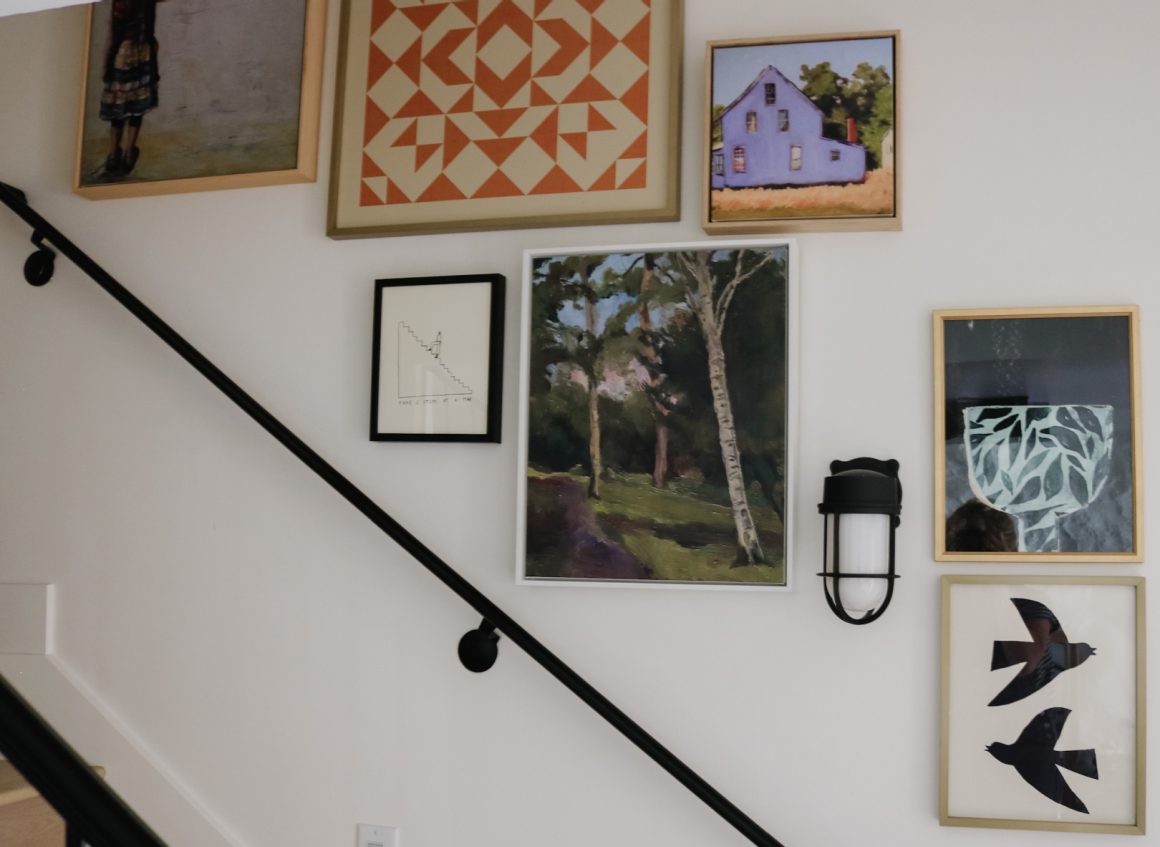 You can first make a pattern on the floor or table which you thought of hanging on the wall. First, assemble all the frames and try to give them a structure or pattern of your choice, and visually imagine how they will appear on the wall.
Planning a proper layout before hanging is a smart move that will help you in achieving a proper stairway picture gallery wall.
Before drilling the nails on the wall, use painter's tape to paste the template of the frames you want to hang so that you get a pattern for your stairway wall and outline them using a pencil.
This can give proper shape to your stairway picture gallery wall.
Another important thing to keep in mind is that before hanging a stairway picture on the wall, It is important to measure the size and space of your wall and, according to that, select the type and size of frames, or your wall will look congested.
Find the shape of your gallery wall, either its symmetrical or asymmetrical. This can also give you an idea of different patterns suited for walls.
For a visually appealing stairway picture gallery wall, go with the theme. Opt for them according to your choice, be it vintage-inspired, aesthetic, monochromatic, black and white. This will guide you to achieve your desired theme by choosing the right kind of frame and image.
Step 2: Assemble All the Necessities and Equipment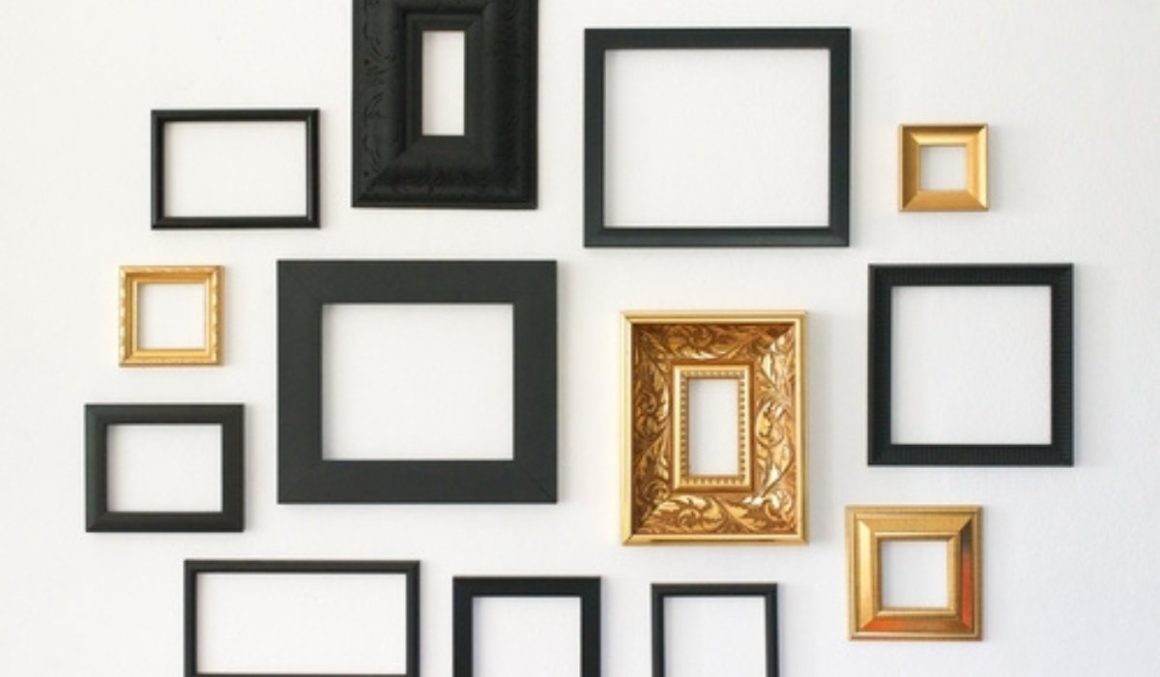 For creating any kind of stairway picture gallery wall, it is very important to gather all the important equipment and materials that, include frames, nails, screws, hammer, drilling machine, pencil for marking, pictures, and the frame you desire
According to your themes, choose your frame and picture but see whether they are complimenting each other or not. The main objective is to make a stairway picture more appealing and creative but also symmetrical.
Remember to gather all the tools and equipment properly before hanging the stairway picture on the gallery wall.
Step 3: Evaluating and Marking
Evaluating the width and the height of your staircase wall where you want to hang a picture is important. Measuring the wall before hanging the stairway picture helps to understand angles in different ways and how it will give a viewpoint.
Understanding Evaluation
Evaluate and mark the Centre point of the staircase; this will help in guiding while placing your stairway picture. A measuring tape can also be used for proper measurements.
Use templates by cutting the paper template of the frame you desire to hang. Use painter's tape to paste these templates on the wall where you are going to place the actual frame.
These can let you change your design until you find a perfect arrangement without damaging the wall; this helps in guiding the proper position on the stairway picture gallery wall.
Once you have made the placement, try to go back and see if the placement positions are accurate or not for stairway pictures. It's important to check frequently before marking those placements.
Marking Ideas
Once the arrangement is done according to your plan and the templates are adjusted, now use the pencil to outline the template so that even after removing the template, the placements are clear.
Once the marking is done, now slowly remove all the templates without damaging the outlines.
This will help in hanging a stairway picture gallery wall systematically.
Step 4: Hanging and Framing the Picture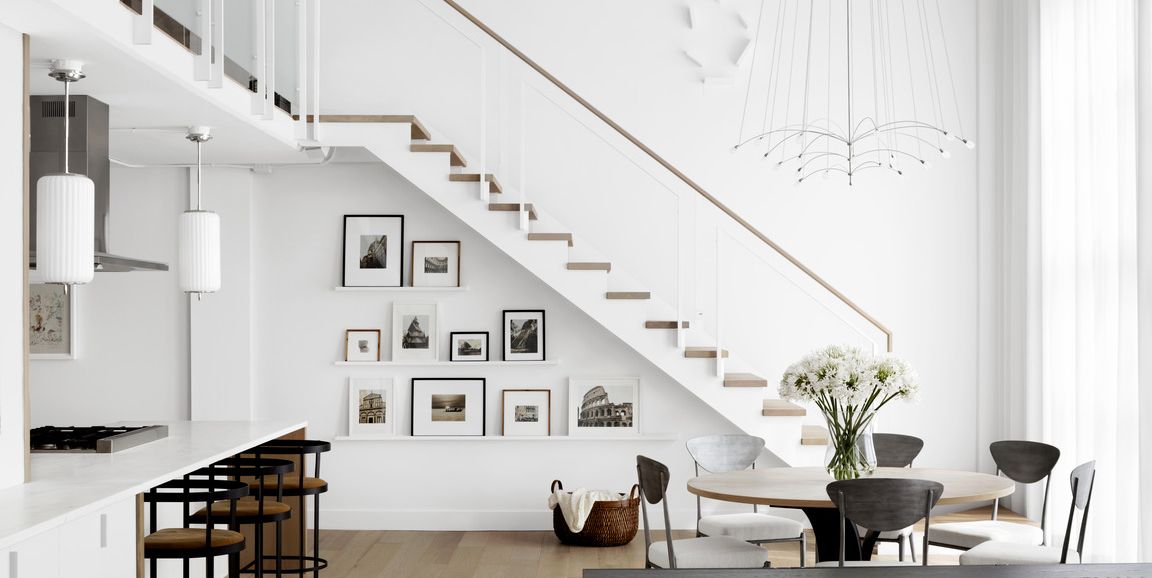 Framing and hanging is the final step. Choosing the right type of frame is very important for the overall look of the wall as well as the home; framing should be done in a way that the picture compliments the overall look of the wall. For a creative and captivating stairway picture, gallery wall framing is important.
Different shapes and sizes of the frame will give a unique creative look to the stairway picture gallery wall; black and white wooden frames and full-color frames with different shapes like oval, round, and square will add life to your stairs.
Hanging the picture in the right manner is important to ensure the proper hold of the frame on the wall.
When it comes to hanging, use a tool for leveling the picture to ensure the stairway picture is straight.
The proper type of hanging hardware for the frame is necessary, and it should be according to the shape, weight of the frame, and type of wall, be it hooks, nails, or wall anchors.
Spacing is important. Try to hang the stairway picture according to the marked spots, and frequently go back and keep an eye on the frame to check the spacing alignments and the overall view of the gallery wall.
Try to hang not so high, not so low, but eye level height for a better view.
Step 5: Adding Different Objects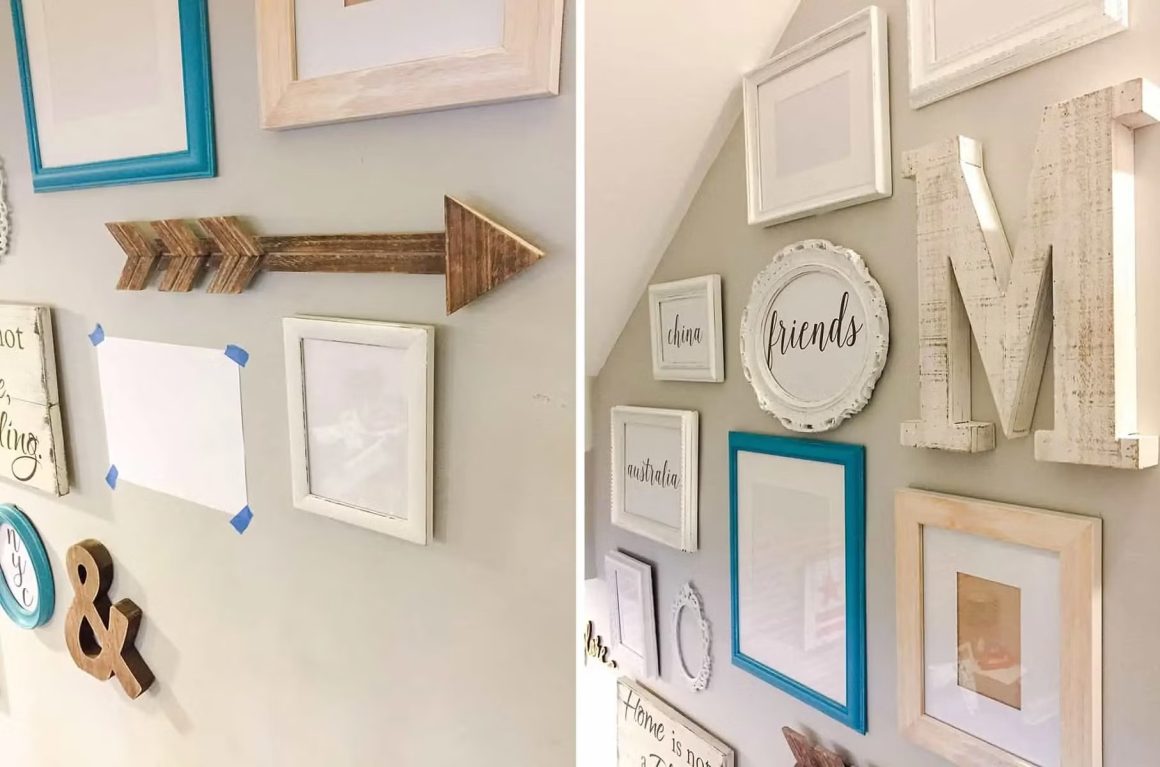 By adding different objects and by accessorizing the wall, you can make the stairway picture gallery wall more creative and captivating. You can decorate it by adding shelves and filling them with different kinds of showpieces. Adding initials and panting.
According to your creativity, add things that will enhance the view of the gallery wall and accessories to your wall by also adding mirrors; this will make your stairway picture gallery wall classy yet aesthetic, but remember less is more, and don't overload anything and keep it minimum.
Be sure that whatever you are adding to the wall should go with them in your stairway picture.
Conclusion
Hanging a stairway picture on a gallery wall is not only a process of decorating your home, but it also reflects yourself through the medium of artwork and creativity. It is surely a time taking process with a lot of patience and dedication but a fun activity once you are aware of the technique; it just requires a creative mind and careful planning to achieve a visually appealing stairway picture on a gallery wall. By following our guidelines, you will be able to achieve the desired stairway picture gallery.
It is important to give time and plan a layout for your gallery wall so it comes out the way you thought of. Once you achieve your desired stairway picture gallery wall, it's time to enjoy your new gallery wall, which is built by your creativity, so go ahead and make your not-so-appealing stairway an eye-captivated stairway with an amazing stairway picture.
Frequently Asked Questions
What Does a Stairway Picture Gallery Wall Mean?
A stairway gallery wall is a beautiful arrangement of artwork, pictures, and other wall accessories, which give your stair a more aesthetic look. The stairway picture gallery wall picture gives an eye-capturing visual point to that particular area.
How Can I Find the Proper Frame for My Stairway Picture Gallery Wall?
Finding the proper size of the frame is important so that the picture gets fits into the wall without looking congested. Find whether your stairway is symmetrical or asymmetrical, further measure the dimension of your wall, and accordingly find the frame for your stairway picture gallery wall.
How Can I Make My Stairway Gallery Wall More Attractive and Creative?
Decorating the stairway in your way can be just more than fun, and it will add more creativity to the wall; you can add different objects on the wall to make it more attractive, like mirrors, initials and showpieces, paintings, and different artwork. It will make your stairway picture gallery wall more attractive and unique.
How Can I Keep the Proper Spacing Between the Frames?
Spacing between frames can be according to your preferences and the size of your frame. But according to guidelines, there should be at least a 2-3 inch difference between you each fame so that your stairway picture gallery wall does not look crowded.