Blue is a beautiful and calming color that is used in various places, for example, dresses, accessories, and walls. From traditional to contemporary, coastal to individual, navy can seamlessly fit into any aesthetic, which makes it a popular choice among homeowners and interior designers alike. Navy paint colors have been a staple in interior design for decades, which offers a sense of depth, richness, and versatility that effortlessly elevates any space.
In this blog, we will learn about the 18 best classic navy paint colors for any home. The shades we have selected encompass a spectrum of undertones, finishes, and intensities to ensure that there is a navy blue that suit every performance. Get ready to transform your home with these beautiful 18 best classic navy paint colors for any home. That will make your place more beautiful and eye-catching.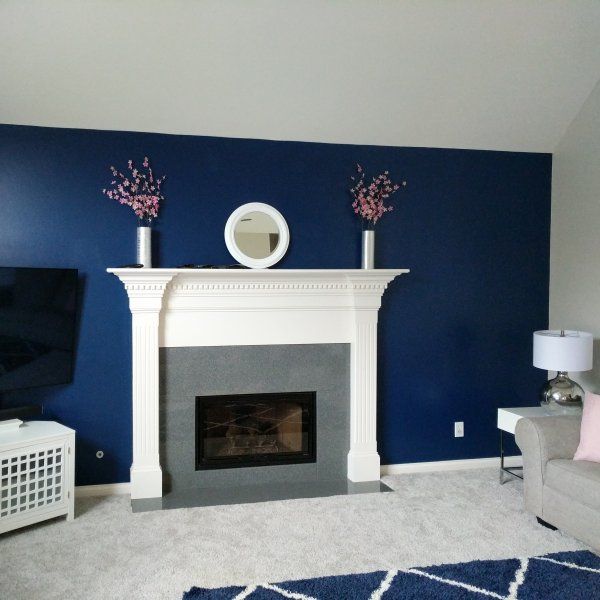 This is one of the deepest blues we are going to talk about right now. The specialty of this color is that it gives your room unique, or you can have a personality of its own. You can have this if you think that it suits or goes well with the vibe of your room or your taste.
The LRV of Sherwin Williams Salty Dog is 5, which helps in giving a bold look to your room if you have a good amount of light. This is what color goes with dark blue.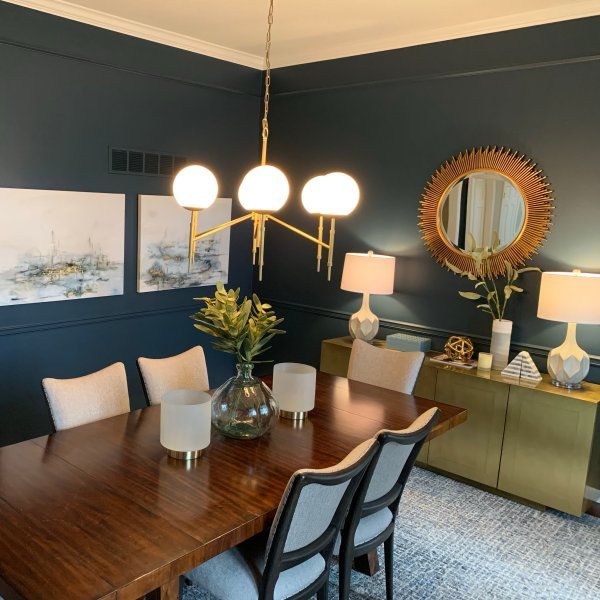 This color is a cool, dark blue giving a bit of a moody shade. With an LRV of 6, it is considered to be very dark. Extra white, shiitake, and Utaupeia are what color goes with dark blue. The especially white color will help highlight the uniqueness of this color. The paint color has a hint of blue as a form of undertone.
This color is suitable for any light conditions and any room. Most people choose this color for their bedroom, but you choose it for the room you want. You can see the above image for reference.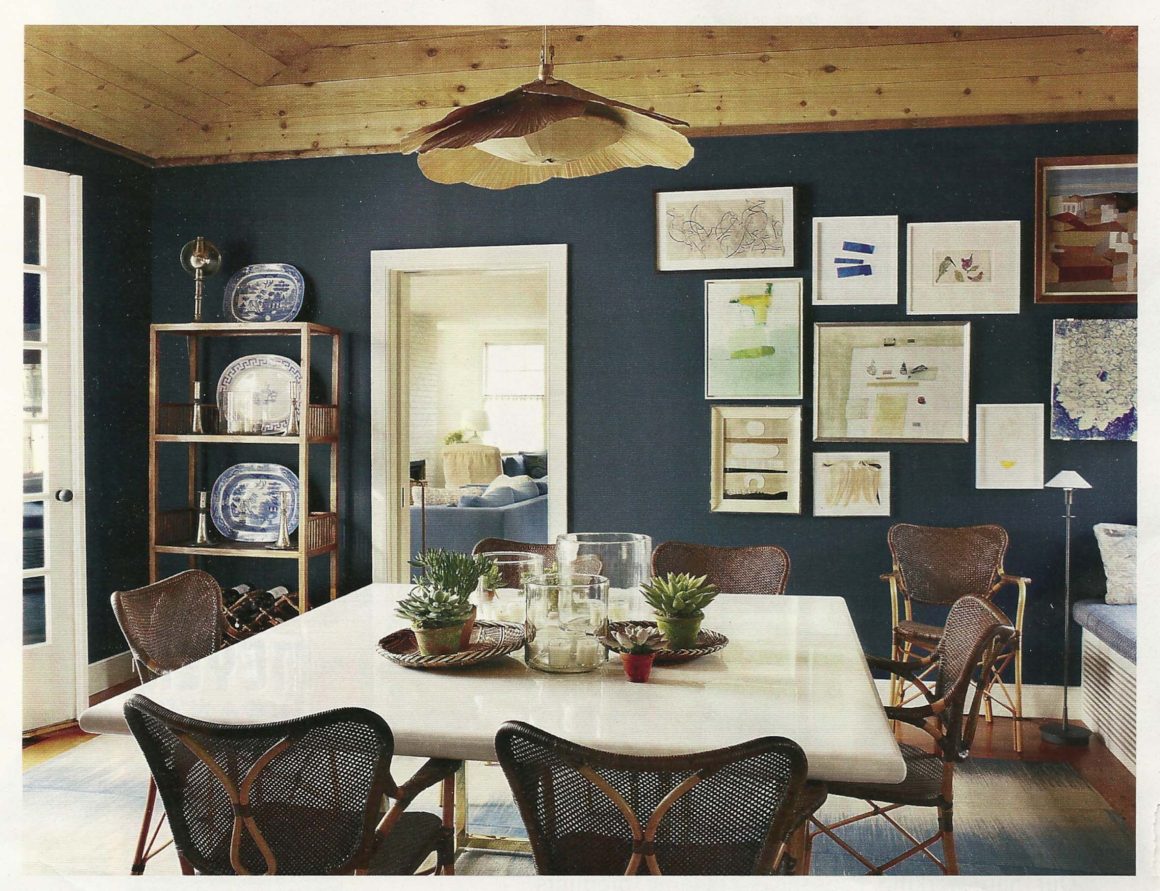 This color is used as a way to achieve sophistication which is a rare scenario. Having an LRV of 5.67, it reflects very little light. It has a strong black undertone which can be seen easily.
It is almost a black navy color that is an ideal option for the corners of the room of the rooms like living room, kitchen, bedroom, etc. White diamonds and instinct are some colors that go with dark blue.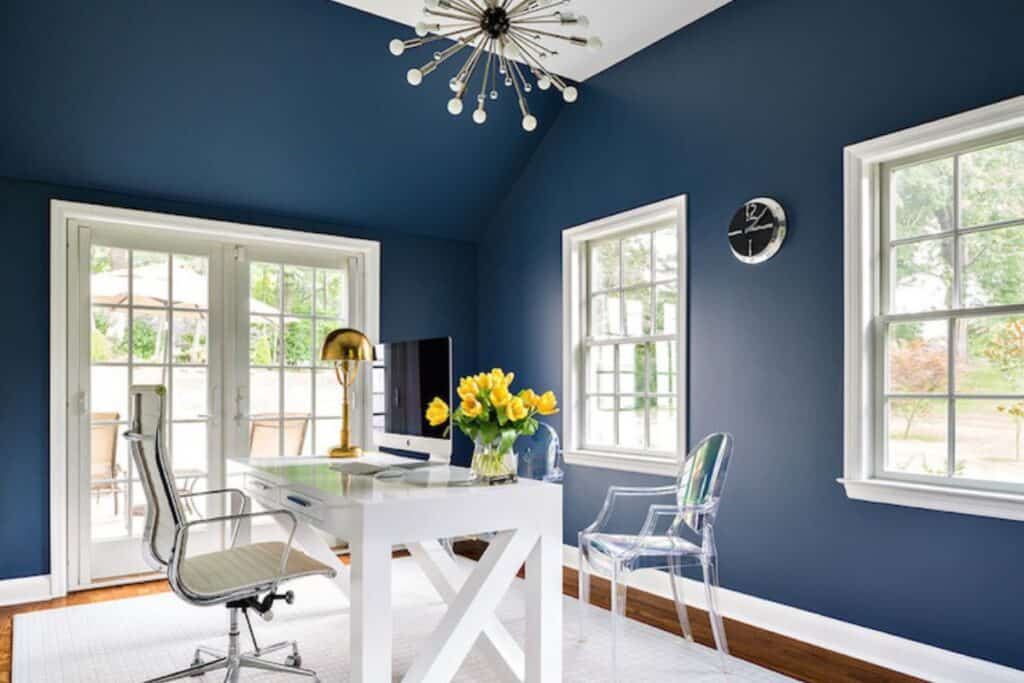 Compared to the above paint color, this color has a high LRV of 12, which means that it reflects more light compared to the above paint colors. This blue has an undertone of gray color because of what it reflects a certain amount of light. Alpine wine and thunder are some colors that go well with dark blue.
The specialty of this color is that it is a perfect blend of traditional and modern colors. Also, it merges perfectly with any modern color it is mixed with. You can choose this color with no worries.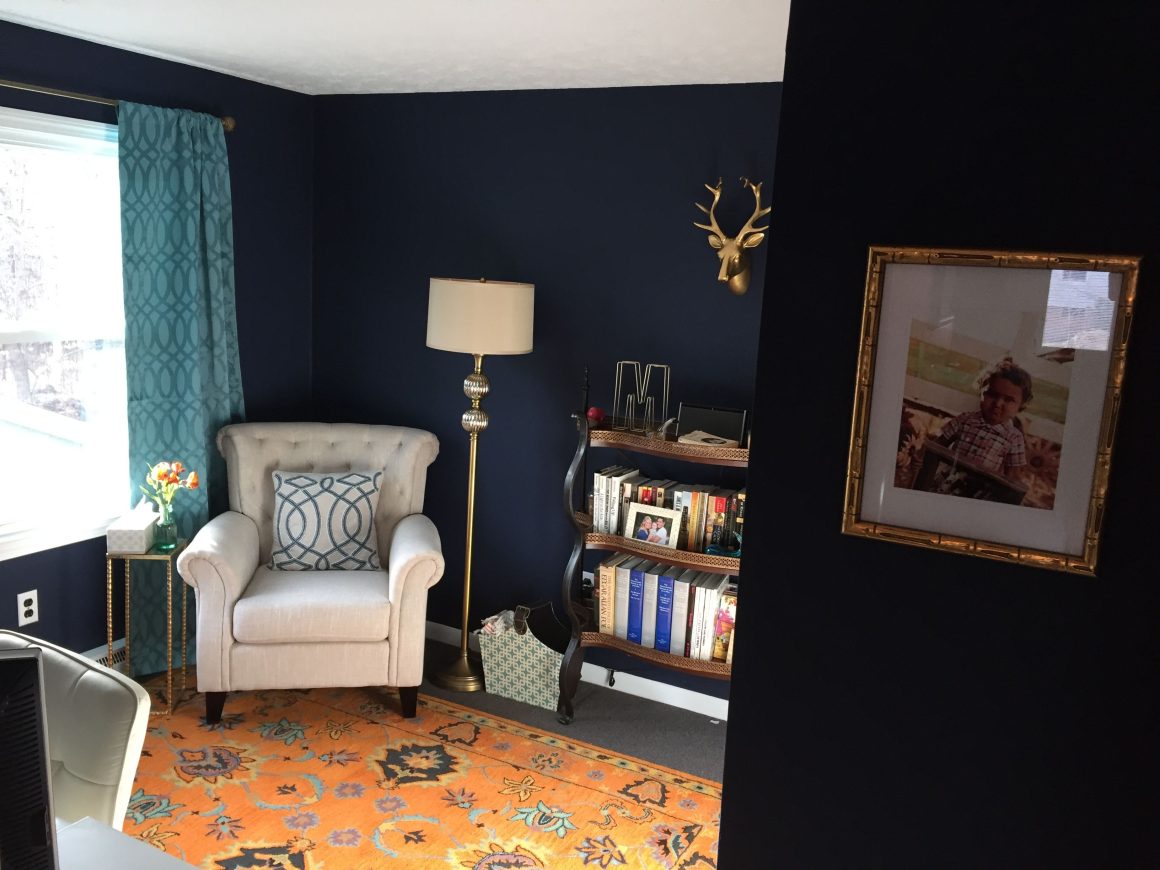 Presenting you with the most popular navy color from Benjamin Moore. It is loved because it's dark in nature and an eye-catcher. It has an LRV of 5, giving it the ability to be less reflective. Depp silver, Luxe, and black bean soup are some colors that go with dark blue. Also, all these matching paint colors mentioned belong to the same company i.e., Benjamin Moore.
The undertone of this paint color hovers between indigo and purple when the light is weak. But if the light is strong, then you can see the real blue undertone.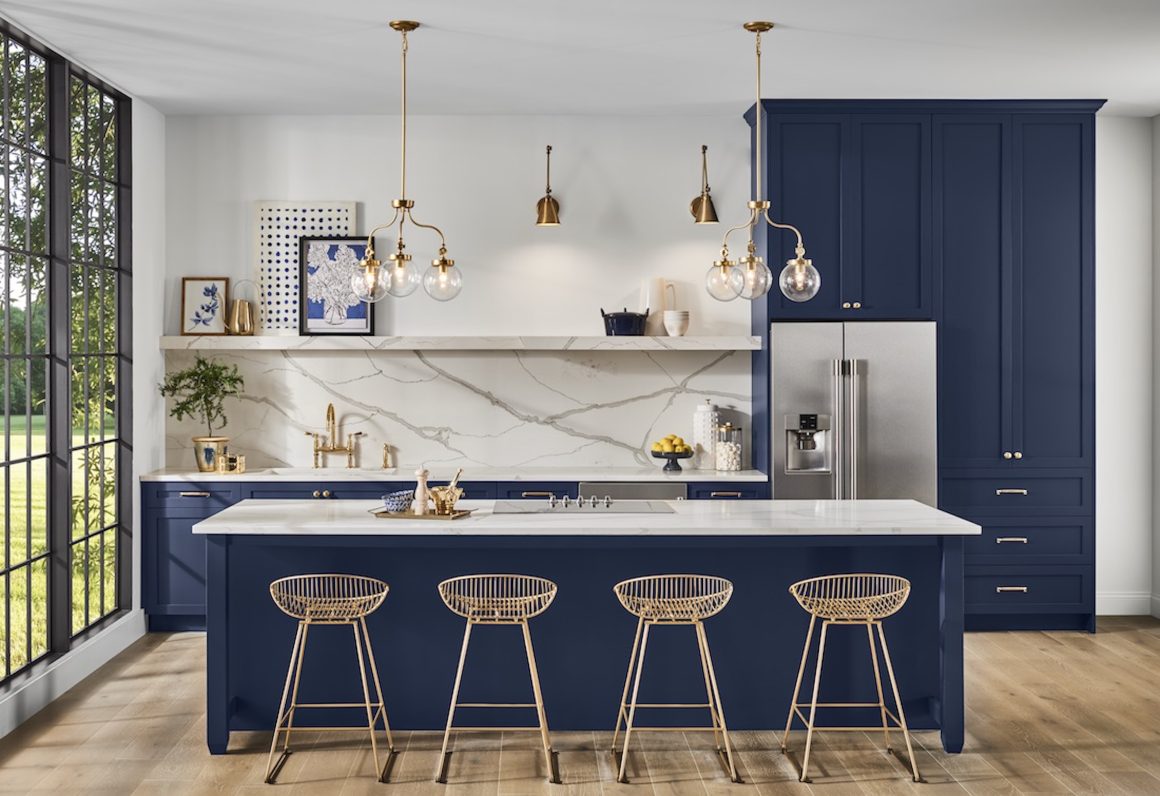 It is a very dark color that offers solidity with this navy blue. This color can be used for offices, living rooms, cupboards, and cabinets. Having an LRV of 4, which is the lowest on our list.
This navy blue Sherwin Williams offers a very dark color to the offices, cabinets, and cupboards. Neutrals like a dirty martini, illusive green, and pure are what goes with dark blue color.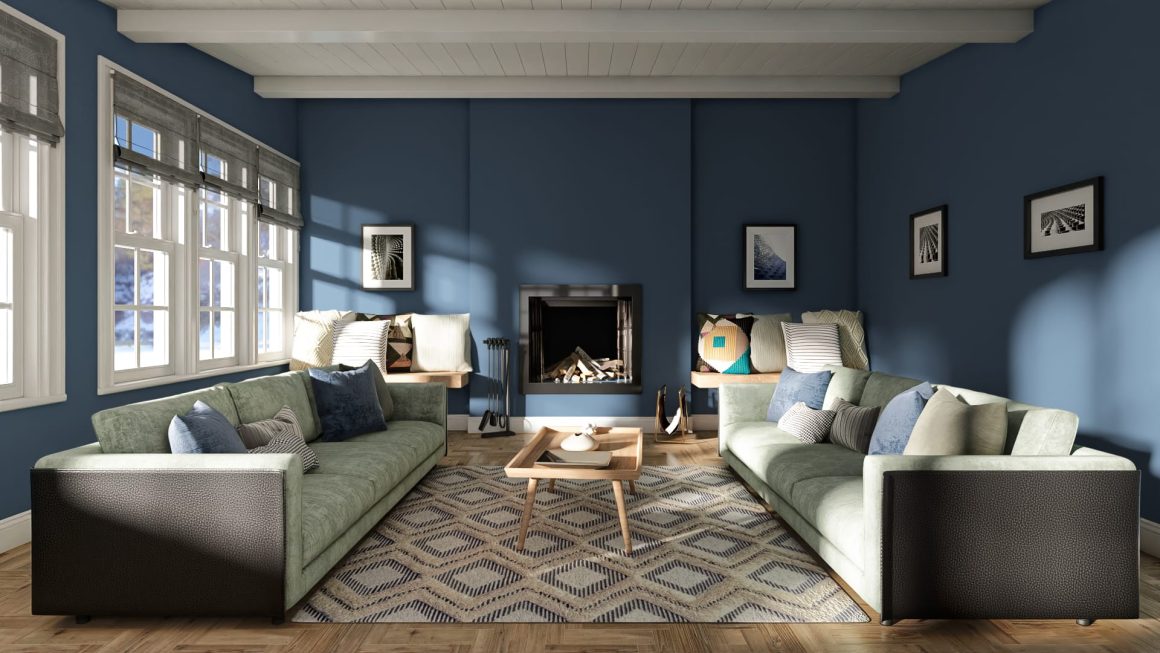 With an LRV of 8, this color lights up a room that gets plenty of lighting and feels cool in dark rooms. This color looks good if you combine them with Icicle, pacer white, or Sands of Time. All these are available in Sherwin Williams. For example, you can paint doors with this navy color and the border with white or any of the colors mentioned above.
This near-black shade of gray gives an impeccably manly aesthetic. You can see the undertones of green, gray, and blue. This paint can be used for both the interior and exterior of your house.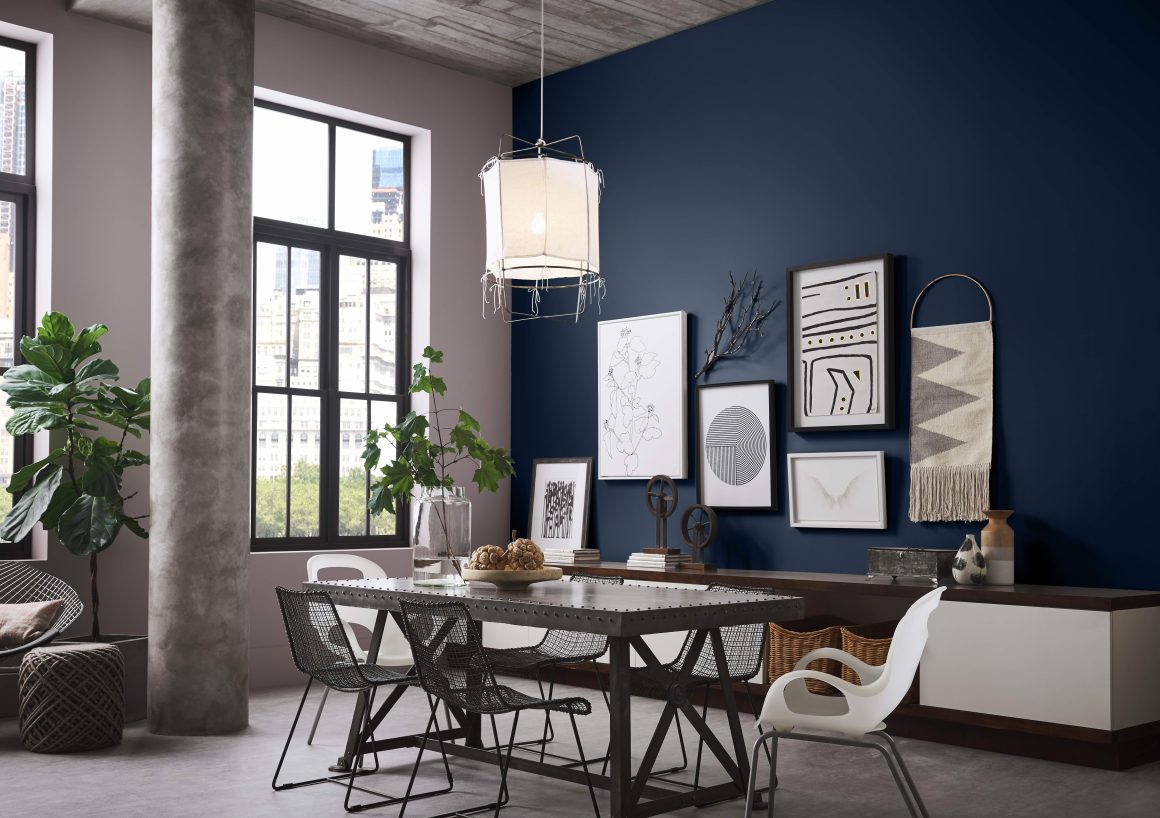 This is one of the most popular colors of Sherwin-Williams in Navy Blue shade. You must use this color if you haven't now. It has an LRV of 4, which makes it look almost black and dark. You can use this color in any room, but we recommend you use it in your living room combined with the colors like Ramie, Roy Croft Suede, and Icicle.
You can also use matching furniture and accessories in your room you have used this color. If you want to keep the coolness down, then you must use some soft colors.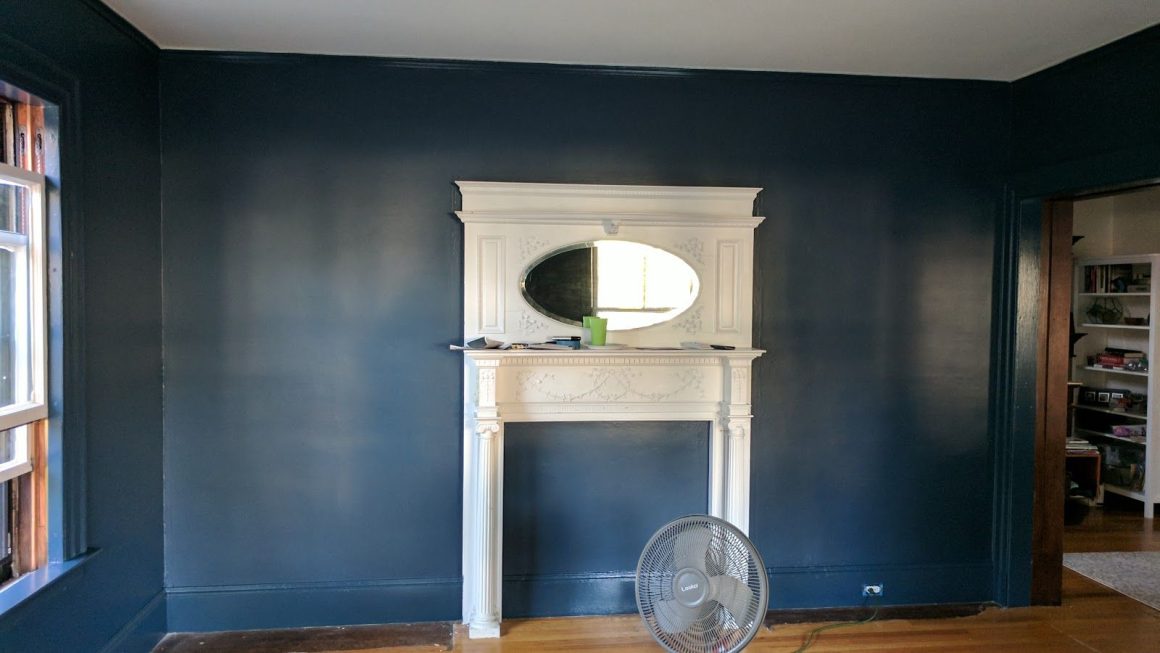 This is a dark blue color with an LRV of 7. This is also very dark and is considered an ideal choice for living rooms and bedrooms. Also, it depends on how must the color is and the matching vibe of the space. This navy blue or dark blue color is different from others as it is more soft and gentle than other navy or dark blue colors.
As it is a color with low LRV, then you must take care of the low lighting in the room. This color goes well with colors like parish white, white diamond, arctic gray, and many more.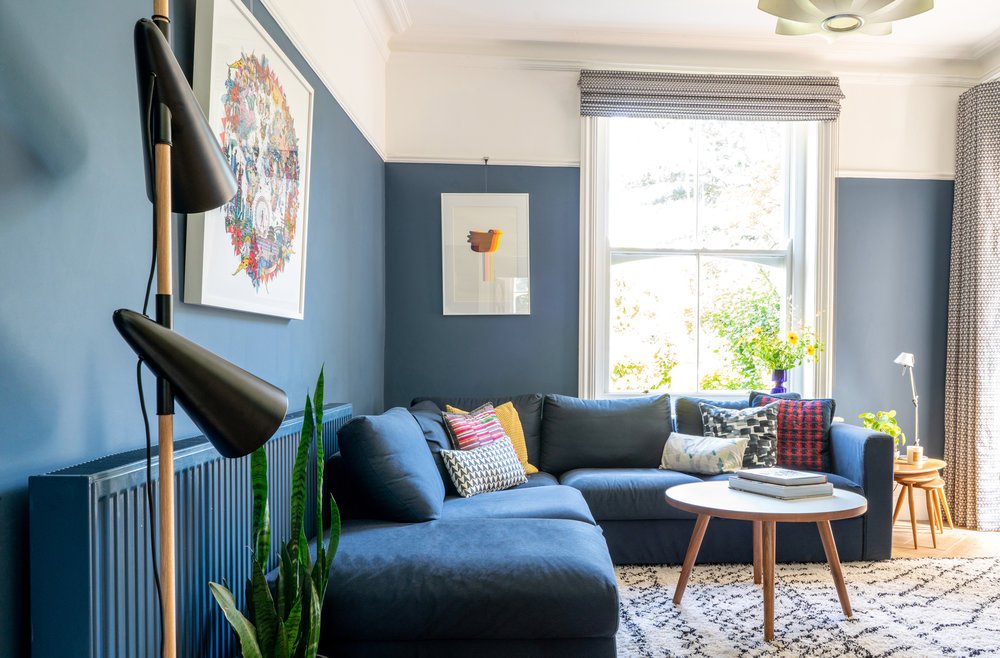 Stiffkey blue color, which is also known as "inky blue" color. This color is not for everyone as the nature of this color is very dark and romantic. Stiffkey blue is a versatile color that goes well with a wide variety of colors and shades.
It goes well with many shades of dark blue color. You can say that it is a color that will create a magical ambiance in your room.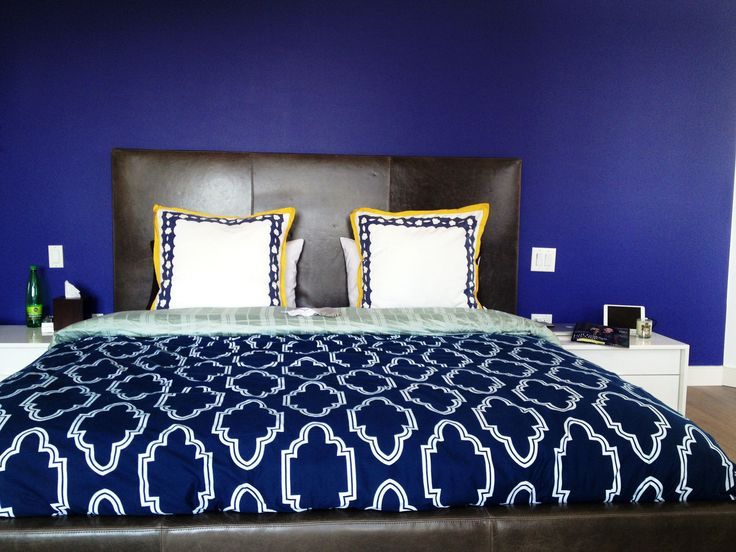 A Benjamin Moore that appears to be captivating navy paint color that deserves recognition for its unique qualities and aesthetic appeal. This particular shade of navy blue color exudes a sense of depth and mystery that represents a starry night sky.
The color instantly transforms a simple-looking place into a beautiful and elegant-looking place.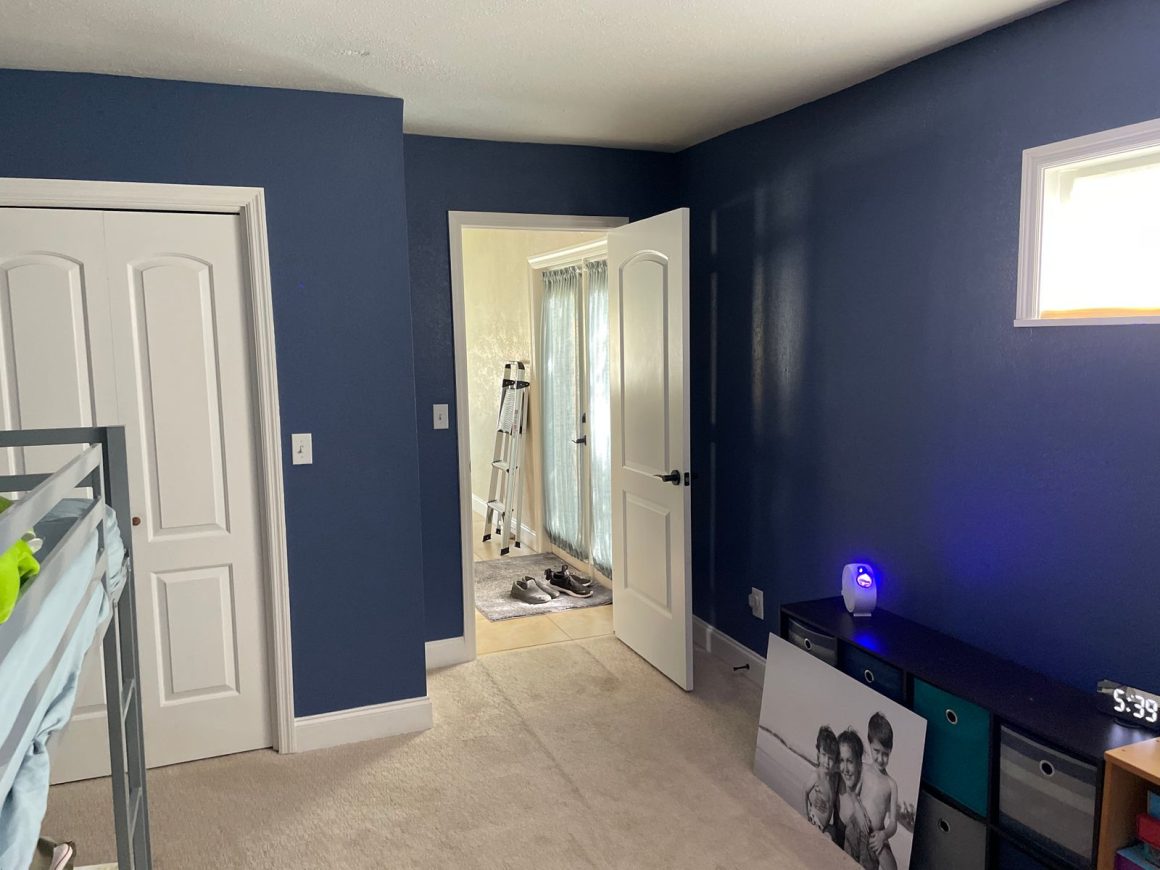 This is a medium-toned blue that comes with a slight hint of gray that gives muted and sophisticated look to the place. Also, it brings a fresh and contemporary feel to any space. This particular color has gained popularity for its ability to create a soothing atmosphere while maintaining a modern edge.
Also, this color belongs to Clare Paint which is known for its high-quality, low-VOC, and eco-friendly formulas, which will be a safe and sustainable choice for your place.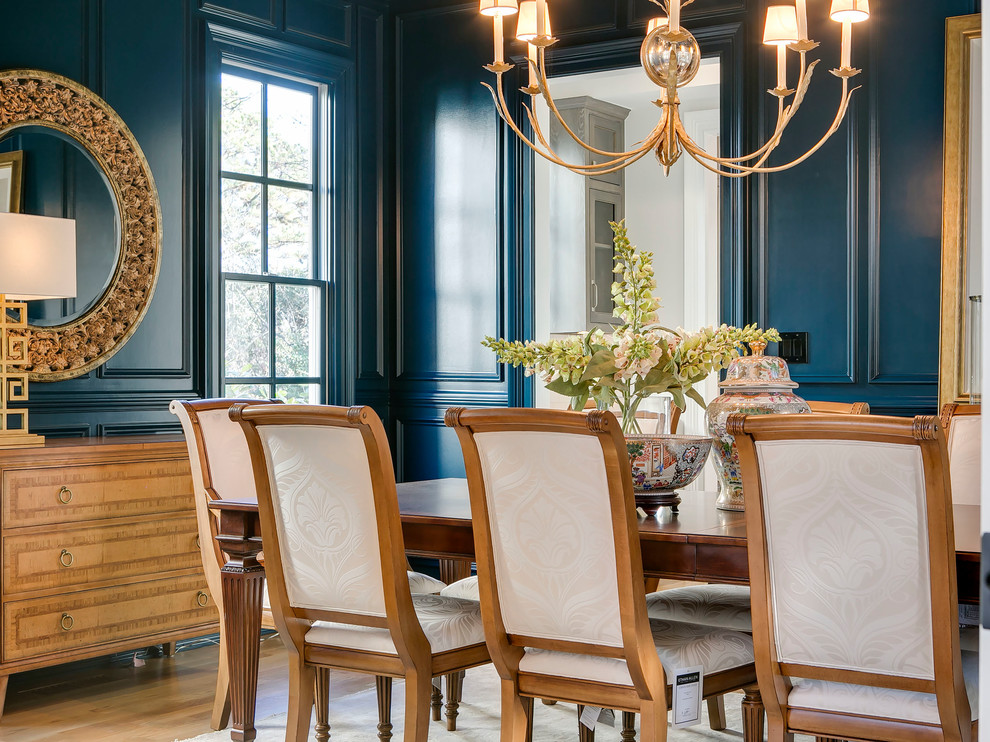 This is a paint color from Sherwin Williams that is clean. Believe it or not, this color is somewhat special in its way. This color is an eye-catcher because of the immense beauty it has in it. With an LRV of 5 and an undertone of green, this dark blue color is dark.
Mountain air and pearly white are colors that go well with dark blue color.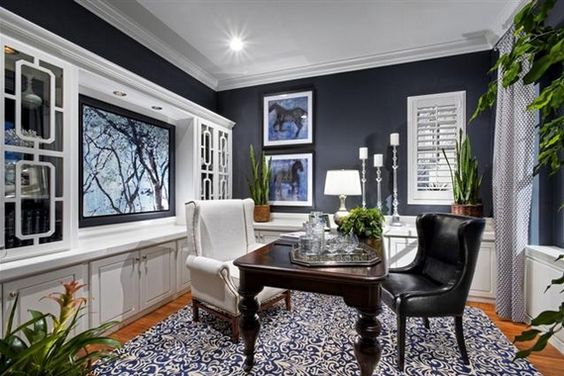 Deep Royal is a masterpiece color that is ultra-saturated. The LRV of this color is low, and it appears to be black sometimes. You can use some light colors as they are what goes well with dark blue.
If you don't want to use deep royal dark blue color, then you can use the paint color Champion cobalt. It is just the brighter and lighter version of Benjamin Moore Deep Royal Paint color. You can get the Champion Cobalt in Benjamin Moore.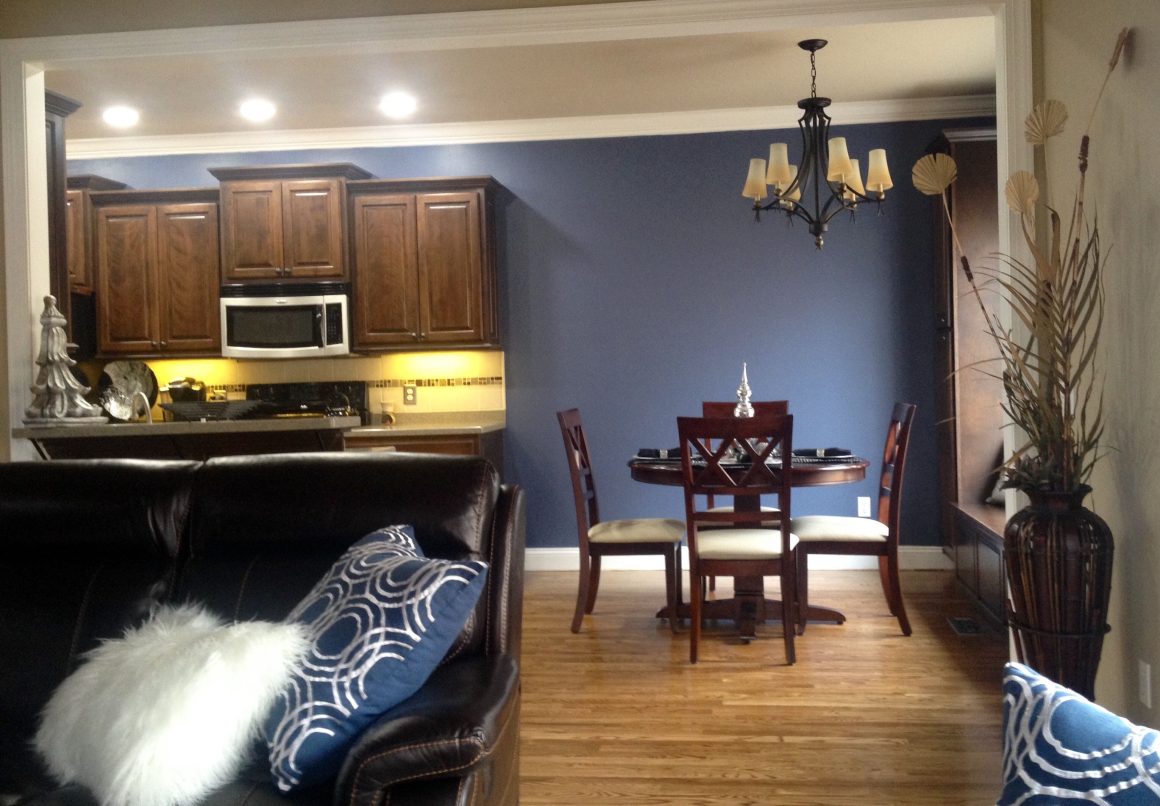 Sherwin Williams Distance is a popular paint color that is offered by the company Sherwin Williams. It is known for its soothing qualities. Distance belongs to a blue0gray family, with subtle undertones of blue and gray that are present in the balanced amount.
Distance is also a versatile color that can be used in various design styles and spaces. The blue undertone here adds coolness, whereas the gray undertones provide a sense of neutrality and versatility.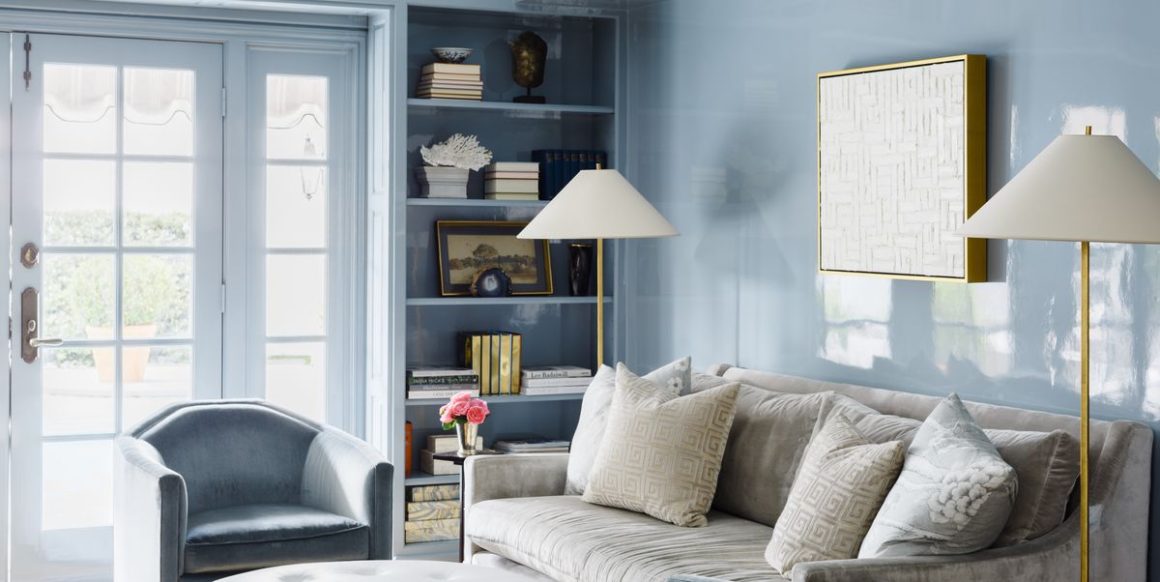 This is a classic and versatile navy paint color offered by Benjamin Moore, a renowned paint manufacturer that is known for its high-quality products. Basic blue belongs to the navy color family, having a unique depth and richness that sets it apart. Benjamin Moore's appeal lies in its timeless and sophisticated nature. Making it popular for both traditional and contemporary design. This color is also a versatile color that can be used as a primary wall color, which creates a bold and dramatic backdrop in the room.
Also, this color belongs to a trusted company called Benjamin Moore which is known for its high-quality products with excellent coverage, durability, and color consistency. This ensures that Benjamin Moore products deliver a long-lasting and professional finish.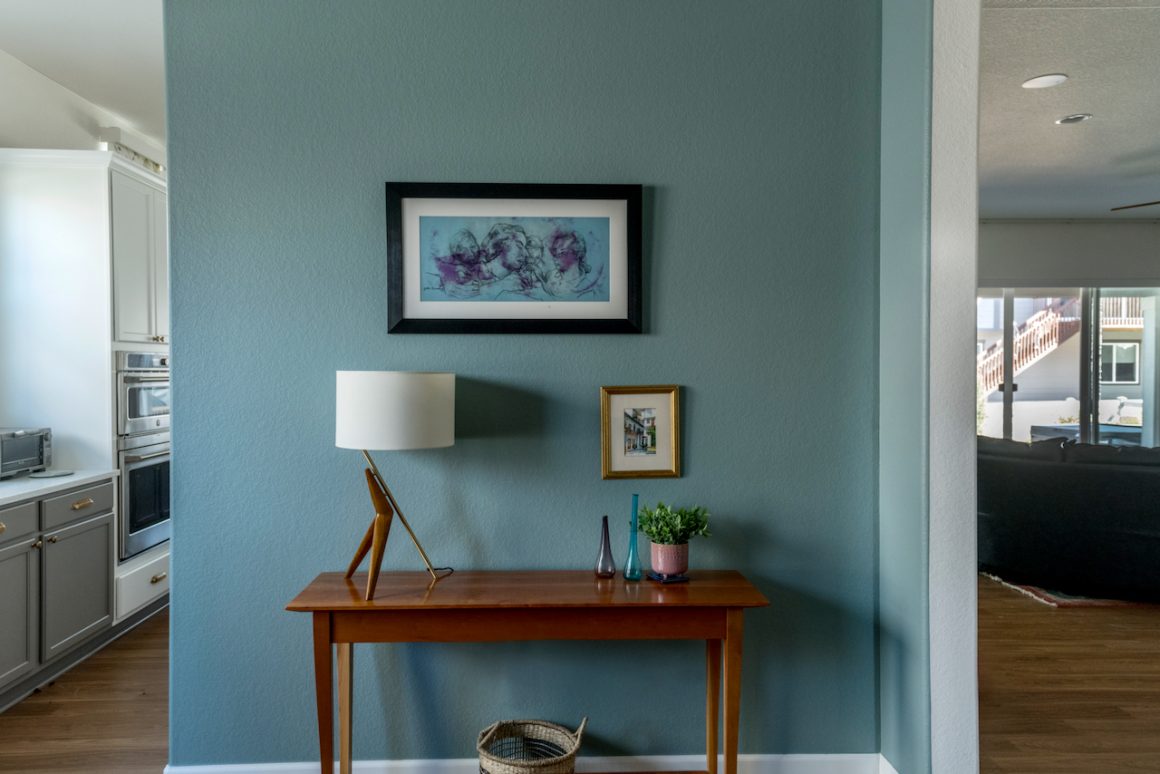 Here comes an underrated paint color that deserves recognition. Having unique undertones of green that separate it from the blue present in it. This touch of green gives a calming and soothing quality. It also suits a variety of design styles and colors. It can transform a simple room into a luxurious sanctuary.
It can be combined with soft neutrals to achieve a refined look and paired with vibrant colors with a bold and electric statement. You won't regret choosing this color for your home.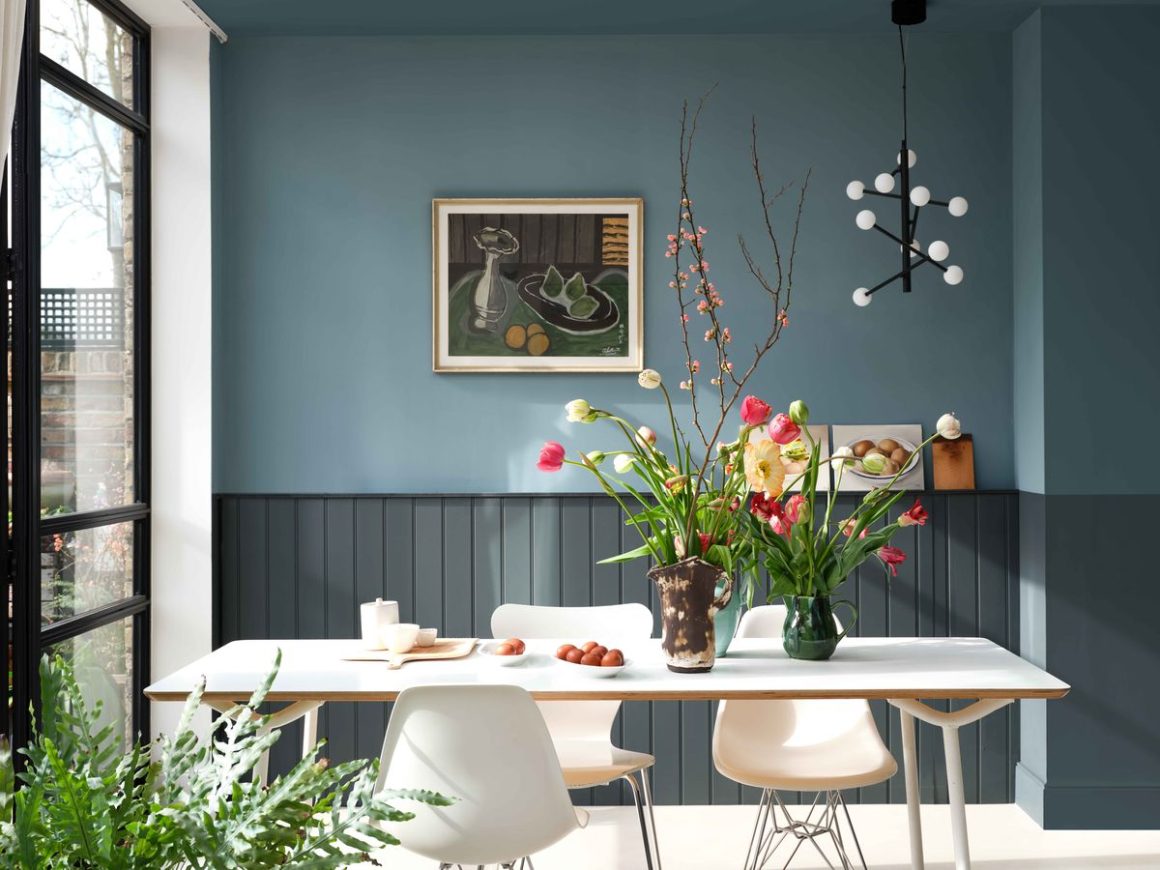 As the name suggests that it is a light blue color, which means, that it is different from the ones we have discussed till now. It has soft and delicate undertones; light blue creates a soothing atmosphere that creates a clear and gentle environment.
Crisp white, warm neutrals, and other shades are what goes well with dark blue colors. One of the advantages of this color is its ability to change in different lighting conditions.
Conclusion
In conclusion, these 18 best classic navy paint colors have proven that their versatility and popularity among homeowners and designers are the same and will not change.
Navy blue has the specialty of deep and rich undertones and the power to create a sense of depth and tranquility in any room. They are versatile and can be used on walls, cabinets, furniture, and many more. You will not use them at your house as they will not make your place beautiful but will also give a very soothing vibe and pleasure to the eyes.
Among the above 18 classic navy blue paint colors, one color will go with all the dark blue mentioned above. Let us know in the comment section below.
Frequently Asked Questions
Why is the Color Called Navy?
The term Navy was first used after the British Royal Navy Officers started wearing uniforms of that color in 1748. At that time, the color became so popular that navy all around the world started wearing uniforms of Navy color.
Is Navy Color Good for The Living Room?
Navy blue is well known for its versatility; that can go well with most colors easily. Navy blue is perfect for the living room, but you have to take care of the amount of lighting coming in that house or room. You can even use your creativity for other rooms, as navy blue will suit theirs easily.
Why is Navy a Good Color?
The Navy is a good color in many ways. The dark shade of navy blue captures the eye, allowing brighter colors to emerge and complement the interior boasting coastal, classic, and contemporary characters. Also, navy blue has many advantages.
What Does Navy Color Stand For?
Navy blue represents trust and stability; also, it is less- attention-seeking compared to other shades of blue. The Navy is also considered conservative and evokes feelings related to tradition and convention. One of the most famous colors in the world was named marine blue initially and was also used by the British Navy since the eighteenth century.