Do you wish to upgrade the curb appeal of your house but do not want to burn a big hole in your pocket? We do, however, offer a solution that can boost the curb appeal of your house, make it stand out, and even add a touch of drama. A white rock garden is an excellent way to give your house a distinctive look. Spreading white pebbles in your front yard can help you save water, is easy to take care of, and even serves as a nice change of pace from the usual green turf. Since the color white is neutral, it can complement all plants of all kinds and colors.
Here are 24 creative ways in which you can use white boulders of all shapes and sizes to set your house apart from the rest of the houses in your neighborhood.
1. White Rock Borders
Having borders with white rocks can make your garden look complete and neat. Since white is a neutral color, it can act as a charming little detail that can take your front yard to the next level. You can have a straight border or even a waved one along the edges of the green grass. To make it look better, you can plant small plants on the border or leave them as it is.
For a proper division between grass and pebbles, you can place a row of gray bricks that will add to the neatness of the yard and even complement the white rocks.
2. White Rock Walkways with Wooden Steps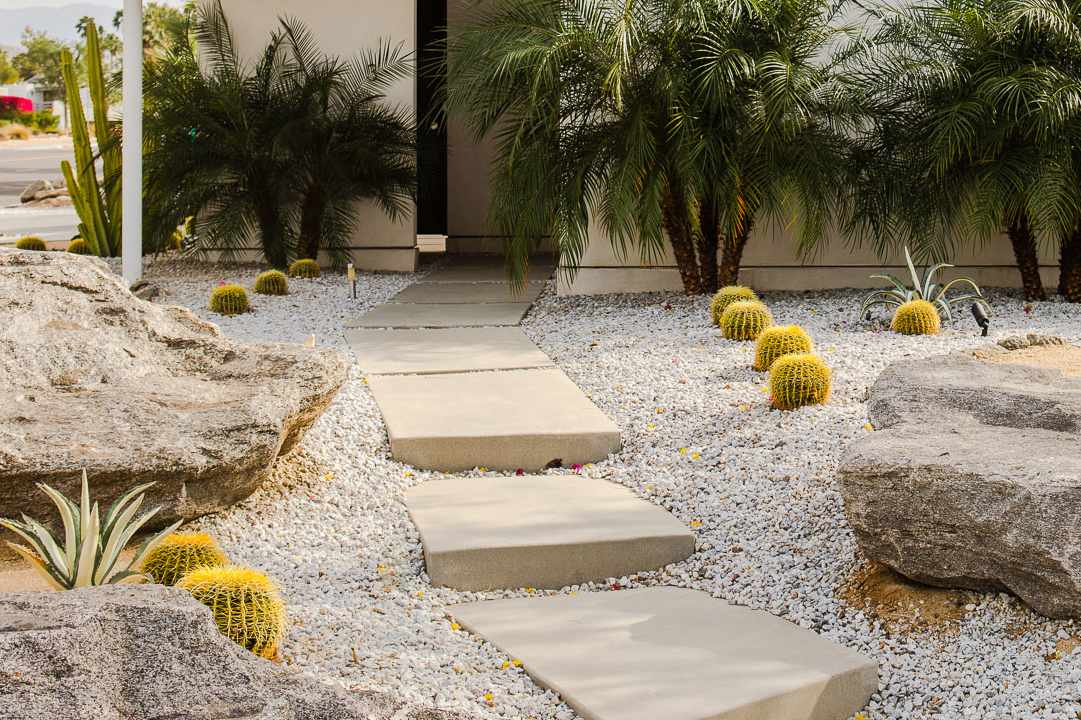 Wooden steps are great accessories when it comes to decorating lawns and improving their appearance. For a rustic look, you can place wooden logs in the path, and for a more finished look, you can place polished wooden planks in the path for a better appearance.
If you do not have enough space for planks or logs, you can use small pieces of wood that can work equally well as steps.
3. White Rock Pathways with Pavers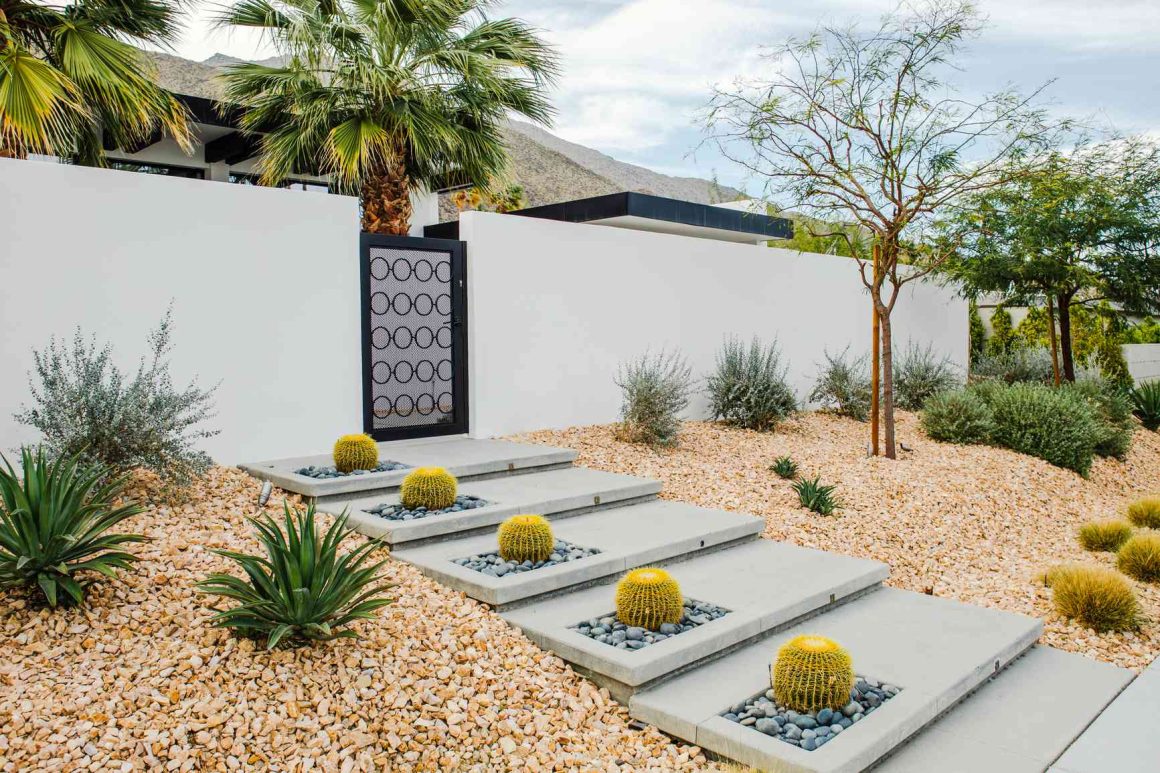 Pavers work wonderfully well in outdoor environments. They are resistant to all kinds of weather, are durable, and even have a lot of strength. Pavers can make a space look formal and chic as they have a neutral shade that goes well with white walls and all kinds of colored flowers or plants.
They are a smart investment as they are long-lasting and do not require continuous upkeep. Gray rocks also go well with white ones, so you can place them in the same space as well.
4. Fillers for Flower Gardens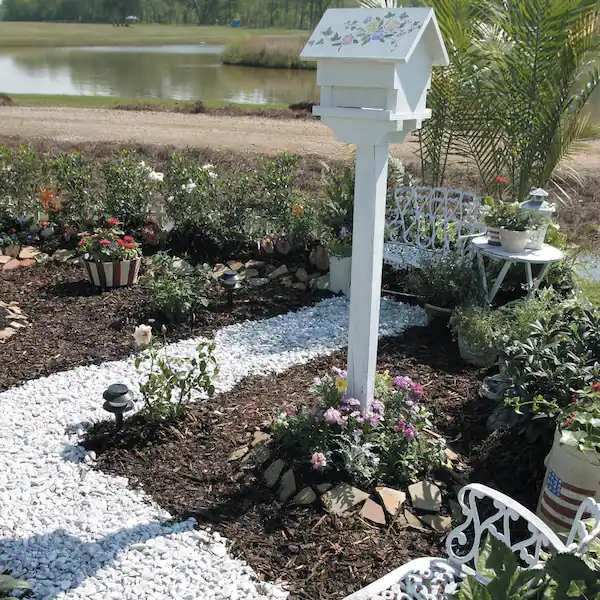 Since flowers are typically grown in mud, and it is usually difficult for grass to reach the base of the plant, it can make your flower garden look shabby and unkempt. For a better outlook of the place, cover the flower garden bed with white stones so that it covers the mud neatly.
The white color of the stone will match the bright color of flowers and plants and make the space look aesthetically appealing. You can make your lawn look dainty by placing wrought iron benches and swings to enhance the curb appeal of the house.
5. Plantation Borders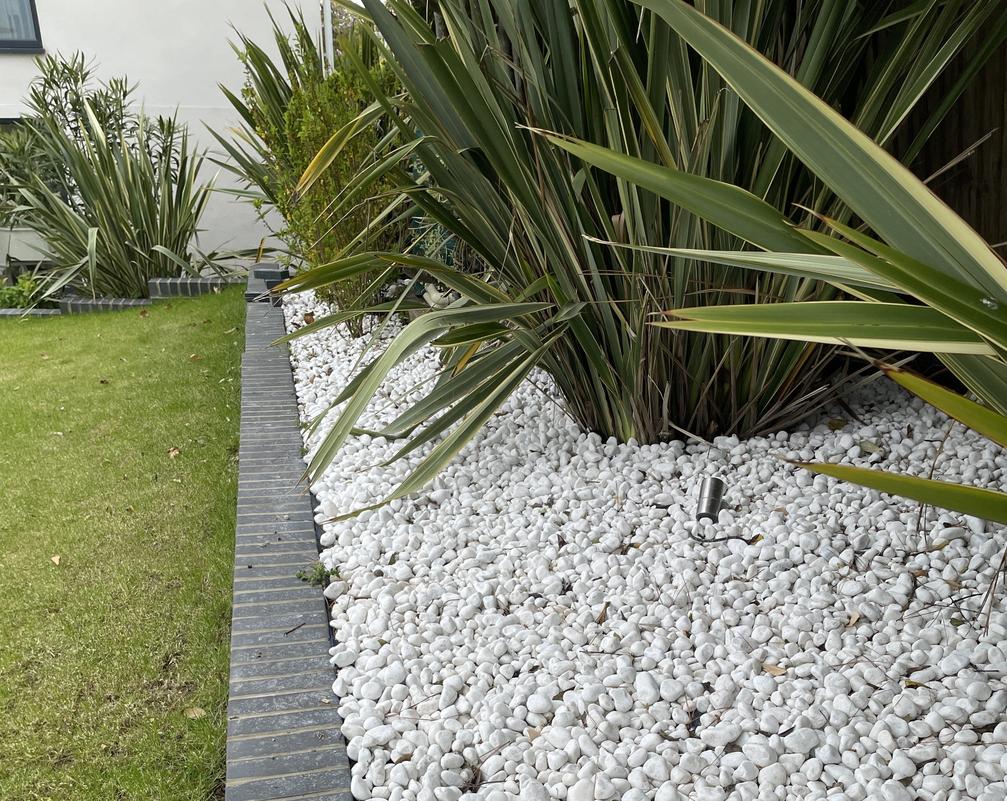 If you wish to grow plants as borders of your lawn, then covering the base of these borders with white stones is a smart idea. It will keep the mud in its place, prevent water from running off and add an interesting element to your green space.
If you do not want to use pea gravel, you can use bigger-sized white stones as borders and enhance the beauty of the space.
6. Highlight Your Palm Garden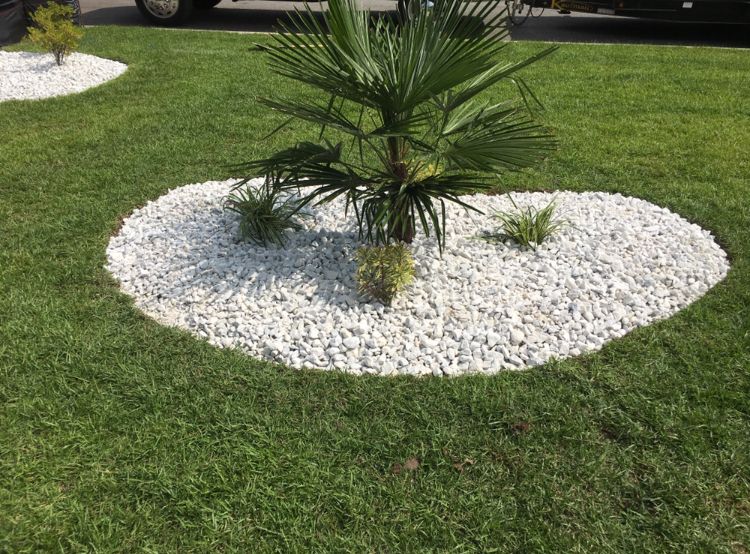 Palms are very effective when it comes to adding drama to your garden. Since they can reach a certain height, palms can act as a focal point in a garden, and highlighting this focal point by laying stones at the bottom can create a color contrast.
Color contrast is one of the best ways to create visual magic in your garden. You can even install solar-powered lights at the base to highlight your palms and white stones at night.
7. Yin-Yang Theme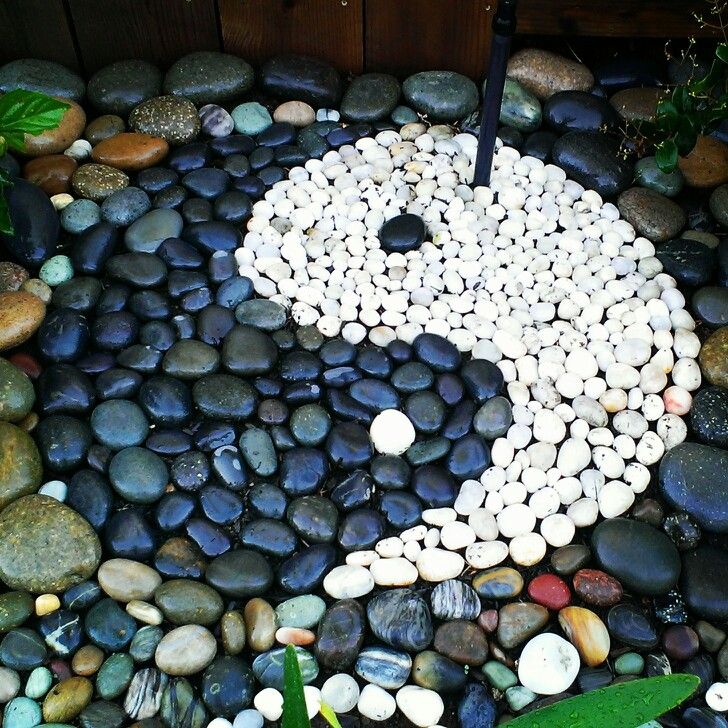 If you wish to give some thematic relevance to your garden, you can apply the yin and yang idea in your garden. The color contrast comes into play again as you can create a focal point by placing black and white stones side by side in a circle.
You can either let it be as it is or plant flowers or other plants around it. Not only will it look appealing, but it will also make your house a landmark in the neighborhood. Highlight the design by installing a light, as it will look truly magnificent at night.
8. White Rock Island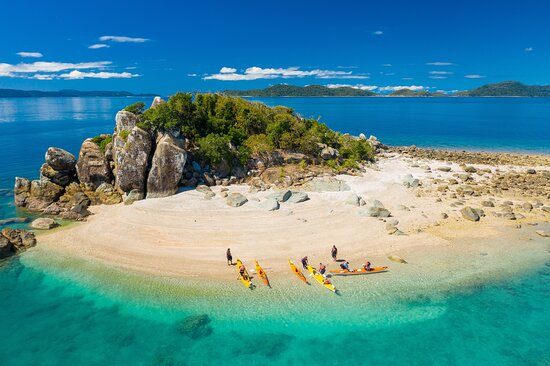 Rock islands are a very unique feature to have on one's lawn. Usually, people opt for garden islands with flowering plants, but rarely does one come across islands with stones and rocks. To enhance the appearance of the space with rocks and stones,
Cactus and other rocky plants like Yellow Alyssum, Ice Plant, Angelina Stonecrop, and so on. These plants will enhance the natural appeal of the corner and can make the garden look interesting.
9. Edging with White Rocks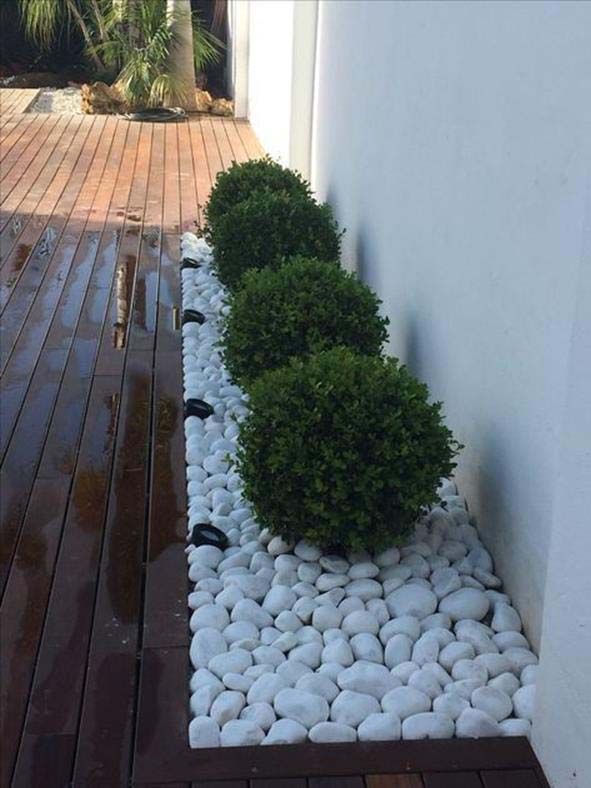 Small spaces in your front yard must not be allowed to lay vacant. You can decorate every nook and cranny of the house by creating small spaces in which you can spread small white rocks at the base. These green corners ought to have small sized green plants so that the area does not look cramped and overdone but cute and sophisticated.
These spaces can be created along the walls of the garage or along the exterior walls of the house. It is imperative that you take care of every corner of the house so as to make it look stunning. Such ideas can enable you to do so in an environmentally friendly manner.
10. White Rocks and Gray Accessories
White and gray is a classic color combination. Metallic accessories can make any space look modern. A front yard with some grass, white rocks, and statement silver pieces can make a space appear charming as well as contemporary. Even a small section of your front yard can make a statement if it is decorated in such a manner.
However, if you wish to transform your front lawn entirely and want to improve the outlook of the house, such strategically placed accessories can make all the difference in the world.
11. White Rocks and Perennials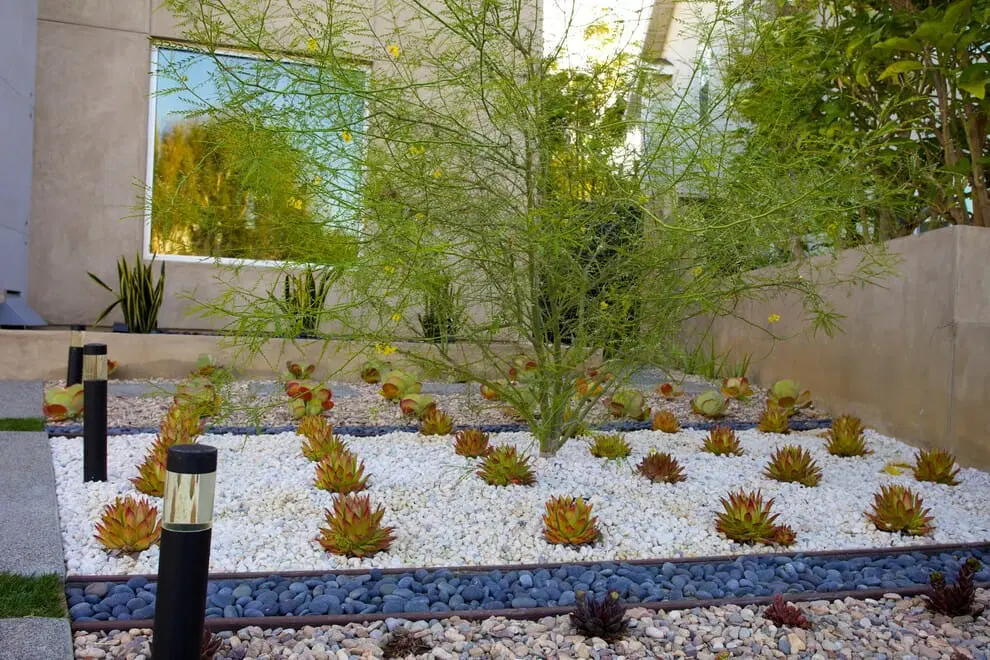 White rocks and perennial plants make a great combination. You can spread the white rocks in some empty space and grow tall perennial plants as borders.
Lavender, Daylily, and Coral Bells are some of the plants that are bright and perennial and do not require much upkeep. These bright colored flowers can give you some color contrast so that your garden looks visually appealing. Since the perennials are available in a variety of colors, they will add to the greenery of the space.
12. Raised Gardens and White Rocks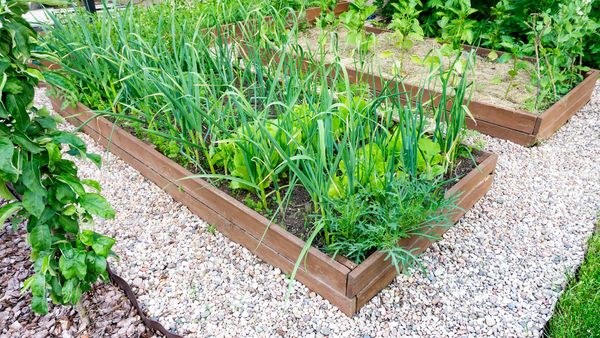 Raised gardens are a new development in the world of horticulture. The main advantage of having a raised garden is that it protects plants from foot traffic, inhibits the growth of weeds, aids water retention, and allows better drainage.
Instead of placing these wooden beds on concrete floors, you can spread white pea gravel instead and make your place look unique.
13. Zen Garden with White Rocks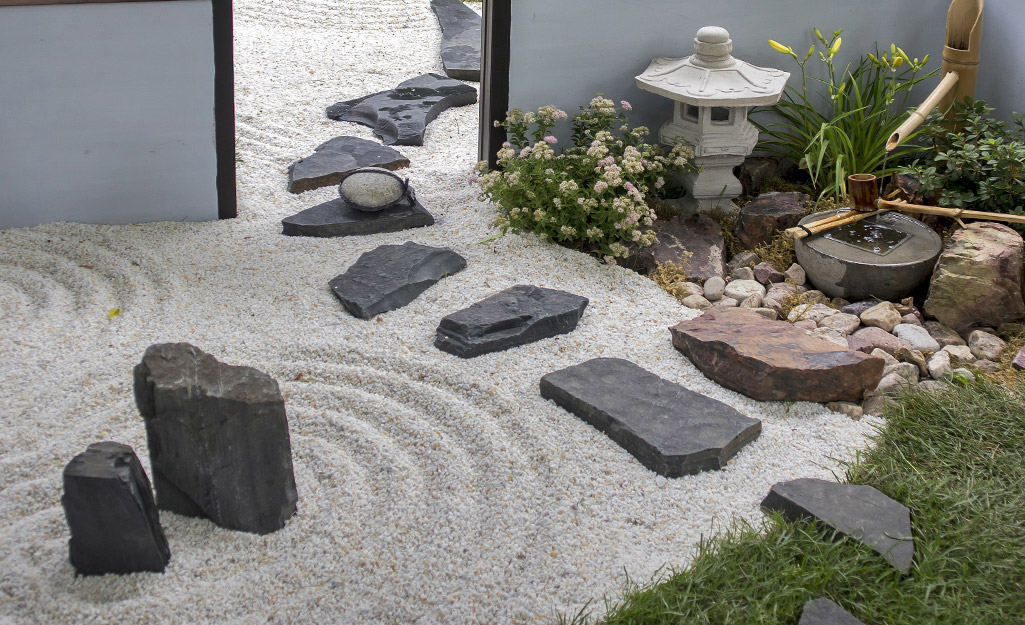 The color white is a symbol of purity and peace. It exudes calmness and creates a Zen-like vibe. If you want your house to have such a space, then consider substituting green grass with pearly white shiny pebbles and gray rocks. You can even place a statue of Lord Buddha and a small fountain which will optimize the space and set a meditative tone.
For some pop of color, you can plant green leafy plants for the place to look more interesting. White marble accessories like planters or birdhouses can be purchased as embellishments for your front yard.
14. White Rock Herb Garden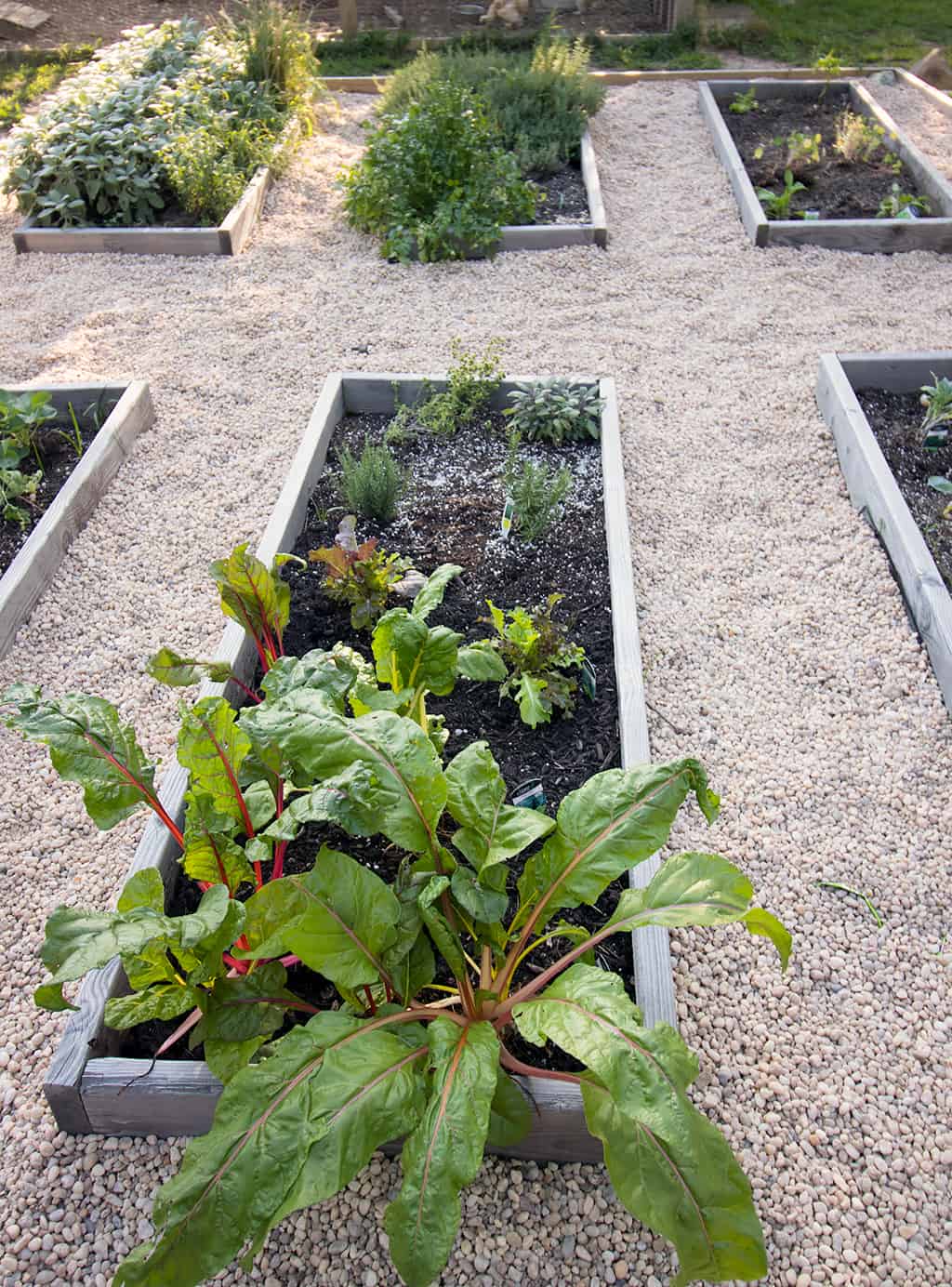 A kitchen garden can be one of the most interesting corners of the house. To set it apart from other typical kitchen gardens, you can use wooden beds to grow your herbs in and cover the floor with white pea gravel. To give the herb garden a more rustic touch, you can recycle old wooden boxes that are dirty brown in color. The color of the plants, their leaves, fruits or flowers would look stunning with the white stones laid on the floor.
15. White Rock Riverbed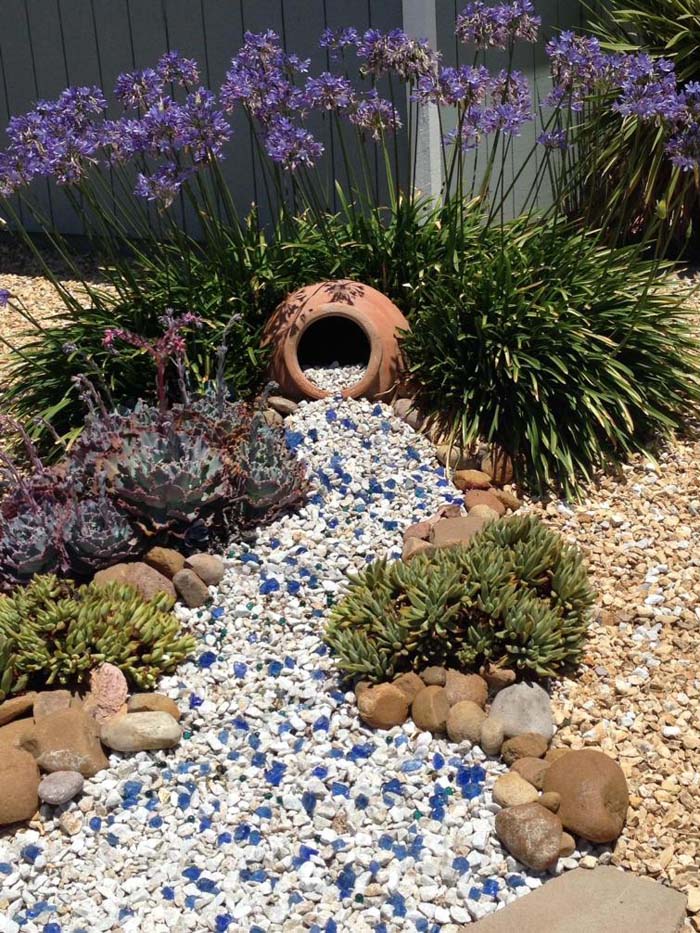 Rock riverbeds in gardens are one of the most famous and most liked inventions by landscape designers. They suggest placing white rocks in a wavy pattern so that the entire structure resembles the flow of a river, and the source or the mouth of the "river" can be an earthen pot.
For a more dramatic effect, you can even use blue stones along with white ones so that they can resemble water as closely as possible.
16. White Rock Oasis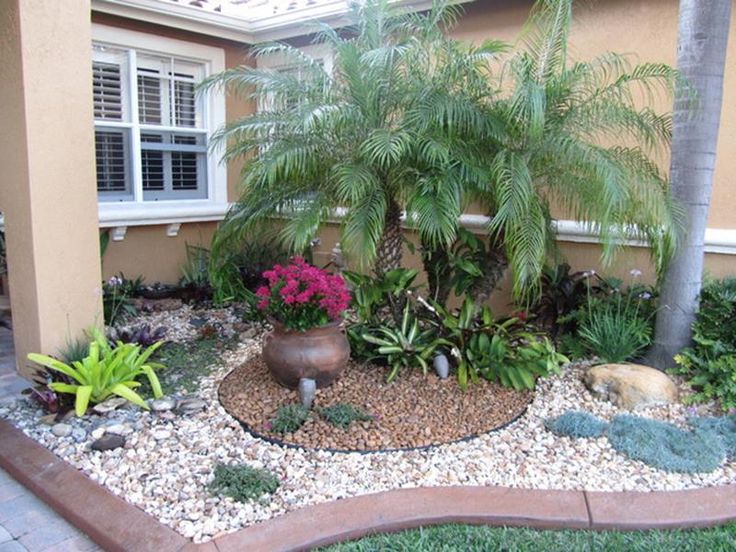 White rock oasis can work as an excellent feature that can engage your interest. You can place brown and white rocks in an interesting pattern with plants grown in them so that the whole piece looks eye-catching.
Study the space properly before designing a rocky oasis. You can specifically select plants of all shapes and sizes to make sure that the these factors come together organically with the white stones. This can be particularly effective if there is a corner in the garden that does not receive enough sunlight for plants or grass to grow.
17. Substitute Grass with White Rocks
Since white rocks barely need any kind of maintenance, you can substitute turf grass with shiny white pebbles. This is a wonderful option, specifically for those who do not have green fingers.
Since there is no risk of weeds or other diseases with white rocks, you can easily cover the substitute grass with stones. For some floral beauty, you can hang baskets and grow flowers or plants in pots that can be easily moved around.
18. White Rock Carpet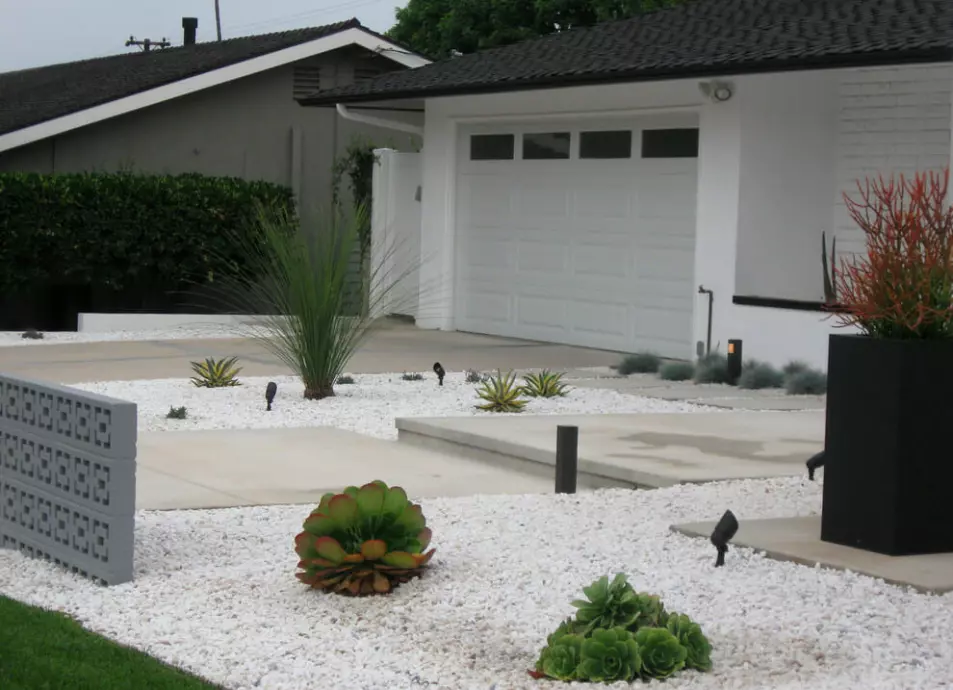 A white rock carpet can give some break to your eyes from the greenery that turfgrass offers. A white rock carpet leading to the garage or one which has wooden steps placed in it that can lead you to the house is an excellent feature to enhance the outlook of the house.
You can go for a monochromatic look with white-colored pathways and a light-colored house, and other neutral-colored accessories like a trellis for a cohesive appearance.
19. White Rock Landscaping Beside Garage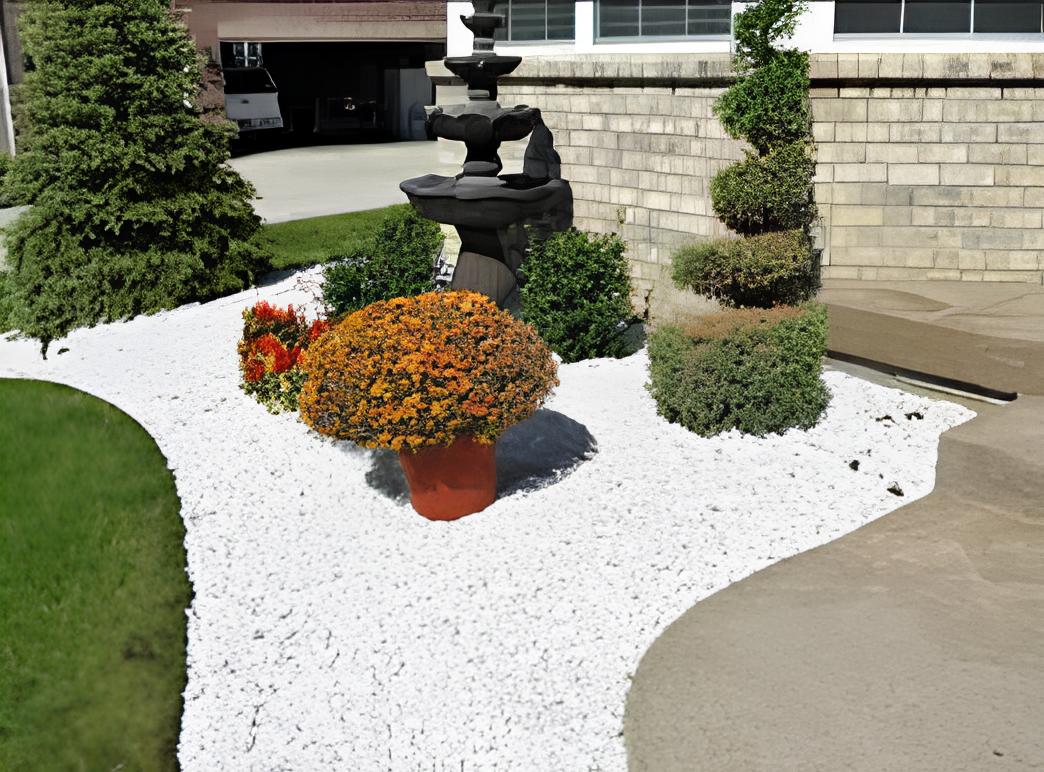 A small area with a rocky landscape can enhance the beauty of any space. For ornamental purposes, you can enhance the beauty of your garage by making a cute little island for your plants with a white stone base.
You can place baskets with multi-colored flowers or grow a green palm as height adds drama. Garage spaces are often neglected, but you can make them attractive by introducing greenery in every nook and cranny.
20. Illuminated White Rock Hardscaping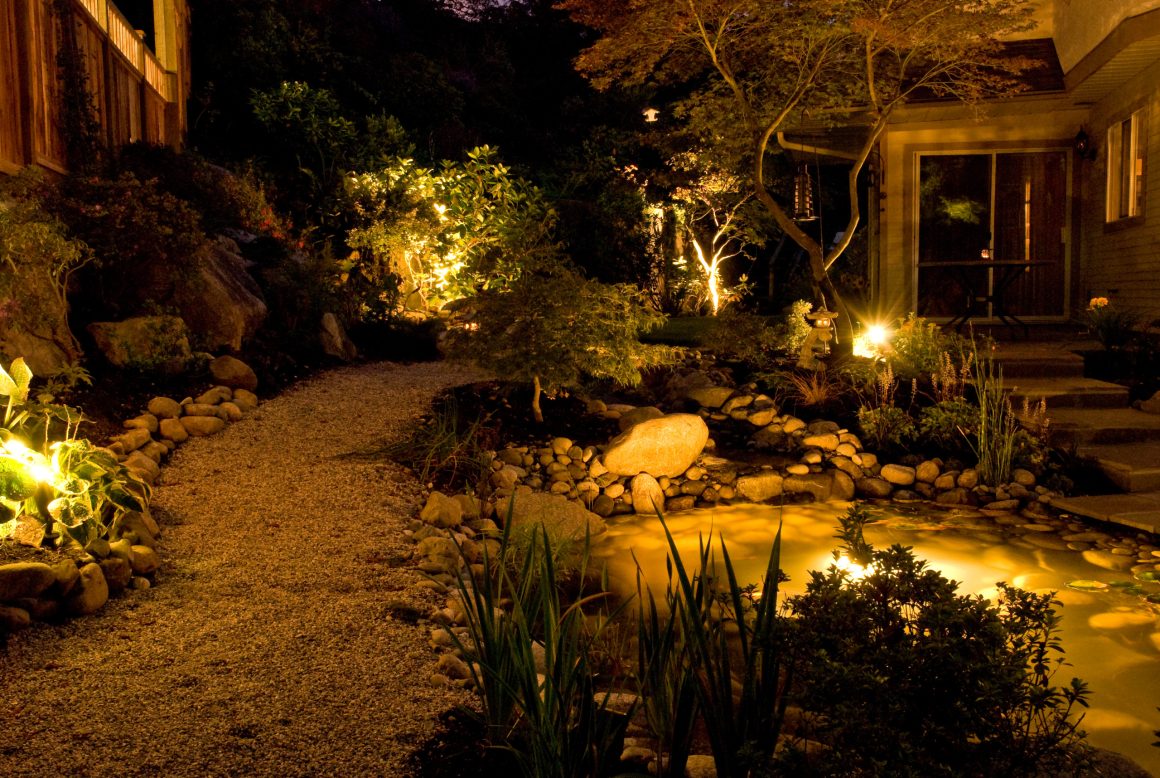 A rocky landscape can look absolutely magnificent at night with appropriate lighting. White rock pathways and bigger brown rocks on the side can have considerable influence on people when they view your house. A rustic rocky front yard with stones and rocks of all shapes and sizes can add to the curb appeal of your house and make it unique at the same time.
With the right kind of plants and apt placement of rocks, you can make your front yard appear classy yet effortlessly chic.
21. Monochrome Mystique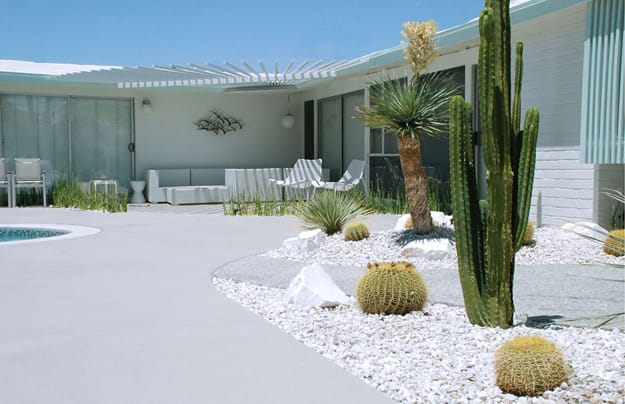 A white pebbled pathway, a white-colored house, white pavers or tiles, and white furniture to relax in the verandah with gray accents are a perfect combination for those who want to sooth their eyes. For the pristine whiteness to shine through, introduce some kind of color in your yard by planting some cactus or palms and let the rest be.
Such exteriors make a statement and set the house apart from the rest of the neighborhood. This will lend a Mediterranean touch to your house and give your house a nice cool vibe.
22. Multi-Colored White Yard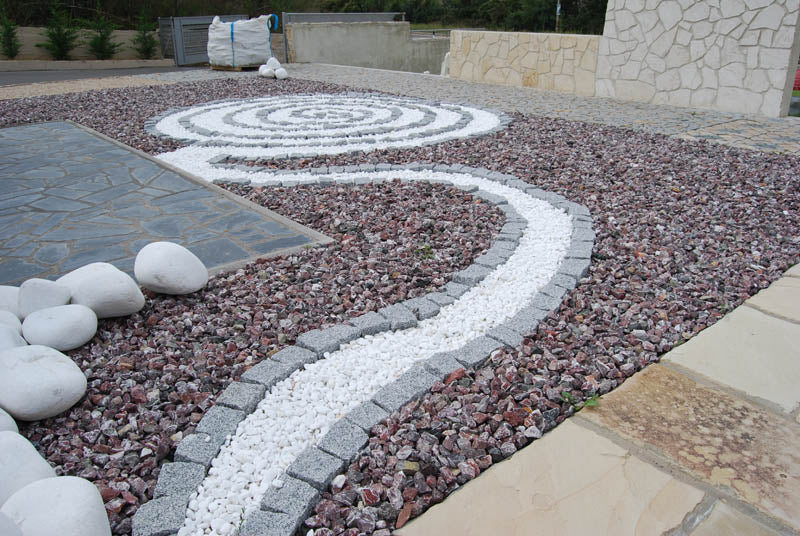 Since white is a neutral color which makes it supremely diverse, you can arrange these white rocks alongside gray, black, and blue colored stones. You can arrange them in a pattern such that it looks visually appealing and lends uniformity to your yard.
Such strips of multi-colored stones can make beautiful borders and pathways. You can even make designs with the help of all these stones to engage the interest of your neighbors.
23. Water and Stone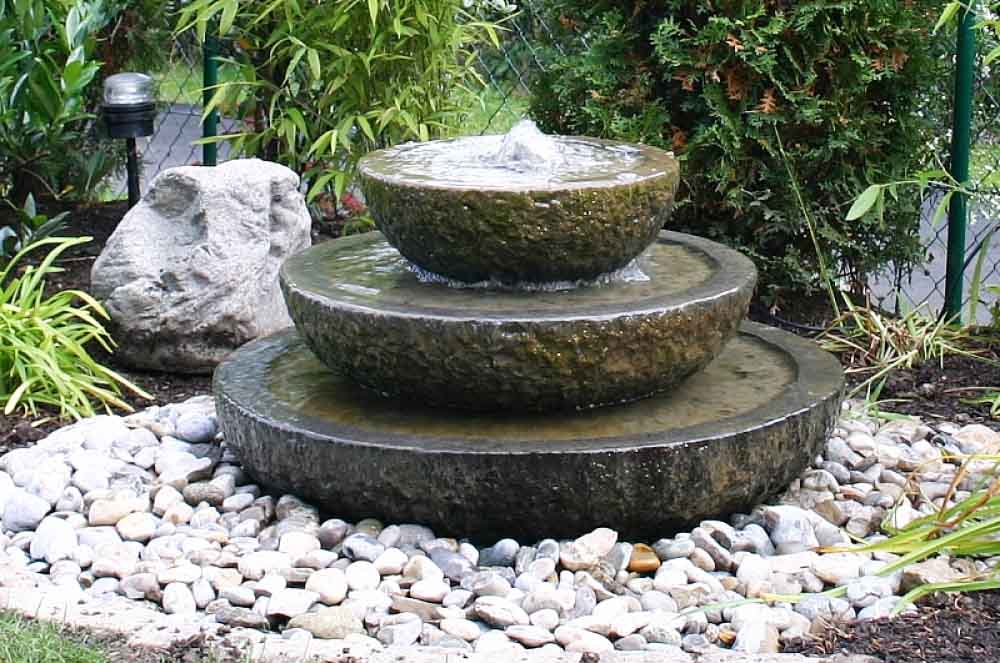 A water fountain can improve the curb appeal of your house drastically. Since the sound of water has a meditative appeal and the sound effects can add to the beauty of the house, placing a fountain strategically can really add to the overall aesthetic appeal.
A fountain made of black granite can go wonderfully well with a base of white stones and beautify the spot instantly. You can even introduce small fountains if you do not have a lot of space in your front yard and spread the white rocks accordingly.
24. Mulch and Stone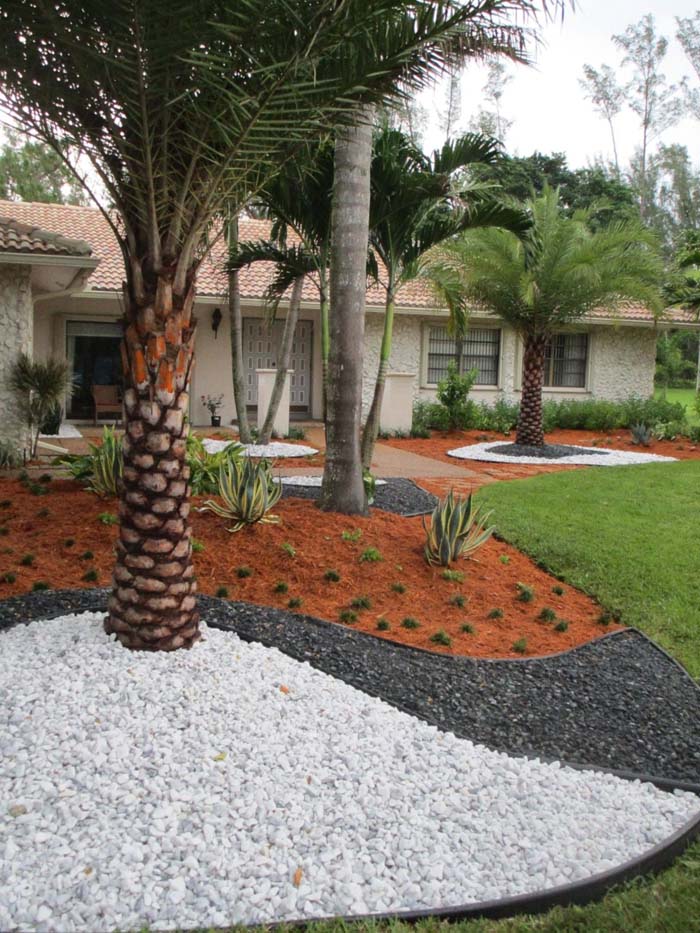 Mulch and stone can give a rustic appearance to your house. A combination of grass, brown mulch, and white stone is a classic color combination. You can make neat demarcations with brick borders and place stones accordingly so that the front yard looks tidy.
Growing small plants can enhance the appearance and provide a color contrast. A variety of colors in the yard can make any place look theatrically appealing and work as an eye-catcher.
Conclusion
The color white is associated with calmness, peace, and tranquility. The pristine white is symbolic of the innate purity of color. With a white rock garden in your house, you can make the outlook appear quaint and pure.
Using white pebbles to make pathways, walkways, or as bases for various flowers and plants, the exteriors of your house can look extremely appealing. Tall floral plants will go equally well with a base made of white stones as well as short-sighted shrubs. Therefore, experiment as much as possible.
If you are looking for ideas to amp up the appearance of your front yard, share your input with us.
Frequently Asked Questions
Does Anything Need To Be Spread Under the Rocks?
Before you decide to use white rocks for landscaping, make sure that you spread a newspaper or landscaping fabric. Newspaper and the fabric will prevent the growth of weeds between rocks and help you in removing the rocks as you will simply have to lift the base and slide the rocks in a basket.
Are Landscaping Rocks Better than Mulch?
Landscaping rocks and mulch have their own respective advantages. Landscaping rocks are more long-lasting than mulch, are inexpensive, do not attract pests or insects, and even add to the visual appeal of the house.
Are White Rocks a Good Choice for Landscaping?
Yes. White rocks can be used if you want your house to have a garden with a Japanese theme, a rocky vibe, or an even floral appearance, as they are extremely diverse owing to their neutral color. White rocks can work as an effective ground cover.