Blue has always been at the top of the list for interior designers. The reason goes beyond following the trend and diving deep into psychology. Psychologically, blue creates a feeling of stability and calmness. As opposed to the idiom "feeling blue," a blue room has proved to help people with depression by multiple studies.
But choosing the right blue for your home can be tricky. You would have favored pale blue for your living room which ended up looking like a nursery.
Blue has an anthology of shades. So if you seem to gravitate towards blue but still find it too much, mix it with gray and create a perfect balance of color and neutral. This makes the interiors sophisticated while still maintaining the tranquility and soothing effect of blue.
Blue-gray is a perfect storm of colors, and we have curated the 25 best blue-gray paint colors for you.
How to Select a Blue-Gray Paint Color for The Interiors?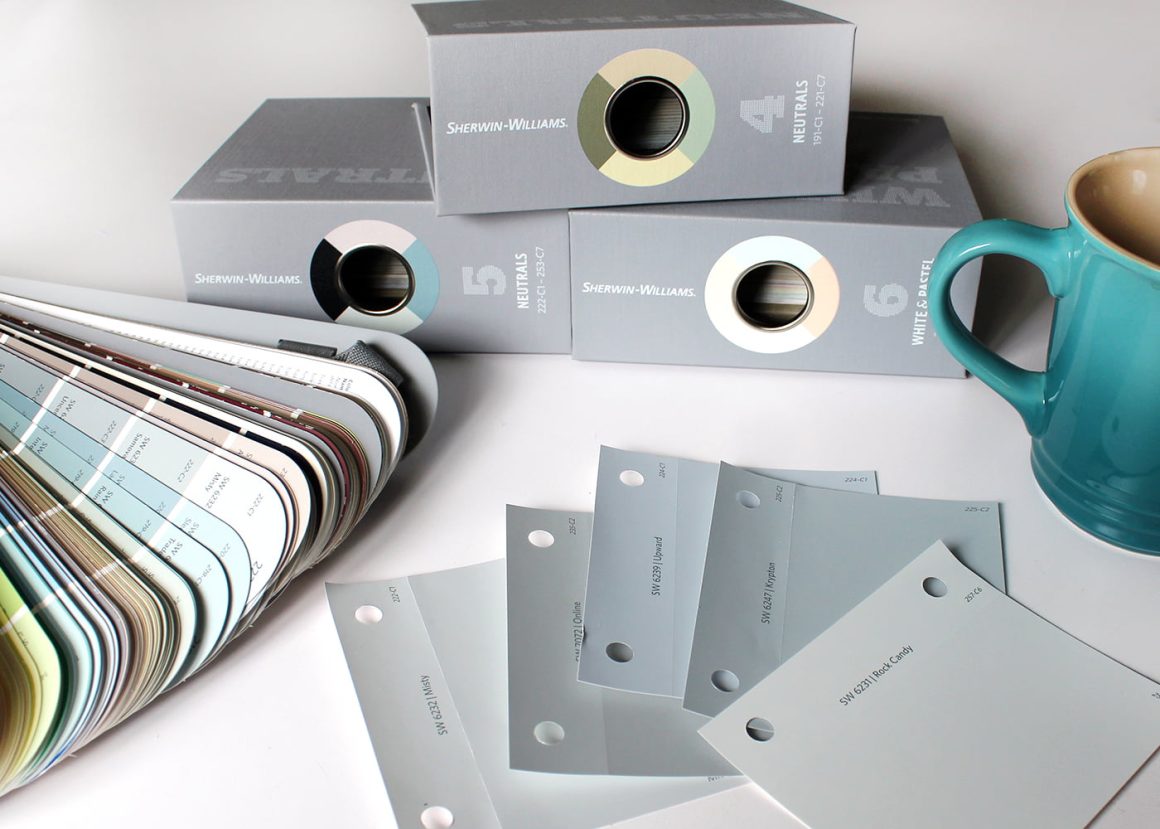 Did you know the other name for blue-gray is livid? It comes from the name 'Lividus,' which translates to a 'dull, laden blue' in Latin. It's a broad palette ranging from gray with blue undertones to blue with a hint of gray. Since both blue and gray shades fall on the cooler tones, blue-gray is also a cooler shade. So let's navigate through the things to consider while choosing blue-gray paint colors.
Understanding the Undertones
Remember, though the name says blue-gray, it could have varied undertones buried deep beneath the dominant colors. Choose your dominant color carefully. If you prefer a muted look, go for gray blue. But if you want a softer yet brighter look, go for blue-gray. Blue-gray with green undertones is airy and channels a beachy vibe. To make your blue-gray much cooler, add a purple undertone so that it looks like a periwinkle for a more traditional look.
What Rooms Are Best to Use These Colors In?
Blue-gray paint colors are inherently best suited for bedrooms and bathrooms to give a relaxed and soothing vibe. However, it can be used for any other room as well, as the dual tone turns up the elegance by a notch.
Knowing How Lighting Works on Blue Gray Paint Colors
It's important to consider lighting while choosing the color of the paint. North and west-facing rooms tend to have cooler light, making it ideal for warmer shades of blue-gray paint colors. Whereas south and east-facing rooms have warmer lights, making cooler shades of blue-gray paint suitable. Bright sunlight can wash out the colors, so don't hold back in adding depth with richer colors that are intense after sunset as well. Understanding the exposure is crucial in selecting your paint color.
Does It Go Well with Your Décor?
Gray-blue, where gray is the dominant color, is more neutral and can act as a perfect canvas while decorating a room. The grayer the shade, the more subtle the undertones are. This way, you can accentuate the décor. For a soothing effect, pair it with white accessories. Beiges are great for upholstered furniture and carpets.
But if you are ready to go bold, use different shades of blue-gray paint colors. Use intense colors for feature walls and experiment with different textures. The wide spectrum of blue-gray colors allows it to tap into the trendy and traditional end of things so that you can style your home according to your whims with blue-gray paint colors.
Try It First!
The eyes are deceptive when it comes to paints and especially ones with such complexity as blue-gray paint colors. It's likely to get a different shade than the expected one with blue-gray. Do not rely on photographs, references, or even swatches. It is best recommended to always try samples before determining your choice, which saves time and avoids regrets.
Things to Get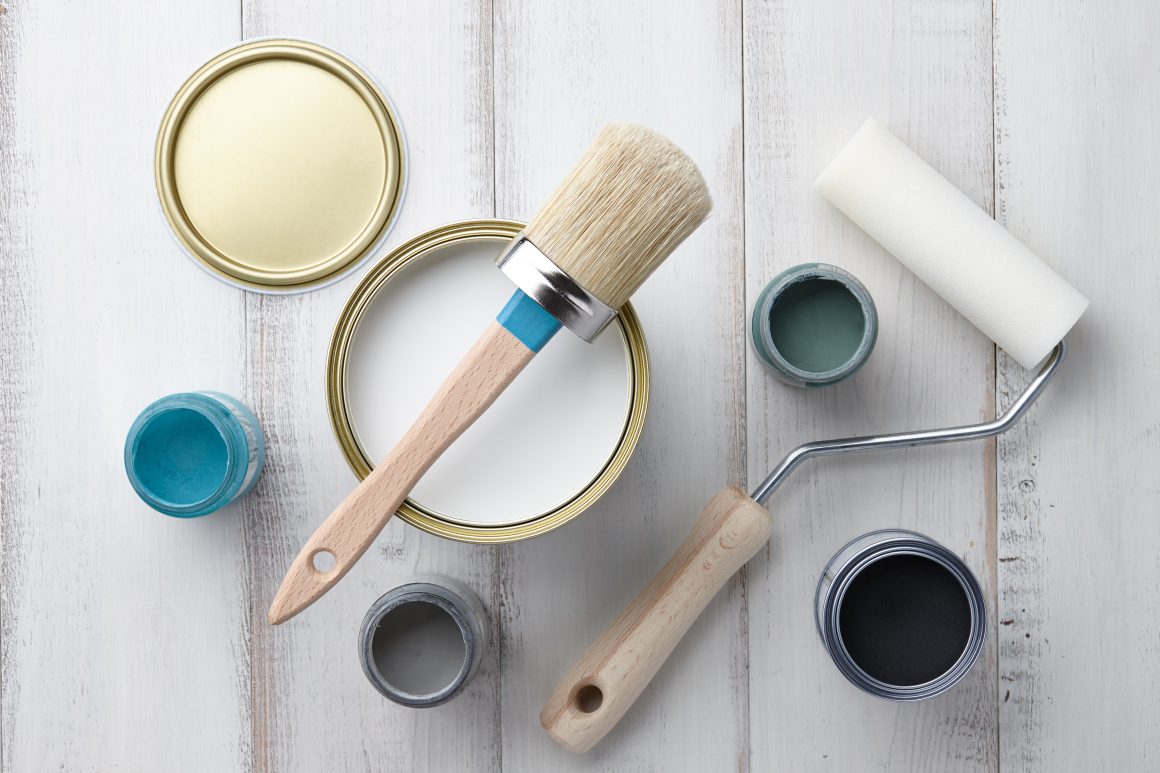 If you are planning to paint yourself without hiring a decorator and you are a novice, here are a few things you should get.
Top 25 Blue-Gray Paint Colors in 2023
There are a ton of blue-gray paint color shades with subtle differences, which could make it difficult for you to pick one for your home. I have compiled a list of 25 shades of blue-gray paint based on its popularity among designers in an attempt to make it easier for you.
Lighter Shades of Blue-Gray Paint Colors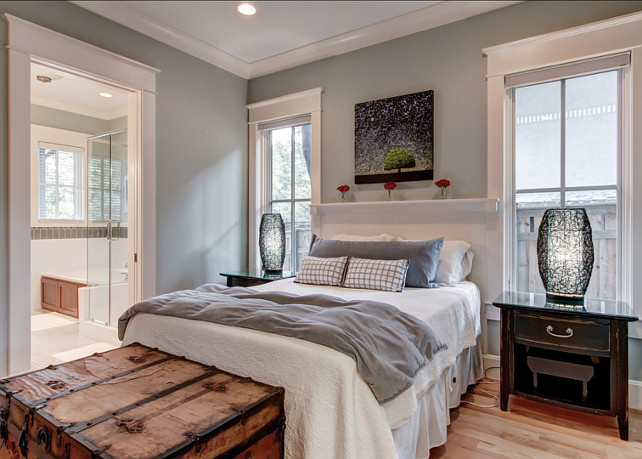 North Star is a cool and crisp blue color, with slate gray undertones, makes it airy and produces a calming effect. It is well grounded by the gray undertone, making it suitable for bedrooms and bathrooms. This light shade can be coordinated with darker grays and blues like charcoal gray or navy blue.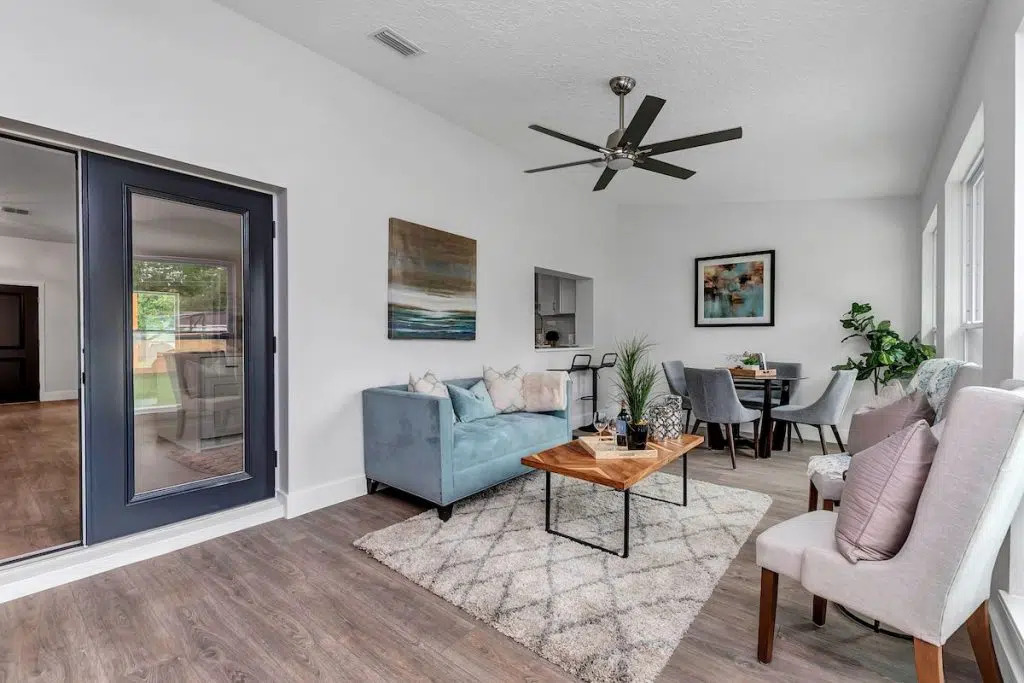 You can't deny it is blue-gray, but it appears more like light violet. If you are looking for a pastel or white-based blue-gray, Icicle is definitely an amazing choice. This paint color tends to make the room look more spacious, refreshing, and airy. Remember to throw in a little warmth with your décor to balance out the icy vibes, just like the room in the above image.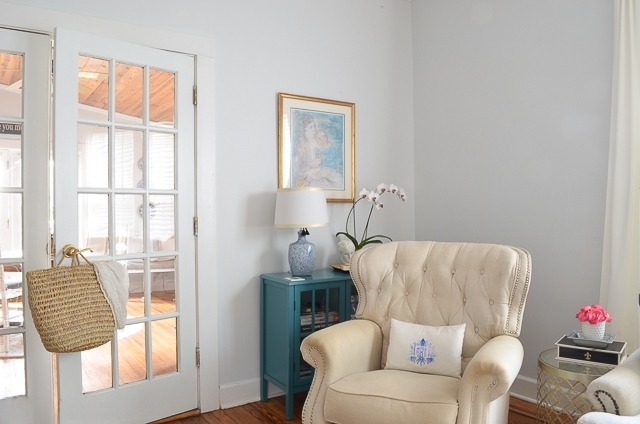 The light gray with a touch of blue and purple undertone is a cool color and a perfect neutral to work on. The gray base gives a clean look, and the undertone adds depth and dimension. This color, when used in combination with darker shades of blue or gray, can work wonders. This subtle gray-blue gives the freedom to play with décor – be it textures, colors, or sheen.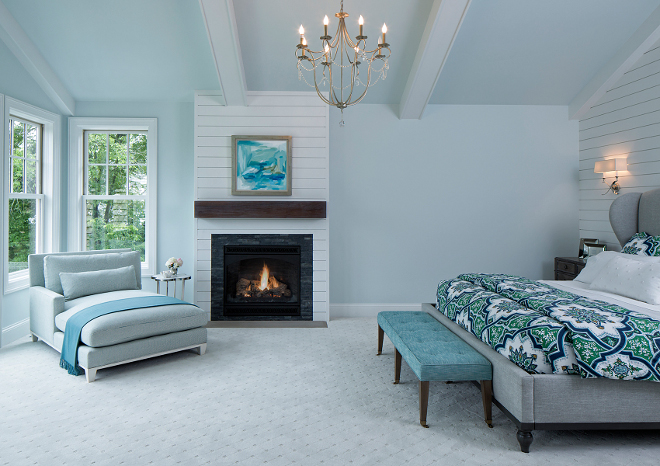 Whispering Spring is an icy yet gentle blue-gray paint that is very light. A saturated color, especially suited for those looking to illuminate their spaces with pure serenity. This shade is quiet enough to play off a mix of patterns without fading away. Look how well icy blue goes with gray décor in the image above.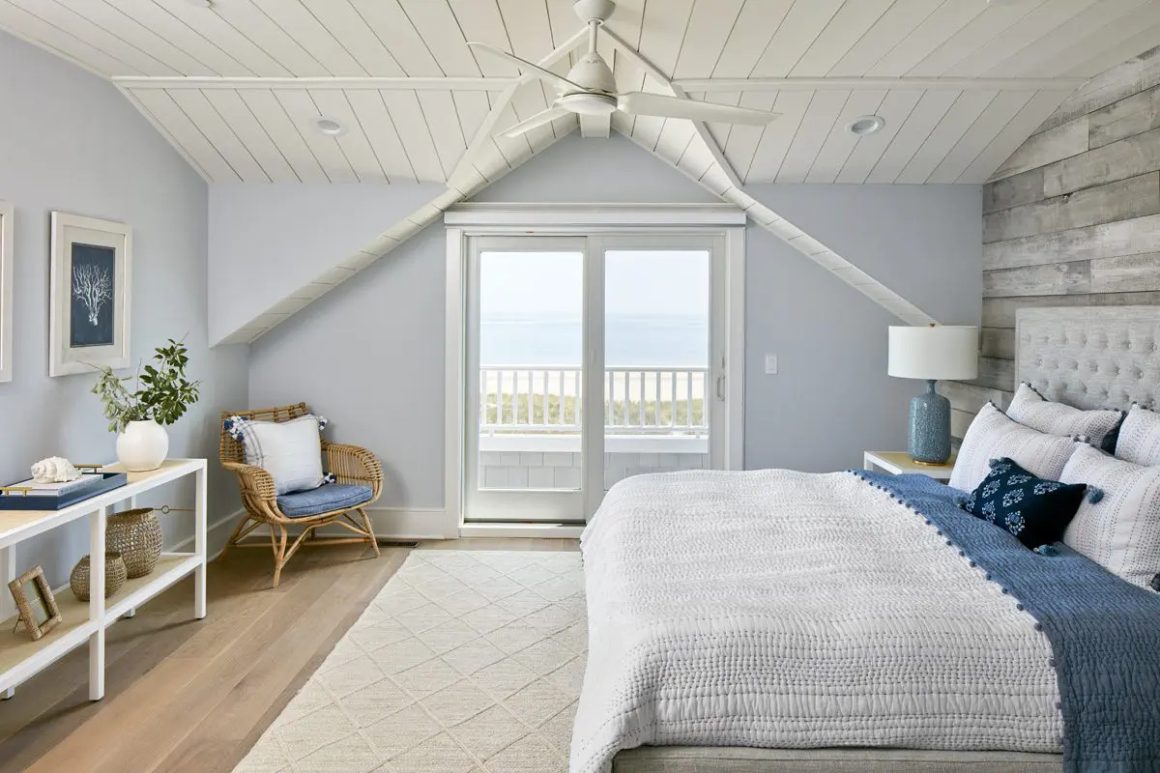 Misty has slight green undertones making it cooler. Contrasting this with white or any other neutral will provide a soothing ambiance. Add a pop with décor to break the monotonicity of lighter color shades. This color is suitable for any room but inherently ideal for bedrooms and bathrooms.
6. Gibraltar Cliffs – Benjamin Moore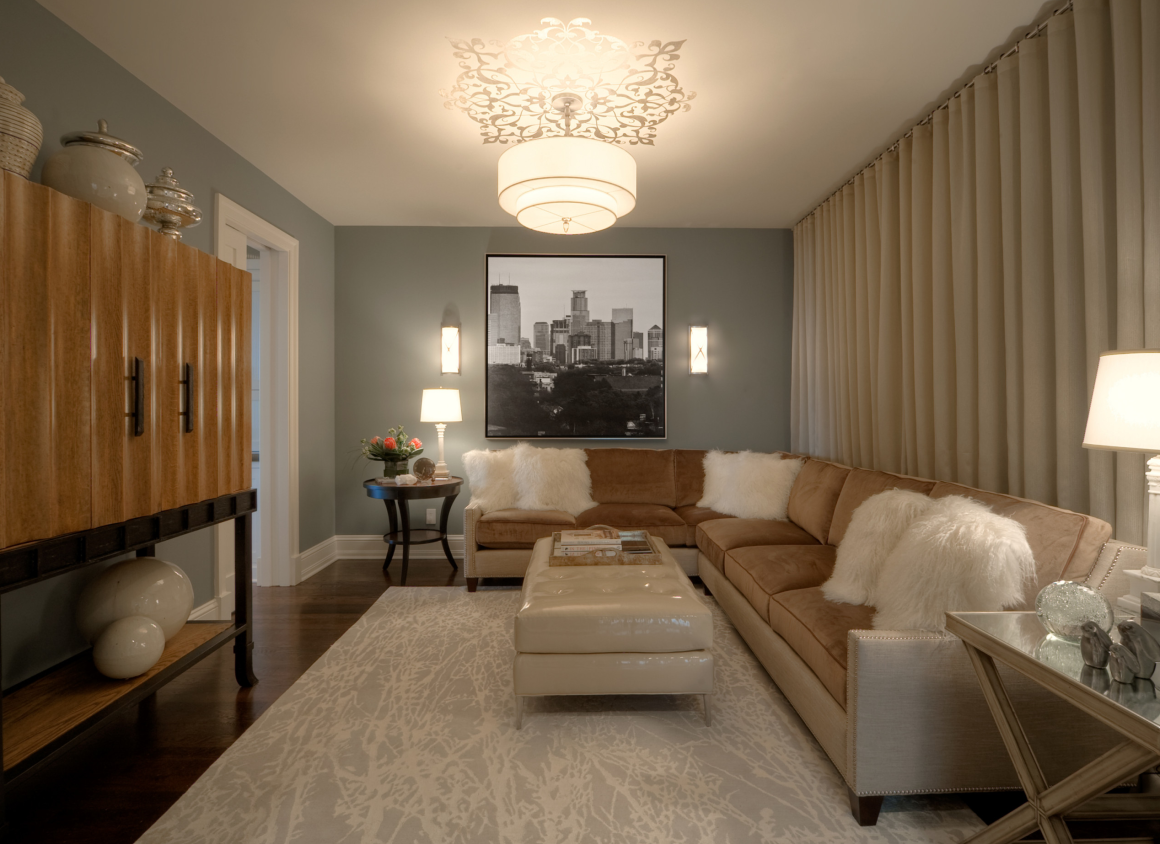 This is a gorgeous choice with a blend of blue and gray, where green undertones come in to soften it further. The darker color rises when light hits it. This blue-gray paint color, Gibraltar Cliffs works best in a well-lit room, or you can use it for a feature wall in a room painted with a lighter shade.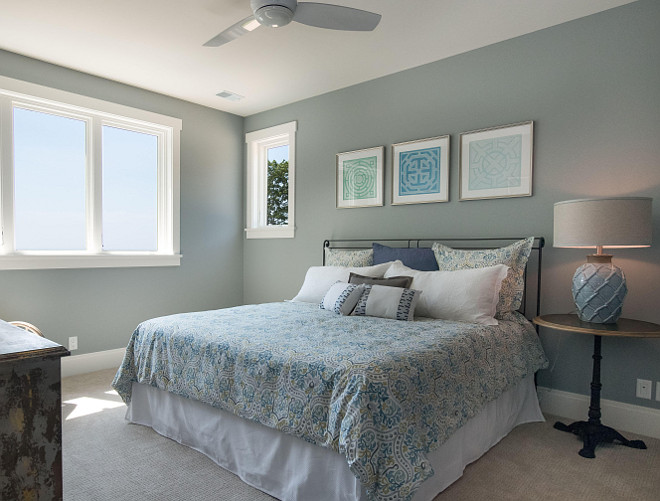 Boothbay Gray is a chameleon that looks more gray or blue, depending on the lighting. It is so classy and is good for any room, from bedrooms to shutters and doors. It is subtle, with a tiny hint of blue in otherwise gray paint.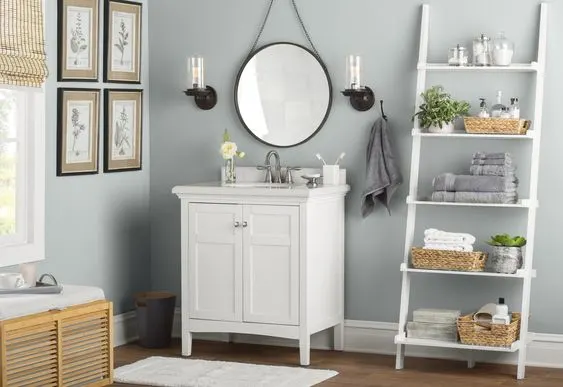 Lullaby is a gorgeous blue-gray paint color, leaning more towards blue but not making it overwhelming. It can be parked in the lighter shade without a doubt. This cooler-toned paint shade has a tad bit of green in there, and you can be assured that it is not going to turn your home into a nursery. You can use it on the doors, windows, and cabinets to give beachy vibes just like in the image. Or, as the namesake, you can use it for beautiful nurseries.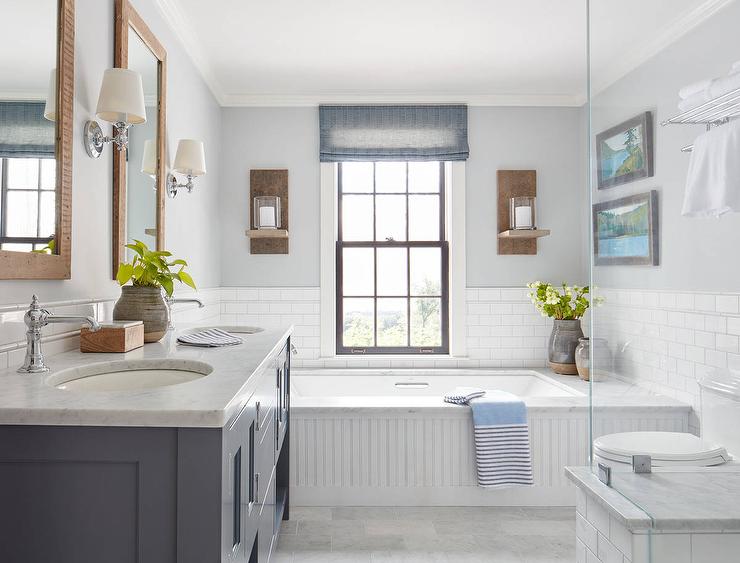 Light gray takes the silver tone from the gray spectrum. It has a subtle sheen of blue undertone generating a vibrancy. It is a highly versatile blue-gray paint color. Modeled after antique silverware, the neutrality makes it a great choice for any room where it can serve as a canvas for the décor to suit your style. Here a spa-like bathroom is created with a wainscoting bathtub deck which is painted the color – Sterling by Benjamin Moore.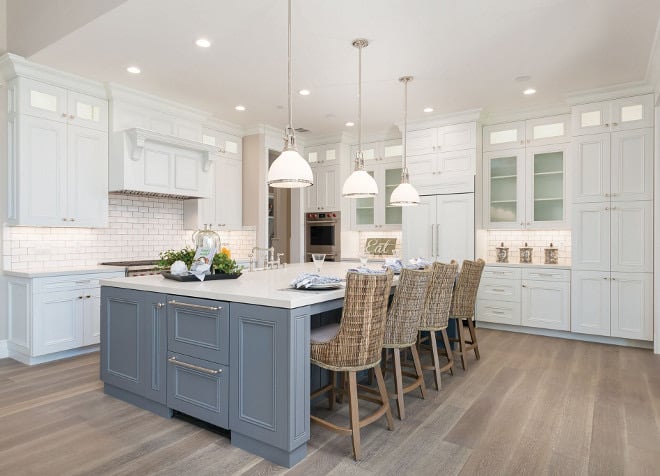 The mid-toned blue paint, with a gray undertone, leans towards the lighter spectrum. If you are afraid of baby blue, go ahead with Krypton, where the gray tones down and does not make the blue go overboard. It gives a coastal vibe, and it definitely flaunts a soothing touch. Pair it up with warmer colors to create a balance.
Medium Shades of Blue Gray Paint Colors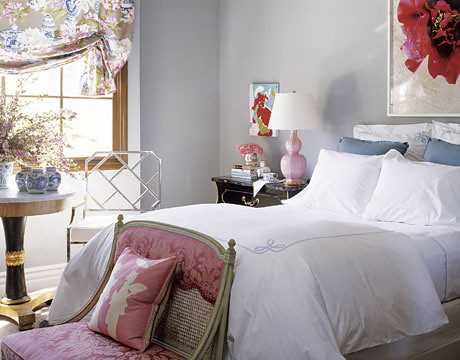 November Skies is "A breezy blue-gray paint color that offers the right amount of uplifting color," according to Benjamin Moore. This medium cyan blue with gray undertones reminds you of the November sky. This versatile blue-gray paint color can be used in any corner of your home.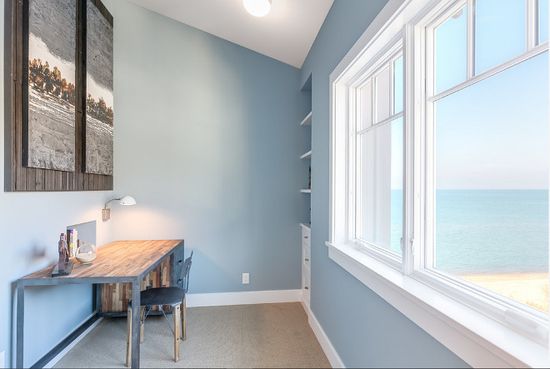 The words 'Santorini' and 'blue' together in a sentence could remind you of the ocean or the blue rooftops. Well, this is more of a swimming pool blue with a touch of gray. Benjamin Moore describes the colors in the palette to be "as timeless as they are forward." Santorini blue would be modern Cinderella's choice for her kitchen, bathroom, or bedroom.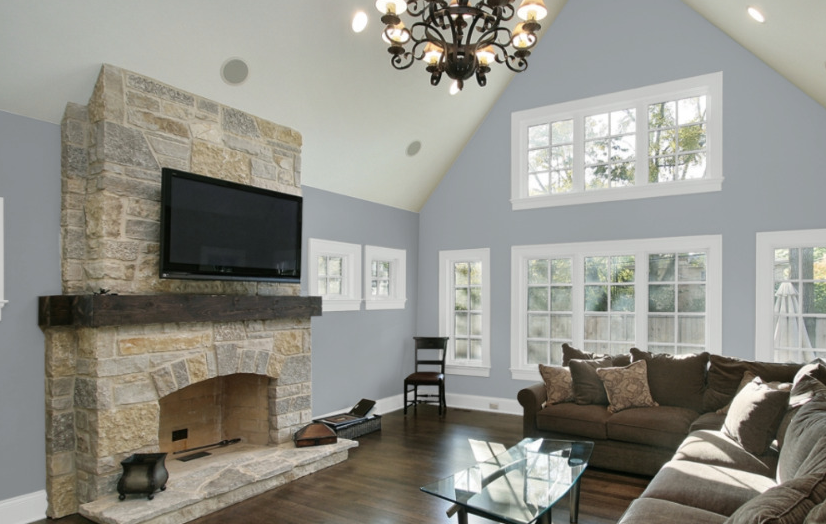 Start your day calm and collected with this cool, oceanic gray. The medium gray with a cyan undertone gives the Morning fog paint a foggy appearance. It is loved by homeowners and designers alike when used in larger spaces or well-lit rooms. This whimsical color gives the benefit of being able to be used in any room. It can transform the space into a haven.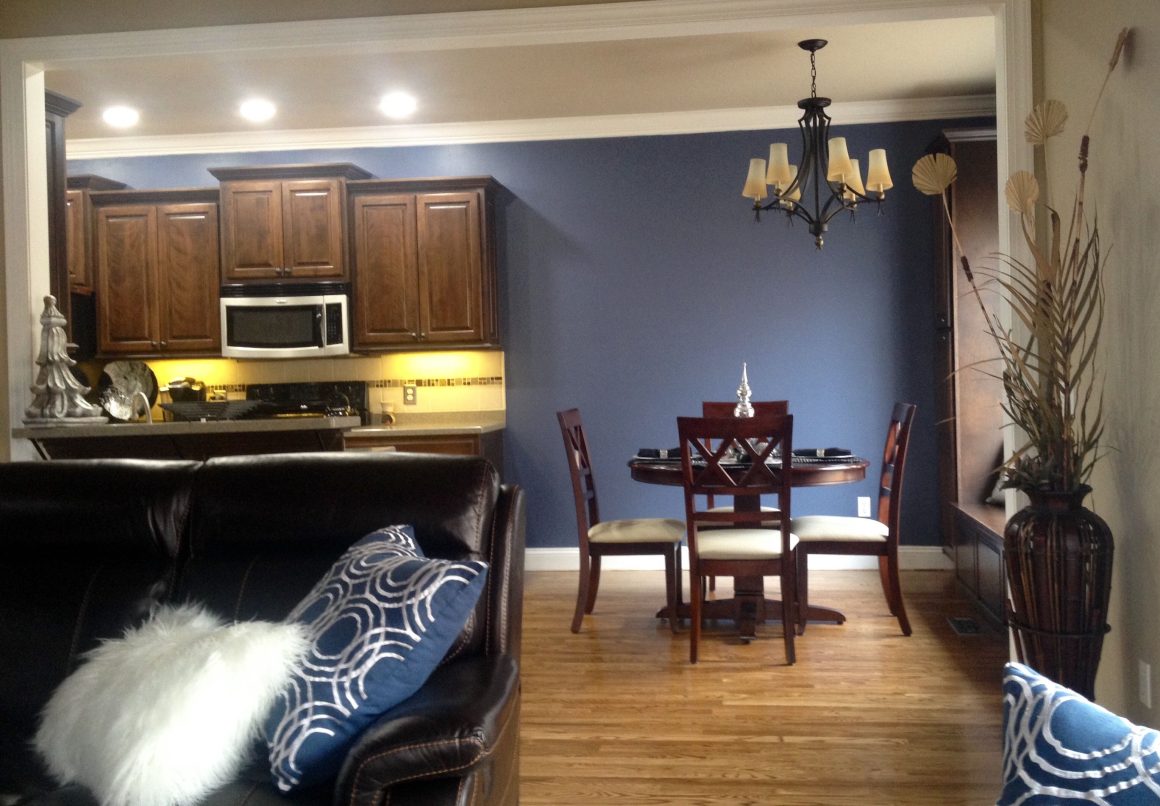 This deep and comforting blue with a denim gray undertone gives a playful depth. Distance is a relatively darker shade that needs lighter colors to complement it. Give it a try in your bedrooms, living area, or kitchen to see how well it plays with white, neutrals, and brown.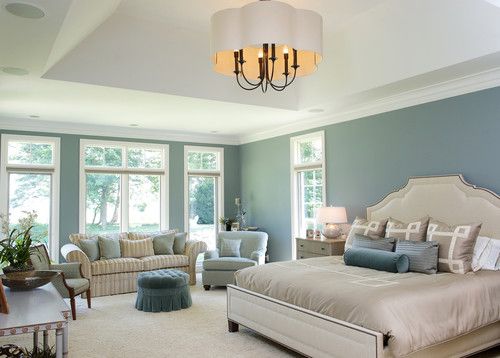 You might see gray-blue here, but it is a dynamic color. Stony Brook's color is a harmony of blue, green, and purple undertones buried in a moody gray, adding depth to it. Light can act as a jury on this paint, making it a color ninja. If you are looking for a balanced gray-blue-green blend, you have found it.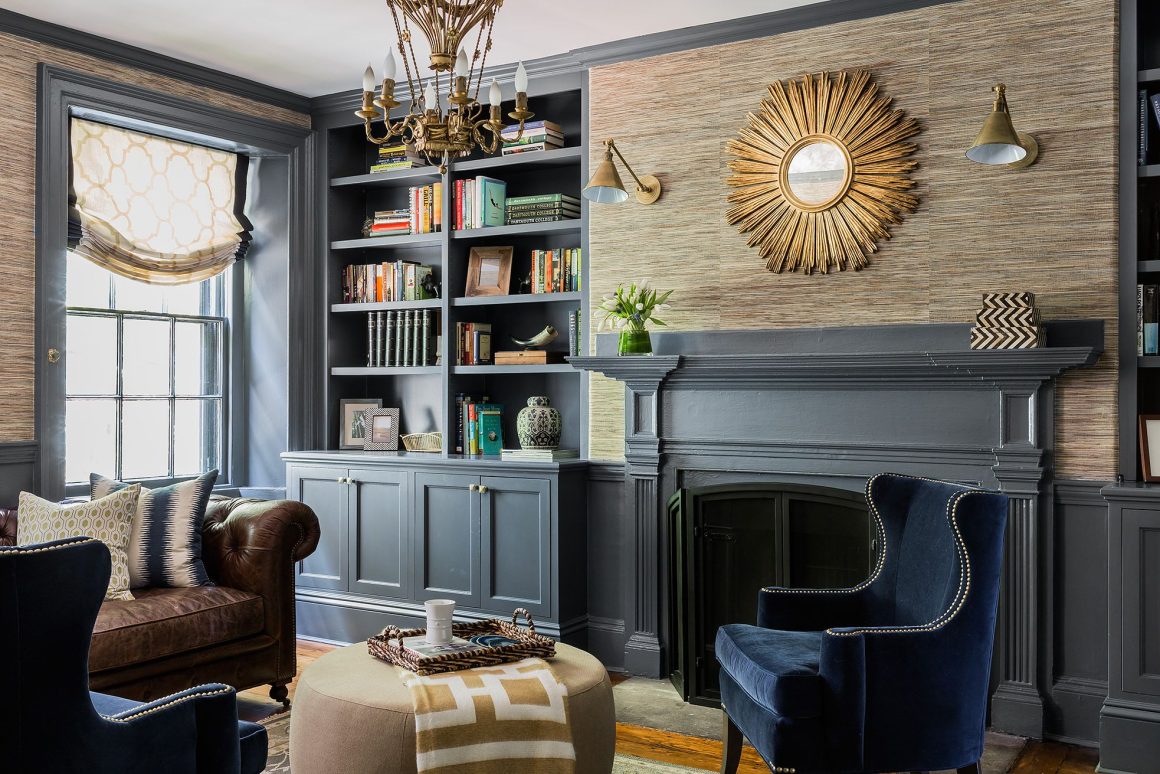 Wolf Gray comes under the gray-blue category, with gray being the dominant color. It is rich and dark and has a commanding presence. This bold, saturated color will give life to any space. It would go well with various colors, which makes this one of the loved shades by designers. This color will work exceptionally well with darker tone quick shades.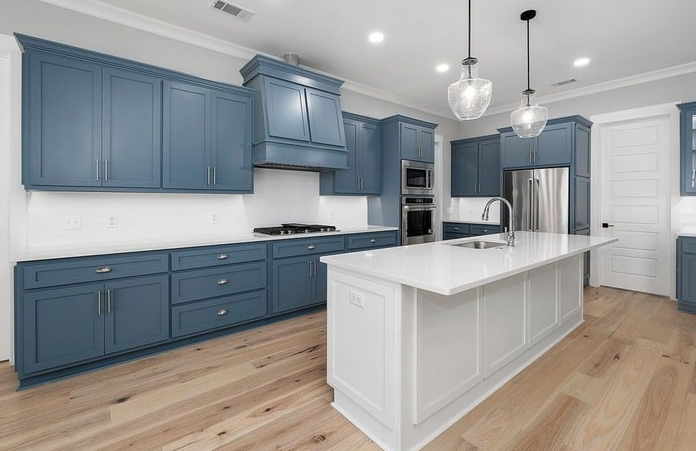 It is a medium blue-gray paint color leaning towards a darker shade. This crisp color can be used in any room for walls, doors, door frames, or cabinets. Match Providence with white, beige, or brown; even beach glass works to make it dramatic.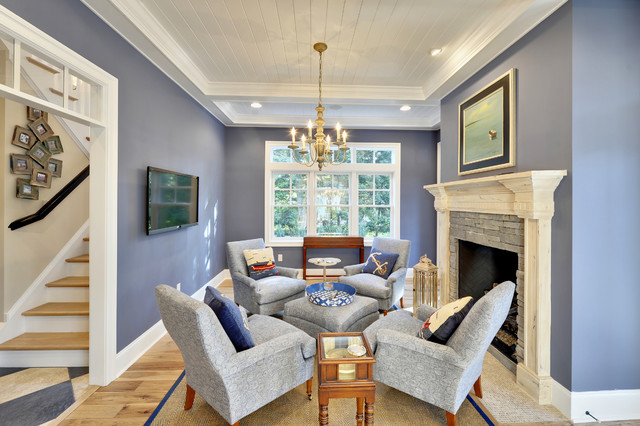 Bracing Blue, is a medium blue with an opaque gray undertone that perfectly balances sophistication and tranquility. This serene color has a depth to it which makes it playful and joyous, and the gray keeps it from overpowering the hues around it.
An elegant old-world blue with a gray tint that works well with contemporary spaces. The teal tone gives a coastal vibe. Though it would look fine on the walls, it suits better on doors and cabinets and would be stunning on furniture. Nevertheless, the image shows you how Water's Edge looks on walls. Not bad, isn't it?
Darker Shades of Blue-Gray Paint Colors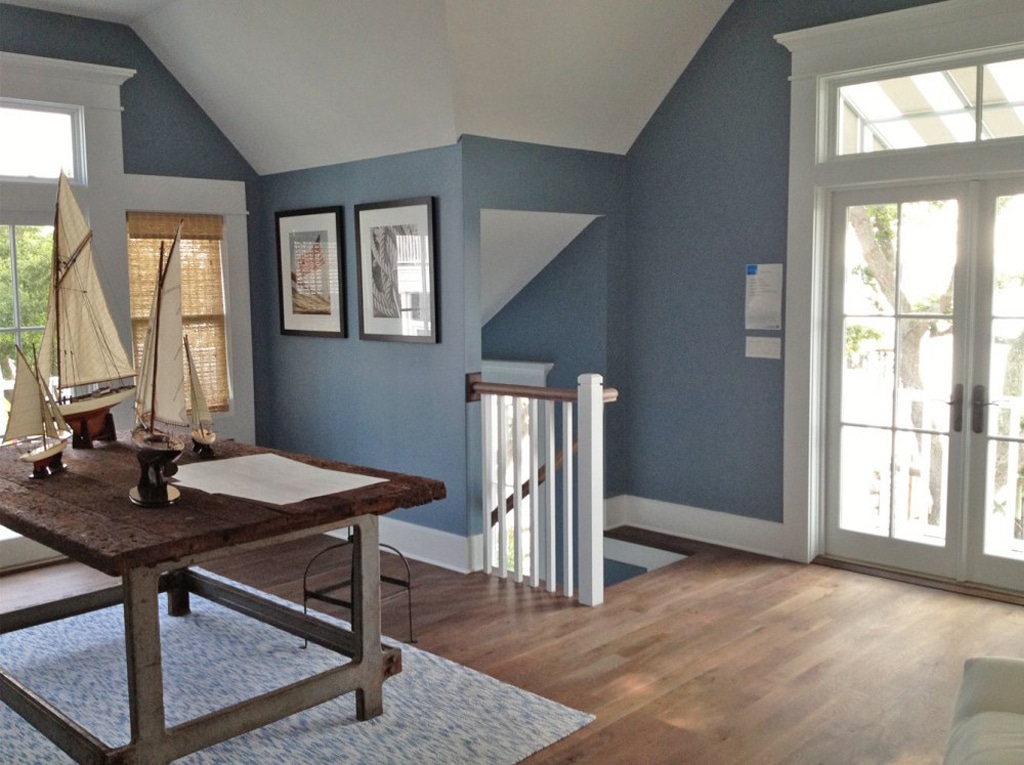 This chic, velvety blue with gray undertones falls on the darker shade of blue-gray paint color. It is a dramatic shade and has an alluring effect. You can play with it to make a statement and enjoy its exquisite effect. Smoky Blue is best recommended for cabinets, accent walls, bookshelves, or office rooms. Well, it splashes the room with visual internet and expresses its characters.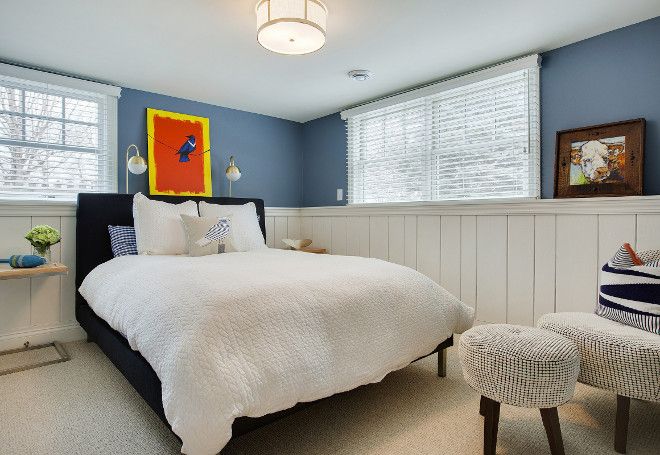 The deep-muted blue-gray probably owes its name to the masculine appearance it gives. It has to be noted that Bachelor Blue is a saturated blue with darker gray tones that works very well with feminine aspects too. This impeccable color pairs well with whites and wooden furniture.
Daphne is a true blue in between sky blue and navy, leaning towards the darker shade. It is cool and deep, and something about this color is enticing, offering both welcoming and majestic feels. The gray undertone offers it a versatility that befits this color for any room. It works exceptionally well in bedrooms and nurseries offering a good night's sleep.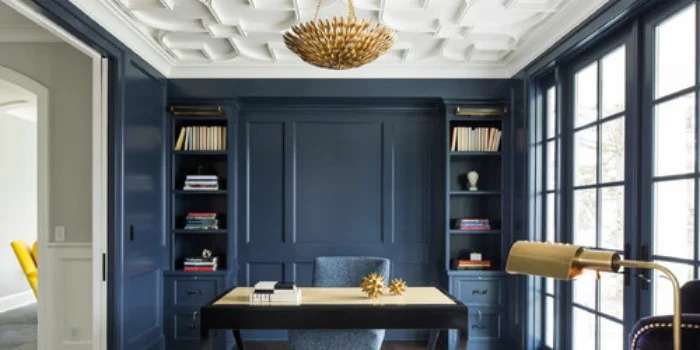 This deep color should be your go-to for extravagant aesthetics. Hale Navy is such an American elite navy blue. If you are uncomfortable with huge spaces, this color will surely make your home cozier. Don't overuse this dark blue-gray paint color and create congestion. Understanding the lighting is crucial. Be careful and abide by the rules of exposure while using this color to make your space look balanced and cohesive.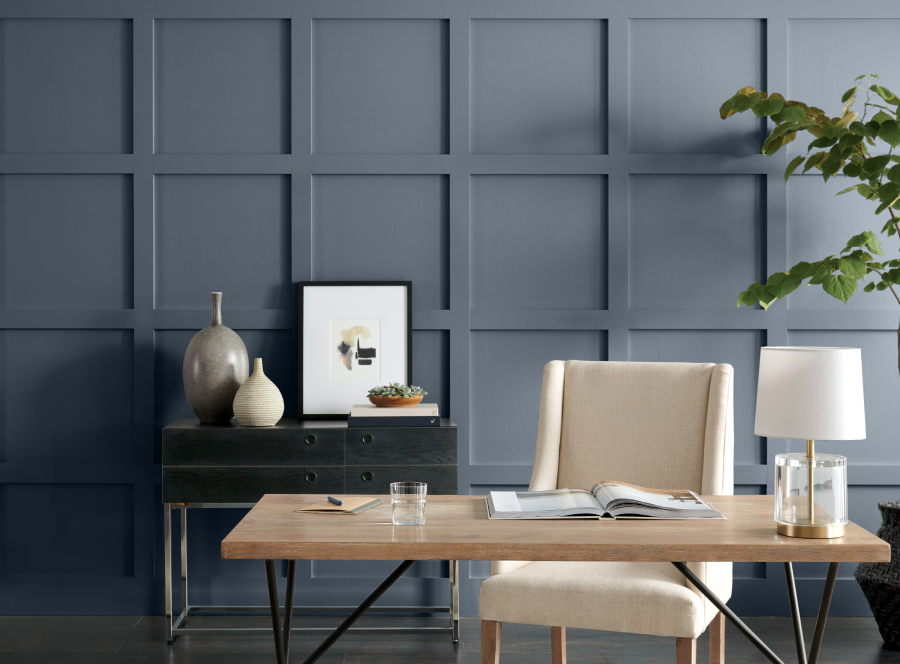 Granite Peak is a deep blue infused with gray that sets the mood for stormy skies or rocky roads. It is a silky blue that exudes sophistication. If there is a perfect blue muted by gray for accent walls, this would be it. It can be paired with white and other neutrals and works along fine with wooden furniture as well.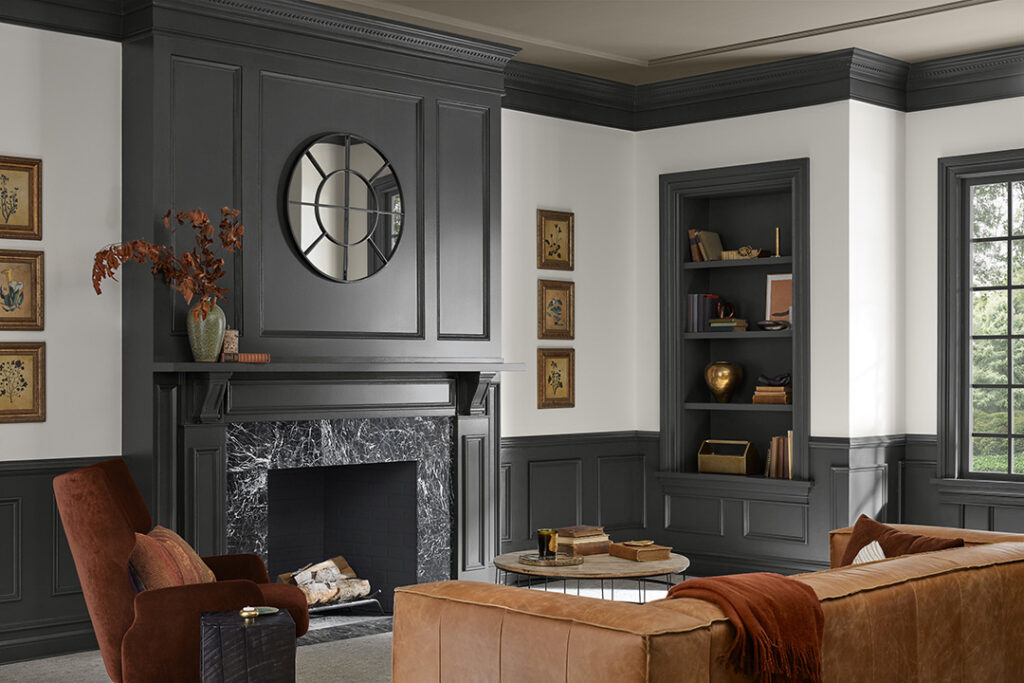 A rich charcoal gray color with a wee bit of blue undertone. And obviously, exposure to light plays a huge role in bringing out this hidden undertone. This deep and mysterious color will lend sophistication when used in a well-lit room. If you are looking to make a statement with a feature wall, or if you are considering painting exteriors, then go for Iron Ore.
Takeaway
The array of options available could make choosing the right gray paint color for your house challenging. If you are chasing the popularity bandwagon or you are looking to go timeless, Blue-gray paint colors are classic. There is a shade for every corner of your house.
I know you would research and browse the internet and design catalogs for references. But understand that they might appear different in your space. So hope the blog helps you to learn the tricks, understand exposures, and to study the tone of a color. With everything said, the best way to choose one is to sample it at your home.
I am sure you would have made your picks from the list of 25 blue-gray paint colors for your home. Now, what are you waiting for? Go ahead and try those.