Nothing makes a dog owner happier than seeing his dog playing all around, carefree and happy! Make your garden a running space for your pets, but protect them from external dangers and escapes with these cheap dog fencing ideas.
A fence in your garden will give them their space to play without you worrying about them. With attractive fence ideas, you can not only build a safe space for your dogs but also transform your gardens.
Fencing, with ease, can be installed in indoor areas to create a safe space for fun activities for your fur babies. With fencing, you can also integrate structural details by adding a window or a door to create a focal point in your yard.
For all the dog parents, we have curated a list of the top 25 inexpensive dog fencing ideas and designs to build a safe space for your beloved babies!
1. Recycled Fencing
Building a fence using recycled materials is an environment-friendly and cost-effective alternative for fencing. Recycling cuts the costs significantly and makes this a cheap dog fencing for your fur babies. You can use old wooden slats, PVC pipes, palettes, etc., to build a visually pleasing fence for your pets.
The fence for your pets should not be boring. You can cleverly reuse old materials to embrace the fencing with style in your yard while cutting the cost to a greater extent. Let your creativity take control for building a cheap dog fence that renders safety to your dog. If you have the essential tools, that will be leverage because then you are all set for a fun DIYproject to build a fence.
2. Picket Dog Fence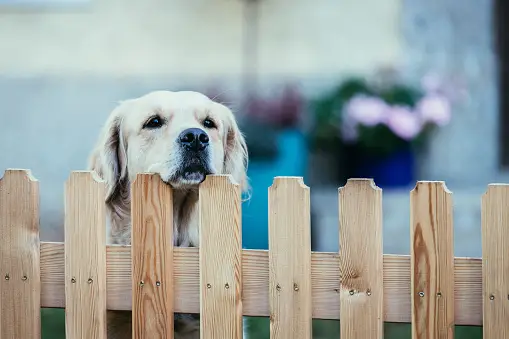 Picket fences are built by evenly spacing the vertical pickets attached to horizontal rails. When compared to other fences for your dogs, picket fencing filters out to be one of the most affordable choices. This cheap dog fence uses less costly materials like wood, vinyl, or metal. Installation of a picket fence is relatively easy, so installation charges are minimal.
Additionally, picket fences are comparatively smaller than other fence types. This makes it an ideal option for homes with puppies or small dogs that can not jump very high. The only concern with picket fences is compromised privacy. For adult or larger dogs, use taller pickets. Installing a picket fence at home can greatly reduce expenses.
3. Split Rail Fence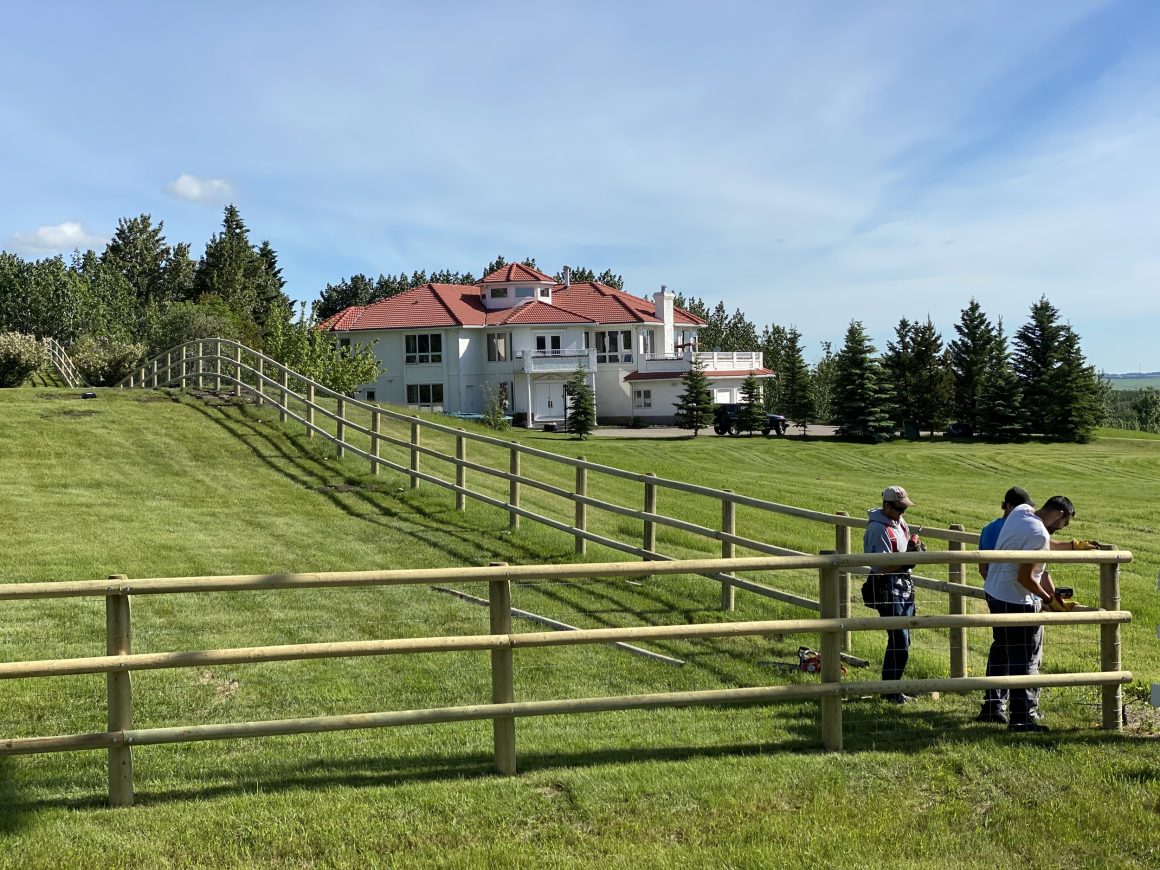 The split rail fence is another affordable and functional cheap dog fencing idea. The larger spaces between the logs make it a bit less functional. If the safety of your pets is your concern, solely a split rail fence will not be an ideal choice.
To make it a suitable fence for your dogs, the addition of a wire mesh makes one of the great choices without affecting the look of the fencing. The benefit of adding a split rail fence to your garden is that it does not block the outside view. Additional rails can be added to the fencing to ensure your pets do not escape the space.
4. A Wooden Fence with Metal Accents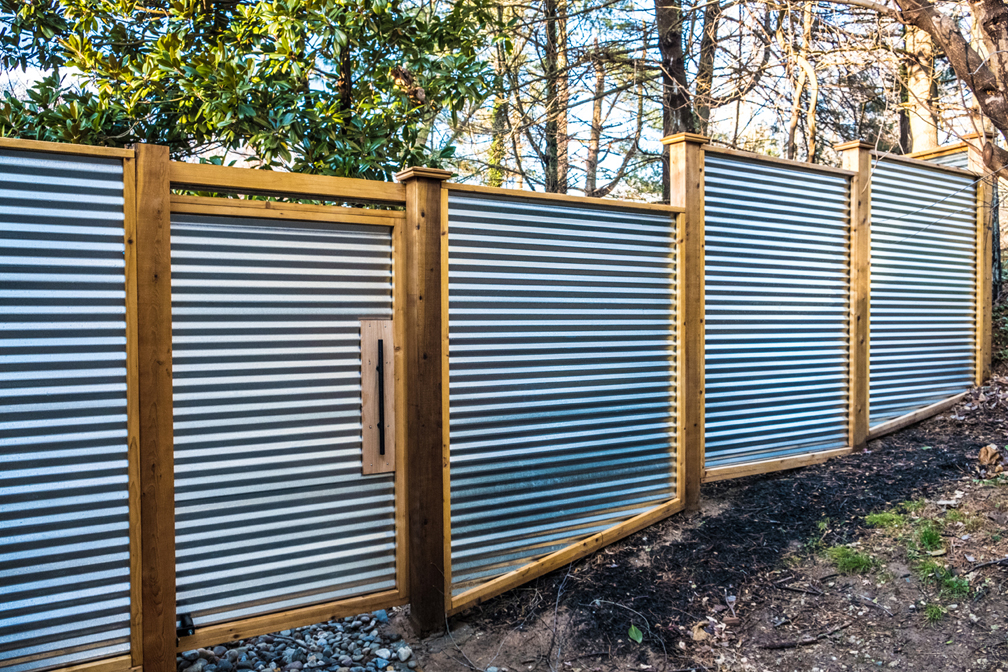 One of the most popular choices of dog parents is a wooden fence. It offers a natural look and provides a statement to your garden. To build cheap dog fencing for your fur baby, you can integrate metal accents with wooden fences. The visibility of the fence can be customized based on your preference.
The addition of metal accents accentuates the durability of the fencing. Additionally, the integration of metal also enhances the strength of the fence. For your dog to not miss the outside world, you can leave gaps in the fencing or build a window for your dog.
5. A Lattice Fence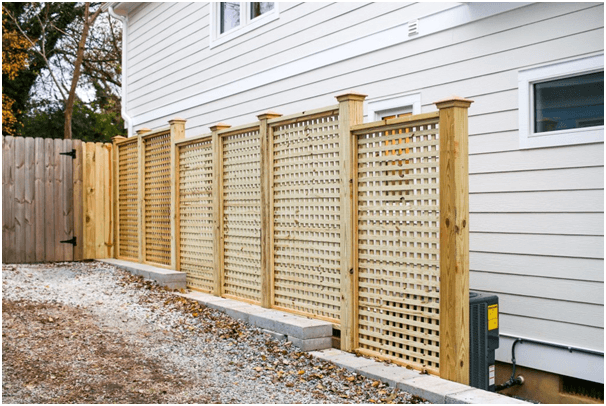 A lattice fence for dogs is an ideal choice for fencing because it leaves no open spaces in the fence. Lattice is commonly used as a fence topper, but adding it solely as a fencing material aids a unique feature to your yard. There are two types of patterns in a lattice fence. The first is a square pattern. This pattern is built by placing the wooden lines at an angle of 90 degrees.
At the same time, the diamond-shaped lattice is created by placing the lines at an angle of 45 degrees. Both patterns are equally pleasing. Building a lattice fence by yourself is more cost-effective than buying them in bulk. Installing a lattice fence in gardens of smaller areas can make the space look overfilled. This is why lattice cheap dog fencing is ideal for bringing out the best of larger & open spaces.
6. Fence With Welded Wire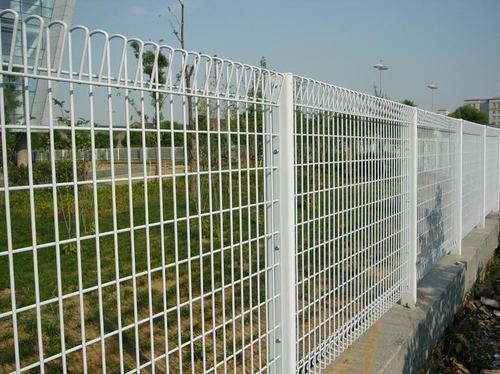 The welded wire makes one of the easiest DIY projects for a cheap dog fence. The welded wires come in different sizes, so that you can pick one based on your requirements. The strength and durability of fencing with welded wire can be facilitated by its installation with materials like wood or metal slats.
Use wooden panels, boards, or posts, integrated with welded wire to secure the fence and make your fence last longer. Welded wire can also be used with a split rail fence to add a unique feature to your fence. This fence does not bind your pet just to the boundaries of your home but allows it to observe the neighborhood. To add an interesting touch, you can top the fence with fence toppings.
7. Mesh Fencing & Lattice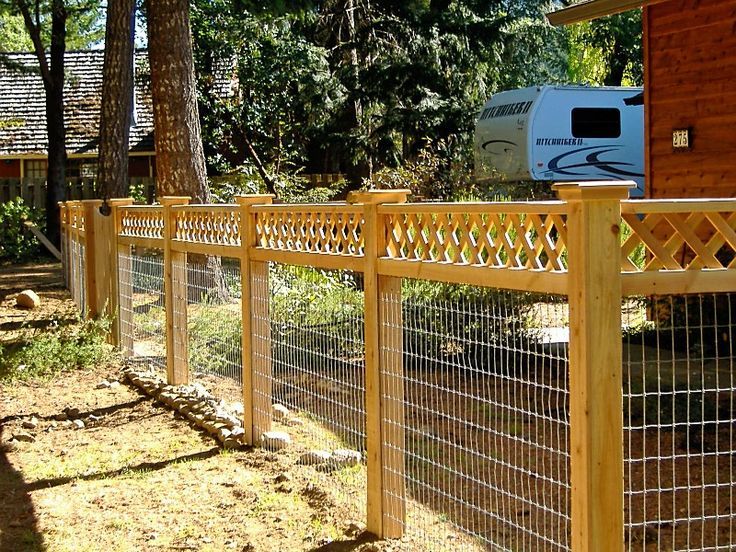 Do you want a cheap fence for your dog, but are you concerned about the appearance of the fencing as well? For cheap dog fencing that also is visually intriguing, mesh fencing topped with a lattice is a perfect choice. In mesh fencing, the wires are welded together to form a mesh that renders longevity and strength to your fence.
The wires solely can be used, but it makes fencing look monotonous. The use of a lattice topping can add a unique detail to your fencing. In this cheap dog fencing, the wire mesh is featured with an integrated lattice pattern. As a result, this cheap dog fence features panels with both a wire mesh and lattice ornamentation.
8. A Decorated Dog Fence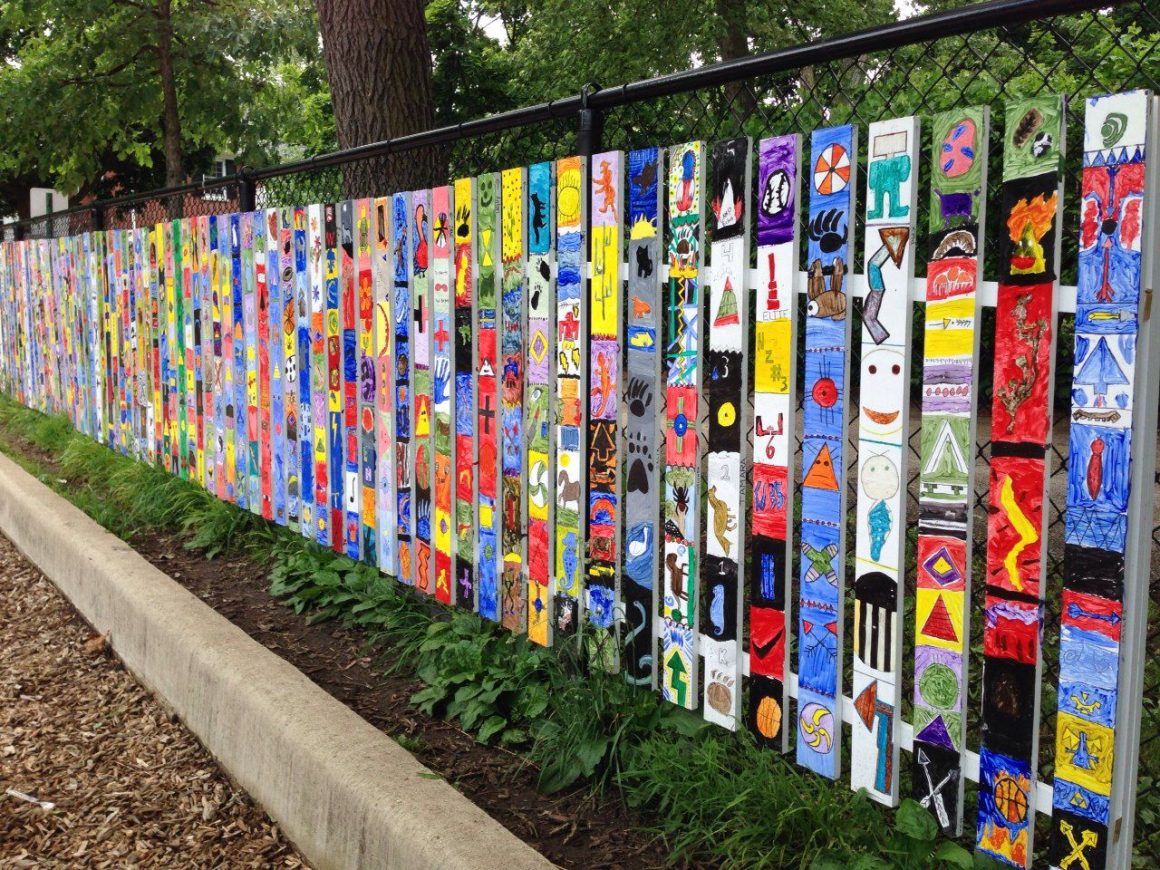 A chain fence offers functionality, but often times people do not find it attractive. If you are aiming for wire, chain, or mesh fencing but want to enhance the appearance of your fence, allow your creativity to take the lead. There are so many ways to embellish a cheap dog fence and transform it into one luxurious dog fence.
Adding colorful hues to your fencing is one of the simplest ways to embellish your simple wire fence artistically. If your garden does not complement bright shades, you can paint your mesh in sophisticated shades like charcoal black, brown paints, etc. It will add minimal but extraordinary detail to your yard. You can also decorate your fence using craft materials to give it a dramatic detail.
9. Add Plants to Your Wire Fence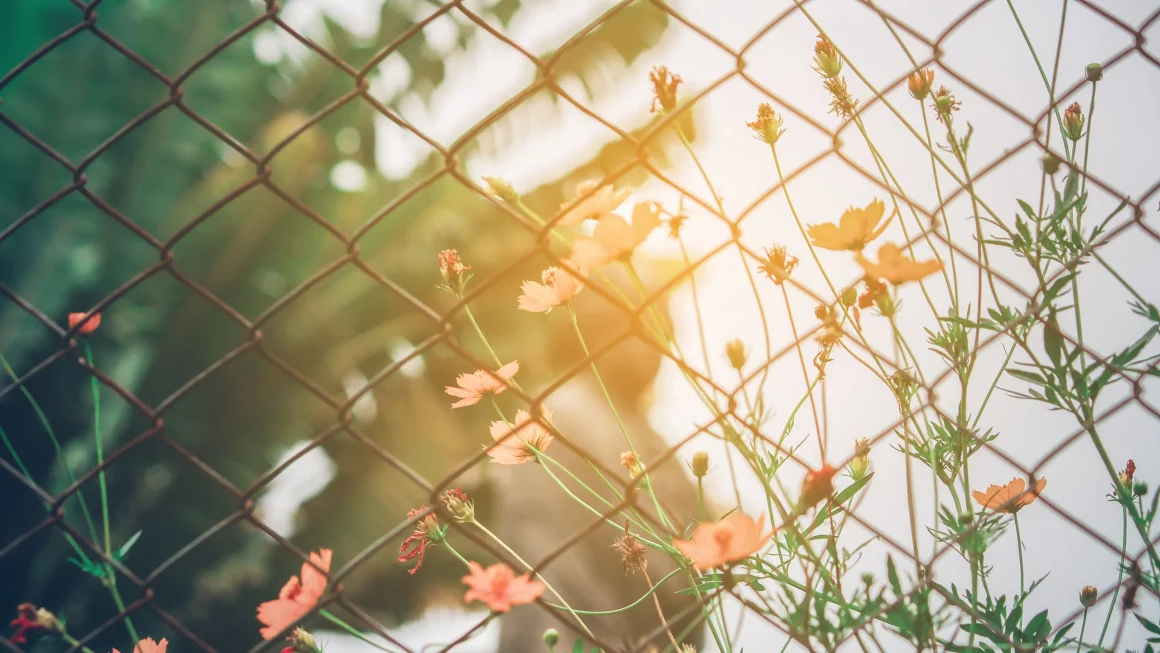 Wire fencing can be made a bit more fascinating by adding colors to the cheap dog fencing by using flowers and small potted plants. Plants offer the simplest ways to add sophistication to every home space. You can start with plating climbers or placing planters on the fence.
The colors added to the fence convert your simple fencing to a vibrant one. Covering your fencing with luscious foliage can also help you in achieving enhanced privacy for your garden. This way, simple and cheap dog fencing can be transformed into a focal point of the garden.
10. A Pet Gate
Pet gates help in providing a space for your dog in the house. The materials used in it provide resistance to clawing, jumping, and chewing. Pet gates are also helpful in providing limited access to your house zones to your pets. Although pet gates are an efficient way to provide a space dedicated to your dog, they can be quite costly.
If it is costly, why have we included it in our cheap dog fence ideas? Even if purchasing dog gates is expensive, building them at your home can be way cheaper. It is an easy and affordable way to add an indoor boundary for your pet.
11. Horizontal Dog Fence
Vertical fences are a popular choice when it comes to installing fencing for your garden. To upgrade the mediocrity of fence designs, you can install a horizontal dog fence in your garden. Horizontal fence designs provide a unique way to decorate your fence with innovation. But are horizontal fences cost-effective?
Generally, most horizontal fences are expensive when compared with vertical fences. But the costs can be significantly reduced by using cheaper materials. For example, software used for building a fence is relatively cheaper as compared to the usage of hardwood. Building horizontal fences on your own can be another way to significantly reduce the cost of installing fences.
12. Brick Fence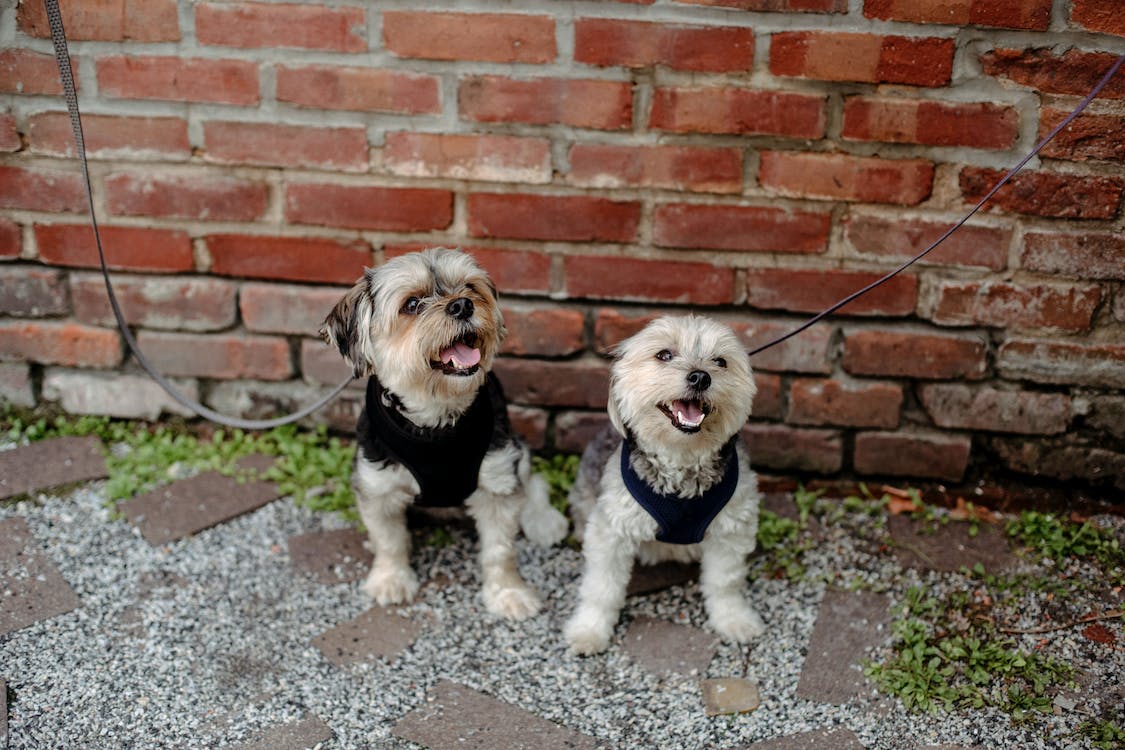 Brick walls are perfect as a decorative element in your garden that will also act as a boundary for your fur babies. The fence is suitable because it is more durable than other fence types with minimal maintenance. It is an efficient fence for adult dogs that can jump off the lower fencing. The only concern is that using bricks for larger spaces is not cost-effective. This is because the cost of bricks is relatively higher.
For smaller spaces, a brick fence is one of the cost-effective ways to build a cheap dog fence that requires fewer materials. To reduce the costs, you can pair it up with other decorative fence elements like wrought iron. A faux brick fence can also be one of the cost-effective ways to build a fence for a yard.
13. Vinyl Fence
Another cheap dog fence for your garden can be installed using vinyl. Vinyl fencing is an affordable fence to install. Not only is this fencing affordable, but also durable and low maintenance. The costs of installing a vinyl fence are relatively lower when compared with a wooden fence. One benefit of a vinyl panel fence is that it limits visibility. Another great thing about vinyl panels is that you will be saved from painting and staining the slats or panels.
One trouble with dogs and fences is that dogs sometimes dig under the fencing. With vinyl fences, this can be prevented by planting shrubs along the fencing. Adding to that, unlike wood, dogs are less likely to scratch vinyl panels, which saves you from repeatedly repairing your cheap dog fencing.
14. Wrought Iron Fencing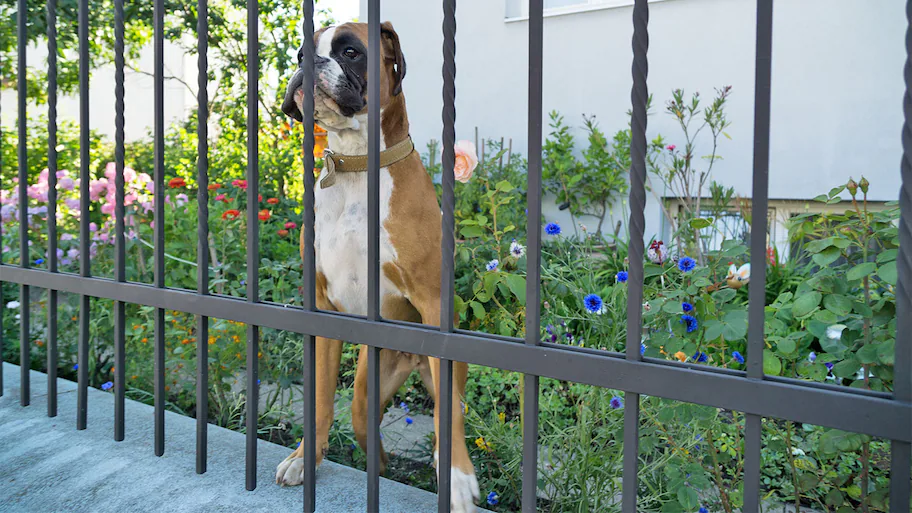 The sleek and elegant look of the wrought iron fence makes it attractive for cheap dog fencing. The benefit of fencing with wrought iron is that the view is not blocked, like other fence ideas. When opting for a wrought iron fence, one thing to consider is the size of your dog.
This fence is ideal for adult dogs. But for smaller dogs and puppies, this cheap dog fencing is not recommended. This is because they can escape the fence by squeezing through the openings. Moreover, a wrought iron fence is a comparatively cheaper option for fencing. Taller fencing can be required for dogs as some might be able to jump shorter fences.
15. Fence Using Corrugated Metal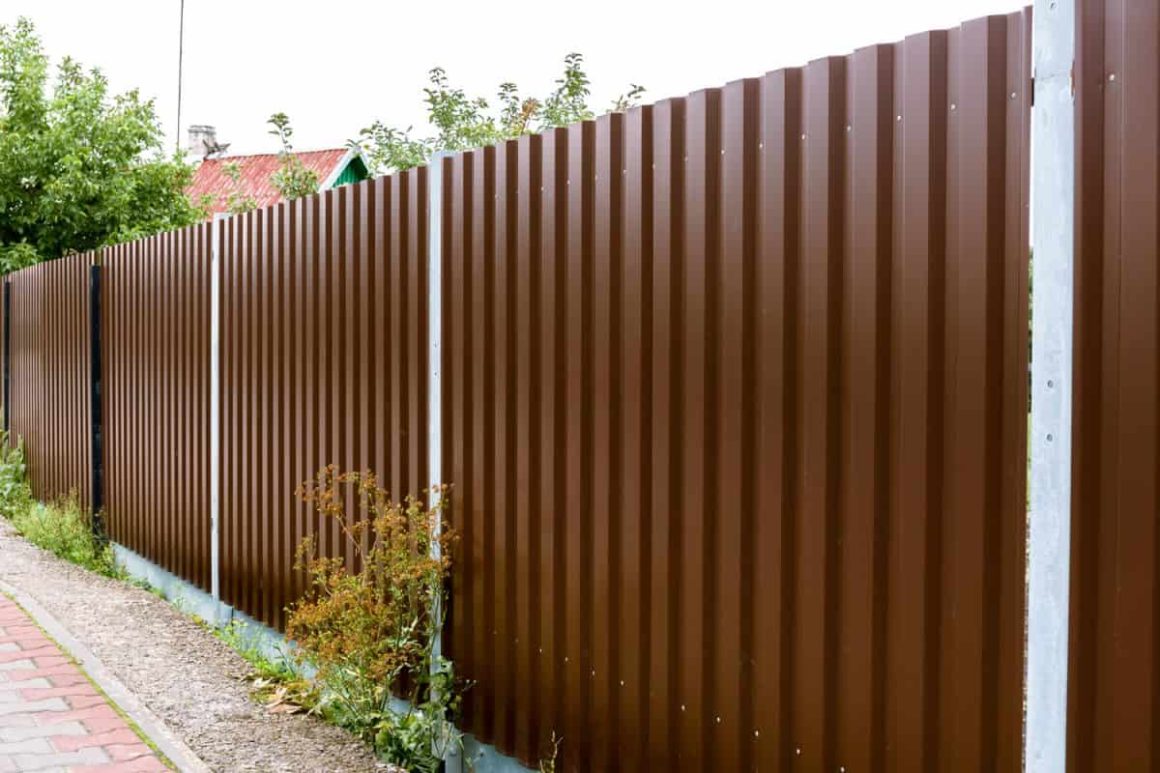 Corrugated metal sheets are one of the most affordable ways to install cheap dog fencing in your yard. For larger spaces, corrugated metal is one of the most cost-effective ways as compared to wood or other metal materials. The fence can be built using integrating corrugated metal with either wood or metal supporting to render it durable.
This fence for dogs requires minimal maintenance, and its durability is commendable. The aesthetics of the fence can be enhanced by using bold color shades to give it a distinctive look.
16. Invisible Dog Fencing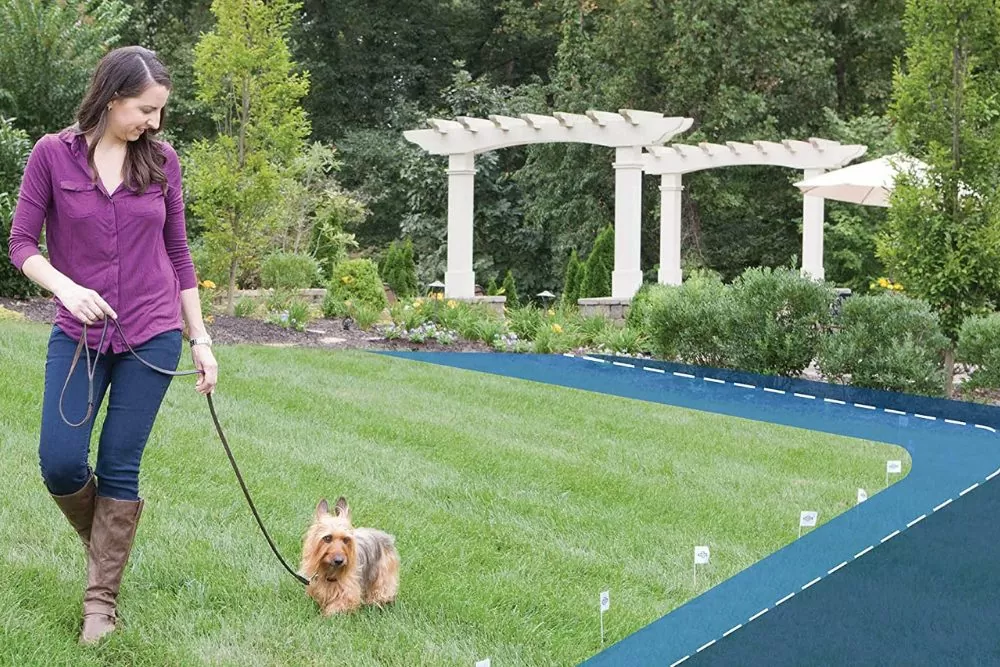 If you want to ditch traditional fences, an invisible dog fence is one of the options worth trying. With conventional fencing, the labor cost, installation cost, and the cost of materials add up and make it expensive.
But with an invisible dog fence, the costs are significantly reduced even if the fence is professionally installed. Hence, this becomes one of the cheap dog fencing ideas. The fencing confers adaptability, convenience, and safety. But most pet owners do not prefer this cheap dog fence because the fencing gives the dogs a shock that acts as a barrier. Pet training is another requirement for this type of fencing.
17. A Pallet Fence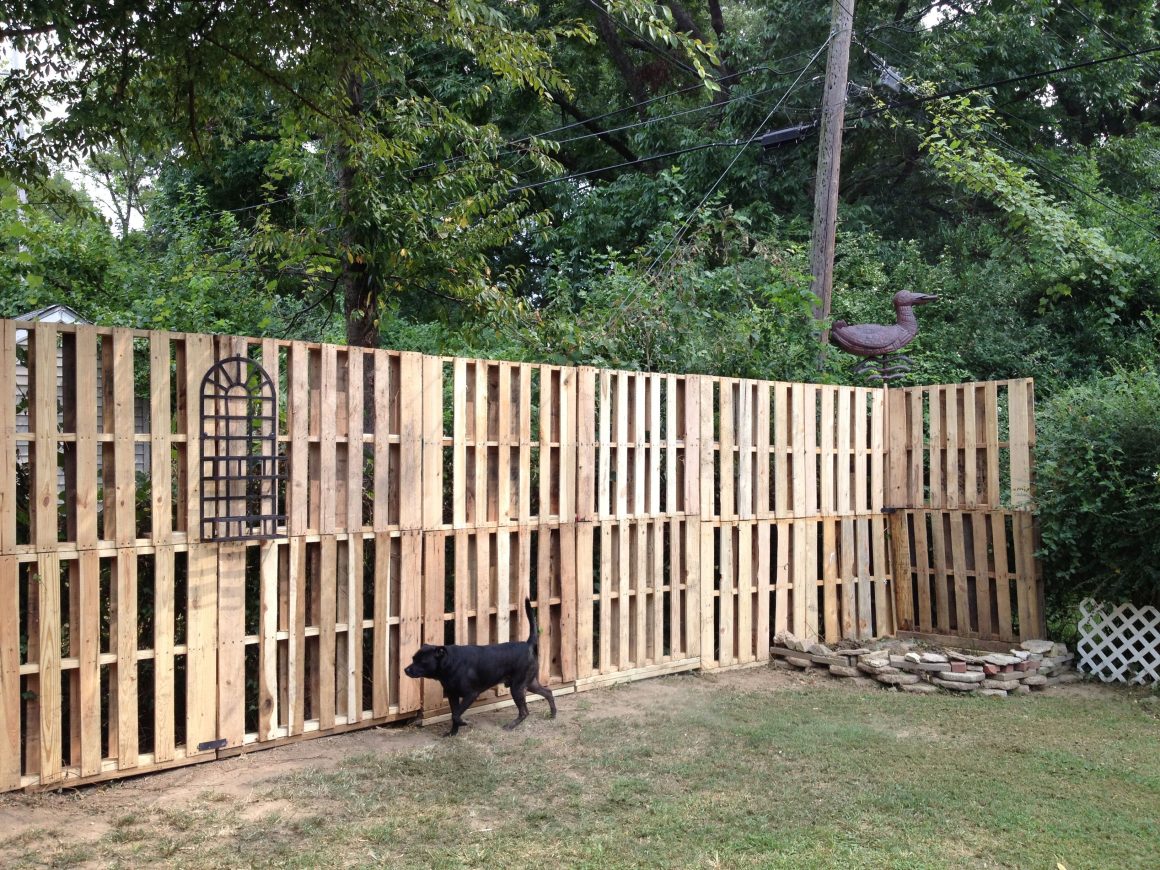 A pallet fence is functional and easy-to-build cheap dog fencing. It is a low-cost fencing you can easily build in your yard. To provide a rustic & natural appearance, you can reuse old wooden pallets to build this fence for your dog.
A pallet fence provides an outline of your yard and a barrier to your dog. So your worries about the dog escaping are solved by this cheap dog fencing. The pallet fence is more visually appealing than other fence types because of its decorative flare. For a large dog, make sure the height of your fencing is ideal so that the dog can not jump off the fence.
18. Commercial Grade Fence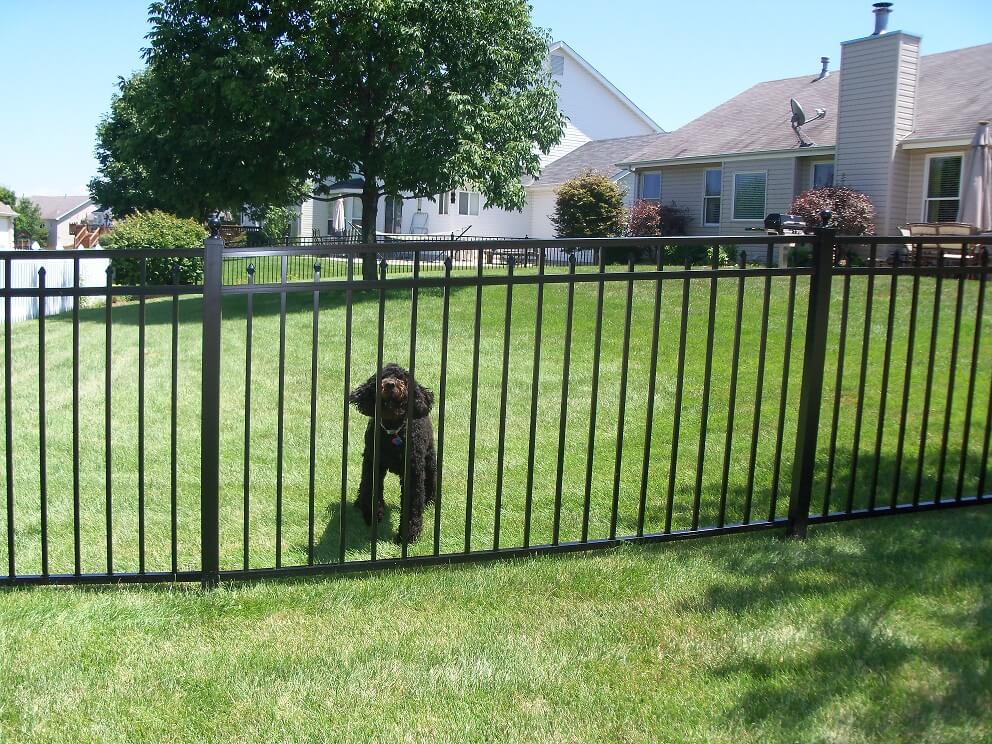 A commercial-grade fence mimics a wrought iron fence, but the difference is that it has greater strength and is more durable. The strength and durability of the fencing are conferred by the use of larger pickets and rails, along with the thicker material used for building the fence. The aesthetics of your home will also be enhanced using commercial-grade fencing.
The pattern of this fence mimics the wrought iron fence, so it is a great option if you want a similar sophisticated look. Commercial-grade fencing often has ornamentation at the top ends, which gives it a decorative touch. This fence idea, because of its strength & height, is a great hit if you have a large dog.
19. A Mounted Fence For Your Dog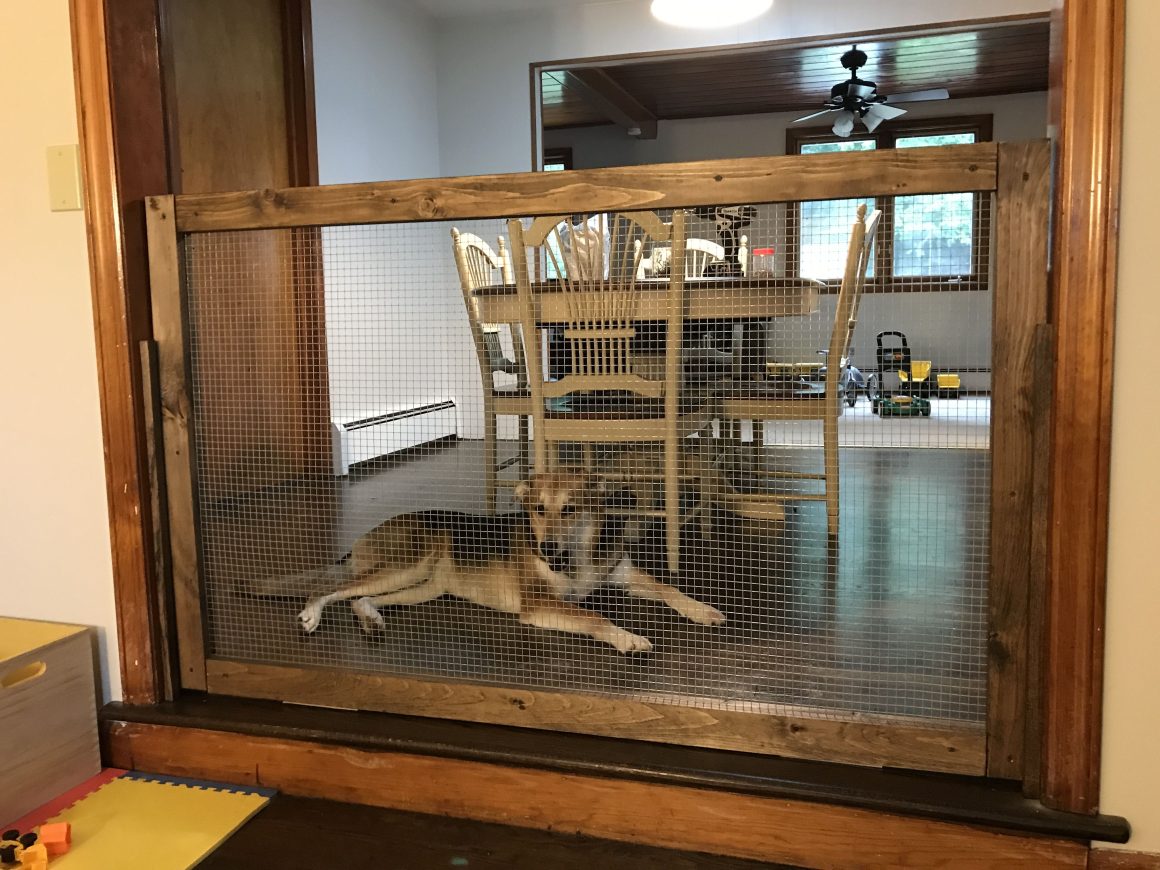 Limited space in your house does not have to limit a play area for your fur babies. To efficiently utilize your spaces, you can build a playing zone for your pets in your space-confined homes. You can install a fence in an outdoor open space like a balcony and build a kennel for your dogs. To further enhance the look, you can add faux grass and give it a natural touch.
Alternatively, you can install a wall-mounted fence on your patio or deck to keep your dog in a specific zone. This cheap dog fencing is ideal for small dogs and puppies.
20. A Portable Dog Fence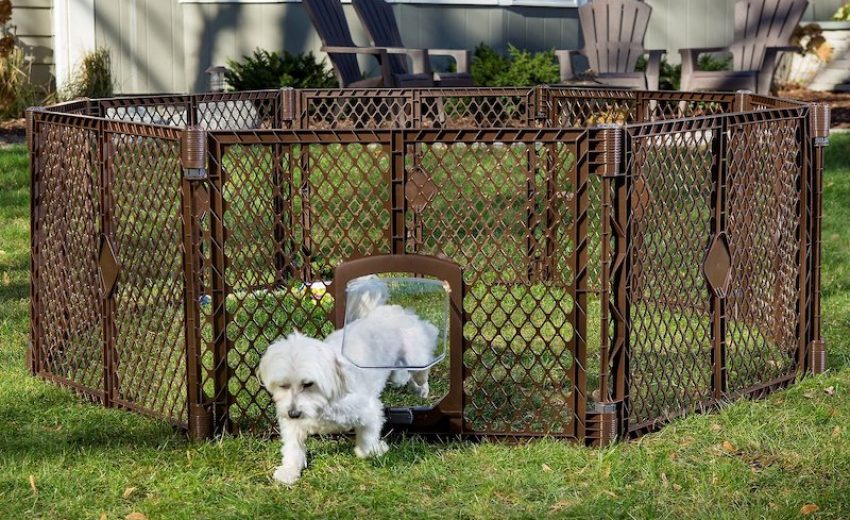 The portable dog fence is another affordable fencing idea you can try for your puppies. Portable fencing, unlike conventional fencing, make things easier for you. It provides a designated space for your dog, less restricted than a leash or crate.
A portable fence is perfect for traveling with your perfect partner. For landscaping and DIY projects in your yard, a portable fence is a perfect way to prevent your dogs from escaping or disturbing you while you do the projects. A portable fence is ideal if you are in need of temporary fencing without letting you spend a lot of money.
21. A vertical Dog Fence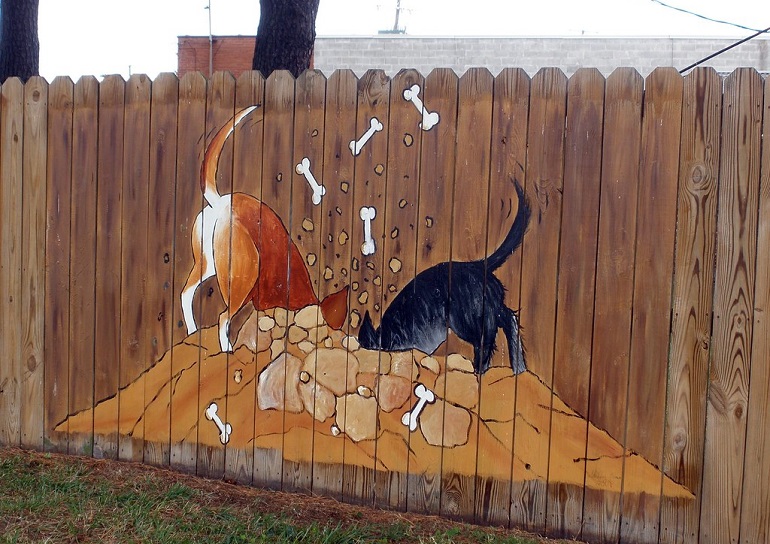 Vertical fencing is one of the most common designs used for building garden fences. It is preferred because of its lesser installation cost and efficient installation. This cheap dog fencing idea is excellent because it provides a modern look to your yard. Compared to horizontal fencing, vertical fencing lasts longer and is more durable.
The visibility of your garden can be customized depending on how you install the fencing. If you want a passage for sunlight and air, you can leave spaces between the slats. Whereas, for a private garden, the fencing must be done in a way there are no spaces between the slats.
22. Dog Fence with Window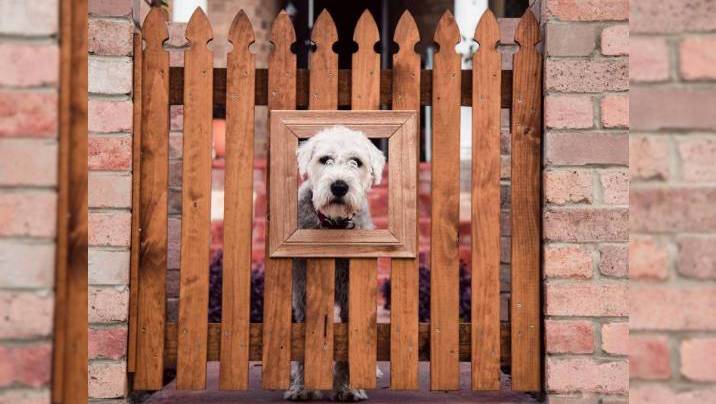 If you don't want your dog to miss what's happening in the outside world, this cheap dog fencing idea is for you! The incorporation of a window in your fencing will provide an interesting feature. You can install a window for your dog to peek outside his designated area. A fence window can be incorporated into almost any of the fences.
The best part is that a window fence for your dog will be cheaper than you think. Using different designs of the window you wish to add, you can create a unique detail to your fencing. The window can be covered by glass or wire mesh, or you can choose to leave it open. This cheap dog fence idea will make your dog love you!
23. A Playpen for Your Dog
You can not always watch your puppies, but leaving them alone can risk their safety as well. For situations like these, when you need a break from dog parenting, playpens are a great choice for you. Playpens are excellent for providing a safe space for your puppies where you can leave them without any worries.
A playpen can be built with metal or plastic gates that provide a safe enclosure for your baby pet. A playpen can also be included in your puppy training. Playpens allow sufficient space for the babies to explore. And the best part is that playpens for dogs are quite affordable. It provides your puppies private time and you time to relax, so it is a win-win deal at last!
24. A Balcony with a Fence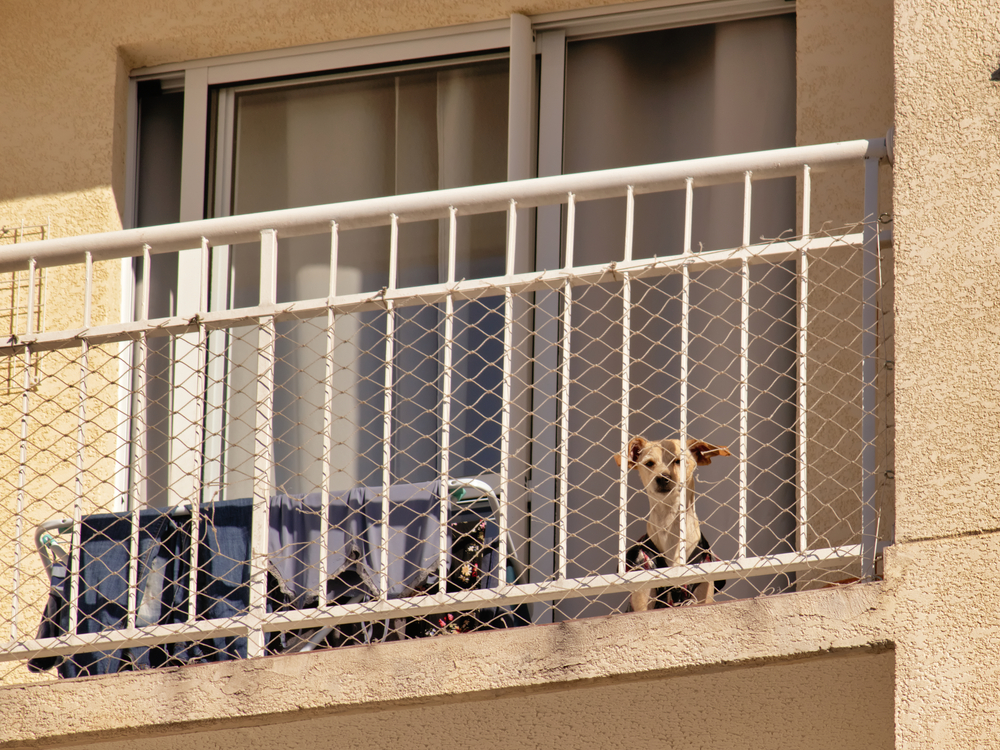 If you do not have a backyard but don't want your pet to miss the outdoor fun, here is an intriguing cheap dog fencing idea. Make your balcony the favorite space of your pet. A balcony is generally not safe for pets. But fencing installed on it can make space for your dog to play around.
To create a natural look, you can add details like a faux grass mat, plants, and some toys for your fur baby.
Select a material for the fencing that complements your space. This way, you not only create a space for your dog but also make your home visually appealing.
25. A Dog Fence with a Gate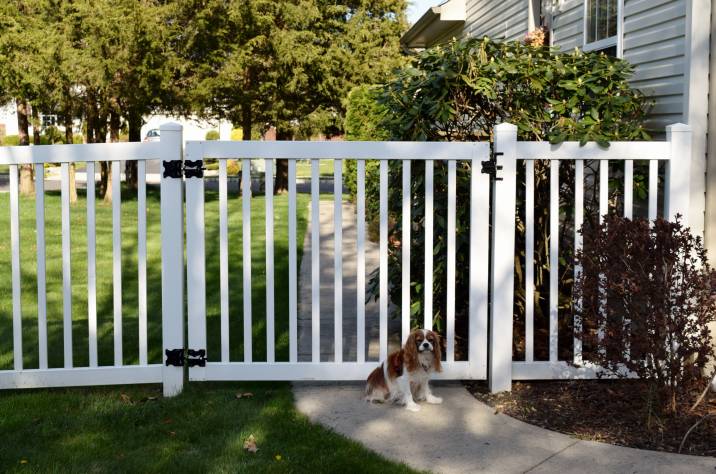 Fencing aided with a gate not only provides your dog safety but also increases your fence's functionality. The gate for the fence can be made of the same materials as that of the fence. On the other hand, you can also use a different material for your fence. You can build a decorative gate that makes the fencing look extravagant.
The detail of gates on fencing gives you the perfect opportunity to show your style. Hardware is another detail of the fence gate you can experiment with. You can choose minimal hardware for a subtle look, but you can also go creative with decorative hardware.
Conclusion
The cheap dog fencing ideas provide dog owners with numerous options to install the perfect fencing for the safety of their pets. Depending on your fencing requirements, you can give your dogs a safe place to play.
Wooden fencing is a widely used material for fencing. With wood, you can build fencing in various ways. The use of metals for fencing is an excellent idea because it renders longevity. Among different fencing, vinyl fencing, pallet fencing, lattice fencing, and wire fencing are some of the hits.
Using different materials and basic knowledge of DIYs, building a safe and secure fence for your dogs will no longer be an overpriced addition to your home. When you select a fence, consider factors like the size, age, behavior, and exercise needed to build the perfect fence.