Are you looking for a way that will enhance the appearance of your entryway? Associating a bench can give the additional aesthetic appeal to make your guest welcome a visit.
There are many Entryway ideas with a bench that can create an ambiance of creativity and stylish. If you have a DIY spirit, then you will definitely love these 24 bench ideas that beautify and add functionality to the entryway.
Without a doubt, you will agree that the entryway is the point that creates the first impression of your house. Hence, it becomes necessary for the homeowner to create an ambiance that feels warm and cozy to everyone. The atmosphere must feel inviting to the visitors and look equally pleasing to the eyes.
In this inclusive guide, you can explore the benefits of associating Entryway ideas with a bench that will make transformations around your house.
Benefits Of DIY Entryway Benches
Who would prefer to have an extra sitting space in their home? DIY benches offer various advantages to your house. When you decide to create seatings for your house, you own the freedom to provide customization as per your aesthetic appeal. Creating your bench allows you to match it perfectly with the overall appearance and decor style.
Moreover, DIY benches are often very cost-effective against pre-made ones that you find in the market. Designing your benches brings high-quality results even without using pre-existing positioned items and saves money. Furthermore, you can enjoy the benefit of showing off your creativity and personalization by designing the benches.
Where to DIY from
There are many options for you to DIY your entryway benches, and you can accomplish that by using various materials and methods. You can visit a craftsman shop and DIY your benches from there. If you want to build your own bench, you can take your inspiration and guidance from this content to understand here aesthetic preference better.
Moreover, you can take the step-to-step guides and skill up different bench styles for your preference. In addition, you can visit hardware stores to get the materials of your need and create a wonderful piece of art for your entryway. You can also look for pre-cutout benches, which will make your process of building a bench.
Entryways Bench That Will Make Your House Look Beautiful
To create a warm and welcoming ambiance for your house, incorporating benches is one of the best ways to make it happen. Moreover, adding bars also brings style and extra options for storage spaces with its incorporation.
A bench is a versatile piece of furniture for your entryway, no matter what its architectural style or structural size. In this comprehensive guide, you can explore 24 different Entryway ideas with a bench for your house.
1. Built-In Bench That Makes A Statement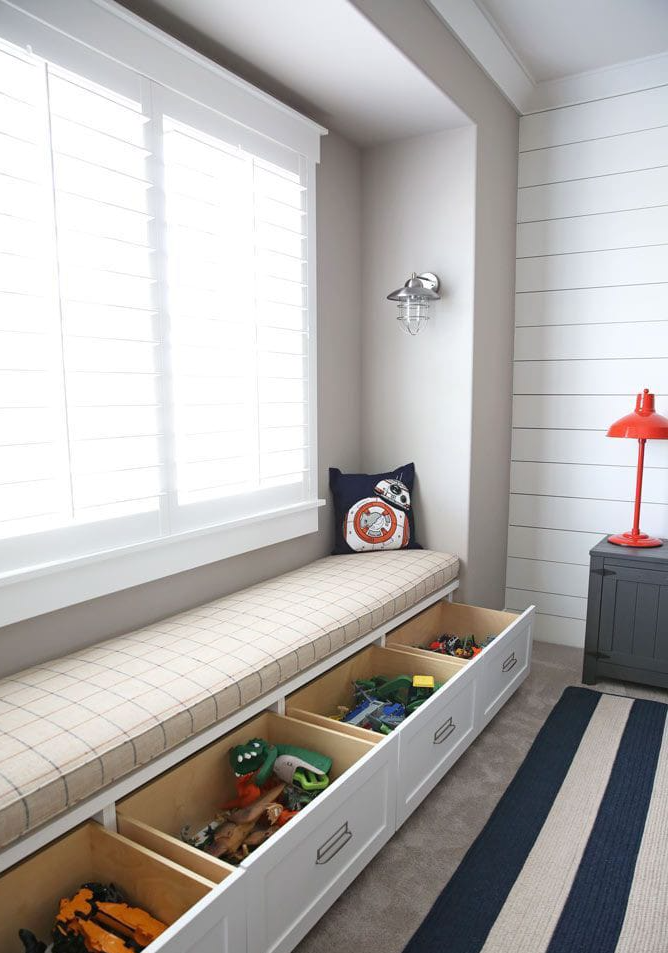 Whenever the space permits you, try to consider installing a built-in bench that provides storage options, such as cabinets, cubbies, and drawers. Therefore, you can customize your benches as per your family and personal requirements. You can associate built-in benches with a decorative feature around the house.
Moreover, you can also paint the background with some contrasting colors to make the bench look gorgeous. And this will make the texture exaggerate better. You can also add different baskets and finish the looks with pleasing hardware and decorative items.
2. Painted Vintage For Class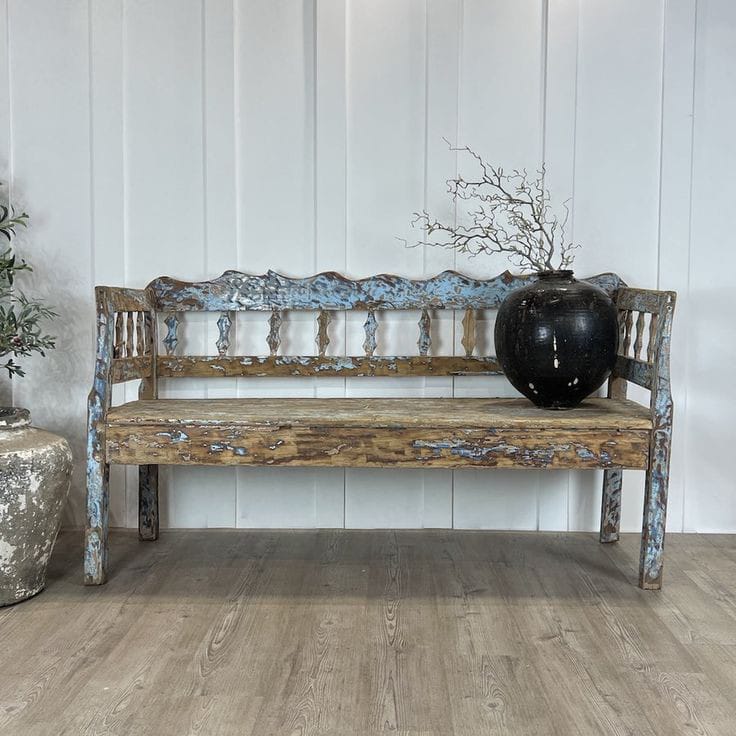 If you want to transform your house, nothing can beat the power of vintage furniturepieces in your home. Hence, designing the entryway ideas with a bench is a decent option to explore per your aesthetic requirements.
The power of the vintage bench to make the household feel fulfilled is drastic. You can add more taste to the vintage bench by giving it a touch of modern paint. Pastel colors give a refreshing classical look to the ambiance of the house. You can also add floral wallpaper to make it look classical and elegant against the vintage bench.
3. X Base Aesthetic Bench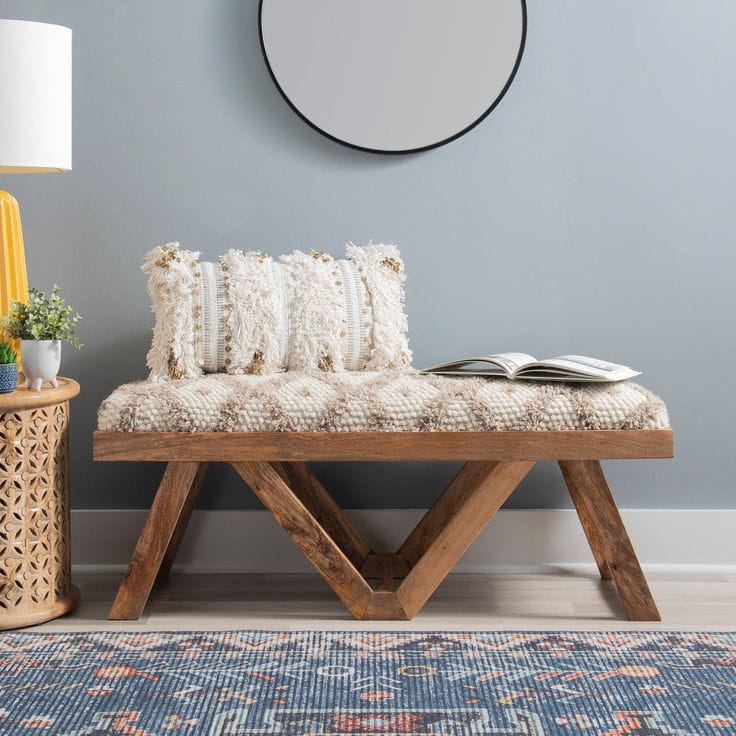 To bring an additional function and elegance to your house, pick an X base Bench as it is one of the best choices. X base benches are functional and add a structural visual to the ambiance for the entryway of the home.
Entryway ideas with a bench like these can bring elegance and attention to your household. You can place them under the console to save space and pull them out according to your need. You can choose different kinds of upholstery and designs to create the decoration of your interior.
4. Wrap-Around The Wall Bench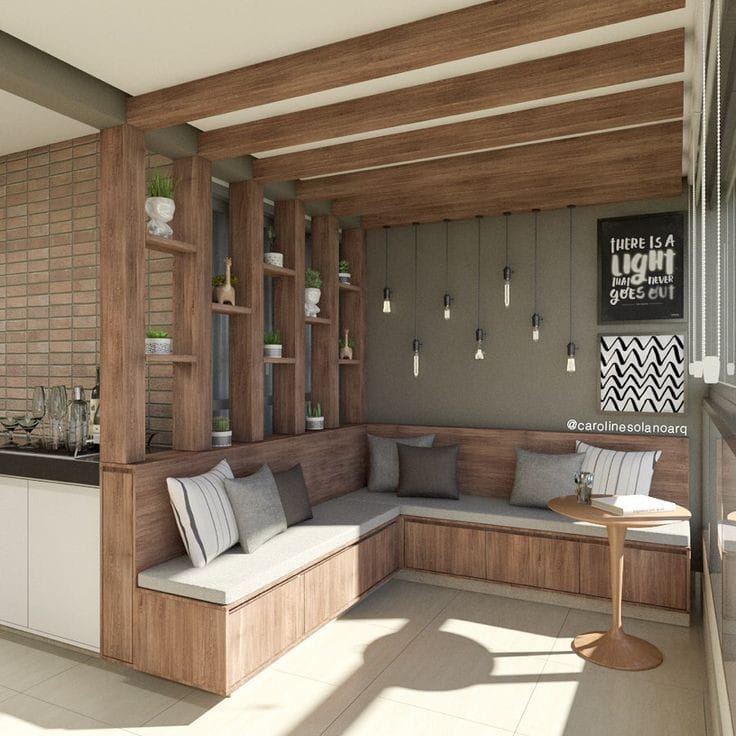 Whenever you have a small entryway, space is the most subjective thing a homeowner needs to pay attention to before adding another piece of furniture. Therefore, Wrap-Around Benches are among the best answers if your household has many nooks and corners.
Therefore, the wrap-around works for all the parameters of the house and settles down without clashing against it. Hence, this will make the house look classy and inviting for the guest that visits you.
5. Chunky Wooden Rustic Bench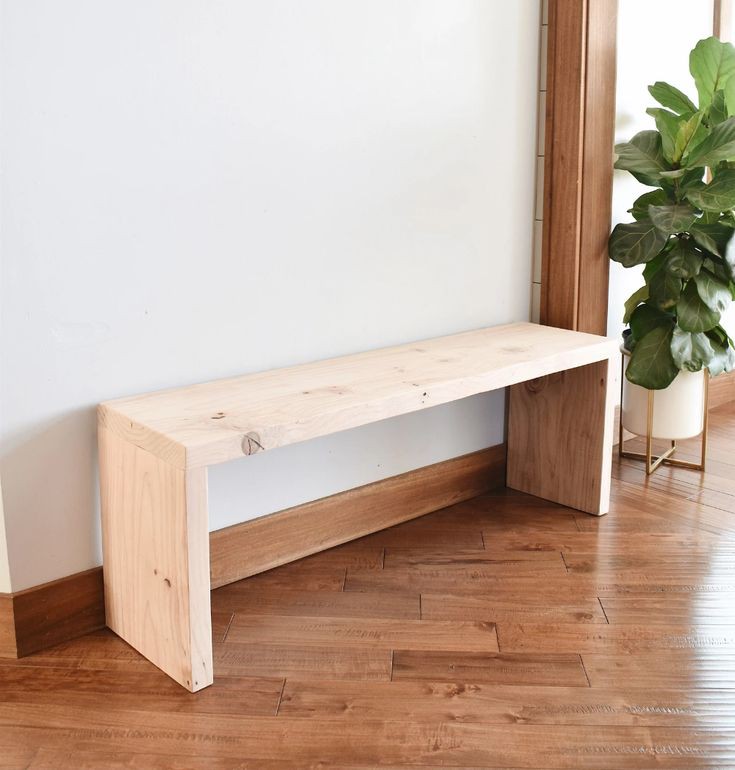 For a more rustic look for your household, you can always go for a chunky wood bench that hangs in between and give you a modern look you thrive. The wooden bench can go in between two walls or a built-in closet. Hence, this makes your entryway obtain a streamlined, uncluttered appearance.
Furthermore, the extra space under the bench can be used for various purposes, such as keeping shoes or storing baskets and accessories. The bench is the perfect place to provide your guest with a sitting space if they visit for a shorter period of time.
6. Modern Printed Bench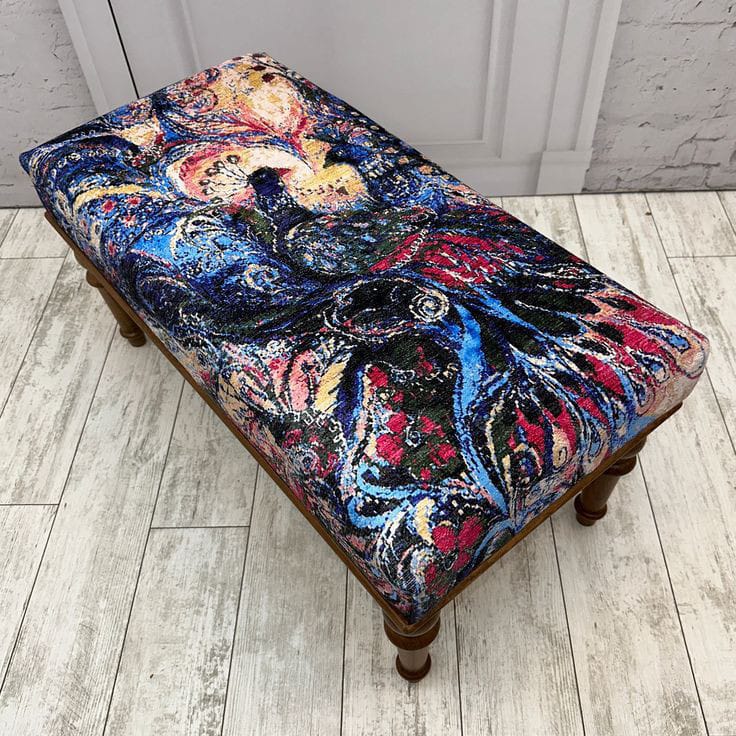 Modern upholstered benches are something that many people shares so much love. The benches have a simple design that looks classy and minimalist, slightly curved around the edge. You can go for many other design styles per your aesthetic preference to suit your taste.
Therefore, you can place those beautiful benches at the foot of your bed, under the window, or opposite the sofa. Entryway ideas with a bench like these can make your house look beautiful and elegant.
7. Modern Bench With Woven Basket Storage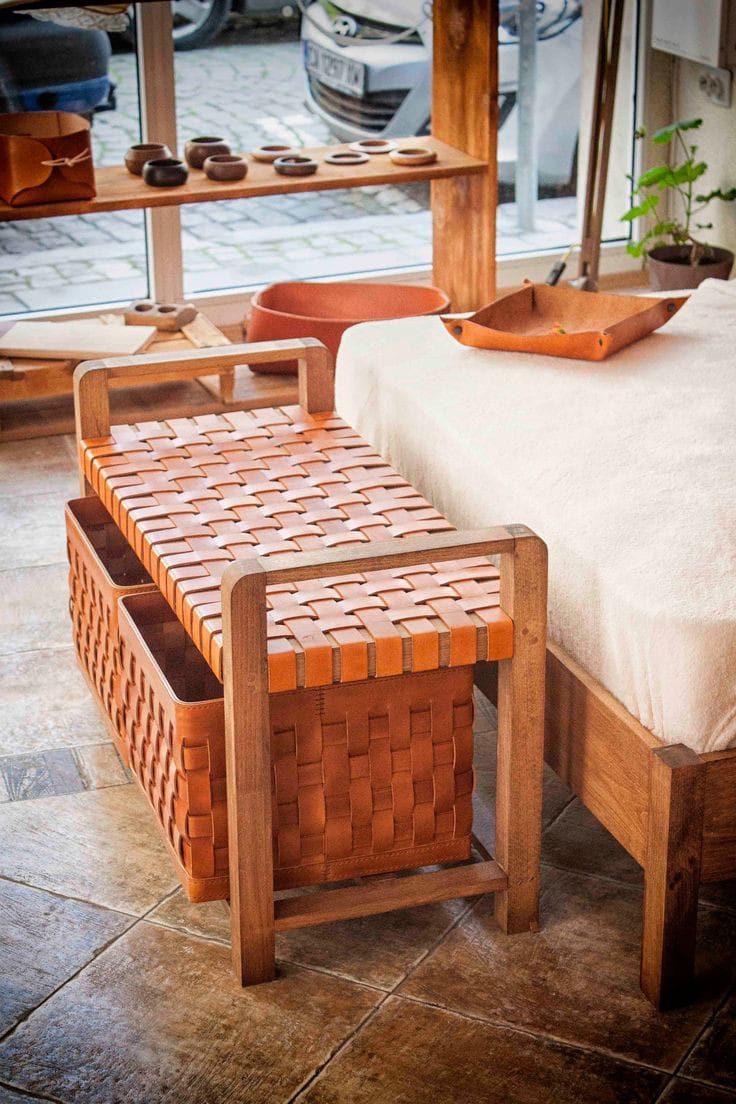 In today's world, where everything is going fast-paced, everyone dreams of owning something functional and stylish for their house. Hence, many people look for versatile furniture, and you can keep your things organized in it. Modern Bench with Woven Basket Storage is one of those pieces that provide both worlds to you.
Incorporating a piece of beautiful-looking modern furniture that has woven baskets in it makes the looks of the house harmonious. The unique furniture adds elegance and class to the people and the household.
8. Bench with Built-In Coat Hook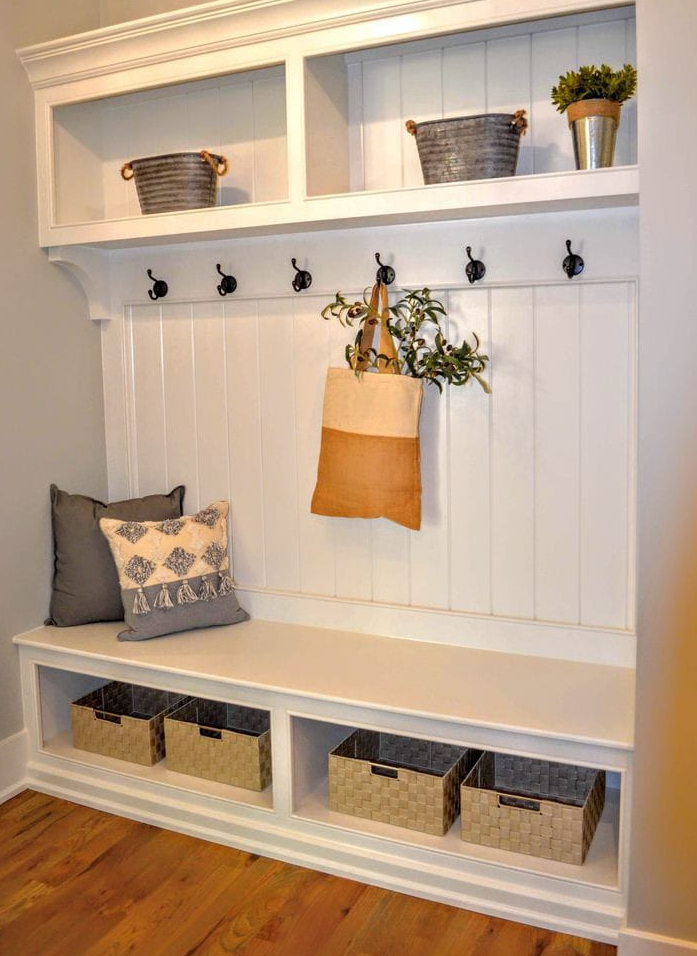 If you want to go for something that is a functional, practical, and efficient item, going up for a bench with a built-in coat hook makes a difference. Entryway ideas with a bench that has a built-in coat hook is an innovative way to feature the sturdy seating space while having the functionality of hooks to place your coats over it.
Therefore, these functions integrated conveniently makes it easy for your guest to hang on their coats or hats without forgetting them before leaving. These ideas are particularly very useful to design your halls or entryways for elegance and practicality simultaneously.
9. Beachy Rattan Bench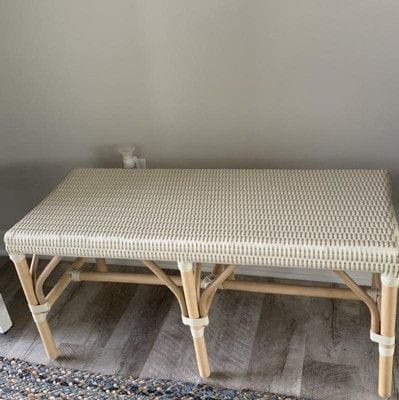 If you want to bring a touch of beachy coastal charm to your personal space, nothing is better than associating the Beachy Rattan bench. It is a formal yet stylish piece of furniture. To create a relaxed and laid-back vibe, you can craft your bench with natural rattan that showcases a gorgeous woven design.
The breezy and light appearance will give visitors a perfect feeling of being on a beach and makes your house Bohemian-inspired decor. Moreover, the rattan material adds a gist of earthy rustic texture to the household, which makes it look awesome.
10. Storage Bench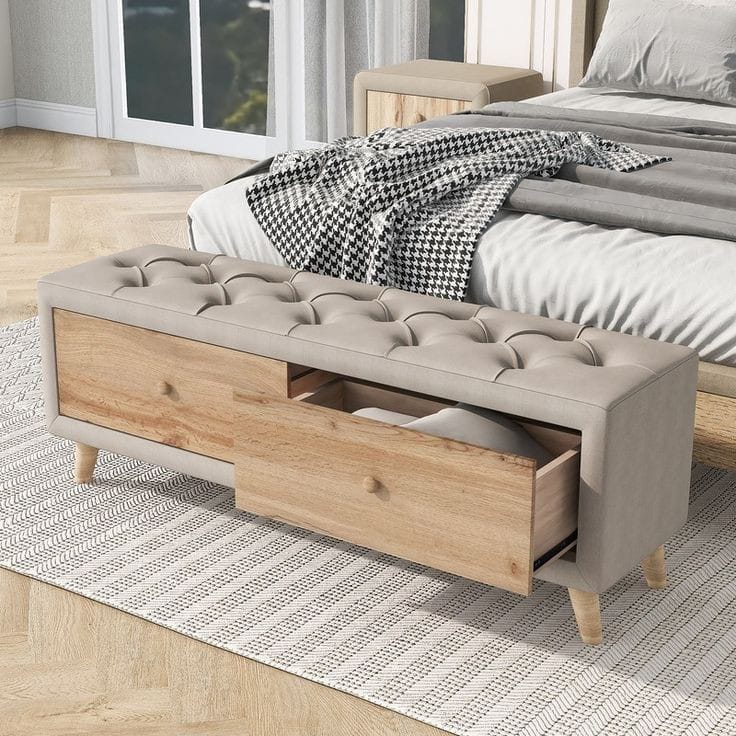 When it comes to maintaining functionality in the seating area, this piece of furniture is all that you need to add extra space. Storage benches will add hidden storage space to store items at your convenience. Therefore, these benches or seats come with drawers or lids that allow you to organize your living space and store various items in it.
Moreover, this storage comes in different materials, sizes, styles, and aesthetics, which may suit your preferences. You can place them in your entryways to make them look pleasing while increasing the functionality of your household.
11. Modern Boho Ottoman
The aesthetics of a Modern Boho Ottoman bench is easy to blend with the bohemian charm and contemporary design as it offers versatility and style in it. Therefore the sleek and clean silhouette of the bench brings a modern touch to the piece of furniture. While the sleek design brings charm and style to your household, the Bohemian-inspired details add character and warmth to it.
Moreover, the legs of the benches are crafted of sturdy wood, showcasing a sense of natural finish to the bar. At the same time, the soft and textured fabric on the seat of the cushioned complements the overall aesthetics of visuals and comfort.
12. Gorgeous Wooden Bench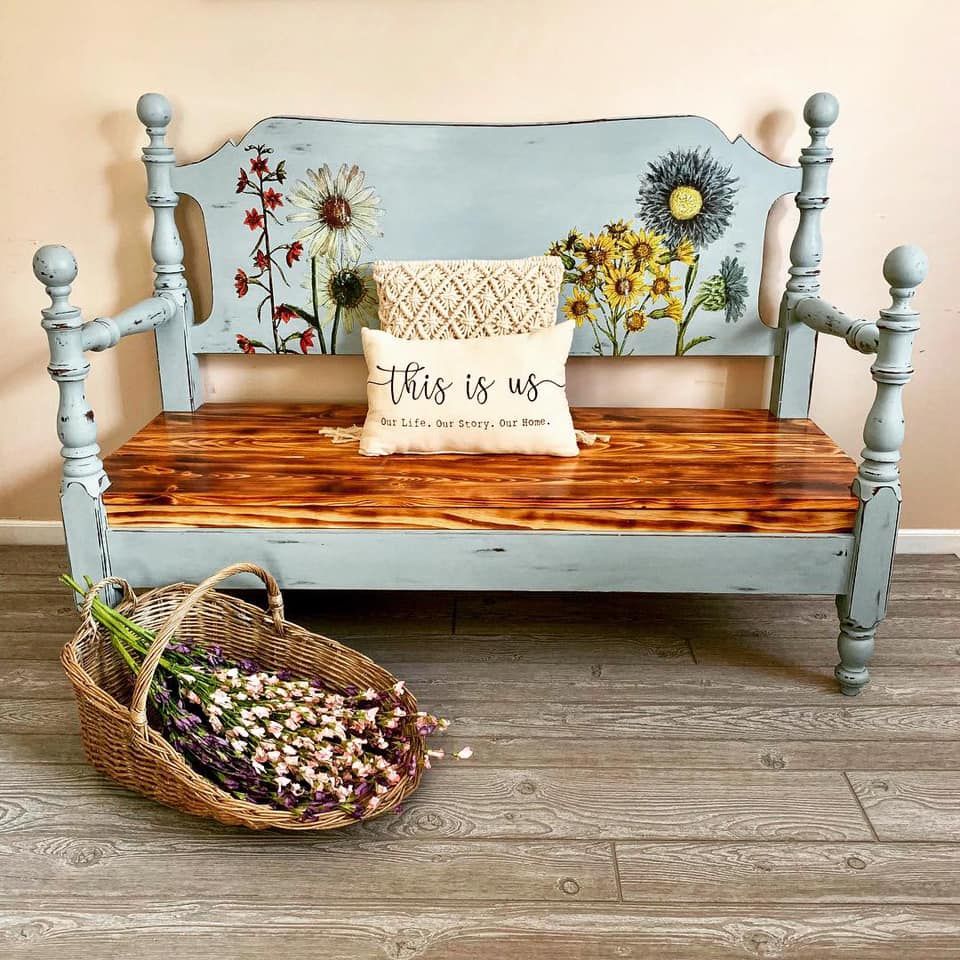 If you want to incorporate a remarkable piece of furniture that instantly brings charm and elegance to your space, nothing is better than a gorgeous wooden bench. Entryway ideas with a seat like these bring unwavering attention to the household while showcasing traditionality.
Therefore, the construction of the bench provides durability and comfort with its sturdy yet pleasing structure. Wooden benches bring an aesthetic appearance to the space with their sophisticated warm, and rich tones.
13. Rich Leather Bench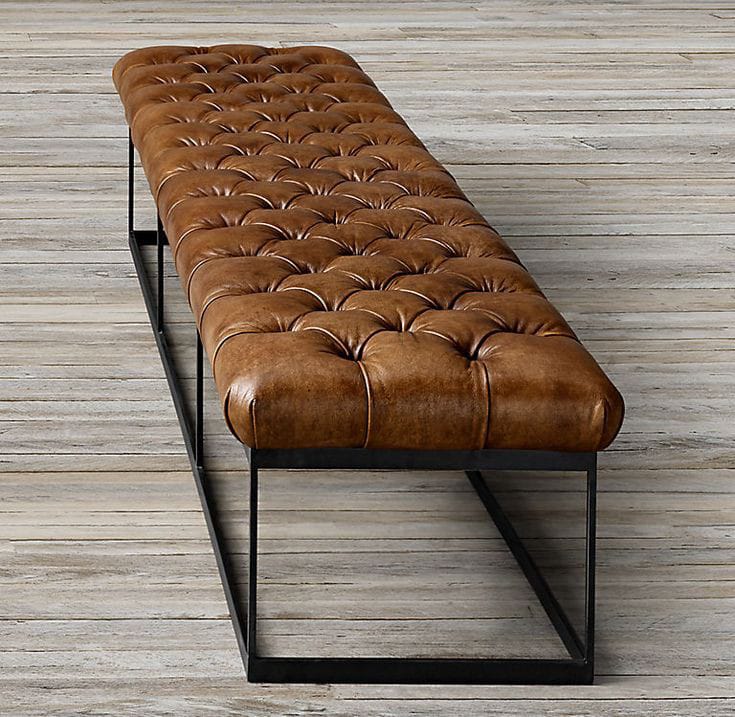 Leathers always emit an air of timeless sophistication and elegance. Hence, incorporating a timeless piece of elegance into your house will grab the attention of visitors. Rich leather bench offers fine quality that is both durable and supple.
Moreover, if you want to add richness and warmth to your space, lustrous leather helps you to associate it. At the same time, making it the focal point that strikes right into contemporary and traditional settings. Therefore, if you want to ensure long-lasting stability and durability in your furniture while maintaining the aesthetics of your house, this is the right choice for you.
14. Faux Fur Bench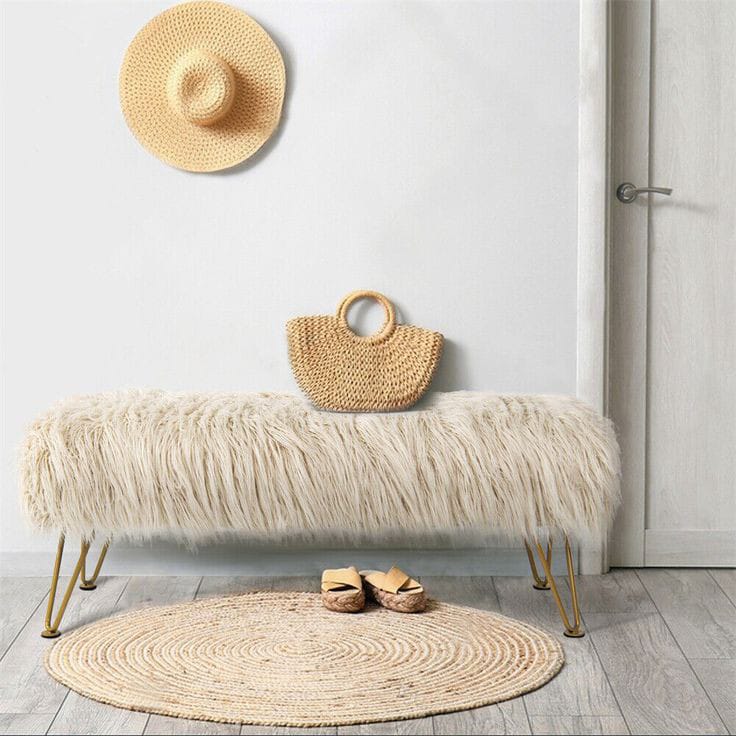 To add a touch of elegance and comfort within your space, incorporating a Fur bench that is both sophisticated and luxurious is the best choice for you. Faux Fur benches compliment a typically soft and plushy surrounding while adding richness and elegance to it.
Therefore, you can choose from a range of options, such as high-quality faux fur to genuine animal fur as per your aesthetic preference. Entryway ideas with a bench like this serve not only visual appeal to your household but also are functional as a seating option.
15. Velvet Upholstered Bench To Maintain The Class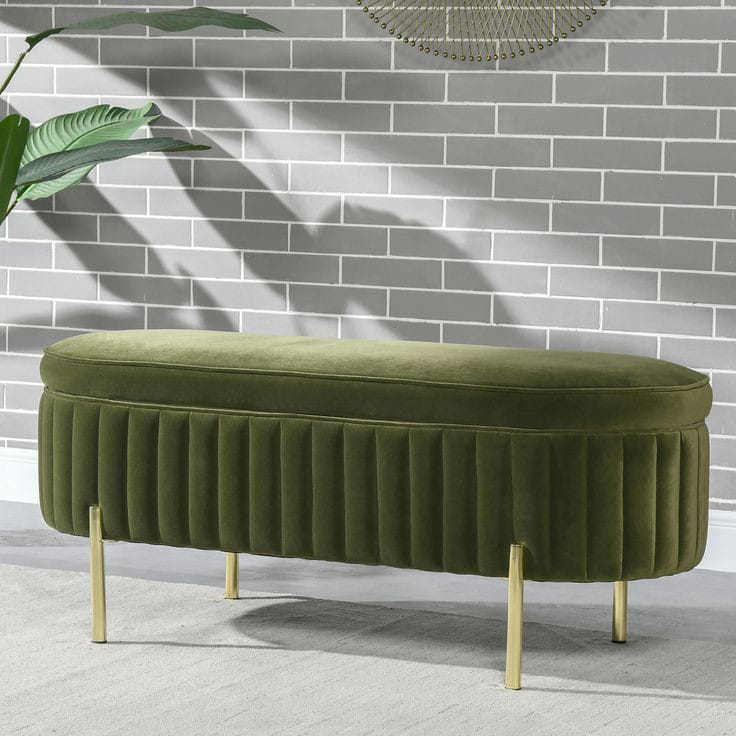 To add luxury, allegiance, and comfort to your household, Velvet upholstered benches are a good choice for you. Entryway ideas with a bench like these exude a sense of luxurious sophistication and refinement to your household. The rich ambiance comes in many color options and allows you to choose as per your aesthetic preferences.
Therefore, the sleek delight makes a difference for your household, making a standalone piece and elevating its beauty. The velvet bench offers a sturdy yet rich look to your surroundings with its generously padded seats over the top. Hence, this will make the house entryways look gorgeous on their own.
16. Boucle Upholstered Bench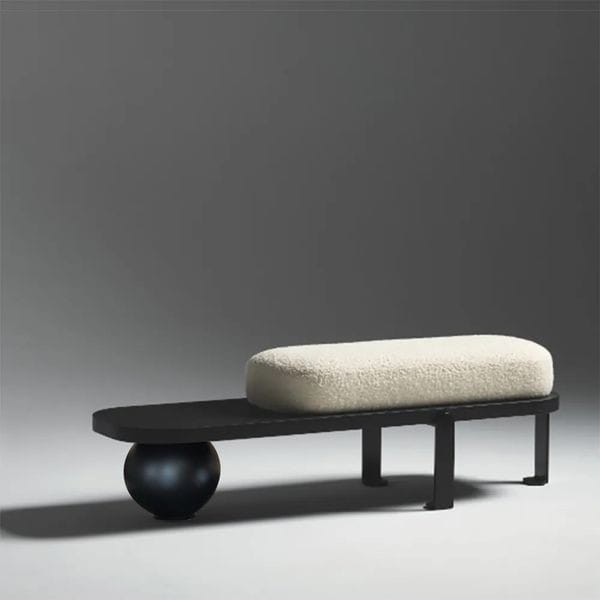 A Boucle Upholstered Bench brings elegance and charming comfort to your house with its association. These entryway ideas with a bench feature seat cushions that are covered in boucle fabric which brings the aesthetic of modernity and durable texture. The upholstery design is known best for its deep, detailed attention that creates a clean and sleek silhouette.
Therefore, the versatile piece makes it easier for you to associate it in many settings. Whether you want to place it in a bedroom, living room, or entryway, it doesn't make a difference other than enhancing the appearance of your home.
17. Hide And Acrylic Bench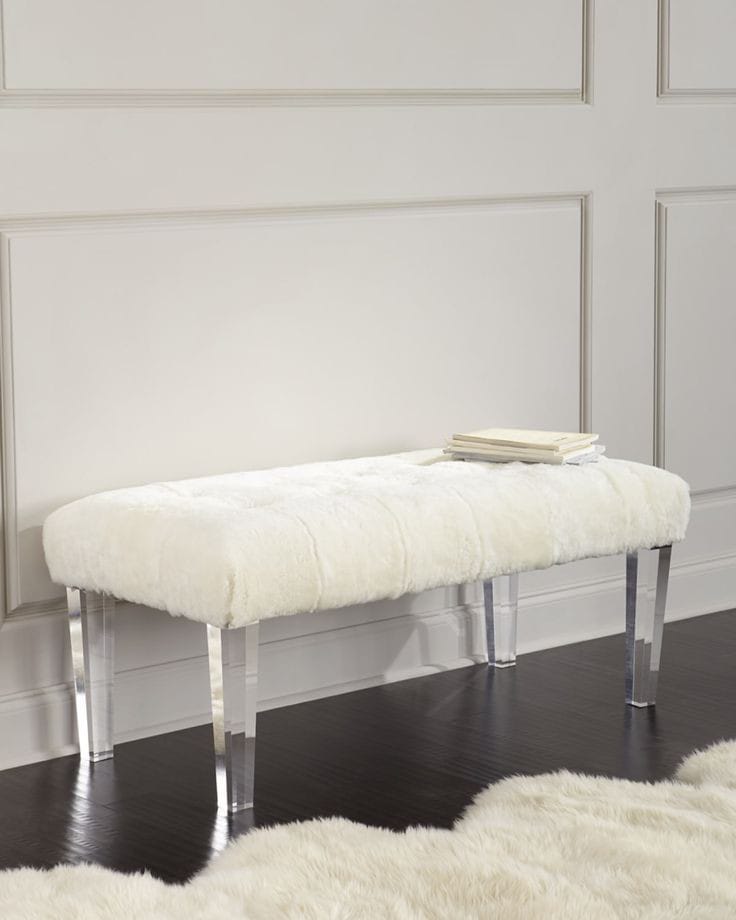 If you are looking for the perfect piece of furniture that you would never want to get rid of or want to exchange, then acrylic bench is the right choice for you. The features of this bench give out the aesthetics of contemporary and modern fusion simultaneously. Moreover, the seats are made from high-quality acrylic that gives a comfortable ambiance to the household.
Moreover, the transparent acrylic makes it easy for you to enhance the appearance of your household with high-quality hides. Hence, this will elevate the looks of your entryway by giving it a charming rustic look.
18. Bench With Attached Table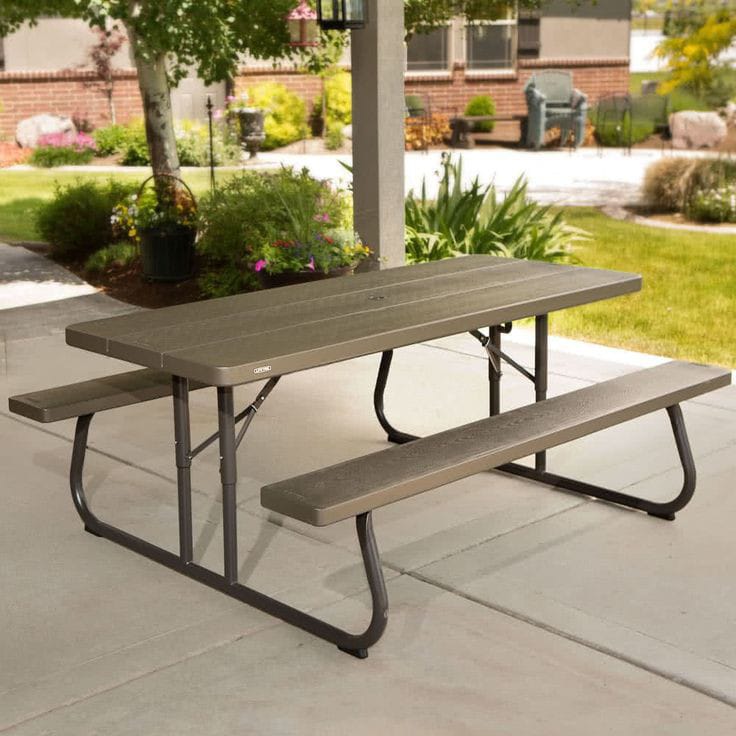 Whenever we think about entryway ideas with a bench, it gives us a versatile way to add style and functionality to your household. Hence, a bench with an attached table gives you both convenience and functionality with the seating arrangements for your entryway. The design of the bench features a study table top on one side and saves space for your small entryway.
Therefore, this tabletop offers you the convenience of placing your snacks, devices, book, drink, or food while enjoying a perfect evening. Whether you place the bench in the dining room or entryway, it will only offer you elegance while maximizing the functionality of the house.
19. Antique Bench Entryway with Sliding Barn Door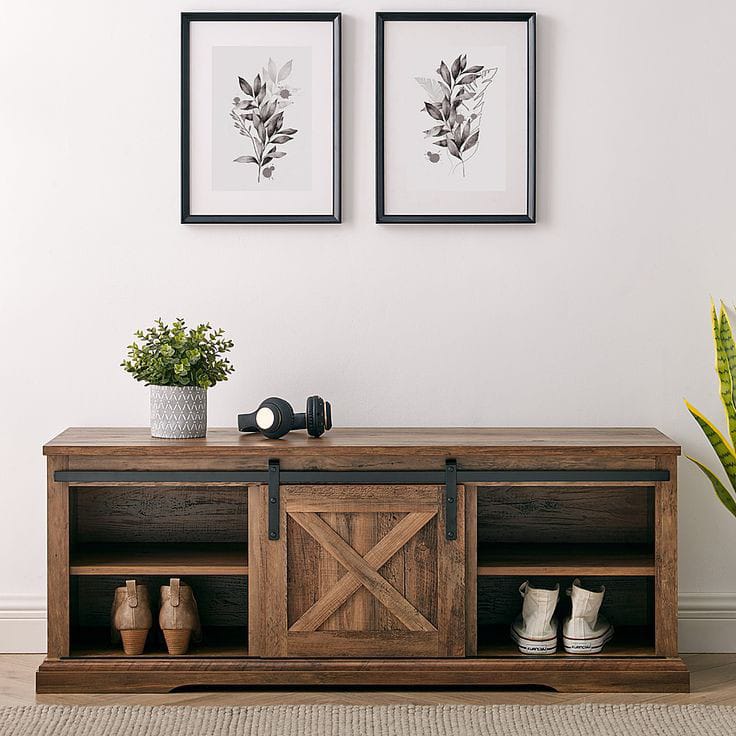 if you want to add a captivating piece of furniture that brings style and elegance to your house, an antique bench entryway with a sliding barn door is the best choice. Hence, this will craft an attachment of nostalgia with the unique blend of modern practicality with the aesthetics of vintage. Antique furniture always adds a royalistic charm to your household without feeling overwhelming to the surroundings.
One of the most stand-out features of this bench is the barn door which creates enough storage space for the household. Therefore, the sliding door glides smoothly, revealing a compartment hidden for your umbrellas, items, and shoes to keep your entryway organized and neat.
20. Neutral Cane Storage Bench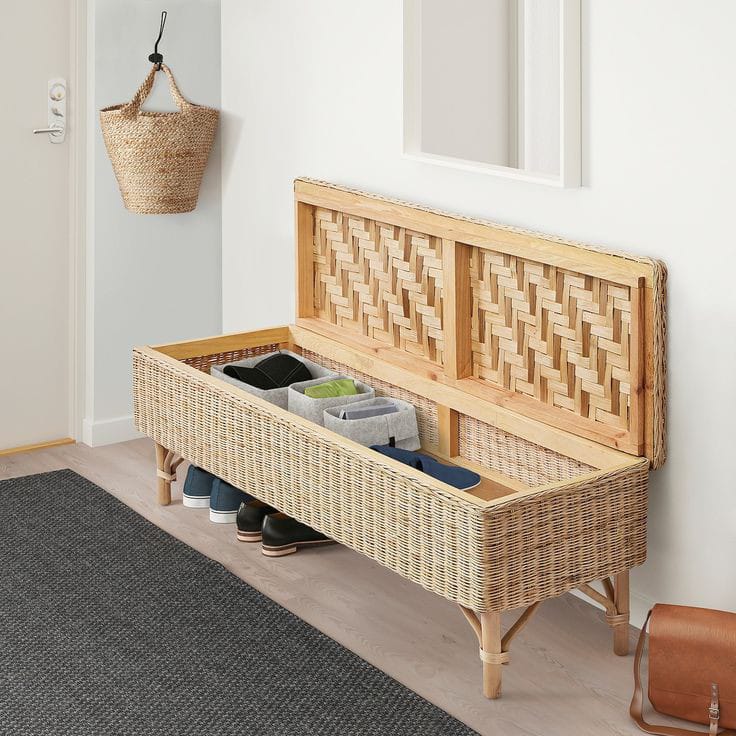 If you are looking for a sturdy piece of furniture for your home, going for a neutral cane storage bench is the right choice for you. The bench features a wooden frame that looks gorgeous under a neutral-colored weave design. Moreover, the sitting area is quite specific and provides comfort to the guest and individuals, making it an ideal choice for entryways or living rooms.
Therefore, what makes this bench a smart idea for homeowners is its clever storage solution. You can make a hinged top, which will lets you explore a storage compartment that is generous for keeping your pillows, blankets, or shoes. Entryway ideas with a bench like these let you organize your things while looking elegant for the household.
21. Velvet Tufted Bench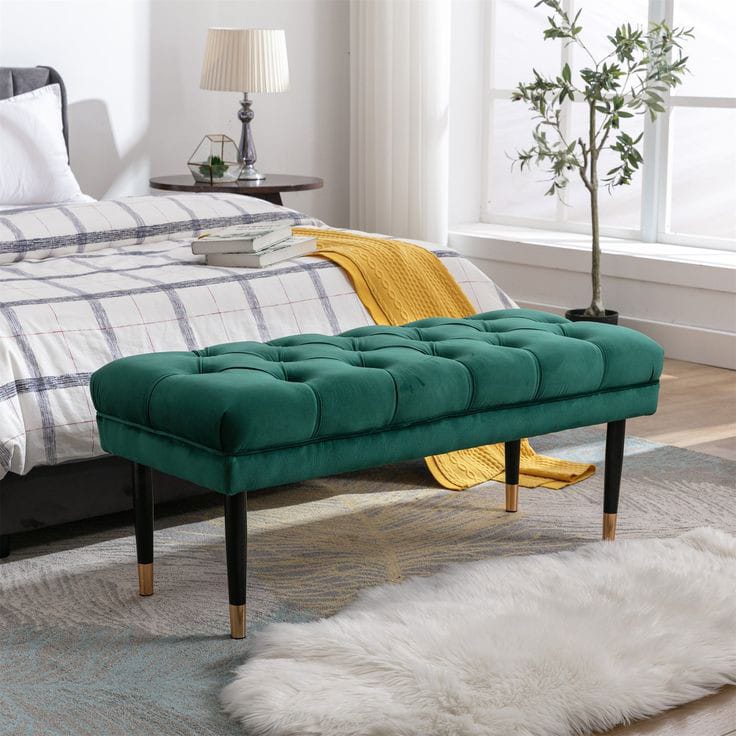 Incorporating a sophisticated and elegant piece of furniture to add a touch of luxury into a space going up for a Velvet-tufted bench is the best choice. For a healthy combination of traditional and contemporary pieces, the Velvet-tufted bench goes well for its exquisite craftsmanship, keeping a lot of attention to the details.
The velvet upholstery provides a plushy exterior which makes the seating experience soft and comfortable while adding a glamorous feel to the overall design. Velvet tufted bench is an effortless way to incorporate a fresh embodiment of sophistication into the space, making it inviting to the guest. Hence placing them in the entryway effortlessly combines elegance and style to the household.
22. Pair Of Small Benches to Create the Convenience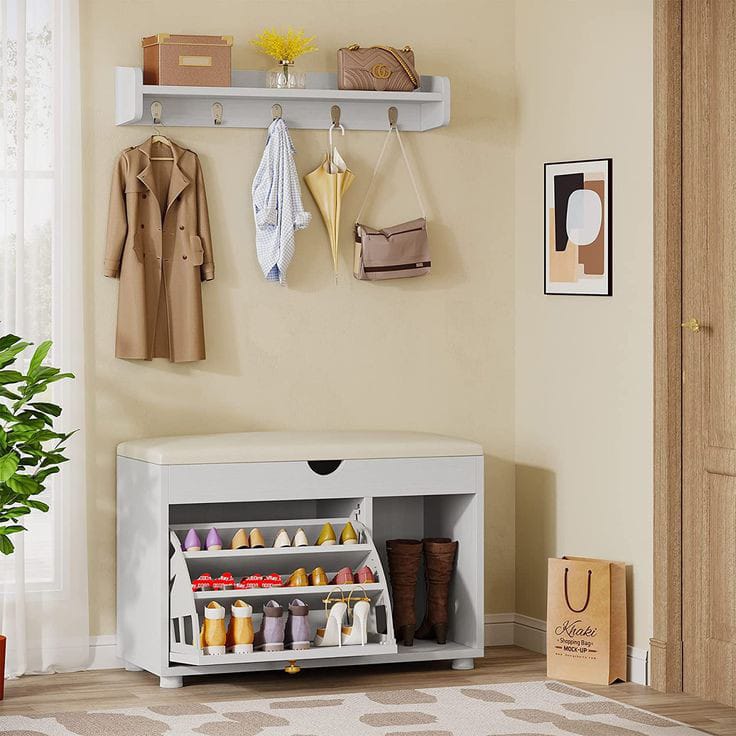 For a charming addition to any space, such as an indoor setting, garden, or entryway, incorporating a pair of small benches does the work. Therefore, these compact benches add a touch of elegance to the surroundings of the household. The benches are petite in size, which can fit in tight spaces conveniently, and lets you use the small spaces of your house.
Despite the sizes of the benches being small in stature, being efficiently comfortable for individuals to sit and relax. Hence, you can use these Entryway ideas with a bench to make your seating arrangement look cozy and aesthetic.
23. Shearling-Covered Bench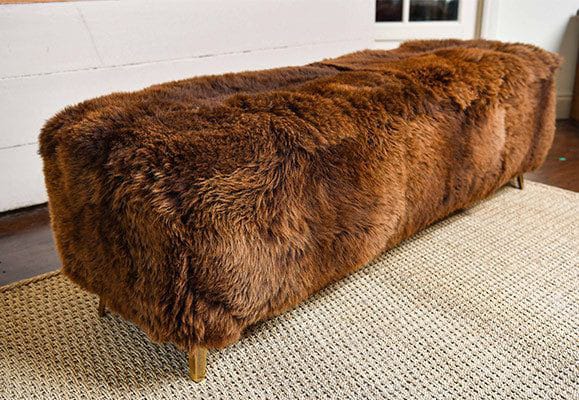 Shearling upholstered is the latest design around home decor that provides the household with the elegance and practicality that you need for your furniture. The Shearling Covered benches are crafted with attention and details that make it get attention from the guest that visits. One of the most beautiful features of these benches is their sturdiness from the wooden frame and warmth from the shearling.
Therefore, the genuine glow of the shearling makes it easy for the household to add sophistication to its surroundings. You can use this bench in both formal and informal settings while maintaining its functionality. Hence, this will make the entryway look aesthetic and expensive.
24. Alcove Bench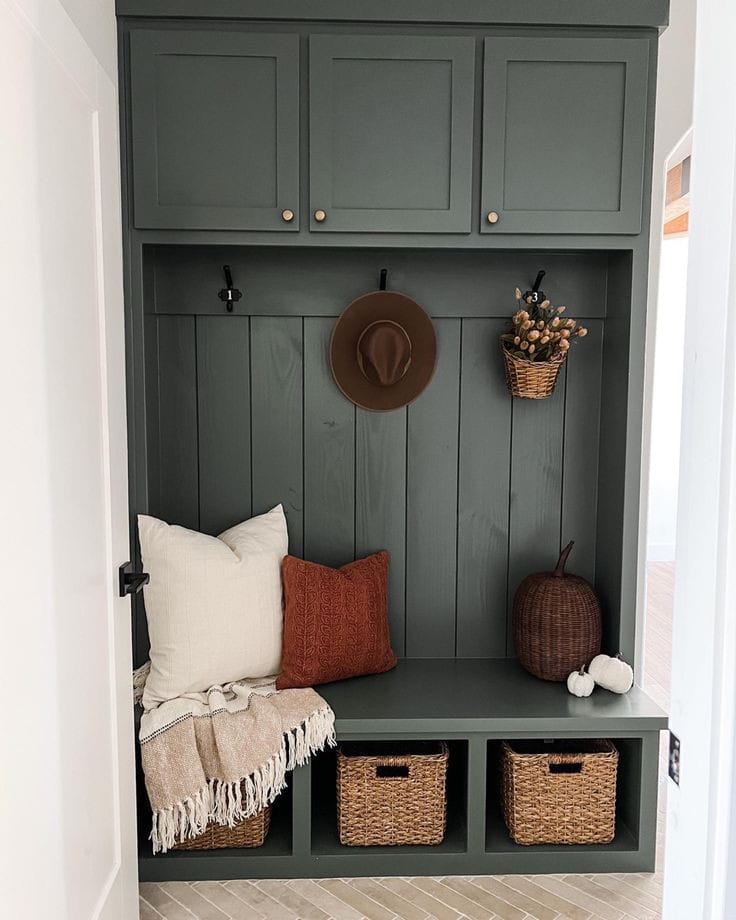 An Alcove bench has both functionality and style for your household while adding elegance which gets the attention of the guests. These benches are designed to fit properly in a recessed area. Hence, make a good option that provides a cozy seating area while maximizing the space available for you.
One of the most typical features of these benches is the built-in backrest which you can customize with cushions, pillows, or upholstery comfort. Alcove benches offer versatility in various settings for your household, and you can incorporate them almost anywhere, including bedrooms or entryways.
Conclusion
Everyone dreams of owning an entryway that makes their household exude the aura of sophistication and elegance. Hence, many people try out different ideas to achieve their preferred aesthetics. Entryway ideas with a bench can make your house look as per your desired aesthetic.
You can either buy benches from the market or DIY them by yourself. You can find 24 different bench designs to do yourself in this article. Moreover, you can find designs from Alcoves to Velvet upholstered benches for a rich modern, and sophisticated look.
You can also find a rich leather bench style that is a timeless piece of elegance for your household.In this guide, you can find designs to incorporate into your household that enhance the aesthetics of your house and DIY them as per your preferences.