Smoke Benjamin Moore a unique color that is neither too purple nor too green. The color makes your room appear both modern and cool. However, the underlying warm tone gives it a cozy appearance at the same time. When combined with the appropriate shade of complementary paint and the perfect amount of light exposure, this calming blue and gray color can quickly transform from pale blue to pale gray, making it a highly versatile shade. With undertones of green, the color can be paired with creams, whites, darker shades of charcoal, and even warm shades of wood.
Here is a list of carefully curated 24 spots in your home where the smokey color can be used to enhance the appearance of the space.
1. Minimal Living Room Charm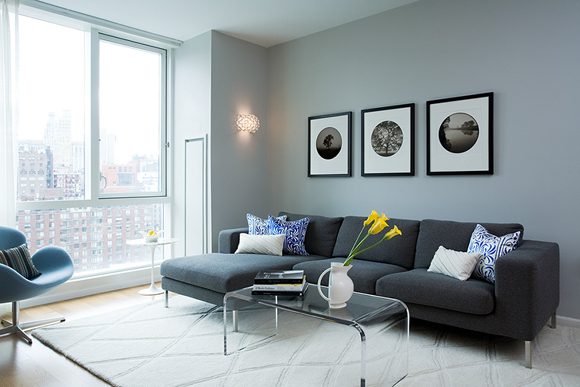 You want your living room to feel welcoming and informal, where you can be yourself. The Smoke Benjamin Mooreshade can give the space a vibe of informality and a casual feel where you can relax and rejuvenate. The cool supple color can infuse calm and tranquility in your space and make it an ideal space for lounging.
2. Pair it Right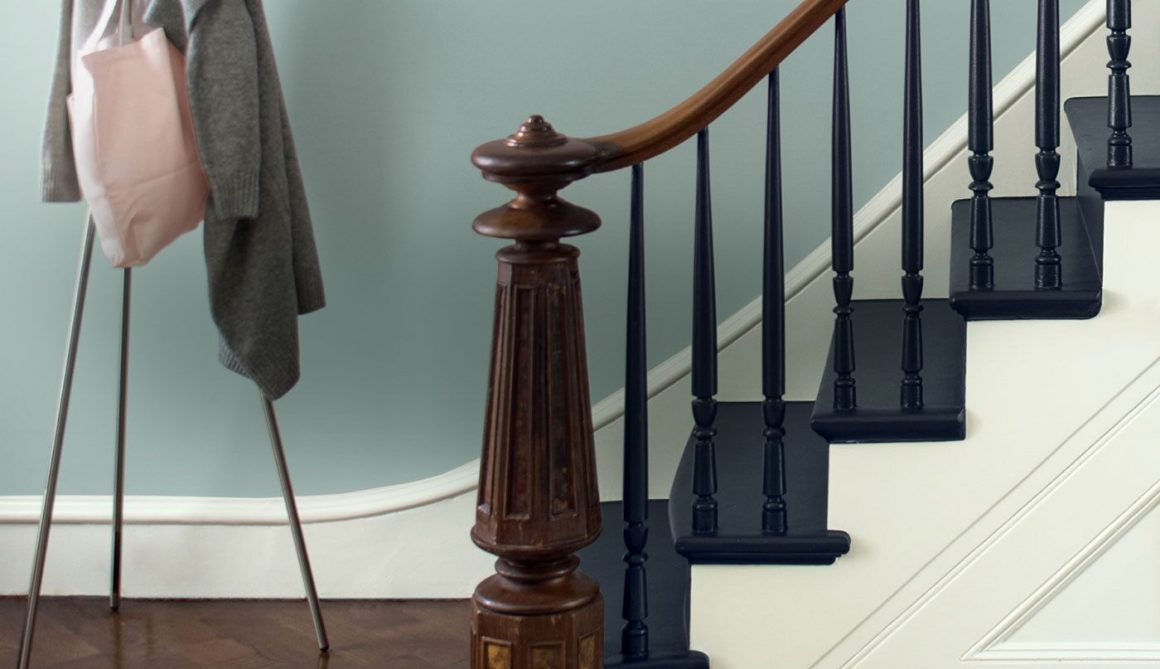 Bring out the beauty of Smoke Benjamin Moore by pairing it with the right colors. Understand the undertones of the color and the space where you are going to use it so that the right color can be selected for pairing. The deep blue undertones can help you in achieving a monochromatic look when coupled with dark brown furniture, railings, white walls, or light gray walls with a satin finish.
3. Smokey Kitchen Walls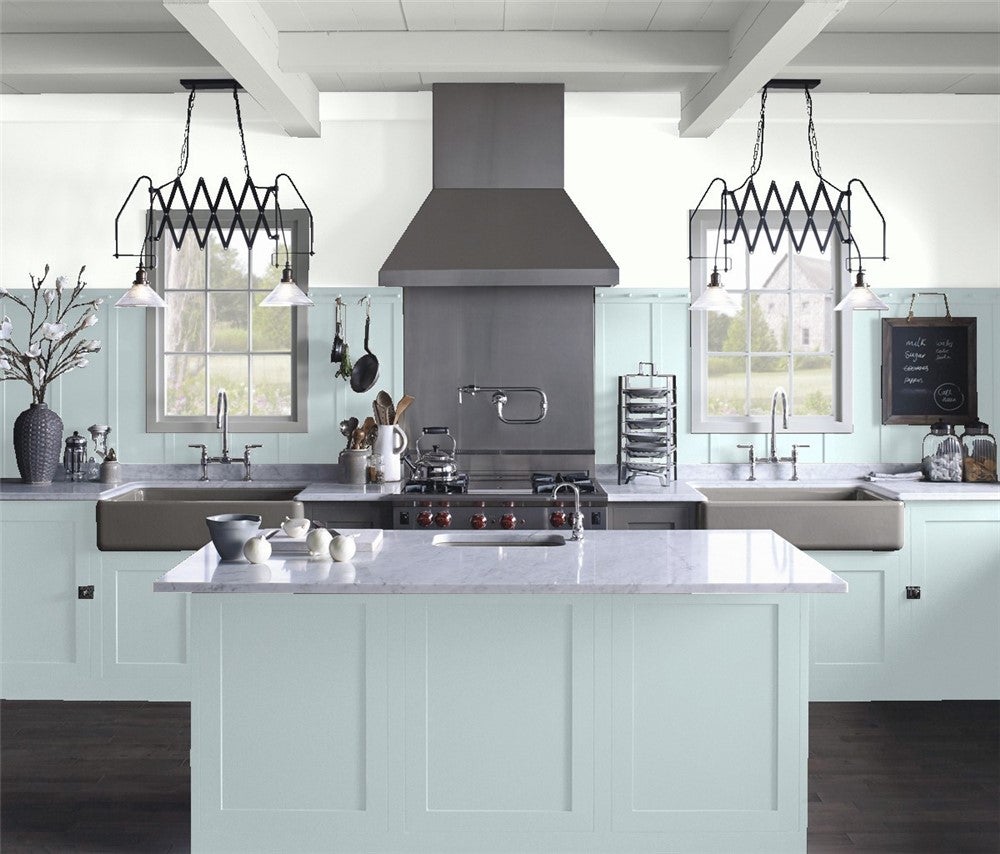 Since a kitchen has to be well-lit, properly ventilated, and spacious, Smoke Benjamin Moore is the ideal color. Paint your walls with Smoke by Benjamin Moore to add more drama to your cooking space. The best part is that you can select hardware that is light as well as dark in color, and stainless-steel appliances look equally stunning. Thus, your kitchen will look like one of the most stunning rooms in the house.
4. Calming Kitchen Cabinets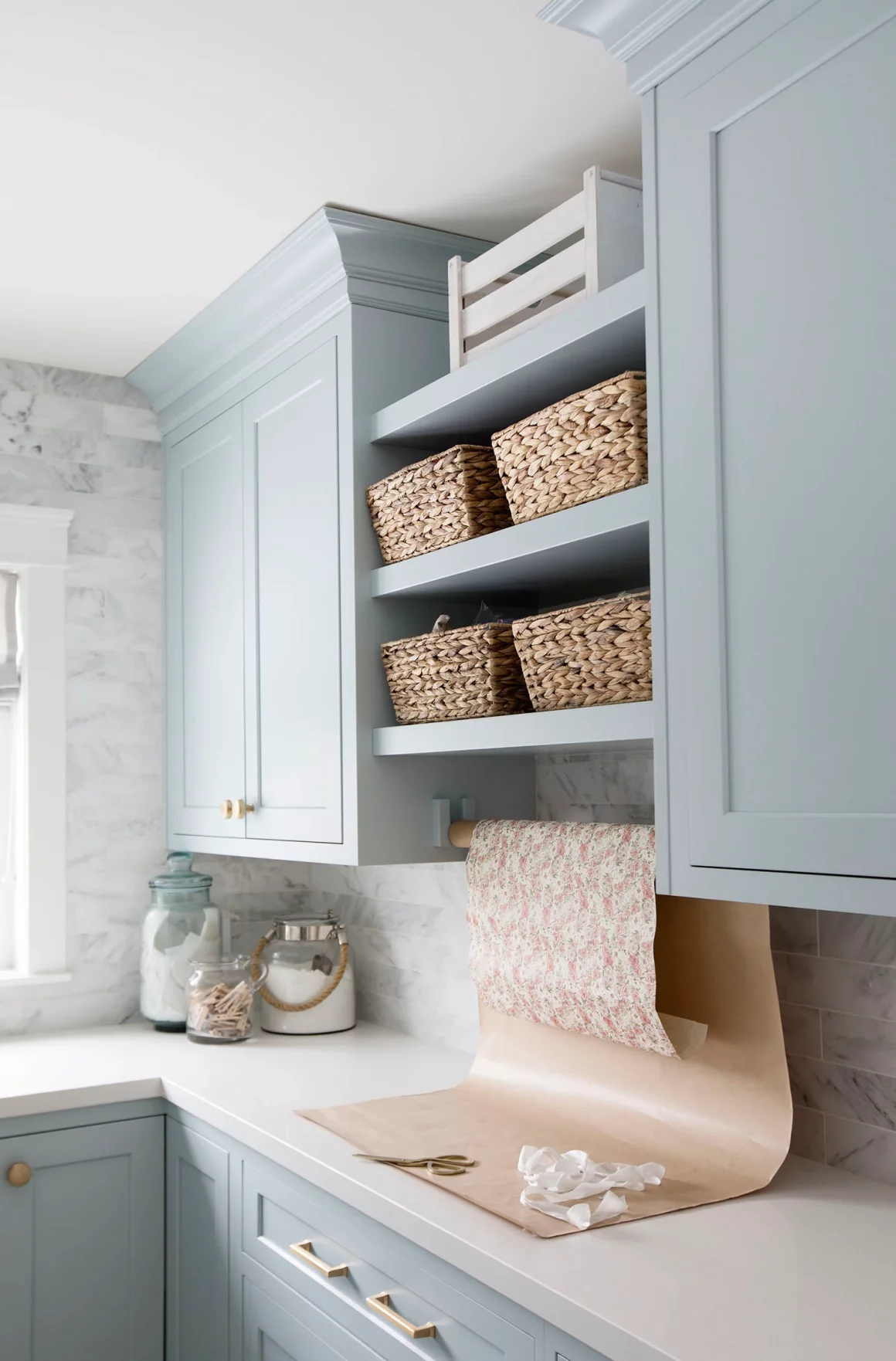 Renovate your house and turn your kitchen into a contemporary space by painting your cabinets with Smoke by Benjamin Moore. A pleasant change from the oak cabinets and the classic white cabinets, this shade will allow your kitchen to look more modern. If not the walls, let the cabinets exude calmness in the midst of culinary mayhem.
5. Highlight the Knee Wall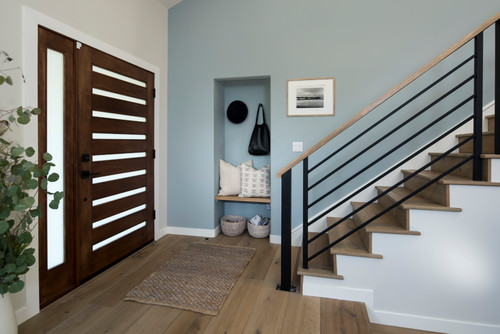 A knee wall is often the most neglected wall in a house. However, if painted correctly, a knee wall can be one of the most beautiful features of the house. It will add an element of tranquility to your space and also make it look more spacious and airy. From a practical point of view, a knee wall painted with Smoke Benjamin Moore can go very well with brown as well as white wooden railing and add to the beauty of the house.
6. Understated Dining Room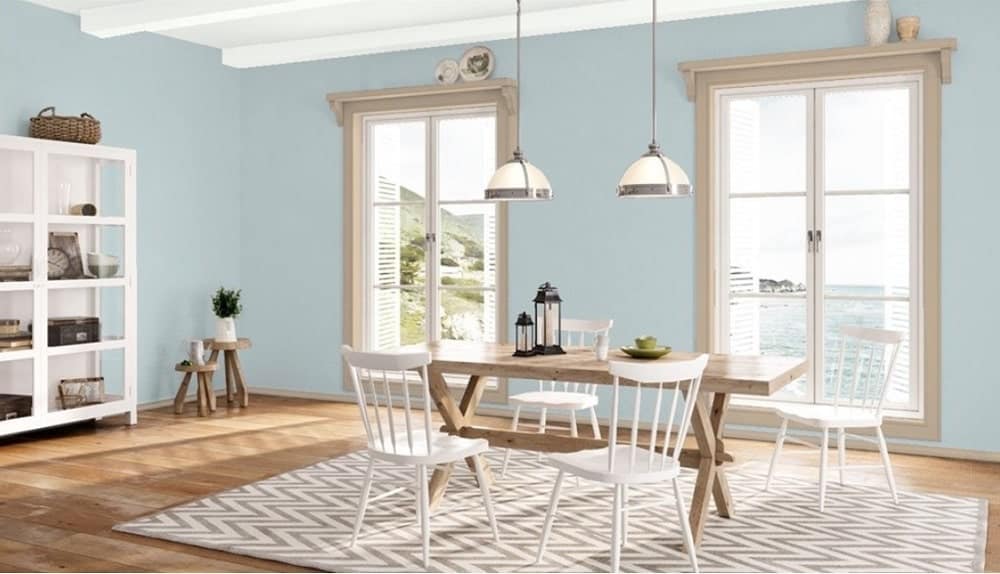 When painted with Smoke shade by Benjamin Moore, a well-lit dining room will look like a warm, inviting corner of your house where you can satisfy your taste buds. However, switch on the chandelier at night, and the gray tone of the color will shine through so that it looks classier and more opulent.
7. Quirky Breakfast Nook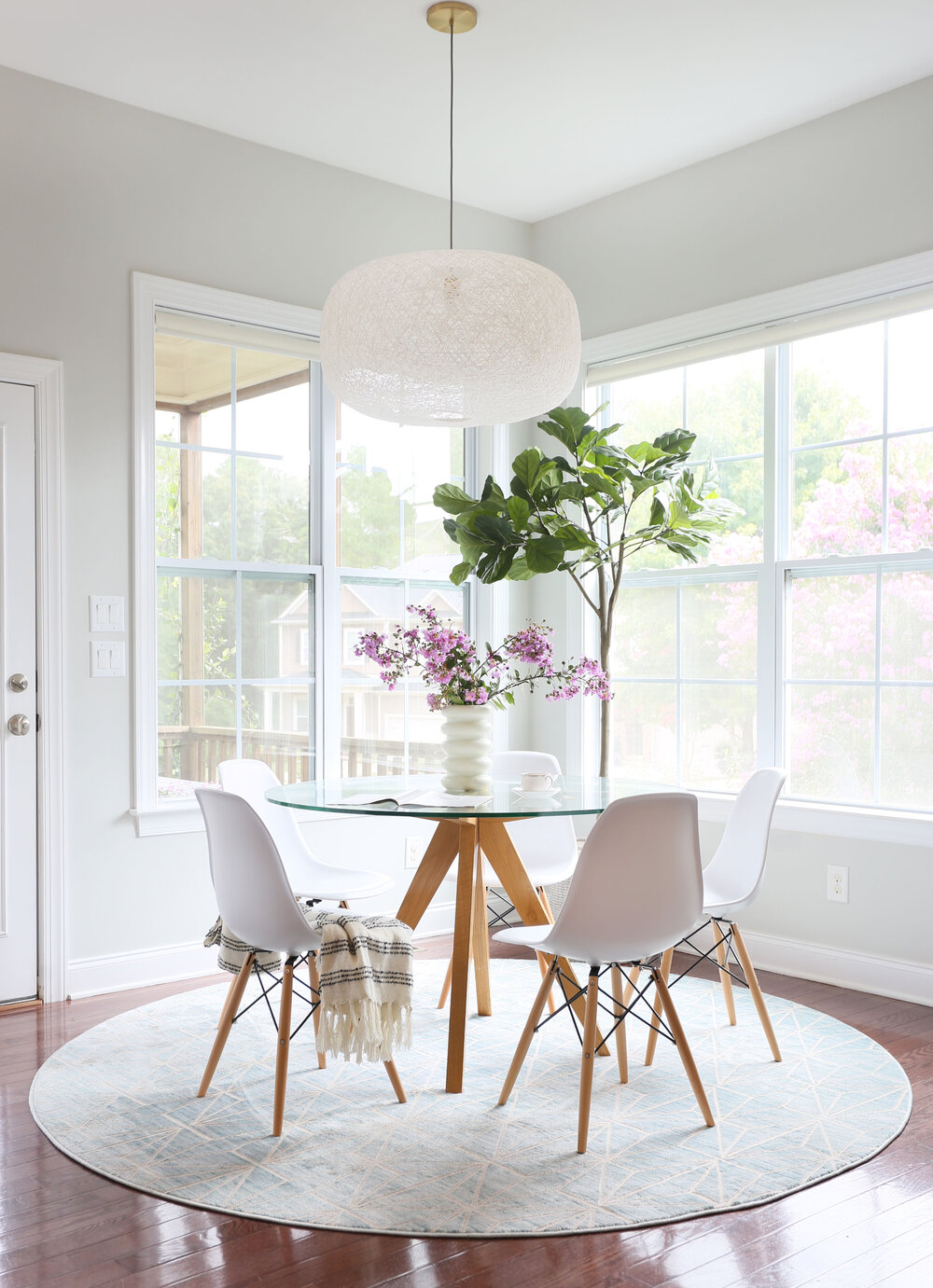 This informal space in your room can be the perfect place for you to relish your morning coffee. If you have a traditional breakfast nook situated by a window, the natural light will work wonderfully with the smokey color and turn the little corner into the most beautiful spot in the house.
8. Smokey Walls with Golden Frames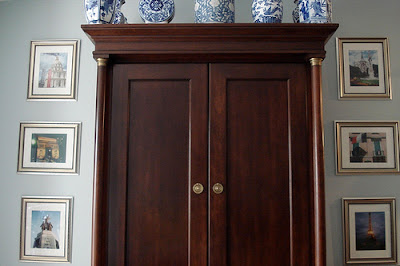 Painting the whole room can be a Herculean task and an expensive one. To make the room more trendy, paint only one wall with the shade. You can highlight the wall by placing white or cream rugs and carpets and accessorize the room with paintings, tapestries, and upholstery. Metallic tints can look particularly charming with cool shades; therefore, hang frames that are golden or bronze in color.
9. Ethereal Bathrooms
A bathroom, like a kitchen, is supposed to be well-lit as well as airy. One painted with Smoke Benjamin Moore will add more character to your space and amp up the appearance of the room. For a modern bathing space, install cabinets and hardware that are dark in color. However, for a more contemporary appearance, you can opt for white tubs, brass taps, and white cabinets, as they complement the cool tone of the shade.
10. Trendy Powder Room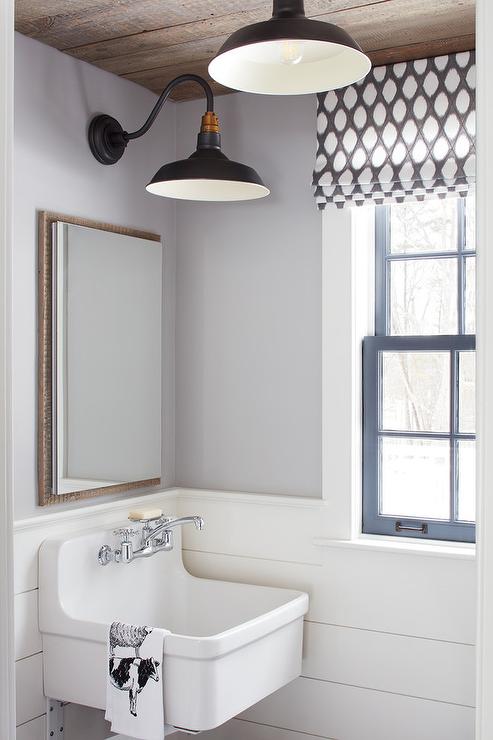 Your powder room can be transferred into a wonderful corner of the house by painting it with Smoke Benjamin Moore. Checkered tiles, white orchids in a vase, wooden ceilings, and wall-mounted globe lights will make your visitors appreciate this corner of the house more than anything else. To add another dimension, opt for a wooden ceiling and other wooden accessories.
11. Board and Batten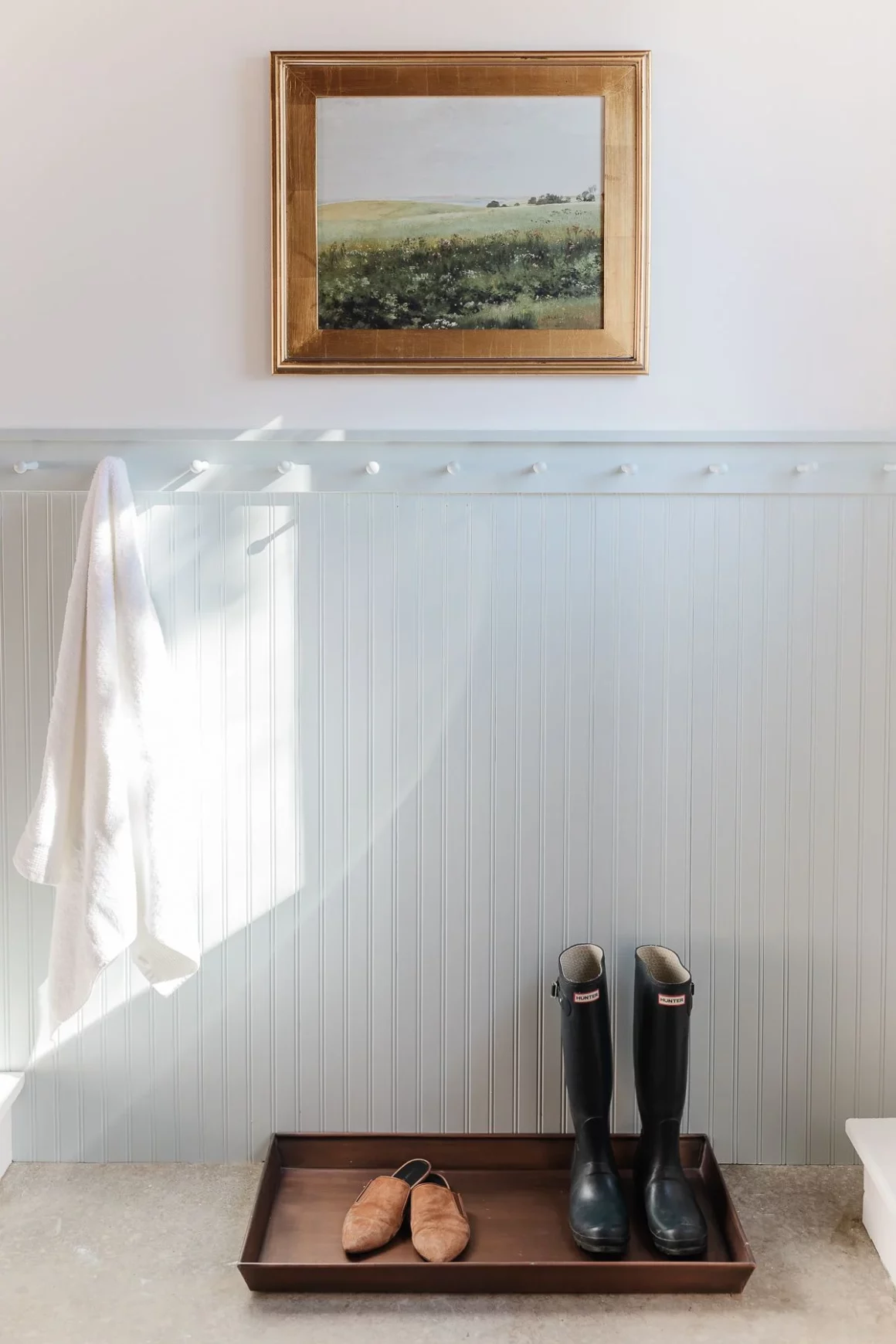 To add more texture to a plain wall, board and batten are the best accessories to enhance the appearance of a room. You can play with your imagination and paint the board and batten with this blue-gray shade either entirely or according to your whims and fancies. To enhance the storage space, you can attach hooks for hanging coats, jackets, or umbrellas.
12. Regal Bedrooms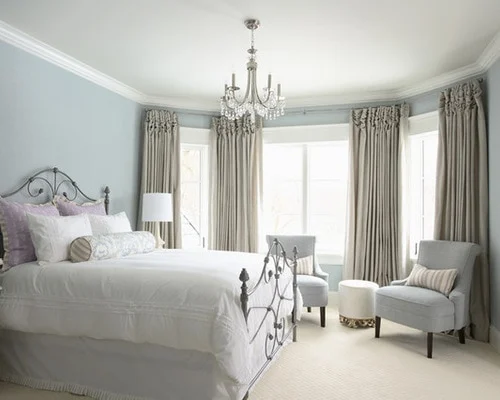 Your bedroom is a reflection of your personality and must exude comfort. For a modern and more contemporary appearance, paint it with Smoke Benjamin Moore and enjoy the spaciousness this color introduces to your room. The shade goes exceptionally well with beige or cream rugs, blue chairs, wrought iron beds, and millions of other such accessories.
13. Crown Moldings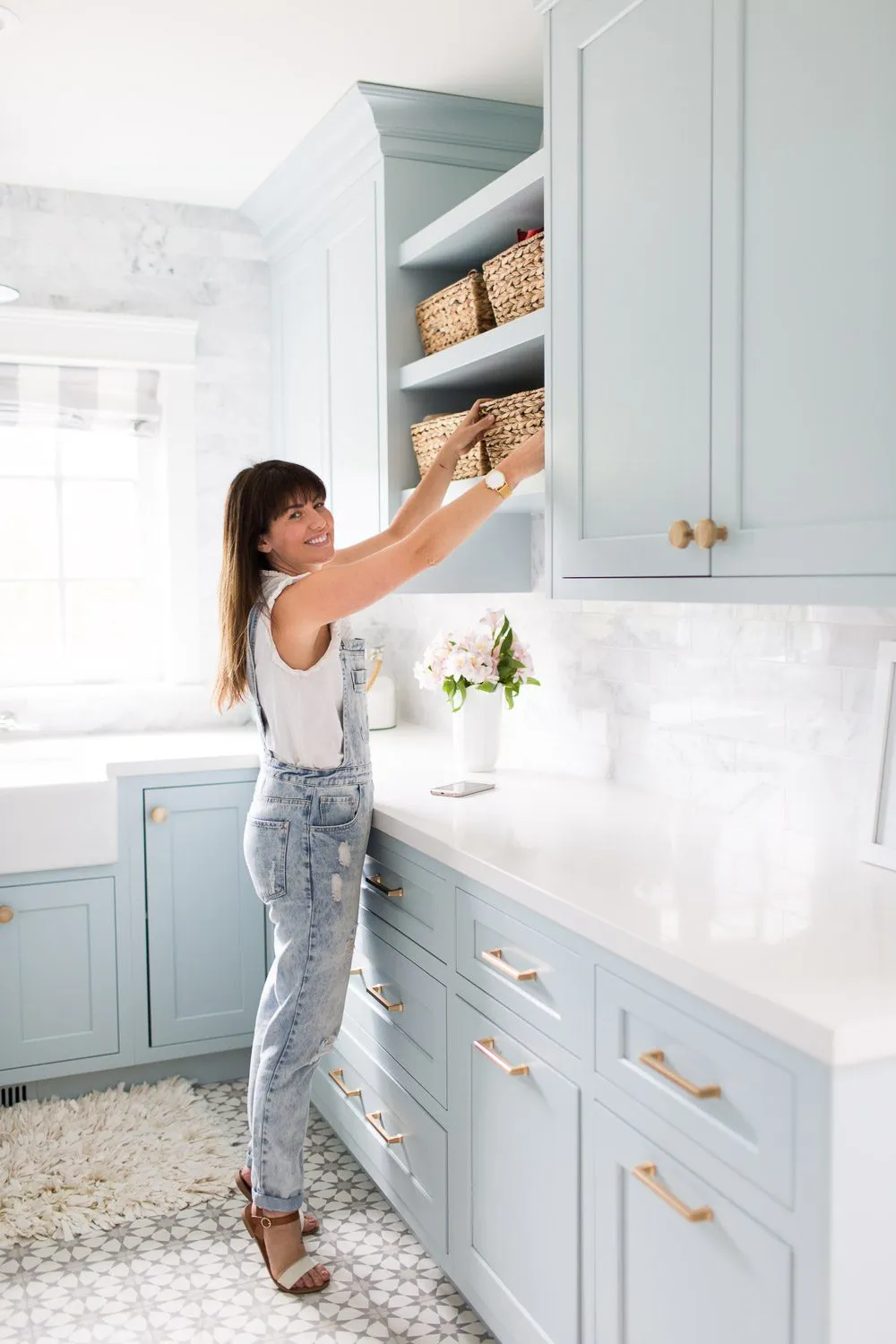 If you do not wish to paint the entire room but just want it to have a pop of shade, changing the shade of crown moldings can accessorize your space. Since the devil lies in the details, beautifully painted crown moldings can look ornamental and improve the overall look of your dining room, your living room, or your bedroom.
14. The Den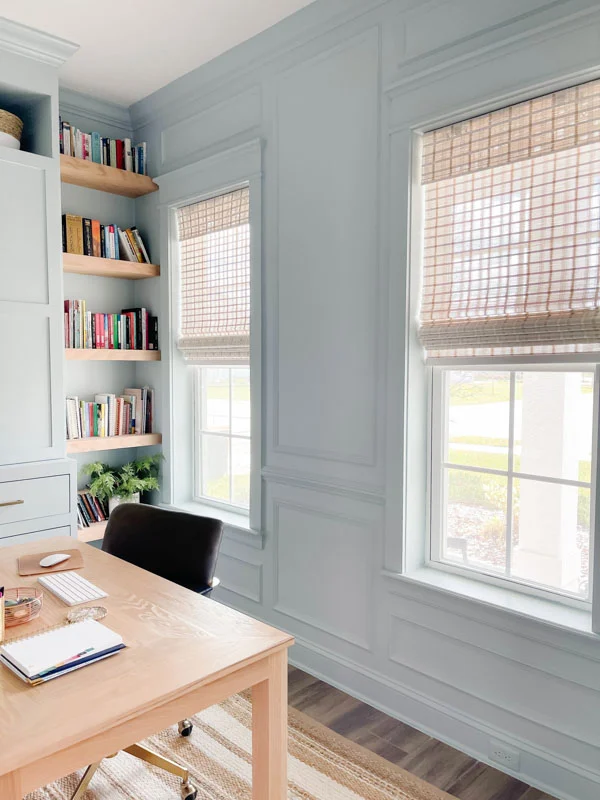 A den is your personal safe haven. A cozy room with walls that have an egg-shell color and windows painted with Smoke Benjamin Moore can set this room apart from other rooms in your apartment or condo. If you have book racks or pool tables in your den, feel free to twerk them with the same color for a more organic vibe and appearance. Vintage rugs go very well with the blue-gray walls.
15. The Accent wall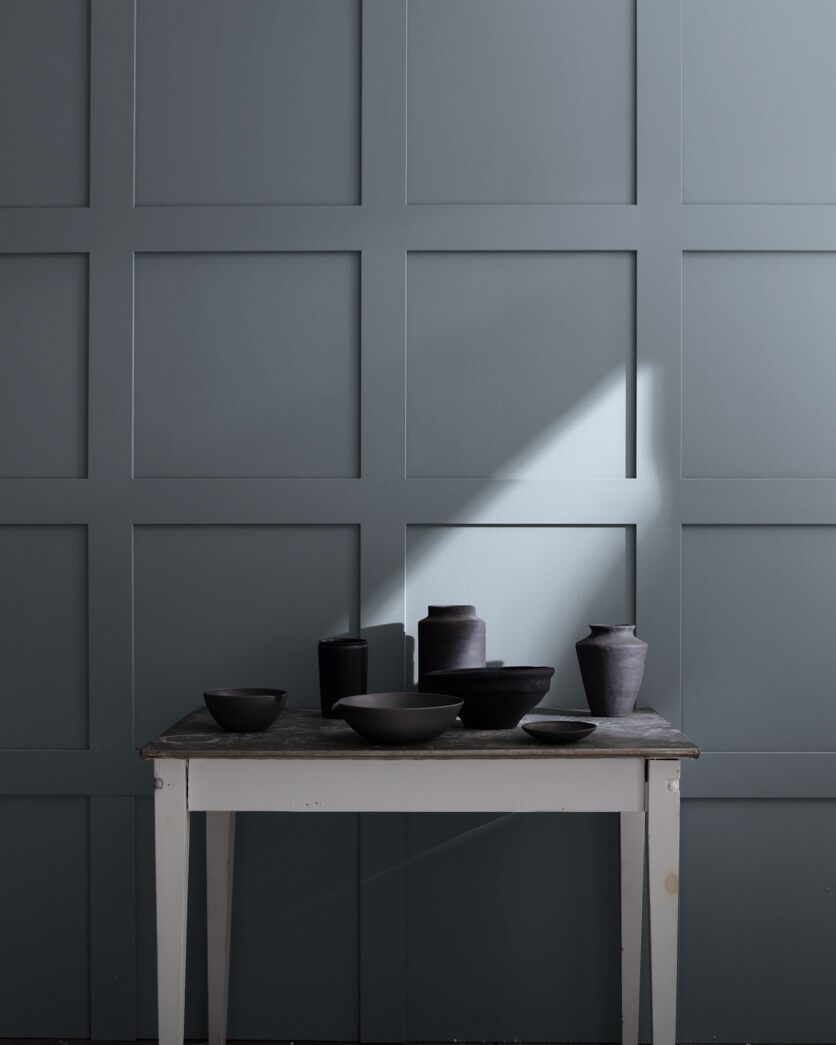 Accent walls or feature walls can set the tone for your room. Couple a Smoke Benjamin Moore wall with a crisp white adjacent wall to satisfy your aesthetic needs, and decorate with matching accent items like rugs, photographs, canvases, and so on. To make your space look picture-perfect, accessorize the room with marble pieces, tabletops, or even flooring. These accessories have colors that go well with the blue shade of Smoke.
16. In a nursery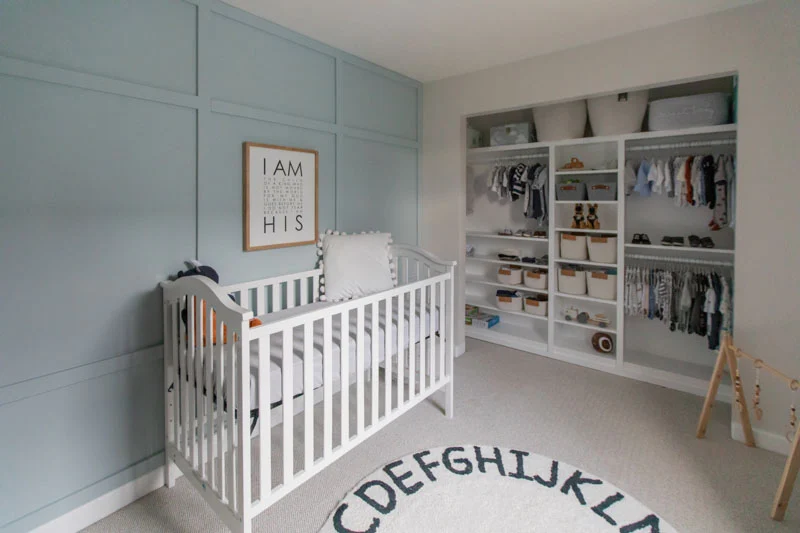 Whether you are expecting a girl or a boy, Smoke Benjamin Moore is a gender-neutral color. You can accessorize the room with lamps, toys, cots, etc., in any color, as all the colors go well with the blue-gray combination. To make your toddler's room more breathable, add lightweight and white-colored furniture and cream-colored linen. You can decorate the walls with sleek wooden frames and enjoy the simple beauty.
17. Experiment with Stencil Designs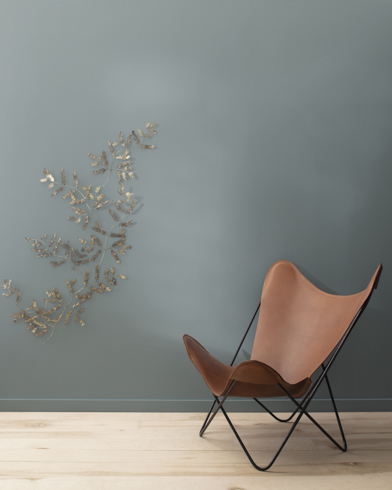 Stencil designs have evolved with time. By using this technique, you will be adding a feature wall to your house that will be an eye-catcher for everyone. You can have a floral design in case you want one in your nursery or a geometric design in your kitchen to give it a modern appearance. It is a budget-friendly idea as you will have to minimize expenditure on ornamental accessories to prevent the room from looking cluttered.
18. Laundry Room Makeover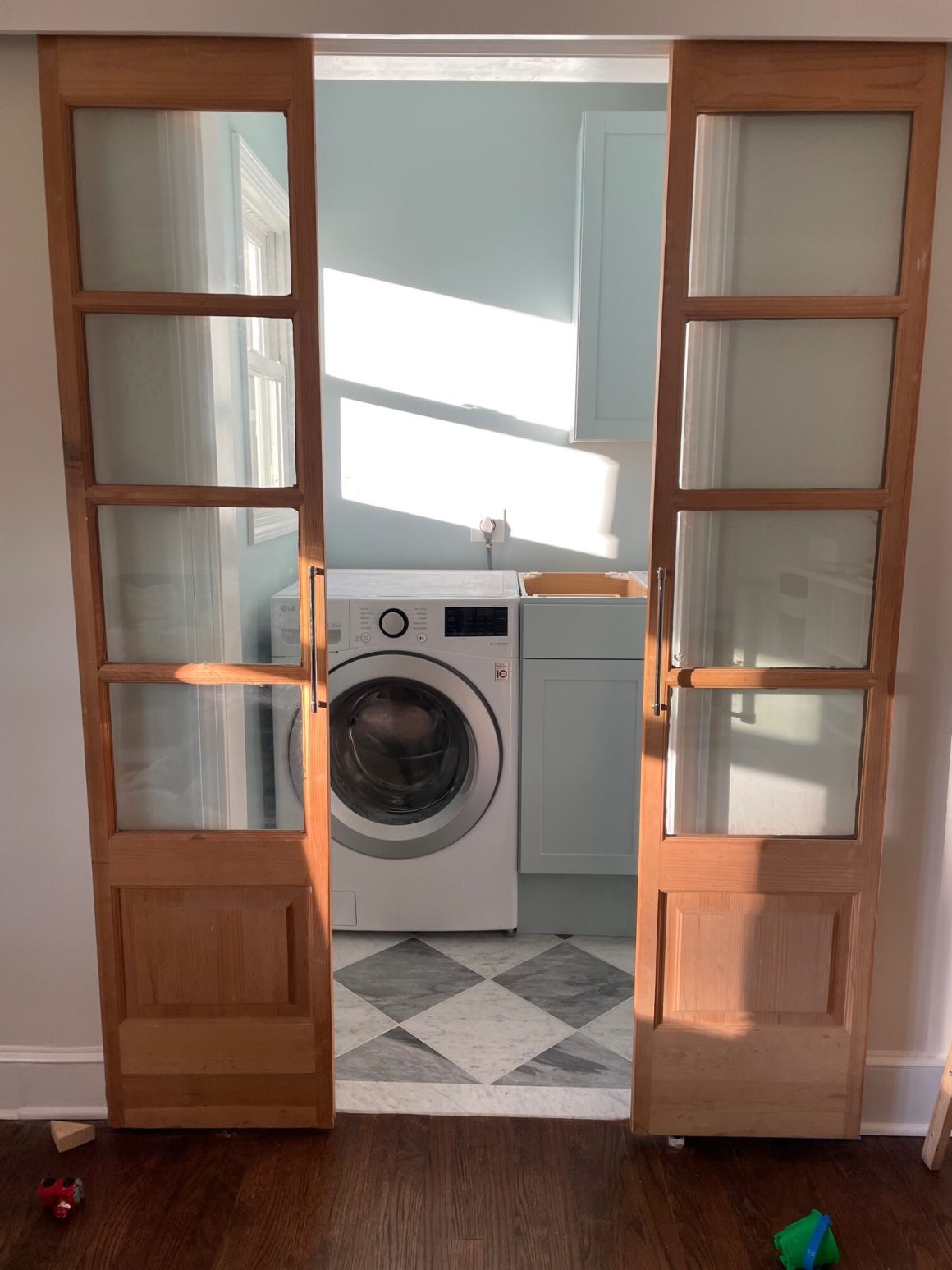 Transform your utility-oriented and boring laundry rooms into a fun space and experience the beauty of it while you enjoy your mundane chores every day. This will transform the outlook of your house as you can couple it with checkered floors and sliding doors. Other colors that go well with the Smoke by Benjamin Moore are White Dove and Decorator's White. These colors are appropriate for a laundry room and not very conspicuous, which allows the blue-gray color to highlight.
19. Cabinets in The Laundry Room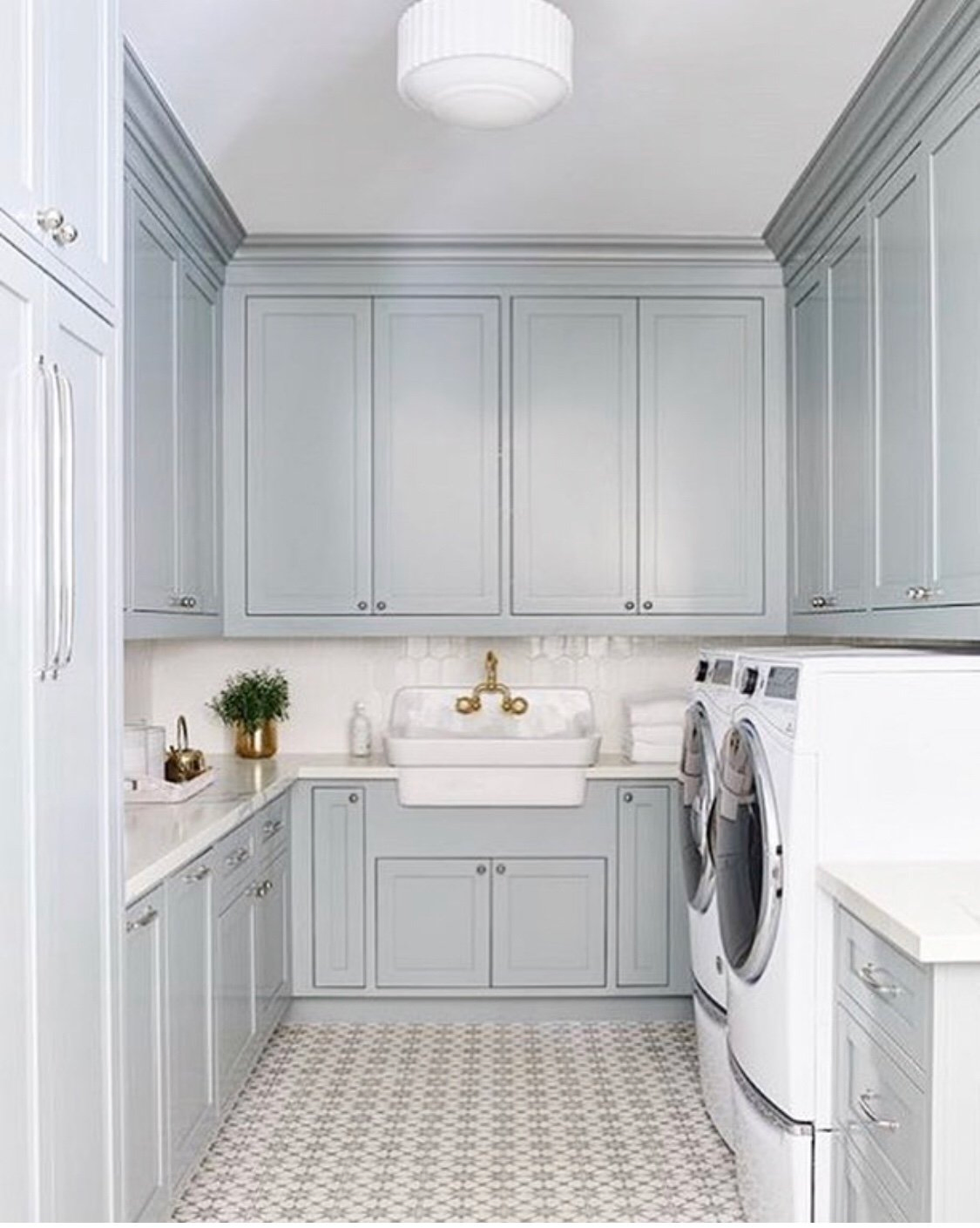 For practical reasons, some people prefer to paint the walls white and keep it simple. However, if you are someone who wants to maintain this practicality but still have some fun, paint your cabinets with Smoke Benjamin Moore. However, make sure that you get the patch test done at the right spot in the room, and also consider the colors on the tiles of the floor so that the room looks complete in every sense of the word.
20. Paint Interior Doors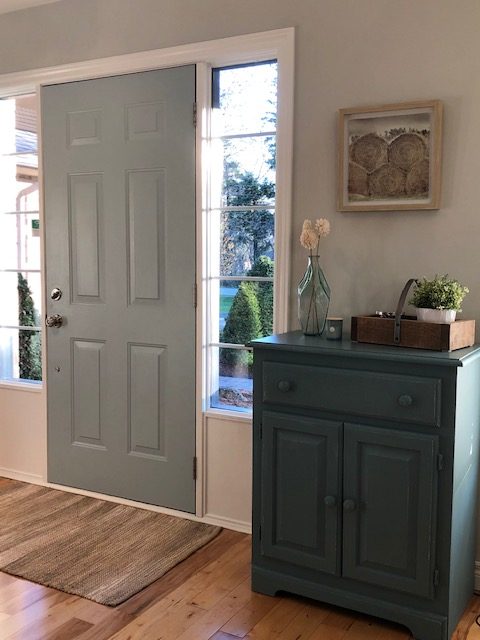 To add some brightness to your room, paint your doors and window panes with Smoke by Benjamin Moore. A door that matches your window panes and the color of the walls can have a very boring appearance and make the place look dull and drab. To avoid that, make sure that the adjacent walls are painted in a complementing shade or the same one. For instance, if you paint the interior of the main door with Benjamin Moore's Smoke, you can paint the knee wall or the foyer walls with the same color so that the door doesn't look out of place.
21. Paint Exterior Doors
If you want your Georgian house to look attractive and modern from the outside, apply some Smoke Benjamin Mooreon doors and window panes. Wooden doors, when painted with interesting colors, can uplift the appearance of the whole house and make it stand out in the neighborhood.You can even place gray or beige pots of plants next to the main door outside your house to accentuate the entrance of your house and also to add another nuance.
22. Home Office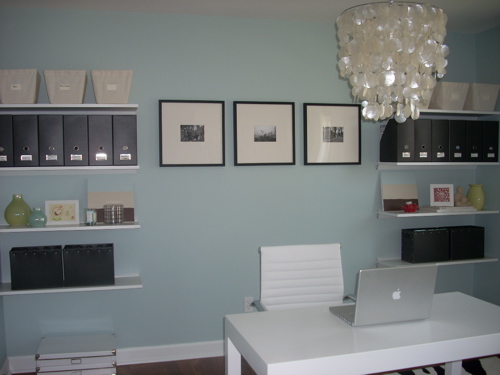 Your home office is where you have to spend maximum time. Therefore, making sure that it is comfortable and soothing for work can get quite stressful. It has to have an inviting appeal yet remain formal and mature at the same time. Monochromatic looks are very in these days; therefore, jump onto the bandwagon by selecting similar shades like Dark Pewter, Steep Cliff Gray, and so on. You decide whether you want to go towards a lighter tone or darker and then select the monochromatic theme accordingly.
23. Paint the Ceilings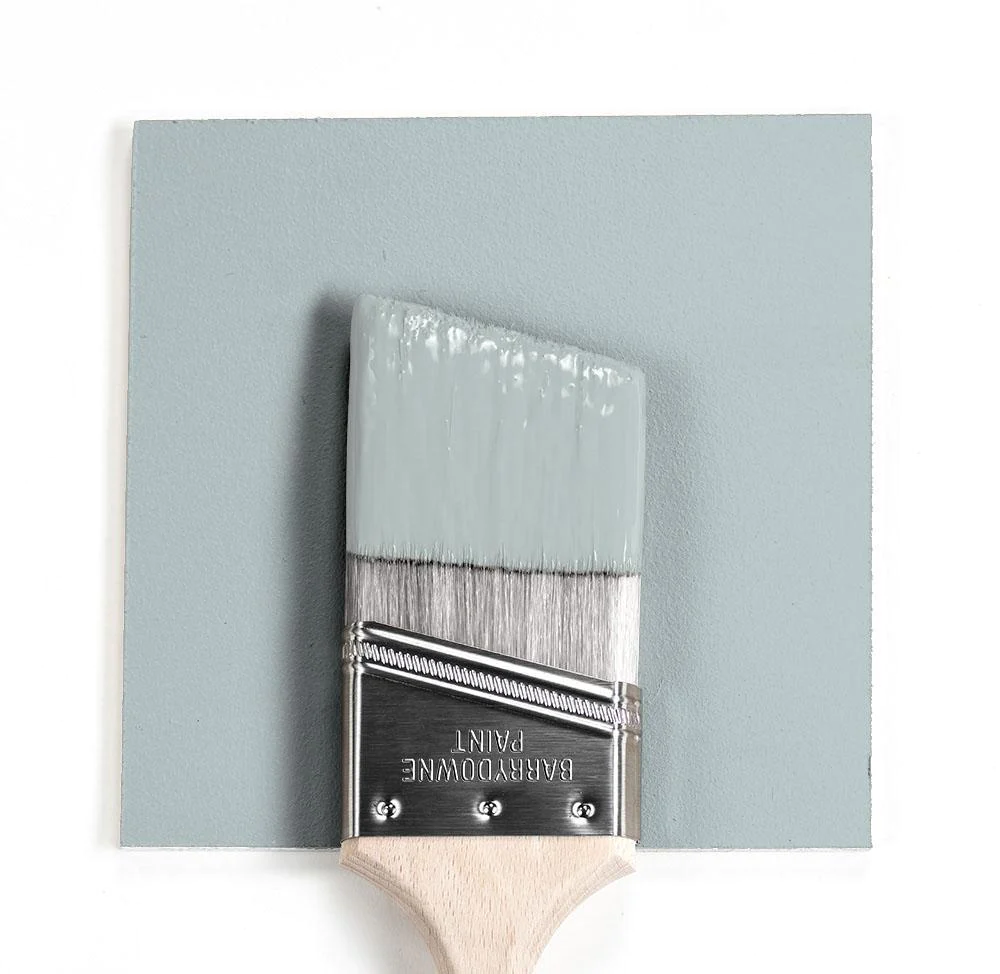 Having a differently colored ceiling can be an attractive feature in your house. To give a quirkier appearance to your bedroom, your washroom, or your living room, paint the ceiling with Smoke Benjamin Moore to have more fun with the interiors and accessorize it accordingly. If you are someone who likes to play with colors, any interesting way to enhance the appearance of a space can be by introducing contrasting shades. Applying colors like White Dove or Grant Beige on the walls can help the ceiling to steal the show.
24. The Mysterious Attic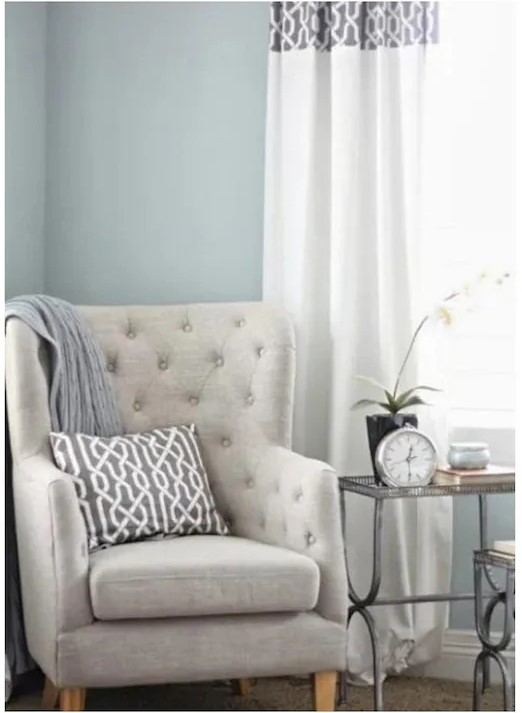 Although it is one of the most ignored rooms in the house, an attic can be used quite creatively. By adding this shade of blue and gray, you will be completely transforming the look of this room and turning it into the most visited as well as adorable corner in the house. Since Smoke by Benjamin Moore reflects light, attics can be turned into contemporary corners of the house because the shade will look darker and even add an element of mystery.
Conclusion
For a seamless transition from one room to another, selecting the appropriate color for your home is essential. Smoke Benjamin Moore is one of those shades that can go well with many other colors and suit a modern house as well as a traditional one.
Smoke by Benjamin Moore can improve the visual appeal of any space, add more drama to textured walls, or even add a splash of color if painted in a small space. To make your home set apart from others and to make it the go-to place for hanging out, experimenting with the color is a must.
Mention your views in the comments section, and let us know how you made use of the versatile shade in your homes.
Frequently Asked Questions
Is Smoke Benjamin Moore Gray or Blue?
Benjamin Moore Smoke is a combination of both colors, blue as well as gray. This shade also has undertones of green which add another dimension to the space.
How Does Smoke by Benjamin Moore Change Color when Exposed to Ambient Light?
When rooms that have ample natural light are painted with this shade, the appearance of the room is spacious and airy. However, small rooms with very little natural light will feel cold when painted with this shade and give a more modern vibe.
Which Colors Compliment Smoke by Benjamin Moore the Most?
Shades that are very warm, like scarlet, yellow, pink, or green, will not look very appealing with this color. However, pastel shades like taupe, beige or crisp whites, and cream will bring out the best in this shade.
Is Smoke a Good Color for Exteriors?
Yes. If you are looking for a light shade of gray for your house, then Smoke by Benjamin Moore is the right color for you. Smoke is also the right color for you if you want to paint it all over the house, as it is neutral and also works well with wood as well as night trim.