For a home or office painting project, searching for a perfect shade is no easy job. If your preference is a greige and neutral shade, we bring to you a popular earthly color that excites every interior designer.
The reddish-orange paint color, with a dominant clay color, is slightly muted. The color was announced as the Color of the Year in 2019. So we know missing this color will be a huge mistake!
The paint has a clay color, making it a versatile choice, rendering a subtle but classy outlook. The clay color is easy to pair up with other elements of the house, creating a sense of luxury using minimal items.
If you love incorporating natural elements and bringing grace and sophistication to your interiors, Cavern Clay will be a hit! Let us explore more about the rustic hues of Cavern Clay in this blog!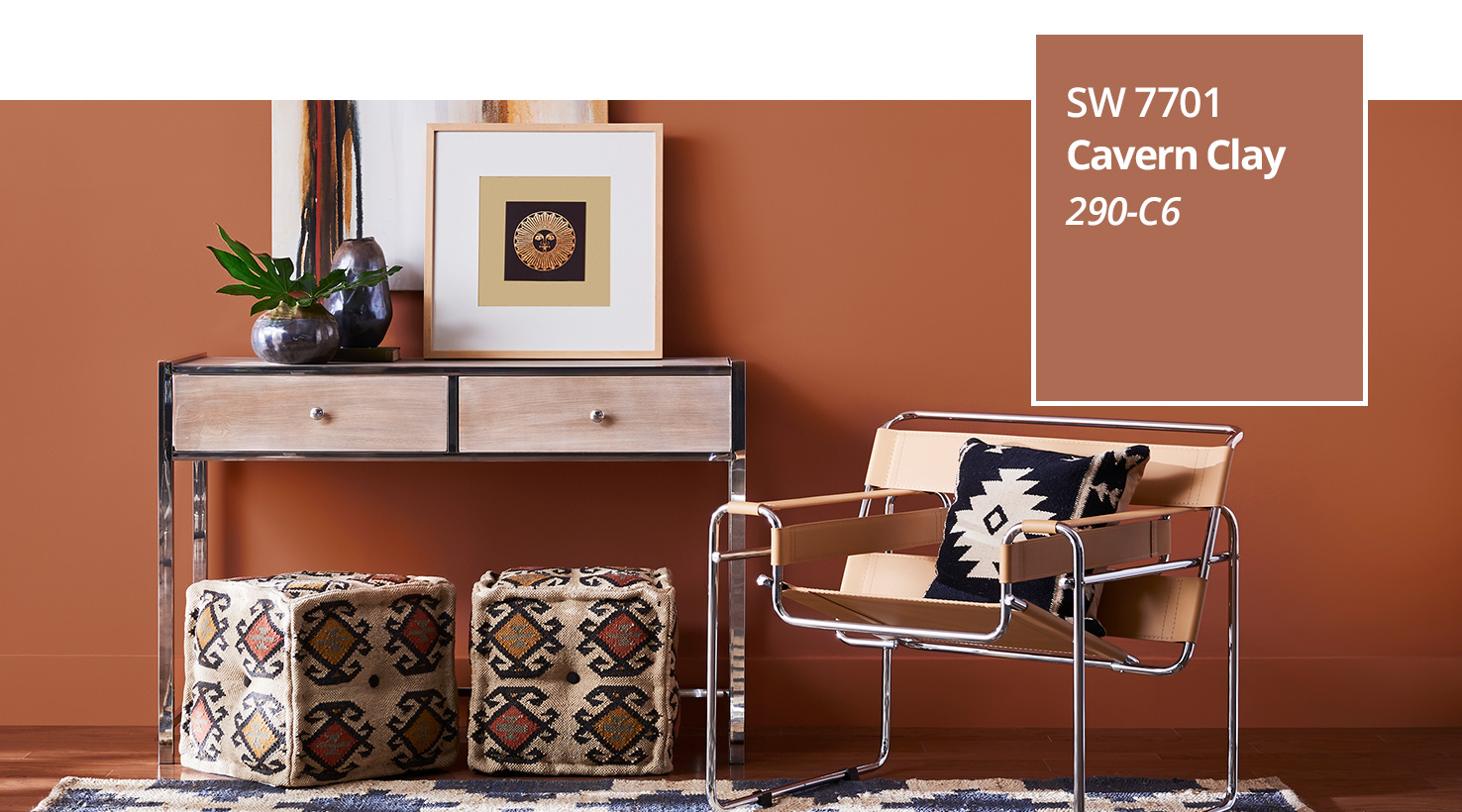 Cavern Clay: Warm or Cool Paint Color?
Cavern clay, without any doubt, is a warm color. Residing in the orange-red part of the color wheel, this clay color is devoid of any cool tones. The appearance and undertones of the paint color make it a warm paint color. The clay colordoes not get washed out easily, keeping the undertones intact. No matter what space you use this color in, the color temperature of the clay color of the paint is maintained.
Undertone
Cavern clay is a muted tone of terracotta, having alternating orange and brown undertones. Lighting conditions of spaces will determine the prominent undertone. For example, brightly-lit areas with either natural or artificial lighting will bring out the subtle orange undertone of this clay color. Alternatively, the low-lit spaces make the brown undertones more dominant.
LRV
The LRV of a paint color determines the light reflected back by it. Alternatively, it can also be a way to measure how much light is not reflected by a paint color. The values for a paint color range from 0 to 100. The value 0 determines a perfectly absorbing paint color, whereas the value of 100 is white paint colors reflecting all the light.
LRV is a crucial factor when choosing the right paint color for your home. For residential interiors, LRVs in the middle range are preferred. So paint colors with the 50s in LRV will be an ideal paint option. Lighter shades as backgrounds (often in the 80s and 90s) are also popular nowadays. Another reason why it is important to consider the LRV of paint color is that it can control the color coordination in the room's interiors and exteriors.
Cavern Clay has an LRV of 20, which may make you think that the color expressed by the paint color is a darker shade. But what makes Cavern Clay an excellent choice is that it does not appear too dark, making its clay color an ideal choice for accent color.
Complementary Colors for Cavern Clay
Complementary Colors for any paint color are categorized depending on the color wheel. The color sitting across the other color is what a complementary color is. For cavern clay, the complementary color will be shades of green color. The contrast created by a set of complementary colors is visually appealing, which makes it an important aspect of choosing the right colors for the home's interiors and exteriors. Here are some of the top complementary colors you can up with the shade of Cavern Clay in your home.
1. Fiddlehead Green, Benjamin Moore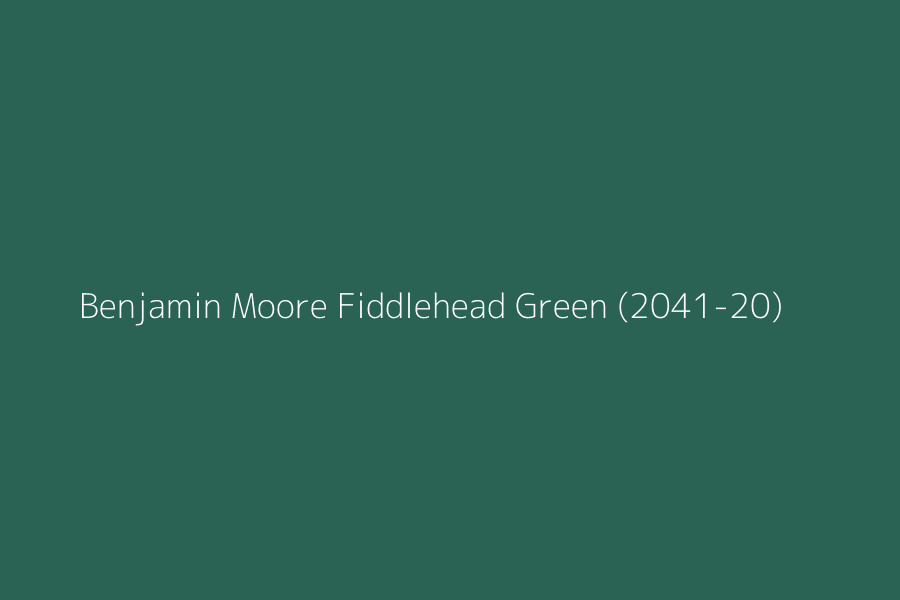 This attractive dark green paint color is one of the closest complementary shades for Cavern Clay. The dark green shade has a hint of blue color, making the combination so great!
2. Olympic Range, Sherwin Williams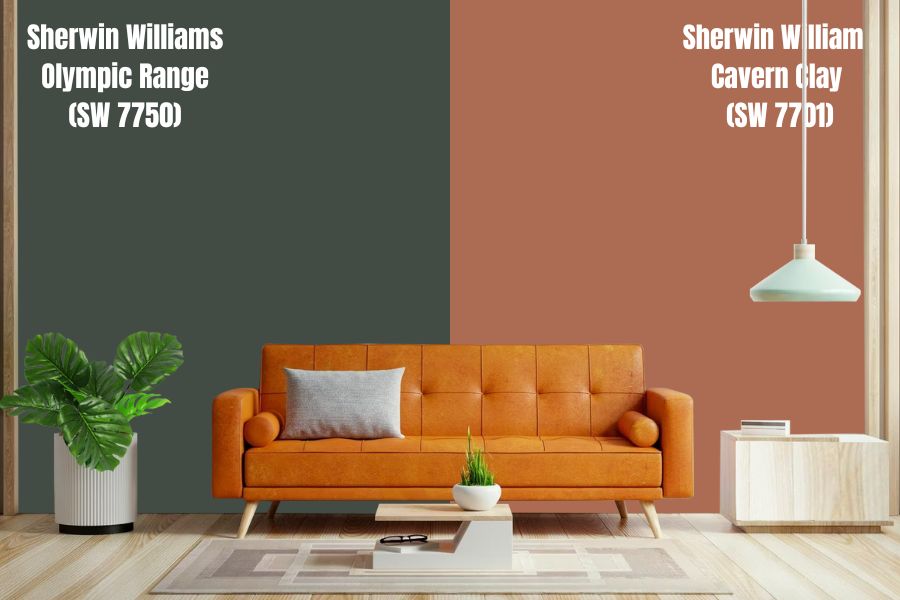 The Olympic range is another complementary shade you can match with this clay color. It is a cool dark green color, making the combination look breathtaking. The blue and gray undertones of the paint color provide a neutral and saturated vibe that will fill your space with tranquility.
Don't limit your home to a combination of clay color and shades of green paint colors. Here are some of the darker and muted shades that will perfectly complement your clay color.
3. Twilight Dreams, Benjamin Moore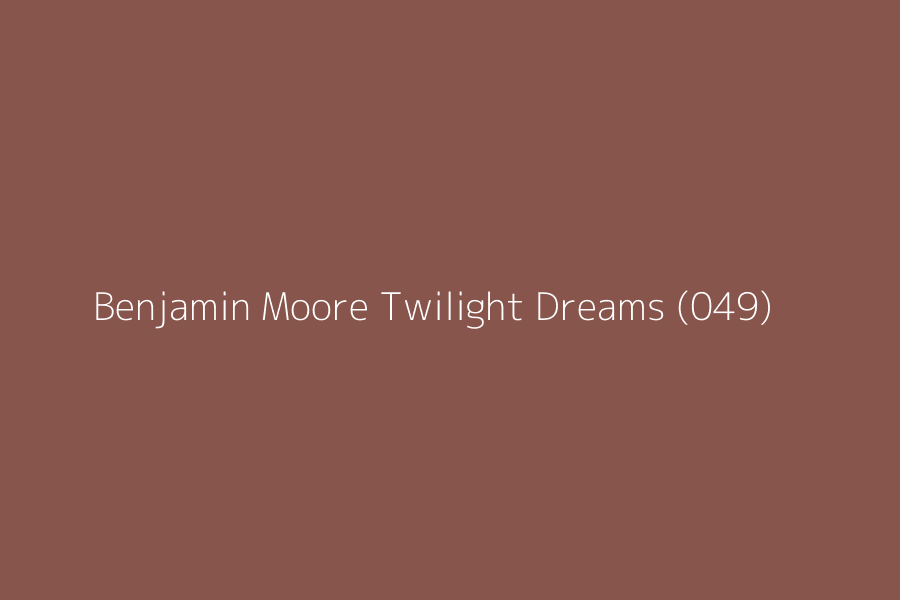 Twilight Dreams is a deep russet brown paint color, perfectly paired up with the clay color of Cavern Clay. The deep brown shade, complemented together with the clay color, will make your spaces aesthetically pleasing.
4. Canyon Clay, Sherwin Williams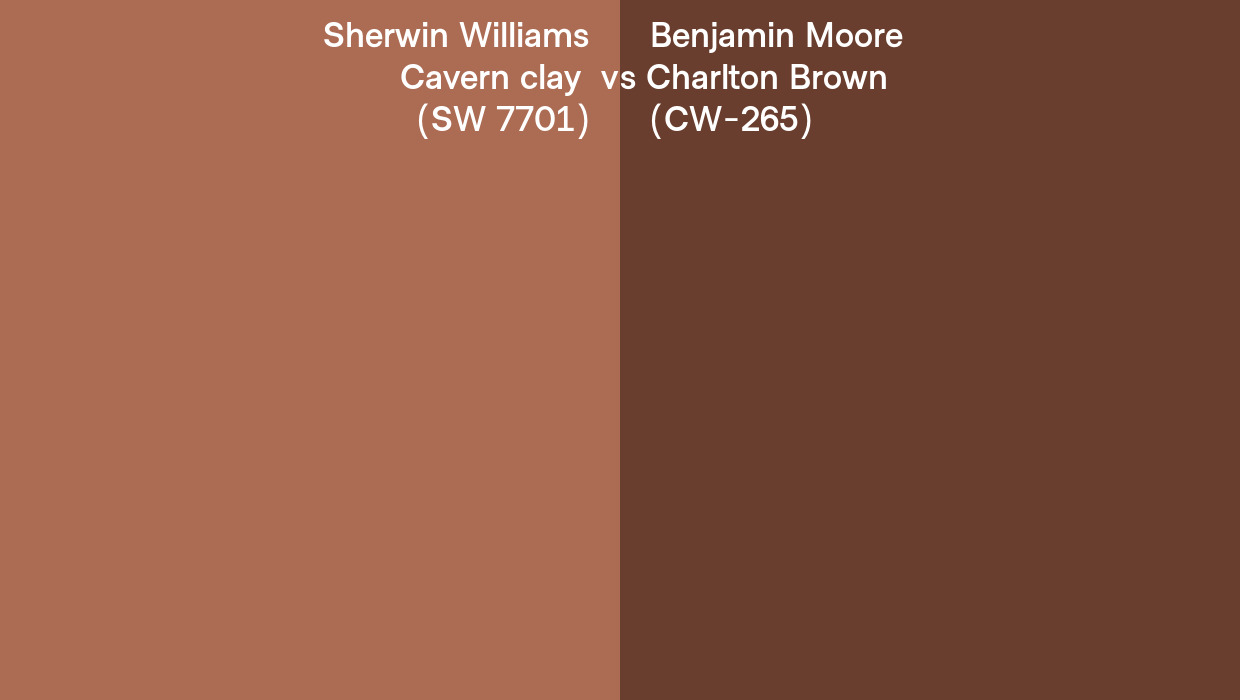 Canyon clay, a red paint color, makes a perfect choice for house interiors and exteriors. But adding this shade with clay color in your house will accentuate the sophistication of both the paint colors.
5. Charlton Brown, Benjamin Moore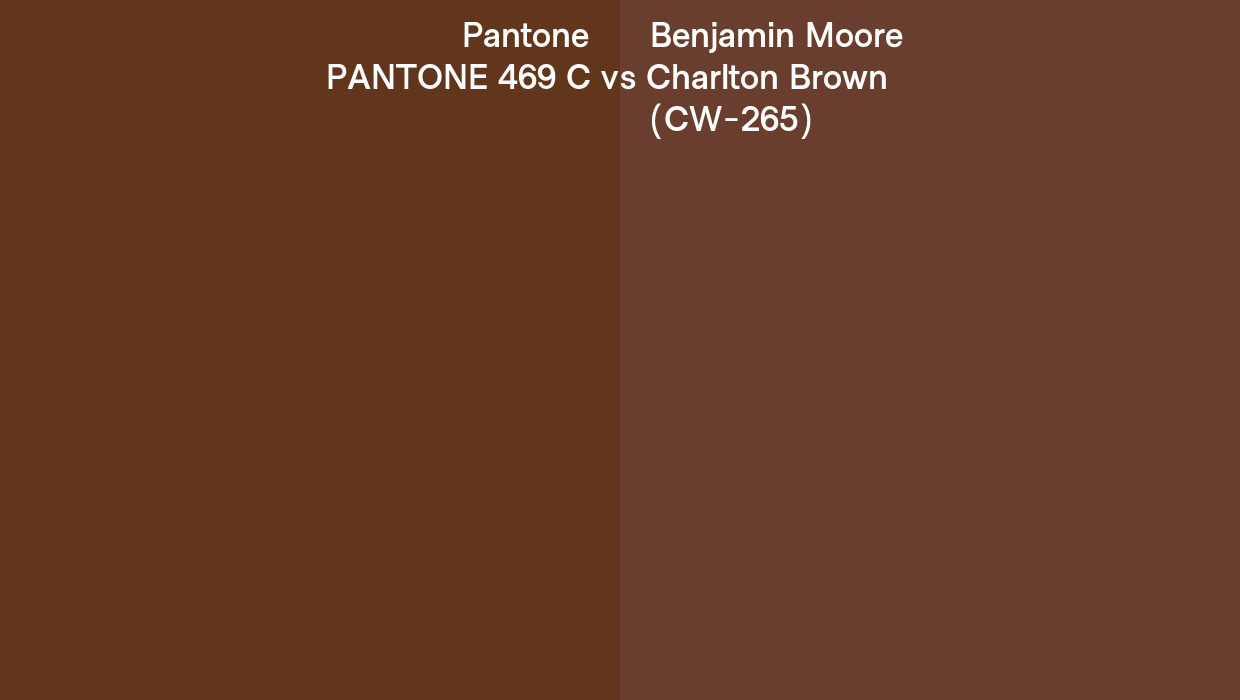 The rugged shade of Charlton Brown makes it an ideal choice for spaces like a study room or library. The color is one of the natural paint colors, but paired with clay color, the outlook of your house spaces can be cozy, versatile, and welcoming.
6. Tradewind, Sherwin Williams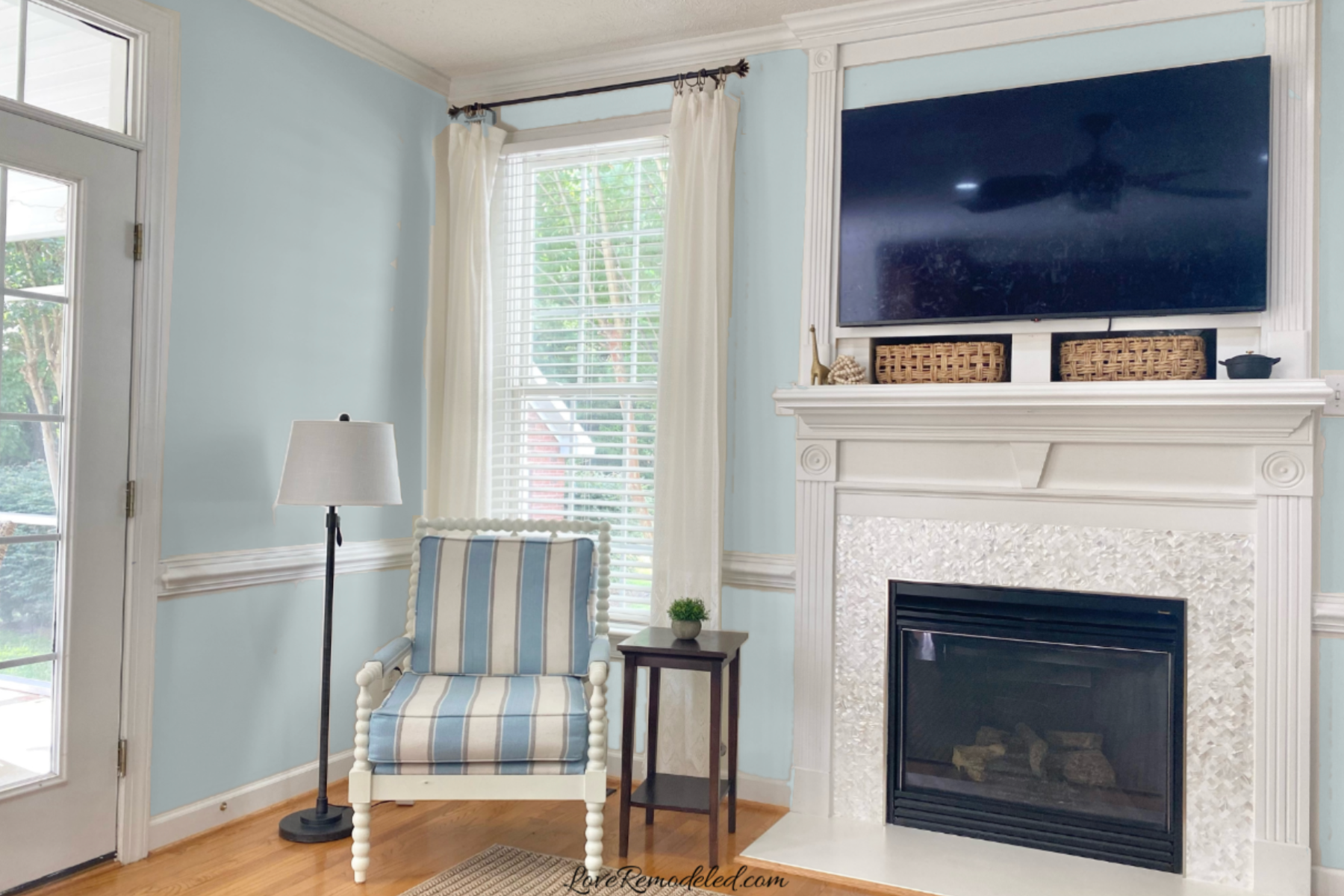 One of the paint colors that complement the clay color of Cavern Clay in the light blue shade is Tradewind. Its cool light blue shade goes perfectly with the clay color.
7. Riverway, Sherwin Williams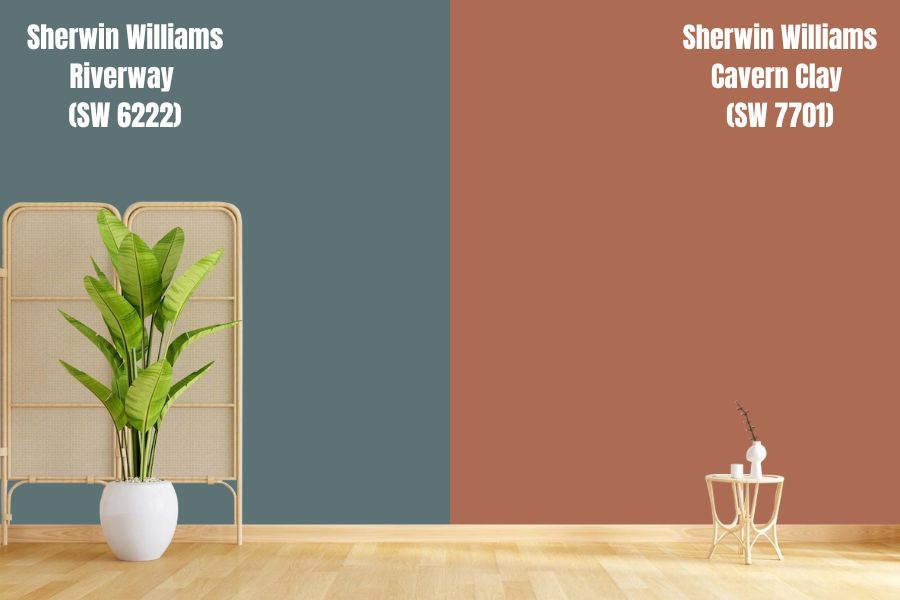 If the light shade of blue paint fails to fascinate, pair your spaces in clay color with a darker blue hue with Riverway. The cool color creates a contrast to elements with clay color, making it a charming detail of your home.
Coordinating Colors
1. Creamy, Sherwin Williams

Creamy, Sherwin Williams is a bright white paint color. The yellow undertones present in the paint color, add a subtle warmth to the color. The warm white color provides a rich creamy texture to the coated surfaces. It pairs wonderfully with the clay color of Cavern Clay paint.
2. Sea Salt, Sherwin Williams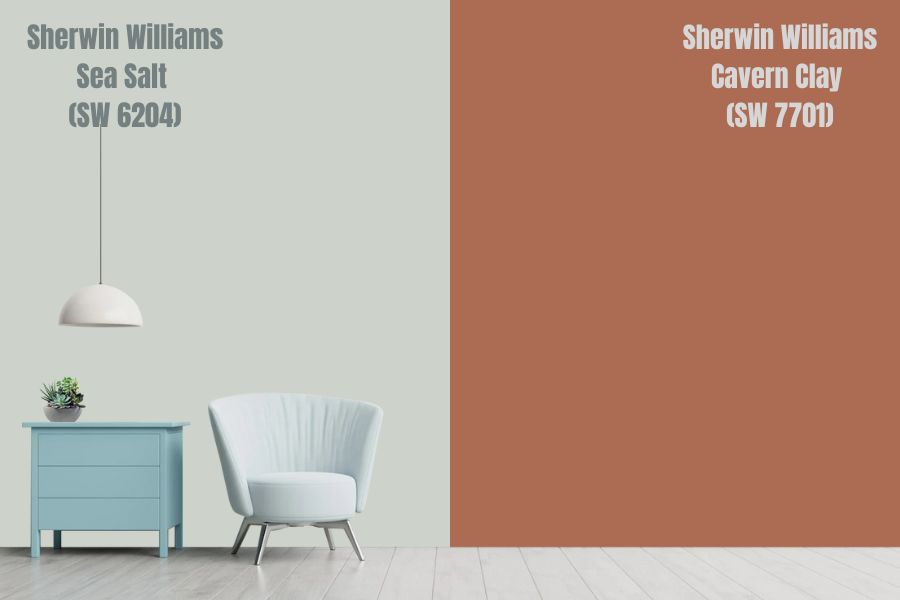 Using this cool and muted shade alone makes a space so appealing. When paired with Cavern Clay, the green shade and clay color make your space look extravagant. The color is versatile making it a suitable paint color for both interior and exterior spaces.
3. Vintage Vogue, Benjamin Moore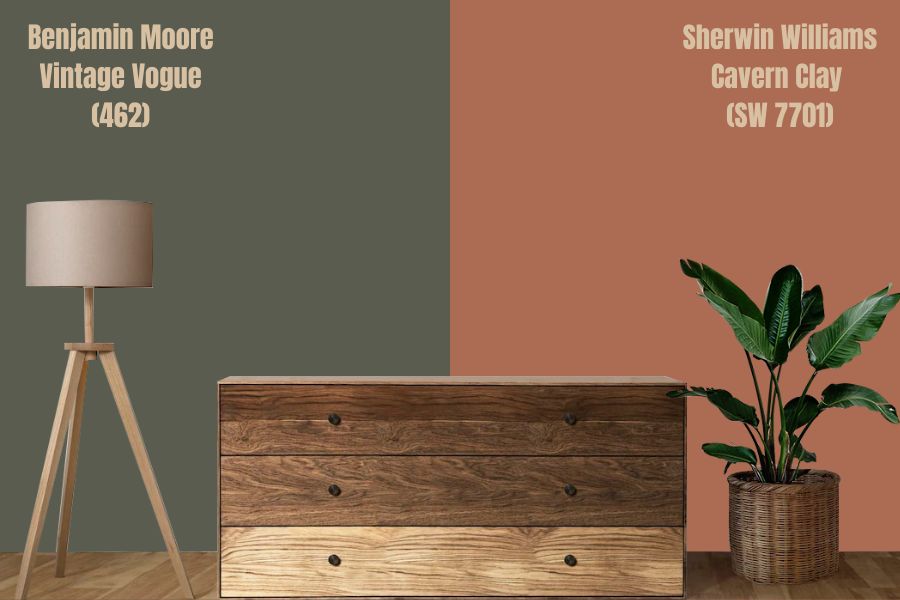 A darker green shade complements the clay color just so well. The color has warm tones of olive color. A hint of gray color makes it provide a natural look to the house spaces.
A Comparison Between Other Similar Color Shades
1. Canyon Clay, Sherwin Williams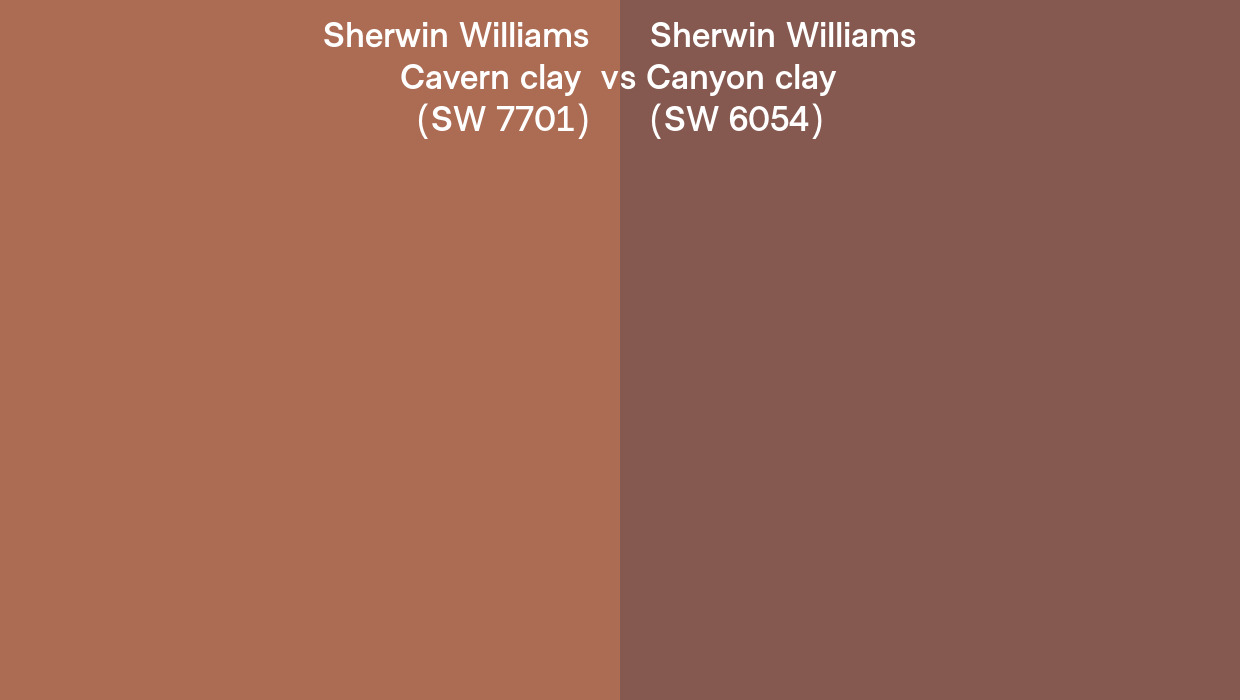 If you are seeking an earthly shade for your home that is closer to brown clay color, not terracotta, Canyon Clay is the best pick for you. Canyon Clay has an undertone of violet color. The brown-clay shade is a bit darker than the clay of Cavern Clay.
2. Spiced Cider, Sherwin Williams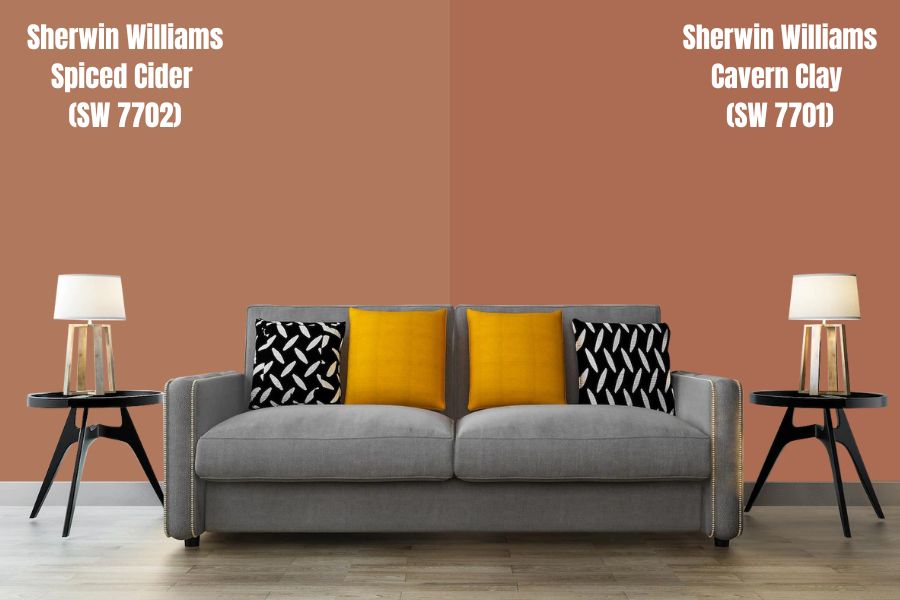 Belonging to the same color collection, the two paint colors have minor differences. The spiced cider paint color is more inclined towards the reddish-orange hues with a copper undertone. If you are searching for a paint color that is lighter and peachier than Cavern Clay, Spiced Cider will do wonders for you.
How to Use Cavern Clay in Your Home
1. Cavern Clay for Bedrooms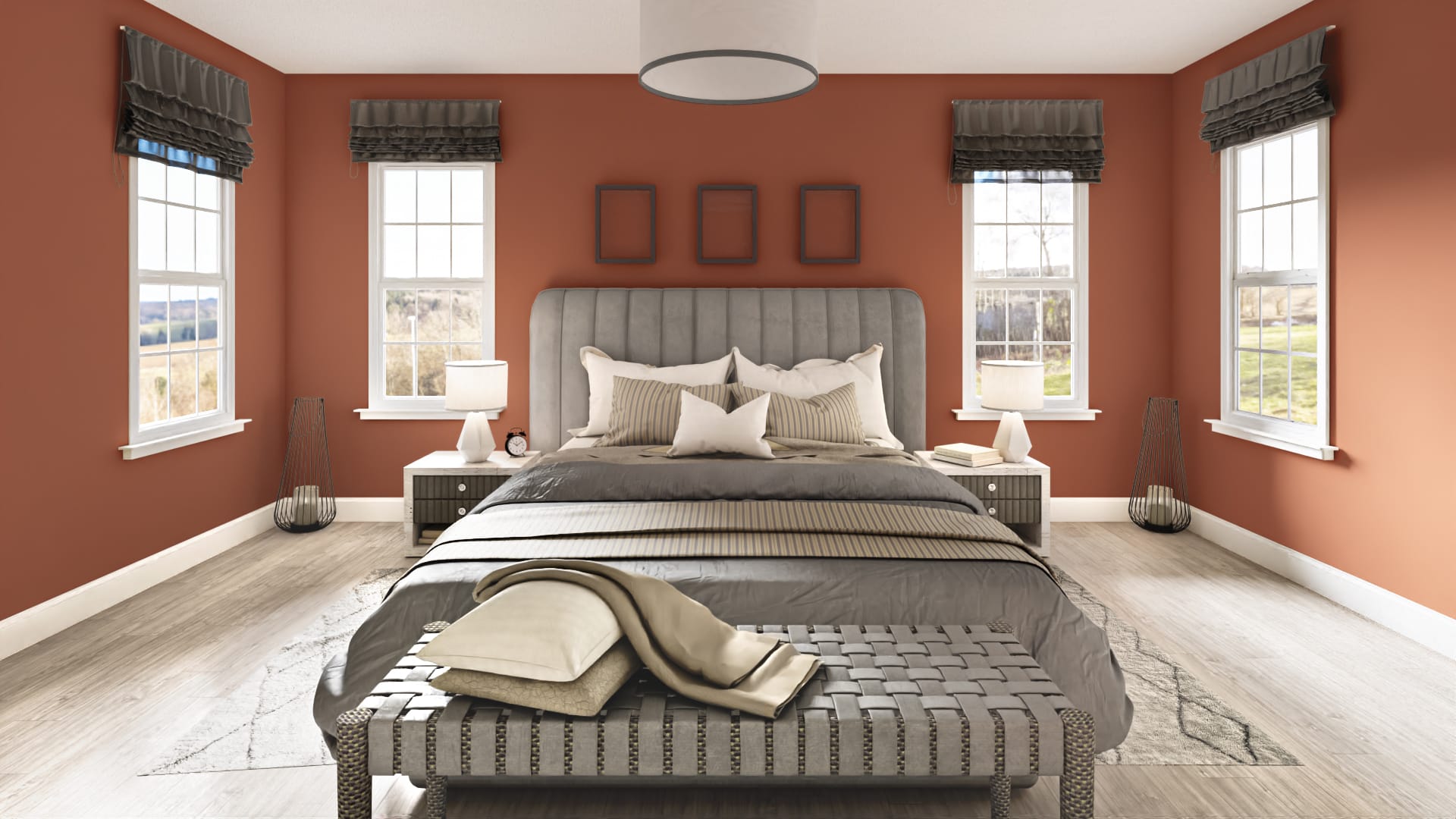 Adding Cavern Clay to the color palette of your bedroom can add an intriguing effect. The shades of the clay color will add a touch of serenity and comfort along with adding style to your bedroom. For a fresh feel in the bedroom, you can incorporate color shades like dusty denim blue or a muted avocado. You can add a touch of earthly feel by using a saturated shade for a dresser and making the rest of the decor neutral for an accent piece.
2. Cavern Clay in the Kitchen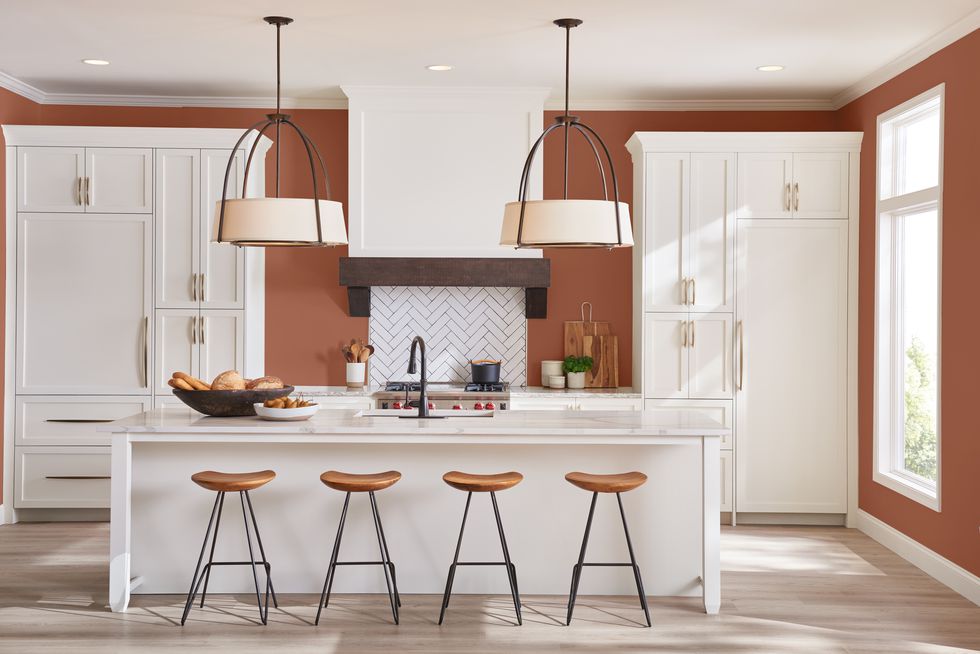 If you wish to feature your kitchen, Cavern Clay can do the job for you. It is a perfect kitchen color that will make your kitchen stand out. Paired with bright tiles and brushed golden hardware, you can come up with a luxurious kitchen for your home.
The clay color is perfect for dining areas as well. The furniture must be wisely chosen that complements the earthly feel of the paint color. Another addition of the clay color in the kitchen can be coating a layer of paint on the kitchen cabinets. Simple and modern cabinets go well with the paint color.
3. Cavern Clay in Basement & Dens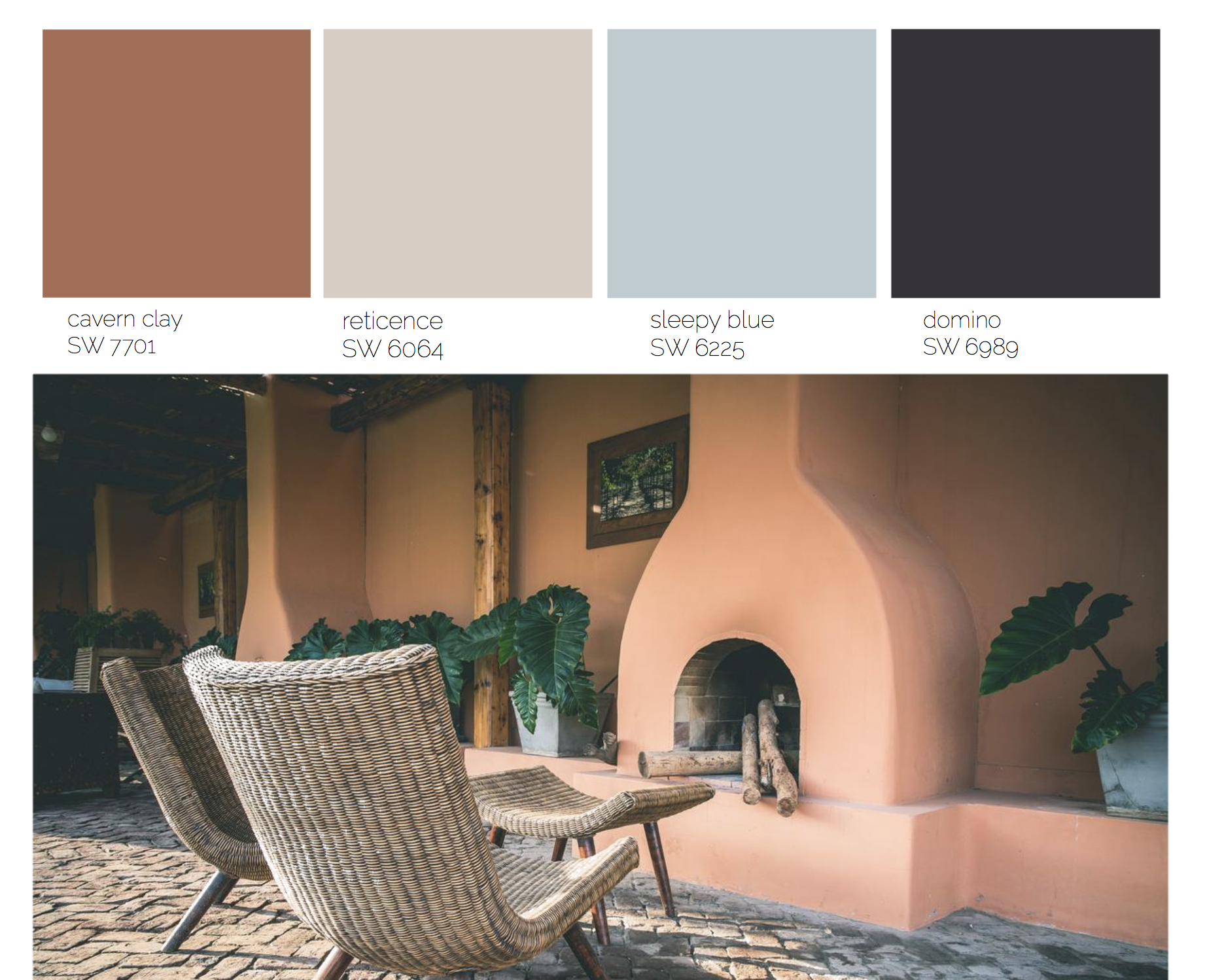 If you want to integrate the feel of the outdoors, the desert-like clay color is what you'll need. If you are not sure about painting the complete room with this shade, opt for an accent wall in your basement or den. This allows you to have the right amount of rustic feel in your interiors. With this clay color, your basement will no longer be a dreary and dark zone in the house, but one of the focal pieces.
4. Cavern Clay: Doors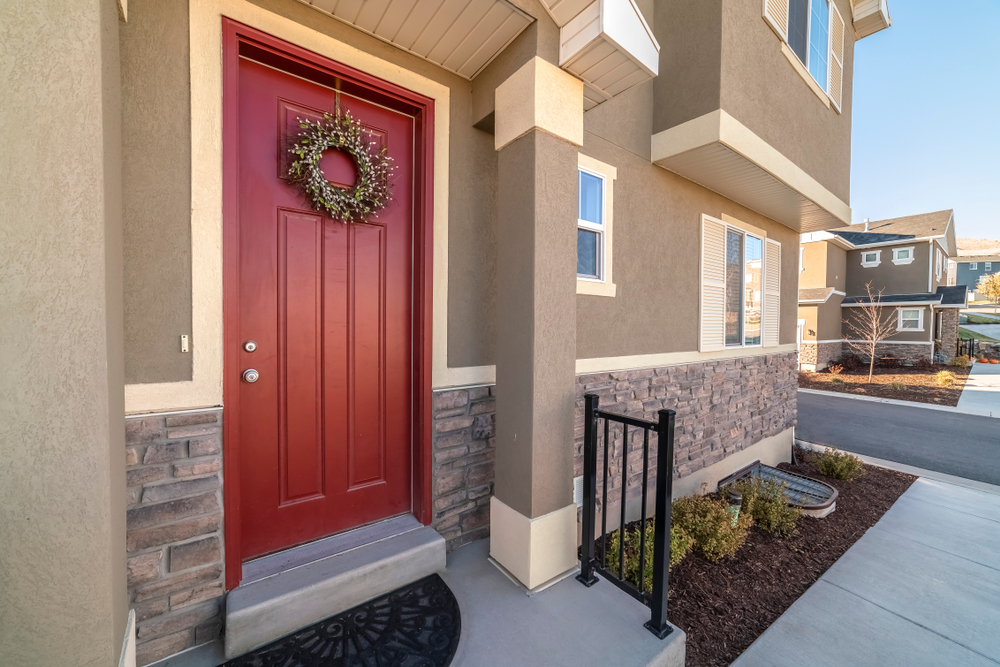 Adding the warm shade of clay color of Cavern Clay has limitless options. If you want to try this clay color for your exteriors, it will make a statement. You can keep the rest of the exterior neutral but add color using the clay color of Cavern Clay. Alternatively, this paint color is also perfect for the most surprising areas like shutters and front doors.
5. Exteriors with Cavern Clay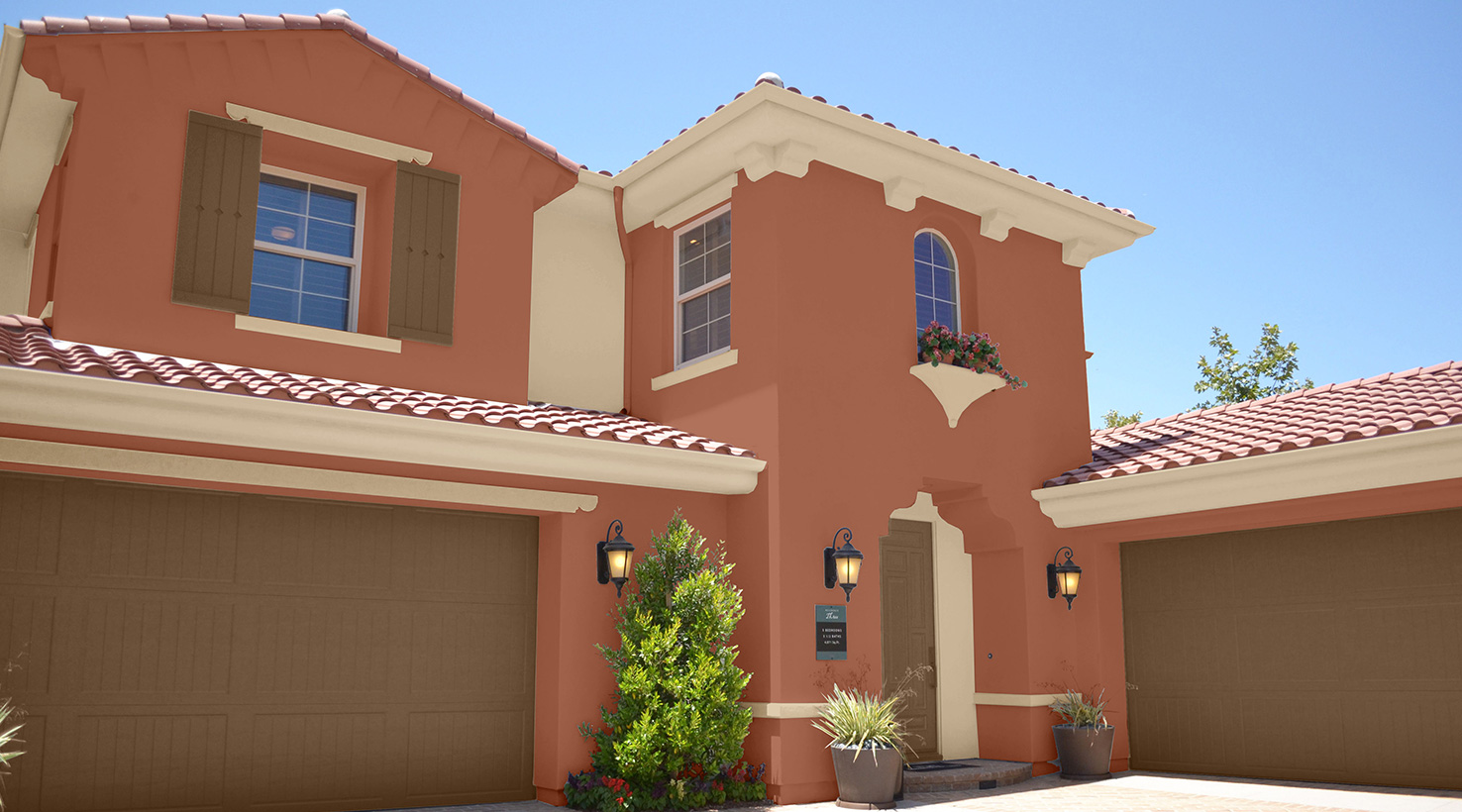 An exterior of a house with this clay color is definitely a bold choice that will not disappoint you. The color will definitely provide a classic look to your exteriors. To trim the shades of Cavern Clay, you can use White Dove by Benjamin Moore to get a perfect look at your home.
6. Cavern Clay for Offices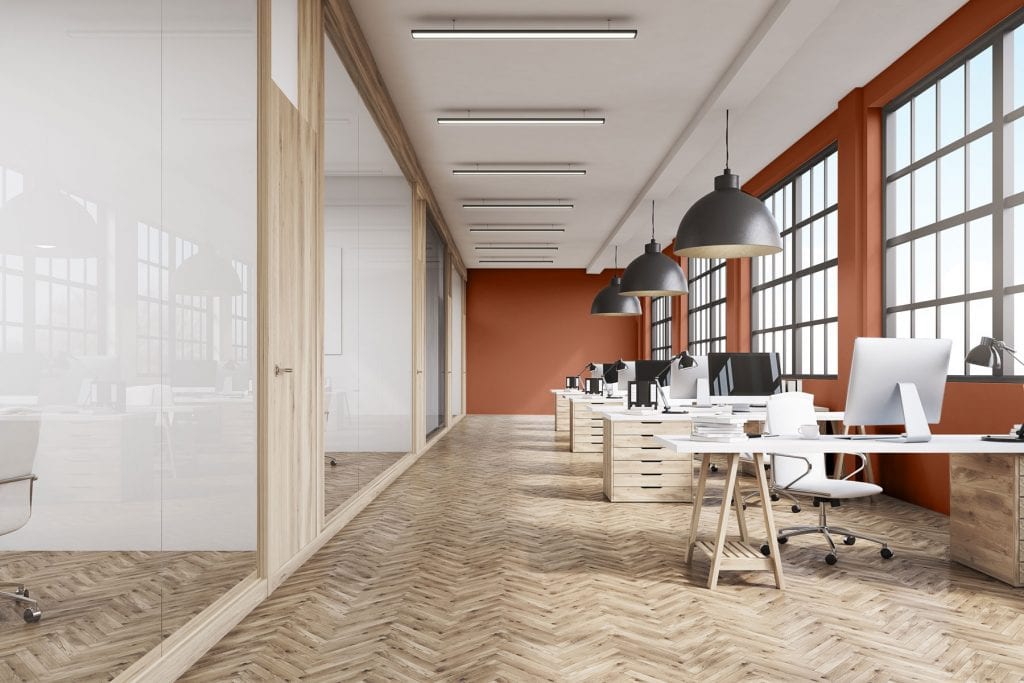 The offices should not be boring, uninspiring, and cold. For letting your creativity flow, the right paint color can have a greater impact. For a trendy touch to your office spaces, a dash of Cavern Clay is sufficient. If you are working from home, you can not step back from featuring your working space with the addition of the clay color. Pair up the clay colorwith other elemental colors like White Diamond (Benjamin Moore), Agate Green (Sherwin Williams), or Cement Gray (Benjamin Moore).
7. Cavern Clay in Home Decor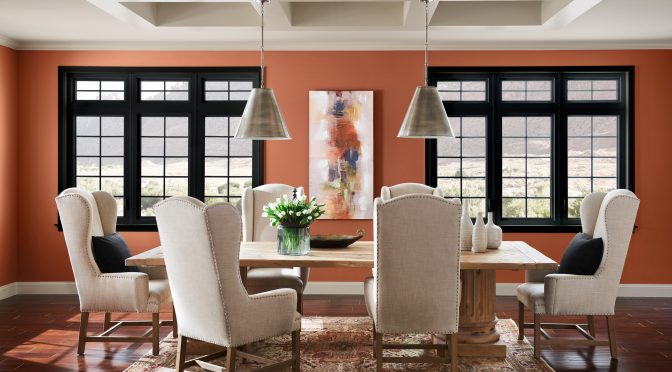 The clay color of Cavern Clay is best for adding a rustic element to your decor items. To enhance the clay-color-coated walls and interiors, add a few home decor items that complement the paint color.
You can add a clay vessel as a decorative element that features the clay color complementing with Cavern Clay painted surfaces. An artisan-made Moroccan container, added with a touch of greenery, can be a perfect centerpiece for your home. To add an intriguing element to your home, you can also add poufs or leather chairs in colors that complement the clay color you have used.
Summary
Cavern Clay is a vibrant color without appearing to be too bright. The paint color minimally can adorn any space. With an LRV of 20, the color does not appear too dark when added to the interiors, making it an excellent accent color. The paint color can be used to adorn interior spaces like bedrooms, kitchens, living rooms, or basements. The color is also an excellent choice for painting the exteriors.
You can avoid using the paint on the walls by featuring elements of your home. For instance, you can feature the kitchen cabinets or the dresser of your bedroom using the clay color. For modern aesthetics, the clay color of Cavern Clay is something you can not miss. Follow for more painting home guides!
Frequently Asked Questions
How Can I Use Cavern Clay in My Home?
Cavern Clay can be used as an accent color or as the main paint color of the home. The versatility of the paint color makes it an ideal choice for various house spaces like bedrooms, kitchens, hallways, walls, basements, and doors. The bold shade of Cavern Clay also is an excellent choice for house exteriors.
What Paint Colors Can I Coordinate with Cavern Clay?
Paint colors in the shades of olive green, warm brown, deep navy, and dusty rose to complement well with Cavern Clay. Depending on your preference, you can pair a color to make the home look perfect.
Are There Any Inspirational Themes I Can Go with Cavern Clay?
The shade of Cavern Clay is perfect for great inspiration themes. A desert-themed interior or exterior can be built by pairing the paint color with green shades. To accessorize the home with a desert theme, add rustic furniture and cacti plants. A bohemian theme also goes perfectly with Cavern Clay. For this theme, opt for patterned tiles and layered textures.