Think of Raspberry Blush, and you're most likely to think of the perfect lipstick shade, tint, or blush for cheeks. Taking it to absolutely another level, Benjamin Moore's color of the year 2023 is Raspberry Blush, and we're still trying to digest this information. What we mean is, don't you think it's a pretty bold color to be on the wall? We would think twice before buying furniture of the same color, and for it to be on the wall is quite a decision to make!
But you see, when one can pull off black lipstick, you can obviously give this a try, and Benjamin Moore's color of the year 2023 is indeed a beautiful color.
The article covers everything you should know about the color of the year! But before we forget, we want to give you some very interesting information we came across! Here you go:
First, Who and What is Benjamin Moore?
Benjamin Moore was the founder of the American company Benjamin Moore and Co., which is a manufacturer of commercial and premium paints and coating. Established in 1883, the company was acquired by Berkshire Hathaway in 2000.
Now, Berkshire Hathaway is a conglomerate based in the United States of America that majorly deals with insurance. Its prime source of capital is insurance. The CEO of the company is Warren Buffet, who is also popular for his investing strategies.
Benjamin Moore's Color of the Year is also widely called COTY. Last year it was October Mist that fit well in the political context. Prior to last year, the color Aegean Teal took over. Benjamin Moore probably believed that after a lot of trial and error, people were finally ready to welcome bold colors instead of the same neutral shades. Therefore, it is time to welcome Raspberry Blush as the Benjamin Moore color of the year 2023.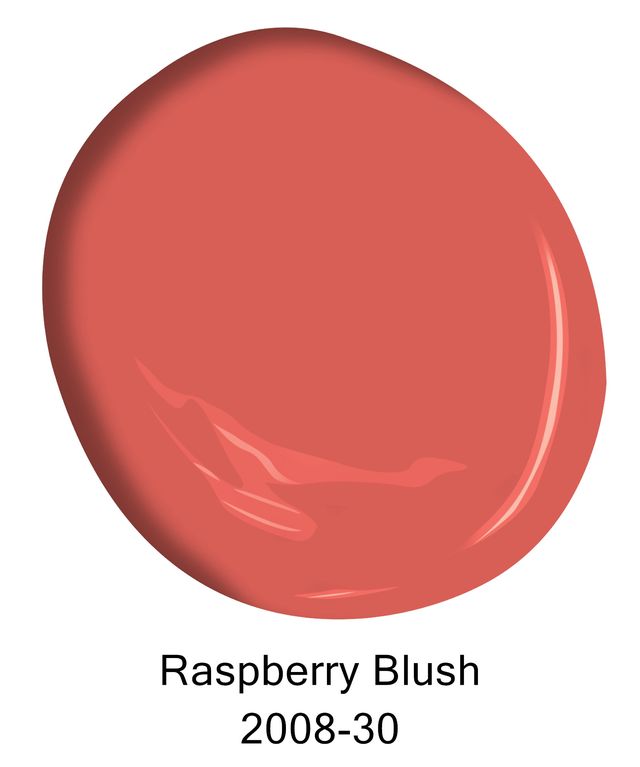 "Too much Pink," no person ever said that! The shade of Pink is here, and how! Needless to say, it's here to stay! This charismatic red-orange Raspberry Blush is all set to give you the main character energy while you sip in your Americano in your favorite mug!
But wait, are you ready to dive into the shade without further ado?
Having said enough about the founders, let's go straight into the Raspberry Blush Paint! The announcement of the color of the year was a mix of funky, electric, and energetic, much like the color itself. Eager to know how it was announced? Continue reading!
Benjamin Moore X Chromeo
We all know Chromeo, the funk duo of singers. Benjamin Moore believes that much like music, painting also requires self-expression and thus collaborated with the electric duo (sure, a collaboration like no other).
"I call her Raspberry Blush
Feel some kind of rush
Every time I pass her, our shoulders brush
Raspberry Blush"
Heard it somewhere? It's one of the recent songs by Chromeo. No, this was not a coincidence but a part of the collaboration. That's how they began with the announcement. How cool!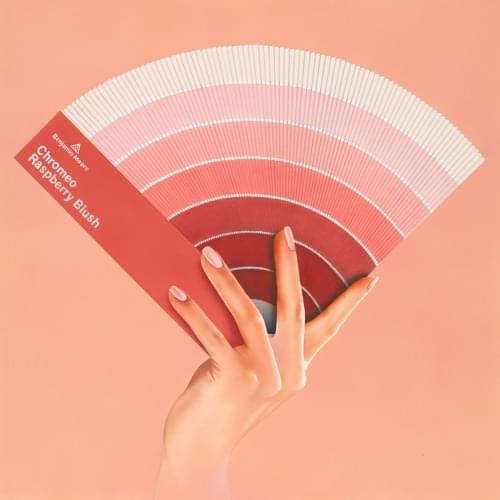 Raspberry Blush is a mix of orange and red (not Vermillion or anywhere near it). Vibrant and rosy, the color can energize any room but also make your room look a little dark. This is why balancing this color with beige, light pink, and white can make your room look subtle; this could be a great idea.
Trying a room completely in this shade can be a little too risky because this is a matt finish and can make your otherwise cozy room pretty loud, and you don't want that. However, a monochromatic result for your living room can work because it has space and generally has a lot of light. But still, you must play your cards safely when you wish to try colors like these.
You will get all the information about the Benjamin Moore color of the year 2023, how you should use it, where you should paint this color, and what other colors you can pair this beautiful color with!
How Can You Use Benjamin Moore Color of the Year 2023?
This rich coral color could be your perfect choice if you want a pop of color in your abode. Do you know what you can do? You can give a monochromatic look in your living area with this Benjamin Moore color of the year 2023. Keeping the chairs or couch of the same color and a couch throw of a powder color or a contrasting tone can give you just the right warm living room! Or painting the entire living room Raspberry Blush and getting complete white furniture. It looks stunning and royal.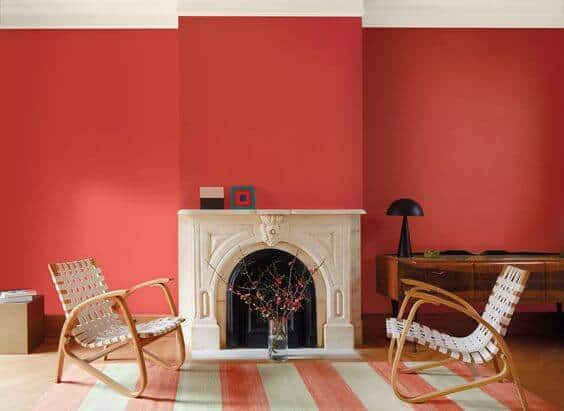 It can turn out to be the prettiest color for a children's room or master bedroom as well! If it were us, we would not paint all walls into Raspberry Blush because we want a bright room with a lot of light, natural light preferably. For furniture, you can go all black! Oh, so classy.
Using Raspberry Blush for the dining area can be extremely thoughtful. Why? After a lot of research, we found that shades of red and red can increase the appetite of most people. Therefore, if your dining area is painted in this shade, it will always keep you and your guests hungry!
Had we opted for Raspberry Blush, it would block sunlight because it's a very matte finish color and will not reflect light. If you're concerned about the LRV (Light Reflectance Value), Benjamin Moore's color of the year 2023 has an LRV of 22, which means it's not very bright and will not reflect much light. This even brings us to another point that you should never use this for a north-facing room. It already has less light, and in case you use this paint, you'll end up blocking more light!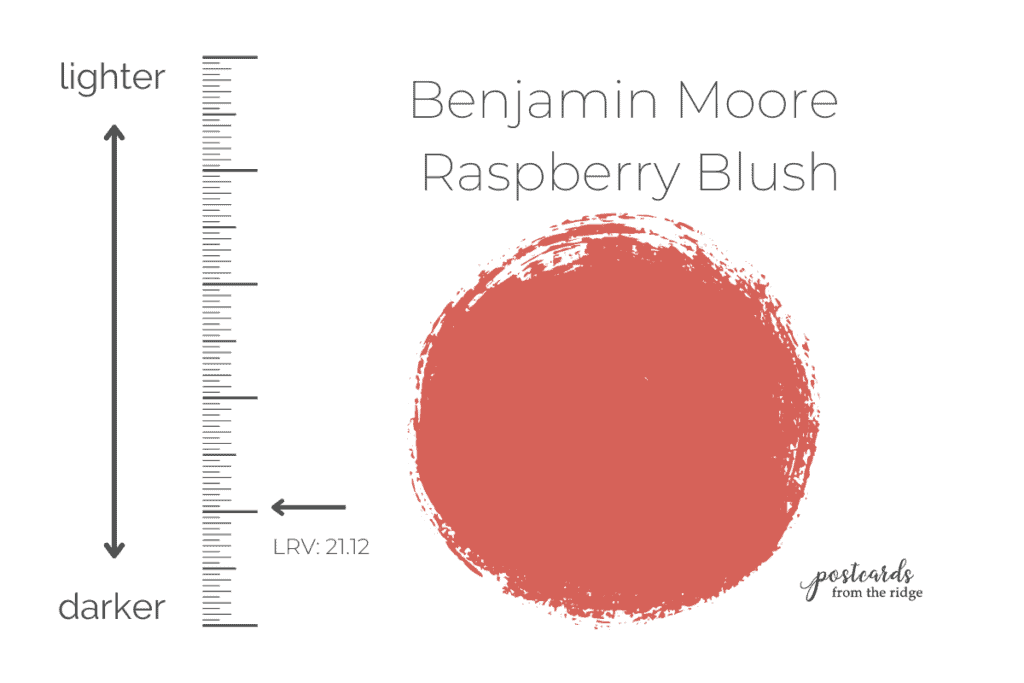 Go ahead and use it for a unique washroom; monochromatic restrooms are currently in fashion (let's give a break to neutrals and try something bold) and are going to remain evergreen! You can add all-black cabinets, drawers, and wardrobes.
If you're still skeptical about this color and you think it can be too loud, you can try this color for your furniture. Trust us; you will not regret this! It's a very happy color, and it's wonderful to make your home atmosphere lit. Cabinets, wardrobes, chairs, and tables in color will keep you ahead and trending.
Using Raspberry Blush for as small as an antique or a frame will make your home pop with a bright color. (Tip for Life: Make sure you add a wall-mounted light over the antique or frame, or else Raspberry Blush can pull light and look dull because of its low LRV.)
The idea is to break the monotony and try something out of the blue in the shade of Raspberry Blush! Benjamin Moore also introduced color hues that are absolutely perfect as a standalone color. However, you can also use some of them to pair with the Benjamin Moore color of the year 2023.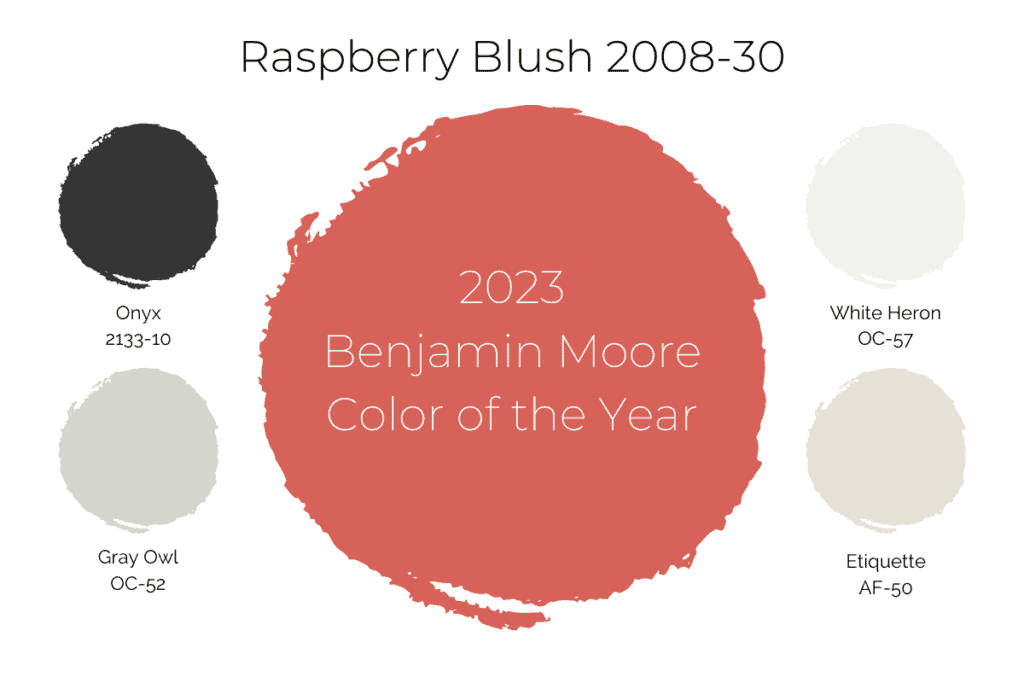 Let's make life simple for you and give you the perfect colors that you can pair with Raspberry Blush!
Colors that Goes Perfectly with Raspberry Blush!
As said, Benjamin Moore gave us eight hues for our beautiful walls. Raspberry Blush is one of them and is definitely our go-to paint for a confident look! Besides that, he introduced Conch Shell, Cinnamon, Wenge, Savannah Green, New Age, Starry Night Blue, and lastly, Night Sea Green.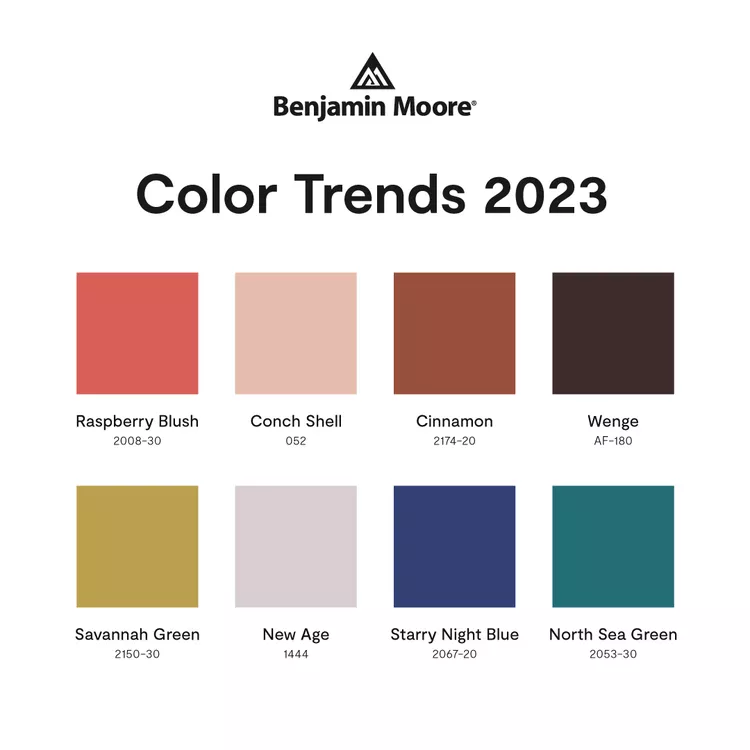 If you wish to go all out, then you can opt for Cinnamon, a hint of maroon, and North Sea Green. Amongst neutral colors, shades of off-white and light shades of Gray can be a perfect match!
One beautiful and smart hack to give a balance with Benjamin Moore's color of the year 2023 is that you can try textured walls. It can even out the confident, bold Raspberry Blush color. You can check the image below! Looks pretty and soothing to the eye, right?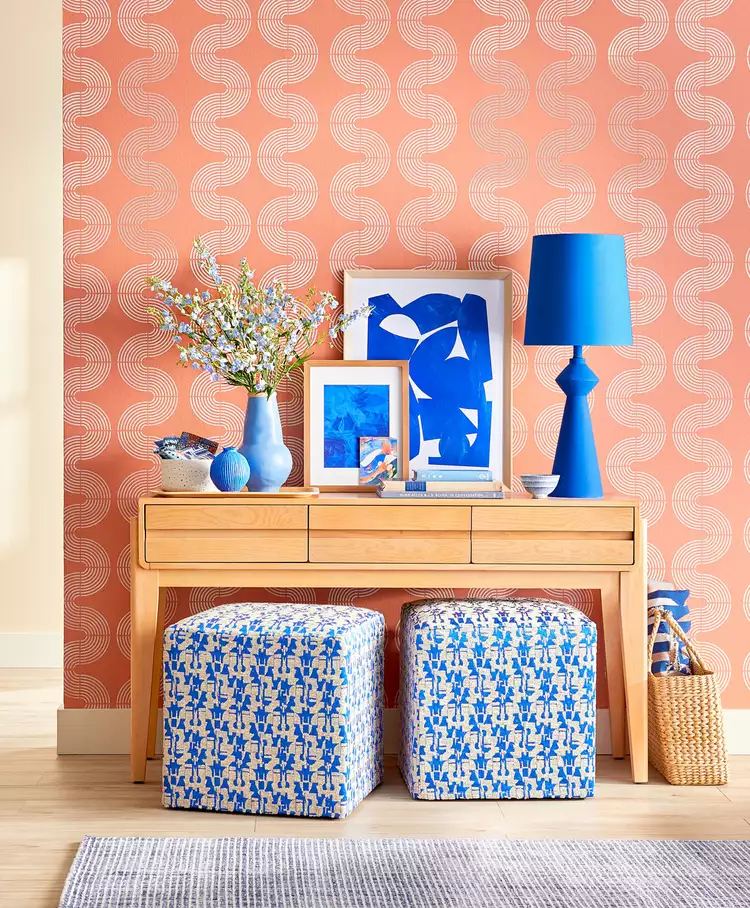 Wanna know our favorites? We absolutely love Conch Shell (looks a lot like Powder Pink) and New Age (a very light shade of Gray)!
Most often, we keep the walls flat and basic. We tend to style our furniture for a makeover. But this time, our walls are taking over the old-fashioned paint, whereas furniture is all set to take the back seat.
Blush While You Paint, Raspberry Blush!
How romantic is the name of the color, right? You can add a little twist and call it a date night! Why not call for your partner and paint the wall Raspberry Blush while you can blush as well? Sounds like a plan? Not to forget, get your hands on the Chromeo playlist with the song Raspberry Blush!
We've even got you covered with how you should plan the furnishing of your home, along with the perfect date plan with your partner! What else could you have asked for?
We hope we have given you enough details for you at least to get a sample of the color at home!