Watching your outdated and dull fireplace is like watching a depressing episode of a rom-com where there's no way to escape. At the same time, a well-painted fireplace gives a fresh look, making your everyday view worthwhile.
Painting your fireplace brick is a simple and budget-friendly way to transform your fireplace and make it the focal point of your room. You'll need some basic tools and materials and a few hours of your time. There's a bonus section for your figure-out-the-fireplace brick paint ideas as well.
By the end of this tutorial, you will have a beautiful and modern painted fireplace brick that you can enjoy for years to come.
Tools and Materials Required
Before we get started with the DIY tutorial on how to paint your fireplace brick, the following is a list of items you need to get this job done.
Vacuum cleaner and a wire brush – To clean the surface
Heavy duty cleaner
Bucket of water
Painter's tape
Drop cloth to protect walls and flooring
An oil-based, stain-blocking primer
Masonry brush and paint roller
Heat-resistant latex paint
Rag or sponge – To clean the lime wash effect
Ladder
DIY Steps to Paint Your Fireplace Brick
As mentioned before, painting a fireplace brick is simple, and it wouldn't require you to hire a professional to get it done.
Follow the below steps to paint the fireplace, and you are good to go:
Step 1: Clean the Fireplace
Like any other DIY method for your house, even this begins the most obvious yet imperative step: Cleaning.
Cleaning your fireplace ensures that the paint will adhere well and there are no dirt or soot stains on the finished surface.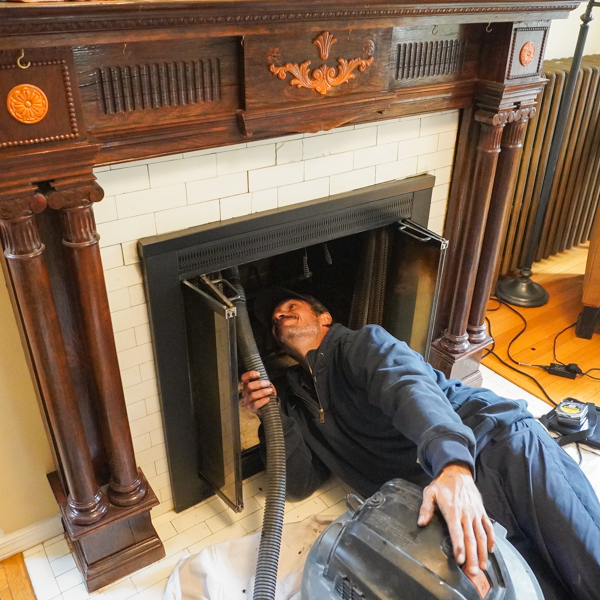 Grab the vacuum and dust the fireplace to clear the debris, cobwebs, and dust bunnies.
Now, take the wire brush to scrub the entire surface with a heavy-duty cleaner to remove stains, grease, grime, or soot that's on the brick.
Complete your cleaning process by rinsing the entire surface with water and allowing it to dry completely.
Step 2: Prime the Fireplace Brick
Here's where the oil-based stain-blocking primer comes in handy. Priming the surface will seal the brick and prevent any stains from bleeding through the paint. Moreover, priming holds the advantage of creating a smooth and even surface for the paint to stick to the brick.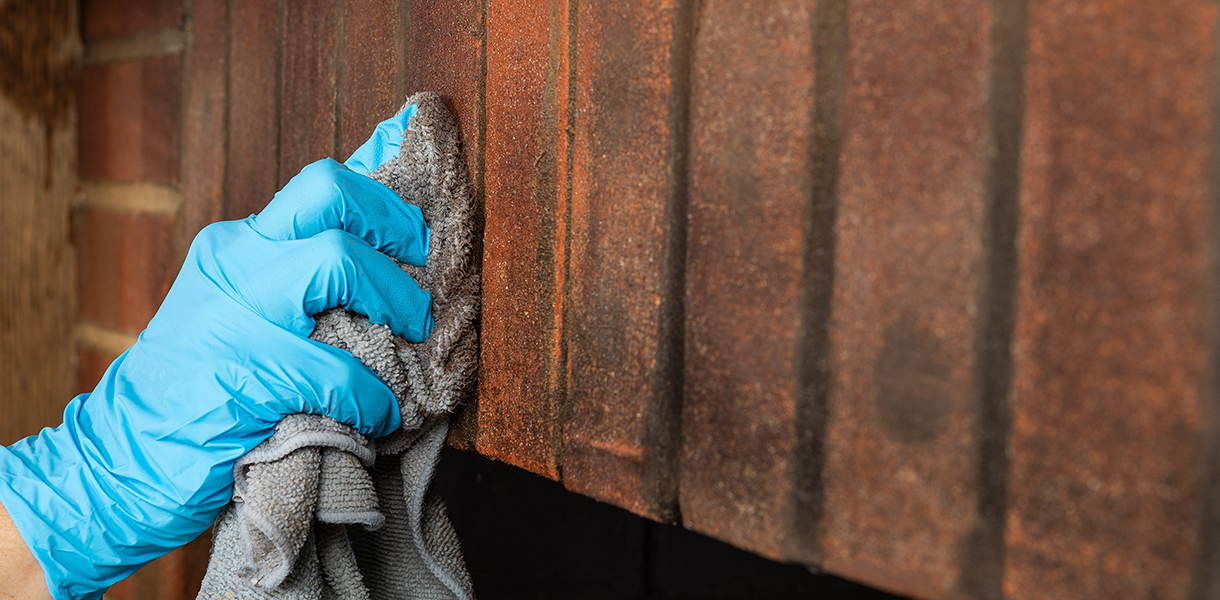 To prime the surface, start by applying painter's tape to the corners to protect walls and flooring.
Applying primer to the mortar between the bricks: You'll need to use a masonry brush to do this. This step should help reach into the crevices and corners of the bricks.
Applying primer to the brick surface: For the main brick surface, you can use the paint roller brush. Ensure to apply an even and thin coat of primer on the brick surface.
Now, for the primer to dry, you can follow the manufacturer's instructions and allow the solution to sit properly on the surface.
Step 3: Paint the Fireplace Brick
You are now a step away from making your fireplace brick as new as the day it was built. Now, you'll need the heat-resistant latex paint. Though white paint is the most preferred choice, you can also be creative and select a color that matches your house color palette.
If you are a lover of the aged stoned look, you can use the lime wash product. When applying lime-washed product to the brick surface it brings a more natural and mimics the aged stone look.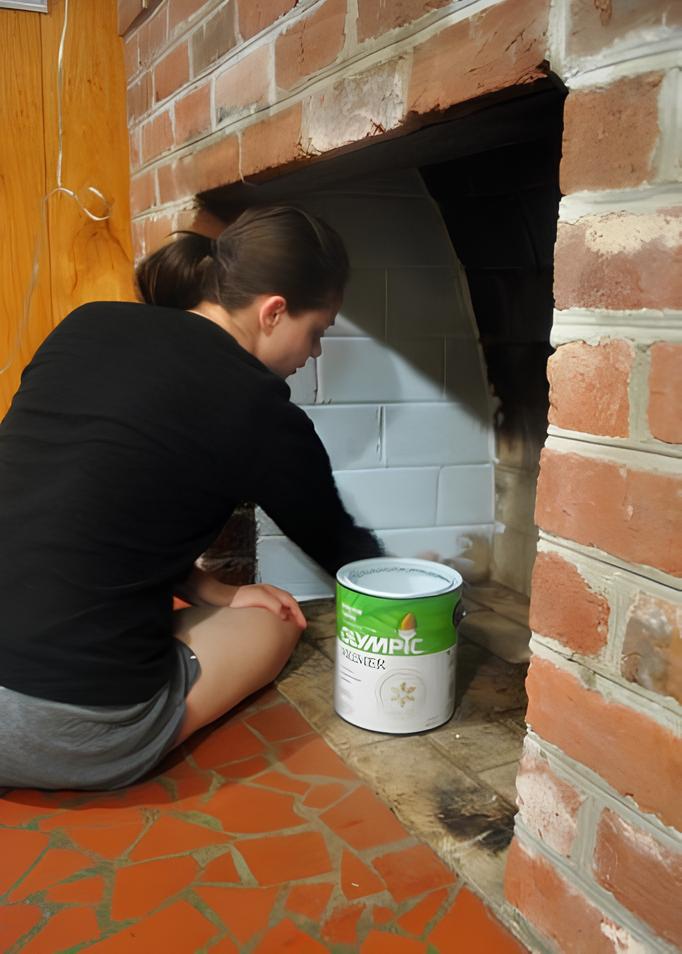 Whether you're applying paint or lime wash to the brick surface, the process is mostly similar.
Use your masonry paint brush to apply heat-resistant latex paint or lime wash to the mortar between the bricks.
Now take the paint roller to apply paint or lime wash to the brick surface.
You can repeat the above steps two or three times to ensure full coverage.
Let the paint or lime wash sit for some time (as mentioned in the manufactures instructions).
If you've used lime wash products to paint the fireplace, use a rug or sponge to wipe off the product while it's wet. This step should create a more rustic and distressed look on your brick.
Fireplace Brick Paint Ideas
When choosing a paint color for your fireplace brick, consider the overall look of your home and the other colors in your home. If you have a traditional home, the best fireplace brick paint idea is to choose a neutral color like white or grey.
Owning a modern home? The best fireplace brick paint idea is to choose a bold color like black or red. Also, keep in mind that if the brick is of a darker color, you must apply three coats of paint you choose to avoid further discoloration.
Bonus Questions Answered
Well, now that you're done with your DIY tutorial, the following are a few common questions that might be running in your mind.
1. Can Bricks Be Painted?
Yes, you can paint the bricks, both interior and exterior brick surfaces. However, before painting bricks, there are a few factors for you to consider.
Bricks are often sought after because they come with such natural beauty. Each brick has unique coloring based on the mixture used to color it.
Painting bricks can change their appearance and character, which eventually affects their durability and maintenance. You should remember that once a brick is painted, its close to impossible to remove the stick or restore it to its original state. If you're willing to change its original color and maintain the painted bricks on a regular basis, then you can paint the bricks.
2 What's the Best Paint for Bricks?
The best paint for bricks depends on the type and condition of the bricks as well as the location and the type of painting project. However, using high-quality latex paint or a paint formulated for masonry can be preferred for exterior and interior use based on the location of the brick.
Before painting the brick surface, it is inevitable to apply primer. Primer helps create a smooth and even surface for the paint to adhere to.
3. Do I Need High Heat Paint for a Fireplace Brick?
If you are painting the fireplace brick that is used regularly, then using a high heat-resistant paint that can withstand high temperatures and flames of the fire is really important.
Regular latex paint or a lime wash product cannot withstand heat and may crack, peel, or discolor over time. Only high heat-resistant paint will protect your fireplace from damage and make it fresh and clean.
4. Do I Have to Prime Interior Before Painting?
Yes, you should unless you are using paint that already contains primer. As discussed earlier, primer helps create an even and smooth surface. Furthermore, a primer will seal the porosity of the brick and prevent it from absorbing too much paint.
Sealing the porosity is beneficial because it blocks any stains or discoloration from showing through the paint.
How to Paint Interior Brick?
Painting interior brick is not very different from painting an exterior one. Just when painting an interior brick, you don't need to worry about UV rays or weather conditions.
The painting methods include:
Clean the brick surface using a wire brush, vacuum cleaner, and heavy-duty cleaner.
Prime the brick surface using an oil-based or latex primer that is compatible with your brick and paint type.
Paint the brick using a masonry brush and paint roller. Apply one or two coats of your chosen paint or lime wash product.
Let the paint dry completely as per the manufacturer's instructions.
Pros and Cons of Painting a Fireplace Brick
It's always best to weigh the pros and cons of painting a fireplace:
| | |
| --- | --- |
| Pros | Cons |
| Brightens up the rooms and makes them look more modern | It's time-consuming and might get messy |
| It can reduce the impact of chips, discoloration, or cracks in the brick | If not done properly, the paint could peel or chip over time |
| It makes the fireplace easier to clean | It is not reversible if you decide you don't like the new color |
Tips and Tricks to Painting Fireplace Brick
Paint- Choosing the right paint is the actual drill. Not all paints are created equal, so it's important to choose one that is specifically designed for painting brick. Look for a paint that is heat-resistant and durable.
Cleaning- The cleaner the brick, the better the paint will adhere. Use a wire brush and soapy water to scrub the brick, and rinse it well. If the brick is very dirty, then you need to use a degreaser or a trisodium phosphate solution (TSP).
Priming- It helps create an even and smooth finish to the brick while sealing the porosity. Use a masonry primer that is specially designed for painting a fireplace.
Two Coats of Paint- It's better to be sure than doubtful. Applying two coats of paint ensures the pain is evenly applied on the brick surface. Allow the first coat to dry completely before you apply the next one.
Top-to-Bottom Approach– Always work your way down when you start painting a fireplace brick. This prevents the paint from dripping over the painted areas.
Sealing- Applying a sealant will protect the paint from moisture and fading. Use a masonry sealant that is specifically designed for painting fireplace bricks.
Patience- Painting bricks takes time and patience. Do not rush the process, or you might end up with a much less desirable look.
Protect- The fireplace surrounding areas need to be protected before you start painting. Cover the floor and any furniture in the area with a drop cloth.
Work in Sections- Do not try to paint the entire fireplace all at once. Work in small sections and allow each section to dry completely before moving on to the next one.
Take Breaks- Painting fireplace bricks can be tiring, so take breaks as needed. While breaks help paint dry evenly, it also helps you from making mistakes out of exhaustion.
Conclusion
The most rewarding yet transformative DIY project will be your fireplace brick painting project. Follow the step-by-step guide mentioned in the blog above. Also, explore all the tips and tricks as well to paint your fireplace brick.
Roll up your sleeves, grab the necessary materials, and get ready to transform your fireplace brick that you'll love for years to come. I hope this tutorial helped you figure out the ways to paint your fireplace brick. If you have any questions or suggestions, feel free to drop in the comment box below.
Happy Painting!