Every adult sometimes visits the childhood moments of playing with fluffy blankets and pillows and creating structures on rainy afternoons. You made a shelter out of that fluffy stuff and enjoyed it with your siblings, cousins, or friends. You may revisit those moments with your little ones, thanks to the Nugget couch.
This couch set comprises four foam items, including a pair of foldaway square pieces and a pair of triquetrous firm cushions. This unbreakable couch doesn't need any hardware to set up, hence no anchors or springs to secure its structure.
Its sales became high during the pandemic when parents and kids could not go outside and remained in their homes 24 hours a day. This piece offered the kids a scope to play imaginatively. Based on buyers' and experts' opinions, we present a complete review of the Nugget Couch, especially its comfort level, durability, safety, prices, and usage.
Nugget Couch – An Overview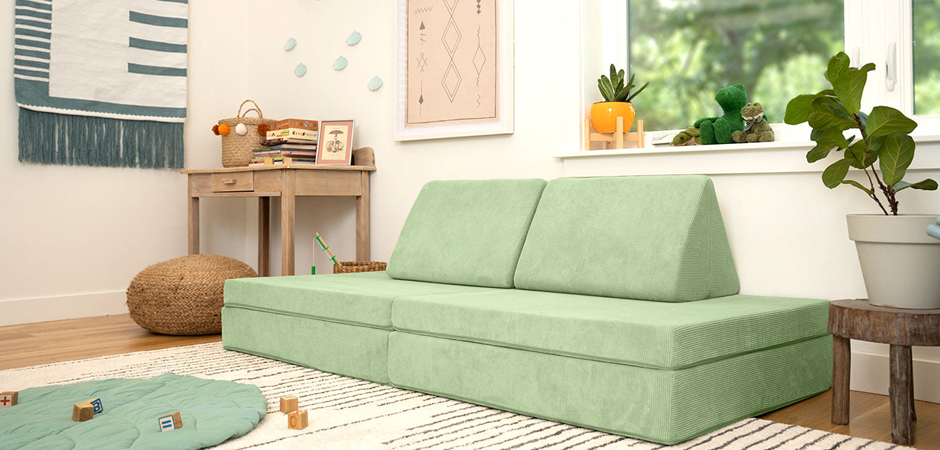 Intending to create furniture for enhancing creativity in children, Nugget Company LLC began its journey from North Carolina in 2014, showcasing the impressive furniture heritage of the state. They collaborate with various North Carolina firms for raw materials and assemble each Nugget piece at their newly built headquarters in Butner, NC.
The Co-founders of Nugget Company LLC are three. Ryan Cocca, Hannah Fussell, and David Baron. However, Baron is not on the team as he left the company. Around 2012, while attending the University of North Carolina at Chapel Hill, Cocca and Baron developed the concept for the Nugget. However, the company got its sweet spot in business when Fussell, a trainee, became part of the squad in 2017.
Despite the fact that it is practically a piece of furniture, the couch has gained popularity as an assembly of recreational building pieces. Parents adore how it encourages youngsters to use their imaginative abilities to channel their children's boundless energy.
Review: Comfort and Durability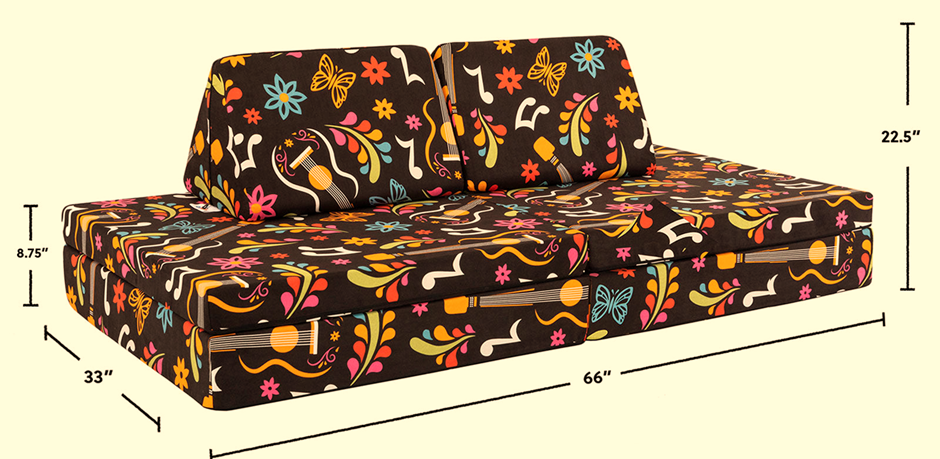 CertiPur US-certified Nugget couches are extraordinarily durable. Manufacturers use premium, low-VOC foam for its body, and the microsuede fabric makes it long-lasting. The nugget couch has a 66-inch length, 33-inch width, 8.75-inch seat height, and a 22.25-inch height overall.
Know the Microsuede Fabric
The synthetic material microsuede is a popular choice for upholstery. The interesting fact is that the fabric initially developed as a suede substitute- quickly surpassed the popularity of the real thing due to its functionality.
The manufacturers chose microsuede fabric to cover the couch because it is made of pure polyester microfibers and is easy to clean. Microsuede has the tactile feel of genuine suede leather without any disadvantages of organic one.
Inexpensive, pet-friendly, stain-proof, and soft to the touch, micro suede is also durable and easy to maintain.
Couch design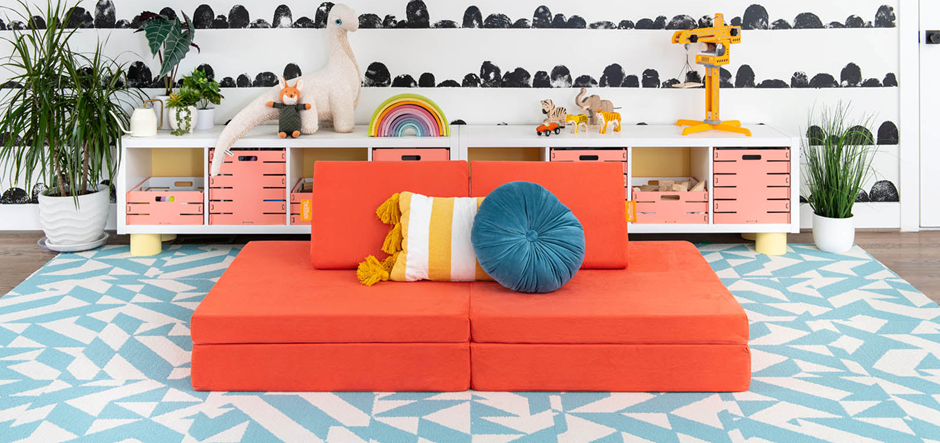 In contrast to the base cushion, which is denser and firmer, the upper one is softer and spongier, and both are incredibly resilient and cozy. A microsuede material that is simple to maintain and change covers the foam. Users say that The fabric is in excellent condition even after years of use, and the seams and zippers are sturdy.
Handles, seams, and Zippers withstand regular use due to the superior manufacturing criteria of the company.
Numerous feedback on the company site suggests that the Nugget Couch endures well with frequent use. A customer said that even though their family consists of a child aged two years and two pets, a cat and a dog, their Nugget continued to hold up incredibly throughout more than two years.
Another reviewer stated that their children played with the Nugget foams for months so far, and it did its job admirably.
Functionality Report of The Nugget Couch
Both children and parents can use the Nugget Couch, thus making it multipurpose. For many buyers, it is a worthy choice due to its versatility. Kids will love playing with it, and it's guaranteed to keep them occupied., Moreover, it's also simple to assemble again when you want to unwind.
The couch offers the little ones to apply their imagination and create their playing zones. They may transform it into a toy abode and relax with their favorite toys. Many parents enjoyed their kid's imagination and reported how their little one made a tent, a mini zoo, or a tunnel, just to mention some of the choices.
Thanks to its adaptable setup, the nugget couch can also function as a modular piece of furniture for older kids and even grown-ups when not being used as a play couch.
Review: Wear-and-Tear Problems
Although the Nugget Couch is renowned for its longevity, it may eventually show signs of wear and tear, like anything else. After looking into several sources, we discovered some typical wear-and-tear issues with the Nugget Couch.
Usage Instruction
According to the sources, the couch textile exclusively suits indoor use and reclining. It means the warranty will apply when you use it in a way consistent with the intended design and function.
Every Nugget sofa also comes with a limited year's warranty covering imperfections in manufacturing that adversely affect the couch's functionality or appearance.
Feedback from Users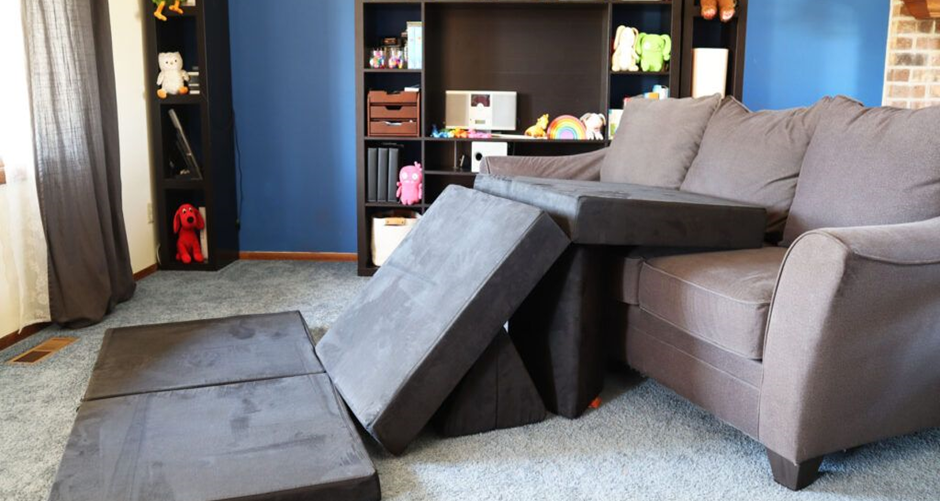 A consumer noted that the covering material became a little coarser after two years of usage, but this had no bearing on the Nugget's usability. Another feedback was regarding the fabric and other elements. It praised the fabric quality that displayed no bobble, and the seams and zippers remained intact.
A Nuggeteer claimed that their feline buddies scratched it a little, but nothing compared to how much a child would use it.
This part furniture and part toy couch is not waterproof. Hence, clean the spills at once, or the fabric may become soaked. However, manufacturers strongly advise using a waterproof, non-toxic Nugget Liner Set to protect your foam from water or any other fluid spilling.
This Couch is renowned for its durability, and complaints of typical wear and tear problems are rare. It's crucial to utilize the Nugget Fabric in accordance with its intended design and purpose, to ensure that the warranty covers any flaws.
Nugget cover washing tips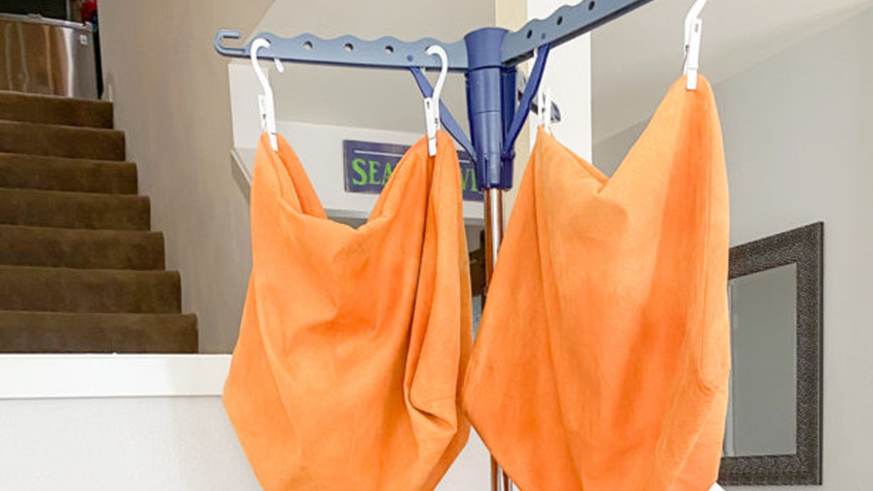 The care instructions make it clear that before putting the covers in the washing machine, you must unzip them from the foam and zip them again before machine washing.
Select the coldest setting option in your machine and wash the same shade of foam covers together to preserve color. Hang it dry to avoid shrinking in a covered dry space.
Wipe the small spots on your foam using a wet washcloth and your choice of fabric cleaner. When finished, dry the foam thoroughly before reapplying the covers. Place the foam close to a fan or a large window to expedite drying.
Review: Fluff-Up Time the Nugget Couch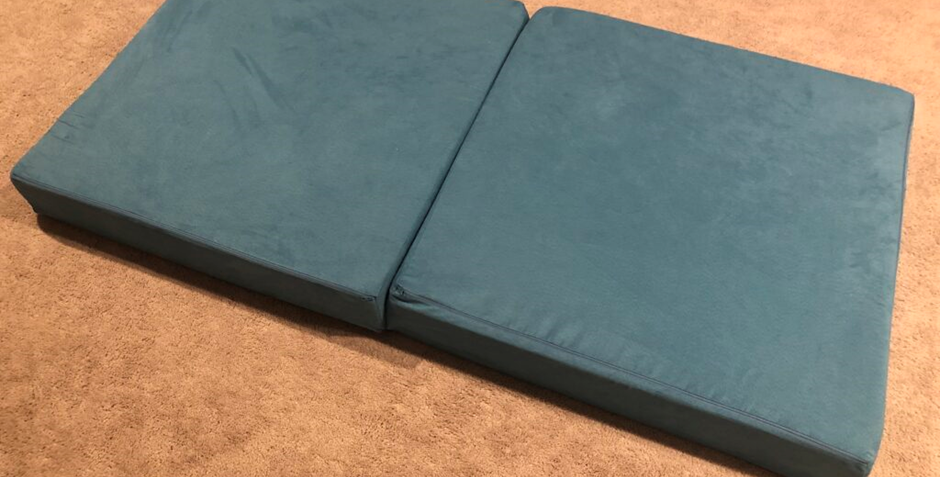 Before the shipment of this play couch, the packaging team follows definite procedures. The foam makes up nuggets. The team wraps the material in plastic and draws the air inside out to prepare it to fold and adjust in a container. That's why the foam may take some days to fluff up and regain its shape.
The Nugget web page states that foam takes seven to fifteen days to inflate completely.
The amount of time the foam takes to retrieve its original form will depend on how long it remains in the container. The thick pieces of the couch appear extremely rigid and compressed when you open the container. The thin components can feel inadequate and flimsy for builds.
The foam softens, feels firmer, and fully un-squishes after taking forty-eight hours.
The fabric's creases take a little longer to disappear. Customers discovered that the piece that was kept inside the roll was particularly wrinkly.
Over time, the creases will disappear, but if you want a smooth-looking play couch, clean the foam covers following care instructions.
Review: Appropriate Age for Using the Couch
The couch is a versatile product. The Nugget couch is suitable for children aged 1 to adult. However, the design of the couch is compatible with infants, toddlers, preschoolers, teenagers, and adults. Every member of a family finds this part-furniture N part-play couch attractive and of many use. Read the review to analyze its functionality.
For Infants to school kids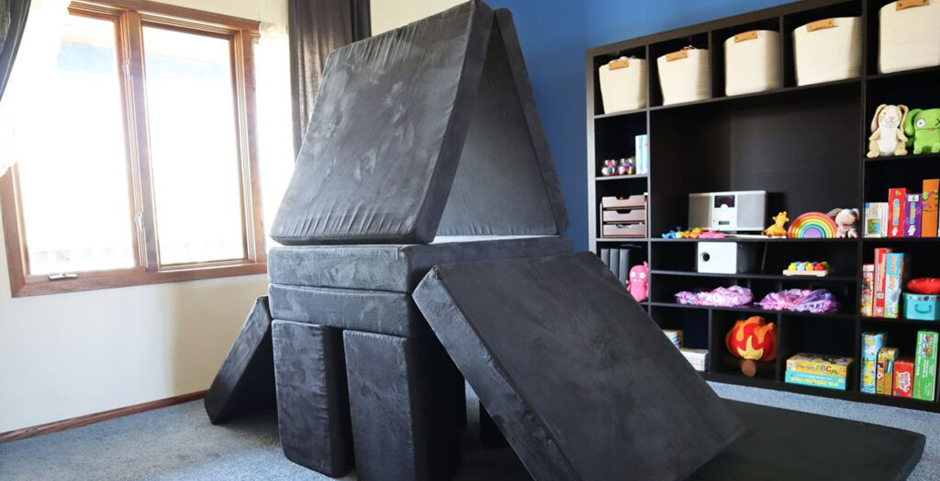 The setup of four pieces is a multi-purpose play couch. With the pieces, children age six to 10 months can enjoy crawling. The older kids up to 5 years can make their slides, thrilling climbs, and innovative forts. The couch design offers them numerous scopes to run their imagination. They may add enjoyable accessories to enhance their preferred builds.
Children love camping because it allows them to explore freely and encourages their ingenuity and calmness. One of the best things about this idea is that you only need one nugget couch to make it.
Even you can create couch stairways for your energetic toddler to burn their energy with a fun activity. You may modify the Nugget couch to make daily tasks easier too!
For adolescents and adults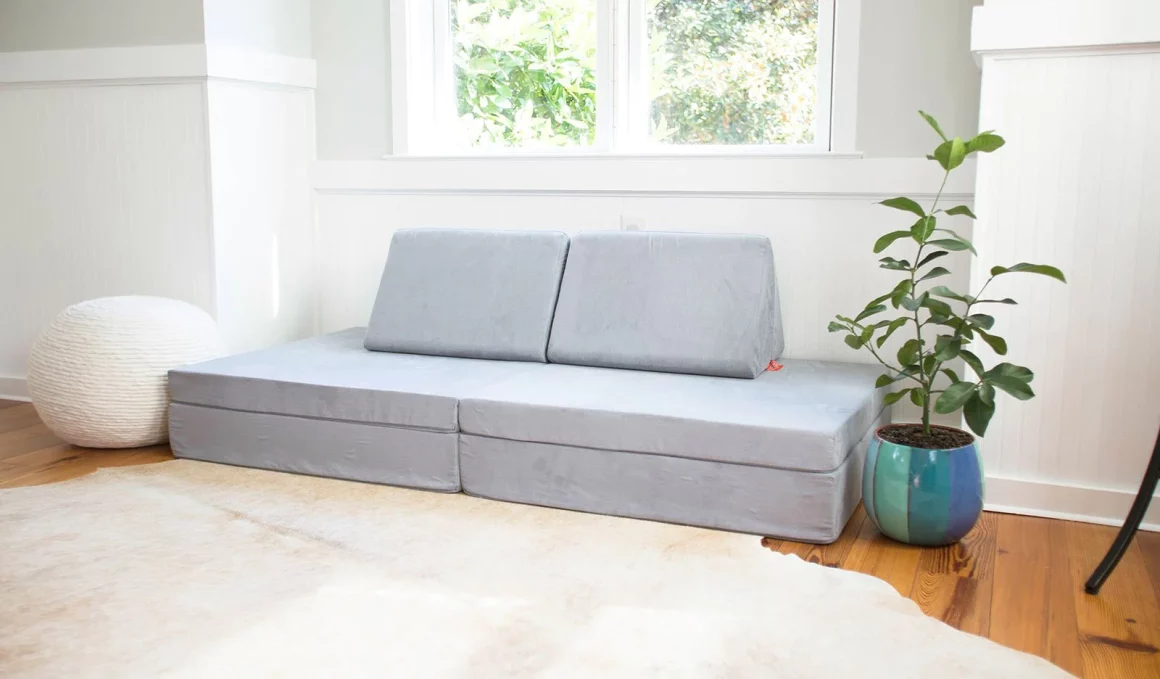 The nugget couch is very simple to configure. So, take advantage of family movie night or snack time. For your guests, you can convert it into a bed. This productive couch makes it possible to nap, play with your pets, or chat with friends.
In your space, place it as a sofa or a chair. Use it as a low-lying sofa for relaxing and playing with your children inside their couch fort.
Moreover, physical and occupational therapists utilize this couch as a patient's physical and cognitive development tool.
Review: Availability of Play Couch
It is no picnic to get quick delivery of this couch. That sounds normal, as it happens with every item that becomes a hit and sold out fast.
It may take a long time to get the product to you. The waiting period is pretty long. Some clients waited three to four months to get this. However, the company secured its output units under control, and popular color couches may go out fast.
The best way to build high buildings and arrangements for your kids is to have more than one set, even though one is completely functional and enjoyable.
Despite the fact that it is cozy and can serve as a family couch, you can't entirely substitute adult furnishings with it because it is low-lying. It causes inconvenience for aged people and individuals with knee pain or other medical issues.
Review: Price, Worthy or Not
In January 2023, the company announced its first price hike after a decade and after selling more than 900,000 Nugget couches. They claimed that their production expenses have been increasing continuously for years. The couch foam, fabric, zipper pulls, packaging material, shipping costs, and fuel costs all gradually went up as a result of a worldwide epidemic, supply-chain chaos, and soaring inflation.
Now, the cost of Nugget Couches ranges between $249- $279, which is higher than that of other play cushions. It is readily accessible in 21 hues and patterns to complement any setting.
Its super soft texture is safe for infants and toddlers. The Nugget's strength, adaptability, and comfort have made several buyers feel that the purchase was worthwhile.
Conclusion
We provided details along with the pros and cons of the Nugget Couch through this review post. The Nugget Couch is an all-around long-lasting and adaptable piece of kid's stuff that can amuse children and adults for a long time.
It encourages imaginative thinking and is cozy and simple to clean. Parents with small children appreciated its functionality a lot. Thus, it is a good option for your kids. Even though it may cost more than other play couches, many people think it's worth the money. The only drawback is the manufacturer takes months to deliver.
Hurry up! If you're keen on purchasing the Nugget Couch because it frequently sells out very quickly.
Please share your thoughts in the comment box.