Are you searching for a color combination for your new home's exterior? Or is it about repainting your home? The exterior of your house is always very important as it is the first impression on guests or anyone. If you want your house to be a trendsetter, the first step lies in the exterior of the house. An unattractive exterior with a jaw-dropping interior will never leave a good impression on anyone. The most important factor is architectural beauty, exterior color combinations are not less important.
This depends on your attitude also. There are people who don't like bold and dark shades as part of exterior color combinations, whereas many others love these kinds of shades. So, the exterior paint of the house reflects the owner's personality too. While choosing the exterior color combinations, one has to keep in mind that the chosen color suits the architectural design of the house. You should also try to get matching shades or contrasting colors for the interior. Read the rest of the article to find the 6 interesting exterior color combinations.
1. The Statement Door and Gray
The first impression is the best impression. If you want to paint your house gray, then a statement door in a glossy red finish is a fine option. Here, we should always keep one thing in mind. Anyone, including the guests, first notices the color of the front door. So, it is better to choose catchy colors. However, if you are more into pastel shades, you can choose colors like pastel green or pink. Anyhow, in this way, you will have a beautiful statement door at your main entrance.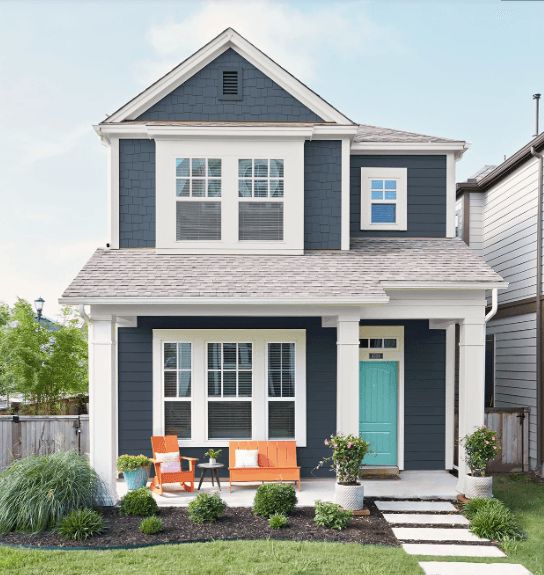 Many architects and interior designers are of the opinion that the front door is not just a thing that lets guests in and out of the house. But it also creates a kind of curiosity about the interior of the house. For the gray shade, there are many options. If you want a soft tone of gray, you can opt for Covered in Platinum by Dunn Edwards. This is a light, medium tone that is not too blue, purple, or brown.
This gray doesn't have too many undertones like the usual grays. Benjamin Moore's Edgecomb Gray is also a good shade of gray. Its undertones are creamy and warm, which depending on the exposure to light, becomes light gray or soft beige. It is a versatile color. If you wish for a darker shade, you can go for Wall Secret by Sherwin Williams. This deep gray is a perfect combo with a lush green environment. You can also give an accent with other shades. Some ideas can be seen in the pictures given.
2. Black and White: The Classic
Are you a classic person? Do you like being traditional? This black-and-white fashion is never outdated or out of fashion. This is a timeless combination. This color will suit any house regardless of its architectural style or age. This suits both traditional and modern architecture. If you are looking out for a shade for your farmhouse, this combination is the best one. White is the best option for the walls, and black can be used for the doors, sloped roofs, and such. That is, black becomes an accent.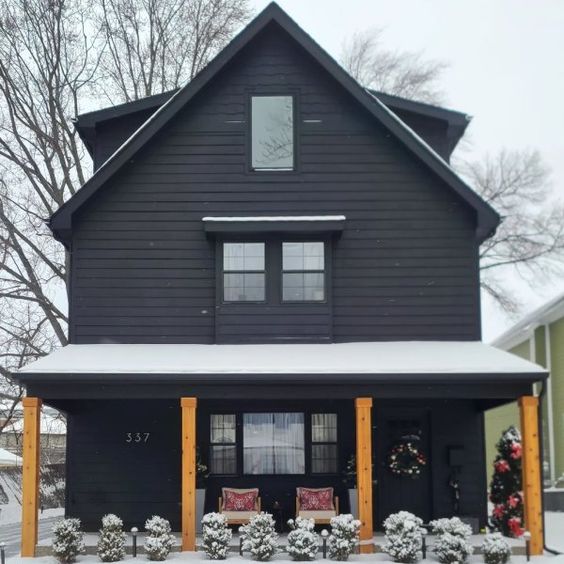 However, this is a very common style. If you are really into different styles, you can try this style in the opposite manner. That style is rather bold and stunning. The walls and roof will be completely black, and the doors and window panes white. This idea might not be acceptable to everyone. But, this is an excellent idea as this color lasts longer and is a protection from external dirt and dust.
As white is a very common color, there are many hues of white to choose from. This idea is the best among the exterior color combinations. If you like a play of contrasting colors, this one is a wise option. Snowbound by Sherwin Williams has a mix of slight beige in it, and Chantilly Lace by Benjamin Moore is rather a clean white. In its own words, Tricorn Black is called "trendy and never boring black.' It is a perfect contrast with white. This is a jet-black shade.
3. Yellow and Blue
Wish for a bright, beaming, and glaring house? This one's for you. This double dose or pairing of two primary colors can give your home a bold look. For this also you have plenty of options. If you long for a very bright tint, Cheerful by Sherwin Williams is the right choice. With that, a shade of aqua blue is a good match. Sherwin Williams presents Fresh Water which is a sort of such color.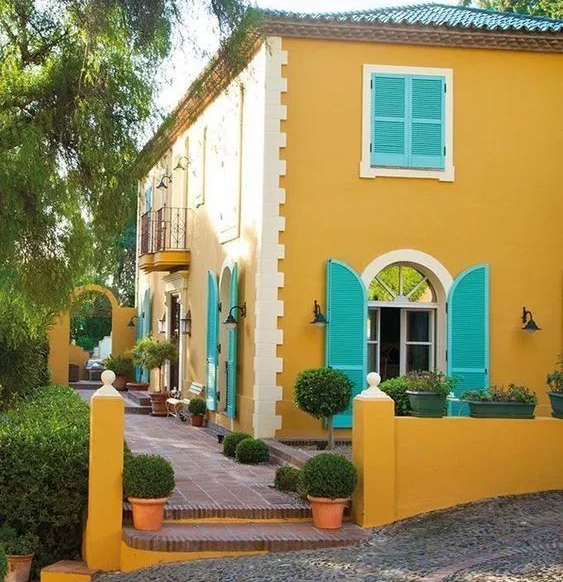 But if you are more into going pastel, then you can go for light hues of yellow. Honey Bees by Sherwin Williams is such a shade. We all know that yellow and blue are always good pairings, and so this one is also a varied idea among the other exterior color combinations. There are many hues of yellow in Sherwin Williams. Brittlebush is a Sherwin-Williams hue which is similar to the mustard color in the above picture. If you are a vibrant person, Daisy (the same color as the yellow daisy flower) is the color for you.
There are 326 shades of yellow in Benjamin Moore. You can choose your favorite shade from that. You can choose from the bright, mid-tone, or muted blue shades of Sherwin Williams according to your preference. In the case of Benjamin Moore, there are 442 shades of blue. It offers a wide range of light blue, greenish blue, bright blue, pale blue, and so on. Even though confusing, you can choose your color.
4. The Perfect Toyland
Do you wish to live in a fairyland? Or do you long for your own fairyland or Toyland? While speaking of toy lands and fairylands, the first color that comes to our minds is pink. So this is clear. The color of your house will be mainly pink with certain accents. Our main motive in this context will be to add maximum shades as accents. However, for such a house, the architecture is very important, and you will have to build a house of that kind or at least redo the entire architecture of your old house.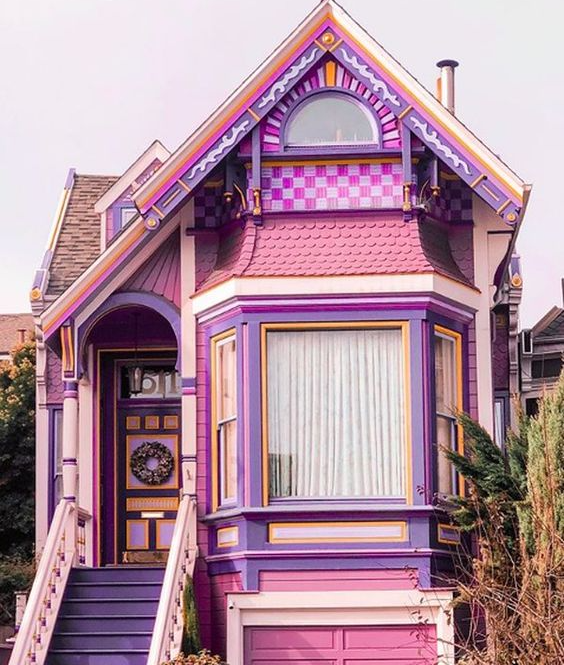 You can add different hues of pink, violets, and purple mainly. If you want a dark shade of pink, Exuberant Pink by Sherwin Williams is a good option. There are many other choices for Violets and purples too. But do you think that dark pink will be too bold? If you think light pink suits your style better, then the best combination that gives a fairyland appearance is white itself. Impatiens Petal and In the Pink by Sherwin Williams are such subtle shades.
Both of these ideas are colorful. If you want to choose from the many shades of pink that Sherwin Williams offers, you have to check in the red paint color section, where you can find many hues of pink. There are 452 shades of red that Benjamin Moore offers. Among these shades, there are many options for red also. So you can extend your imagination with contrasts of red also.
5. Not White But Light
Sometimes, you might want a lighter shade for your home's exterior, but you don't want it to be the usual white. The solution is simple. There are many light-colored options as exterior house colors. There are many hues of cream, brown, or gray. There are even shades of white with green, blue, etc., tints in it. These kinds of hues are less sharp. You can choose some pale green or blue. These shades are neutral. These kinds of colors are a great contrast to the beautiful garden landscape.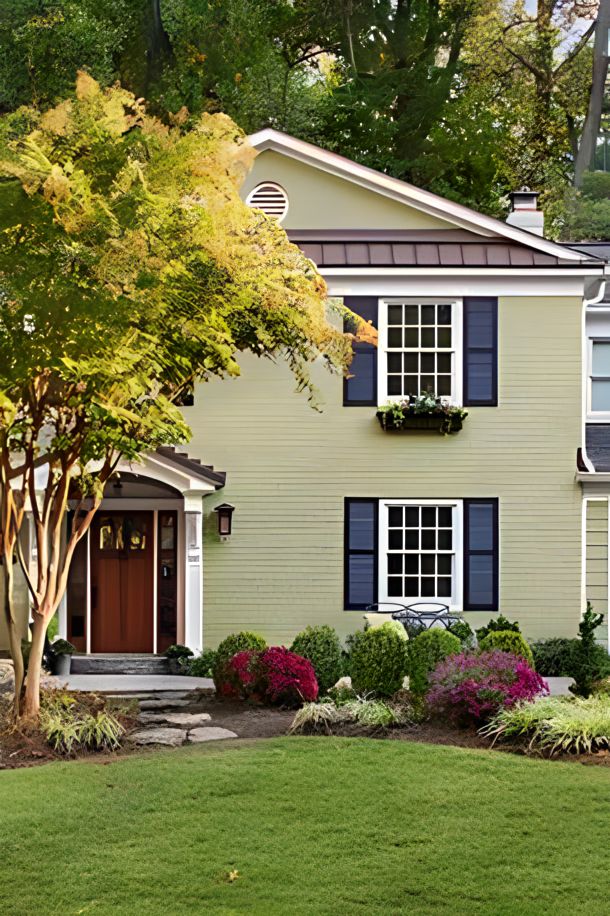 This will be even better if the roof of the house is a well-maintained one. You can match it with contrasting shades. Then you are creating a statement for your home. The contrast between neutral and bold colors gives your house a fresh and new identity. Nowadays, the color of the roof is of great importance. Therefore, try to match the exterior of the house with the roof also. There are plenty of light shades in both Sherwin Williams and Benjamin Moore.
When you check in the color family, the main options are red, orange, yellow, green, blue, purple, neutral, and white and pastel. In every primary color, there are lighter hues of that particular color. So it is made simple for you to choose from your favorite primary color. Apart from the main colors mentioned above, Benjamin Moore offers hues of gray also. So you can choose from all the shades.
6. Painting Your Brick House
Now, we are going to discuss a completely different scenario. It is the case when you have a brick house. Even if there are not many colors for a brick house, the available options can give your home a variety of styles. The red bricks are muted and toned down, so if you are planning to choose a white paint color, then go for a creamy white instead of the bright and clean white. You know that white brick never goes out of style. Thus white is the best choice when it comes to painting a brick house.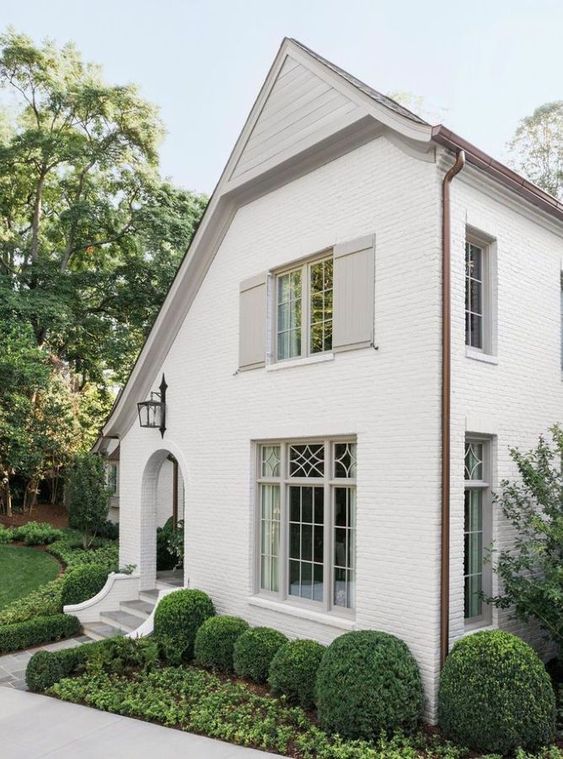 If you are seeking different shades other than white for your brick house, you can choose other neutral shades like gray and light green. Sherwin Williams Gateway Gray is an excellent color that is a great match for bricks. The case is different if you want a dark brick house. If that is your choice, you can opt for a very dark shade and thus give a gothic finish to your home.
You can check each color family on the Sherwin-Williams website and choose which color suits the architecture of your brick house. However, there are some shades that don't match the brick architecture. Hues of yellow are not advised. If you like red, you can go for the mid-tone or muted shades of red instead of choosing the too-bright red. In the case of green and blue, you can choose from bright or mid-tone, or muted shades, as any shades of these colors suit well with brick construction.
Summing Up
Selecting the exterior color combination for your home is the most confusing part. Sometimes, only after the painting is done will you understand whether your decision was right or wrong. While choosing the color, you should first think about your area.
The total ambiance is very important. You should consider the differences that a garden or a plain area or greenery creates. The next factor is the natural light received on the surface of the exterior walls.
So you should choose your home's color with these things in mind. Even after picking the color, you need to check whether it is the right color for you. The only way is through the LRV of the color.
For example, if you choose a darker shade when the place doesn't have direct sunlight, then the color will look even darker. So choose your color wisely and according to your preferences.