A powder room is a small space, typically for women, with a sink and a toilet. You cannot take a bath here because there is no such facility, as it's built only for emergency purposes. Powder rooms are designed for guests to meet their needs, and you can spot one near the living room of a house.
The good advantage of designing a powder room is that you will not need many materials because of its small size. You can give all your time and energy. In fact, you can pamper it with a high-cost interior design and let your guests have a good time.
Sometimes, a small space like a powder room is considered an important aspect of a house because of its service, which is why your powder room needs good furnishing.
Some Really Cool Powder Room or Bathroom Color Ideas
Your powder room has to look presentable and really charming, as it's a corner that's mainly meant for guests. And how you will be able to manage that look solely depends on these gorgeous color suggestions.
1. White Powder Room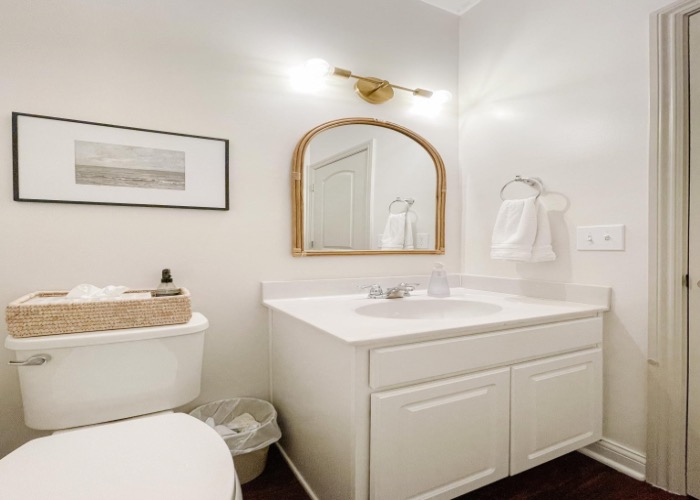 When it comes to a powder room, the color white speaks great volumes because of its propensity to appear exquisite in both modern and traditional styles. It can pull off any type of theme, including minimalism. Get white paint and start painting your tiny space, and don't forget to get a sink and a toilet of the same color. When a room is decorated monochrome, it looks breathtaking and can woo all the guests who drop in.
2. Pastel Pink Powder Room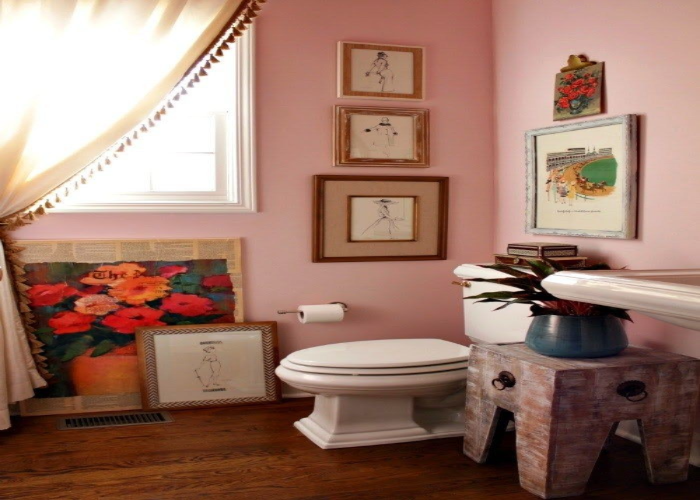 If you want something mild, soft, and graceful, pastel pink may be the ideal one for your powder room. It welcomes femininity to the space and makes it a really lovely place to be in. A pink powder room is worth melting for because of the cute and captivating sight it lets out. Put efforts into enhancing the beautiful aura in the room by hanging frames and gorgeous curtains. This is the right color for plant lovers because succulents contribute so much beauty to the room.
3. Blue Powder Room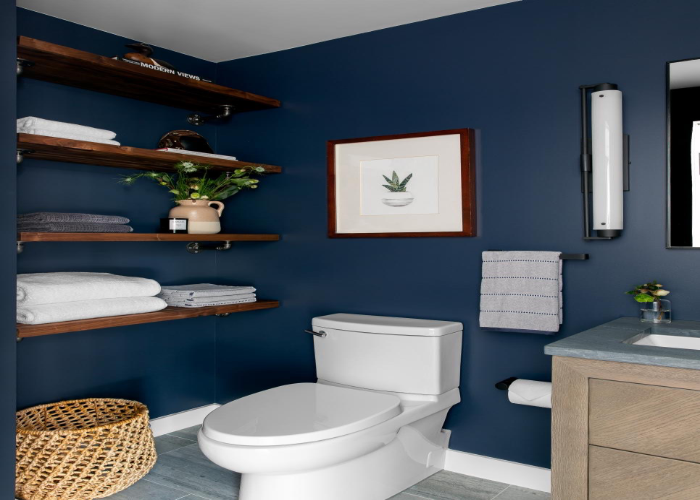 Pick a dark shade of blue for your powder room to get a bold atmosphere. The color's calming and poised nature has the tendency to boost sophistication and style. A good powder room has to maintain its reputation of giving comfort and great relaxation to anyone who uses it. And blue is the color that helps a powder maintain its reputation. To flare up the decor, fit shelves on the wall just beside the toilet. That's where your face towels and fragrance items like diffusers or scented candles should be kept.
4. Yellow Powder Room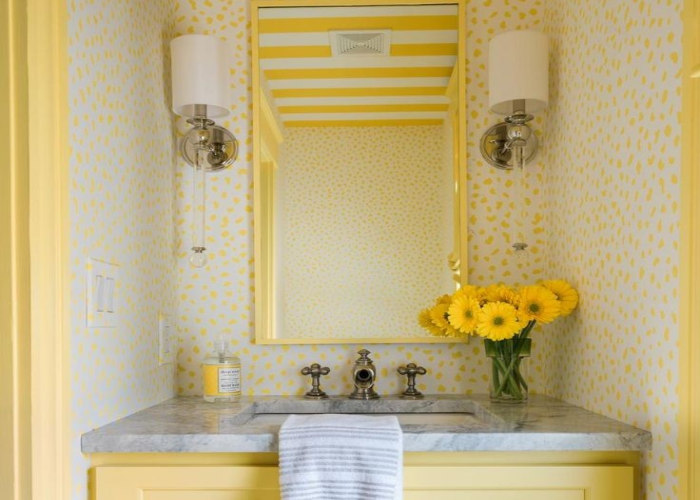 With yellow comes the happy tag because it is believed to cheer up the gloom. Your powder room also has to possess the ability to cheer up. So what you should do is get the best and the brightest shade of yellow and paint it. But keep it simple because the color will do the most talking here. Your powder room will need very few – like a bunch of fresh flowers, a hand towel, and a mirror with yellow frames to match the room color. The moment anybody lays their eyes on this lovely powder room is the moment of obsession for them.
5. Gray Powder Room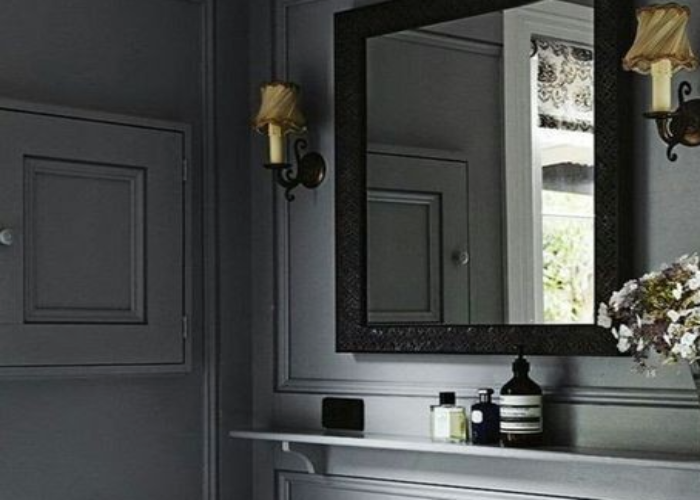 A gray-colored powder room is somewhat unique, and the idea is merely created for someone who loves experimenting with colors. It's a bold move, actually. Gray balances quite well with black and white. This is the color you can use when you want to go for a look that will display a modern effect. Suggest your interior designer some good ideas like a mirror with a black frame and, of course, the regular white sink. The color combination may give you a hint of something new and something gray-t!
6. Olive Green Powder Room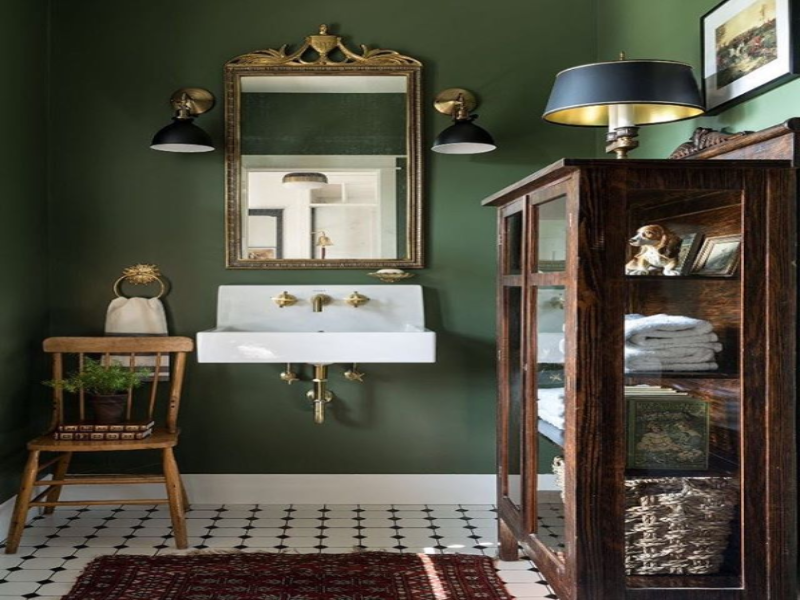 Olive green brings so much warmth and comfort to the room, which makes anyone feel good. Maybe it's just a psychological thing because it is the color of nature. Coming to the main point, a powder room that is olive green in color allows every positive energy to dwell in it. Put together with the right kind of designs and colors, your guests will have a hard time forgetting this beautiful sight. If you are looking for something that can always keep snatching you from the bondage of unhappy moods, the color olive green is the life-saver. It will indeed save lives.
7. Red Powder Room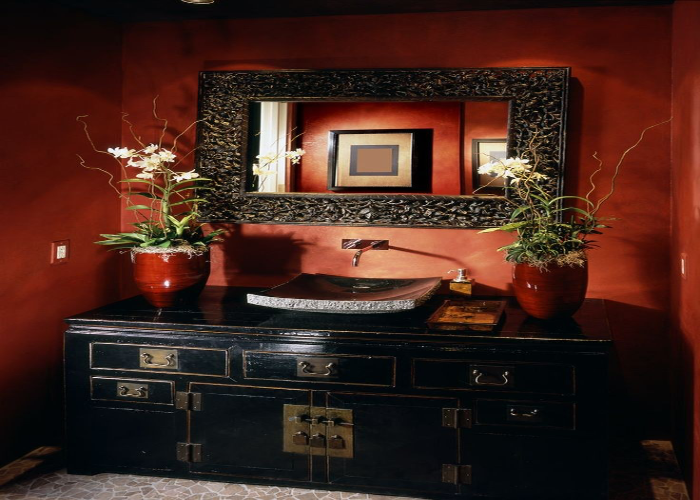 Something bold for someone bold! Red represents fire, which is what your powder room should look like. The amount of fiery energy it lets out in the room is enough for anyone to go crazy for your powder room. Since the space is small and is enough for a toilet and a sink and maybe some shelves, maintain simplicity and focus only on the major constituents. There are fancy-looking sinks made of precious stones which you can give a thought to. And this is how your powder room will make a fiery yet refreshing statement.
8. Crème Powder Room
PICK CRÈME TO SEE DREAM! A powder room that's crème in color is drool-worthy and gives a dreamy sensation. Crème is an all-time favorite color and something that will never go out of style. A crème powder room will look as though it is time-traveled from the past because it looks classic and brings a romantic vibe along with it. The color is iconic and will forever continue to weave magic and enchant any room.
9. Purple Powder Room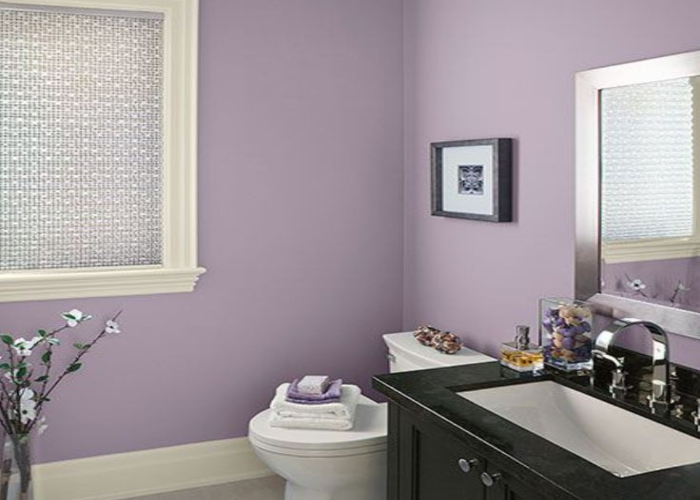 A purple powder room looks like it came straight out of a rom-com movie. It gives strong vibes of softness and friendliness. Bring in the timeless and classic white to pair with the color purple because the combined look they give is super lovely and friendly. Your guests can not notice the strong beauty statements your powder room is giving, thus making them really feel at home, comfortable, and relaxed.
10. Gold-Colored Powder Room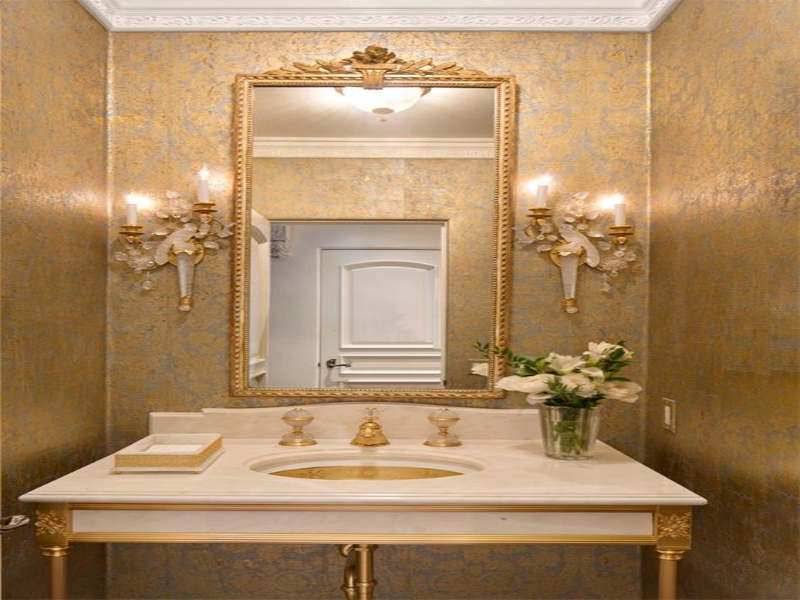 This is the small space in your house that vividly imitates royalty to a degree, and it's not a bad thing. To achieve this 'royal life,' the walls of your powder room have to be painted in rich gold. For a more detailed 'imitation,' get the fixtures and fittings (sink, toilet, and towel rail) molded with materials that bear a similar color to that of gold, like brass or copper. Throw in materials that resemble antiques, such as a mirror with a gold frame and some old-fashioned candle stand.
Dimoon 118"x17.3" Delicate White Flowers Golden Peel and Stick Wallpaper Floral Contact Paper Smooth Thicken Waterproof Leaf Vintage Self Adhesive Wallpaper Removable Wall Paper Shelf Vinyl Roll
[EXCLUSIVE DESIGN]-Using the elements of flowers and leaves, with the most classic gold and white background, and using gold to outline the delicate lines, the overall design is exquisite and beautiful.
[SIZE]-L9.84xW1.44ft/118inx17.3in, covers 14.1 sq.ft [COLOR] -White&Gold [MATERIAL] -Vinyl [LINES]-Smooth plane [WATERPROOF]-Easy to clean [Small size samples] - to help you determine whether the product quality and color meet the needs, as well as for local decoration or replacement use.
[LARGE SIZE RECOMMENDED]-In order to avoid color difference, we suggest you buy enough wallpaper at one time.// If you choose to decorate the wall and other large-area decoration, it is recommended that you buy large-size peel and stick wallpaper, which will be more convenient to use, more preferential prices, and can avoid the color difference.
[EASY USE]-Smooth and membrane covered surface. Waterproof design. Self-adhesive. Just peel and stick. Removable without sticky residue.[USAGE]: Living room, wall decoration, cabinets and drawers and everywhere you like 🙂
[CUSTOMER SERVICE]-If you have any questions (such as product size, color, etc.), please feel free to contact us. We are always committed to providing you with the best service.
Some Attractive Wallpapers You Can Consider for Your Powder Room
Wallpapers are the colorful and attractive layers you stick on the walls of your house so as to add more beauty and make a statement. They come in various themes, patterns, and designs. You can choose what you think best suits your personality or simply the color that cheers you up. A powder room with really good-looking wallpaper may be intensely mesmerizing. Your guests may not want to come out of it early.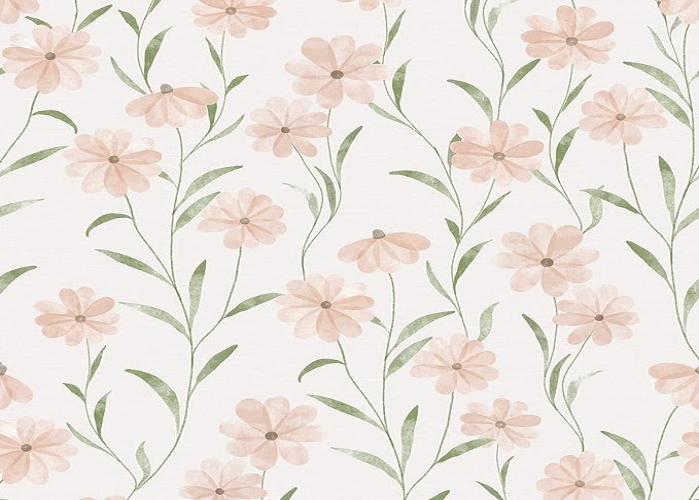 Anything floral brings so much attention and love. It captivates any living soul at any given time. Being among the most preferred types of wallpapers, floral wallpapers give the same energy, and they brighten up the room right away. Give your powder room a floral touch by picking the best-looking floral wallpapers and letting them 'bloom.'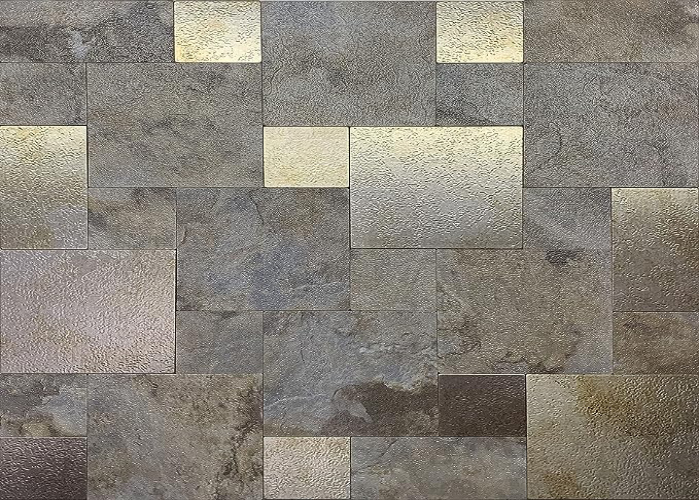 Metallic wallpapers glam up the room because of the metallic finish they possess. They can be gold or silver in color, and either way, they look luxurious and posh. Pick a gold-toned wallpaper for your powder room and watch it display a look of royalty. Create your own palace in your tiny space.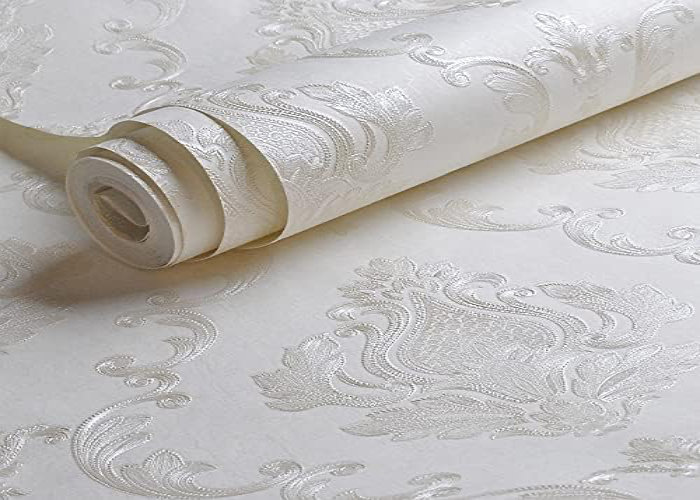 This is one of the most common types of wallpapers. They are grand, splendid, and timeless. In damask wallpapers, you will see flowers or leaves or any figure in repeating patterns. They are made to not look over-the-top by not featuring designs other than just one. This is the type of pattern that is designed to look simple but elegant, and the patterns are mostly in gold and silver. There are other colors as well, but gold and silver are more popular and in demand.
Conclusion
When you maintain a lavish house, you must ensure every aspect of it is impressive and gorgeous. Not just the living room, bedroom, or dining room, but the cute powder room that's in the corner of your living room also needs attention and beautification.
Because one of the first things your guests will see is your powder room, and making a good first impression is great. Small details like this define you and the type of personality you have. It is really crucial to put your heart and soul into designing your powder room.
Putting great value into your powder room also means you can make a great in the future if you plan to sell it. People love to spend only on extravagant things or things with high value, so if you manage a fancy powder room today, there is no doubt about you not getting a profitable amount tomorrow. That's the importance!