The befitting color combination for the exterior house can transform the overall look of your dwelling. Hence, making a well-thought-out decision is crucial. It is the first thing your visitors will notice and sets the mood for every other aspect of your house.
Sometimes, choosing an appropriate color scheme for your exterior becomes complicated and overwhelming. No matter if you aim to highlight design elements or find a shade that goes well with your shutters and trim. However, determining multiple hues that go harmoniously in a color scheme for the exterior house is not rocket science. You need only a dash of imagination and inspiration.
In this post, we've put together a few creative options to encourage you to create unique color combinations for your home exterior. Scroll down to continue!
1. Exterior Paint Color Scheme with Base Colors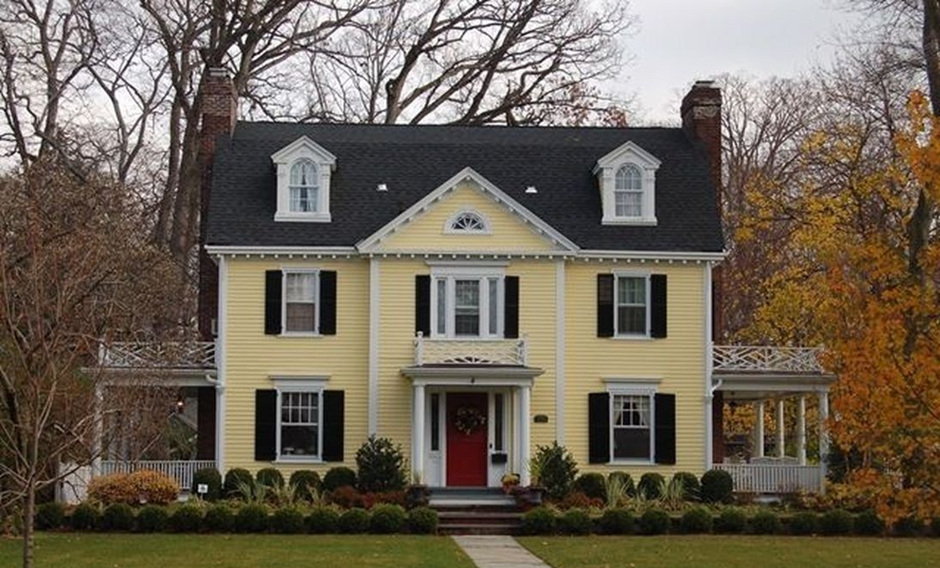 Red, yellow, and blue are the base colors, and since they serve as the foundation for all other shades, they are inherently compatible. However, a few homeowners may contemplate coloring their exterior space by combining red, yellow, and blue hues.
But paired with profound richness or stark brightness, these colors offer an exterior color scheme that is unique and exceptionally pleasant. In order to successfully combine colors, you must pick one that stands out, in this case, yellow, and another that is used sparingly, in this case, red, as the front door color.
A near-neutral color for the outside home paint, the deep hue of blue has a calming effect.
2. Exterior Paint Color Scheme with Cream and Brown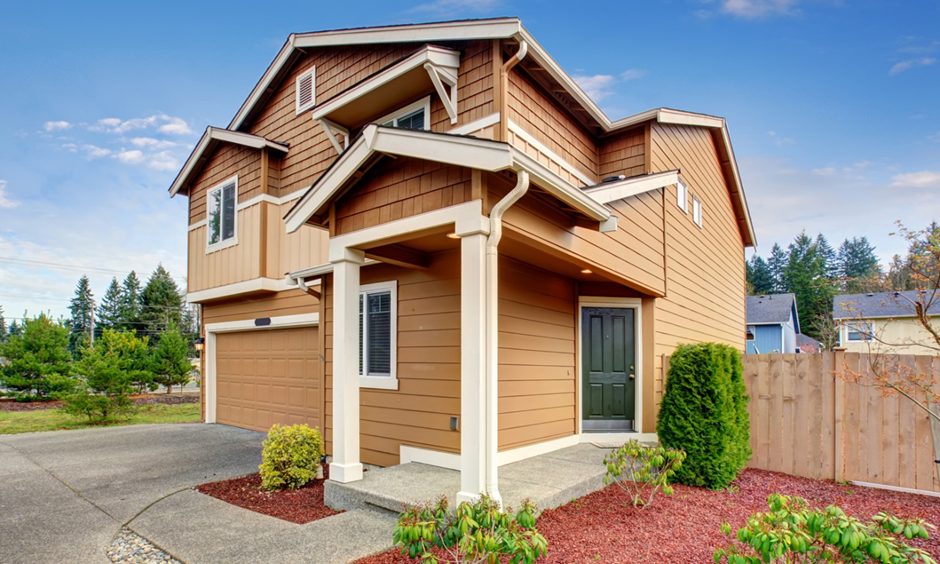 This siding color scheme for the home gives off an earthy, grounded vibe. A gorgeous color like cream may bring out the coziness of brown hues.
The exterior of your property brightens due to the cream hue because it is somewhat warmer than white. Rusty brown is a practical shade that complements cream and denotes support and stability. You may give an unrivaled impression of dimension and grandeur to your home's exterior by selecting two slightly different shades of brown.
The front door of this house in olive green impacts the aesthetic of the space. The green shrubbery on the red mulch also is a good choice for this color scheme.
3. Exterior Paint Color Scheme with Blue and White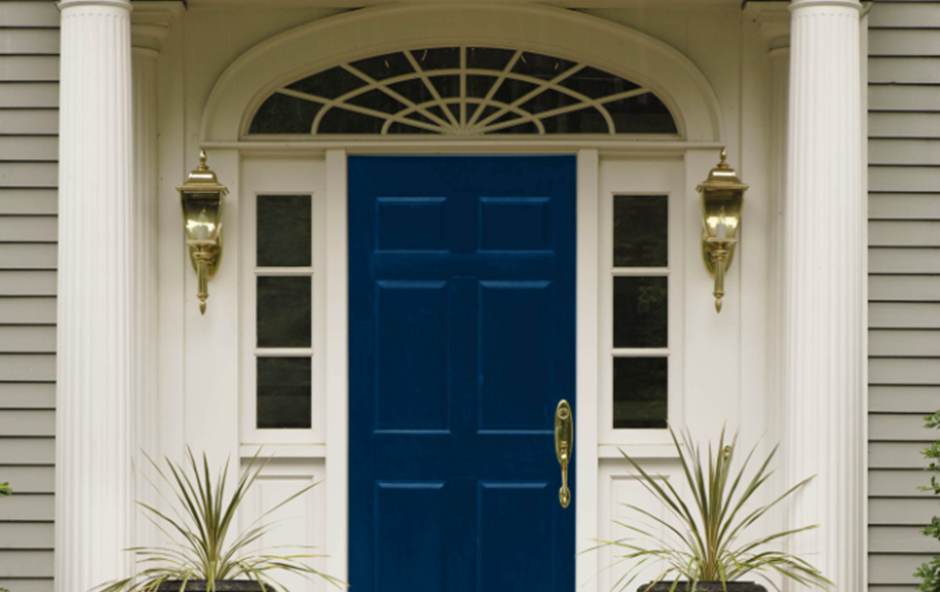 If you want an exterior color combination that will rejuvenate the spirit, then a blue and white combo is an appropriate option for outside décor. The most secure and modest shade for house exteriors is blue.
The various colors of blue have varying impacts on the home outside, determined by the color scheme you decide for painting.
Choose a white color with complementary undertones to the remainder of your exterior color scheme. On this house, a brilliant blue front door and mounted light seamlessly blend with white siding with grey overtones.
4. Exterior Paint Color Scheme with brown and red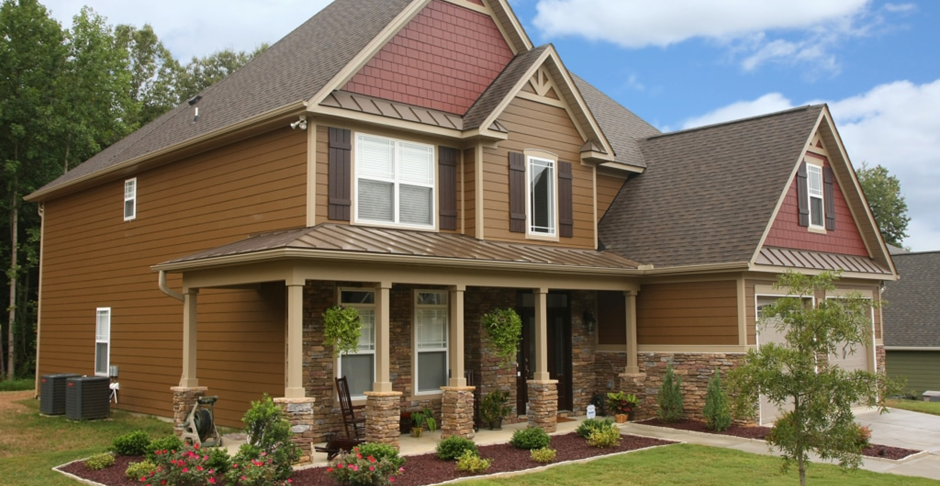 To add elegance and interest to the exterior of your home, use siding with multiple colors. The brown and red siding color scheme is impressive. Red is a striking color that gives any space a dynamic atmosphere.
This color gives your home's exterior a dramatic and distinctive appearance, guaranteed to attract attention. The combination of brown and red might assist in subduing this vivid color. This color combination is cozy, welcoming, and natural.
The choice of a darker hue of brown for shutters creates a unique color scheme for this home. The beige trim and columns supporting the porch roof balance the pair of dark-hued shades.
5. Exterior Paint Color Scheme with Neutral and Black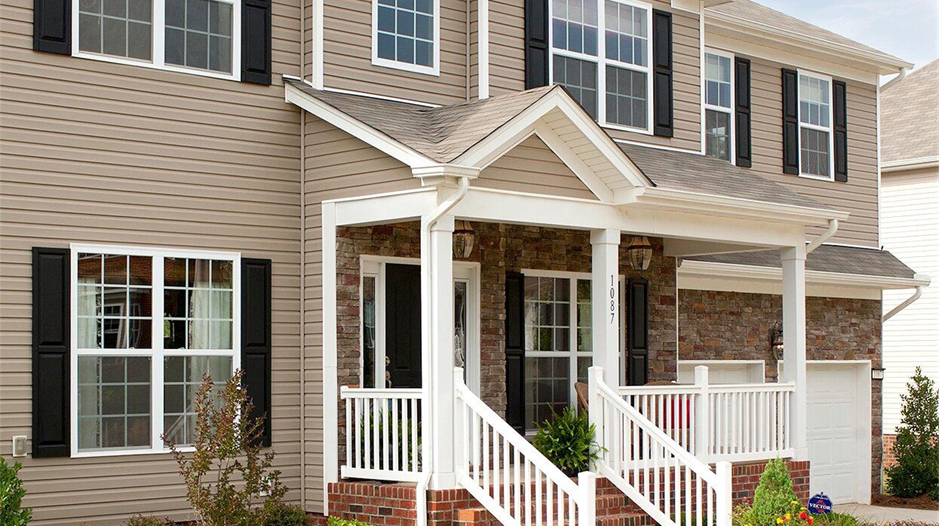 The exterior scheme of colors significantly affects the curb appeal of your dwelling. Bright paint colors are not the only option to add value to an exterior color scheme. Use this stylish color scheme to enhance the appeal of the outer of your house.
When decorated with black accents, an all-neutral color scheme appears absolutely flawless. Consider coating your front door and shutters black to give your beige exterior a more upscale appearance.
The exposed brickwork on the sides of the front door and the steps add interest to the color combination. Apply white on the trim and other exterior components to avoid a monochromatic appearance.
6. Exterior Paint Color Scheme with Lavender Gray and Marron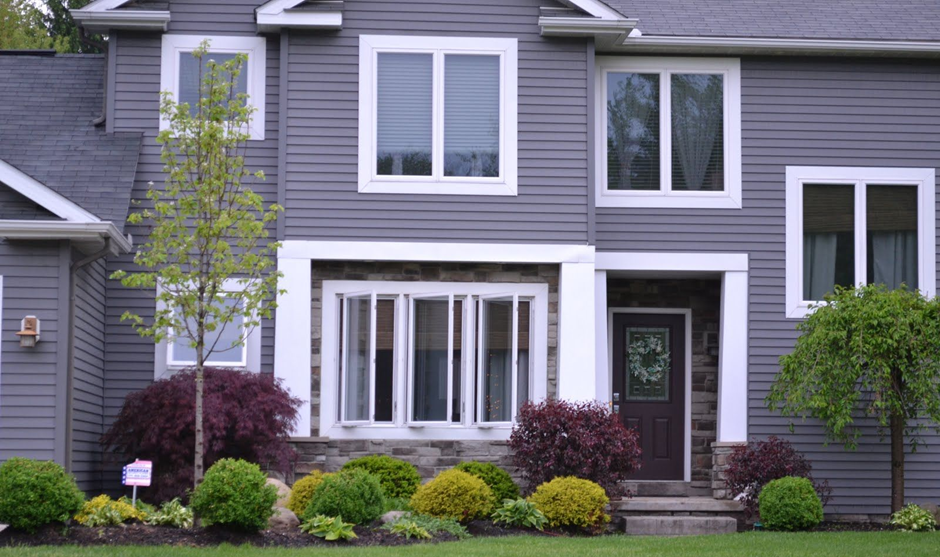 Without the white accent, the exterior of this house could not achieve this look and would instead appear gloomy and unwelcoming. Particularly for window trim, a small amount of white color can go a long way. The owner paints the railing white and it looks fantastic.
The color lavender gray is cool. It is a light blue-based purple with a hint of black to give it a smoky gray undertone. When painted on the siding and roof, it gives the exterior a distinctive appearance.
Innovatively, a warm brown or maroon front door rather than a white one keeps the focus on the front door of the house. The brick-patterned greyish-red siding portion perfectly supports the overall lavender-gray cladding.
7. Exterior Paint Color Scheme with Grey Hues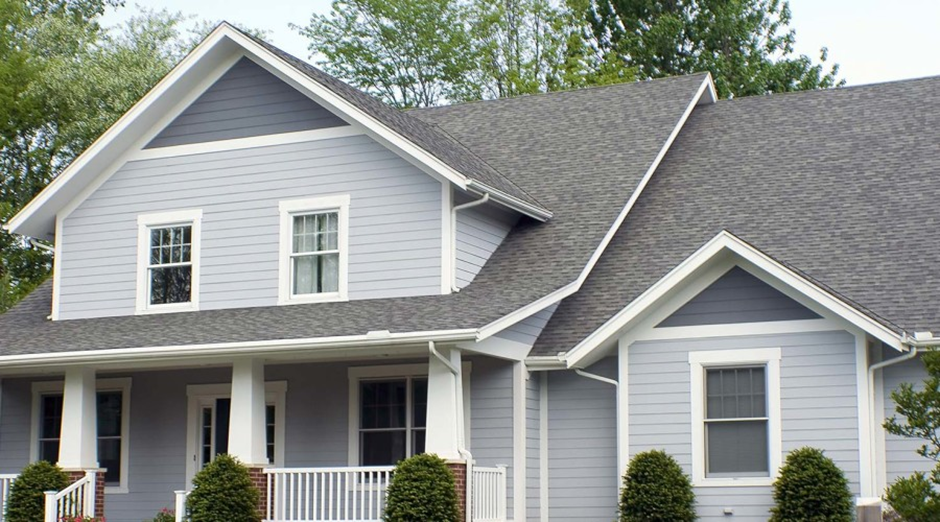 Gray is currently a popular paint color. The hue is a fantastic neutral that goes well with almost any type of structure and is a lovely contrast to brick. Grays, however, can be challenging. It's taxing to get the shade just right.
If not careful, it could end up appearing either violet or blue. Paint a large swatch of the color you intend to use on the exterior. It will help you see how it turns out to become due to the direct sunlight and the quantity of light in the space or the absence of direct sunlight.
The dark roof and the mildly lighter shades of siding and windows add an elegant accent. Once again, the white-painted trim and railings complete the exterior look.
8. Exterior Paint Color Scheme with Sage Green and White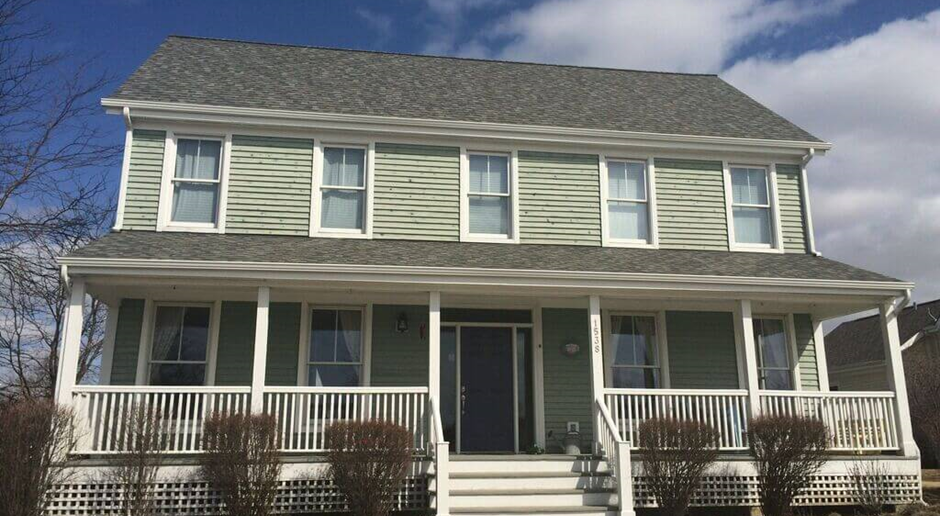 There are two ways to choose an exterior paint color for a dwelling surrounded by nature's beauty. Either select colors that will let the house blend into the backdrop of the surrounding plants and trees.
Alternatively, you could go with a striking hue that draws interest in the design of the space. This house offers the latter; its sage green exterior paint contrasts with the rustic landscape. One of the most effective ways to draw attention to the lovely sage green color is to pair it with a contrasting hue.
White is among the safest color choices and offers an adorable sight. The exterior cladding with sage green makes this house look classy. The glass front door and window add a spell to the design.
9. Exterior Paint Color Scheme with Dark Blue, Grey, and White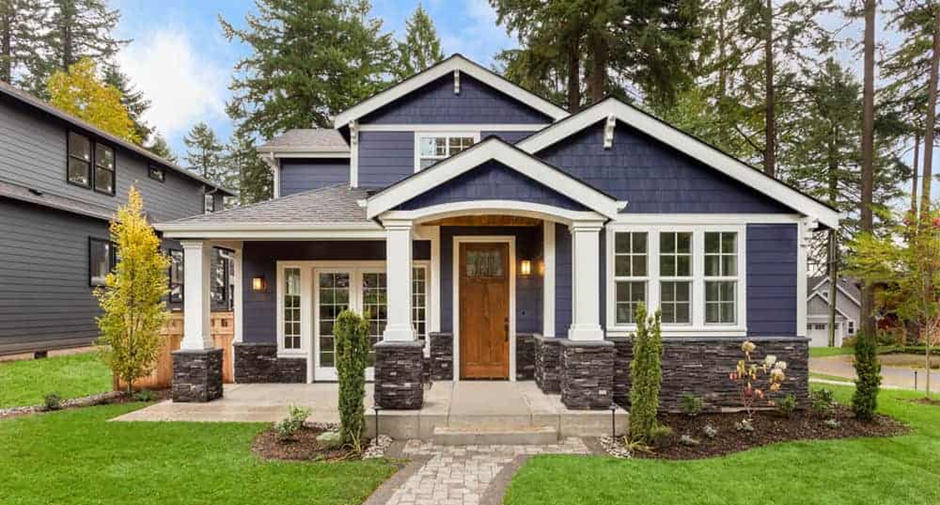 Combine rich blue and cream colors for an adequate replacement for typical white. It can give the exterior of your house a playful and peaceful appearance. Deep blue is the blue family's more intense hue.
Lively and elegant color, blue complements stark whites and soft grays. It frequently appears on the exterior of contemporary homes because it combines neutral tones with vibrant colors. The gray stone accents and shingle roofing go perfectly with this deep blue color. When it gets the right light, it remarkably displays a purple undertone.
You may plant foliage with different hues to create a natural setup for your home exterior similar to this home. The green grass and small-sized trees, yellow and green, are gratifying.
10. Exterior Paint Color Scheme with Orange, Yellow, and Grey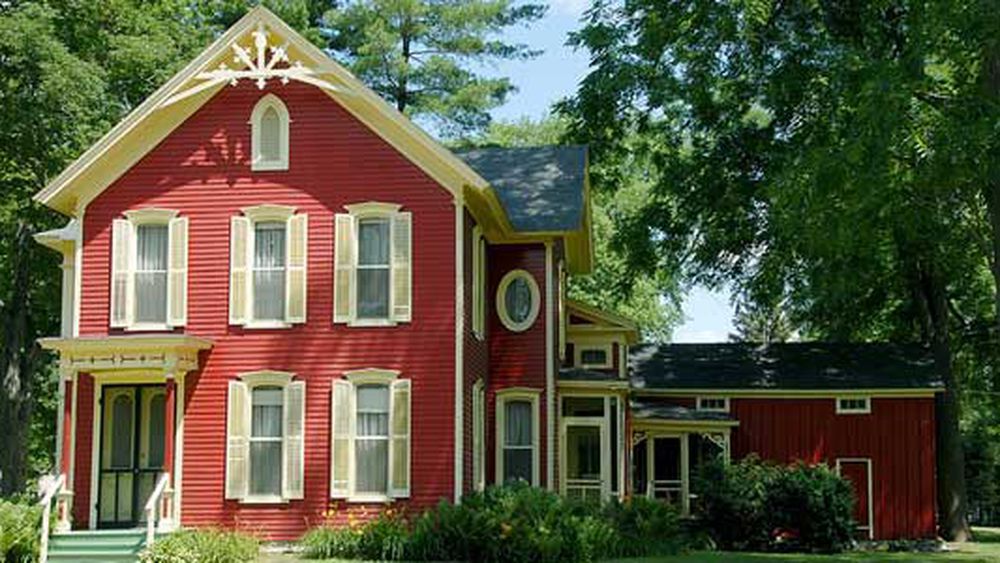 Orange exterior paint will make your home stand out in the neighborhood. Although not as forceful as red, the human mind perceives orange as fierce and the symbol of fire.
Orange combines the enthusiasm of yellow with the vigor of red. It is a cozy and welcoming color that gives a simple, uninteresting color scheme more depth and is a good option for the exterior.
The property looks old-fashioned with its reddish-orange exterior, yellow shutters, grey gable rooftop, and Palladian openings. Its architecture features many small spaces and places for sitting or watching out, and the orange color perfectly complements it.
11. Exterior Paint Color Scheme with Soft Pink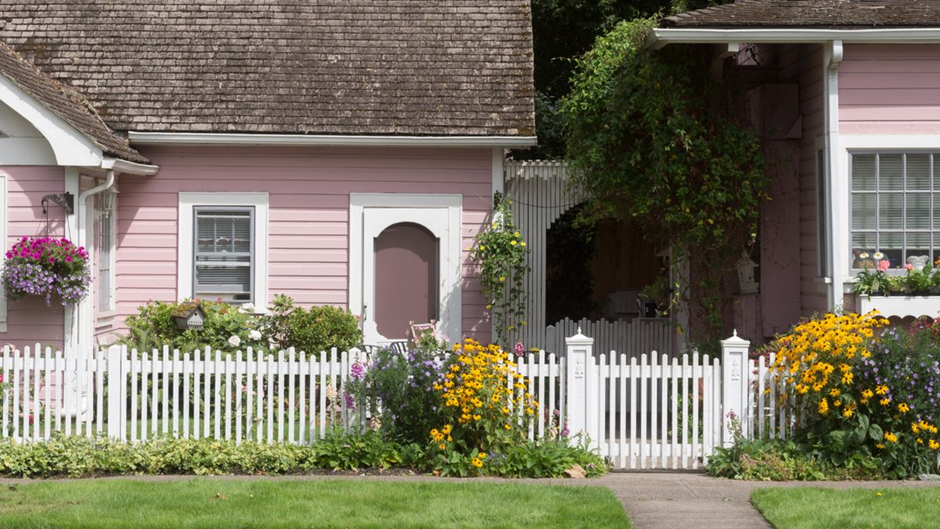 It's not only dollhouses where pastel pink works well. Pink gives a house a distinctive and warm appearance. It exudes a sense of security, coziness, and tenderness.
Soft pink is an appropriate hue for creating a joyful vibe in the simple-looking home exterior. The white accents give this lovely home an even more appealing and aesthetic appearance, making it a pleasant place to visit.
Choose a shade with some unique character, even if your residence does not present a similar vintage appeal. If facing skepticism, choose white because it will keep everything looking polished.
12. Exterior Paint Color Scheme with Green and Brown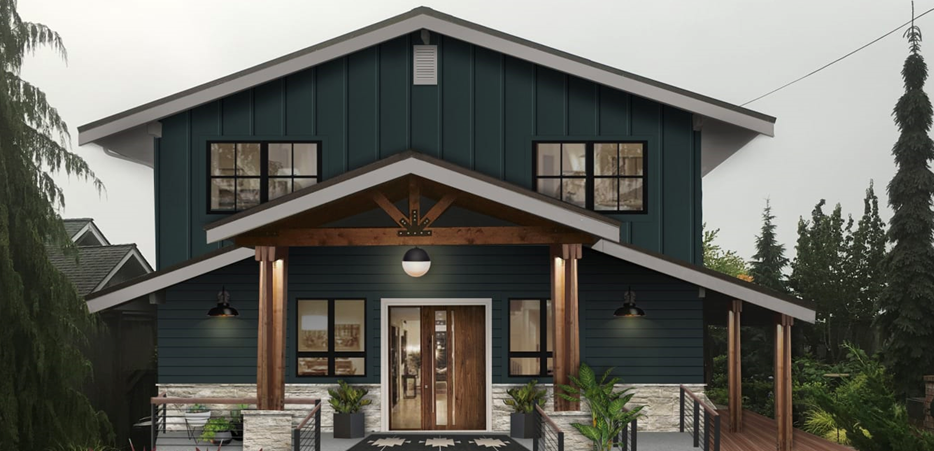 Nowadays, earth-toned color combos like green and brown are becoming more popular. People are becoming more and more eco-friendly.
No doubt earthy color scheme looks appealing but it needs some effort and imagination to pick up the appropriate shade. Create a balance between the colors.
The color combination of this house is harmonious. With this green color, you can give your exterior a gentle, nature-inspired feel. If you're coloring the siding with green, coat the trim color neatly because the green may expose the minor flaw of the coloring. You can go with bright white or black for the trim. In addition, if the color is dark green, check to see that the undercoat is flawless and the brush strokes are not visible.
13. Exterior Paint Color Scheme with Burgundy Red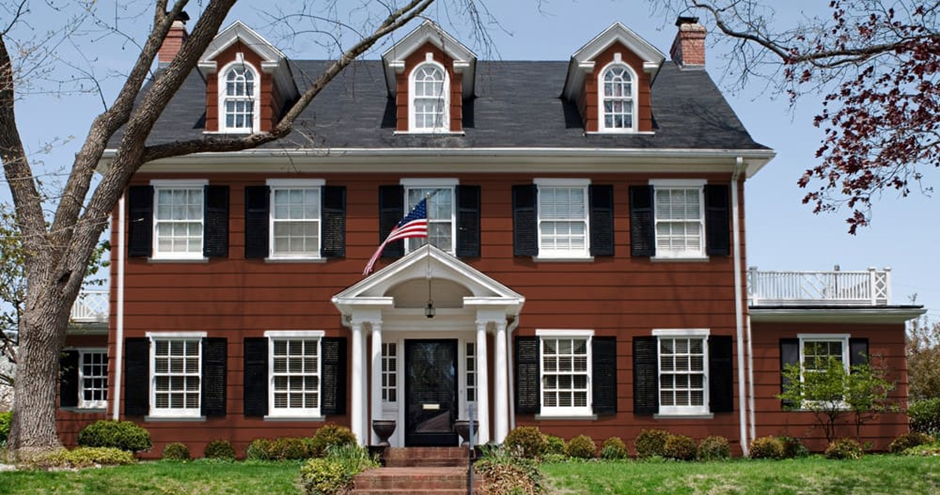 Burgundy red is an intense color that conveys power and endurance, and most importantly, it is an eye-catcher. The burgundy exterior of this charming house oozes energy and visual interest.
The red brick steps at the entrance and the gray shingles roof on top nicely balance its vibrant hue. The black shutters and front door create a striking contrast. They establish an exact harmony between the siding's color choices.
The white trim of windows and doors is not overly bright, hence is the ideal choice to draw attention to the accent. With a few red accents at the entry space, the greenery is minimal. The urn planters' color harmonizes with the exterior's intense shade.
14. Exterior Paint Color Scheme with Beige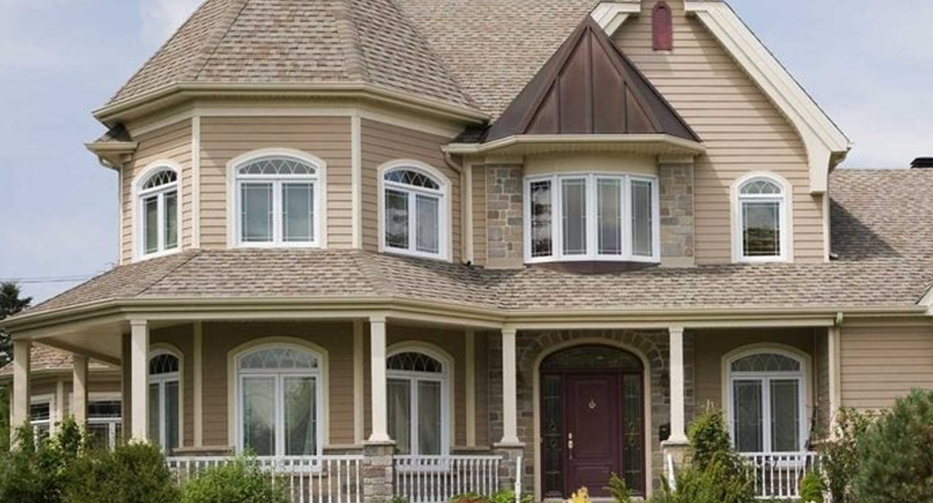 The sought-after colors of 20th-century beige and tan received a jolt in this era. They are no less stunning and impactful if paired with the right hue of other colors. It blends nicely with the traditional design of dwellings, coastal houses, and country homes seamlessly.
The easiest option is to paint the entrance door a cozy, welcoming shade, like a deep maroon. Something to contrast the beige and harmonize the exterior's color palette. Decorative planters in matching hues on each side of the door or powered by solar energy exterior lighting displays and bring drama, demonstrating how satisfying it will be to get home.
A classic white trim will give your property an air of simplicity. Moreover, it is an effective way to highlight architectural details.
15. Exterior Paint Color Scheme with Turquoise and White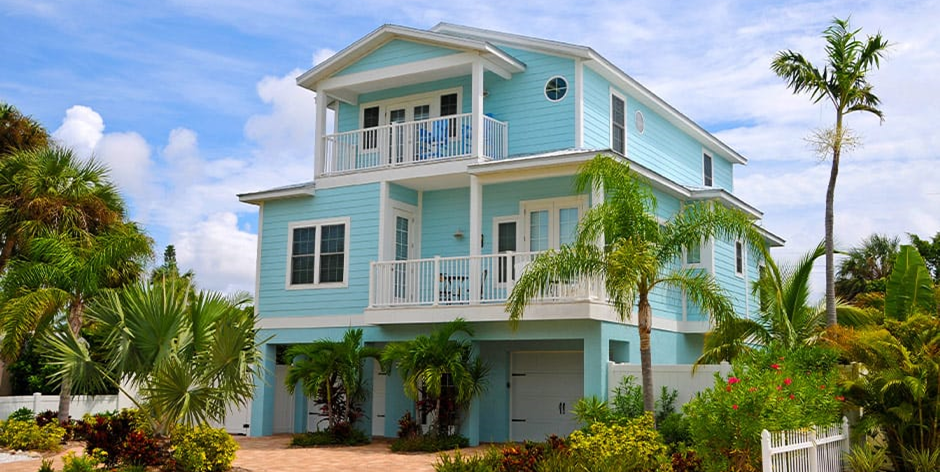 Turquoise is one of the brightest hues that has recently captured the attention of buyers. When this shade combines with white, it creates magic. They convey enthusiasm, happiness, and tranquility.
The sea-green turquoise hue with beige offers a stunning contrast-rich aesthetic to this house. Blue is the main color scheme for the exterior coating, with white for the windows and large front door. The white trim pops out significantly bright and enhances the presence of the turquoise paint color.
This turquoise blue and white color scheme establishes a gentle and beautiful view that will undoubtedly improve the appearance of your home. Your dwelling will have the happiest color scheme ever with a sea-green tint and white!
Conclusion
The article offered you 15 fantastic color combinations for the exterior house. When you paint your home exterior, selecting the ideal color scheme takes time and patience to create a perfect color combo.
Whether you reside in a seaside cottage, a modish house, or a country home, it is entirely up to you to choose if exterior paint colors blend in or provide a striking contrast. The color combination themes in the post can help in your efforts. These enticing colors will draw attention to your home's greatest assets and raise curb appeal.
Best of luck with a stunning exterior! Please share your experience in the comment box to enrich and inspire others.