If you are considering remodeling your floor and have been searching rigorously for ideas online, you must have come across this general hatred for Gray wood flooring across the internet.
While this hatred for Gray floors has been persistent for a few years, it wasn't the case a decade before when these kinds of floors were a thing. However, it won't be an exaggeration to say that this trend did not age well. The gray wood flooring is clearly a thing of the past.
But no need to panic if you still have this flooring or somehow find the idea of gray wood floors attractive, hey! It isn't a crime to like it, right? We will discuss a few things about design crimes, how to work with gray wood floors if you are still interested in incorporating them, and the alternatives to gray floors in this blog.
Why Gray Wood Flooring Does Not Fit in Current Interior Trend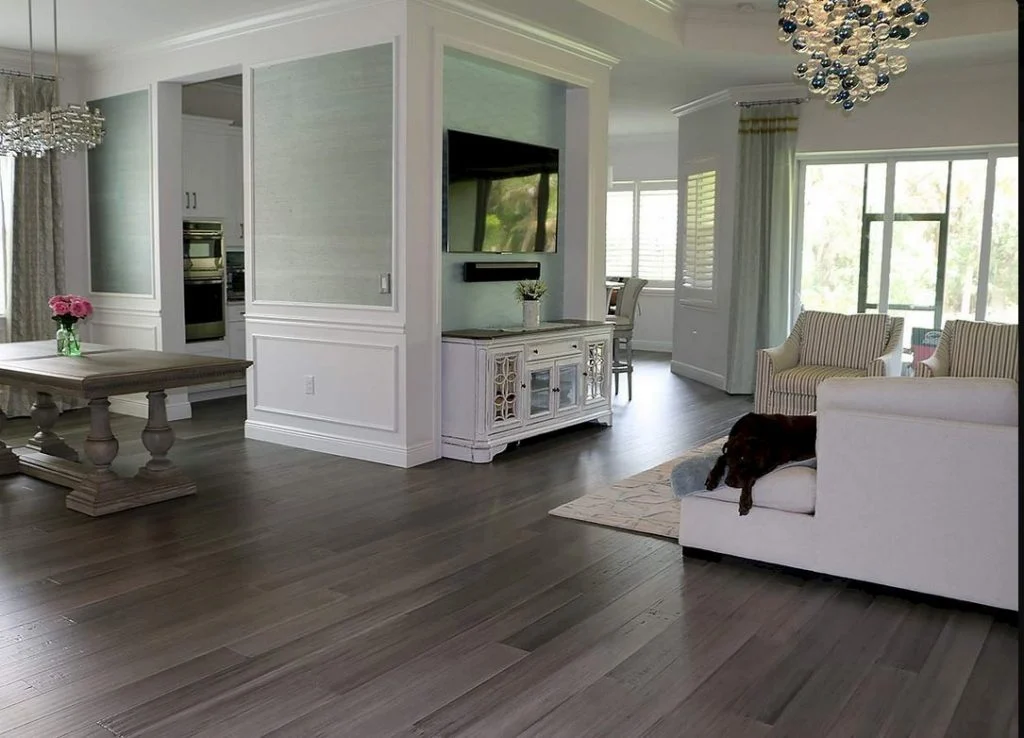 This is clearly not a great time to have gray wood flooring. We are living in a world of social media, where people easily form opinions and get really inspired by others' opinions. So one thing is sure, people on social media have clearly disregarded the idea of gray wood floors. It all started with a few viral social media posts by renowned interior designers, and when you listen to them, you can clearly see what they are saying is absolutely true.
Gray flooring may have worked in the past, but it is out of the picture in contemporary homes. One of the posts that caught a lot of attention regarding despising gray wood flooring is a post by Bilal Rehman, who, in his own words, describes that " gray flooring sucks the life out of any space that you have." This viral post with a massive like of 170,000 is an indication that Gray wood flooring can actually be considered a design crime. There are many such examples where people have found the idea of Gray wood floors laughable and ugly.
If you are wondering what is so wrong with gray floors, let's analyze it in a little detail.
There are very limited options for the things that go well with gray flooring; you will have a hard time finding the right furniture that matches your flooring or looks good with it.
Investing in a fad is never a great option. Changing your flooring requires a lot of money; it doesn't come cheap. If you are remodeling your home or making it from scratch, you should involve elements that are timeless and not just trendy.
Especially for a design element like flooring, which is there to stay almost the entire life of your home, you should really give a good amount of thought before choosing to go with a particular kind. A gray scheme forever for your home doesn't seem like a great idea, either. It also limits your option of decorating elements.
It has been overused in the past. Gray floors have been used in the past way more than they should be. So, if you choose gray flooring now, your home will look like it has been made way in the past.
Other than these things, one of the major concerns with gray flooring is that it will really decrease the resale value of your home in the coming years.
Do Gray Floors Really Deserve the Hatred that They Are Getting?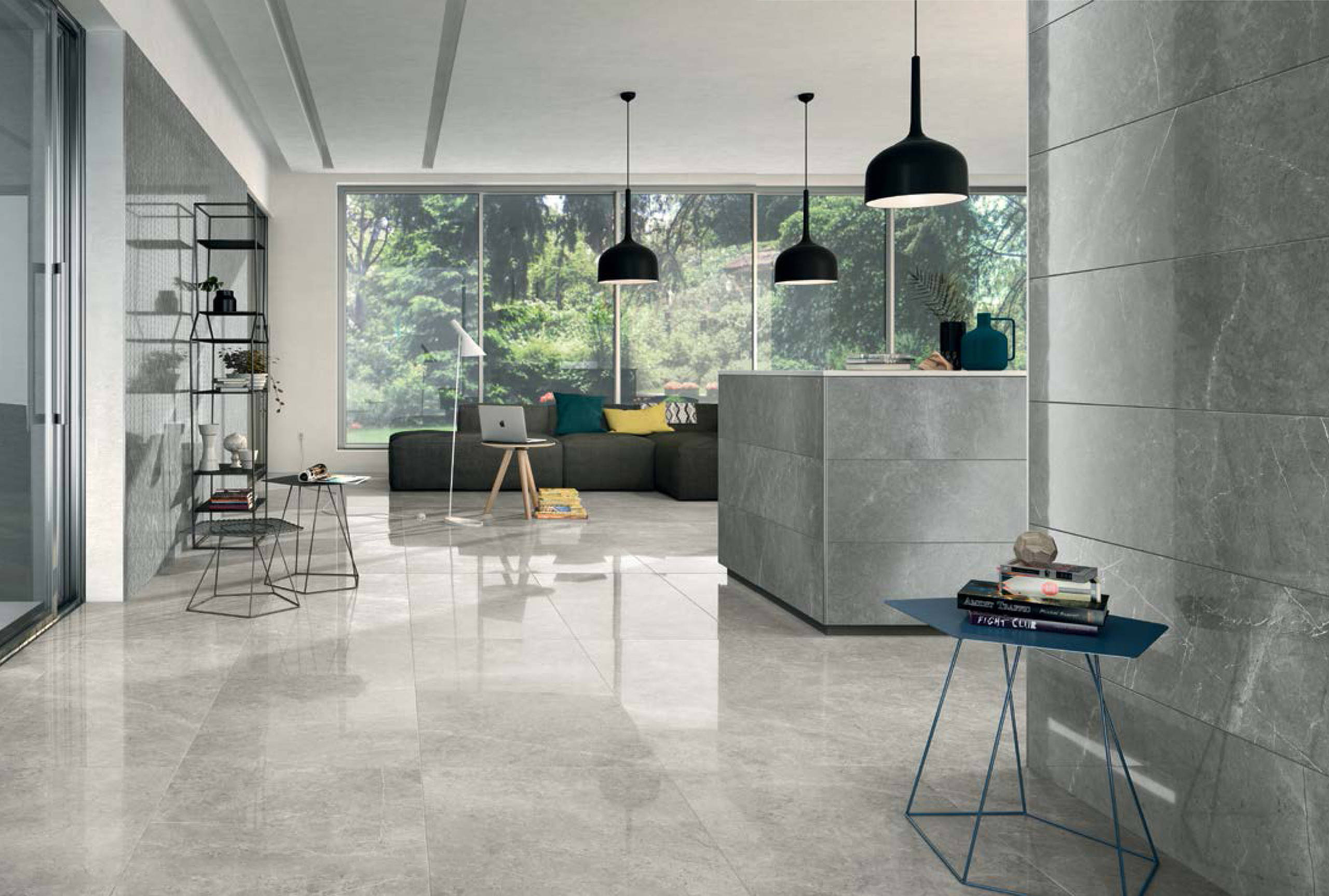 Gray wood flooring has become one of the most hated interior design elements in 2023. A lot has been said against it, and a major chunk of people on social media have clearly disregarded it. So the question remains is this design element really that bad?
Due to its huge popularity in the last decade, gray floors have been everywhere. You can practically see gray flooring in a lot of commercial properties as well as homes that were made during those times. So, why have people suddenly started despising it?
There are a few reasons which make them not so fit in the current interior trend. There is a widely held opinion that Gray floors come with a lot of restrictions. One example of such restriction would be their inability to be easily paired with warm lights, and we know that warm lights can be extremely helpful in creating a nice welcoming environment. This is why these floors are often called out for being unwelcoming.
Another significant flaw in using gray floors is that they are not versatile. There was a craze for this trend during the last decade. However, the trend has been so overused that it has become obsolete. A key feature to keep in mind choosing to design the floor of your home is to make sure that it is timeless rather than trendy because trends will come and go, but a timeless design would look great all the time.
However, the gray floors are not all bad; they may look great in some kinds of architects and can be made to work in others. They are neutral and versatile in nature. They can create quite a sophisticated and balanced atmosphere. Since gray floors are neutral, they tend to enhance the other elements of your home decor.
So, the views regarding gray wood flooring are quite subjective. It is also a matter of personal taste, preferences, or space they are used in. However, it won't be an exaggeration to say that gray floors are clearly not meant to be used in modern homes.
How to Live with The Gray Floors: The Ideas to Make It Work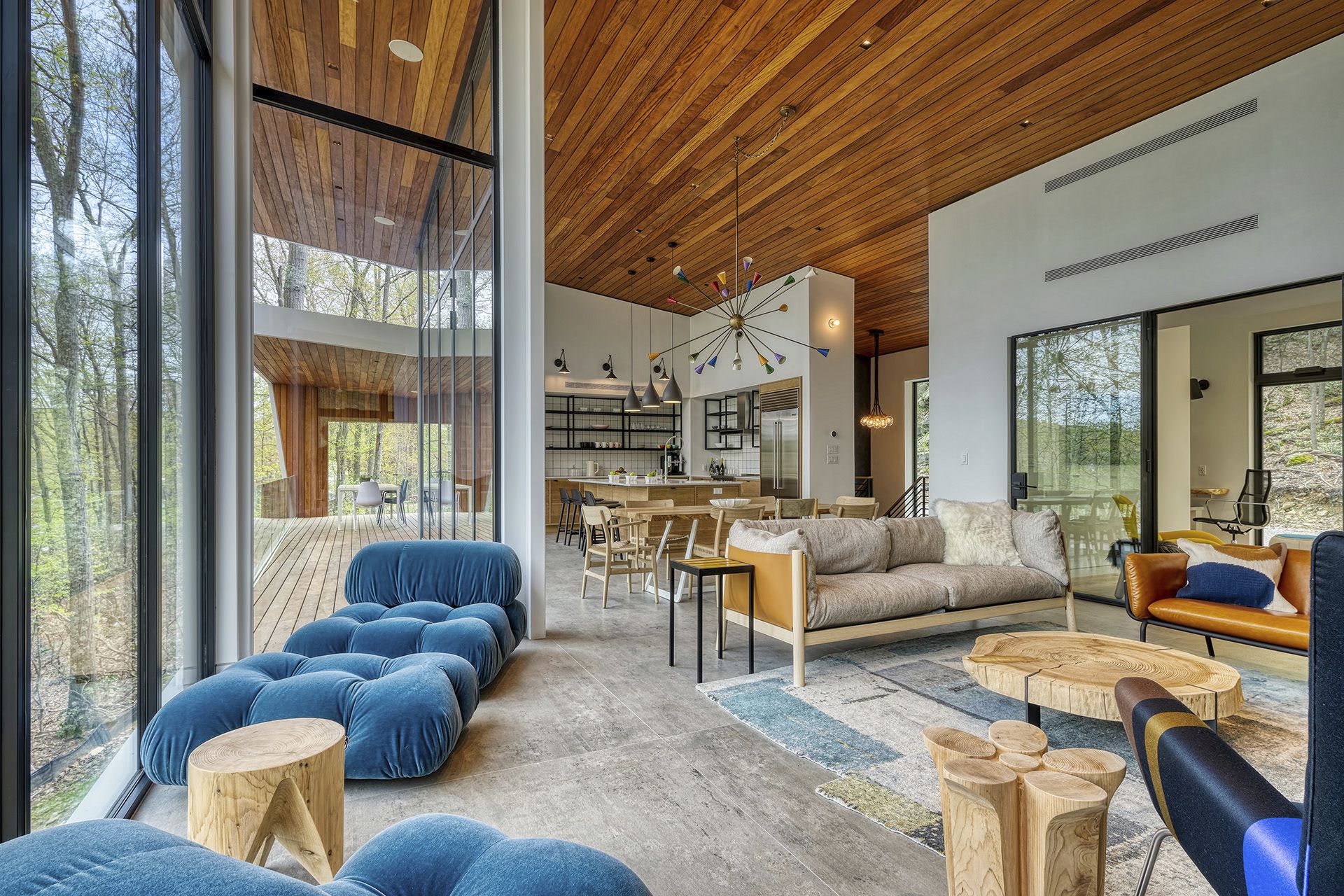 It has already been established that Gray floors are one of the most serious design crimes of current times, according to various industry experts. But what to do if you already have gray floors in your home and you aren't looking to remodel it anytime soon? There are a few things you can do to make your gray wood flooring work in current times, regardless of its flaws. These are as follows:
1. Add a Pop of Color to The Boring Gray
Now it's out in the open that gray floors are not the most loved kind of flooring; in fact, people are really beginning to despise this kind of flooring, so it's clearly not the best time to live with gray flooring; however, if you have gray flooring in your home, you can balance it with some bright and colorful home decor ornaments and furniture.
Do not paint your walls in neutral colors; instead, try shades of blue, purple, or teal to make the wall a center of attention. You can transform the mundane gray flooring by adding a bold color couch, a few colorful throw pillows, and using vibrant colored rugs.
Sale
Sea Turtle Yoga Figurines Decorations, 2 PCS Meditation Yoga Turtle Decor, Spring Summer Garden Meditating Yoga Turtle Figurine for Spiritual Garden Home Decor, Gift for Mom, Dad, Friends...
🐢【Sea Turtle Yoga Decorations】Meditating Sea Turtle Figurine is rust prevention, sun protection and UV because it is made of a strict selection of durable resin materials and makes your statue acquire a completely new outlook.
🌊【Design of Sea Turtle Decor】 Yoga postures use ancient and easy-to-master techniques to improve people's physical, psychological, emotional and spiritual abilities.So we design this style. When you have troubles, see this yoga turtle, you can empty your mind and find a way to calm yourself.
🐢【Turtle Yoga Decorations】Easy to place and stable, Creative Sea Turtle Sitting Yoga is equipped with a flat bottom design and suitable for most locations in your home and It doesn't fall down.
🌊【Ideal Gift】Sea Turtle Statue Decoration is a perfect and unique gift, which can be used as a decorative gift for your parents, friends, loved ones, etc and is ideal for Mother's day, birthday gifts, Christmas gifts, party favour and holiday gifts.
🐢【Guarantee】Handmade! After a hard day's work, you can relax your mind and body through yoga. If you have any problem, feel free to contact us! We're committed to first-class service!
JUXAMI Throw Pillow Covers 18x18, Boho Pillow Covers Woven Tufted Decorative Pillow Covers for Couch Sofa Bedroom Living Room(No Pillow Insert, 1Pcs 18x18 Pillow Covers)
⭐【UNIQUE DESIGN】The 18 x 18 boho pillow covers with triangle patterns has a chic look and feels, vivid color in eye-catching tufted geometric and handmade woven make it stand out in the mix, warm and comfortable.
⭐【EXQUISITE WORKMANSHIP】These modern pillow covers 18x18 comes with premium quality invisible zipper helps easily on and off, ensuring that each seam of the pillowcase is strong and not easily damaged. Fantastic quality will absolutely exceed your expectations.
⭐【FABRIC & SIZE】The front of this woven throw pillow covers is made of 45% cotton + 45% polyester + 10% viscose, the backside is made of 100% cotton. Measures 18x18 inches and weighs 0.28 pounds. Featuring geometric a tufted design, soft and dense.
⭐【PERFECT DECORATION】 This boho woven tufted pillowcase is in neutral color, which matches well with multiple decoration style. Perfect for placing it in couch, sofa, bedroom, office, living room, party, car, etc, adding a delicate and elegant touch to your room. Also a nice gift for friends, mom and dad, etc.
⭐【CARE INSTRUCTIONS】 For the tufting decorative pillow covers, we recommend just wiping with a damp cloth. If there is any quesitons about the products, please klindly contact us,we will solve it for you.
2. Style It Up With Warm Elements
If you want to create a cozy ambiance with gray flooring, you need to balance the colorless look of gray with warm elements. Incorporate a few natural elements such as rattan furniture, woven rugs, jute, bamboo blinds, and other such items in your decor.
Use a few metallic accents to add a touch of warmth to your space. You can choose to go with brass fixtures and lighting or choose a gold tone for light fixtures and frames to make your decor appear more clean and fresh.
Sale
RRI Home Decor Chelsea Area Rug, 8 Foot, Bronze
Indoor & Outdoor - Made from durable texturized polypropylene, our rugs are perfect for harsh outdoor conditions and still soft enough for any living room.
Versatile & Stylish - Perfect for an entryway, porch, foyer, kitchen and more, our rugs complete the look of any room.
Hand Washable - Our Rugs can be washed easily and won't deteriorate during the process.
287 Day Warranty - If for any reason you are unsatisfied, reach out to our team and we will correct the situation, no questions asked.
Hand Wash Only
TJ Global Bamboo Roll Up Window Blind Sun Shade, Light Filtering Roller Shades (28" X 72")
ROMAN SHADE: This beautiful natural bamboo roman shade is both durable and long-lasting. It gently filters light for a unique, soft glow. Our shades can be easily installed and moved, making decorating your home a breeze! Our blinds and shades will help reduce heat in your home and protect you from harmful sun rays for years to come.
BEAUTIFUL & HIGH-QUALITY: Using only the highest-quality bamboo, we aim to craft blinds that look beautiful, while providing your home with your desired amount of shade. With our wide variety of size options, you'll be able to find the perfect fit for any space in your home or business.
UPGRADED TO CORDLESS: these blinds have been upgraded and are now roman style shades! Roman shades are easy to fold up or down making them stylish and convenient. They are also cordless making them even easier and safer to use!
VALENCE INCLUDED: Blinds feature an 8 Inch valence which hides any hardware for a smoother and more aesthetically pleasing appearance
EASY INSTALLATION: Our blinds can be easily installed in minutes with all necessary hardware included. Smoothly pull up or down to control sun light and wind in your room. It can be used indoor or outdoor but DO NOT expose to rainwater. Do not place your shades in moist, damp environments.
3. Consider a Large-Sized Rug to Cover It Up
A large size rug can move attention from the mundane gray floor to a great extent. It can totally transform the look of the home by adding a certain texture and warmth to it. Try to cover a large portion of the floor to conceal the gray floors as much as possible. It will create a visually appealing environment while also giving you a sophisticated vibe.
The cool tones of gray can be effectively stabilized by adding dark-toned or jute rugs with woody tones. It will also lay a nice foundation to bring out the beauty of other elements, such as furniture or ornaments in your room.
The Alternatives: If Not Gray Wood Floors, Then What?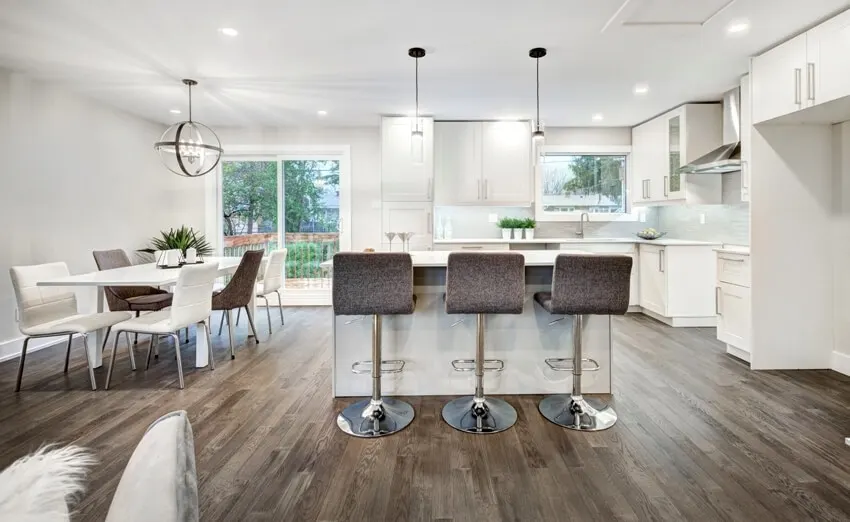 A lot has been said about gray floors; despite being used a lot in the last decade, people now consider it a design crime. So, if we can't use these gray wood floors, what other option can we use in place of them?
The first option that Bilal Rehman, one of the finest interior designers, advises in this post is instead of using the dull gray floor. You can choose black hardwood floors. The black floors add a touch of sensuality to your space, and they are also great for layering. They are modern and sophisticated and can brighten up your room.
Bleached oak and walnut floors are also great flooring options for contemporary homes. It's great for creating a classic traditional look. The greatest thing about these floors is that they can be paired with all kinds of fixtures or furniture. They also look great with practically all paint colors. If you don't want to use wood flooring, you can go with limestone, white tiles, or brown-colored flooring can also work. Some people prefer taupe color flooring, which is also a brilliant color to enhance your accents.
The reason for choosing these kinds of flooring is that they suit a variety of tastes and preferences, are timeless, and can be paired with a large range of furniture and interior styles.
Final Thoughts
The gray floor can prove to be an absolute nightmare for some home interiors, and they can also be made to work in a few interiors. However, a lot of interior designers have strictly advised against choosing gray flooring. The problem with gray flooring is that they are not versatile and can be really hard to pair with accents. However, if you already have gray flooring, you need not worry; it can be made to work with a few precautions, such as using warm elements and colorful elements to shift the focus from the floor.
It can be stated that choosing a gray floor can prove to be a mistake for modern homes, and if you are looking to use gray flooring, you should really give it a second thought.