Families with kids often face challenges in laying out adequate storage space in their homes. Trofast IKEA storage bins are the appropriate choice for cluttered and disorganized rooms. These stylish storage solutions come in a variety of colors and sizes. You can use these simple and durable boxes with ready-made IKEA frames.
Parents struggle to organize and keep their children's play areas or bedrooms tidy, which are usually the most cluttered areas in any home. With the help of Trofast, people have ingeniously added aesthetic appeal to these spaces without sacrificing their usefulness.
We've compiled 18 handy Trofast Ikea hacks to improve the efficiency and organization of your home! They are ready to assist you in decluttering your kid's drawer, organizing the play area, and making your house more orderly.
There's no need to search more. Scroll down to continue!
1. Designing a Closet with Trofast Ikea Hack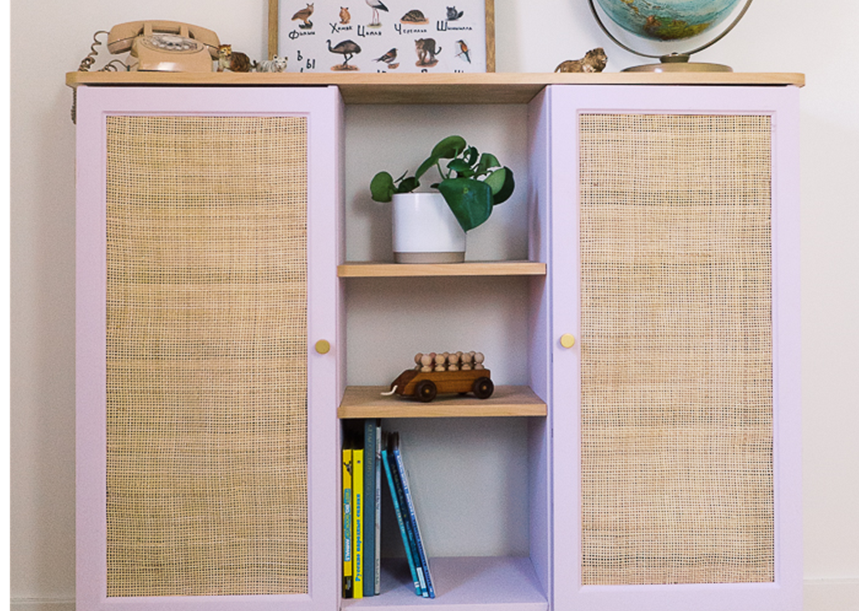 Change your child's study space with Trofast boxes and a cane door. You can create a closet-like appearance by keeping the storage boxes behind a door using this idea. A lovely cane door is a fab idea due to its mini-weaving texture that matches the Trofast storage unit.
Use poplar boards to give an elegant look. Measure the dimensions of the boxes. Cut the cane with scissors. You can soak the cane piece in warm water for ten minutes to trim it easily. Alternatively, you may take help from a local cabinetmaker for the closet. Your child will be happy to keep all study items in one place.
2. Child Bed with Trofast Ikea Hack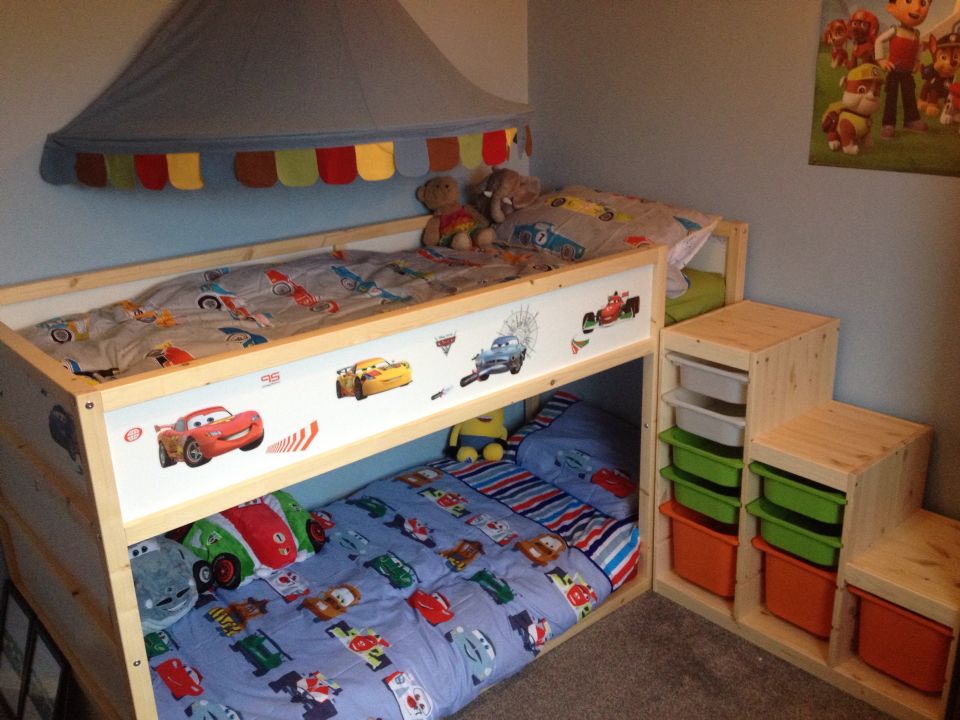 This Trofast Ikea hack is outstanding and space-saving. You can build your child's bed using this tip comfortably. You need four Trofast tubs and two storage shelves to make the bed cum storage space. As you see in the image, combine the storage shelves.
The sturdy wooden frames build a perfect base to place the mattress. Without using any more surface area, there's now loads of storage space for playthings and books. Combine matching accents to make the bedroom attractive for your child.
3. Arranging Lego Set with Trofast Ikea Hack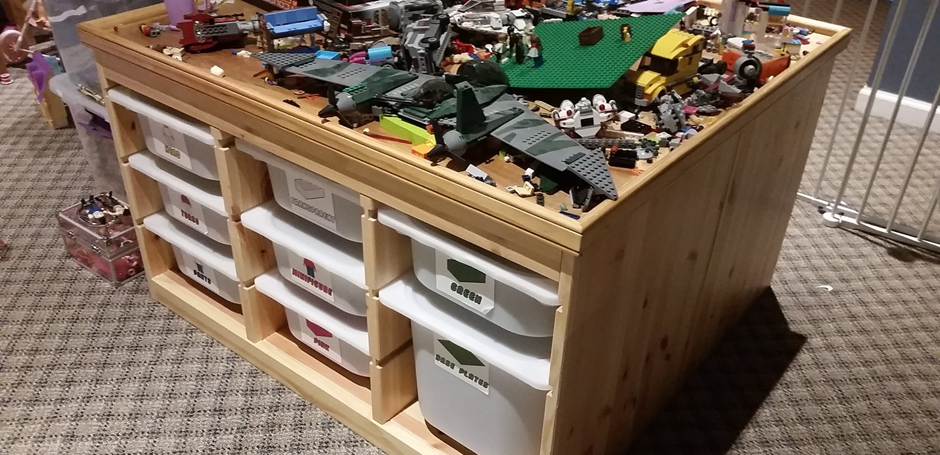 Are you trying to find a way to arrange Lego pieces for your child? Or are you trying to create a plan for updating your child's playroom on a tight budget?" You can also benefit from this hack by keeping the area neat and uncluttered. Pastel shade boxes are perfect for storing mini toy pieces.
The decoration of the room is child appropriate. The Star Wars features display a child's explorative mind. The upholstered bed arrangement adds interest to the space. Above all, the layout presents a child-friendly, cozy, and welcoming environment.
4. Kids Activity Table with Trofast Ikea Hack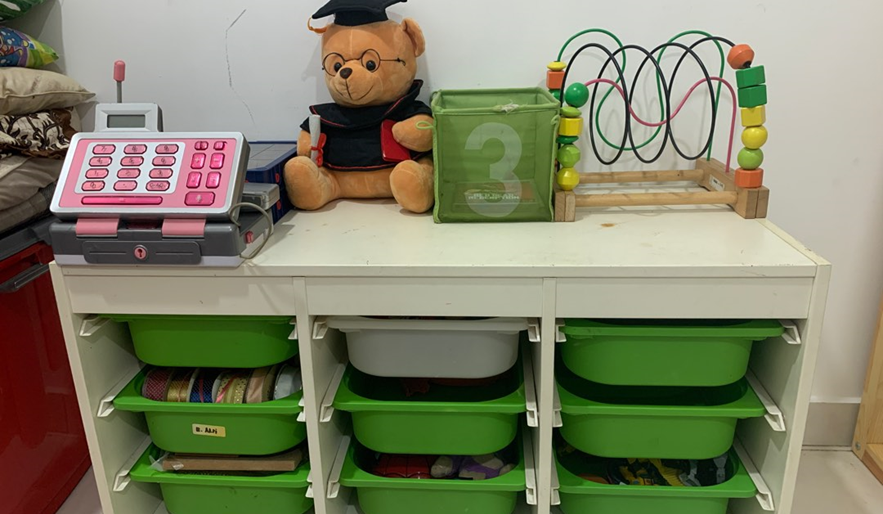 This is an incredible IKEA hack, a plus-size children's activity table. Any playroom can benefit from additional storage. This activity table is both functional and fashionable. They have placed a tabletop above a pair of Trofast units. They are all attractively painted green.
Assess the available room carefully to decide what size activity table the kids require. Draw a table on the floor with the dimensions you believe will work best in the space. Take into consideration the size of the room and also the amount of side access you'll have. You should keep sufficient space for children to walk easily around it.
Toy Storage Labels: 40 Unique Vinyl Trofast Tags for Home Organization in Playrooms and Bedrooms. Original Peel and Stick Artist Designs for Kids' Toys. Stylish Bin Stickers for Toddlers and Babies (Black)
Set includes 40 designs: 6 sheets of decals and 6 sheets of transfer membrane. Sheet size: 11.8 inches x 6.7 inches (30 cm x 17 cm). Largest decal size is about 4.3 inches x 3.3 inches (11 cm x 8.5 cm) if you measure image + word
High-quality vinyl, durable enough to withstand regular use. Anti-glare matte finish gives them an elegant and beautiful look
Organize your play space with versatile and customizable labels: great variety of icons to meet all your organization needs. Icon + Text combination maximizes flexibility of their application
Unique designs with a corresponding text/icon made by our artist Gabriella Pruzzo @vieli_arte, making it easy for little ones to identify and locate their favorite toys
How to Apply: Place the transfer membrane over the decal, rub it firmly and peel off the backing paper to reveal the adhesive side of the decal. Then, apply the decal onto your desired surface, rub it firmly again and remove the transfer membrane
5. Designing the Seating Area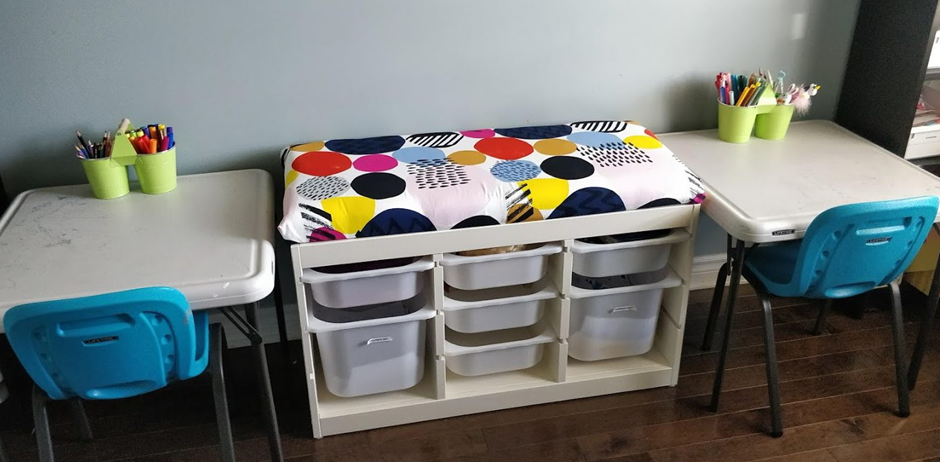 This hack utilizes a seat cushion and a Trofast container to make a seating area cum storage space. The bench is sufficiently adaptable. Hence, you may use it in every part of your house, including the cooking area, mudroom, playroom, corridor, or simply as a cozy window spot. There are countless options.
You must consider the setting before choosing the material for your bench seat. We recommend vinyl material, which is simple to wipe down and clean if you have children or pets. Moreover, you can choose heavy stuff for the bench padding in your child's craft area. We like how the choice of textiles features vibrant and wacky patterns in the image.
6. Toy organization with Trofast Ikea hack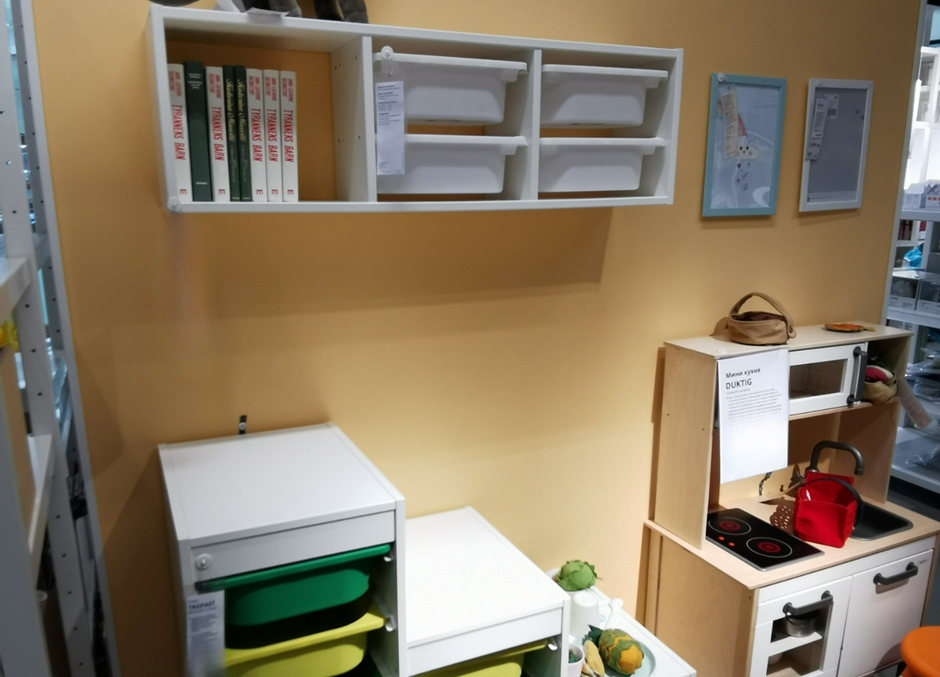 Do you dislike tripping over your kids' toys all the time? You feel, as though, a never-ending display of dolls, superheroes, and scattered pieces of puzzle games dominate your house space. Toy storage options from Trofast make it simple to locate a stretch for even the bulky toy collections.
You can design your unique storage space with durable frames and detachable boxes of different colors and sizes. Ikea uses high-quality components to create sturdy frames and storage units. They are resistant to abrasion and wear of frequent use.
The storage boxes come in a variety of bright colors that you can combine to develop an attractive storage solution that is useful and visually appealing at the same time.
7. Creating Wardrobes for Kids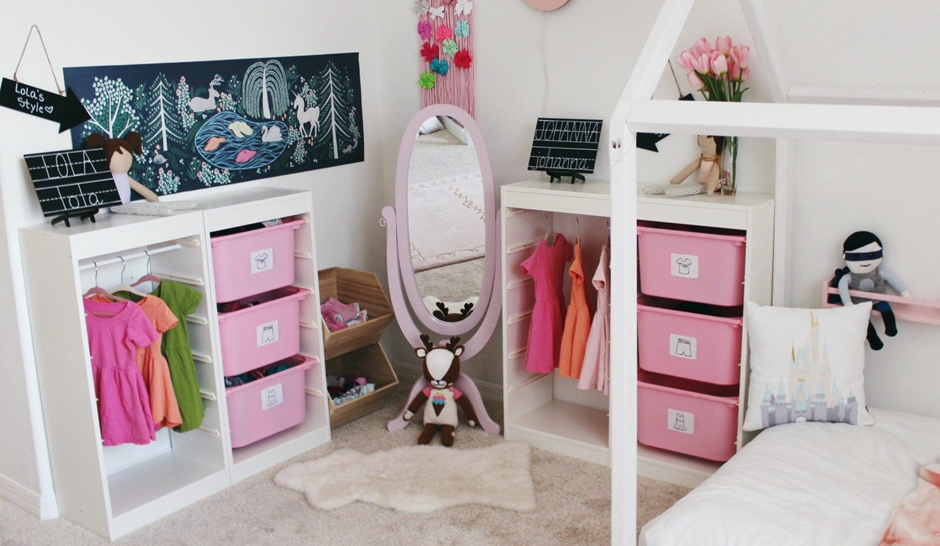 Arranging children's clothes is a common challenge that most parents face because kids' clothing accumulates quickly. On several occasions, you discover they have nothing appropriate to put on. Contrary, they have a lot of attire, but virtually nothing befitting appears in their closet due to the haphazard way they pile up.
Here, we present a unique initiative to build a chic dresser with lots of storage space utilizing multiple Trofast organizers. A beautiful freestanding oval mirror with a revolving motion for adjustability and conviviality is a great addition to small children's rooms.
Please check the image to try similar arrangements for your home. Your kids will like this setup, too, because it will become easy for them to keep in and out of their dresses.
8. Fun-Filled Toy Storage Hack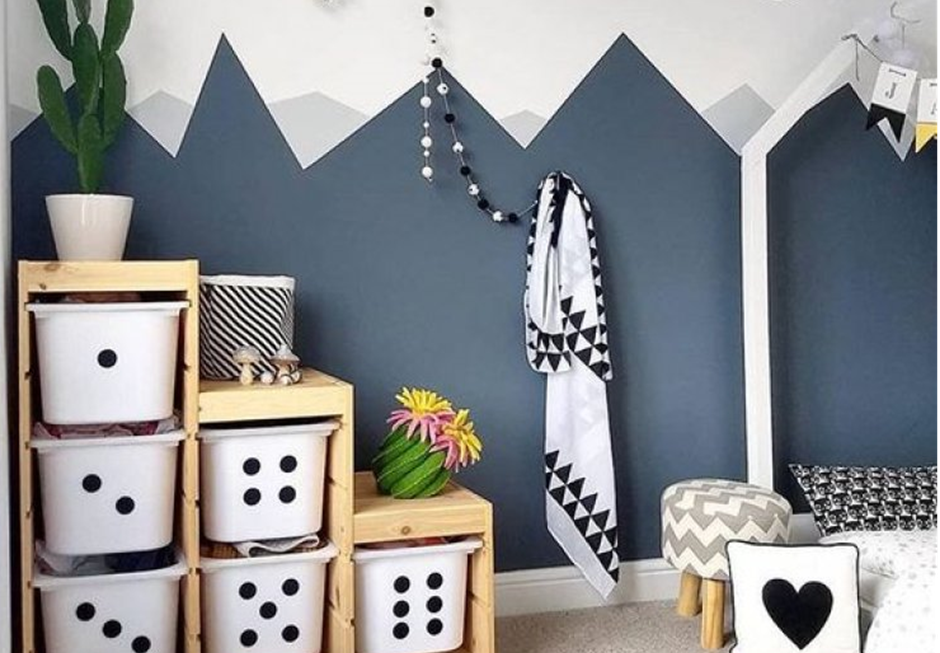 One fantastic feature of the Trofast IKEA is the collection of large containers that can be easily customized by sticking pretty stickers or guiding labels. The tubs in this image have circular graphics that coordinate the arrangements of their child's room.
They have placed the tubs in a descending style creating a fun-filled, lovely organization. The wall behind presents an eye-catching pattern. The homogenous color scheme of the room draws the onlooker's attention. The fluffy rug and a throw pillow with a heart are appropriate for a child's room.
9. Bunk Bed for Kids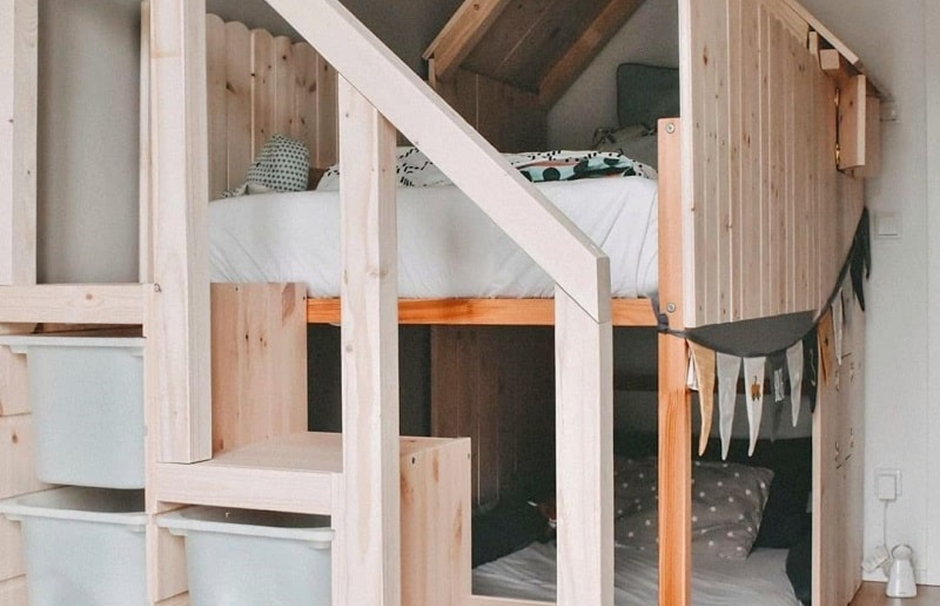 Ikea Trofast products are unquestionably a flexible storage option for maintaining a clean home. You can easily arrange the clothing, books, and toys of your kids. They are available in various sizes, in white and pine shades, as single, numerous, structured, and easily fit on wall shelves.
Additionally, the large containers are available in many sizes and hues, so there is a Trofast organization solution to cater needs of any space. If your children have bunk beds, you can create a flight of stairs with integrated storage using the tier-by-tier Trofast units, just like in the illustration.
To prevent unintentional falls or springs of the stair as the kids scale up, you must construct a sturdy wooden railing and connect it to the structure. You can bolt the set up to the wall or bed. Remember that this layout is only appropriate for young children.
10. Storage Solution for Grown-Ups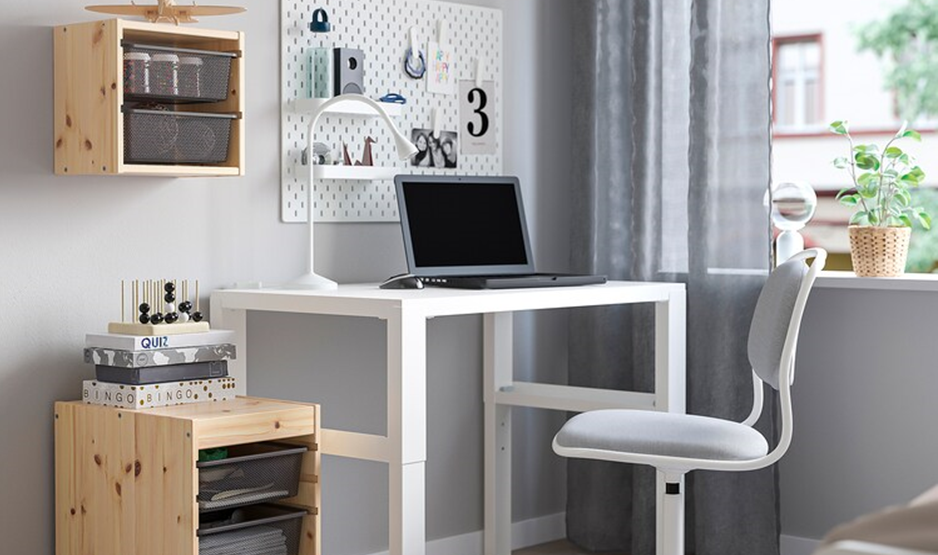 You can create an organizing system that handles large and small items across different parts of your home with the frame structure and mesh containers offered in the Trofast series. Your adolescent kid requires good, roomy storage for their belongings. Design a functional system with the Ikea storage solution that organizes and provides space for large as well as small items.
The Ikea mesh containers make the storage unit look trendy and it's perfect for a teenager's bedroom or study space. This arrangement encourages your child to keep things organized and tidy.
11. Design Loft Stairs with Trofast Ikea Hack
Have you ever thought that Trofast storage can make your loft easily accessible? Sounds interesting, doesn't it? Let's explore!
This image is a real inspiration. The homeowner used Trofast white and wooden frames with structural sheets of plywood for the ascents. Additionally, they used pine lining with a white coating for the stairs and aesthetically pleasing pine panels for the top surface of the steps. They secured the stairway to the supporting wall and placed storage boxes under each step. The rolling shutters of the adjacent opening enhance the appeal of this layout.
Use attachment points to fix the structure firmly to ensure the staircase will withstand constant use over many years. If there isn't a free wall at hand, employ the appropriate methods to ensure the steps are securely anchored in place before using them.
12. Bedside Night Lamp with Trofast Ikea Hack
If your bedroom storage area is a bit bland and empty and you wish to enhance its beauty and demonstrate your personality and sense of style, simply use your imagination with Ikea organizing container. Take a typical, simple nightstand and modify it to fit your room! One of the suggestions is to jazz up with color, stain, and various types of knobs and handles. Additionally, you could use storage containers with vibrant shades to give the space a striking appearance.
The house owner created a bedside table with Ikea storage containers and frames. It's convenient for family members to organize and maintain orders with a durable and comfortable storage solution. The kids can access, use, and reorganize their belongings simply because of the reduced storage height. They learn the value of tidying at a young age.
13. Bathroom Storage Solution with Trofast Ikea Hack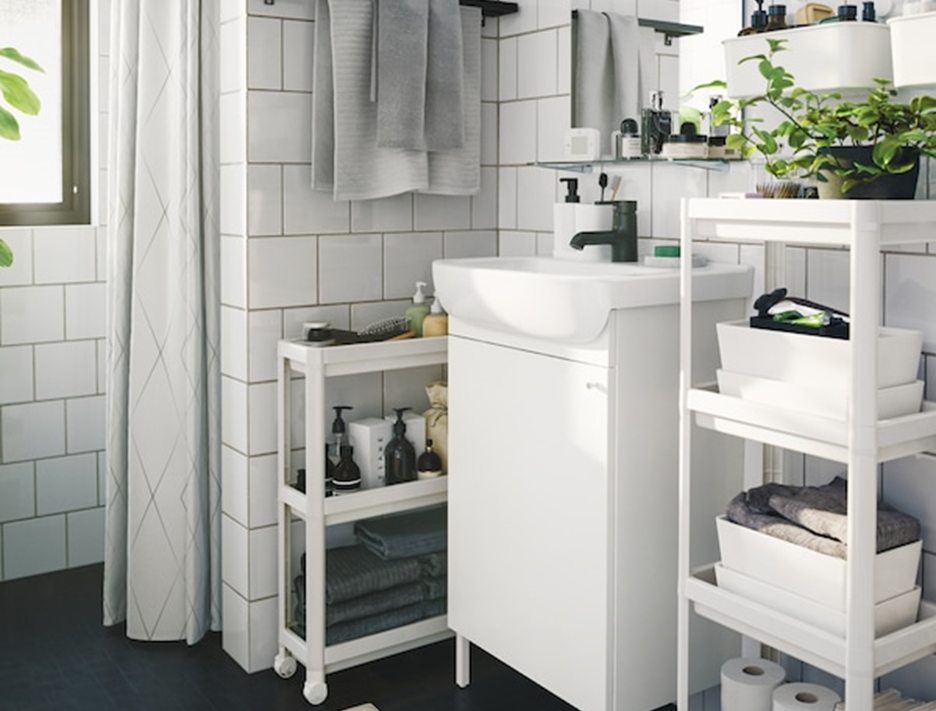 The secret to having enough storage space in a small bathroom is smartly using every square inch of available space. A trolley, a few additional attachments and holders, a few racks with baskets beneath the washbasin, and other simple modifications can always keep your belongings neat and organized.
This hack uses several Trofast storage containers and baskets to create a well-organized bathroom storage system. You can keep bath towels, personal items, and other bathroom necessities in the Trofast storage containers. Additionally, you may store your itsy-bitsy stuff in the baskets, such as makeup items, hair treatment gadgets, and other things.
Sale
14. Garage Organization with Trofast Ikea Hack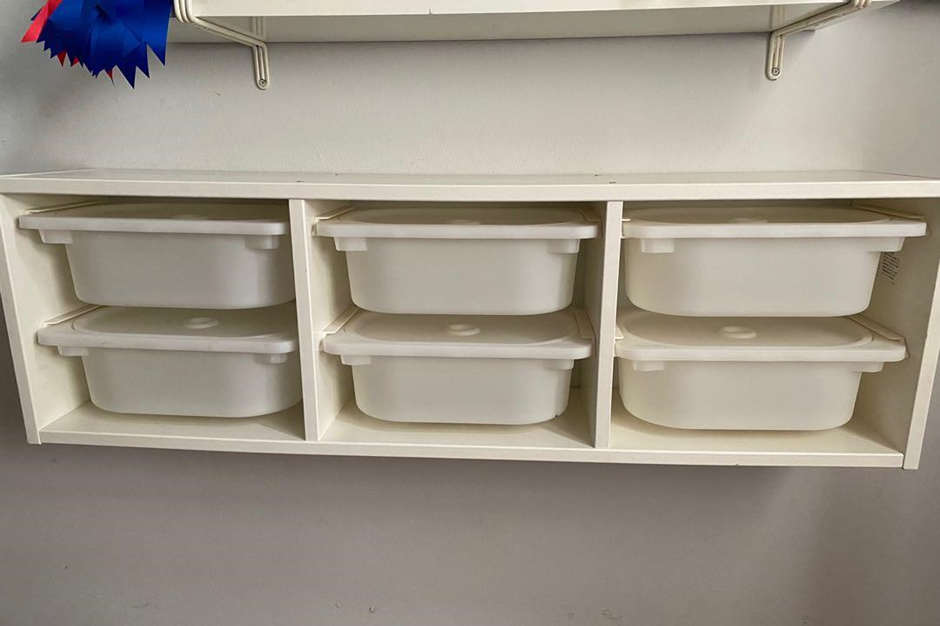 The first step to keeping your carport organized is to have a spot for everything. Although it may seem easy, working in a small space can make it difficult. You can have a place for colorful storage bins with items inside them. Install a few mounted racks and dangling structures to organize the storage tubs.
You may daub and add a few vibrant colors to enhance the appeal of the space. For instance, you could paint the steps leading up to your house by applying warm colors and adding a short greeting for those who pass them. It is a fantastic way to add color to a room that would otherwise be dull.
15. Garden Tool Closet with Trofast Ikea Hack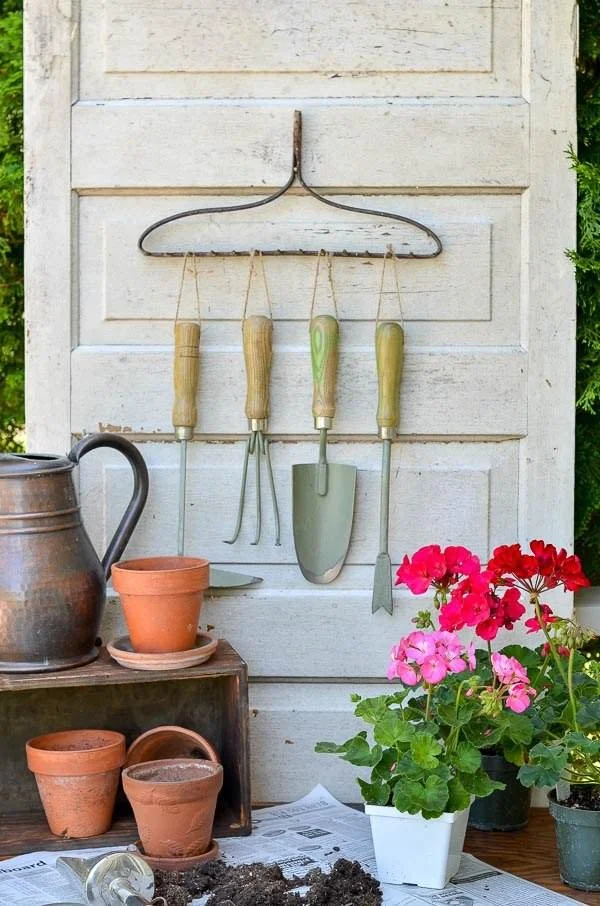 Gardening is a helpful leisure activity, and you need a good set of gardening tools, such as gloves, pruners, hand trowels, spades, and other tools to pursue your hobby. What about designing a little space for your gardening supplies instead of keeping them in the basement?
You could create the ideal storage solution for those gardening tools and remove them entirely from your basement in the span of the coming weekend. You can store space occupying gardening tools and smaller items in the closet.
Use Ikea storage bins, hang them on the wall, and create a tidy space for your gardening. Use various storage units and shelves to create ample storage space. As you see in the picture, this modest garden closet or shed is ideal for a tiny yard and appears accommodating.
16. Closet Makeover with Trofast Ikea Hack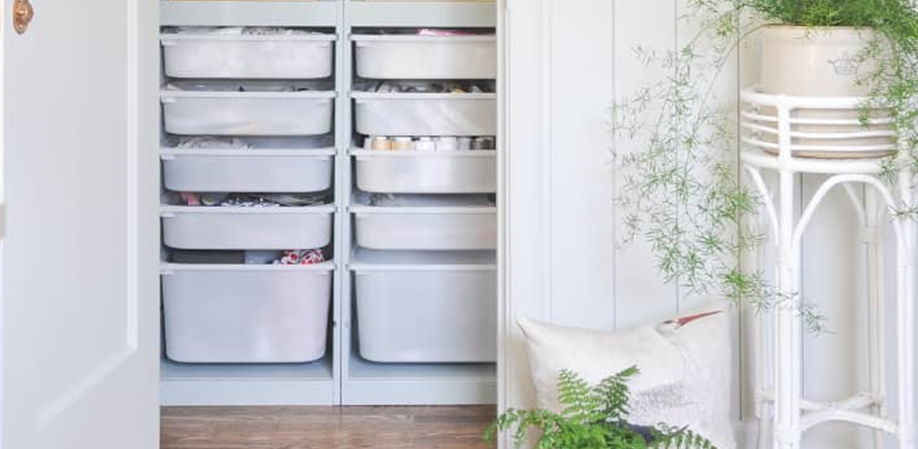 The key to a viable organization is giving everything a suitable home that facilitates storing. You can do it with Ikea storage boxes effortlessly.
In the beginning, create a foundation for setting your Trofast storage bins. Next, ascertain the dimensions of your base. For instance, when you want to raise your Trofast units 1.5 inches off the ground, you can pick a 16-inch piece of baseboard. Use screws to fix the base to the floor. Attach baseboard trim to the exterior of the layout. Try to position the storage unit closer to the wall without any gap.
You will appreciate the way it develops. The illustration offers a great deal of motivation to design your closet. You may pick single-color or multi-color organization boxes to complete the look.
17. Play Cooking Space for Kids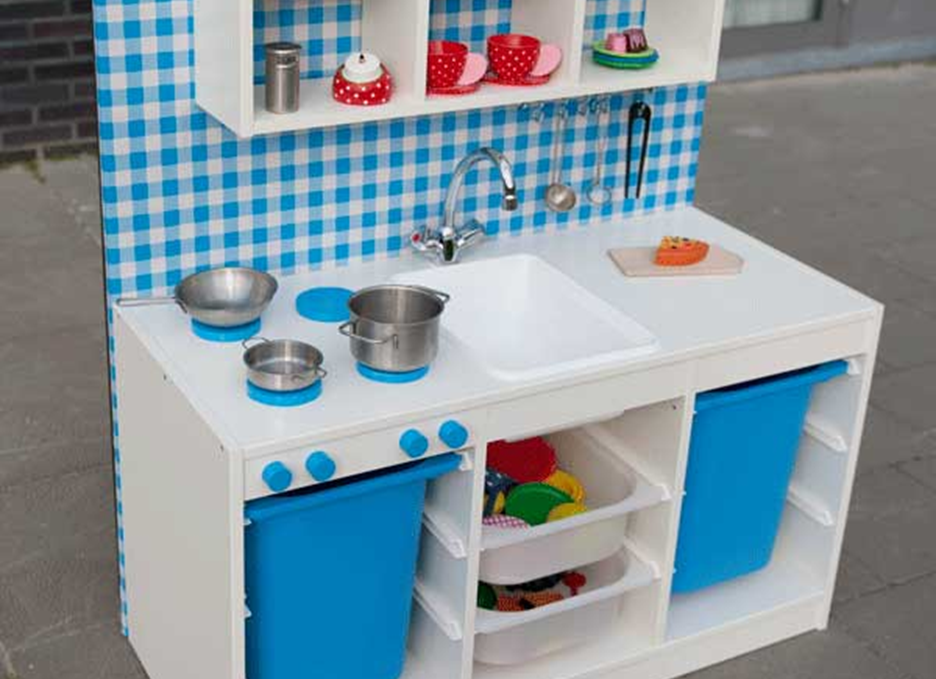 Use a Trofast play kitchen to stimulate your child's imagination. Install a natural wood or laminated material as a countertop on a Trofast storage unit. Apply adhesive decals or coatings to add a sink, fire burners, and even a tiny toy oven, and create an all-encompassing, engaging food preparation experience for your child. Encourage your little ones to keep play nourishment, toy dishes, and kitchenware in Trofast bins.
You can choose the back wall design. It might be a checkerboard pattern, polka dots, or a lovely print that perfectly suits your kid's preferences. Even the color of the toy oven and its knob color can match the tone of the back wall. It can also have a coat rack attached to it or have a paper roll hung from it. There are countless opportunities, and you can add fresh perspectives.
18. Pet Zone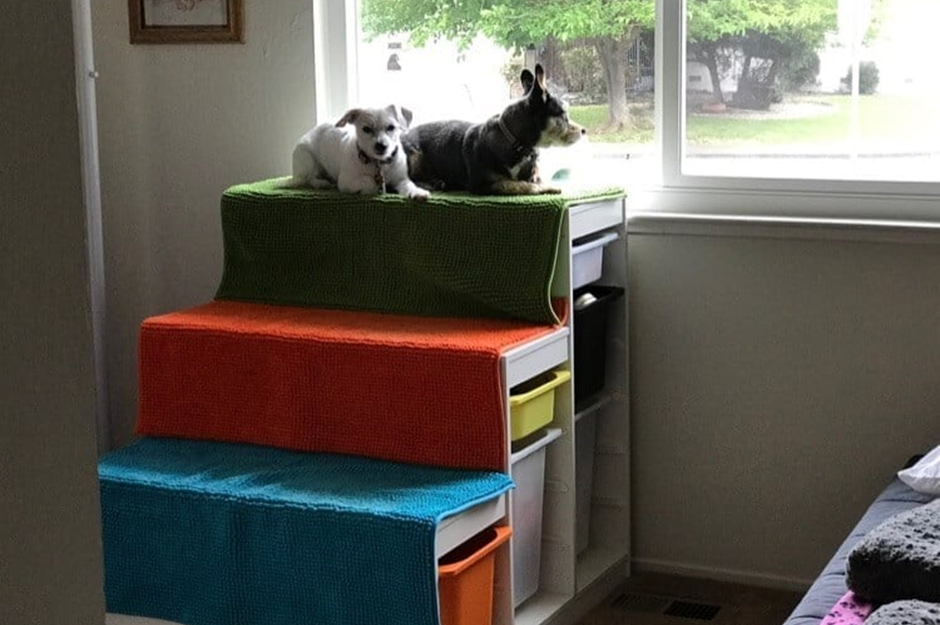 Utilize the Trofast system to designate a space specifically for your four-legged buddy. Add dog-friendly components to a Trofast unit, including harness attachments, a place for feeding, or a soft mattress on top of it.
Utilize the storage containers to keep pet toys, cleaning tools, and other goodies. With the help of this hack, you can tidy up and ensure that all of your pet's stuff is readily available. Moreover, the layout can offer your pet a window seat to view and monitor the neighborhood.
Conclusion
Trofast Ikea hack for storage solution offers ample scope to the users to customize the tubs and wicker boxes to suit their space arrangement needs. They are versatile, stylish, and durable. You can organize your kid's space innovatively and teach the little ones the value of tidiness. Moreover, use the Ikea containers to arrange your garage and garden tools in order or make a space for your pet.
Which of these organizing tips do you prefer using for toys or clothing? Please feel free to share your thoughts in the comment section below! Good luck with your organization.