Organizing is the first step in improving the decor of your home, and the Ikea Kallax shelving units do a wonderful job of organizing your things just a little better. They are easy, affordable, and quite an effective storage option for all kinds of things.
The only problem with these otherwise perfect storage units is that they are quite simple, and if you are looking to add that "special element" to your decor, you will need to customize these units. However, the great news is that they can totally change your decor with just a hint of creativity. Plus, they provide ample room for creativity, so you can turn them into practically a canvas of your own art.
If you need a bit of inspiration, get ready to have a joyride with us as we bring you awesome Kallax hacks that will turn your boring Ikea Kallax into a masterpiece.
1. Creating a Perfect Seating Bench with Kallax Units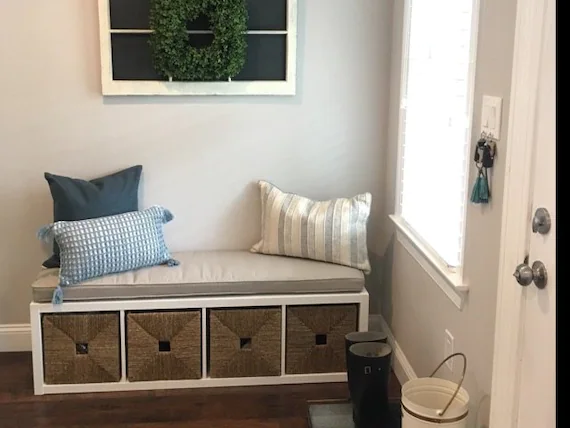 Creating a practical and stylish seating bench with Kallax units is quite easy as long as you take care of a few things, such as correctly measuring the size of the space and getting the right Kallax unit that will fit in the area. You will also need a bench cushion for making comfortable seating and a few readymade cushions according to the size of your Kallax unit.
Put all these elements together and use some throw pillows to give it a perfect look. To fill in the spaces of the unit, you can use wicker baskets; this will also help you in storing things and keeping your space organized.
Recycled Wicker Storage Basket, Small Wicker Baskets, Handwoven Baskets for Storage, Paper Rope Storage Baskets for Organizing Container Bins for Shelves Cupboards Drawer, Small Woven Basket Set of 3
1. Eco-Friendly Material Storage Basket:Our large storage baskets are tightly woven from recycled paper rope, eco-friendly, biodegradable, odorless and no sharp edges, healthy for children.
2. Sturdy & Soft Shelf Basket: Our decorative basket is suitable for any environment.Basket base on strong metal material, anti-oxidation special paper.Light weight but sturdy to storage your items.So it can be used easily for a long time.for exple bedroom decor,boho decor,mushroom decor,macrame wall decor.
3.Removable Liner:Each rope basket has a removable cloth cloth, easy to remove for cleaning when it gets dirty. The woven basket is coming with fabric liner which is made of linen. If some small part fall in the basket ,just take off the line for a clean or washable basket's liner.
4.Different sizes can meet your needs to make your home more tidy and clean. Perfect for use in children's rooms, bedrooms, living rooms, bathrooms, shelves, countertops, kitchens, offices and dorms. These classic storage baskets are not only home storage aids, but also charming decorations and great gifts for family and friends.
5. 3 Set Woven Baskets Size: Small basket 7.3*4.9*3.9 inch;Medium basket 8.8*6.3*4.3 inch ;Large basket 10.4*7.8*4.9 inch. Total weight:2.4lb. 3 different size shelf baskets meet you different organizing request.(Desk basket,Pantry Baskets.table basket,shelf basket)
2. Turn Your Ikea Kallax Into a Bar Cart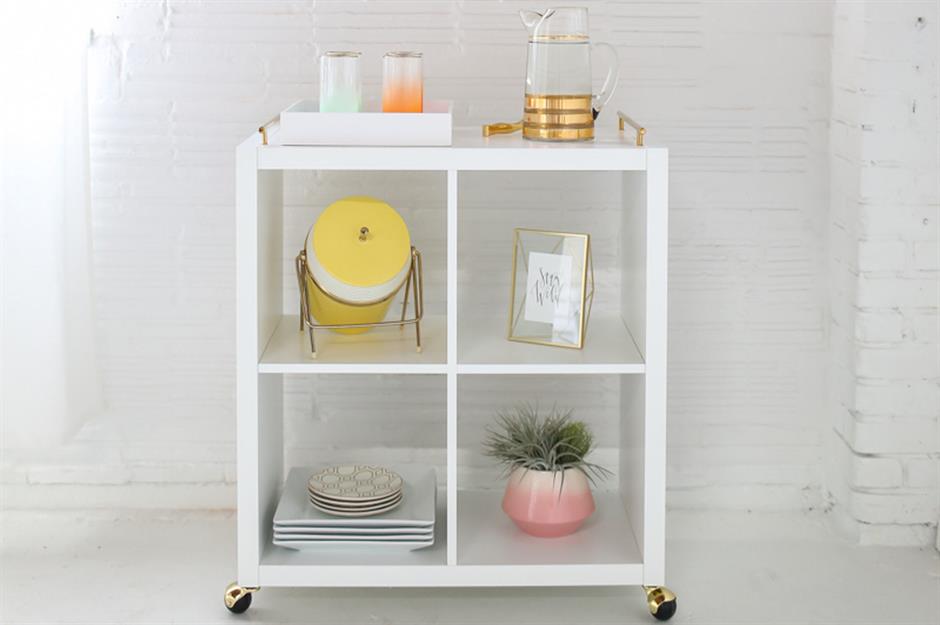 You can create a home bar, even in a limited space. You just need to take your Kallax unit and add a little bit of creativity to turn it into your own personal bar cart without going broke. Use wheels in the corner of the Kallax unit, display your favorite drinks on the cabinets, and you have got yourself your very own portable bar ready to entertain your guests in no time.
If you need inspiration for the perfect Kallax hack for a bar, Sugar & Cloth did it beautifully. It's neat, simple, and quite easy to execute.
3. A Gorgeous Bookshelf for Enhancing Your Interior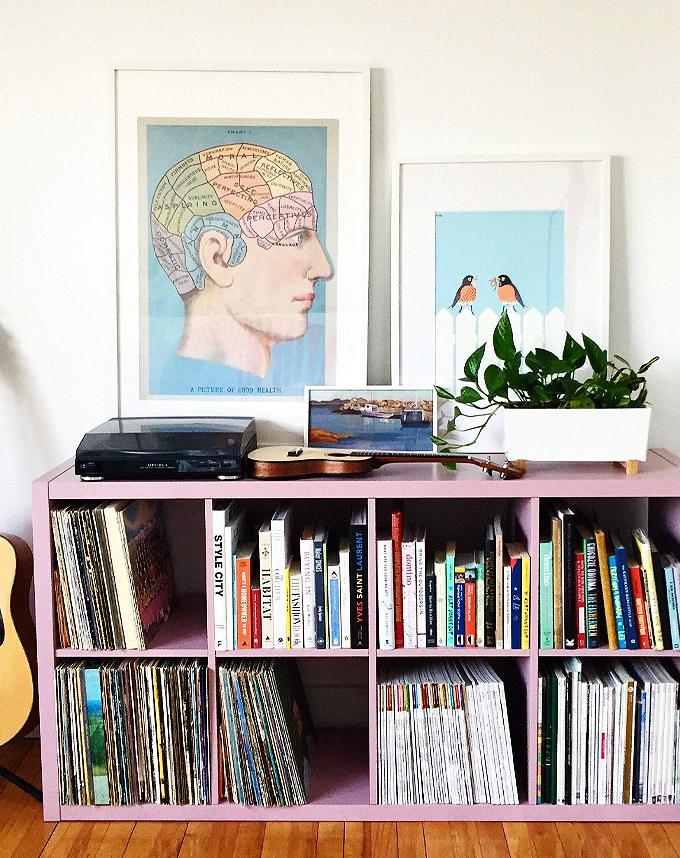 If you are a bibliophile and have a large collection of books to display, you can turn your Ikea Kallax into a bookshelf. Just mount your Ikea Kallax on the wall and transform your living space. If you want an effortless option, you can just stack the shelves from floor to ceiling and start placing your books neatly.
But if you are looking for something more than that, you can always paint the units add plywood in the empty spaces, and use furniture feet in the base. This gorgeous unit will surely amp up your decor.
4. Brighten up Your Ikea Unit with Funky Colors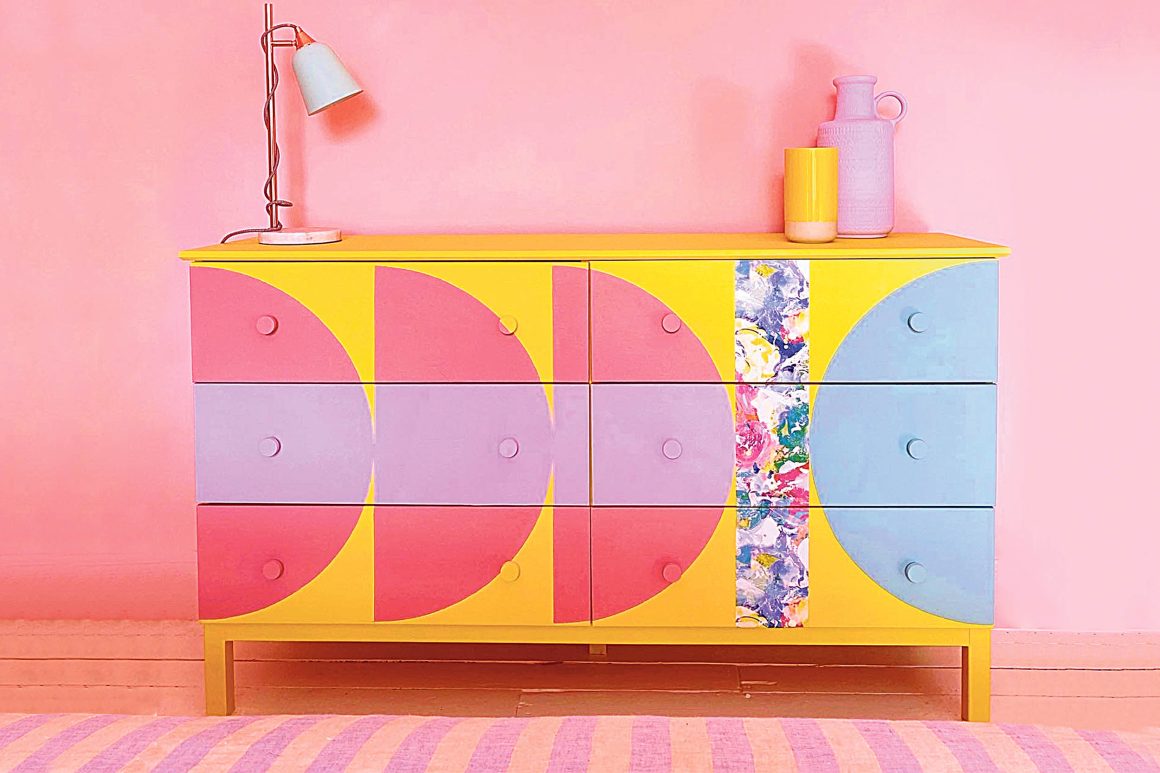 There's a lot that you can do with your Ikea Kallax besides stacking them. The basic step in that would be choosing to paint the units. You can choose bright and bold colors to give it a more youthful and funky look. It will make a gorgeous centerpiece for your living room. Display your ornaments, books, plants, and other items as you please.
A wonderful Kallax hack to turn your Ikea unit into a thing of the display is to use accessories that match the style and ambiance of your decor.
Sale
LED Music Crystal Snow Globe with Hourglass Vintage Paris Eiffel Tower Home Decoration for Living Room Bedroom Book Shelf TV Cabinet Desktop Decor Table Centerpieces Ornaments (A - Brass)
【 PERFECT HOME DECORATIONS 】- This retro Crystal Ball is a unique and fashionable home decorations for living room, book sheft, wall cabinet decoration, tabletop or desktop decprations, and also a perfect gift for friends, family, and colleagues.
【 RETRO & NOSTALGIA 】- The surface of crystall ball decorations are hand-made old craftsmanship, retro embossed craftsmanship, chrysanthemum embossed craftsmanship, with hourglass, strong decorativeness gives a sense of retro nostalgia.
【 EXQUISITE CRAFTMANSHIP 】- The Paris Towers building is embedded in cystall ball, embossed layers are staggered and exquisite, cool colorful lantern paper surrounds the tower when you shaking slightly.
【 LED MUSIC ORNAMENT 】- The crystal ball is shining and dazzling, and the built-in tower sequins and colorful lights make the crystal ball more dazzling and dazzling. When the sparkling chips are flying in light music, the tower can be so beautiful.
【 ROTATABLE & DETACHABLE 】- Separate design of hourglass, beautiful and practical hourglass device, free flip and disassembly, more convenient to use, when you are tired of working, it will be a good release pressure toy for you.
5. Creating a Small and Cute Side Table for Your Bed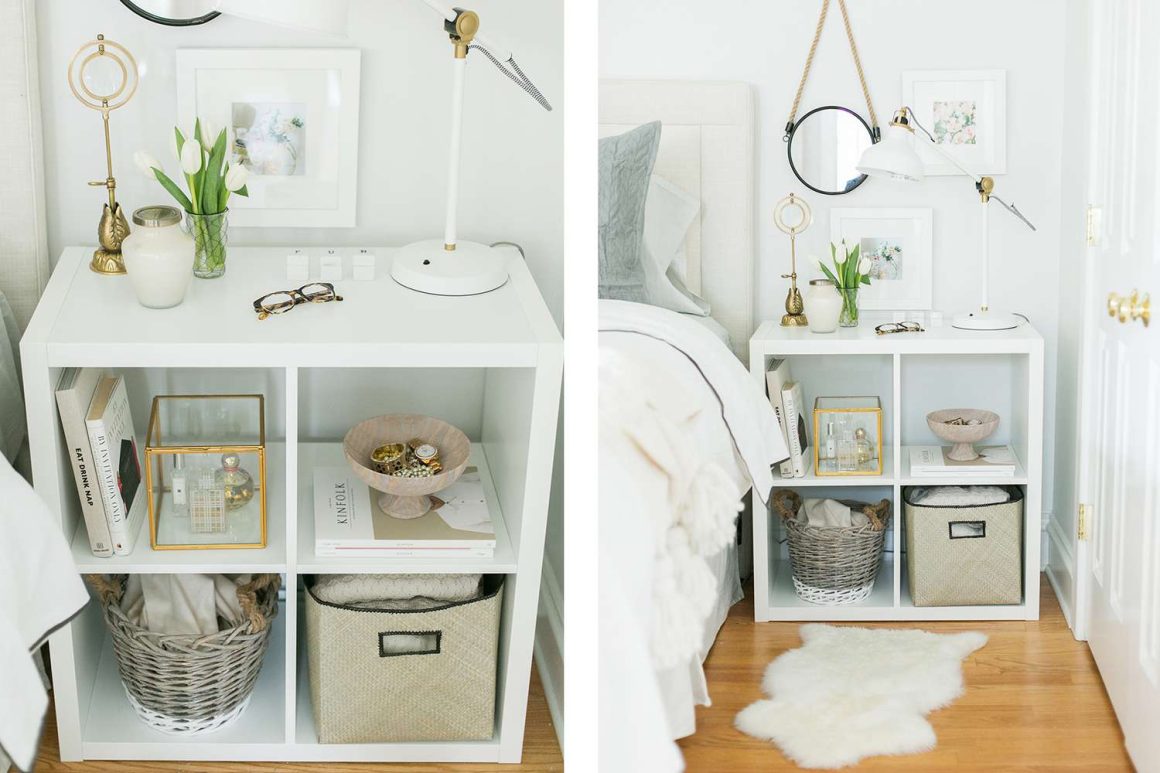 Grab a perfect 2X2 square Kallax unit and turn it into a beautiful side table to put your favorite things adjacent to your bed. All you need to do is, customize it according to your home decor.
One way to do it is by painting your Kallax unit in the color of your wall or using a contrasting tone for the same; you can select whatever option suits you the best. Use a few accessories to display on the top of it, and don't forget to use basket inserts to give you that extra storage space just when you need it.
Sale
6. Upgrading Your Entryway with The Perfect Kallax Hack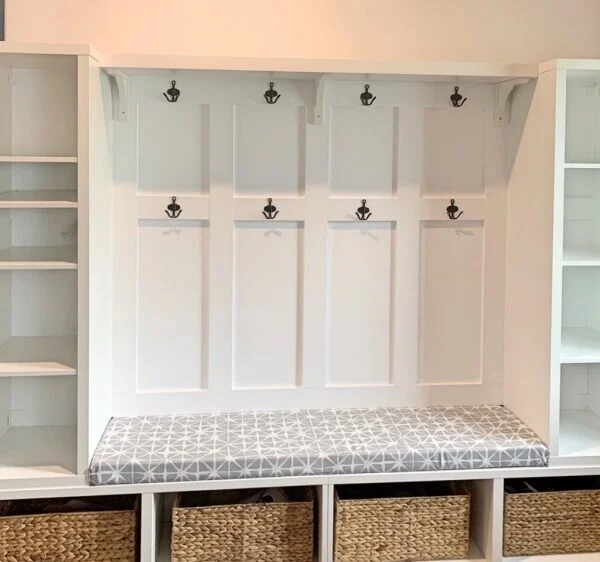 Make your entryway uncluttered and neat by using a large horizontally inclined Kallax unit. It's a great addition to your home when it comes to enhancing the decor and offers a vast range of functionality. Use the Kallax units to neatly display your shoes and mount some hooks to make space for keys, coats, and hats.
Utilize some of the cubby holes to put storage baskets. You can use these storage boxes to store your items that you would not want to display. To give this space a more sophisticated look, consider adding a mirror above the unit.
7. Amp up Your Bathroom Storage with Kallax Hacks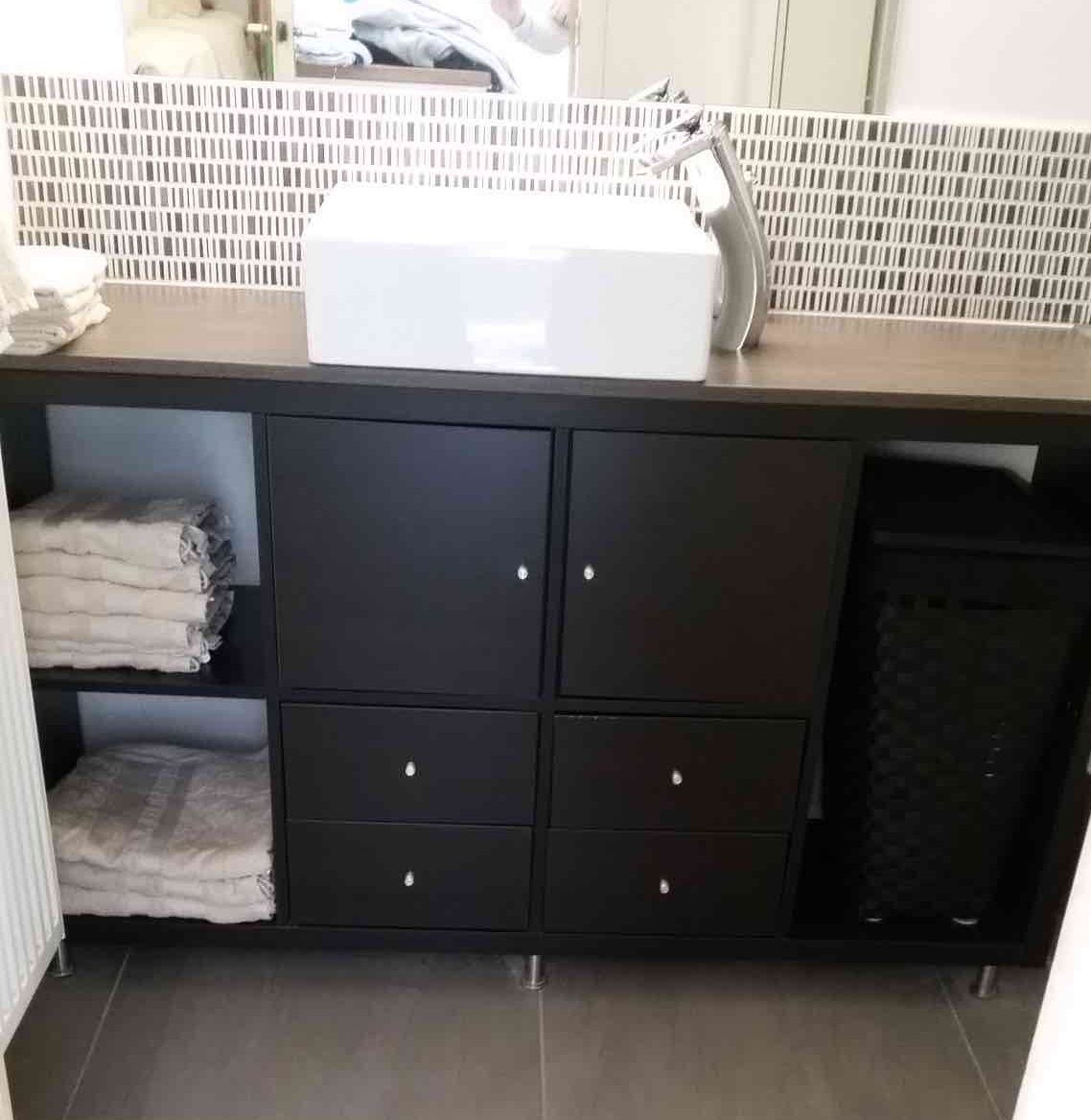 This Kallax hack is the perfect way to add more functional space to your bathrooms. You can easily add a lot of elements to your bathroom decor with the help of these Kallax units. Use the space below your sink for installing your Kallax units; you can also choose any other place if you have ample space in your bathroom.
Make use of the compartments for storing towels, shampoos, soaps, and other toiletries. Throw in some plush bath toys, aroma candles, and bath salts in open baskets and display them in the open units.
8. Additional Storage for Your Kitchen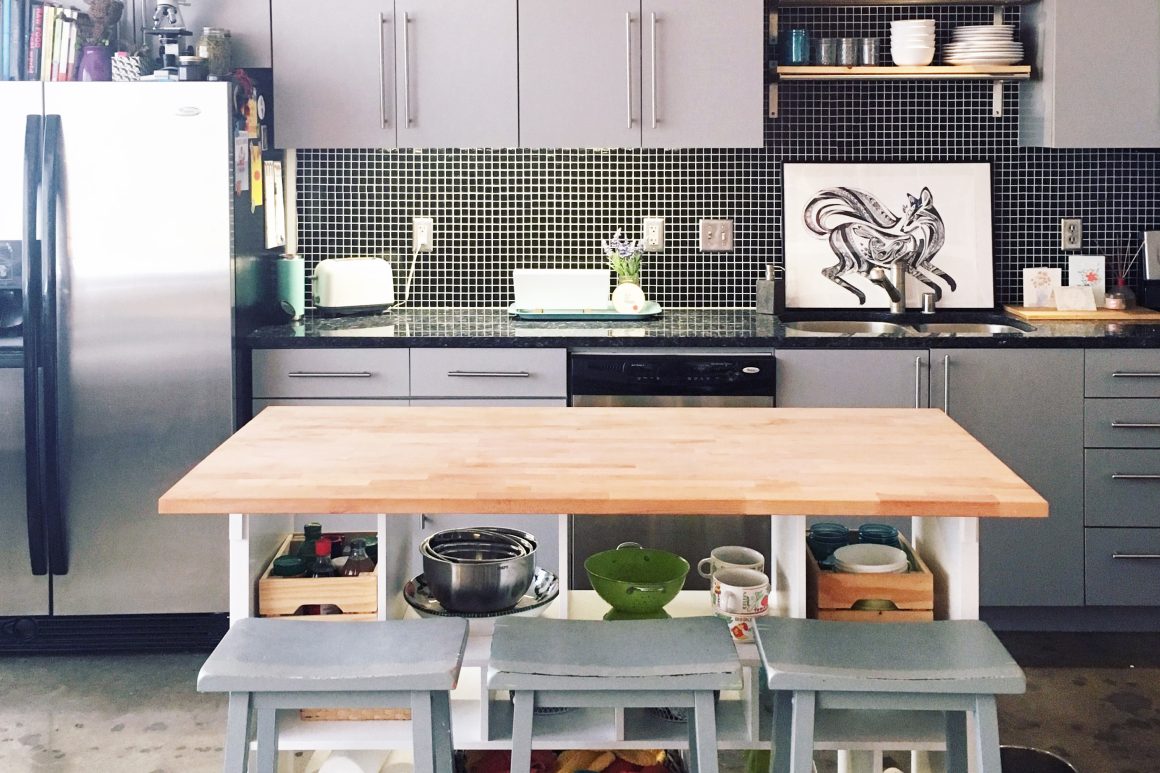 Are you always short of space for your kitchen? A kitchen is a place that is always in need of storage. Be it storing your groceries or displaying your cutleries; there is always a way you can use an empty Kallax unit.
If you have a smaller space, you can use just 4 cubes of the Kallax units for your kitchen, and if you have a larger space, you can use a 147×147 cm unit to make it more profound.
Reserve some open compartments for storing your plates, trays, and bowls; it will also bring out a traditional vibe for your kitchen. Assign some compartments for decorative objects and artworks.
9. Light up Your Ikea Kallax Unit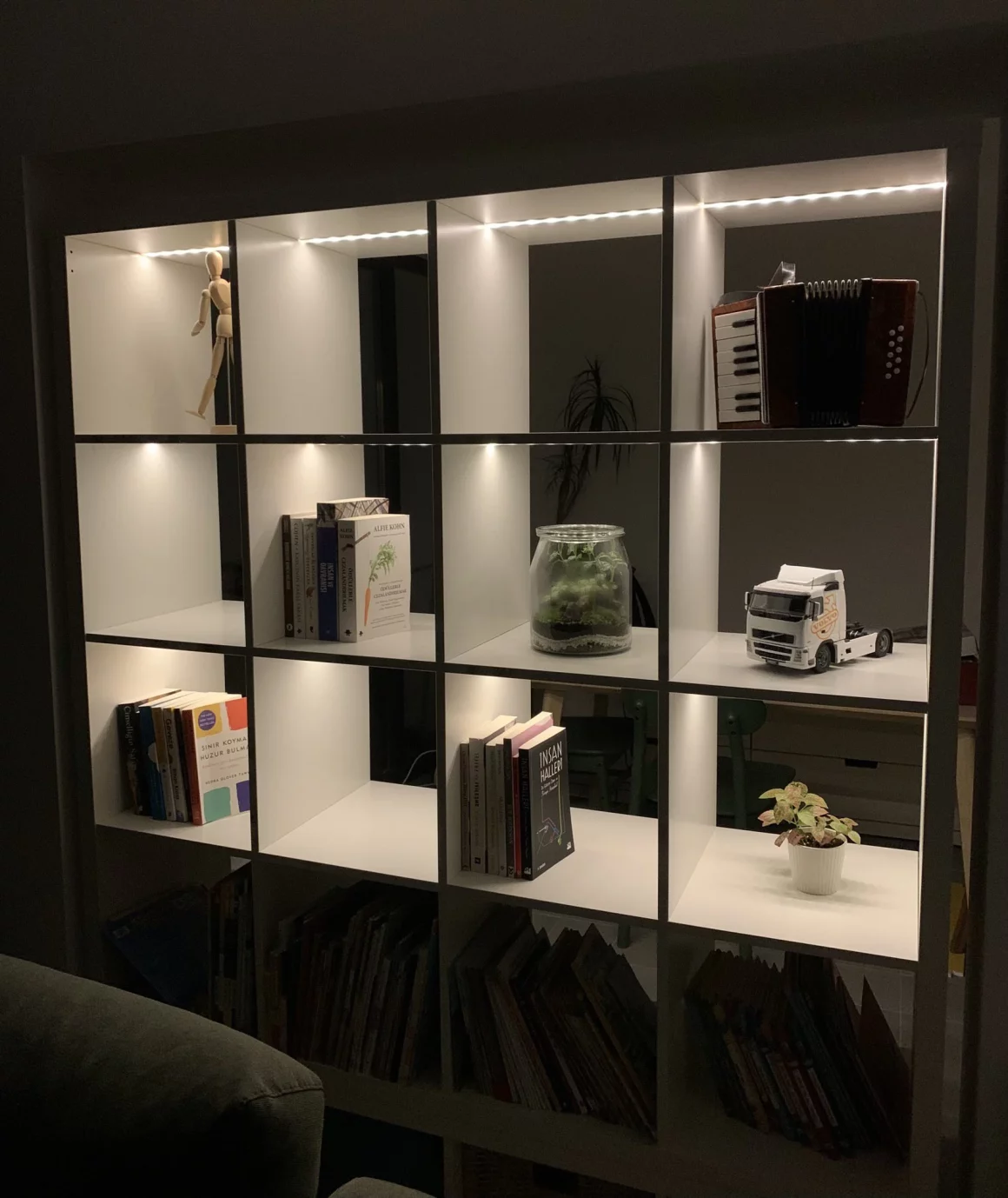 Kallax units are the most versatile things you will ever come across. So, you shouldn't think too much about incorporating these in your home. Just have fun with your Kallax unit. One of the most beautiful Kallax hacks that you will ever see is the provision of using LED lights in the shelving units.
Not only it makes for a gorgeous display of your things in those LED lights, but it also creates the perfect nightlight ambiance for your room. You can arrange your items according to color coordination and in a visually pleasing manner to make the effect of LED lights more profound.
10. Spread Joy with a Secret Toy Storage Unit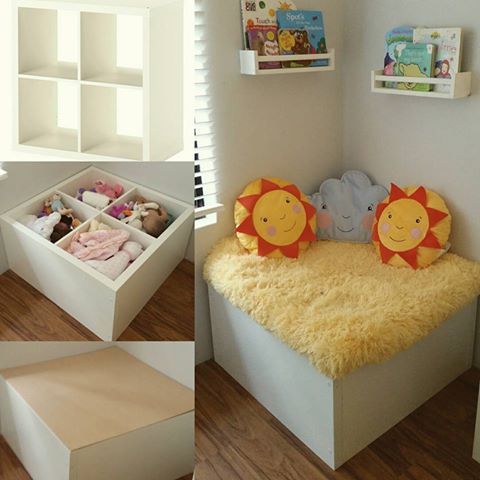 Ikea Kallax units do an impeccable job as disguised toy storage units. You can easily take a few Ikea Kallax units and join them together to make a corner for your kids. If you want, you can add a seating cushion on top of it to create a small seating place for your kids. It can serve as an ideal spot for your kids to play board games or do their homework.
You can also add inserts with doors on the cubic units to keep a few of their valuable toys. It's an easy way to let your kids learn the art of organizing. You can add a personal touch to the space by decorating it using your kids' stickers or figurines.
box*https://ikeahackers.net/2016/01/kids-toy-storage-and-reading-corner.html
11. Use Kallax as a Divider for Rooms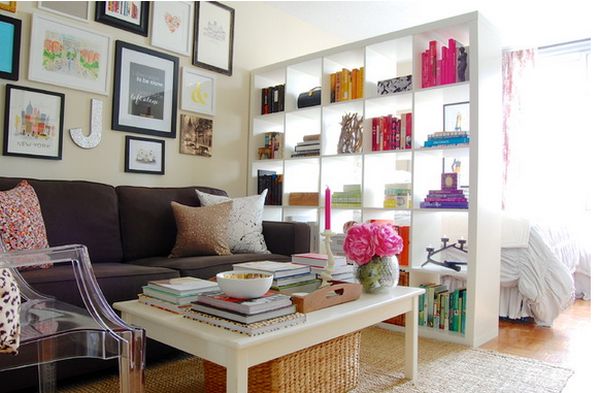 A Kallax unit works wonderfully as a divider for big rooms, plus you can display just about anything in it. Especially for a girls' room, this arrangement is just perfect; while it will give privacy to the person when needed, it also makes for a great space to stay connected.
You can also make an office space and use this Kallax hack to switch between two rooms. While it makes for two independent places, it will also make it easier for you to switch from your workplace to have a quick nap. Use different storage boxes or baskets to decorate and store your supplies.
12. Make a Corner Seating Place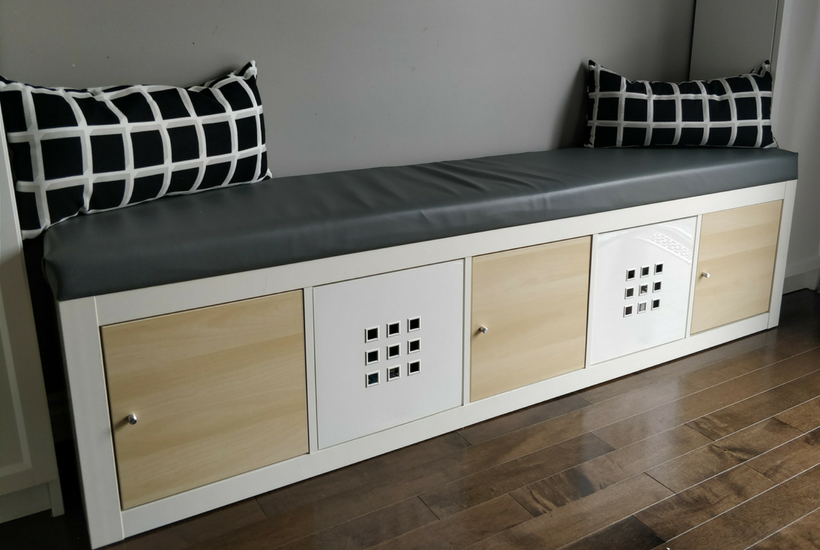 Use a few Kallax units to make a corner seating place; it's perfect for adding that additional space to your room and makes for a great place for having a conversation with loved ones. Use a small-size mattress and cushions or throw pillows to give it a perfect look for creating a cozy corner for yourself.
You can also create a display nook for your room by placing the Kallax unit vertically and setting forth a few ornaments to make an attention-grabbing corner for the room. If this doesn't interest you, you can always use this corner seating place as a reading corner for yourself.
13. Rustic and Elegant Cubic Shelves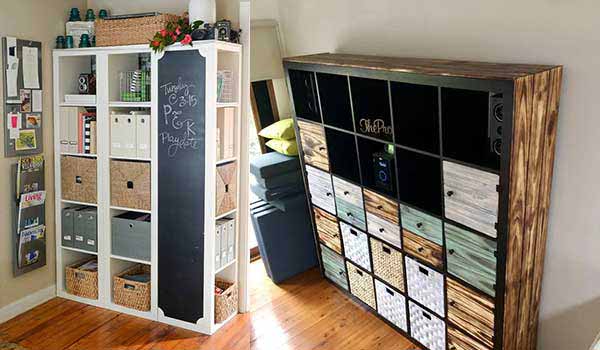 Rustic elements in decor are currently quite popular. If you wish to incorporate it into your home without altering the architecture of your room, you can opt for using rustic cubic shelves to enhance your Kallax units. This simple yet beautiful addition can instantly fill a rustic aesthetic into your space.
You can get distressed wooden panels or make your own distressed panel with hammers and nails to bring out the whole rustic look. It's perfect storage for a contemporary-style home and gives you a secure option to store your things properly.
14. Create a Locker Unit with Kallax Units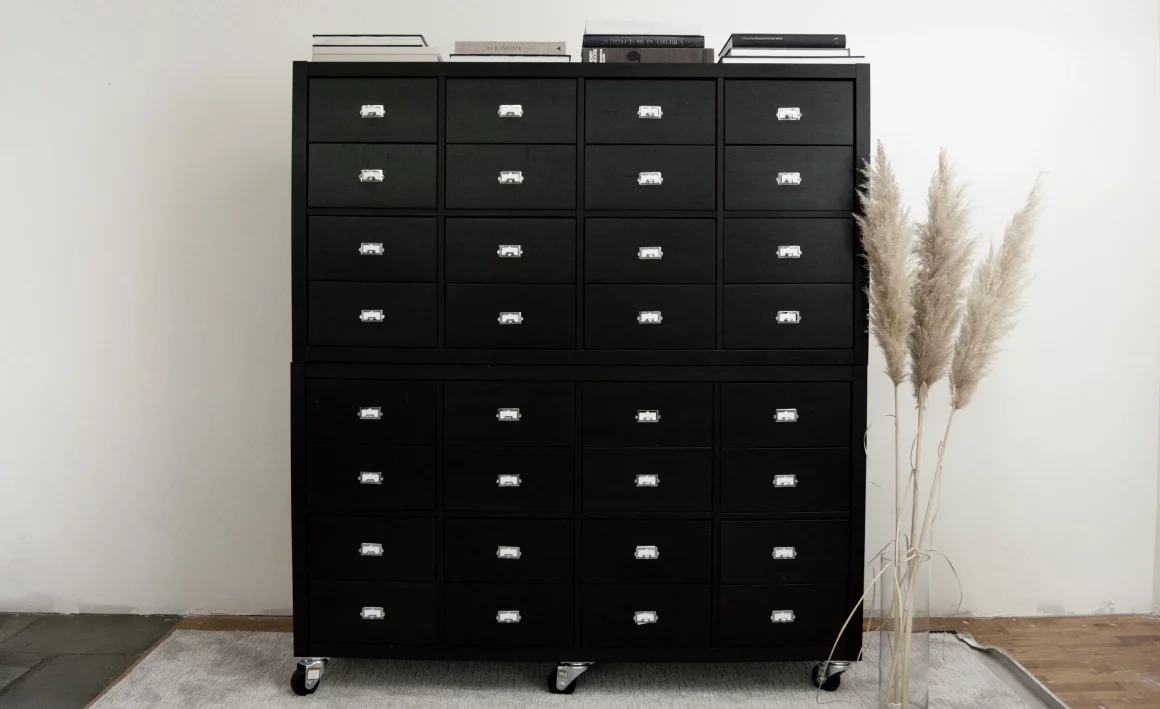 Give your bland Ikea Kallax shelves a makeover by turning them into locker units to keep your valuables safe. Use monochromatic paint to create a uniform appearance.
To turn the Kallax units into the locker units, get those large Kallax units and inserts and start by measuring the dimension of the space where you want to place them. Assemble the Kallax units and add inserts and drawers as needed. You can personalize it with decor items or stickers as per your wish.
15. The Perfect Kallax Hack to Make a Fancy Tv Cabinet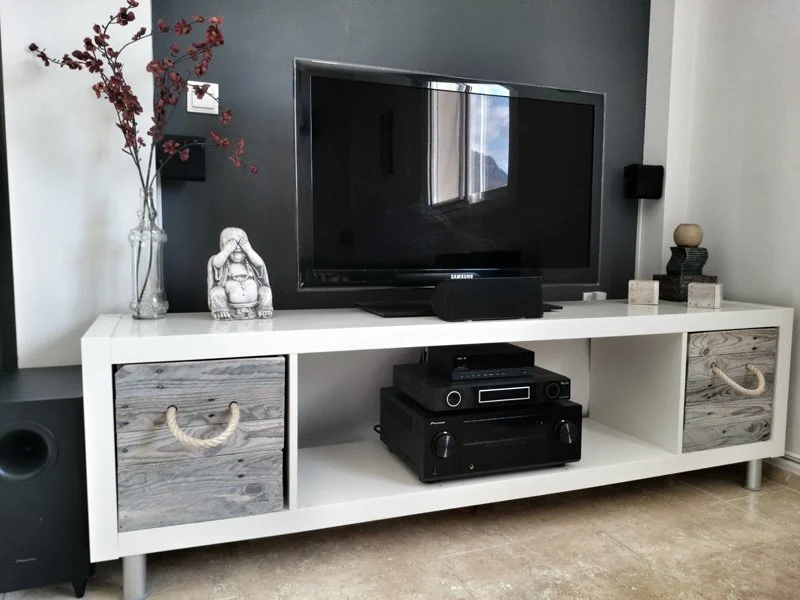 Why spend on a fancy TV cabinet when you can make a just as stylish one on a budget with an easy Kallax hack? You will just need a few items, such as a horizontal Kallax shelf, tapered legs, and drawers if you don't want to keep the units open.
You can add a file cabinet to some of the shelves and keep a few of them open to display flower pots and ornaments and assign one of them for keeping your remote and DVDs organized.
16. Organize Your Rooms with Basket Inserts in Kallax Units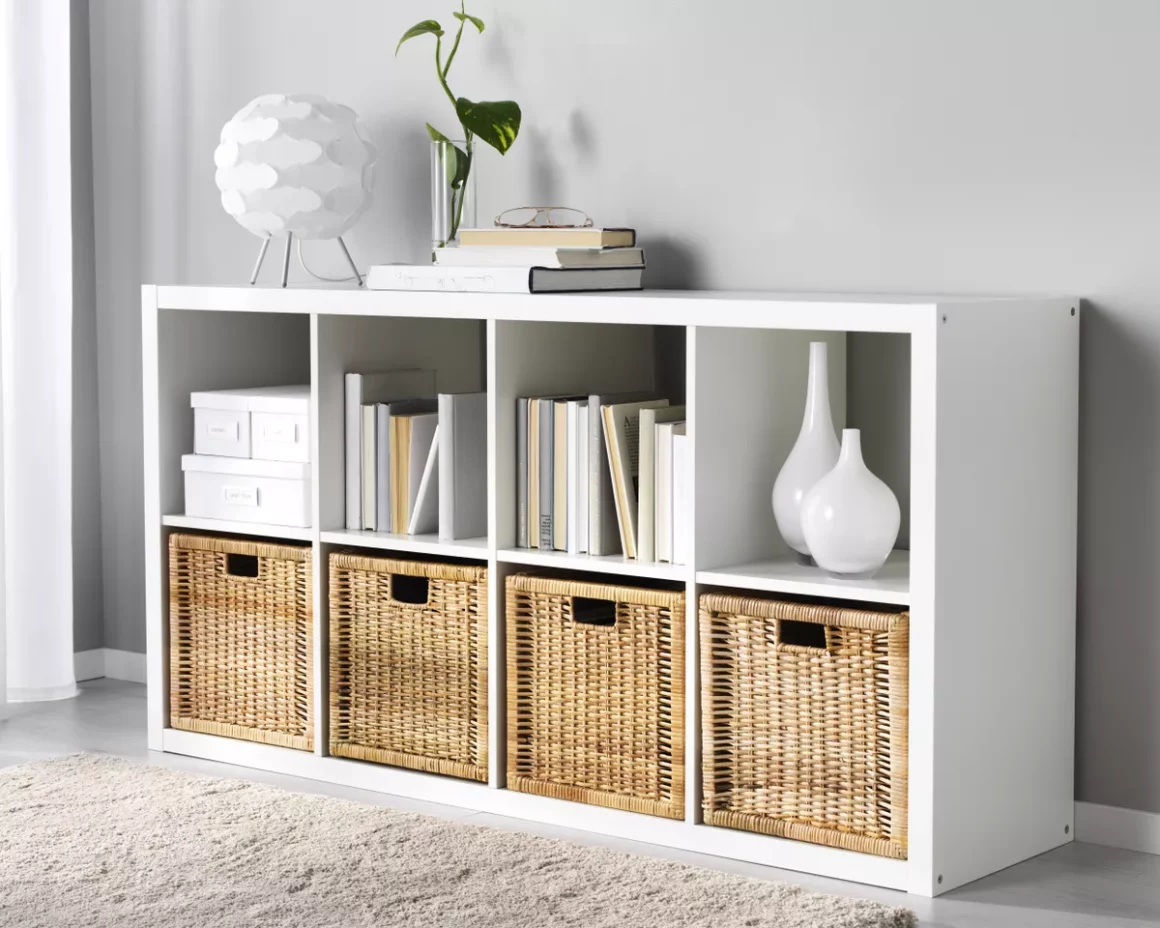 No more messy and cluttered space in your room. Organize your rooms in an easy and effective way with the Kallax units and basket inserts. Basket inserts are a great way to enhance your Kallax units. They give your Kallax unit a more natural and sleek look.
They are also a great practical solution for organizing your home. Basket inserts are available in a wide variety of styles; you can get the one that matches the aesthetics of your decor. They are a versatile and stylish solution to creating a clutter-free space.
17. Kallax Units for The Picture-Perfect Display of Your Collections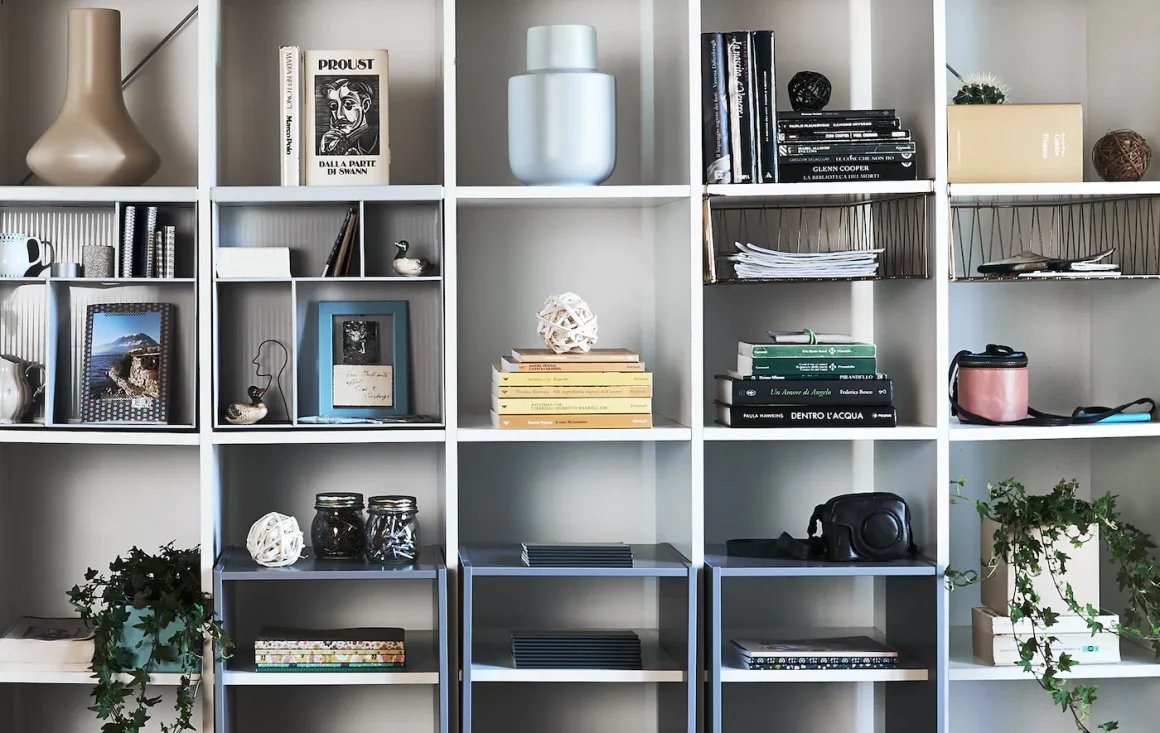 Besides being a great option for utility, this Kallax hack can turn your Kallax storage unit into a memento of your collection. It is a great option for people who have a beautiful collection of artifacts to display. With the help of these units, you can display your collection all in one place easily.
Even if you are not a collection enthusiast, you can get ornaments to display in your cabinets and make the Kallax unit a focal point for your room. A few ideas for the ornaments can be a small artificial plant, a vintage clock, toys, paintings, and figurines.
18. Upgrade Your Home Bar with Kallax Hacks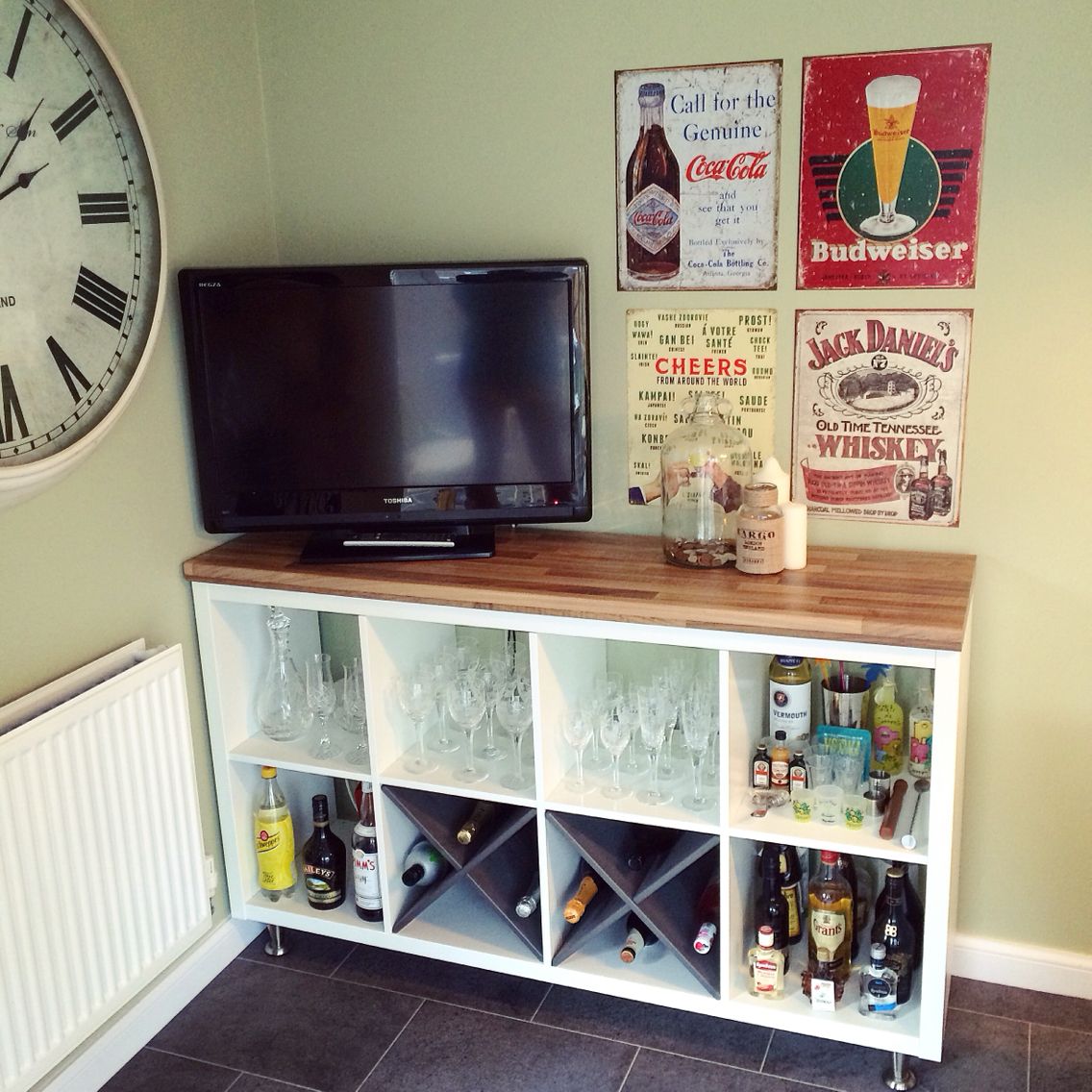 Kallax shelves are ideal for making a home bar. You just need to have a proper layout of the design that you want to create. If you want a simple one, just start putting your wine collection in cabinets; you may want to complete it by adding a few wine glasses, and in a few cabinets, you can display a funny quote about drinks. It will make for a nice place to have drinks with friends and family.
You can go on adding enhancements to this one according to your needs, such as plants or decorative items.
19. Mini Wardrobe with Kallax Storage Units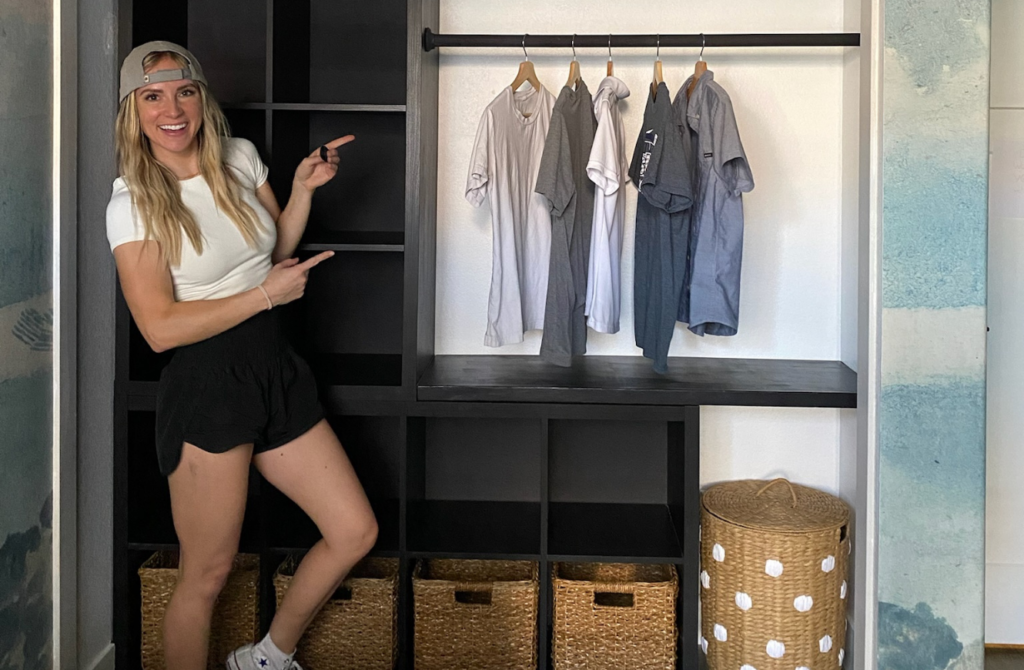 If your wardrobe is always overflowing, don't worry! There's a relatively cheaper way in which you can keep your clothes organized. Just use your Kallax units as a mini wardrobe. Get a large Kallax unit, and in a few of the compartments, add coat hangers and hooks. For a few of them, you can use storage boxes to keep short clothes.
You can also add drawers in some cabinets to keep your valuables.
20. Add Legs to Your Kallax and Make a Versatile Shelf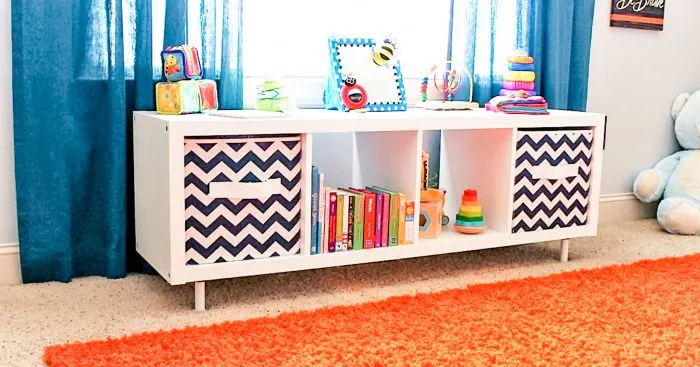 You can never have too many shelves in your home. There's always a need for more. If you want to make a shelf that you can use for a variety of purposes, all you need to do is get yourself an Ikea Kallax unit and add legs to it to make a nice stand.
You can choose one according to your needs. If you have a lot of space, you can use the one with many units, and if you have a relatively smaller one, 2 or 3 cubic shelving units will work just fine. You can use it as a craft or hobby station, make yourself a place for your vinyl record, or just use it as additional storage for your kitchen or bedroom.
21. Get a Kallax Desk Attachment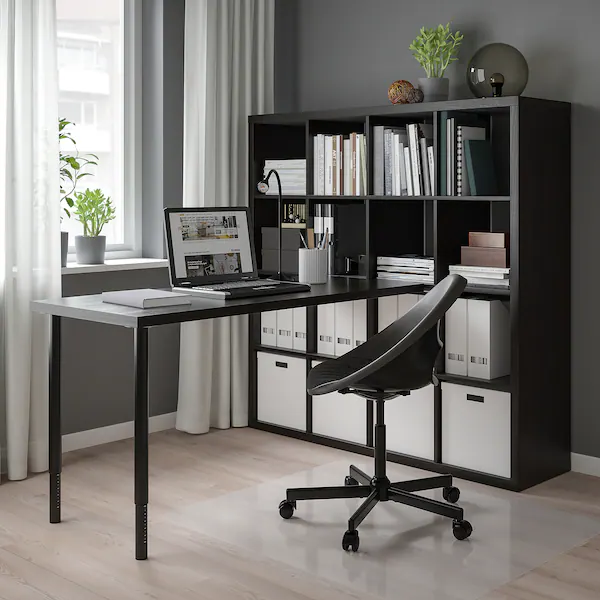 Desk attachment is a wonderful idea to make your Kallax unit a versatile place for working as well as storing things. You can easily attach a desk unit to your Kallax and make a perfect office space in your room.
The Kallax desk attachment does a great job of keeping your office supplies organized and is ideal for people with remote jobs. It is a lightweight yet sturdy option that comes with adjustable legs so that you can keep it at a height suitable for you.
22. Mudroom Kallax Hack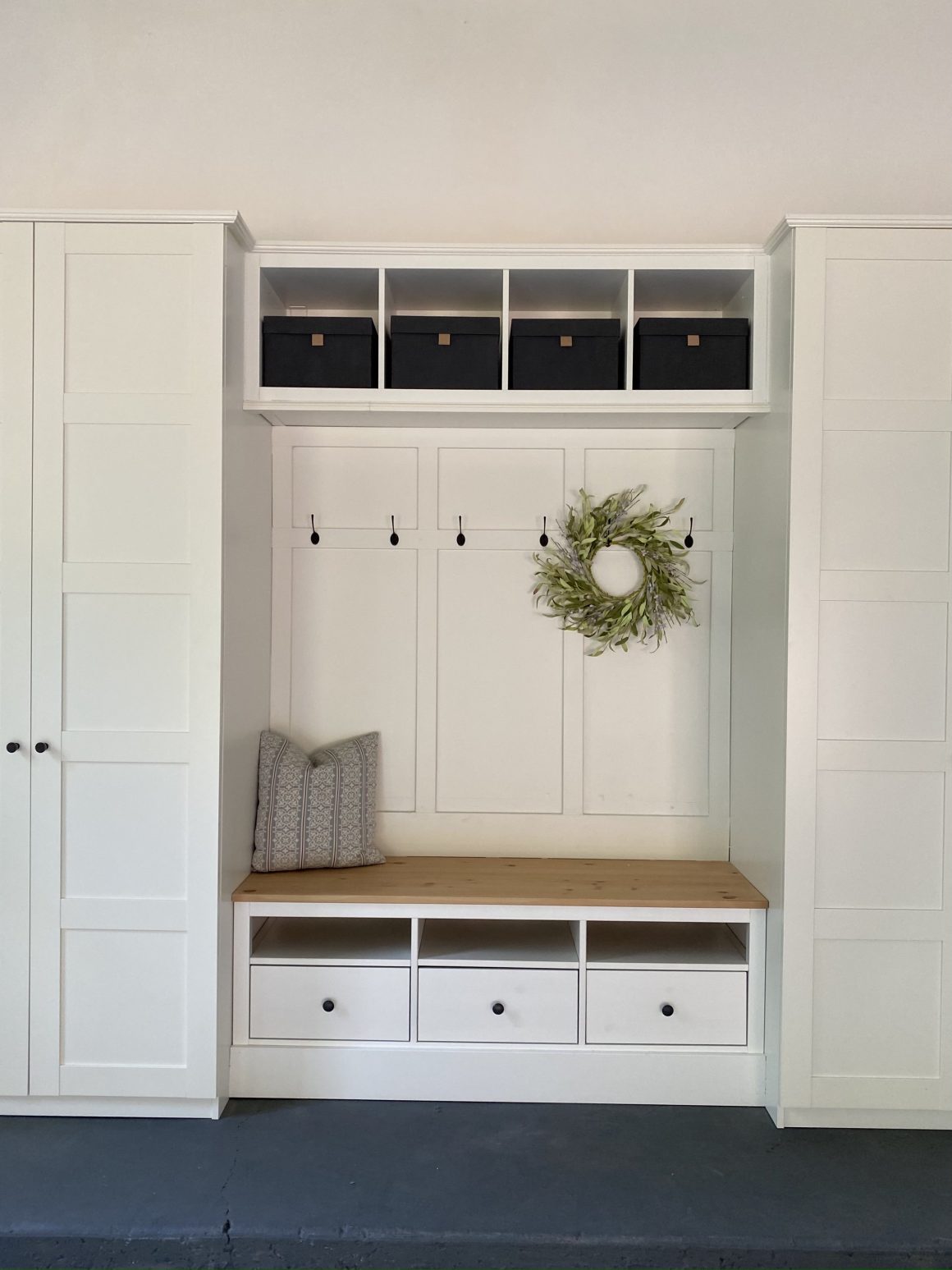 You can create a nice and sturdy mudroom with Kallax shelves at the entrance of your home to store your shoes, coats, and hats. Choose the shelving unit according to your space. If you want, you can also make a bench in this unit for the people to wear or take off their shoes if you have ample space.
Use some baskets or bins to keep some more items such as handkerchiefs, belts, gloves, or scarves. You can also personalize it with some ornaments and plants.
23. Kallax Hack for Making an Apothecary Chest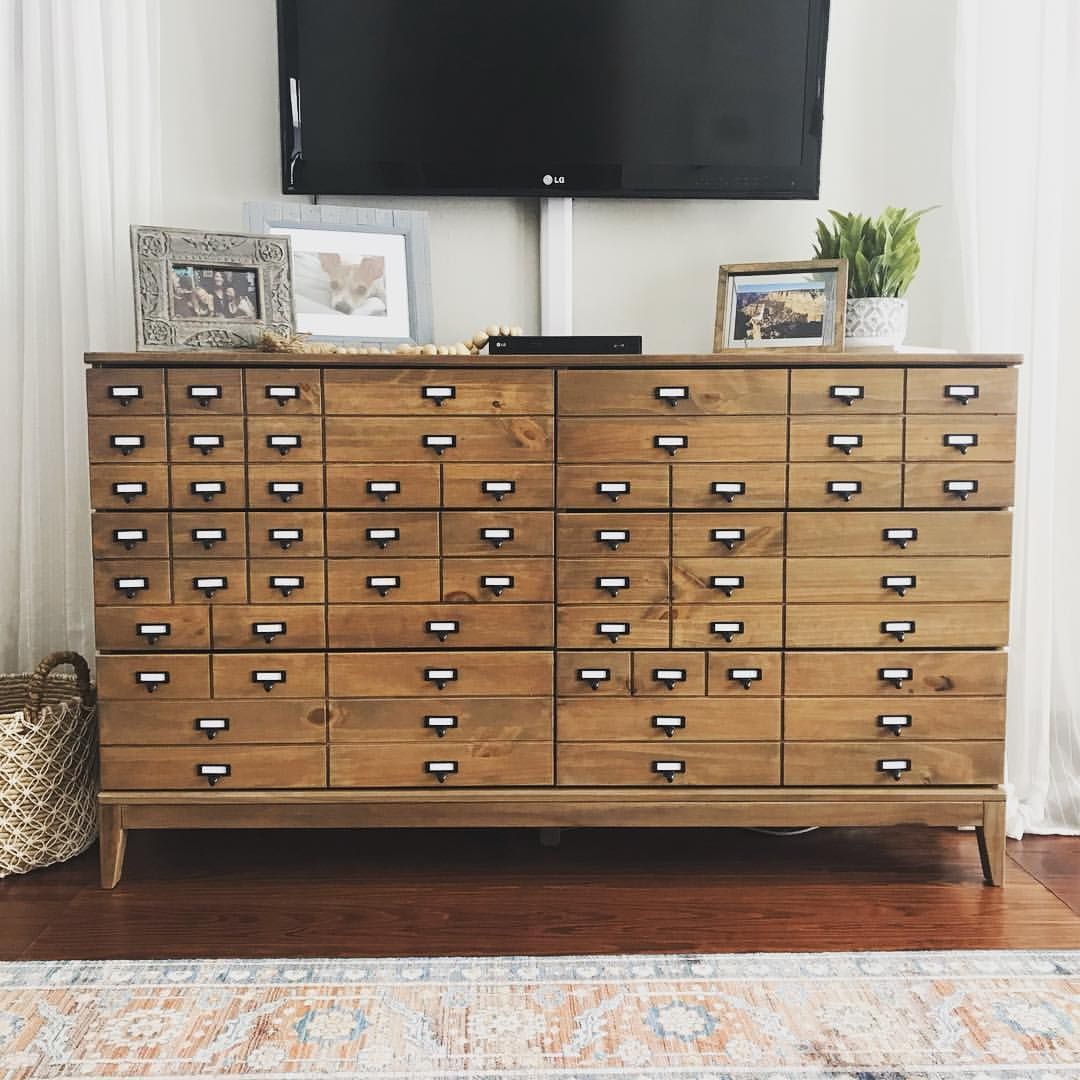 Chinese Apothecary chest drawers are quite popular for their unique appeal. You can convert your Kallax unit into a beautiful and elegant Apothecary chest to store a lot of things.
This kind of apothecary's chest will give your home a vintage appeal and can be made easier with proper guidance. You will need the storage unit, drilling equipment, nails, paints, and some other equipment to turn your Ikea Kallax unit into a masterpiece. It's a bit harder to make, but the end result makes it worth all the effort.
25. A display library and reading bench combined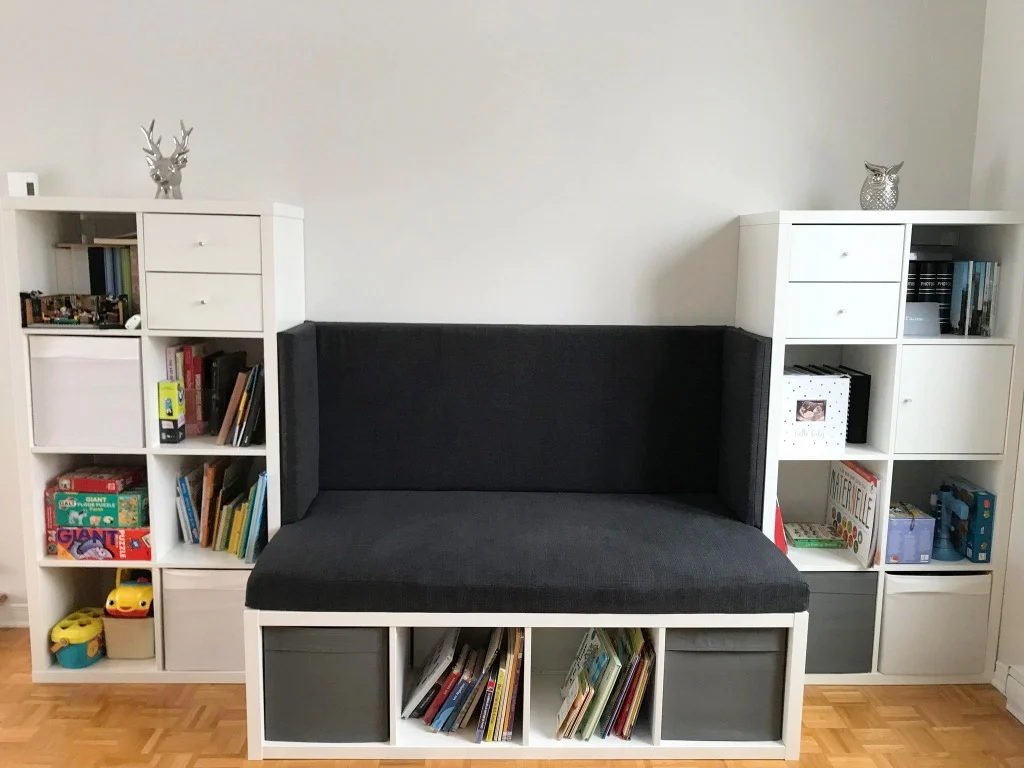 You can turn your Ikea Kallax into a beautiful and functional reading bench for your kids or yourself. It is one of the most useful Kallax hacks that can be used to turn a corner of your home into a dedicated reading spot.
To create a display library along with the reading bench, you will need to place two Kallax units vertically and one storage unit placed horizontally between them. On the two vertical units, you can display your books and use the space between them to create a reading bench. You can attach a mattress to the bench to make a nice comfortable, and visually appealing place for reading.
26. Ikea Kallax Hack for Bed Storage Unit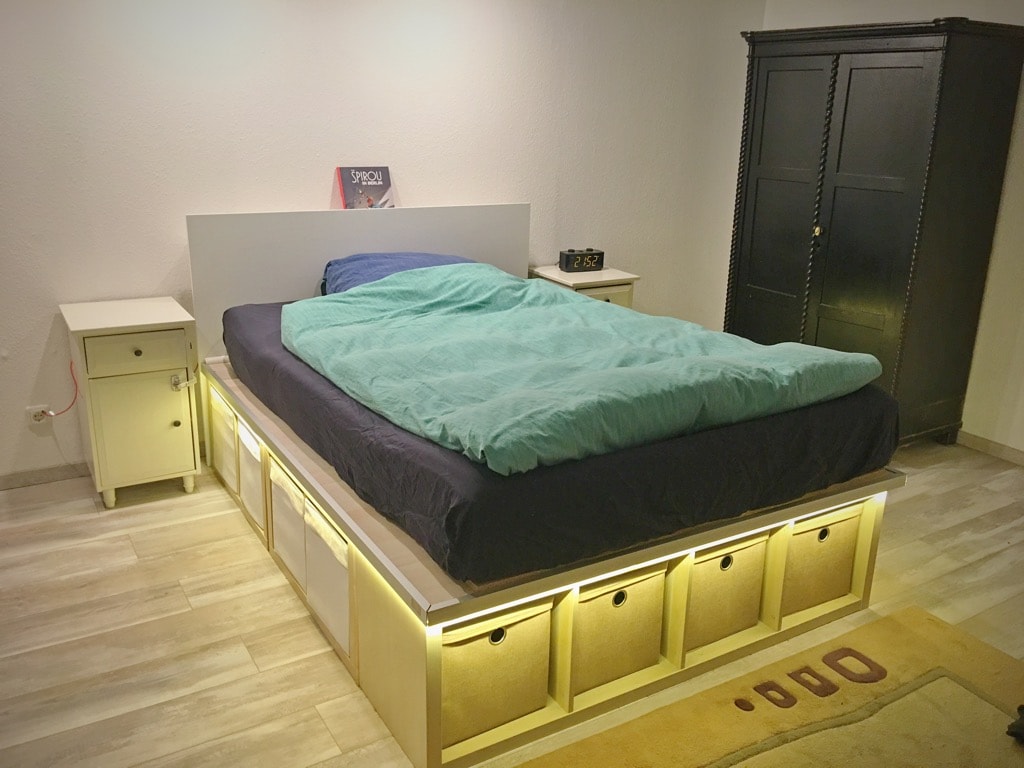 Want to create a nice cozy bed for your guests? We all know that your bedroom needs a sturdy heavy-duty bed, but how about creating another one that you can use just when you need extra space for people coming over? This Kallax hack for a bed storage unit works perfectly as a bed frame that you can use sometimes.
Well, it's better than those air mattresses, and you get to design it the way you want. You can add some storage boxes to the units and decorate them with LED lights to create the perfect ambiance.
27. An Aesthetic Black and White Kallax Shelf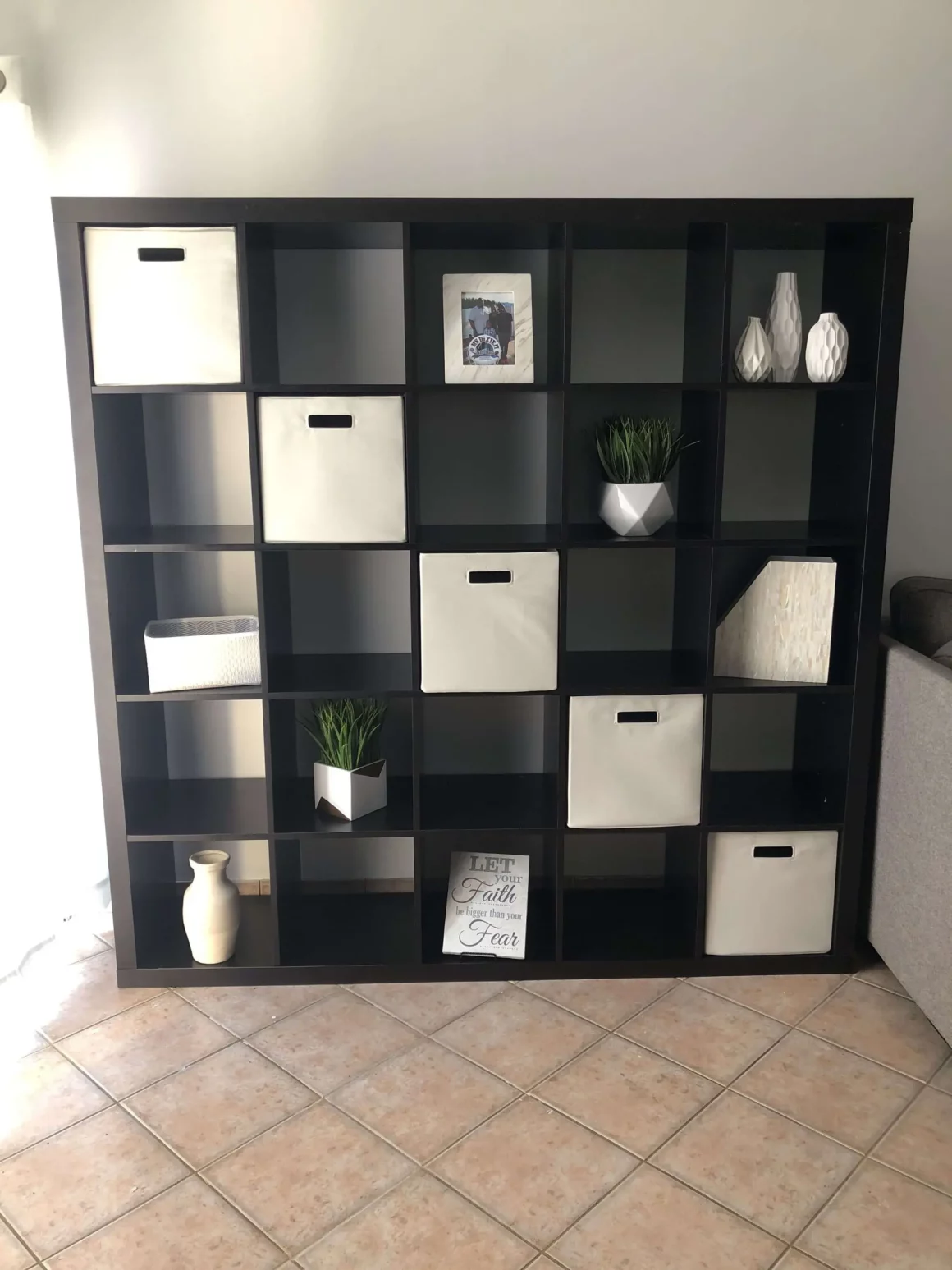 Kallax units are more than just additional space for your storage. Their sleek and minimalistic vibe is perfect for using them as a decorative piece in your homes. You can simply paint the entire unit black and use white-colored storage baskets or vice versa to make a contrasting appearance.
Display a few artificial plants and use white baskets to complete the look. It makes for a perfect showpiece for your living room.
28. A Cozy Electric Fireplace with Ikea Kallax
Making a fireplace by using Kallax units may sound absurd. However, these units make for a nice and cozy fireplace. Although you may need to be extra careful since you are combining wood and fire, with all the precautions, it can turn out to be a beautiful space for your home.
You can use two Kallax units on both sides and an electric fireplace in between. With the necessary precautions and a bit of creativity, this can turn out to be extremely beautiful.
29. Design a Sophisticated Media Unit with a Kallax Hack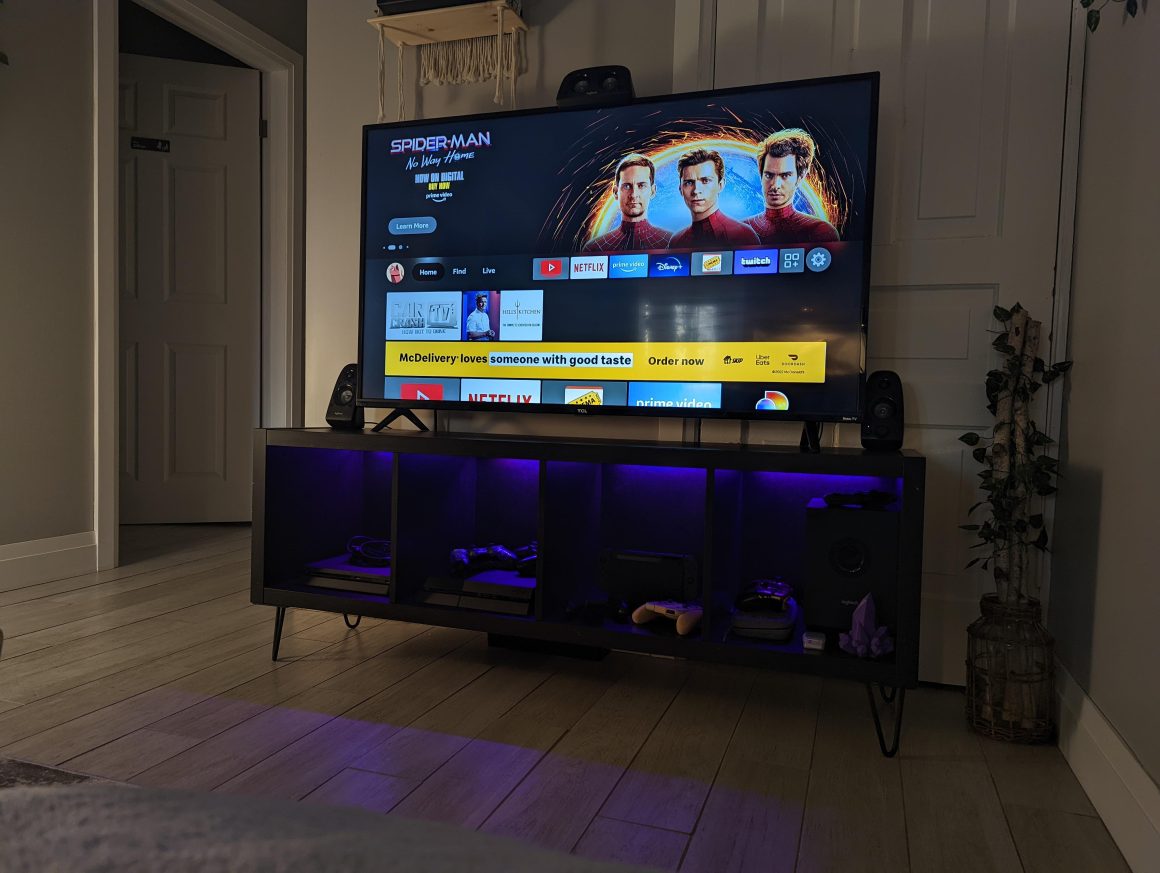 Your Kallax unit can easily be used as a media unit for placing your TV or gaming console. There's a lot that can be done with the units to make a nice media unit. A simpler one can be created just as easily as using a 2×2 Kallax unit and adding drawers and legs to them, while a more complex one can have many enhancements, such as adding LED lights, adding fancy wicker baskets, and painting.
To make a fancier version of the unit, you can add wooden doors or use rustic woods to create a vintage look. You can also use a few decorative items and add intricate designs to the door of the Kallax unit to make it more visually appealing.
30. Create a Charming Bedroom Dresser with Ikea Kallax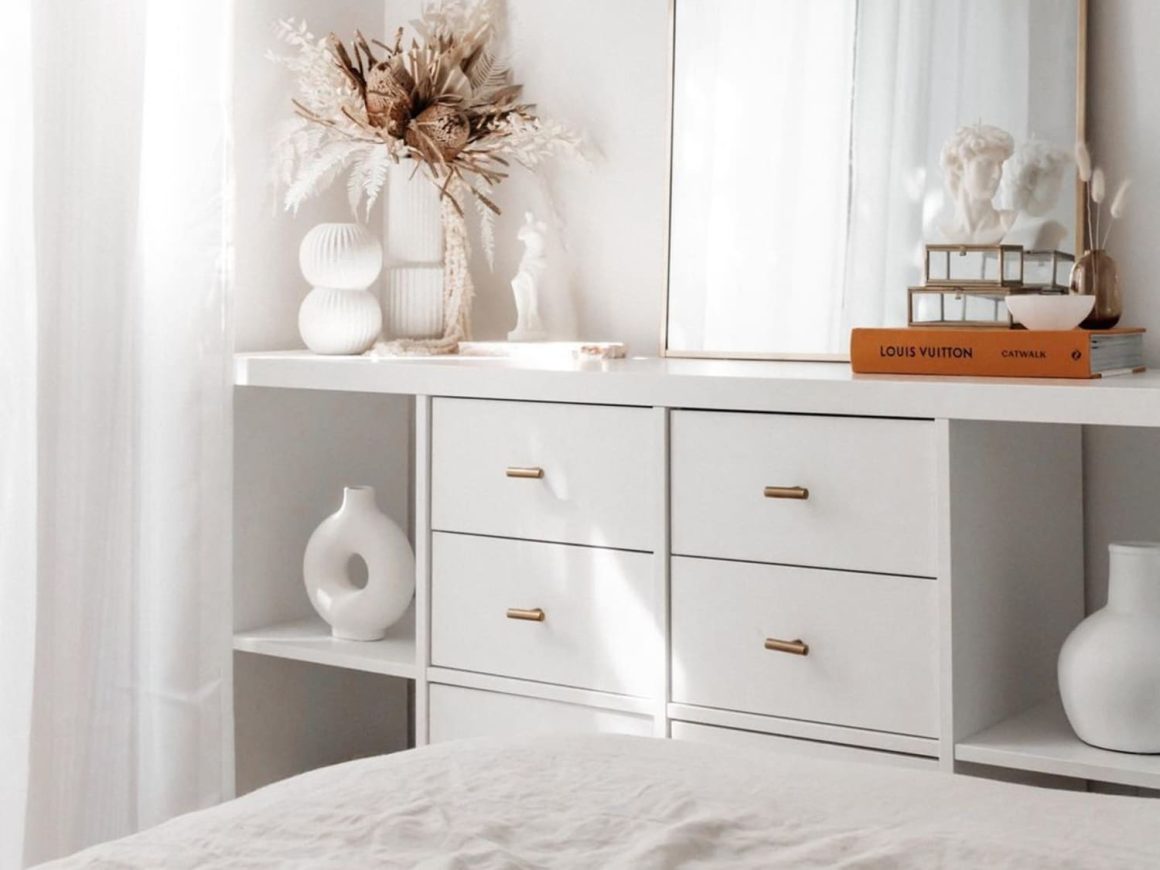 If you want to create an ultimate low-budget bedroom dresser, Kallax units do the job exceptionally well. You can use a Kallax unit and place it vertically, use the top part to add a fancy mirror, and add fabric or woven baskets in the compartments of the units.
Consider adding drawers and add knobs on them for easy access. You can use it for storing your make-up and accessories. Enhance the aesthetic appeal of your Kallax dresser by adding decorative accents such as artificial plants, photo frames, and other items.
Conclusion
Ikea Kallax units provide ample opportunities to be transformed into anything of utility in homes, which is why Kallax hacks have taken the world by storm.
From transforming your office space to amping up your wardrobe unit, there are so many hacks to prove that these Kallax units are certainly a marvelous invention.
It wouldn't be an exaggeration to say that these 30 hacks stated above are just the tip of the iceberg, and there's a lot that can be done with these units. So, go on unleash your creativity and explore these amazing Kallax hacks to uplift your home now!