A house can look fancy if it has well-maintained exterior spaces. But the house exteriors are a bit tricky to adorn. Lighting is one detail that can make outer space a win or a loss.
A comfortable pergola to sit down and have a fun time is something we all crave. To enjoy some alone time or make memories with our loved ones, the pergola is one perfect place where you can do it all. But a dark pergola doesn't sound so fascinating. What light you choose will affect the ambiance of your house exteriors.
Pergolas, being a stunning house exterior, are incomplete with a few fancy lights. They offer structure definition to the home and provide room for you to get creative with the landscape. Lastly, dark pergolas will never be inviting and impressive.
Here are the best 15 pergola lighting ideas that will transform the look of your exteriors.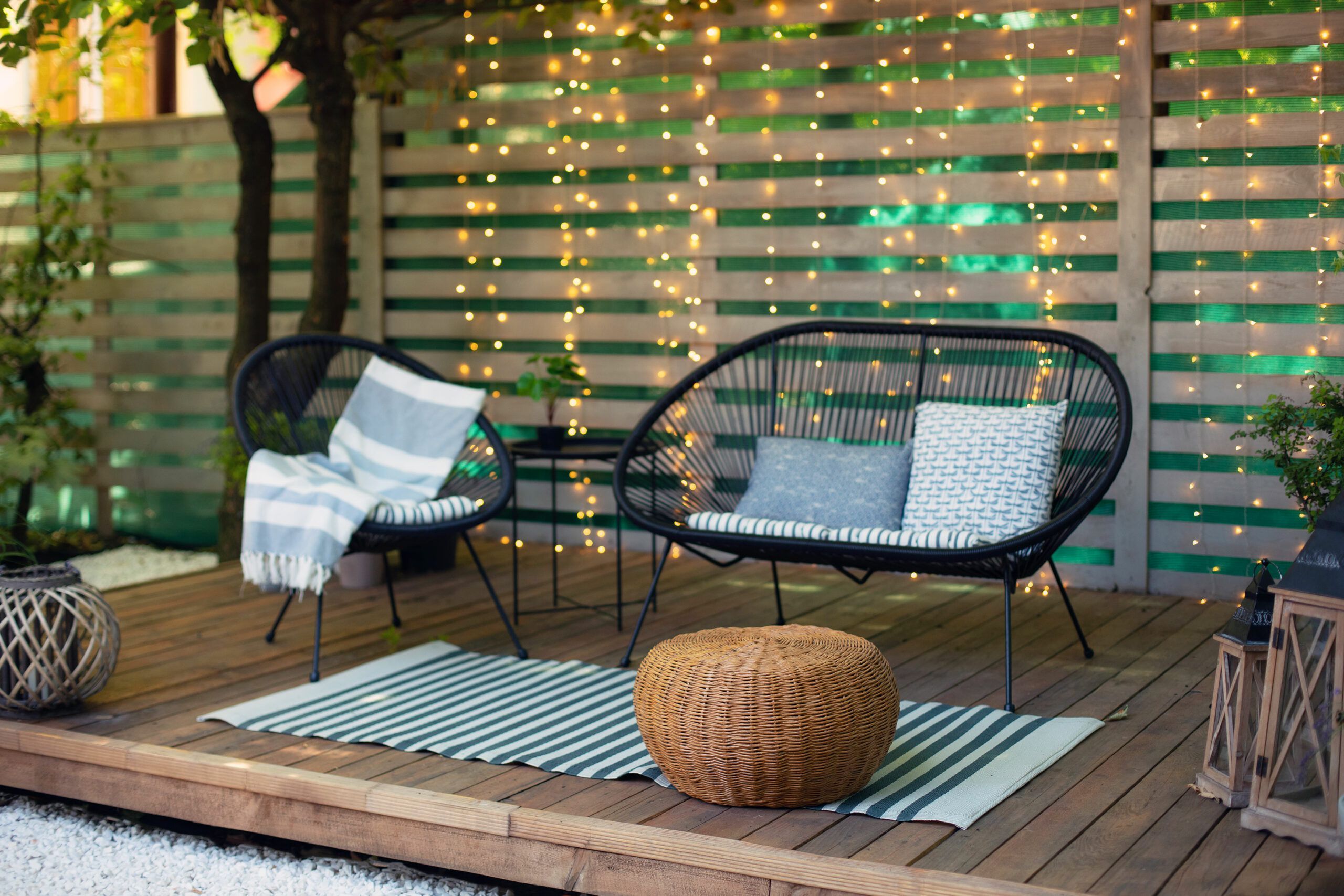 String lights make both indoor and outdoor spaces more inviting by their illuminance. A string with draped lights is perfect for adding warmth to your backyard. Decorating the pergola with string lights adds a relaxing vibe to your yard, making it a perfect place to sit and spend quality time with family and friends.
The cozy ambiance of the string lights provides a magical transformation to your ordinary pergola. Pergola lighting (because of LED bulbs) consumes less electricity as compared to other lighting options. To install string lights, build a map for how you need to fix the lights and measure the length of light needed.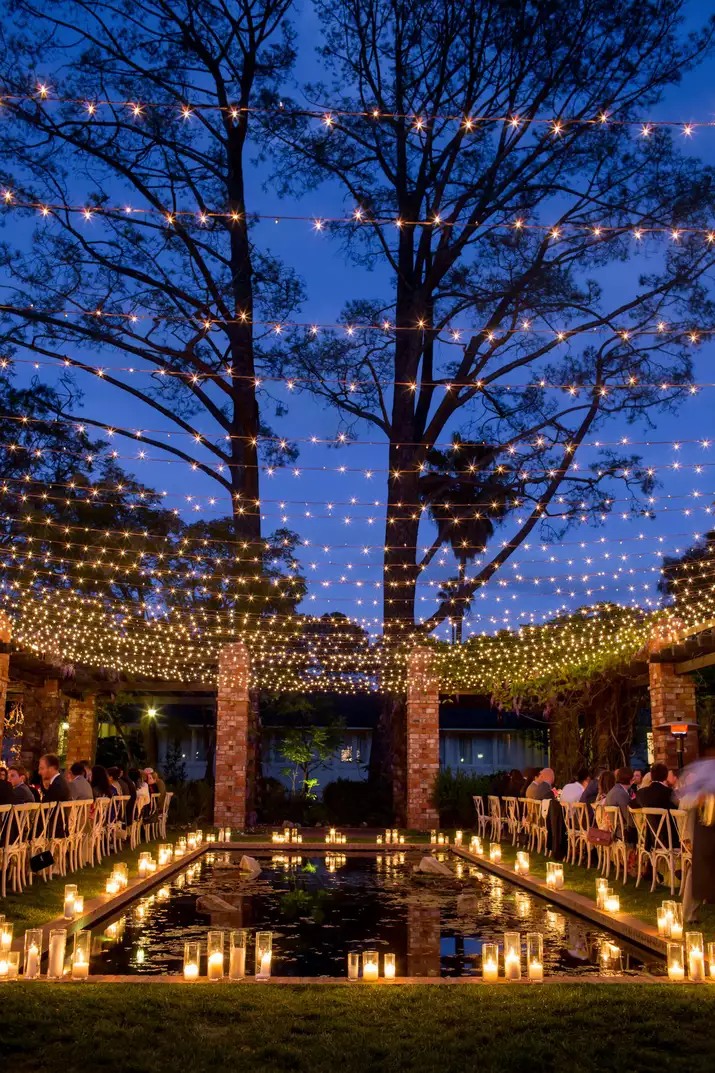 Fairy lights, with their soft glow, are ideal if you want a dimly lit pergola. Illumination by fairy lights is not too overbearing, allowing you to enjoy the landscape and the night sky from your own pergola. With fairy lights, you can install lighting in so many ways.
Cover your rafters with wrapped fairy lights, go spiral with the column, or use fairy lights with beams; everything will make the pergola look magical. Pairing fairy lights with other lights is a great option as well. It can be used as a decorative element by placing the lights in a jar. Make your exteriors look whimsical by using fairy light for pergola lighting.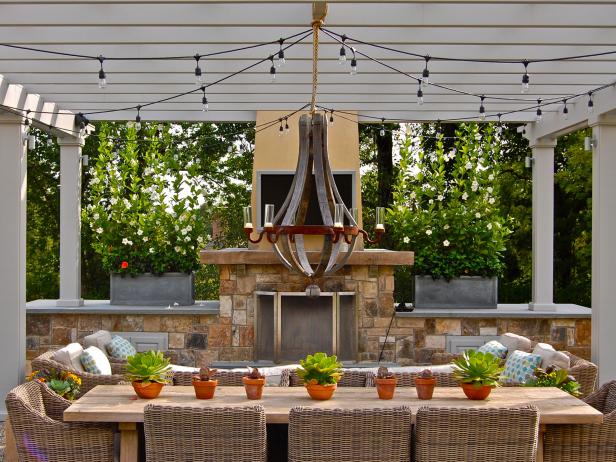 The use of Chandeliers is not limited to just interiors. A chandelier installed in your pergola will be both practical and appealing. The chandelier must be weather resistant and durable, as the house exteriors will have to withstand the weather extremes. Layering your chandelier with other lights, like a rope light or hanging lanterns, can exaggerate the beauty of the space.
The warm and gentle glow rendered by fairy lights paired with chandeliers is a must-try lighting idea. Chandeliers come in different designs and sizes, so you can pick one that adjusts with your pergola design, space, and aesthetics.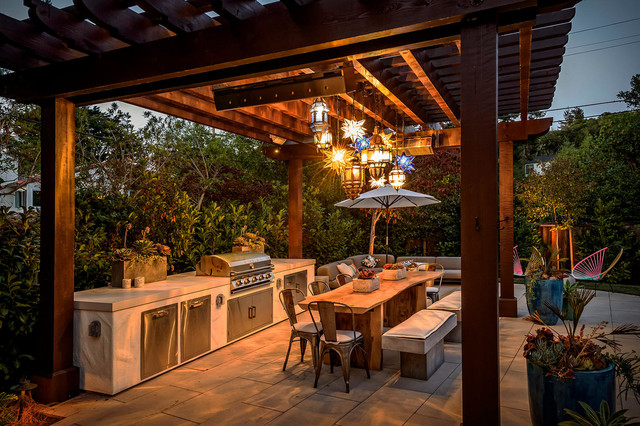 Hanging lanterns for lighting the pergola will embrace your outdoor space with a tranquil atmosphere. Hanging lanterns for pergola lighting with a hanging light fixture is an affordable way to make your space look aesthetic. The rustic and classic look of the hanging lanterns will enhance the overall appeal of the yard. Hanging lights will illuminate the exteriors, along with embracing the decor.
The designs of the hanging lanterns help to focus the light on the focused regions. Descending from the ceiling of the pergola, hanging lanterns will be a subtle lighting choice. Hanging lanterns take less space for installation, saving enough space to not overcrowd it.
Tape lights have an installed surface-mounted circuit board, making it a versatile and flexible pergola lighting idea. Lighting with tape lights is adaptable, with multiple cut points that allow you to install the lights as per your needs. When purchasing the strip lights, ensure that the quality is premium. Mounting and installation of these lights are convenient.
The lights also enable bending, making it an ideal choice for a pergola. Color consistency and intensity will depend on the quality of the lights you purchase. In tape lights, you get ample options in light colors. For adding ambiance to your exteriors, tape lights can do the work for you!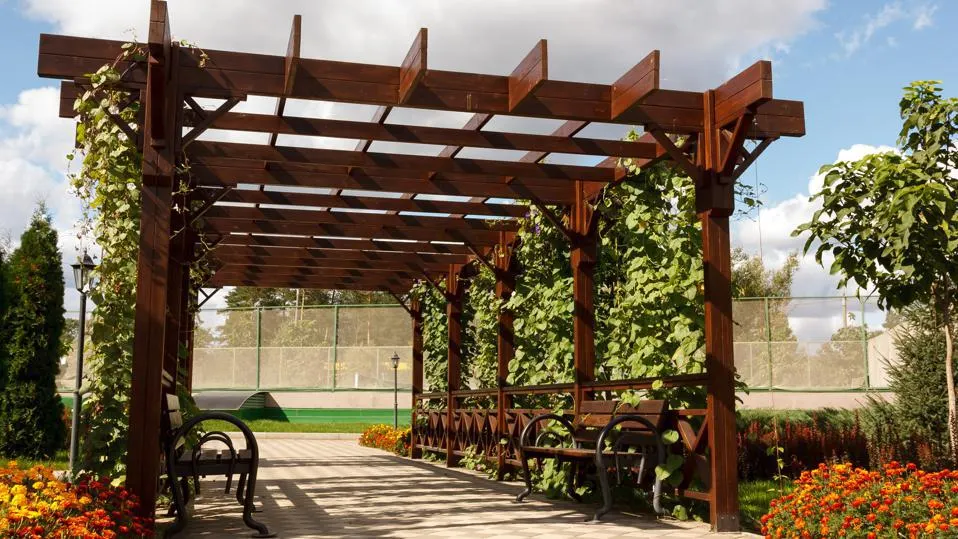 Best for exaggerating the landscape features, spotlights make a great choice for lighting pergolas. Spotlights in a pergola can make the yard exteriors look luxurious. It is perfect for featuring the structural details of the pergola. Spotlights can be installed either on the ground or mounted on beams and columns to make the pergola outstanding.
Because spotlights are used to direct the light beams in one direction, it is essential that the positioning and direction of light are closely considered. Spotlights with adjustable projection angles are a hit for exterior lighting. This way, the direction of light can be directed as needed.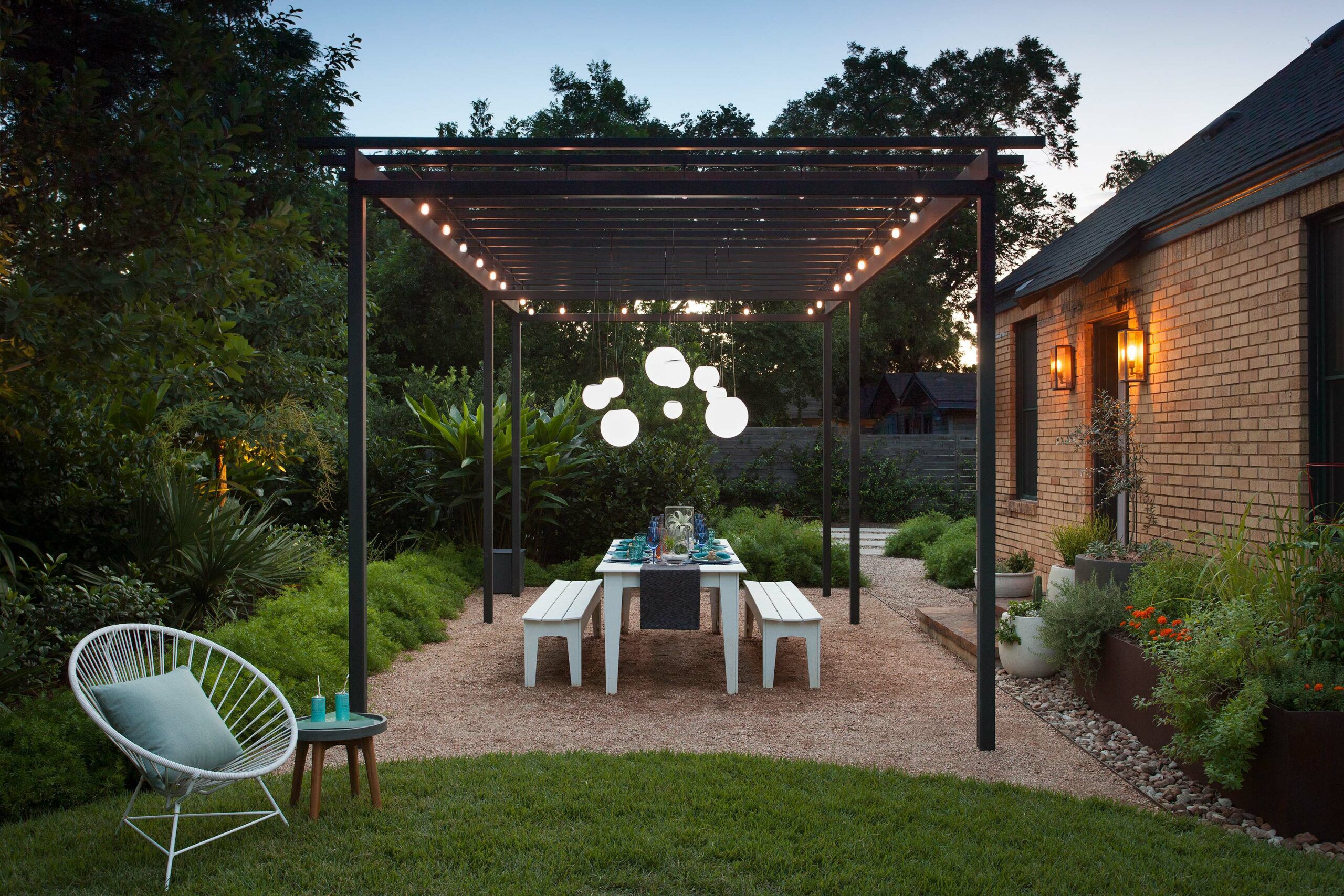 Pergola lighting with paper lanterns is affordable lighting that makes the space look impressive. Paper lanterns come in various designs and shapes, making them an ideal choice for lighting that complements the details of the pergola. The soft glow of the paper lanterns illuminates the space, building a dreamy and heavenly vibe to the seating area of the pergola.
Paper lanterns with LED bulbs are preferred over incandescent bulbs. LED bulbs comparatively emit less heat, making them a safe alternative for lanterns. When choosing paper lanterns for pergola lighting, make sure they are water-proof for elongating their life.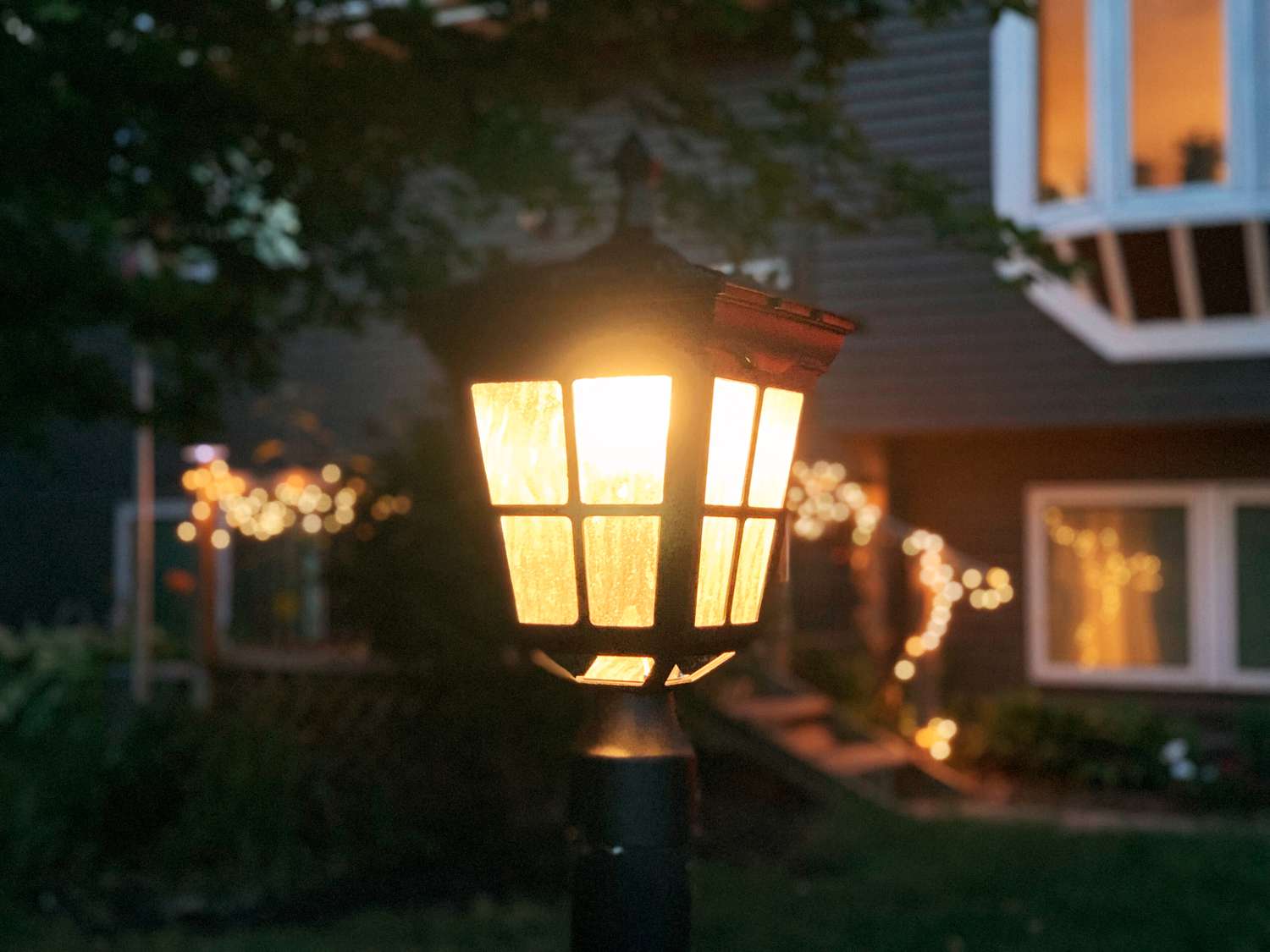 Light up your pergola with the calm and eco-friendly glow of solar lanterns. Because solar lights limit energy demands and are cost-effective, they are becoming more popular nowadays for decorating home exteriors. For the installation of solar lanterns, carefully analyze the durability of the lanterns. Also, make sure that they have tolerance for different weather conditions.
Along with durability, the efficiency of solar lanterns (how much energy the lanterns capture) is also crucial. Maintaining solar lanterns is important to ensure your pergola lighting with them is long-lasting and effective. Clean the debris from the lanterns, check wires & connections, and fix other electrical issues regularly.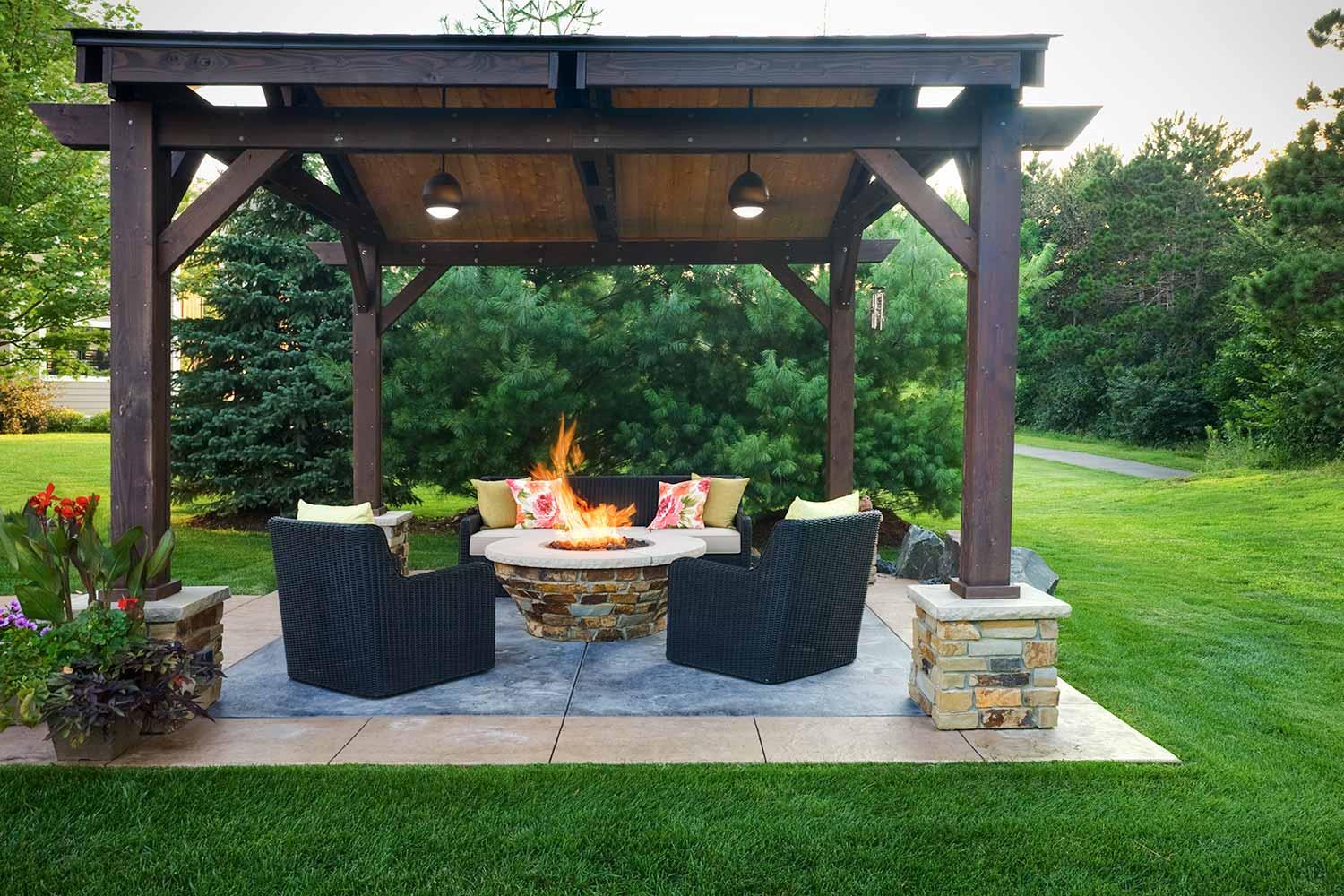 If you want something unique for your pergola, skip all the artificial lights. To make an inviting space in your exteriors, a fire pit can do the justice. The liberation of choosing size, designs, and materials with fire pits makes it a versatile lighting option. With fire pits, safety measures are crucial. Accidental fires are one of the major concerns with fire pits.
To prevent it, build or fix the fire pit at a safe distance from the house and other materials that are vulnerable to sparks. Bushes, electric wires, barns, garages, railings, etc., in close proximity to the fire pit should be avoided.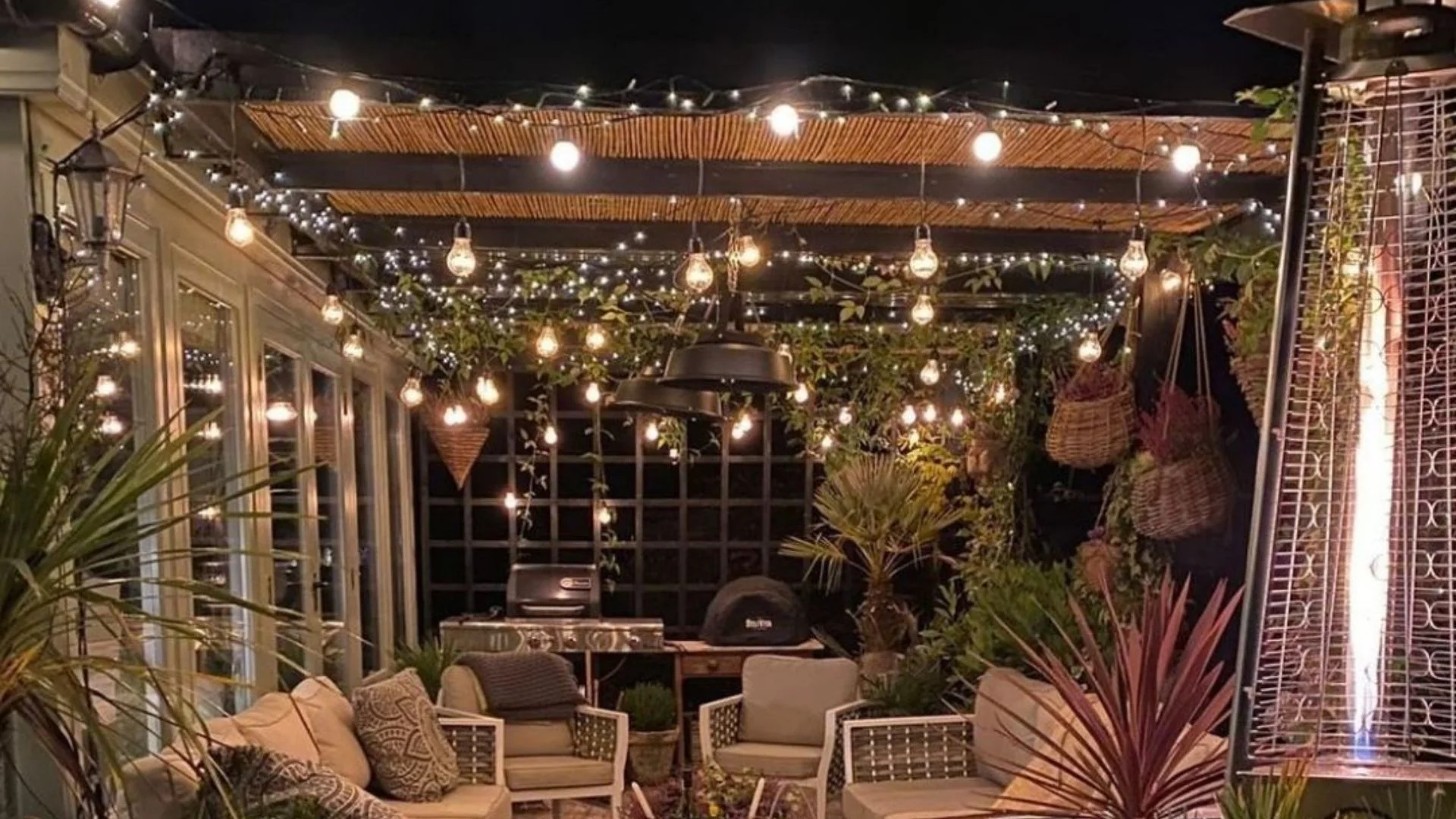 Festoon lights are suitable for different occasions. The festoon lights are bulbs attached to strings, just like fairy lights but a bit larger. Festoon lights come in a great variety of colors, so you can pick a color that will add elegance and playfulness to your pergola. Festoon lights with warm white light produce a muted and soft glow.
On the other hand, cool white lights of festoon. Lights can be used to brightly light the exteriors. Festoon lights generally are waterproof, an ideal solution for exterior decoration. Festoon lights are undoubtedly one of the best pergola lighting ideas, making your outdoor space a perfect place to build memories.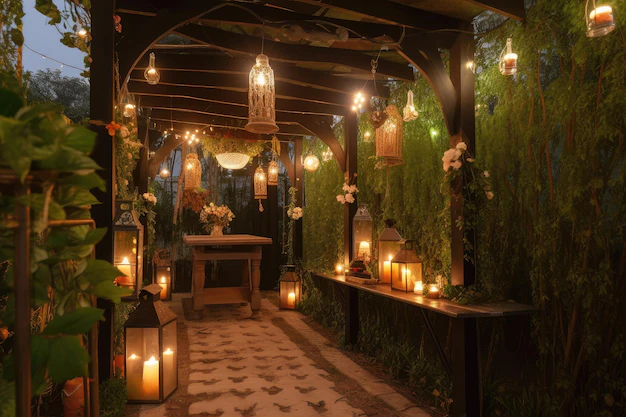 The soft flickers of candlelight are appealing, creating a pleasant space under your pergola. The addition of candles in your pergola will create a warm and welcoming environment. Decoration with candles can be done in so many ways. Candle lanterns, candle centerpieces, and floating candles are a few ways to integrate pergola lighting with candles.
A standing candle lantern is another variation of using candles for pergola lighting. If safety is one of the concerns stopping you from using candles in your exteriors, LED candles, almost identical to real candles, can be your best shot. Make a cozy space beneath the pergola and make your exteriors stand out with minimal effort.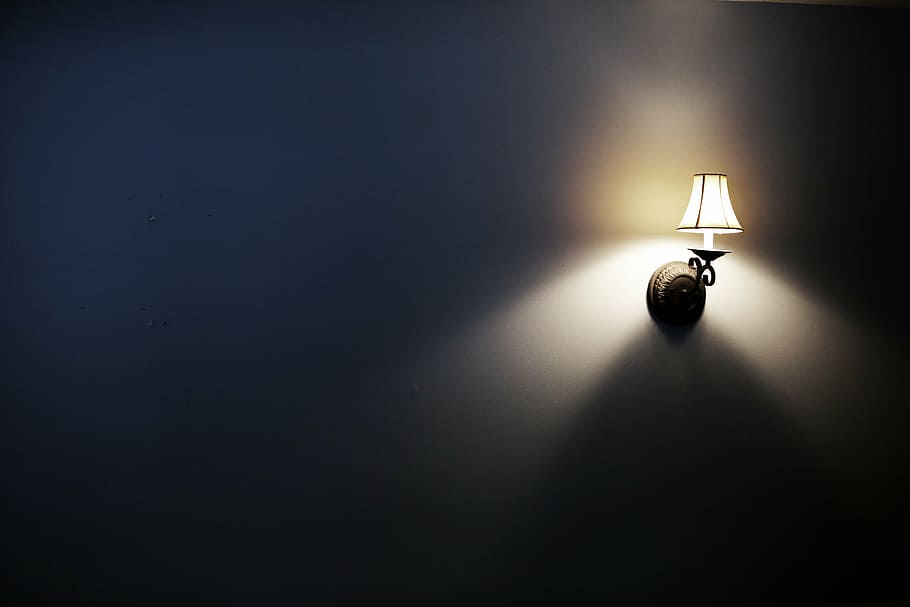 Lighting the perimeter of the pergola can help in making a bold statement for your outdoors. For this, post-mounted sconces are the best. From classic to modern appearance, post-mounted sconces come in different designs, making it another flexible preference for pergola lighting.
For creating a centerpiece in your exteriors with your pergola, choose sconces with intricate details.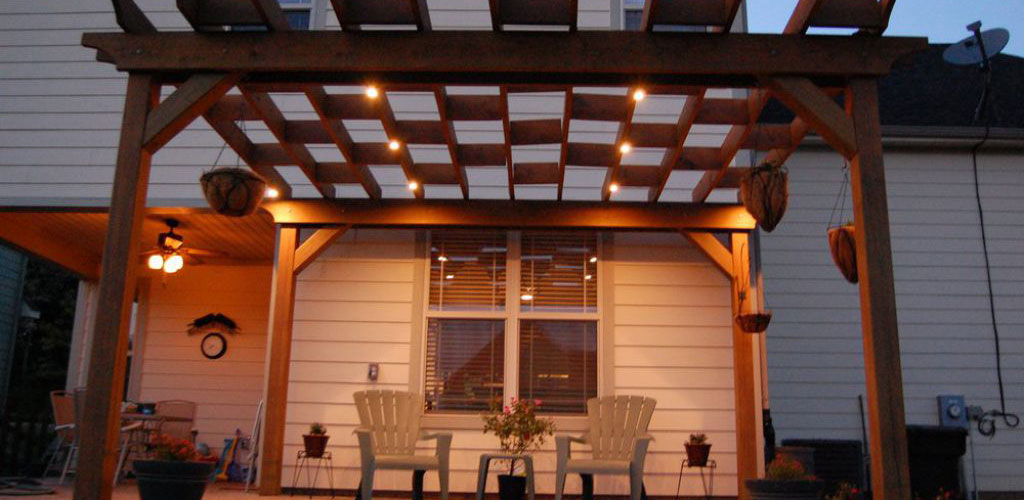 Perfect for evenly lighting your pergola, downlights are a minimal addition to your outdoors. The durability of downlights makes it an ideal choice for both indoor and outdoor decorations. Made with LED bulbs, the downlights can be installed easily. When installing downlights, make sure the lights are waterproof and dust resistant.
This prevents the damage of downlights from moisture. The downlights should also be resistant to dust particles that may cause damage to the lights. Downlights come in different designs, so picking a downlight is a versatile choice for pergola lighting. If the downlights have integrated LEDs, you will save a lot of energy as the power consumption is comparatively less.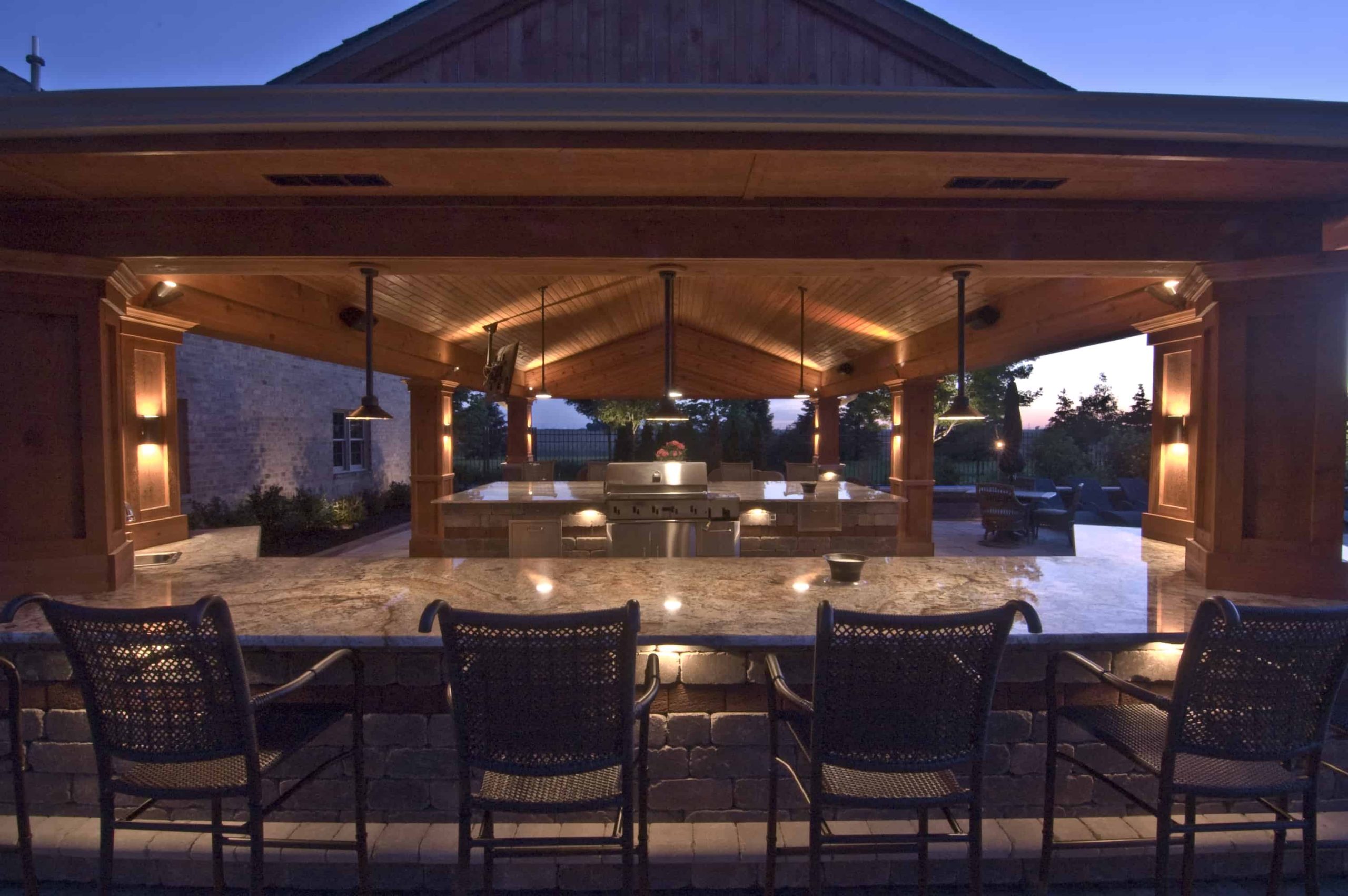 For an elevated pergola, an innovative idea to install lights is to install them on the stairs. If the pergola in your yard is accessible by stairs, it gives you a wonderful opportunity to make it extraordinary. Lighting the stairs accentuates the statement of the pergola. Stairs in the pergola mark a necessity to install lighting, so don't forget to add fun to it.
For stairway lighting, you can opt for sconces, ceiling lights, spotlights, lamps, or pendant lights. Motion sensor lights make a great choice for the staircase. To exaggerate the lighting, accessorize the lights with decorative items like plants and a few ornaments.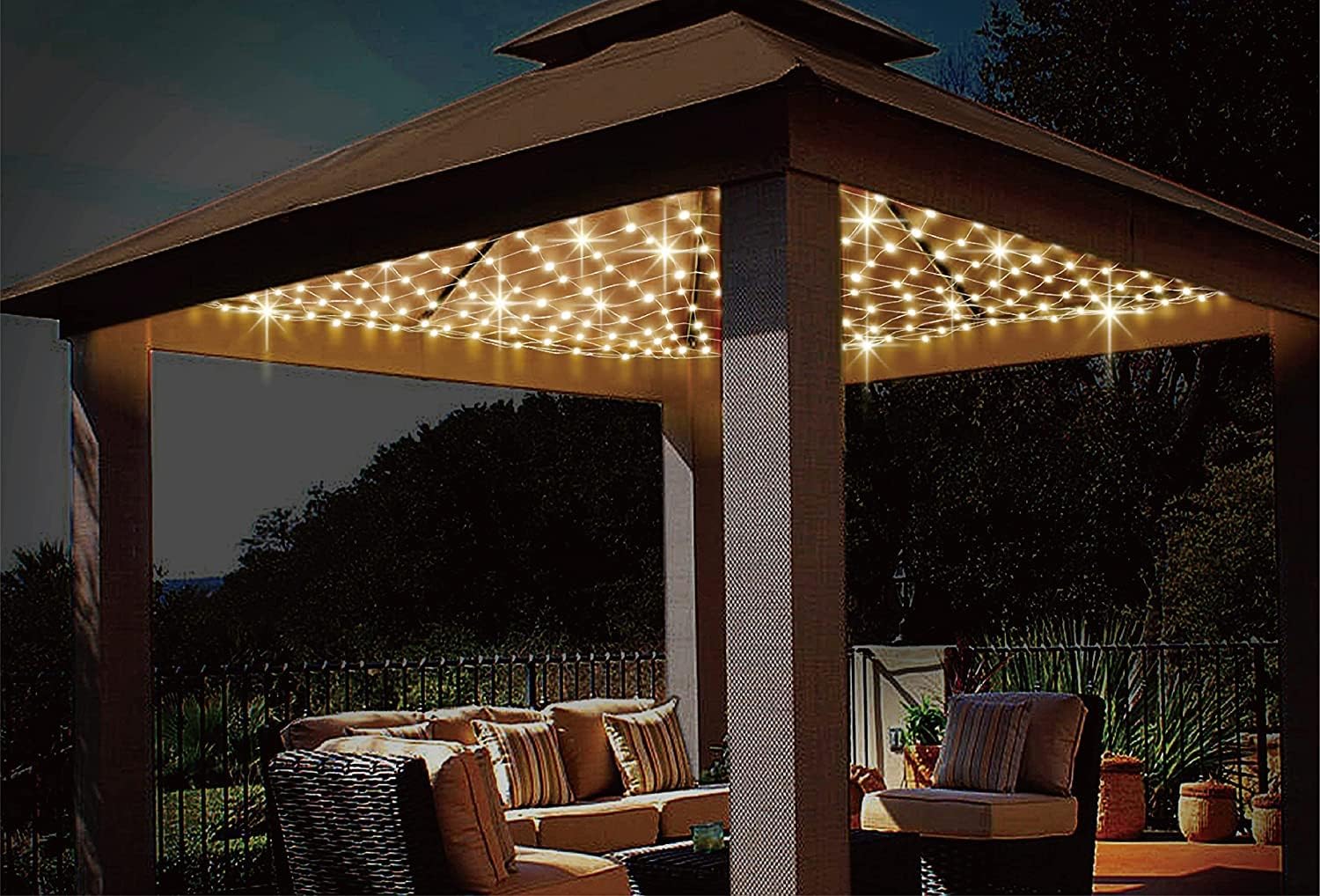 If you are looking for affordable ways of pergola lighting, the most effective way is to layer up the ceiling or the perimeter with soft lights. Curtain lights attached in equal gaps to the ceiling (the horizontal roof beams) will feature a structural detail of your pergola.
Another creative way to enhance your pergola is to illuminate the roof. Create a mesh using string lights and attach it to the ceiling of the pergola. It looks like an overhead galaxy at night; what more could we ask for?
Conclusion
To make a unique pergola in your outdoors, you need lighting ideas that accentuate its statement. Lighting pergola adds a touch of style and elegance to your space. Pergola lighting can be achieved in various ways; for affordable ways to install lighting, use string lights or fairy lights on your pergola.
Hanging lights is one other way to add elegance to your pergola. In hanging lights, you can opt for chandeliers, paper lanterns, solar lanterns, or festoon lights. For minimal and modern lighting in your pergola, go for spotlights, downlights, or LED strips.
Use these pergola lighting ideas to transform how your pergola looks. Comment in the box below to share your unique ideas to adorn the pergola.
Frequently Asked Questions
How Can I Maintain My Exterior Lights?
Maintenance of lights, especially if they are a part of your home exteriors, is essential for their longevity. Clean the lights regularly, keeping them free from debris and dust. While cleaning, make sure they are plugged off. Regularly check wires, sockets, and electrical fittings for the lights.
What Is the Best Type of Lighting for a Pergola?
There is no perfect lighting style for a pergola! How you integrate lighting with the structural details of the pergola will make the best. You can use a number of lighting ideas to make your pergola stand out. For hanging alternatives for lighting, opt for lanterns, chandeliers, or festoon lights. Making a curtain or a mesh-like structure with fairy or string lights is another alternative that is impressive. LED strips, spotlights, and downlights are a few other lights that can make the pergola look perfect.
Should I Appoint an Electrician or Install the Lights by Myself?
Not every light you use will need an electrician. For most of the lights, you can install them by yourself. But if you are looking for a permanent installment of lights, an electrician can be a great help to you.