Are you worried your garbage cans don't go well with the aesthetics of your house? Agreed, they can be an eyesore.
Do you feel threatened it might get knocked over by wind or animals? Yeah, that can be too messy, and you can't get rid of the wind, the animals, or the cans.
Let's face it, we all need garbage cans. But, they can well be tucked out of sight by the trash can enclosures – the ultimate solution to the garbage can dilemma. These trash can outdoor storage methods enclose and protect the bin while camouflaging them to match the design scheme.
Read on to find out more about the trash can outdoor storage and how to choose the right one. Witness design forward and problem-solving ideas that you can DIY.
Why Should You Consider Trash Can Outdoor Storage?
Improves your curb appeal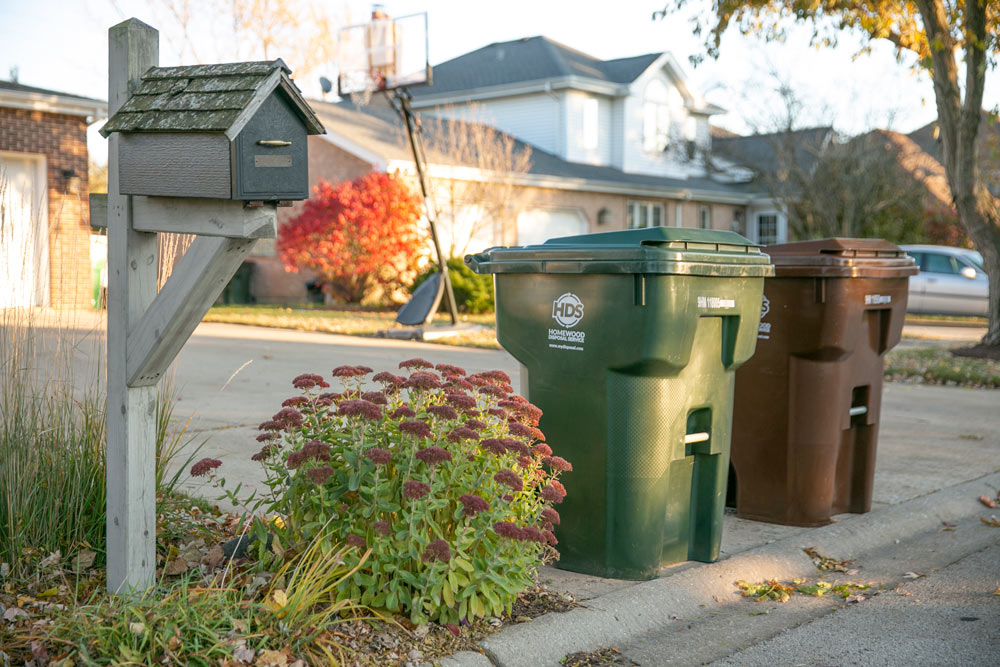 You want your home to reflect the impeccable sense of style of yours. Plus, you want to make a good first impression on your visitors, and it's not possible with the less visually pleasing trash cans and their odor. Well, if you don't want the bright-colored bins to be sitting front and center outside your home or your garage, trash can outdoor storage should come to your rescue.
Keeps animals off the radar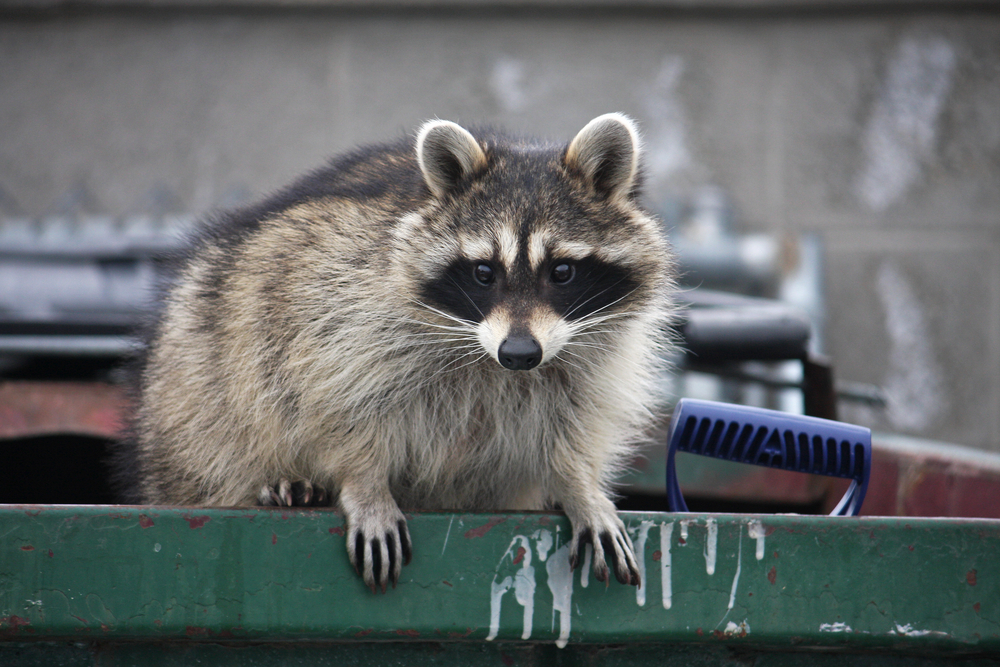 Garbage cans can be inviting to a whole range of unwanted creatures. From insects to raccoons, anything can be a menace that raids an unprotected garbage can. They rummage through the can in search of food and often create a nuisance. Trash can enclosures can surely help prevent littering by keeping the animals at bay.
Eliminates Environmental Threat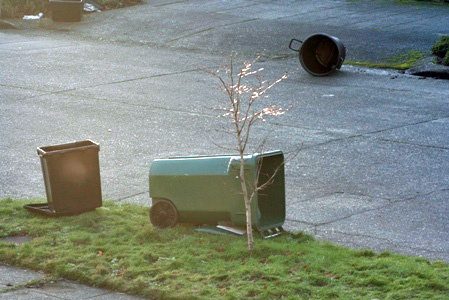 There is no way you can control the weather. On a windy day, the trash cans can tip over, and the trash can go flying. And, need I remind you how rain can cause a mess too, not to forget the smell afterward. A trash can outdoor storage helps to prevent this so that you do not have to clean up the mess every single time.
Stops Others from Using Your Garbage Bin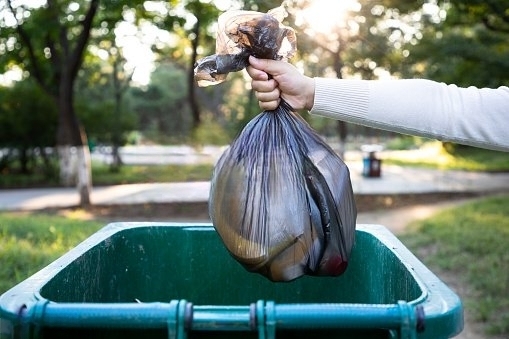 Well, not every neighbor is great, and some of them take the liberty to share your dumpster, whether you like it or not. You probably do not want them or any other passers-by to use your bin, do you? A trash can outdoor storage discourages those neighbors.
How to Pick the Right Trash Can Outdoor Storage Plan?
Now that you have decided that you need one let us discuss how to identify the right outdoor storage that fits your needs. While looking for a garbage enclosure, look for the following features in it to improve efficiency,
Your trash can outdoor storage is going to be out there enduring sun, rain, wind, and snow. It should be resistant to water and rust and strong enough not to be knocked down by the wind. Choose a material that can withstand them all and be durable. This way you could save some money too.
How much trash does your home/ office generate daily? What's the frequency in which a garbage collector empties it – Daily or weekly?
Answering those questions should help you assess if an indoor or outdoor trash receptacle is required and of what size. Then match the size of your trash can outdoor storage to fit that within.
Your trash can outdoor storage should balance functionality and aesthetics. It should fit well into the space, merge with the design and enable seamless handling for you and the garbage collectors. You can ensure that with access from the top or the front, multiple designs are available for both options. You would also want to consider handles and wheels for portability and ease of maintenance.
These are functional elements of the house and don't come in one-size-fits-all. Assess your primary needs and make your choice accordingly. If it is vandalism, trash can outdoor storage with locks is ideal. If your house is near water or in a place frequented by rain, go for plastic or galvanized steel enclosures. If it's the unwanted creatures lurking in your locality, sturdy receptacles with tightly secured lids are preferred.
Well, you may want to consider your budget first before making your call which may depend on the size, material, and added features. The market is flooded with various options to suit all your needs. Your proficiency and time are other factors you need to consider. However, if you decide to make one yourself, there are great ideas that you can knock out on the weekend and hide your trash cans.
16 DIY Trash Can Outdoor Storage Ideas
If you have decided to DIY your garbage enclosure, you are at the right place to get extra help. Whether you are an amateur or an expert, scout the following ideas to discover a perfect outdoor trash can storage to fulfill your needs.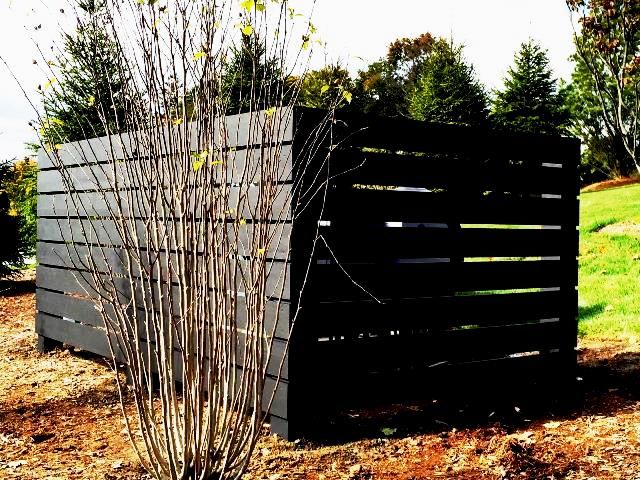 The traditional solution for hiding the dumpster is a wooden enclosure. It's a simple design and just a day's worth of work. It works best in a roofed area, and you need covering up from 2 sides. You can, however, spruce it up with paints and climbers to make it aesthetically appealing. The key is to measure the trash can so that it can be entirely and easily fit within the enclosure.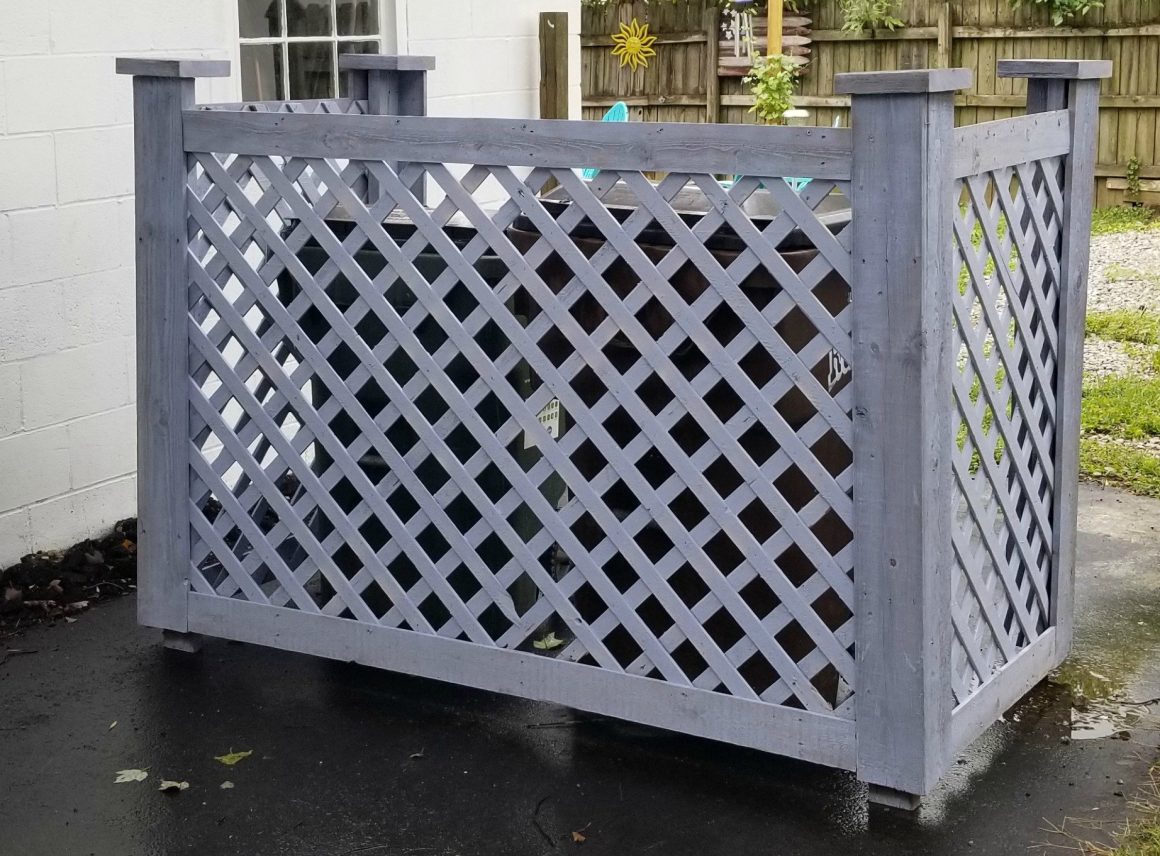 Another attractive enclosure that is very popular. Constructing a latticework screen is similar to fencing, and according to woodworkers, the best width of the lattice should be three fourth of an inch. Strong posts should help in anchoring it and make sure it is seated well on the concrete since it is lighter than wood. The fact that though it is seen through, the attention is drawn towards the and lingers on the lattice, which makes it a great idea.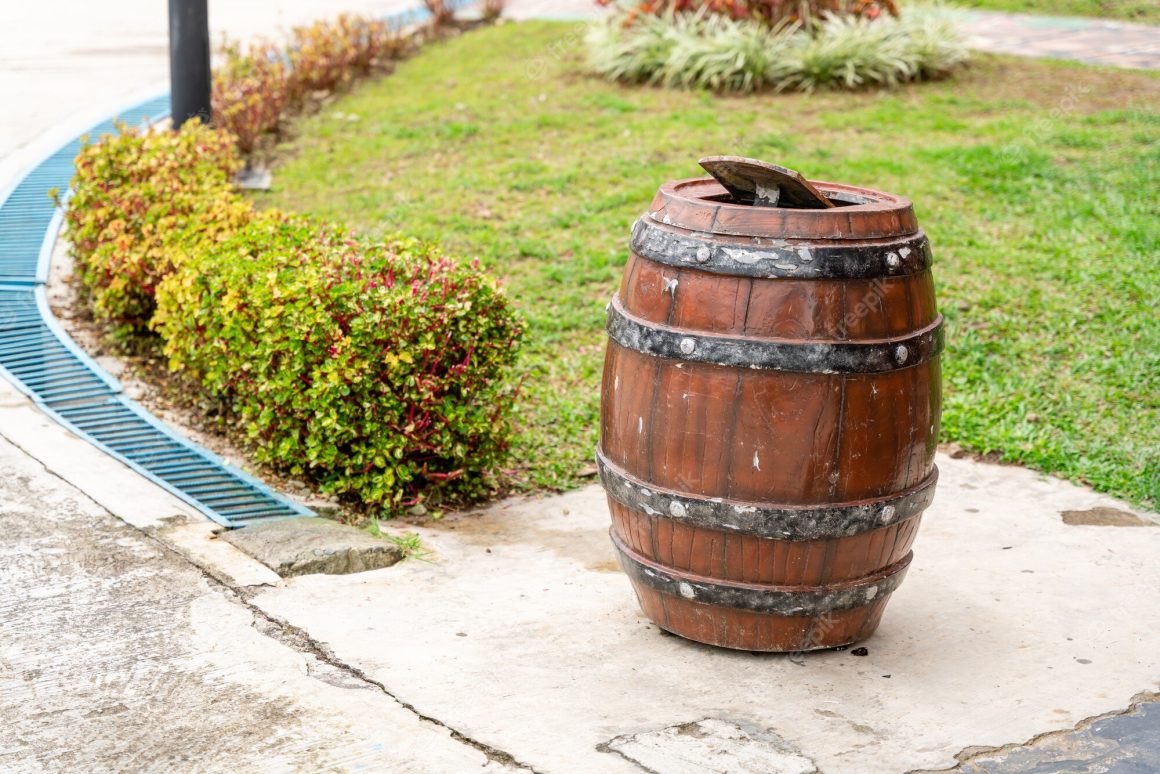 This is a creative and simple trash can storage idea that is light on your pocket as well. Give your backyard a rustic flair by repurposing an old oak wine barrel as a trash can receptacle. DIY the top of the barrel by creating a door with a hinge to make a lid for the dumpster. If it doesn't match the rest of the décor, be open to painting it to transform the barrel to the desired style.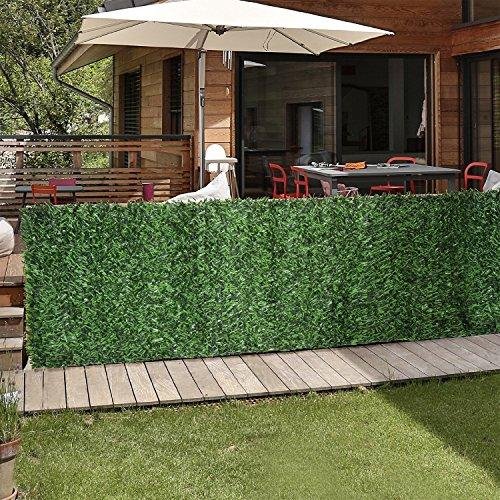 If your backyard landscape already has chain link fencing, considering the same for a dumpster enclosure would maintain the scheme. It is durable and requires little to no maintenance. Use slats in your fence if you prefer to hide the trash cans completely. You can also use enhancements like hedge links to give a natural look that camouflages into your backyard.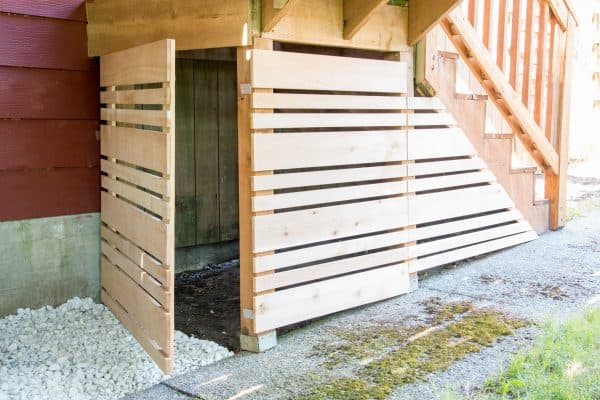 If your entryway or backyard has stairs, you can use the space under the deck for trash can storage. Create a door with hinges, latch, and handles, and voila, your trash can outdoor storage is concealed perfectly. In just a few steps, you can easily access and use it. It is an effective idea for efficient space management.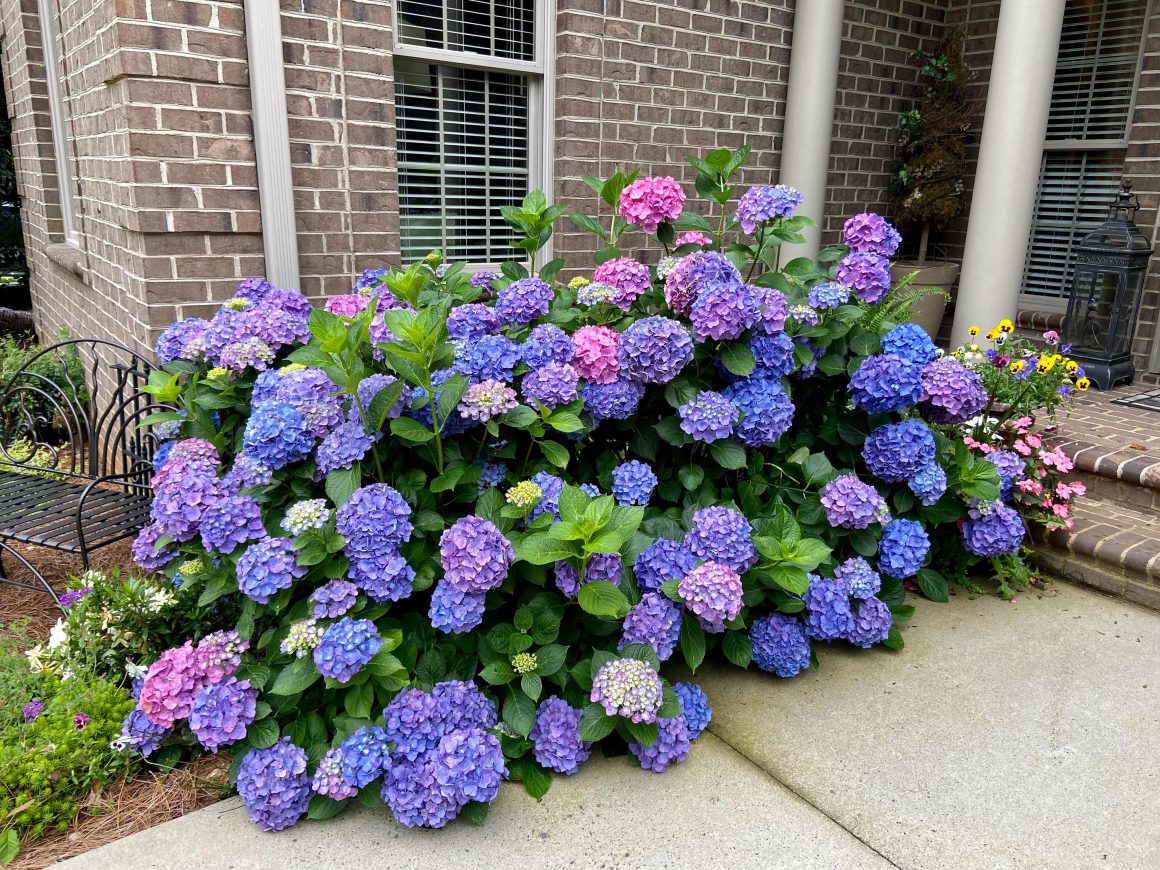 Instead of artificial enclosures, you can plant trees or bushes around to cover up your trash cans. Some of the best options to consider are pyramidal boxwood or arborvitae, which have the right height to solve the purpose and are evergreen. Even hydrangea bushes grow quickly and can be fine choices to landscape around the dumpster.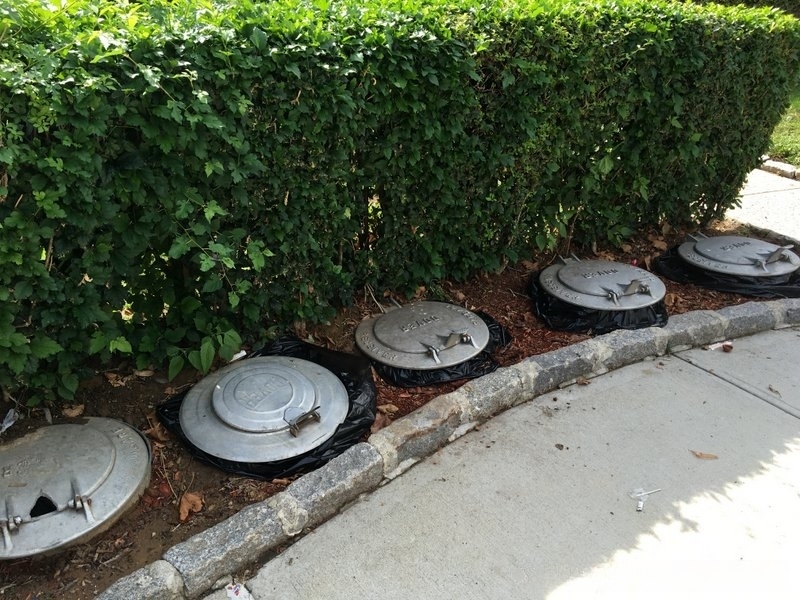 This is hands down the most ingenious trash can outdoor storage idea. These garbage receivers are zinc-coated metallic containers that go into the ground. They are resistant to rust and are leak-proof. However, you can have perforated bottoms to allow drainage. They are available readymade, or you can use makeshift containers as well. Recreating this yourself could be quite challenging, but if you are a DIY expert, you will find a way.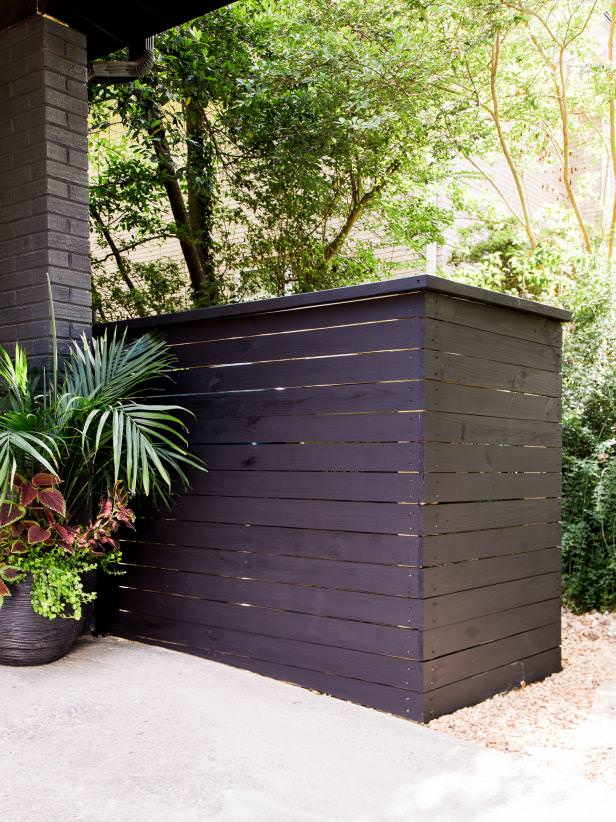 Sometimes simple solutions work best. You are nearly set with trash can outdoor storage when you have a mid-height wall. Add a functional top, and you are good to go. You can also layer it with different materials, like wood, stone, or steel. And keep adding purpose to it, from the wall to the storage, to the plant holder, just like in the image above.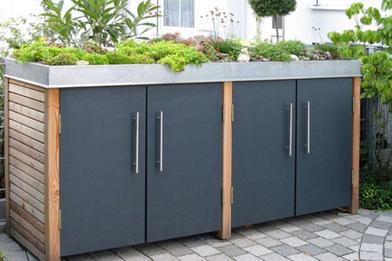 With a top layer of greenery, nobody notices if your outdoor cabinet is holding a bin, or two, or more. It would read more as a garden than a cabinet when viewed from outside or above. The succulent rooftop gives great continuity to the garden, and you can even merge the cabinet doors to match the walls or fence to maintain it. It is mighty functional too.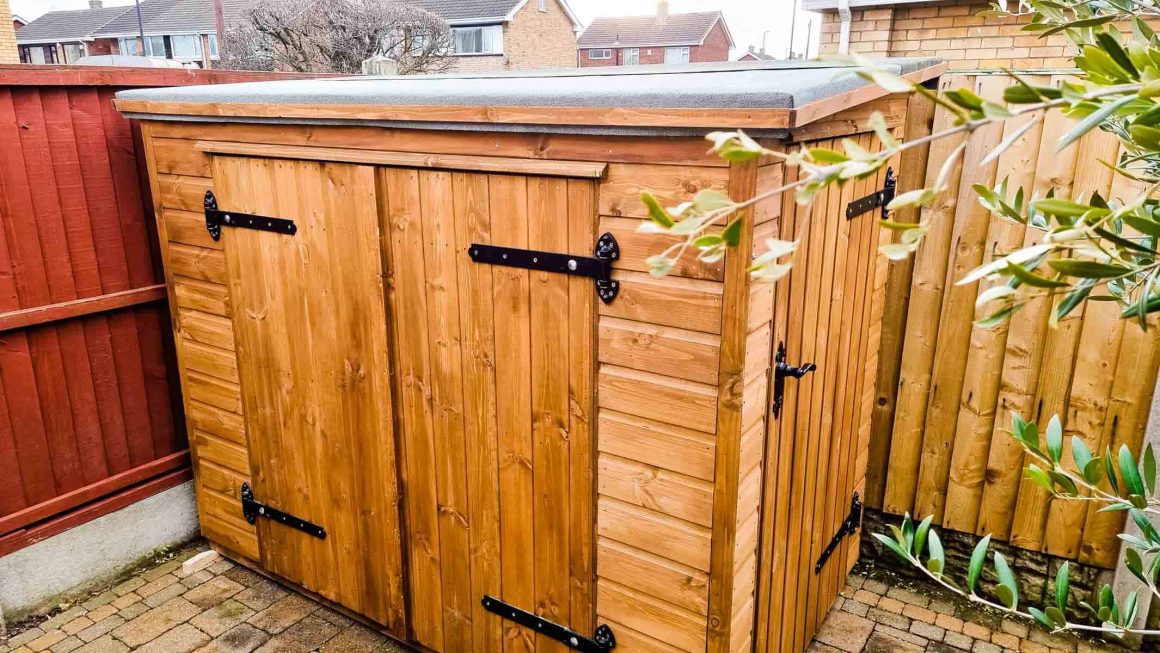 You can build your own miniature shed to store trash. Although it's called a miniature shed, the size, and the features add complexity to building it, but it's not something that can't be done. And, when it is done, the functionality it offers is worth the toil. You can add lids on the top that will help you dump trash and front open doors that will help to remove and replace the cans easily. Plus, you can paint it to the color of your choice.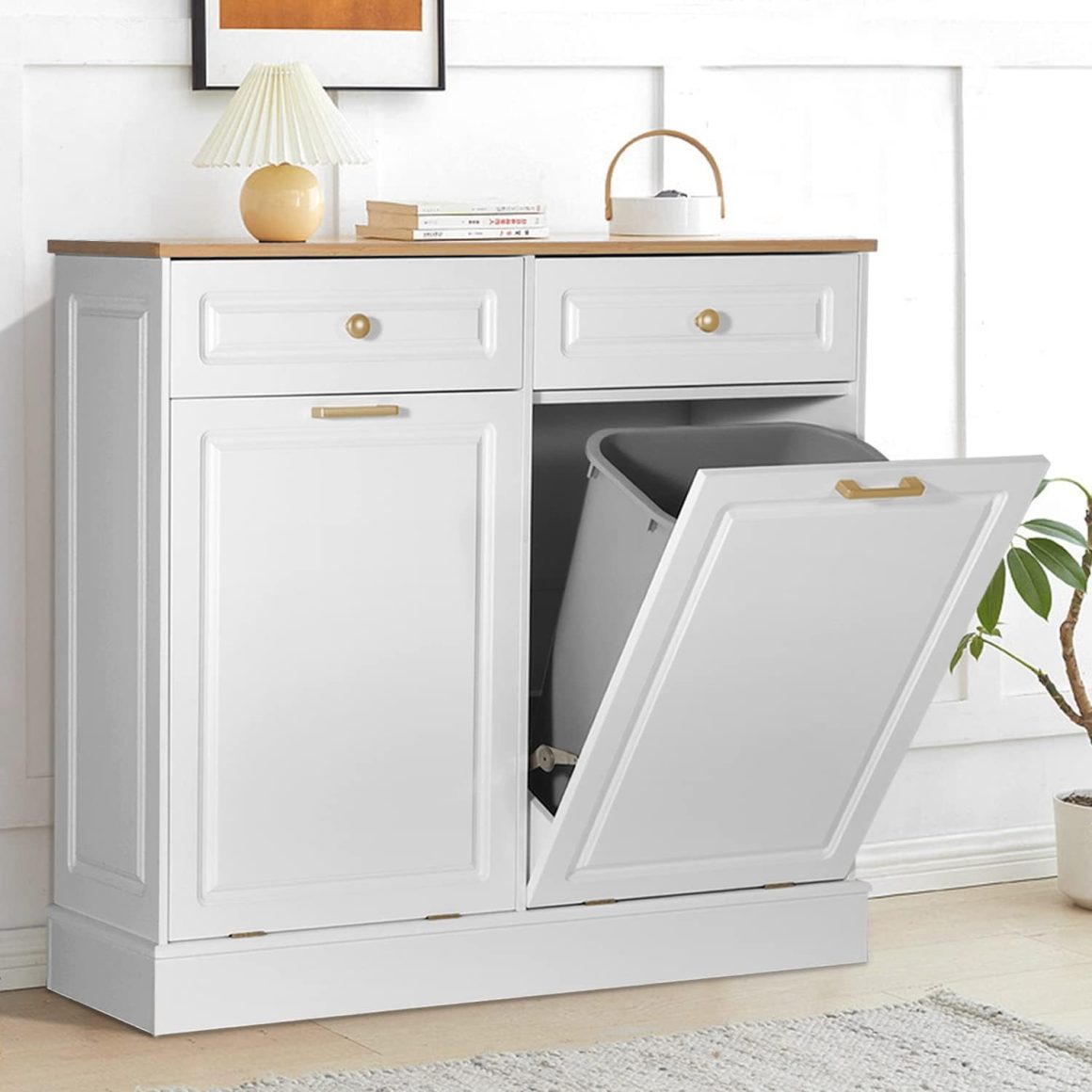 A tilt-out cabinet can be a great addition if it is done to suit your interiors. It would be yet another complex project to undertake for trash can outdoor storage. Or, a pull-out cabinet could be a simpler option, especially if you have an extra cabinet from designing your kitchen interiors. All you have to do is assemble, fix, and paint it the way you want. These would make an ideal choice for indoor storage as well.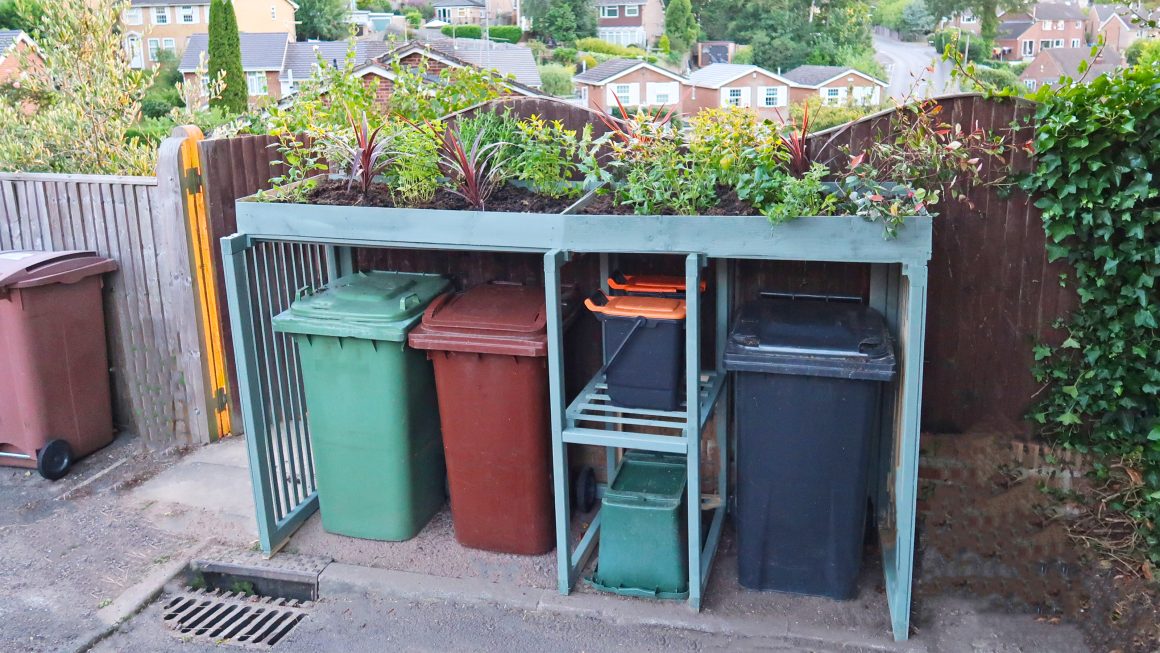 Why work on just garbage storage when you can have that along with a bench, supplies shelves, and potting space all in one? Well, if you are embarking on this project, you are ambitious. Be warned, it is not easy to achieve a neat finish, but it is so satisfying. Multi-storage trash can outdoor storage is a dream for any gardener with hooks and storage cabinets, and potting bench. You can also go a step further by adding shelves and doors to it.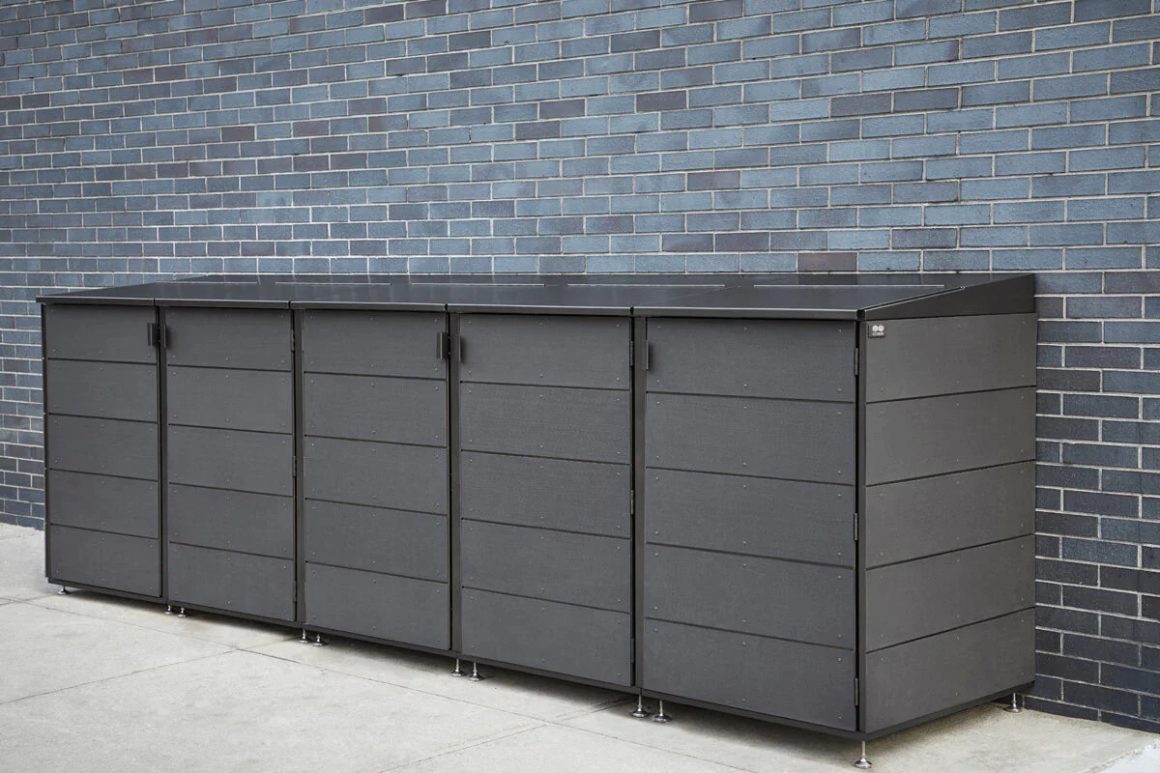 For contemporary homes, lean towards metal rather than wood or plastic to blend in with modern aesthetics. Metals give an edgy vibe, and if you find it overwhelming, soften it with garden rooftops which are also ornamental. Make sure you use corrosion-resistant metals like galvanized steel for durability. The ease of maintenance and sturdiness of metal trash cans' outdoor storage is a bonus.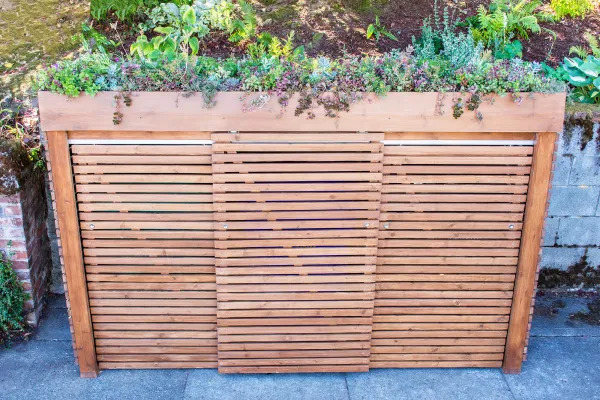 This cool and stylish sliding door storage idea would go well with any kind of house. But this gives a definite relief to the sore eyes and the most convenient one too. However, if you are a novice, you might want to reconsider building this, or better take help. You can build it from scratch or substitute it with premade lattice or solid slats. It sure will earn compliments from visitors and make them envy this brilliant work of art.
The wonder a simple design can contribute is unparalleled. This trash can block created for a single can. You can customize the design from here and elaborate it to fit more cans, and you can also add hinges on top to make a lid. Note that if you want anything made of wood to last forever, use treated wood or cedar, and do not compromise on the quality of paints and finishes. The combination of painted and natural wood makes it visually interesting.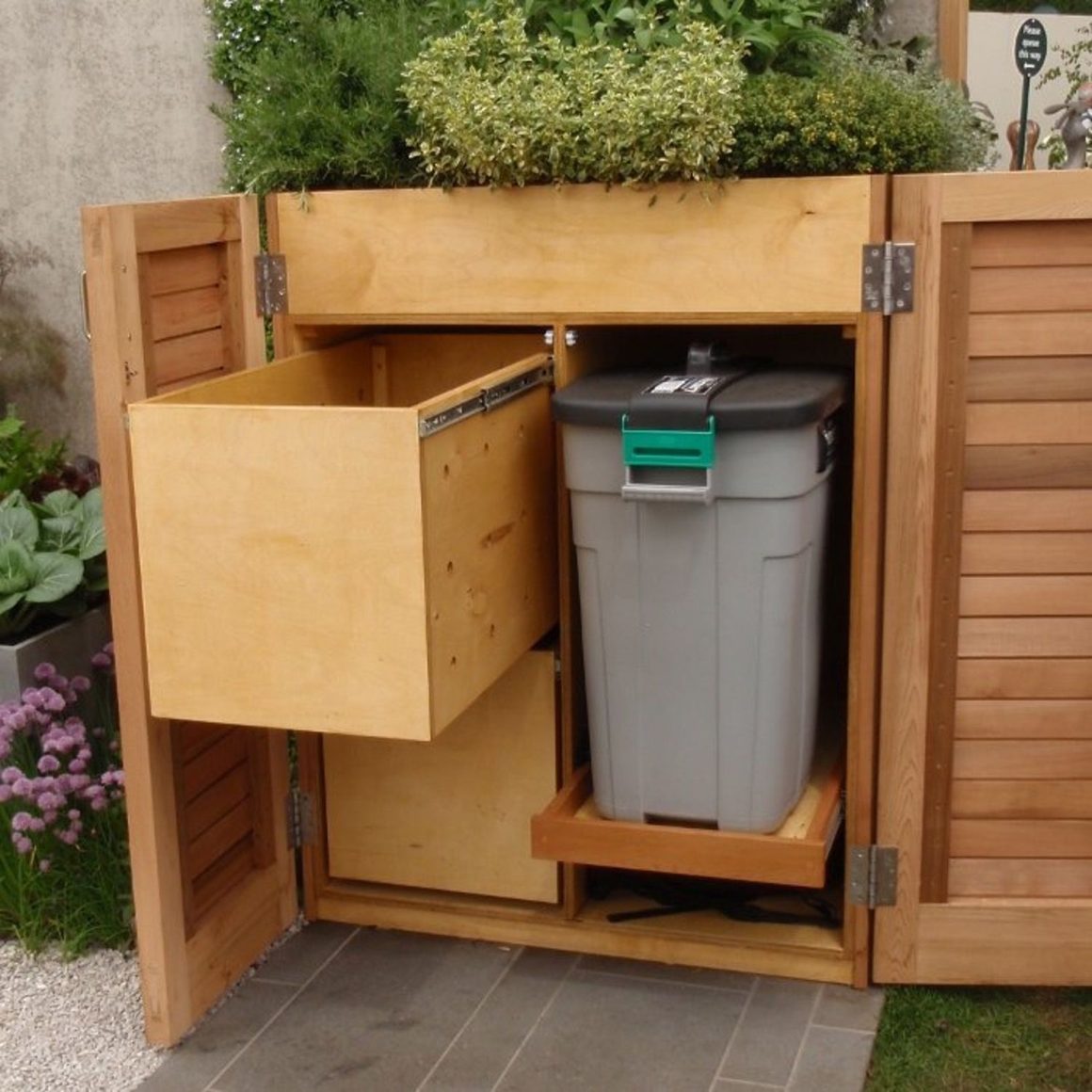 The quadruple wheelie trash can outdoor storage is compact yet multifunctional. It is an ideal solution for folks living in the city who suffer a space crunch. The sliding doors take functionality up a notch, and the multiple sections offer storage for garden supplies and tools apart from the dumpster. The raw, unpainted storage can be tweaked to your preference, and the interior design, such as the number and size of storage racks, can be customized based on your needs.
Maintenance Tips for Long-Lasting Trash Can Outdoor Storage
For the longevity of your hard work, make sure you follow the following steps:
Regular cleaning in and around the trash can storage will ensure that it is free of debris and odor.
Keep a check on waste management and dispose of the trash before there is an overfill.
Inspect for damages and repair regularly. Pay attention to the bolts, handles, wheels, lids, etc., and amend when there is any wear and tear immediately.
Take precautions as per the material's requirement. For example, use rust-resistant paints to prevent oxidation in the case of metal enclosures.
Conclusion
We hope the article helped you understand the difference trash can outdoor storage can make and how to get the right one.
If you have chosen the DIY route, it's not easy. Be it an amateur or an expert, we hope you found the ideas helpful. From conventional to quirky ideas, you can discover the right fit for your home among the sixteen DIY trash can outdoor storage ideas for your next project.
Make sure you are well prepped and have all the equipment before you begin, and be very patient with the progress. And, for the longevity of your hard work, follow the maintenance tips.
Trust the process, and happy DIYing!