Wrought iron gates are not only beautiful but also provide security to our house and come in various designs. Whenever any homeowner looks for a house, then an iron gate is the first choice for them.
As iron gates come in various designs, sometimes designers and homeowners get confused about which design to choose. To overcome this problem, we are presenting this article and will discuss 28 different ornamental wrought iron gate designs and ideas for fences and driveways.
The above designs contain some of the most unique, creative, and beautiful designs. These designs will be the point of attraction at your house and will be complemented by your guests.
From classic or timeless design to modern and abstract creations, these iron gate ideas will make your property full of charm, character, and curb appeal. So let us dive and discover the world of wrought iron gates.
1. Royal Iron Gate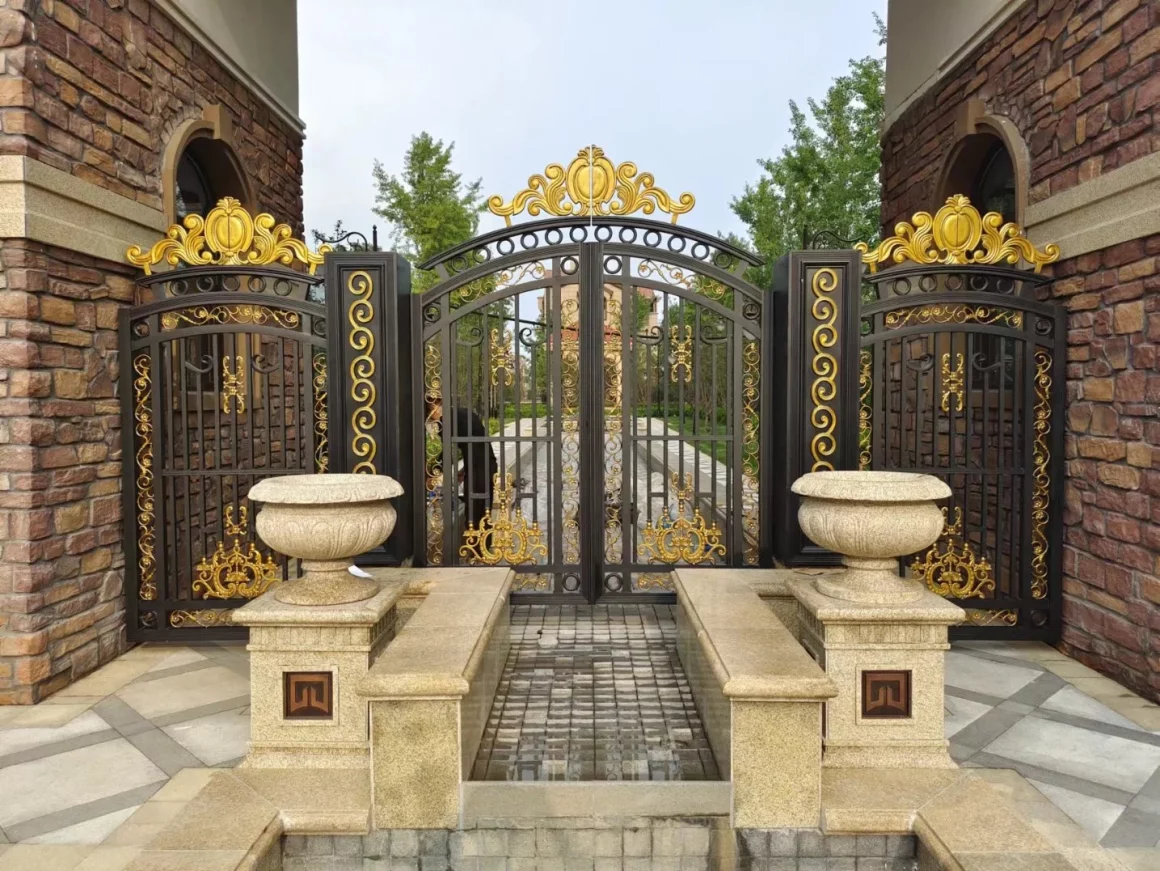 If you are a fan of the royal theme, then you can choose this iron gate design for you. One of those iron gate designs will provide you with a grand feeling and entrance. Their larger size commands their presence, including decorative items like gold or gold-toned accents.
If you are opting for this gate, then remember to use high quality wrought item that is durable, long-lasting, able to withstand, and will stay there for many years to come. You can customize the design the way you like.
2. Privacy Screen Iron Gate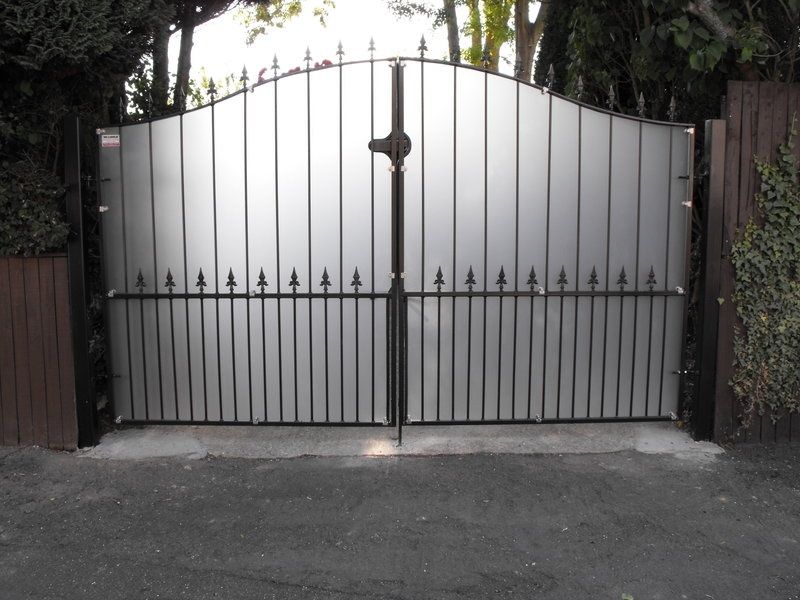 A privacy screen iron gate provides you with security and privacy and protects you from random outsiders peeing in your house. Typically this iron gate features solid lower panels that restrict the view from the outside while having designs on the upper section
The privacy screen comes in rolls and is made of various materials, out of which wrought iron is one of them; you can choose any of them that suits you. This is one of those iron gate designs that maintain a cohesive look and won't disappoint you.
3. Iron Gate with Minimal Artwork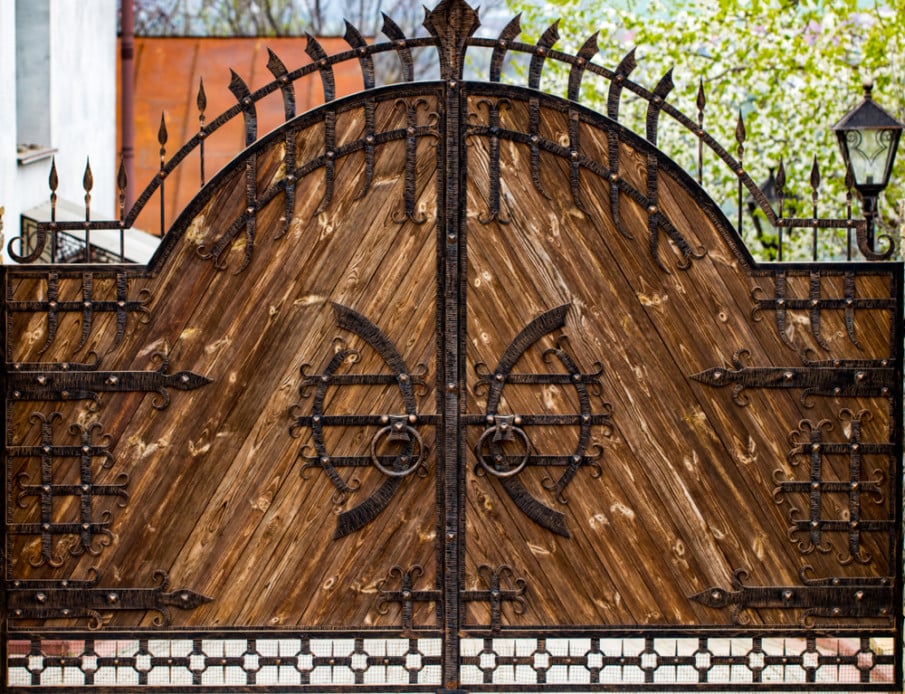 Some people are simple and want everything around them that way. If you are, this iron gate design will work for you. Mainly they are either square or rectangular, depending on the area you have chosen for the gate. For the frame, you can keep them simple and minimalistic using horizontal or vertical bars and linear patterns.
By selecting a few well-placed elements, you can create an elegant and modern gate that showcases minimal artwork while maintaining a sleek appearance. You can even choose the design of your choice.
4. Iron Gate with Clock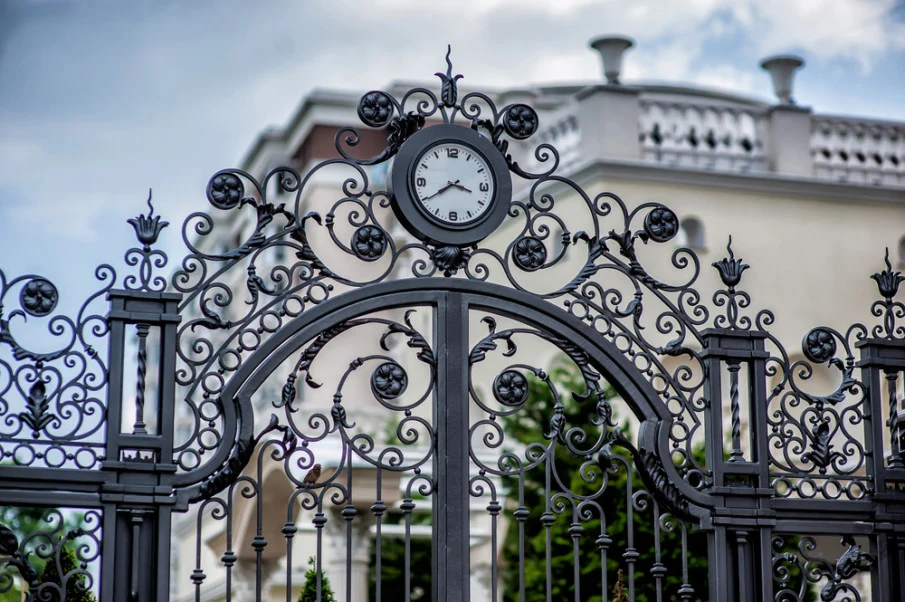 Now this is unique and different from the iron gate designs. Here the design of the gate depends upon your choice. You can choose any kind of design for your gate. But make sure that the placement of the clock is at the top of the gate.
This will make the clock visible from the far. Make sure to choose the clock that suits or fits well to your gate. To make it visible at night, you can add LED lights or a small spotlight on the clock. This will give your iron gate a beautiful touch.
5. Blue Iron Gate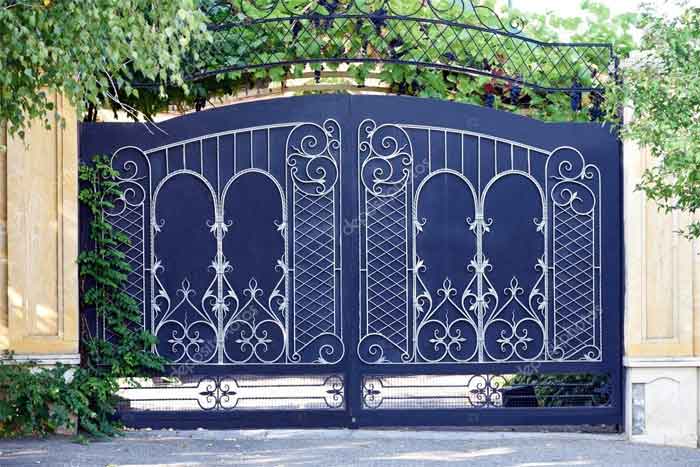 Many of the gates that you have seen must be black; here, we will be talking about blue-colored iron gates. There are various shades of blue to choose from, ranging from light and vibrant blues to deep navy or teal blue. You can choose the color that suits your house or property. Remember that blue works well with contrasting colors.
Also, take advice from experts who can help you in choosing the best materials for both the paint and the gate. As the blue color fades away in the sunlight, it requires regular maintenance.
6. Modern Iron Gate Design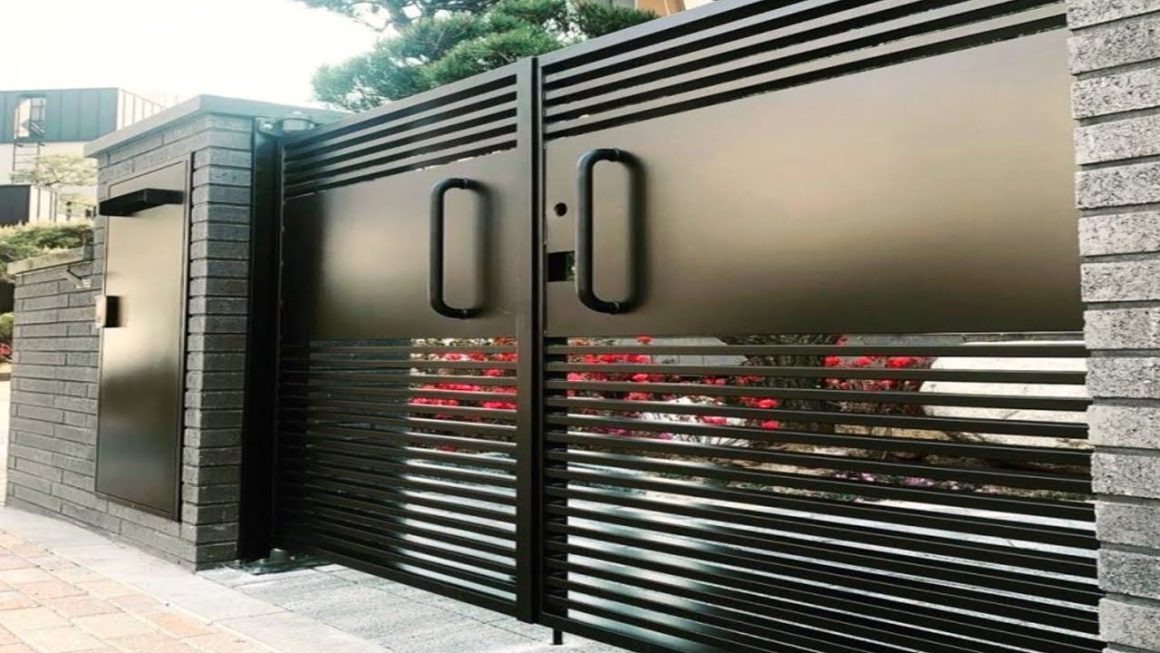 They are heavy and are designed by focusing on the latest iron gate designs that often focus on the trending designs that are being loved by the masses. These iron gate designs are mainly based on personal preference and the architectural style of your property.
Made from heavy wrought iron or material, these gates are mainly used for decorative purposes. You can even make it weather resistant by coating those materials with special paint so that it can withstand harsh weather conditions.
7. Iron Gate with Wood
This is among those iron gate designs where there is usage of both wrought iron and wood. Iron in the first layer and wood in the second layer of the gate. This can create a beautiful and harmonious design for your gate.
There are many ways to install wood at your iron wood gate, like an iron frame with wood panels, wood inlays in an Iron frame, iron scrollwork with wooden accents, and many more you can choose any type you want. You must be very careful while choosing any kind of design, as the iron gate with wood requires a lot of maintenance.
8. Automatic Iron Gate
If you are someone who loves technology, then this iron gate can be a good choice for you. It can open and close with a click which will impress your guest. There are several ways to control this automatic iron gate, like remote controls, keypads, intercom systems, or even apps on smartphones.
The gate can be installed above ground or below ground, depending on the specific design and layout of your gate. The main advantage of this iron gate is that it comes with various safety features.
9. Plant Iron Gate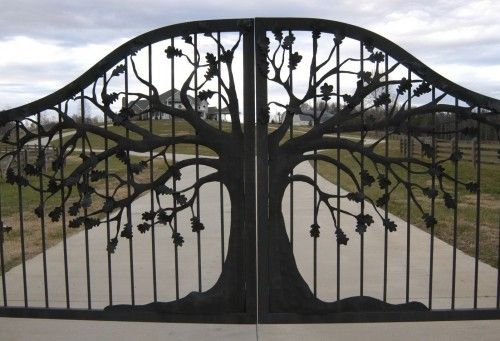 You can create your iron gate designs by making use of plants on the gates. You can add plants in two ways. The first one is the addition of real plants, like climbing vines such as ivy or climbing roses, to grow and intertwine with the ironwork providing a beautiful organic look.
Or you can create a living gate design that gives a real look of plants or planter pockets directly into the design. If you are planning to add real plants, then make sure that you maintain them properly.
10. Bold Color Iron Gate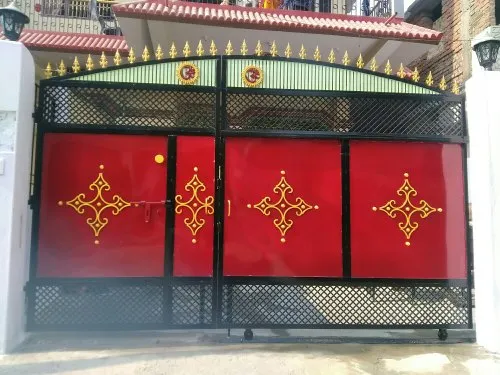 Most of the time, designers and homeowners prefer black color or any dark color on the gate. But very few of them choose bold colors like yellow, orange, red, green, and blue. You can choose any of the above colors that suit your house or property.
You can even experiment with different colors, finishes, and design elements so that they can affect your property more effectively.
11. Color Matching Iron Gate
You can paint your iron gate to match your house in several ways. You can match the trim of your house, use a color that compliments the main color of your house, or opt for a monochromatic scheme means choosing a color darker or lighter than the color of your house, accent colors, and natural metallic colors.
The choice depends on you and the architectural design of your house.
12. Victorian Style Iron Gate
A Victorian iron gate comes under one of those iron gate designs that will take you to the past after installation. A Victorian-Styled iron gate can be customized to suit your specific preferences and the architectural style of your property.
Working with a skilled ironworker or gate designer will ensure that your gate captures the essence of the Victorian era while complementing the overall design vision.
13. Classic Arched Iron Gate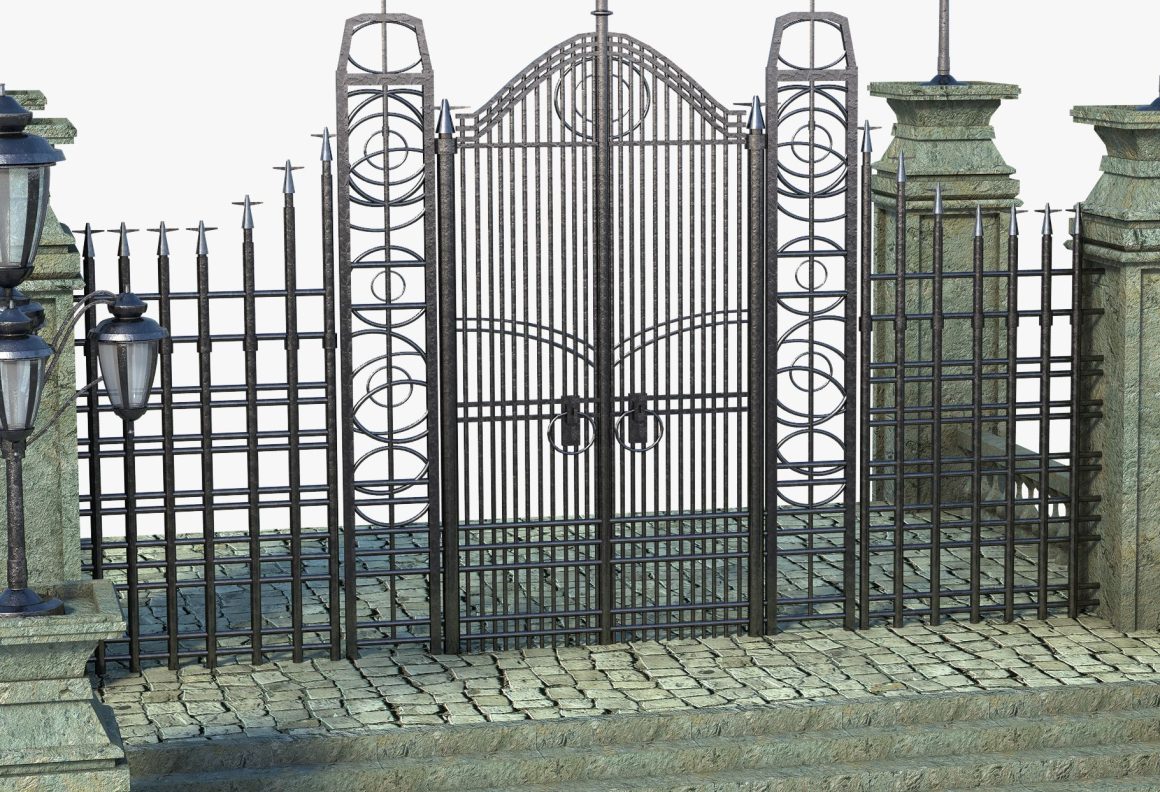 This is a timeless design that will provide you with a gentle, graceful arch on top. This creates a focal point that draws the eye. The arch can be symmetrical or slightly elongated, depending on your preference.
This gate will be a beautiful addition to your property, whether it's for a residential driveway, garden entrance, or as an entryway to a commercial establishment. This iron gate will be durable cause it's made from the material wrought iron.
14. Single Door Iron Gate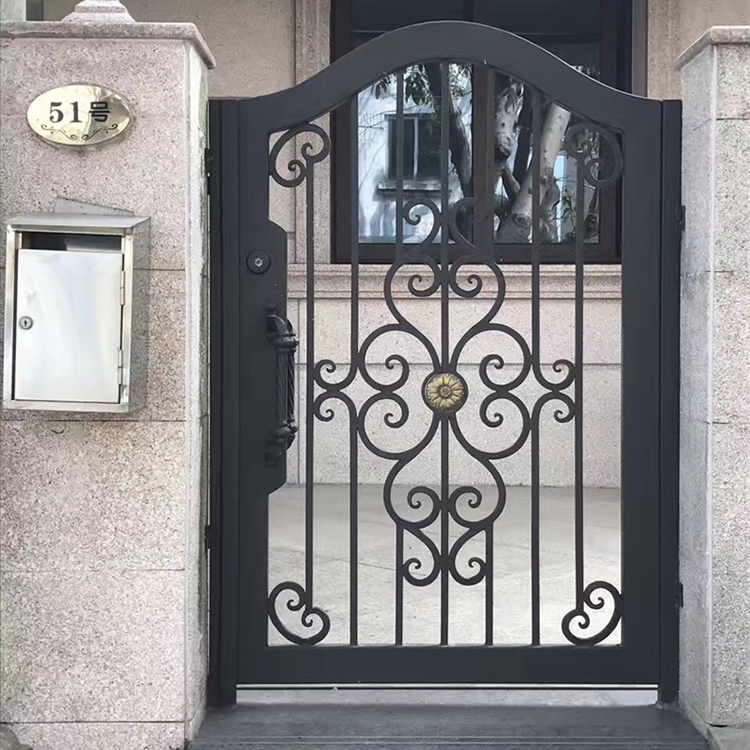 Most of the time, we see double-door iron, but trust me, an iron gate with a single-door panel can also be a good option. Constructed from wrought iron, a single-door iron gate provides elegance and functionality.
The only drawback of a single-door iron gate is that it is constructed for smaller entrances or areas where space is limited. They are often used for pedestrian access or to enclose a smaller section of the property.
15. Sliding Door Iron Gate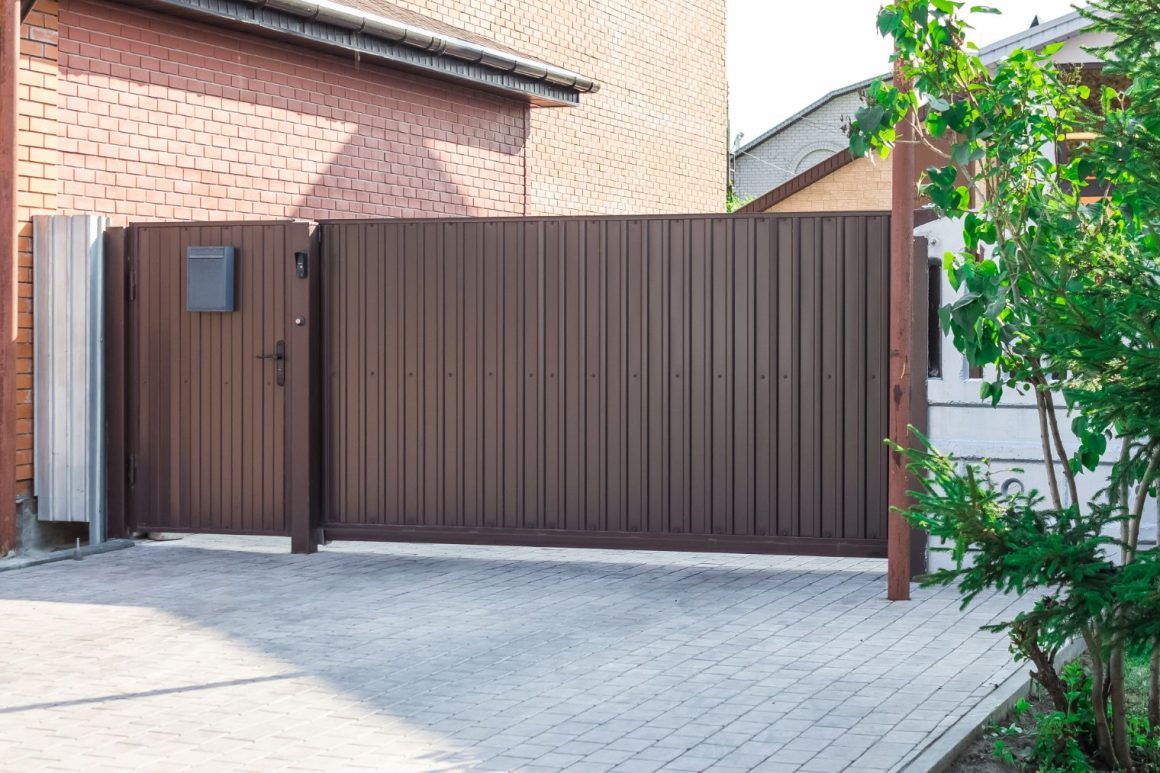 This iron gate is quite different from traditional iron gate designs. Sliding door iron gates are stylish, durable, and trendy. It is designed in such a way that there is a track that is designed to slide horizontally along a track.
Allowing for convenient access while saving space. Moving on to the gate design, you can choose any design of your choice or the demand of your property.
16. Vintage Style Iron Gate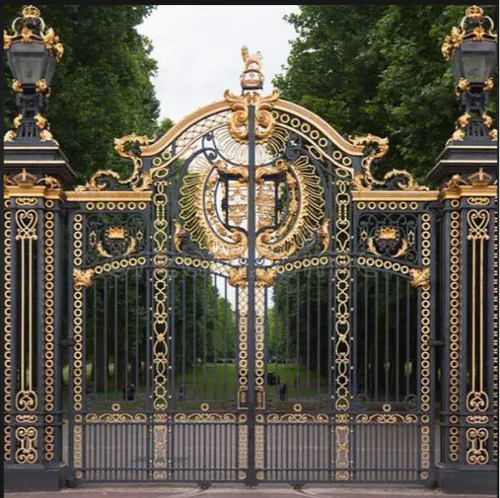 If you are a fan of vintage style, then this gate can be a good choice. This will show the charm and elegance of the bygone era. It is characterized by its intricate and ornate details.
Crafted with attention to detail, showcasing the beauty of the old times. You can choose the design of your choice but do choose wrought iron as a material for the gate. This gate creates a captivating entrance to the property, which evokes a sense of history and timeless beauty.
17. Celtic Knot Iron Gate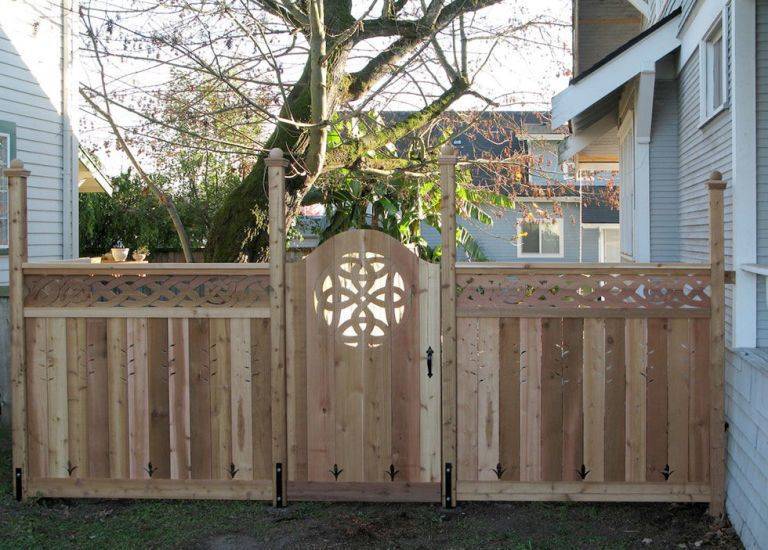 A Celtic wrought iron gate is a beautifully crafted wrought iron that incorporates a traditional Celtic knot design into its structure or ornamentation. Celtic knots are such patterns that consist of interwoven lines.
This forms a continuous loop without a beginning or an end, symbolizing the external nature of life and love. This iron gate can also be a good option for your house or property.
18. Bamboo Iron Gate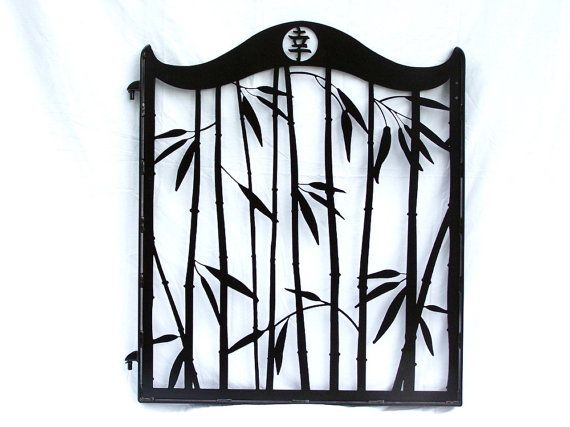 Now you must be thinking that this is a gate design with bamboo. The answer is no. Here bamboo is made of metallic artwork. This unique design blends perfectly with the organic elements with the elegance of ornamental metalwork; this creates a visually striking entrance for your property.
The iron elements are typically coated with paint to protect them from rusting. Bamboo gates can also be customizable, and you can choose where to put bamboo.
19. Diamond Mesh Iron Gate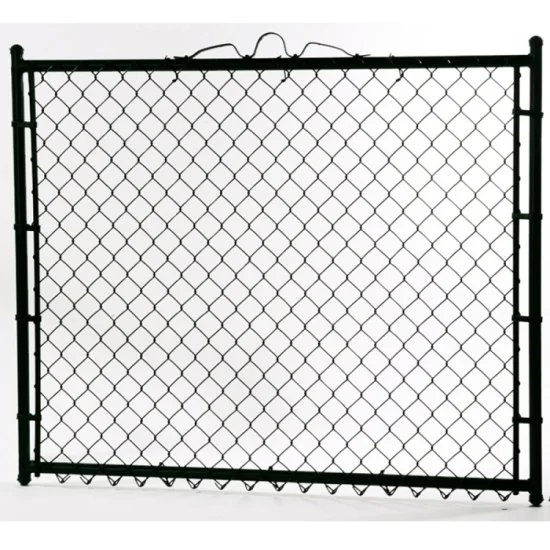 It is a type of wrought iron gate that features a pattern of interconnected diamond-shaped openings. The gate is constructed using iron bars or rods that are bent and blended in a diamond lettuce formation.
Despite being a beautiful design, this iron gate also provides some visibility and airflow. The size of the diamond-shaped opening may vary, depending on the desired design of the particular person.
20. Art Deco Iron Gate Design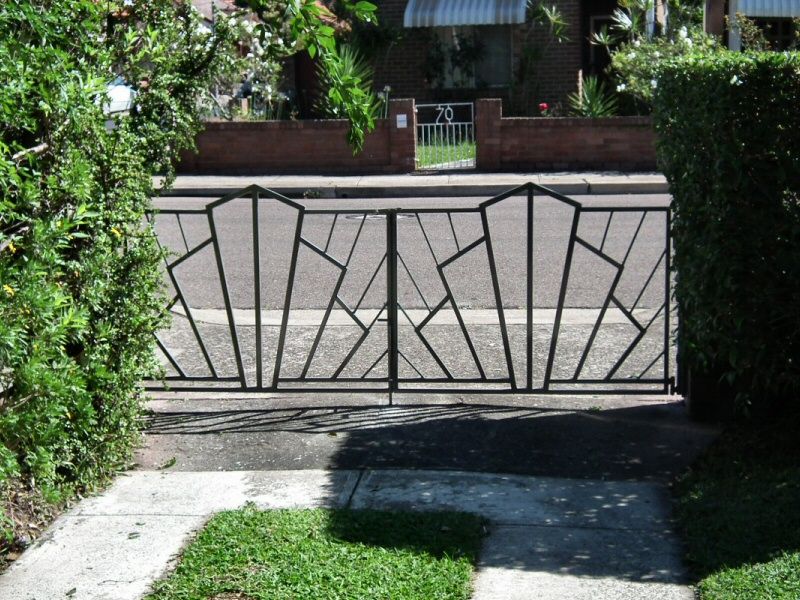 Art Deco is an influential design that emerged in the early 20th century that was characterized by its geometric shapes, streamlined forms, and luxurious materials. When applied to iron gate designs, art deco creates a visually striking space.
The color palette of this iron gate design is mainly bold and vibrant so that it can reflect the exuberance of the era. You can the most commonly used colors like black, white, gold, silver, and bronze. These colors can also be combined in such a way that they complement each other.
21. Customizable Iron Gate Design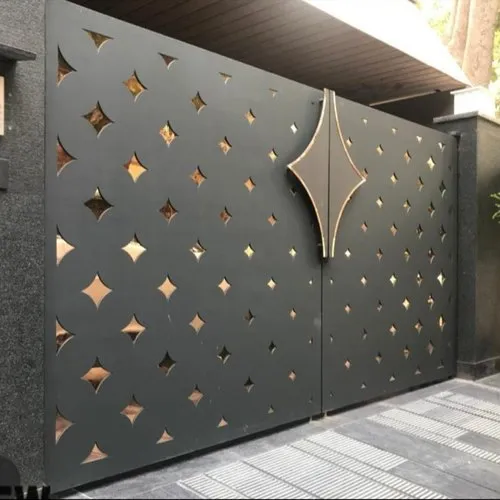 A customizable iron gate is one of those iron gate designs that depends upon the homeowner. It offers flexibility to create a gate that perfectly suits your preferences and requirements. The customizable iron gates are meticulously crafted to accommodate your design choices and functional needs.
It begins with a sturdy iron frame that provides the structural integrity and durability required for a long-lasting gate. The frame can be customized in terms of height, width, and thickness to fit the dimensions of your driveway or fence opening.
22. Baroque Iron Gate Design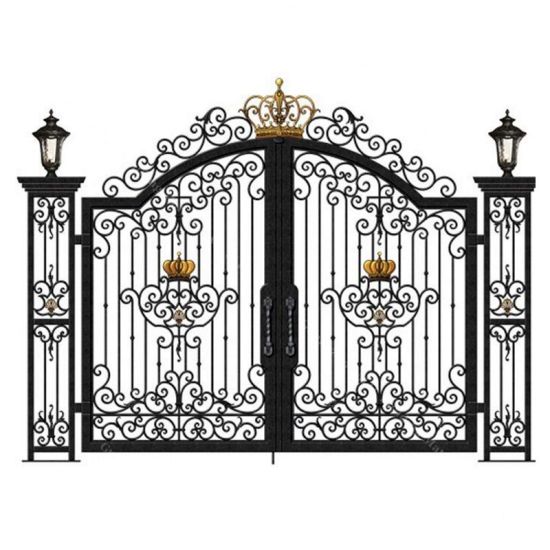 The Baroque iron gate design is characterized by its ornate and lavish details, reflecting the opulence and grandeur of the Baroque period. This style emerged in the 17th century and is known for its dramatic aesthetic. They are mostly grand and imposing when it comes to their size. They are designed in such a way that they have impressive entrances to palaces, estates, or important buildings.
Some key features of the baroque design are elaborate scrollwork, ornamental details, intricate foliage, and floral patterns, volutes and cartouches, arches and curves, gilded or brass accents, symmetry and balance, and lastly, they are of large scale.
The best gate to use at the property. But with the disadvantage that it requires a lot of constant repairing.
23. Vine and Leaf Design Iron Gate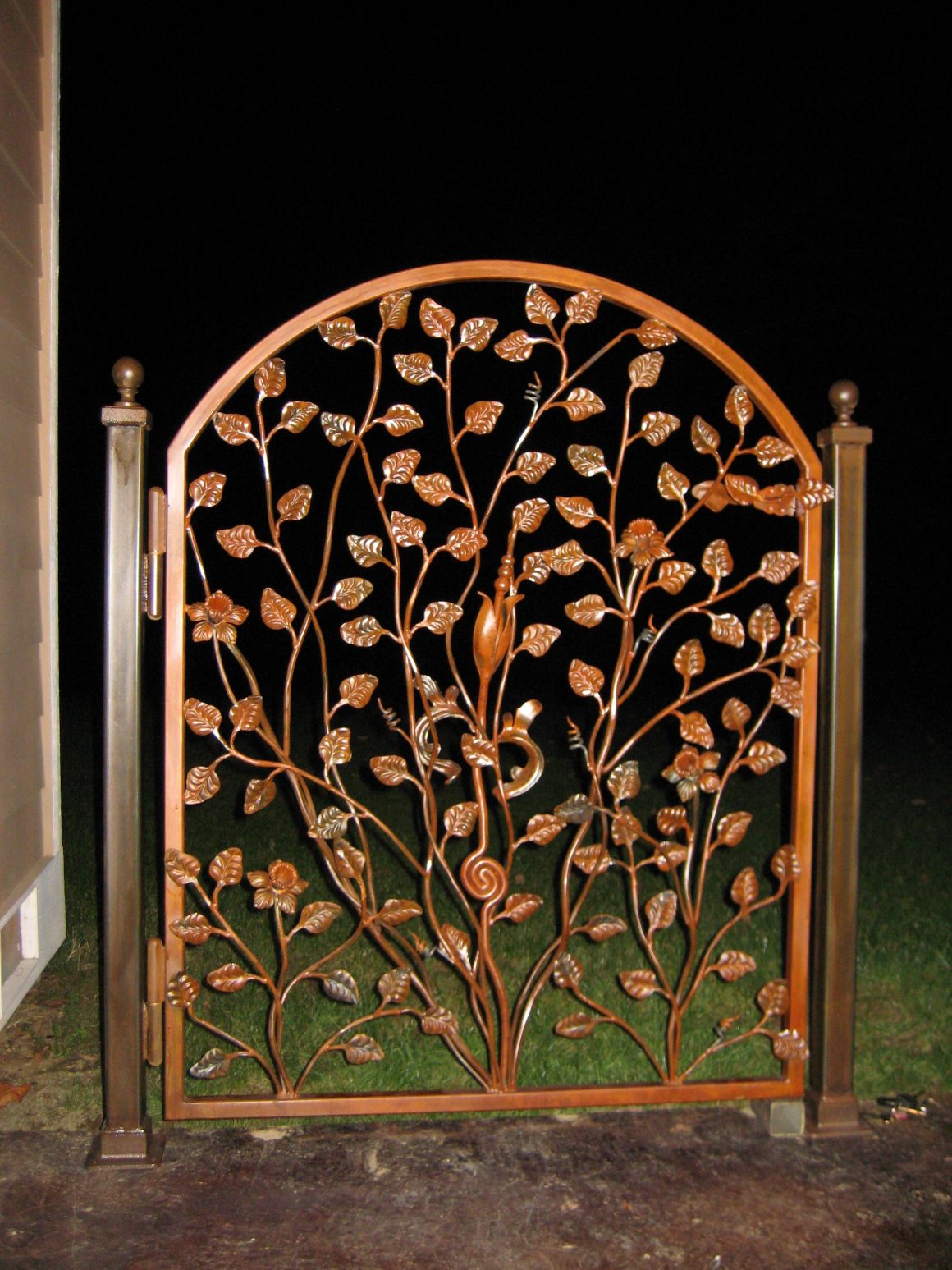 A vine and deaf design iron gate is a type of wrought iron gate that incorporates decorative vines and leaves into its design. It features intricately crafted metalwork resembling twisting vines and lush foliage, creating a natural and artistic appearance.
The gate may have a variety of vine and leaf patterns, ranging from delicate tendrils to elaborate arrangements. The vines can wrap around the gate's framework, while the leaves can be clustered or scattered throughout the design.
24. Gothic Iron Gate Design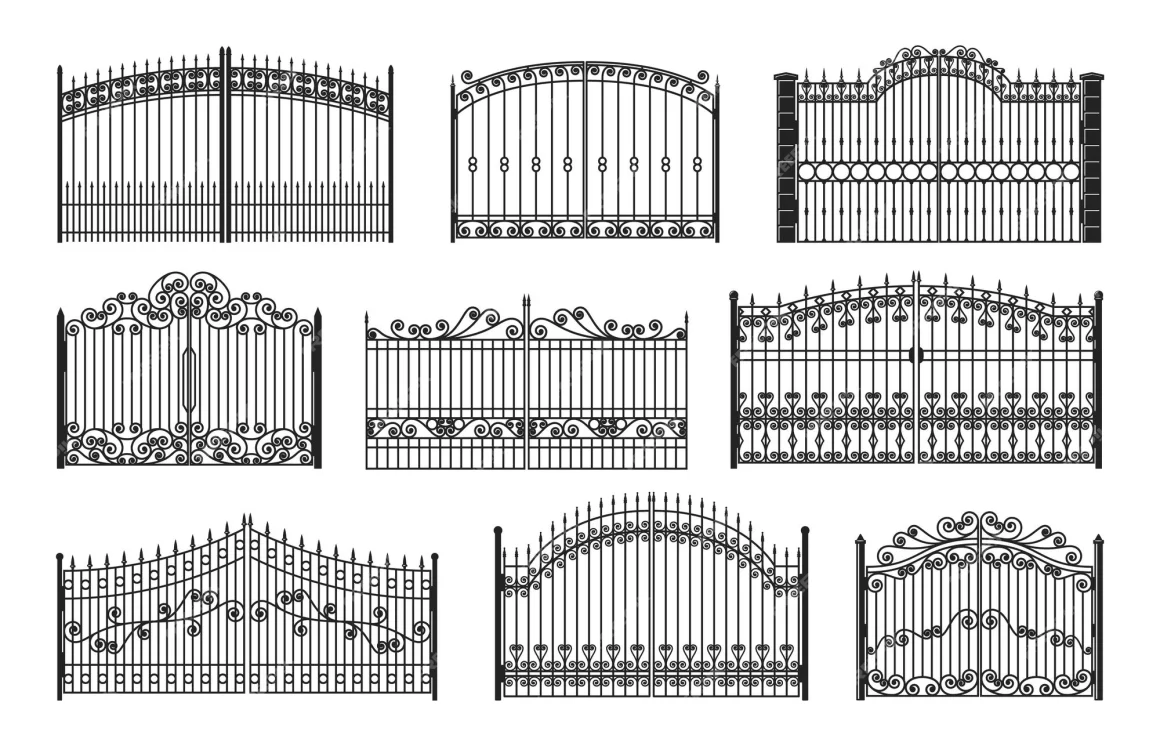 A Gothic design is one of those iron gate designs that took its inspiration from architectural designs prevalent during the Gothic period. The gate stands tall and imposing, with a solid iron framework that gives its strength and durability. Its arched top creates a sense of grandeur and adds an air of elegance to the entrance.
Elaborate tracery and delicate filigree work adorn the gate, creating a mesmerizing display of craftsmanship. Intricate patterns, such as trefoils, quatrefoils, and other geometric shapes, are meticulously crafted and interwoven throughout the gate's structure.
25. Tuscan Villa Iron Gate Design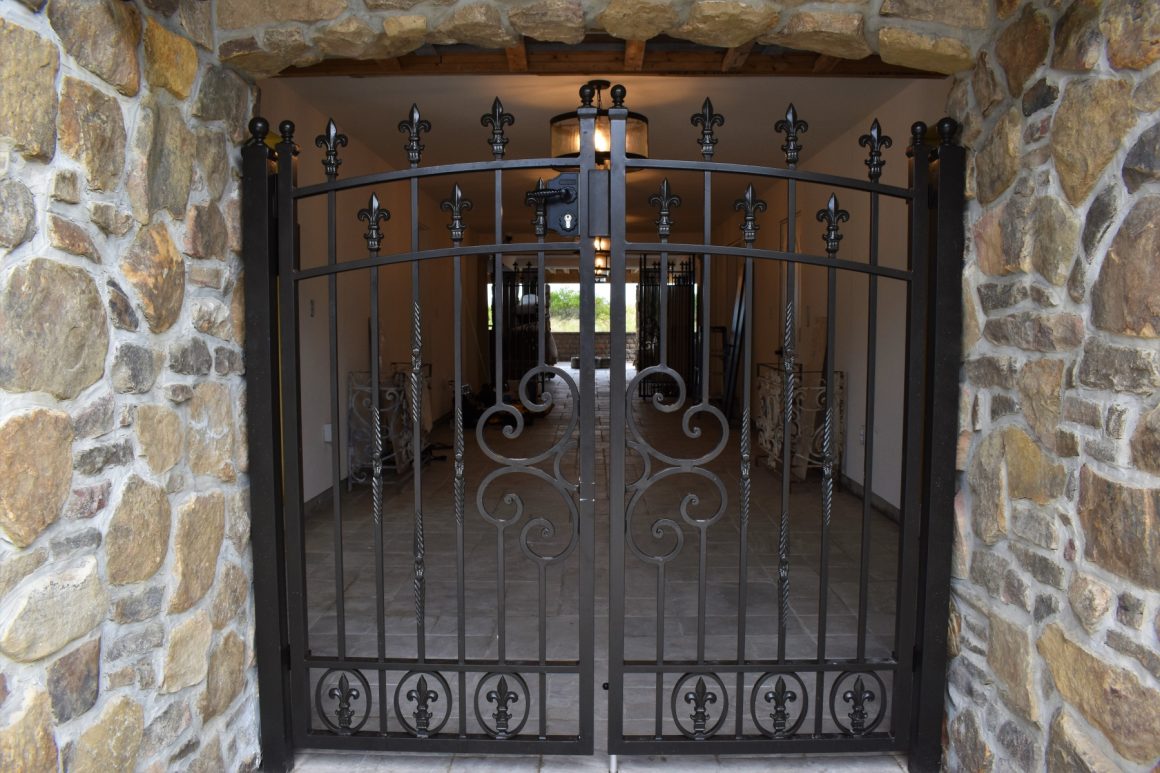 A Tuscan villa's iron gates are some of the iron gates that won't disappoint you in terms of security and beauty. It draws inspiration from the beautiful architecture and design elements found in the Tuscan region of Italy.
It embodies the warmth, charm, and rustic elegance associated with Tuscan VIllas and is a perfect addition to homes or properties that seek to capture that ambiance. Whether it is a simple single gate for a pedestrian entrance or a grand double gate for a driveway, it can give a touch of old-world charm to any property.
26. Moroccan-Inspired Iron Gate Design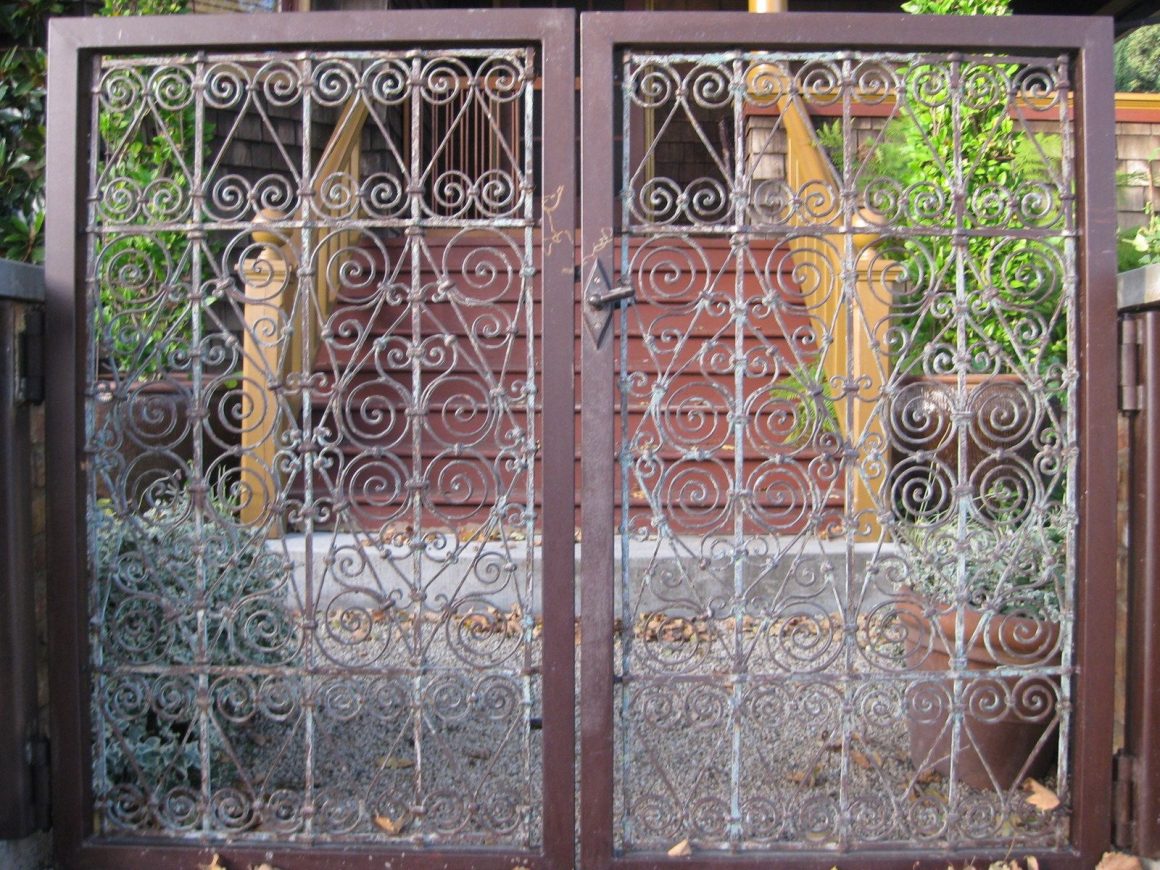 Taking inspiration from Moroccan architecture, these designs often feature elaborate scrollwork, filigree details, and precise craftsmanship.
The geometric pattern included in the gate design may include intricate details, interlocking shapes, or repetitive motifs such as stars, diamonds, or hexagons. You can even take inspiration from Moroccan architecture, whether modern or old design. Make sure to use good products to increase their durability.
27. Greek Key Iron Gate Design
The Greek key pattern that is often associated with Greek and ancient Mediterranean aesthetics symbolizes eternity and unity. It has been widely used in various forms of art and design throughout history, including architecture, pottery, and textiles. A Greek iron gate can have a timeless and elegant appearance; this adds a classic touch to any property.
The reason why homeowners are still fond of this iron gate design. For a fence or driveway entrance, a Greek key iron gate can be a striking focal point, combining functionality and artistic appeal.
28. Geometric Pattern Iron Gate Design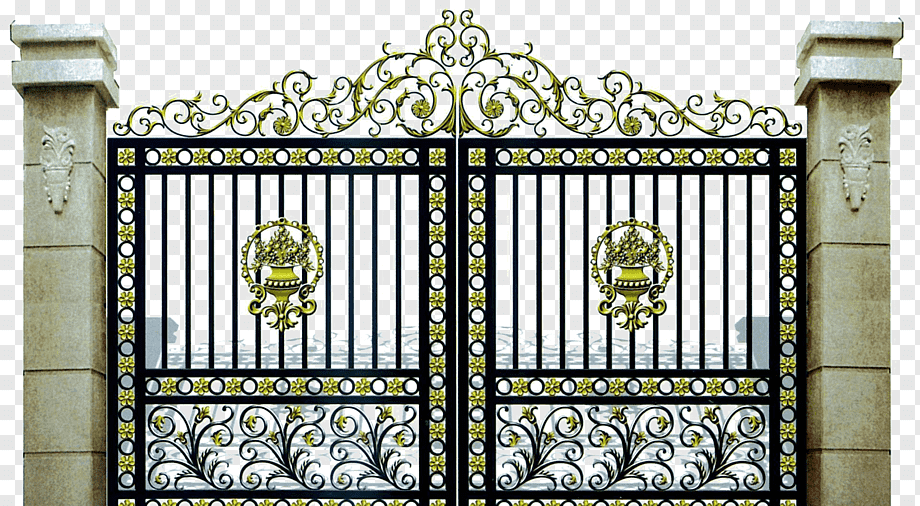 A geometric pattern iron gate design that includes various geometric shapes and patterns in its structure. This type of gate embraces cleanliness, symmetry, and an aesthetic of your choice.
This gate consists of a sturdy frame made of wrought iron that provides both strength and durability. The frame may have a rectangular or square shape with precise angles and straight lines. It is often constructed with thick bars or tubes to give it a solid appearance.
Conclusion
These were the 28 iron gate designs and ideas for fence and driveway that will make your entrance grand. Wrought iron gates offer a wide array of possibilities to enhance the security of your house.
These iron not only provides security but also serve as a work of art, showcasing craftsmanship and creativity. You can even customize your iron gate design for your home. Always remember that the iron gate design you are choosing must go well with your house, and be very careful about it.
Which of the above iron gate designs are you planning to install at your house? Let us know in the below comment section.
Frequently Asked Questions
What Color is Best for Iron Gates?
Though the color of the gate must depend on the design of the house, most of the time, silver, white, gray, or wooden colors can be considered the best color for iron gates. Also, nowadays, these paint colors are most commonly seen in homes.
Is Wrought Iron Good for Iron Gates?
Definitely, yes, wrought iron is the best element for fences and gates. Because of its strength and durability, it makes sure that anyone on the other side of the fence is safe. It also has one more advantage that it is low maintenance and does not require a lot of money for regular maintenance.
How to Add Privacy in The Iron Gates?
There can be several ways to add privacy in the iron gates, and the most popular one is the addition of screens. These screens are of various materials and come in large rolls, and can be cut to the appropriate size. The main advantage of screens is that they are strong, durable, easy to install, and provide instant privacy.
How to Protect Metal Gates from Rusting?
The only way to protect a metal gate from rusting is by painting them. Rusting mainly happens when the iron gets in contact with air and moisture that exist in the atmosphere. By painting, it prevents that contact and protects iron from rusting. Make sure to use the paint of good quality.