Does your bathroom give you the feel of a wellness resort? Where could you rejuvenate in a bathtub or contemplate your life decisions in the most comforting shower?
Or are you one of the millions of Americans who own a tiny bathroom? What if I tell you that the space shouldn't restrain you from converting your bathroom into your escape territory where you can tune out your worries for a while?
It is challenging to design a small bathroom well. But nothing that the right paint color can't fix. Whether you are trying to redesign your bathroom or planning one for your new home, we have perfect small bathroom color solutions for you.
How to Pick Small Bathroom Colors?
The right small bathroom paint colors enhance the space and help profoundly in setting the desired mood. Choosing the right color can be daunting, but it relies on the following questions.
What is the mood you're looking for? Calm and serene or bright and warm?
Is there enough natural light? What side is the room facing, and is there a window or not?
What kind of lighting do you prefer? Are there abundant overhead lights, or will you be adding more? What kind of lights do you have, and are there lots of mirrors?
What kind of décor are you going for? Consider the fixtures, rugs, accessories, etc.
Answering all these questions will help you build your color palette from there, which can transform even a noticeably small bathroom, stylish.
The Best Small Bathroom Color Ideas
If you are planning to pick white or light neutral, thinking there is no better option for a small bathroom, you might want to reconsider. Check out the list of best small bathroom color ideas, which is curated considering all factors necessary to enhance the tight space.
Light Color Options for Small Bathroom
Light colors are safer choices when it comes to smaller bathrooms. So let's go through the best of them that are popular among homeowners.
1. The Classic – White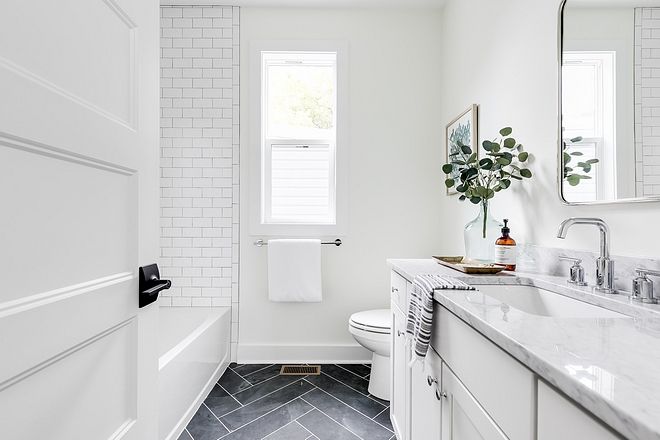 Yes, we suggested reconsidering white, but not if you really want it. Besides, it is undeniably the foolproof color for petite spaces. Break off the monotonicity by adding a pop of contrast with the décor.
Best White Options:
Benjamin Moore – Ivory White 925
Sherwin Williams – Alabaster SW 7008
Dun Edwards – Cool December DEW383
2. The Fallbacks – Off-White and Beige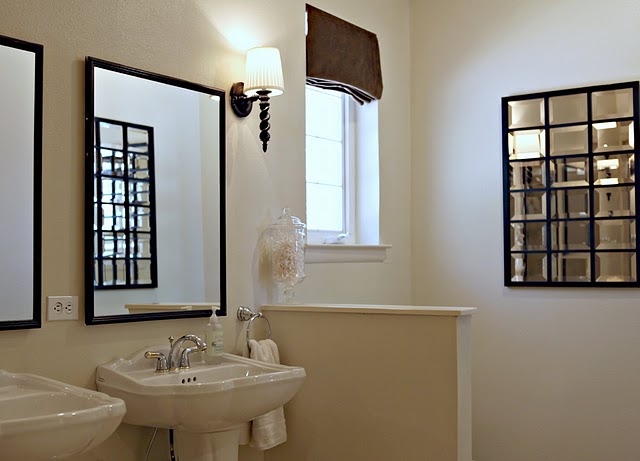 Yet another classic that could not go wrong. Just like white, it has the ability to create an illusion of a larger space. It is a safe bet if you do not want to take risks, and off-white and beige have more depth than plain old white and are the best fallback choices.
Best Off-White and Beige Options:
Farrow and Ball – Pointing
Benjamin Moore – Swiss Coffee
Sherwin Williams – Natural Linen
3. The Other Neutral-Gray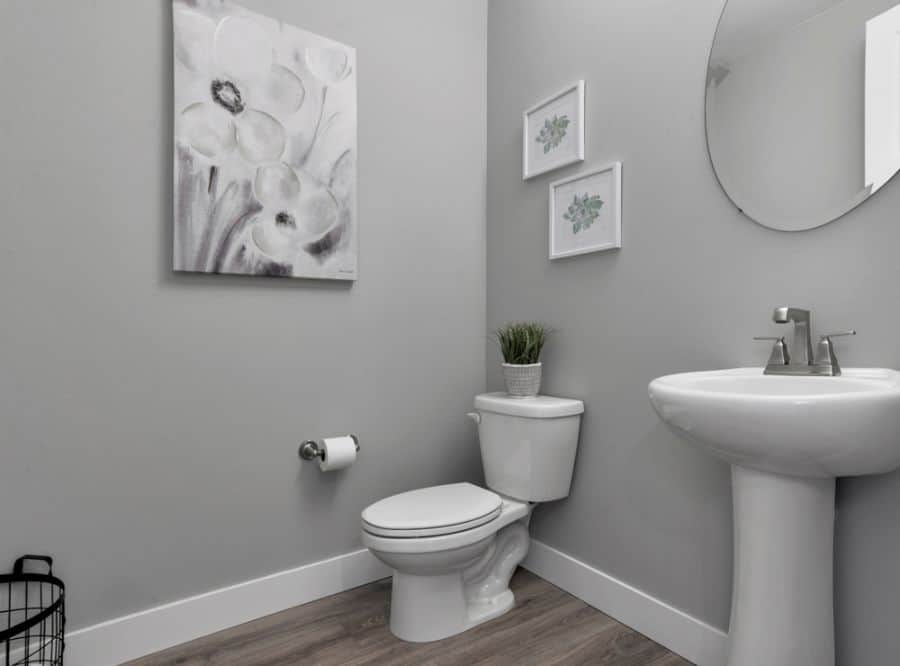 Gray is a versatile color and is a great choice for every corner of your house. That is what makes gray a universal favorite neutral. So why spare the tiny bathroom? If you have a well-lit bathroom, pick grays that have cool undertones. In the case of compromised natural lighting, go for the ones with warm undertones. Don't underestimate gray; it is definitely a good small bathroom color pick.
Best Gray Options:
Benjamin Moore – Gray Owl
Sherwin Williams – Light French Gray
Benjamin Moore – Revere Pewter
4. Evoke the Summer Skies – Blue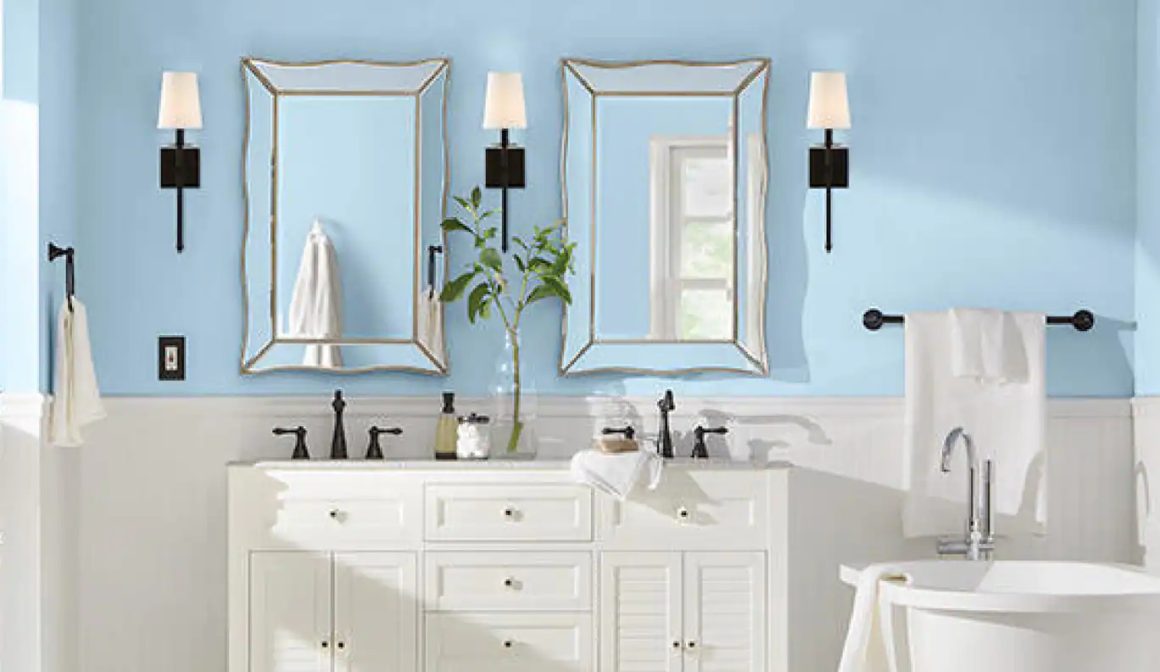 Blue is psychologically renowned for giving a sense of tranquility and calmness. So it is highly recommended to use blue to drive away your blues. When you think of blue, you think of an exotic vacation. Whether you favor the summer skies or the bright seas, there is a shade of blue for everyone. It is a complex color with multiple undertones giving each shade a fine character.
Best Blue Options:
Sherwin Williams – Reflecting Pool
Sherwin Williams – Sleepy Blue
Benjamin Moore – Spa Day
Benjamin Moore – Porcelain Glaze
Behr – Tahoe Blue
Behr – Permafrost
5. the Ultimate Blush – Pink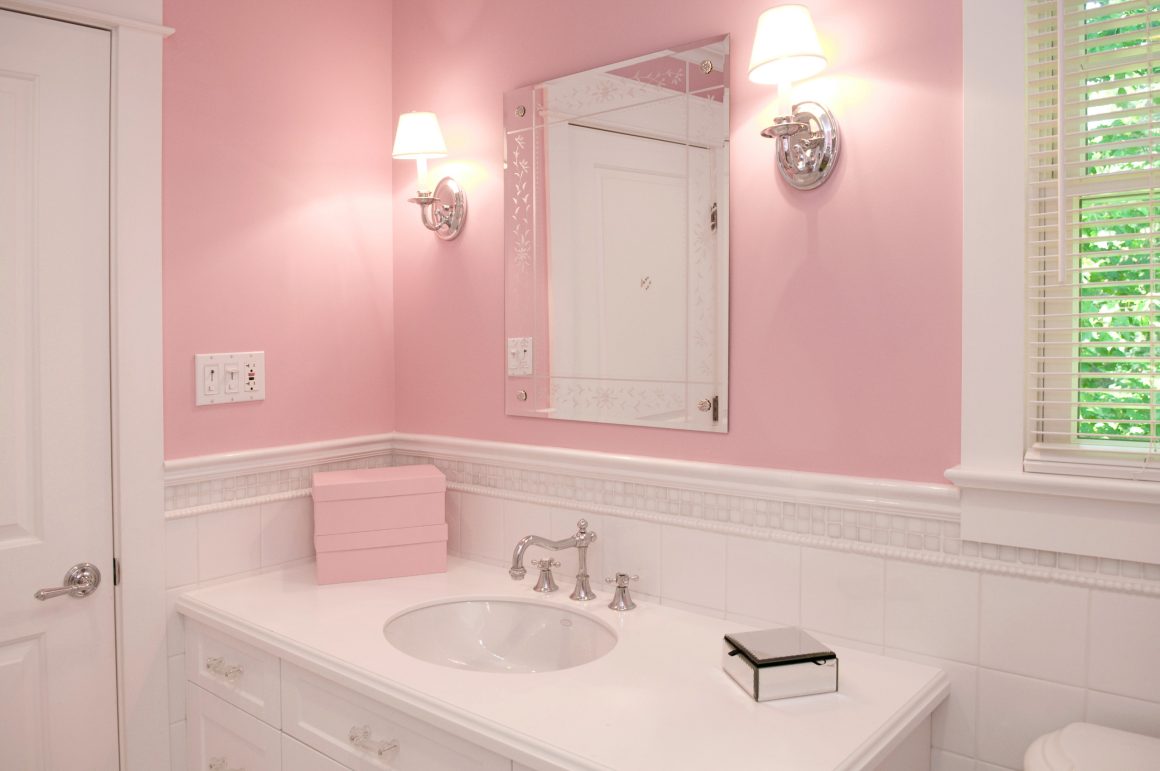 What comes to your mind when you think of pink? Bubble gum, cherry blossoms, and flamingoes? Or Barbie, Elle Woods, and Sharpay?
Relax, pink is not always overwhelming, nor is it girly. Pink can make your small bathroom look flattering. It has an unmatched charm, and a muted pink is so warm and can be paired well with any color. If you are up for experimenting, you should definitely give it a go.
Best Pink Options:
Farrow and Ball – Pink Ground
Farrow and Ball – Setting Plaster
Portola Paints – Paris Pink
Benjamin Moore – Pink Bliss
Benjamin Moore – Organdy
6. The Centering – Green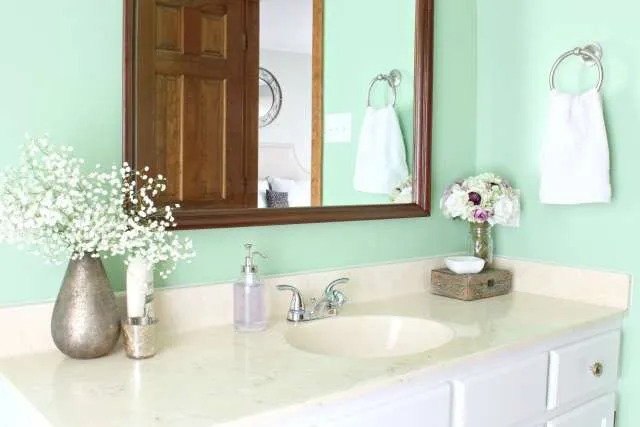 Green is another soothing color favored in the bathroom. Softer greens with both yellow and blue tints are suitable. While yellow-green is vibrant, blue-green has a more mellow effect. Bathrooms are where you will begin and end your day, and green balances the mood at all times, thus making it a promising choice.
Best Green Options:
Sherwin Williams – Lacewing
Farrow and Ball – Teresa's Green
Benjamin and Moore – Pistachio
Farrow and Ball – Breakfast Room Green
Bright Color Options for Small Bathroom
Enough with the safe play. Let's plunge into bolder options. Dark colors are not a conventional small bathroom color choice. However, understanding the exposure to natural light and planning your lighting well can make some dark and bright colors interesting choices for small bathrooms as well. The trick is in balancing them with neutrals. Buckle up; let's explore them!
7. The Cheerful – Yellow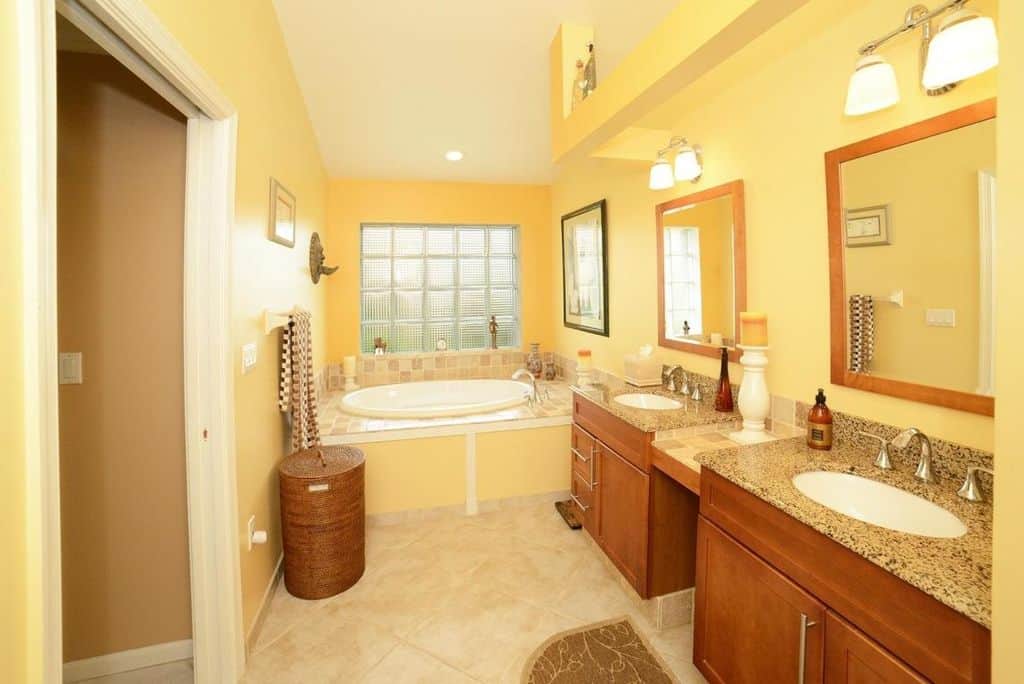 Yellow in your bathroom can be an exciting pop of color in the most unexpected place. A bright yellow in a wainscot bathroom is surely a joyful sight. You can create a focal point with a yellow tub, pair it up with gray (one of the best color combos ever), or use a yellow wallpaper. These are just a few ideas. Let your creativity run wild with the shades of yellow, from the mellow to the bright.
Best Yellow Options:
Benjamin Moore – Lightning Bug
Spruce Wax – Pepper
Sherwin Williams – Lively Yellow
Sherwin Williams – Funky Yellow
Benjamin Moore – Hawthorne Yellow
Crowne Hill Yellow – Benjamin Moore
Behr – Yellow Grove
8. The Deeper and Darker – Green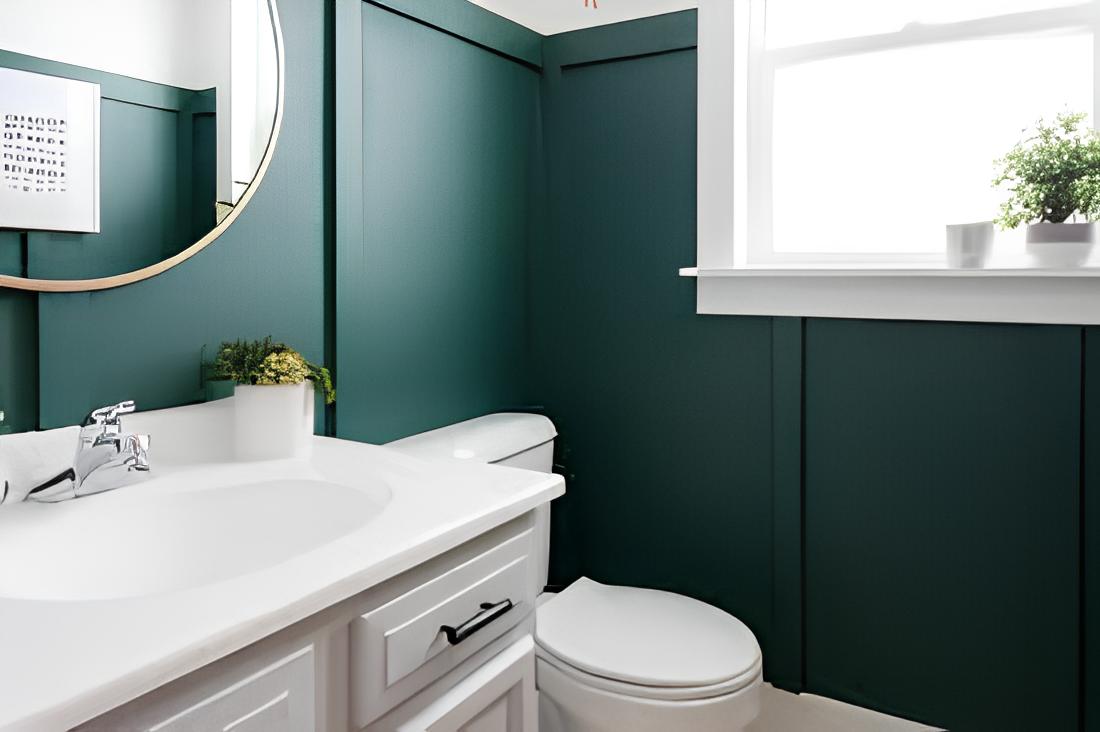 The emerald-inspired shades are so stunning and are the right colors you never knew you needed to consider for your small bathroom. Though it is less appreciated for small bathroom color choices, it is popular among designers. Dark green is sophisticated and is the closest to the hue of nature that can remind you of the outdoors.
Best Dark Green Options:
Farrow and Ball – Verdigris Green
Benjamin Moore – Black Forest Green
Sherwin Williams – Country Squire
Farrow and Ball – Treron
Benjamin Moore – Salamander
9. The Brighter Blues – Teal, Indigo, and Navy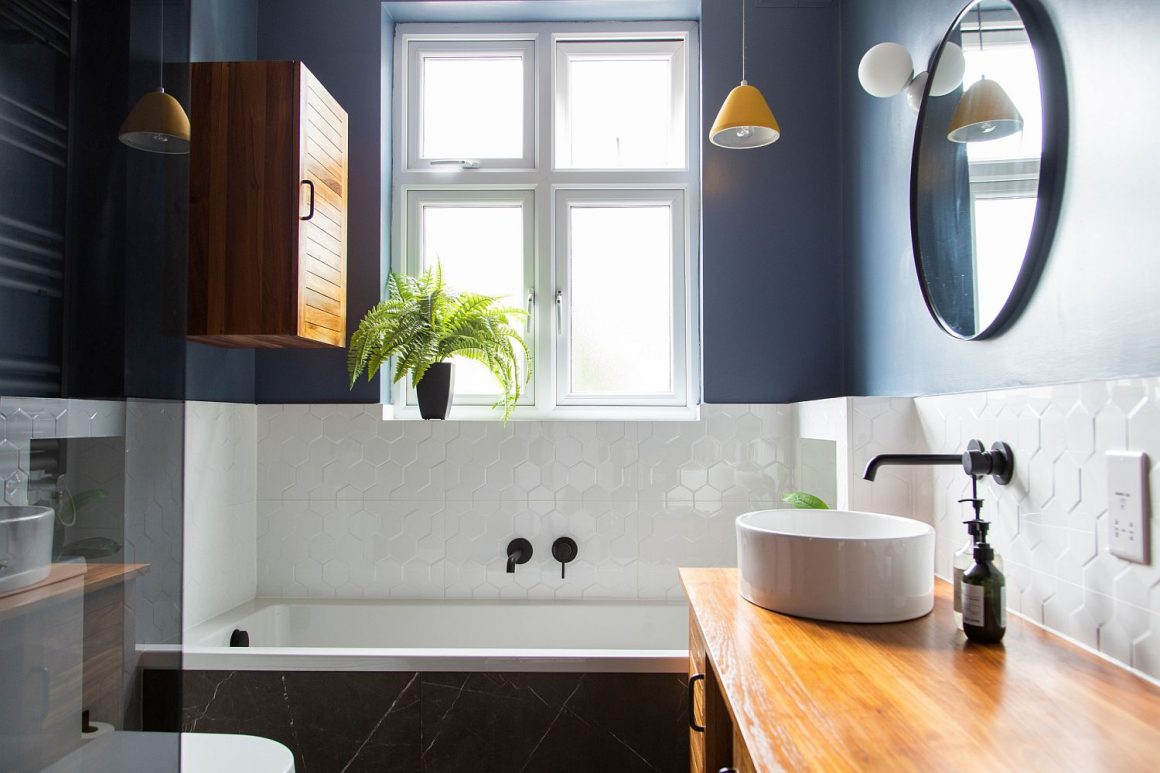 If you are worried about using a bold color for a small bathroom, think again. The rich shades of blue can add more depth and evoke a sense of luxury. Dark shades can trick us into thinking the room is more spacious since we are tuned to think the other way. Another reason to love brighter blues is that they add personality and can be paired with other vibrant colors to make a statement.
Best Bright Blue Options:
Farrow and Ball – Stone Blue
Benjamin Moore – Newburyport Blue
Behr – The Real Teal
Sherwin Williams – Inky Blue
Behr – Calypso Blue
Valspar – Thundering Clouds
Spruce – Cosmic Sapphire
10. The Unique – Purple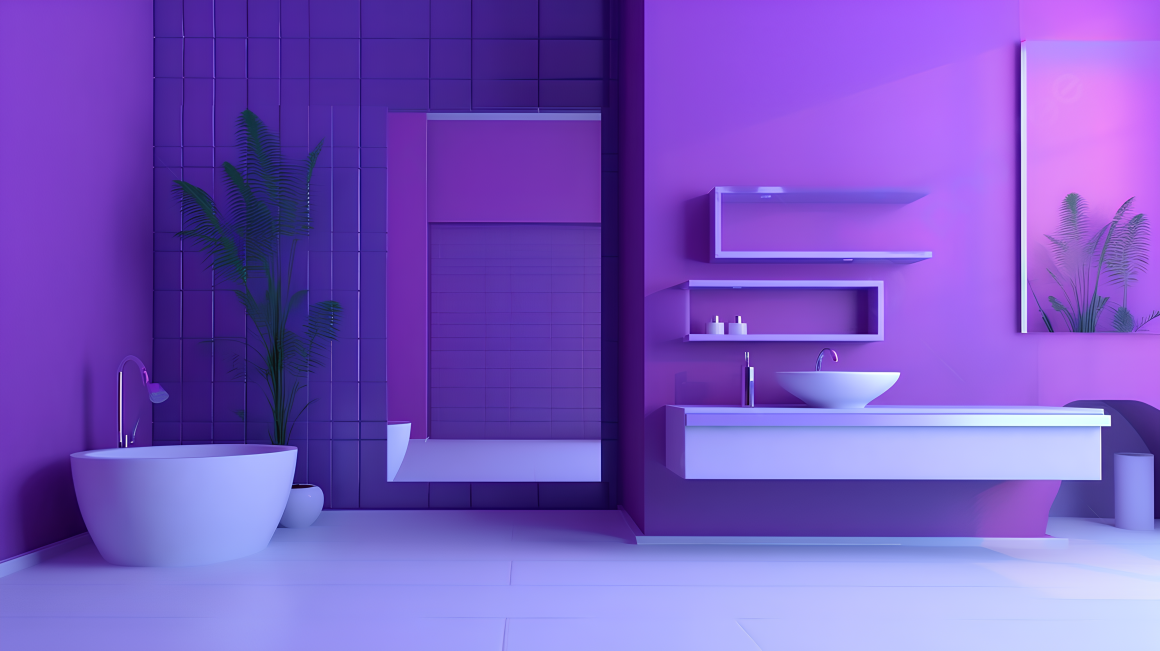 Thinking of purple in a bathroom, let alone in a small one, is so dramatic. That is exactly why it is a great choice. Dark purple is equal parts elegant and stylish. Light purple shades are surprising and bring warmth. The various shades of purple offer their own character to the room.
Best Purple Options:
Farrow and Ball – Brassica
Sherwin Williams – Veiled Violet
Benjamin Moore – Dark Purple
Benjamin Moore – Exotic Purple
Benjamin Moore – Crocus Petal
Benjamin Moore – Victorian Purple
Benjamin Moore – Baby's Mittens
11. The Ever-Intriguing – Black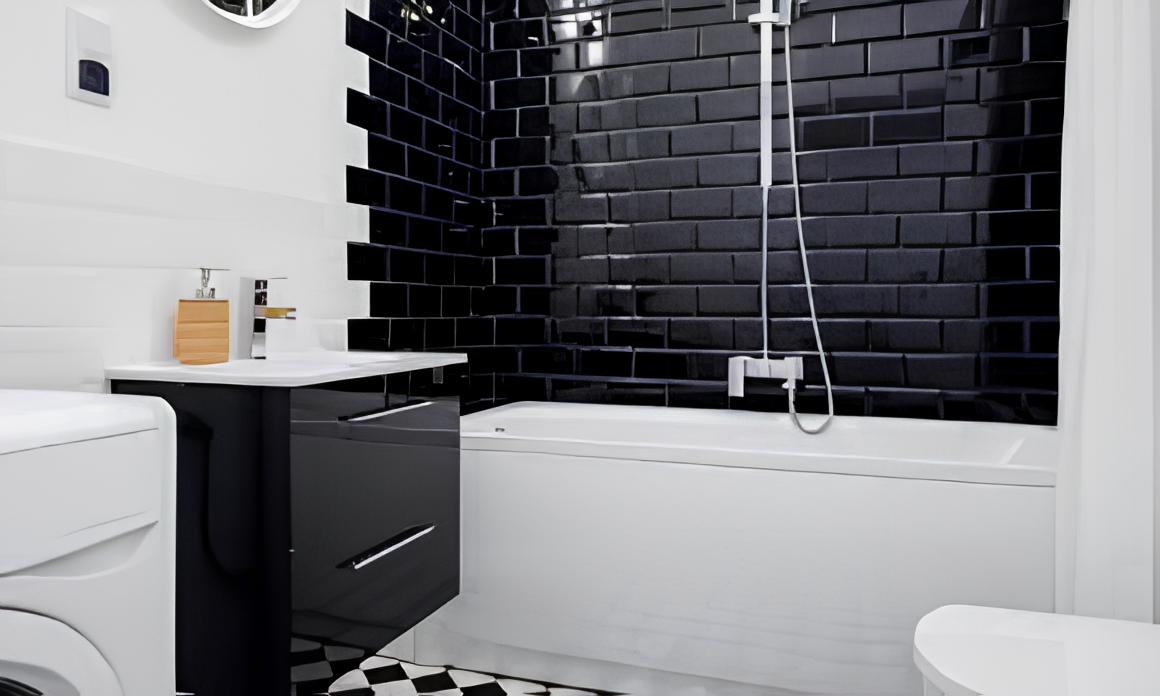 I know you are wondering, 'Seriously? Black? For a small bathroom color?'
Well, black is regal and sexy. It is moody, but a well-balanced black in a small bathroom is enveloping. Of course, it won't make your bathroom sunnier, but it has a depth of its own that none can overpower. Black can make an impact, and when paired with white, it offers visual contrast. So charcoal lovers, don't hold back and be bold.
Best Black Options:
Farrow and Ball – Paean Black
Sherwin Williams – Iron Ore
Benjamin Moore – Wrought Iron
Valspar – Noir
Tips to Consider While Painting a Bathroom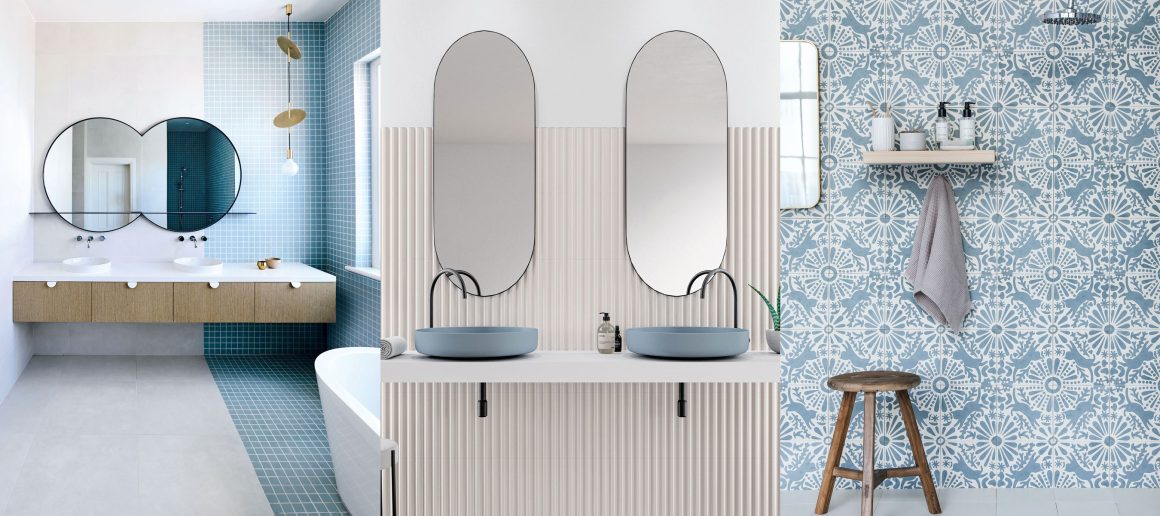 Always choose water-resistant paints. Do not skimp on it, and probably add a layer of protective finish over it for durability and easy maintenance.
Provide a stark contrast by pairing the neutrals with patterned tiles or wallpaper for a brighter bathroom.
Remember not to go overboard with dark and bright colors. Layer them with neutrals for a balanced visual appeal.
Consider trim colors while selecting the dominant color(s) of the bathroom.
Always test samples on the walls. Do not skip this step. Photos are deceptive, and you need to know how the shade will look in your space in your lighting all day long.
Maintain the color scheme even when you work on the décor and accessories.
Accent walls are a great way to incorporate darker shades in small bathrooms. The best way to go work on an accent wall color is by using the 60-30-10 ratio. Pick one dominant color (60%), add a secondary color for depth (30%), and finally, accent (10%). This will make it easier to design the rest of the bathroom while highlighting the feature wall.
Play along with the strength of the lighting.
Takeaway
Selecting the perfect small bathroom color can be exhilarating and challenging. The key is to create a bathroom that matches your personality and moods. What is the best way to do this?
Experiment with the various color choices you have. Browse design catalogs and do your research. Give in to your whims, but decide only when you test a sample color on the wall.
We hope the list covered the best small bathroom color options for the demure and the adventurous souls alike and that you were able to resonate with at least one of the ideas. Don't forget to remember the tips when you are out to pick your color.
Remember, there is no good or bad choice, just the one you love.