Deck planters are the best feast for your gardening skills and also the satisfying greenery. Give your deck the natural colors to have more liveliness and energy.
When the breeze whispers through the colors and textures of your deck planters, this definitely is a fusion of wild nature. You can give these miniature gardens in your deck to invite the outdoors into your deck. Your unique style of yourself is established with the arrangements, and the artistic nature lets you have a more vibrant time with the flowers.
Have this endless beauty to your deck with these beautiful railing planter ideas. You may seem to be a bit confused when choosing the deck planter. We guide you through the selection with vast ideas for your deck planters!
What are Deck Planters?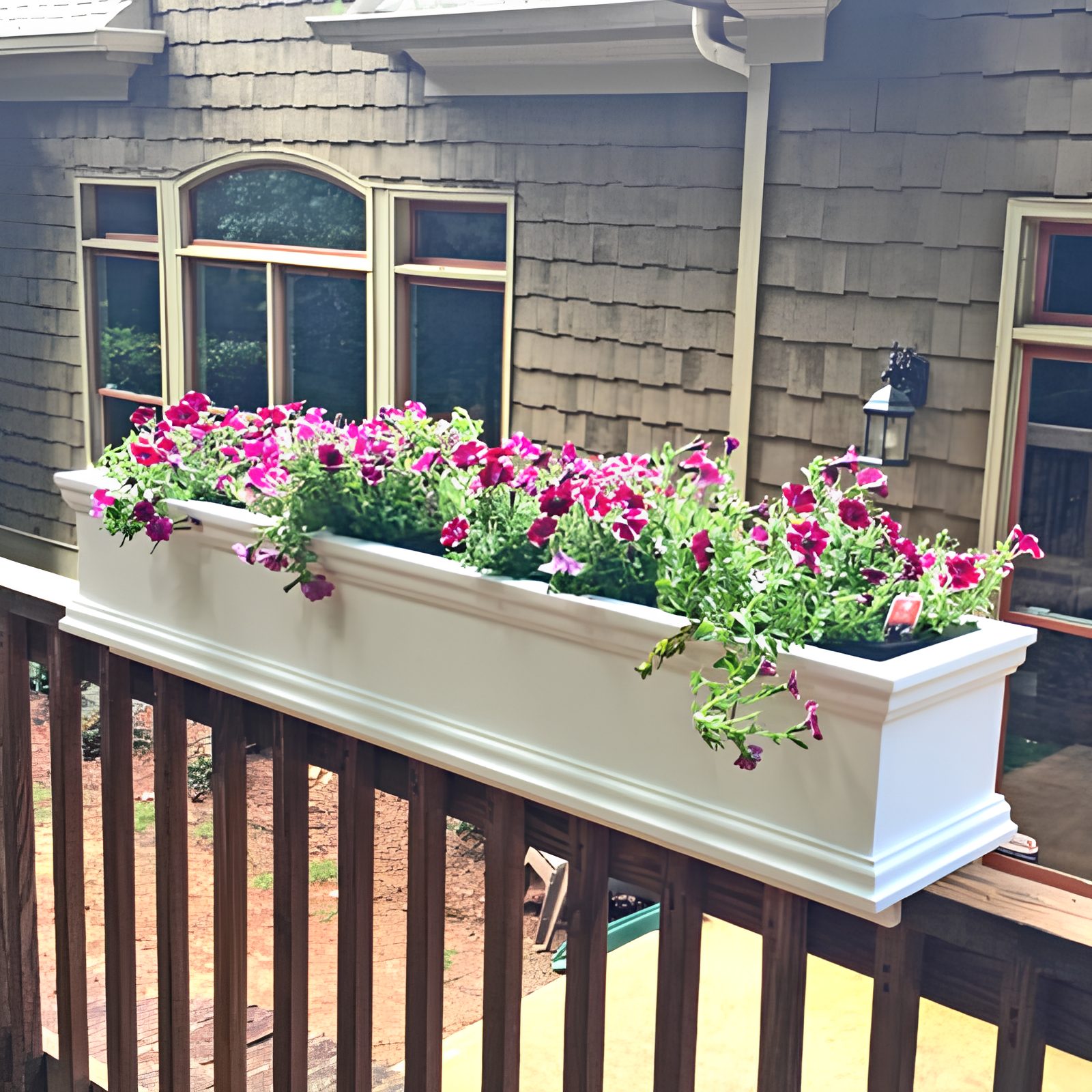 The Deck railing planters or otherwise known as balcony or porch planters. These are the touch of creativity to your deck with nature. The shape of the deck planters is usually rectangles to run along with the deck railing. But it comes with many more different altered shapes and styles to suit the individual's preference. Likewise, it is available in wood, metal, resin, or plastics, especially they are made with hooks and brackets to fit into the railing, which makes it easier to mount on your preferred place.
You may have decided to go for the deck planters, but you need some ideas, right? We got you! Explore these spectacular Ideas!
1. DIY Planters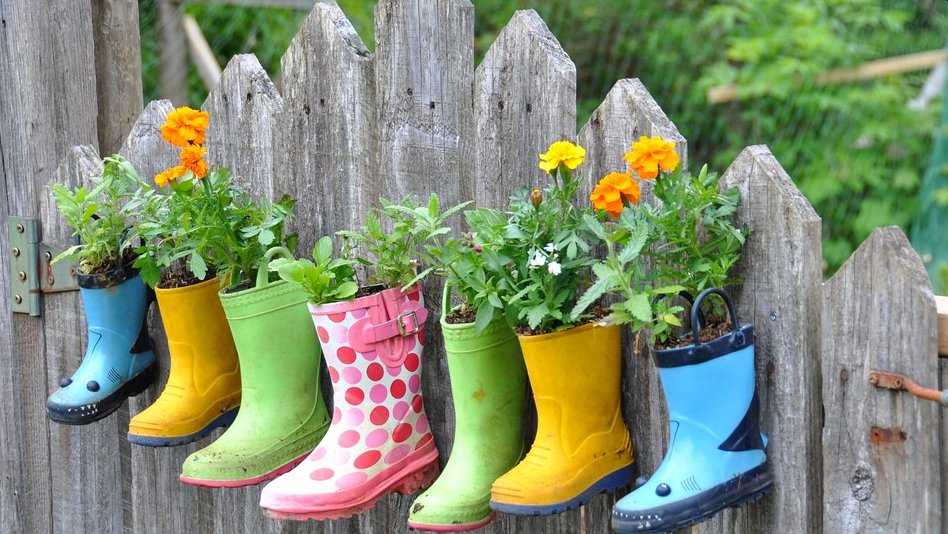 Making your own art from scratch is the best feeling ever. If you are more on the artist circle, go for the DIY planters. You can repurpose the old rubber boots, wooden crates. All you have to do is to give it the final touch for the water-resistant spray to sustain. Sometimes the old drawers can make beautiful deck planters. Never let your imagination fade away; it will make everything super cool.
2. Traditional Wooden Boxes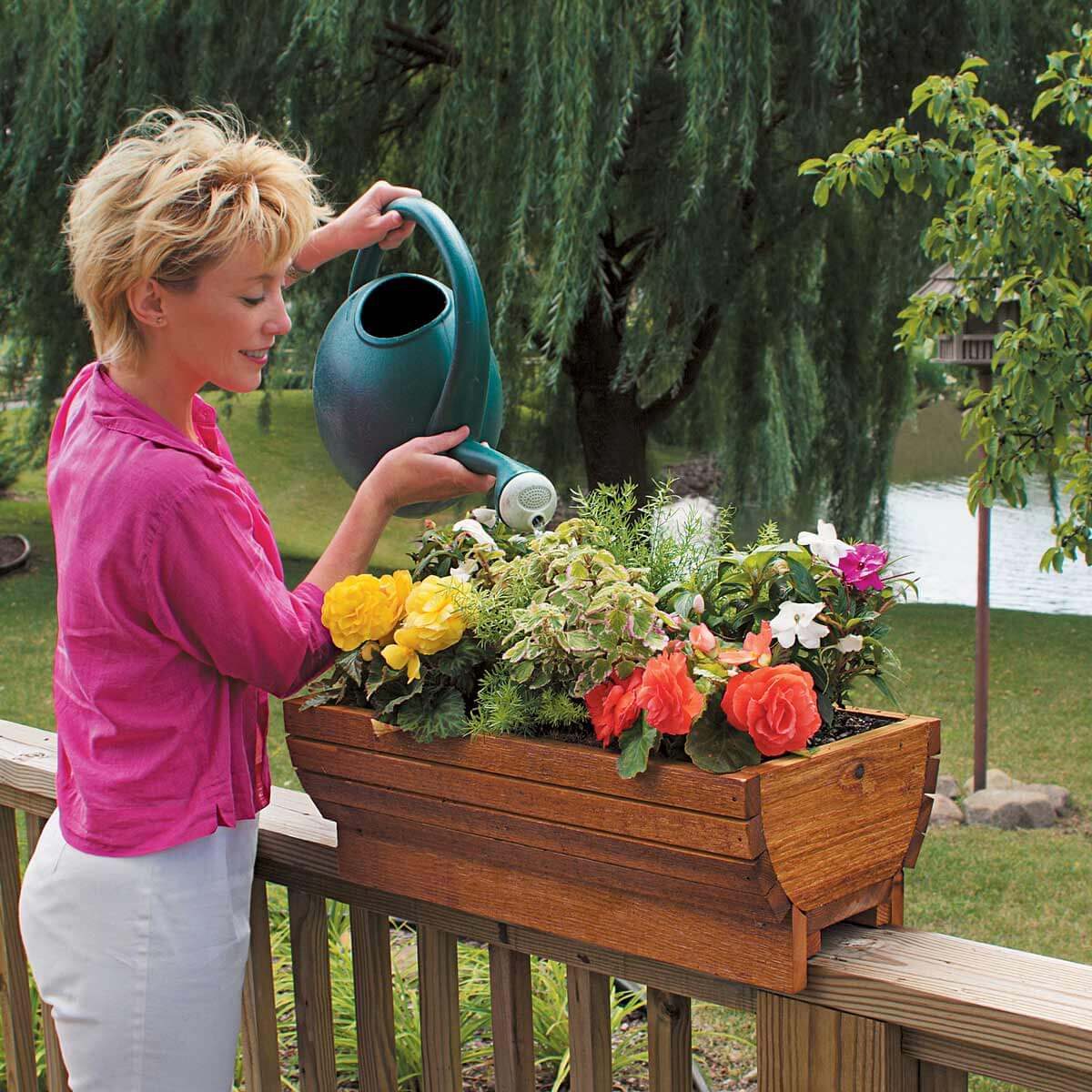 These are the classic versions of deck planters. The rectangular wooden box is attached to the deck railing to have the beautiful sight of flowers every morning. The wooden boxes can be designed according to your deck's aesthetics. These are secured with wooden clamps to hold onto the rail and easily hung on there. This comes in an Acacia or teak wood with 20 inches rectangular box. This acacia wood makes it weather resistant to all types of weather and gives a beautiful wood grain look.
3. Herb Gardens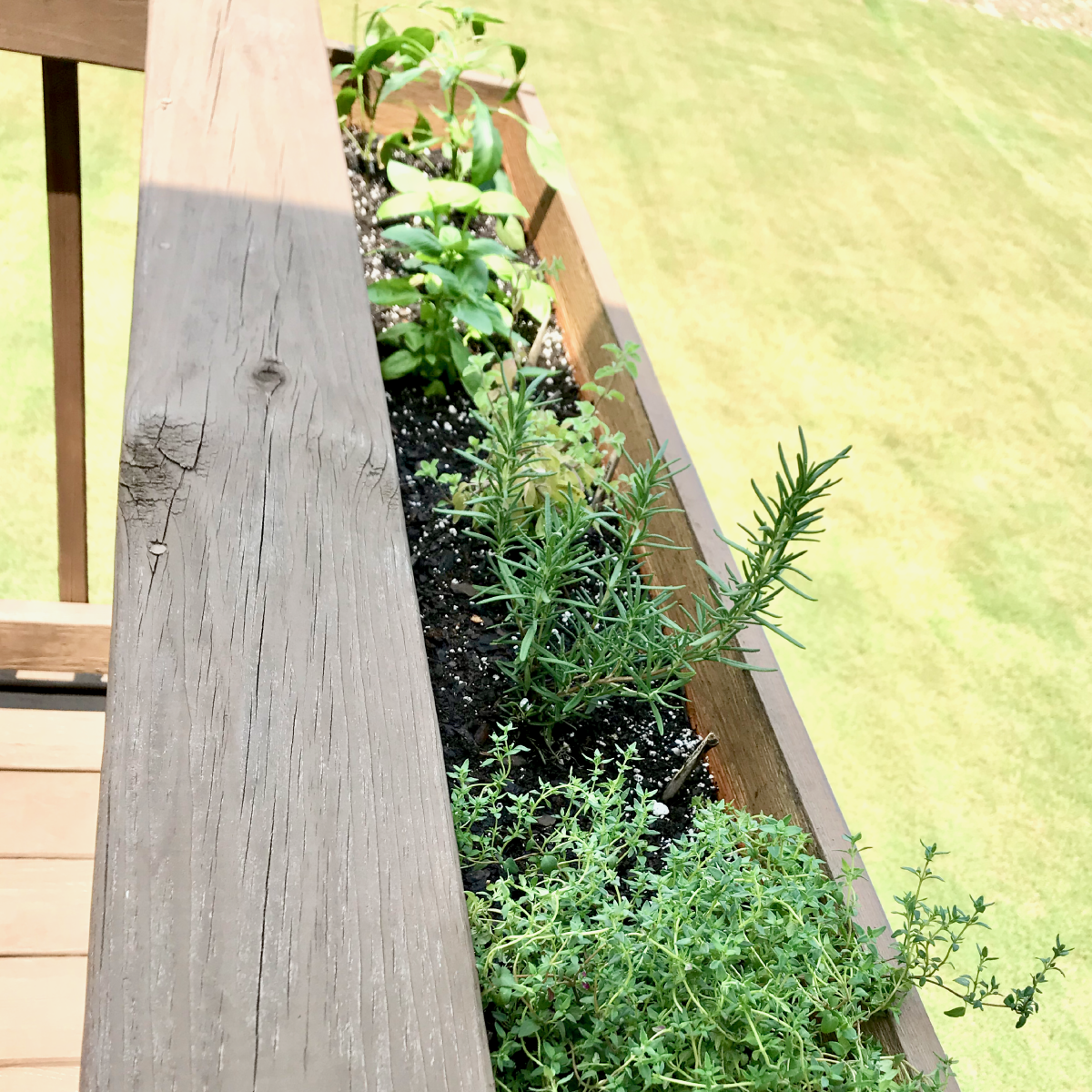 You can set the individual planters for the herbs to have a particular aroma, like thyme, rosemary, basil, or mint. It can be handy in the kitchen to give the most aromatic delicious food. This greenery is awesome to breathe and eat; the benefits are twice as much with herbs. You need to give some companion planting to discourage the pests. For example, planning the rosemary along with other herbs considerably repels some pests.
4. Self Watering Plastic Planters
These plastic self Watering planters are the perfect choice for you if you are a regular traveler. The plants can survive with the water within the pot for at least a week, which gives you more time for a family vacation without any worry about watering your deck planters. These are usually available as sets, and all the necessary brackets and screws will be provided with the planters. It serves the purpose of adding a more green vibe to your deck.
5. Hanging Baskets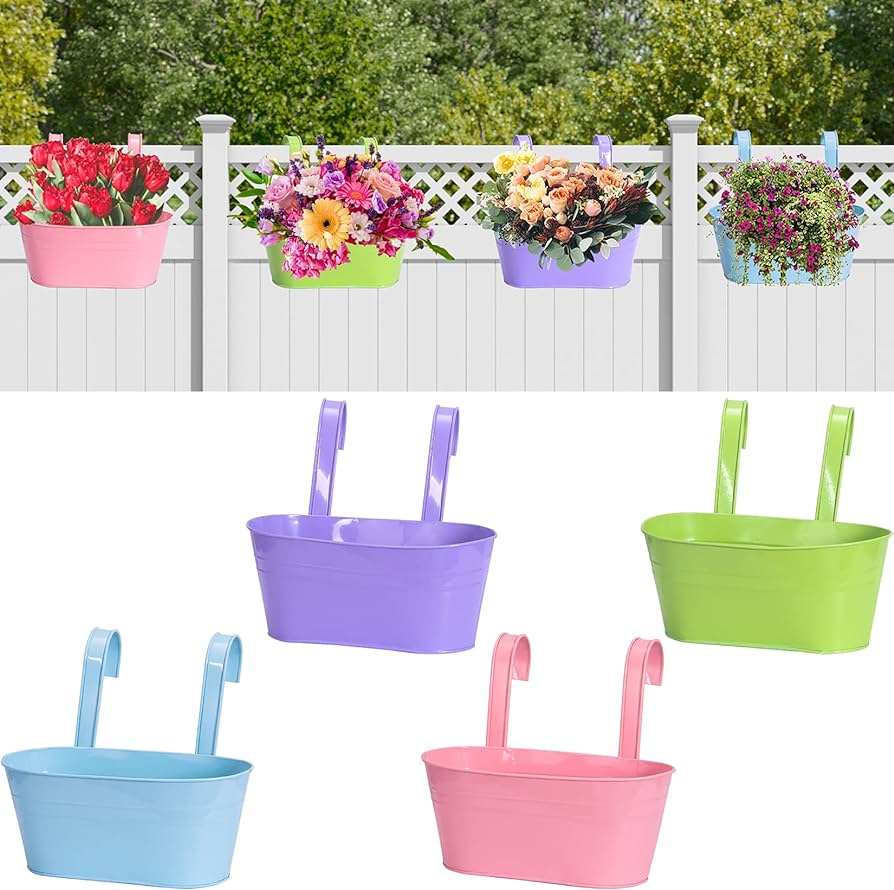 The hanging baskets with the floral plants are the hit combination for decks. You can plant fuchsias, petunias, or begonias. An additional tip to the stunning view, you can add different colors to match with others for the visual treat. LOVOUS hanging planters can give you multi-color round cups in a set of 12 pieces. This colorful option gives a vibrant glimpse to your deck when they have contrasting color floral plants inside them.
6. Steel Rail Planters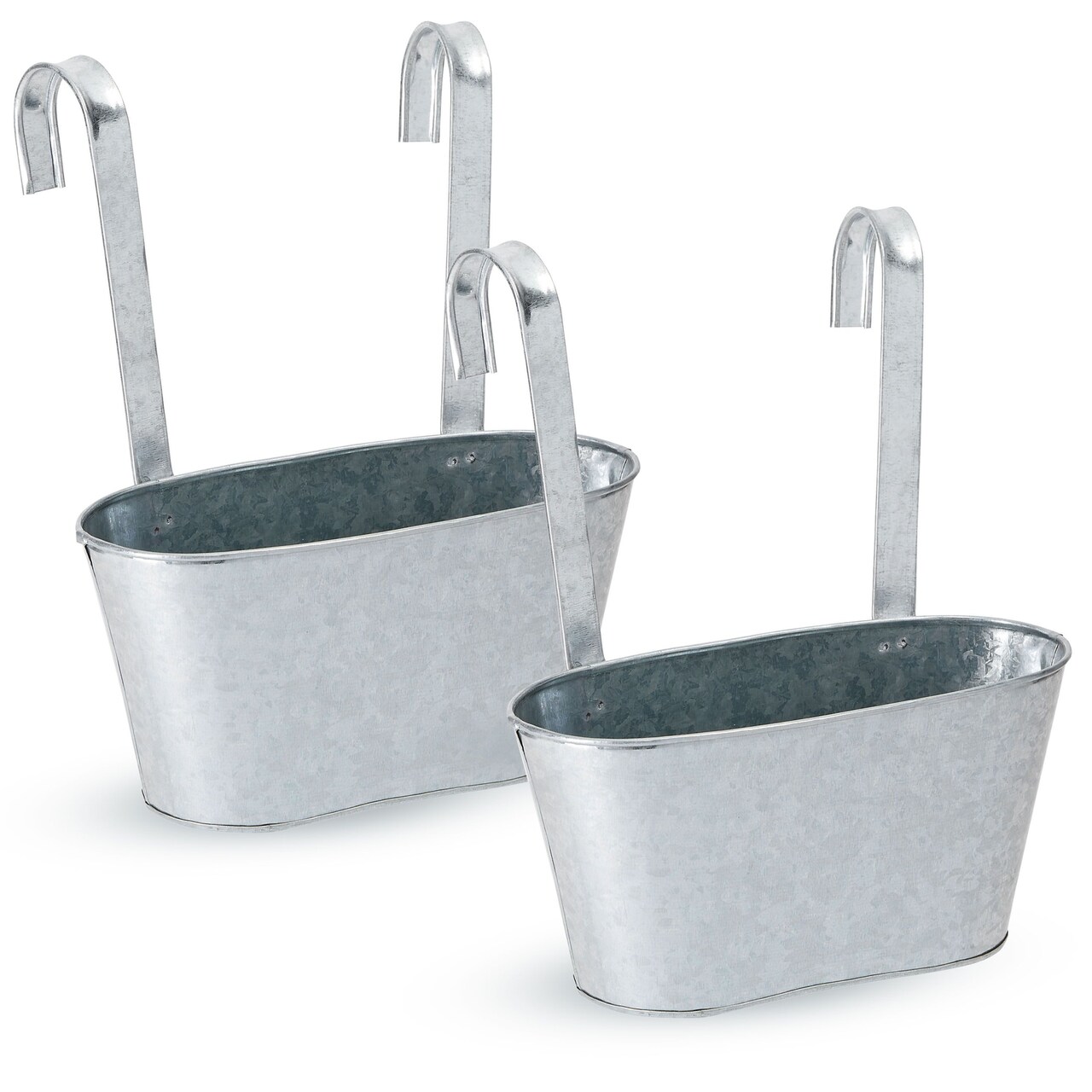 The black metal steel bars are the trending deck planters. The black metals give you the liner effect, and the most loved benefit of these planters is that they can be attached anywhere, such as brick walls to any other rails. Brackets are given with the planters for easy mounting. You can dismantle it the same way if you want to use some other wall. These come in a set of two with the capacity to hold your plants with the most stability. The steel body makes them more sturdy.
7. Cascading Flowers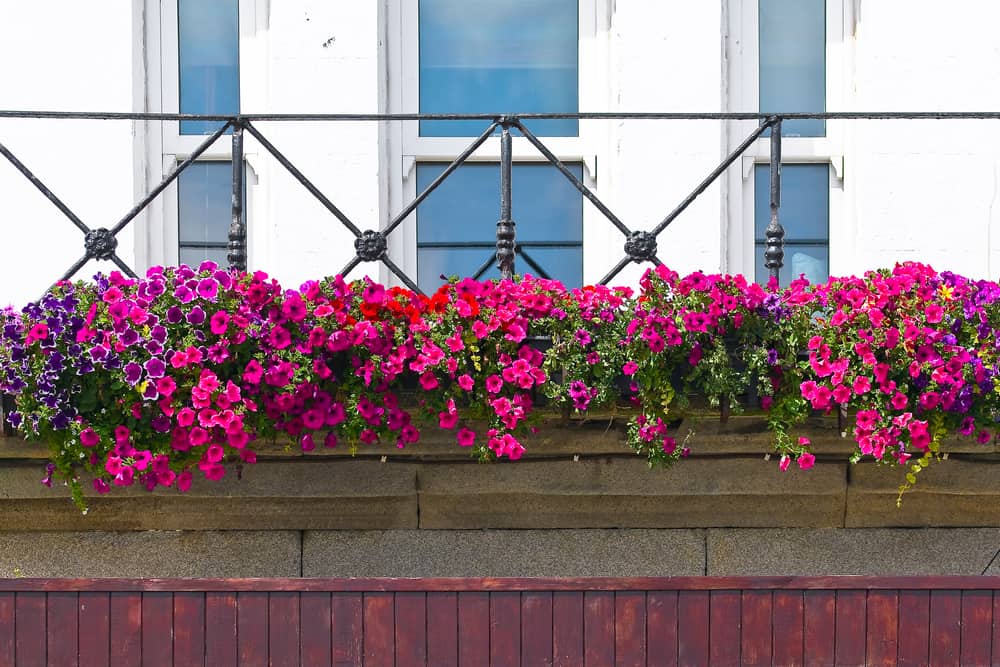 Planters can be used to arrange the floral cascade to give your deck a trail of flowers. The graceful look of lush flowers is awesome when they flow on the sides. You can use wooden planters or white planters to have more aesthetics. White may seem to be taking much cleaning for the appeal. But it's worth the work. The rich look created with white planters can make you go for it. You can add trellises to the railing to let the flowers climb up like morning glories and clematis.
8. Tired Planters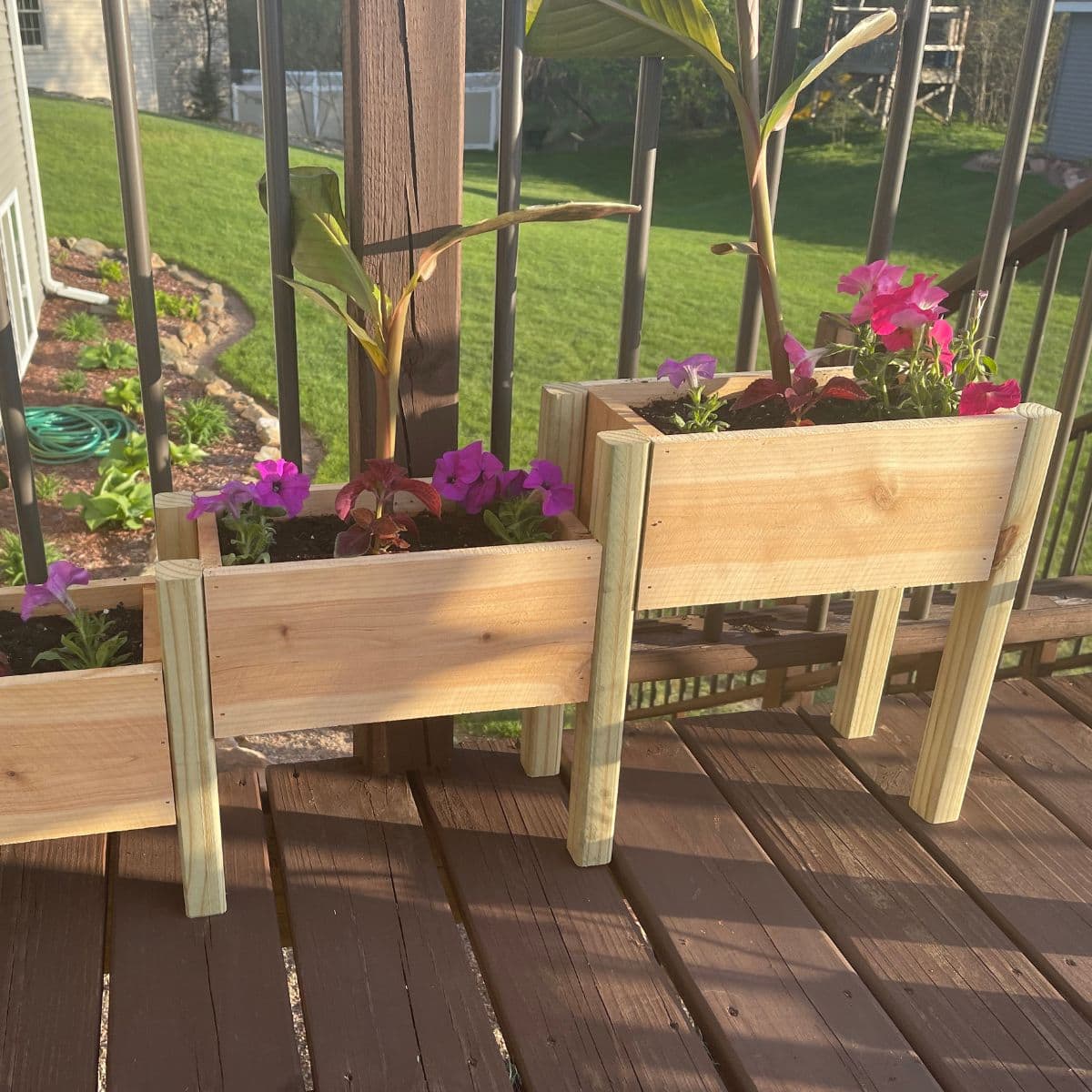 The tired planters give a diverse range of beauty to your balcony or deck. This is arranged in the manner of giving depths and heights to your railing. You can use them by arranging them at various heights. Different varieties of flowers can be picked for each basket to have the effect showing. For the tired planters, you need to choose the flowers with more caution to coordinate with each other. You can use the color palette to pick your color for the deck planters, and according to the need, pick your plants to correlate with your house theme.
9. Tiered Hanging Planters
The amazing creation of hanging planters can be tiered too. To have a cohesive look, you can give the baskets a single type of flower. This gives more space to your deck and covers the aesthetics. It can easily be hung on the corners of your deck wall as a rail to give a look. This is available with two sizes of pots, 5 and 6 inches planters. Available in a beige color as two pots attached to the single hanger to hold onto it. The two pots are in different sizes, small and large. You can hang the foliage or flowers to bring a touch of romance to your deck.
10. Fabric Rail Planters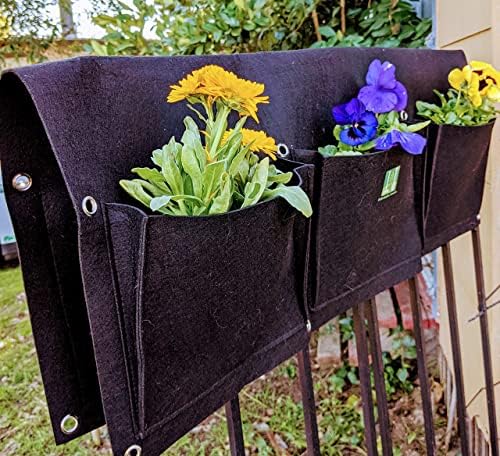 Such cute and soft fabric rail planters are most preferred for the house with kids to have more safety. This is a new revolution in the planters' options as hazardous plastics are replaced with fabric. Two pockets are attached on both sides of the fabric, which are connected through buttons on the sides. The fabric deck planters can be the DIY planters for your rail. You can simply utilize your sewing skill in the decorations with a suitable material to hold onto the plants.
11. Self-Watering Glowpear Deck planters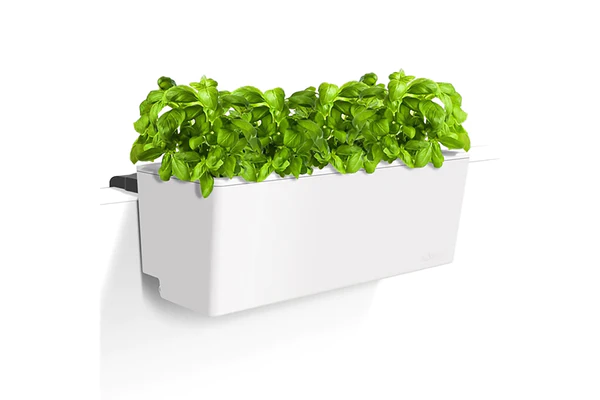 These Glowpear Self-watering deck planters have the most stunning look of the pots placed on the Rail to give beauty to the arrangement. The design is more user-friendly and can easily be placed on top of your rail. The plastic resin is made with the construction of UV rays for stability. And obviously, it has a drainage hole to avoid excessive Watering and a self-watering design. These are made of HDPE (High-Density Polyethylene) with the features of BPA-free, corrosion-resistant material. Technically this has an 8 inches depth to hold the soil, and the self-watering system lets you rest by giving water at the necessary time. This feature makes it an office-friendly option for you.
12. Resin Rail Planters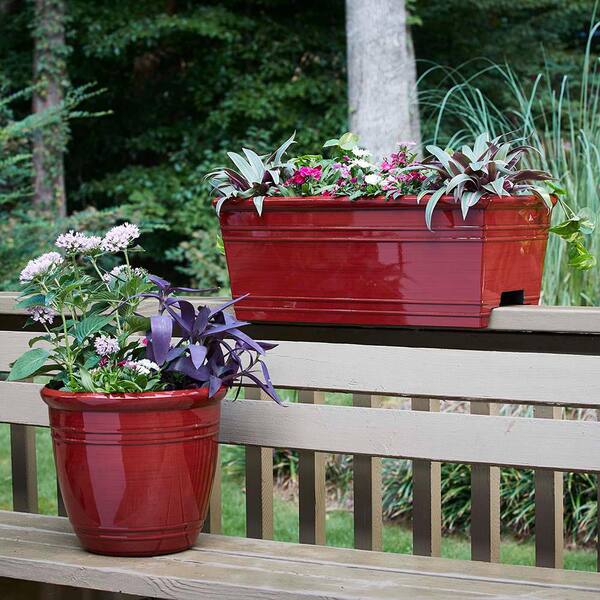 The DEAYOU Resins planters are available in various colors to give you more choices, such as purple, green, and many more. This also has the ability of self-watering and excessive water drainage. You can grow your little herb garden in these resin planters as they possess the perfect shape and space. The size of these deck planters is much grander, and this gives a modern aesthetic to your deck with the simple installation. You can arrange the solar-lit options attached to your deck planters for an enchanting evening ambiance with your partner.
13. Y&M Deck Railing Planter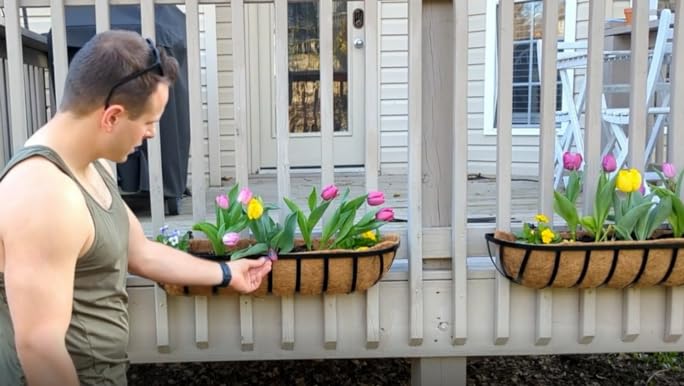 This is another metal piping planter basket with a different pattern with a coco liner. The Y&M deck planters don't have water drainage holes in them, and there is no possible feature for self-watering in this. But these give the beautiful basket filled with flowers in your deck to fill the air with its aroma. The size of the planter is 24 inches which makes it more comfortable for planting the flowers as a bush, and available in 4 pieces. It comes with the coco liner, which has a drainage hole in it with a great rectangular designer shape.
14. Steel Planters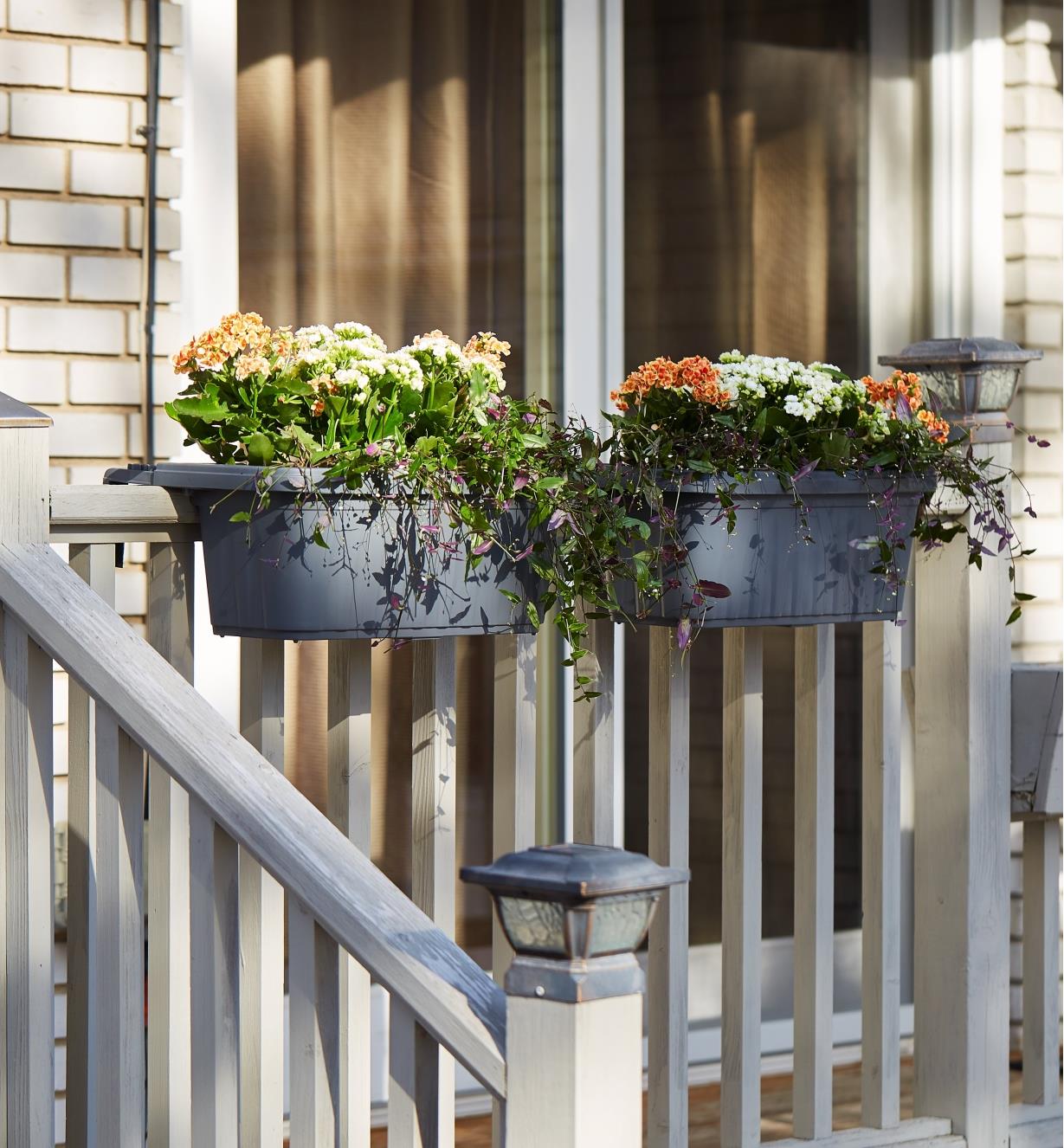 The galvanized steel planters are your perfect option for deck railing if you are looking for something steel and sturdy. This comes with a drainage hole and is ideal for planting your harvest in a little garden. These are lightweight and oval in shape. Available in a set of two with a long-lasting galvanized coating. This can be attached to any surface without any second thought.
15. Furokoy Railing Pots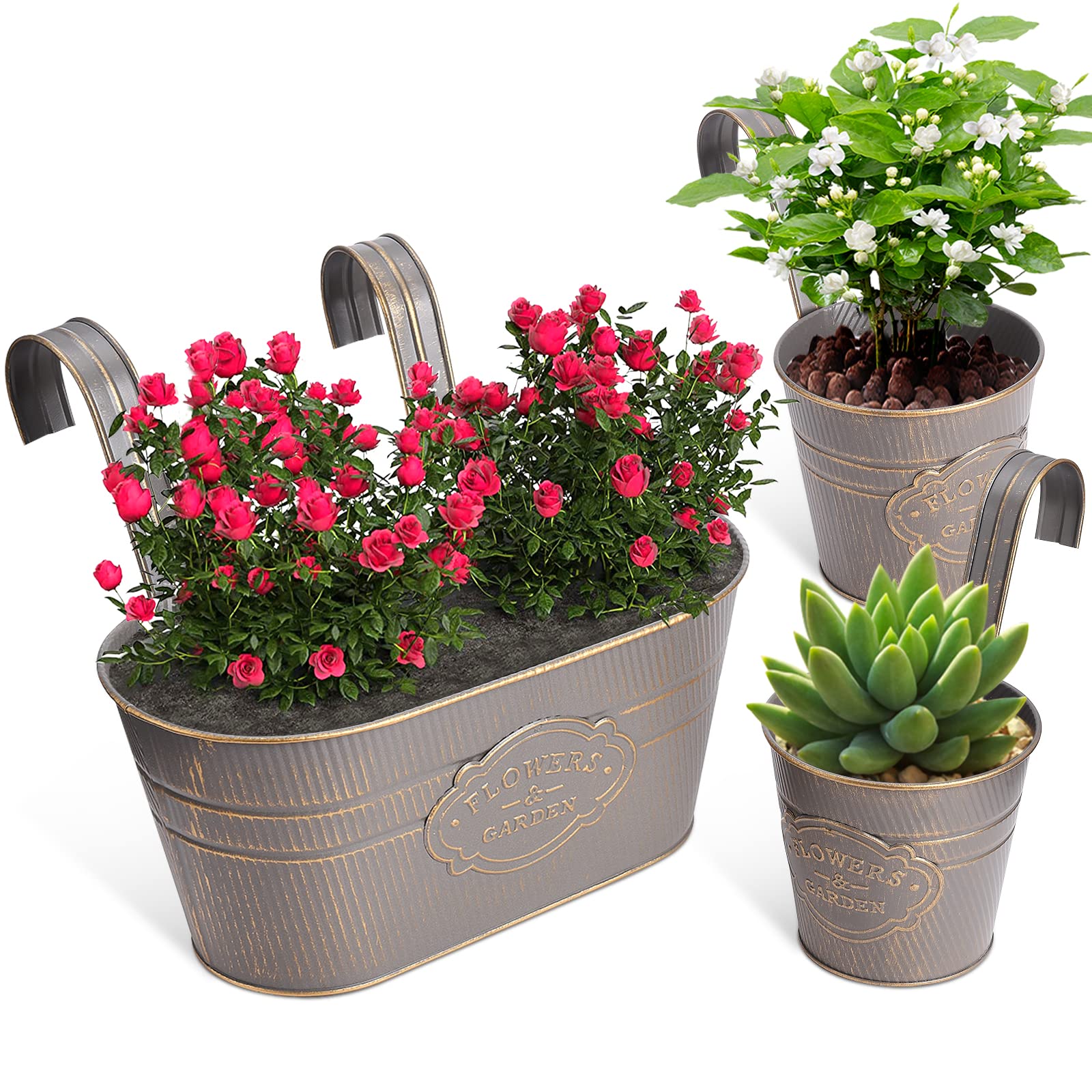 These deck planters are metal in texture and come in eight different colors to choose from. The furokoy Railing pots come as three set pieces, 2 small and 1 large, which are easily mountable to the balcony rail. The mini garden created with these pots can elevate your balcony space.
16. ZMTECH Railing Deck Planters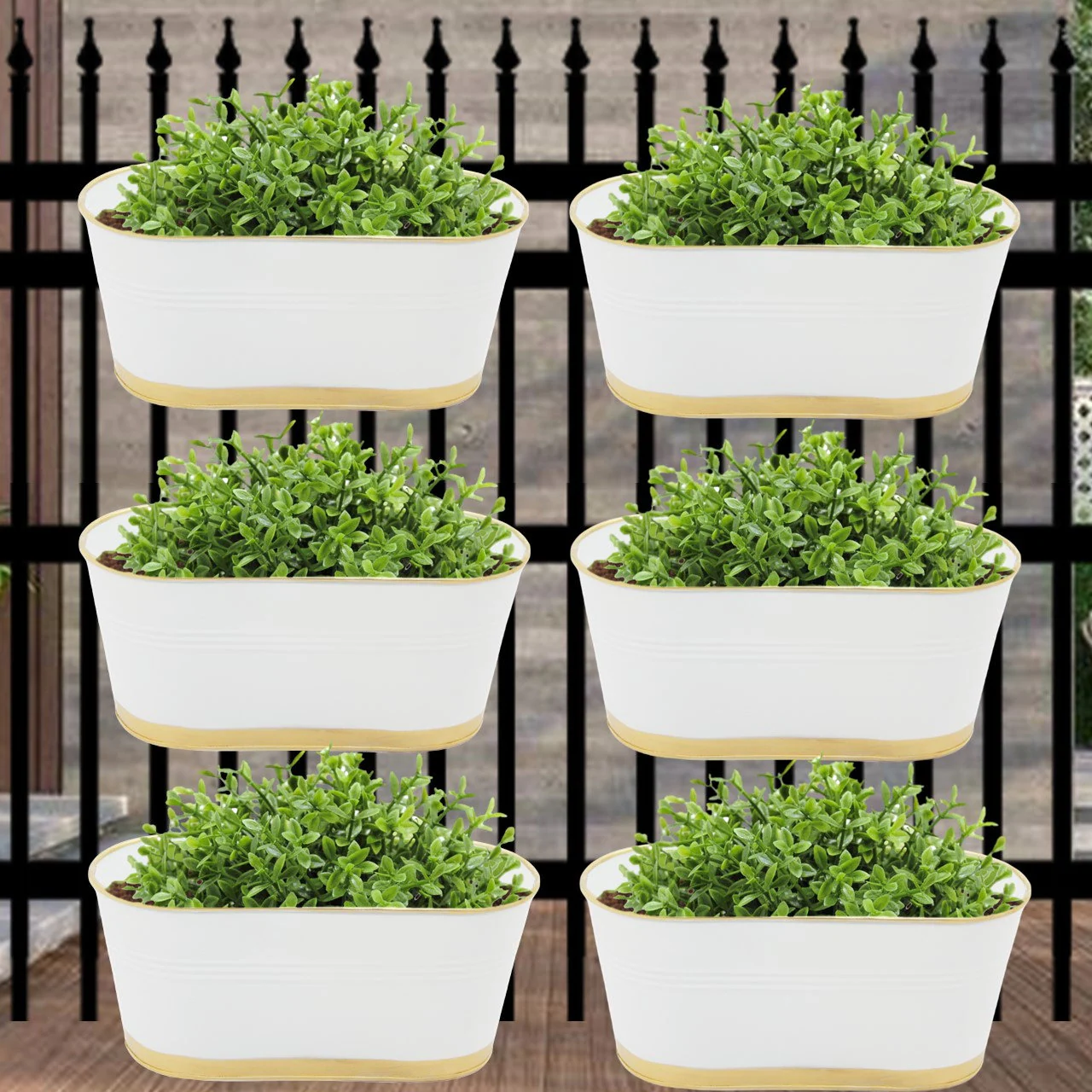 The ZMTECH Railing planters come in 2 pieces of 12-inch. The railing pot is in plastic, and the brackets to hold onto the balcony rail are metal. This comes in two different colors and can easily be hung on the rail. You can decorate it with succulents to have a beautiful fence to border your balcony.
17. YCXXKJ Metal Iron Planters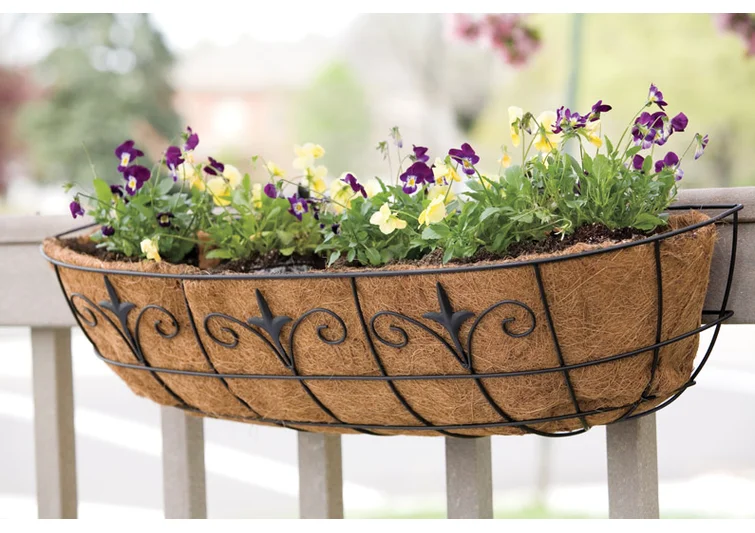 These YCXXKJ metal planters are the most sturdy option for your deck to hold onto the little garden. The 11-inch convenient space gives more room to hold onto the soil with effortless installation. The iron finish gives your deck a sense of modern and sophisticated look by elevating the vertical space and utilization. It has two drainage holes for protection from Watering and is designed in a convenient way to water the plants.
18. Recycled Wood Planters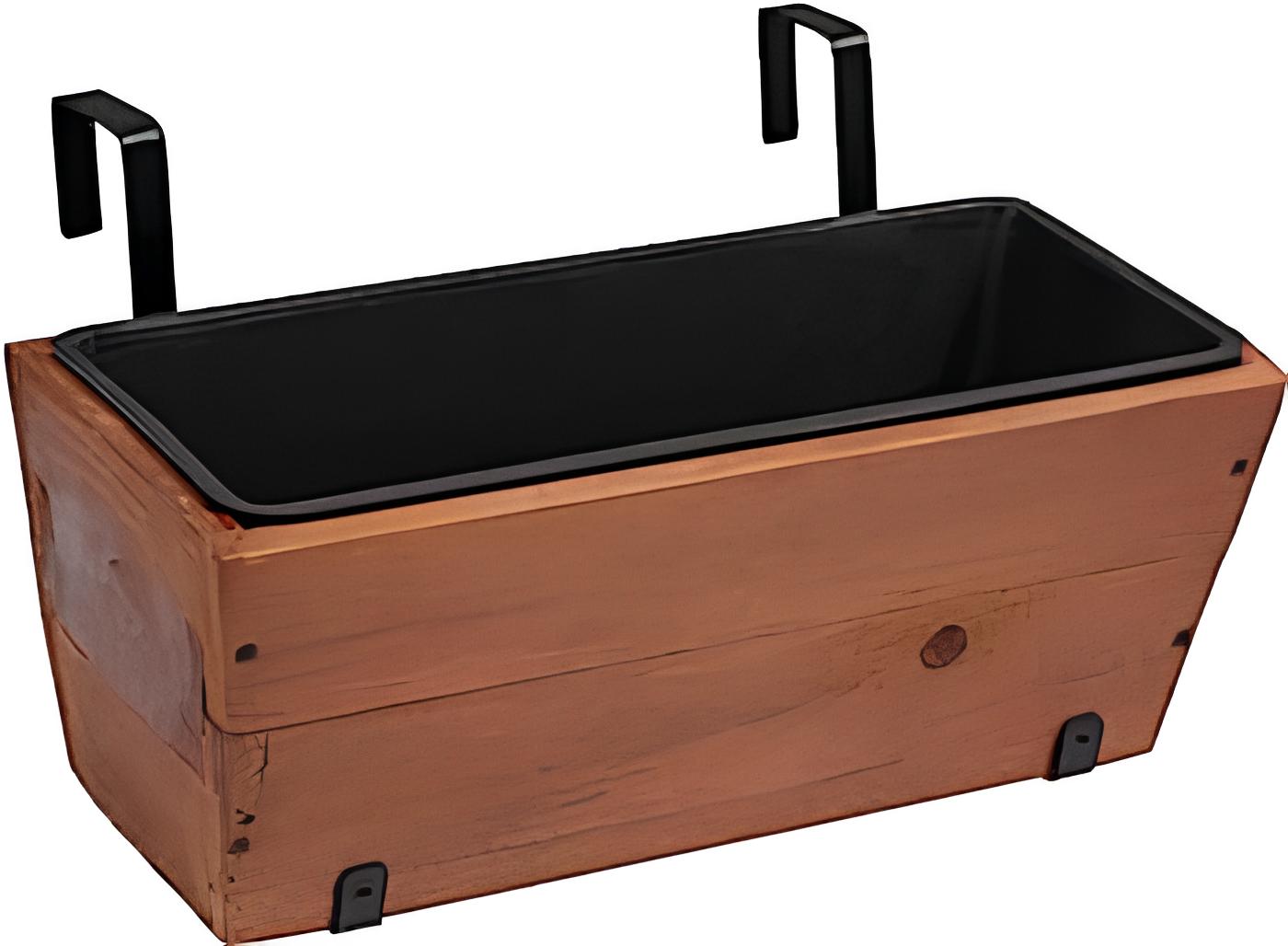 Looking for something classy to give your deck an awestruck makeover? The recycled wood deck planters are the exact pick, as they have a classy look and finish. This has meta-hanging hooks to keep them placed on the railing. And these are available in a set of two, in the size of 18 inches rectangular boxes. More space gives more gardening to do. These are perfect for holding your home garden for any type of harvest you want to make, veggies or fruits.
19. SOSFKIM Box Planters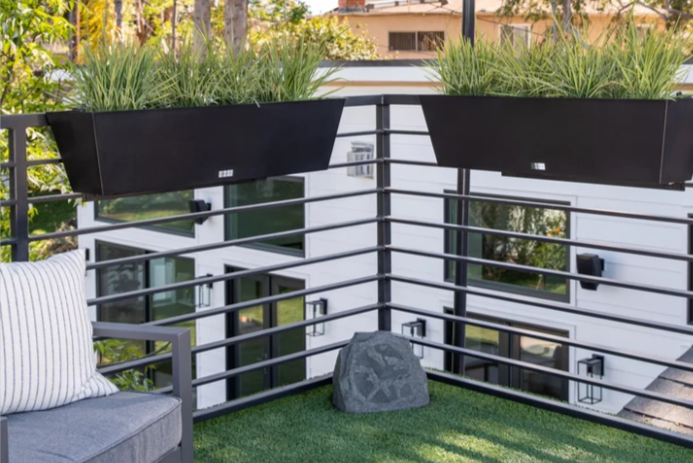 Another cool metal planter box with a beautiful floral design in it. It comes with a coco liner to give you the best pot to hold your balcony garden. This comes in a 24 inches size which is quite big, as you can grow your herbs and flowers without worrying about space. This is available as a set of planter boxes in a pack.
20. Glory Island Railing Planter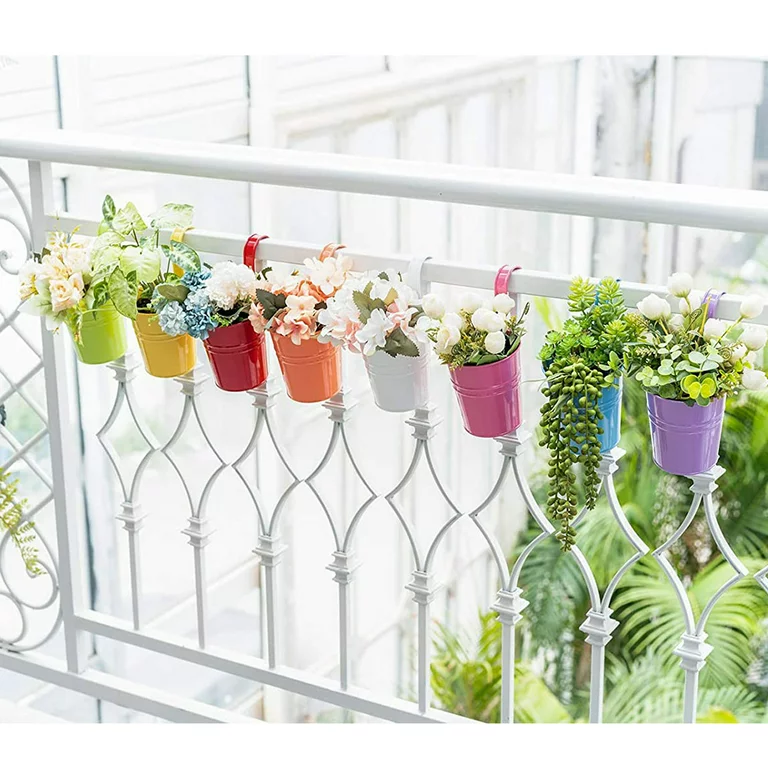 The glory railing planters are available in five different colors, and you can buy them as 5 pieces in 11 inches. And you can take the option of a small size with 4 inches which comes in a 10-piece pack. This is easily mountable with the iron hooks, and you can start planting your favorite floral arrangement in each box.
21. Apollo Exports Double-Sided Planters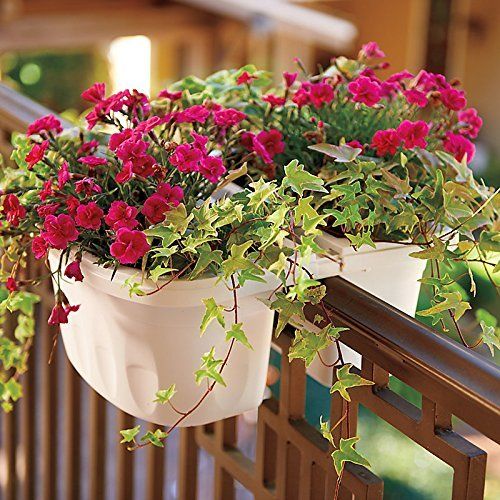 The double-sided planters are for whom they seek to have gardens on both sides of their rail. Towards you and the outer side, these boxes fill with the richness of the flowers and their aroma to give calmness and joy. These metal planters are available in three different colors, and they have drainage holes in them. No other tool is required to fit them to your rail.
22. Meltset Planters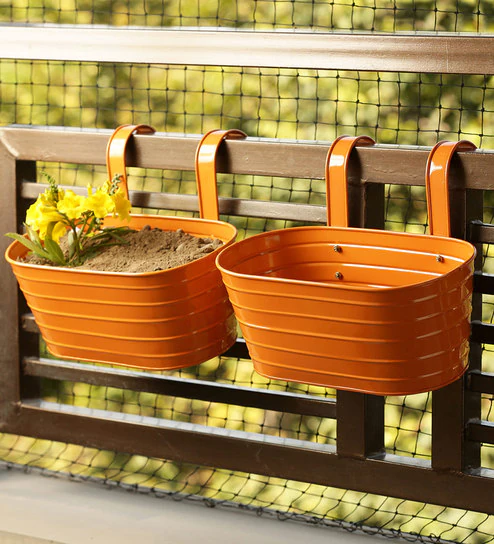 The Meltset metal hanging rail planters are designed in a perfect oval shape to give beauty to your deck. And available in three different colors with hanging iron hooks for easy hanging in the vertical direction. This gives the marvelous look of the country farmhouse with the railing garden. It comes in a set of three baskets with 10.5 inch capacity, which makes it convenient for all types of gardening.
23. CADANI Iron Plant Holder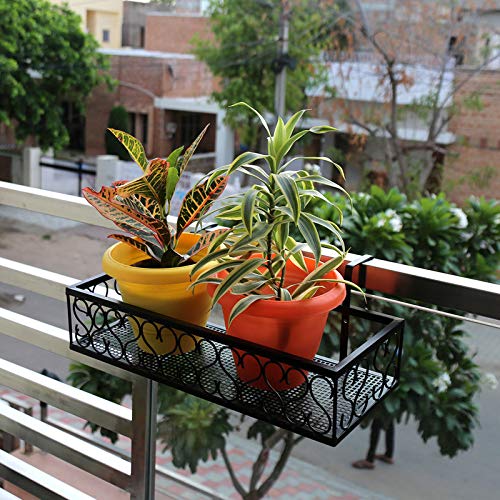 These Cadani plant holders are another cool option for your deck to give the same look as railing planters with your already existing pots of plants. You can just hang them on the rail and keep your plant pots inside the holder and use your garden without any hustle. This serves the purpose of deck planters with your already existing pots. This is made of sturdy iron and is available in 6 pieces. Additionally, it has a rust-proof coating to protect the stand from rusting.
24. Floating Garden Railing Planters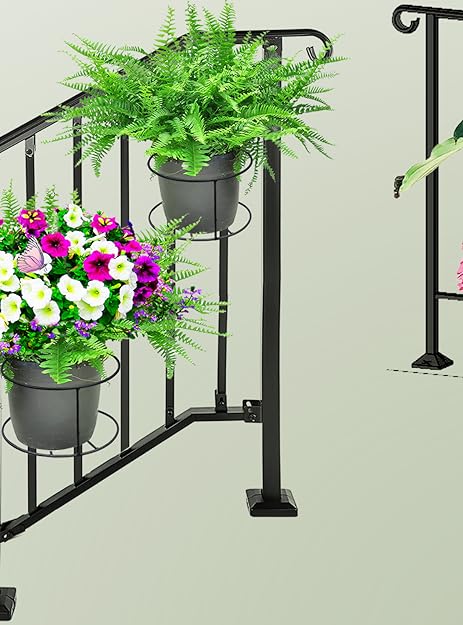 Looking for a floating garden to the grand appearance of your deck or porch? The Naturanook Railing Planters can be the best choice for your interest. The clips in the holder can easily be attached to your deck railing. The size of the spindle is ½-¾ inches. This doesn't need any tool to be fixed; you can simply fix the clips like claws. The spindle has a soft bumper to protect your rail. These shelves can be used to take hold of your plant pots to have your mini garden, and this can make a gorgeous gift for your gardening friend by bringing this European country house look.
25. Apollo Adjustable Railing Planters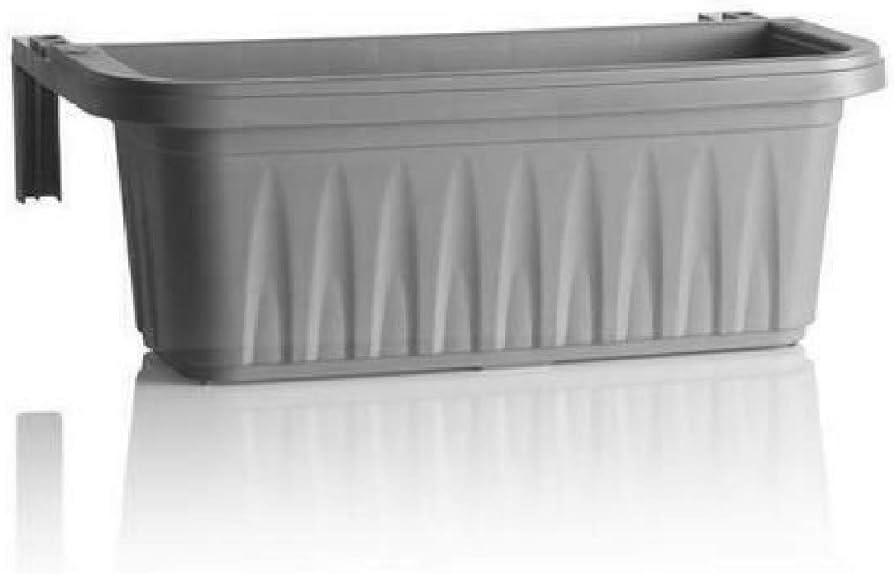 The Apollo adjustment planters are exclusively designed with rattan material to give a modern update. It has a drainage hole in it with a rectangular shape. This is also a self Watering planter with 6 cups of water reservoir storage. The railing brackets have locking pins to lock the brackets into your rail. The railing should be 1 – 4 inches wide to hold onto these deck planters.
26. HC Decorative Deck Planters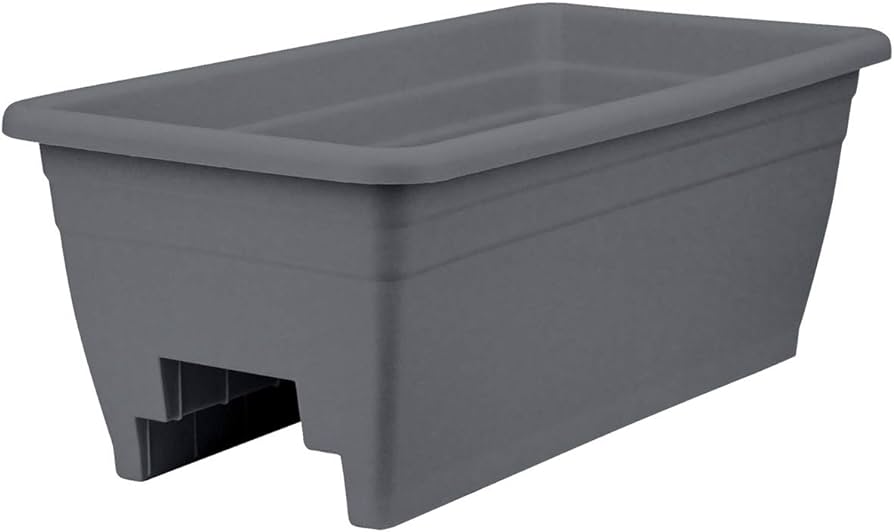 The HC deck planters are suitable for the one who is looking for something more lightweight boxes to decorate your deck rails. This is made of plastic and is available in four colors. This box comes with removable drain plugs to use your already existing pots inside it. And specialty is these are designed for a wide range of options like 2- 4 inches and 2- 6 inches rails.
27. Pot Railing Planters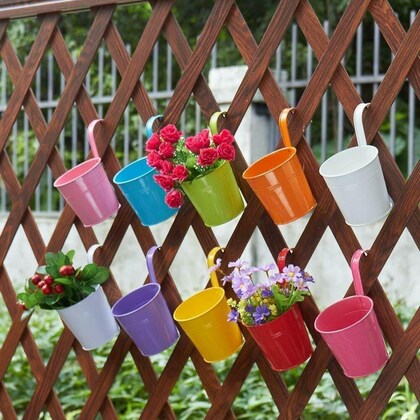 This is the cutest option to grow different varieties of flowers and herbs on your balcony or deck. This comes as a 10-piece set and is cylindrical in shape with a 4-inch diameter. The metal pot has a hook to get placed on your rail, and the hook is attached to the package, and you need a little bit of assembling to hang it. It looks more attractive, and easy to have different varieties of flowers and plants.
28. Farmlyn Creek Metal Planters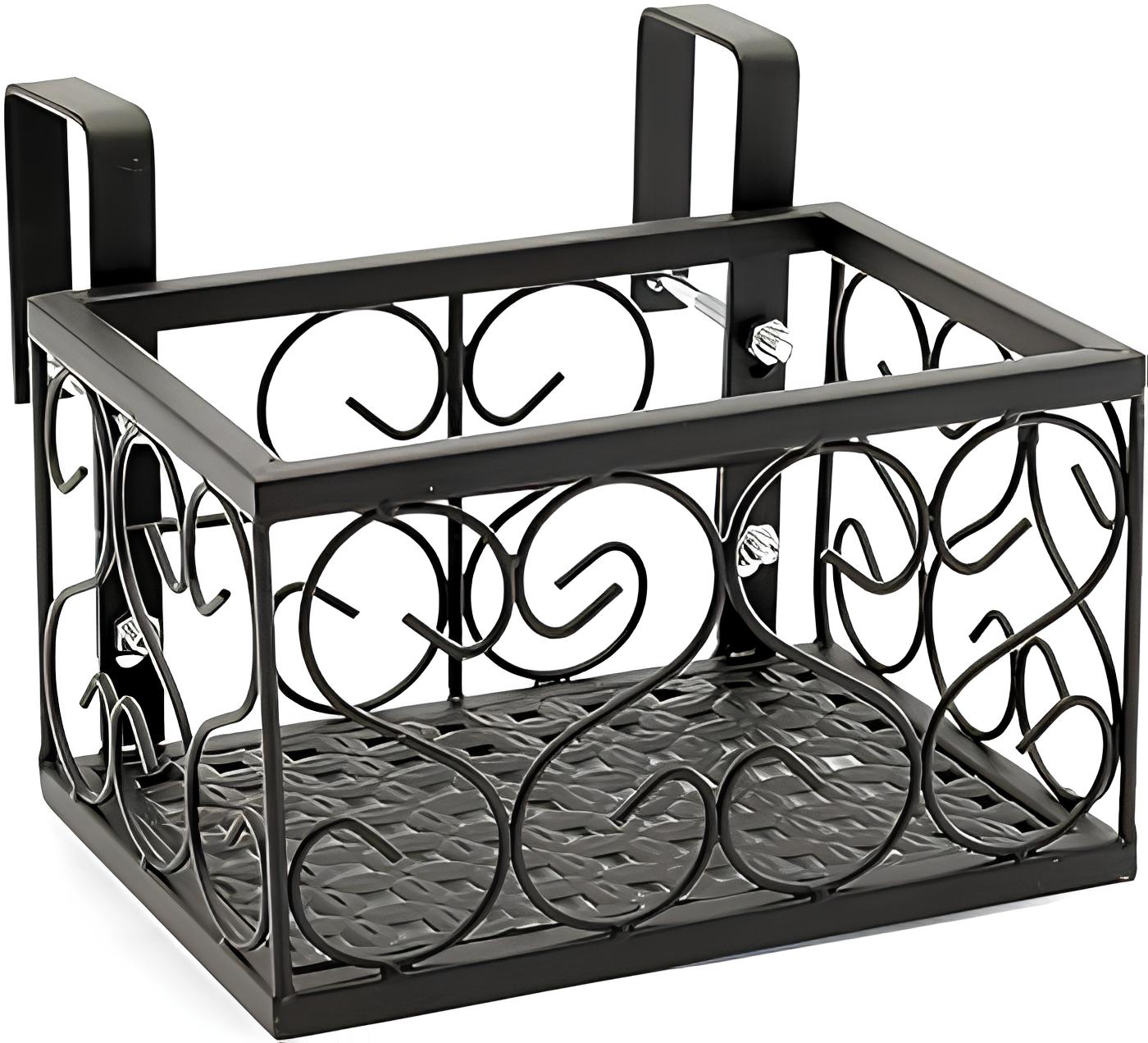 The Creek Metal Planters are iron in nature which makes it more sturdy to hold on to your pots with stableness. It can be easily placed by hanging it over the rail and is available in a set of two pieces. The shape of these deck planters is square, and the size of the hook opening is 2 inches. The screws and brackets are given along with the parcel for you to assemble, and trust me, it is easier than any other DIY project.
29. Semi Circle Wall Mounted Planter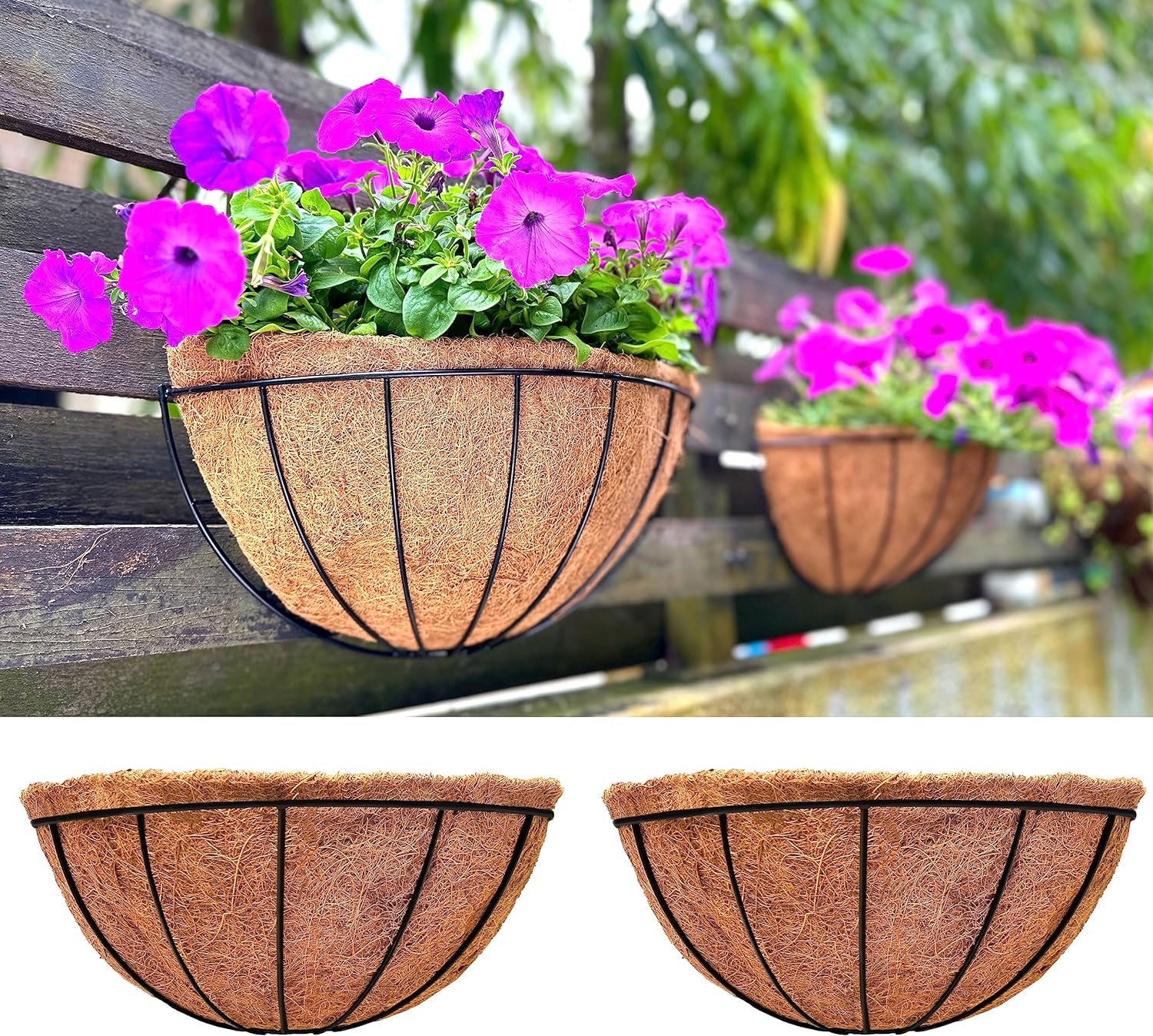 The LaLaGreen 16-inch planters are sure to win your choice with the semi Circle shape of it. It comes with a coco liner to start your deck garden in a stress-free way. The available size options are 14 and 16 inches. The metal structure makes it more strong yet lightweight option to place on your deck railing. The quality of the coco liners is assured by the company as they particularly want to make it family-friendly.
30. Buddies for Your Deck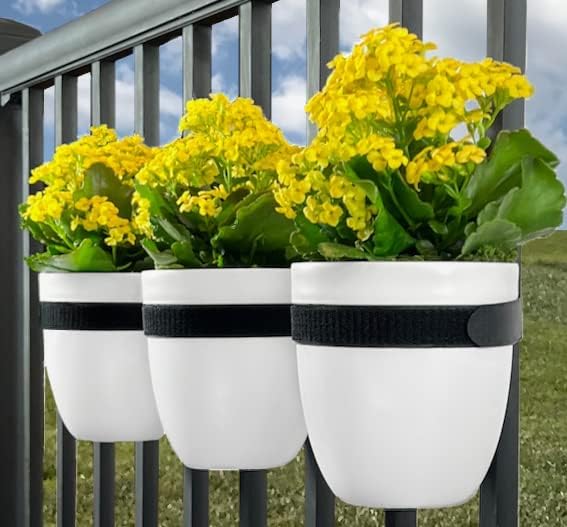 The Balcony Buddies railing planters are successful for those who seek hustle-free installation. This is plastic in material, available in four different colors. The diameter of the pot is 6 inches, and it comes as a set of 3 in a package. No other assembling tool is required to fit these beautiful pots to your deck railing.
Pro's
The advantages are many more to discuss in the deck railing planters. Such as,
When you have a small balcony, it gives you the space for growing your garden by taking the vertical space to utilize.
The bursting colors could give you a positive vibration to your deck.
The taller plants play the role of a natural screen from the outside to stay out of your neighborhood.
You can customize the deck planters according to your balcony theme for more aesthetics.
As the plant pots are placed on the rails, it reduces the tripping over the pots are any clutters on the floor.
Your gardening interests can be satisfied with the herbs and small fruits in the deck planters.
Generally, plants observe the carbon dioxide, which gives you the natural air purifier.
The railing planters can be decorated with any mood for your date, dinner, or party time.
Compared to traditional gardening, these planters are much less maintenance when you go for the low maintenance plants and planters.
Many options are available in the market to suit the majority of the railing types and thicknesses.
Con's
Attached with the benefits of the deck planters, there are also some potential drawbacks you need to consider.
The plant size should not exceed a limited height, as you can't go for the larger plants in your deck.
You need to give regular watering as these are constantly exposed to the sun and the wind.
The major issue with the railing deck planters is drainage; if it is not drained properly, it may cause overwatering or root clogging.
Proper maintenance should be given with pruning, fertilizing, etc.. if not; the plants won't look their best which may affect your purpose of having the deck planters.
You may need to change your plants according to the seasons to get the plants to accommodate the weather.
The options to select for your railing planters are very limited. You can't choose from many varieties as you need only the plants to survive on the mini pots and a limited amount of soil.
If you happen to have a high railing, it will make your watering and accessibility to the plants a bit complicated.
Finishing Touch!
The decks are somewhat dull and neutral when they don't have any liveliness. You can start decorating your deck railing because of its appearance or because of your gardening interests. Whichever may be the reason you are going for the deck planters, never forget you are doing something great for mother nature too.
By giving the little garden with flowers and plants, you are making the tiny change you want to see in the world. You can choose wooden boxes or colorful mini cups to hold many varieties of herbs and flowers for your deck. Do these ideas give you some serious options to start deck gardening? If Yes, don't forget to let us know which one you picked for your deck!