A patio is normally an extended outdoor space at ground level in the backyard and, significantly, attached to a house. But today, with the rising number of apartments around the world, patios no longer belong only in the ground. They can be in higher altitudes as well. The size varies depending on the space and budget. This is a place for recreational activities, lunchtimes, dinner parties, and many more.
Now enclosed patios are slightly different from the regular ones. For many good reasons, patios are shielded or covered. Enclosed patios allow you to have the taste of both outdoor and indoor feelings by giving you a little bit of privacy and a little bit of exposure. Enclosed patios also protect you from birds and insects and sometimes even heavy rains.
An enclosed patio can be designed in numerous ways, depending on the size and the style you prefer.
1. Glass is Class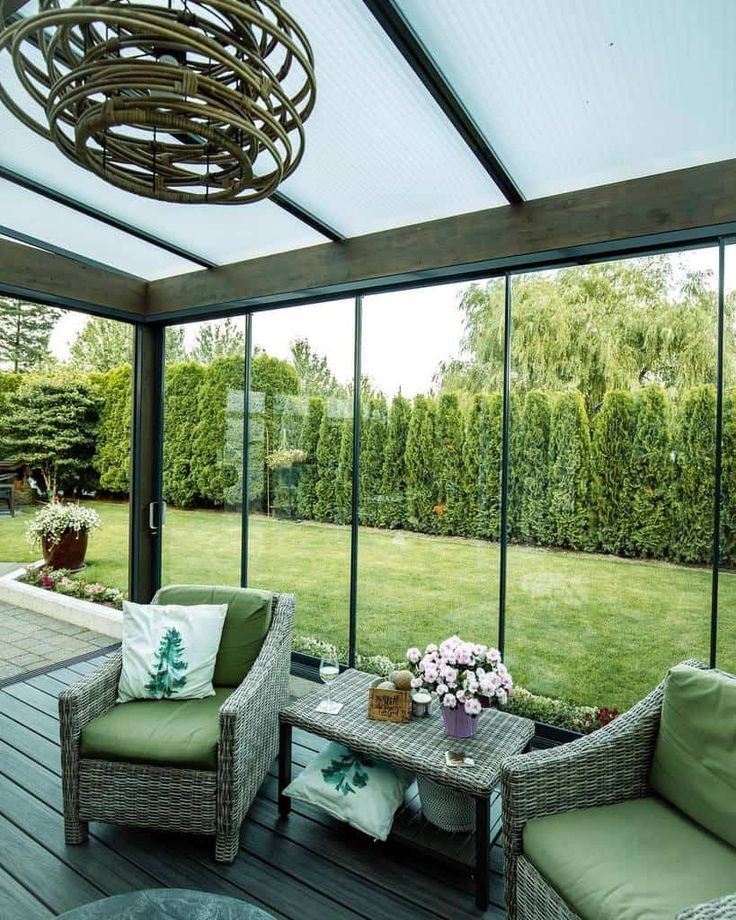 Getting a glass shield for your patio is a great idea, especially if you want to flex your beautiful space. You have invested all your time and money designing it, so why keep it hidden? In addition, it brings so much class to your small space.
It doesn't cost a fortune to surround your patio with glass. Instead, it will treat you with natural light. It's going to be the warmest space in your house during the winter season, and if you don't want much of the sun's rays to enter it during summertime, you can hang curtains to escape the scorching heat. Not just the scorching heat, but if you want privacy as well.
2. Traditional Lattice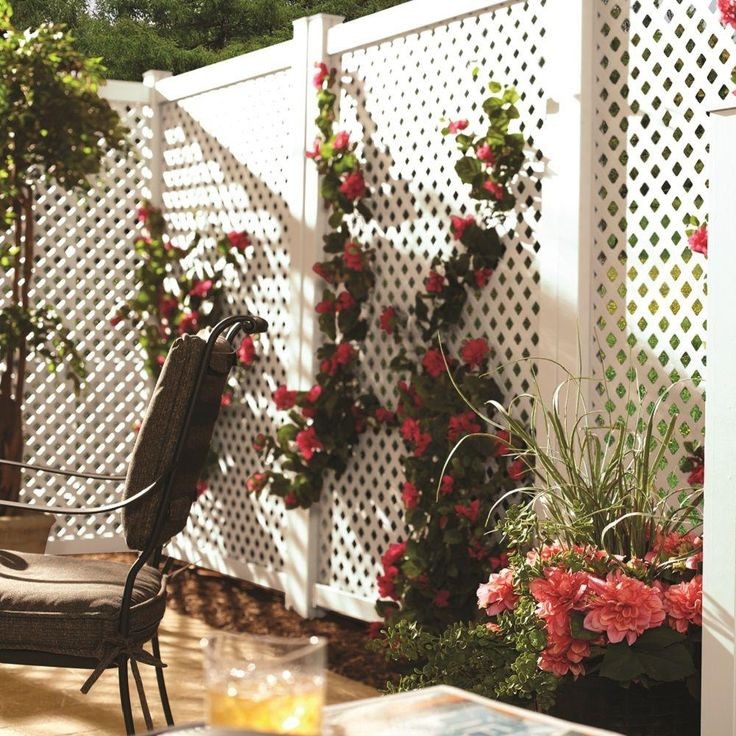 Enclosed lattice patios give us a little bit of a traditional look. They come in diverse designs and styles. Lattice panels don't only give you privacy from the neighbors; they also give you some amount of shade while still letting in sunlight.
Another fabulous reason why you need to have an enclosed lattice patio is because of the lovely sight it carries out when there are flowers all over it. It brings an aura of freshness and comfort. This kind of patio is ideal for tea parties, and anyone dreaming of a patio like this can achieve it by having good skills.
3. Flower Power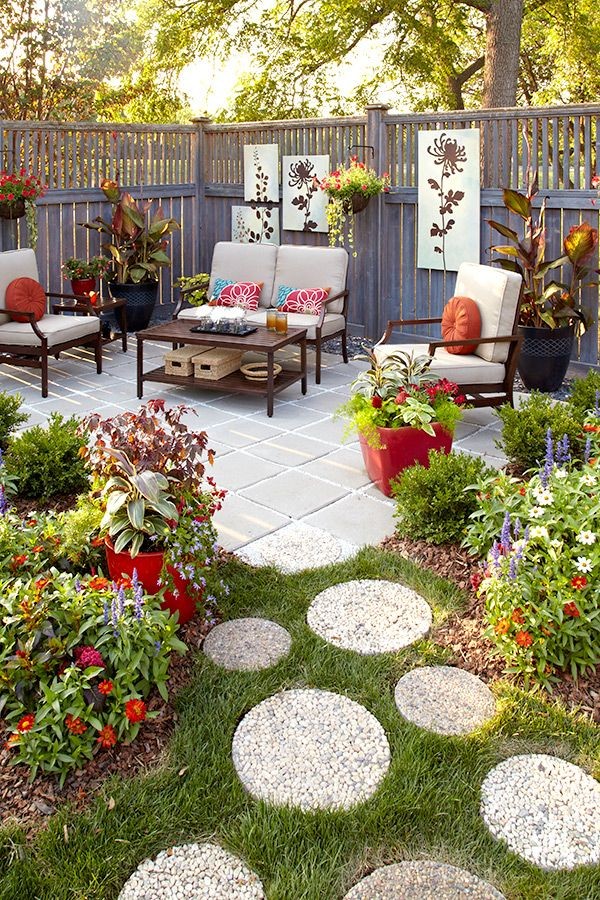 An enclosed garden patio is such a remarkable sight. With all the varieties of flowers in bloom, you just can't ignore them. This idea is so good that your guests may talk about your beautiful patio for a really long time.
In a garden patio, you don't need many materials to make things. You just need flower seeds, a high fence, and some flower pots. Big or small, any budget can help attain this refreshing space.
4. Let the Curtains Unfold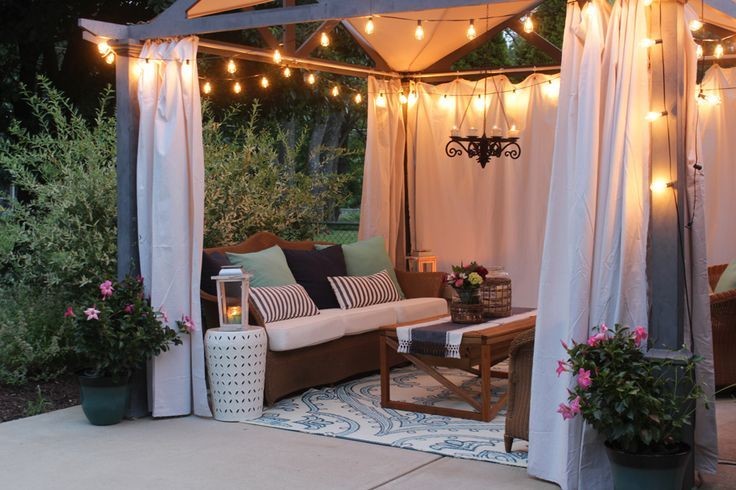 An enclosed patio does not always have to have fences or railings around them. You can save a hefty amount by just hanging some really good-looking curtains and upgrading the winsomeness of your patio.
The curtains safeguard you from sunlight, and when you think it's time your patio needs to be airy and brightened up, they can be tied back. As long as your patio has a roof and curtains, you don't have to worry about the rain or the stormy wind.
5. Light It Up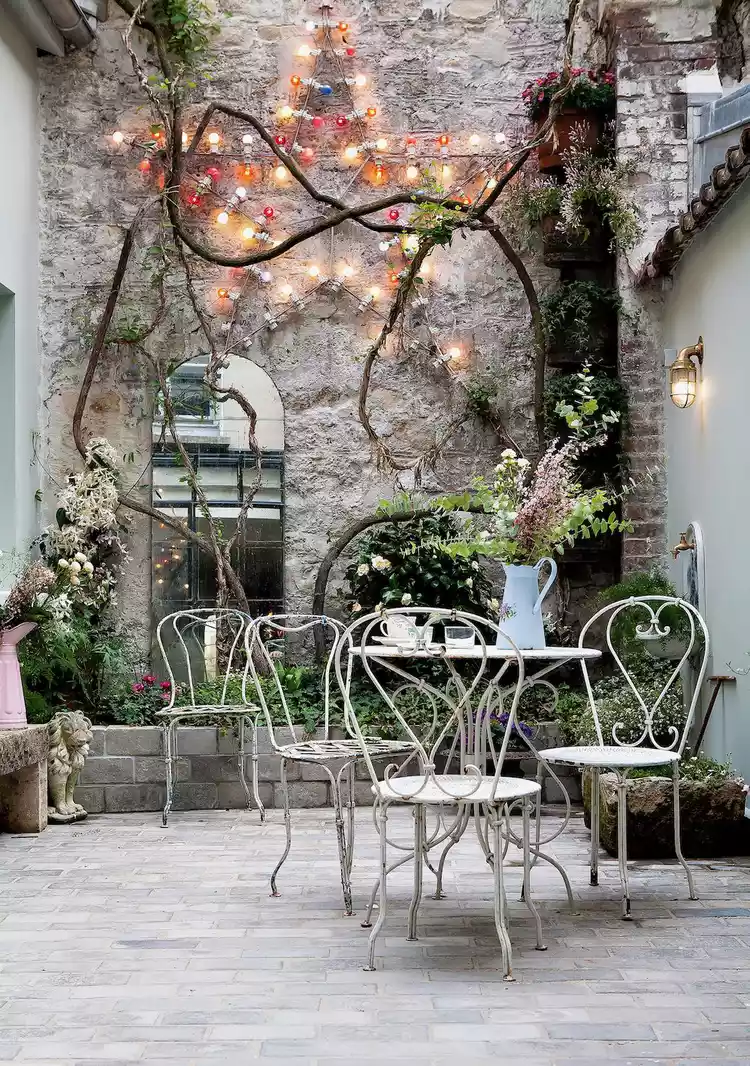 Decorate your patio with fancy lights as it is enclosed and deprived of brightness. With succulents and some pretty flowers hanging around your gorgeous space, the lights may give you a Parisian vibe, welcoming all the romantic moods into your patio.
This kind of aesthetic harmonizes best with white-colored metallic chairs and tables and can instantly glow up the place.
6. Rustic is Mystic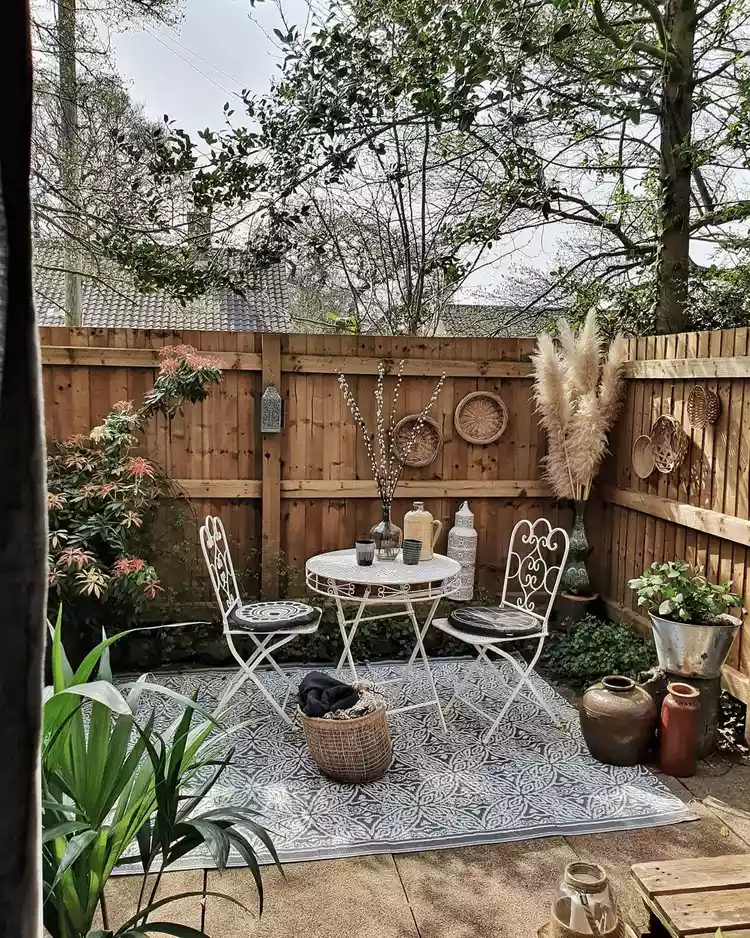 A rustic-themed patio is indeed a mystical place with so much natural beauty dwelling in it. Put high fences made entirely of unpainted, brown wood and beautify them with some natural plants and flowers with not much hue in them. While composing a fenced patio like this, it is always a better idea to keep the roof away because there has to be sunshine to brighten it up.
In a rustic-themed patio, keep wooden or metallic furniture to complement the rustic atmosphere.
7. A Plunge Pool is Cool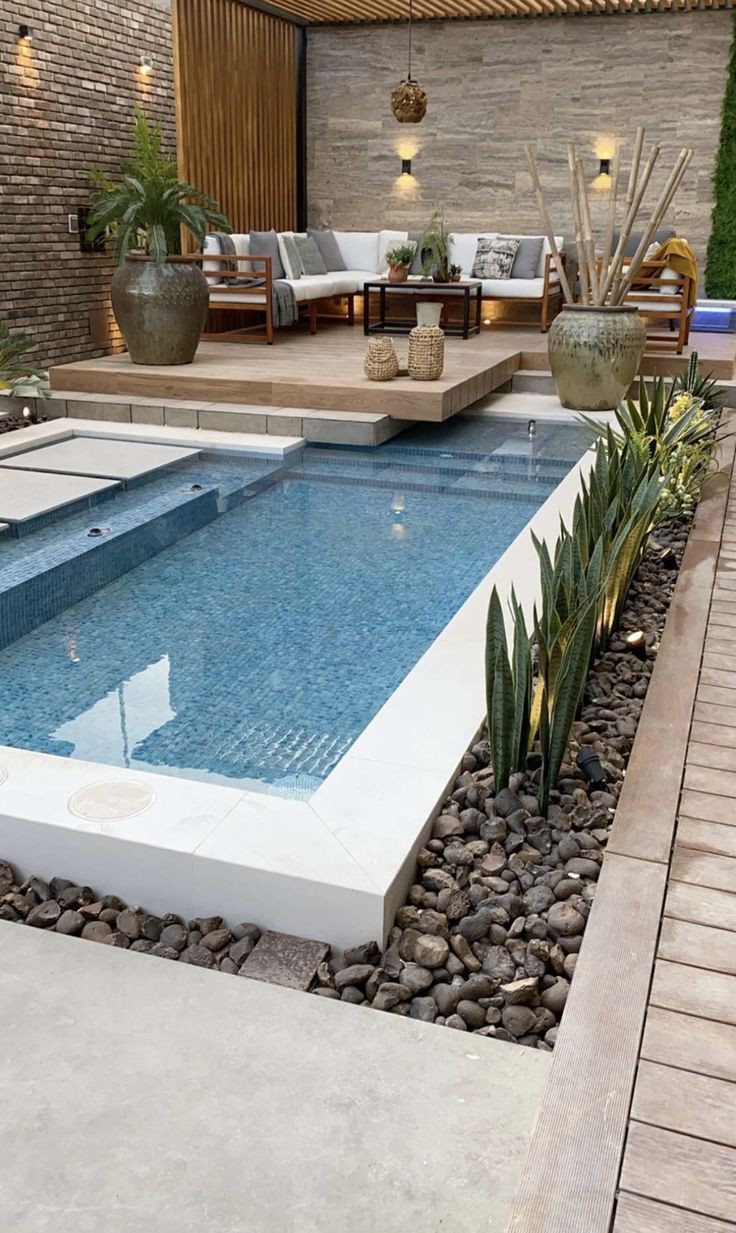 A small plunge pool in the middle of your patio adds a tremendous taste of luxury to a small corner of your house. An enclosed patio is just the perfect spot for a pool because of the privacy and protection it gives from the outside. For decoration, gather some pebbles and spread them around the pool. Even large metallic vases with green plants do enough magic to make your patio the perfect dwelling place.
8. Be Minimal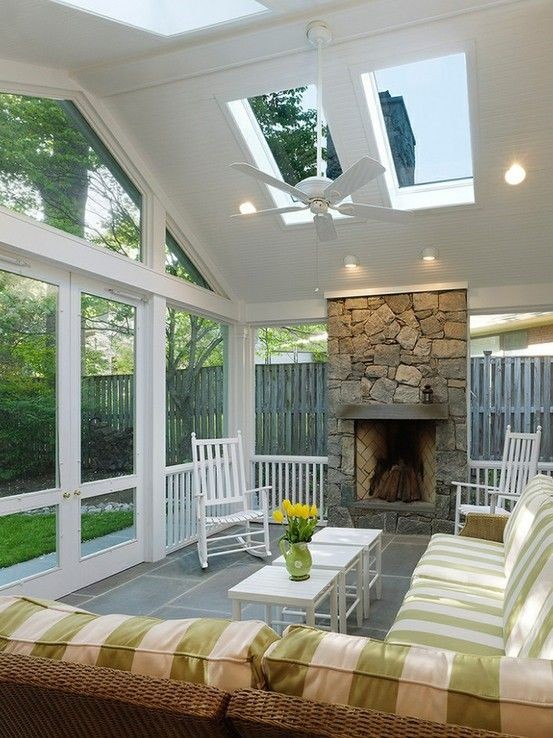 Sometimes keeping an enclosed patio simple and minimal can make it shimmer with elegance. Keep simple furniture and keep it away from other over-the-top decor ideas, as the color white or something neutral in color helps in bringing the noise to the space. The shine and brightness made by the color invite so much pleasantness, making your patio beautiful, just like the ones that are heavily decorated.
9. Vintage-Styled Patio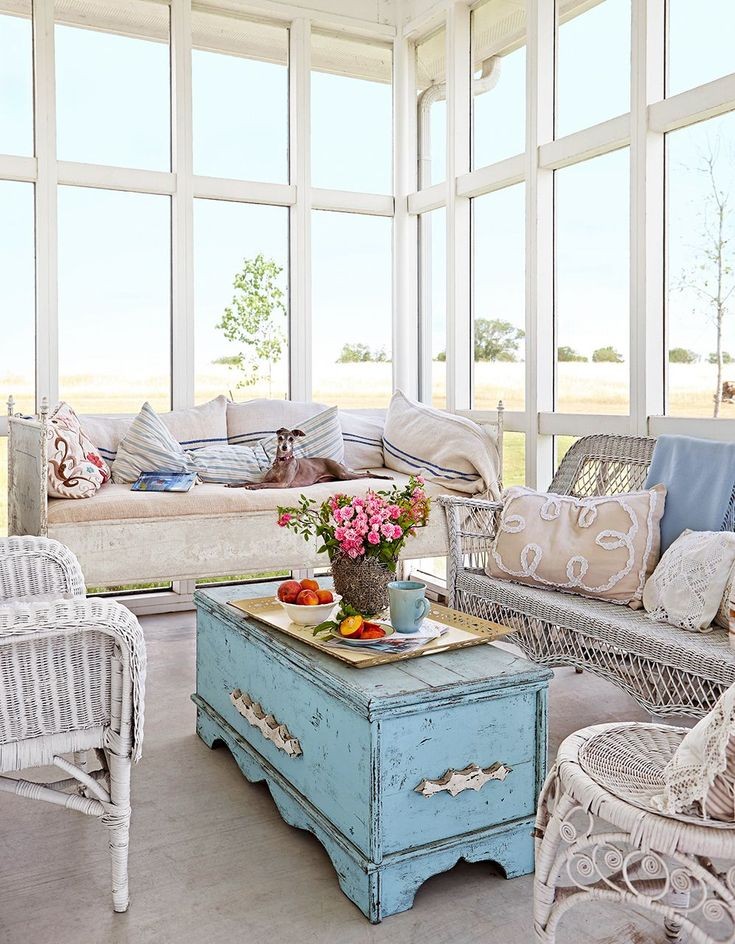 Bring in the spirit of vintage to your patio and enjoy the timeless beauty it delivers. To bring out this look to life, you need to have a few old but reusable items, like a set of used chairs. For the center table, an old trunk may suffice the whole look, especially with colorful flowers kept on top of it.
For more vintage decor ideas, cane furniture with really attractive old designs and patterns also contributes to the vintage aesthetic going on in your patio.
10. Add Color to the Floor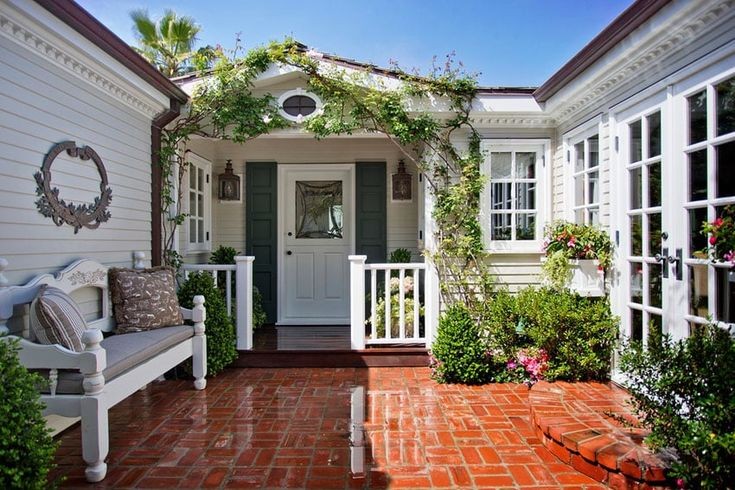 Sometimes when we focus more on the basic things in a patio, we tend to forget about how the floor should look. Add life to your patio floor by giving color and designs to it. Because when you spend your leisure time here, the vibrance of your patio can just light up your mood.
There are tiles and marbles of many good designs and patterns. You just have to pick the one that suits the theme of your patio. An enclosed patio with gorgeous-looking tiles may look no less than royalty.
11. Arrange a Canopy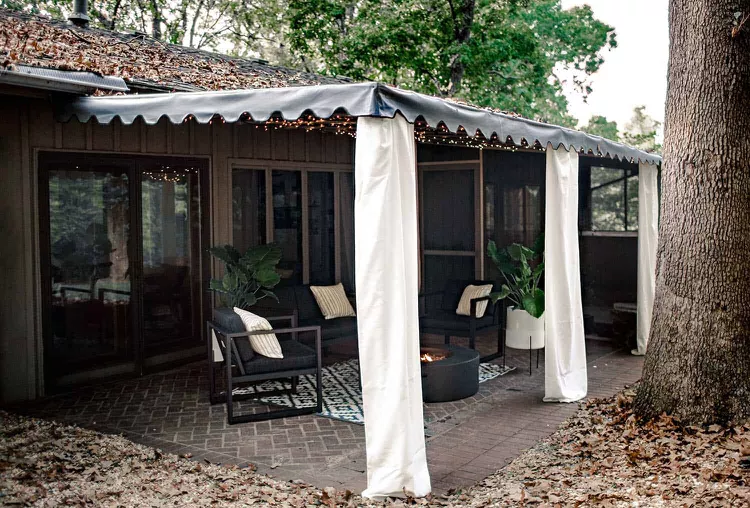 Using a canopy as a shield for your patio not just adds a unique beauty but it also makes you feel as though you are somewhere in a Middle East desert enjoying a candlelight dinner. Yes, it gives almost the same energy.
With the correct decor and lighting, it's warm and cozy. Additionally, if you want to let in natural light or air, you can simply take it off or push it aside.
12. Cover Your Balcony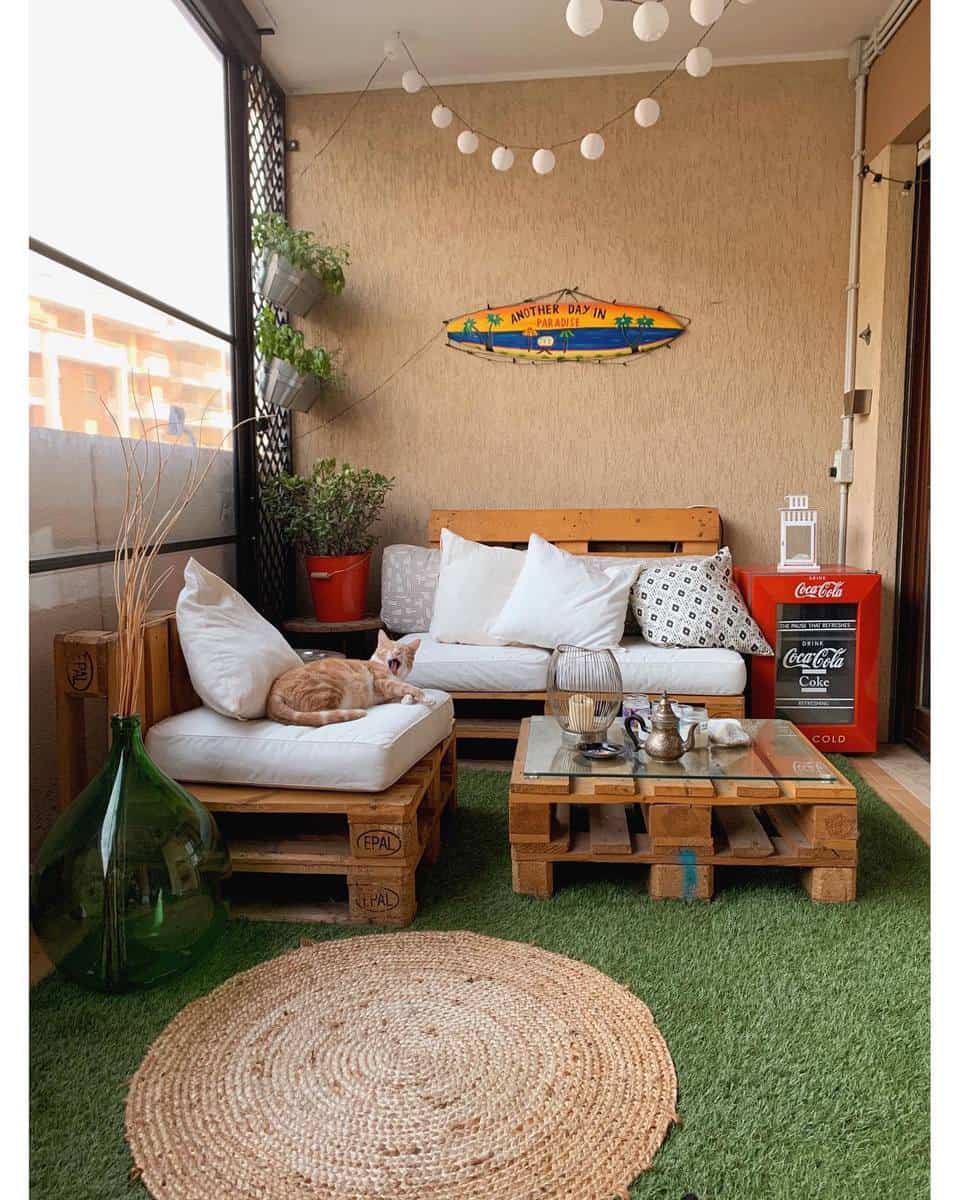 That small, empty space in your balcony can transform into a useful patio. But because of the polluted air or the pokey neighbors, you may want to safeguard it.
Cover the sides of the balcony with plywood kind of walls and enjoy the front view but from a certain angle. Also, decorate it with comfy chairs and a carpet that looks just like natural grass.
13. Use Brick Walls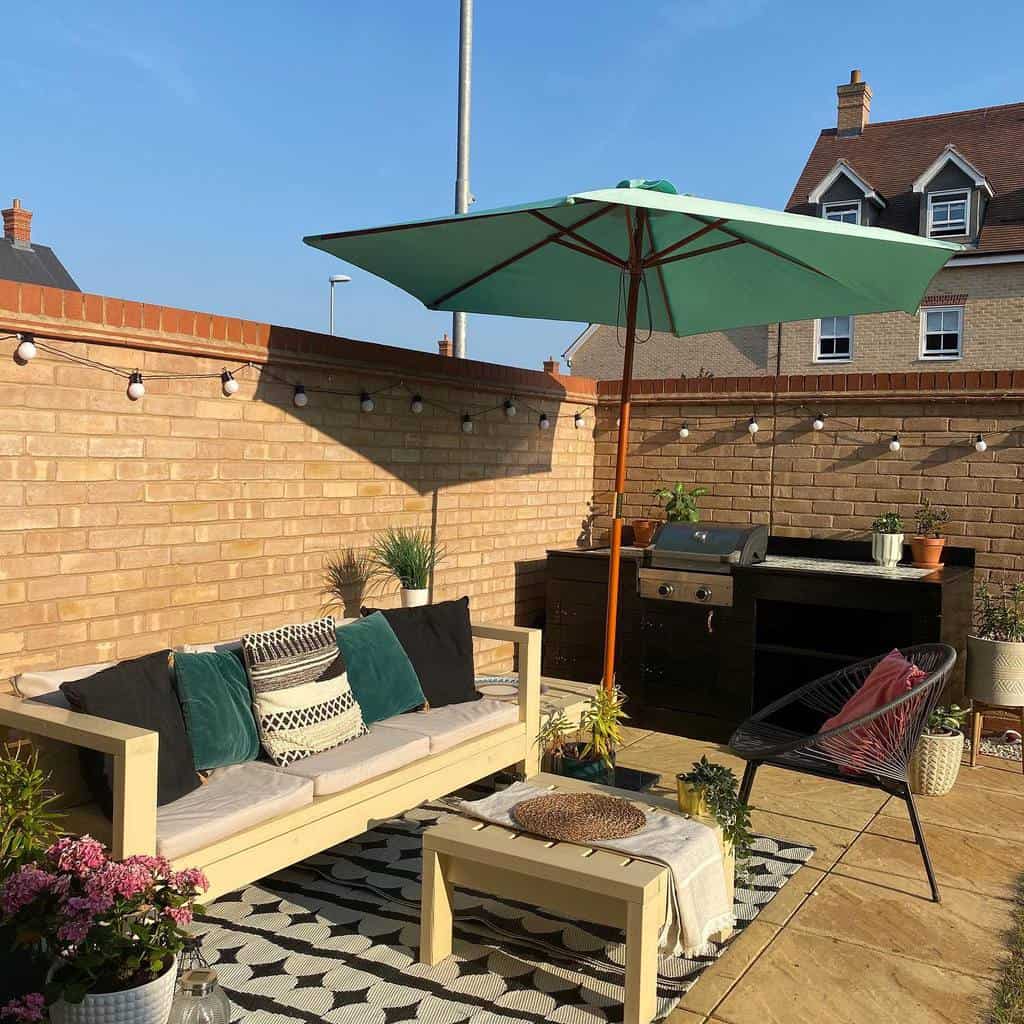 Surround your patio with brick walls that are meant to look half-done and unfinished because this aesthetic is so captivating and romantic if the fairy lights are on. Since the patio is guarded by the walls, you may not need a roof because you need the rain and the sun to experience an outdoor feeling while still being at home.
You also need to enrich the brick wall aesthetic with flowers and plants, as there is always enough rain and sunshine on your patio.
14. Attach Some Shelves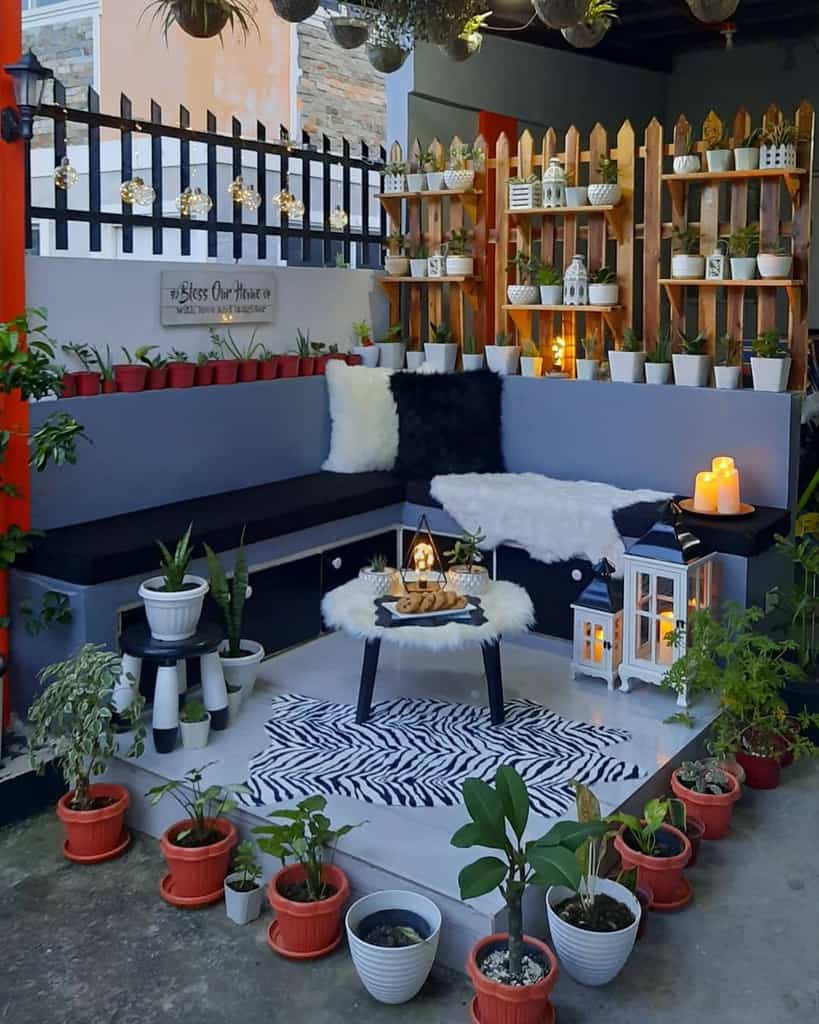 A wooden fence in a patio that has shelves attached to it is another creative way of styling up your leisure spot. This is a perfect spot to display your succulents, and it is any plant lover's paradise. Any kind of activity in a place like this is super refreshing, especially with the most comfortable seating arrangements.
15. Go For a Living Wall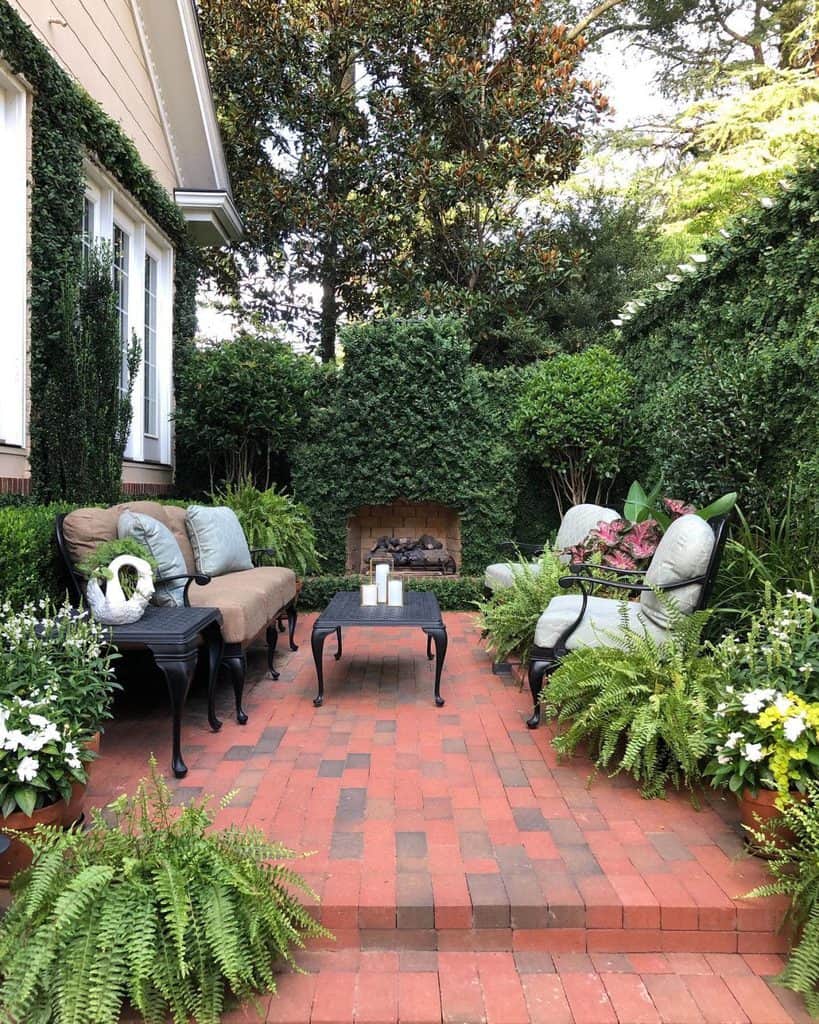 You can have natural walls around your patio free of cost, and all you need is a little hard work. Grow tall plants so that they look like walls or a fence. They give you the privacy and protection you want, but they also beautify the space. With the natural plants around you, it becomes cooler. It's a cool place to hang out with your loved ones.
16. Don't Throw Away Your Chunks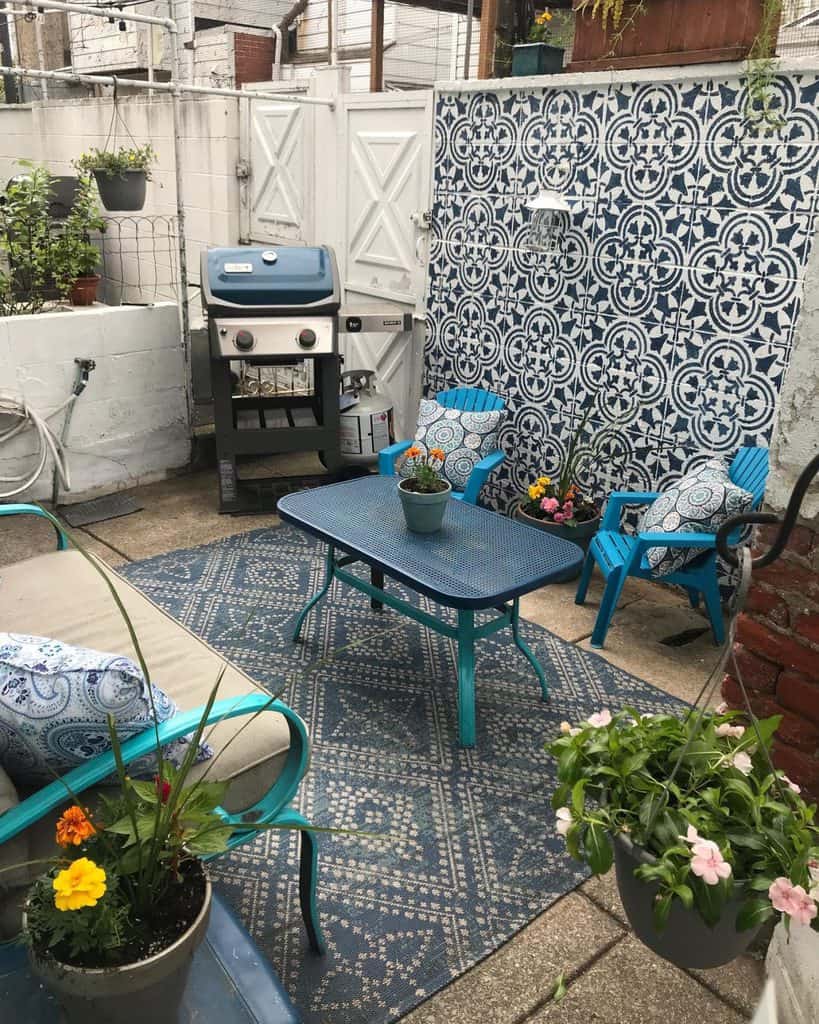 The chunks in your storeroom play a huge role here. Get some useful old stuff and start fixing them because they have the potential to bring charisma to your patio. Your old kitchen appliances can make the room look different and good by just lying there.
17. Make an Oasis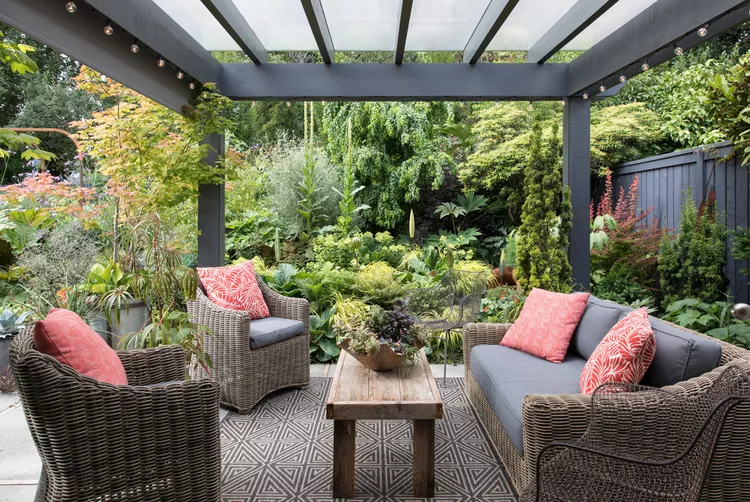 Normally, this type of patio is roofed, and instead of actual fences, you see all kinds of flowers and plants around you. It is fully covered, and there is enough protection from the outside. In fact, it looks just like a normal wall. Even the sight is so energizing, and it's hard not to admire it.
18. All-Weather Enclosed Patio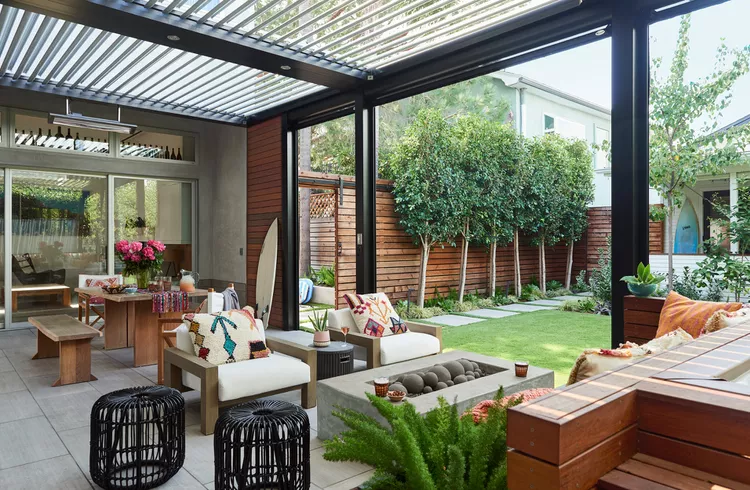 This type of patio is also known by the name four-season patio. It is specially made in such a manner that it can be used as an all-year-round shelter from rain, wind, and sun. An all-weather patio not only encloses the corners, it also has a roof made of various materials like glass or other roofing materials. With all these benefits that are given to your patio, you can enjoy your good moments outdoors with so much relief.
19. A Patio Chimney
A chimney present on your patio is another level of luxury you can enjoy during your leisure time. With the walls so high, it's a perfect place to have feasts and bonfires with friends and families. The chimney provides enough light and warmth during the gatherings.
20. Wood Blinds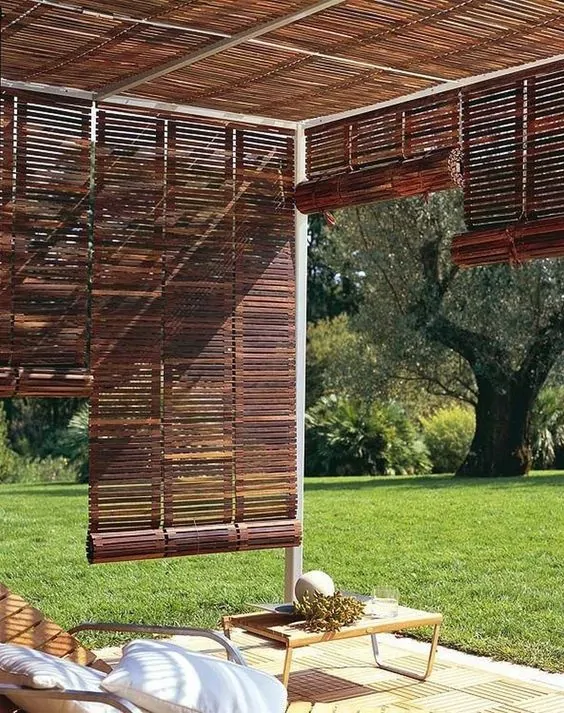 Wood blinds add so much beauty to the entire look of your patio. It has so much to offer – privacy, a shield from the sun, and acts as a decorative element. You control the temperature inside your patio by just adjusting the slats. Overall, it's a unique kind of patio with so much elegance and refinement to give out.
21. Thatch Your Patio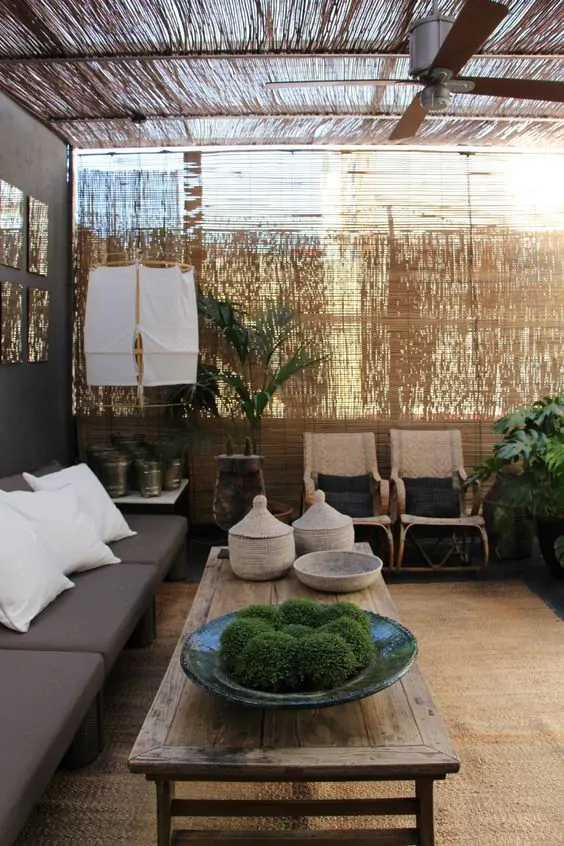 All the natural decor items or materials, especially so much straw, are going to need to create a thatched patio. This type of aesthetic upgrades the captivating look of your patio. The thatches that are used as a shield/wall work fine as a styling element and a wall to maintain privacy within the small corner. Throw in some rustic chairs, tables, and other decorative items.
22. Patio with Climbing Vines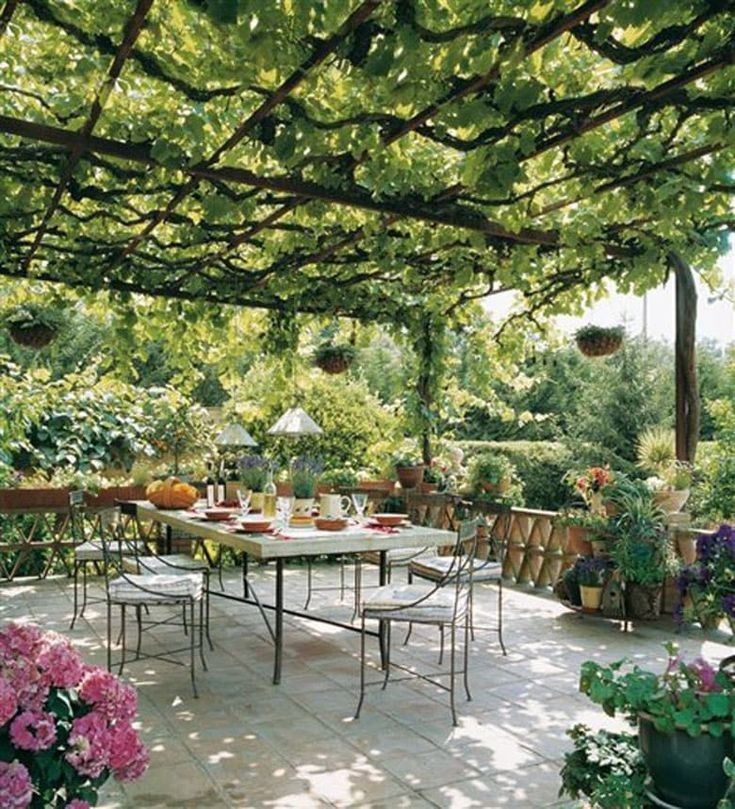 A patio with climbing vines is such a delightful glimpse. The vines that have formed as a roof help your patio stay cool and airy. This type of patio looks as though it belongs to a French villa, so when you're chilling on your patio, it's safe to say that it's just like spending time somewhere in Europe. With a natural roof like this, nothing can go uncool.
23. Tropical Patio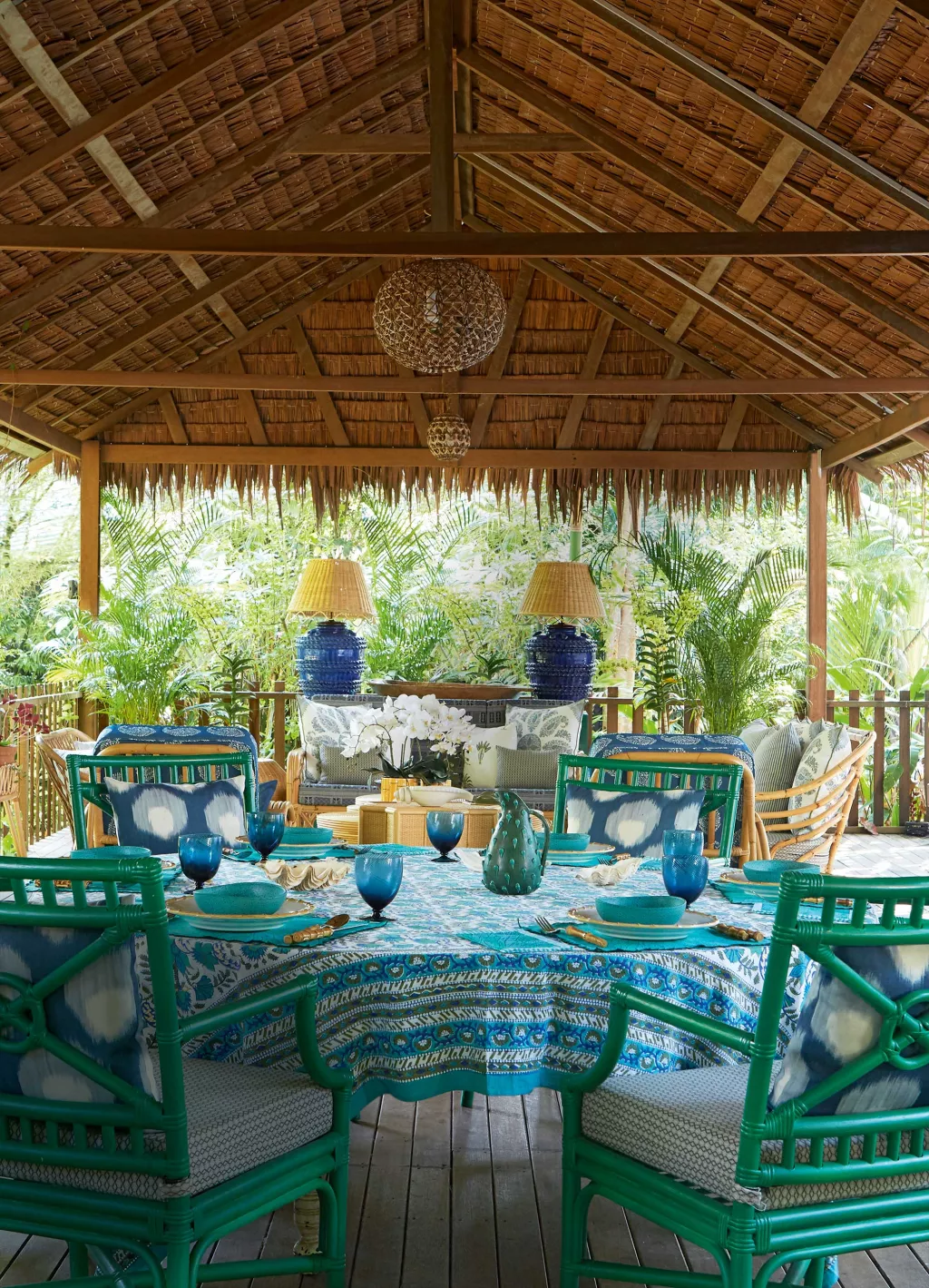 Bring in the tropical aura or spirit to your patio for a vacation within your house. A roof made of nothing but straw and wood looks exotic and fun. To add more styling elements, some really colorful chairs, glassware, and lamps look outstandingly great. Your 'tropical holiday' is ready, and it's not at all far away from you.
24. Play With Color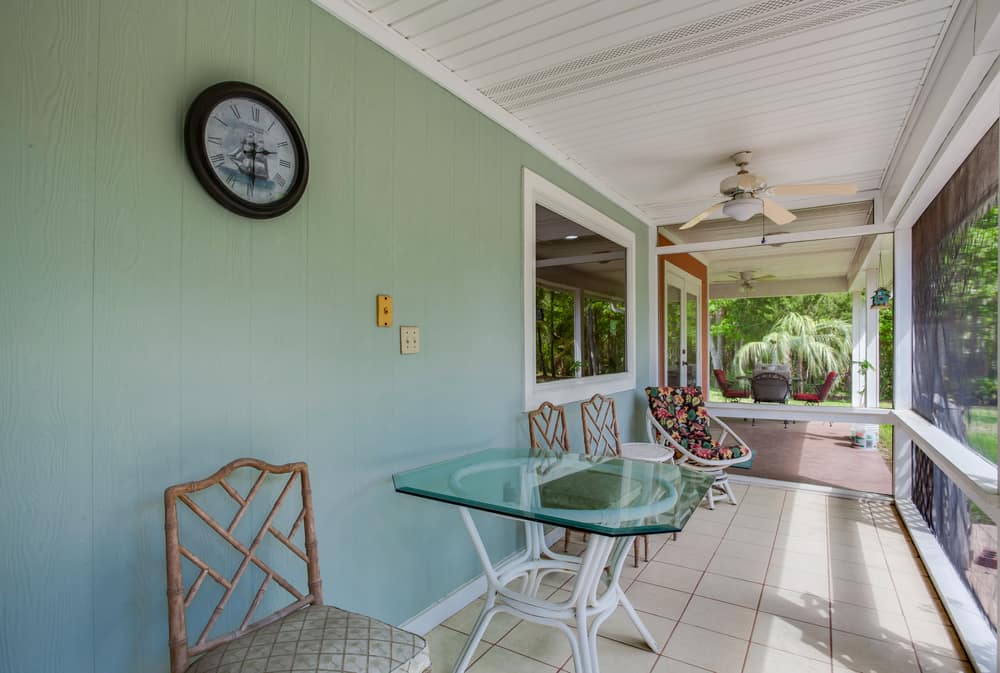 Some people like to bring simplicity to their patio, some like the natural way, some prefer it to look traditional, but there are some who just want color for a more vibrant atmosphere in their patio. A combination of a few bright colors gives out a darling look, making your patio an extremely pretty place.
Conclusion
A patio of any type – open or enclosed, and any style is still a dream for many.
Because who doesn't want this small bit of luxury attached to their homes? But if a thorough study is being done, enclosed patios are favored widely.
Because sometimes we want to share the good things only with ourselves.
An enclosed patio has so many advantages to it; you also get a sense of security and relief while hanging out in it.