We have ample space in our yards; however, planting trees and plants with fruits and blossoming flowers is too outworn! It even takes time to grow and requires digging through the soil. Why spend time doing hard work when you can do smart work? Opt for cheap raised garden beds that can up your game instantly!
Constructed on top of the ground level, raised garden beds are the form of a bed for plants where the soil level is much higher than the ground. Available at a meager price, raised garden beds can even be built yourself. YES, a simple DIY can give a complete makeover to your yard.
You can try out various DIYs that are inexpensive, quick, easy, and above all, with these ideas, you can explore the creativity in you!
Our Favourite Cheap Raised Garden Beds
Here are some of our favorite ideas for an absolutely beautiful and stylish garden –
1. Wooden Crates
A lot of people have these at home; if not, these are easily available at any decorative stores. You can also use wooden trays for a similar setup. Simply place this at your desired location, cover it with soil, and sow your seed. It is tried and said to be a wonderful repurposed item.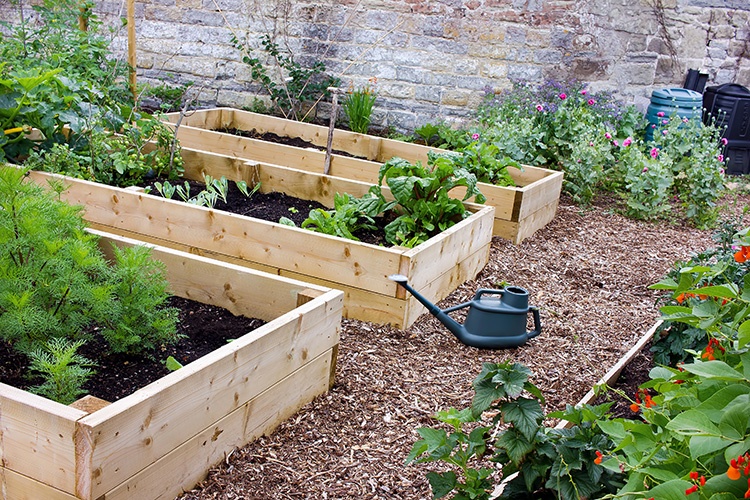 2. Container Garden
If you have containers lying at your home, you can reuse that for a cheap raised garden bed. This can prove to be one of the best choices for organic farming. Yes, you can use it for growing herbs like basil, sage and also for berries and vegetables.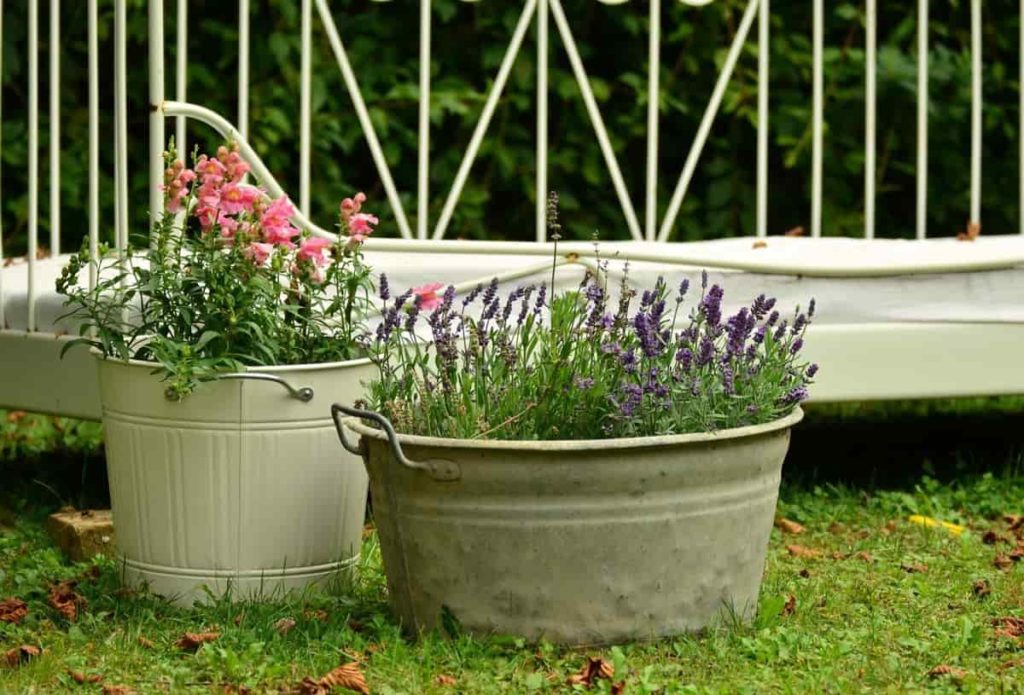 3. Galvanized Iron
Iron or any other metal can come across as a very good cheap raised garden bed. For an industrial look, you should definitely opt for a metal container. Besides being long-lasting, galvanized iron can be covered with plastic to prevent pesticides. Pro Tip:You can use iron or metal wheel trays that are used for serving, don't just limit their usage!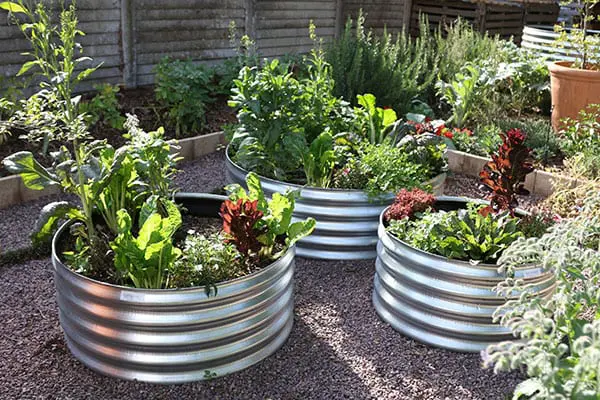 4. Divide and Rule
Why not? Now you can grow several plants together in one container or box for a cheap raised garden bed; simply grab the opportunity! This is best for growing multiple plants in one. Imagine having various flowers in one big box; it would look so pretty, right? You can get one of these in your backyard. Even if you don't wish to buy, you can use one big container and divide them into equal parts. Choose a hardboard or cardboard paper and cut them into equal parts with a slit on either side to secure the other sheet.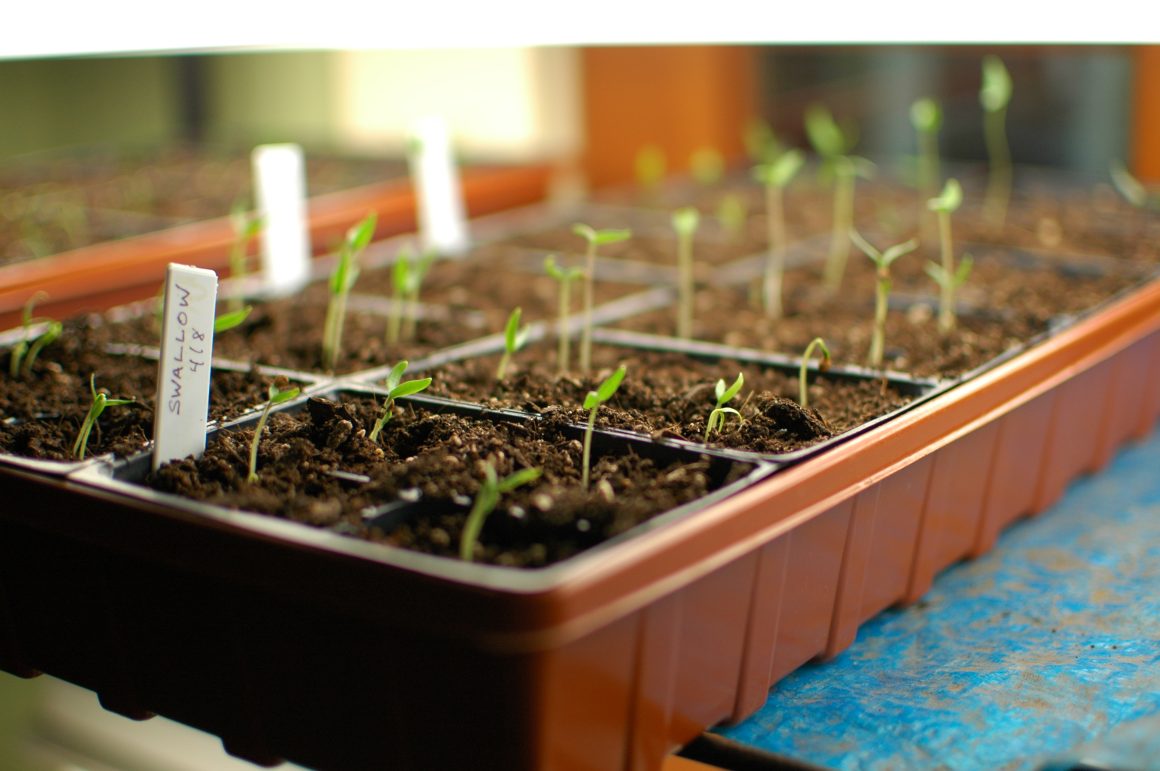 5. Brick Raised Bed
The easiest of the lot is using bricks. They are easily found at any construction plot; labourers working on a project can also provide you some at a meagre cost. If not available for free, it is definitely going to be a very inexpensive option. Simply buying bricks from any hardware shop can also be super feasible. Best part? You can paint them in your favorite color and do so much more to them! A most classic option that can take the heavyweight. You can even choose to plant trees over it instead of just small plants.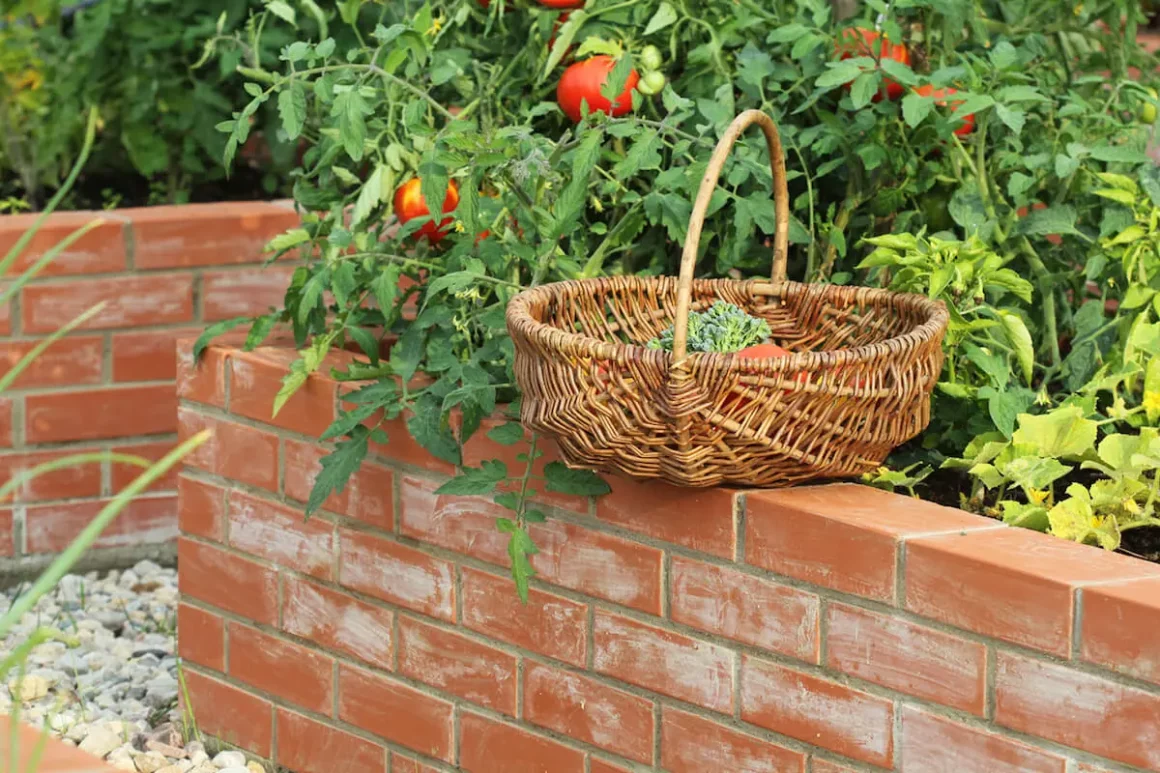 6. Add a Fence
For a modern but budget-friendly raised garden bed, putting a fence around it is an aesthetic option. It will not just give a neat look but will also keep pests and weeds away. Again, you can color the fence and even design them as per your choice.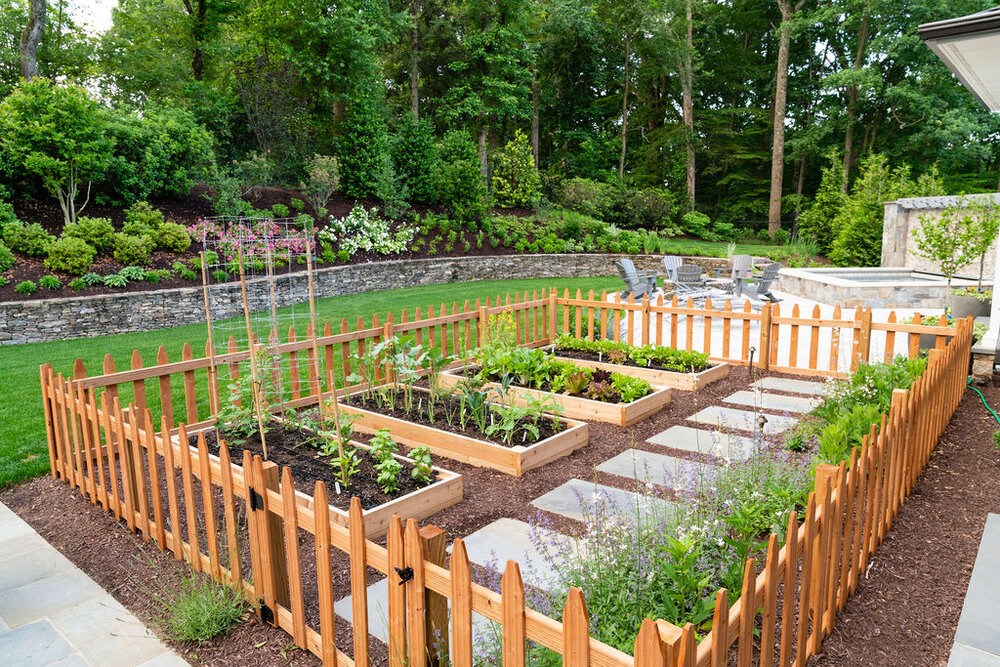 7. Log Wood Bed
If you require large areas, you can use logs because it is handy and quick. Log Wood Bed adds a country touch to your city life. Simply fixing this on the ground is all you need to do. Make sure all your logs are of the same height if not the same diameter.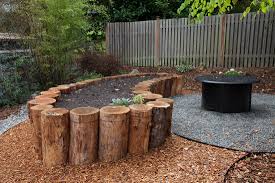 8. Cottage Style
How can you give a cottage-style look to your garden? Add fences and cover the plant, making it look like a park with lots of colors. Flowers, fruits, vegetables, containers, bring anything and everything that will make the place look complete and full more like a farmhouse.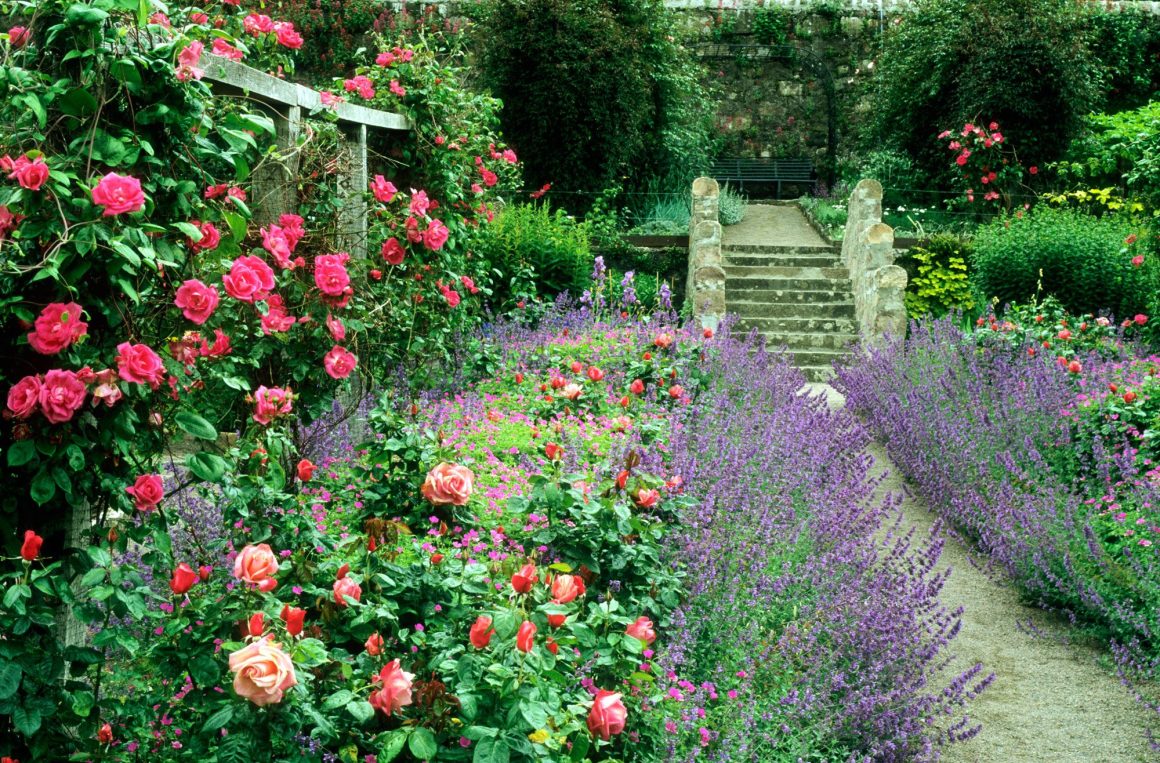 9. Trash Box
One of our favorite ideas! We come across a trash box turned into a planter more than often, but seldom do we notice it.We all know that we have trash that we can recycle, but have you ever thought of recycling the trash box itself? You heard it right! Get your bins, clean them, paint them, go all out with creativity, and gather your planters. You are done!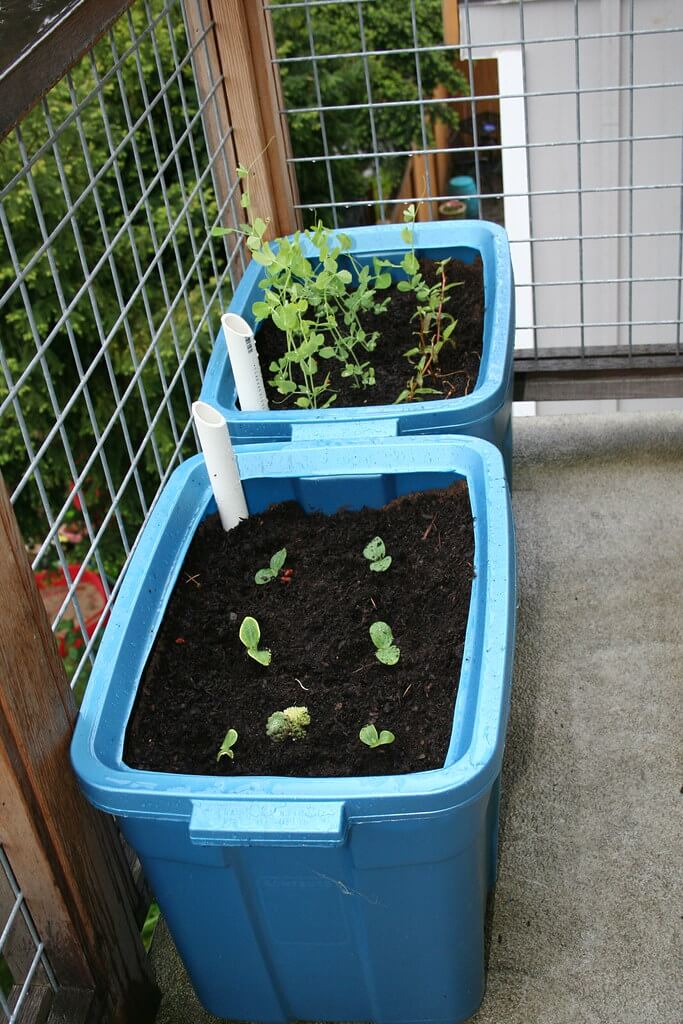 10. Greenhouse Touch
If you wish to segregate your vegetable area from herbs, fruits, and flowers, having a Greenhouse could be a great idea. It might require effort and time, but trust us; it is worth the wait. Bring your paints, wood, cutter, anchors, screws, and the tools you would require to tighten the anchors. Remember, you are making a home for plants; you must leave enough space between the woods for sunlight to enter!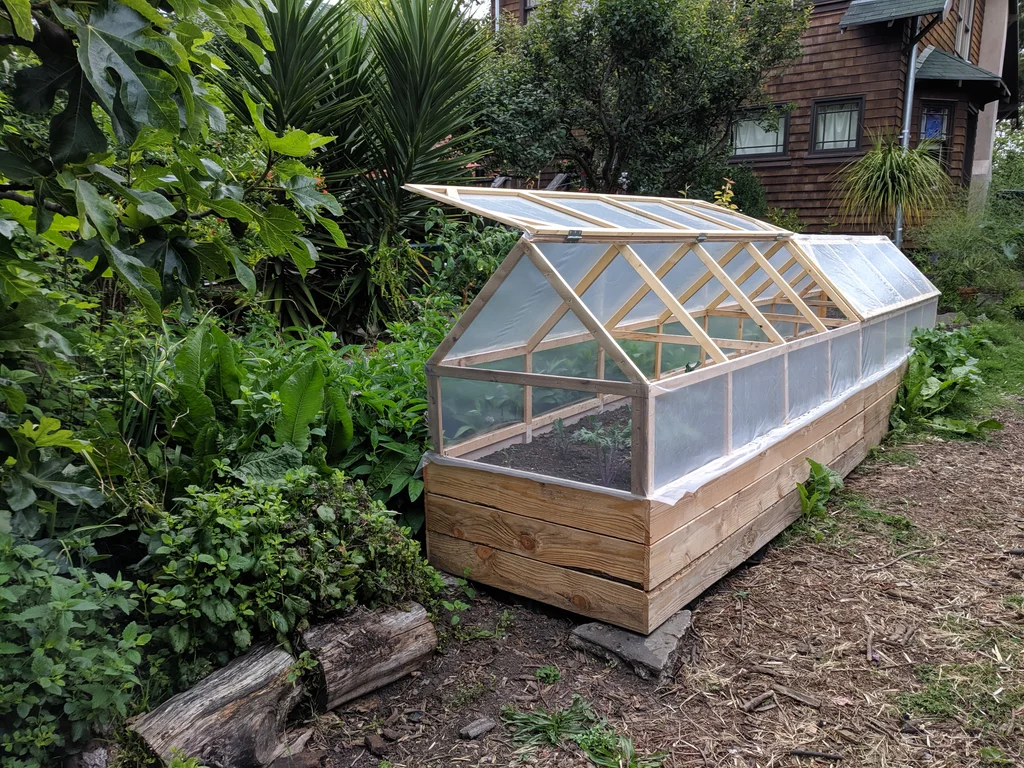 11. Old Tyre
Playing with tires, reusing them, and making something creative out of it has always been on an artist's checklist. Guess what? It is your chance now! Out of all the recycling and reusing options, if you have already tried something creative with these tires, then you are just one step away from making one cheap raised garden bed! Place the tire somewhere and use the middle area for planting. You can even hang the tire from a tree branch and use it for plants that can be placed at a height.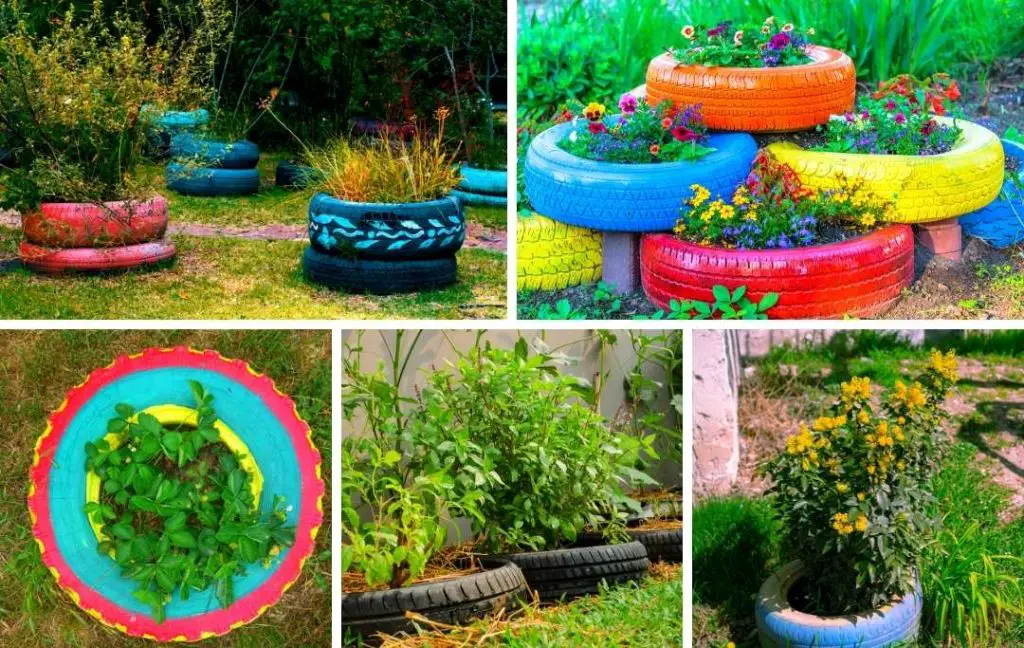 12. Wooden Ladder
When we think of giving a makeover to our gardens or lawns, we generally think of doing something on the ground or a little above it, but you can do so much more with height! Use a ladder, for instance, open it, and place your plants at every step. You can even hang plants on the edges. Playing with height for home decor breaks our eye view and brings something different before us.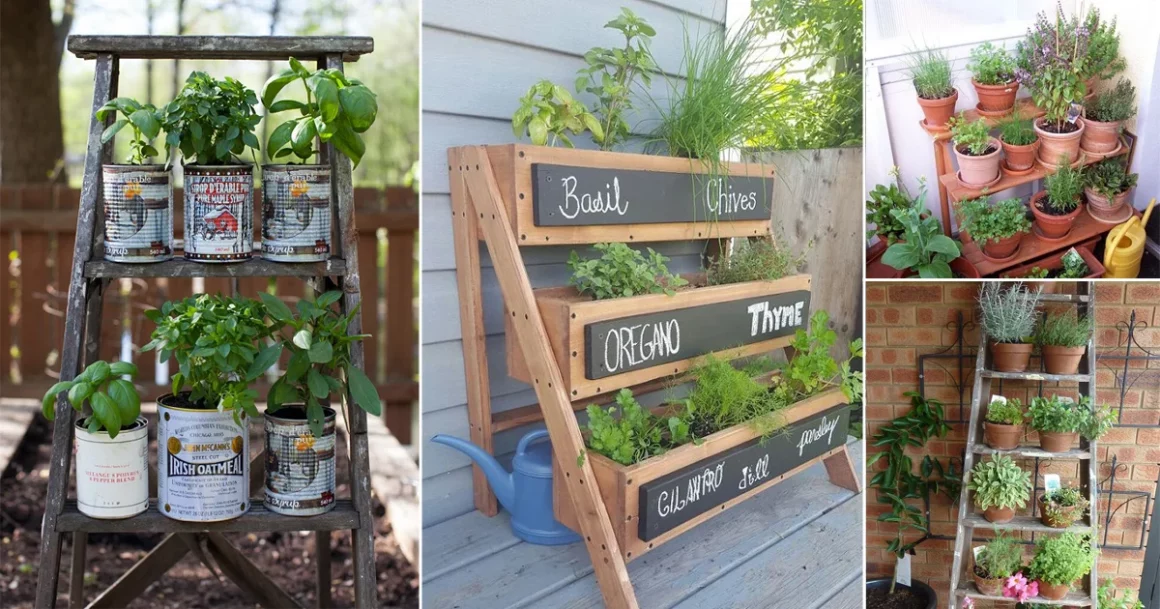 13. Garden on Wheels
Now, this has a major advantage. If you ever want to shift a plant to someplace else, you can do that easily with garden on wheels, which otherwise would not be possible because plants attach their roots to the soil. Having wheels along with the plants is a plus point; ask somebody who shifts home; they have to either struggle to pluck the plants from the roots or leave a beautiful fully grown plant behind only for it to wither.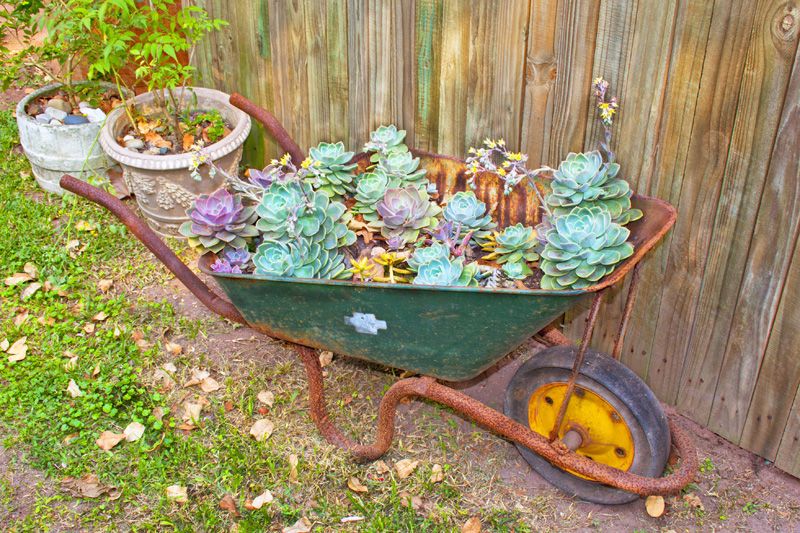 14. Coconut Plantation
We saw this super cool DIY, and we cannot get over it. Cheap raised garden bed in every sense of it. How much will a coconut cost? Once you're done having the coconut, you can use the shell for planting. Use the halves of the shell, hang it using a jute rope, and plant on it! Adding a cozy and traditional feel, this is eco-friendly and sustainable!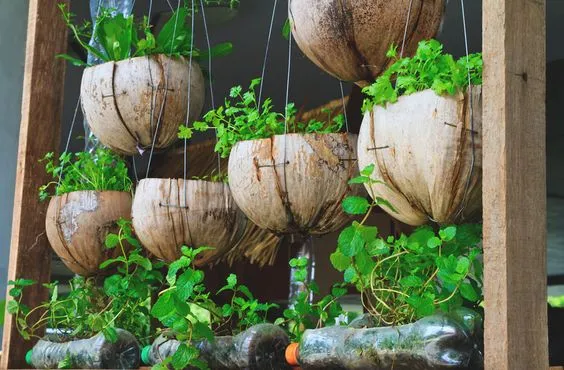 15. Hang a Mug
Coffee mugs, pot-like mugs, can also be reused for planting! As said earlier, using height for sowing will make your garden look greener and fuller. Simply hang these mugs on branches, ladders, hooks on the wall, and plant flowers on them. Just the right way to make your lawn colorful and happy!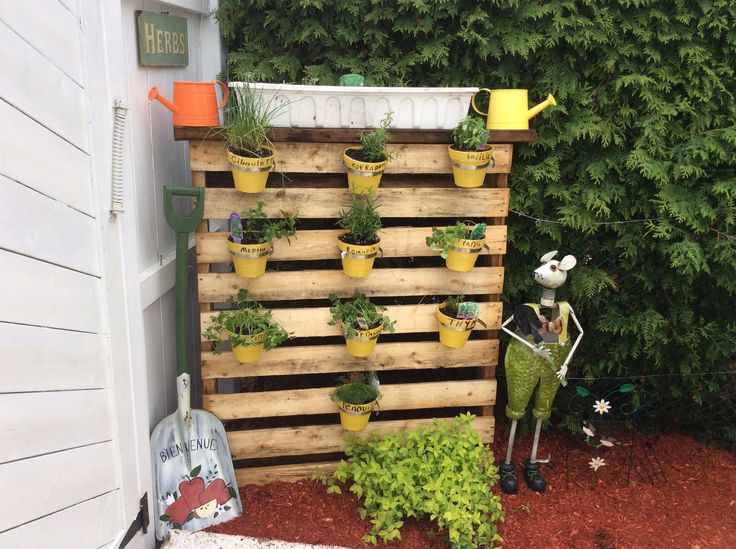 16. Geometric Design
Why just play with colors when you can play with shapes, sizes, and dimensions as well? Don't settle for squares, rectangles, and circles. Go for triangles, cylindrical, and hexagons as well. Various shapes and sizes will bring different dimensions to your lawn.
Point to Remember: Don't make the size of the shape too large that you cannot reach the middle of it. Or else you might have to struggle while giving water to the plants!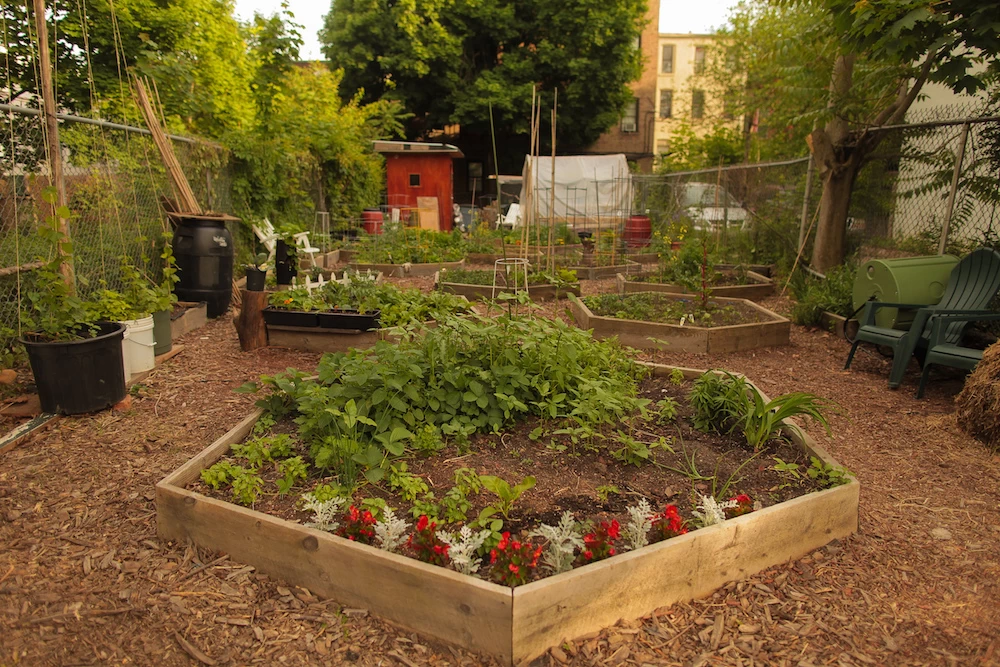 17. Welcome Tires and Shelves
The more you elongate the height, the more diverse your garden looks. Welcome tires to your lawn; use ladders, structured walls, shelves, double-decker trays, and others. This will also give you enough storage space for keeping your planters and plowing tools.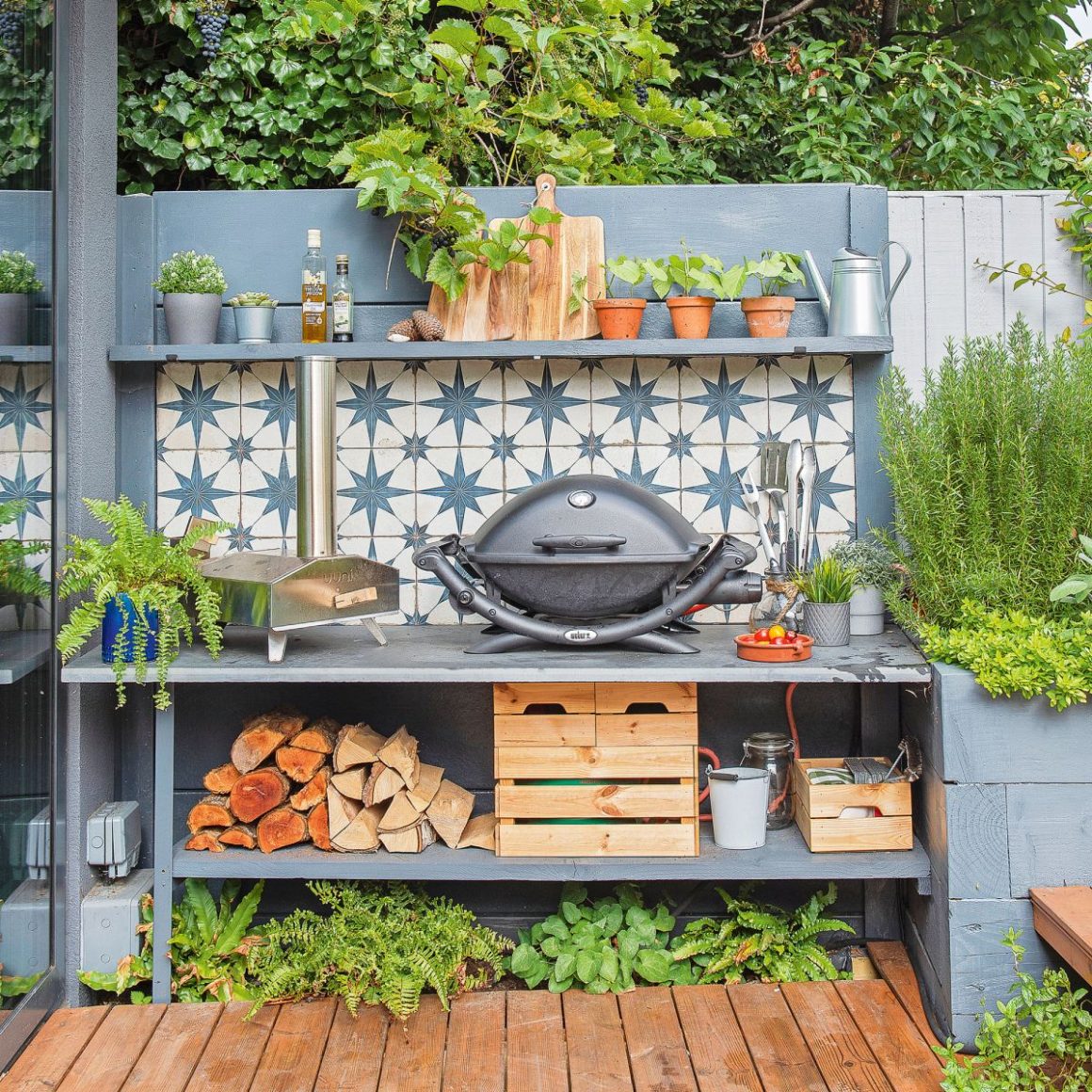 18. Bathtub Not Just For Bathing
Planning to throw away your bathtub or any other bathware like a basin or pot? Please don't. Your plants still need a place, and these could be excellent shelters. There is no need for us to tell you how spacious your bathtubs are. It can fit one person; imagine how many plants it can hold. Reuse your bathtub at one corner of your garden, and it can prove itself as a cheap raised garden bed!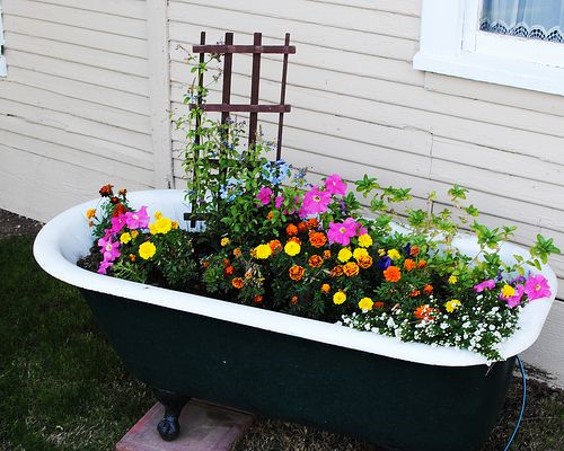 19. Repurpose Old Vases
Buying flowers for vases is too old-fashioned for us; let's grow flowers in the vases itself. Sounds fun, right? Filling up the vase with soil and sowing a seed into it isn't a wonderful way for your vases to hold blossoming flowers even after it is old fashioned. You can revamp so many things with such a meager cost!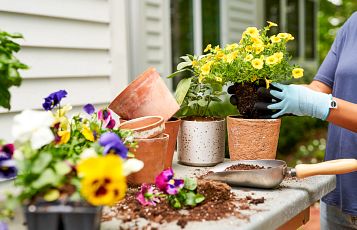 20. Use Clay Pots
Easily available in local markets and nurseries, clay pots are the most classic and highly used. How can you make yours different? Customization is the solution. Add your personality to your plants, use the colors that reverberate the most with you! Go all out and try making different patterns and designs, figures, symbols, flowers, whatever comes to your mind.
21. Mini Garden Within Your Garden
You can create mini spaces for each herb, vegetable, fruit, flower, and anything other than this! Making homes for these little plants in your garden is such a wonderful plan! Just take four pieces of wood and overlap them in the form of a hut leaving enough space between the wood for sunlight to reach your plants.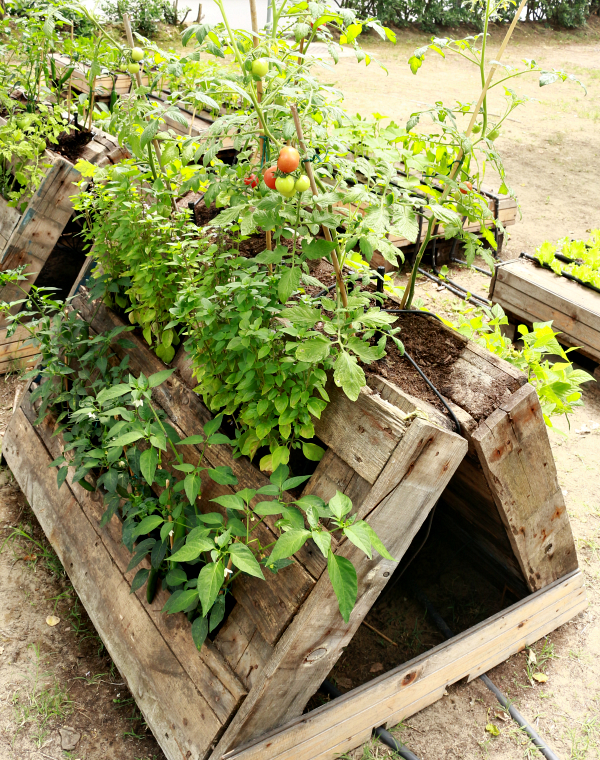 22. Garden Stones or Pebbles
You have definitely seen white stones and pebbles. You can use them to create a thick layer of bed. Now put soil and seed together for a cheap raised garden bed, and you are done! It gives a beautiful and modern finish. Less time and less effort can give you a strong stable beautiful finish!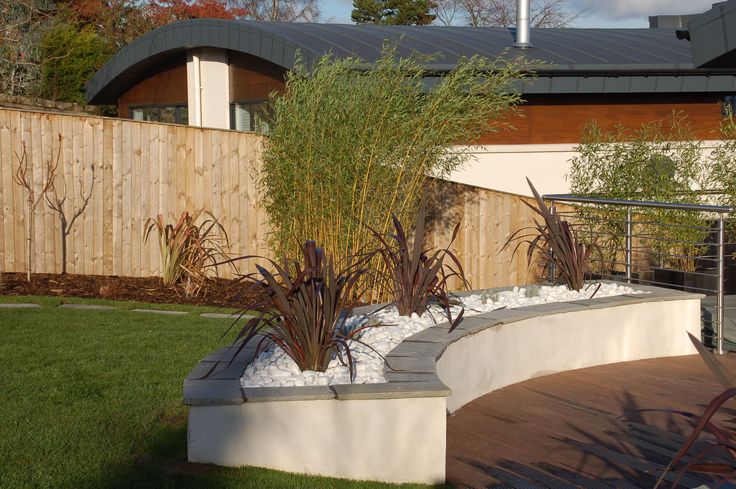 23. Layering Over Flowers
"Too many flowers," no person ever said that! Hence, try layering flowers on flowers. Confusing? No worries, we will tell you how! Sow seeds for flowers, leaving space in the middle (Do not forget that you're layering, and thus, you must have enough space in the middle for another layer of soil). Once the flowers have grown beautifully, start putting soil and sow another layer of seeds.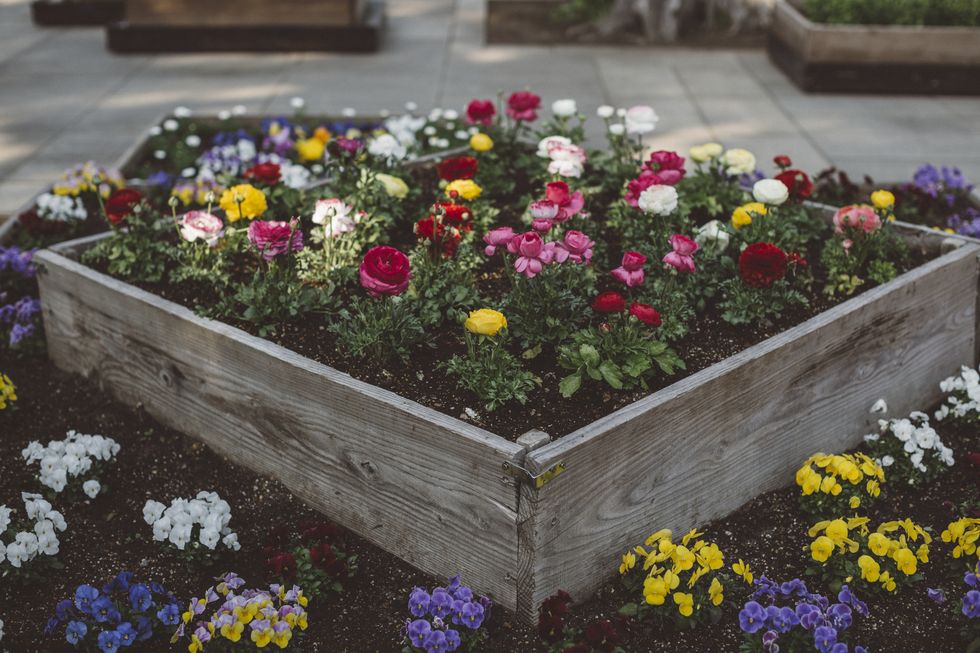 24. Clothes for Plants
Why not? Let plants wear clothes too. Use the regular pots that are easily available in markets and nurseries, wrap a material of your choice around (preferably colors of summer like yellow, orange, pink, blue). They will look no less than lovely! You can even make it more colorful by planting beautiful flowers on the.
Pro Tips for Cheap Raised Garden Bed
Plan where you want to place the garden bed according to sunlight and space. Sunlight will also help you determine the right color.
Decide the number of garden beds you will need accordingly and plan to space out them. Keep in mind the space of the area because you don't want to choose objects that are oversized.
Choose the material or the DIY you want to do so that you can gather all the necessary tools beforehand.
If you are wondering about the space within the raised garden bed, then you can fill it with stones, leaves, wood, and even straw is a good option.
Now, the depth of the raised garden bed depends on the type of crop you want to grow. Generally, 8-12 inches is good enough. However, if you are sowing a vegetable, then you must have a depth of about 15-18 inches.
You should be creative and look for any object that is just lying in your home. Try and use around the worn-out objects for the cheapest raised garden bed.
In case you want to know about the type of wood you should use, then go for cedar. It is the most sustainable and used for outdoor construction.
If you want to protect your plants and trees from pests and weeds, then avoid plastic covering. You may use a proper combination of fabric and cardboard. This is the most feasible and inexpensive way.
Conclusion
Even a cheap raised garden bed has several perks; you don't have to dig the ground, and it is suitable for planting fruits and flowers. Brownie points for improving drainage systems, preventing bending and breaking, comparatively lesser pests, and a lot more! Building a cheap raised garden bed completely depends on your creativity. The more products you use from home, the cheaper it gets.
You definitely get pats on the back because you are not just reusing or recycling products but also using them for growing more plants and trees. This can help you contribute to a sustainable environment. Another perk of these gardens is that over a prolonged period of time when you get vegetables, fruits, and herbs, you can enjoy the benefits of organic farming. Get fresh and organic vegetables and fruits at your home without having to go and shop for them!