Looking out for a cool shade for your home's exterior or a different contrasting shade for its interior? Or is it about the color of an accent wall or a furniture piece? Navy Blue is a classic color. Sherwin Williams Naval is a hue of navy blue. It can create a serene setting and a big visual impact. In the words of the company Sherwin Williams, the "deep blue" (naval), "with its cool gray-green undertone, brings a meditative serenity to your place."
If you are in a conundrum to proceed with the Sherwin Williams Naval shade and the variety of options it offers, then proceed with the article ahead to get all of your questions answered. We have curated a detailed analysis and review for this shade and other similar options associated with it.
The Exact Shade of SW 6244
This stunning and bold hue of blue is inspired by the dark sea waters and stands out from all the other colors. However, It is not just merely a nautical paint color. To be more accurate, take a look at the night sky. That's the Naval SW 6244 or the Sherwin Williams 2020 color of the year. It is a good color contrast to almost all the light shades. The Sherwin Williams Naval SW 6244 is a standard shade that can be an absolute favorite for many. Vibrant, crisp, neutral, cool, and many more are the labels that can be attributed to this rich color. The detailed review of Sherwin Williams Naval can be checked upon.
Light Reflectance Value of Sherwin Williams Naval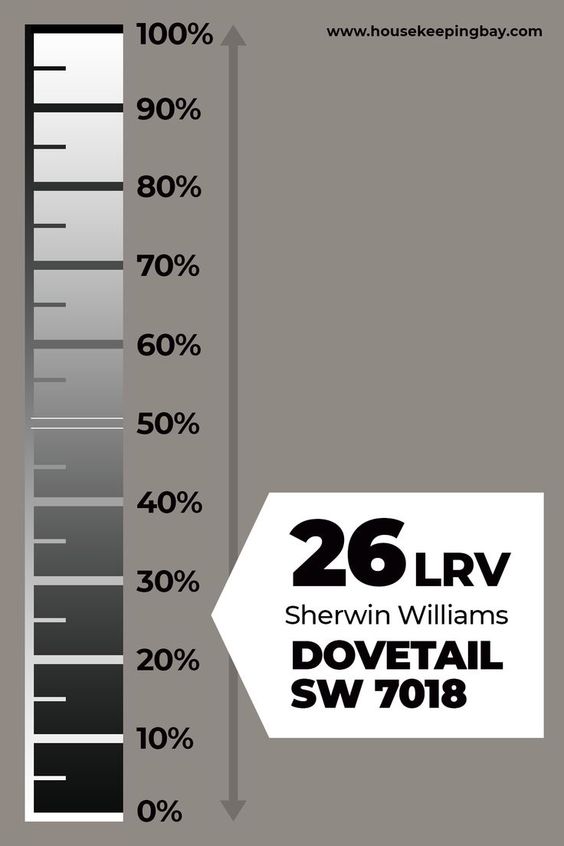 LRV, or the light reflectance value, is a measure of the percentage of visible and usable light a paint color reflects. It is measured on a scale from 0 (black, which reflects no light at all) to 100 (white which reflects light). LRV is important when choosing the paint color for your rooms.
If you like this naval hue of blue, you should first decide whether you want a bright room or a dark room. Sherwin Williams Naval has an LRV of 4. This means that even though it is not as dark as black (LRV 0), it is an extremely dark shade. If you wish to create a cave-like dramatic room, then choose minimal lighting and vice versa. To be more simple, the Sherwin Williams Naval will look blacker in little light, and the bluish tint increases with the touch of light.
Sherwin Williams Naval: Changing Hues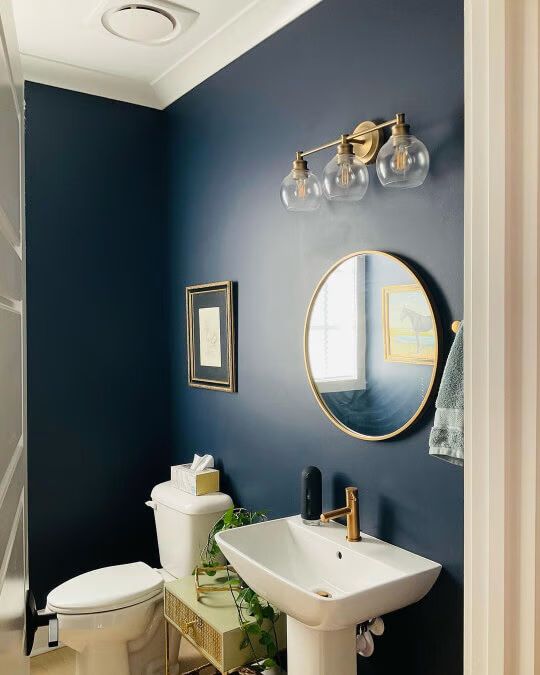 The impact of the color also depends on the lighting. That is, for example, the north-facing lights highlight the grayish tint of this color, which is rather a mix of gray and green. This becomes even trickier when the hues in the same room change according to the reflection of the sunlight or interior lighting, thus giving it a cozier look. So, it is better to choose it for your room according to the natural and artificial lighting.
Sherwin Williams Naval: Undertones
Undertones are those underlying colors that make up a shade. Gray and Green are the undertones of this color. In the previous paragraphs, you can understand LRV. So, it is easier to understand that these undertones appear or become more prominent according to the light it receives.
Sherwin Williams Naval for Exteriors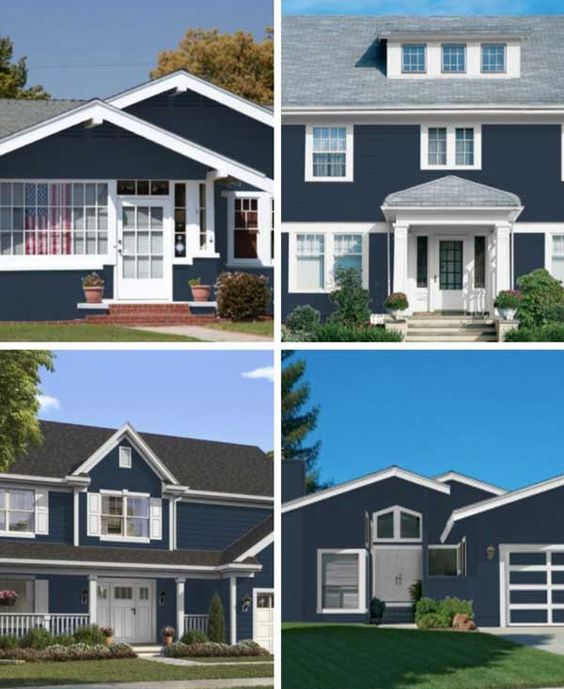 As navy is a neutral color, it suits very well in all the options. It looks good if used for the exterior or interior of your home or an accented wall or whole room color. However, you have to keep in mind that you are choosing a very dark shade, and it is subject to fade with southern-facing sunlight and afternoon western sunlight.
Sometimes, you might not agree with a dark shade for the exterior of your house. Still, you love Sherwin Williams Naval? Then here's a great idea for you. You need not paint the exterior completely in naval. Naval as an accent is also a good idea. Or you can paint it on the shutters of your garage. It best suits your front doors and window panes. Pairing naval with Sherwin Williams Extra White SW 7006 or Sherwin Williams Pure White SW 7005 is a good idea.
Sherwin Williams Naval for Interiors
For indoors, either you can choose all your rooms, including the living room, to glare in Sherwin Williams Naval shade if you think that there is enough lighting (artificial or natural) in the whole area, or you can opt for a contrast of naval and white.
1. Living Room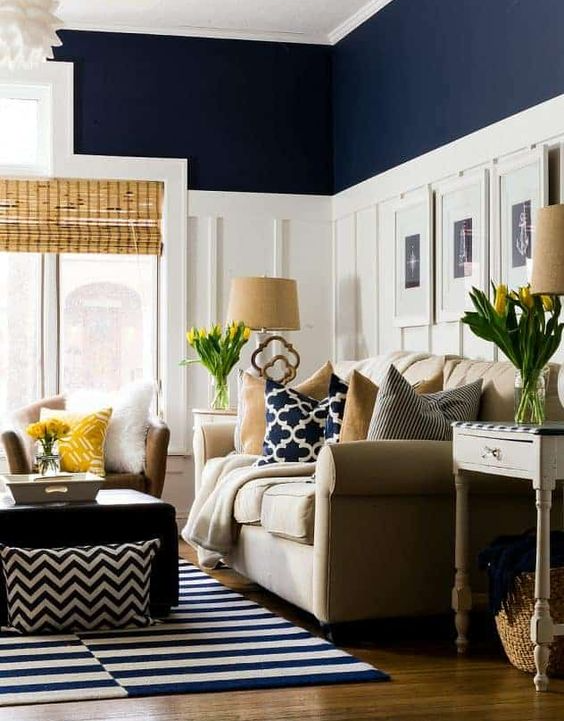 As we can see, the above living room has its walls in contrast to Sherwin-Williams Naval and white. The ceiling is white, and the wall is partially naval and white. If you have ample lighting in your bedroom, you can choose Sherwin Williams Naval for all the walls there. However, it will be better with a white ceiling. A leather chair or an off-white sofa set is a good match in the living room painted in Sherwin Williams Naval.
2. Bedroom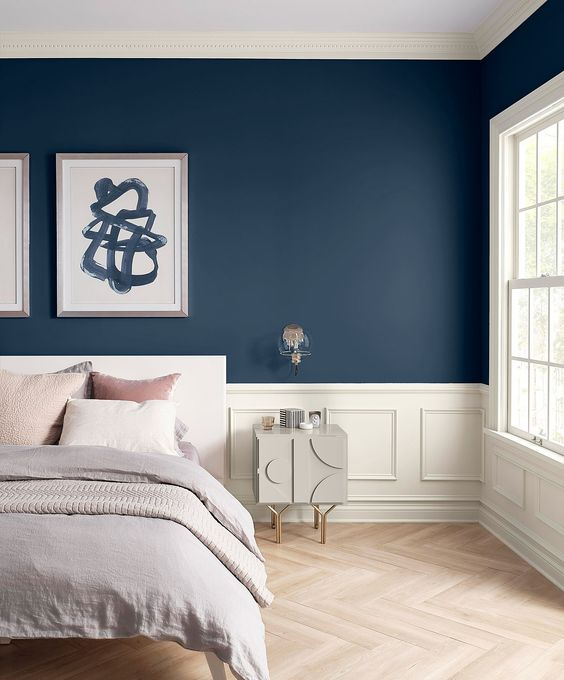 If you don't have enough lighting, don't worry, just pair it with Sherwin Williams Extra White SW 7006 or Sherwin Williams Pure White SW 7005, as mentioned above, and create an accented wall of your favorite naval shade. Sherwin Williams Pure White is a bright white with a slight undertone of yellow. Sherwin Williams Extra White gives the painted walls or furniture a clean and crisp look. It is the ideal choice for ceilings. A White side table would be a perfect pairing.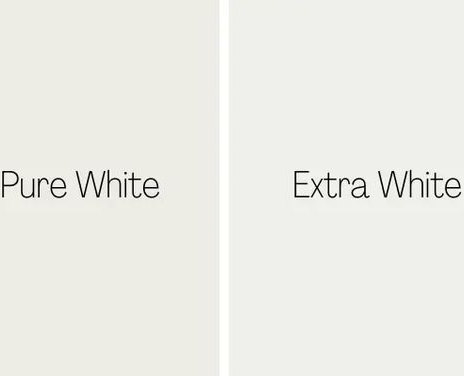 There are many other shades of white. Those are Alabaster, Snowbound, etc. In some of them, yellow is an undertone, whereas some of them have a gray undertone.
3. Furniture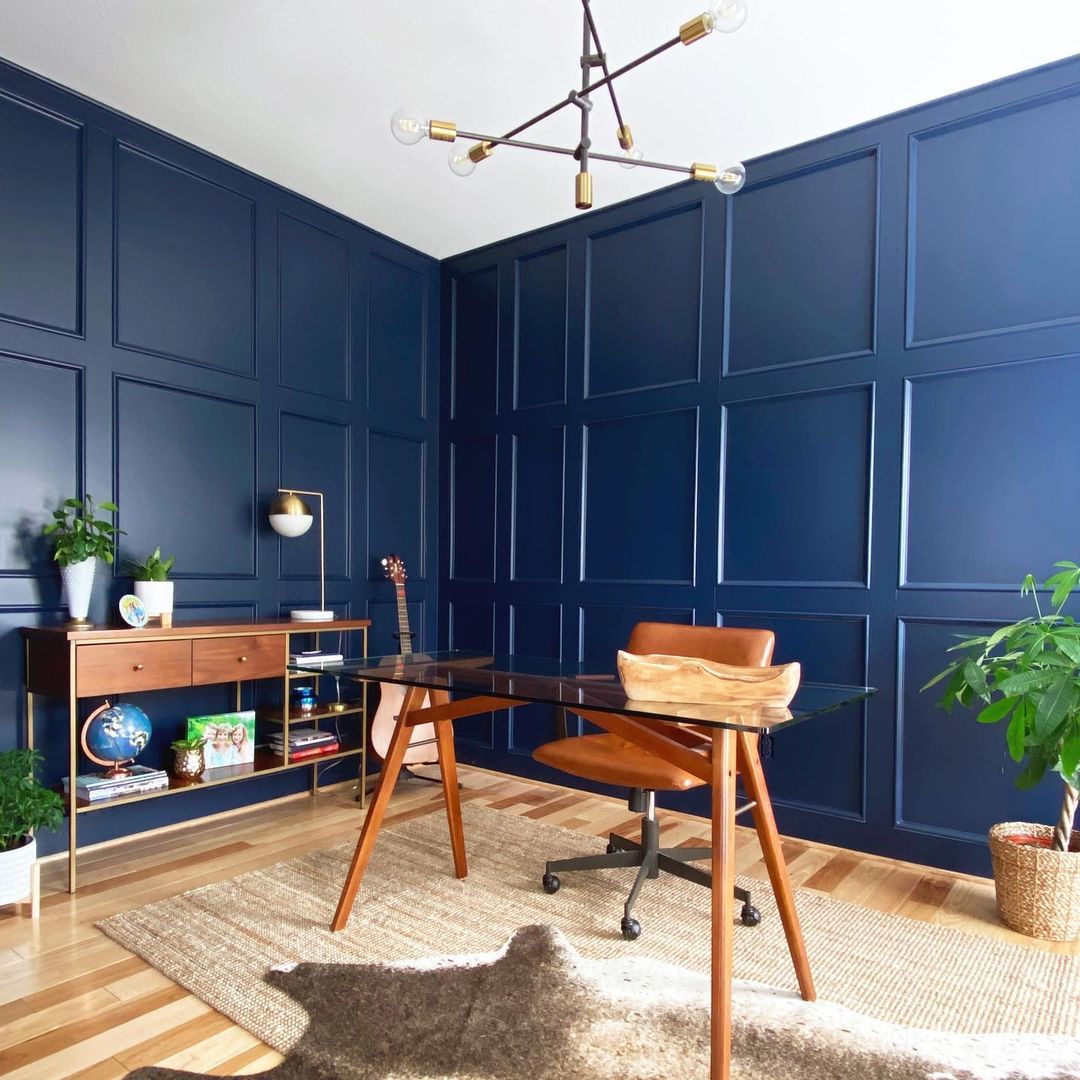 You can choose Sherwin Williams Naval not only on walls but also on the furniture in your room. Just imagine how the cupboards on your walls would look in this color. Or what about the side table? These are also some ideas that would give your room a classy finish. Or, if you want to make things easy, just make this naval shade a trim or accent in your living room, and you can choose a navy blue sofa set or navy blue side table or cabinet, which would be a great match with the trims or accented wall.
4. Kitchen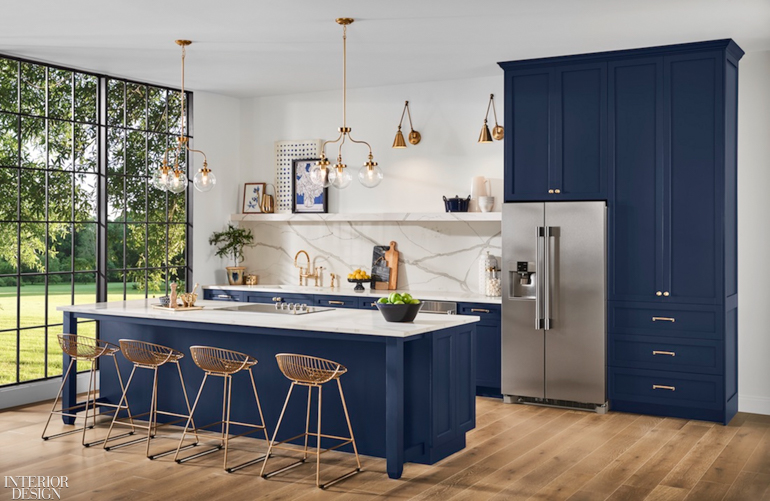 You can make your kitchen also stylish by choosing Sherwin Williams Naval for the shelves. This color looks extremely good on kitchen cabinets. It is best recommended for kitchen island and bathroom vanity. The reason is that it is an excellent accent color. It is a good match with shades of white and wood tones. The picture above itself testifies to this. The color of the wall cupboard and the island complements the white walls and the wooden floor.
Other Similar Hues of Sherwin Williams Naval
There are a few more colors of Sherwin Williams close to naval that you can choose to amplify the overall ambiance of your home and can enhance the overall serenity of your home by multiple folds.
1. Dress Blues SW 9176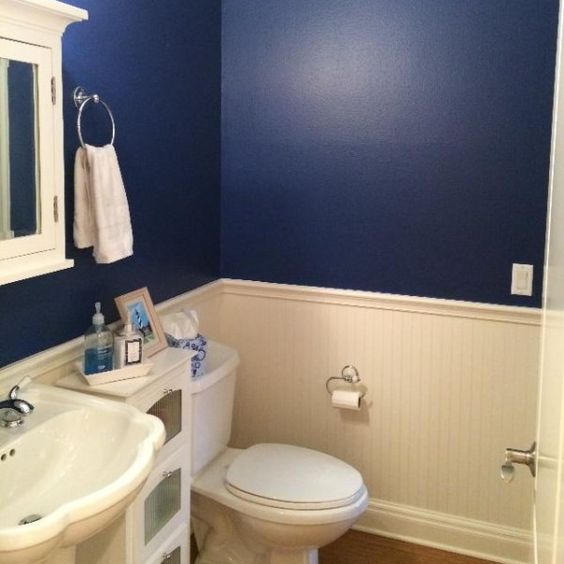 This is a classic color. A deep blue is a saturated neutral shade that best suits a bedroom or bathroom. It is a cool color. It is a shade of blue which doesn't have much amount of the other colors in it. It has a reflection of a rustic charm. It can be painted on your front door, thus, making a statement. It might look pretty even when painted on your bathroom walls. But there, natural or artificial light has a major role.
2. Salty Dog SW 9177
Simply speaking, it is deep navy blue. It is a neutral blue paint color with a stark, dark tone. This highly saturated blue is a true hue of blue. It is not advisable for small rooms. It can also be called a spa-influenced color.' It adds a timeless beauty when it is painted on the exterior walls of your house. However, LRV also is an important factor before choosing this color.
3. In the Navy SW 9178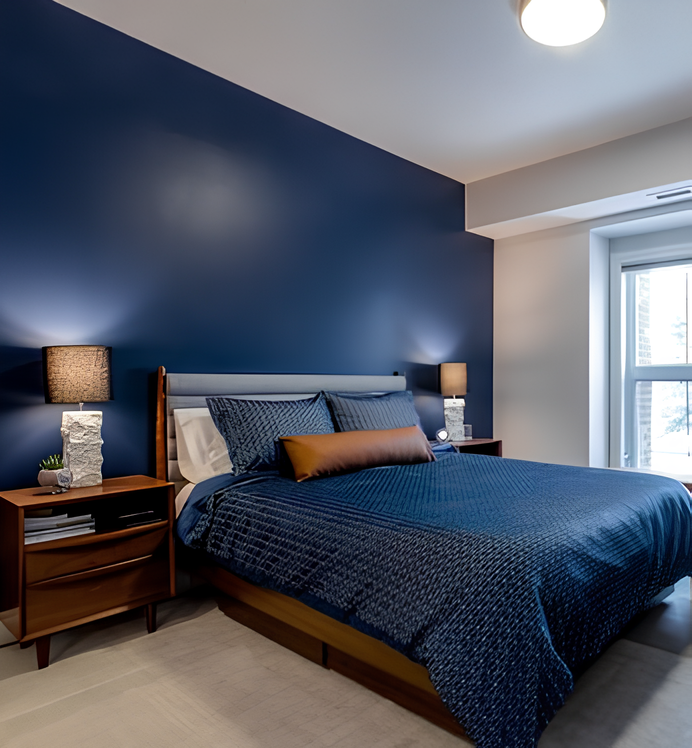 In the own words of the company itself, it can be called a stalwart blue. It suits best in an official room or study. It is a cool and neutral shade. As seen in the figure, it can be an eye catchy backdrop. Your bedroom can be painted in this color. The kitchen is also a good place. It can be used on shelves as well as on the islands.
4. Charcoal Blue SW 2739
This dark color is almost a black shade of navy. It is a great match with wood, leather, and metallic furnishings. It can make a great contrast to the hues of gray or white. This is also a dramatic shade. It has a luxurious look. This color is symbolic of utmost strength and splendor. The other qualities of this color are its crispiness, enlightenment, boldness, etc.
5. Mineral Gray SW 2740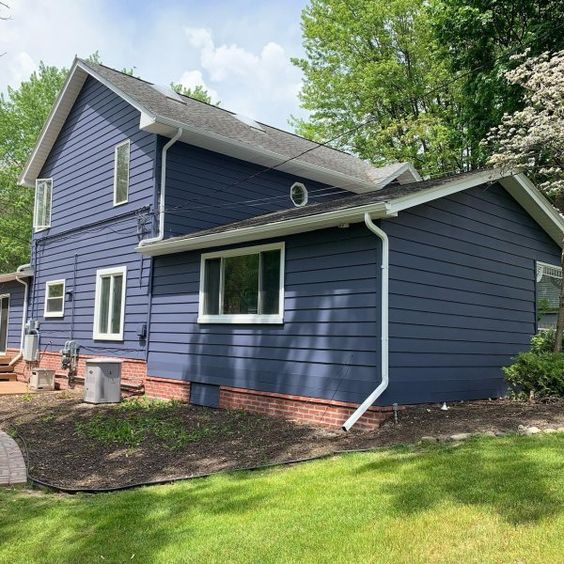 This one can create a relaxed, regal mood. So it is best for your bedroom or restroom or even your vacation home. This is a neutral and cool color. With an LRV of 9, it is a comparatively dark color. It is a medium-dark shade of cyan blue. This hue of gray is best for timeless projects. This color adds depth. This is best as a shade for the farmhouse.
6. Anchors Aweigh SW 9179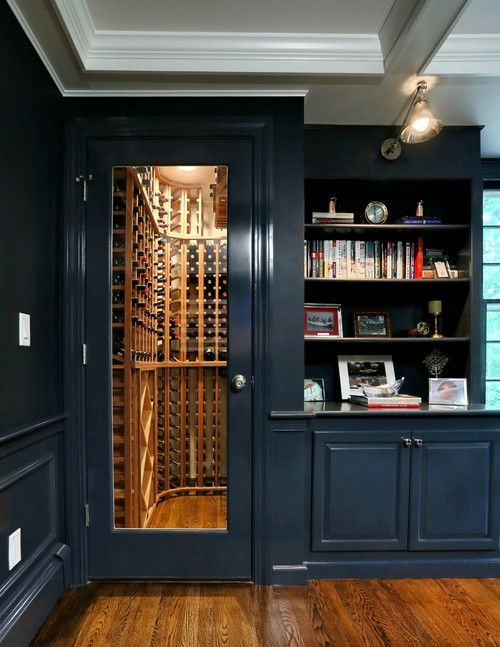 This dark, daring blue is an adventurous color. This is rather an admirable navy blue. This gives your room a look of Victorian or colonial architecture. It is cool and deeply saturated. It gives a refreshing ambiance, even if it is a trim or accent or on complete walls.
7. Indigo Batik SW 7602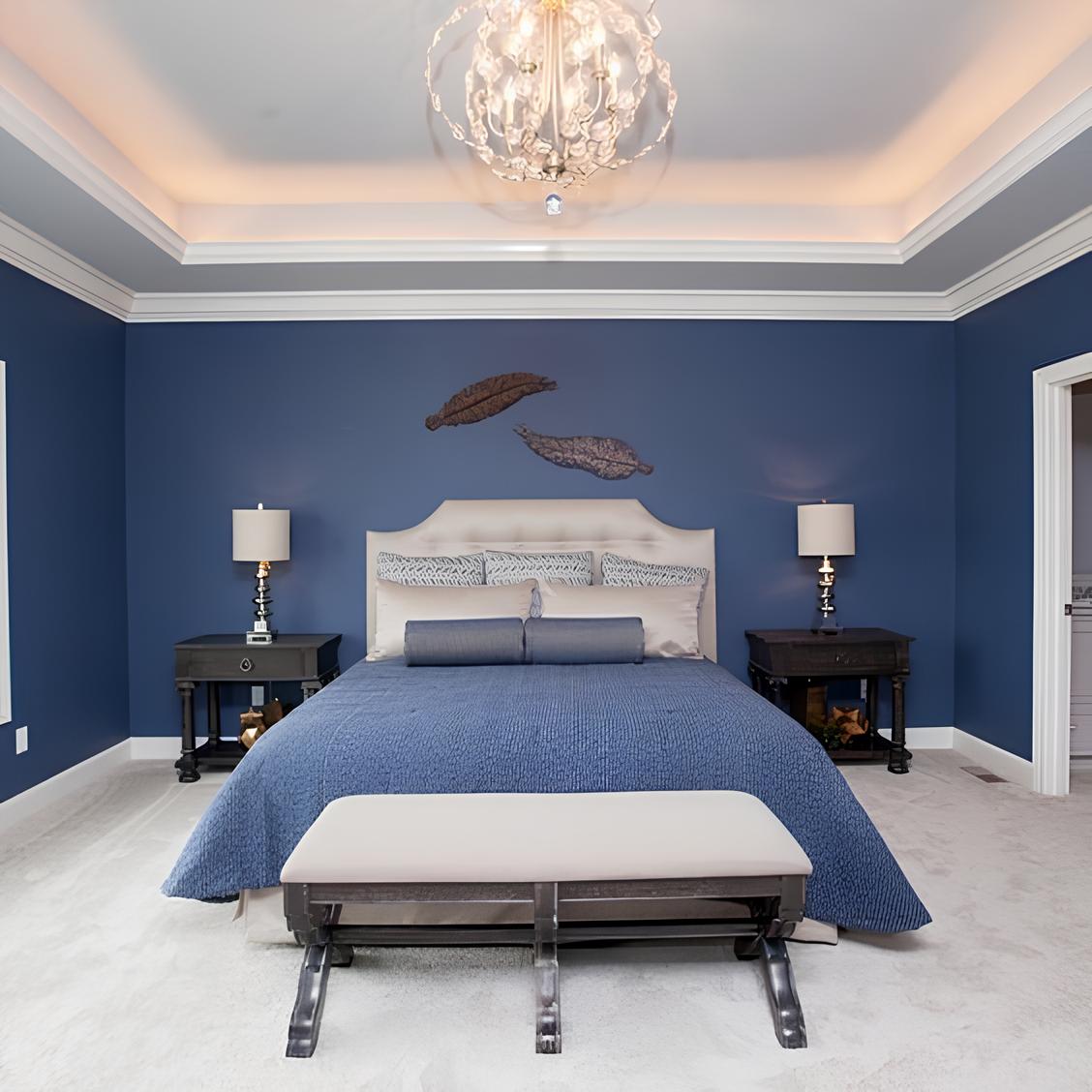 Being a dark, saturated denim blue, it gives your room a moody look. You might feel restful in your bedroom. When direct sunlight hits, it comes to life. This deep blue is good for interior as well as exterior looks. This shade is both bold and authentic. It has flawless charm and royalty.
8. CyberSpace SW 7076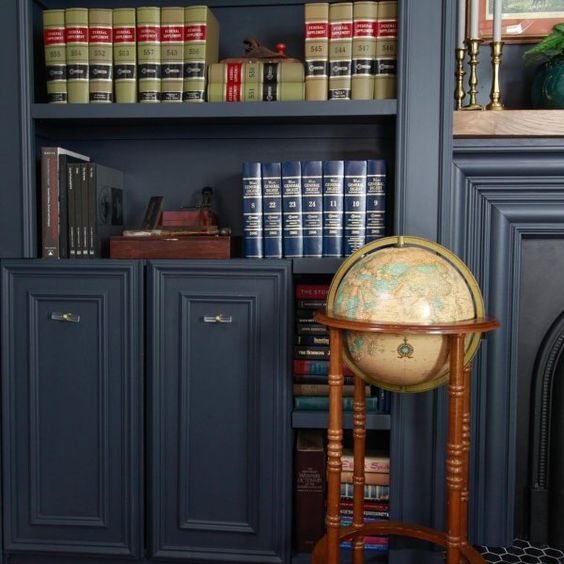 This is a cool charcoal black shade with a powerful calming effect. It might look black. But it is a deep blue. Even though all these colors look alike, there are slight differences in each hue, and they can make a huge difference based on the factors like natural light, artificial light, setting, accessories, etc. So it is better to take a closer look. There are many more colors in the blue shade which can be checked on the official website of Sherwin Williams.
Summing Up…
If you want a rich and versatile color for your home's exterior, then naval will be an excellent choice. This will be a classic choice. Don't worry! This color will never go out of style. Its popular as well as pretty. Even on the interior walls, this color is a good choice, but it is highly dependent on the amount of natural or artificial light the walls receive.
You can try this out as a trim or accented wall or on the complete walls of your bedroom, kitchen, living area, or anywhere. It is best for a library or study as, like all the hues of navy blue, this shade has an official look.
It has its own share of advantages and disadvantages. Among its pros, the prominent ones include that it gives an entirely different outlook as it is not a very commonly chosen color. Alongside this, it also works as a great option in coming as a contrast to very light shades and hues of white.
However, the only disadvantage is that as this color is very dark, it can also make the interiors look dark and dim if it is without sufficient natural or artificial light. Before choosing this color, every aspect of this color should be checked.
Frequently Asked Questions
Is Sherwin Williams Naval Cool or Warm?
As it is a saturated tone of blue, it is automatically a cool paint color. It brings a meditative serenity to the space. It has a formal outlook. It is also a neutral shade. When exposed to bright light, it looks more bright blue, but it becomes more like black in a dark area.
Is Sherwin Williams Naval Good for Interiors?
It depends on many factors. If you want a bright tone for your interiors, you need to have ample lighting to paint the walls or furniture with Sherwin Williams Naval. If you need your room to be dark, reduce the lighting. However, this shade is not recommended for those wishing for a bright room.
Does Sherwin Williams Suit the Exterior of a House?
This is a great option to give a different look as there are not too many houses with Sherwin Williams navel on the exterior. It can even be a different statement. If you want to give an accent, you can choose the main doors, garage shutters, or window panes.