Are you searching for a new paint color for your house that is diverse, timeless, chic, yet trendy? Well, Sherwin Williams has come up with the perfect shade for you: The Dorian Gray.
With blue and green undertones, it can be defined as a neutral color and a versatile one as well as the tone changes according to the light that falls on it. Sherwin Williams' Dorian Gray can be considered one of the most adaptable ones because it works well for indoor and outdoor projects both. The paint color lacks depth, is medium-toned, and even has a gentle tint.
If you are thinking of remodeling your house and want to be creative about it, here are 11 unique qualities and ways of applying the shade that will woo you away:
1. Warm and Inviting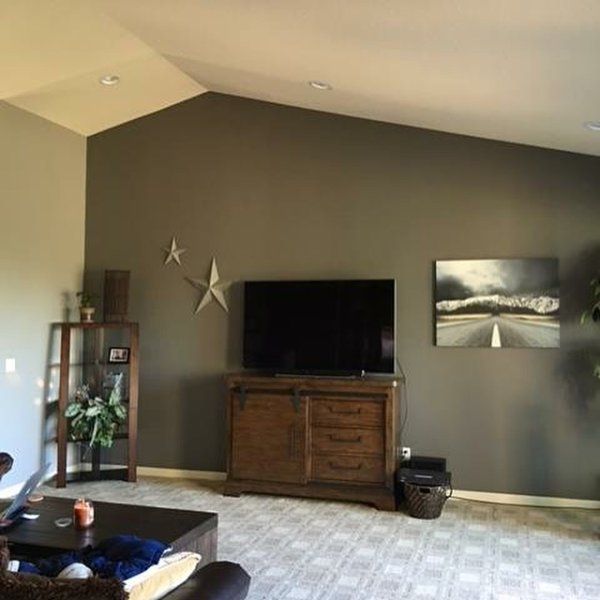 The LRV of a shade is the Light Reflective Value. Higher the LRV, the lighter the shade, as it will allow light to get reflected. The LRV of Sherwin Williams' Dorian Gray is 39, which makes it look dark when the space painted with it has no natural or artificial light falling on it. Therefore, if you want your attic to look chic but moody and mysterious, Dorian Gray would be a clever option to select from. The source of the warmth is the yellow color which acts as the base color of Dorian Gray.
2. Nice and Neutral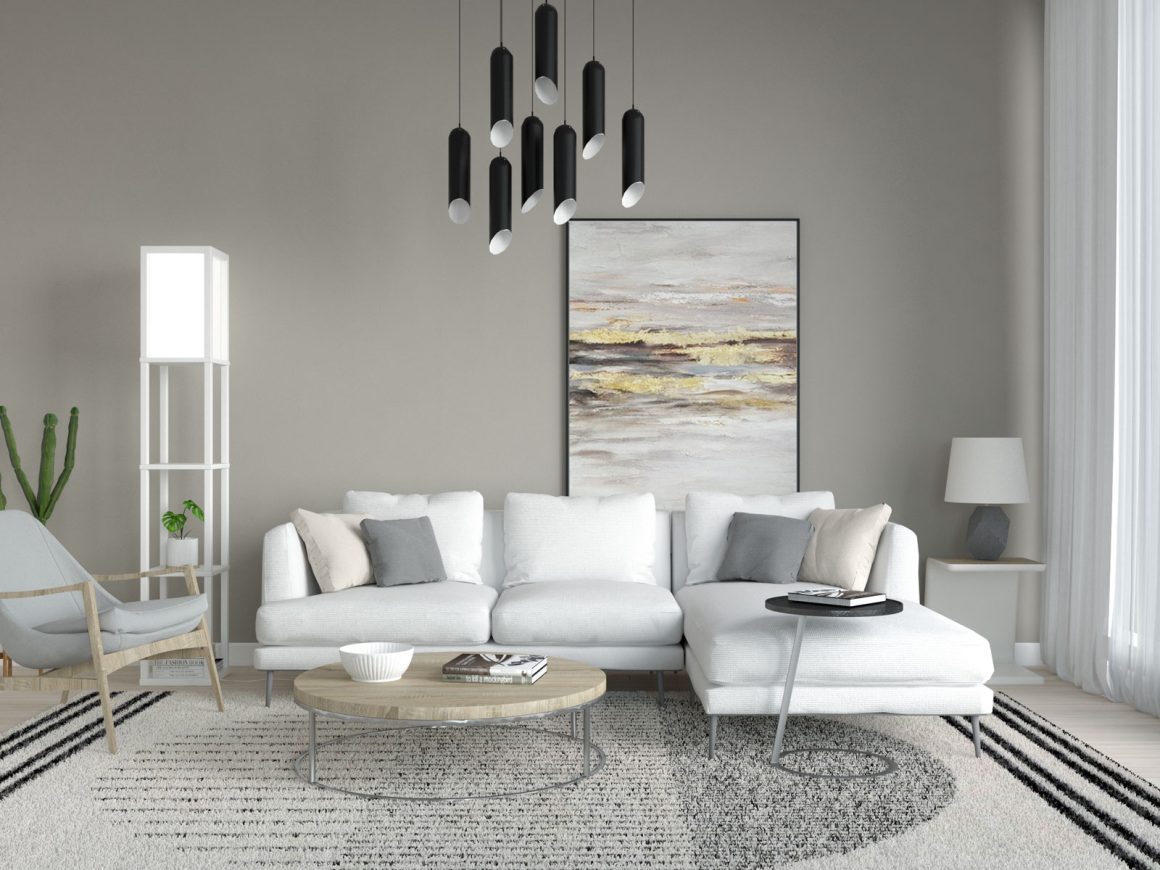 Owing to its medium LRV range, Dorian Gray will look nice, light, and pleasant if your room receives enough direct natural light. Since it is a medium gray color, your room can be adorned with multiple-colored accessories like light gray curtains, white blinds, and wooden window frames. You can even place wrought iron furniture with bold metallic accents. However, it can even go well with other light pastel shades like pink and green.
3. Member of the Griege Family

For some, Dorian Gray is an amalgamation of two colors, namely, gray and beige. At certain times, minor undertones of blue are noticeable in the shade during daytime which makes it appear lighter. On the other hand, when there is not enough natural light, and it's relatively darker, the shade resembles the muddy color of water with a mauve undertone. For a classic room appearance, place fully upholstered cream or very light gray sofas in the room.
4. Has an Accent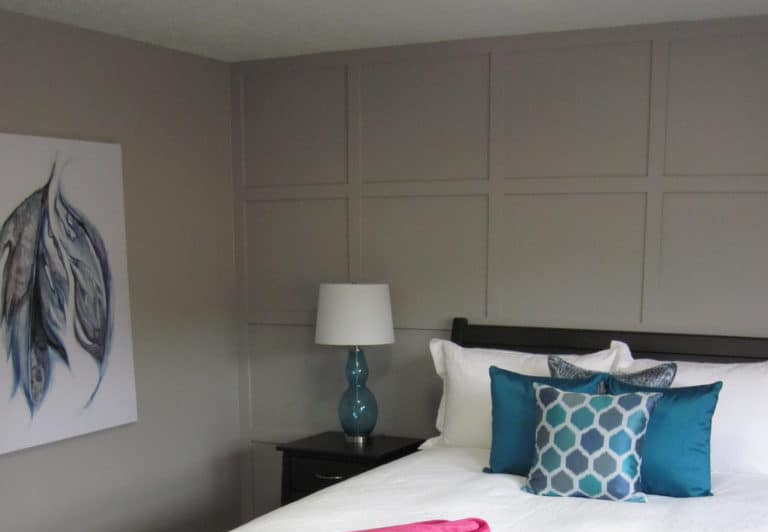 Accent walls or feature walls painted with Dorian Gray can be the most amazing characteristic of your house. You can have a picture frame wall painted with it and some form of indirect lighting to make the space look elegant. Wooden frames will complement the look of the wall, so go ahead and hang your paintings, posters, and photos. For the best appearance, make sure that there is a single focal point instead of multiple, or else it will be visually overpowering, and an accent wall with Dorian Gray on it is the perfect example.
5. Apply on Doors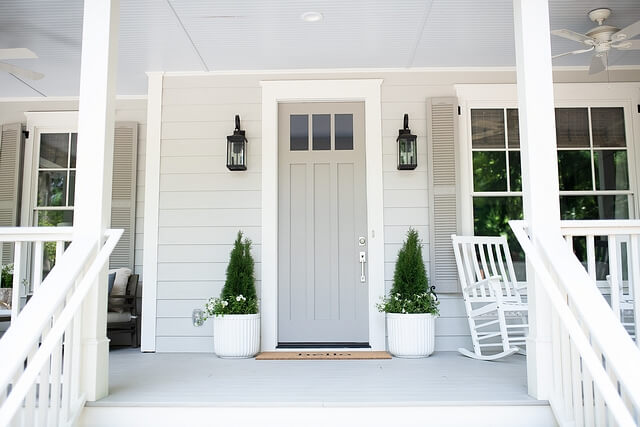 Paint your doors and door frames with Dorian Gray to give your house a rustic look. For a more cohesive appearance, you can even paint your French window frames with this gray shade and your hallways as well. The knee wall, when painted with Dorian Gray, can turn this boring feature into an accent wall and give it some much-needed drama.
6. Fun yet Formal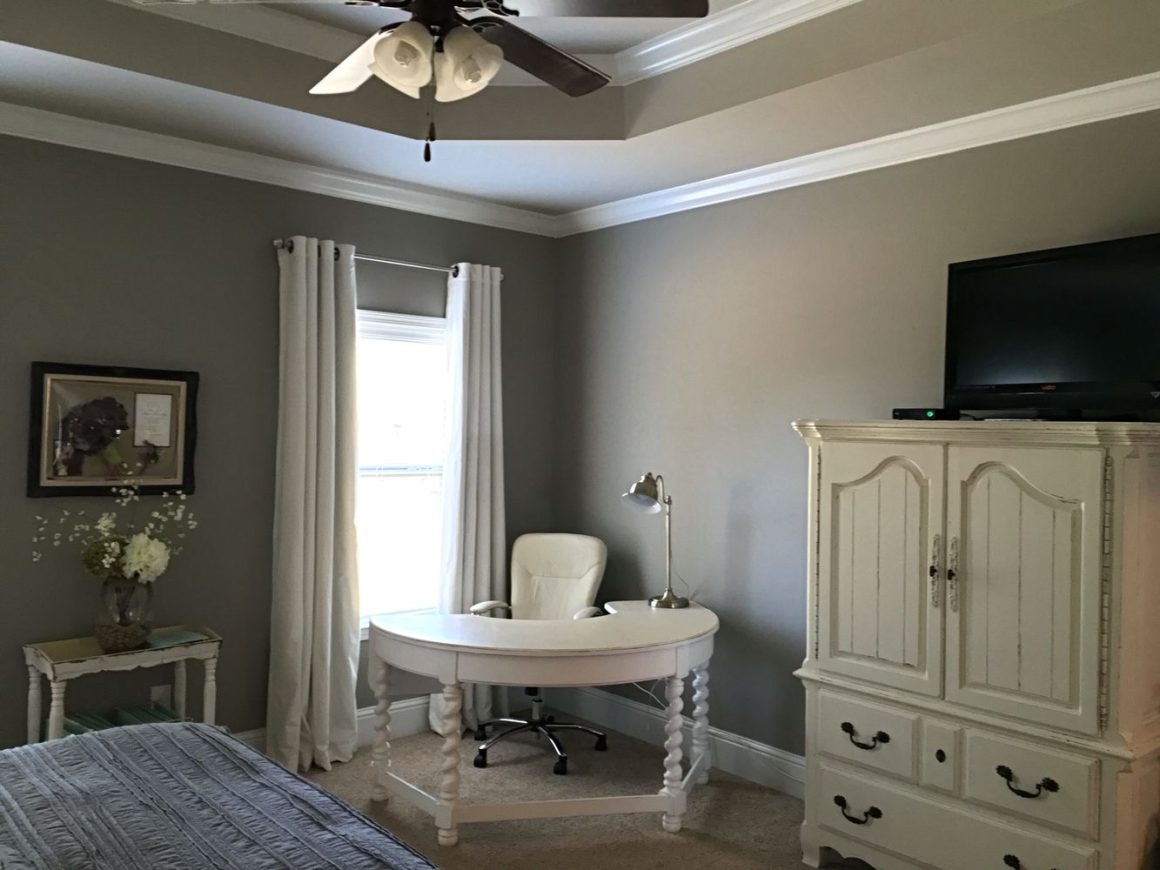 Since Dorian Gray is one versatile shade that serves all purposes, therefore it is as ideal for a home office as it is for a nursery. Since the nursery and the kitchen are usually very well-lit, these rooms will look more spacious and bright. When it comes to your bedroom, you need some welcoming warmth as it is your comfort space. On the other hand, your home office is a formal room where your professional self comes to the front. Dorian Gray is an appropriate shade for both rooms.
7. Complements Wood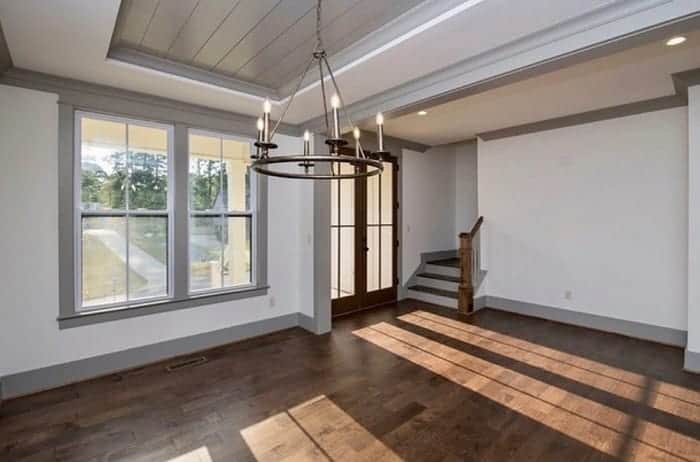 All of us have wooden window frames and wooden doors in the house. Therefore, while selecting a shade of paint, one must take all the aspects of a house into consideration. Dorian Gray will match well with exposed wooden ceiling beams in your rustic house, wooden railings, and so on. At the same time, Dorian Gray will add to the charm of a modern house with an industrial interior and minimalist aesthetics. A brass chandelier or one with a wooden finish can make your room look charming and elegant.
8. Create Contrasts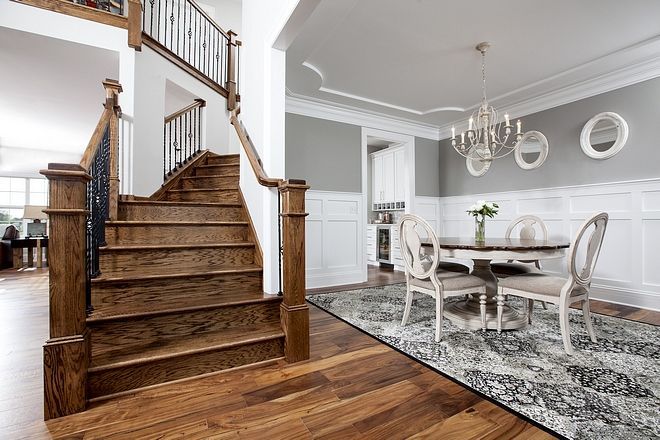 Various colors can be used to make Dorian Gray stand out. If you want a clean and clear contrast, select the Highly Reflective White shade by Sherwin Williams. However, if you want a soft and discreet contrast, you can select the Pure White shade by Sherwin Williams. Any white shade, warm off-white shades, and complex neutrals can amplify the look of your room if applied correctly. For a visual break, pair the furniture and other accessories with the less dominant color in the room so that it does not seem overpowering to the eye.
9. Perfect for Exterior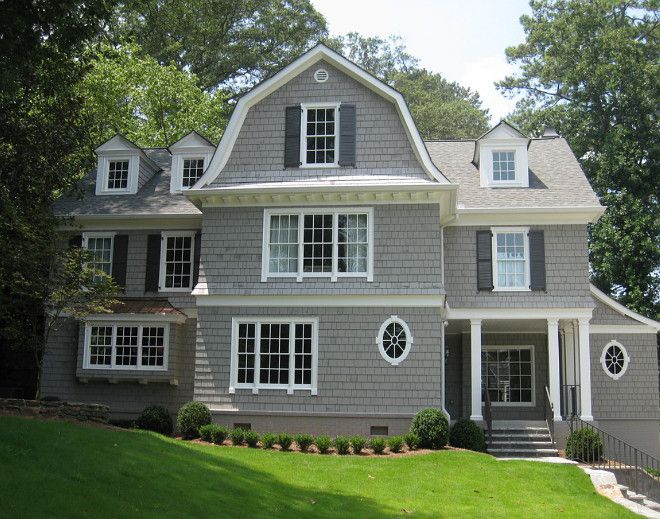 Dorian Gray is an ideal option if you wish to paint your house with a gray shade. It works particularly well with some of the most popular brick and stone colors. You can put up black wrought iron lights and even color the garage door with the same shade to give an organic finish to the house. White wooden window frames and perfectly manicured lawns will make your house look picture-perfect. Before selecting it as your final color, ask for a peel-and-stick sample so that you get an idea of what it will look like when the whole facade of the house is painted with it.
10. Right Fit for Interiors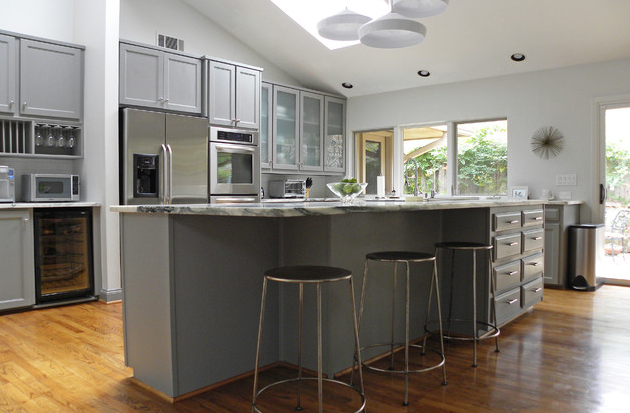 If you want your house to stand out in the neighborhood, then you might have to think outside the box. If you are on a tight budget and wish to refurbish your house without spending a lot, paint your cabinets with this color. Not only will it be less time-consuming, but it will also give your kitchen a monochromatic look, as the gray shade will look stunning with black hardware, modern metallic bar stools, and stainless-steel appliances.
11. Sherwin Williams' Dorian Gray Bathroom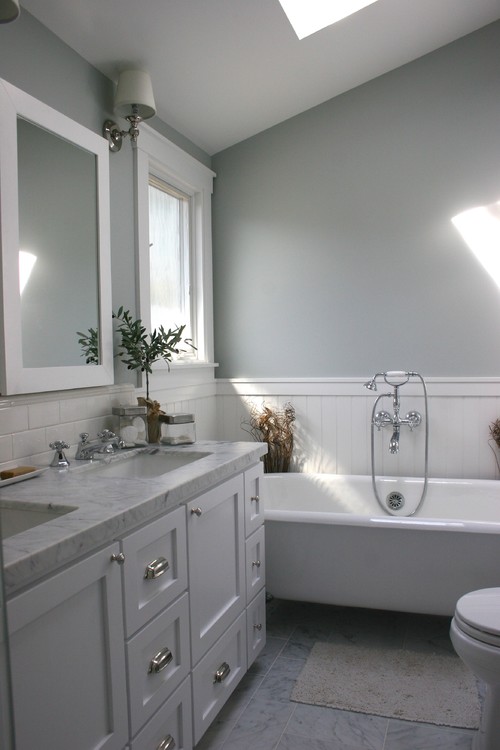 For many people, a washroom or a restroom is the place where they rewind. Dorian Gray-colored bathrooms are soothing and calming. If your walls are painted with it, you have ample opportunity to play with tones and textures. For instance, you can have gray countertops or dark granite countertops that will go well with dark hardware and make your bathroom look modern. However, if you do not wish to paint your walls but want to add a pop of color to your bathing area, go ahead and paint the cabinets. White walls, gray cabinets, and silver hardware can give a Scandinavian vibe to your bathroom and align it with present contemporary ideas.
Conclusion
Sophistication and style are two key qualities to be considered while designing your room. However, the design must serve the purpose in mind, and the color scheme must be decided before you finalize the plan of the room. Selecting the right color solely depends on how much light it will receive. Sherwin Williams' Dorian Gray is one color that can lend an air of formality to a formal room while maintaining its warmth.
It is a highly versatile shade as it matches well with other shades and can be applied on walls and on cabinets in kitchens, bedrooms, living areas, nurseries, and so on.
If you are considering using the shade, let us know about your experience in the comments section.
Frequently Asked Questions
What is the Undertone Shade of Dorian Gray?
Purple. Dorian Gray has an undertone of predominantly purple color with some brown and green shades as well. However, these undertones are not strong at all and will not overpower any surface that has Dorian Gray painted on it.
What Colors Go Well with Sherwin Williams' Dorian Gray?
When it comes to dark colors, Black Fox, Black, and Urbane Bronze complement Dorian Gray. They can add to the depth offered by Dorian Gray. However, for a lighter appearance, Seapearl, Swiss Coffee, and Shoji White are ideal for a room to feel lighter and brighter.
Is Sherwin Williams' Dorian Gray a Truly Gray Color?
Yes. Well mostly. Dorian Gray does fall under the "true gray" shade category, although some people categorize it under the greige column as the shade changes according to the amount of light that falls on it.
What Are the Other Gray Shades Available by Sherwin Williams?
Some of the most famous gray shades offered by Sherwin Williams are Repose Gray, Mindful Gray, Dovetail, Gauntlet Gray, Requisite Gray, and Agreeable Gray, to name a few. Dorian Gray is one of the most liked shades by interior designers and decorators.