Gone are the days when closets were hidden away, and the doors blended into the background.
If you are someone who is tired of traditional and conventional hinged doors for your closet, Then this blog is for you! From the elegant Bypass closet doors to the louvered closet doors, in this blog, we will explore the best alternative to closet doors that is not just aesthetically appealing but also improves the creative functionality of the doors.
Transform the space with vibrant colors, textures, finishes, and configurations that complement your personality and style.
Wait no longer; let's open the doors of creativity!
1. Sliding Barn Wood Closet Door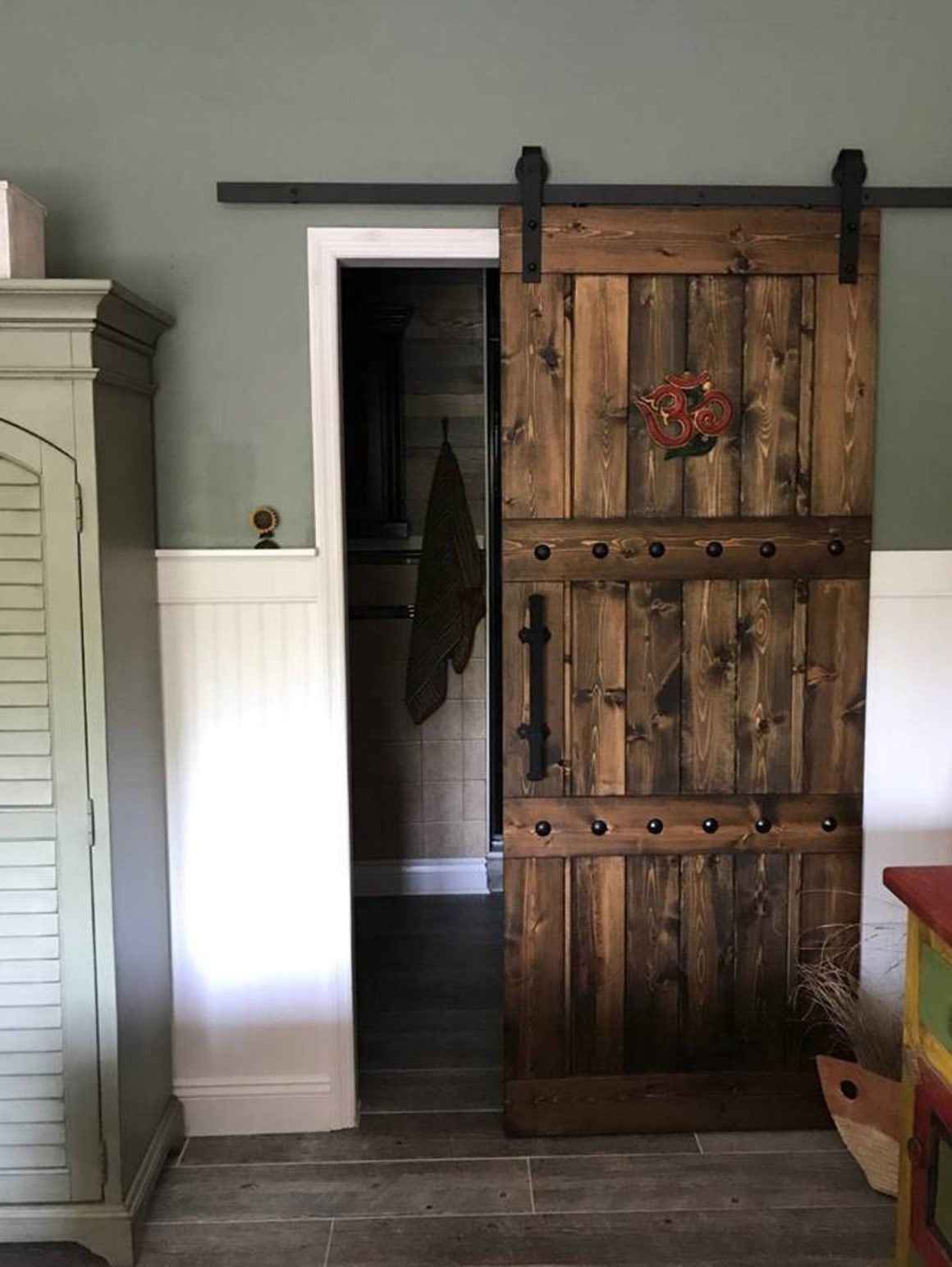 Sliding barn wood doors have become increasingly popular due to their stylish and rustic appeal. They provide a unique aesthetic appeal and enhance the overall look of the room.
Pros – Sliding Barn wood is visually appealing, and it can complement any interior style, from contemporary to rustic. It is well-known that sliding doors save a lot of space as they move on the track attached to the wall, and the closet is easily accessible without any knob or handle. And the best part is the versatility of the doors, as they are available in different finishes, colors, and textures, which allows you to choose based on your personal taste. Also, barn wood doors are known for their durability and sturdiness.
Cons – The sliding barn doors are not sealed fully, which limits sound insulation and allows dust, light, and temperature to transfer through them. Barn wood requires timely maintenance for longevity. Depending on the quality of the wood, the finishing options, and installing, sliding barn wood doors are costlier compared to traditional doors.
2. Louvered Closet Door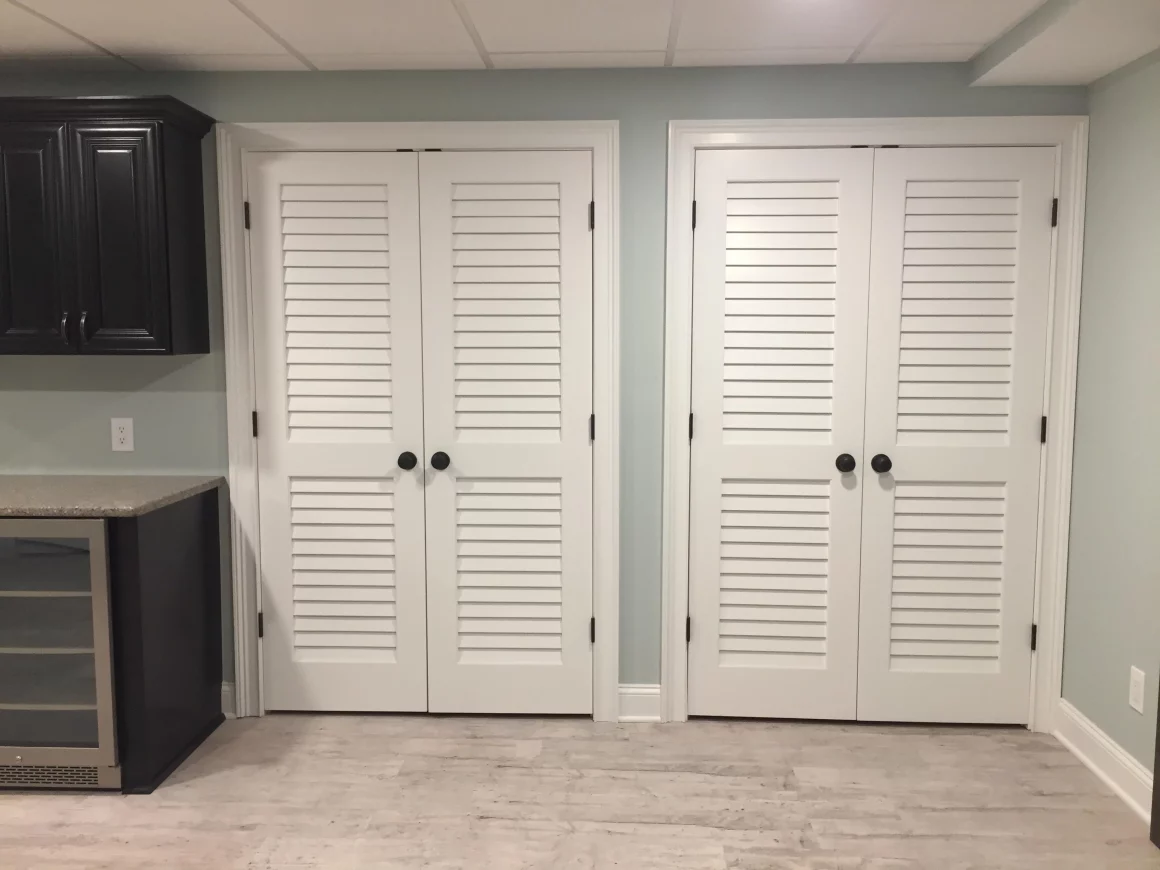 Louvered Closet doors add elegance and sophistication to the room. The door features slates or panels that are arranged horizontally with angled openings but also conceal the content of the closet. These doors are available in different variants and in various materials; due to their versatility, wood is popularly preferred.
Pros – Due to the angled opening, these doors allow air and light inside the closet, which is very important to keep the clothes and shoes dry and fresh. Louvered closet doors are not only good at ventilation but also provide visual coverage through the angled slates. You can have these doors in different variants like bifold, sliding, or traditional type, and have various color options that best suit your taste.
Cons – As good as the ventilation sounds, the openings also allow dust. There is always visibility into the closet, depending on the angle of the slates. The sound insulation is not as good as solid doors, and there are chances of compromised security of the closest and is susceptible to forced entry and tampering. Without proper maintenance, doors can accumulate dust and dirt.
3. Mirror Closet Door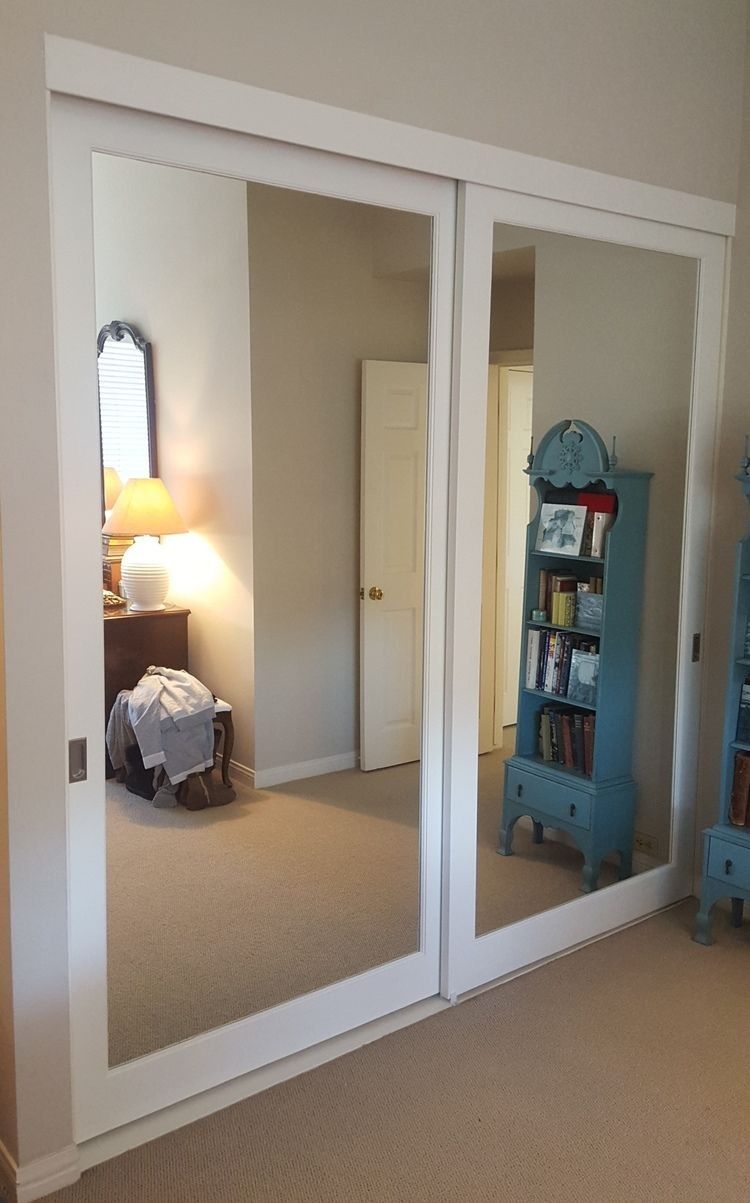 Who needs a separate mirror when you have a full-length mirror as a closet door?
Mirrored Closet Doors add elegance and personality to the room. You can choose from a variety of options like a framed mirror, semi-framed mirror or a frameless mirror and you can even choose the shape of the mirror, like oval, rectangle, square, circle, etc., which goes best with the interior.
Pros – Mirrored closet doors are popular for their functionality and aesthetics. The mirror illusion makes the room look larger and brighter by reflecting the light. The versatility of the mirror closet doors leaves you with numerous options to choose from.
Cons – Mirrors need to be handled with care to avoid breakage. Mirrors tend to show fingerprints, smudges, and dust easily, because of which it has to be maintained regularly. It is costlier compared to solid doors due to complicated installation.
4. Bifold Closet Door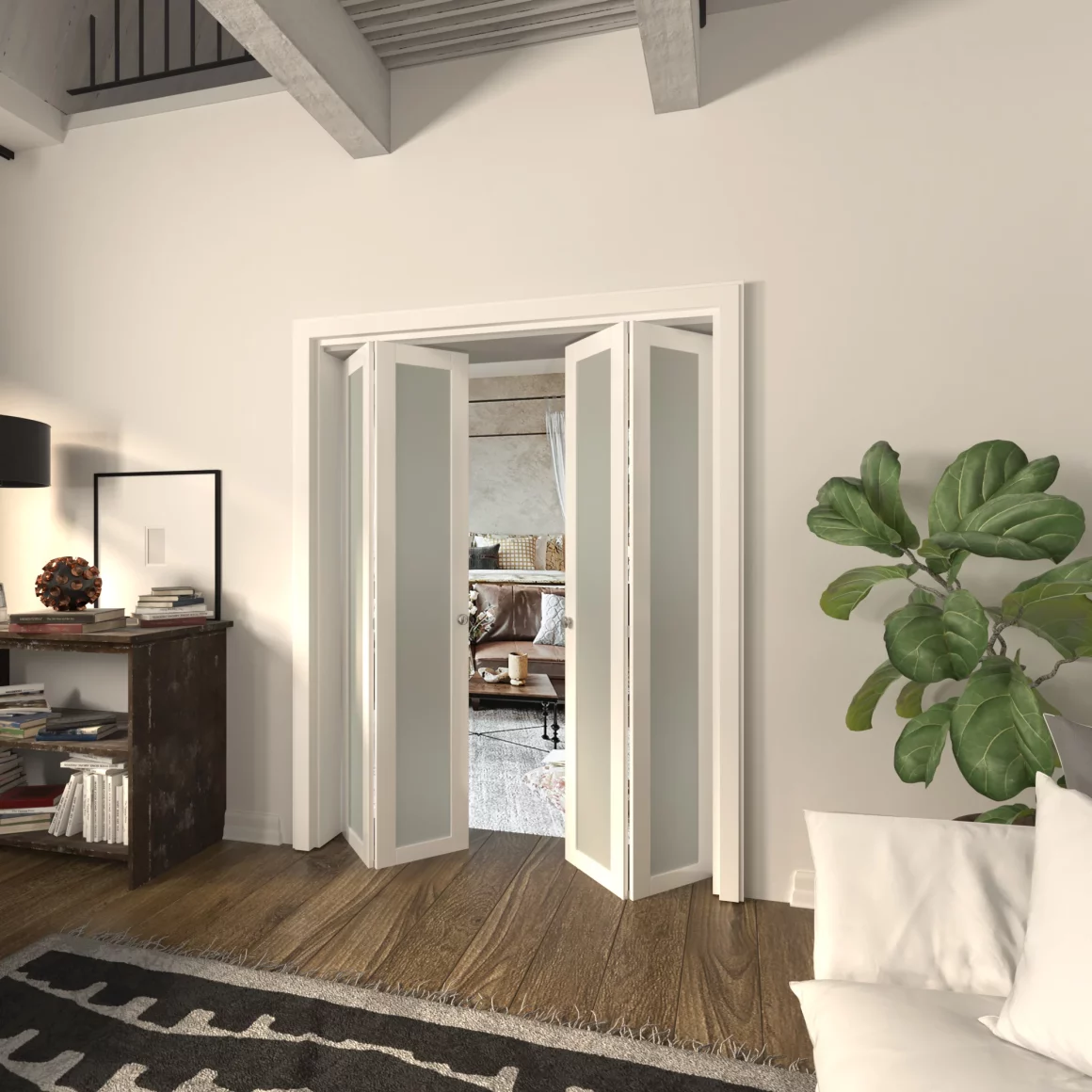 Bi-fold closet doors are a popular choice because of their unique folding mechanism. Two or three doors are connected through hinges and are folded inward or outward like accordions. They are also known for their versatility as they come in various colors, sizes, and finishes, which you can choose from.
Pros– Bi-fold doors are a perfect option for smaller rooms, as they save space without occupying much ground space. They are also sleek and add a modern touch to the room while they seamlessly blend with the interior. Since Bi-fold doors are partially opened, you can control how much of your closet to conceal or reveal. The versatility of the configuration allows for customization depending on your style preferences.
Cons – Bi-fold relies on track, and there are chances of accumulation of dust and dirt when left unattended and poorly maintained. These doors make squeaking noises while opening and closing. It is important to install the door carefully, considering the tracks, hinges, and solid heavy doors.
5. French Closet Door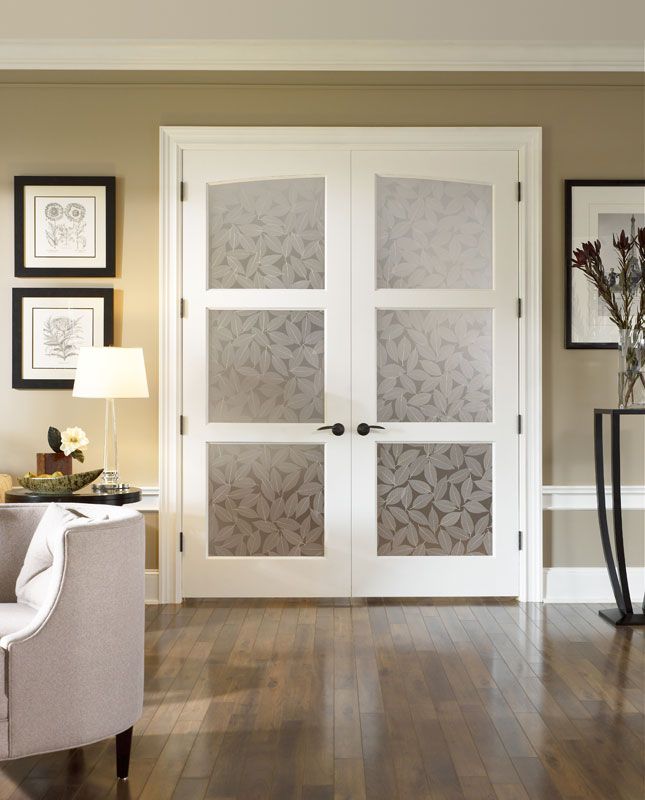 French closet doors are a pair of hinged doors with a wooden frame and glass or fiber which swing open from the center. They are usually very narrow and lightweight and are used for small rooms. They are designed to add a touch of elegance and improve the aesthetics of the room while allowing light to flow through the glass.
Pros – French closet doors are never out of style; they are classic and timeless. The glass panels allow natural air to flow while making the closet brighter. These doors are available in a wide range of styles, materials, finishes, and configurations which makes them more versatile. These doors are designed to be very lightweight, and they do not need any complicated installation.
Cons – Limited privacy due to glass panels, and they need regular cleaning and maintenance to avoid dust accumulation. They are costlier than other doors because of the intricate design and the glass panels used and based on customization. These doors need to be handled carefully as the glass used can be delicate and is prone to damage easily.
6. Pivot Closet Door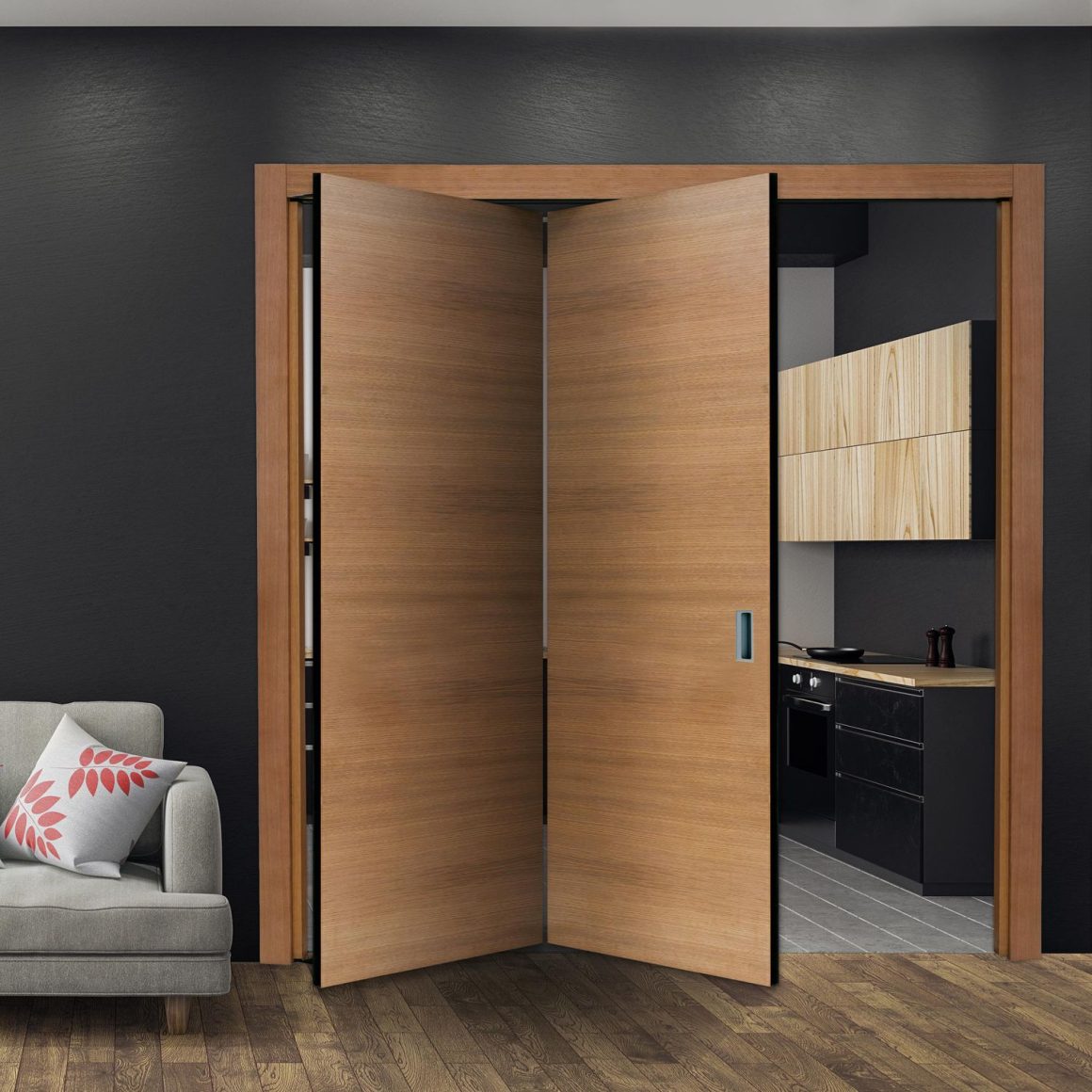 If you have a large closet, then pivot closet doors are the perfect option for you. Pivot closet doors have a unique hinge system that allows the door to pivot on a central axis. Pivot doors have a pivot point either on the top and bottom or in the center of the door. These hinges help the door open and close smoothly, which gives a sleek and minimalist look. These doors are usually made with solid wood for a more elegant and modern touch to the room.
Pros – Pivot doors have a contemporary, minimalist, and elegant appearance to the space. These doors open wide and give an unobstructed view of the closet, which gives full access to your things. These doors can be customized based on the material, finishing, and configurations that match the interiors of your room.
Cons – Pivot doors are expensive due to the hardware used during installation, which can only be done by professionals for this door to function properly. Privacy may be a concern as they open wider and are only suitable for larger rooms.
7. Pocket Doors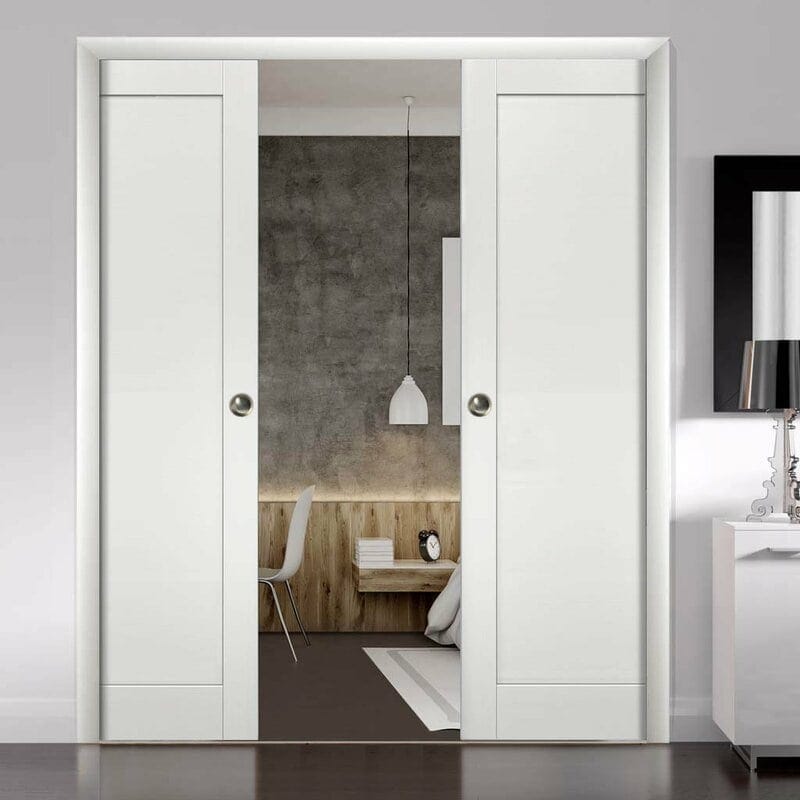 Pocket closet doors are especially beneficial for small rooms and closets where space is limited. Pocket doors consist of a specially constructed frame within the wall. The door is usually mounted on a track enabling the track to move back and forth. When fully open, the door is completely concealed in the pocket built into the wall. These doors are very simple, clean and improve the overall aesthetics of the room.
Pros – Pocket doors are the best space savers as they do not need any clearance while opening and closing. With a minimalistic design, these doors give full visibility to the closet without any obstruction. The flexibility of these doors gives you a wide range of options in finishing and textures.
Cons – Pocket doors require professional expertise for proper installation. They need regular maintenance and repairs to ensure smooth operation.
8. Curtains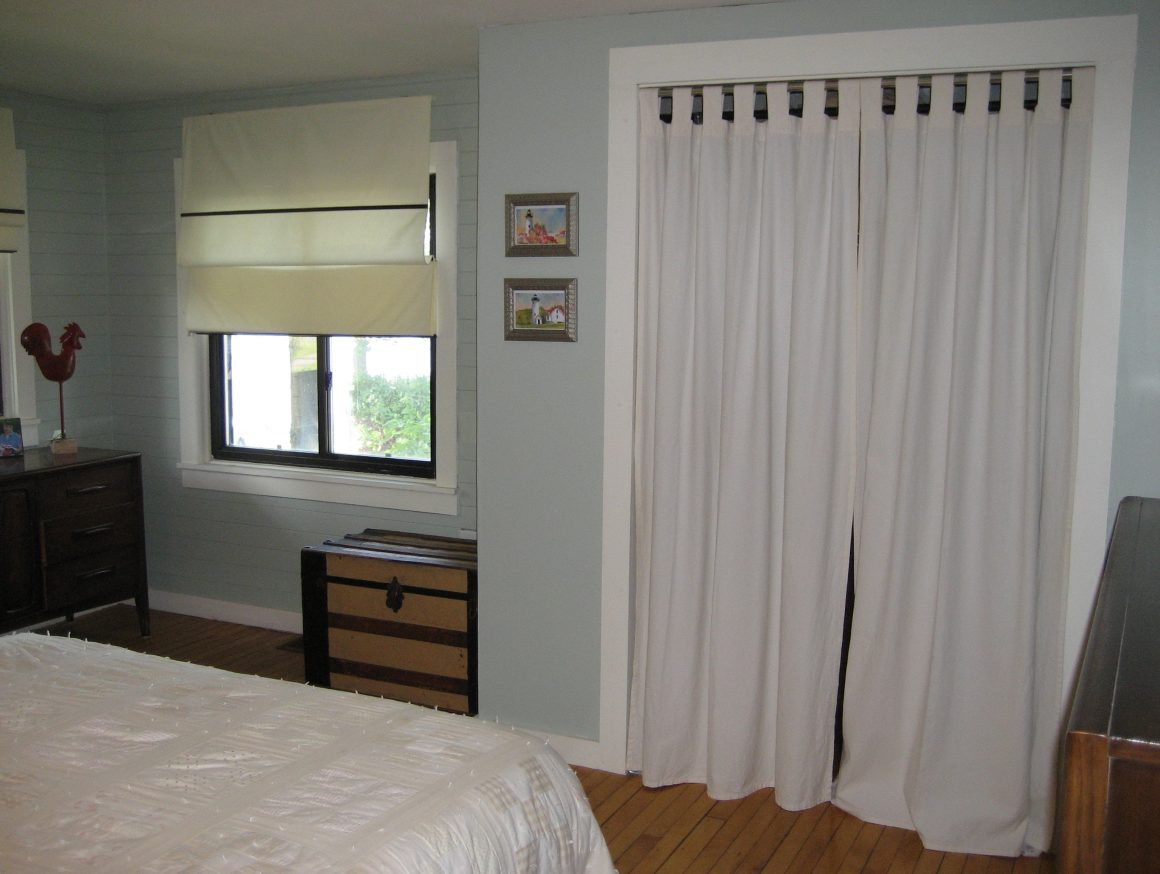 Curtains are the most popular and budget-friendly alternative for closet doors. Irrespective of the size of the room, curtains make the best closet doors as you can choose from various colors, textures, and materials that can match your style, with minimal equipment like curtains rods and some basic tools.
Pros– Easy to install and easy to modify. Curtains are more economical and space efficiency as they do not need clearance to open and close. They do not need any professional help to install and can be easily replaced if damaged.
Cons– Curtains do not provide privacy and need regular cleaning as they accumulate dirt, and dirt is easily visible.
9. Upcycled Vintage Doors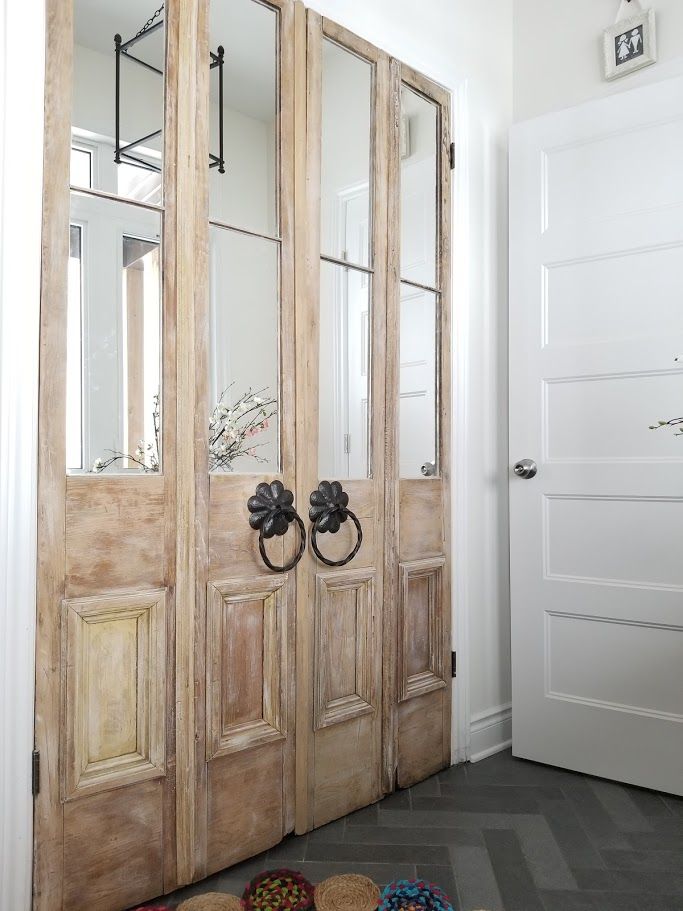 If you are looking for some sustainable yet elegant options for your closest door, then upcycled vintage doors are for you. By repurposing the existing material, you can reduce waste and cost. Vintage doors add character, charm, and rustic vibes to the room.
Pros – Vintage doors do offer intricate designs and sophisticated features, which add a touch of personality to the room. By reusing and repurposing, you are obviously reducing the impact on the environment. Upcycling products can be an engaging DIY activity that unleashes your creativity.
Cons – There are chances that these vintage doors might not go well with existing interiors and need adjustment to fit properly. Vintage doors need an enormous amount of work to inspect, repair and upscale the hardware configurations such as hinges, knobs, handles, etc. They also need ongoing maintenance to avoid damage and longevity.
10. Vertical Blinds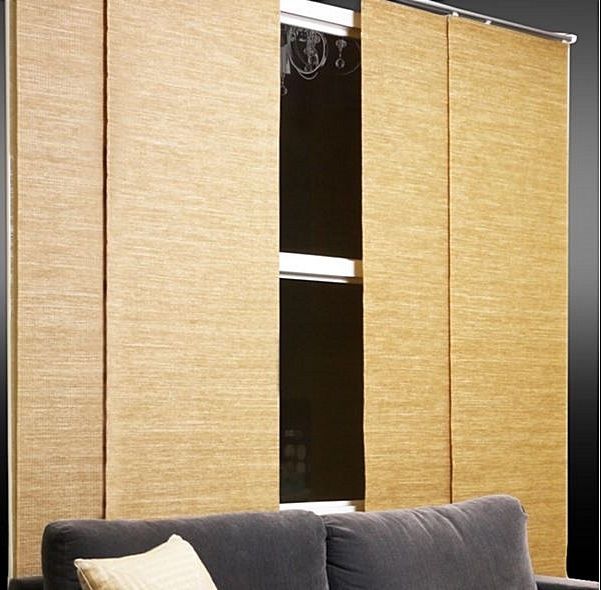 Vertical blinds are the most convenient and versatile option for narrow closets. When compared to traditional doors or hinged doors as they do not need any surface space. They are very budget-friendly and are available in a wide range of colors, finishes, and textures.
Pros – Vertical blinds save a lot of space while allowing and controlling the amount of natural light that enters the closet. They also provide full visibility, making it easy to organize and retrieve items. You can choose the texture, material, and colors of the blinds that best suit the interior of the room.
Cons – The durability of the blinds depends on the material that is used. To avoid dust accumulation, clean the slats regularly and consider blinds with thicker or overlapping slats to avoid leaking, which helps you in improving your privacy.
11. Room Divider Panel
Room divider panels are made of glass and wood panels which are freestanding or mounted panels that separate two areas of the room. They act as decorative elements, provide privacy and add a touch of style and sophistication to the room. Room divider panels as closet doors are a unique option because of their portability and flexibility.
Pros – Room divider panels make a distinct and stylish choice as a closet door as they come in different glass finishes, shapes, and textures that allow you to choose based on the interiors of the room. They are very flexible, as they can be folded or moved aside to provide full access to the closet.
Cons – Room dividers are only suitable for larger closets with wider doors. Hardware installation might get complicated based on the support elements used and gets costlier depending on the material used for glass and wood. They do need regular maintenance to avoid dust accumulation.
12. Bookshelf Closet Door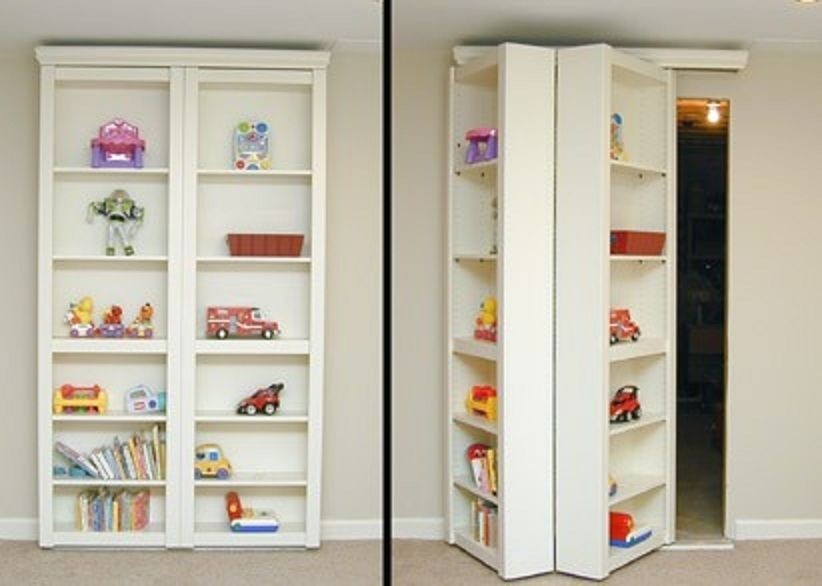 Bookshelf closet doors are a creative and functional way to conceal the closet. Unlike traditional doors, these doors give the illusion of a bookshelf while acting as a door.
Pros – These closet doors optimize space by combining both storage and access. The bookshelf conceals the closet by providing privacy. You can also customize the functionality of the shelf depending on the interiors of the room.
Cons – These doors do not allow much air and light into the closet. They also need regular cleaning and maintenance to avoid dust accumulation. Bookshelf doors are usually heavy, which makes it hard to use frequently.
13. Bypass Closet Door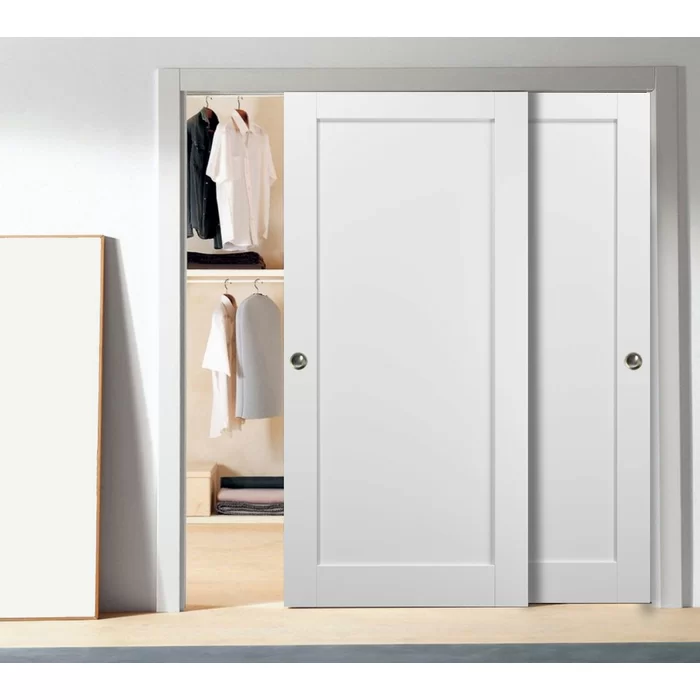 Bypass closet doors have two panels that slide past each other horizontally. This provides full or partial access to the closet and the one panel on the front and the other behind it, allowing either side of the closet. These doors are available in various finishes, configurations, and materials like glass, solid wood, or plywood.
Pros – These doors are the perfect option for larger closet openings and also conserve space as they slide on the track. These doors are available to customize depending upon the vibe of the room. You can control your privacy by adjusting that doors that slide open effortlessly.
Cons – Installation of these closet doors needs professional attention, and it also needs sturdy material for durability, which makes this a costlier choice. Bypass doors need regular maintenance and cleaning for the smooth functioning of slides.
14. Accordion Closet Door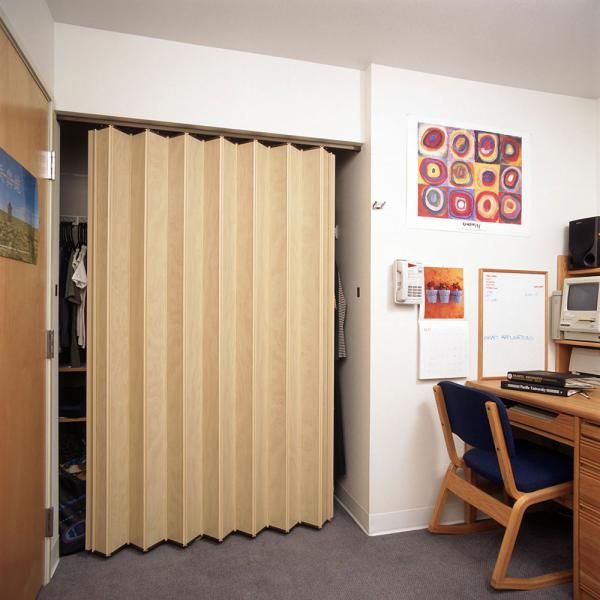 Accordion doors consist of a series of hinged vertical panels which neatly stack up at the end. These doors give full control of accessibility, privacy, and light flow into the closet.
Pros– These doors save up a lot of space, making it a perfect option for small and narrow rooms. They come in various colors, finishes, and textures, allowing customization. The gap between the hinges allows light and air to flow in naturally.
Cons – Accordion doors need regular maintenance and cleaning due to the openings. Limited privacy if the closet is partially opened.
15. Frosted Glass Closet Door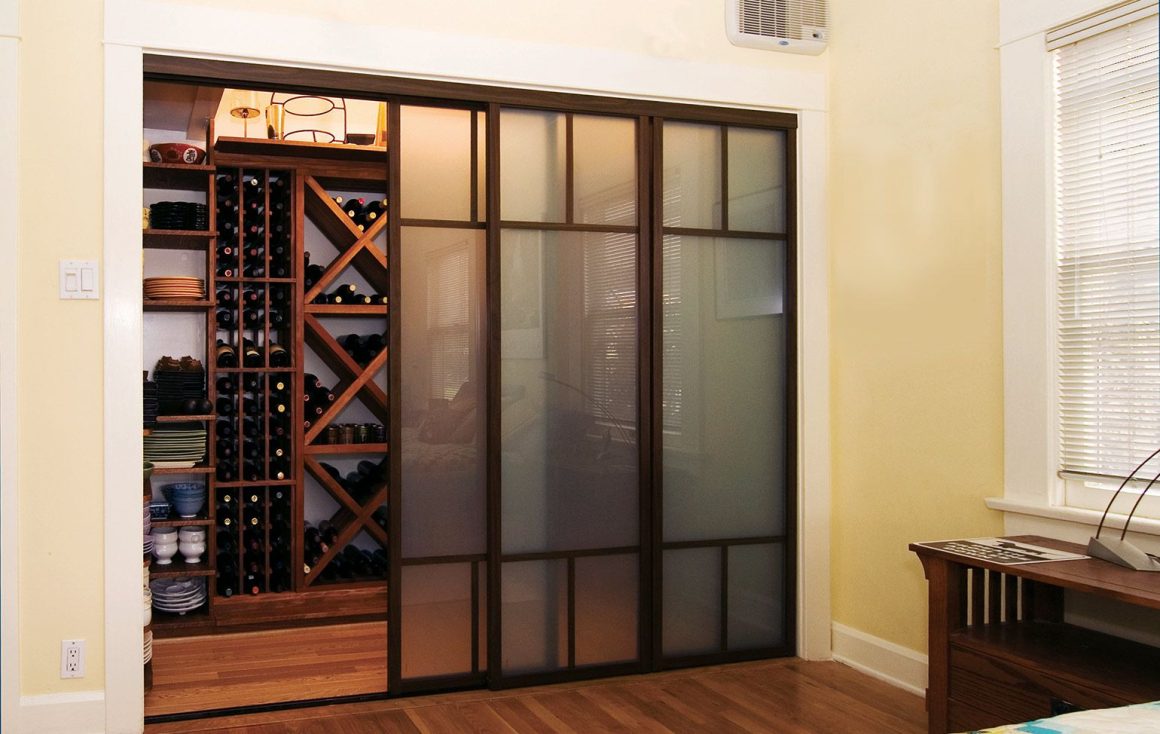 A frosted glass closet door is a type of glass door that incorporates frosted glass as a closet door. These doors come in various configurations, framed, frameless, or semi-framed, and in different patterns and shapes.
Pros – Frosted glass allows customization as they are available in various colors, finishes, shapes, and patterns. Based on the aesthetics of the room, you can go for sliders, pivot doors, or doors that swing open for full accessibility.
Cons – They provide limited privacy and natural light in the closet. Frosted glasses need to be maintained and cleaned regularly. They are costlier compared to normal glasses.
Conclusion
Closet doors are not just functional necessities; they are an opportunity for creativity and style. Whether you crave sleek elegance or vintage charm, there is a perfect alternative to your traditional closet door.
We hope this blog will help you choose the right alternative that adds a touch of your personality and sophistication to the space. From doors that add rustic charm to bookshelf doors that creatively optimize the space, there is a wide range of innovative choices to enhance the overall aesthetics of the closet. While you are at it, do not forget to consider the pros and cons of each alternative.
Reimagine, redesign and replace your conventional closet door now with the best alternative.