Staircases have the potential to create a captivating centerpiece. An outdated, old, and plain staircase can be easily transformed into an impressive focal piece.
But does a staircase makeover idea mean all your money will be just gone? If you are not carefully analyzing all the options, then maybe yes. But for cost savings, what can be better than DIY projects that are easy and fun to do? With staircase DIYs, you can let your creativity take control and bring life to your old staircase.
If you are bored of seeing your old staircase, here are the best DIY projects for you to make the best out of your uninviting stairs.
Here are the 25 best DIY Staircase Makeover Ideas that will transform your interiors!
1. Install Wood Treads & Risers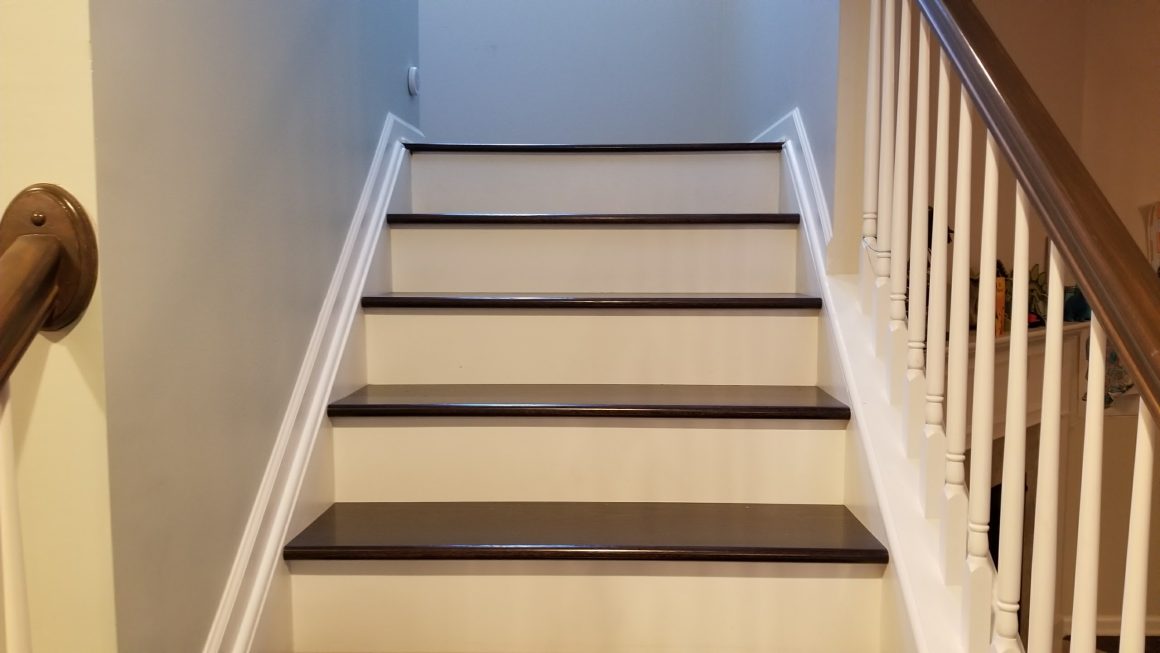 Wooden furnishings render an elegant and rustic feel to your home. So, how can we not include a stair remodeling using wood in top DIY staircase makeover ideas? This Stair remodel idea involves the installation of wood treads and risers to create a unique staircase for your home. It is another cost-effective way to remodel your stairs.
All you will require for this stair remodel idea is handy and cost-effective products. A tread and riser kit, stain, matte floor finish, construction adhesive, and other hardwood Install materials will do the job. Remove the old stair tread material and cut the wooden treads to the size of your stairs. Use construction adhesive to attach the stair treads. Once completed, the DIY project will give an exceptional statement to your staircase and will make it stand out.
2. Faux Wood Treads with Paint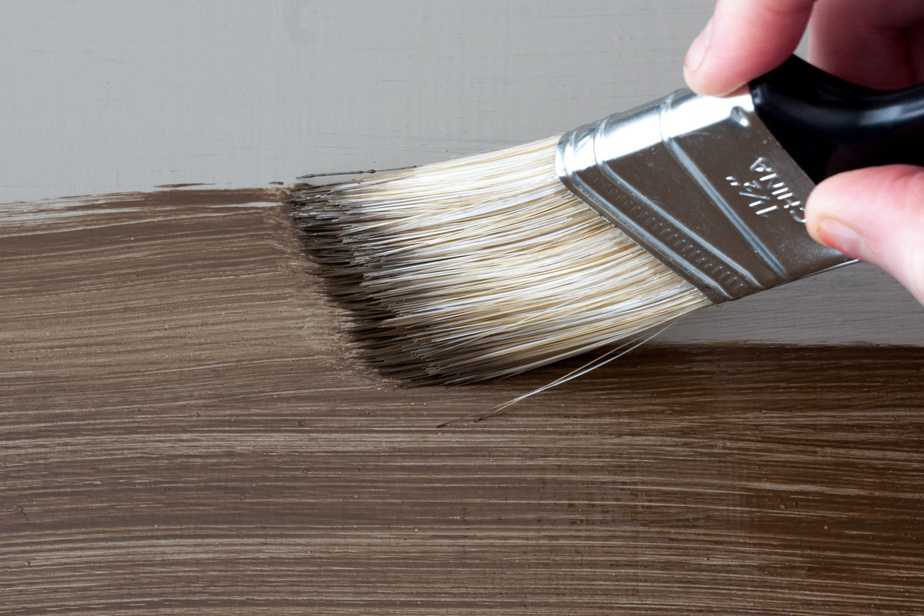 Wood inspires a lot of designers, making it an integral part of home decor ideas. Wooden furnishing facilitates durability and longevity, but it still is prone to scratches and cracks. And sometimes we all need easier alternatives or maybe a temporary fix for the staircase. This stair remodel project will be your leverage if you need an easy DIY project for your stairs.
Start by taping the walls, followed by dusting & sanding the stairs. Paint a coat of primer on the stairs, and it dries apply coatings of paint of dark tan color or coral shades. To give it wooden furnishing, use a chip brush to apply oil-based stains to the stairs. Chip brush is important here as it provides a wood grain look by keeping the brush stroke visible. This DIY helps you to get a perfect staircase for your home!
3. A Rainbow Staircase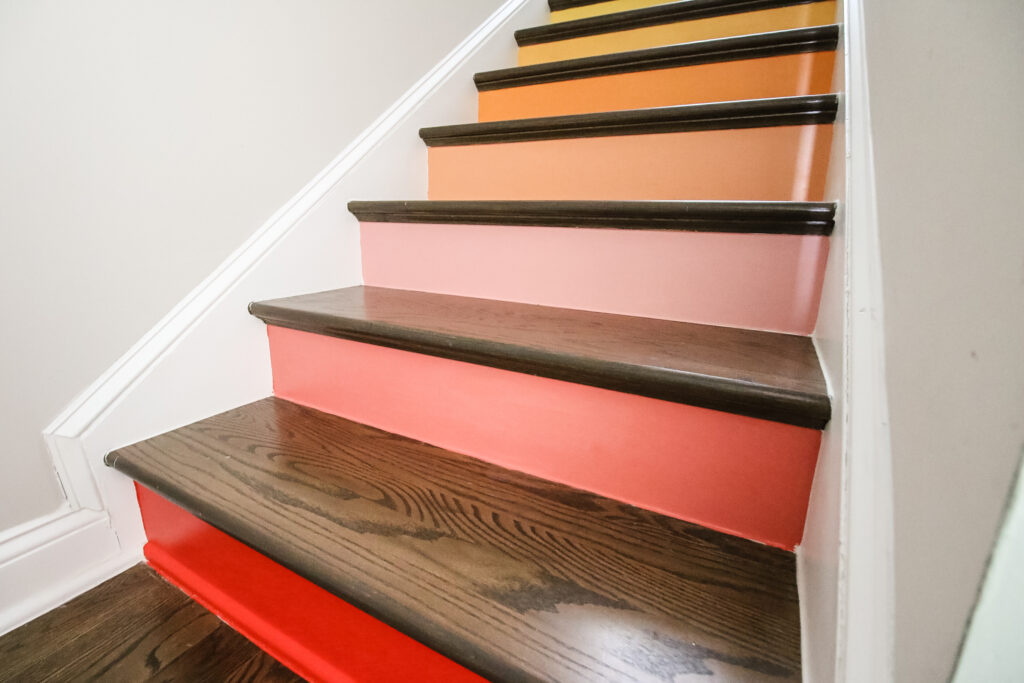 There are numerous ways to recreate a staircase that focuses on stair risers. One such unique idea is to give your stairs a vibrant appearance with a rainbow theme. The integration of colors into a blunt staircase will make your space look whimsical.
If you are painting stair risers, you can use the regular paint that you use for walls.But for painting the stair treads, paints manufactured for the purpose of painting porches or floors must be used. Before you start painting the stairs, fill the old holes and cracks. If sanding is required, do not miss making your stairs smooth by sanding them. This stair remodelproject is an easy staircase makeover idea that builds vibrant energy for your home!
4. Stair Remodel DIY: Vinyl Plank Flooring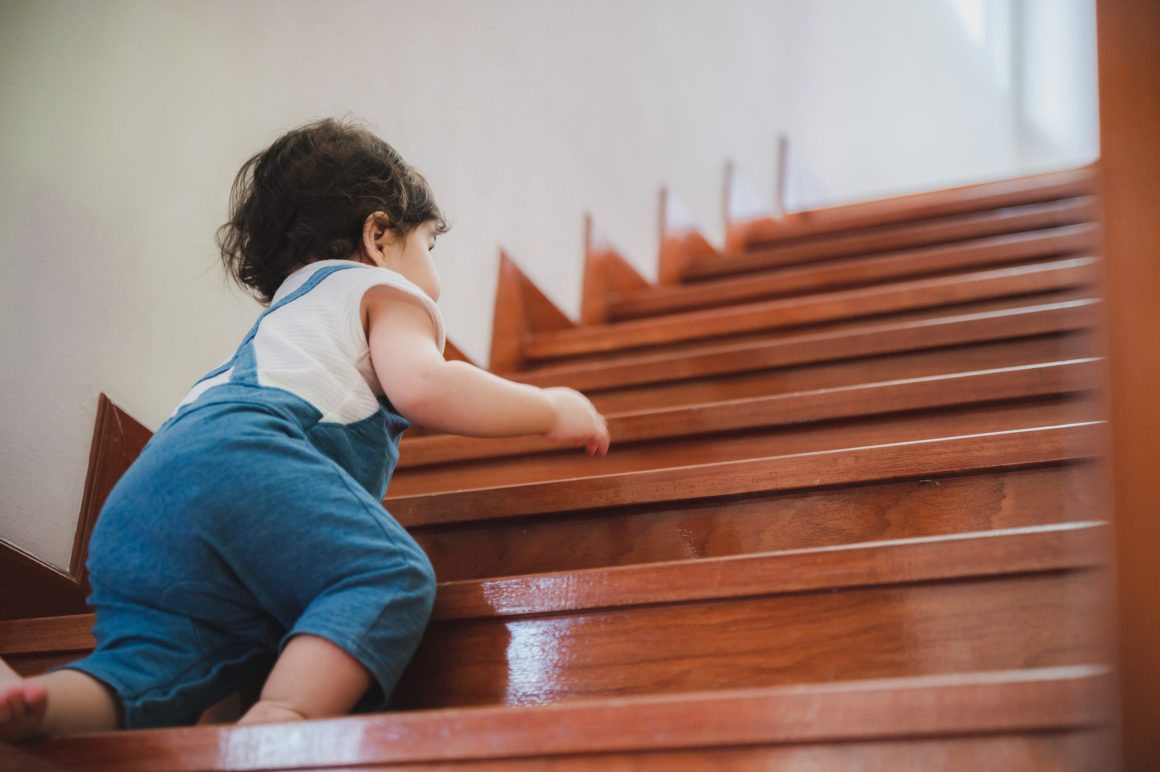 If your current stair flooring is not unique, it is time for you to switch to vinyl plank flooring. To start with this stair remodel DIY project, start with removing the existing flooring of your stairs. To install the vinyl plank flooring, measure and match the size of the stair with the planks. Use industrial adhesives to attach the planks to your stairs.
Vinyl flooring must be your choice because it is durable and long-lasting. Additionally, the flooring done using vinyl planks is a cost-friendly DIY project. The vinyl flooring is also resistant to water damage, adding life to your stairs.
5. A Staircase Gallery Wall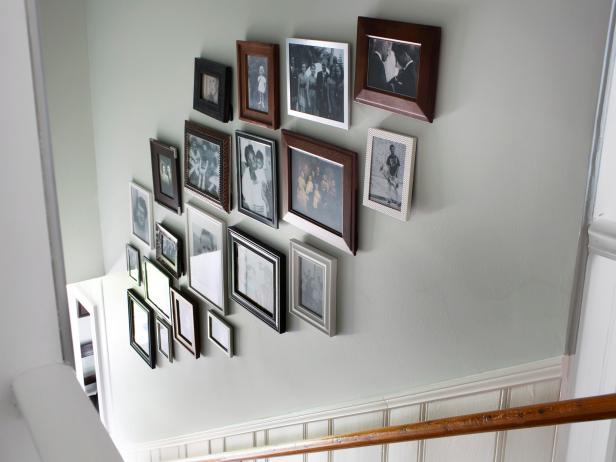 A stair remodel project that uses a gallery wall adds a touch of personalization to your stairs. To start with this project, choose photos you have to add to your wall. Framing the photos before attaching them to the wall is an excellent idea. This gives you the advantage of pairing up the gallery wall with your interior decor.
To hang the photos, the use of nails offers the benefit of ease of taking the photos down when required. For determining a layout, cut out paper in the sizes of your photos and paste the papers before you start pasting the pictures. Once you have created a layout using the templates, start placing your pictures and create an adorable gallery wall for your stairs.
6. A Mirrored Staircase Wall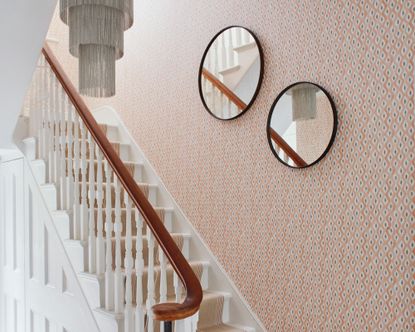 Mirrors find a way in every home. By reflecting light and opening up spaces, they become an elite choice for home decoration. We all must agree that the blank spaces on the staircases are not tempting. To make blank staircase walls more intriguing, a stair remodel using mirrors is the best staircase renovation idea. Start by collecting mirrors in different designs.
The mirrors should have different shapes, sizes, and frame finishing. Thrifting the mirrors is a good option if you want to make it cost-effective. Create a layout on the wall using chalk and start adding mirrors to the walls.
7. Make it Easy: Install a Stair Runner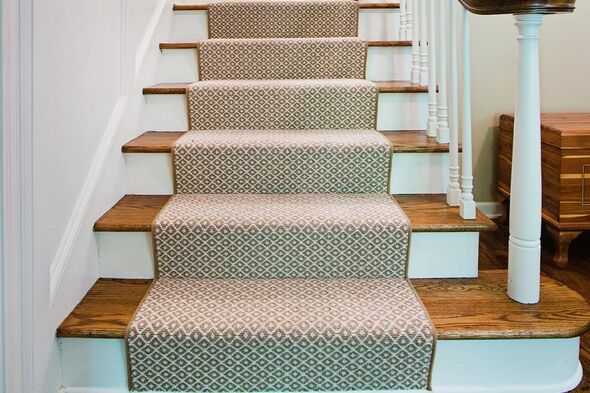 If you like things the easy way, we bring you this easy stair remodel DIY project. The stair runners add texture and colors to the staircases. To start installing a stair runner, measure the length of your stairs and paste the carpet pads on your stairs after carefully measuring them. Once the carpet pads are pasted to the stairs, start installing your stair runners.
Regularly staple the stair runner. Once you reach the end of your stairs, fold 2 inches of your stair runner and secure it by stapling. This provides it with a smooth finish. This way, you do a staircase makeover with minimal effort.
8. Stair Remodel Using an Old Carpet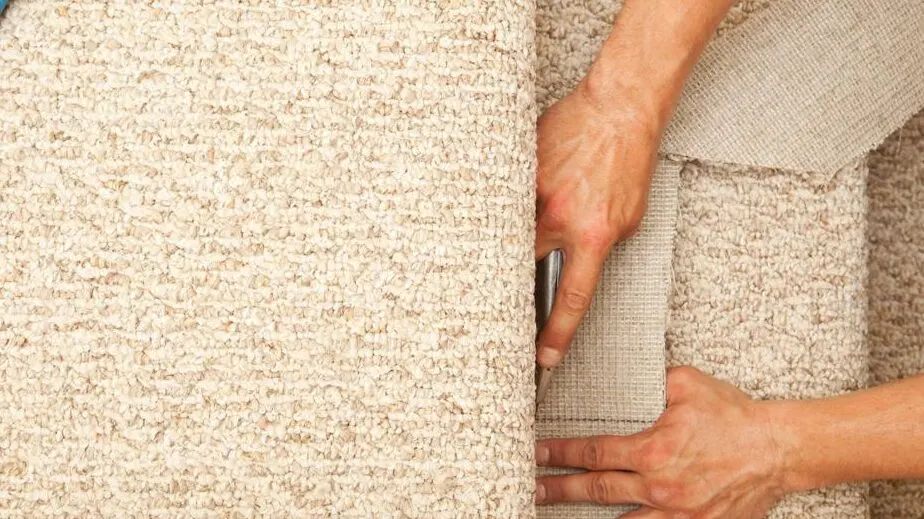 Carpets act as one of the best decorative elements on staircases. For homes that accommodate young and aged people, carpets are the best way to decorate the stairs and ensure safety. Carpets add stability that can be beneficial when children or aged people use the stairs. While stair runners are a popular choice, carpet remnants can be used to build carpet treads that look just perfect. This stair remodel idea is an easy one, requiring no tedious labor.
For a stair makeover using remnant carpet, start by measuring the stair size and accordingly cut the carpet. Before you attach the carpet pieces to the stairs, clean the stairs in a neat manner. This way, you can build an extravagant staircase with no waste of leftover pieces of carpet.
9. Paint & Ditch the Stair Runners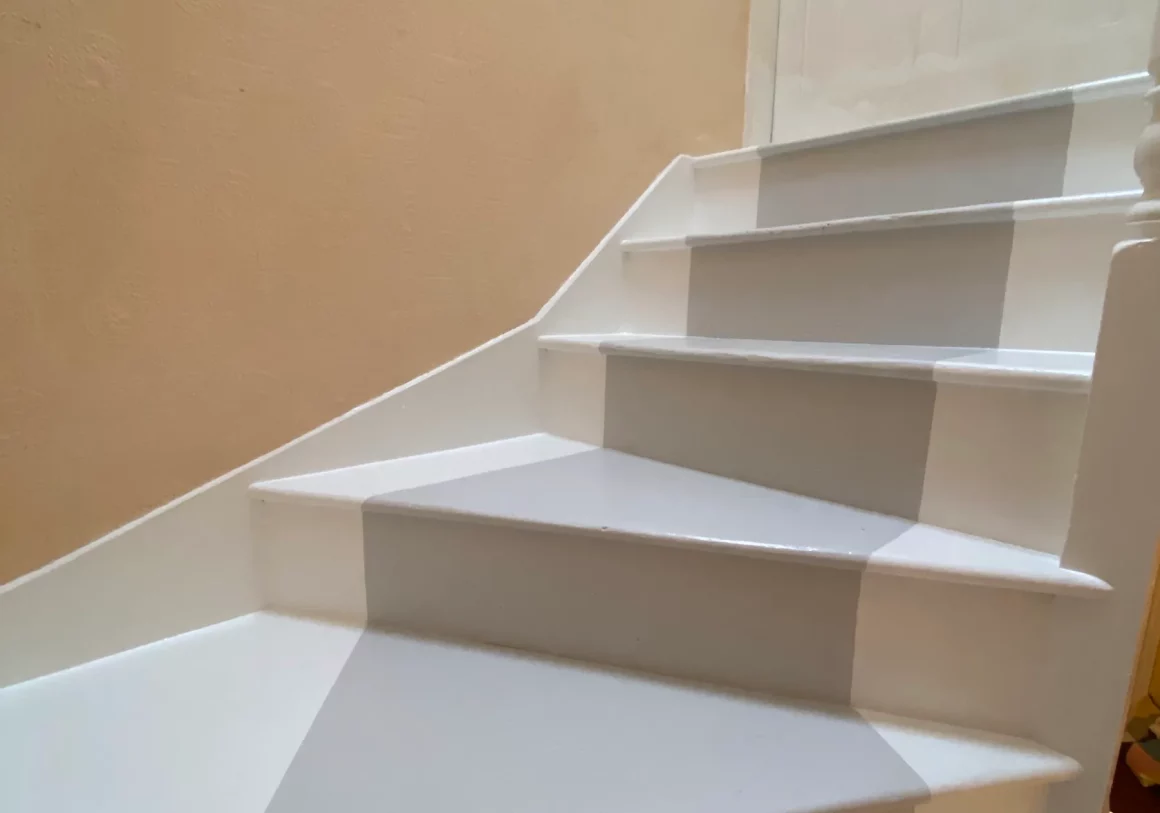 Now start by painting two layers of base coat on the stairs. Carefully tape the edges in the pattern you want to paint the stairs. Again cover the stairs with a light coat of base layer with the tape on. Now carefully paint the sections you have taped, and your painted stair runner will be ready!
10. Replace the Carpet with Hardwood Stairs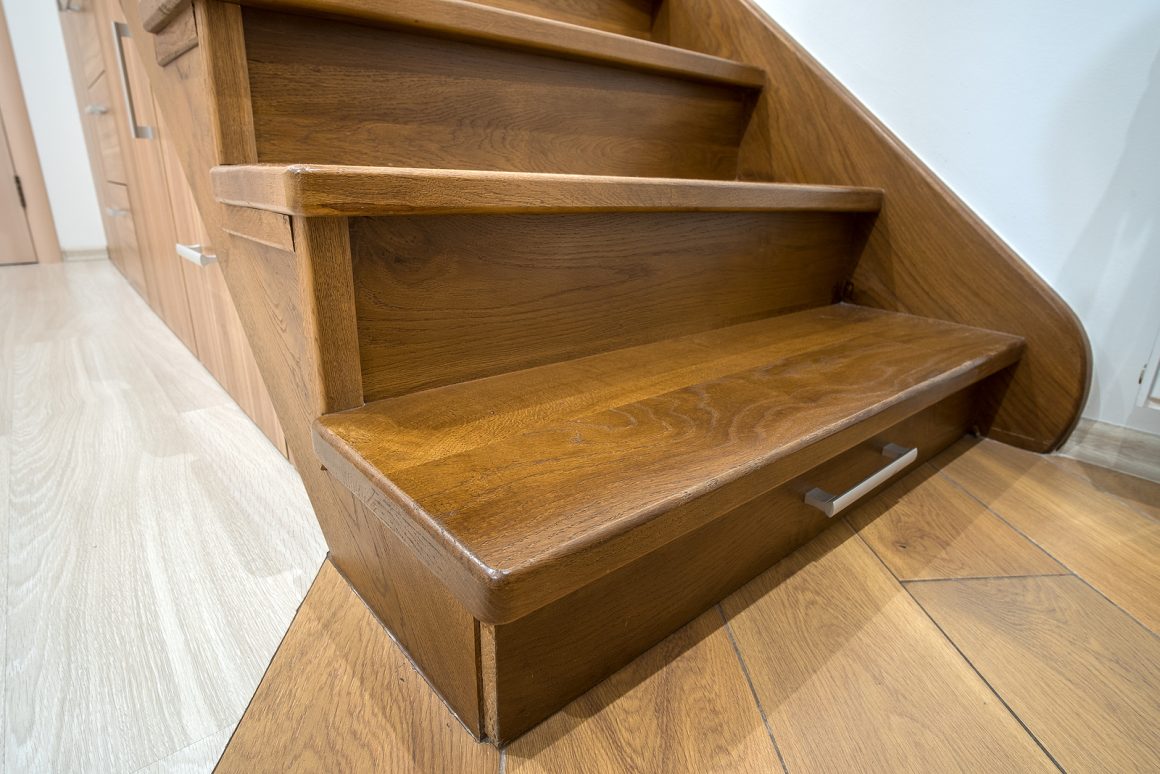 If you want a durable and long-lasting doable makeover project for your staircases, converting them to hardwood stairs is an excellent idea. Carpets, with time, can become uninviting. Replacing the carpet with the hardwood stairs is an easy stair remodel project that does not take too long to finish.
To start this staircase remodeling project, initiate the removal of the carpet and paint the wooden treads & risers. Now start placing the wooden treads cut into the size of your stairs.
11. DIY Modern Stair Treads & Risers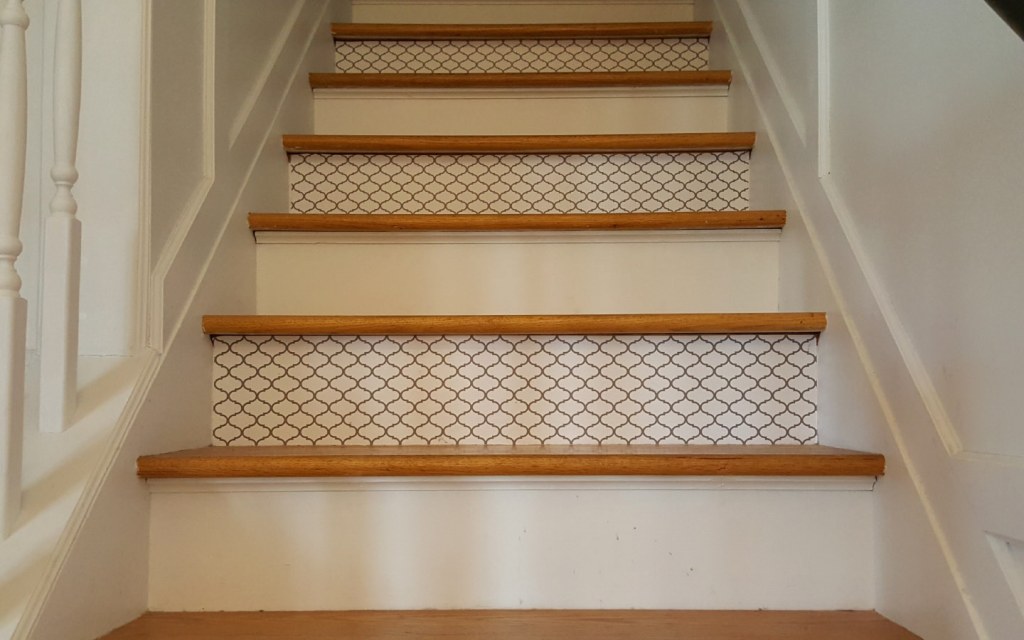 If your staircase is old, this DIY stair remodel project will help you in building a modern and refined structure for your staircase. You have to do nothing but collect all the materials and build an impressive flight of stairs with minimal effort. Stair treads can be purchased online. The stair treads come in different sizes, but beforehand measure your stairs and order them accordingly.
For risers, you can select plain or patterned risers.
Once you have all the things you need to start this DIY project, remove the previous flooring or carpet from the stairs. Cut both the stair treads and risers in the size of your stairs. You can paint both stair treads and risers if needed. Now you can install the treads and risers. The result will be a breathtaking staircase.
12. The Classic Combination of Black & White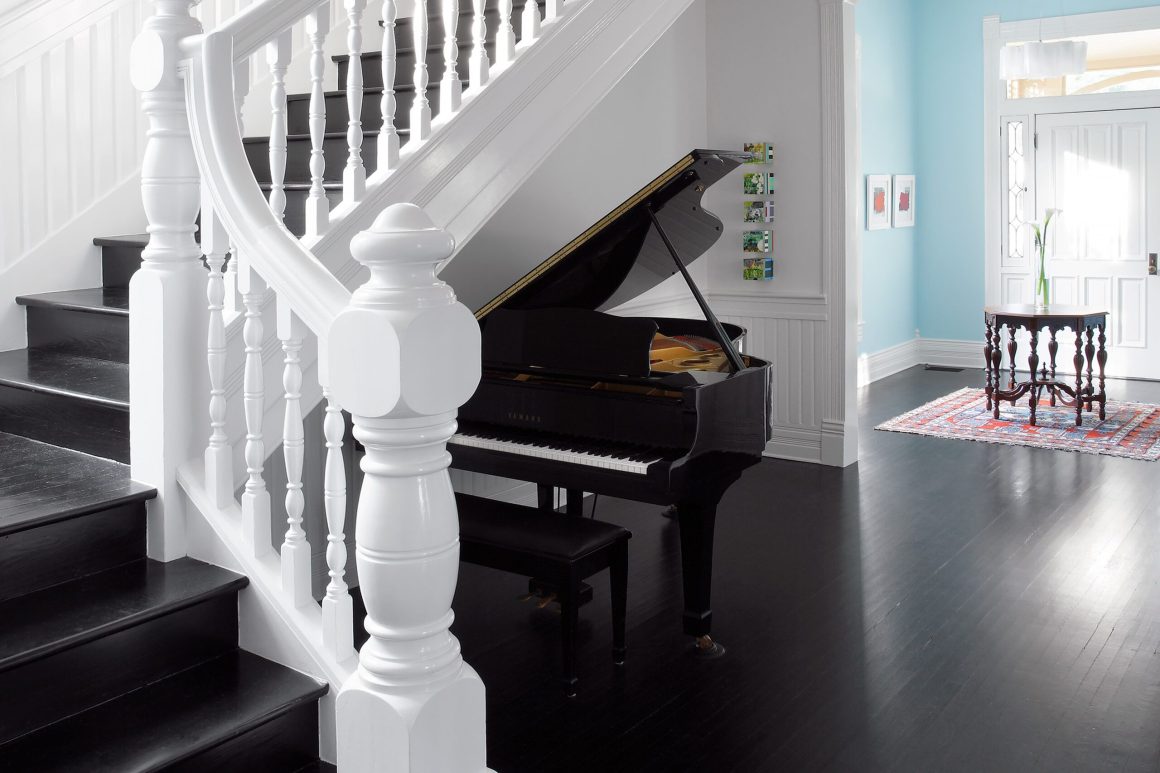 The combination of black and white remains an iconic color combination in interior design. Staircase transformationusing this color remains a distinctive detail to your home. If your stairs are built using wood, coat it with primer. The primer coating prevents the wood from bleeding through the paint. This follows the painting of the stairs, which can be a tedious task. Paint your handrails and stair treads black. Use white color for painting the balusters and the stair risers. You can reverse the pattern to create a classic combination of black and white.
13. Updating the Newel Posts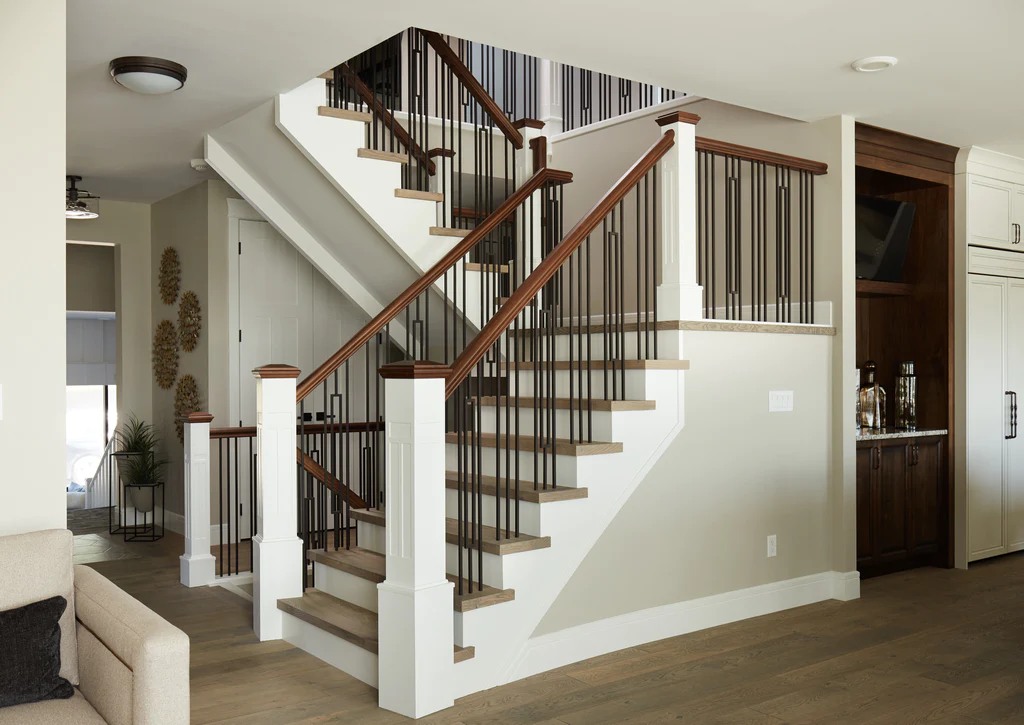 Newel posts are the supporting ends of the handrails. For one of the simplest of the stair remodels ideas, creativity with the newel posts is something you must try. This DIY project is easy to do. With this staircase makeover idea, you save yourself from the hassle of removing and installing new elements. If you appreciate and focus on finer details, this DIY project is definitely for you.
Newel posts allow for adding a modern look by renovating the finer details of the staircase. Newer posts can be purchased, but that will end up making it a costly option. For creative minds, building newel posts at home can be easy and fun.
14. Building Floating Stairs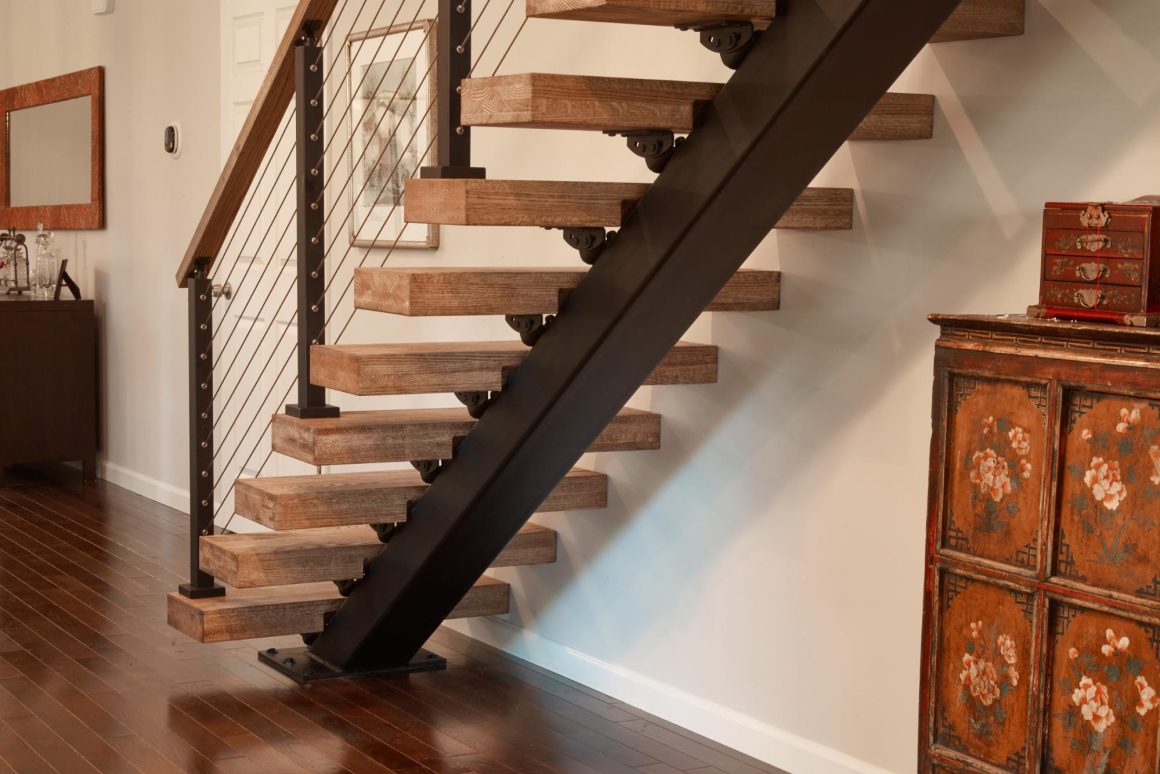 Floating stairs add a luxurious effect to your home, so it is a must-try stair remodel project to make your space look extravagant. You can easily build a floating staircase from an old and uninviting staircase. You have to start by removing the laminate, followed by the carpet removal. If your stairs are only painted and devoid of attached carpet, your task becomes much easier.
Now you must carefully remove the stair risers. You can paint-coat the leftover stair treads using a shade you prefer. The stair treads can be integrated with wooden or metal rods. This way, you are together enhancing the safety and look of your staircase.
15. Wallpaper Murals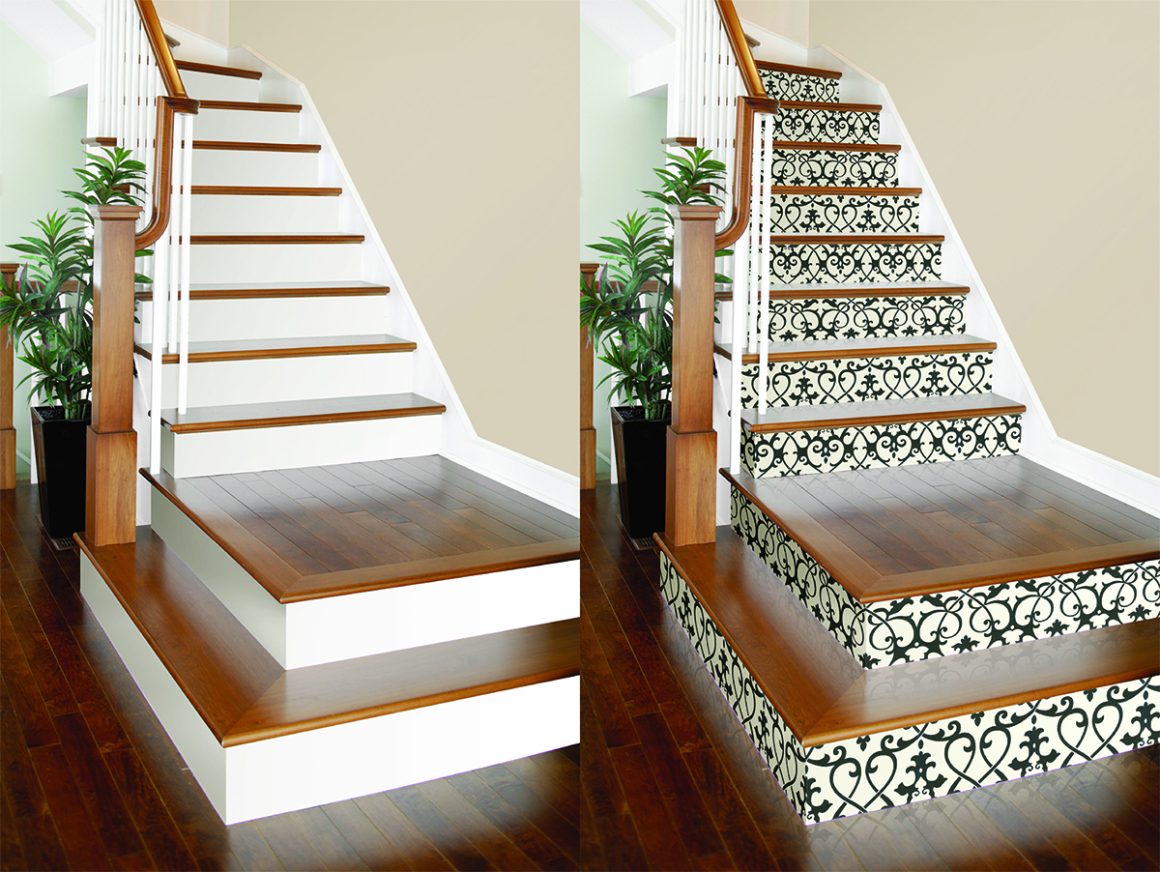 A generic staircase can be mundane. At times even an extraordinary staircase might start looking dull. If this is what you feel about your staircase, it is time for you to try a staircase makeover. Adding an interesting touch to your staircase can be really easy. The easiest way to renovate an old staircase is by adding wallpaper to it.
But before you add wallpaper, give attention to the finer details of the staircase. For example, you can try a different shade of paint with your newel posts. You can try another handrailing. Once all the details are finely looked upon, you can then add wallpaper to your stair risers. The transformation using wallpaper is one of the easiest stair remodeling ideas, yet it looks elegant.
16. Redo the Paint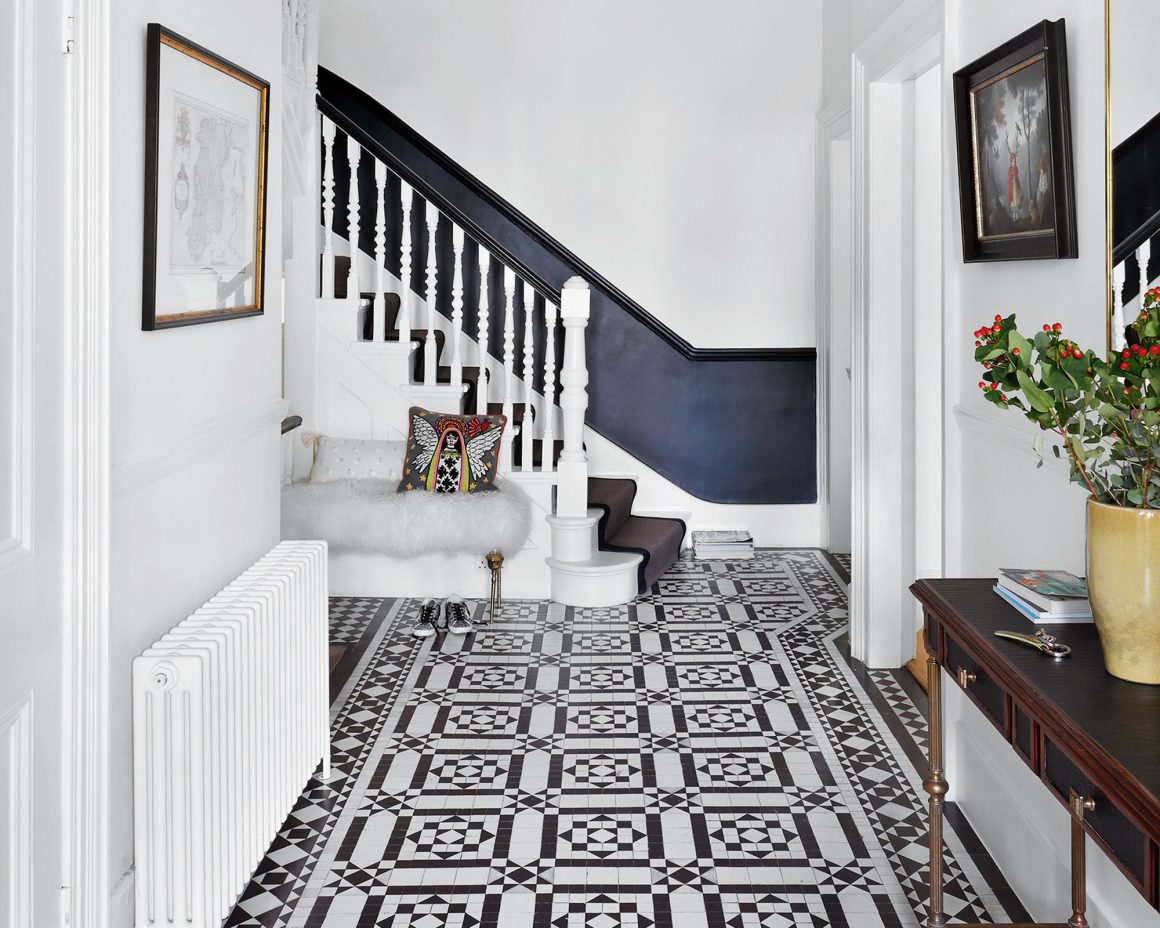 Painting your stairs can give your stairs a sophisticated look with a neat and sleek finish. And if the painting is done efficiently, you can make the aesthetics of your stairs durable with a long-lasting good look. First things first, you have to remove the previous staircase flooring and make your stairs bare and clean.
Fill the holes, dents, nicks, and cracks using wooden fillers so as to create a flawless look. To make your stairs smooth and make them seamless, thoroughly sand out the stairs. Now, your stairs are ready for the makeover. Apply a premium quality primer coat on your stairs. Once it dries out, start painting your stairs using a preferable paint color.
17. Get Creative with the Carpet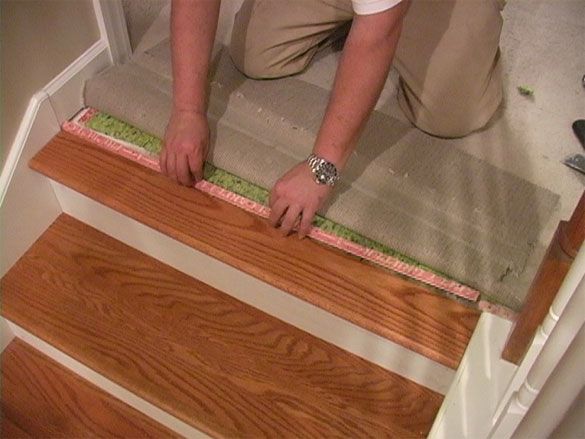 A good quality carpet can make an excellent way to renovate your old staircase. The bare wooden steps are not visually appealing. To add an interesting touch, the use of carpet will surprise you with the results. What makes this a distinctive DIY is that you have to do the steps of the stairs with the carpet but skip the stair risers.
To stair remodel your space, start painting your stairs uniformly with a paint color. Paint of coal shade compliments well with twine color, so here, use a coal shade for your stairs. Depending on what type of carpet you choose, you can pick a color that goes best with your carpet. Once you have painted the stairs, cut the carpet the size of your stair treads and use it on your stairs. With this innovative makeover, your stairs will look extraordinary.
box*https://www.amazon.com/Stair-Treads-Wooden-Steps-Adhesive/dp/B0B68JXZTY/ref=sr_1_1_sspa?crid=3N02PJTJFDGR7&keywords=carpet+for+stairs&qid=1689052992&sprefix=carpet+for+stairs%2Caps%2C320&sr=8-1-spons&sp_csd=d2lkZ2V0TmFtZT1zcF9hdGY&psc=1
18. Change the Railings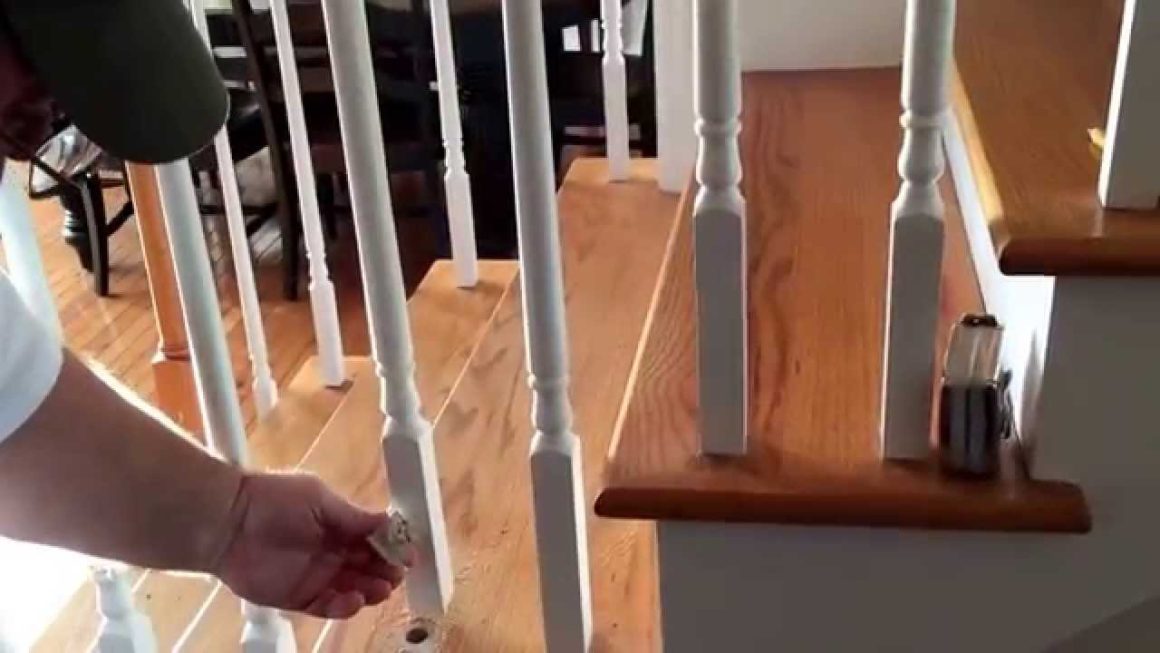 Smaller projects are underestimated, but they have a great impact on your home decor. One such small stair remodelproject is to change your balusters. The renovation may be a simpler one requiring minimal tools, but the outlook it creates is commendable. This DIY is easy because any novice can remove the existing balusters.
Purchase balusters that resonate with the home decor and elevate the look of your home. You can switch to metal balusters, which provide durability. Wooden balusters are another great option concerning balusters renovation. It is a cheap way to renovate your staircase, but it will definitely create a visually appealing staircase in your home.
19. Fix the Uneven Steps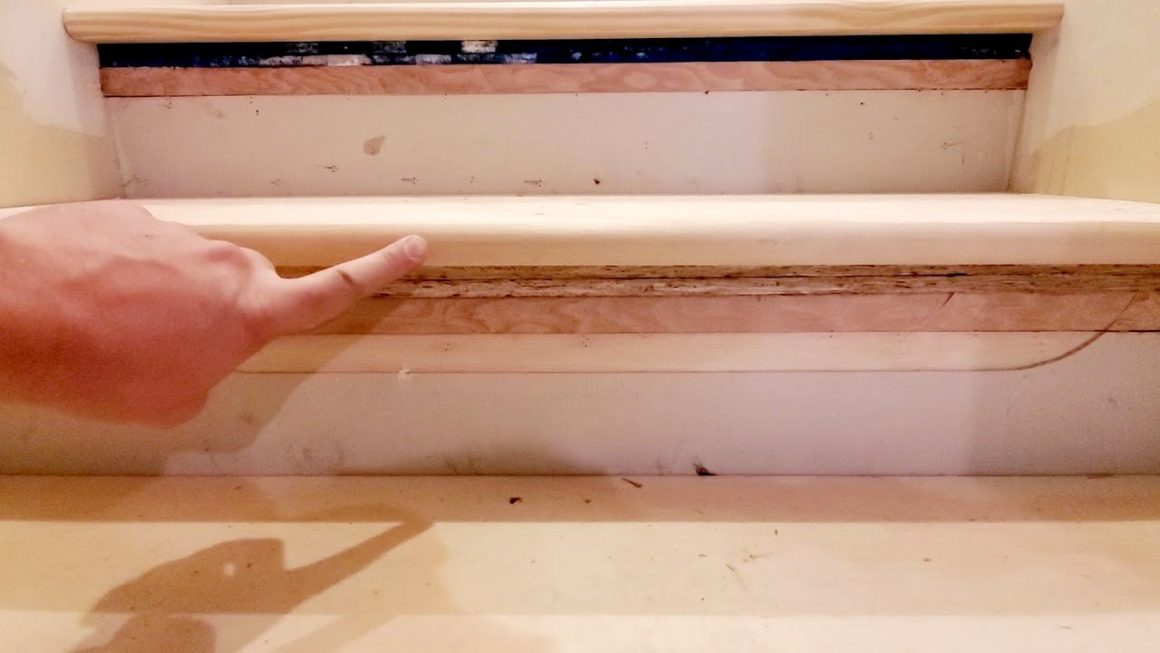 DIY projects do not always go as planned. Sometimes a DIY project can create a nuisance and compromise the visuals of your stairs. Sometimes, it is not DIY, but your staircase demands a functional renovation. Uneven steps on your stairs can be one of the reasons why you need a makeover for your stairs.
The addition of new flooring can be another reason for uneven steps on the stairs. To fix the uneven steps, trim it in the required amount and place the new flooring on top of it. This stair remodel creates a uniformity that brings structural details to your staircase.
20. Paint the Banister Without Taking it Off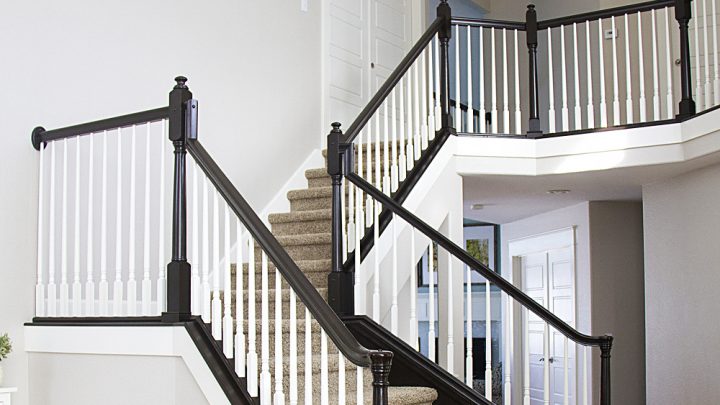 The banister is a structural element that introduces elegance to your staircase by adding finer detail. You can change the outlook of your home by simply painting the banister. Sounds fun, right? Adding to being a fun stair remodel project, it also is one of the easiest ways to renovate your staircase.
To make it a minimal project, secure the hardware around the banister to eliminate the need to take it off the wall. This way, you will avoid spoiling the hardwood and the wall with the paint. Before you start painting, sand the banister and clear off the dirt to give it a smooth finish. Painting the banister gives a unique detail to your stair that will enhance the look of your stairs.
21. Create an Ombre Effect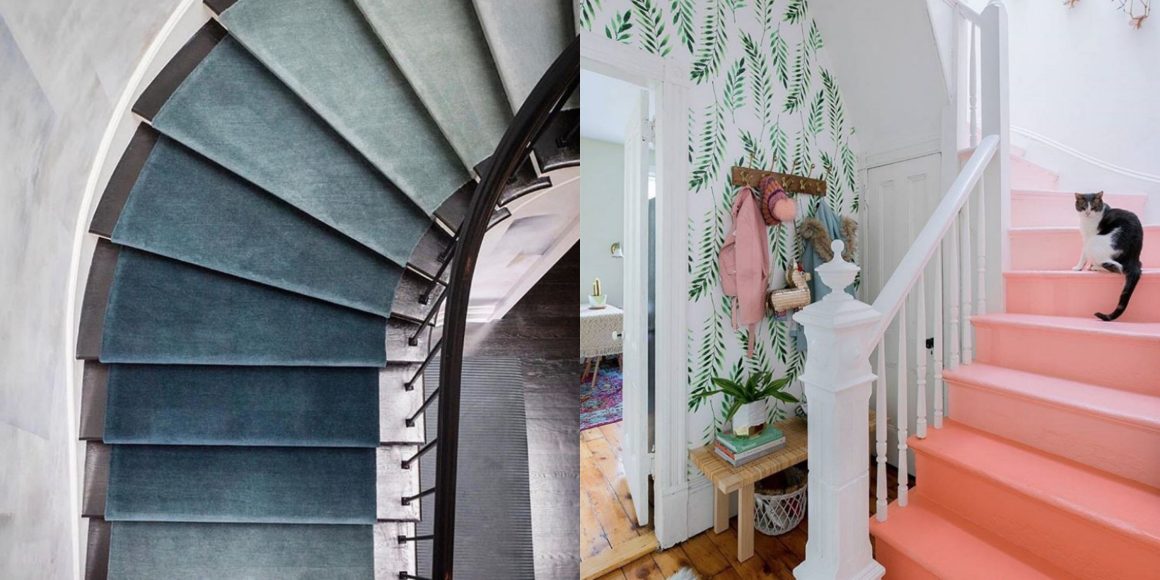 The ombre effect is a soft color graduation of color shades. This is perfect for people with an envision of unique stair remodel ideas. This effect can give an unexpected finish to a bleak staircase. It certainly will create your staircase the focal point of your home. The start of this DIY project is similar to any painting project.
Start by sanding and cleaning your stairs thoroughly. The important part of the project is to mix the colors to create a flawless ombre effect. Start painting the first stair tread using the darkest shades and gradually lighten the color till the last step of the stairs. The inherent shades of this stair makeover add a dramatic effect to your home.
22. Books & Stairs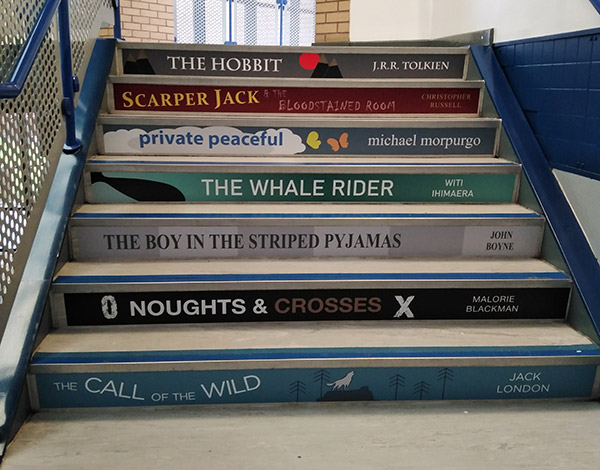 If you are an avid reader, it is your chance to show your inclination using your stairs. A staircase that looks like a stacked collection of books will always excite a book enthusiast. Decals of your favorite books and authors create a unique staircase that will steal everyone's attention. The decals can be purchased as peel & stick decals.
The decals can be customized with respect to color and words. So, you can get a staircase that also shows your taste in books and literature. Because the decals are for stair risers, painting is a project you will have to finish beforehand.
23. Board & Batten Staircase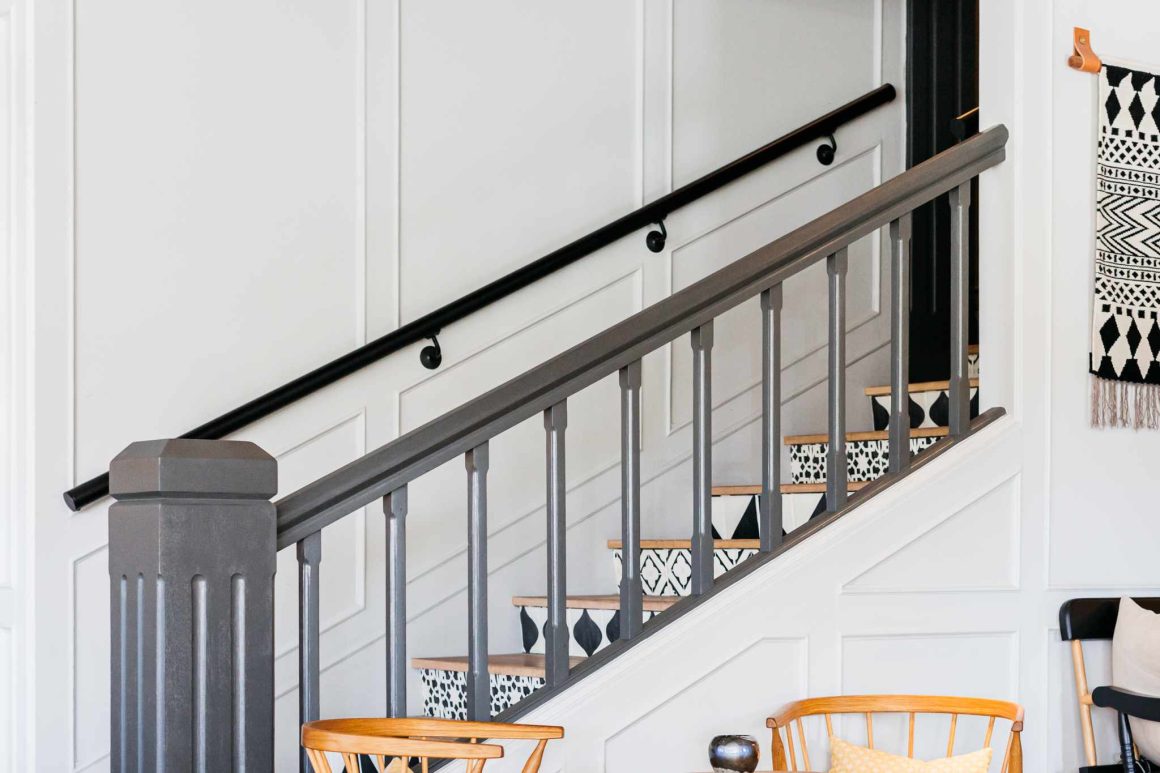 We all love projects that don't make us linger for long in their installment. One such easy-to-build but excellent stair remodel project involves an idea that does nothing with the stairs. Adding simple boards and batten molding to the wall of your staircase will accentuate the appearance of your wall.
Cut the wooden boards into desired lengths and place them at an angle to create a design for your wall. Paint it with the color that compliments the wall color, and you are good to go with this staircase makeover idea.
24. Stair Makeover with Fabric Stair Risers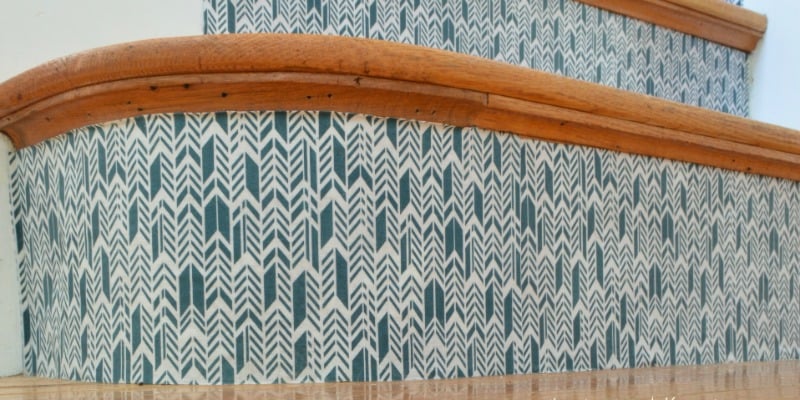 Stair renovation inspirations that use colorful and patterned stair risers come in a huge variety. Stencils, wallpapers, or stencils, you can use either of these to add patterns to your stair risers. One of the cost-effective and easy-to-install options for a patterned stair riser is fabric.
You have to start this DIY by selecting a fabric of your preference. Washing and ironing the fabric before you install it is optional, but this step is recommended. Cut the fabric into sizes of your stair risers and stick them using high-quality adherents. Once you are finished, enjoy how the fabric brightens up your stairway.
25. Add a Stair Slide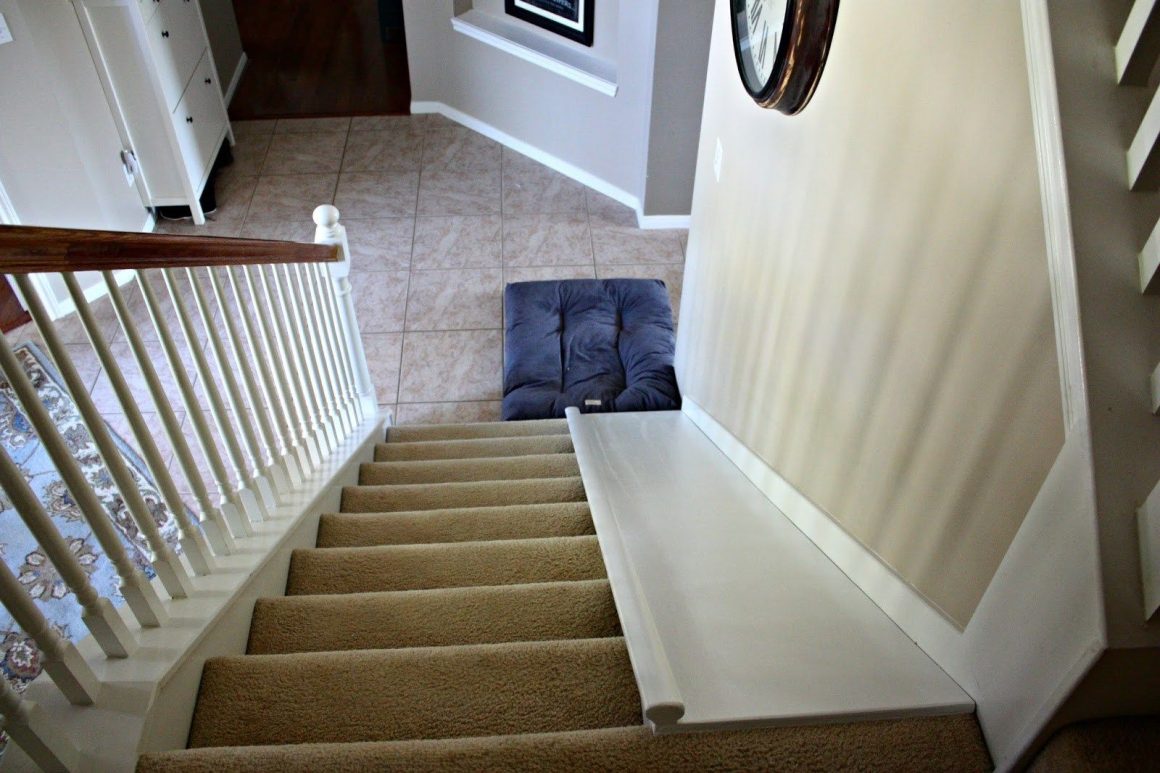 Stairway makeover ideas are plenty, but an element of fun is not present in a lot of stairs. Adding a slide to your staircase can be a fun stair remodel project. Additionally, your kids will love this staircase makeover. This DIY is optimal for stairs that have wider spaces available.
Your stairs must be able to accommodate a stair slide without compromising the space of your staircase. A handrail should be added to the slide to enhance the safety of kids. The stair slide can be colored using a shade that complements the staircase, wall, and other decorative items. This DIY is a hit that adds a unique feature to your home!
Conclusion
Nobody would want to miss the chance to adorn their space utilizing the staircase. Enhancing the look of your home by renovating staircases can be easy and fun. It facilitates functionality and upgrades the overall look of your home.
We covered different staircase makeover ideas that are easy to do. DIYs will require different materials depending on what DIY project you like. For simpler upgrades, you can paint your stairs and the structural elements of the staircase.
Whereas, for DIYs with details, you can upgrade the look by adding new features like stair runners, stair risers, stair treads, etc. A staircase wall is another way to change the look of your stairs completely.
Sign up to get the latest for more such makeovers and home decor ideas!