Vaulted Ceilings can be defined as self-supporting arches above the walls and the roofs. Their lofty heights and angles surfaces make them unique from other ceilings. Vaulted ceilings have the ability that creates an illusion of more space, allowing a lot of natural light.
Though vaulted ceilings are beautiful on their own, the addition of perfect lighting adds one more layer of stunning aesthetics. If you are looking for lights for vaulted ceilings, you have to consider factors like ceiling height, shape, and overall aesthetics. The right lighting enhances the ambiance of the room and ensures sufficient illumination throughout the space.
In the below article, we will learn about various lighting options and strategies that can help to determine the best lights for vaulted ceilings. This will transform your space into a well-lit and visually stunning environment.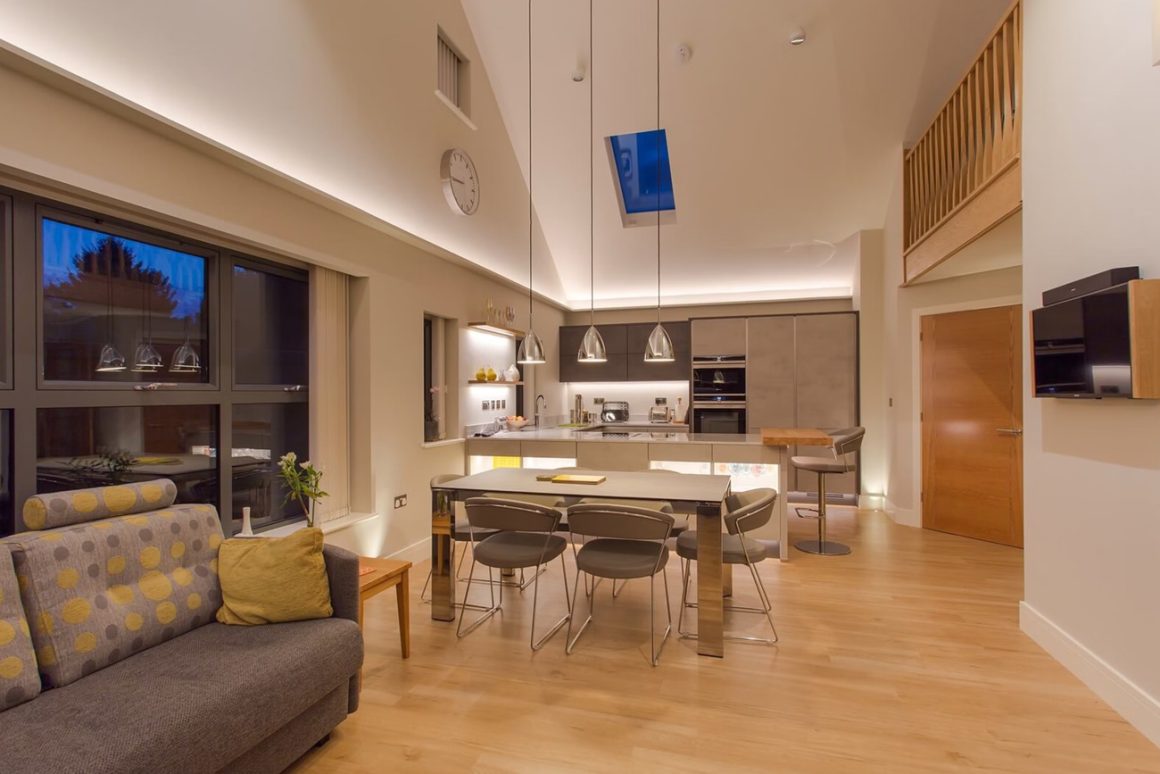 Downlights are also known as recessed lights or pot lights. They are used to install a ceiling or other overhead surface. They are designed in such a way that they have to be recessed or set back into the ceiling, which creates a sleek or streamlined appearance. The primary purpose of downlights is that provides general and task lighting in a space. Downlights are a decent choice for vaulted ceilings cause the vaulted ceiling has a larger surface area where downlight will create a focal point.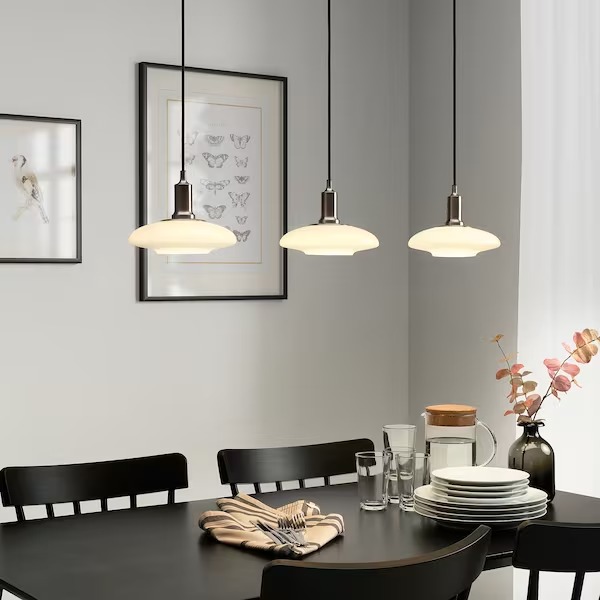 Pendant lights can be a great option for vaulted ceilings as they can enhance the architectural beauty of the space and create a striking visual impact. If you are selecting the pendant lights, make sure that it comes with adjustable cables, rods, or chains that will help you customize the height and position of pendant lights that suit the angle of the vaulted ceiling. Make sure that you consult a professional electrician for any light in your house.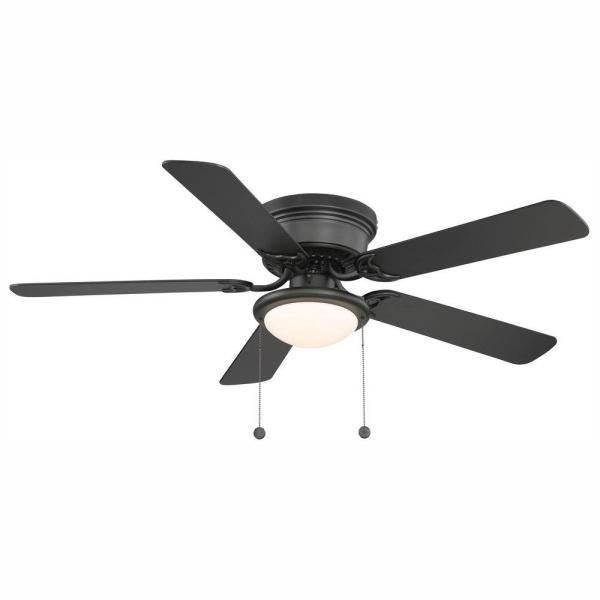 A black fan light can be a stylish and great choice for vaulted. The black span of light is an important factor to consider when you are a black fan light. Always choose the size that suits the room dimensions providing sufficient air circulation. Larger blade spans are more effective for larger rooms, while smaller one suits smaller room. Remember to review product specifications, read customer reviews and consult with experts when you are buying black fan lights.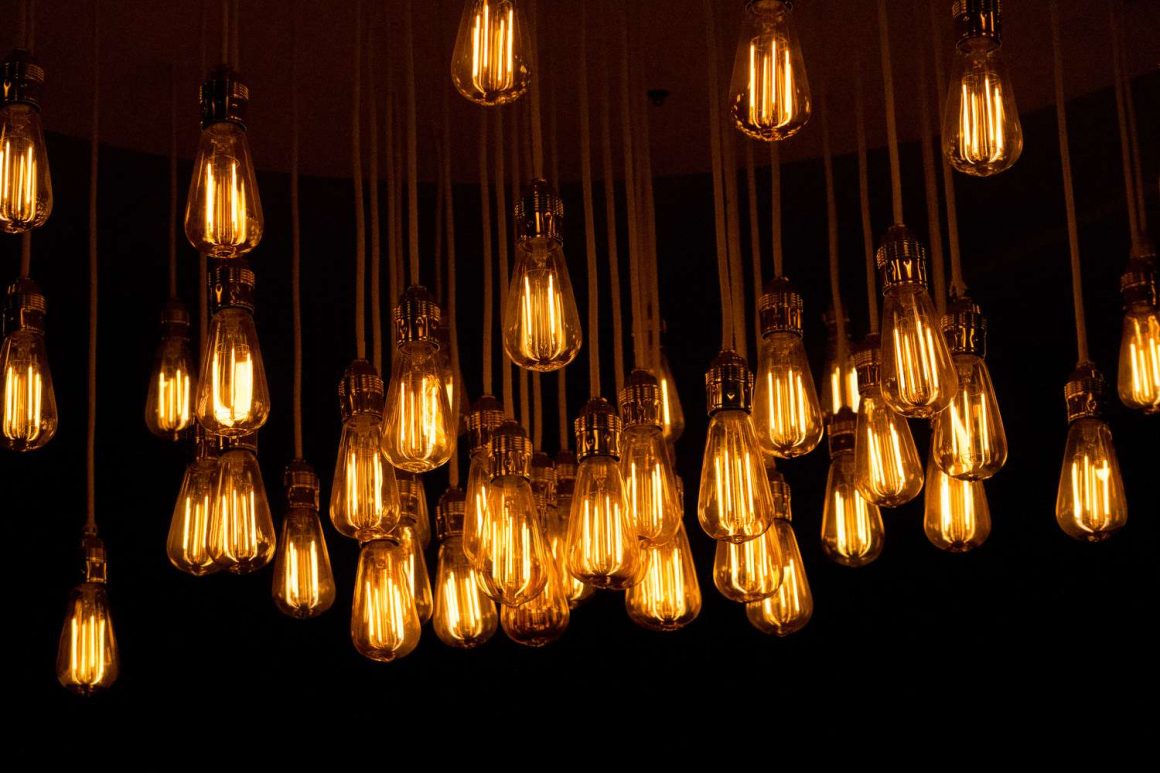 The bulbs can look ordinary but can do extraordinary wonders. While selecting bulbs, you must know about some bulbs that will go well with vaulted ceilings, like LED bulbs, halogen bulbs, incandescent bulbs, and Compact Fluorescent Bulbs. Note that when you are looking for bulbs, you must choose those bulbs that are compatible and safe to use; also, do not forget to check the maximum wattage rating.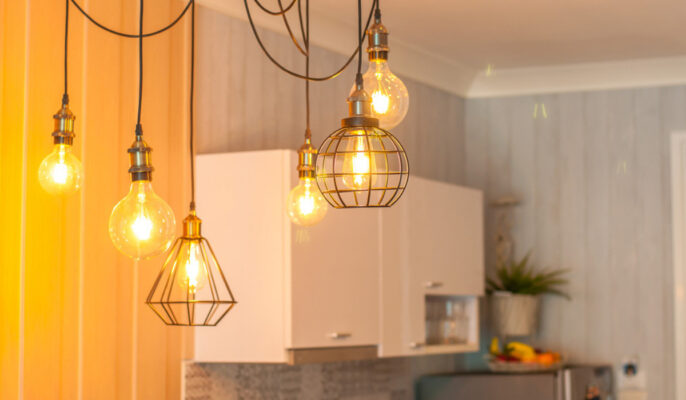 A row of pendants can also be on the list of best lights for vaulted ceilings cause they provide stunning visual effects while providing both functional and decorative lighting. Make sure not to overdo the use of pendants, and remember that the number of pendants in a row depends on the length of the ceiling and aesthetic. You can even experiment with different kinds of configurations and find the one that suits you the most.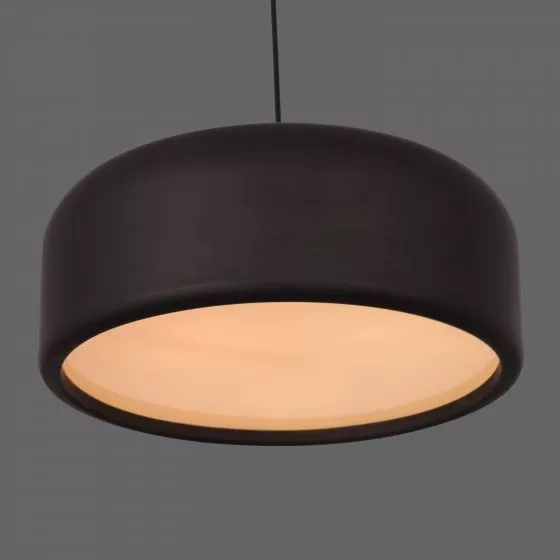 A black pendant can be a striking option for vaulted ceilings, adding a bold and contemporary touch to the space. You can choose these lights for vaulted ceilings only when the place you are installing vaulted ceilings demands that. Make sure that the black pendant lights align with the overall style and decoration of the room. Consider the existing color palette, furniture, and architecture cause black color does not go well with many colors.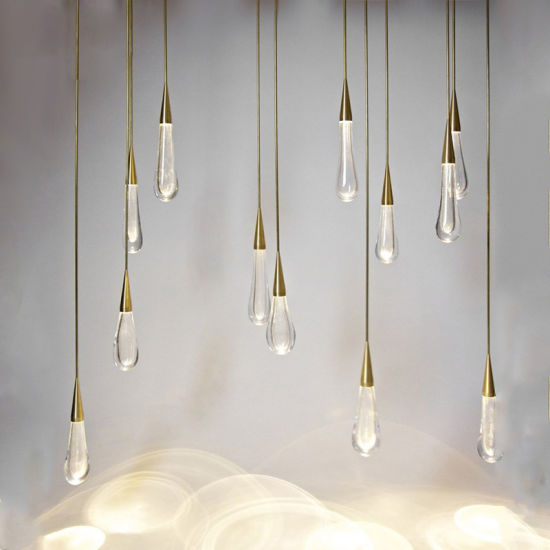 Long drop pendant lights can be an excellent choice for vaulted ceilings cause they can take advantage of the vertical space creating a striking visual compact. Make sure that the pendant lights you are opting for pending lights with an adjustable suspension system. This feature will allow you to vary the length of the drop to accommodate the specific heights and angles of your vaulted ceiling. The adjustable suspension also helps us with the flexibility to change the lighting arrangement when needed.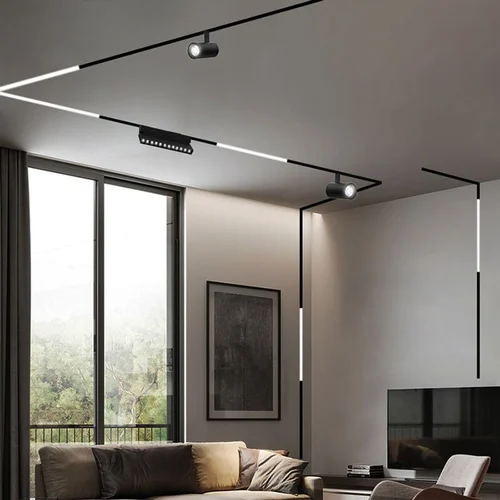 Track lights can also be a decent choice for vaulted ceilings because of their flexibility and adjustability in any environment. Track lighting systems can be mounted along the slope of the ceiling. This design allows for adjustable fixtures to be positioned and directed as needed, accommodating the unique angle and height of the vaulted ceiling. The track can be straight or curved depending on the contours of the ceiling, providing a seamless and customized light for vaulted ceilings.
9. Natural Light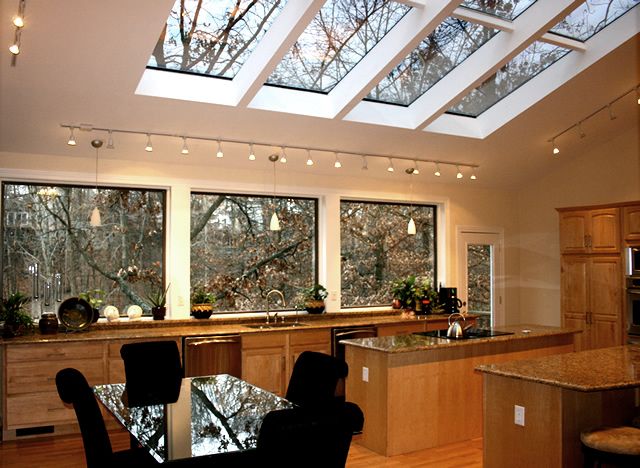 When you are installing a vaulted ceiling, the presence of natural light is a must. To allow natural light in the ceilings you must consider some strategies to allowing natural light skylights, installing large windows, installation of clerestory windows, using light color in walls and ceilings, doing lightweight window treatment, including reflective surfaces strategically within the room and the last one is to pay attention in the landscape design. Continuing these strategies, you can maximize the amount of natural light entering the vaulted ceiling.

Dimmer is an excellent choice to create a positive ambiance in the space. Dimmers are excellent lights for vaulted ceilingsas they can set desired mood and ambiance in the room. Whether you want to create a cozy and intimate setting or a bright and energetic atmosphere, dimmers provide the flexibility to achieve your lighting effect. While installing dimmers for vaulted ceilings, it is essential to work on proper wiring. You can take the help of a professional electrician.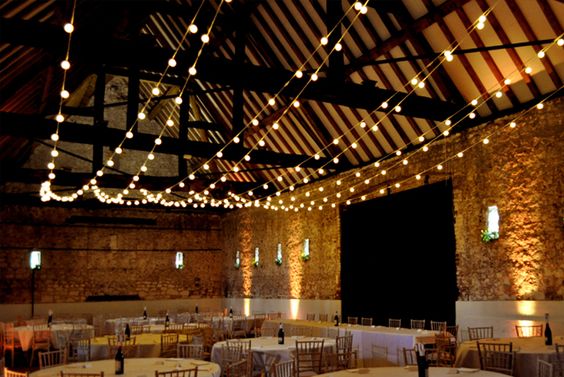 Lanterns can also make your vaulted ceilings look attractive. When you are installing lanterns, make sure that the lanterns are proportionate to the height and size of the room. Since vaulted ceilings have certain angles and slopes. Consider installing lanterns at a height that allows them to be visually appealing and accessible for maintenance and bulb changes. While installing lanterns, make sure to take help from a lightning professional or electrician, as they can provide proper guidance.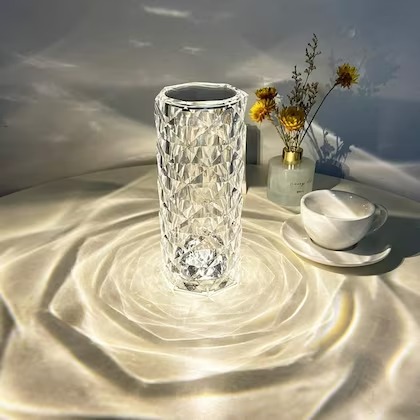 Table lamps may sound very basic, but this simple thing can do wonders. Just keep in mind that the table lamp you are selecting matches the style, color, scale, and vibe of the room where the vaulted ceiling is installed. Experiment with different lampshade materials and colors to achieve the desired lighting effects. If you use energy-efficient LED bulbs for lamps, then they can provide long-lasting and cost-effective illumination.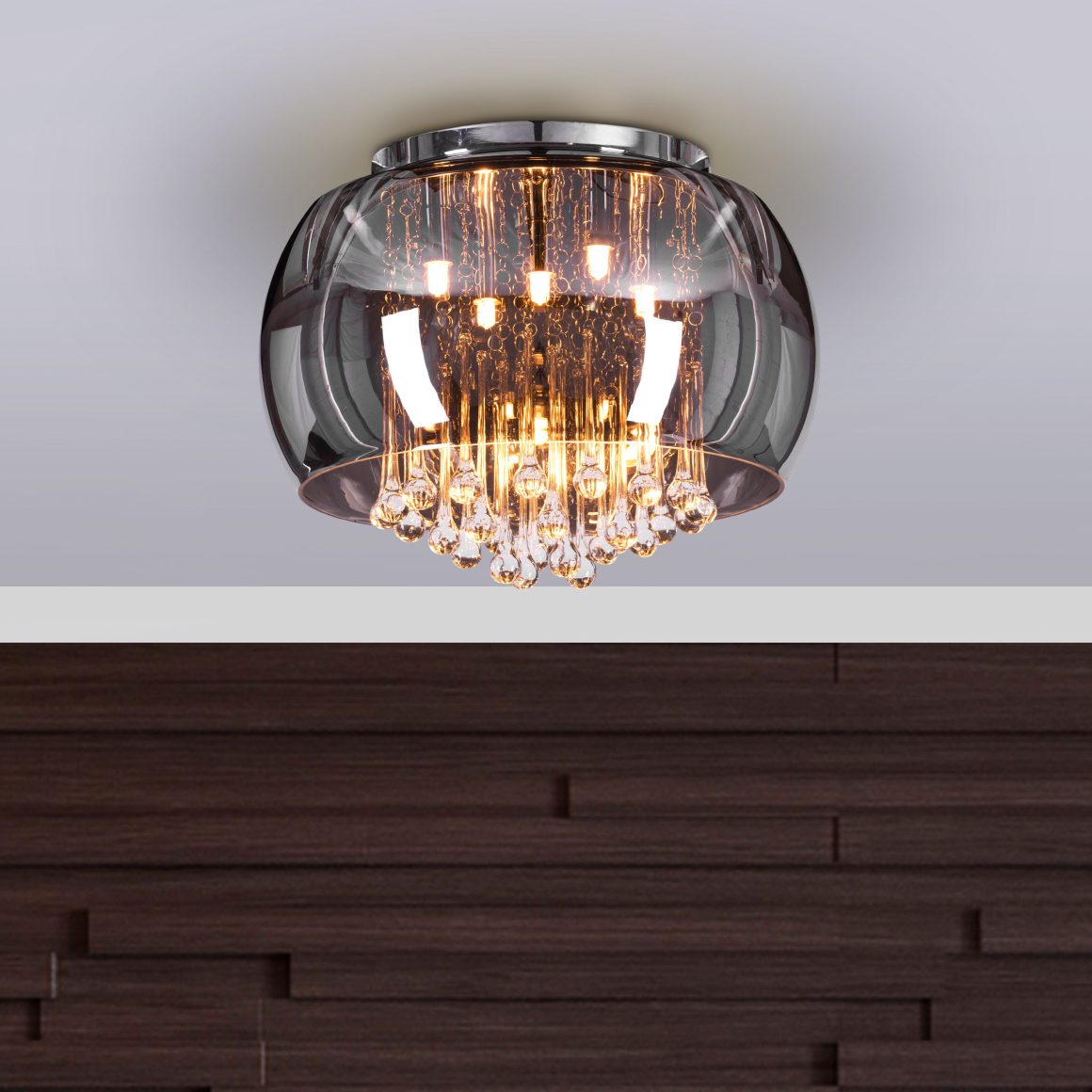 Installing chandeliers will not disappoint you but will make your place visually attractive. Some of the chandeliers provide direct illumination in the downward direction, while some of them have multiple light sources that emit light in different directions. Think about the desired lighting and intensity, distribution, and how it will interact with the architectural features of the vaulted ceiling. Also, keep the height of hanging chandeliers in consideration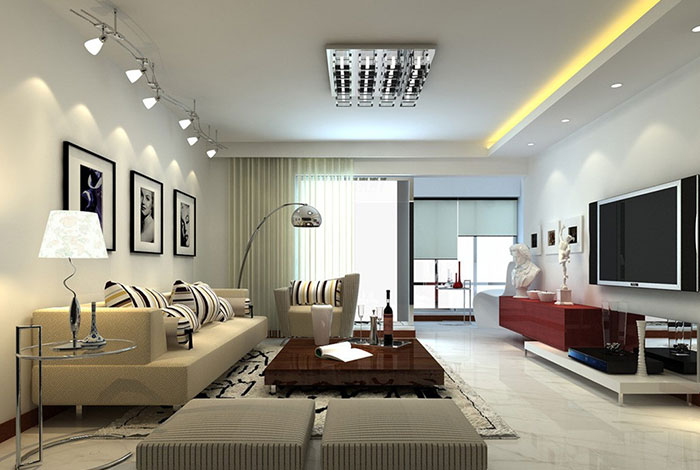 Spotlights are also one of the excellent choices for vaulted ceilings. Remember, when you are using the spotlight for vaulted ceilings, it's important to strike a balance between functionality and aesthetics. By considering the desired lighting effects, accentuating architectural features, and including other lighting elements, you can create a visually appealing and well-illuminated space that showcases the unique beauty of your vaulted ceiling.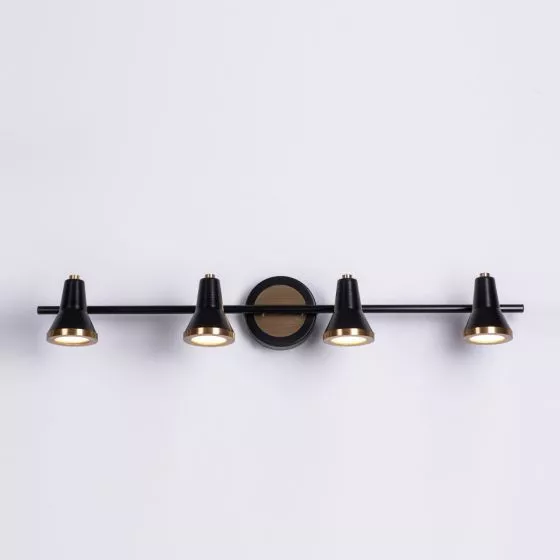 Black lights can create a unique and dramatic effect in the room when it is used for vaulted ceilings. While they may not be the primary source of lighting still, they can add a captivating ambiance and highlight specific features or design elements in the space. Black lights are primarily used for decorative purposes and may not provide sufficient light to the place. For that, you can install other lights for vaulted ceilings, track lighting, or recessed lights, ensuring adequate visibility and functionality in the room.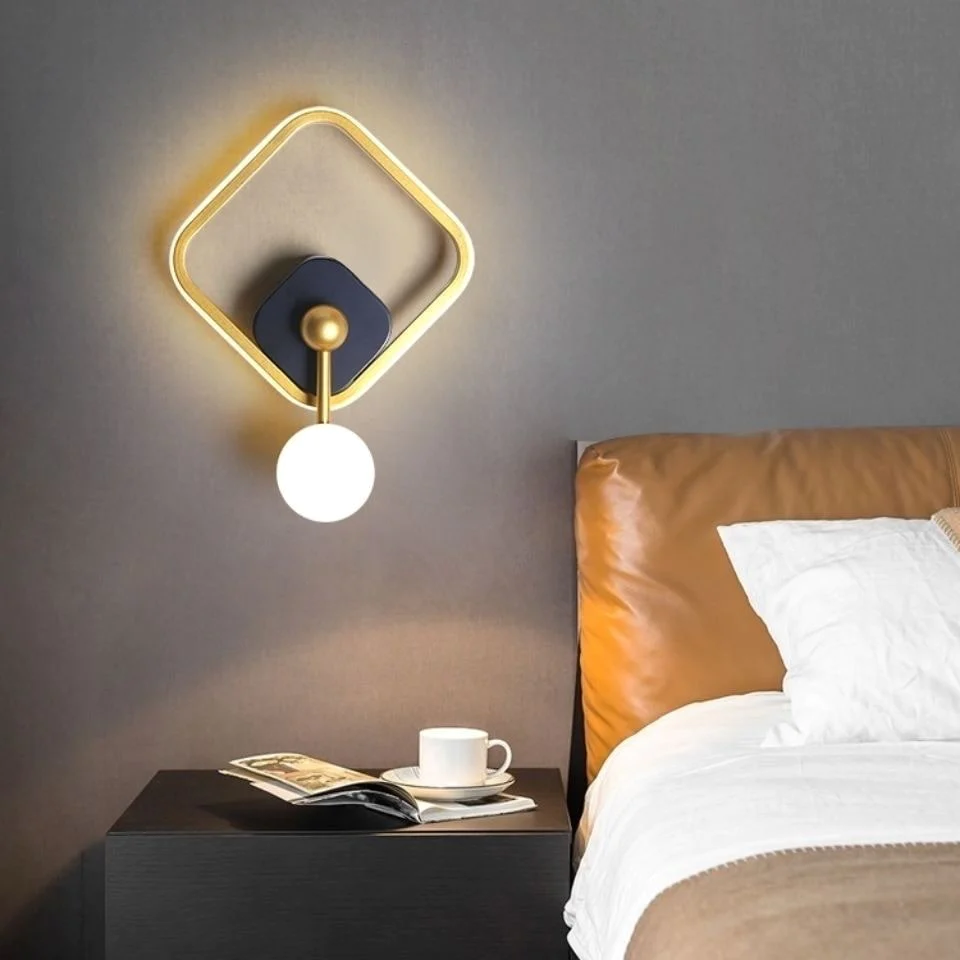 If you are going on with wall lights, several options can enhance the overall lighting design and aesthetic appeal of the space. Consider some things while choosing wall lights, like wall sconces, uplights, picture lights, wall washers, and recessed wall lights. When installing wall light, it is important to consider the overall lighting plan and coordination with other lighting fixtures in the room to achieve a cohesive and balanced design. If you follow these steps, it can make your place eye-catching and visually attractive.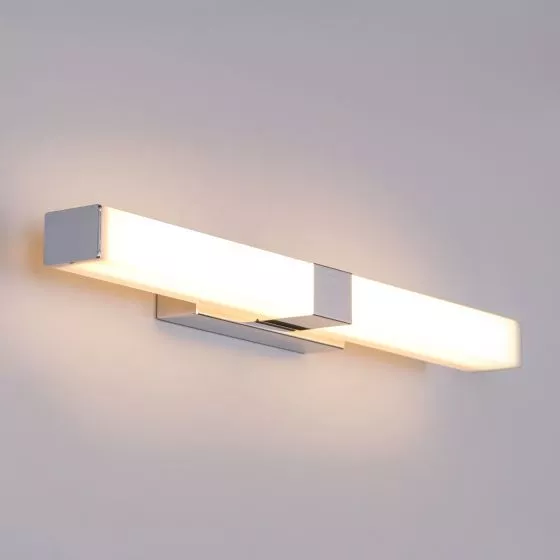 White lights are the popular choice for buyers because they provide bright illumination that complements the architectural features of the space. For white lights, you can use LED lights, recessed LED lights, pendant lights with white shade, track lighting with adjustable white light features, and skylights with natural light. You can even use your creativity here.
Remember, when you are selecting white lights for vaulted ceilings, then consider the color temperature of the light. This is essential to keep a balance between what suits a room's purpose and desired atmosphere. Warmer white tones (2700k-3000k) create a cozy and inviting ambiance, whereas cooler white tones (3500k-4000k) offer a brighter and more energetic feeling.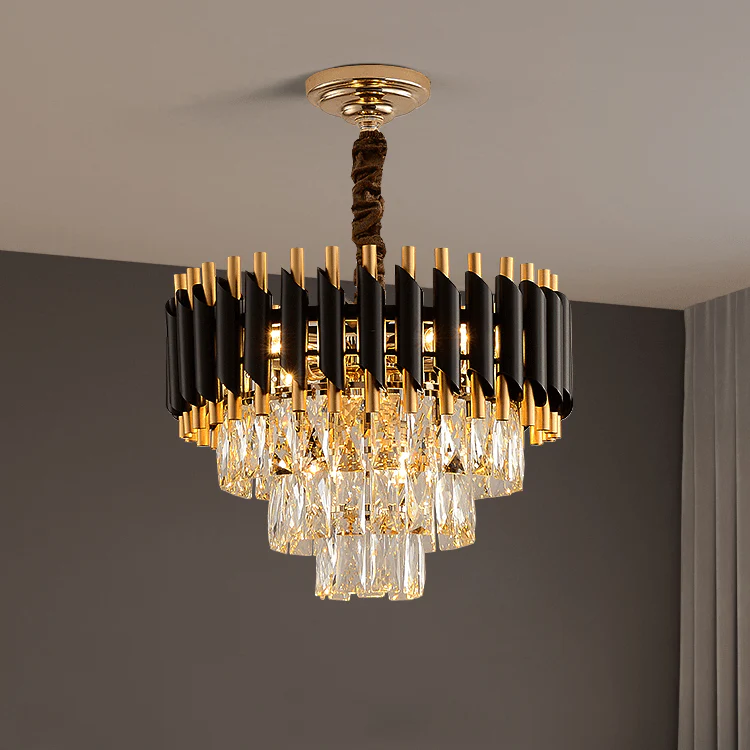 A combination of chandeliers and downlights can create a stunning lighting design for vaulted ceilings. The combination will enhance the overall aesthetic appeal and provide ample illumination throughout the space. By combining chandeliers and downlights, we can get a balanced and visually striking design for a vaulted ceiling. The chandeliers add elegance and charm, while the downlights provide functional illumination throughout the space.
Conclusion
In conclusion, these are some of the lights for vaulted ceilings that will make you beautiful and visually attractive. Remember that choosing the best lights for a vaulted ceiling requires a lot of carefulness and several factors to consider.
However, this is a challenging task because of the unique height and design vaulted ceilings have. Make sure that the light you chose for the vaulted ceiling must go well with the aesthetics and the design cause they are the ones that create a focal point.
Among the above lights for vaulted ceilings, which one will choose to be at your home? Let us know in the comment section.
Frequently Asked Questions
What is the Purpose of Vaulted Ceilings?
The specialty of ceilings is that it makes a normal or small room look bigger. Imagine a big city like New York that has buildings very close to each other at this moment; vaulted ceilings come as a savior and help get natural light. Vaulted ceilings also have one more specialty of creating a breezy coolness in a hot environment.
What is the Height of An Average Vaulted Ceiling?
A vaulted ceiling must have a minimum of 13 feet in height. If you are confused about that what height of the vaulted ceiling you must install at home, then consulting your builder can be a good option. The builder will help you get the perfect match for your house.
Why Do People Love Vaulted Ceilings?
There are many to like vaulted ceilings, like making a room brighter, especially when you have installed windows and skylights. They also provide more wall space for the floor-to-ceiling windows. They also provide sufficient space for the lights for vaulted ceilings.
Why Do Vaulted Ceilings Crack?
There can be many reasons for the crack in vaulted ceilings, but the main two reasons are house settling and fluctuation of temperature or moisture in an attic. Resulting in the contractions or expansions of framing members. As a solution, you can fix this easily by either using new plaster or repainting the ceilings.