Choosing a paint color for your home is a personal task where each brushstroke tells a unique story reflecting your authentic self. With a spectrum of possibilities, the right paint color has the ability to transform your home with the magic that awaits in the vibrant pigments. But, the array of alluring colors available in the markets makes this task extremely tedious.
You would want to tread safely and explore the neutrals first. Although neutrals have reigned for years, white, beige, and even gray are too mainstream. Your space should be an embodiment of you and an extension of your personality, and if you feel these conventional neutrals do not resonate with you and you still prefer playing safe, why don't you skew towards the blue-green shades?
The teaming of the two powerhouse hues – green and blue, results in shades that are in the good books of designers, dominating the charts of top paint colors over the decade. This brings one color to the top of my mind – Sea Salt SW, which nails the trifecta of neutral, safe, and fresh.
Sherwin Williams Sea Salt (SW 6204)
Sea salt SW is a cool, muted greenish-blue that drives a coastal vibe into your home. This shade is soft and mellow, and it is harmonious with other muted and fresh colors. Sherwin Williams Sea Salt paint color is inspired by the pale green sea with the sun shining on it. If you are longing for beach vacations all the time, you can bring one home forever with this gorgeous shade.
It has a strong personality yet acts like a neutral one, and it's easy to see why it is becoming the favorite of pro-designers.
Why Should Sea Salt Sw be Your Go-To Shade?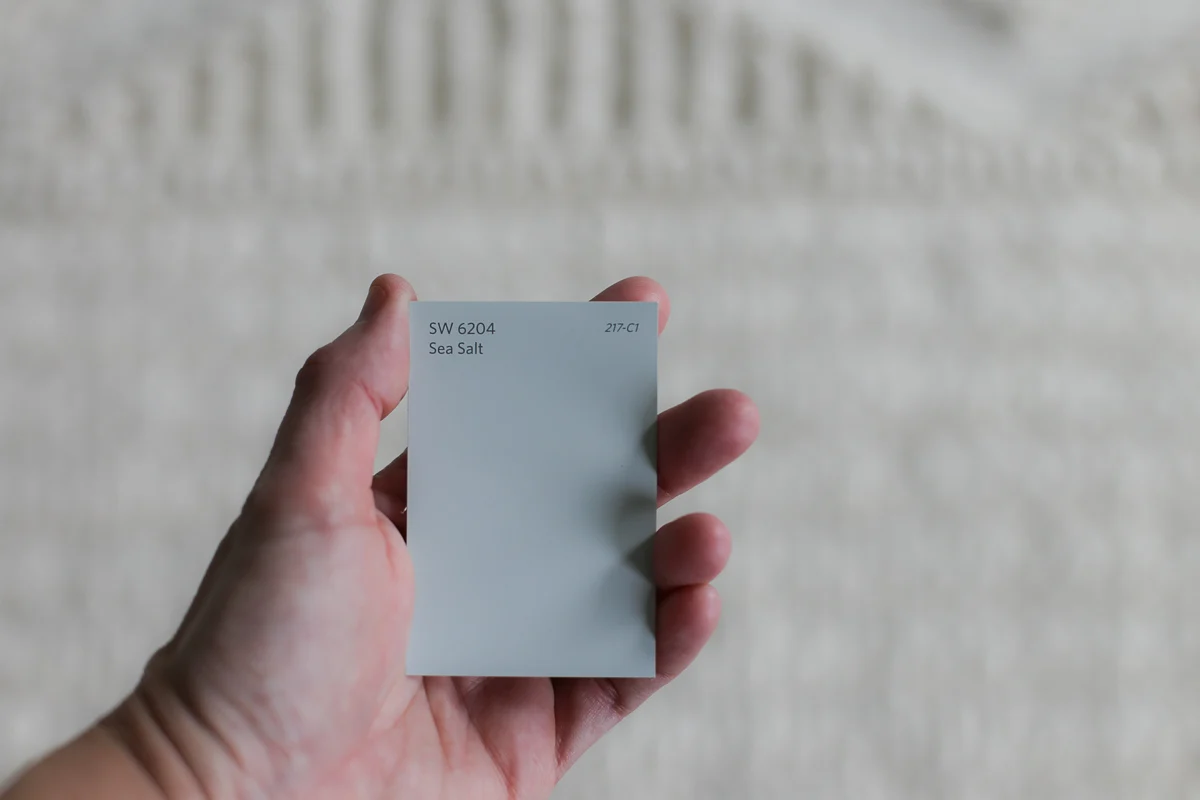 For starters, it brings calmness and tranquility into the shell of a space. The muted tone is soothing, and it sets the vibe in the room that is important for mental well-being.
Sea salt is highly versatile! It is technically not neutral but can blend in well with any room without being overwhelming.
It can complement any furniture and decor, especially earthy style interiors, and complements woodwork, rattan, stonework, etc.
It is flexible to work with lighter and darker shades, and the whole color palette is just so refreshing.
Contrary to the make-believe, it works well in modern and traditional houses and does not limit to beach houses.
Just like the popular neutrals, sea salt SW too, is a classic. So you do not have to worry about the ever-changing trends. It is unlikely to go outdated any time soon.
What Undertones Does Sea Salt SW Exhibit?
Undertones are the colors hidden beneath the dominant color in any shade. The subtle presence of an undertone can greatly influence a shade, and remember; the undertones are strictly reliant on what goes around them – the lighting, space, and decor.
Sea Salt SW shows blue undertones with a hint of gray as well. These undertones sometimes complicate and sometimes simplify the color. The gray color subdues the vibrancy of the green and blue, making it look aqua-green.
How Does Sea Salt SW Appear in Different Lighting?
If you are wondering if Sea Salt SW is a warm or a cool color, you need to know that it is technically a cool color that appears warm sometimes. Lighting plays with the undertones making a color dynamic with different exposure. So, assess the lighting in your room with regards to sunlight exposure or the lack of it, throughout the day and test the samplesyourself. Don't let the swatches deceive you.
Warm light from the south and the west will make Sherwin Williams Sea Salt paint color appear mostly green all day long. The cool, blue-tinted northern light will bring out the blue undertones and make it appear more neutral.
In east-facing rooms, the light is warmer in the morning and cooler in the evening, transforming the paint from green to blue-green over the day.
What Is the LRV of Sherwin Williams Sea Salt Paint Color?
LRV, or light reflectance value, is a measurement used by designers. However, understanding LRV will help you figure out the depth of color and how dark or light it is. The scale is graded between 0 and 100, with 0 being the darkest (absolute black) and 100 being the lightest (absolute white).
The LRV of sea salt is 63, smacking it near the middle of the scale and leaning more towards the lighter end, making it a bright and airy shade. However, it is neither light enough to save a dark room nor to be washed out in increased exposure making it easy to work with.
Best Coordinating Colors for Sea Salt SW
It is hugely popular owing to its versatility, so rather than asking what would be the best colors, it is easier to count what doesn't go well with it. Choosing a cohesive color palette is important, and therefore, it is wise to pair sea salt with neutrals to avoid overstimulation of colors and to achieve a balance like,
SW pure white
SW agreeable gray
SW Spare white
SW alabaster
These colors are great for ceilings and trims, especially pure white and extra white, which would make sea salt a hero by making it protrude.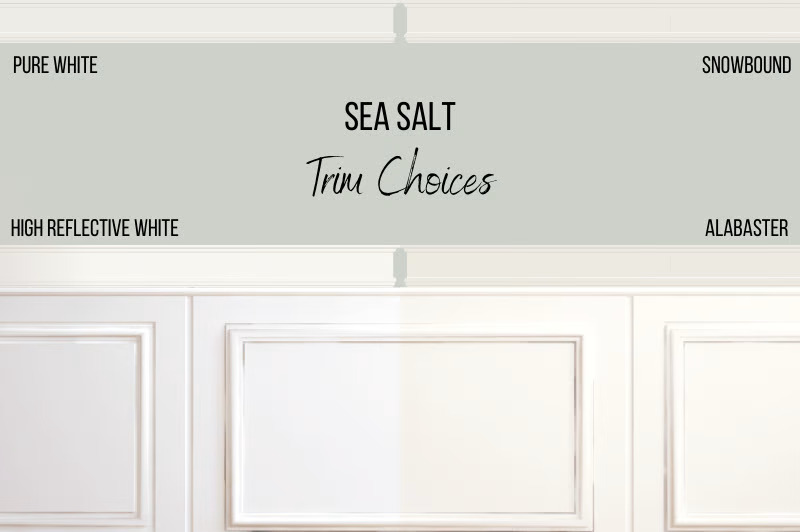 You can amalgamate colors of the same palette to create a monochrome look. Try the following colors with Sea Salt SW,
Or, you can opt for a contrasting color palette with,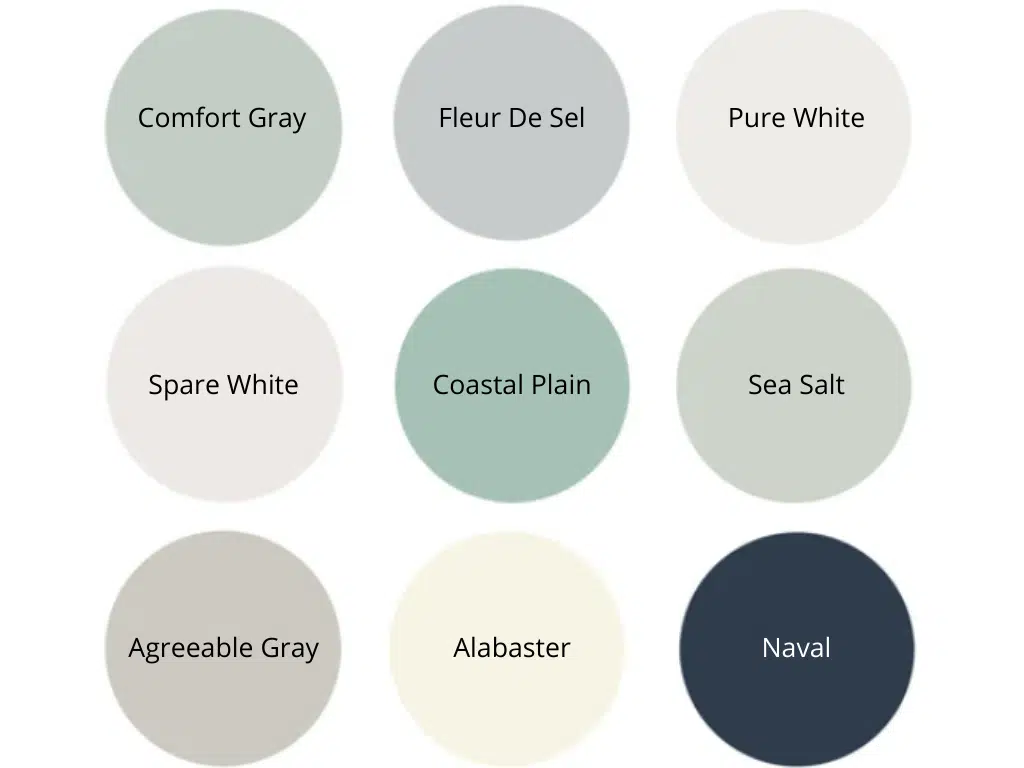 If you are looking for a deeper color that pops and creates a stark contrast with Sea Salt SW, the following colors work like magic,
Sea Salt SW vs. Similar Colors
With the enormous shades of blue-green available, many colors closely resemble Sherwin Williams Sea Salt paint color which makes the paint selection process more complex. Let us compare the doppelgangers of the color of discussion to conclude.
1. Sea Salt Vs. Rainwashed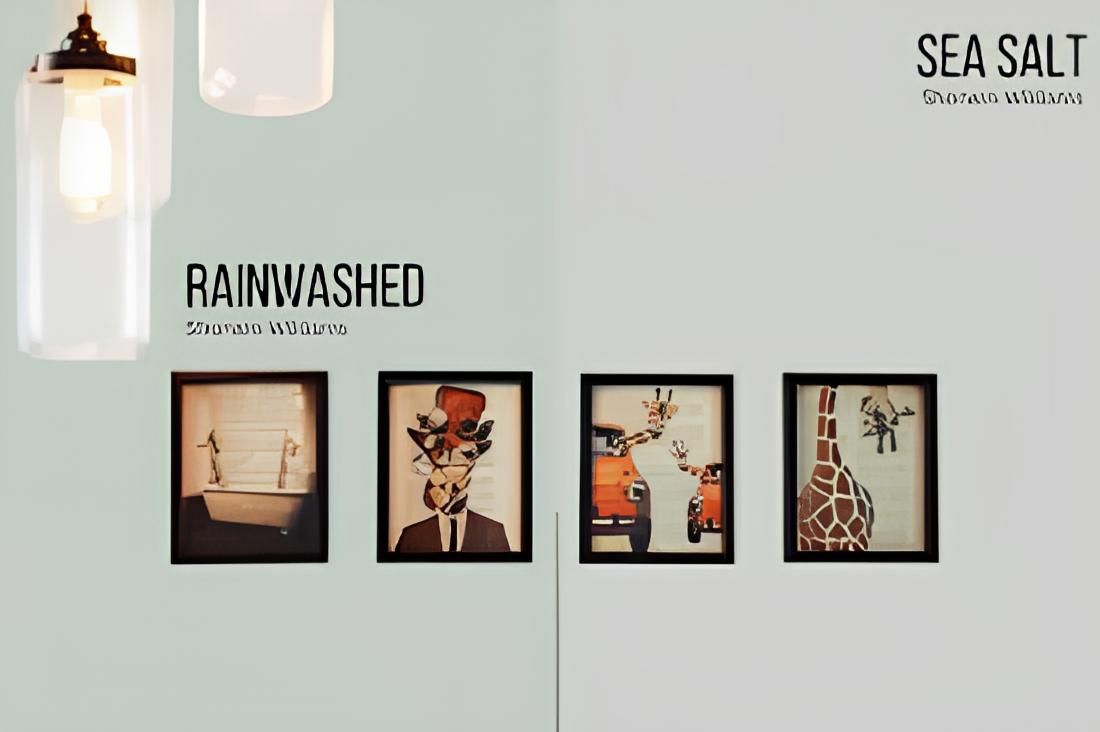 Rainwashed has an LRV of 59, making it a tad darker than sea salt. It is also a cool blue-green. But, the lack of gray undertones makes it a bit more vibrant.
2. Sea Salt Vs. Pearl Gray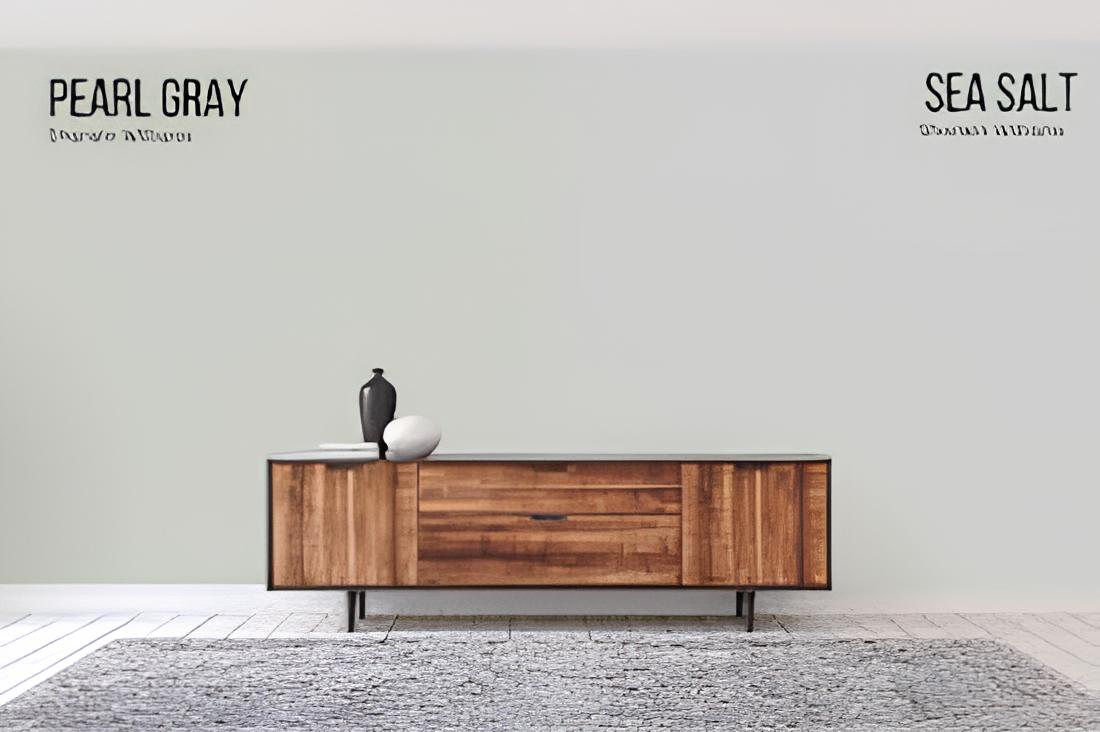 Though it has gray in the name, pearl gray leans more towards green than gray. It is a slightly deepened version of sea salt with an LRV of 61. Both these colors are pretty much similar in all aspects.
3. Sea Salt Vs. Comfort Gray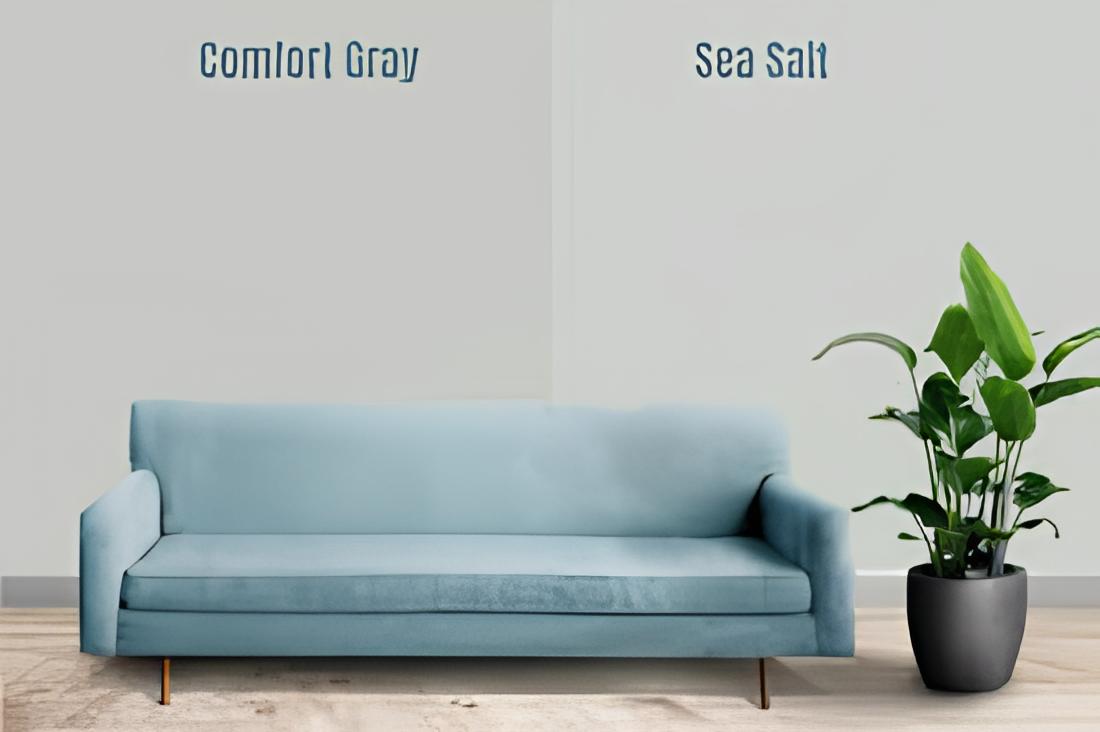 With an LRV of 52, comfort gray will read much darker than sea salt. In fact, comfort gray is truly a gray, but the green undertones, park it next to sea salt. It is more saturated and has a little more drama but leans towards grays. If you want lighter and airy, sea salt would be a better bet. If you want a little more depth, you could consider comfort gray too.
Not satisfied and need some more similar colors to consider? Check out the Filmy Green, Salt Glaze, and Healing Aloe. Take my word; the more and more colors you look at, the more confused you are going to get. Do yourselves a favor and sample a few shortlisted ones, and trust your instincts.
Reviewing Sea Salt SW in Real Spaces with Images
Sea salt opens up small spaces exceptionally well with its vibrancy and neutrality. Designers swear this color to transform a space from dismal to airy, and reviews from their clients second that.
If you are considering using sea salt SW in a space, don't overthink it. Grab a sample and try it, and if you love it, just go for it. Don't let any influencer confuse you with the infamous trends.
Check out how Sea salt looks in real spaces in different rooms and with different lighting.
1. Sea salt SW kitchens
What better way to highlight a paint color in the kitchen than to use it on the cabinets?
Look how boldly sea salt is appreciated in this voluminous kitchen. It has been paired with the promising contrast – white, and it proves its compatibility with woodwork also.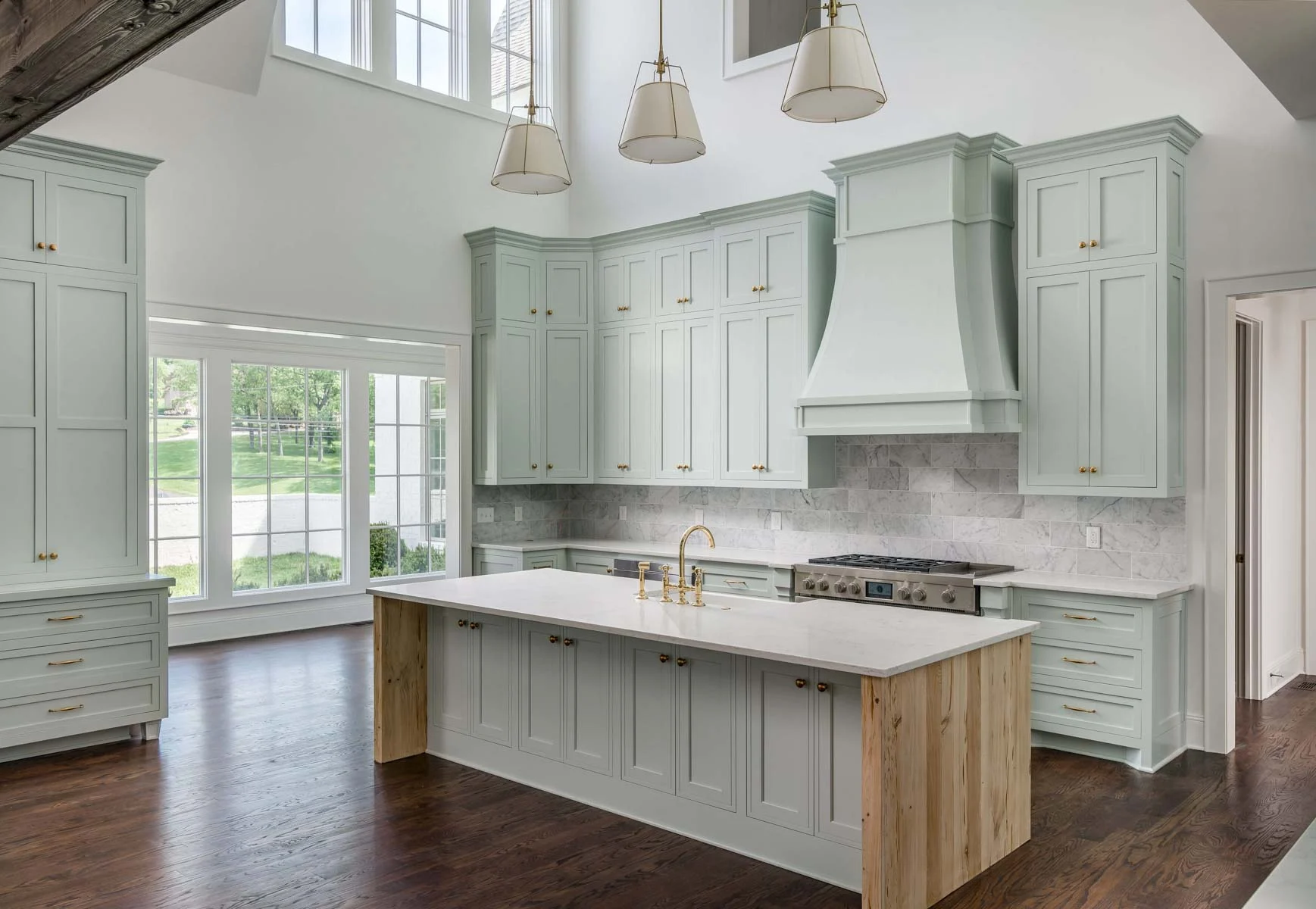 The vice versa combination is used here, where white cabinets are matched with Sea Salt painted walls, and a similar wooden finish is seen. Doesn't the color work like a charm either way?
2. Sea Salt SW Bedrooms
Look at how the bright sunlight spills through the bedroom, bringing out the blue undertones of Sherwin Williams Sea Salt paint color. The monochromatic curtain and the bright fabrics on the bed make the room airy and help in projecting the best version of sea salt paint color.
The minimal natural light and more shadows favor the green roots more. But, if you observe the wall on the window's side, winks of gray undertones shine more. The sea salt dances to the tune of the light, becoming a chameleon.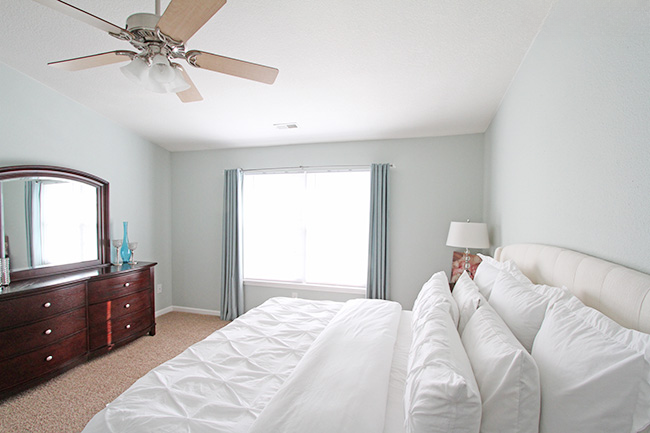 When they say sea salt is the color of a coastal vibe, they mean it. Look at how the natural light washes the color to look more sea blue. And, with the perfect interiors to suit the scheme, the whole room reverbs to coastal vibes.
3. Sea Salt SW Living Area
Speaking of painting a living room, sea salt might not be the top paint color that comes to your mind. However, see for yourself how every living room depicted here shows a completely different side of sea salt and raises its spot permanently as your top consideration.
The gorgeous muted green is not overshadowed by its undertones in this living area under artificial light.
However, it is true for the blue-green family in this beach house. All the colors perfectly complement the Sherwin Williams Sea Salt paint color and inspire more people to adopt this style. This room is absolute perfection in terms of color and design choice.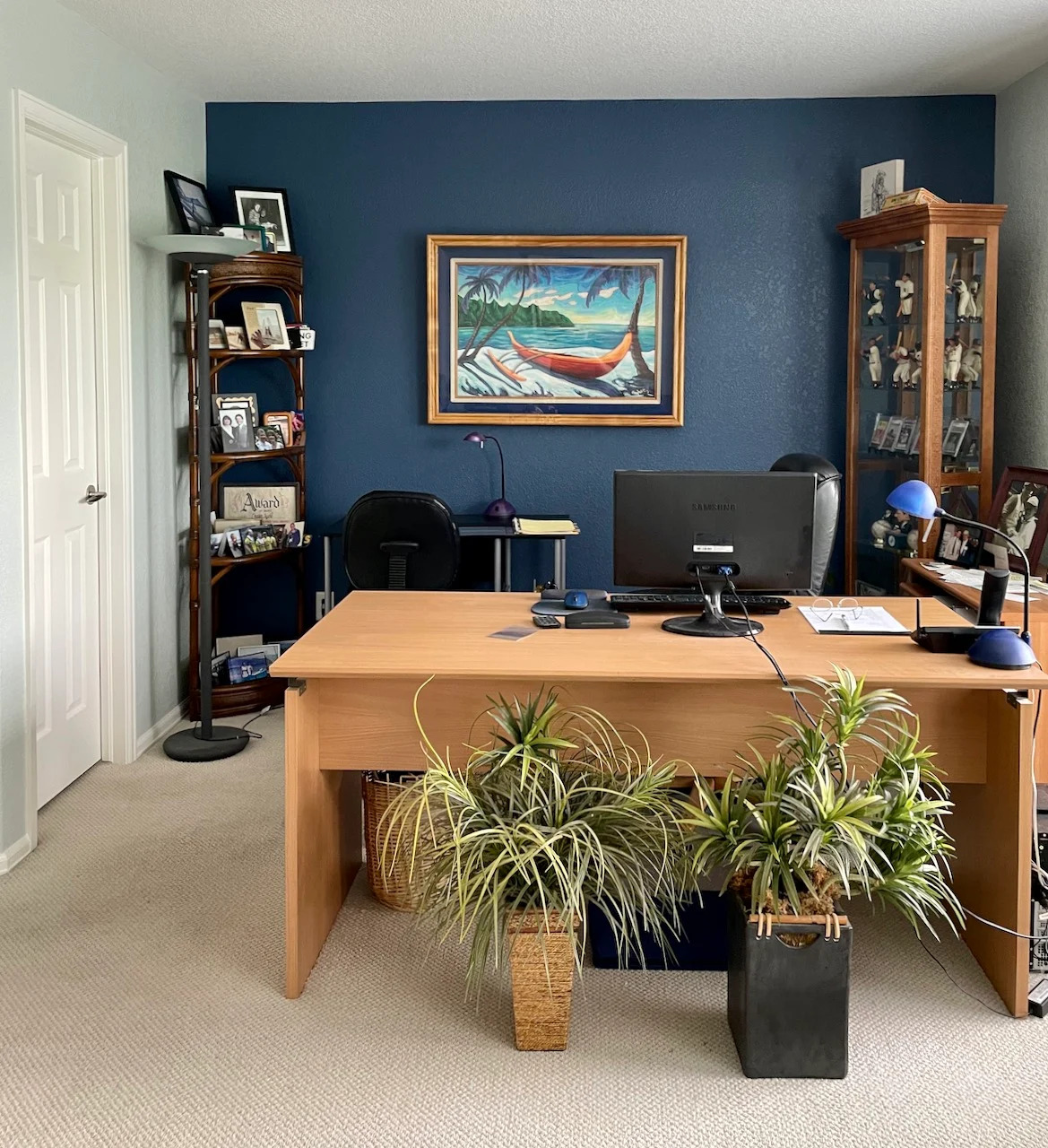 The next one is a bold and unique living room where sea salt is used for the ceiling. It adds a lot of depth to the room, and the edgy décor does the rest of the work in making this room stand out. The pops of color are sure to change your perspective on color combinations.
While discussing the coordinating colors, we established the navy to be stunning. Take a look at the proof here with a dark blue accent wall in a sea salt room.
4. Sea Salt SW Bathrooms
Blue-green in the bathroom will definitely transform it into a spa-like or resort-like area. So who wouldn't want to feel like going to a retreat while having a bath?
Clearly, it could have been white or beige, but the sea salt here adds visual depth, making it a better choice. Sea Salt SWreaches its stride when paired with black, white, and brown – It is classic!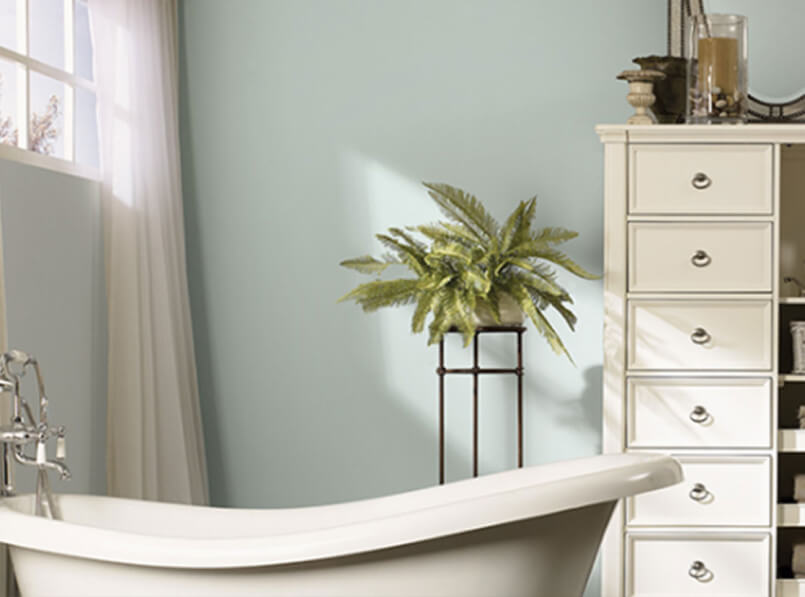 It is the color of modern interiors too. Sea salt does shine, even in the absence of natural lighting. Don't believe it? Check for yourself.
You can just plop yourself inside this tub in a sea salt-painted bathroom and forget that you are even at home. It is easy to perceive yourself to be in a star hotel with such an atmosphere created by Sherwin Williams Sea Salt paint and décor. Fixes the mood in a jiff!
5. Sea Salt SW Exteriors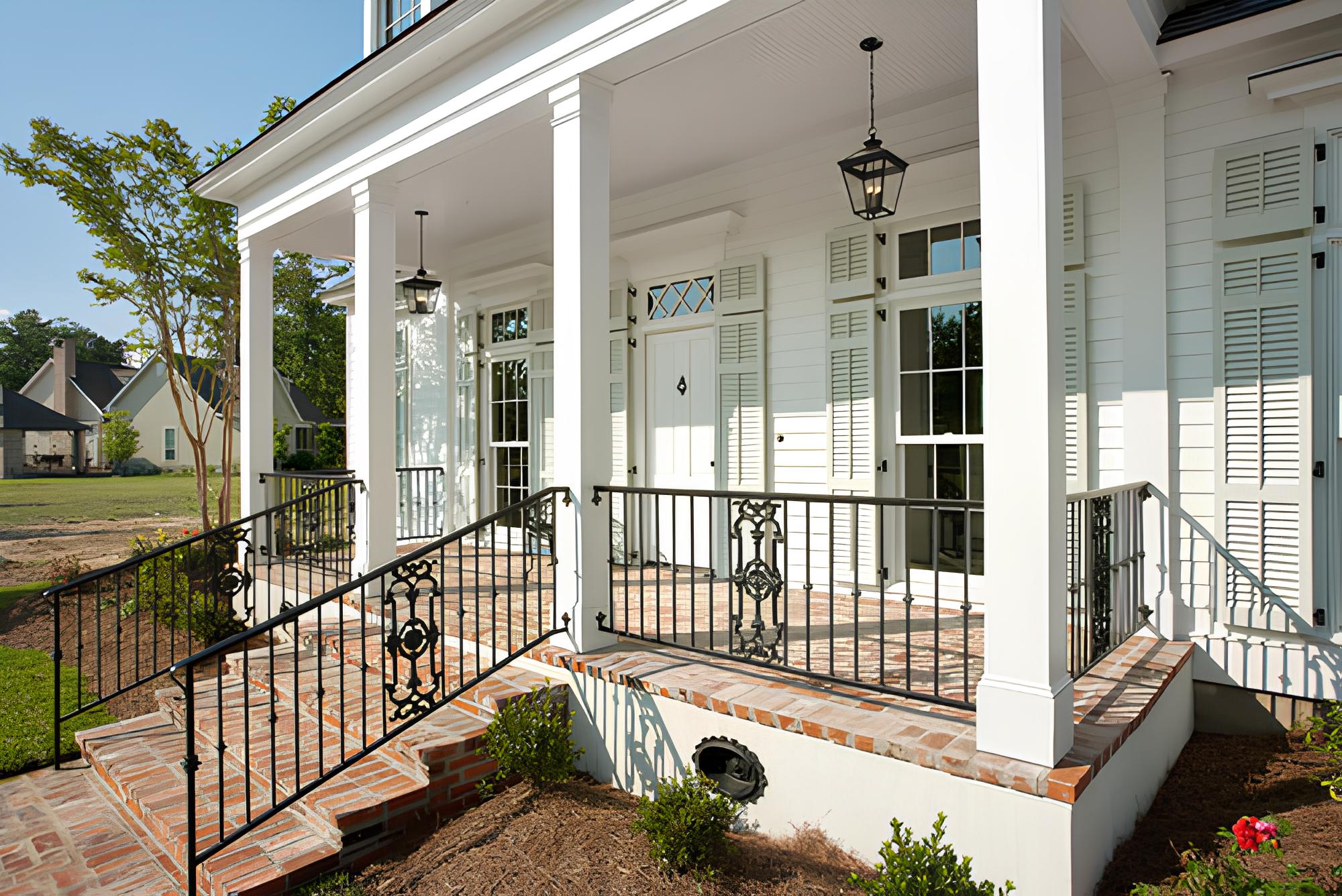 Do not underestimate sea salt and restrict it to beach houses or interiors. It has been spotted in many home exteriors, doors, and shutters. The sea salt paint on the patterned wall makes it interesting. It will go well with stone walls as well, adding more meaning to them.
See how fresh the paint color is on the front door and shutters! The white pushes the sea salt color to the forefront, and it makes quite a statement for a color that is mellow.
Wrapping-up
We hope the review helped you understand why people are raving about this coastal green. By now, you should be enlightened about the ins and outs of Sea Salt SW, the light play on its undertones, and its stature in the color palette, along with its relationship with the other colors.
If the subtle differences throw you off by diverting attention, the comparison of sea salt with closely similar colors should have helped you resolve your doubts. Sea salt SW represented in various real spaces should have shown you a picture of its visual appeal.
So, Sherwin Williams Sea Salt paint color will surely turn your home into a relaxing oasis, and it never disappoints. It is truly the color of coastal charm. If you are tempted by it already, why don't you indulge in sampling it?