Have a house full of Lego mini-figures, masterpieces, or big builds? Are you tired of finding ways to store the small and the big builds? Want to declutter? Try displaying your Lego creations, as these will help amp up the look and feel of your home.
Building Lego sets is great fun for parents and kids. Displaying these built-up sets is equally fun. That is why we are sharing 20 amazing Lego display ideas to show off your creations. These display methods are practical, with your kids feeling inspired and proud of their work.
Before we get started with these easy Lego display ideas, it is pertinent to mention that Lego pieces attract a lot of dust and debris, especially when kept outside. You will need to take special care to dust them off using an air duster for effective cleaning.
Let's get started with the Lego display ideas.
1 A Minifigure Display Case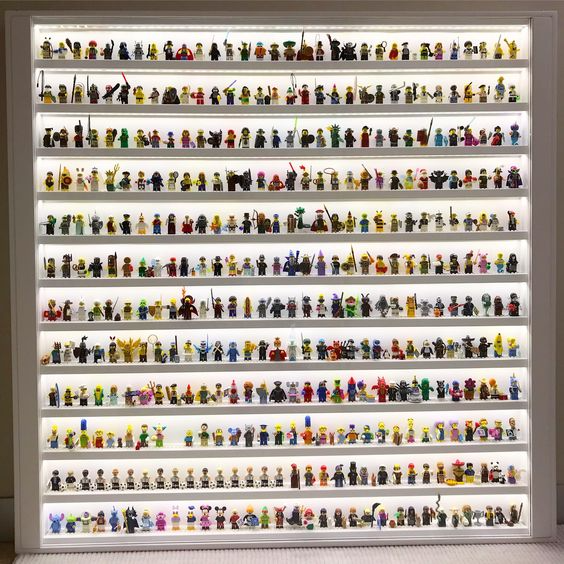 These cases or frames are easily available online. Just make sure that the frame is not too deep or shallow. Since the frames are pretty affordable, this Lego display idea does not take much in terms of effort or money.
There are multiple choices of frames, especially the size. These are good for displaying Lego minifigures. Larger frames can accommodate more figures. Measure out the frame vis-a-vis the number of minifigures you have. You will then need to glue the board to fix the figures. Keep the glass open to make interchanging figures easy.
There are a few cases where there are readymade shelves, cut-to-size and made from foam.
2. Floating Shelves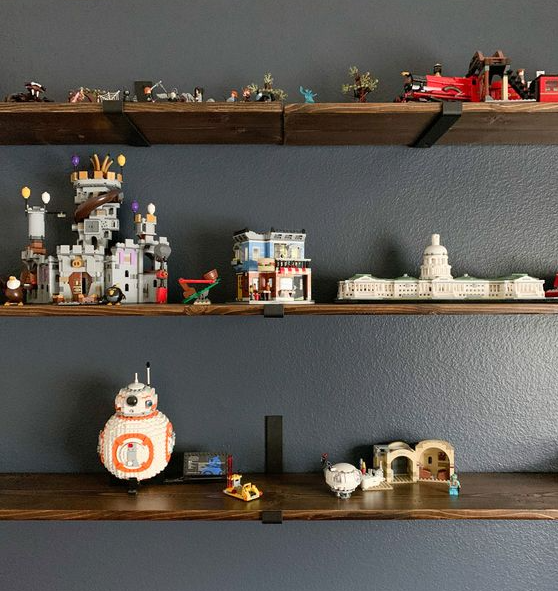 It is easy to get floating shelves of all sizes and shapes. Floating shelves have hinges and wall fixings hidden, giving them a clean and clutter-free look. Therefore, these shelves are best suited for displaying beautiful and ingenious Lego creations.
Once you have a few, you can mount these to the wall all by yourself. In this Lego display idea, you can use Lego lighting kits to make the arrangement look even better. Doing this place up and setting it in your kid's room or the drawing room can fill the place with so much joy and fun.
3. A Vintage Display Shelf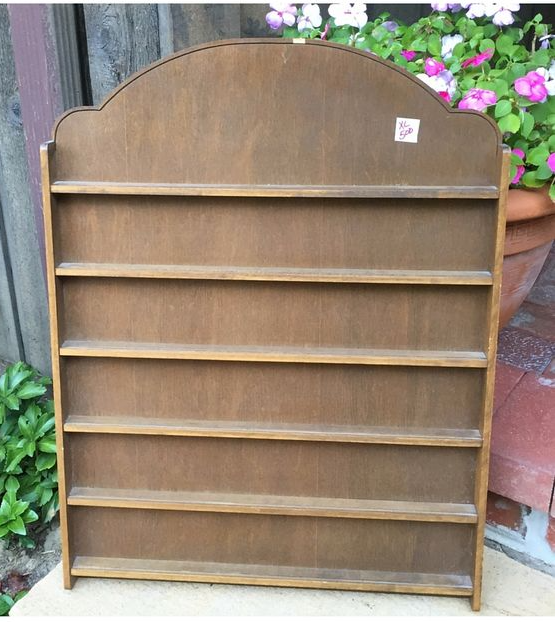 A rack from the past, an heirloom treasure, or a pick from the local garage sale, a vintage piece is an extremely impressive Lego display idea. The online medium has a fair share of vintage pieces too. Otherwise, you can always check with your grandmoms and grandads to find out if they have something precious for memorabilia.
You may have to put a coat of paint and do a bit of revamping to give it a glamorous touch-up. Once done, use glue to stick the mini Lego figures or even exhibit a creation from your child's kitty on the rack.
4. Multi-Level Lego Minifigure Display Shelf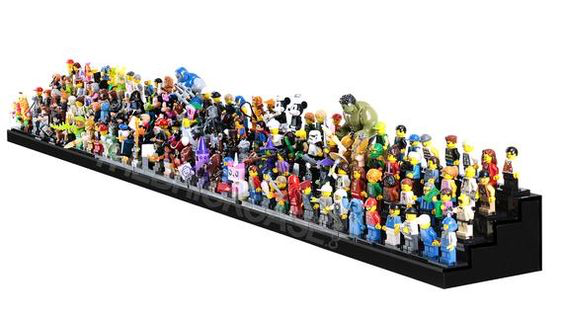 One of the best ways to showcase your Lego creations and collections is to go in with the multi-level display shelf. The minifigures can occupy the lower shelves, while the bigger Lego structures, created by you or your kids, can occupy the higher shelves.
The shelf makes for an interesting Lego display idea, and the picture above says it all.
5. Shadowbox Frame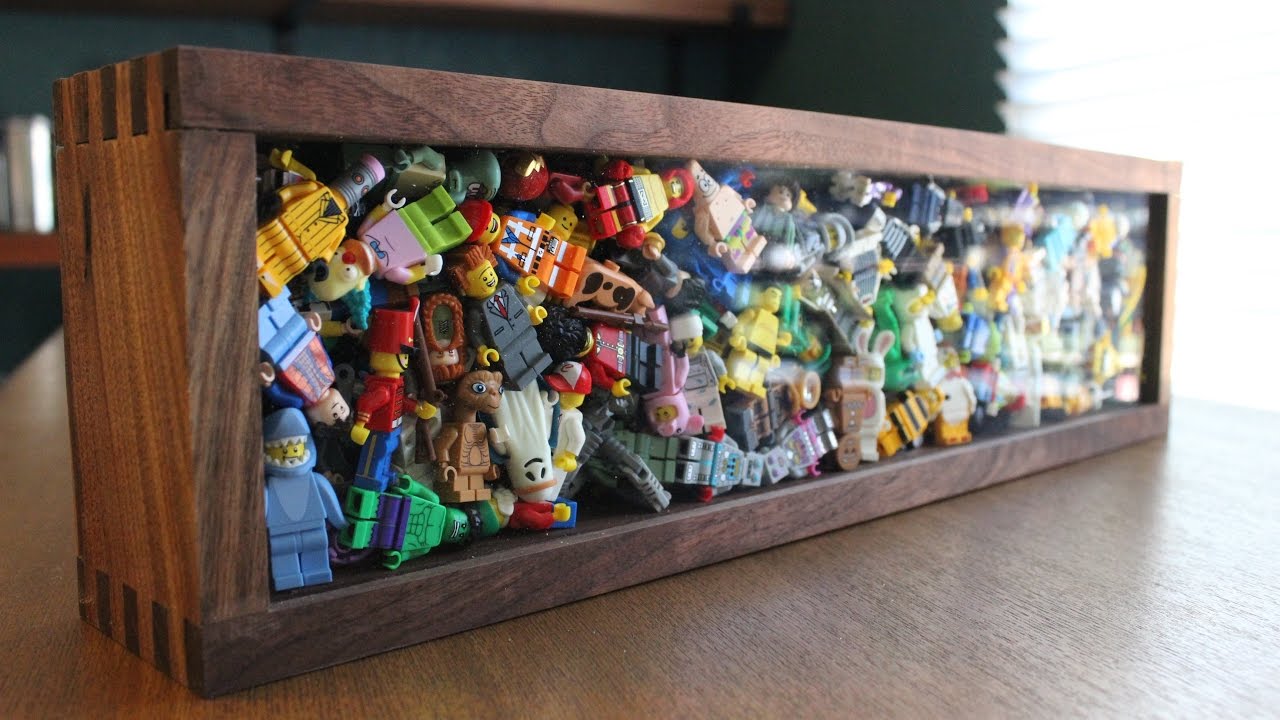 Conventionally, a shadowbox means a glass-enclosed display case. A shadowbox frame is different from a typical display frame because it is deeper and has more dimension. The increased depth gives a 3D vibe to the displayed objects.
This is an innovative Lego display idea to lay out Lego structures of all shapes and sizes. In fact, it becomes a good storage place for incomplete Lego projects too. You can also keep spare pieces showcased as prized possessions.
6. The Besta System from Ikea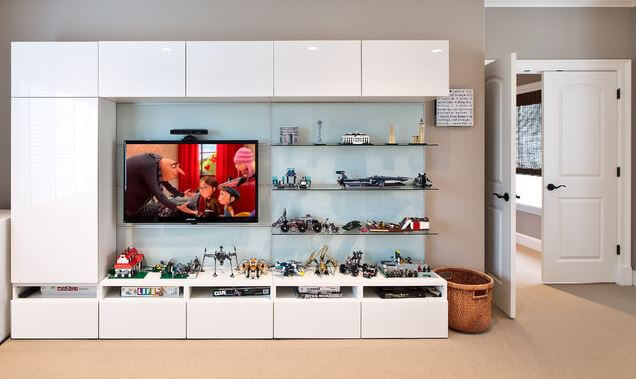 The Besta System from Ikea is a great accessory for displaying your Lego creations. The best part is that you can pair the Besta system with the TV, home theater, or any other decor aspect of your home.
The Besta comes with multiple cabinets and drawers that can be used for storing and displaying more Lego structures. The system is completely customizable as per the space available.
7. A Complete Wall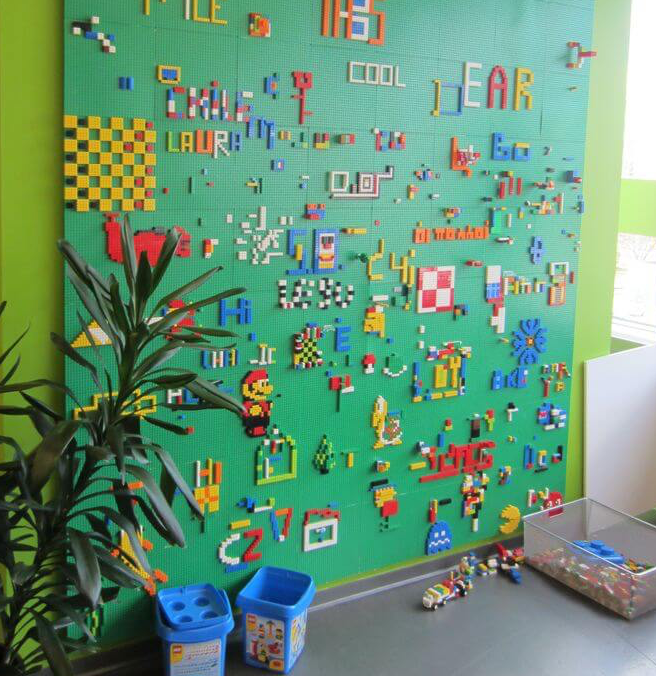 You may have come across this Lego display idea at preschools or primary schools. You can convert an entire wall into a Lego display stand. The good part is that you can showcase all types of Lego figures, structures, shapes, forms, etc.
As seen in the picture here, the Lego wall proudly flaunts the creativity of the minds of all family members in the home. Remember, the Lego pieces need to be glued strongly to the wall for them to stay put.
8. Under Bed Lego Display Board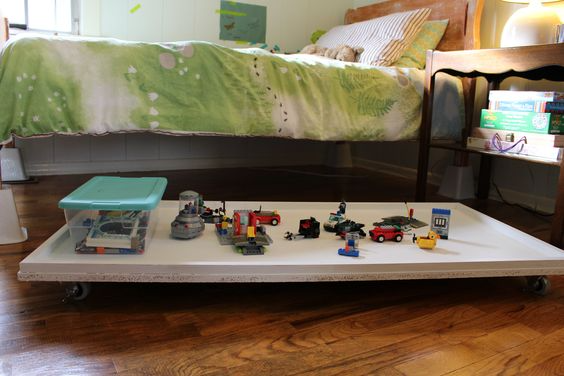 This is a unique Lego display idea; it is way too simple, costs almost nothing, and is an amazing way not just to exhibit the Lego pieces and creations but also make for intelligent storage solutions. Think of the times when your kids could not complete a Lego project and needed to complete it the next day.
What do you need for this idea? A piece of plywood is a large space for the kids to enjoy their Lego activity and, when completed, showcase their work on the floor. At night you can place the plywood under the bed without any worries of the kids overstepping on these or tripping.
9. Magnetic Steel Pegboards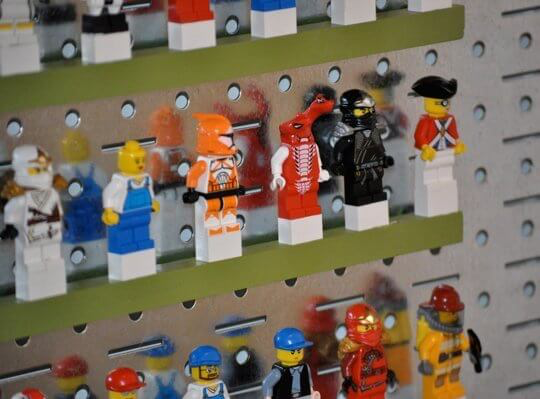 Typically pegboards have small holes, and this Lego display idea involves using steel magnetic shelves. The advantage of using a pegboard is that you can add and remove the shelves as per your wish and the Lego arrangements that need to be displayed.
The good part is that the magnetic shelves help you arrange the Lego minifigures in a clutter-free manner.
10. As A Stand-Alone Piece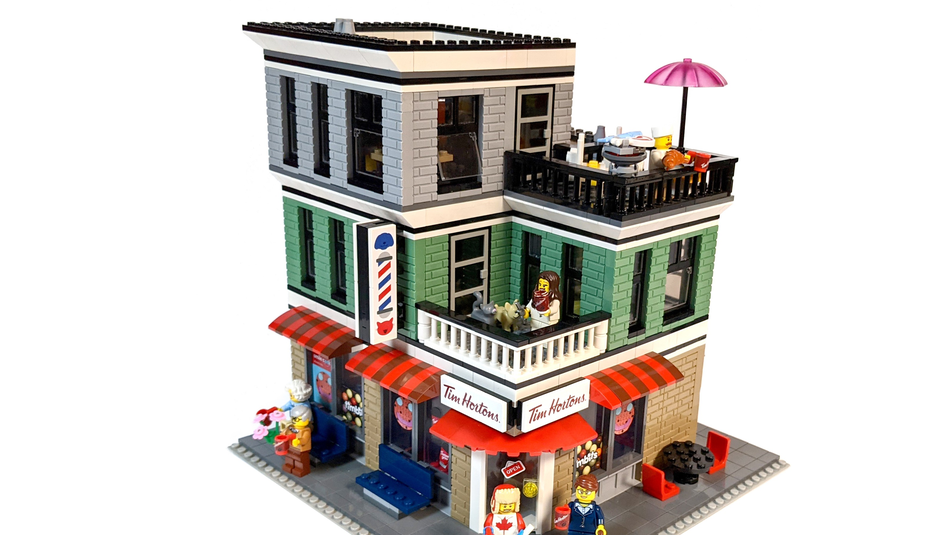 The Eiffel Tower is an extraordinary piece of work by Lego. It is not just a replica of the original structure; it can also be made to ascend a decent height. This wow-inspiring structure, when completed, should occupy a significant corner of your home. That is why our next Lego display idea is about making the Lego creation a statement piece in your room.
Lego has many iconic structures in its product lineup. The Lego Titanic, for example, is another brilliant addition to the decor. For this large ship, a traditional space is more suitable for displaying its grandeur.
11. A Glassdoor Bookcase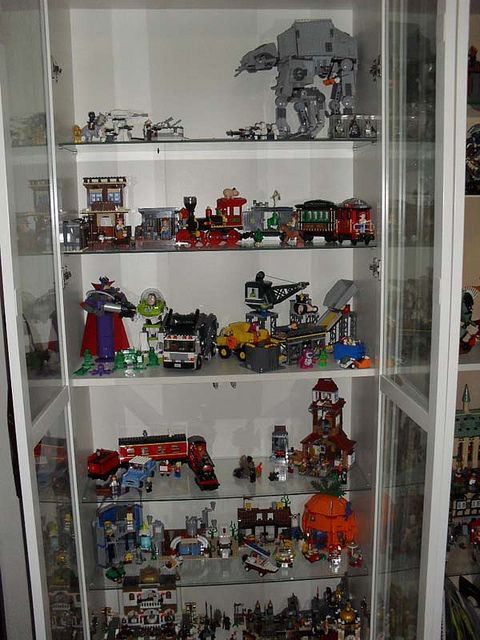 This is a tried-and-tested Lego display idea and is one of the most common methods of storing and displaying your collection with pride. The advantage of using a Glassdoor bookcase is that your small, medium, and big Lego pieces and articles are safe from dust and other corroding agents.
Additionally, the see-through glass allows seamless visibility of the different figures and structures that you have created. Bookcases usually have ample space for stacking books. Therefore, it is a good option for showing your Lego creations.
12. A High Shelf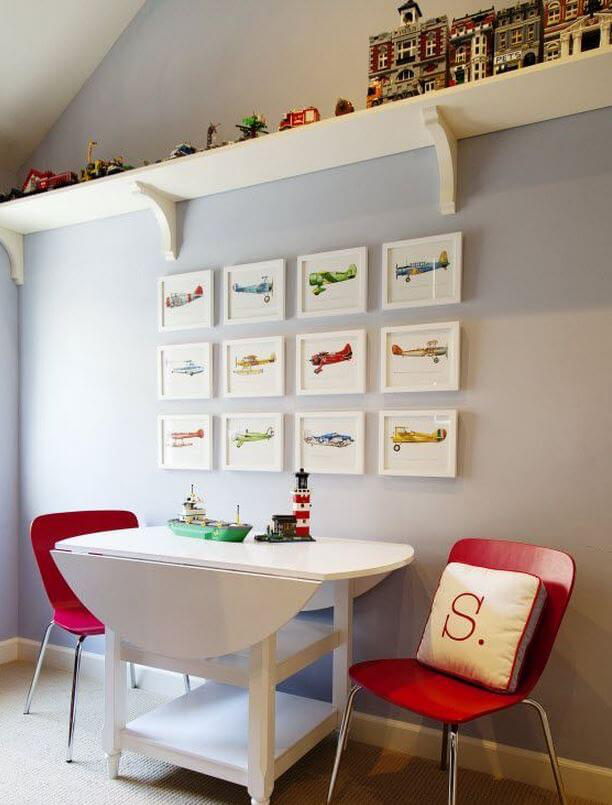 Have space issues? No problem. Try this Lego display idea and showcase your Lego mini figurines and block structures hassle-free by going in for a high shelf.
It is a conventional shelf, as is evident from the picture, that has been fixed to the wall higher up, towards the ceiling. This is a fun idea for your kids' room, especially as they cannot reach up and meddle with the Lego pieces or spoil the show.
13. A Custom-Made Lego Shelf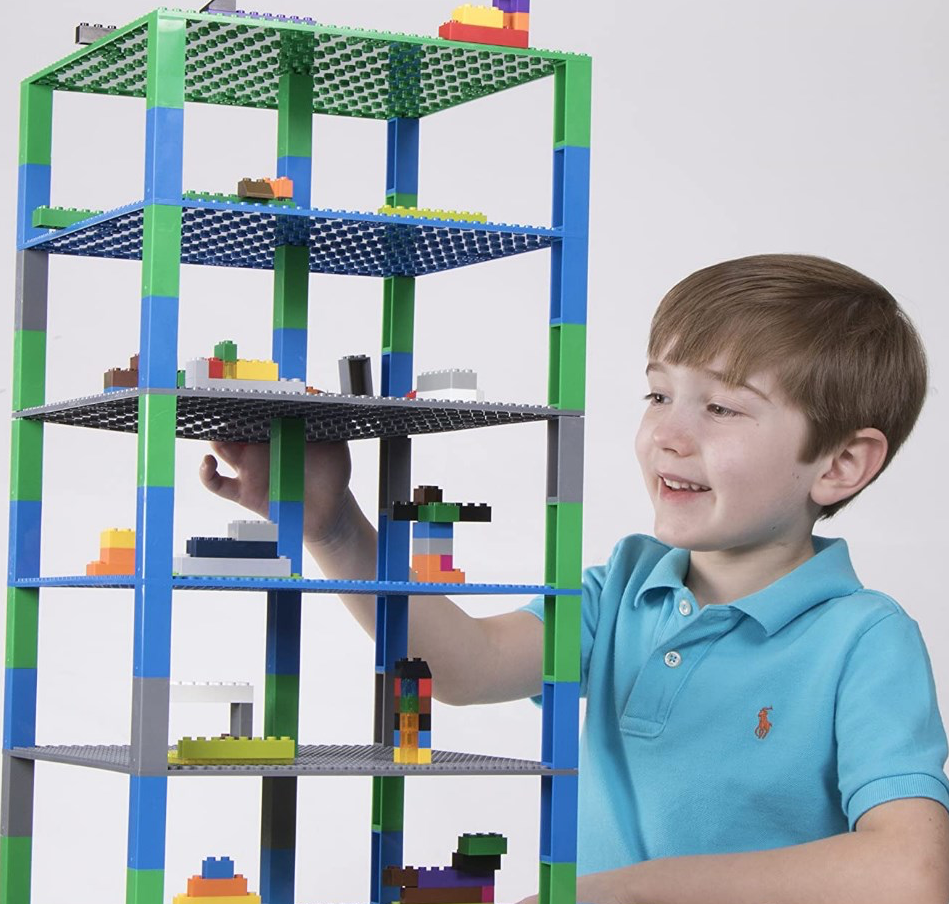 Use LEGO blocks to self-create a shelf, a complete DIY process and one that can be done up by small kids too. The good part about this Lego display idea is that it can be dissembled and assembled anytime and as per your wish.
The only caution that you need to take in this case is to make sure that the horizontal racks and the pillars that you create for the racks to rest are strong and robust so that they can support the weight of the figures and structures being showcased.
14. Self-Standing Shelves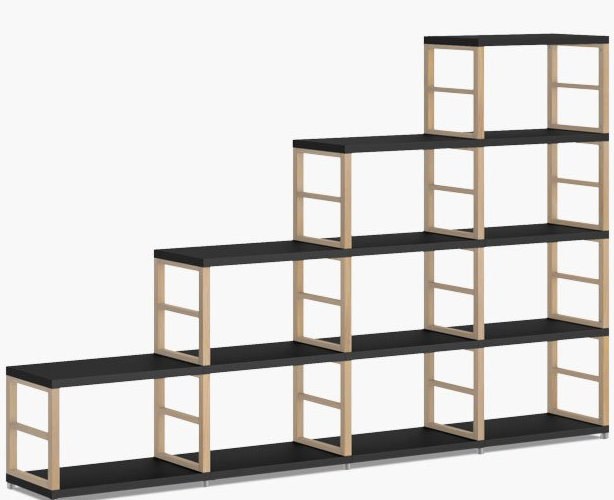 Self-standing shelves or free-standing shelves are excellent for Lego display and storage. Use a tiered free-standing shelf, as shown here.
There is an abundance of space that helps you display not just smaller figures and creations but also larger ones like Hogwarts Castle. These tiered shelves help use space ergonomically in rooms where the roof is slanting.
15. Corner Display Units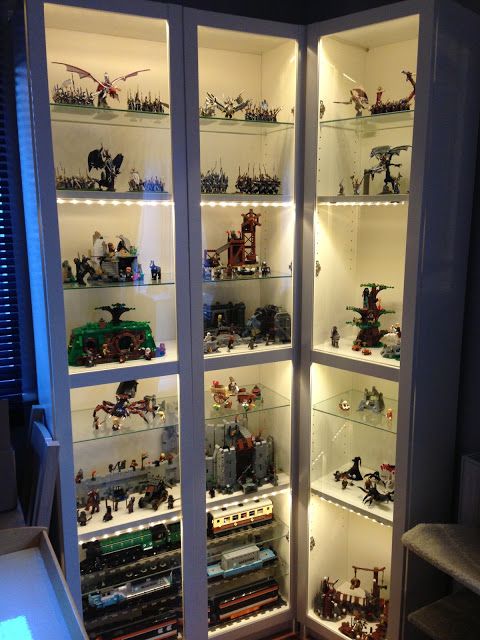 Another brilliant Lego display idea is to use the corners of the rooms, which in most cases, go empty or get too cluttered. Corner units come in different formats, shapes, and sizes and are made from varied materials. Choose the types that suit your home decor as well as meet the display requirements. For example, for larger Lego displays, you will need bigger spaces, and vice versa.
16. Floating Crates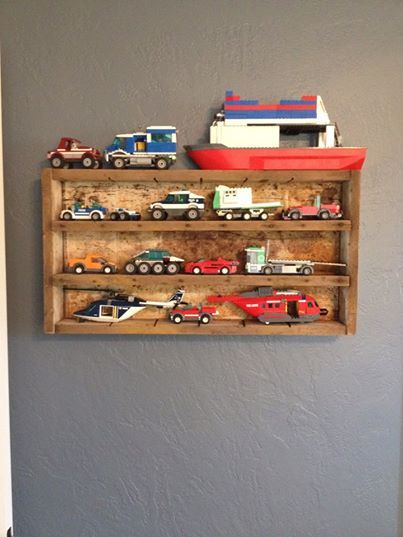 To display Lego creations on the wall, you can use floating crates. This is a DIY Lego display idea. First, order craft wood crates online. Paint them in colors of your choice and install them on the walls, either by yourself or with help from a professional. Involve your kid in this craft work and see the pride the child takes in displaying their Lego work on these floating crates.
17. Glass Cloche Display Unit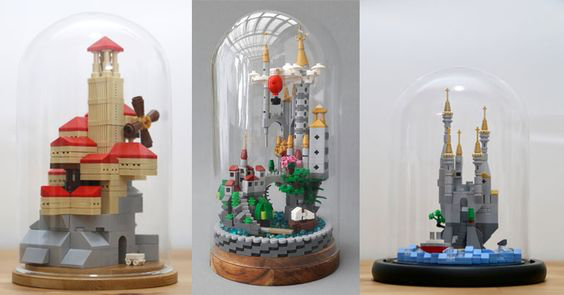 The bell-shaped jars, available in different sizes, make for an interesting way to display Lego pieces and figures. Whether it is a Minifigure or a large-scale Lego project, the glass cloche unit looks pretty decorative wherever you place them.
These can be mounted on the wall or just kept on the corner table.
18. Adjustable Shelves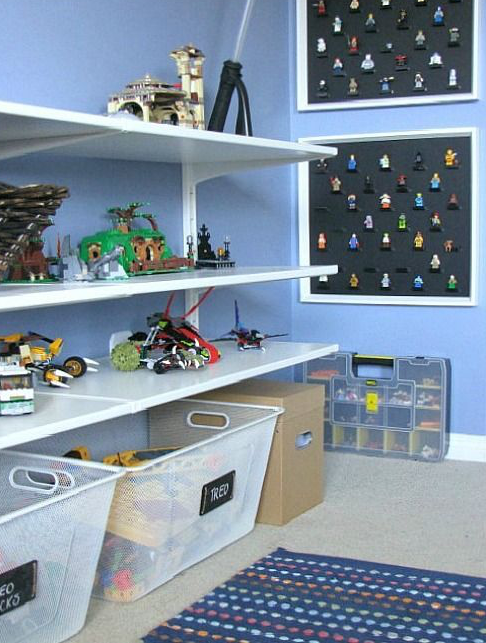 Adjustable shelves are easily available online and even at stores near you. These are pretty cheap and can be fixed with ease at whichever height you wish. To keep the Lego creations out of reach of your little ones, fix these shelves higher and keep them lower for easy accessibility.
As the name suggests, in this Lego display idea, you can move the shelves up and down certain height ranges as per requirement.
19. Sliding Shelves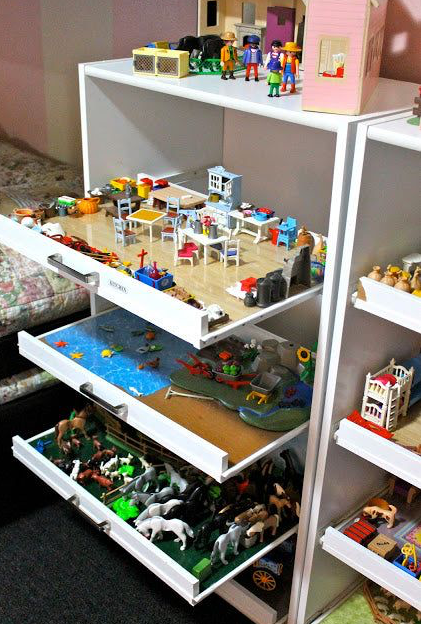 Another workable Lego display idea is the sliding shelves that you usually get to find on bookshelves. The good thing about these sliding shelves is that each of the shelves can be used to create a unique Lego world.
Harry Potter, Star Wars, Cars, mini-figures, bikes, etc., for each shelf and accordingly highlighted and showcased with pride to guests and family.
20. Display Unit Made from Lego Baseplates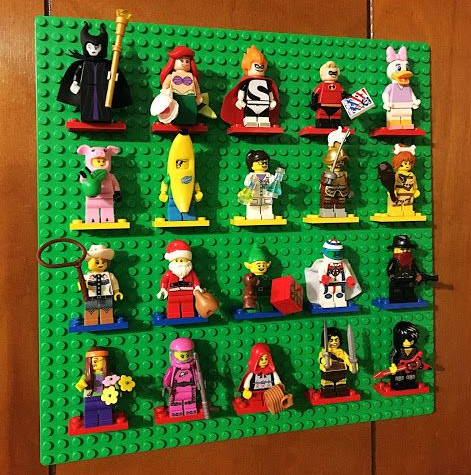 The picture here tells it all. Use all the extra Lego baseplates to make this hanging display unit. It is an impressive way to display Lego figures and minifigures. The baseplate unit can be placed against the wall or hung using command strips.
Your kids will have fun fixing and taking off different Lego pieces.
Conclusion
Making Lego creations is nothing less than artwork. Not only does it fill one with enjoyment, but there is great pride in showcasing the work to others. Each creation is a gift of innovative thinking, so why not use the best Lego display ideasto exhibit your brilliant work?
The ideas mentioned here are all quite practical and affordable. You can get the supplies from a store near your place or, better still, order online. These Lego display ideas provide the ideal ways to show off your Lego collection and work.
Have other ideas and tricks to display Lego minifigures and structures? Share with us. Also, let us know which of these ideas sparked interest at your place, leaving everyone impressed.