A room, house, or space can be revitalized by using black interiors. While it gives your room an air of mystery and intrigue to your home, if applied properly, it can make your library appear cozy and your room seems warm. Wrought Iron by Benjamin Moore can drastically upgrade your room in an instant. It is a shade that is relatively soft, remarkably pliable, and has immense potential.
This color is typically categorized as warm since it has undertones that are slightly blue or brown. Depending on the lighting in the room or on the wall, the color might appear to be navy blue, even though it looks more like charcoal black.
Read on to learn more about one of the most famous shades by Benjamin Moore.
LRV: Light Reflective Value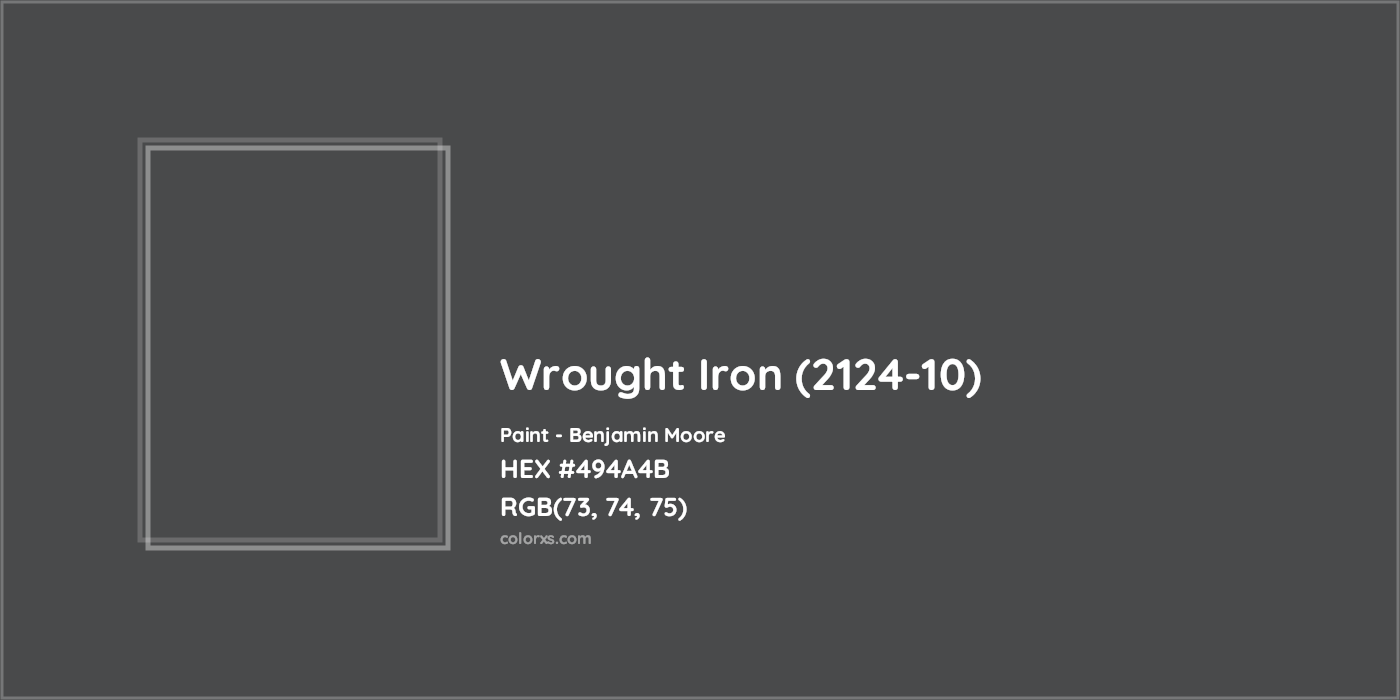 LRV is used to measure the darkness and brightness of a color which ranges from 0 to 100, 0 being the darkest and a shade with 100 being the lightest. With a Light Reflective Value of 8.17, Wrought Iron can be considered a dark shade that is slightly lighter than pitch black. Therefore, it will still absorb some amount of light as compared to black.
The Red, Green, and Blue (RGB) value of Wrought Iron by Benjamin Moore is 74, 75, and 76, respectively, which makes it a neutral shade, therefore, highly versatile. However, the dominating shade is that of blue, particularly navy blue.
Effect of Light on a Wall Painted by Wrought Iron by Benjamin Moore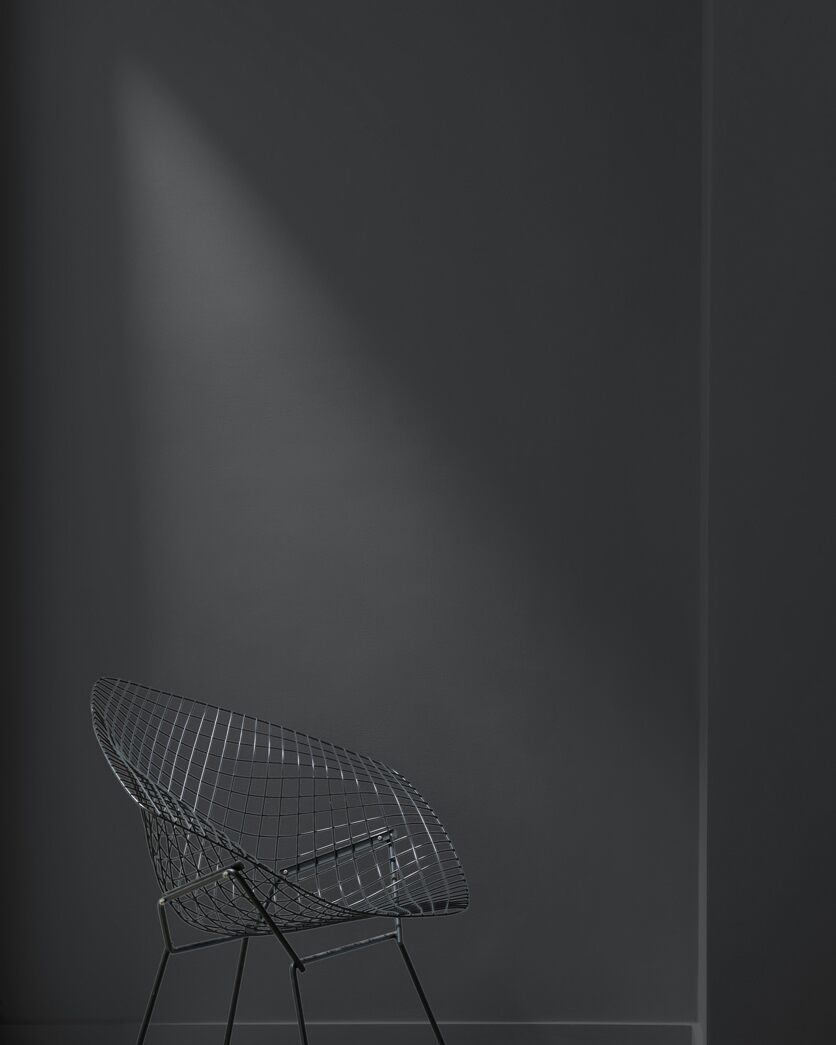 Since it is a dark color, it will absorb the maximum light that falls on it. If your space is well-lit or your feature wall has ample light falling on it, the shade will look lighter and blue instead of black. However, if your room does not receive much natural light, the shade can lend some obscurity to the space and create a sense of expansiveness while making it modern.
Composition of Wrought Iron by Benjamin Moore
This deep yet soft shade has navy undertones. The shade also includes brown in its composition, which makes it warmer. It can be categorized as a charcoal gray shade or a soft black color which is bold and saturated yet not dark enough to be termed as pitch black.
Wrought Iron by Benjamin Moore can be considered a warm shade because of its soft brown undertones. Although there is a tinge of blue, a color that falls under the category of cool colors, the earthy nature of brown balances it and gives it a warmer feeling.
The Best-Coordinating Colors for Wrought Iron by Benjamin Moore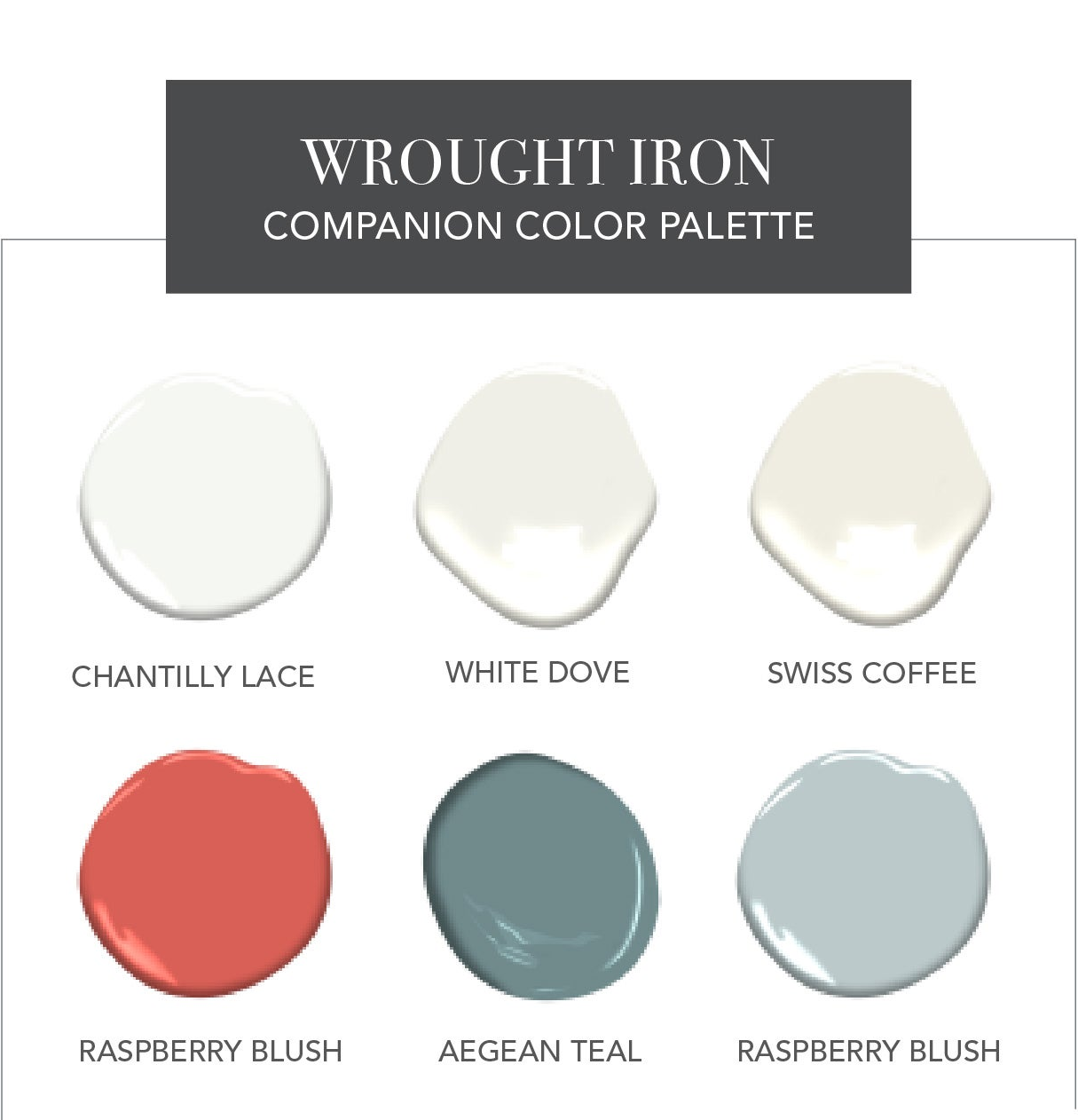 A perfect balance of color is a must for the room to engage your attention and look fascinating. Therefore, here are a few shades that are soft to look at and will allow you to appreciate the mysteriousness offered by the soft black or dark gray qualities of Wrought Iron. Some of the more palatable color options for Wrought Iron by Benjamin Moore are the following lighter hues.
Chantilly Lace: Chantilly Lace will match exceptionally well with the soft black color as the brown undertone of Wrought Iron will be accentuated by the softness of Chantilly Lace. This combination of colors is perfect for lending some formality to your space.
Swiss Coffee: For a warmer vibe, pair Wrought Iron by Benjamin Moore with Swiss Coffee. This combination is perfect for a small room that receives comparatively less light than other rooms.
White Dove: For sophistication and a neutral tone, Wrought Iron by Benjamin Moore will look good with White Dove. Since dark gray can be visually heavy, the coolness offered by White Dove will balance the space and give the person a visual break.
The wrought iron color complements shades like Ivory Tusk, Light Pistachio, and White Stones. These shades fall under the category of off-whites, creams as well as beiges. These color combinations go very well with each other and will transform the outlook of your home drastically.
However, if you want your room to scream and stand apart from the rest of the house, you can use various bold shades offered by Benjamin Moore. Nothing brings out the hidden beauty of a shade more than a contrasting color; therefore, selecting a shade from the other end of the spectrum can make a room interesting, even if the dominant color is neutral.
For a bold statement, Wrought Iron by Benjamin Moore can be paired with Raspberry Blush. However, for a subtle yet smart statement, pair Wrought Iron by Benjamin Moore with Aegean Teal. Contrast colors such as these perform well with this shade of soft black effortlessly. Since the Wrought Iron shade has a brown undertone, such warm and bright shades by Benjamin Moore will complement this undertone.
Color Comparisons with Similar Shades

Wrought Iron vs. Kendall Charcoal: Kendall Charcoal by Benjamin Moore has an LRV of 14.61. Therefore, this color can reflect more light than Wrought Iron and make a small space larger. The shade can be included in the neutral category of gray shades.
Wrought Iron and Midnight Oil: Midnight Oil is a cool blue-black color that is slightly lighter than Wrought Iron. With an LRV of 7.67, this shade is another neutral classic by Benjamin Moore that can make any room appear classy and elegant.
Wrought Iron and Cheating Heart: A neutral shade with blue undertones, Cheating Heart has an LRV of 8.79. This is a charcoal black shade which is too blue to be called black. The color is quite dark; therefore, it can be used in a room that receives tons of light.
Wrought Iron and Raccoon Fur: The Raccoon Fur shade by Benjamin Moore has violet undertones and is a light shade of black. The LRV of Raccoon Fur is 8.28, which makes it pretty dark and a neutral shade that can complement dark as well as light hues.
10 Ways to Introduce Wrought Iron Benjamin Moore in Your House
1. Wrought Iron Benjamin Moore Cabinetry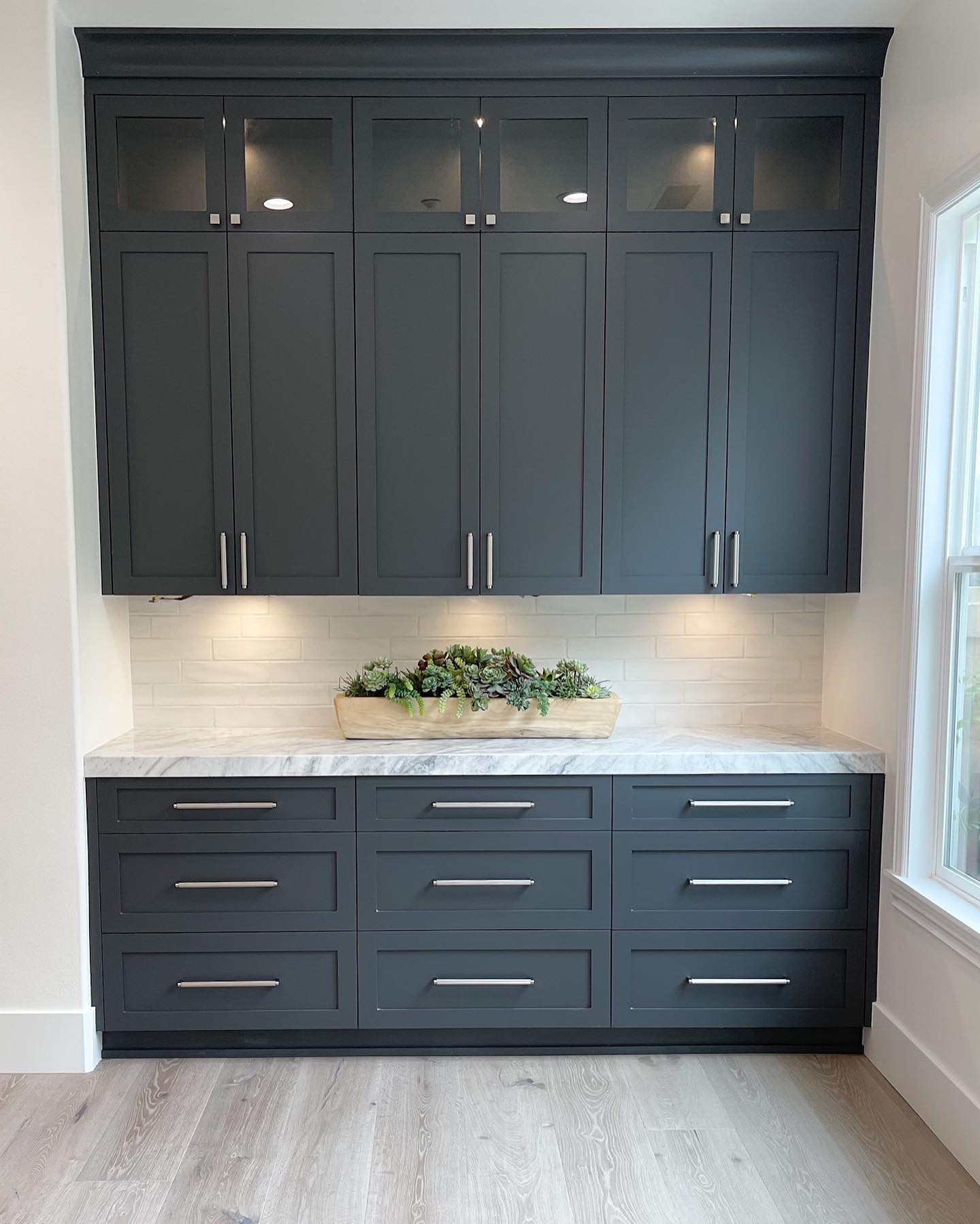 Kitchen cabinets, cabinets in your study, and open as well as closed wooden cabinets in your dining room, if painted with Wrought Iron by Benjamin Moore, can uplift the visual appeal of any space.
2. Dark Gray Doors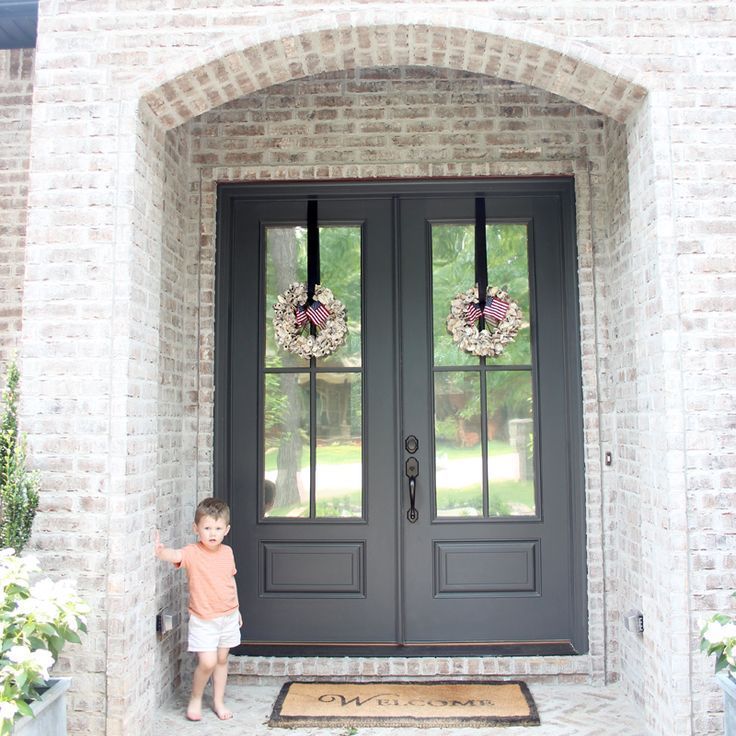 Dark doors have been known to make a statement. The best part about Wrought Iron by Benjamin Moore is that it looks slightly navy blue whenever light falls on it. Therefore, your door will look lighter during the day but will retain a nice dark color at night. Dark doors go well with red brick houses and even with white stone houses, as it is an extremely adaptable shade.
3. Mystique Exterior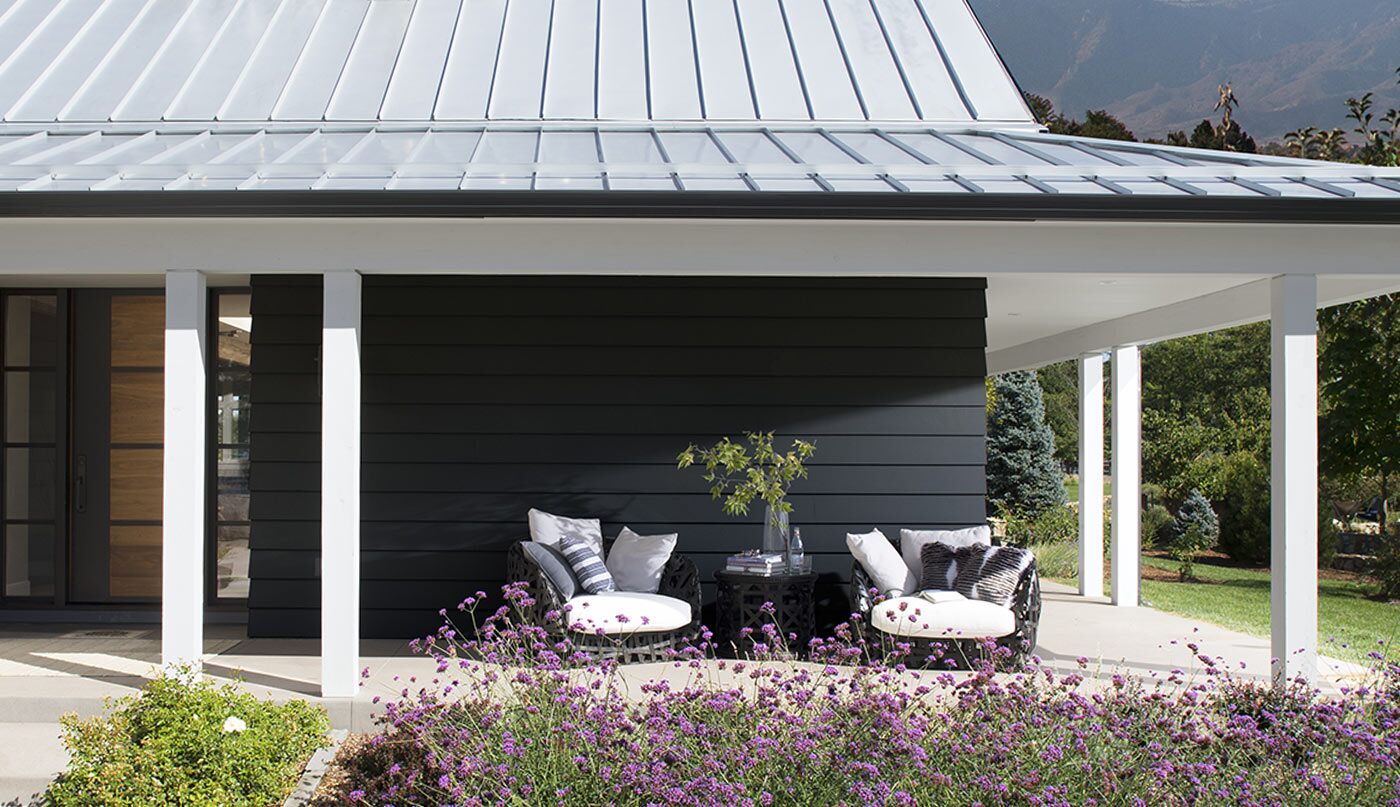 For a modern outlook of your house, paint the exterior of your house with Wrought Iron by Benjamin Moore. The shade will look lighter during the day but make it appear super dark and mysterious at night.
4. Dark Kitchen Islands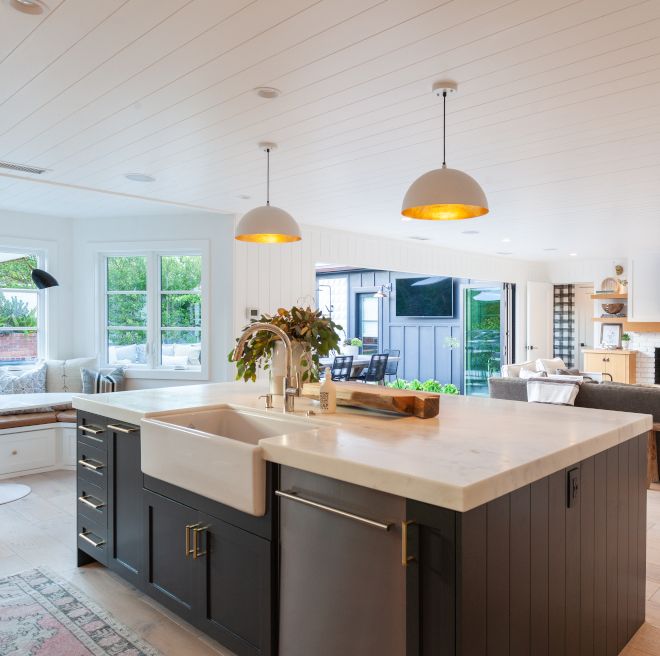 A kitchen with white cabinets and an island painted with Wrought Iron can turn into a focal point of your space. Your dark gray kitchen island with beige or cream countertops can make your cooking space seem chic and formal.
5. Dark Master Bedroom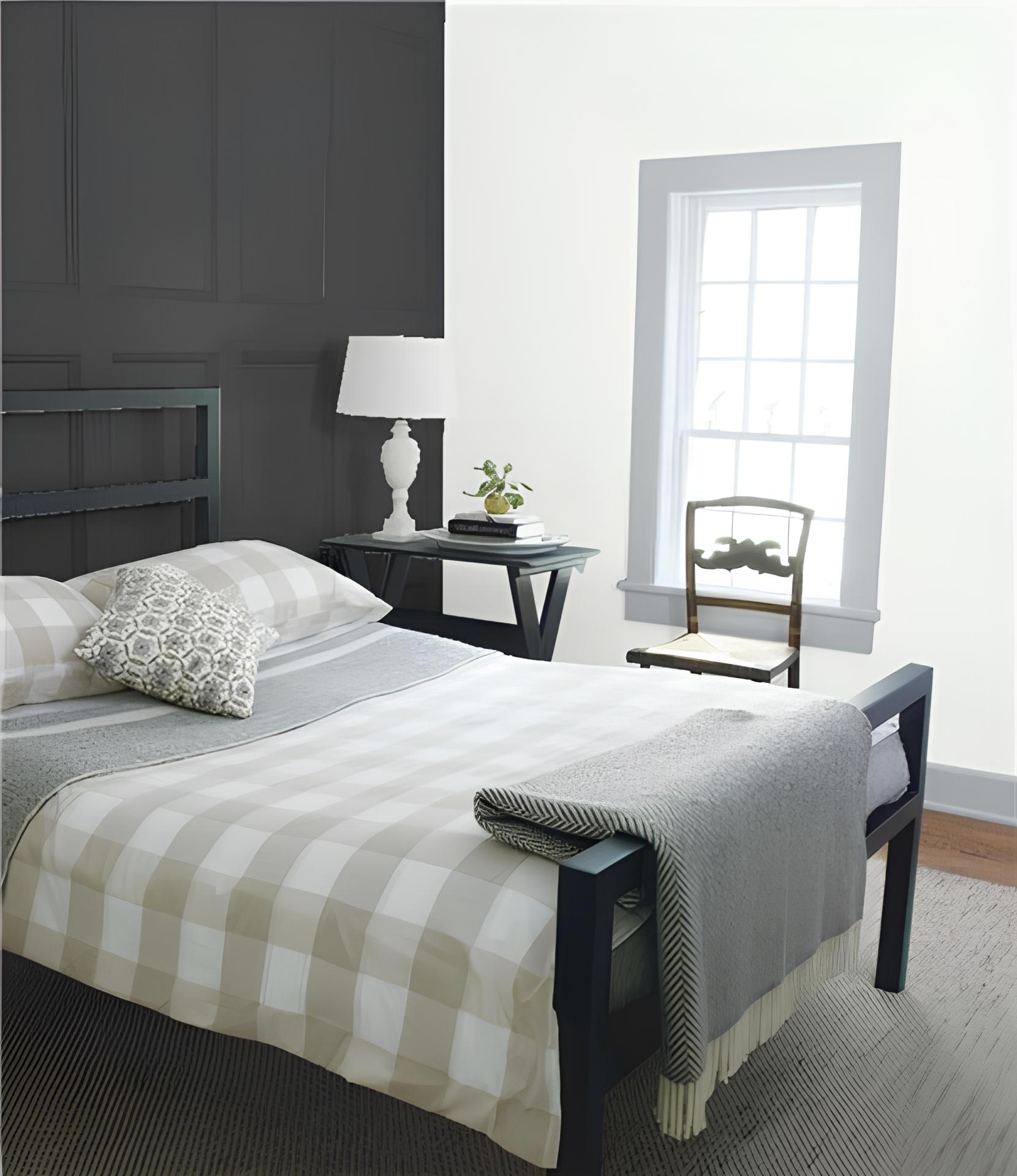 A bedroom with Wrought Iron by Benjamin Moore on the walls will offer immense comfort and warmth. You can go for a monochrome look by painting all the walls dark gray and spreading a light rug to go with a soft white ceiling for visual balance.
6. Home Office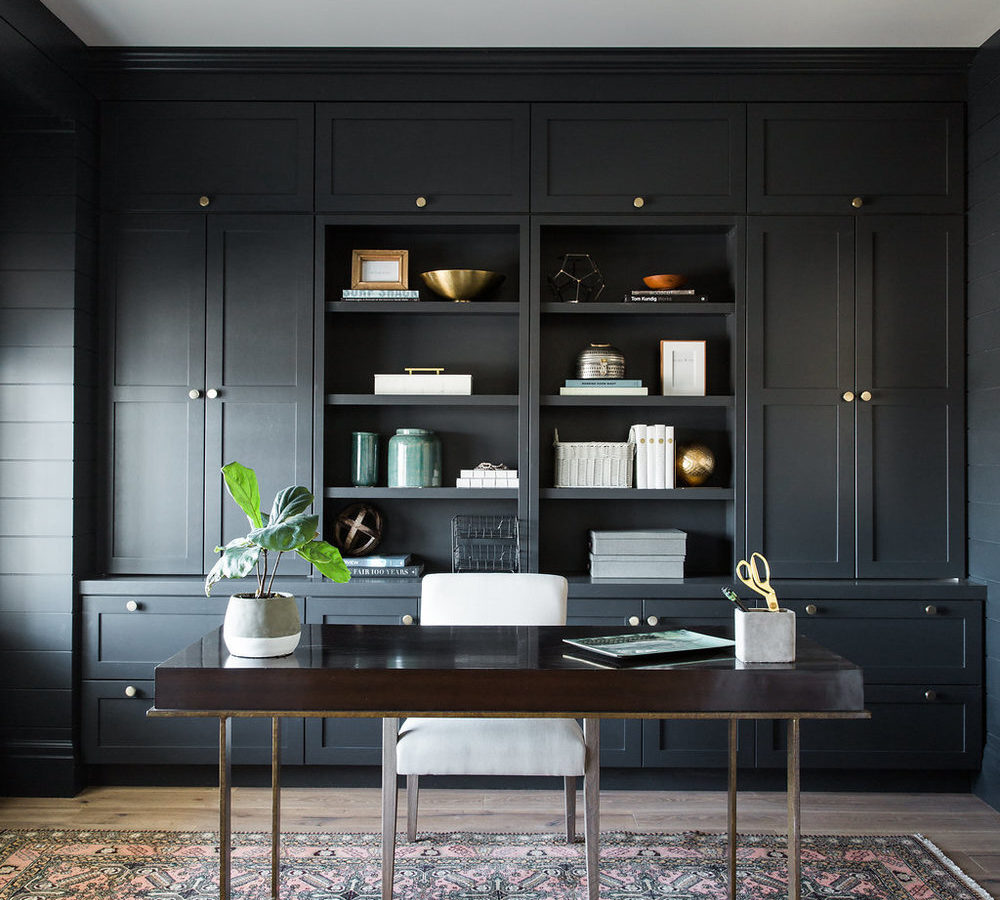 For a formal appearance, Wrought Iron by Benjamin Moore is the perfect shade for your home office. Dark gray open shelves will add some character as you can place accessories that contrast in color.
7. Accent Wall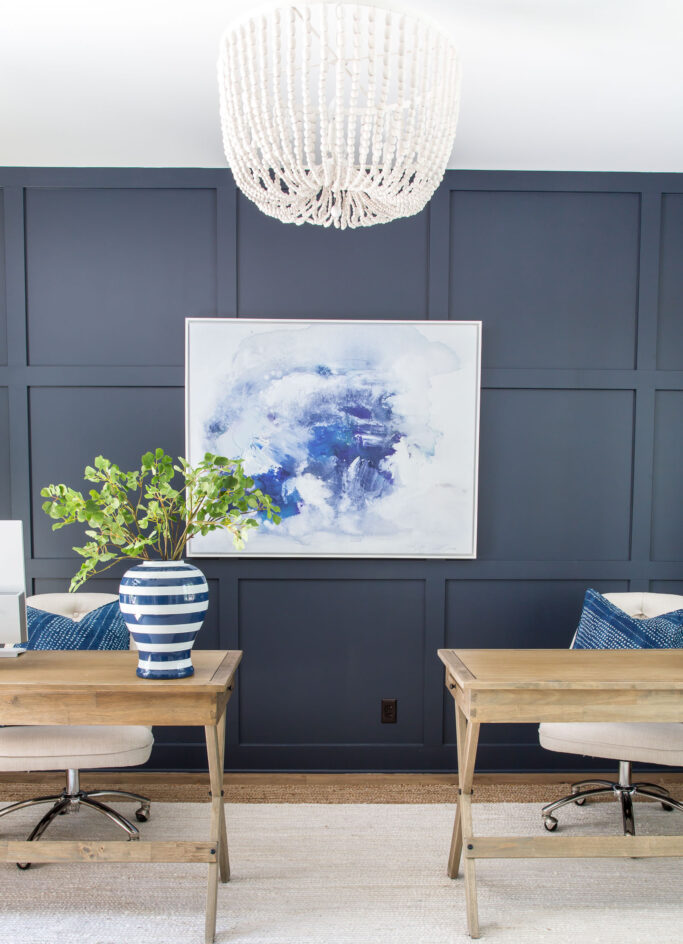 A dark gray accent wall with wainscoting can make any part of your space stand out. You can have an accent wall in the foyer that is painted with Wrought Iron by Benjamin Moore or even one in your drawing room and hang a statement painting on it to accentuate the appearance.
8. Mysterious Study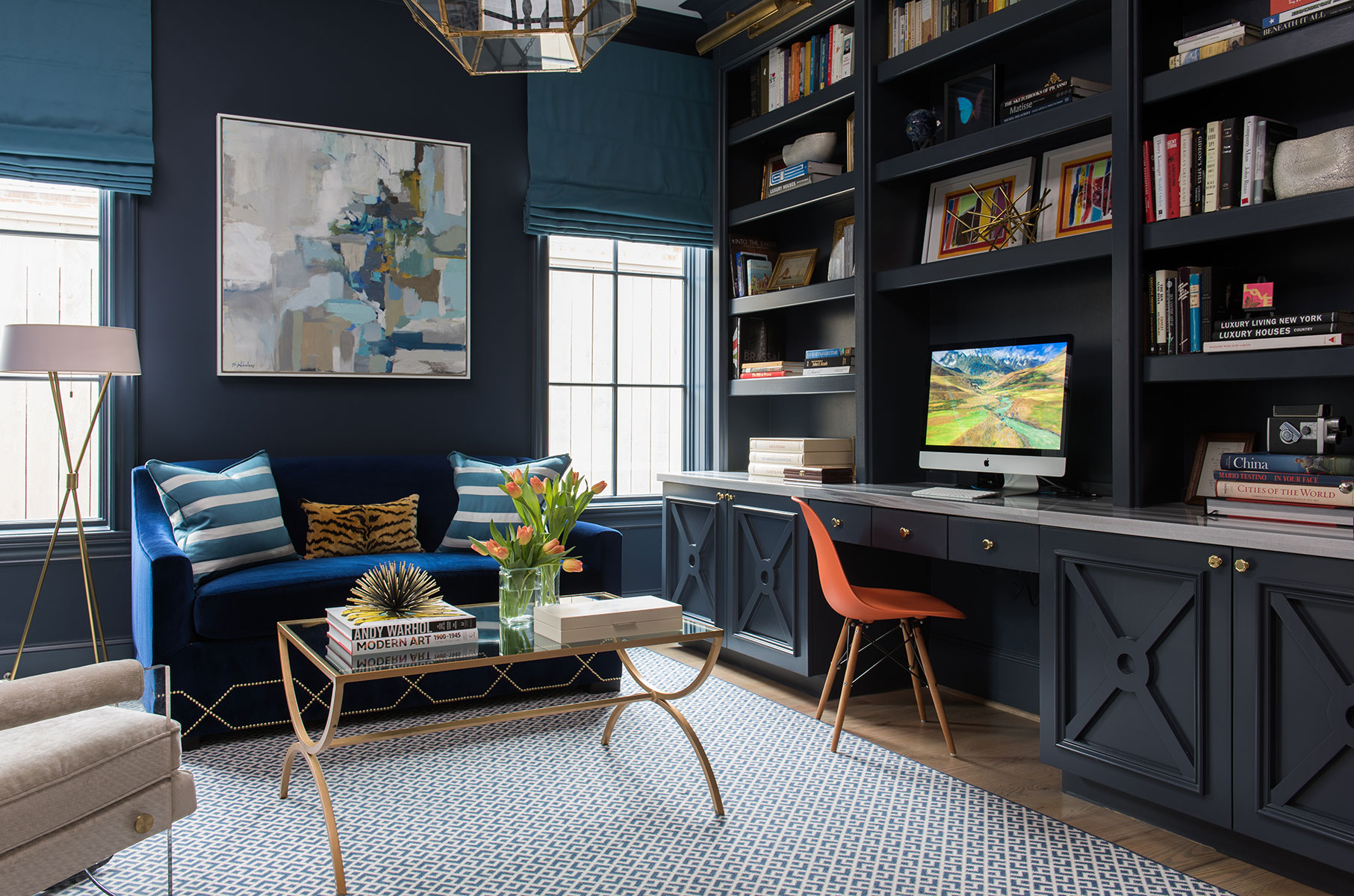 A study is where you go to rest and relax after a long working day. Therefore, the space has to scream for comfort. For the most congenial environments, nothing could be better than black walls, blue sofas, and white rugs with blue and black patterns. For a dash of color, you can place cool metal chairs to play with texture and some other accessories like astanding floor lamp or book ends so that you can have some fun while enjoying the luxury of having a library in your own place.
9. Black French Windows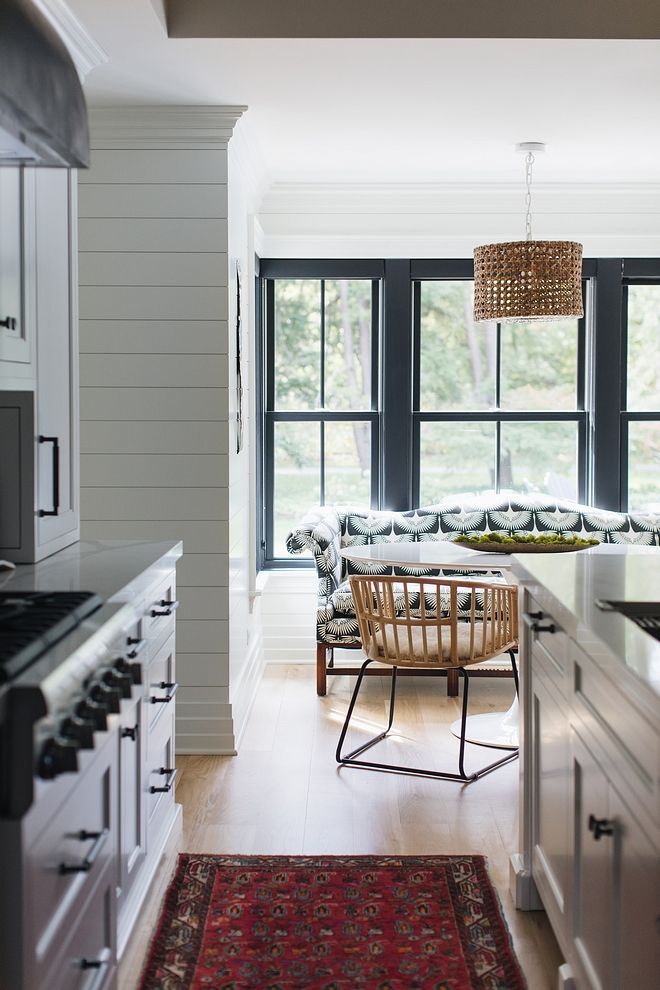 Since Wrought Iron by Benjamin Moore is a highly versatile shade, it can be painted on wooden as well as steel surfaces. Windowpanes painted with this shade will make your room appear formal and elegant, as you can use any colored blinds or curtains with them.
10. Wrought Iron Fireplace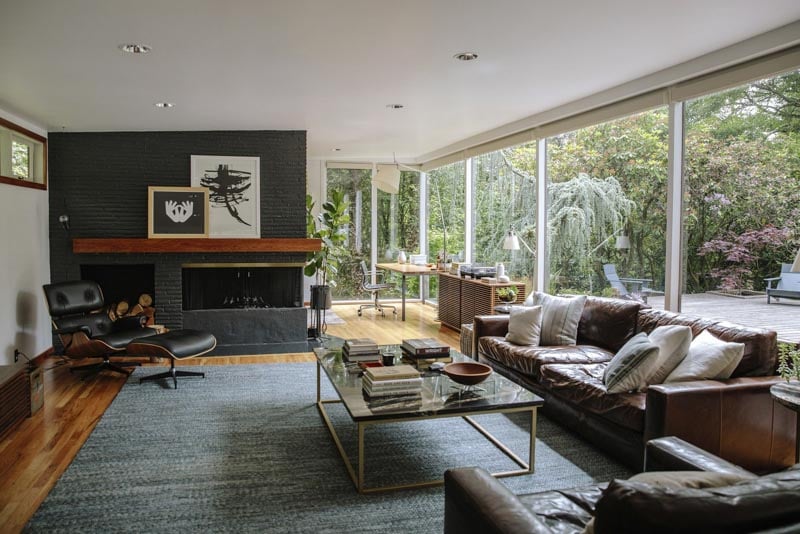 A black fireplace in your living room is the ideal focal point for your bachelor pad. The fire and the inky tones of the paint on the walls will keep you warm and give the room a dapper perspective simultaneously. It is vital for your pad to be relevant to the current times and in sync with your personality.
Best Way to Sample Wrought Iron by Benjamin Moore
There are multiple ways of testing Wrought Iron by Benjamin Moore. The most common and convenient way to do so is to paint swatches of a single color on multiple walls to observe how it behaves under various lighting conditions.
You can even paint a large poster bed with Wrought Iron by Benjamin Moore to know how much light it will absorb and reflect by moving the bed around.
The color is modern, stylish, and diverse. From featuring on an accent wall for a homey vibe to adding to the expansiveness of a compact space, Wrought Iron can do it all. Since the color has a distinct malleable quality, it pairs well with a soft white like White Ice and with greige shades like Wedgewood Gray.
If you do not want the entire wall to be dark, you can introduce trimmings that are painted in Distant Gray and Chantilly Lace. This will give some visual breather to your space and add pop to your dark room.
Conclusion
Wrought Iron by Benjamin Moore is a shade that is soft in color. Unlike charcoal black, this particular shade is not overpowering for our visual senses, and neither will it be overwhelming for the room.
If used wisely, it can make your bedroom seem cozier, your kitchen seems spacious, your office and library seem modern, and lend your foyer the perfect aesthetic appeal. Therefore, if you are going to experiment with this shade in your house, do not forget to share your experience with us.