If you are looking for a color that is a perfect balance between dark and light, warm and cool, and can be used anywhere, Benjamin Moore Pashmina is the excellent choice for you.
Benjamin Moore Pashmina is the color that exudes an air of chic refinement and comforting warmth. Its distinctive combination of earthy neutrals yields a striking color that is adaptable and ageless.
The alluring paint color Pashmina by Benjamin Moore radiates warmth and refinement. Pashmina is an enduring and adaptable alternative for interior design projects and is a member of the Benjamin Moore Colour family. For you to completely understand the beauty and potential of Benjamin Moore Pashmina, we will review the color.
Warm taupe color with overtones of brown and gray is called pashmina. It is a fantastic option for a range of areas and design types since it perfectly balances depth and neutrality. Pashmina produces a visually appealing backdrop that adroitly complements a broad range of furniture and decor options, whether it is employed as a wall color, trim, or accent.
1. About the Colour
William Moore Warm Taupe, which belongs to the neutral color family, is the hue of Pashmina. Warm Undertones, including faint hues of brown and grey, are delicately balanced. The word "Pashmina" is derived from the opulent shawls known as pashminas, which are prized for their softness, elegance, and classic style. Similar to its namesake, Benjamin Moore Pashmina emanates refinement and warmth and gives any interior space a dash of elegant grandeur.
The capacity of Benjamin Moore Pashmina to lend a space a sense of refinement is one of its most notable qualities. Its sophisticated elegance instantly elevates any space's overall look by bringing a sense of luxury and timelessness to it. Where a cozy and welcoming ambiance is needed, such as in living rooms, bedrooms, and dining places, pashmina works particularly well.
2. Warm or Cool
Benjamin Moore Pashmina has warm color characteristics with delicate undertones that add to its overall beauty. Even though Pashmina is a warm taupe, it's vital to grasp its subtle undertones to identify whether it is specifically warm or cool.
When it comes to Benjamin Moore Pashmina, its warm color characteristics stand out the most. The underlying brown undertones produce a warm and welcoming ambiance that inspires emotions of relaxation and comfort. These warm undertones give the area a feeling of warmth, making it a great option for establishing a welcoming atmosphere.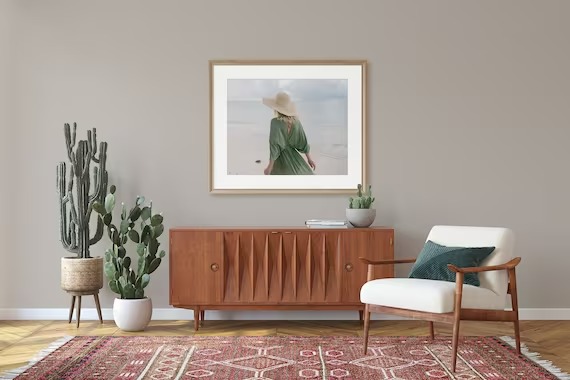 It's important to keep in mind, though, that Pashmina also has faint grey undertones, which might give the color a hint of chill. Pashmina's cool undertones give it depth and richness, preventing it from being too warm or dominant in a room. Its versatility is due to the subtle harmony of warm and cool undertones in pashmina.
It's important to pay attention to the lighting and other aspects of space while evaluating the overall warmth or coolness ofPashmina. Pashmina's warm undertones may be enhanced by natural light, giving the fabric a more lively and inviting appearance. Contrarily, Pashmina may look a little greyer or cooler in artificial illumination. It is advised to test Pashmina under various lighting circumstances to discover its unique attributes in a given environment because the temperature and kind of light bulbs used might affect how the color is perceived.
3. Complementary Colours
Looking for some complementary colors that can make a visually appealing and well-balanced color palette that improves the overall beauty of your space by combining with Benjamin Moore Pashmina? Here is the list-
Crisp Whites and Creams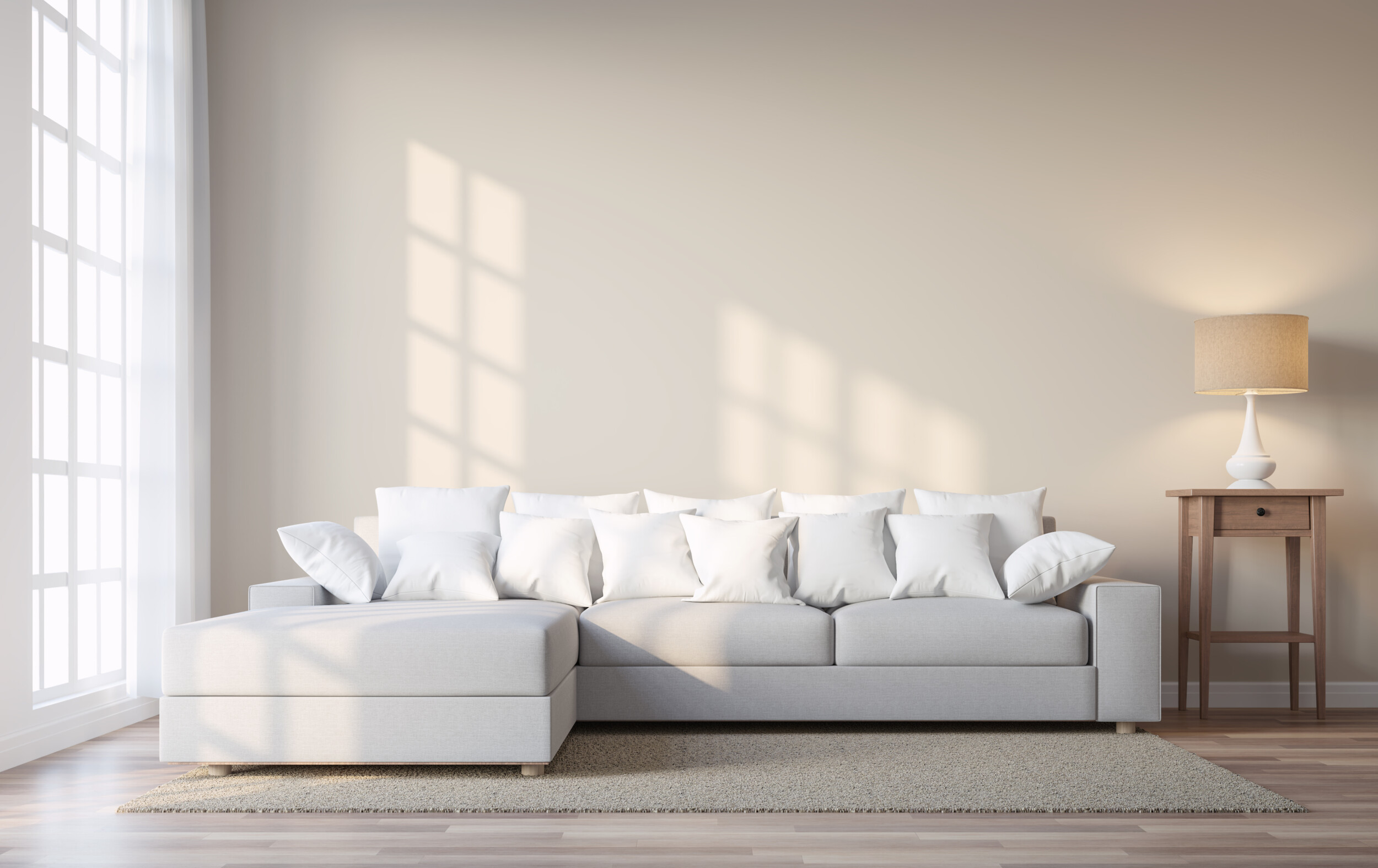 Benjamin Moore Pashmina looks stunning when paired with off-whites and sharp whites. These neutral tones' crisp, contemporary appearance makes for a timeless and traditional mix. Pashmina's warm taupe undertones may stand out against the contrast of whites and creams, creating a beautiful and refined appearance.
Rich Browns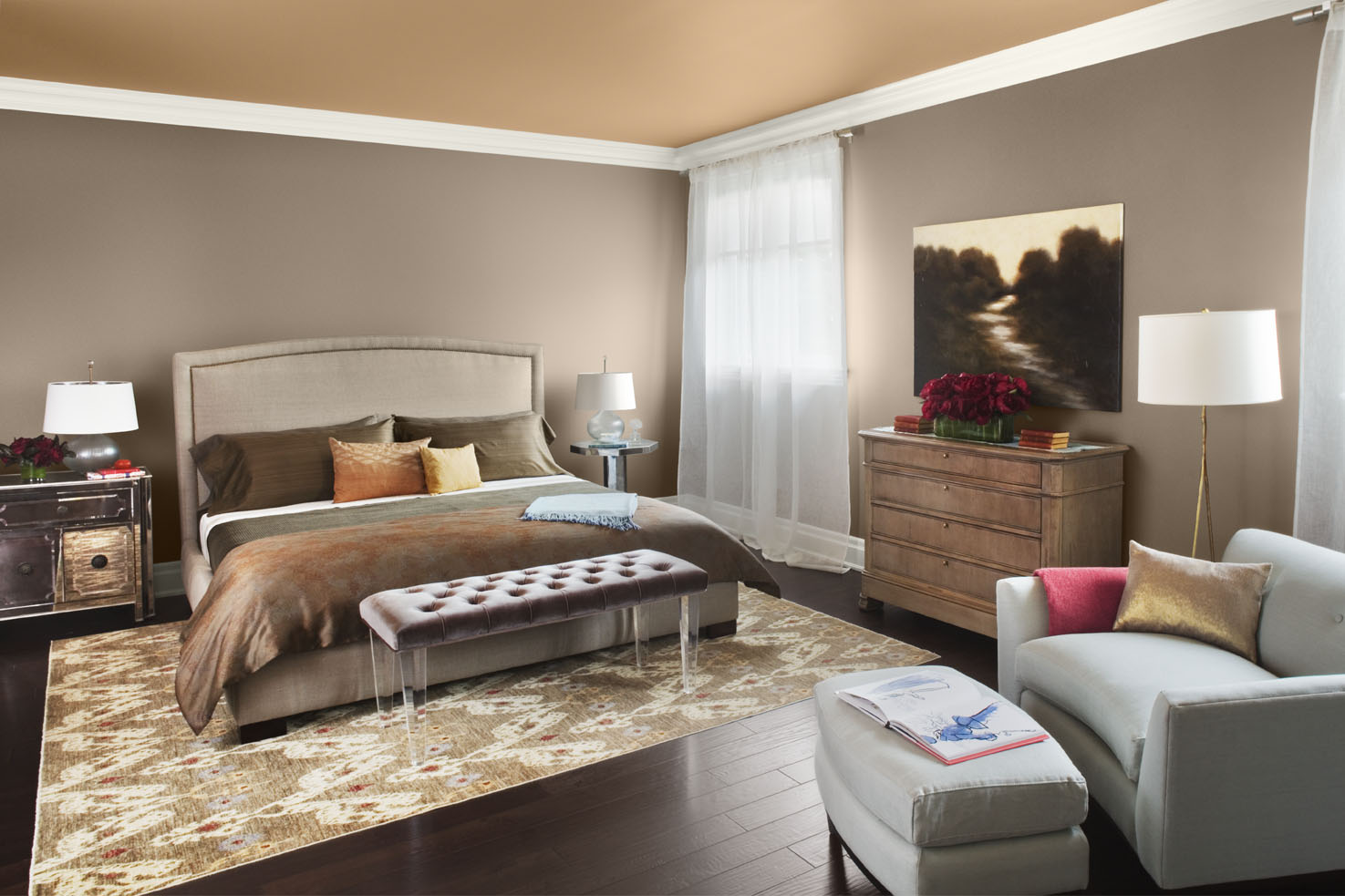 Benjamin Moore Pashmina's warm undertones are complemented by deep, rich browns, resulting in a harmonious and earthy color scheme. Think about integrating dark walnut, mahogany, or chocolate browns into your design plan. These complementary hues give the Pashmina depth and richness, boosting its coziness and warmth.
Soft Greens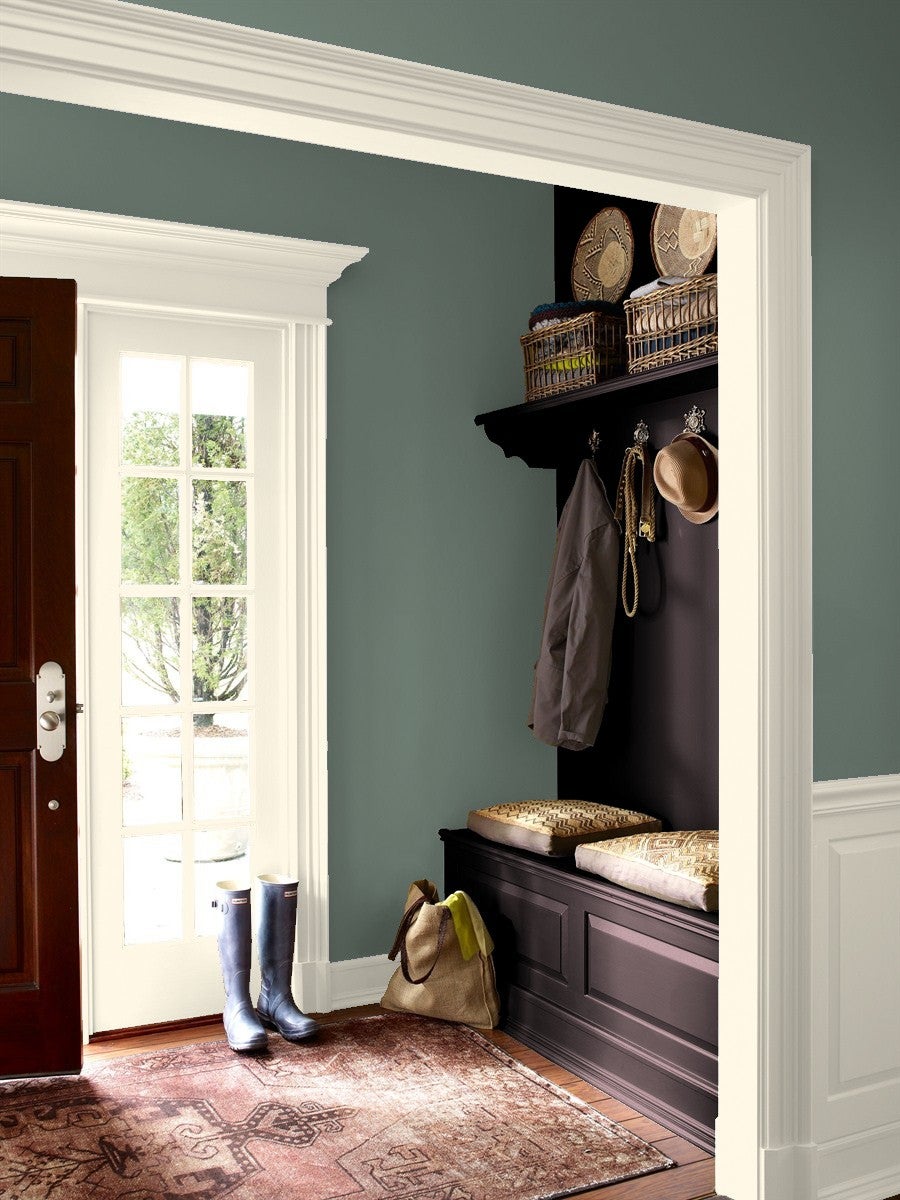 Benjamin Moore Pashmina may be paired with soft, subdued greens like sage or moss to produce a calming, natural-inspired look. These delicate greens blend well with the warm brown undertones, giving the room a tranquil atmosphere and a sense of correctness to nature. This combination works especially well in areas where a restful and revitalizing atmosphere is required.
Dusty Blues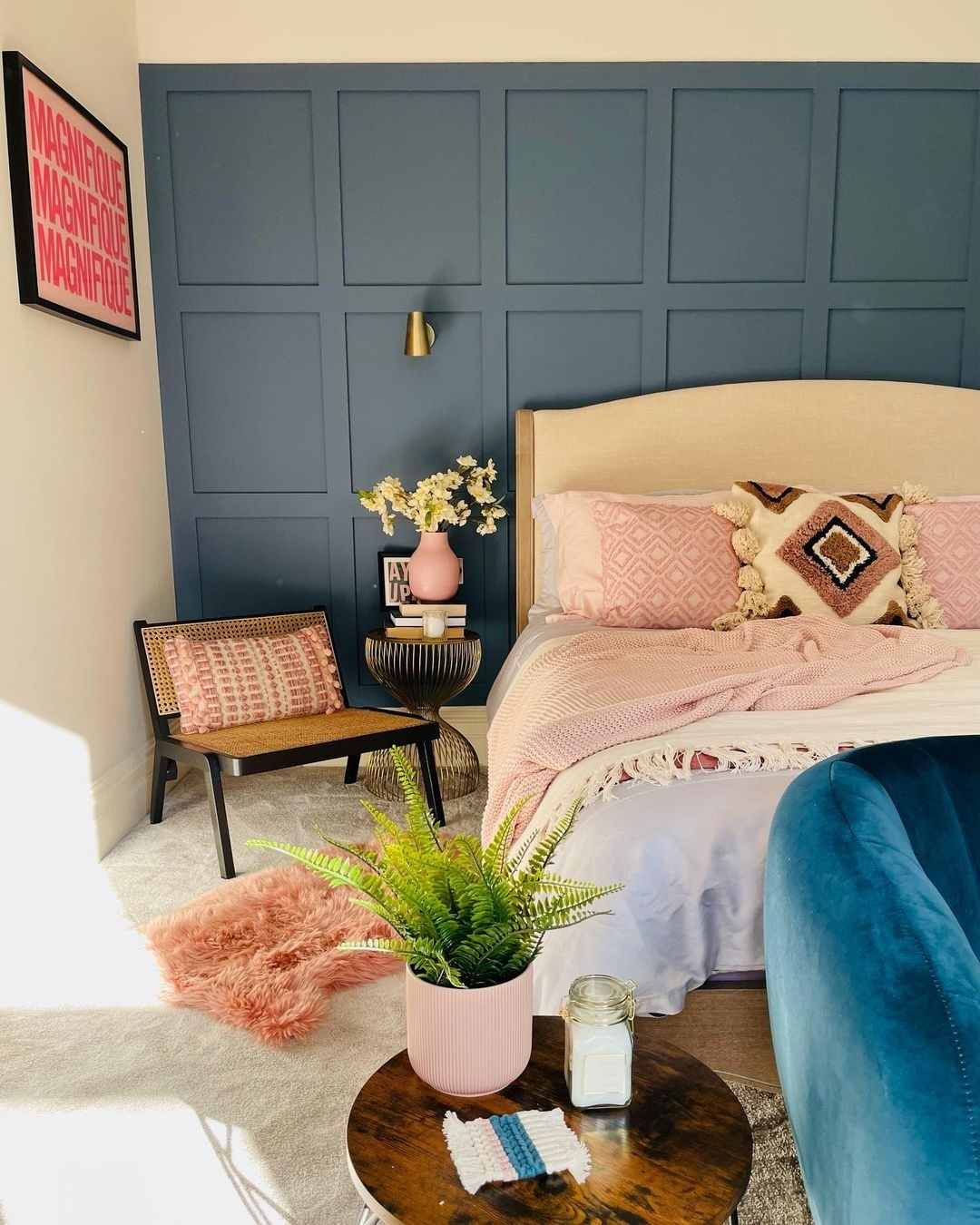 Benjamin Moore Pashmina may be beautifully contrasted with mellow, subdued blue hues like dusty blues or powdered pastels. These blues create a calming and visually appealing palette by adding a cool tone to the warm undertones of Pashmina. In living rooms or bedrooms, this combination works wonders to create a restful and chic ambiance.
Warm Metallics
Warm Metallic embellishments like gold, brass, or copper may amplify the richness and elegance of Benjamin Moore Pashmina. These metallic hues give a dash of glitz and refinement while balancing Pashmina's warm undertones. To create a lavish and eye-catching contrast, use metallic finishes in decorative elements, lighting fixtures, and accessories.
Soft Blush or Coral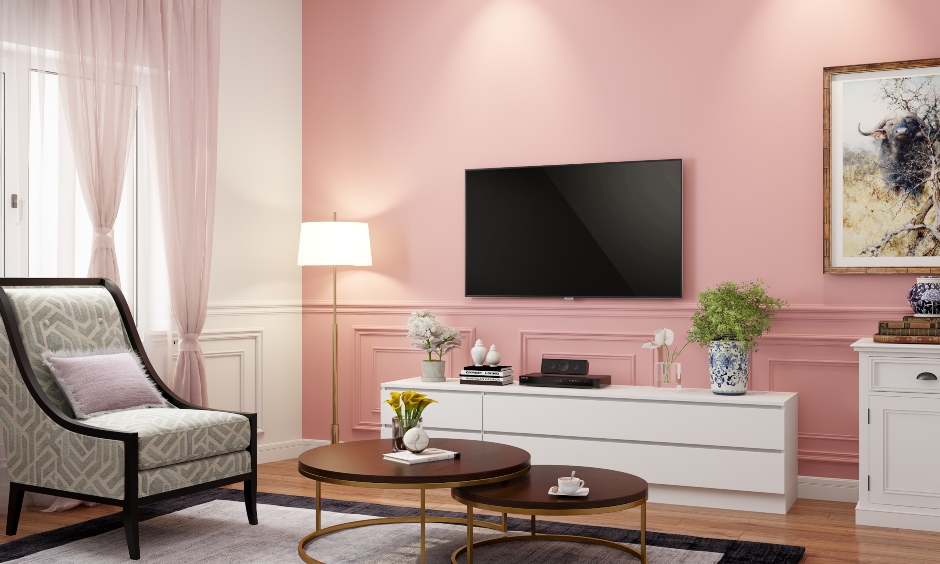 Benjamin Moore Pashmina may contrast delicately and femininely with soft pink or coral tones. These delicate pink huesenhance the cozy and welcoming quality of Pashmina by adding a touch of tenderness. This combination is ideal for establishing a romantic and opulent ambiance in bedrooms or living spaces.
4. Applications and Techniques
The application technique of this Benjamin Moore Pashmina is the essential step in giving a perfect and expert finish to your Interior spaces. Following the proper application procedure will guarantee that the warm taupe tones of Pashmina are displayed to their utmost potential, regardless of whether you are an experienced painter or a DIY enthusiast.
Preparing the surface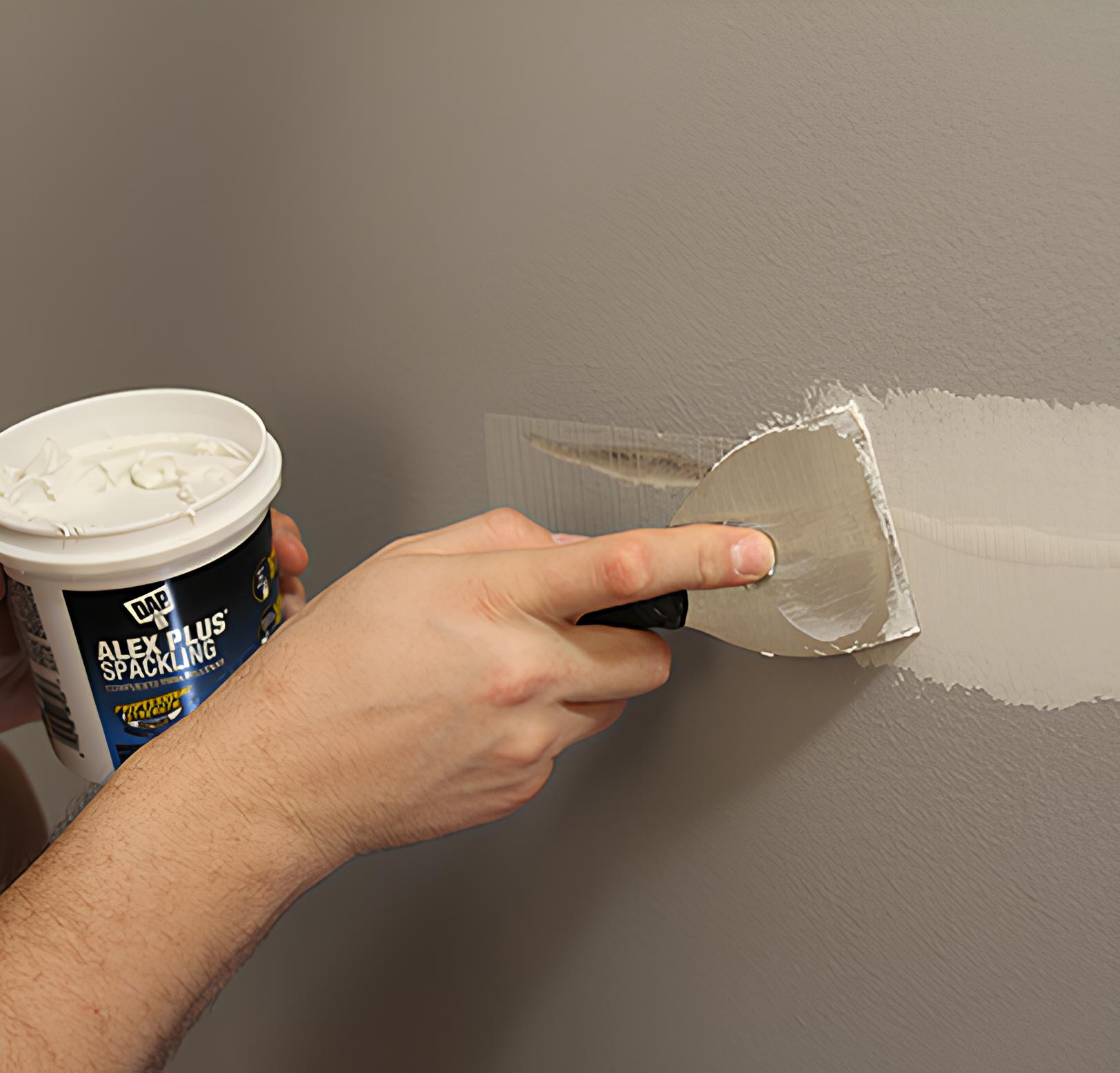 For a smooth and durable finish, appropriate surface preparation is necessary before applying Pashmina. To get rid of any pollutants like oil, grime, or dust, thoroughly clean the surface. Sand walls to provide a smooth surface for paint adherence and fix any fractures or flaws. Before applying Pashmina, it is advised to put a primer on freshly installed plasterboard or patched areas.
Choosing the Paint Brushes and Rollers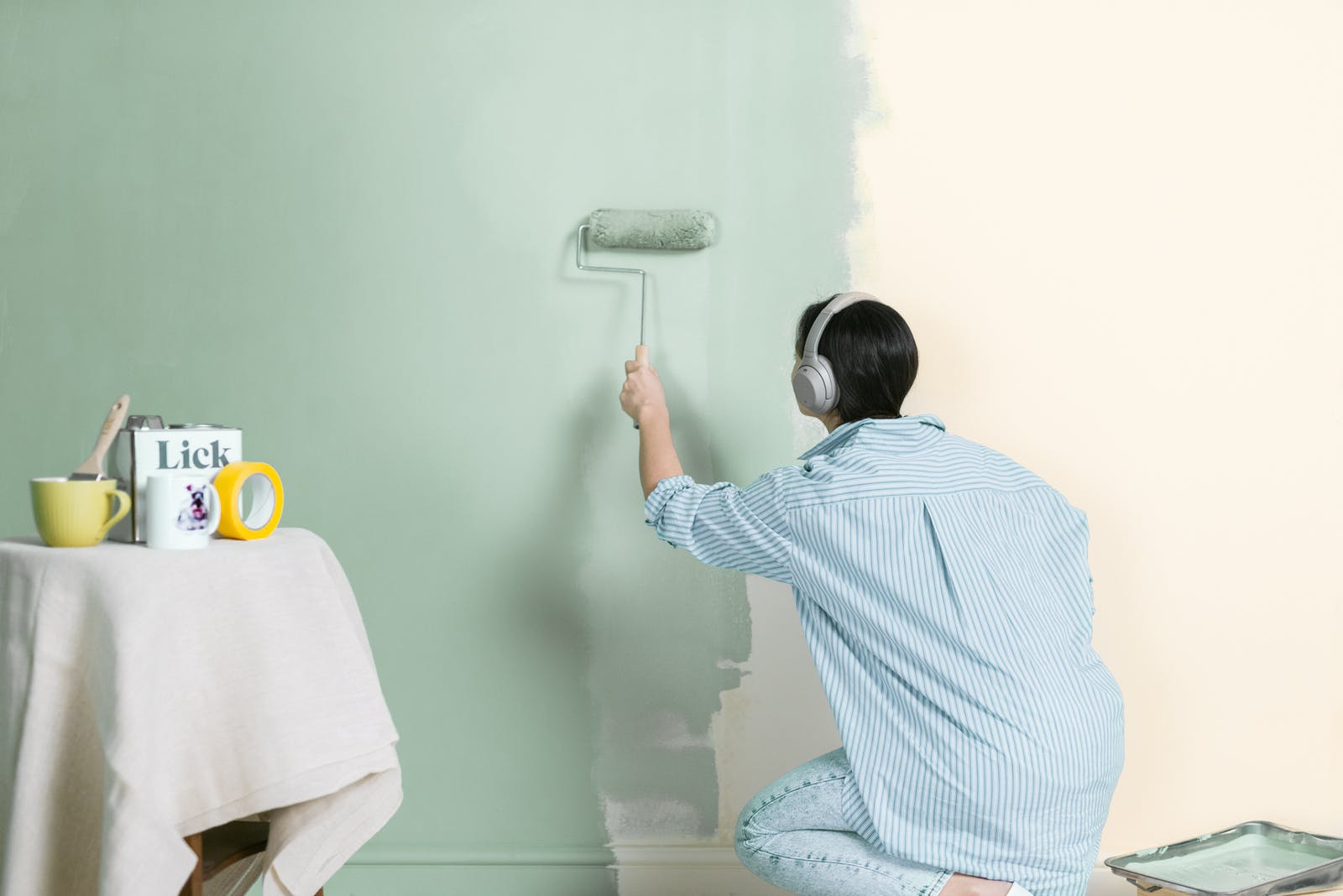 Invest in top-notch brushes and rollers to guarantee uniform and reliable coverage. For water-based paints like Pashmina, synthetic brushes are advised since they offer a smooth application and are simpler to clear. Choose rollers with the proper nap length to match the texture of your walls while making your selection. Most surfaces can easily handle a ⅜ to ½ inch nap.
Cutting-In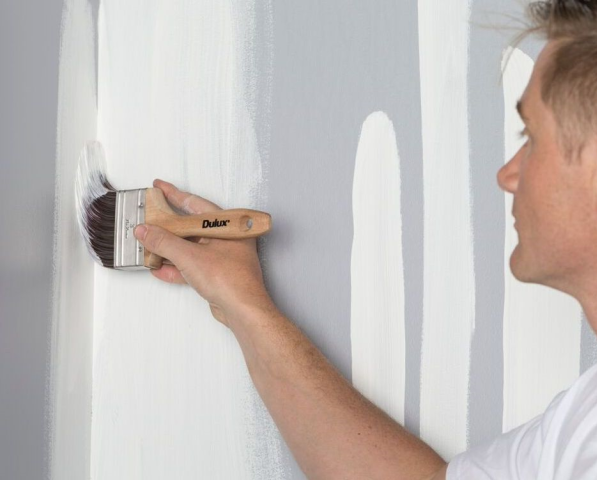 Before rolling, begin by "cutting in" the walls' edges with a brush. To achieve exact and clean lines, cutting in entails meticulously painting the corners, edges, and regions around trim and baseboards. This phase should be completed slowly to maintain precision and prevent smearing onto nearby surfaces.
Rolling Technique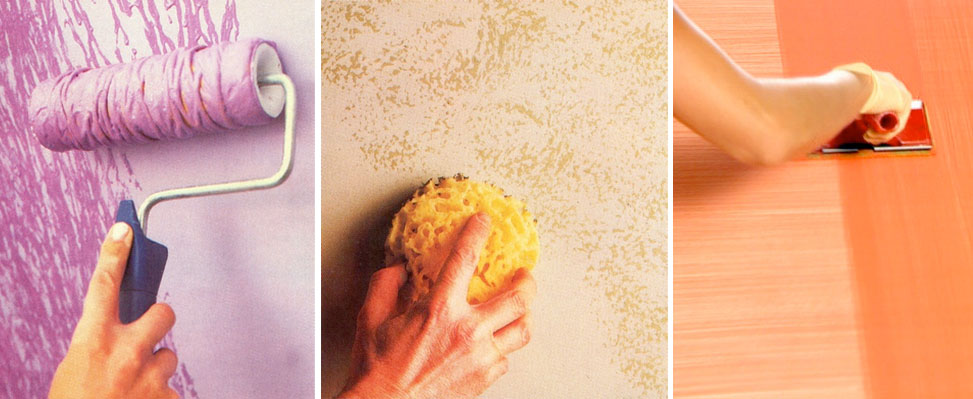 To keep a moist edge when using a roller, work in tiny parts at once. To disperse the paint evenly, start rolling in the shape of a "W" or "N." The paint should then be softly rolled over the area in a straight line. Each Stroke should slightly overlap the one before it to avoid apparent lines and provide a smooth finish.
Multiple Coats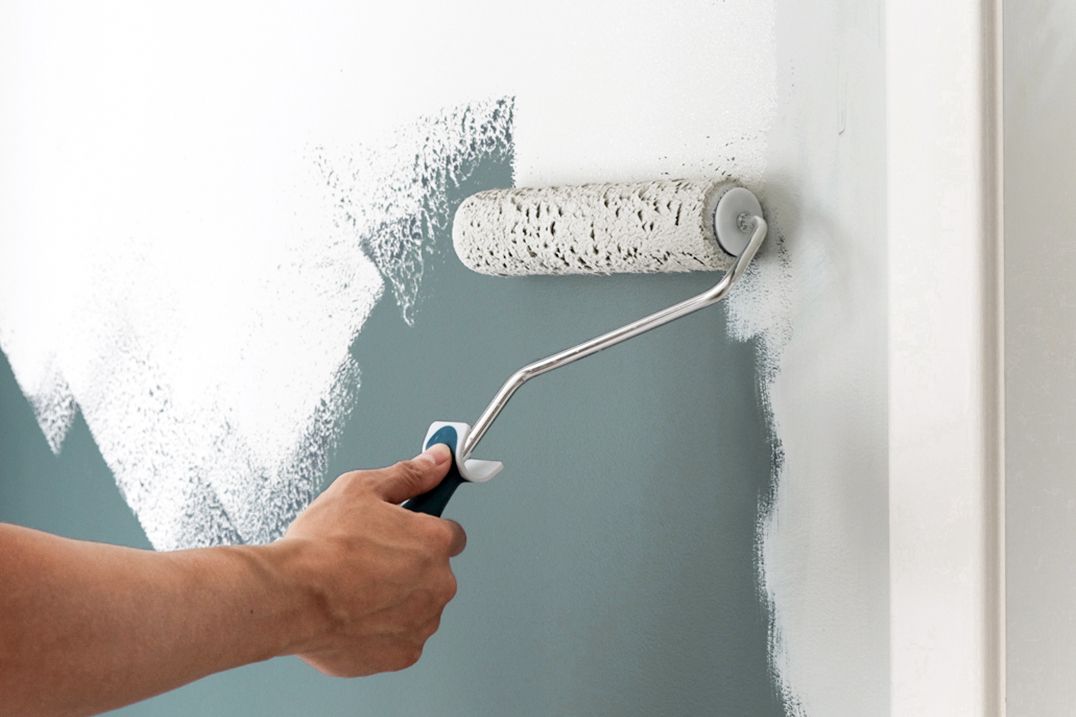 Usually, it takes many coats of Benjamin Moore Pashmina to cover completely, especially if you're changing from a very different shade. Before applying a subsequent layer, let the previous one completely dry. To guarantee a long-lasting and attractive finish, adhere to the drying times suggested on the paint container.
Proper Ventilation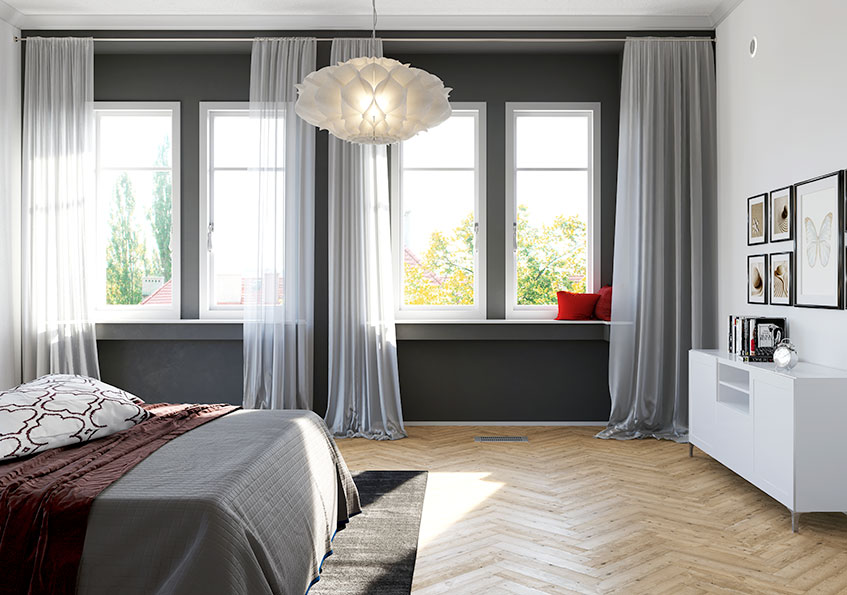 For appropriate air circulation and quicker drying periods, make sure the space has enough ventilation while it is being painted and dried. To improve airflow and reduce emissions, open windows and turn on fans.
Touch-ups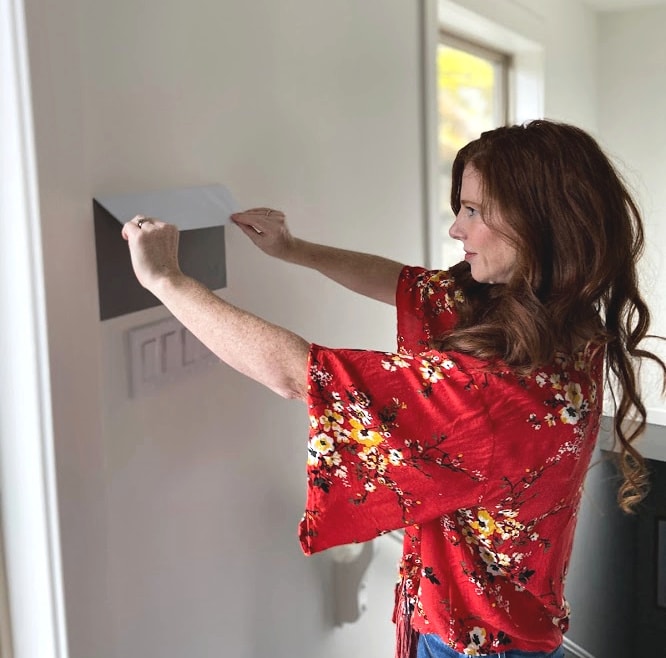 Touch-ups can be made if required once the Benjamin Moore Pashmina paint has fully dried. Use only paint from the same batch to prevent color changes.
5. Consideration for Lightning
Consider the many lightning elements that might affect the appearance of Benjamin Moore Pashmina to obtain the ideal look and atmosphere.
Natural Lighting
The appearance of Pashmina may be greatly influenced by the quantity of natural light that enters a space. Pashmina's warm taupe undertones will be more noticeable in areas with lots of natural light, producing a cozier and more welcoming feel. Consider putting paint swatches through several lightning tests to examine how the color changes with the time of day using natural light. While south-facing rooms frequently get warmer, brighter natural light, north-facing rooms may get colder.
Artificial Lighting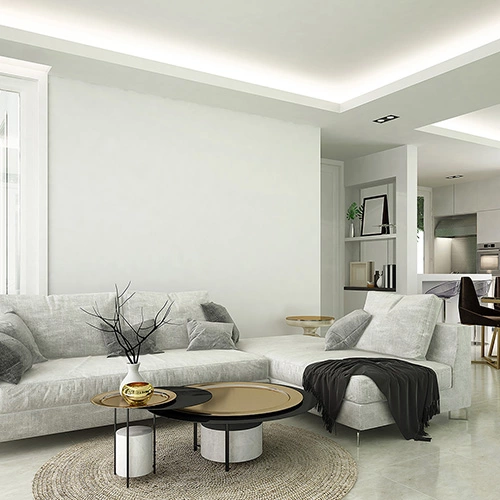 Artificial lightning's kind and color temperature may also affect how Benjamin Moore Pashmina looks. Different light sources produce light with a range of color temperatures, from warm (yellowish) to cold (bluish). Pashmina will look cozier and warmer when lit with warm-toned lamps like incandescent or warm white LEDs. Cool-toned lighting sources, such as sunshine or cool white LEDs, may cause a minor greying of the color.
Lightning Placement
On Pashmina-painted surfaces, shadows and highlights may be produced by the positioning and angle of lighting fixtures. Wall-mounted lighting fixtures and sconces may create shadows that give colors depth and character. A homogeneous look can be achieved by using pendant lighting or recessed ceiling lights, which can offer a more general illumination. Pay attention to how the light is distributed around the space and how Benjamin Moore Pashmina surfaces are affected by it.
Reflective Surfaces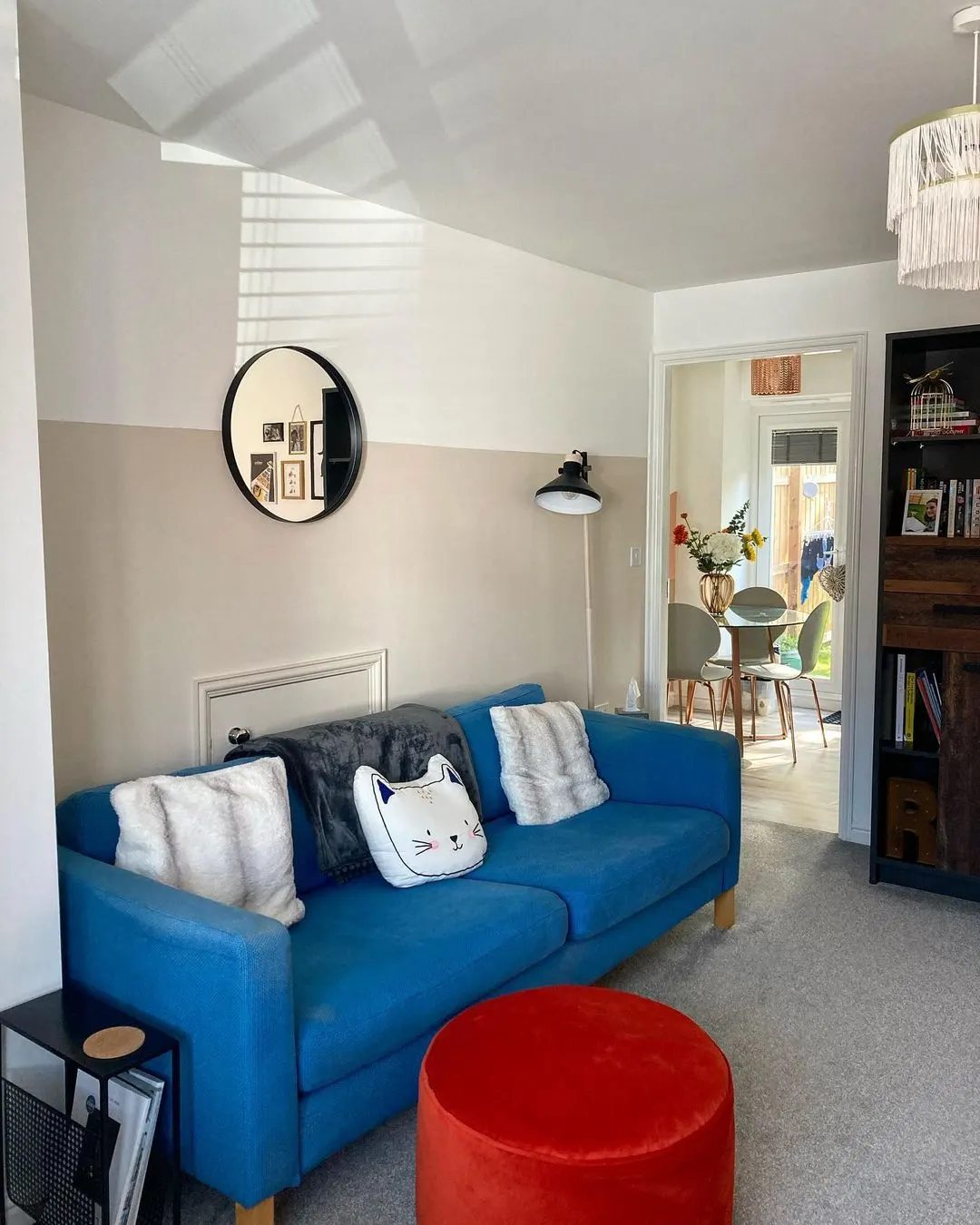 Glossy paint, mirrors, and other reflective surfaces may scatter light around a space and alter how Benjamin Moore Pashmina can be seen. The warmth and brightness of the color may be enhanced by these surfaces, giving the room a more dynamic appearance. On the other hand, matte finishes and non-reflective surfaces may mellow the look of Pashmina and provide a more somber atmosphere.
Adjacent Colors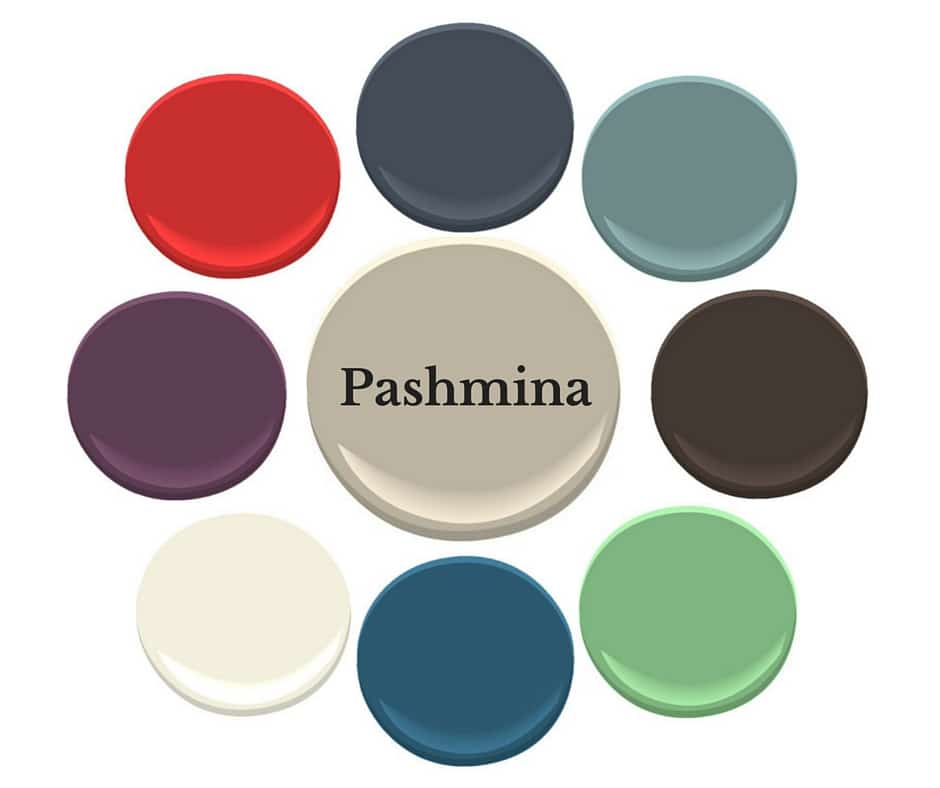 Pashmina's appearance can be affected by the colors of nearby walls, furniture, and decor. The warmth of Benjamin Moore Pashmina can be enhanced by neighbour5ing complementary hues or warm tones, while cool hues may subtly contrast. To create a unified and harmonious appearance, take into account the room's general color scheme and how Pashmina interacts with other furnishings.
Samples and Swatches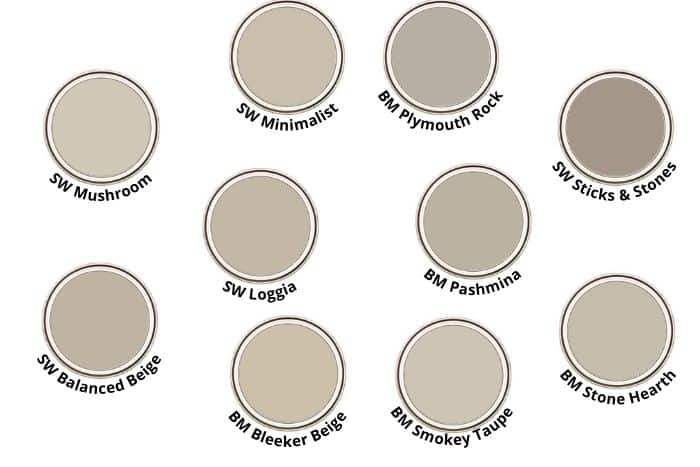 Test samples and swatches in various parts of the space before deciding to choose Benjamin Moore Pashmina as the primary paint color in the room.
Throughout the day and into the evening, take note of how the color appears in various lighting situations. To ensure you obtain the ideal impact in your environment, use this procedure to determine how Pashmina reacts to both natural and artificial light.
Conclusion
In this in-depth color analysis, we have looked at the attraction of Benjamin Moore Pashmina, a warm taupe color that deftly mixes refinement and warmth. Pashmina has established itself as a classic and beautiful option for altering living spaces, both in terms of its historical context and emotional effect, as well as its many interior design uses.
By delving into its different characteristics, complementary colors, application techniques, and light considerations, we can conclude that Pashmina is an excellent choice to be used to design warm, calming spaces that express the distinct personalities and tastes of homeowners.
Accept the seductive attraction of Pashmina and let it enrich your adventure in home design with depth, character, and elegance. Comment and let us know your views too.