Retaining walls add beauty to the facade of your garden, besides being a practical landscaping feature. But cheap retaining walls? And that, too, retaining walls that you can create all by yourself? Is that a possibility?
The good news is that you do not have to spend thousands on building retaining walls. And the cheapest way is to do it yourself.
Yes, that's right! DIYing retaining wall projects using available resources, like commercially available blocks and materials at online stores, local dealers, or even free, make things quite affordable. You do not have to pay a bit over the odds!
Today, we will talk about everything that you need to know related to cheap retaining walls – DIY methods, availability of blocks, prices, and so on.
Retaining Walls – What & Why?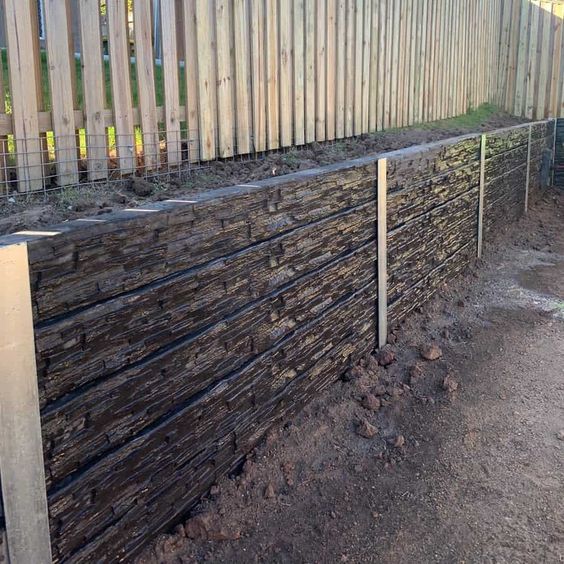 One of the best ways to beautify the outdoors of your home is to go in for retaining walls. These are rigid concrete or stone walls that provide lateral support to the soil.
In other words, a retaining wall will not just enhance the aesthetic value of the garden or the outdoors but also help in preventing damage to the landscape. While you can call professionals to do the job, there are plenty of DIY ideas to set up these walls. The advantage of DIYing is that the costs are less, and you have the flexibility of doing the work at your pace.
Different kinds of materials are available for creating these structures. The overall cost will depend largely on the material and the height of the structure. If you hire labor for the work, labor costs will be extra. If you are doing it yourself, the labor costs are zero.
Retaining Wall Materials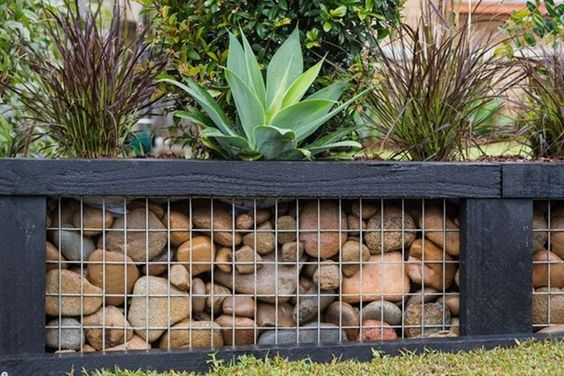 Poured Concrete is a common material used by professionals, though it is the most expensive material for wall retaining.
Concrete blocks or Cinder blocks are ready-to-use and one of the least expensive materials. The cost of cinder blocks is almost half of that of poured concrete.
Ground Contact Wood is another available option for a cheap retaining wall that you can get at home improvement stores.
Railroad sleepers are available at lumbar stores and are quite inexpensive.
Boulders or large rocks are the next best option, and these are usually free. You can try the random pattern using boulders of different sizes or the basketweave pattern that uses rocks of the same size and shape.
Retaining Wall Height
This one is not a brain teaser! The higher the wall, the higher the costs. So, the best way to cut down on costs is to keep the wall height low, about 4 feet tall.
Cost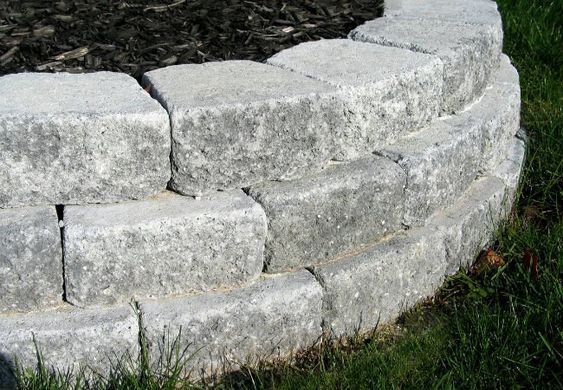 Building a retaining wall can range from being extremely expensive to dearth cheap. It all depends upon the materials that you pick, the wall height, and whether or not you plan to build the wall yourself or hire labor.
Taking all of these into consideration, the approximate cost of making a retaining wall lies between $1,000 and $10,000. The average cost per square foot will range between $ 5 and $50. Higher-quality materials will cost around $ 60 to $125 per square foot. The labor costs currently range between $ 50 and $ 75 per hour.
The approximate material costs are as here:
| | |
| --- | --- |
| Retaining Wall Material | Average Cost Per Sq. Foot ($) |
| Brick | 14 – 15 |
| Boulder | 8 – 12 |
| Timber | 15 – 25 |
| Cement | 10 – 15 |
| Poured Concrete | 20 – 25 |
| Gabion | 4 – 40 |
Now that we have an idea about the materials of retaining walls let's get straight to 30 cheap retaining wall ideas without further ado.
1. Weathered Wooden Boards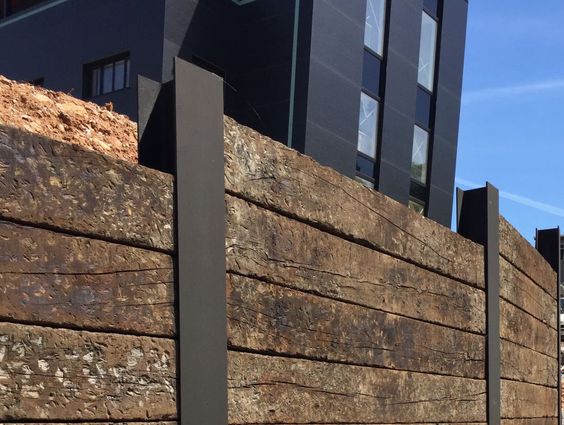 One of the best options for making your own cheap retaining wall is to use timber boards. For a rustic feel, you must use distressed and knotted boards. If the timber is a bit weathered, the look is rough and homespun.
The only issue with wood is its sensitivity to water. The timber logs will need replacement in a few years as these are bound to rot after some time.
Wilson Northern White Birch Log Bundle, Natural Bark Wood Home Décor - 17"-18" in Length 1.5"-3" Dia. (Set of 8)
Birch logs are ideal for DIY home decor to achieve a rustic or contemporary look as a fireplace display, filled basket, firewood rack, mantel and shelf displays, flower pots, and wedding decor
Rustic birch logs are harvested from the wilderness of Upper Michigan and are then kiln dried to preserve the integrity of the natural bark and ensure long-term indoor use
Includes 8 decorative natural white birch logs, measuring 17 to 18 inches long and ranging from 1.5 to 3 inches in diameter
This set will have more rustic characteristics: color variations, loose or peeling bark, and other natural features. Perfect for a warm, rustic touch of white birch in any cottage, cabin, or home.
2. Stained Wooden Walls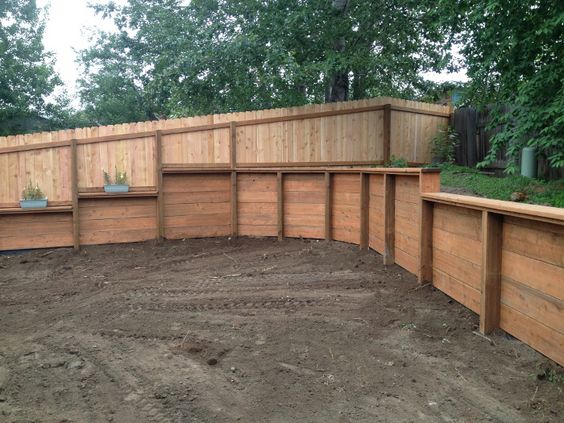 Since wood comes in different textures, colors, and grains, it is an ideal option for the backyard or even the garden. Use stained wooden walls or treated pine boards for a more contemporary look.
Use them creatively with logs of different heights, following zigzag patterns, placing them vertically, horizontally, or doing a mix-and-match, and more.
3. Raised Garden Bed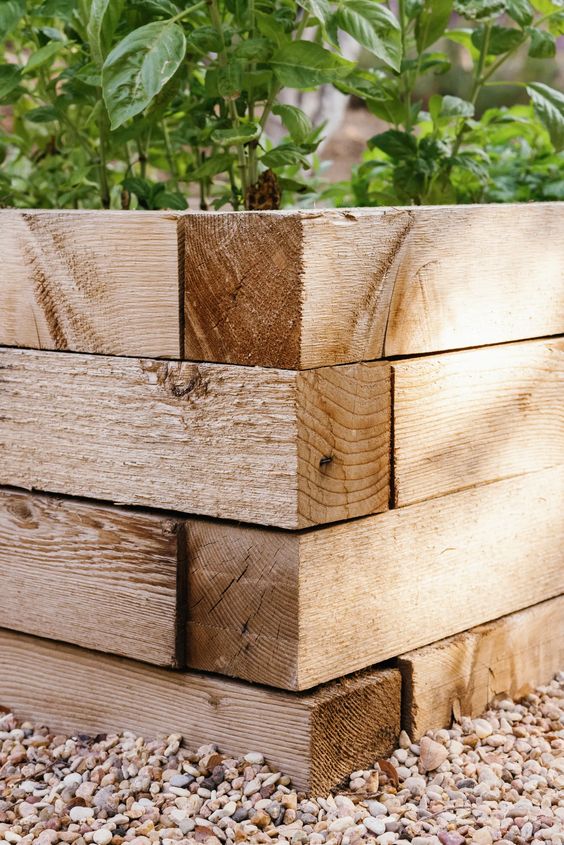 You can create a cheap retaining wall with strong and sturdy treated wooden boards and posts. The vertical posts are towards the outer end, while the horizontal posts are used in between. Typically these retainer walls have boards on the top that can be used for sitting purposes.
You can create a terraced garden bed for a better visual appeal. Sometimes, you can use metal beams for better fixation of the strong timber boards. It creates an impressive landscaping feature.
4. Log Stack Wall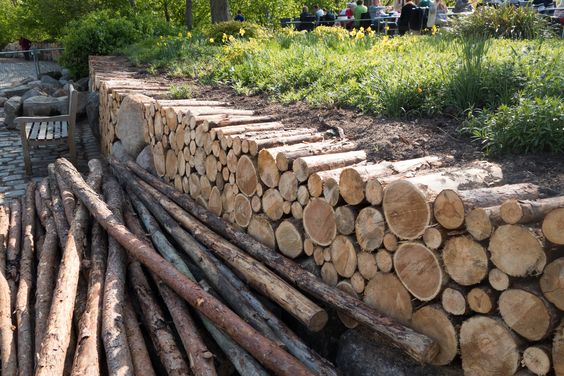 Want to DIY a cheap retaining wall without much effort and expenditure? Try this fabulous idea. Get a few wooden logs from a favorite tree of yours, a local lumber yard. It is a great advantage if you live in a hilly area where such logs are available at cheap rates. Use logs of different sizes for a creative design.
Make a stack of the logs in a way that these do not slide down. Remember to fill the gaps using gravel and soil. Grow ornamental succulents and xerophytes for added attraction.
One essential thing to remember in this case is to use filter fabrics that will prevent the entry and accumulation of debris.
5. Low Log Walls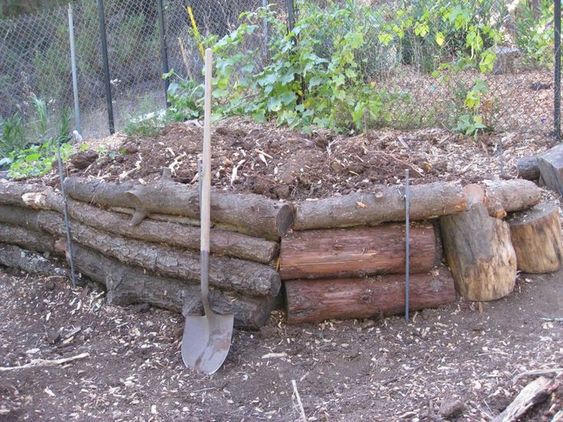 Another excellent cheap retaining wall is to use straight logs to build a low fence-type wall. Use the timber parallel to one another. It is a great option for creating boundaries in your backyard, front patio, or garden. The walls can be as low as 4 feet and not more.
All that you need for this idea are sturdy pressure-treated log pieces. These wooden planks contain copper that helps prevent decay for a longer time vis-a-vis untreated logs.
6. Stoned Steps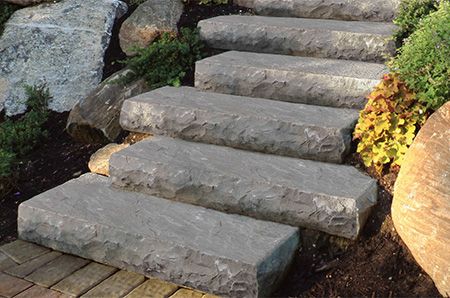 Use big slabs of stones to create a cheap retaining wall. Place the blocks as steps surrounding your patio or driveway to give a natural and real-time effect. As mentioned above, stone slabs or big boulders are usually available free and, therefore, are an economical option.
7. Gabion Cheap Retaining Wall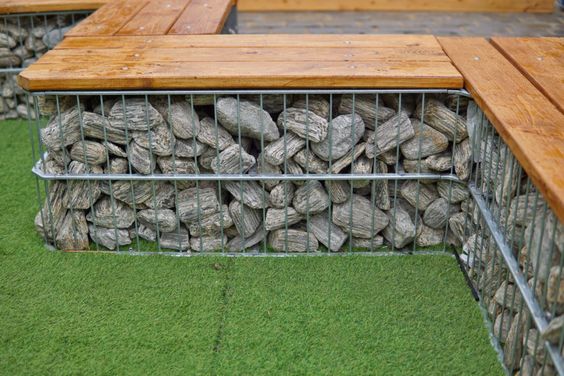 A gabion is a mesh wire cage that is filled with landscaping materials like stones, rocks, soil, pebbles, etc. You can purchase ready-to-use welded gabion baskets or DIY a few and use them to make cheap retaining walls like in the image here.
To DIY this project, you will need wire and galvanized mesh. You can use your creative skills to weave unique-shaped baskets, fill them with beach sand, pebbles, colored rocks, ornamental stones, etc., and create your own gabion baskets.
YUHI-HQYD Gabion Raised Bed,Garden Planter Boxes Outdoor,Raised Bed Garden Planters, Spot Welded,High Load Capacity, for Gardening/Backyard/Patio, Steel 70.9"x35.4"x39.4" Silver
This gabion planter presents a convenient way of creating a strong yet stylish border for a flower or plant bed in your garden or on your patio.It is very convenient to use for daily garden care and is an excellent choice for garden lovers that want to improve the quality of their garden.
The sturdy gabion has been designed to be filled with rocks or gravel. Made of rustproof and weather-resistant galvanized steel, the gabion is very stable and durable.This gabion planter is ideal for creating flower or plant beds in your garden.
The mesh grid is formed by welding transverse and longitudinal wires at each and every intersection for extra stability.Perfect for patios, decks and small-space gardening or as an easy-access supplement to a traditional vegetable garden.
Color: SilverMaterial: Galvanized steelOuter dimensions: 70.9" x 35.4" x 39.4" (L x W x H)Inner dimensions: 63" x 27.6" x 39.4" (L x W x H)Wall thickness: 3.9"Mesh dimensions: 3.9" x 2" (L x W)Wire diameter: 0.1"Spot weldedHigh load capacityLoading capacity: 87.4 lb/ft3
We provide professional customer support.Responsive Customer Service - Customer service is one of our top priorities.If you have any problem for our product and service, please feel free to contact us.Our service team will address your concerns in 24 hours .
8. Boulder Walls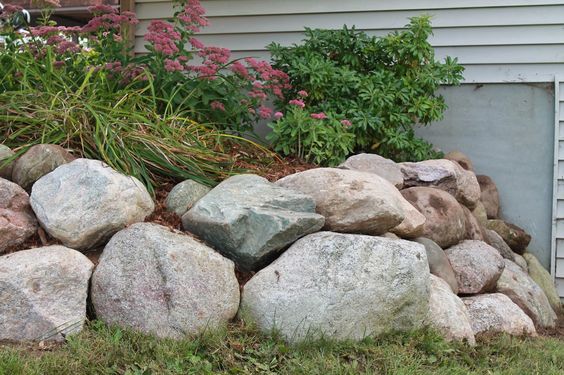 If you happen to live in a rocky landscape and you prefer to keep your outdoors nature-inspired, go in for boulder walls. As is seen in the picture here, big rocks are embedded into a huge heap of soil in a way that the entire structure is strong and sturdy. The hauling and stacking parts can be a bit of a challenge, but with the help of the right tools, you can achieve a cheap retaining wall cost-effectively.
Remember, however, that you may need approvals from concerned authorities to remove big rocks and boulders from parks or other natural terrains. You can buy these rocks at cheap rates from local or online sellers that sell landscaping materials.
9. Pallets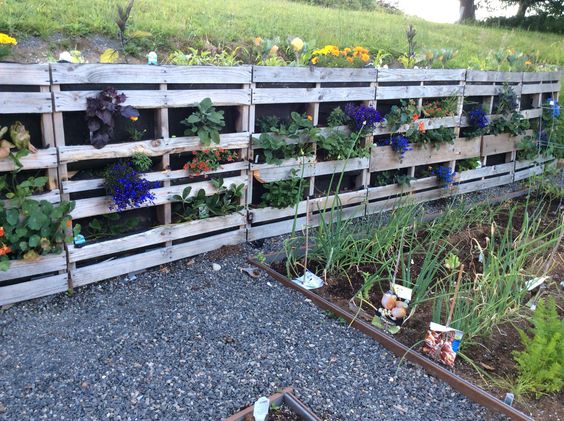 Stack up pallets lying idle or embed them aesthetically in a mound of soil to create a cheap retaining wall. You can get these pallets for free or negotiate an attractive deal from stores that keep discarding used racks from time to time.
Once done, give wings to your gardening instincts by using pallet tops for vertical gardening. Plant seasonal flowering plants to spruce up the look of the space.
10. Flagstones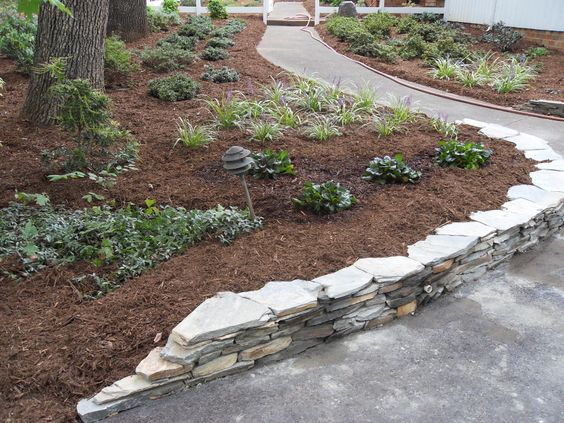 All you need for this idea are scores of flat stones that are usually used in making patios. The advantages are – first, these stones are way cheaper than other commercially-available stones and bricks. Also, flagstones come in different colors and shapes.
A cheap flagstone retaining wall gives a very natural rugged look to your outdoors. To do it yourself, you can refer to different video tutorials so that the project works out cheaper. Hire professionals if you are not too confident though this will make it a costly affair.
11. Upright Log Walls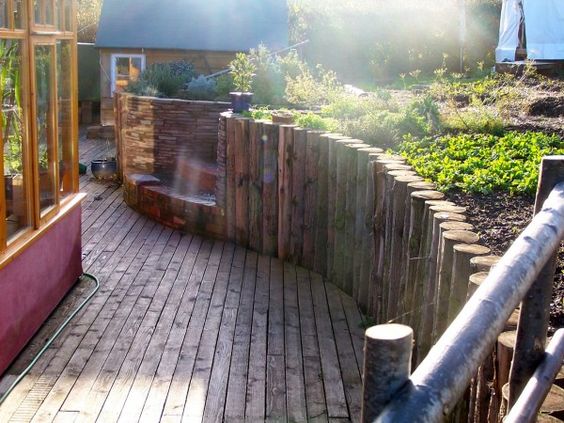 Remember, we told you that you can use timber logs from the local lumberyard to create low retaining walls. If placing these logs horizontally is a problem, go in for the vertical placement of the logs. It is another brilliant cheap retaining wall idea.
You will have to dig the ground to insert the logs into the earth. Keep them at the same height, or use logs of varying heights. If you live in an area where there are plenty of trees, you can collect logs lying idle or ask your neighbors for logs when they cut the trees in their backyard.
12. Metal Retaining Wall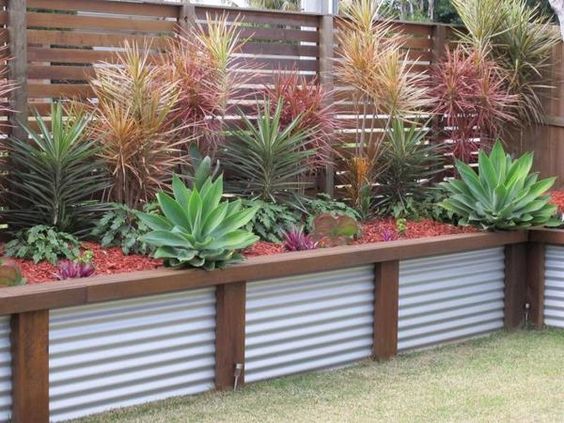 Metal sheets are an excellent choice for making cheap retaining walls. These are easy to handle if you have the right tools with you. Installing them is not a long-drawn process that adds to your comfort.
Straight and corrugated metal sheets are available at recycling centers and are available in different colors, styles, and shapes. To make it look even more visually appealing, you can use them as a combo with wooden stakes.
13. Repurpose Old Tires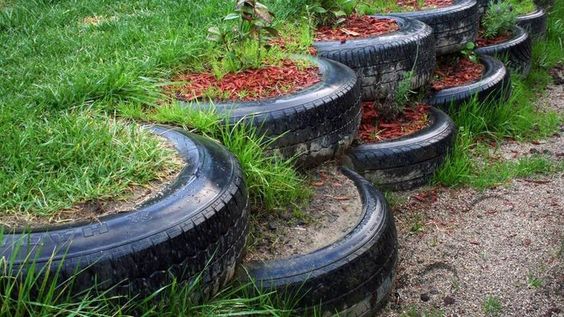 Concerned for Mother Earth? Get on with this idea. Get hold of a few recycled tires and save them from filling up landfills. These tires can be repurposed to create a beautiful and cheap retaining wall, as in the picture here.
The method for making this garden wall is to lay down the tires on the ground in lines. Each subsequent line needs to be a bit staggered for a sloped appearance. Fill the tires with soil and flowering plants for a more natural look.
14. Cinder Blocks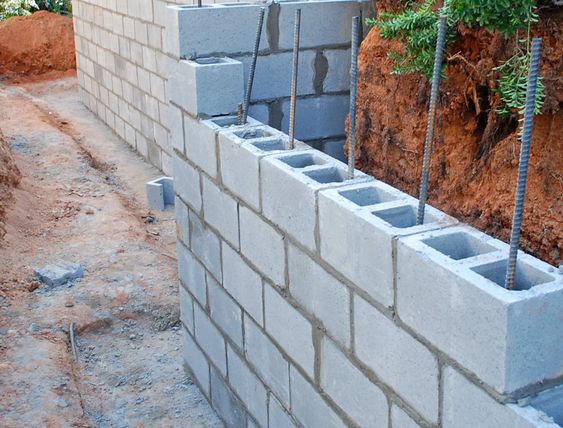 Cheaper than concrete, cinder blocks are rectangular, hollow, and lightweight. These are made from sand, cement, and cinders or wood or charcoal waste. Since these are hollow, they are easy to fit. You will need a cement mixture to do the fixing of the blocks.
Initially, the look may be a bit unnatural, but with time, with moss growth, this cheap retaining wall transforms dramatically to gel with the surroundings.
Magic Blackstone Griddle Scraper,4 Pack Gray Stone Cleaning Block Clean Brick for Grill, Removing Stains BBQ,Pool, Racks, Baking Steel, Oven, Flat Top Cookers, Utensils, Exfoliation Dead Skin, Toilet
WHAT YOU GET ★ One non-scratch grillstone come with 4 pack, grey, cleaning brick block cleaner measures 3.94'' x 2.76'' x 1.58'' (10*7*4 cm) , high density design, handheld size for fast and easy cleaning.
SAFE & ECOLOGICAL & ODORLESS ★ Our griddle scraper cleaning brick block kit made by high quality 100% ecological material, reusable & odorless & non toxic & recyclable, no bristles to scratch or get in food, not scratch your tiles and metal, help you solve stains and troubles.
EASY & EFFECTIVE & MULTIUSE ★ Our cleaning stone cleaner kit is convenient to use, perfect for different situation: grill griddle, flat top griddle, BBQ, sink, cast iron tops, baking steel, oven, tile, racks, bathtub, toilet, pool cleaning and many more, can effectively remove the greases, residues and stains, leaving it looking new again. Also you can use it as a grindstone to sharp your knife.
PEDICURE TOOLS HARD SKIN CALLUS REMOVER ★ Our clean brick stone scraper also can do foot file exfoliation to remove dead skin, effectively soften and remove dry/hard skin, remove callus and make your body smoothly and shiny.
LIFETIME WARRANTY, BUY WITH CONFIDENCE★ We stand behind all of our products. If you're not 100% COMPLETELY SATISFIED, just send us an email, and we promise to make it right!
15. Railway Sleepers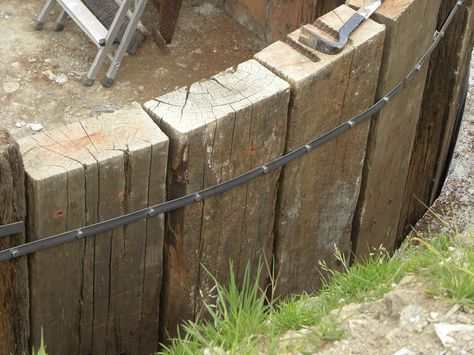 This is an amazing cheap retaining wall idea if you stay close to a railway junkyard that sells or recycles used railway sleepers. These are bulky and heavy – large beams that support railway tracks. These beams can be placed vertically or horizontally to create picture-perfect retaining walls.
Use the entire stretch of the wall to plant succulents for visual adornments.
16. Poured Concrete Wall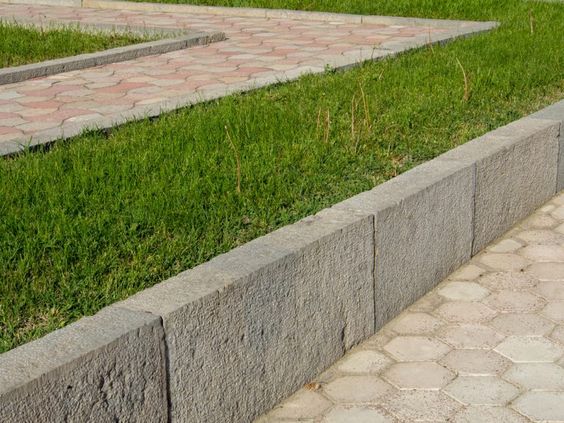 Concrete retaining walls are extremely sturdy and last long. But this is one of the most expensive options for retaining walls. Instead, try poured concrete to make a cheap retaining wall. Poured concrete is obtained by mixing concrete with pebbles and gravel. Therefore, it is cheaper.
The other advantage is that you can create any shape depending on the base structure that you use. Take the help of a professional if this seems to be a tough one to DIY.
17. Stacked Natural Stone Walls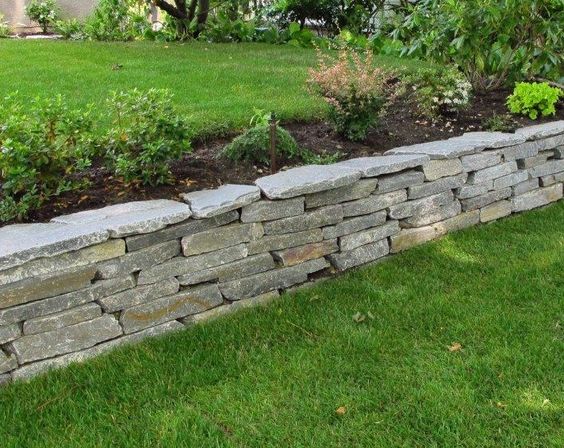 Stones of every shape and size that are available locally can be used for making this cheap retaining wall. Simply stack them to form a coherent structure. Use sand and soil to fill the gaps.
When you procure locally, you not only get the best deal but also have access to natural stones of different textures and colors that are part of the existing geography. Looks thoroughly natural and expensive though the overall price works out to be cheaper than timber walls.
18. Terraced Walls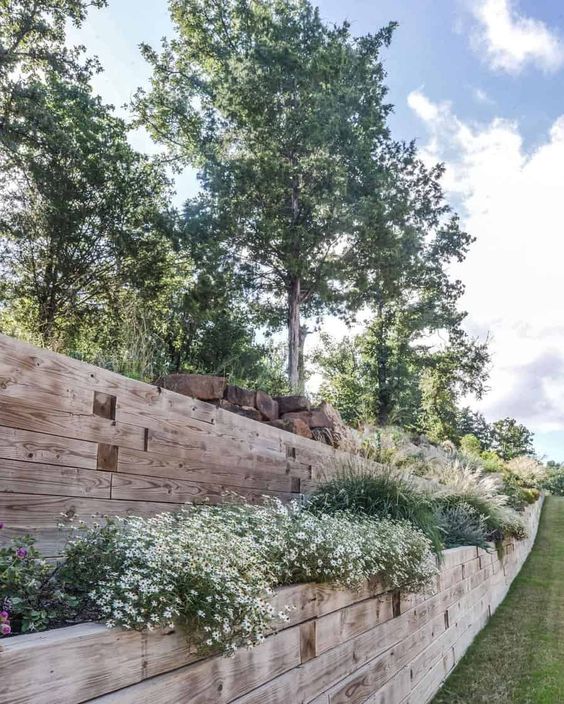 Terraced walls can be made from any material, and that is what we love about them. In the picture, you have a terraced structure made from concrete. Each level has been used smartly by the owner to create garden beds. You can convert one level into a grass lawn and have sitting chairs placed.
In the picture here, you have a sandstone terraced wall with capstones for an overhanging feel.
19. Multicolored Stone Wall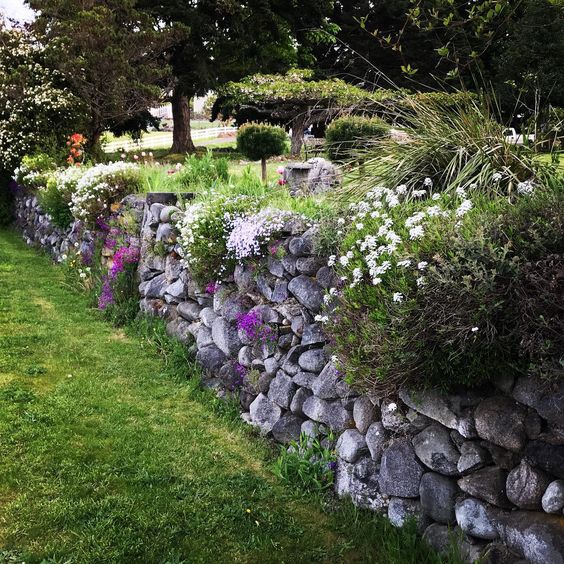 Stonewalls look elegant and rich, but these are actually one of the best ideas for creating cheap retaining walls. In the picture here, you can see how the owner has used colored stones to create a distinct and attractive retaining wall for the staircase outdoors.
Compared to local stones, this one might cost a bit more, as procuring these colorful stones can come at a higher price.
20. Decorative Sandstone Wall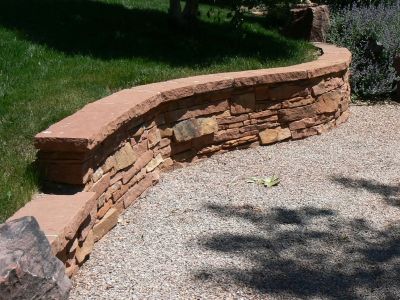 Stones can be used to create some of the most decorative and cheap retaining walls. Sandstone, for example, is a really good option if you want to take the look of your outdoors notches higher. This is because sandstones are available in different styles, shapes, and textures. By stacking different types together, you can create a head-turning retaining wall.
21. Decorative Limestone Wall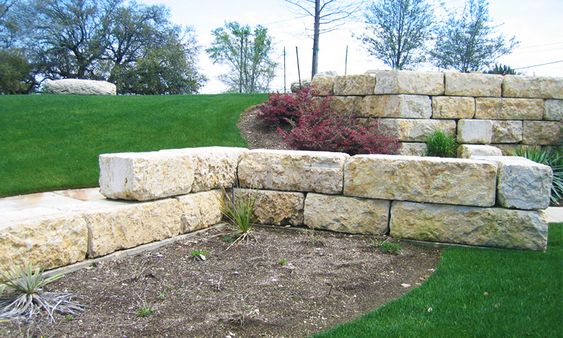 Another stone to consider for making a cheap retaining wall is limestone. Easily available, it is also hard-wearing. Limestone slabs can be cut into pieces of different shapes and sizes, and that is what makes it so versatile. Notice the stairs that have been added by the owner in the picture here as a part of the retaining wall.
22. Fieldstone Wall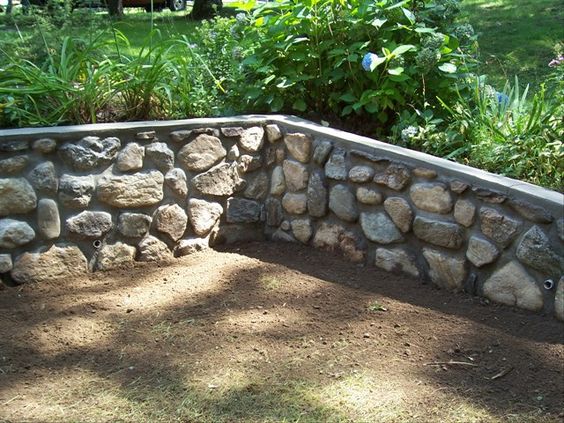 With their origin in Northeastern Pennslyvania, fieldstones are also called Pennslyvania Wallstones. Most of these stones are available in gray, pink, and brown hues. Stacking these stones in a line, one above the other, can create a magnifying effect in your garden.
With built-steps created out of huge stone slabs, this cheap retaining wall is all about strength and being a complete show-stopper.
23. Brick Walls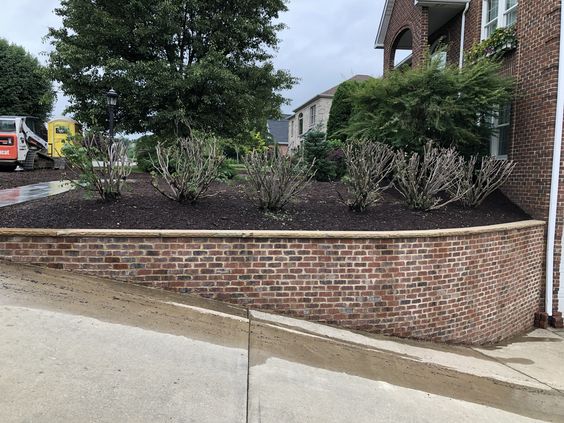 These walls may not be the best DIY idea for creating a cheap retaining wall. While brick is cheaper than cement and, in some cases, sandstone and limestone, you may need to hire a mason for the underlying foundation work. This is because bricks need to have a strong foundation underground, quite some feet here the surface. The foundation is made from reinforced concrete.
But the look achieved is amazing, as is noticeable from the picture here. Part of the job can be done by a mason, and the other part can be done by you.
24. Concrete Cylinders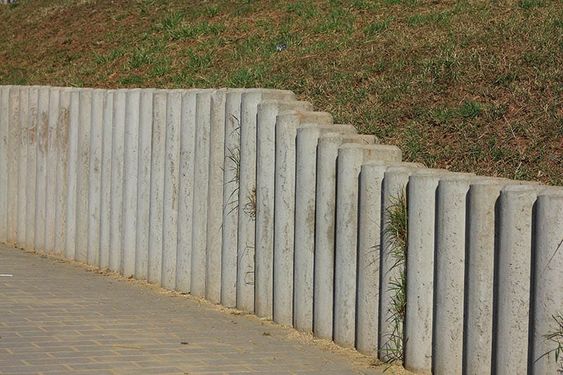 Walls made from cylindrical-shaped concrete appear almost like logs, but these are way more strong and long-lasting compared to log walls. Thus, even if the initial investment may be higher vis-a-vis logs, concrete cylinders are cost-effective in the long run.
The cylinders can be differently sized or of the same height to make your cheap retaining wall.
25. Cement Slabs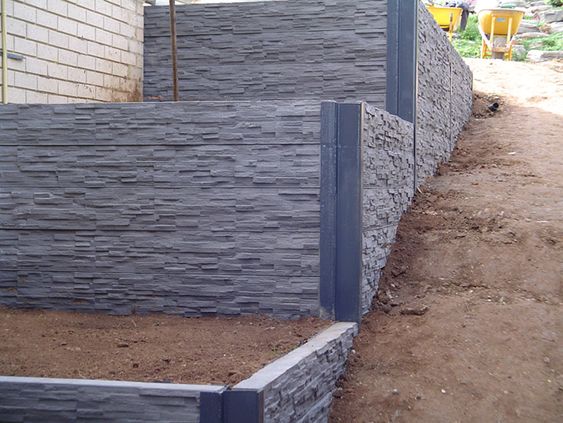 Don't want to spend too much and keep the look simple? Try this cheap retaining wall idea using large cement slabs. Slabs of different shapes and sizes can be bought from a local store or ordered online. This is one of the easiest ways for wall retaining.
26. Interlocking Logs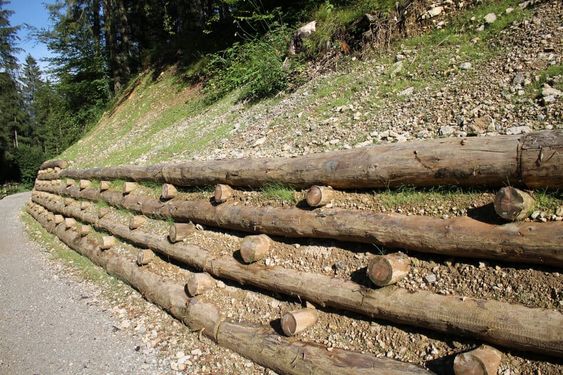 As is evident in this image, the logs have been used horizontally to create a gridlock kind of structure. The fillers in between consist of mud, soil, and sand. The logs are placed intelligently to bear creep pressure. This kind of cheap retaining wall acts as a fence, helping rocks from sliding down onto roads. One of the cheapest solutions if you live on hilly or rocky terrain.
27. Concrete Planters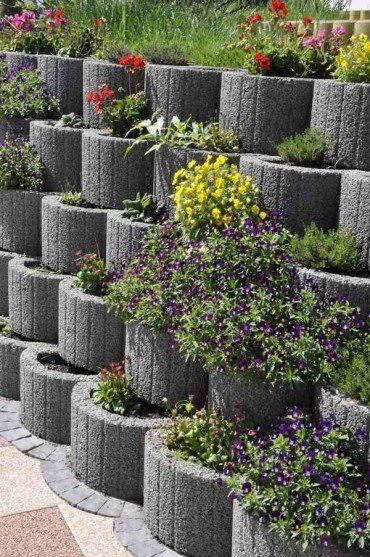 This idea is the perfect way to kill two birds with a stone. Concrete planters, huge ones, are easily available online or in physical stores. Line them up and place them as close as possible to one another.
The final look is that of a semi-concrete wall. With flowers and shrubs, this cheap retaining wall idea is a stunner all the way.
28. Trees With Circular Walls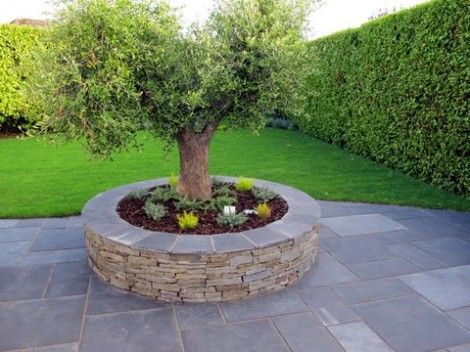 This is a very common way of preventing soil erosion and also creating a comfortable shaded area in your garden. If you have big trees outdoors, consider creating a circular brick wall around them. You may need to hire experts for this DIY cheap retaining wall idea.
With the soil in between the wall and the tree, you can plant other natural herbs and shrubs. The wall top can be made into a seating area.
29. Wicker-Style Retaining Wall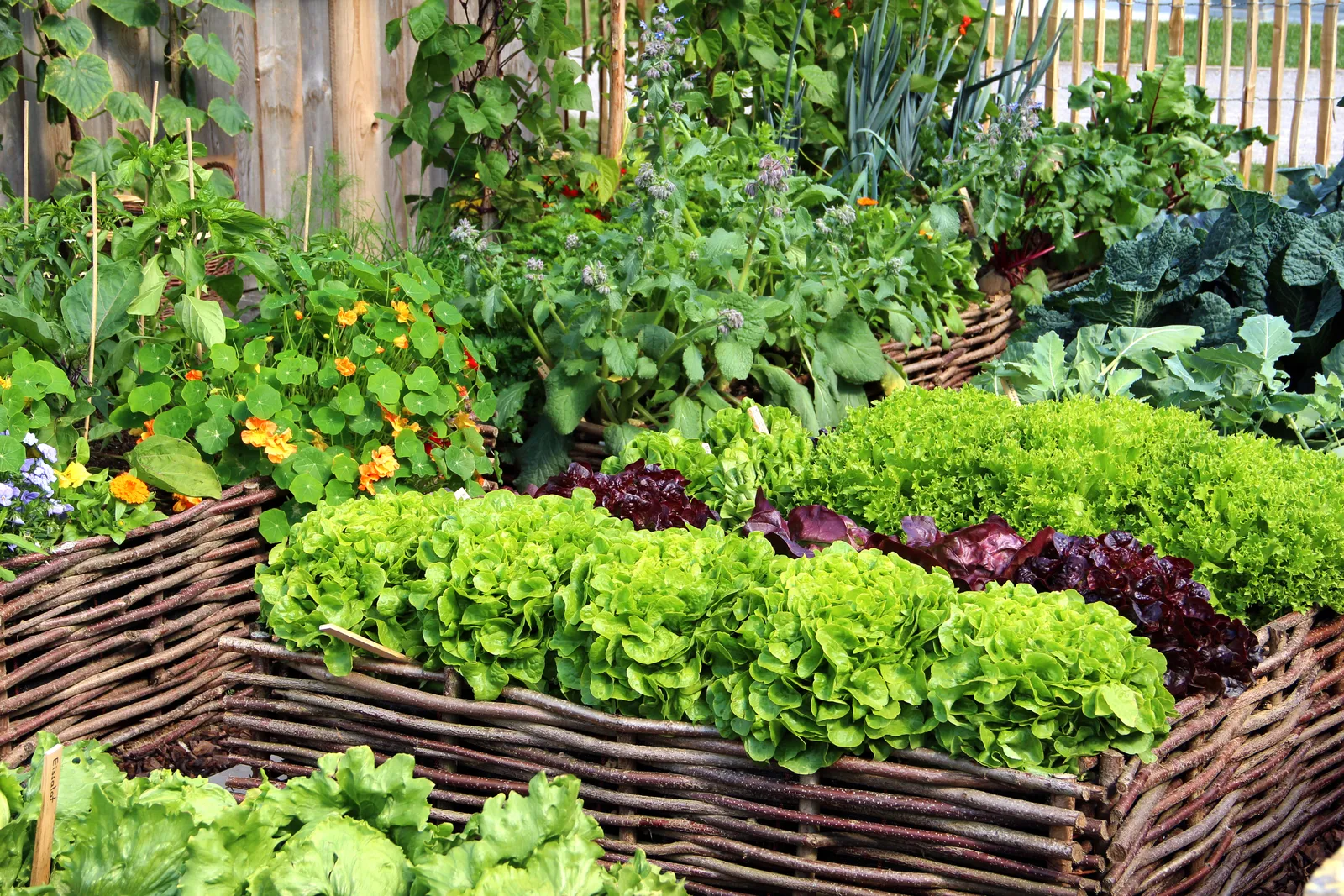 What you need for this cheap retaining wall idea are thin-wooded or bamboo wickers and baskets. Use them to create a picture-perfect low-cost retaining wall. Use the baskets to grow your lettuce garden, or fill them with moss and local seasonal flowers.
Get ready for a pristine cottage-feel ambiance in your backyard or the kitchen garden.
30. A Fence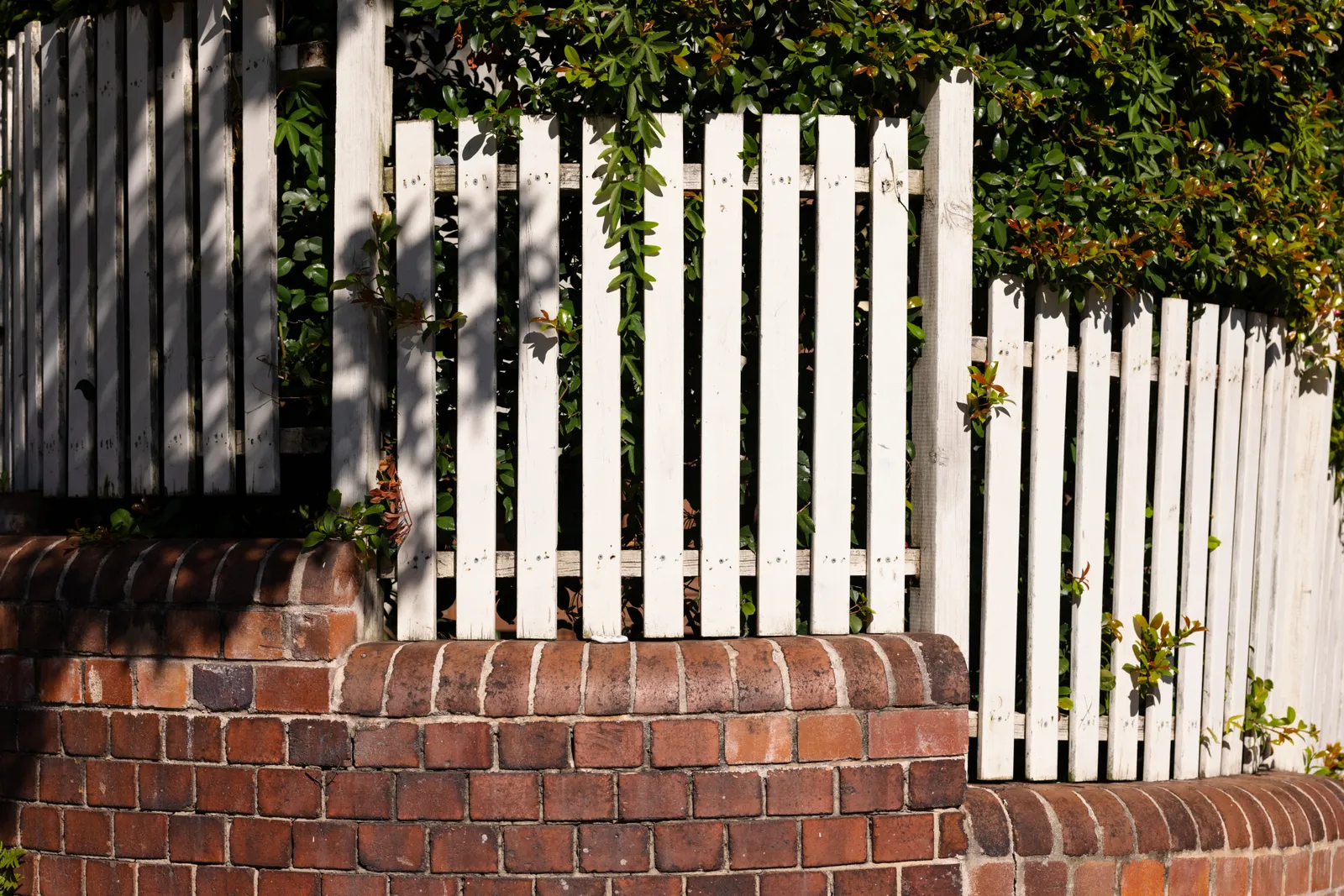 A fabulous cheap retaining wall idea is to go in for a vintage look and create a white or brown wooden, metallic, or plastic picket fence. You can buy ready-to-use garden fences online store. Using the fence along with an existing boundary wall, like in the picture here, makes for the perfect cheap retaining wall.
If you are in an experimental mood, you can make your own fence using wooden blocks and cutouts.
Sale
Zippity Outdoor Products ZP19001 No Dig Madison Vinyl Picket Fence, White, 30" x 56.5" (1 Box, 2 Panels), (Pack of 2)
DIMENSIONS: Each panel measures 30"H x 56.5"W: Package comes with 2 units for a total of 113 inches of fence
EASY INSTALL: Assembles and installs with relative ease- no digging required! Simply insert pointed stakes into the ground
GREEN INITIATIVE: We are proud to announce that our vinyl is made up of recycled PVC that is reprocessed, reinforced, and repurposed, reducing the carbon footprint to then create the cutting-edge designs Zippity Outdoor Products are known for while helping to sustain a greener environment.
PET FRIENDLY: Perfect to contain small pets or small children; Not recommended for large dogs
COMPATIBLE: Search "ZP19028" for compatible gate option to pair with this fence
Conclusion
With these easy-to-do DIY ideas, your cheap retaining wall will be up and ready in no time. Best of all, you do not have to hire a professional company to do the job, and with affordably-priced materials, the retaining walls do not make a hole in your pocket.
It's time to get your hands a bit dirty, but stay inspired because once you are done, you are sure to attract envious glances from neighbors and praises from your near and dear ones.
It would be great to know which of these ideas worked for your outdoors. Let us know your comments here. Do share other creative ideas for building cheap retaining walls with our readers.