Is your yard missing a statement look, but you do not understand why? A garden can have all the best elements, but a missing fence that elevates the aesthetics of your yard can still feel like your garden is missing something.
Among different fence types, horizontal fence ideas are at the top of the landscaping ideas right now. Why? It is simply because every house you see will have a vertical fence. So, to be unique with your yard, a modern horizontal fence is a quick fix.
The longevity of a fence will depend on the materials used and their maintenance. Water retention is one common concern with horizontal fences, so installing drainage features has become a necessity. To overcome these challenges, choose the right materials to build a perfect horizontal fence.
With this, let us explore the modern horizontal fence ideas for your yard that will fascinate your guests!
1. Horizontal Cedar Slatted Fence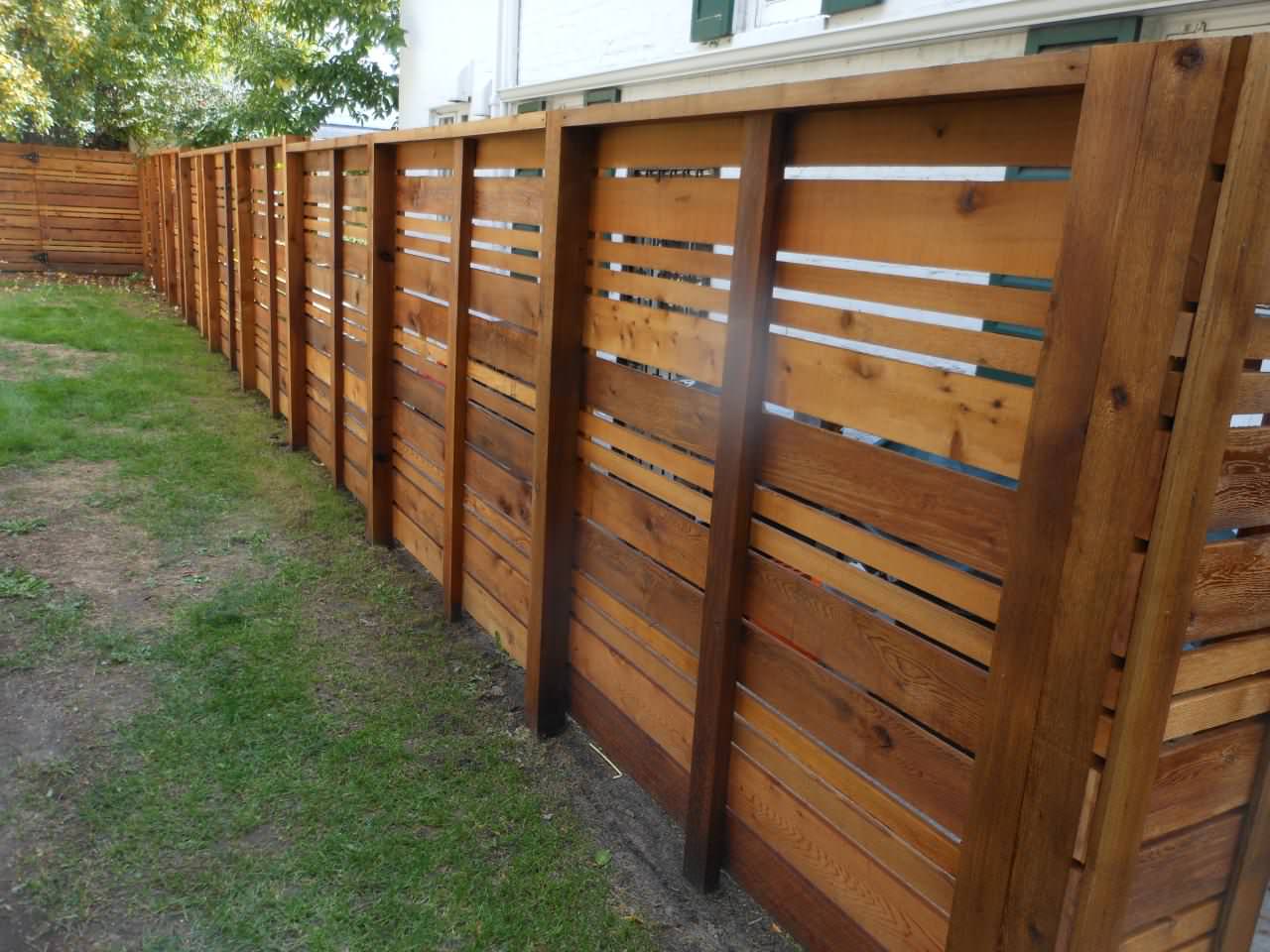 A modern horizontal fence built using wooden slats has become a popular choice for house gardens. The wooden slats are horizontally stacked to build a fence. The visibility can be tailored depending on the space between the planks or slats. If you require a passage for air and sunlight, you can allow space between the slats.
Whereas, if you want to maximize privacy, you have to skip leaving spaces between the slats. Any wood can be used for a slatted fence, but with cedar comes the warp resistance properties that will provide longevity to your fence. Redwood has similar warp resistance properties, so if cedar is not available, you have an option here. To protect the wood from damage, cover it with single or multiple layers of paint or oil.
2. Louvre Fence Panel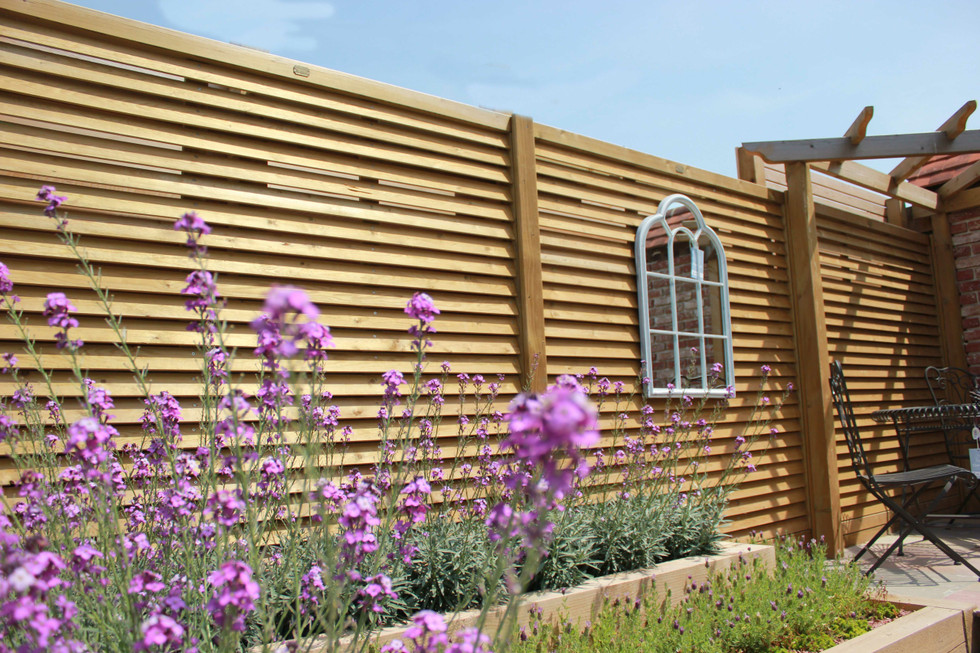 A design based on Louvre blinds, this fence panel will add an extravagant style to your home. The wide and angled marks a unique finish to your house. The spaces between the slats allow sunlight and air to pass through the fence rather than restricting it. Along with allowing the passage for sunlight and air, it blocks the view of the garden from the outside.
The falling sunlight creates an intriguing pattern across the garden. Another benefit of this modern horizontal fence design is that it prevents damage caused to the wood by waterlogging. The angled pattern of the wood ensures water running and reduces the chances of water pooling. With louver fence panels installed in your garden, your privacy is maintained as well. If privacy and ventilation are your primary concerns, this modern fence idea is the best for you!
3. Woven Modern Horizontal Fence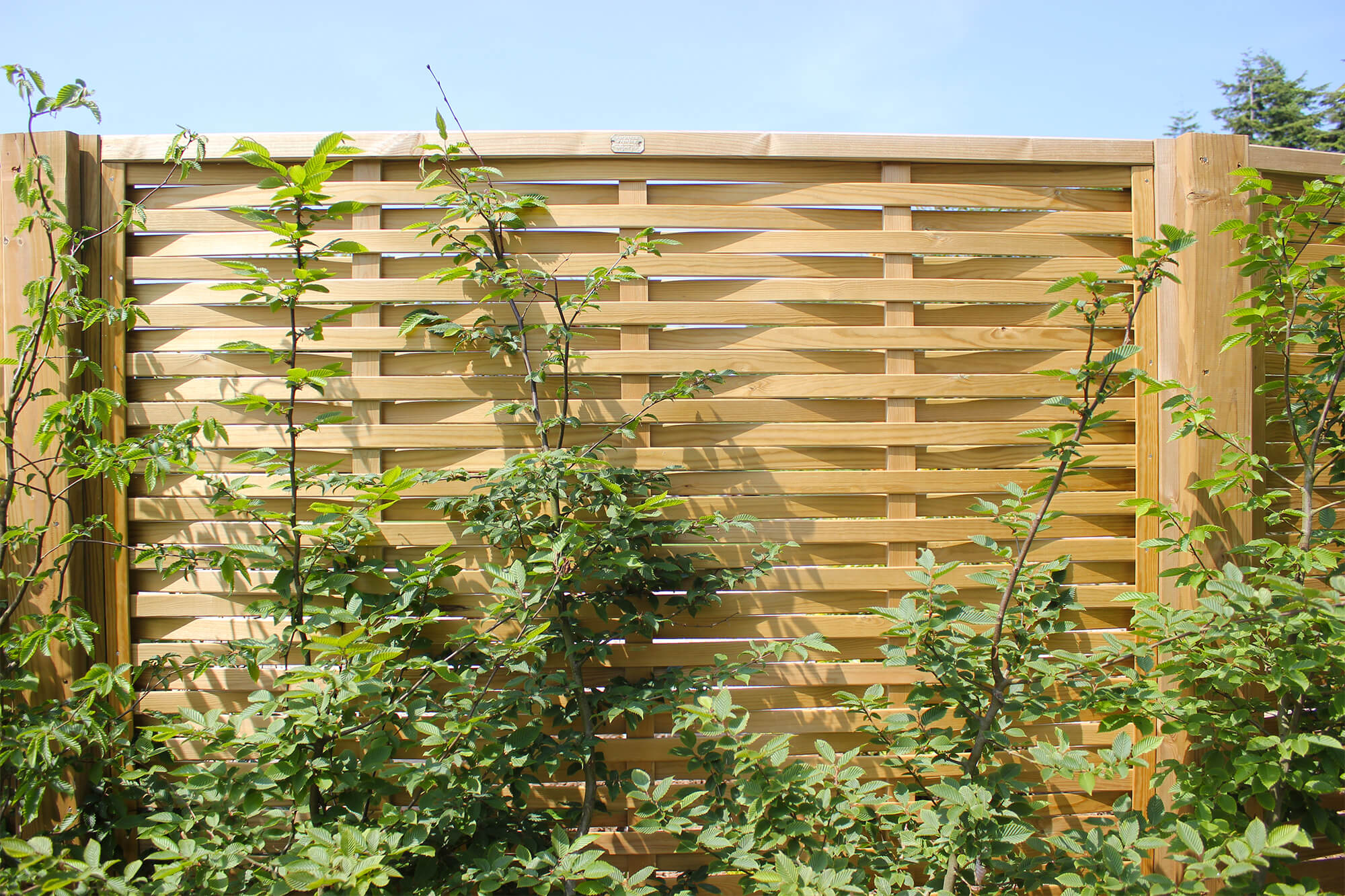 If you want to embrace your garden with a distinctive and modern horizontal fence, a woven fence design can do wonders for you. The woven design of the fence is created by interweaving horizontal and vertical wooden panels together to create this unique fence. The woven panels create a texture for you, and it looks minimal. This unique and modern horizontal fence is the best because it allows you to customize the fence depending on your preference.
By providing an eye-catching element to your garden, it also ensures the privacy of your yard. When compared with other fence designs, a woven wooden fence can be a bit difficult to maintain. Additionally, the fence will also require regular maintenance than other fences. But the visually appealing factor incorporated by the fence makes it totally worth it!
4. Replace Wood with Wire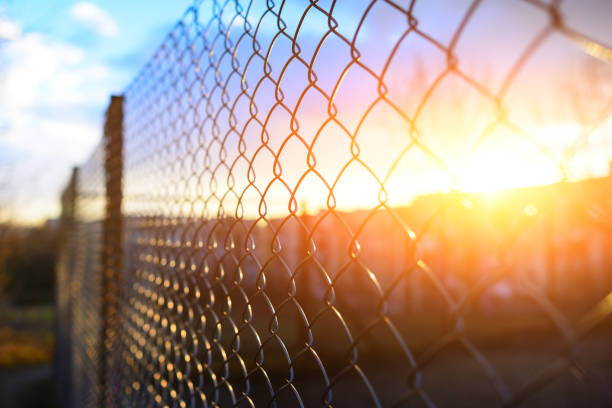 Wire fencing is a popular choice for a fence because it adds a modern and stylish touch to your yard. The fence is typically made of woven wires, rendering the fence a minimal elegance. When choosing the wire, you can either choose a high tensile wire or a non-high tensile wire, depending on your requirements based on durability. High tensile wires can tolerate forces conferring durability to the fence.
If the harshness of the external environment is not a concern, non-tensile wires can be used. The variability in wired modern horizontal fences can be introduced by varying the grids formed by the horizontal and vertical wires. The two concerns with wire fences are their inability to provide privacy and their susceptibility to rust. But the durability and cost of this modern horizontal fence are commendable.
5. Split Rail Fence

Split rail fences, marking their need in ancient rural landscaping, have made a way to many backyards because of their rustic semblance. With this modern horizontal fence, there exist so many variations as per your taste and style. Natural wood is replaced by composite wood or aluminum rails, enhancing the longevity and durability of the rail fences for the backyard. Installation of rail fences using Arbor & bamboo provides a creative edge to upgrade your garden.
Woods have been traditionally used for this type of fencing, so the wood can be used for making split rail fencing. The best wood type for this modern horizontal fence is cedar. Woods can be replaced by metals or synthetic materials as well, conferring strength and other different properties.
6. An Intriguing Horizontal Fence with a Fence Topper
The use of topper designs complementary to the horizontal fences can be both functional and visually pleasing. For ornamenting a basic horizontal fence, you can add different topper elements like a trellis, lattice, or Picket. The structure of the trellis can be interwoven or an open framework.
The intersecting pattern can be useful for support of climbing plants, which will make your yard look breathtaking. Whereas using a lattice as a fence topper, apart from enhancing visual interest, also facilitates the passage of light and air. A picket has a design curated from vertically placed slats. The design can be enhanced by making the tops curved or pointed.
7. Staggered Fence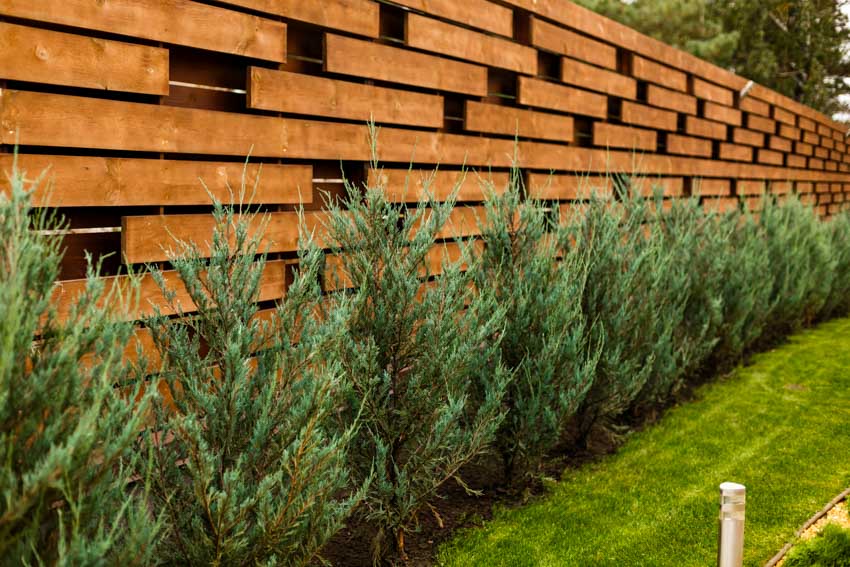 Staggered fences are one of the modern horizontal fence ideas that have become popular in recent times. This is because the fence adds a texture to the garden area. This modern horizontal fence can be made by using variable lengths of slats so as to create a unique pattern. This adds up a structure to your backyard. To create a visual interest in your garden, you will have to use slats of different sizes.
The staggered fences are efficient in providing privacy. Additionally, it structurally provides a separation between the spaces. This type of fence also has relatively higher strength. Enhance the look of your garden with this modern horizontal fence by exploiting asymmetry!
8. A Garden Fence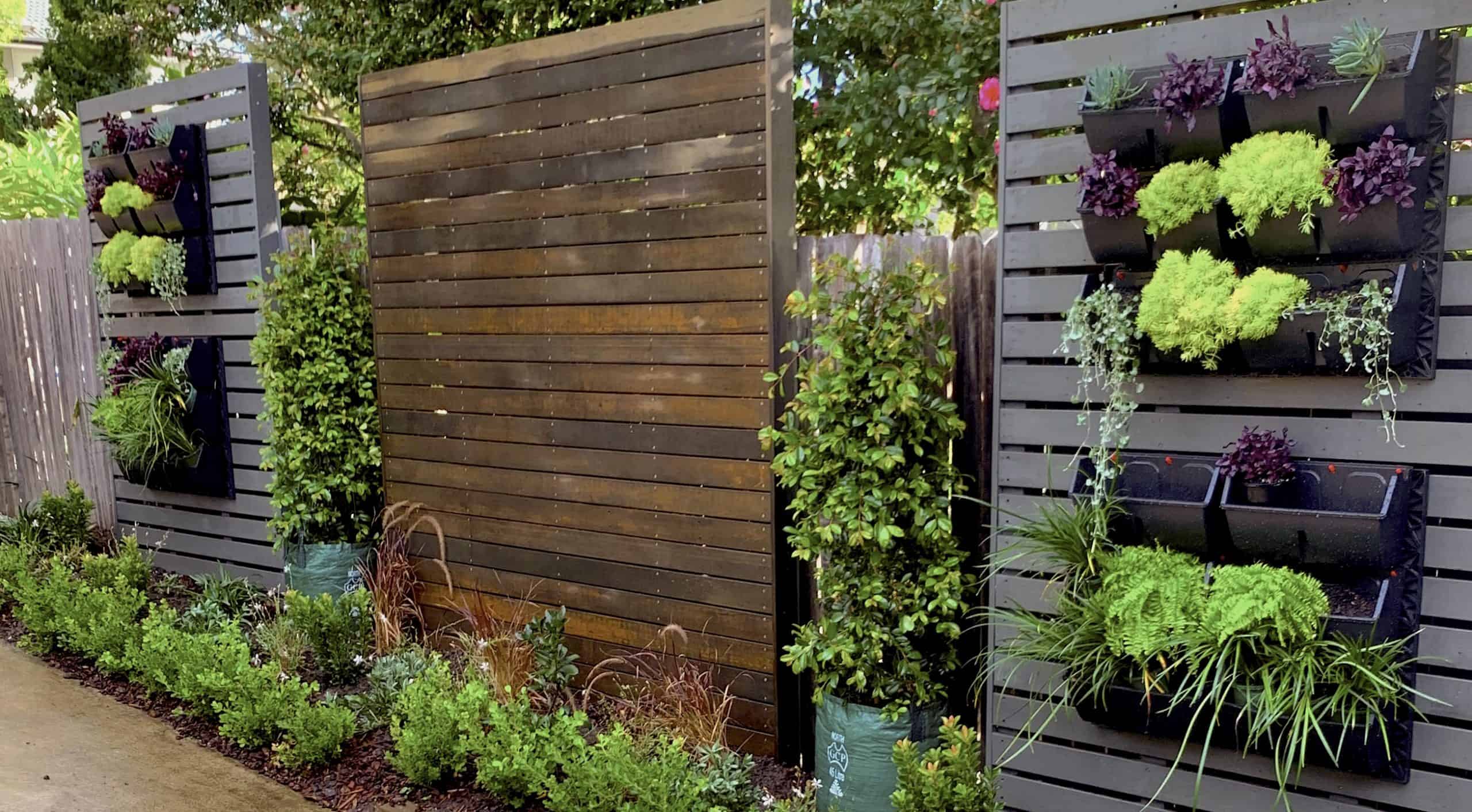 What else can best complement a garden other than natural elements? Give your fence a natural yet extraordinary appearance by adding plants to your modern horizontal fence. Planters can be used to add sophisticated shades by plating herbs and small plants. On top of that, the fence can be used to provide support to climbers that aid a beautiful touch to your fence.
There is so much you can do when it comes to plants and fences. With plants, you get a variety of ways you can integrate them into your horizontal fence. You can hang succulents as well, which makes them one of the best ornamental plants. Trailing flowers are another variation of flowers you must try. Or you can build a flower bed adjacent to the fence and give your garden a colorful separation.
9. Herringbone Fence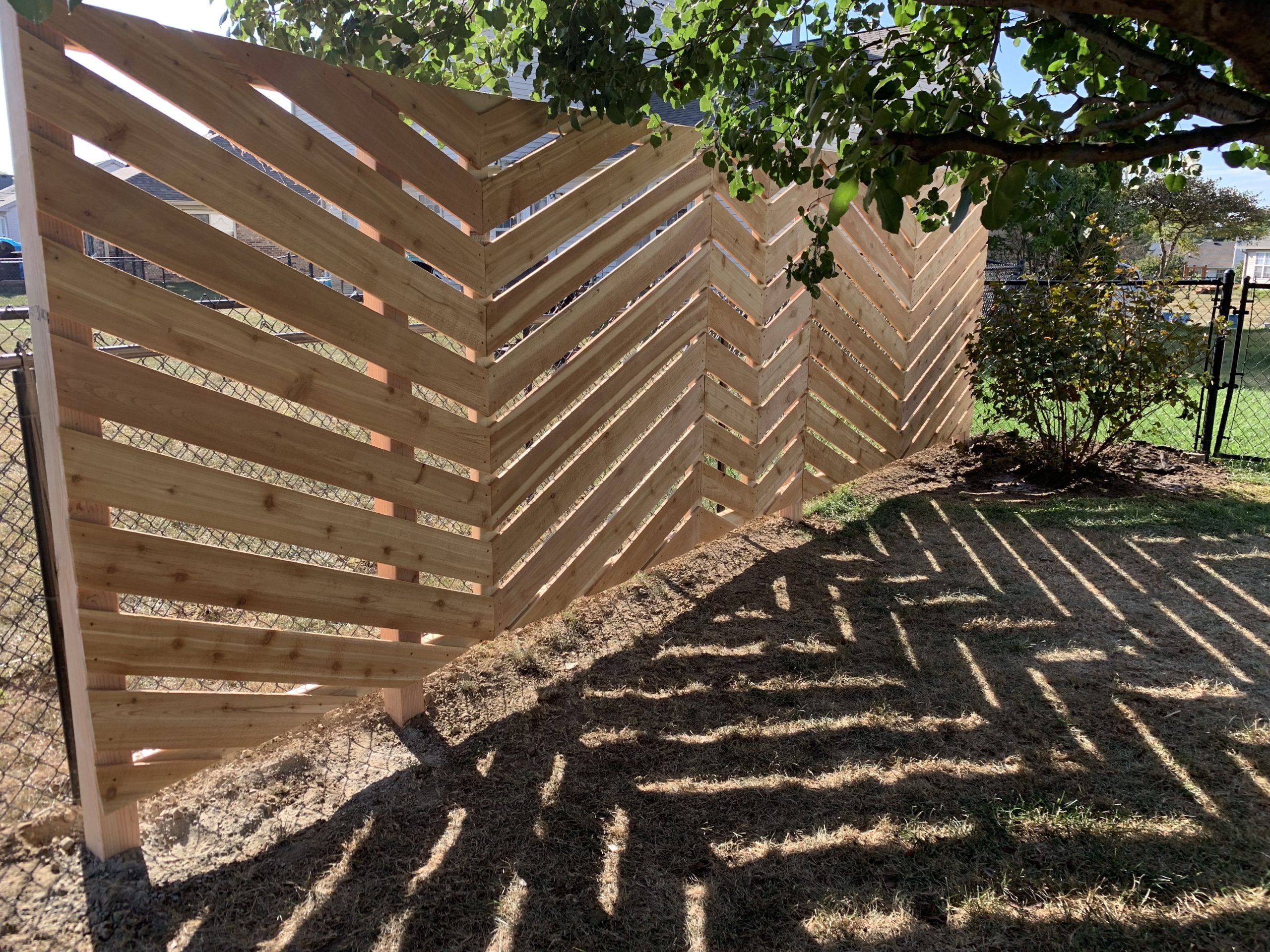 If you don't want to settle with a fence with basic horizontal slats, here is one unique modern horizontal fence idea for you! Create a pattern using slats that give a visual uniqueness to your fence by slightly placing the slats at certain angles.
Other than being a visually pleasing element of your garden, it will also aid in providing privacy. To make it more intriguing, you can top the fence using a fence topper like lattice, trellis, or picket. The geometrical depth this fence idea adds will make your garden stand out!
10. Arched Horizontal Fence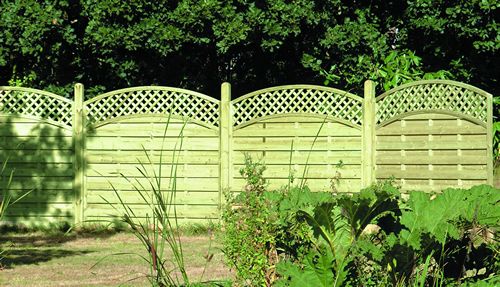 If playing with shapes is something you are an expert at, you will love this modern horizontal fence idea. The addition of an arch to a horizontal fence can make it look enticing. With arched fences, the decoration ideas expand. There are numerous ways you can make your garden more charming.
You can plant trailing plants or plant climbers that will grow over the arches of your fence. This will make your garden look breathtaking. If your fence can bear the weight of roses, planting roses will dramatically affect your garden. If you don't want to add on the burden of making the arches more beautiful, arches with no ornamentation are equally fascinating.
11. Painted Horizontal Wooden Fence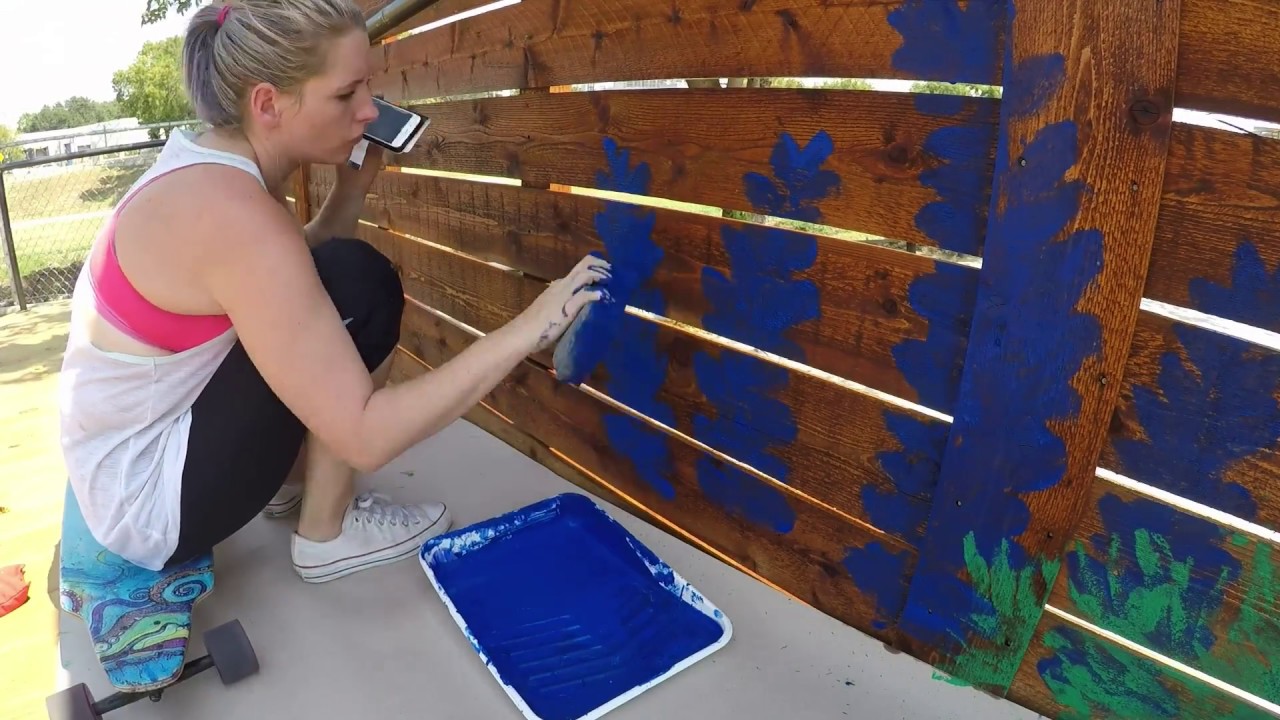 If the basic brown shades of wooden fence do not fascinate, here is an idea to renovate your garden by adding a few shades to your garden. Playful patterns on your wall can be painted to create a vibrant detail in your yard. Another option for you is the pastel colors. They are best if you want an aesthetic pattern on your fence.
A contemporary and modern horizontal fence can be curated using deeper shades of charcoal. Stenciled shapes and murals are for the creative heads that want their fence to stand out. And at last, a rainbow, with different hues, will never be a fence failure.
12. Replace the Slats with Gabion Baskets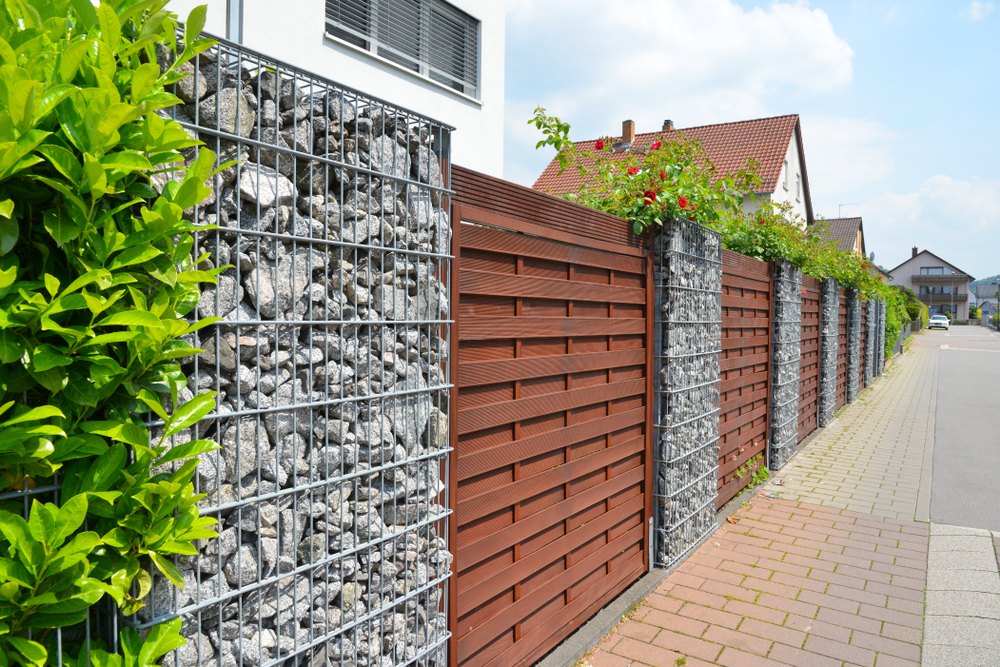 If you want earthly decorative items to be added to your fence, a gabion wall is your best shot. Rocks have been an integral part of home design ideas. Here, a fence made of assembled rocks will be used for building a modern horizontal fence. A gabion fence can be purchased directly, but a project is always fun.
When curating a gabion fence, the material you use for building a cage for the rocks or stones must be galvanized. Galvanization helps prevent the corrosion of the material. Another factor to consider is the hole size of the mesh. A greater hole size of the mesh may lead to falling off of the pebbles you have used. When filling the cage, you can create a unique fence by using different types of stones (most preferred are pebbles) and adding different shades of the stones.
13. Bamboo Horizontal Fence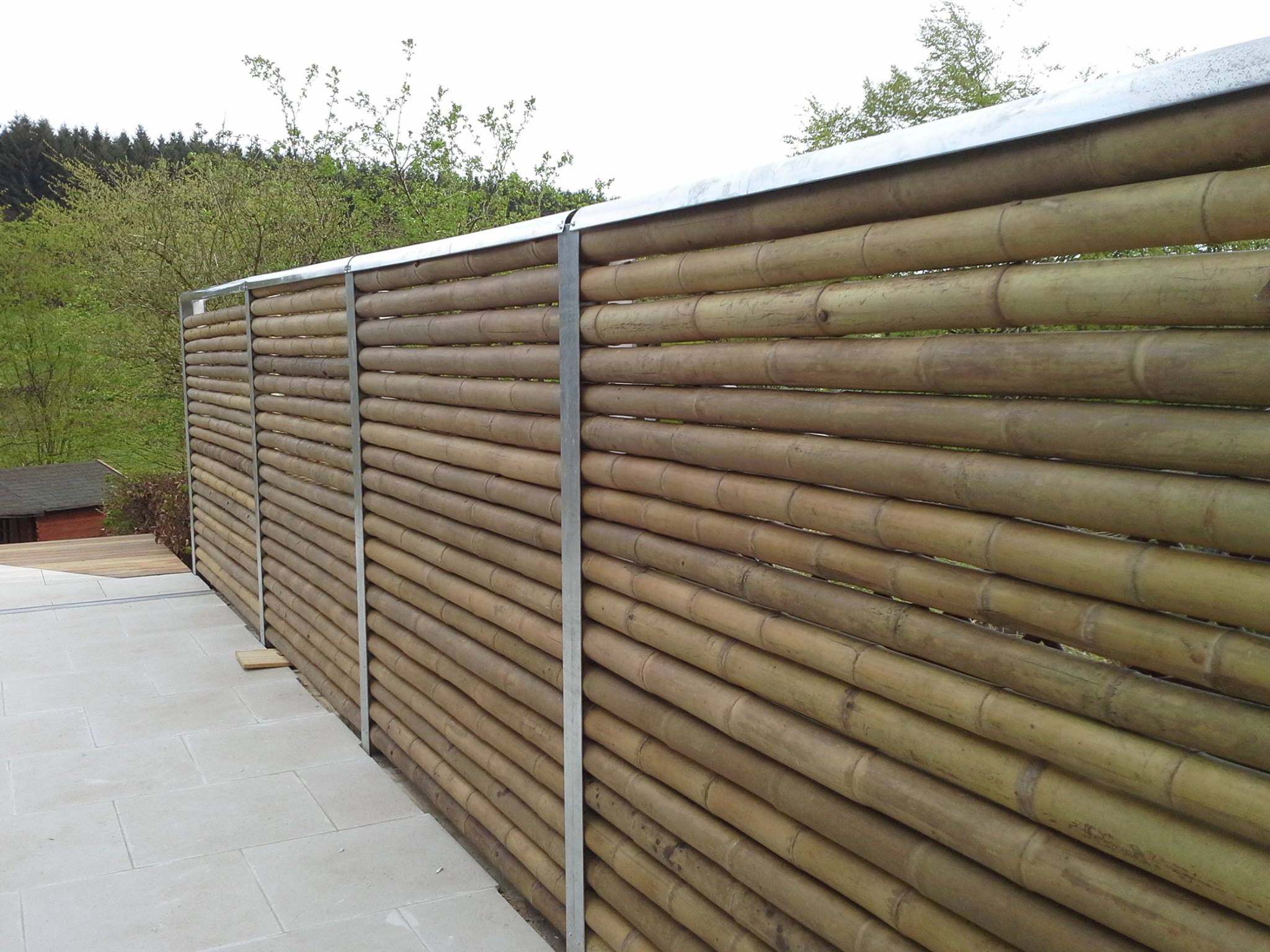 Bamboo is another natural and environmentally friendly way to upgrade your yard fence. You can ditch the traditional wood, steel, or plastic fencing using this modern horizontal fence. The bamboo fences can be purchased and require minimal maintenance. By placing the bamboo sticks horizontally, a bamboo fence can easily be made at home as well.
The modern bamboo designs are integrated with a metallic border with a bold color. Another way to make this fence idea more intense is by aiding it with wooden framing. Lastly, you can decorate the bamboo fence with lighting, fence hangings, or planters to make it a unique structure for your yard.
Wrapping It Up
Whether you seek privacy, a sleek boundary, or a statement piece for your yard, a horizontal fence will elevate the look of your garden. Horizontal fences can add a distinctive appearance to your outdoor spaces. Wood, metals & alloy, and bamboo are a few options that you can use to build a modern horizontal fence.
Placing the slats at angles in a louver or herringbone pattern is how you can create a unique fence for your yard. Furthermore, details like paintings, plants, or fence toppers are other approaches that help in building an extravagant touch to your yard.
What you want in your yard will depend on your style and personal choice. But we say this with confidence, a modern horizontal fence will never fail your expectations. Cheers to a fancy yard!
Frequently Asked Questions
Will a Modern Horizontal Fence Provide Privacy?
Horizontal fences are best at providing privacy to your garden. Some of the horizontal fence ideas may enhance the visibility of your garden, like a woven wired fence or split rail fence. If privacy is your concern, opt for a slatted, staggered, or horizontal bamboo fence.
How to Maintain a Horizontal Fence?
Maintenance of a horizontal fence is very easy. The flat surfaces should be cleaned often as dust and dirt are collected. Investing in protective coatings is a must for a horizontal fence.
Is a Horizontal Fence More Susceptible to Water Retention?
Yes, a horizontal fence is more susceptible to water accumulation leading to damage to the fence by rotting or molding. Selecting water-resistant materials is one way to make your fence more durable.