Are you fed up with watching the empty yard through your window? Or you want to enjoy a beautiful patio. So if you are thinking of redesigning or constructing a unique patio on a friendly budget, we have a list of DIY Cheap paver patio ideas you can go for.
A patio paver is an easy-to-install, low-maintenance solution if you want to create a new or want to renovate the existing concrete slab. It is of various forms, sizes, and styles, enabling you to create the precise aesthetic you want. If you're not sure what patio design or what materials to choose, this blog is totally for you.
In this blog, you can find different patio designs and materials that may be suitable or can fulfill the expectations of your customized patio. So, here we go-
Simple Paver Patio Ideas
1. Brick Paver Patio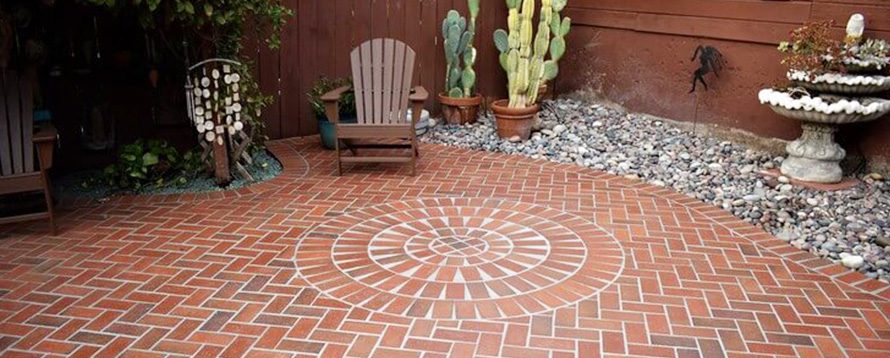 If you are looking for a beautiful and sturdy outdoor living space, then a brick paver patio is a classic and time-tested option for your house. The incredible durability of brick pavers makes them perfect for outdoor spaces.
This kind of patio is an example of simple paver patio ideas that can stand up to a lot of foot traffic, adverse weather conditions, and the test of time. This can survive for many years with appropriate installation and upkeep.
Brick Pavers provide you with the freedom to construct a patio that matches your taste, whether you choose a conventional herringbone pattern, a modern geometric pattern, or a unique layout.
This brick paver patio has unrivaled charm and elegance. The brick's deep color and texture give warmth and character to your classic patio. For homeowners wishing to create a welcoming outdoor hideaway, it is a popular option due to its adaptability, timeless appeal, and durability.
2. Out-Door Kitchen Paver Patio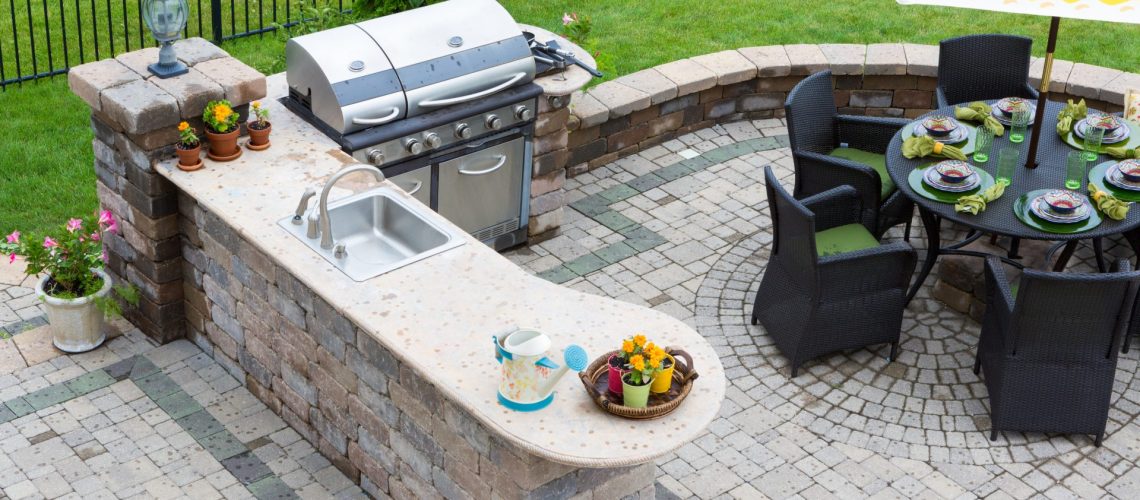 If you love cooking, then this paver patio idea is completely for you. This kind of simple paver patio idea gives you a conventional and comfortable space for cooking, dining, and entertaining.
The Outdoor Kitchen Paver Patio is the best place to organize any get-together with your friends while preparing food and enjoying the outdoor beauty as well. You may design a practical, fashionable, and attractive area that will serve as the focal point for outdoor parties and help you make priceless memories with careful planning and attention to detail.
You can add proper outdoor lighting, electric appliances, cabinets, comfortable seats, and proper ventilation to give your Outdoor Kitchen Patio a customized look.
3. Pea Gravel Paver Patio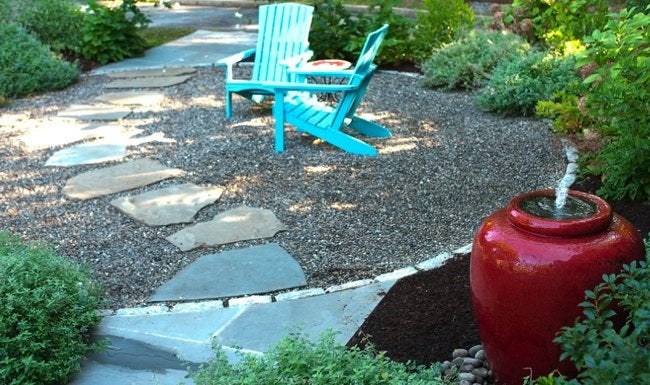 If you are looking for cost-effective and simple paver patio ideas, then this one is good for you. It is best for a relaxed outdoor setting as gravel has a rustic appearance and is a fantastic option.
With proper planning, you can give your pea gravel patio an excellent look and use it for more than just patio ideas. You can add different outdoor lighting, different furniture to sit on, can add steps or pathways to connect it to various parts of your garden or yard.
It requires less upkeep than other materials, though regular leveling and sweeping may be needed to keep the surface level.
4. Beach Style Paver Patio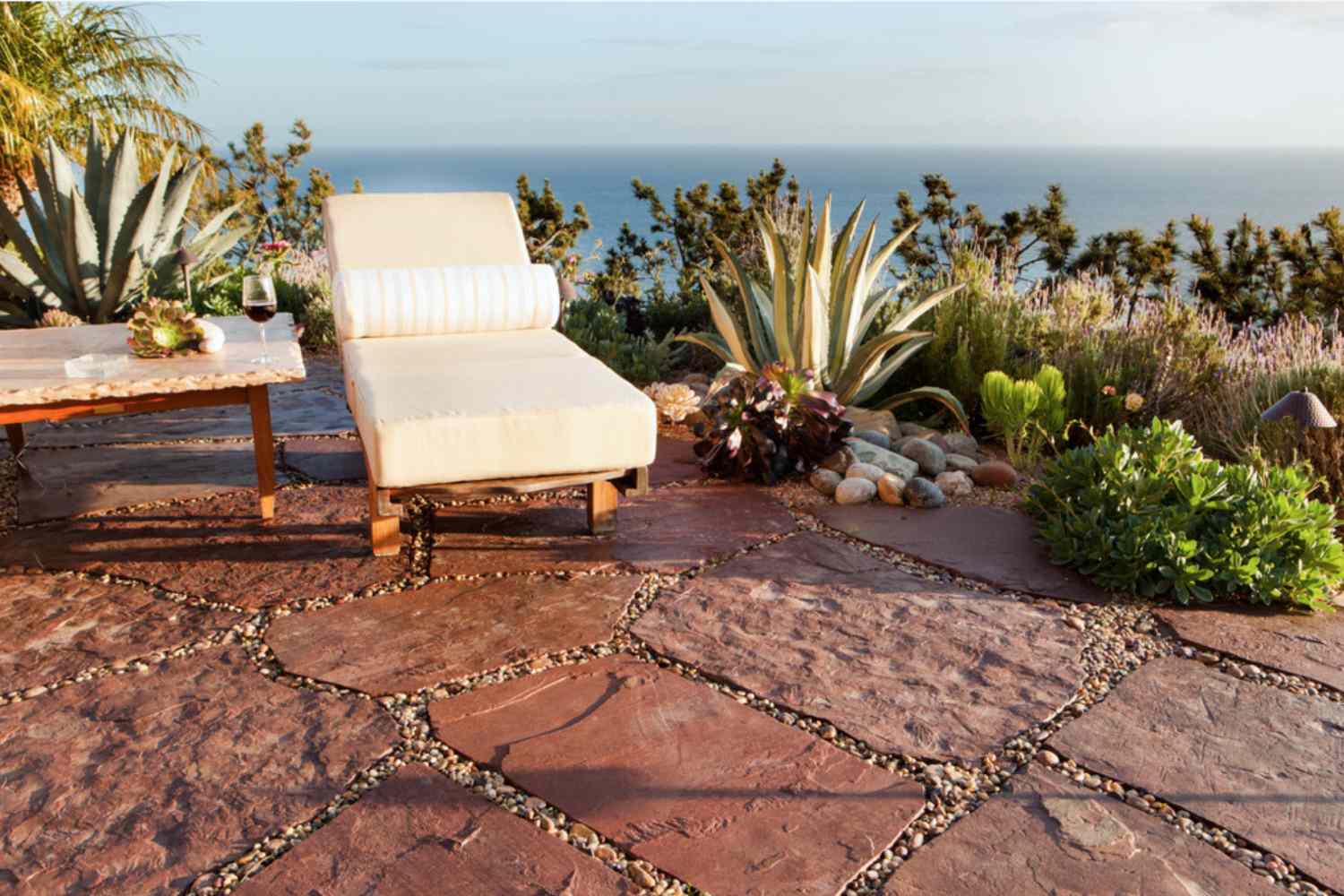 If you are a beach lover, then this simple paver patio idea is for you. This kind of Patio Idea helps you to recreate the laid-back beach sensations in the outdoor space of your house. It offers a welcoming and serene retreat with colors, textures, and natural elements.
With the help of a beach-style patio idea, you can turn your backyard or outdoor space into a serene getaway. You can include some plants from the seashore or can choose drought-tolerant and low-maintenance plants such as native coastal plants, grasses, palms, and succulents.
With the help of this patio idea, you can create a coastal paradise in your own house where you can relax and take in the beach vibes all year long by combining coastal colors, natural materials, and beach-inspired accessories.
5. Sandy Dessert Paver Patio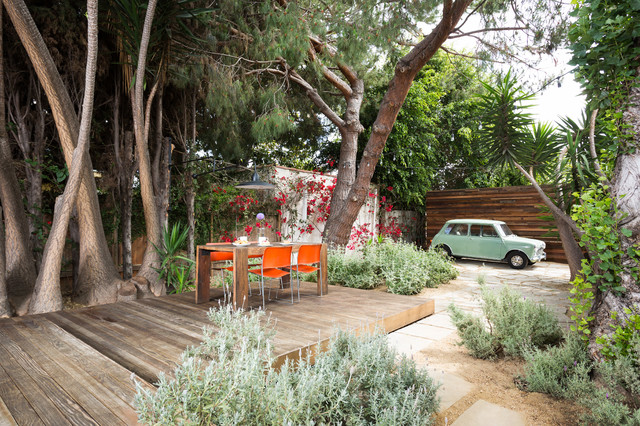 If you want to give wide and serene vistas of arid your backyard, then you can opt for this Sandy Dessert Patio.
This patio provides you with a peaceful respite in the middle of a dessert-themed setting with warm earth tones, organic textures, and desert-inspired accessories. You can create the unspoiled beauty and tranquillity of desert landscapes in your backyard by building this Dessert Patio, which offers a special and relaxing outdoor refuge.
Sandy Dessert Patio will take you to the serenity of the desert right in your backyard by adding earthy colors, natural materials, and desert-inspired embellishments.
6. Stone Paver Outdoor Fireplace Patio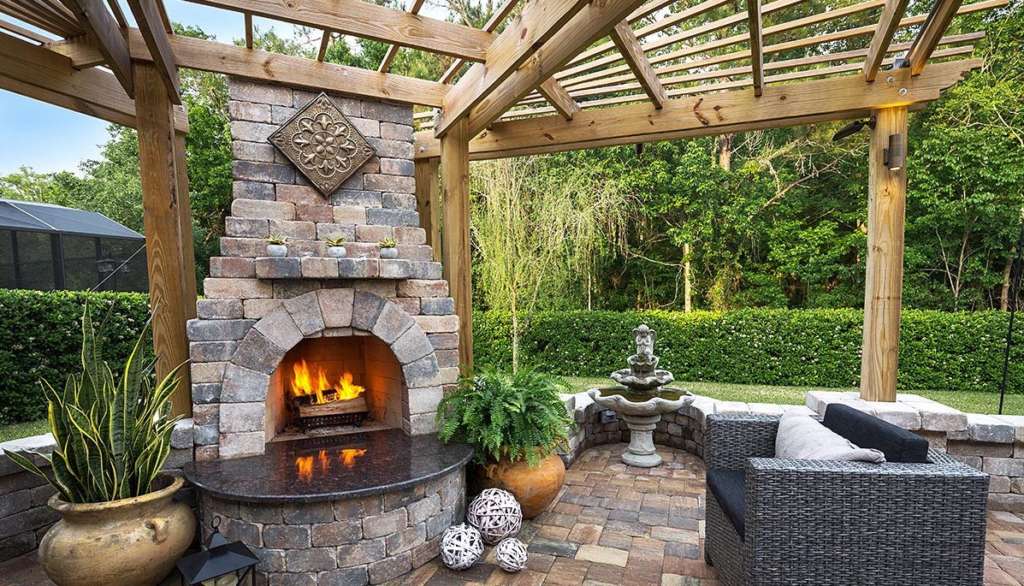 If you want to create a comfortable and cozy space as per your needs, then you can opt for this patio idea.
The Stone Outdoor Fireplace Patio is which produces a warm and comfortable space even on chilly nights or during the winter. It gives you your personalized and cozy place to rest with your friends and family.
You can use different materials like stone, bricks, concrete, metal, and other materials to construct this kind of Patio. You can pick materials that are durable and can survive the weather. You can also add different outdoor lights to enhance its beauty.
It gives a focal point to all the gatherings, expands the patio's usable space, and fosters a welcoming environment.
7. Stamped Concrete Paver Patio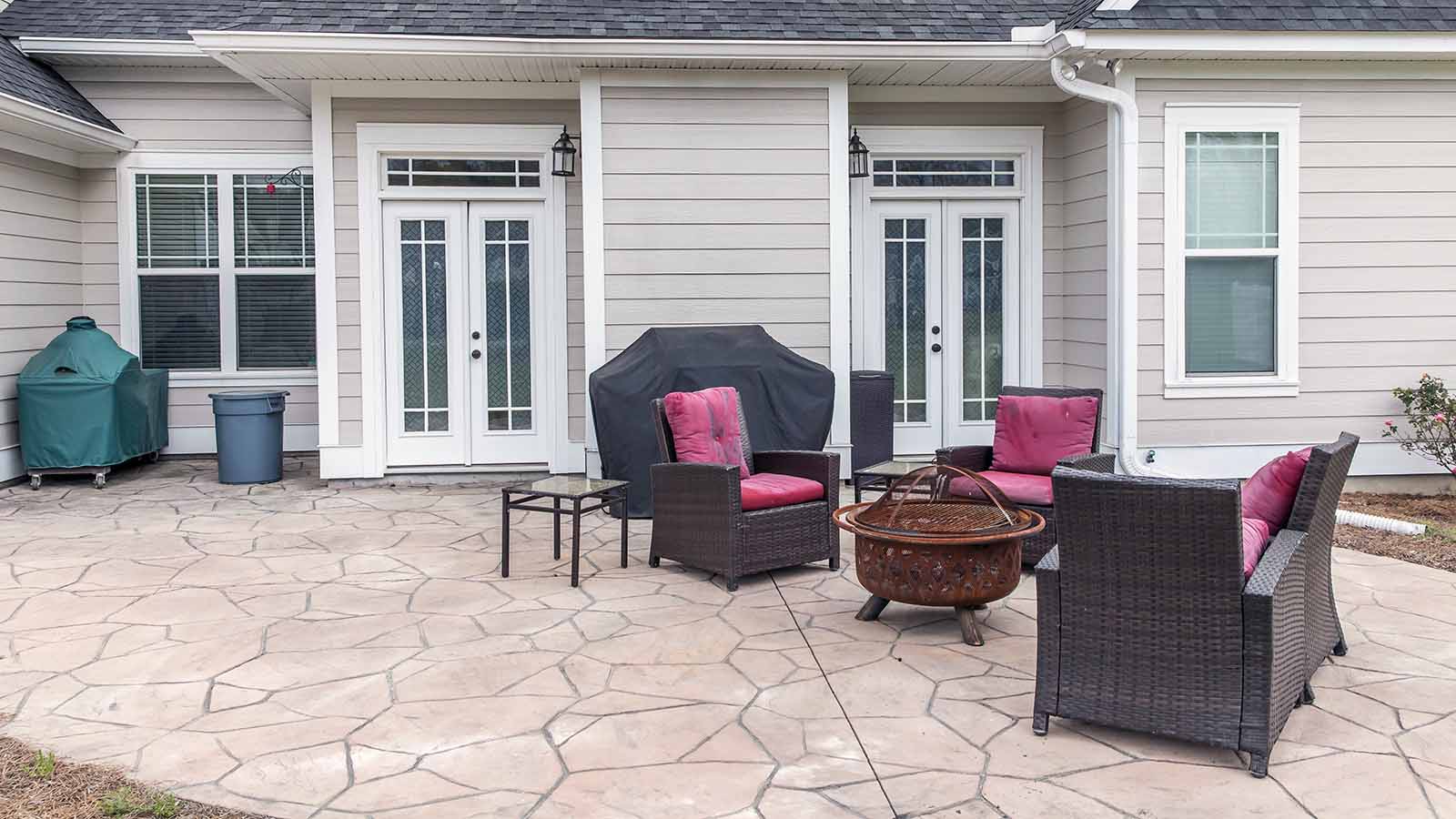 If you want to create a Patio that looks expensive but at an affordable price, then you can go for this Patio Idea.
A Stamped Concrete Patio can be of various designs and styles and is another example of a simple paver patio idea. You may design the Stamped patio that matches the outside area of your house and sense of style by selecting from a variety of patterns, textures, and colors.
This patio may produce the ideal result, whether you want a more rustic stone appearance or a more detailed tile design. It is cost-effective, durable, low maintenance, and slip resistant.
This Stamped Concrete Patio gives you the desired visual appeal without sacrificing the quality.
8. Beacon Hill Flagstone Paver Patio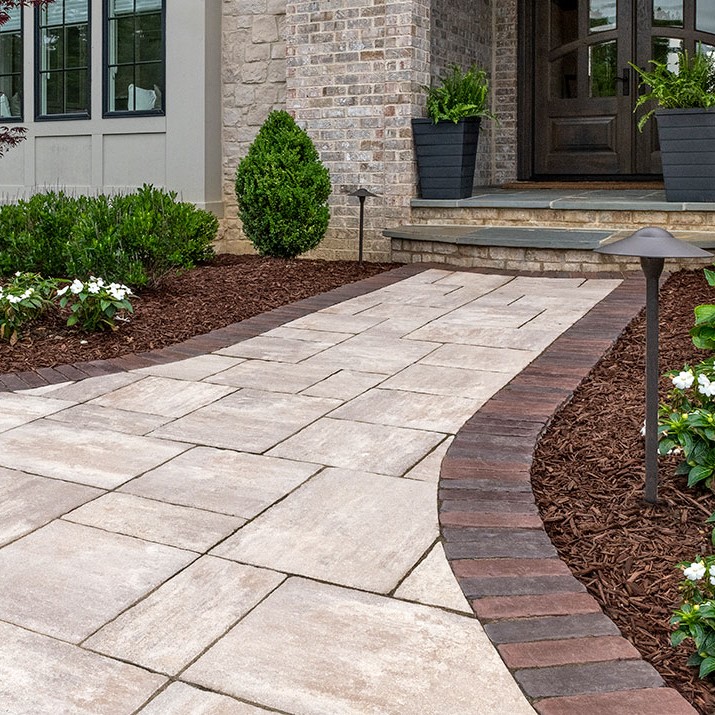 If you are looking for a simple paver patio idea and want to construct a redefined and attractive outdoor area, then you can choose this paver patio idea.
With the added advantages of toughness and simplicity of installation, Beacon Hill Flagstone pavers give the timeless beauty of natural stone. To construct this simple patio paver, durable concrete is used, which gives strength and long-lasting durability.
This simple paver patio works well for outdoor applications and places with a variety of climatic conditions since they are resistant to cracking, fading, and weathering.
This patio paver adds beauty, elegance, and a tranquil retreat to your outdoor space.
9. Sandstone Paver Patio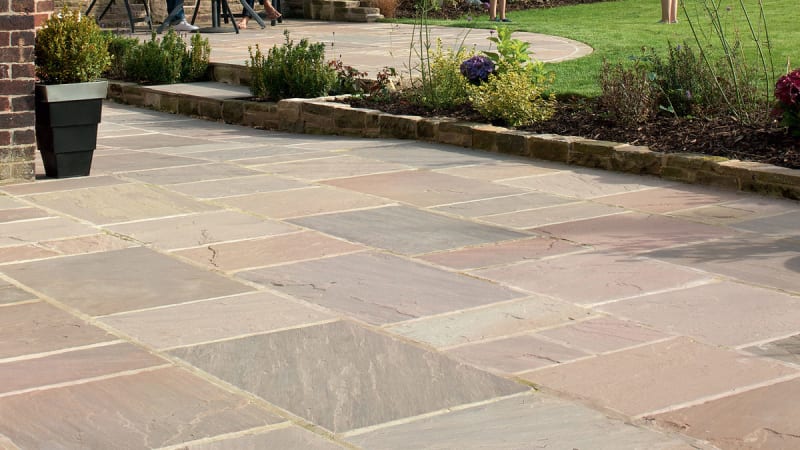 If you want to give a completely natural look to your patio, then you can go for this paver patio idea.
This Sand Stone Paver Patio gives a completely natural look to your patio and is another simple paver patio idea. The sandstone paver highlights the natural beauty of the stone. This sandstone comes in different colors, including earthy tones like beige, tan, brown, and red, giving your patio a cozy and welcoming atmosphere.
Sandstone is cool by nature and is thus a good surface to walk barefoot in warm weather and hence making it an appropriate choice for the hotter areas.
10. Circular Paver Patios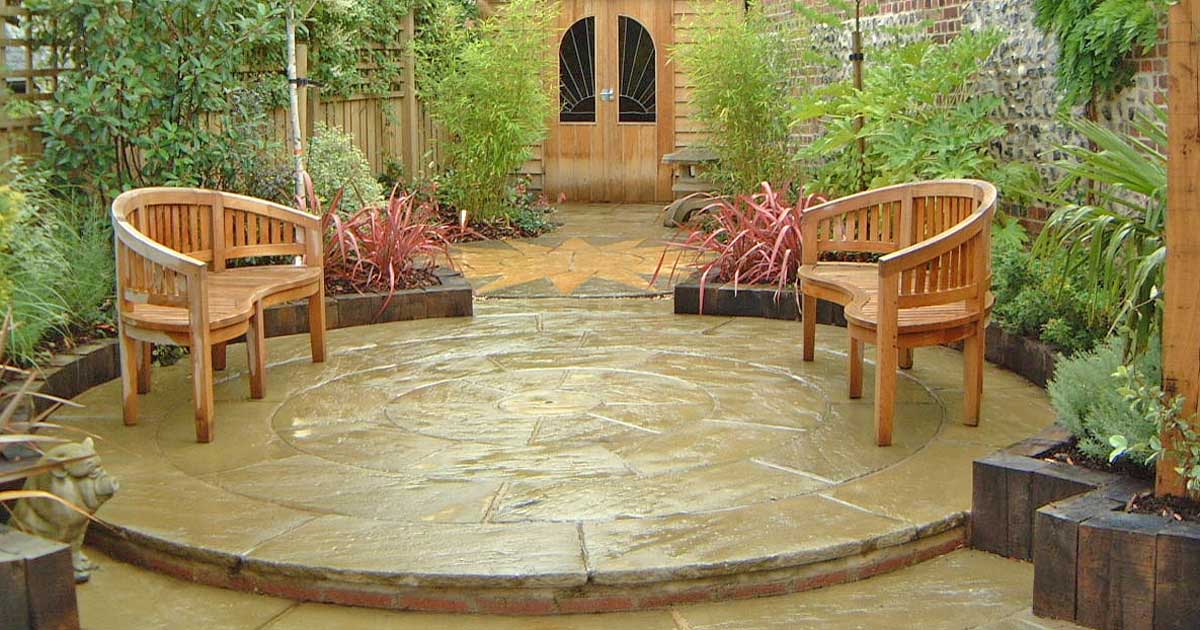 If you love to give a circular look to your patio, then this circular paver patio is for you.
This circular paver Patio has a unique shape, adaptability, and improved aesthetics which makes the patio looks cool and eye-catchy and one of the simple paver patio ideas. This simple paver patio gives a symmetrical look, and the rounded corners soften the overall appearance.
While constructing this simple paver patio, you need to consider the furniture placements. You can add this simple paver patio as per the available space in your house. The plan for this simple paver patio may be modified per individual's needs.
This simple paver patio differs from conventional rectangular or square patios.
11. Darker Fieldstone Paver Patio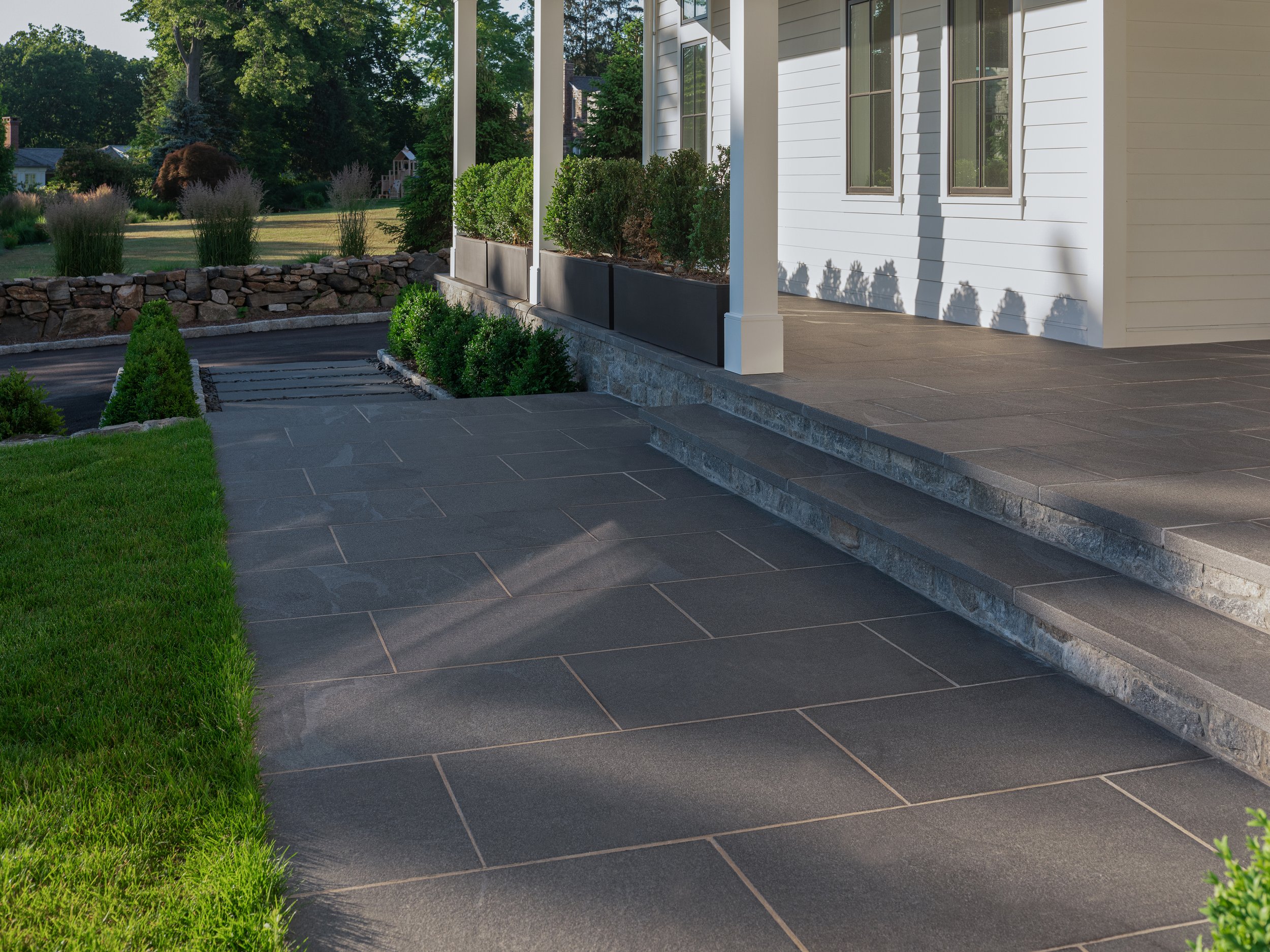 If you want to give a timeless and spectacular look to your patio, then you can go for this patio idea. This is another simple paver patio idea. A dark fieldstone paver patio offers a beautiful and long-lasting solution for your house and creates a spectacular patio area.
This Dark Fieldstone paver patio is durable, has minimal maintenance needs, and has design flexibility. The dark color is really eye-catching and very unique. If you also want to add more items like sitting walls, fire pits, and plants, then it's all up to you.
12. Mulch or Wood Chips paver patio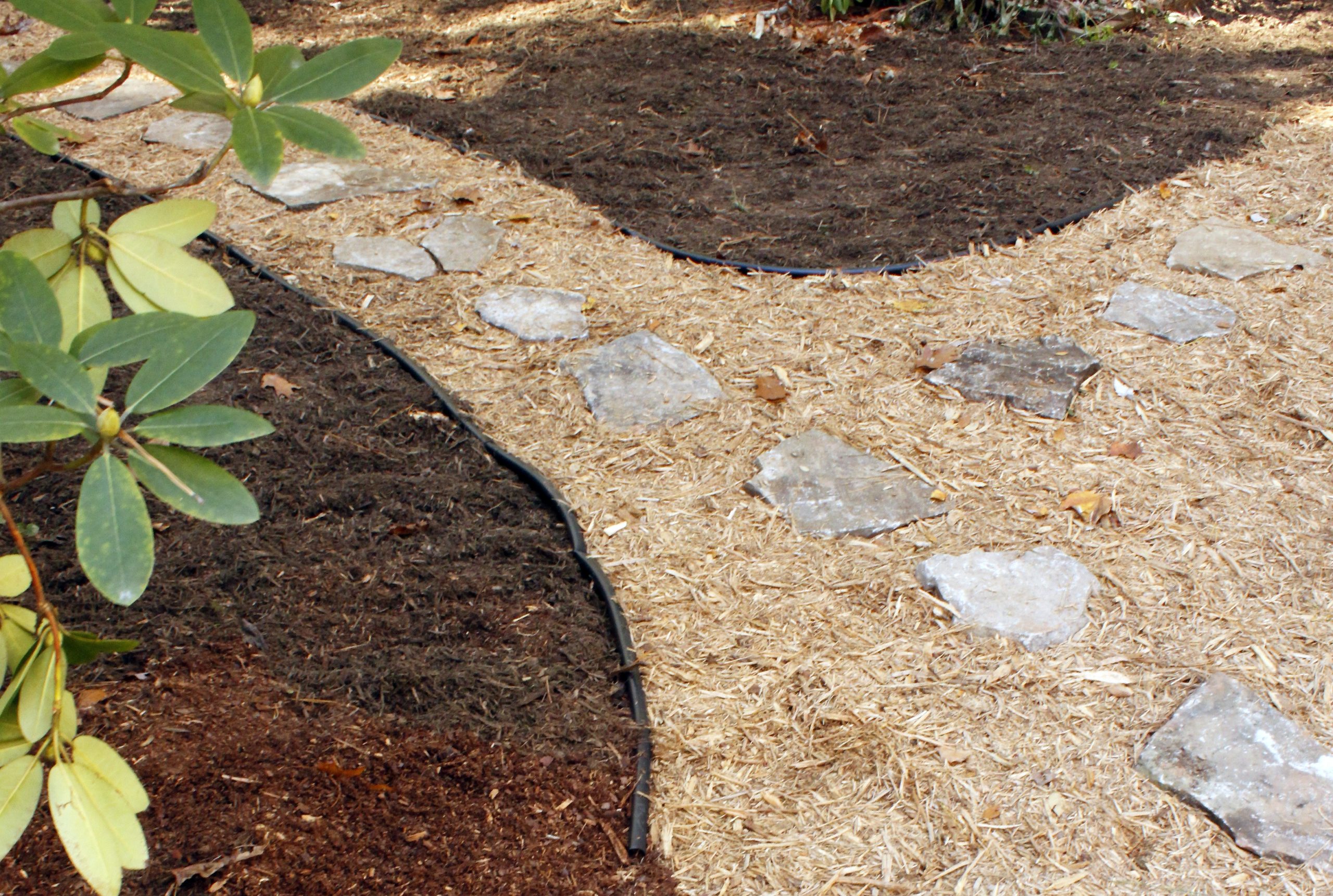 If you want to make a cost-effective and environmentally friendly paver patio, then you can go for this cheap paver patio idea.
This kind of simple paver patio floor has a natural, rustic appearance that mixes in beautifully with the outdoor environment. The main component of a mulch or wood chips paver patio is a layer of organic mulch or wood chips. The materials' natural color texture complements the gardens, trees, and other outside features, resulting in a harmonic and seamless connection with the surroundings.
It feels smooth and cushioned underfoot to walk on a patio floor made of wood chips or mulch.
Conclusion
From Brick Paver Patios to Darker Fieldstone Paver Patios, we tried to enlist several cheap paver patio ideas throughout this blog which will help you in giving your patio a new and unique look on a pocket-friendly budget.
To get the most out of the above-mentioned cost-effective options, we go over the advantages and maintenance advice and share our ideas to enhance the visual appeal of your house.
You can opt for a different theme-based paver patio or any specific stone paver patio. With the help of the above-mentioned ideas, you can give your patio a customized look. Just remember one thing, any patio made up of pavers needs to be installed properly and maintained often to last longer.
Let us know in the comments how well you like our ideas and which one you have shortlisted for yours.