A home is a place where we can design according to our creativity, and transforming your home into a lavish and stylish space that impresses your guests is something that everyone desires. A good design with a sophisticated ambiance speaks a lot about you as a homeowner. When it comes to interior designing, every point counts and a well-designed home bar plays a vital role in transforming your house into an entertaining space.
These bar shelves ideas will provide you with enough knowledge to transform your bar into a visually attractive point. These bar shelves ideas will also help you to display your favorite liquor bottle and glassware and give an entertaining atmosphere where you can hang out with your family and friends. So let's discuss bar shelves ideas that will elevate your bar and home and will give you an attractive spot that will leave an ever-lasting positive impact on your guests.
1. Light Bar Shelf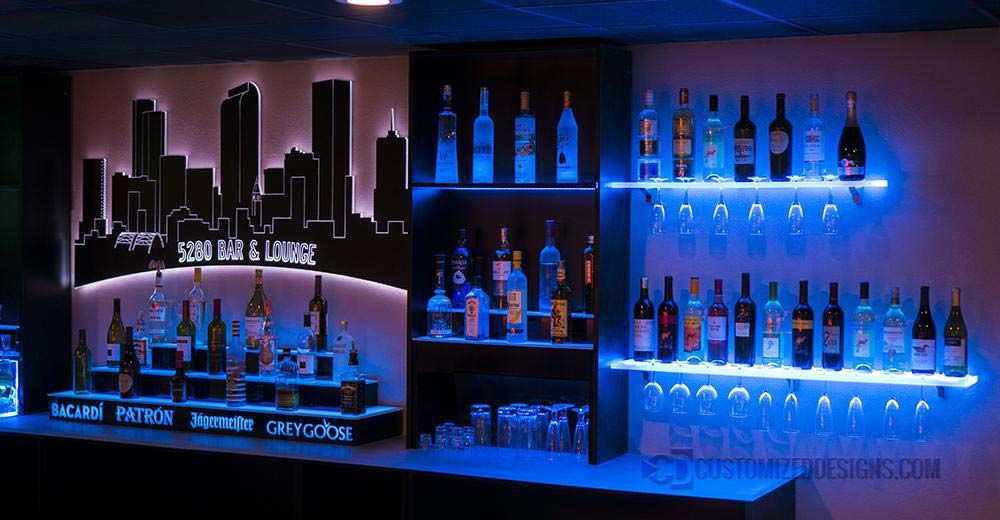 Lighting can be a good choice for bar shelf ideas if you want to have a unique yet amazing bar shelf that will tremendously display your collection. A colorful lighted bar shelf that is made from glass or acrylic is just a fantastic option to turn your home bar into an amazing hangover place where your friends and family will enjoy the ambiance, and adding led lights to your bar shelf will illuminate your liquor collection.
2. Floating Bar Shelf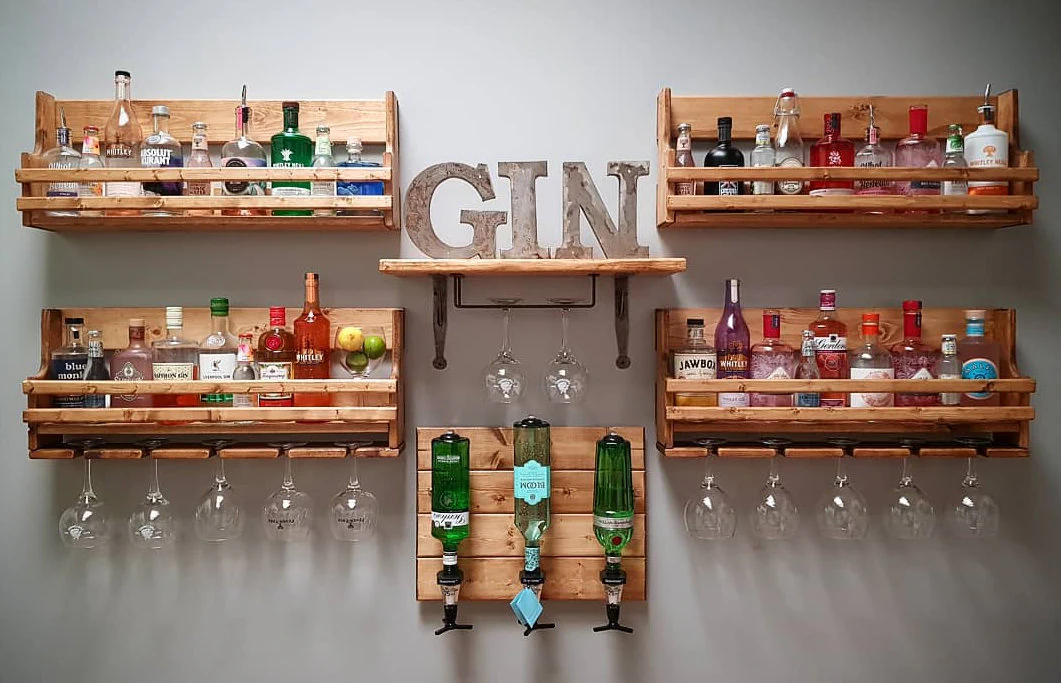 If you are a lover of minimalist and sophisticated styles, floating shelves should be your choice. Floating shelves are among those bar shelves ideas that give your home bar a simple yet elegant look. To showcase your collection, liquor bottles, and fancy glasses, try installing floating shelves on a plain wall.
3. Bar Shelf in a Circular Shape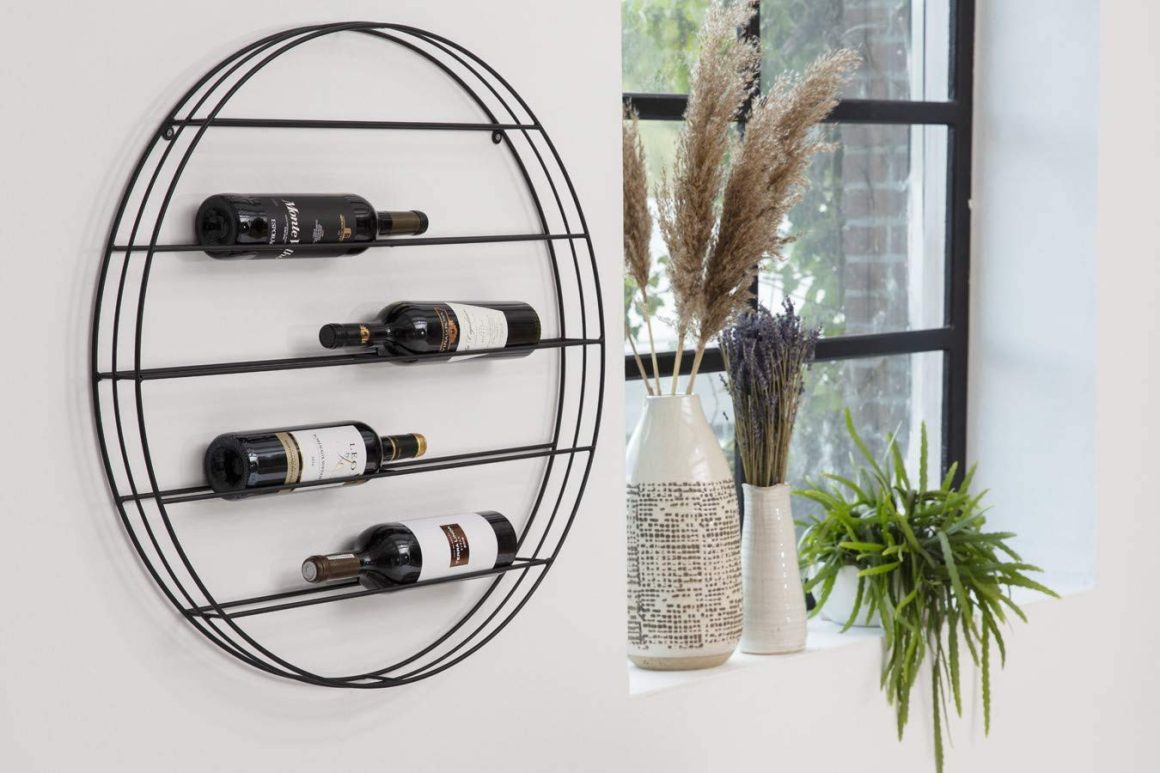 For a sophisticated and classy look, try this round-shaped shelf. It is just perfect for your small liquor collection, where you can place your favorite wine and set of glasses. For a small party and dinner plan, these circular bar shelves ideas are just perfect.
4. Bar Shelf on The Wall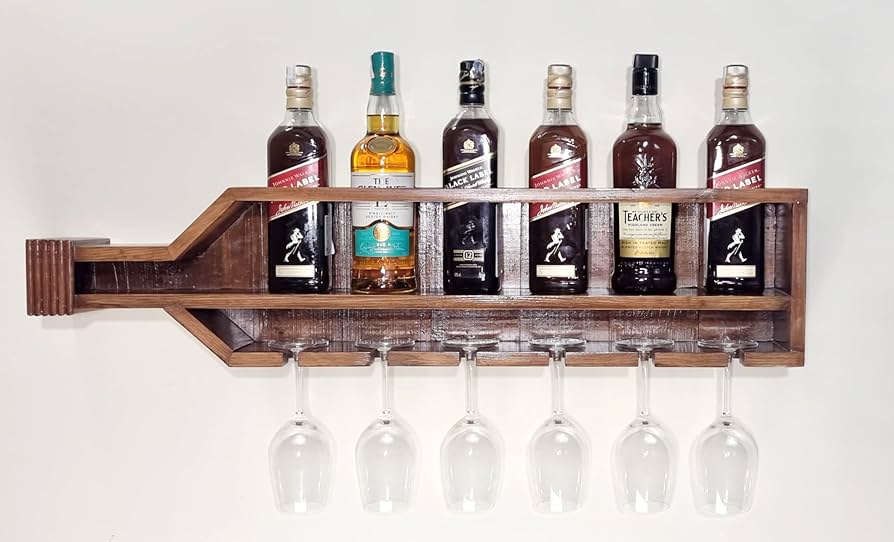 When you want to keep your huge beverage collection luxuriously, try having a shelf on the wall. These bar shelves ideasprovide huge space for your different liquor bottles and create a luxurious and welcoming environment. These wall bar shelves ideas can also look good with different materials and color patterns.
5. Rustic Charm on Bar Shelf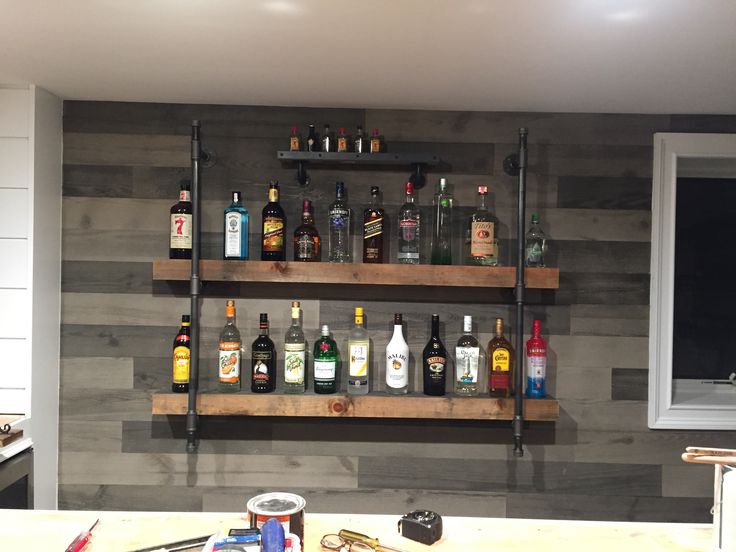 A vintage vibe with rustic charm seems a beautiful idea, isn't it? There are many different bar shelf ideas, but this is one of my favorites. Wooden ceilings, brick walls, and beautiful lightning with your favorite liquor collection are just a perfect way to celebrate the hangover and celebration with your family and friends.
6. Elegance in Marble Bar Shelf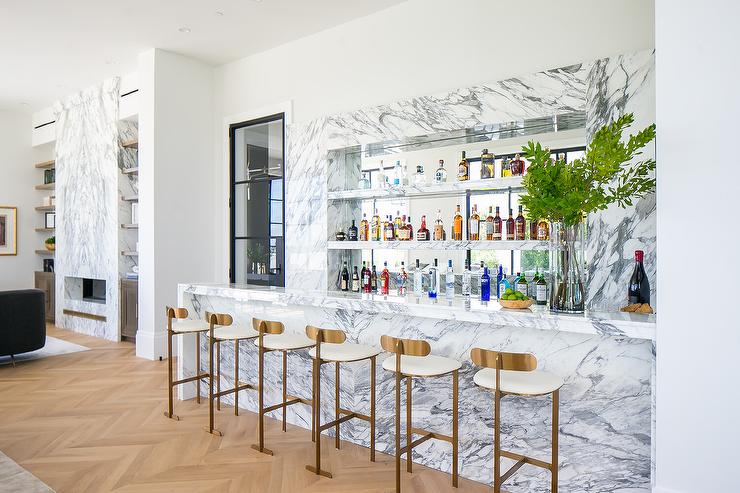 If you are looking for a bright, elegant, and sophisticated atmosphere for your bar that you can enjoy with your family and friends, then these marble bar shelves idea is for you. The marble on the wall will give a posh feeling, and you can add a bar stool and pendant light to add more elegance to your bar.
7. Geometric Bar Shelf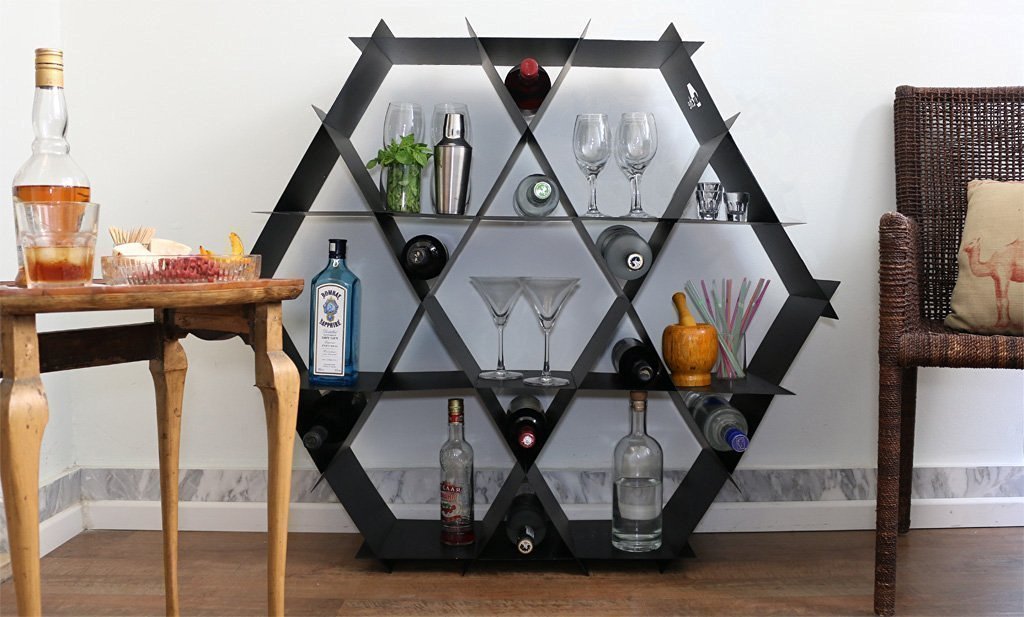 These Bar shelf ideas are one of the ways to make your house more attractive. Geometric bar shelves are a perfect way to make an eye-catching sophisticated bar. Try using different shapes and size patterns for your bar shelf to give an amazing focal point.
8. Bar on The Bookshelf
Bar on a bookshelf, don't you think these bookshelf bar shelves ideas sound interesting? Isn't it? Convert your bookshelves into a creative and unique bar shelf by adding your favorite bottles and imported glasses along with your books to make them creative. You can also add different decorating probs to make it more visually attractive.
9. Classy Glass Bar Shelf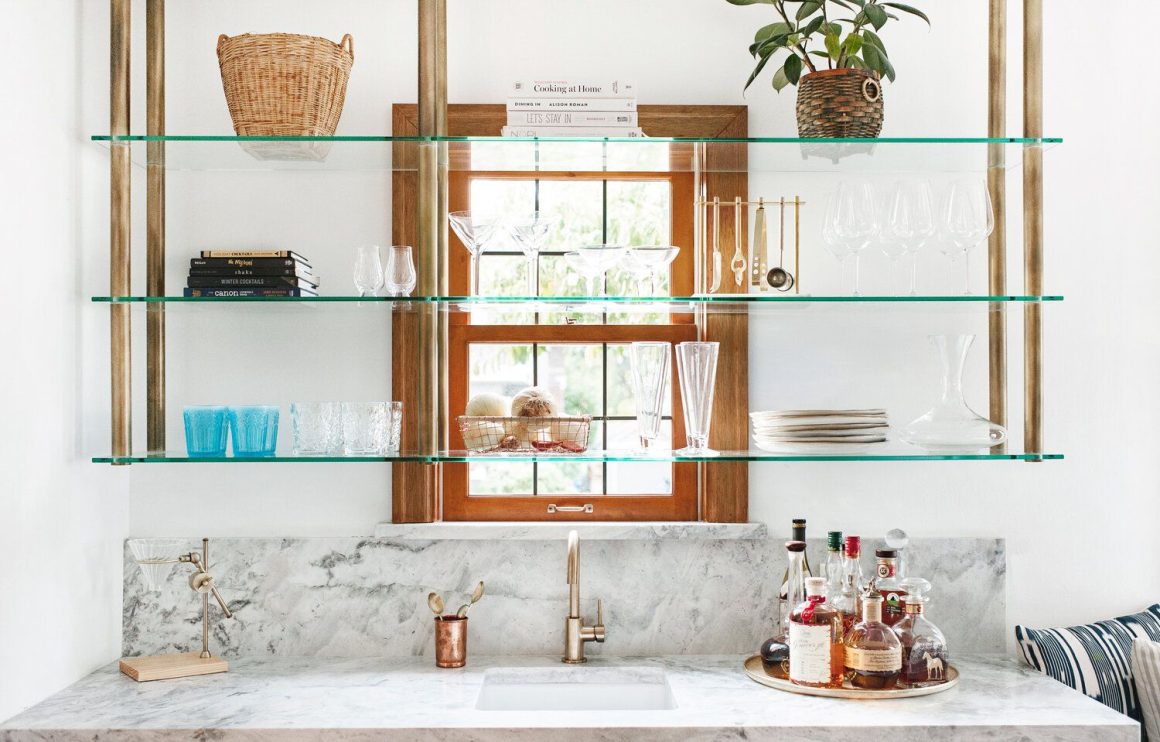 A classy and glamorous bar for your liquor collecting can be achieved by installing a glass shelf on the wall, and are a perfect way to store your collection with perfection. These glass bar shelves ideas also give an aura of luxury where you can chill with your friends and family.
10. Industrial Pipe Shelving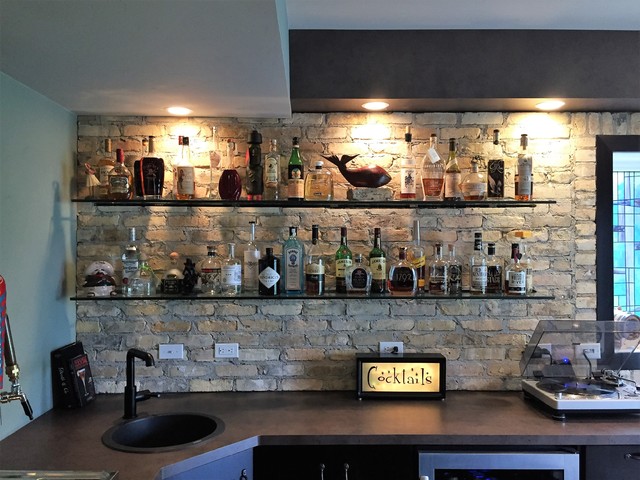 For an industrial and sleek look incorporating metal pipes to your bar shelves, these metal pipe bar shelves ideas are just amazing and will give your bar a modern aesthetic with proper storage space for your bottles. industrial pipe shelving creates a modern and sophisticated look for your space.
11. Drum Bar Shelf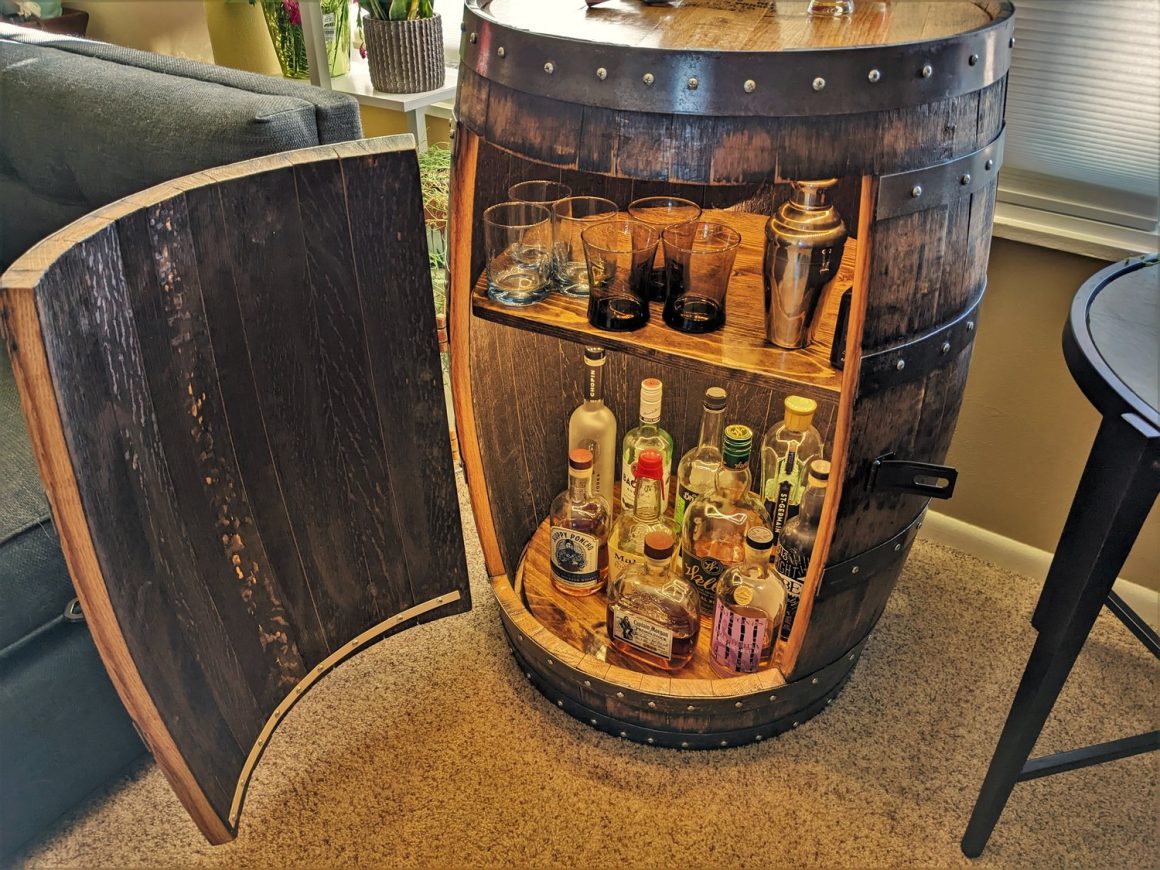 Transform your old drum into a brand new drum bar shelf where you can place all your favorite liquor bottles and glasses. These drum bar shelves ideas are a great option for giving your home bar a creative feel with a unique and amazing look.
12. Shiny Metal Bar Shelf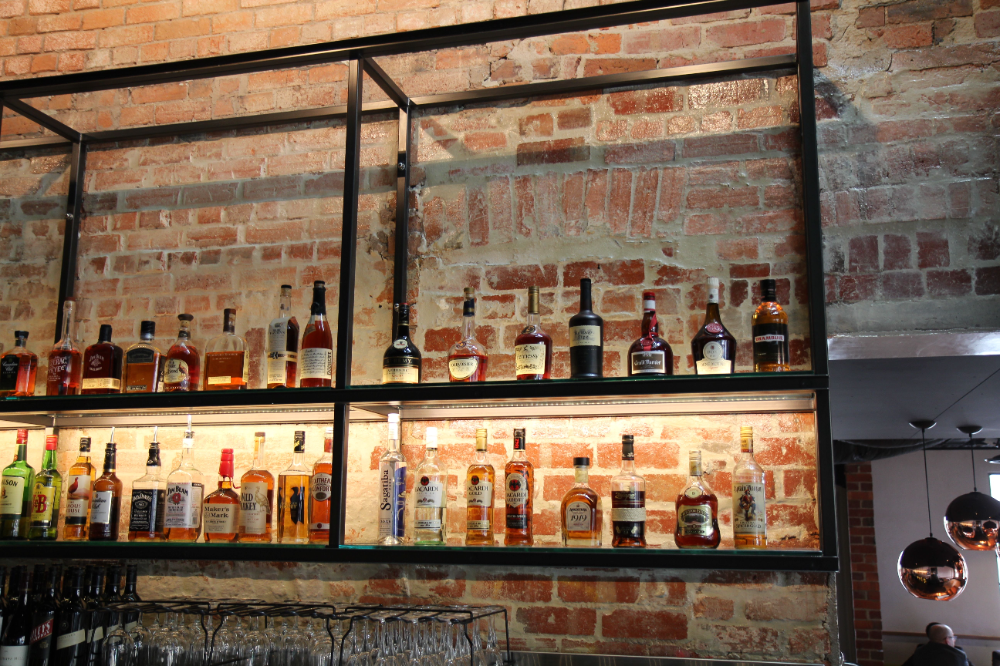 Metals shelves can be one of the great bar shelves ideas as they give a stronghold and look clean and elegant on the wall. It can be styled in different ways by adding different styling materials. The metal shelf gives your bar a simple and clean look and adds glamor to the house.
13. Heritage Crate Bar Shelf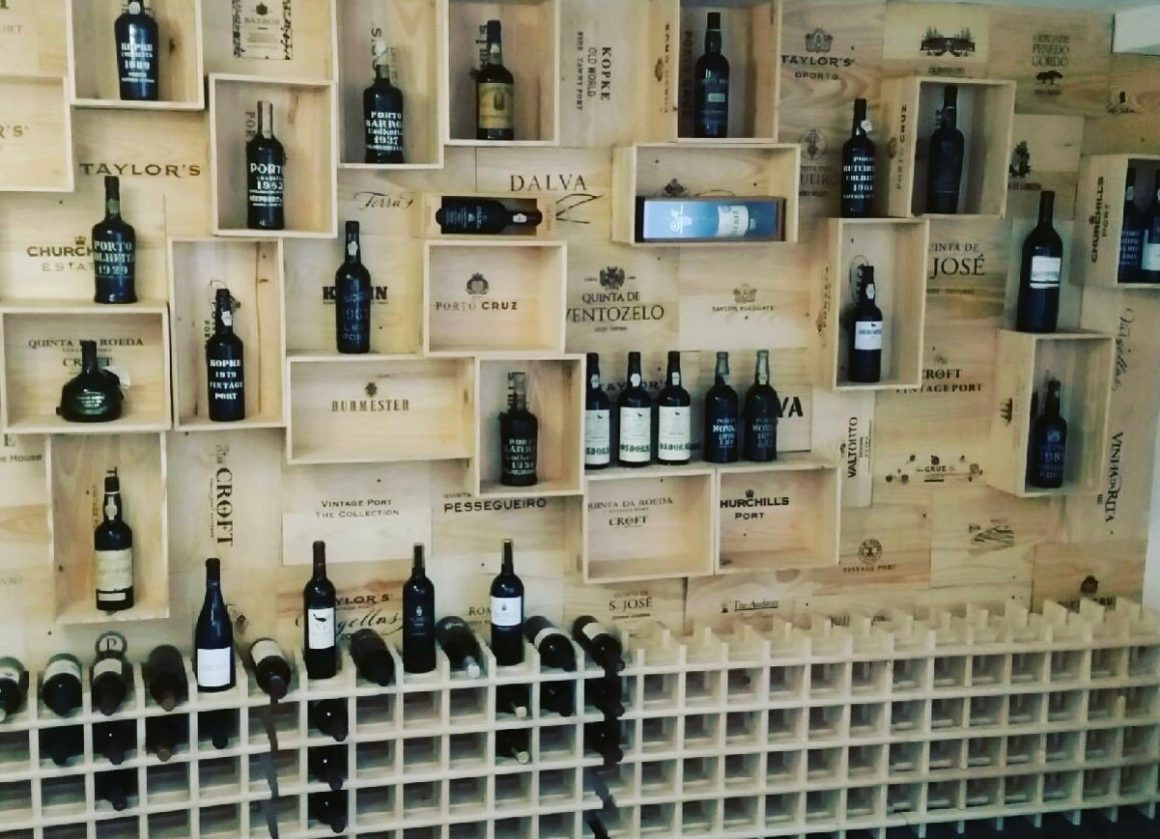 For an eclectic look, recycle the crate into a vintage bar shelf that will give you a classic and elite vibe. Hang the vintaged crate shelf properly on the wall and place all your favorite bottles and glassware on it for a unique and vintage look and sip with your dear ones elegantly.
14. Cabinet to Shelf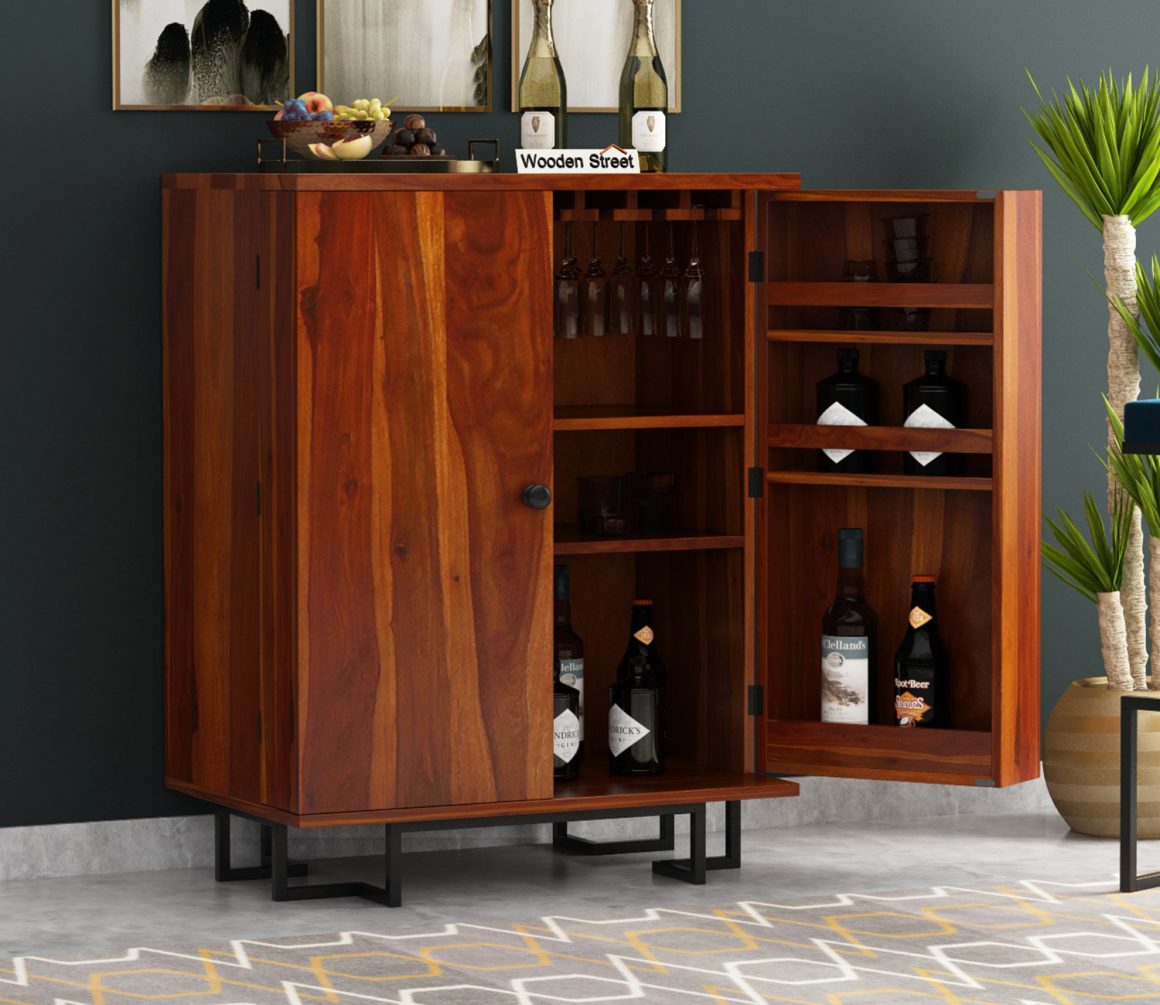 A cabinet-style bar shelf is a perfect way to store huge numbers of bottles systematically. These cabinets have compartments where you can store different types of liquor separately. These bar shelves ideas are perfect because they give a classy vibe with a clean look.
15. Green Illumination Home Bar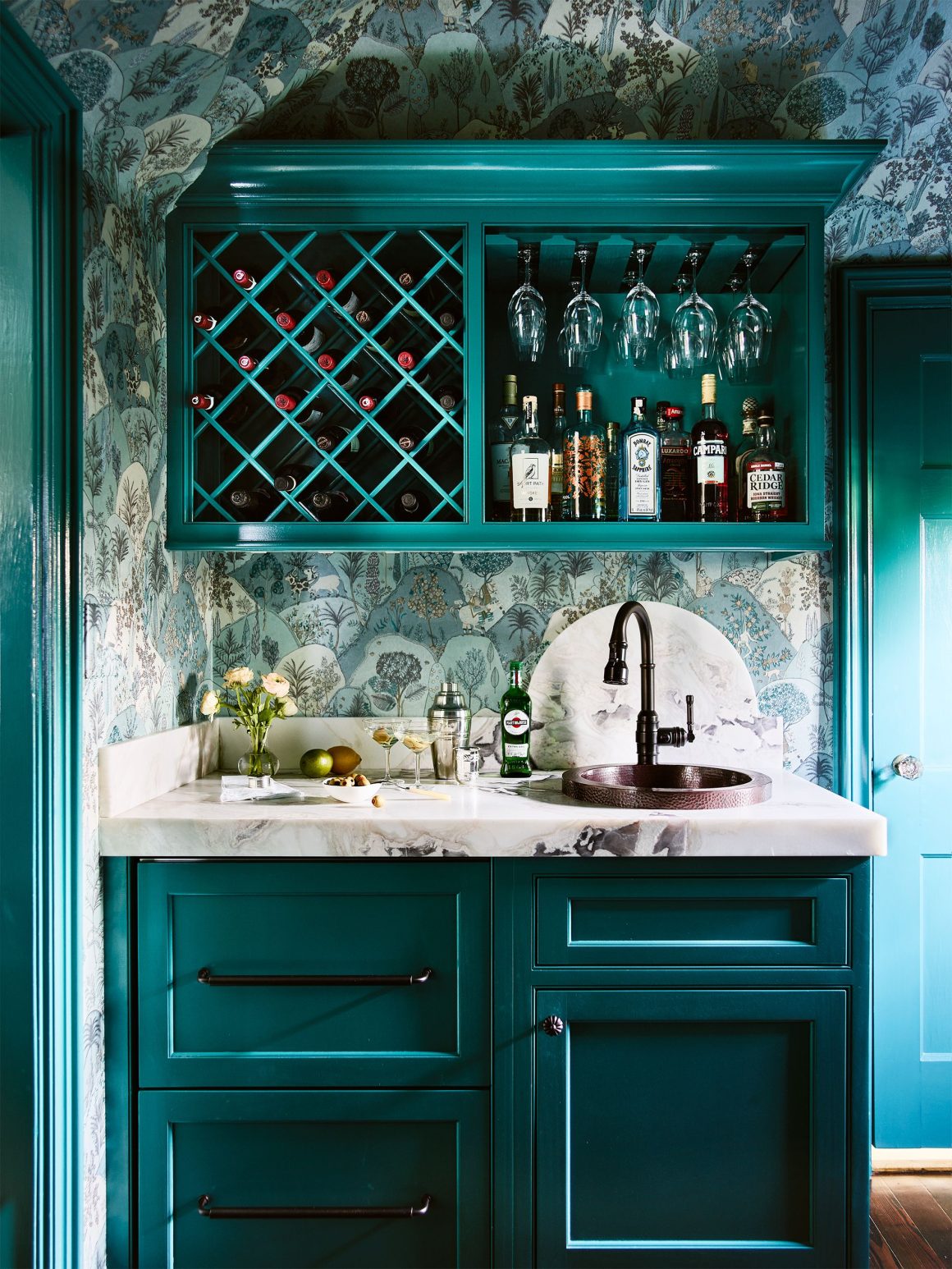 If you want a more sparkle and vibrant look for your bar, add green light on the shelf. These green illumination bar shelves ideas create a bash feeling that you can enjoy with your family and friends. Greenlight creates a vibrant, relaxed, and welcoming atmosphere that will be loved by everyone.
16. Mirror Bar Shelf
A mirror bar shelf is a perfect way to create a sophisticated and elegant aesthetic. These mirror bar shelves ideas bring a sense of storage space due to the reflection of light. You can display your favorite collections and glass beautifully on the mirror bar shelf, and it creates an attractive ambiance.
17. Wooden Shelf
For a simple yet elegant look of your home bar, add these wooden shelves to store your bottles. The wooden shelf gives a cozy and warm feeling with a touch of nature. The shiny liquor bottles will go beautifully with these simple wooden shelves creating a sense of sophistication and glamor.
18. Modern Bar Shelf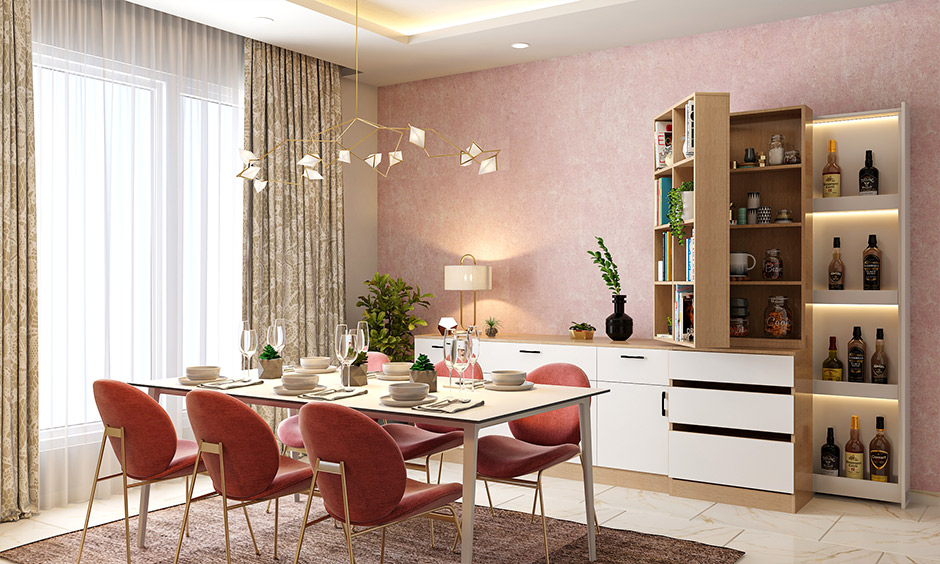 To give a sleek contemporary aesthetic to your bar, try using a modern bar shelf. These bar shelves ideas give a party vibe that will be liked by your guests. Adding floating bar shelves with monochromatic color walls will give a chic and classy look.
19. Bar Shelf in Nature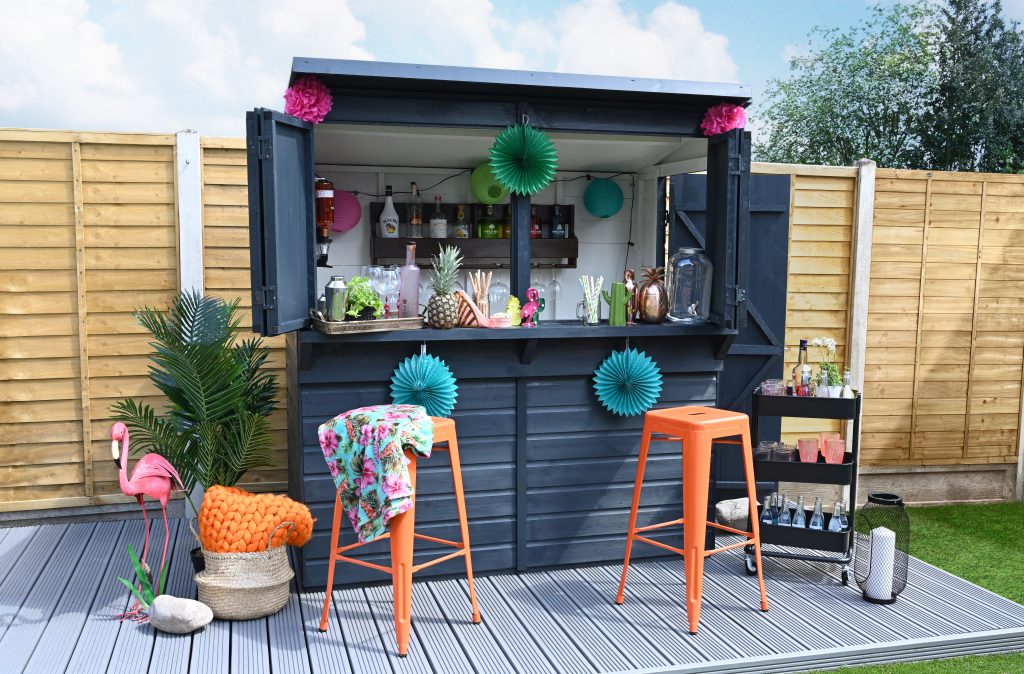 Who doesn't like to spend time in nature? Imagine sipping a glass of your favorite drink with your friends and family in beautiful weather and cool breeze; it seems so perfect. So why not change it to reality by constructing bar shelves in the garden that will give you a feeling of cheerfulness and joy.
20. Corner Bar Shelf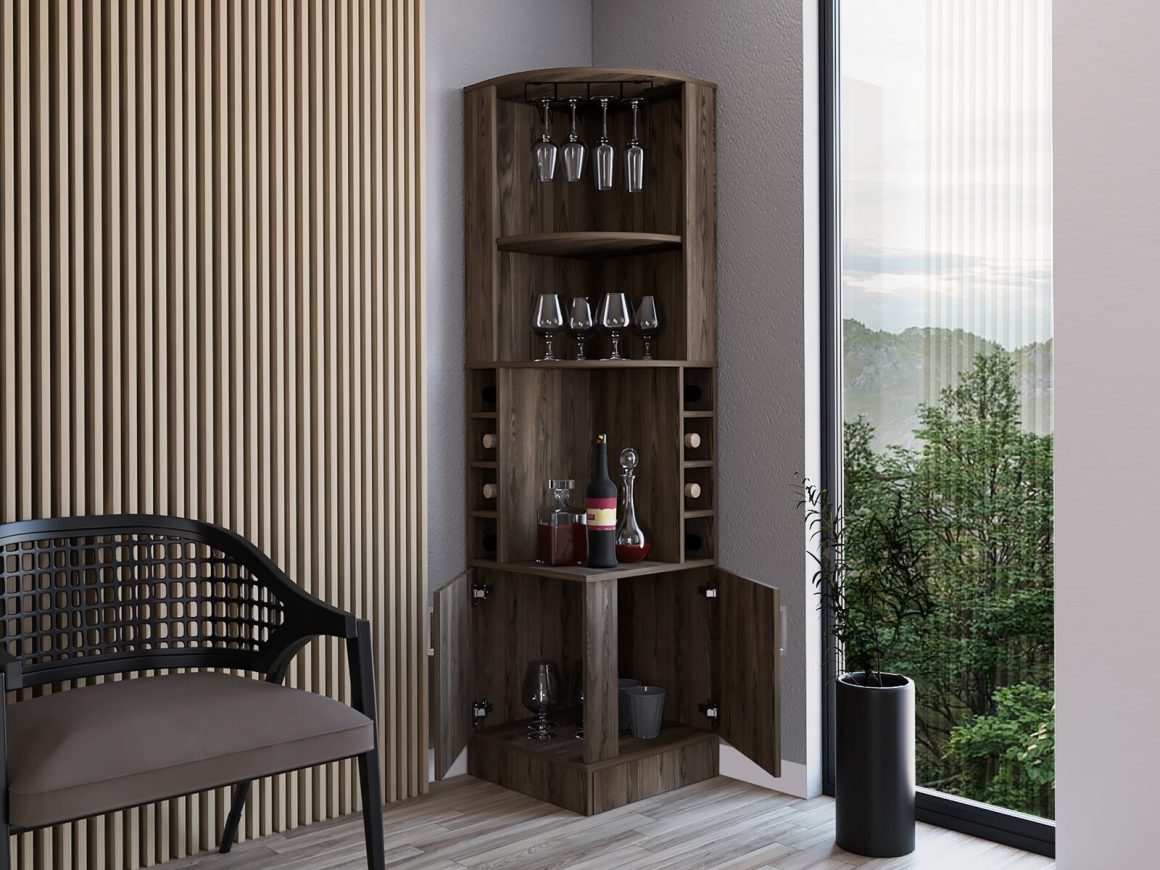 These bar shelves ideas are the perfect way to convert a boring corner into a party spot. A corner bar shelf is an ideal way of using a corner to store a bulk of liquor bottles and create a visual point. Add an L shape shelf on these corns to give more support and security to keep delicate bar materials or glasses and create an incredible space.
50 Home Bar Design
1. Bold Black Home Bar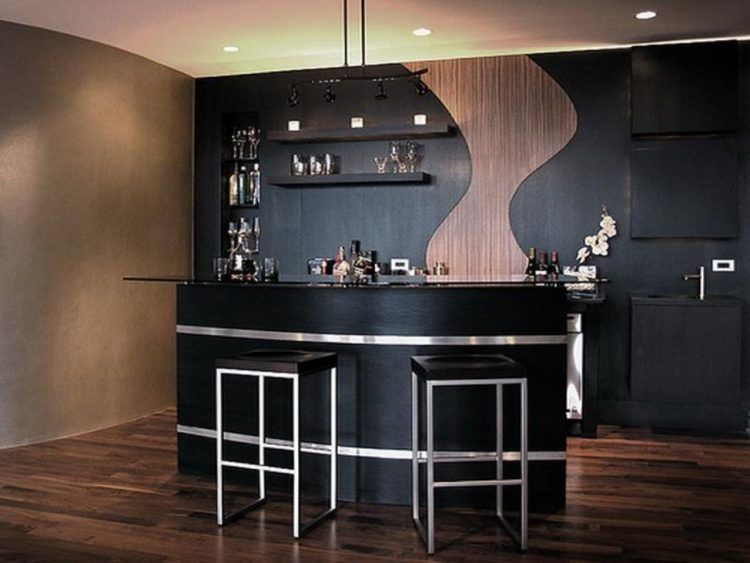 The black theme gives a dramatic and bold statement, which gives your bar a classy look.
2. Under Stair Home Bar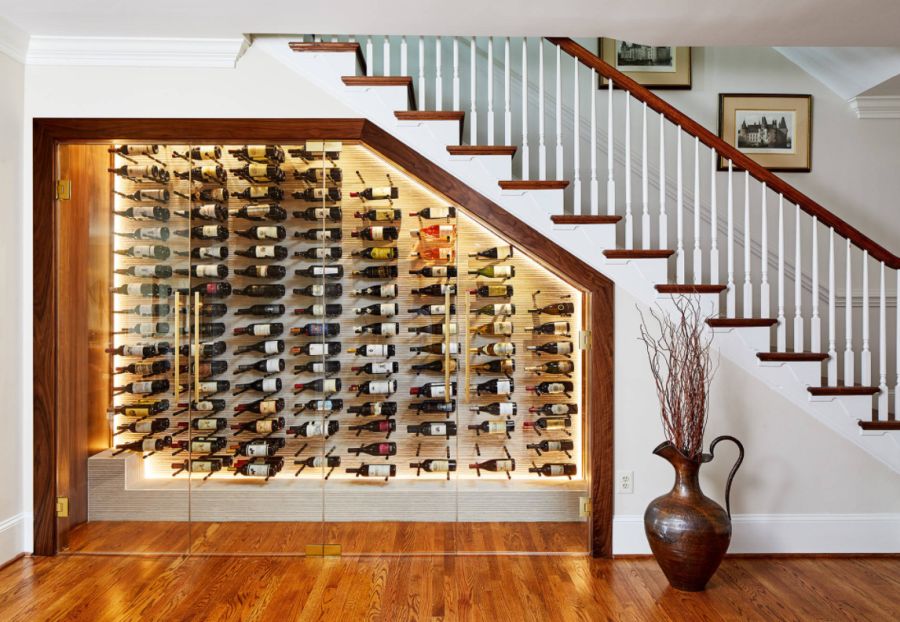 For a small area, transforming stairs into bars is a great idea. It gives space to store your collection.
3. Wall-Mounted Mirrors Bar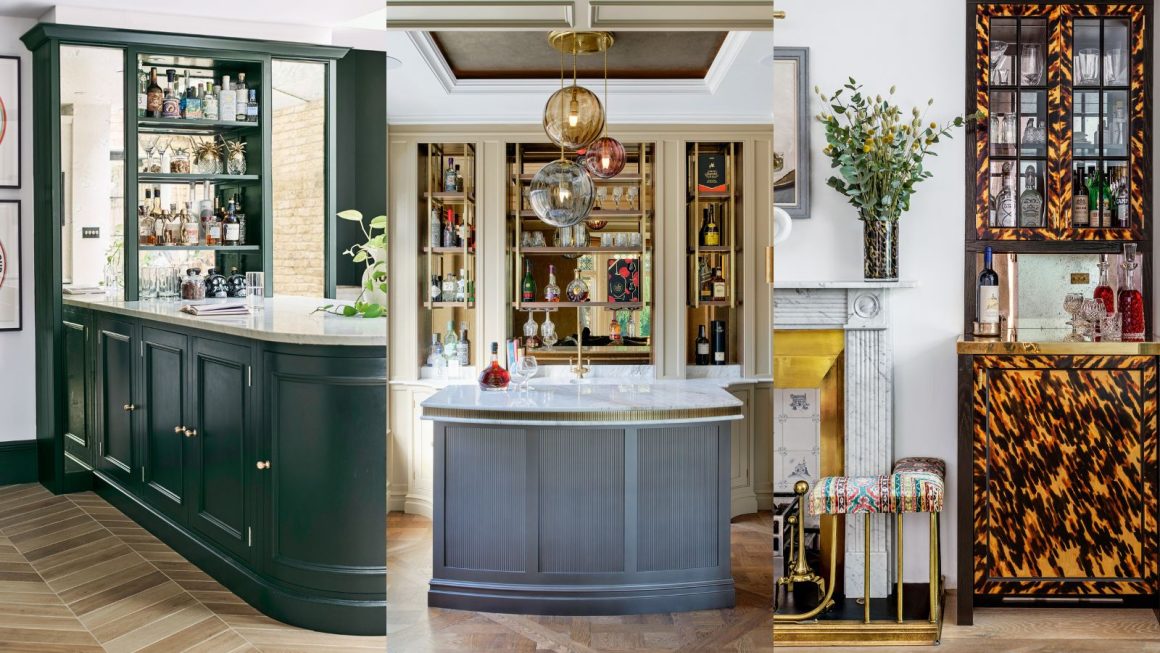 It makes your small area a spacious one with a touch of luxury.
4. Glass Shelf Bar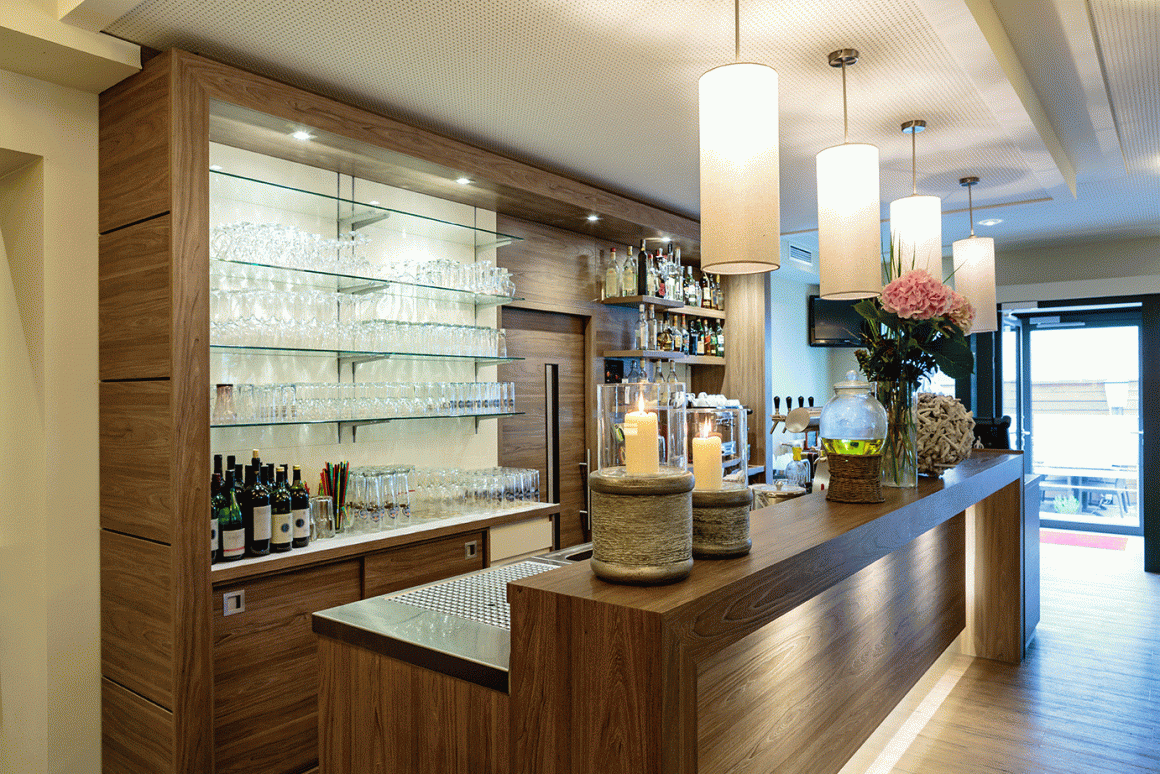 To showcase your favorite liquor bottles, add glass shelves to your bar.
5. Artwork with Your Bar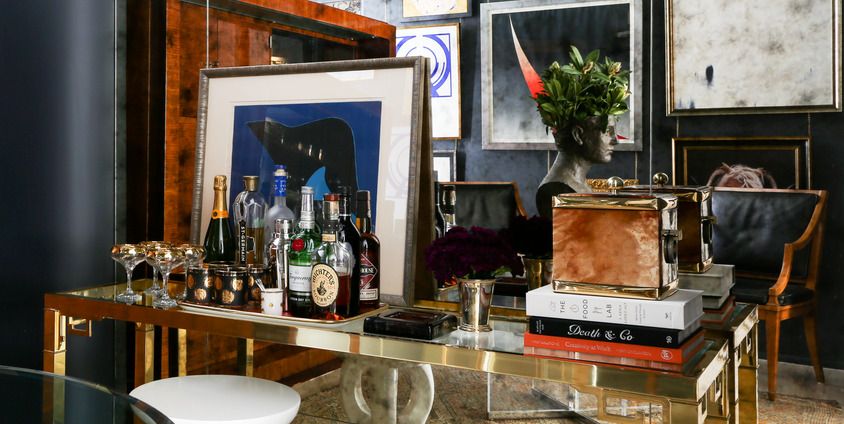 Add different art pieces and frames on your bar shelf to make it more creative.
6. Bold and bright look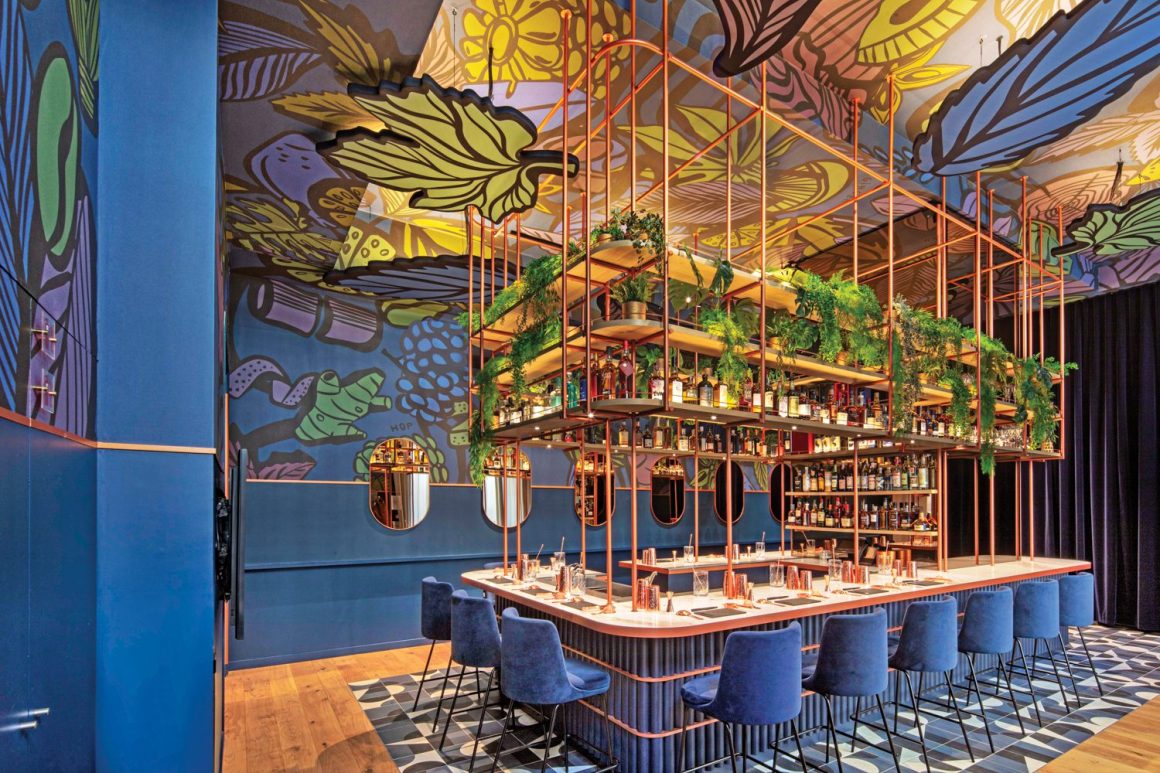 Adding different colors as a wall for your bar gives a bold and attractive statement.
7. Gleam in the dark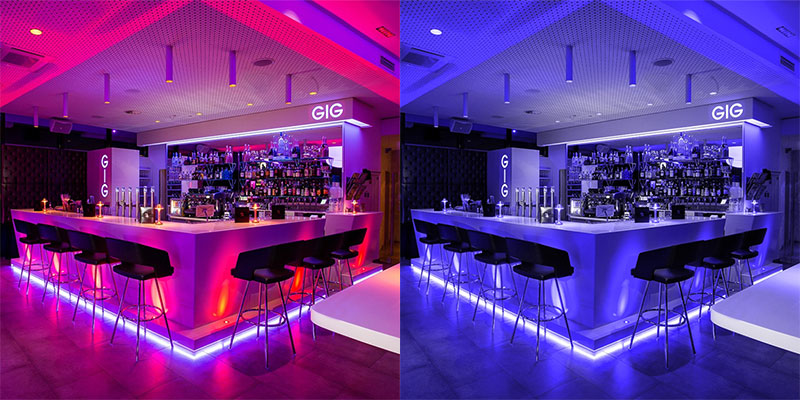 Adding led lights to your bar makes it more elegant and gives a bash feel.
8. Elegant White Theme Bar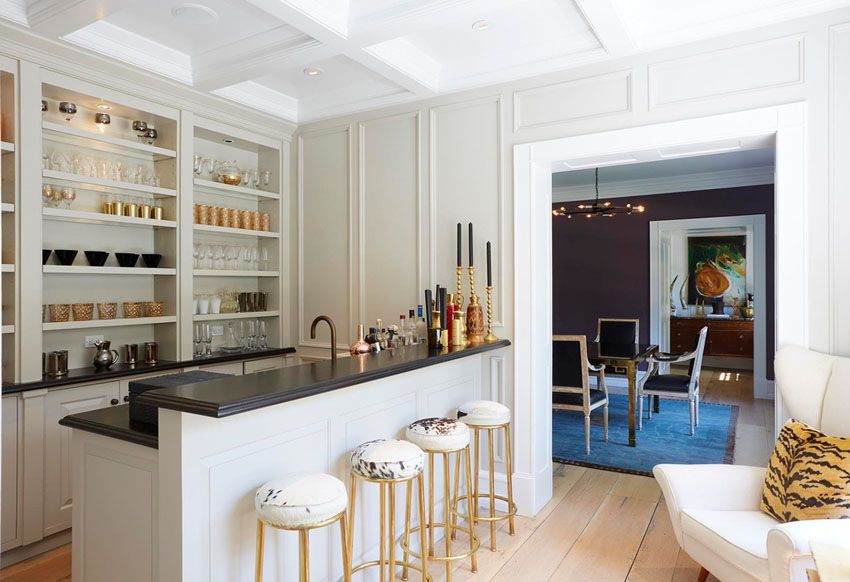 For a sleek, elegant look, add a classy white theme to your bar.
9. Vintage-Style Bar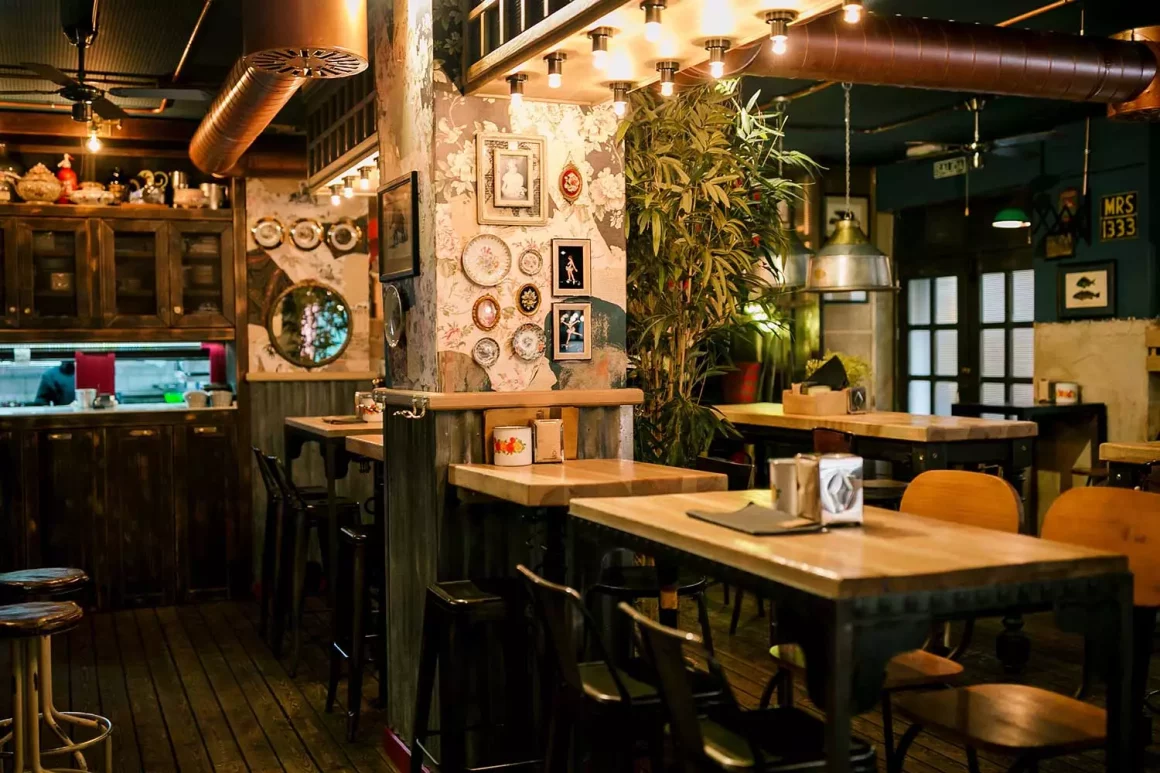 Add different bar elements and incorporate yellow bulb lights for a vintage aesthetic.
10 Green Illumination Bar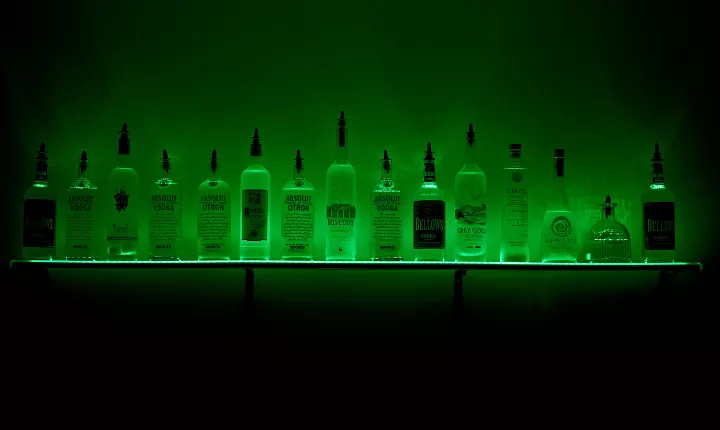 For a welcoming and flair atmosphere, an illuminating green bar is a great idea.
11. Blue Farmhouse Vibe Bar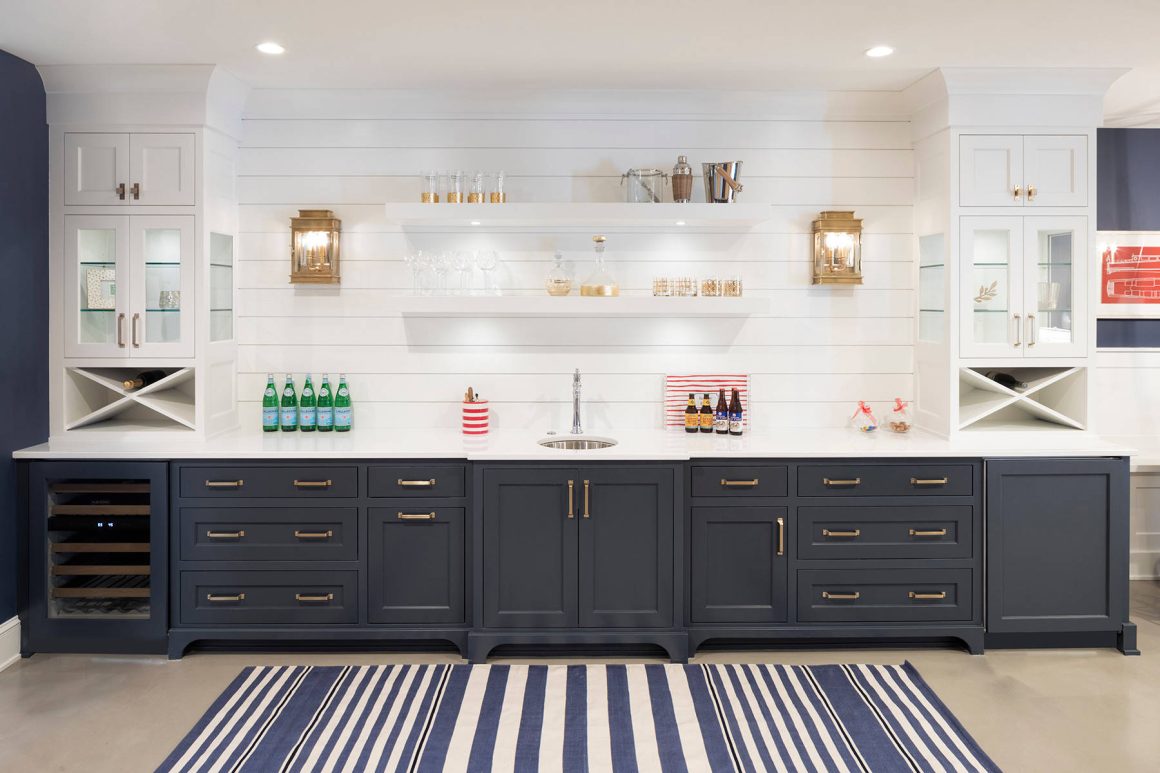 For an elegant look, a blue farmhouse is a great choice.
12. Retro White, Black Theme Bar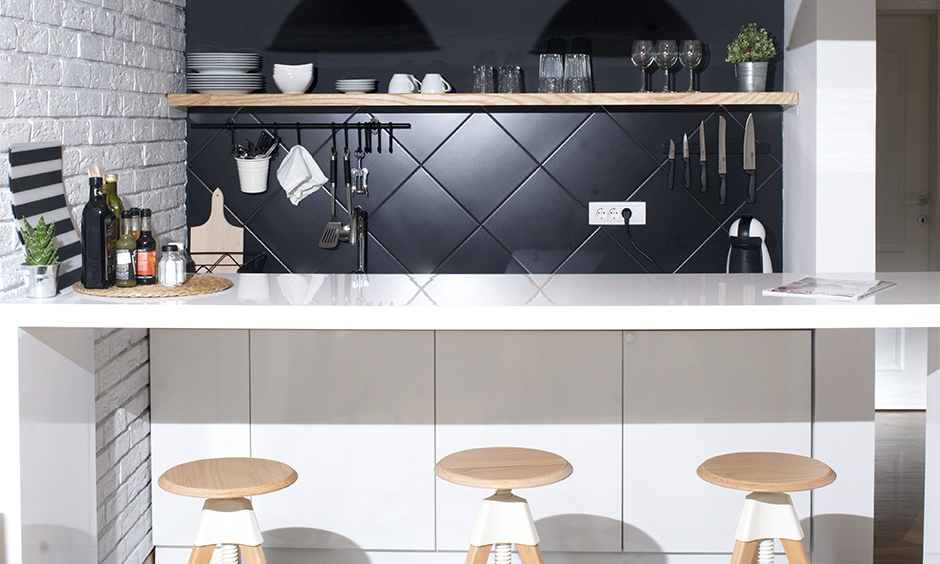 Adding a black-and-white theme gives a classic retro vibe.
13. Rich Closet Bar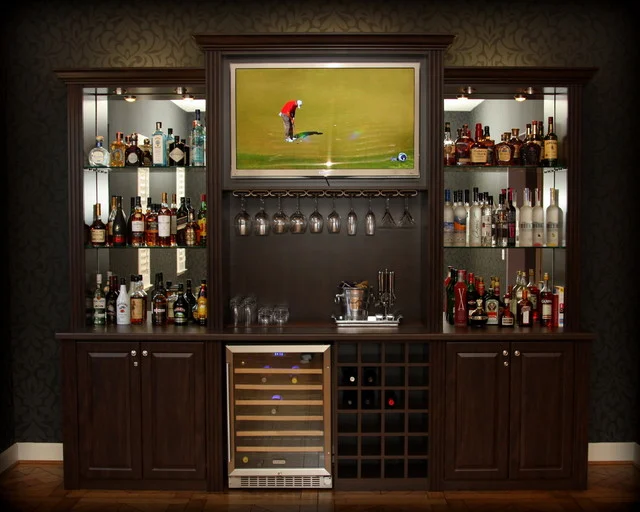 This bar gives a sense of sophistication to your atmosphere.
14. Portable Bar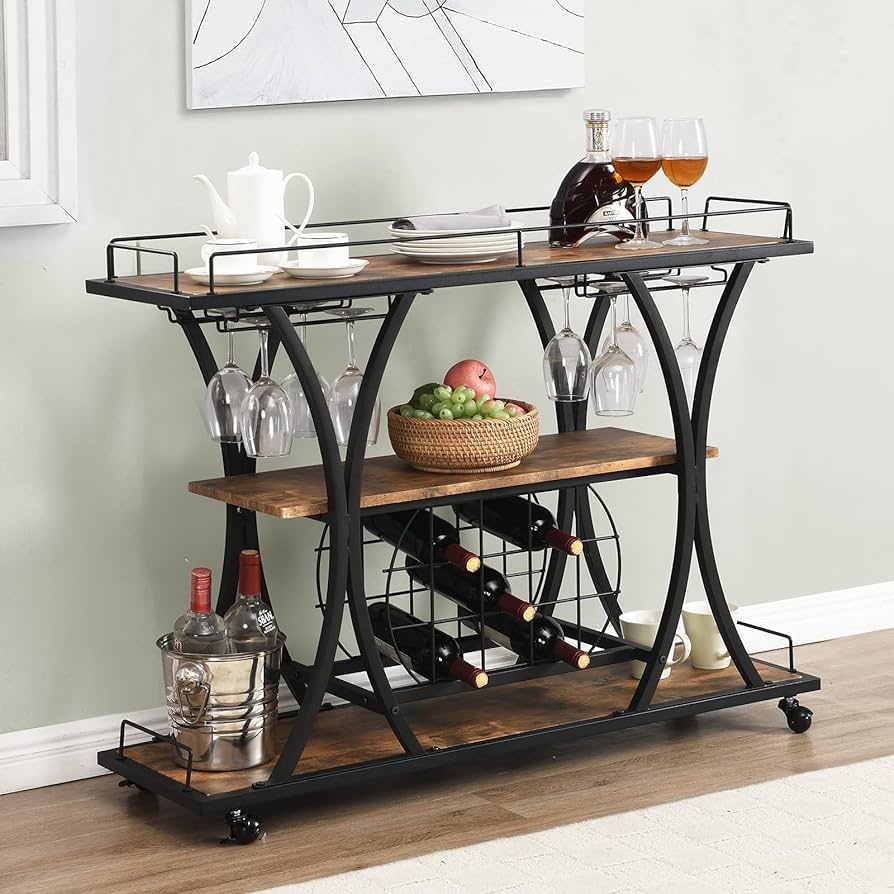 For the party, in every corner of the house, have a portable bar.
15. Modern Bar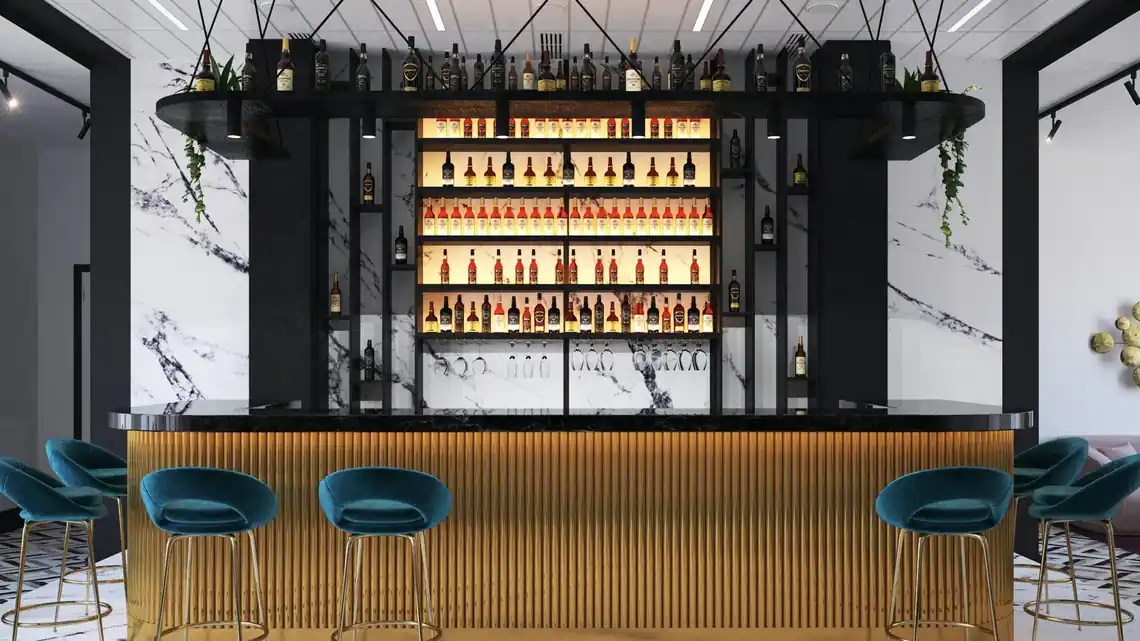 Gives a modern and minimalist look.
16. Add Mirrors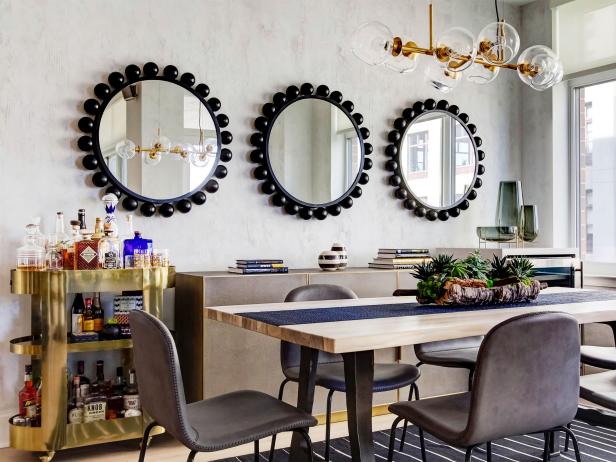 For a clean and classy look, add a mirror to your home bar.
17. See Vertically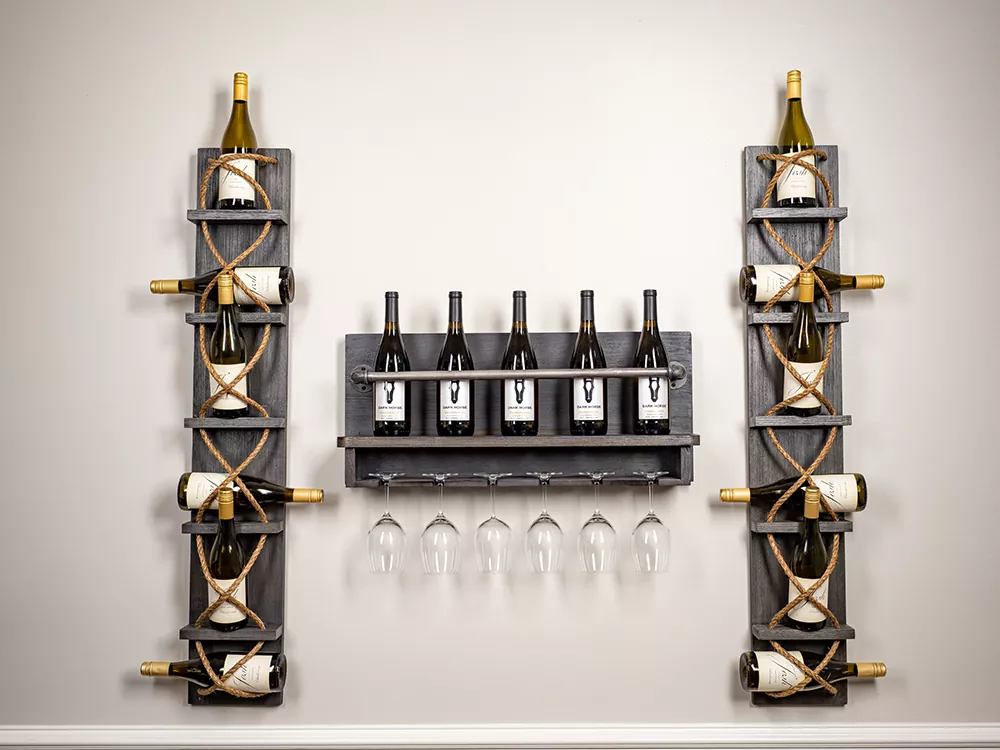 For a small area, create a simple and clean vertical shelf for a minimalist and sleek look.
18. Metal Accents Bar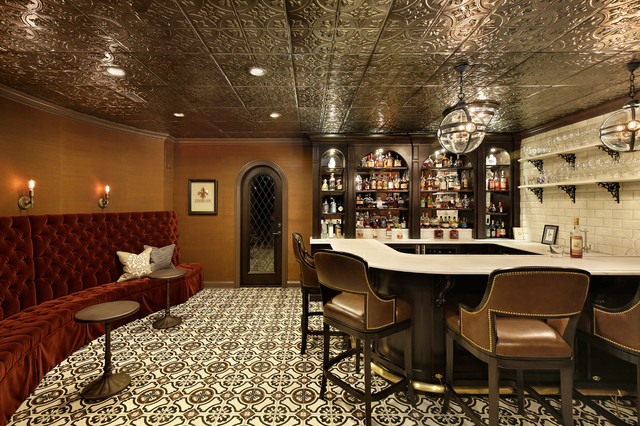 Adding silver and gold accents creates a sophisticated and glamorous bar.
19. Drawer Bar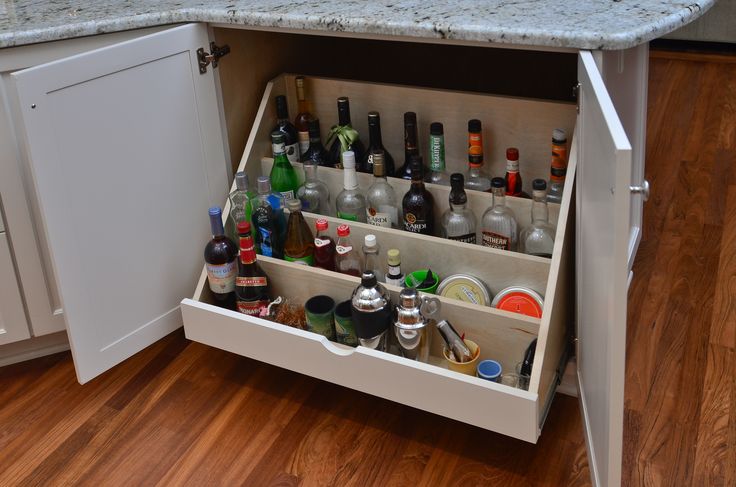 A drawer bar is the best way of creating more space for your collection.
20. Bold Blue and Black Bar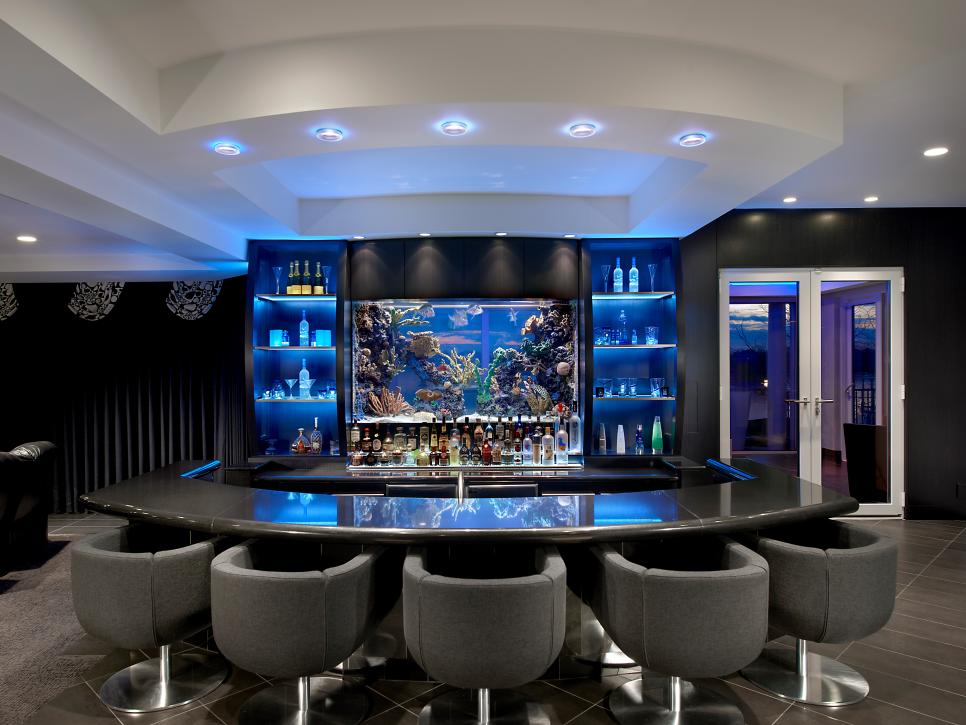 This theme gives a dramatic, bold look to your bar that becomes a focal point.
21. Wooden Farmhouse Vibe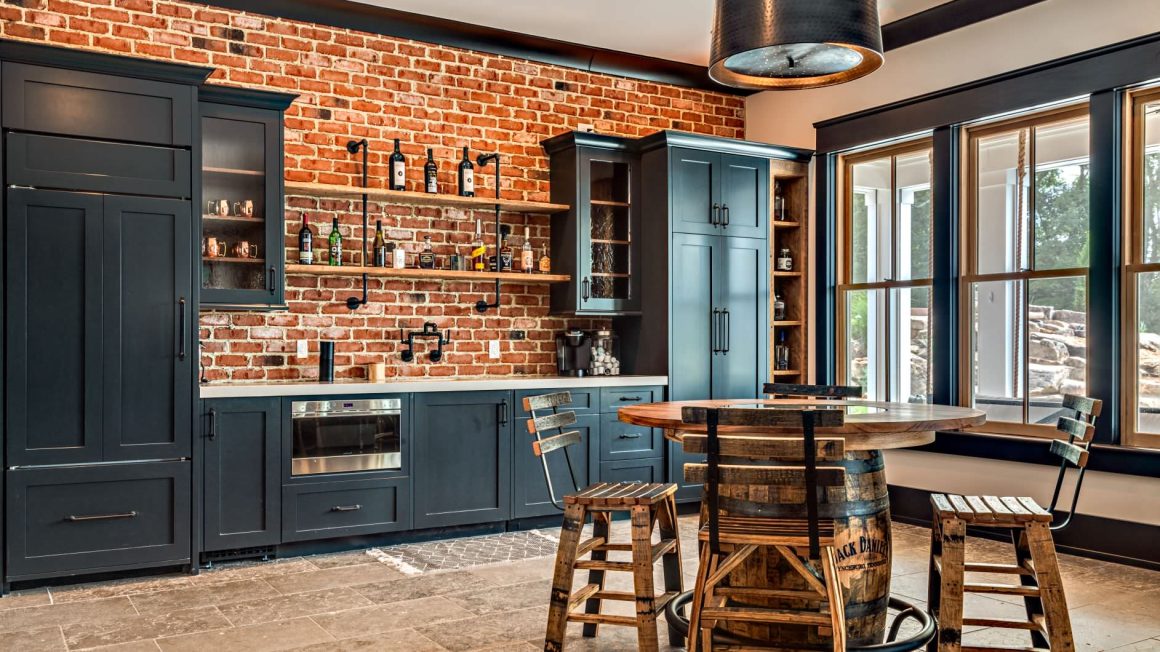 Add a wooden wall with a modern look that gives a beautiful farmhouse vibe.
22. Include a Screen on The Wall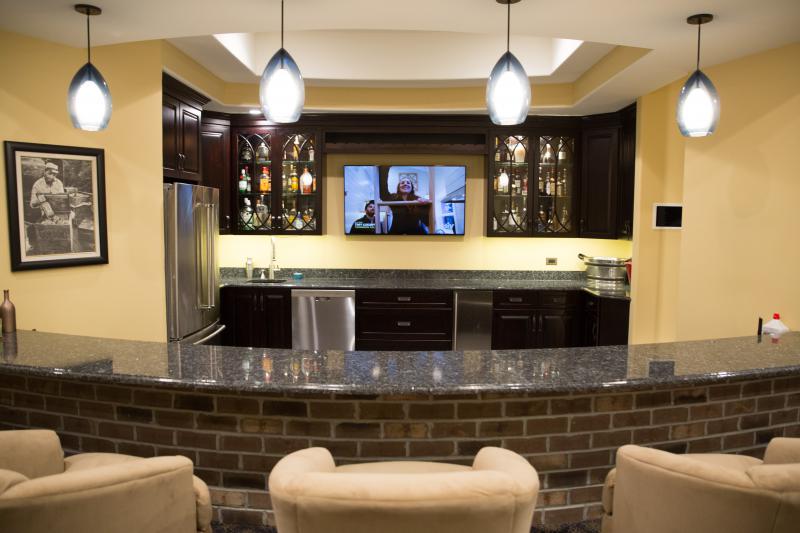 Favorite drink in your hand while watching sports with your friends gives relaxation and an amazing feel.
23. Calm and Neutral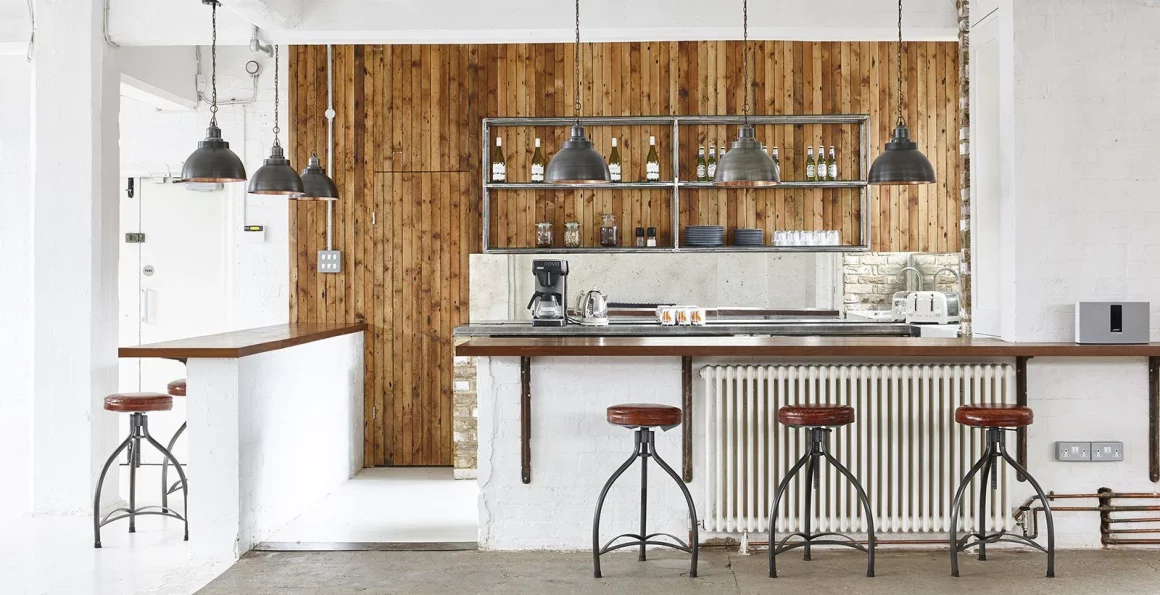 Give your bar a neutral finish that gives a calm atmosphere
24. Floating Bar Shelf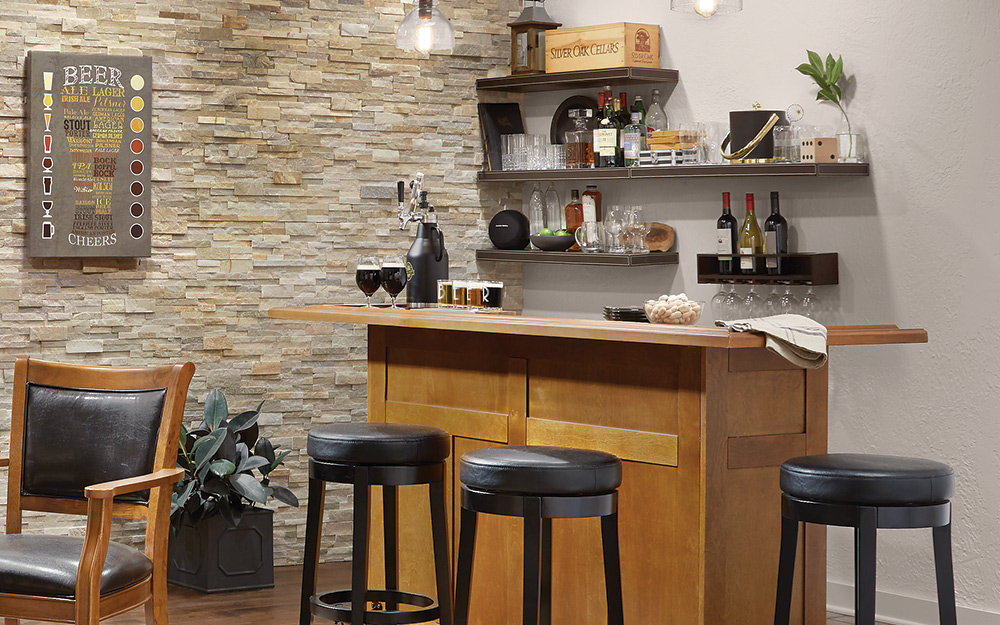 For a sleek contemporary look, opt for a floating bar shelf.
25. Pub Counter at Home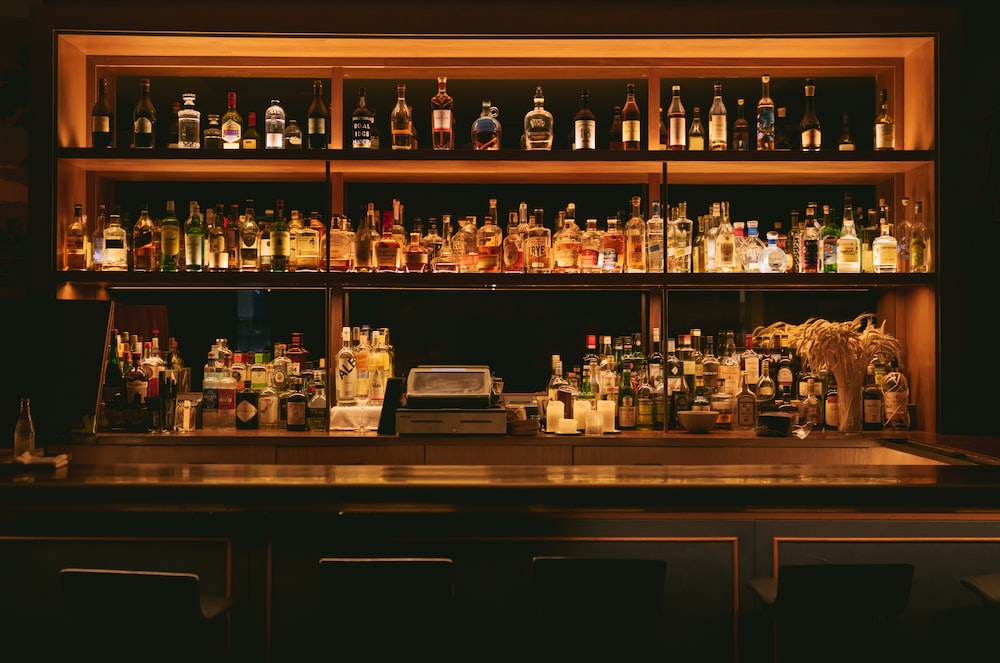 For a party pub-like look, transform your home bar into one by adding lights that will create a party-like atmosphere.
26. Add Statements
Make your bar the center of attraction by adding statements on the wall.
27. Globe-Style Bar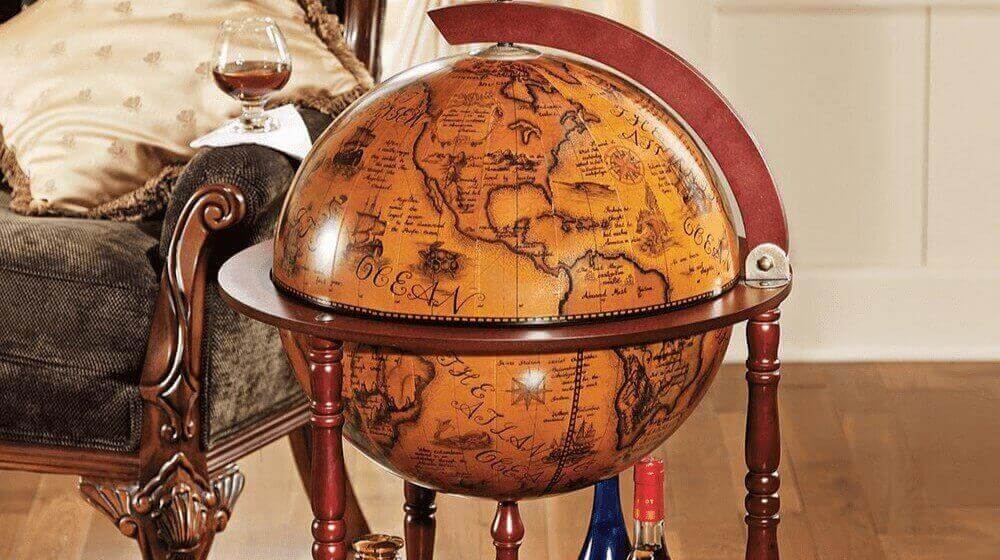 To store your favorite liquor bottles, globe-style bare is an excellent choice.
28. Elite Truck Bar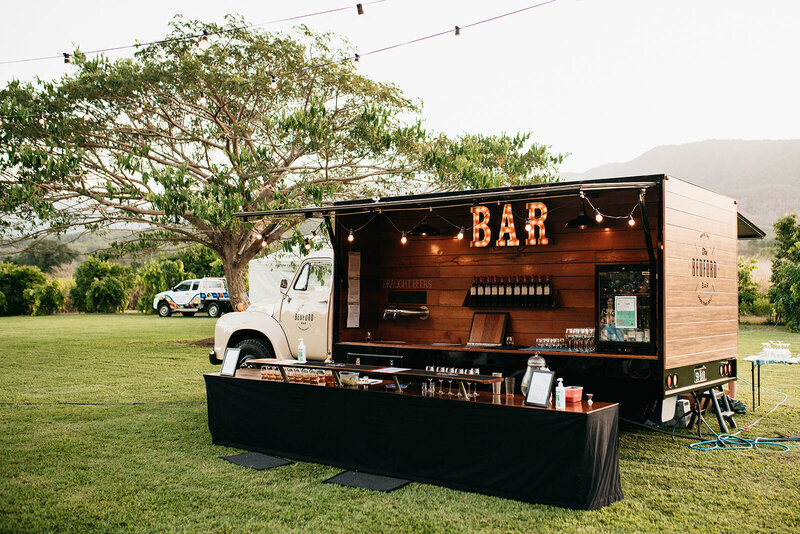 Truck bars are a perfect way to create an entertaining vibe.
29. Vintage Suitcase Bare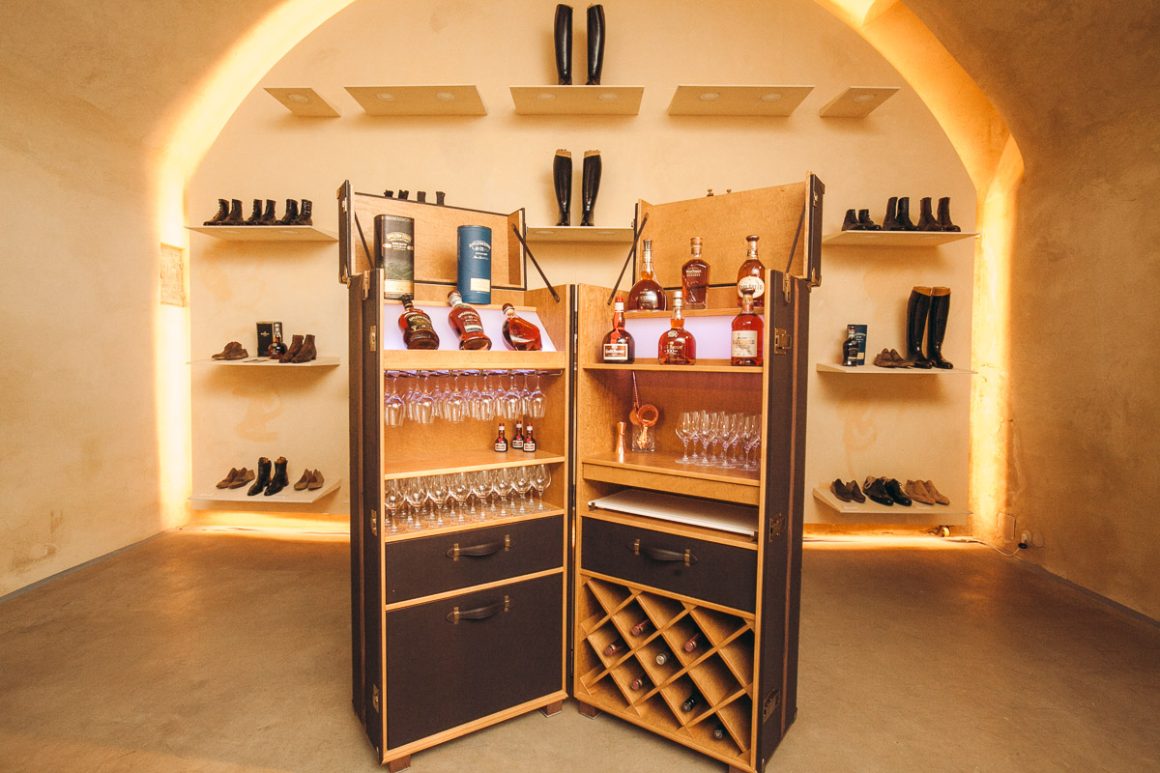 To give a vintage vibe, transform your suitcase into an amazing bar that will be loved by everyone.
30. Wet Home Bar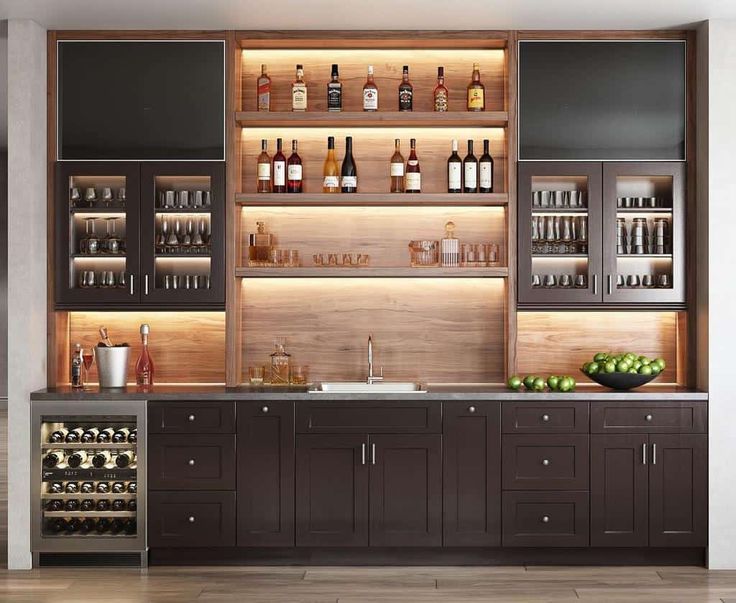 A well-organized bar with an option for cleaning.
31. Wooden Shelf Bar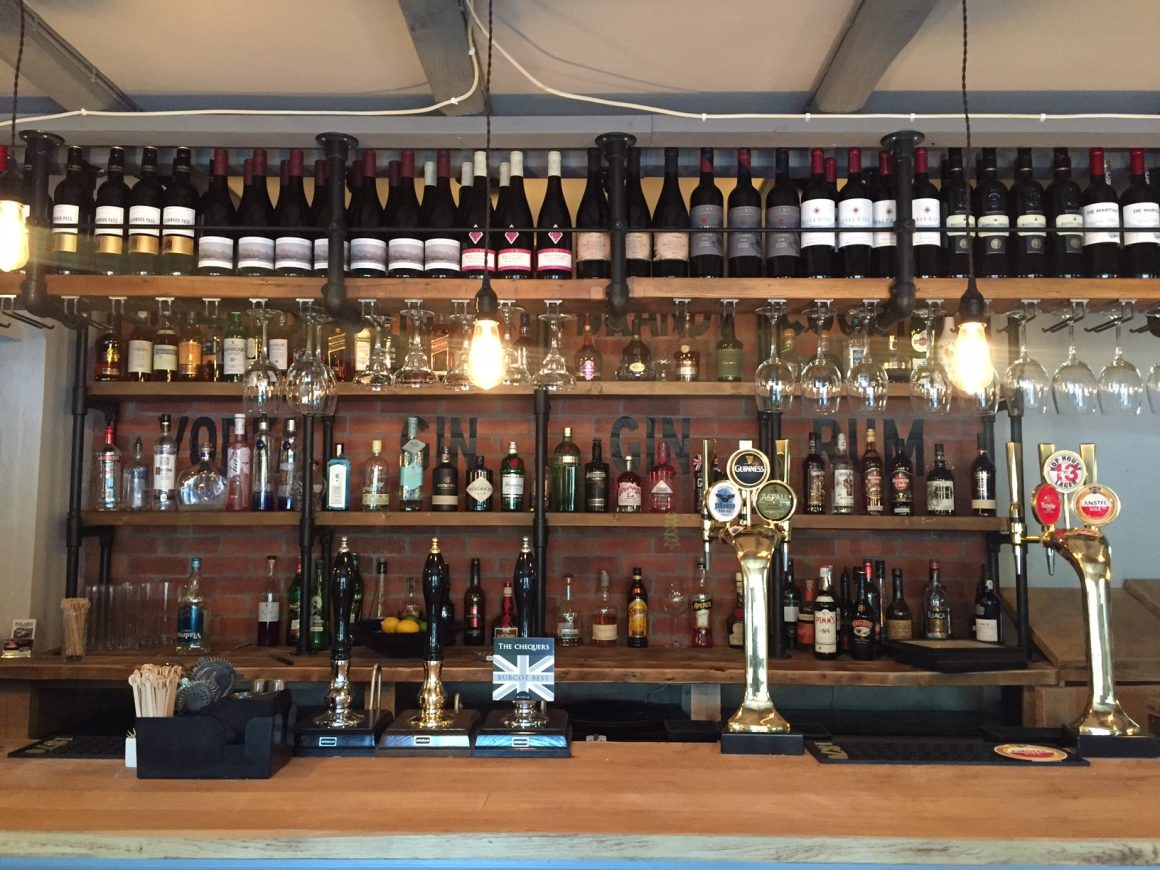 These wooden shelf bars create a vibe of a calm and welcoming atmosphere.
32. L-Shaped Home Bar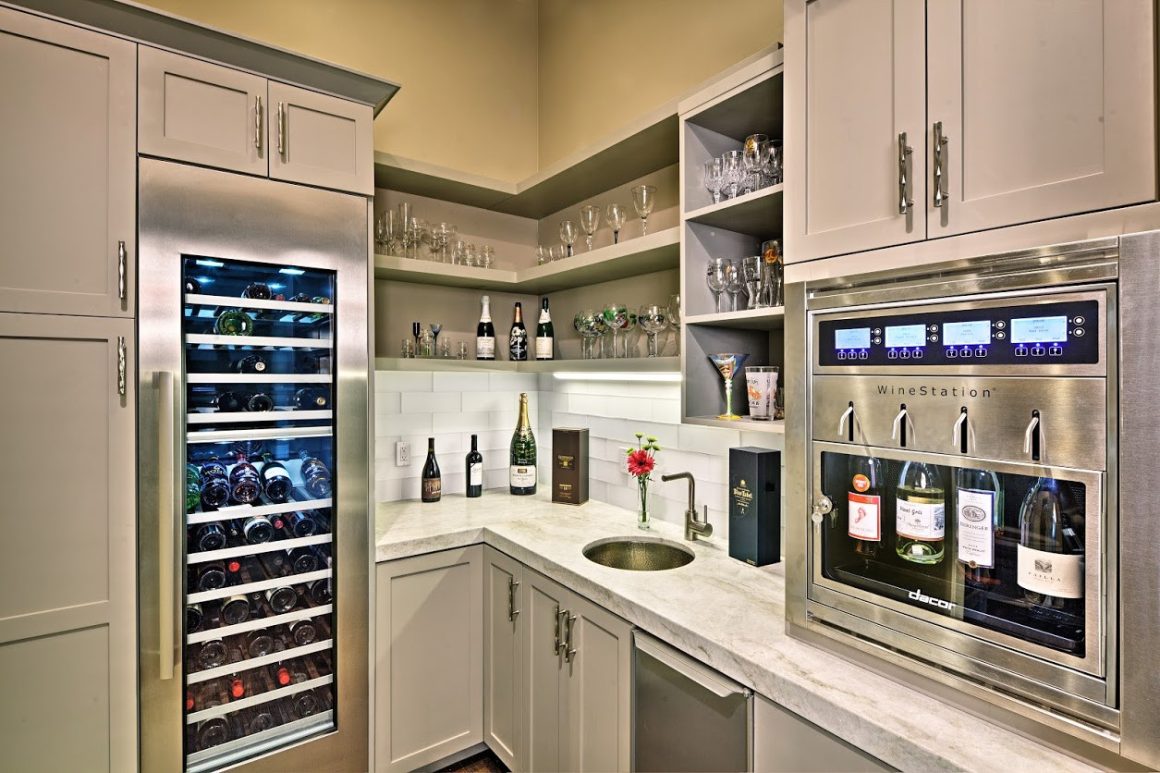 For a sophisticated and elegant look l shaped home bar can be a good choice.
33. Wine Corner Bar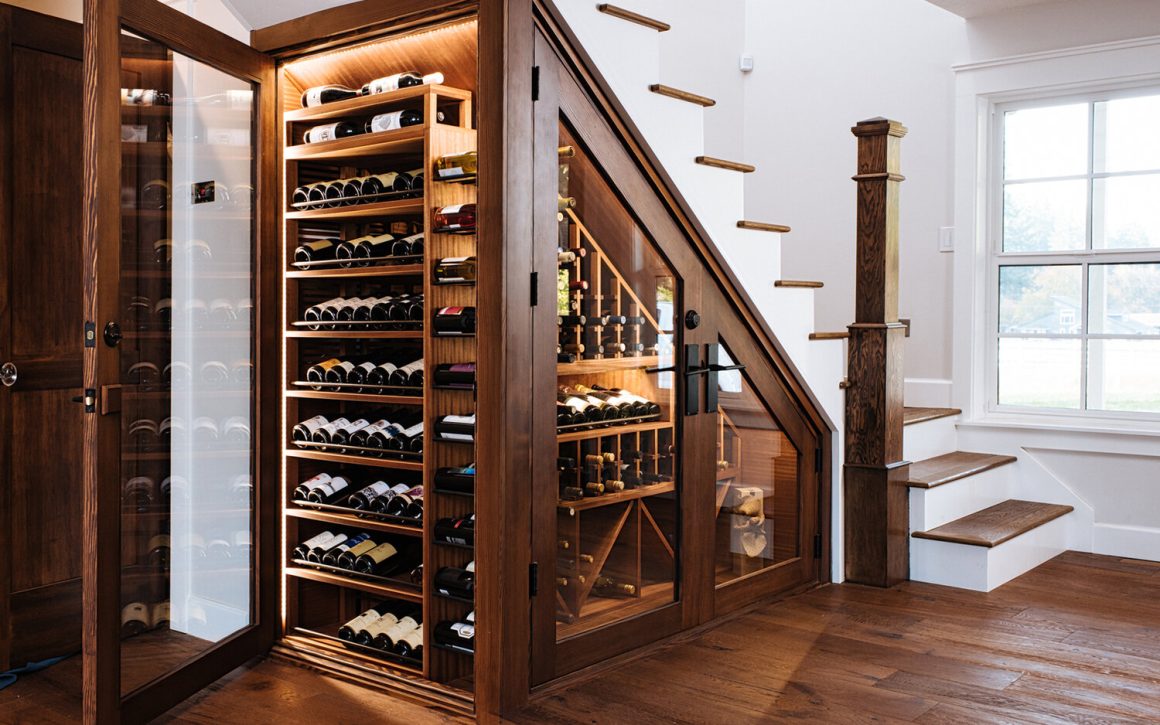 For storing all your wine collection, have a wine conner
34. Aluminum Home Bar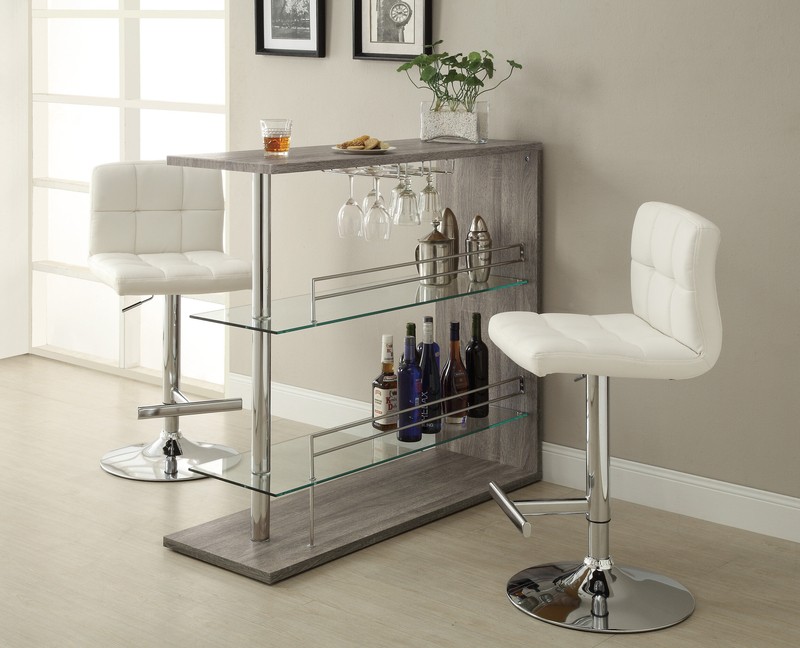 Add an aluminum shelf with a metal pipe for an industrial look.
35. Mirror Shelf Bar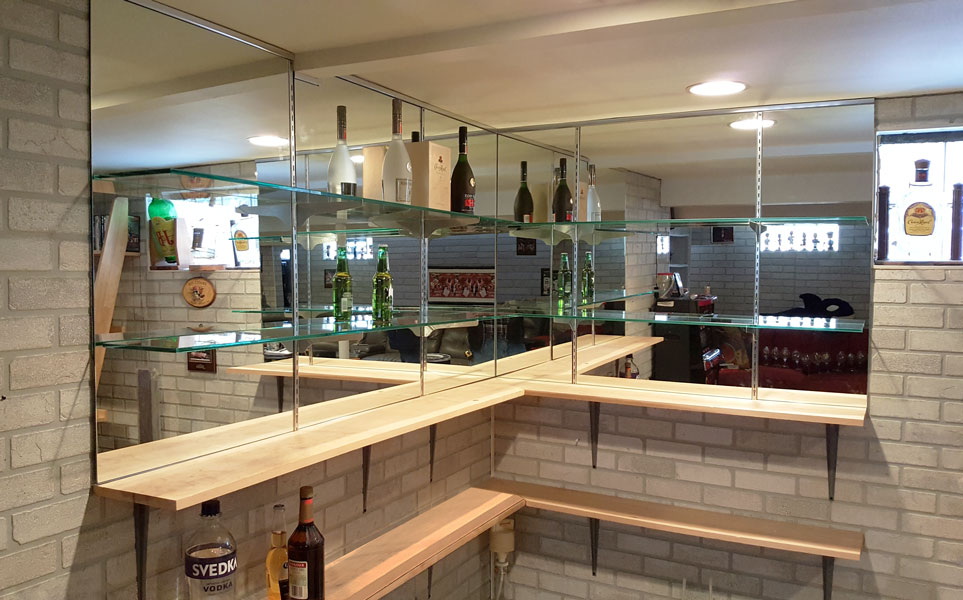 Mirror shelf bars are the perfect choice for storing your different bottles with elegance.
36. Red and White Theme Bar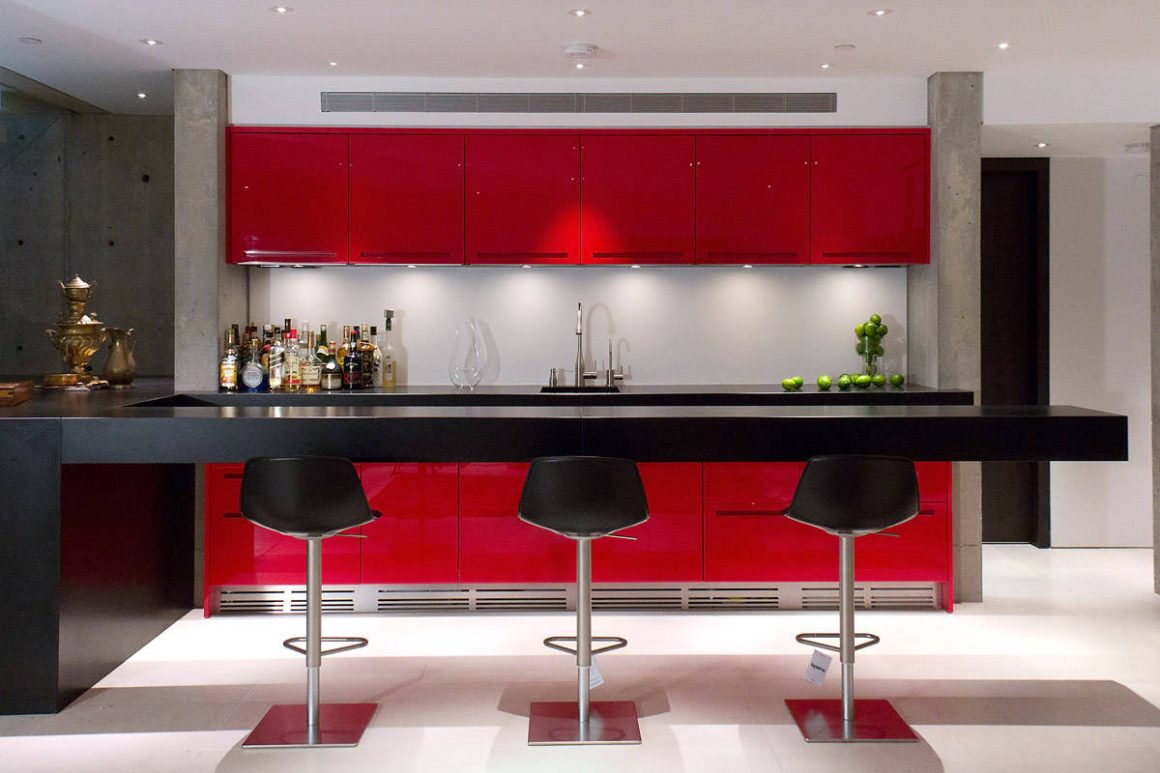 For a retro and vintage vibe, install white and red color tiles to build your bar.
37. Glamorous Gray Home Bar Shelf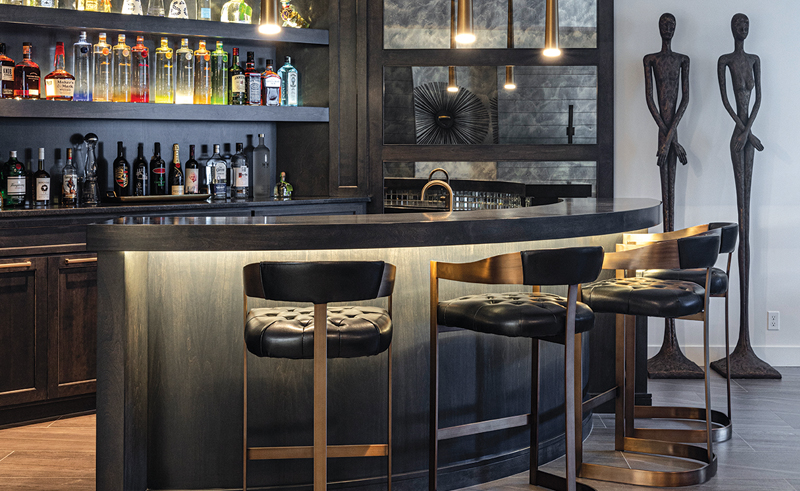 Include a gray color shelf and bar materials to make your bar more elegant.
38. Golden Pendant Light Bar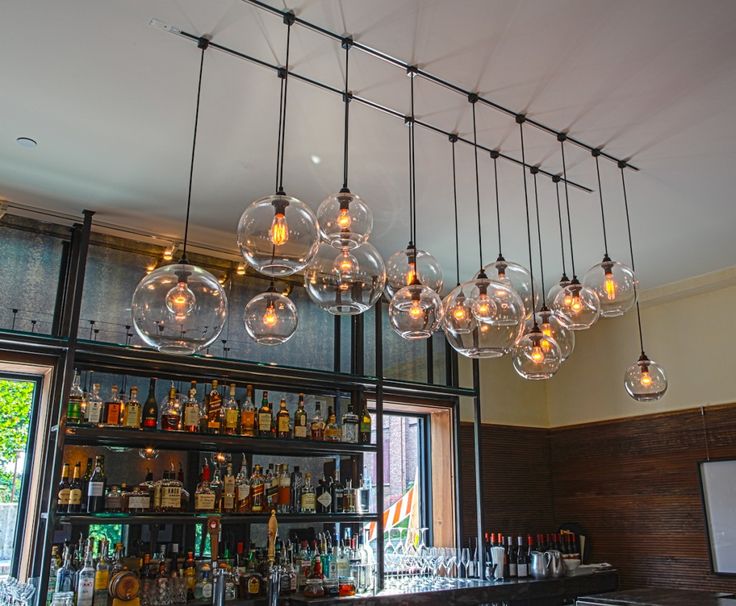 This gives a rich and sophisticated charm to your home bar.
39. Home Bar with Stylish Display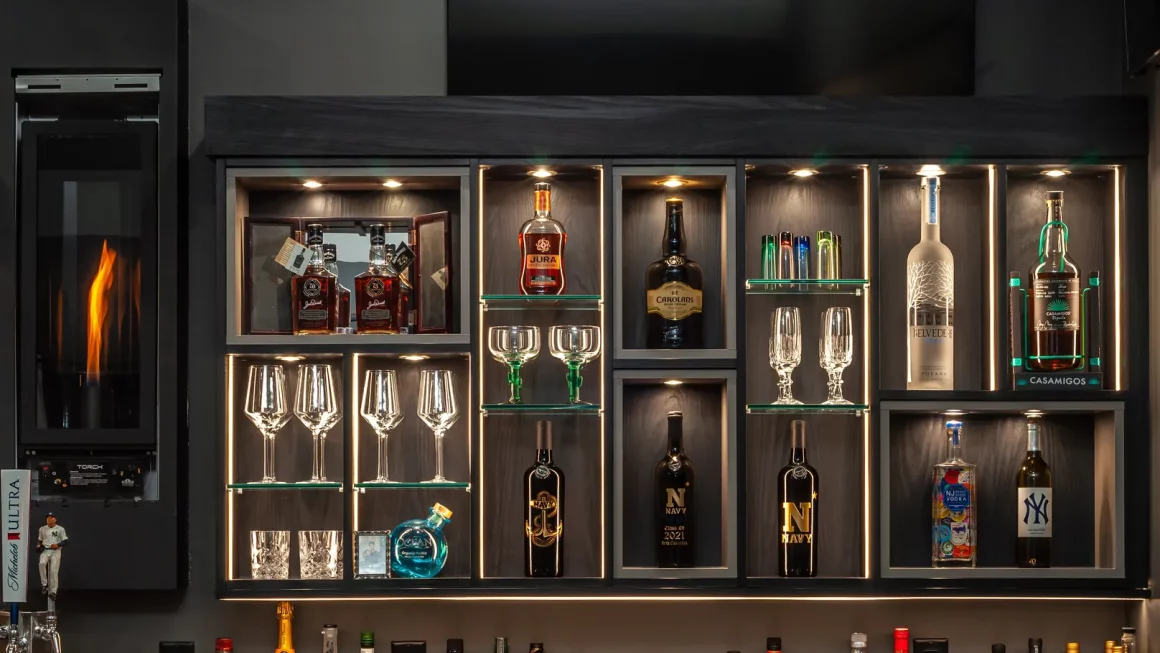 To give your bar a more chic look, add a stylish display.
40. Bar Board on The Wall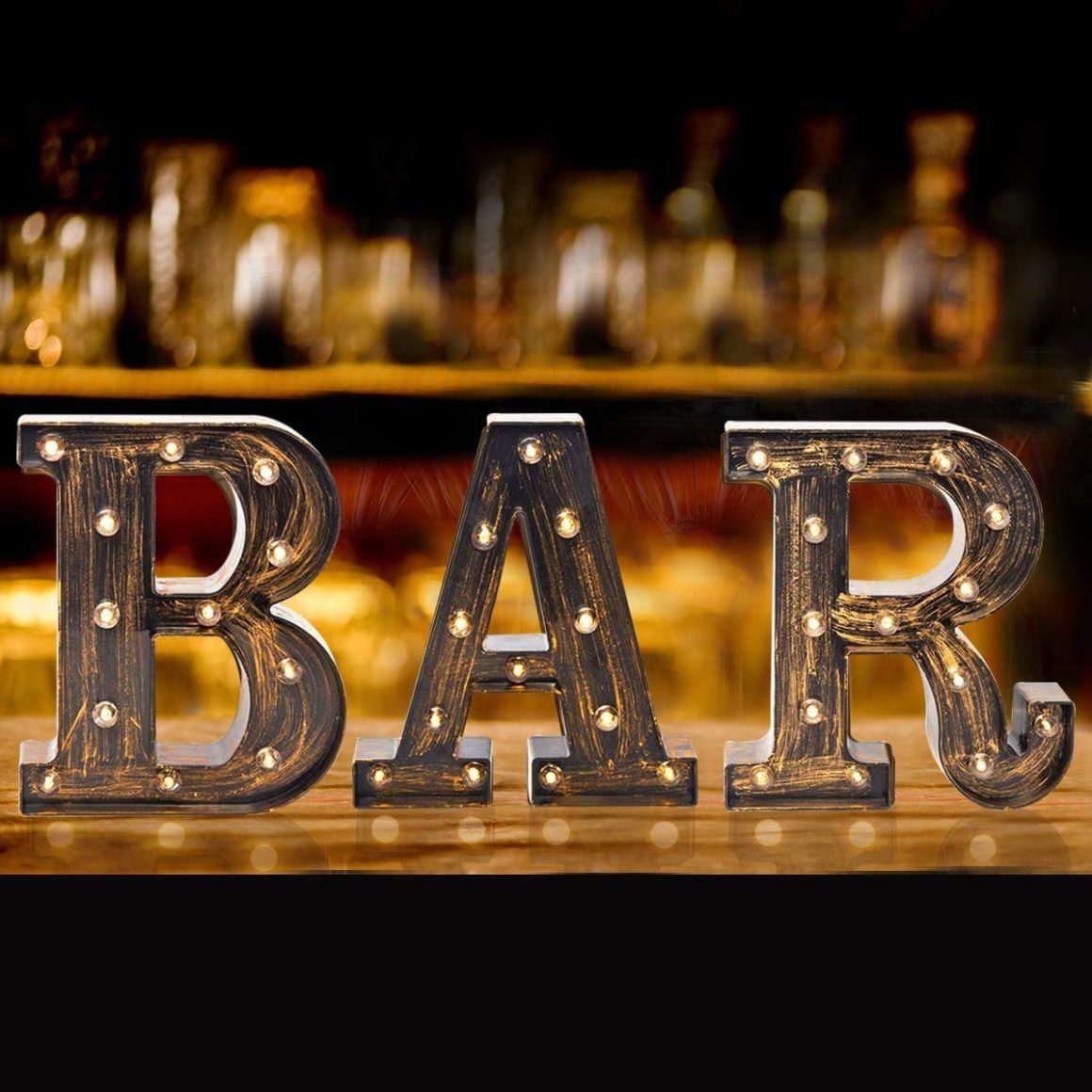 Add different boards on the bar wall to make it more interesting.
41. Green Tile Home Bar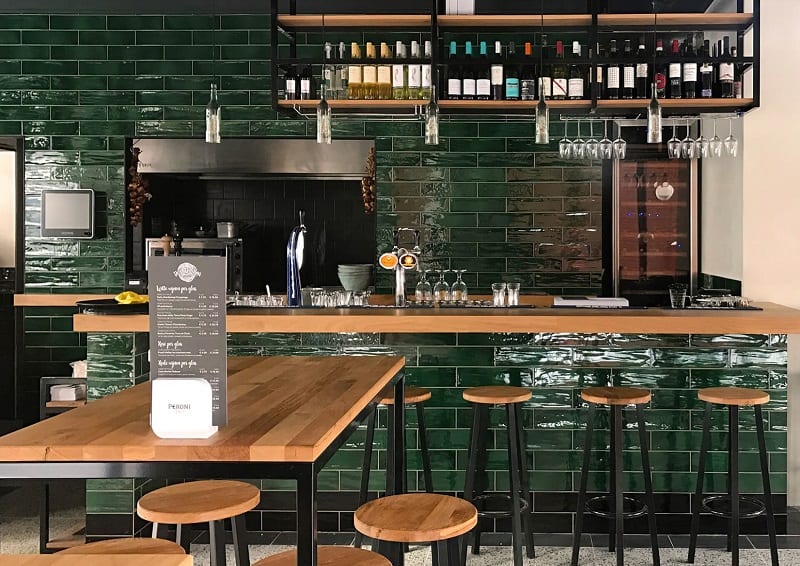 For a sophisticated and warm atmosphere, use green tiles as abase.
42. Kitchen Bar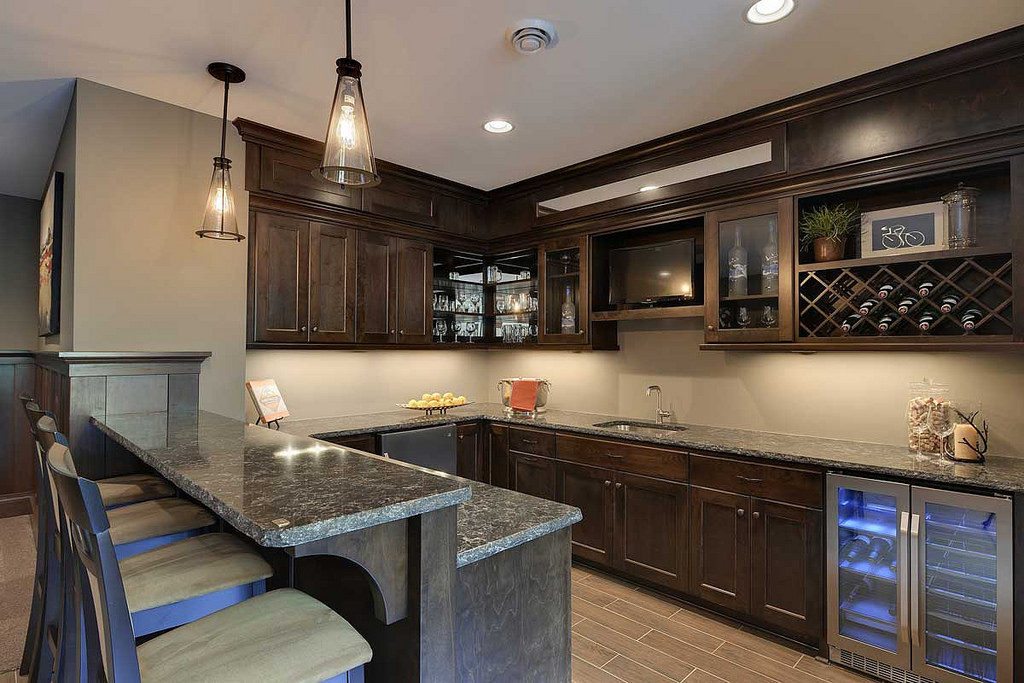 Kitchen bars are the perfect way to add charm to your bar. Add shelves and beautiful lights for an amazing ambiance.
43. Francophile Bar
The French-style bar with customized furniture and wallpaper gives a luxury vibe.
44. Beach Vibe Bar
Adding the beach theme to bring a beach vibe to your home bar.
45. Gold and Black Bar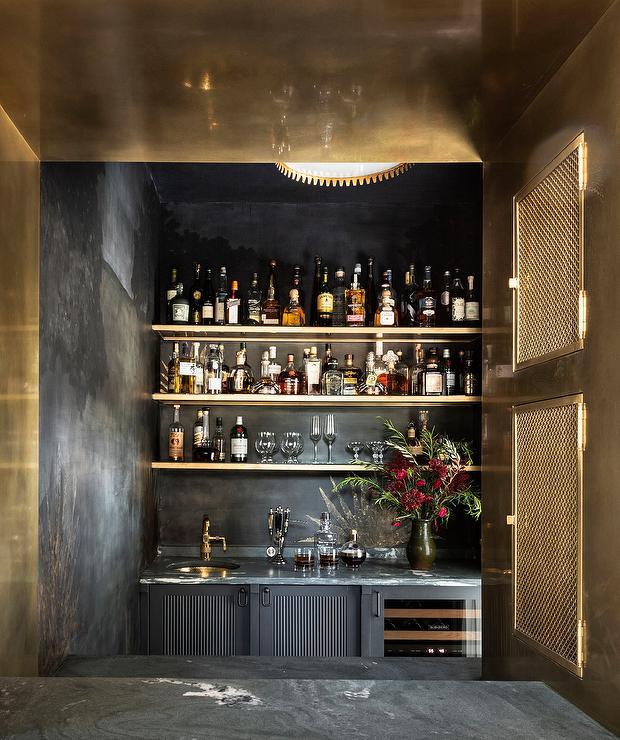 For a gorgeous and elegant look, add golden lights and bar elements on a matt black shelf
46. Mirror Backsplash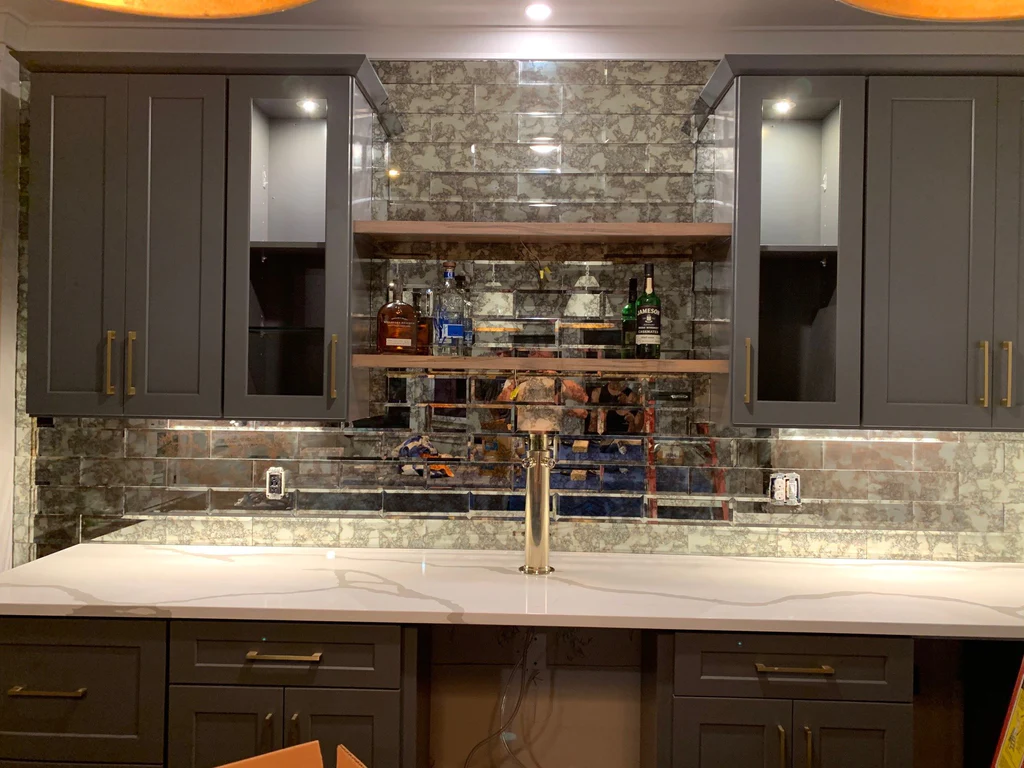 Mirror backsplash gives your bar area a bright and spacious feeling and gives the illusion of a large space.
47. Library-Inspired Bar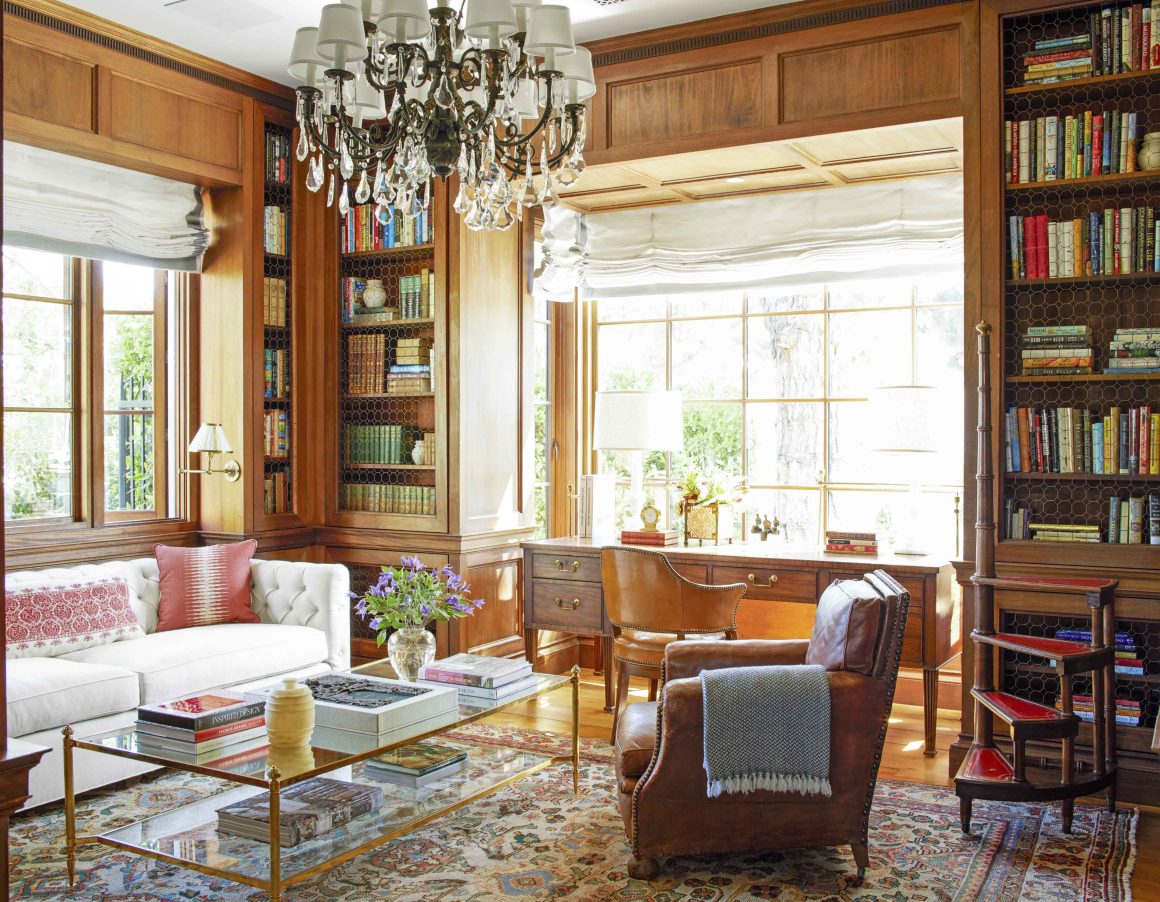 The library-inspired bar gives a sophisticated feel where the book cabinet is turned into an amazing bar.
48. Dramatic Chair in The Bar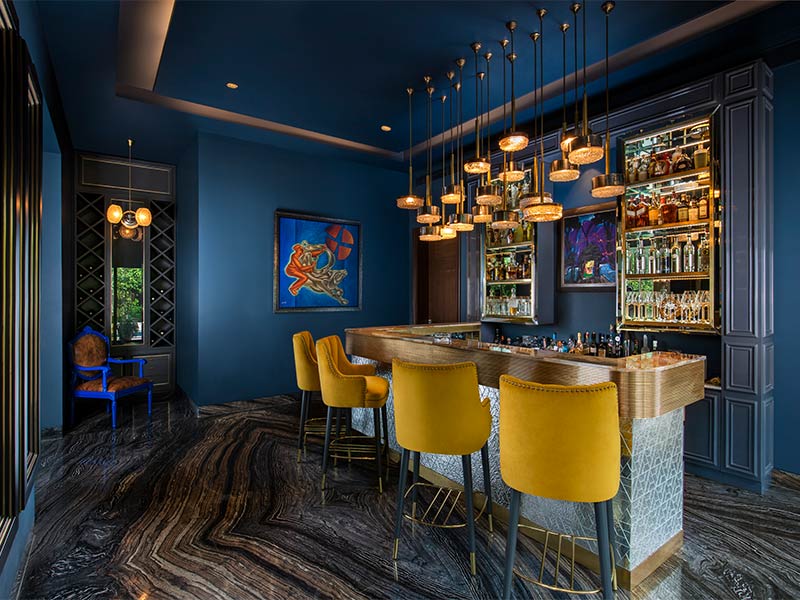 The bold color chair gives a dramatic and enhances the all-over ambiance.
49. Curve Home Bar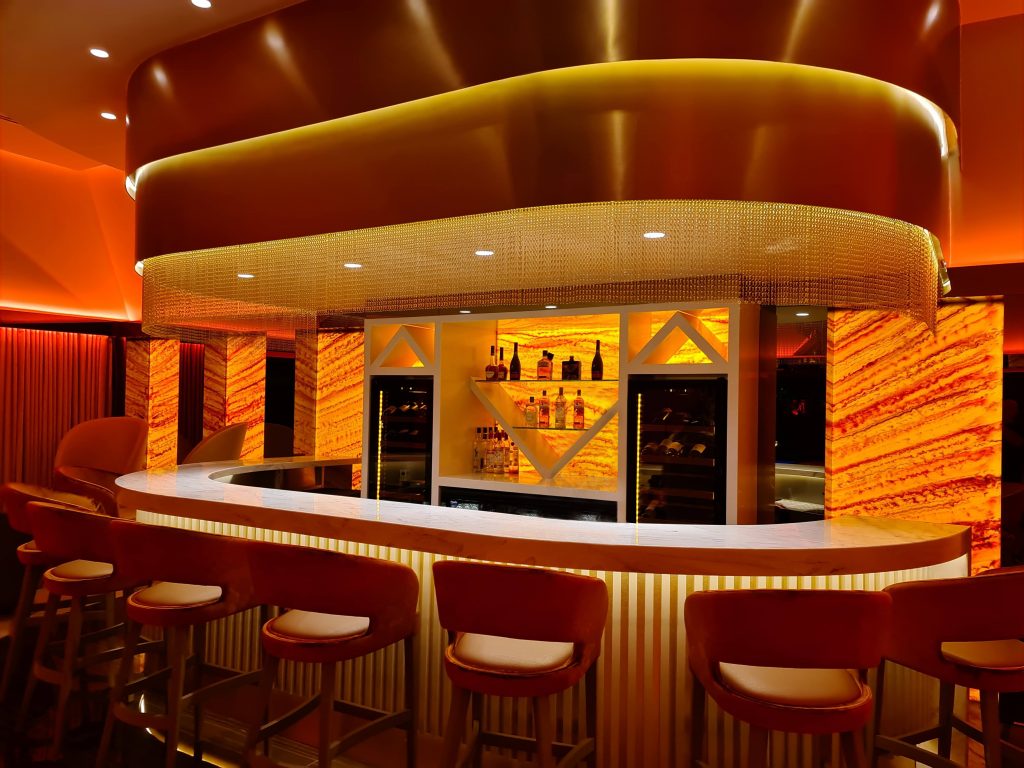 This curved bar gives a dramatic retro look to your home.
50. Mix up Indoor and Outdoor Areas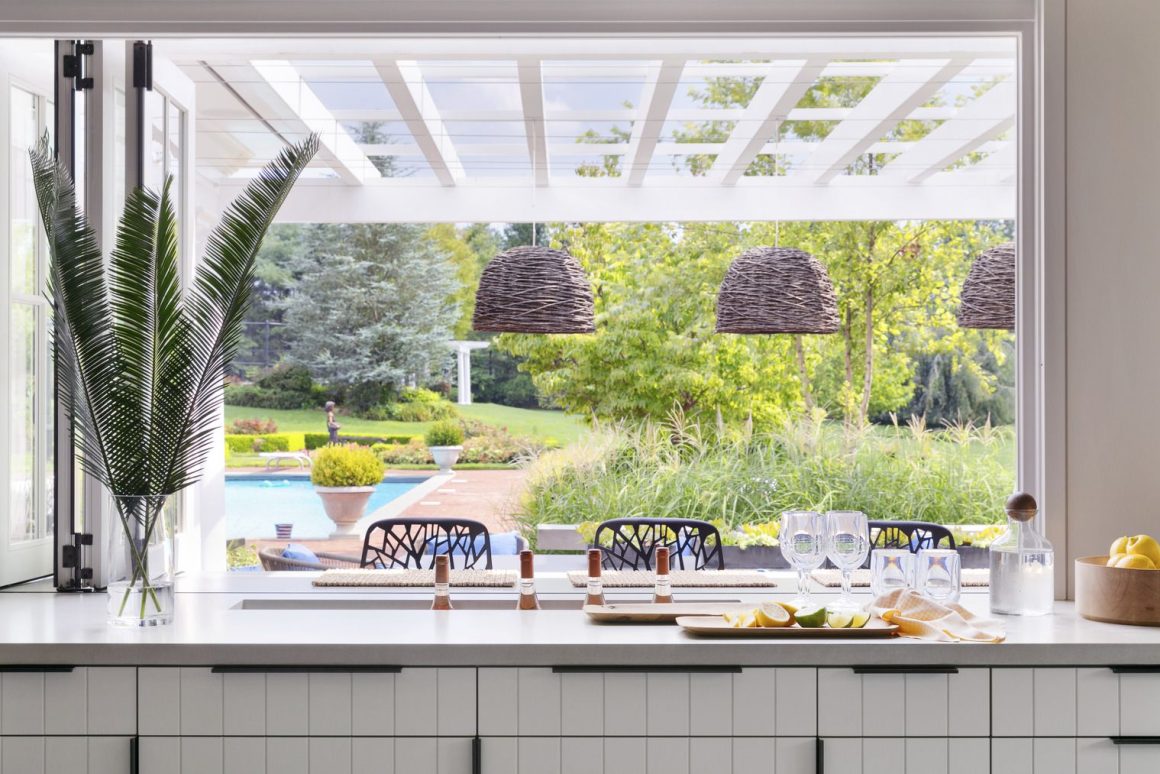 Bring outdoors in with the indoor tree, plants, and flowers for a natural look.
Conclusion
Bar shelves are a great way of elevating the standard of your house. These bar shelves ideas will not only help you to store your collection but will allow you to showcase all your incredible liquor collections and glassware.
These bar shelves ideas will transform your home and bar into incredible space. In this article, there are many bar shelf ideas: choose your favorite one and give your home a sophisticated and elegant bar that will leave a good impression on guests.
Tell us in the comment box below which one of these bar shelves ideas you will add to your home decor.