Wordly Gray, a head-turner, or subtle paint color? When doing up the walls of your place, the last thing you would want is to make a bad decision. After all, it is almost akin to a lifetime investment.
Sherwin Williams (SW) Worldly Gray, a greige at heart, is a part of the neutral hues and is a warm paint color. The best choice if you love the earthly tones in your space!
Will it look good on the walls of your home? Where would this hue look the best? Which other color palettes does it complement? If you have a thing for the gray tone, you need to read as we delve deep into knowing the Worldly Graypaint color more closely.
All About Sherwin Williams Worldly Gray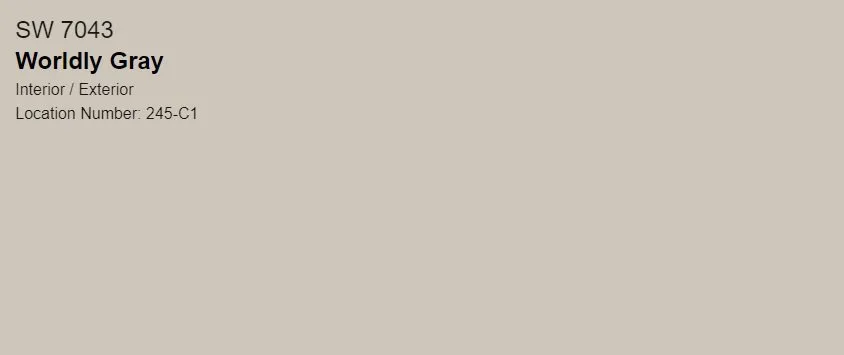 This paint color is classified as gray, but it has a distinct streak of beige, which makes it a greige. The beige presence gives the gray a pale sandy yellowish or fawnish tinge. The result is a versatile and tranquil neutral color that blends beautifully with most colors.
One of the best ways to use this hue is for background painting. Depending on the room's position, the kind of exposure to sunlight, and the room decor, Worldly Gray gives a tint of green or purple undertone.
Sherwin Williams Worldly Gray is a warm gray color but is not really a strong warm hue. What is noteworthy about the color is that it can look cooler or warmer based on the color that you are pairing it up with. It can be used to amp up just about any place, whether the decor is traditional, contemporary, rustic, or farmhouse-style.
1. The Technical Aspect
You do not have to be a professional to understand the basic technicalities of Worldly Gray. It is important to know this concept because it will help you pair it up effectively with other colors.
2. LRV: 57
LRV stands for Light Reflectance Value. Worldly Gray has an LRV of 57. LRV is a scale with a range from 0 to 100. It denotes the amount of light a paint color reflects or absorbs. As the values get higher, it signifies that the color reflects more light.
In other words, lighter colors have higher LRV and vice versa because lighter colors reflect more light. So, zero denotes pure black, and 100 stands for purest white. In short, a look at LRV tells you how dark or light a color is.
Since the LRV of Worldly Gray is 57, it is almost at the center of the spectrum, which means that it is neither too dark nor too light, falling under the neutral color category.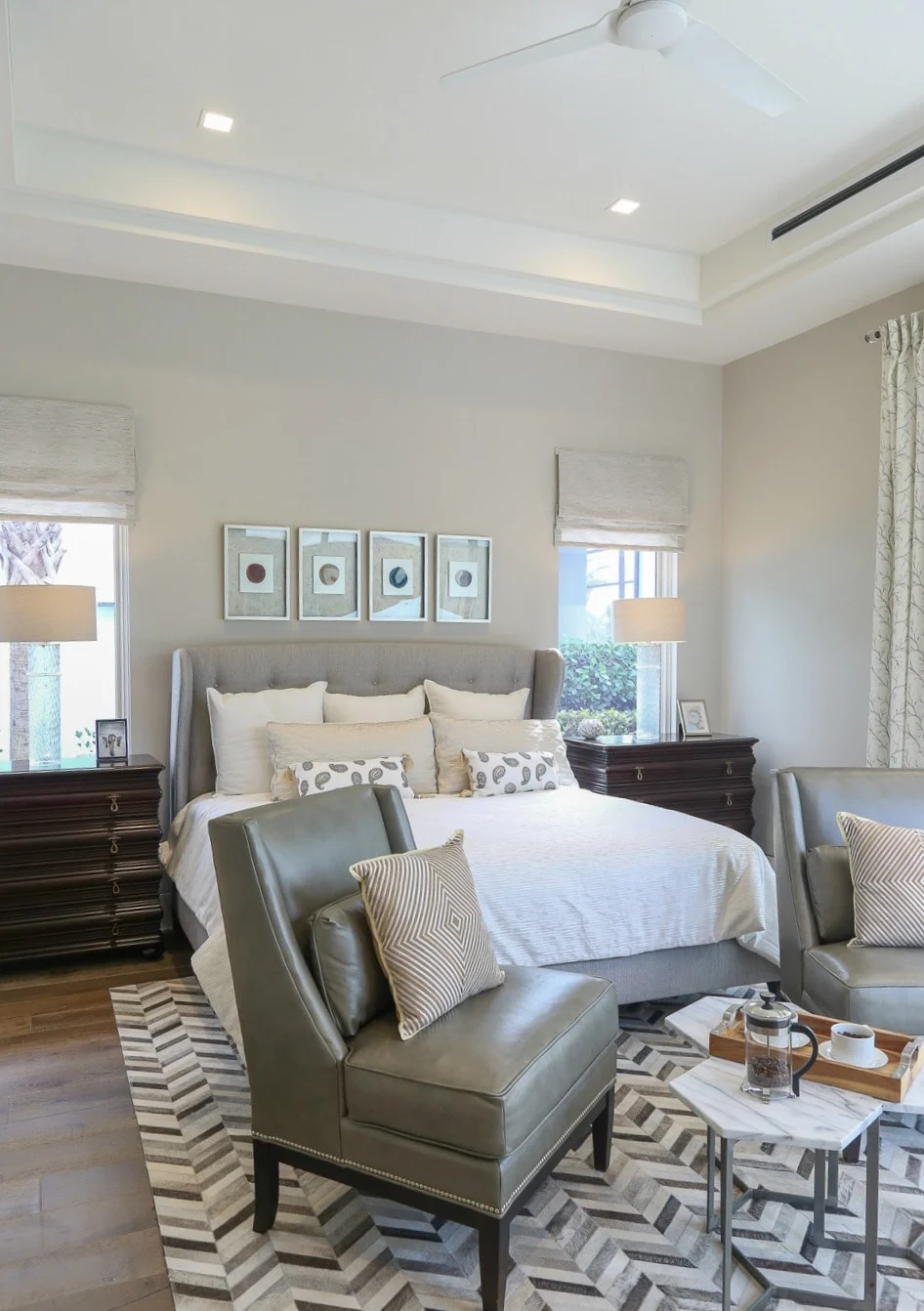 Room Position, Lighting & Worldly Gray
Using the color at different locations in your house can be daunting until, of course, you have a proper understanding of how lights can influence this neutral color.
Here's a brief about it.
1. Rooms Facing the South
South-facing rooms get the most light throughout the day. And the lighting is consistent most of the time. In such a scenario, darker colors look brighter and lighter, while softer colors gleam and shine.
Painting your south-facing rooms in Worldly Gray will keep the walls shining as long as the sun is out, bringing in a lot of warmth to the place. You will also catch a purplish tint on the walls in these rooms during the daytime.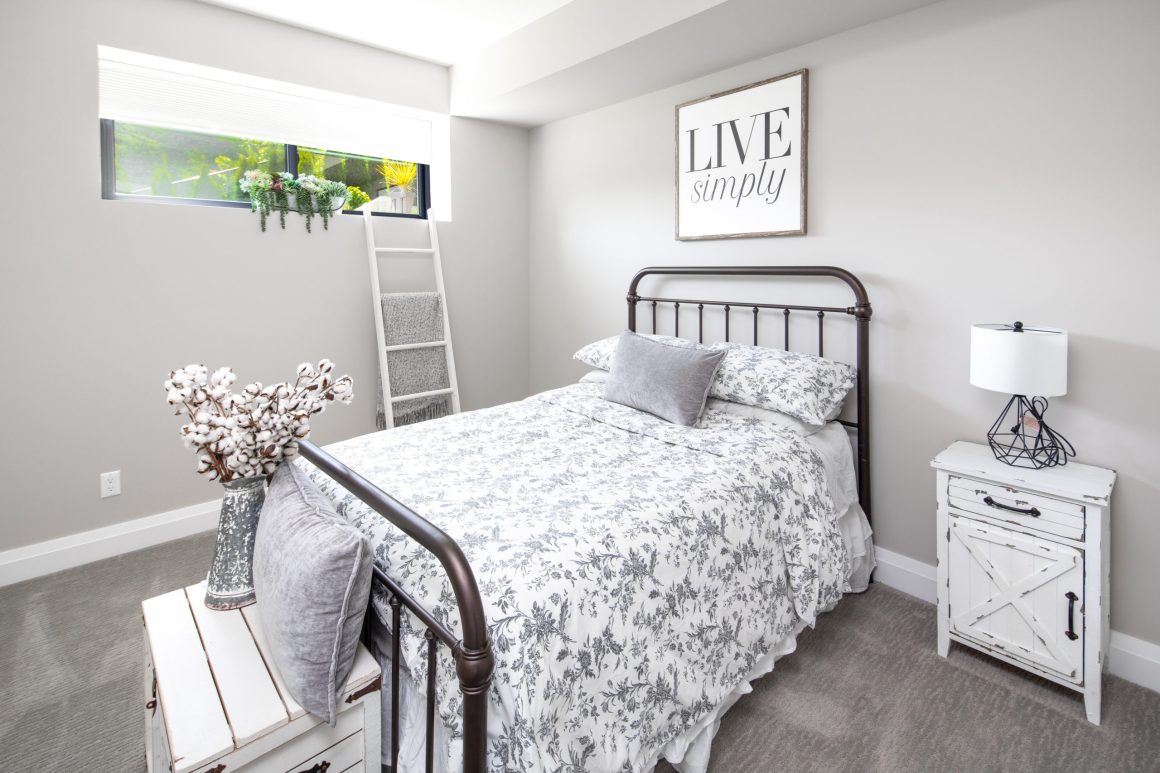 2. Rooms Facing the North
North-facing rooms are cooler because these rooms are not as lighted as south-facing ones. In this condition, brighter colors look warmer or darker, but softer colors are muted and subdued.
Worldly Gray will appear to have a cooler tone in your North-facing room, more on the grayish side. You might also have a chance to catch the greenish tint during the day.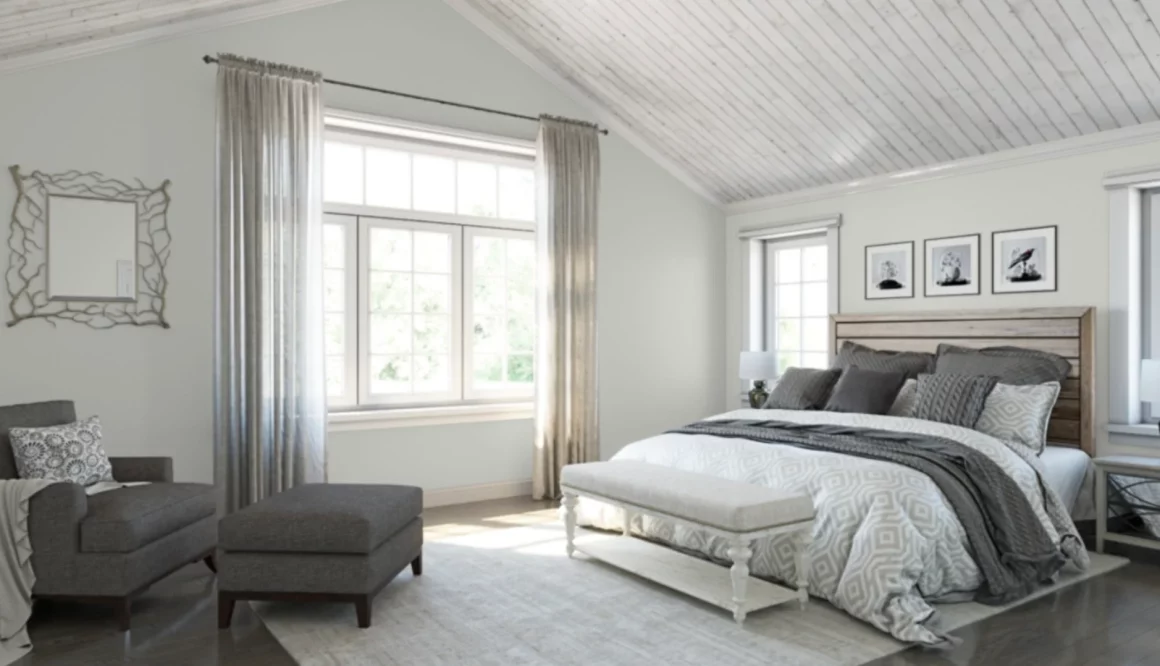 3. Rooms Facing the East
Rooms facing the East are exposed to natural light the most during the early hours of the morning. The yellow-orange gleam of the sunrays on the walls painted with Worldly Gray gives it a unique shine, while during the evening hours, the room can look pretty dull.
You will need a warm palette to mix and match the color tones.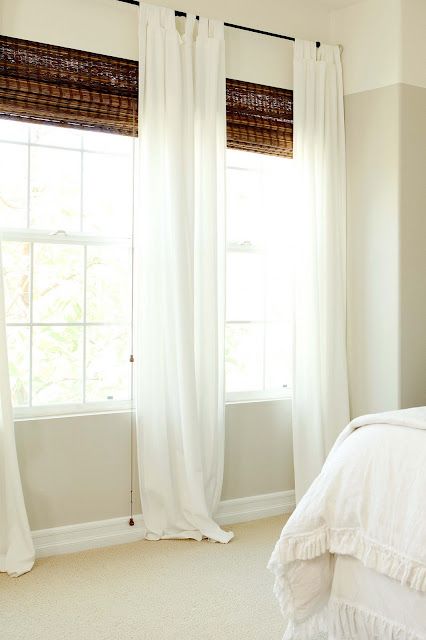 Rooms Facing the West
It is the opposite in the case of west-facing rooms. The orange-red hue of the setting sun is reflected by the wall colors during the evening hours. Thus, in the morning, Sherwin Williams Worldly Gray will look paler and subdued until you use other colors to complement it.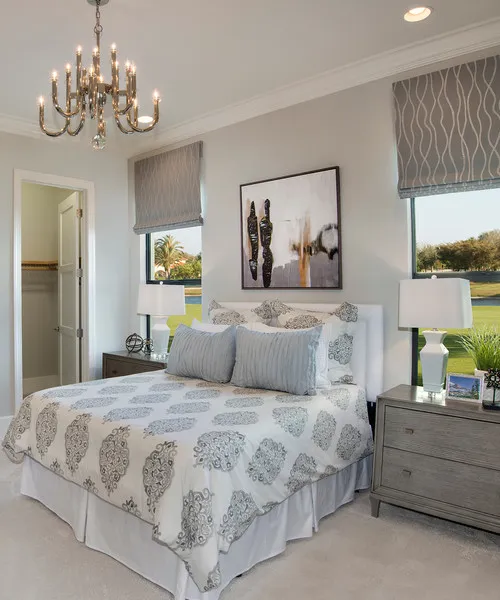 The Best Places to Use Worldly Gray Paint
Use this elegant greige paint color on the walls of your bedrooms, living rooms, kitchen, corridor, laundry room, or bathroom. You can also paint your furniture, wall cabinets, and a few places outdoors. Remember, the color is on the softer side; hence, it may not dazzle as much as a brighter paint, but it surely will render the place a stylized look with an oomph factor.
Coordinating Colors With Worldly Gray
Some of the colors that look fabulous with this greige hue are: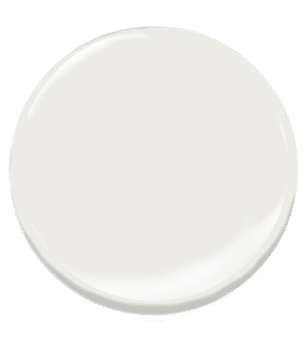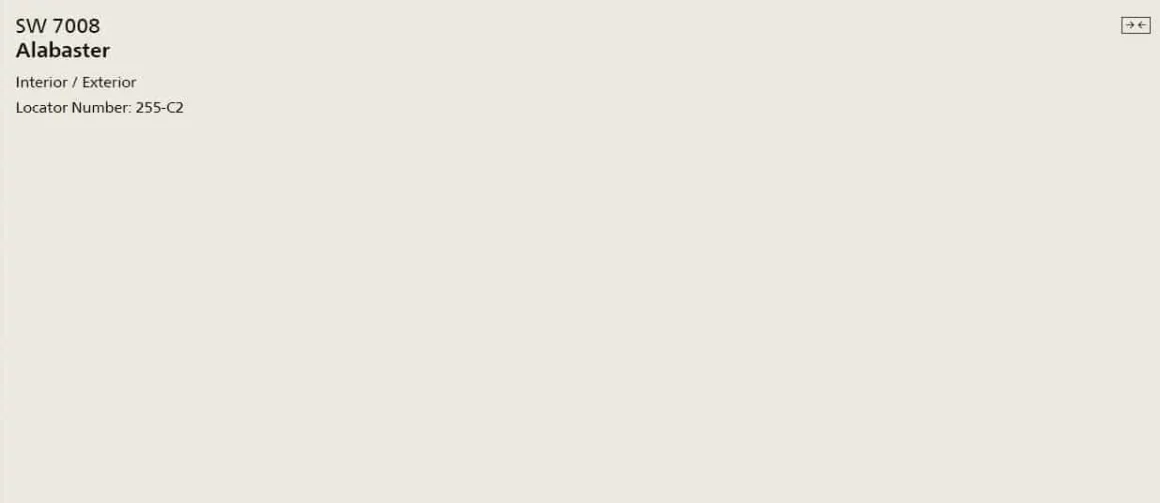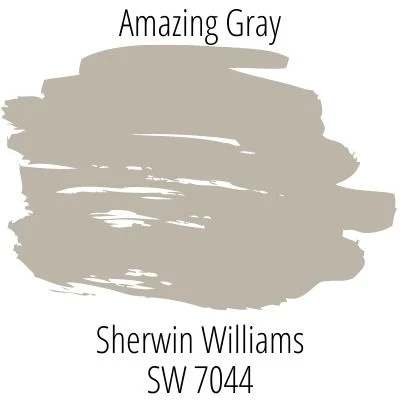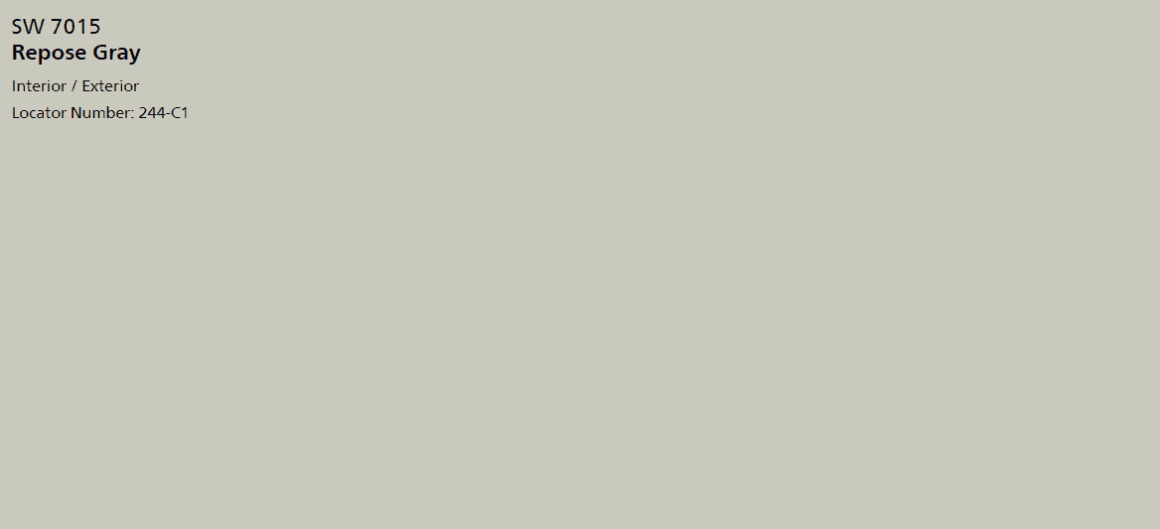 If these colors are not for you, you can always get creative and pair up this warm grey paint with pure blacks, whites, rich woody colors, warm-toned colors, or dark stone colors.
Accolades To Its Name
Worldly Gray is a best-seller and has been chosen as one of Sherwin Williams's Top 50 Paint Colors by homeowners and top designers. It has also been featured in the prestigious Pottery Barn's Spring/Summer 2021 collection.
The color is also a part of Sherwin Williams' Living Well – Unwind Collection.
Comparing Worldly Gray With Other Popular Sherin Williams Paint Colors
1. Worldly Gray Vs. Agreeable Gray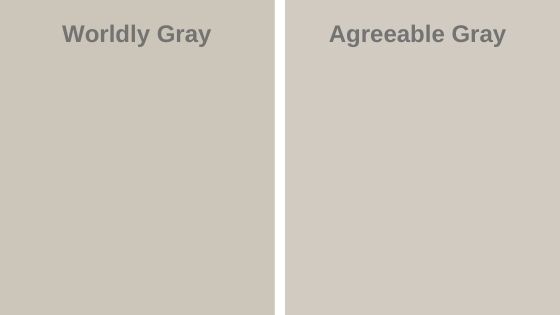 | | | |
| --- | --- | --- |
| Parameters | Worldly Gray | Agreeable Gray |
| LRV | 57 | 60 |
| RGB | 206,198,187 | 209, 203, 193 |
| Hex Value | #cec6bb | #d1cbc1 |
| Undertone | Beige, Violet, Green | Beige |
This table shows that SW Agreeable Gray is darker gray than Worldly Gray. In a room with lots of natural light, like a south-facing room, you can feel a purplish tint. In less-lit rooms, the hue has a greenish tint. It has a warm undertone, but Agreeable Gray is warmer as it depends on the amount of beige present in the color.
2. Worldly Gray Vs. Accessible Beige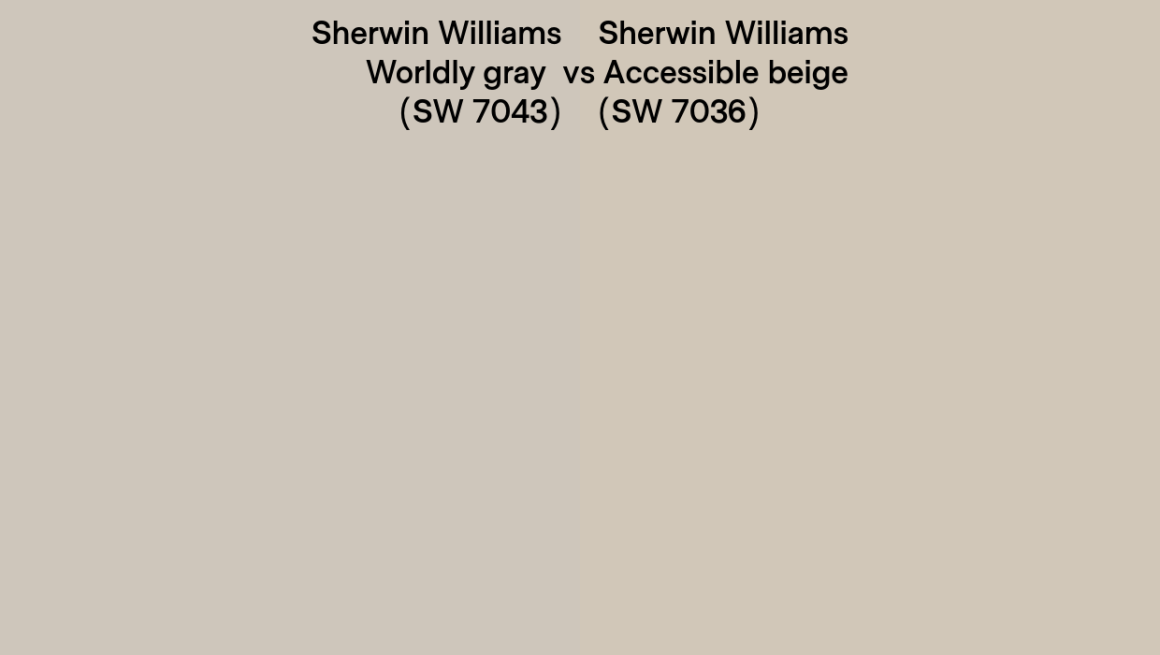 | | | |
| --- | --- | --- |
| Parameters | Worldly Gray | Accessible Beige |
| LRV | 57 | 58 |
| RGB | 206,198,187 | 209, 199, 183 |
| Hex Value | #cec6bb | #d1b7c7 |
| Undertone | Beige, Violet, Green | Gray, Green |
A look at this comparison table reveals that both these colors are almost at the same point on the color spectrum or the LRV range. These are balanced neutral colors, with Accessible Beige having a distinct undertone of gray and green but no pink or violet.
Notably, Accessible Beige is warmer than Worldly Gray simply because it is more beige than the latter.
3. Worldly Gray Vs. Repose Gray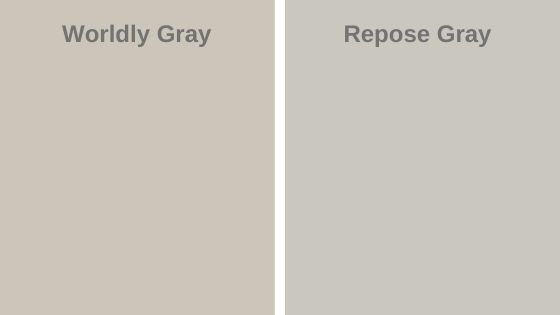 | | | |
| --- | --- | --- |
| Parameters | Worldly Gray | Repose Gray |
| LRV | 57 | 58 |
| RGB | 206,198,187 | 204, 200, 191 |
| Hex Value | #cec6bb | #ccc8bf |
| Undertone | Beige, Violet, Green | Violet |
Repose Gray is a cooler tone vis-a-vis Worldly Gray. It looks good in areas that get a lot of natural light. So, if you love your space to have warmer tones, go in with SW Worldly Gray. If you like cooler tones, Repose Gray is for you.
4. Worldly Gray Vs. Amazing Gray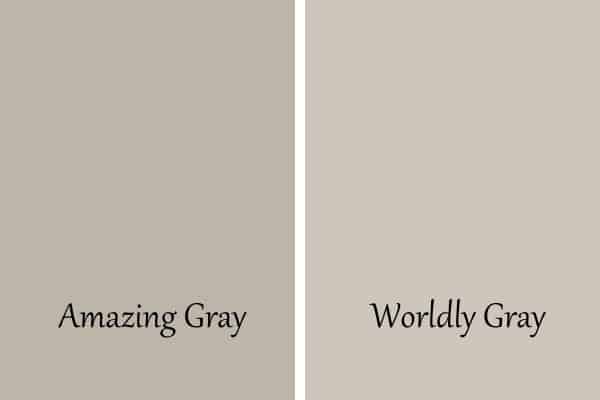 | | | |
| --- | --- | --- |
| Parameters | Worldly Gray | Amazing Gray |
| LRV | 57 | 47.49 |
| RGB | 206,198,187 | 192, 182, 169 |
| Hex Value | #cec6bb | #c0b6a9 |
| Undertone | Beige, Violet, Green | Green |
A glance at the LRV indicates that the Amazing Gray is a much lighter and cooler hue compared to the Worldly Gray. Interestingly, Amazing Gray has a green overtone, and if you are someone who loves green hints, it is a good color choice for your rooms. Otherwise, it is best to steer clear of this color.
5. Worldly Gray Vs. Revere Pewter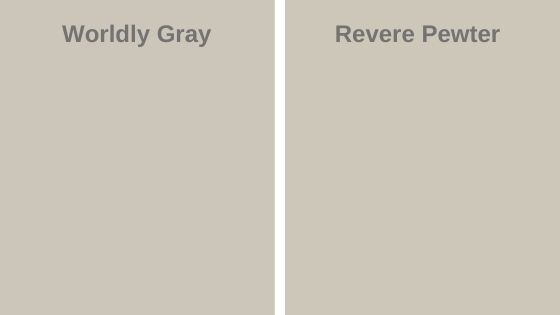 | | | |
| --- | --- | --- |
| Parameters | Worldly Gray | Revere Pewter |
| LRV | 57 | 55 |
| RGB | 206,198,187 | 204, 196, 184 |
| Hex Value | #cec6bb | #ccc4b8 |
| Undertone | Beige, Violet, Green | Green |
Another close companion of the Sherwin Williams (SW) Worldly Gray color is Revere Pewter. You can notice almost the two colors are similar in almost all aspects, including LRV and RGB. The green overtone of Revere Pewter is a bit subdued compared to that of Worldly Gray. Revere Pewter should be used only in well-lit places as it can give a gloomy look in low-light conditions.
Choosing the Right Color For Your Rooms
A comparative study of these colors – Worldly Gray, Agreeable Gray, Repose Gray, Amazing Gray, Revere Pewter, and Accessible Beige shows that all the colors lie very close to each other in the color spectrum. It is very easy to mistake one for the other. Since the point is to make conscious and well-informed decisions, it is crucial that you know how to distinguish between them. You need to use them in real-life scenarios to make the final choice.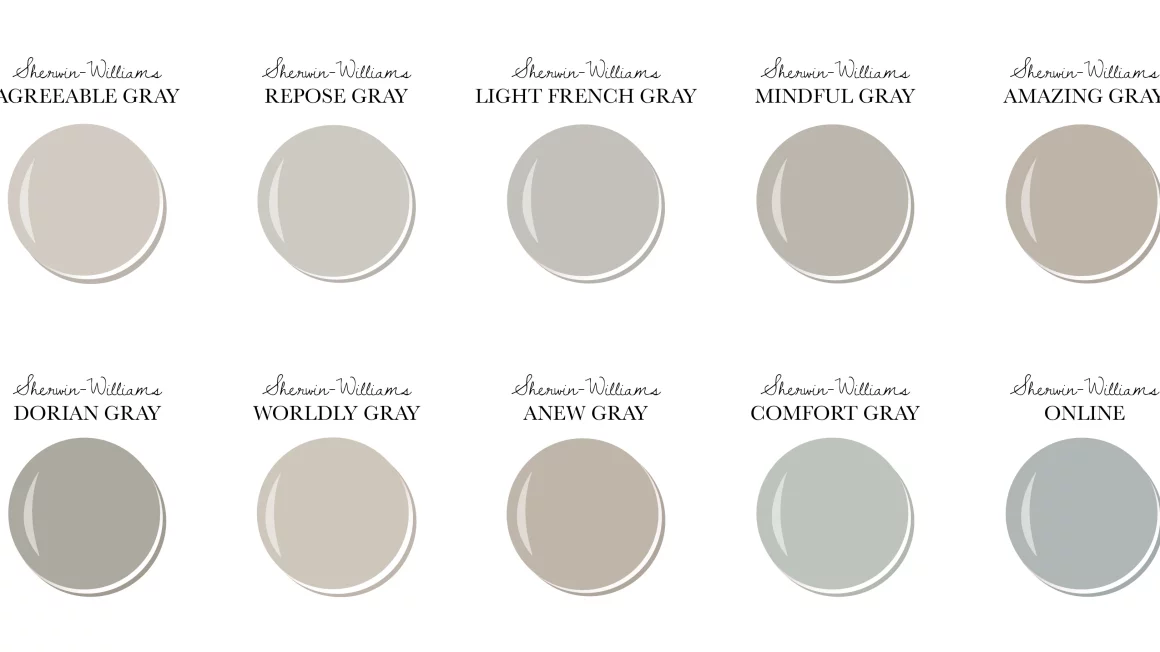 The best idea is to purchase sample colors and brush up a part of the room. As you spend some time with these colors, you will experience a change in colors and undertones throughout the day. You will see for yourself how the space looks with each of these and be in a better position to take the right call.
Conclusion
Worldly Gray is an absolute stunner, even though it is not as popular as a few other Sherwin-Williams paint colors like Agreeable Gray or Repose Gray. It is, however, one of the top 10 SW hues and is an excellent choice for someone who loves the neutral earthly essence in their homes.
The color itself has been curated intelligently, with beige and gray blended with a hint of green. Use this color in places where you need to add a feel of earthiness and warmth to the area.
What has been your experience with the Worldly Gray? Let us know how you plan to use this paint or have already used it in your homes in the comment box below.
Frequently Asked Questions
What is Worldly Gray?
Worldly Gray is a gray-beige paint color. It is from the Sherwin-Williams range and is known for its neutral essence. The soft earthy color has violet and green undertones.
Is Worldly Gray a Cool or Warm Color?
It is a warm, greige color, but a lot depends on the room position and the lighting conditions of the place for the overall look and feel of this color. In a north-facing corner, the gray looks cool, for example.
Is Worldly Gray Too Light or Too Dark?
No, this color is neither too light nor too dark, as it sits in the middle of the color spectrum with an LRV of 57. LRV indicates the amount of light reflected by a color.