A fireplace is one of the most eye-catching corners of your home. Needless to say, a dull and old fireplace will surely diminish the ambiance of your room. Since a brick fireplace invites a lot of fumes, it usually accumulates smoke which results in the blackening of the surface. If you don't want to ruin the look of your home decor, you will surely need to keep a check on your fireplace. Upgrading your brick fireplace is a great idea to add a hint of novelty to your home decor.
In this article, we will discuss some of the finest painting brick fireplace ideas that will instantly enhance your home, a few things to keep in mind while painting your brick fireplace, and the process of painting a brick fireplace in depth. Let's get started:
Preparing Your Fireplace for a Makeover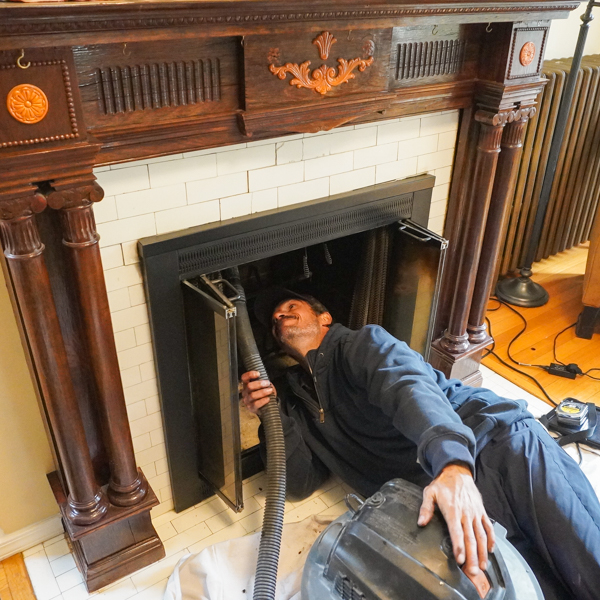 You can't start the makeover of your fireplace without getting it properly cleaned. Cleaning your fireplace is the basic step that will let your paint stay on the brick of the fireplace. Also, cleaning a fireplace would require a few tools which are designed especially for this purpose. These tools are wire brushes, cloth, dustsheet, water, detergent, or brick cleaner.
If you are a cleaning enthusiast, you are going to love this activity. To get your fireplace ready for paint, first of all, start scrubbing the surface with a wire brush and cover the entire area of the fireplace gradually. For small unreachable spots, you can use a piece of cloth. Since the stains are going to be tough, you will need to use a tough clothing material; soft cotton clothes will not be able to do the task. This will help you get rid of any dirt, soot, debris, or any dirt lying in the chimney.
After brushing, you can use lukewarm water and mix a good amount of detergent in it; with the help of a cloth or soft brush, you can clean the fireplace to get rid of small dirt particles and make a clean slate for the paint to stick. After using the soapy water, wipe it down with a dry cloth and leave it for a day or two to dry. If you follow all these steps, by now, your fireplace must be ready for painting.
One thing to keep in mind while cleaning your fireplace is to note down the cracks or parts that need repair. You should get that fixed during this stage. You may use Crackfiller or a few whole new bricks wherever needed.
Choosing the Perfect Paint for Your Fireplace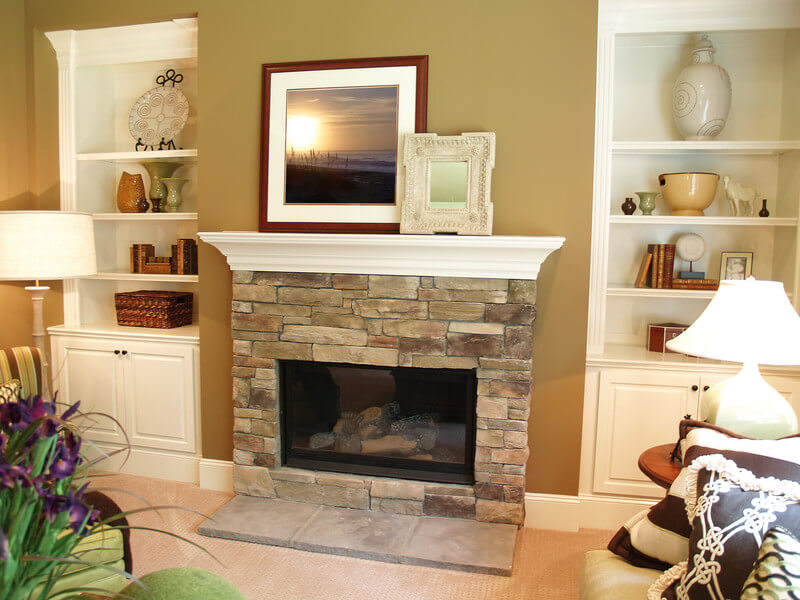 Now that your fireplace is all set to be painted, another important aspect to remember is choosing the right kind of paint for your fireplace. Masonry paint is the ideal choice for your fireplace as they are fire-resistant, long-lasting, and quite easy to apply. Masonry paint works well with rough surfaces that are usually a part of your chimney or fireplace. It is of two types, namely smooth and textured.
Usually, smooth paints are used to paint the fireplace or chimneys, but it is dependent totally on the kind of material that has been used for building your fireplace. If it is made with lime or brick, a textured one would be more suited, and if it is cemented, smooth paint may be the right choice. You can choose the color of the chimney to contrast or merge with your home decor.
If you prefer a lighter shade on your chimney, you can go for limewash. Limewash in your fireplace can give you a subtle and sophisticated look. It will create a stunning contrast against the dark walls in your room. If you prefer a darker shade of the limewash or a bold hint, you may want to paint a few coats of limewash to get the actual white color. There are a few perks of using limewash for your fireplace, such as:
It is a relatively safer option as it does not contain any Volatile Organic Compounds (VOCs).
Limewash is quite durable; a few coats of limewash and you will be free from worrying about the chimney paint for a long time.
Limewash is breathable, which refers to the fact that it will easily allow moisture to pass through; therefore instances of mold or mildew growth can be avoided.
It works on a majority of surfaces, including stone, concrete, ceramic, etc.
Brilliant Painting Brick Fireplace Ideas
After choosing the perfect paint that works for you, the actual process of painting starts. The application of paint involves a series of steps given as under:
1. Taping the Unwanted Area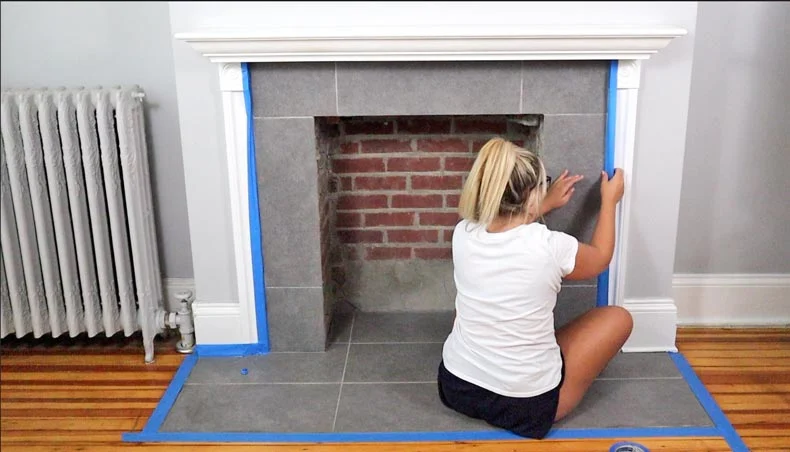 It is important to secure the areas which do not require any painting with the painter's tape to avoid sprinkles of paint on them. These areas may include fireplace inserts or walls. Choose a good quality tape that doesn't leave any mark on the surface when removed. Although it may sound not so significant to your painting endeavor, this step is quite important.
Taping the areas which do not require paint or taping the edges helps to create clean lines while painting. So, it is an additional step in the process which you should not miss if you want your project to come out beautiful and sleek.
2. Applying Prime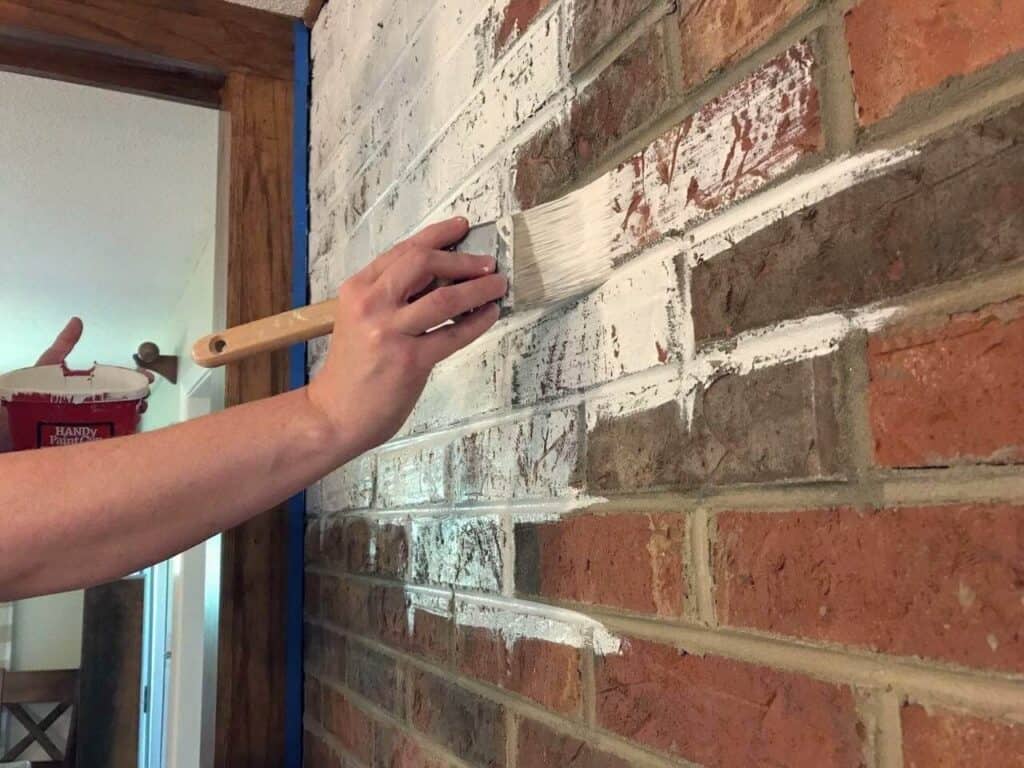 This is where the actual painting process starts. Start with a small 2-inch brush and paint the edges with primer. Run the brush along the taped borders and cover smaller areas. Make sure that you don't leave any corner surface untouched with the primer.
One important thing to keep in mind in this step is that primer should only be applied if you are using latex or solid chalk finish paint. If you are already done with limewash, applying primer doesn't make sense.
3. Diving Areas for Brush and Roller Usage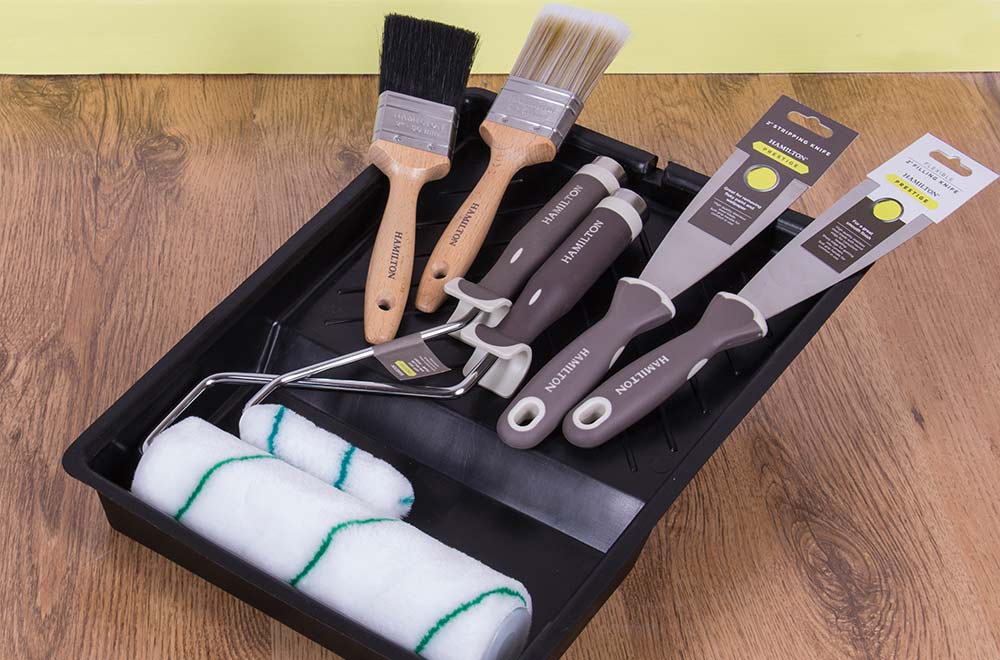 While you are deciding on the whole painting process, it is also important to divide the area where you will be using a small brush and the areas which will require a bigger roller usage. It's quite evident that small brushes can't work for the entire surface of the fireplace; hence the paint rollers are needed to paint them.
The size of the roller depends upon the size of your fireplace. Rollers are available in a variety of sizes; you can choose the one that is ideal as per your requirement.
4. Painting Your Brick Fireplace
Now that you are equipped with all the materials and information needed. It's time to start the painting. Start with the edges and move on to the middle surface. Apply a light coat of paint first. Keep a light hand to paint the surface through the process of painting, and do not press the roller while painting. If you want a solid paint finish, you should aim to use at least 2 coats of paint. Apply a single coat of paint first; apply another coat only after it dries completely.
After the entire process of painting is completed, wait for it to dry and then peel off all the tape. Always pull out the paint at 45 degree so that it does not accidentally touch the painted surface and sticks to it.
Things to Remember While Proceeding with Painting Brick Fireplace Ideas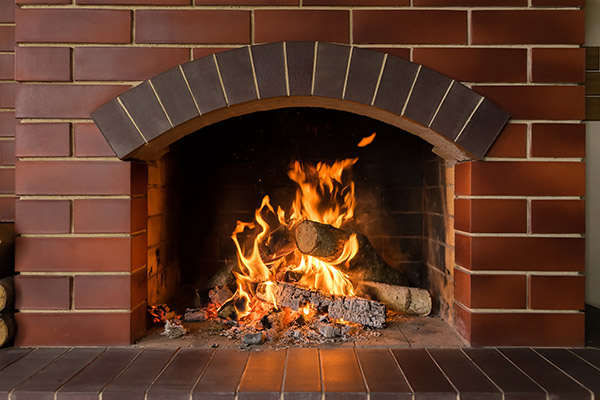 Painting a fireplace may sound easy-peasy. However, it is not as simple as it seems. There are a few things to keep in mind while painting your brick fireplace:
Make sure that you apply the coat only once during the painting, and if you keep on running the brush at the same place, the paint will turn out to be uneven.
Clean the surface extremely well, any debris, cobweb, or dust will not only ruin your paint, but it will also damage the brush or roller that you are painting with.
Using dark colors for painting your chimney is advised, as it may easily cover any anomaly arising thereof. It also makes for a bold statement for your decor.
Always use painter's tape on the mantel or trims instead of on bricks and mortar. Using the tape on bricks may cause the paint to bleed through.
Conclusion
Painting your fireplace can add a sense of novelty and liveliness to your home. If you don't want to spend on renovating your entire home, this project should give you enough to ensure that your place looks bright and fresh. There are many painting brick fireplace ideas, and you can choose one based on the condition of your fireplace and your requirement.
In most cases, the process is simple enough to be done on your own with a little knowledge of the basics of painting. After all, It is just painting, right? However, there are a few things, such as choosing the right paint and brush, limewashing correctly, and filling the gaps with mortars, which should be done carefully to make this project a success.
So, what are you waiting for? Use this guide to understand everything you need to start painting your fireplace and just get going.
All the best for your fireplace paint project!
Frequently Asked Questions
What Color Should I Use for Painting My Fireplace?
White is a popular choice for painting the fireplace as it exudes a calm and neutral aura. The beauty of using white paint for your fireplace is that it doesn't overpower other accents in your room and blends easily with all kinds of home decor.
Do We Need Heat-Resistant Paint for The Fireplace?
You can paint the exterior of the fireplace with regular paint; however, for the interior, using heat-resistant paint is recommended. Normal paints will usually chip off in high temperatures, so you might want to consider using a fireplace paint specially designed for this purpose.
What Kind of Paint is Best for Painting the Fireplace?
There are various kinds of paints available for painting the fireplace. Acrylic latex paint is the highly recommended paint for the fireplace. It can easily withstand a high temperature ranging up to almost 250 degrees. Apart from its ability to work well in high temperatures, this paint is also breathable and durable.