Whitewood, you can see them in many kitchens and living room furniture in recent days. Something clean and white gives you the best look at the best price. Isn't it Wonderful, right? In many lumber yards, there are no specific species of tree or wood referred to as white wood. It's just the color of the wood, which is described as white. At the same, there are no other specialties or any unique features attached to this wood.
The word white wood is widely used in the lumber industry to specify a particular type or species of wood which is mild in color, typically the color ranging from pale yellow to creamy white. The name white wood has come from the appearance alone, not any specific species of tree, because this hardwood is derived from tulip trees and from other trees like pine, spruce, or fir. As you can see, these are the most commonly used woods in the construction of furniture or any other appliances.
What is White Wood?
Technically, the tulipwood, which grows in the Appalachian mountains of Florida, New York, and Canada throughout North America, is considered as hard white wood. As this is a fast-growing hardwood, it is easily broken and not picked by many people for construction. It can reach 100 feet in 15-20 years. These loggers are widely used at railroads because of their prolific availability.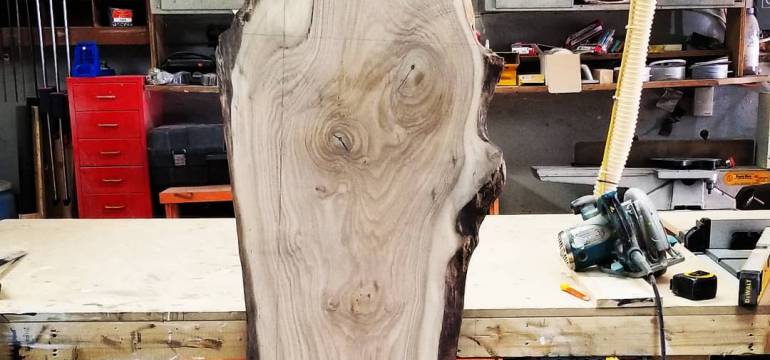 Next to tulip trees, the source of white wood is Coniferous Trees, such as Pine, spruce, or fir. In these cases, you can identify the species where they are coming from by the details mentioned on the box, which is mentioned as SPF, SYF, and SYP, to identify the tree they are coming from.
When the white wood is derived from pine or some other tree other than a tulip tree, it is usually softwood in nature. That is what makes the cost less expensive when compared to other woods.
Features of White Wood Texture
Depending on the species, the texture and its characteristic features will vary. Yet you can see some common features described with many white wood varieties are,
This wood has small, closely bonded wood fibers, which make a fine texture and gives a smooth finish with sanding or finishing.
The logs are always long, so the wood fibers run parallel to the length of the tree. This gives a straight grain pattern for a uniform appearance with easy accessibility for working.
The major difference from other woods is it has grain patterns that look like prominent lumps. This makes it visually less appealing sometimes.
Whitewoods are naturally soft and smooth, so the requirement of sanding or final finishing is simple or with minimal effort. It elevates the ease of operations too.
Where Is It Used?
These light-colored woods are more versatile and found in use by various industries. Let us know the most commonly used areas,
Construction- In construction projects, white woods are used for framing, roof trusses, wall studs, and a few other structural elements. The lightweight and availability make it the most preferred choice.
Interior Millwork- The millwork applications like baseboard, trim, moldings, and paneling utilize white woodwidely. Interiors with these light colors are more appealing.
Furniture- White wood furniture like chairs and tables, cabinets, and shelves are very often picked as they have flexibility in styles and designs.
Crafts and DIY Projects- The affordability and workability make it the first option in crafts and DIY Projects.
Packaging- Whitewood boards are sometimes used as packing materials for pallets, crates, and boxes. These can be used in both shipping and storage processes.
Exterior Finish- Some varieties of white woods, like the species from pine or spruce, are used to give exterior sidings. With proper treatment and protection, they are more durable and give an aesthetic appearance.
Why Is The White Wood Preferred?
Most sold white woods have similarities in the texture of the wood, so the choice of what will be picked doesn't matter. The work and choice of project they are used for will give the idea of what you can expect from this white wood.
As the characteristic features are always similar to all white woods, these pros are common to all types of white woods.
The Difference Between The White Wood And Pine Wood
The pine wood has the same family which the tulip shares. You can find over 126 varieties of pine trees around the world. The major differences are,
The majority of them are often mistaken as white wood, yet it is not white wood. There may be various unusual pine trees available, like Shortleaf pine, slash pine, longleaf pine, etc. In this list of different species, you can see that a few of the trees are used and sold as white wood.
These pine wood may share features with white woods, like softness. That's why they are picked for smaller projects.
Other than this, most of the pine woods are way more expensive because of their quality and properties. It is much heavier and dense compared to the white wood.
Anyways the softer type is often utilized by the woodworkers as white wood. It doesn't make it the least quality. This will be the superior product in the piece project they are doing to give more strength.
The next difference is the grains on the wood planks; they are smoother in the white wood than the pine wood. A skilled woodworker can easily identify this difference within a few seconds. It's always said only the experienced can identify the piece of work when they are placed side by side. Others only can look for the tag or label to see the wood type. It looks the same to a commoner's eyes when you see the section of your local store.
Pros Of White Wood
Whitewood has become a popular choice for various applications because of its advantages and nature. If you want to work with white wood, then you must know the entire concept of this species to understand the end product you can reach.
Light And Bright-This is white wood, so light and bright in nature. It makes the room more spacious and looks larger, especially when used to attain the walls, ceiling, or furniture.
Aesthetic- This is highly versatile; you can use it for wide options of designs, such as stained, painted, or left unfinished. ECG pattern will give a different yet stunning look to your house.
Easy Partner- The species from pine, spruce, or fir are mostly of softwood type. There are only less dense fibers which makes it a lot easier to cut, shape or join the wood piece. The carpenter, builder, or any DIY person enjoys the working process as this is easier.
Ready with affordability-These white woods are often much cheaper than other woods, and they are mostly available on ready-to-use boards, which makes the construction or woodworking more cost-effective.
Environmentally friendly- The white wood grows faster, and it is easily restorable. While considering this fact, it is more sustainable to use.
Finishing and staining- As these are white in color, the staining of various colors is easily acceptable, and the finishing with the desired color options is at your fingertips. And additionally, as they have fine grains, the white wood will give a shiny, smooth finish.
Availability- The variations and all varieties of white wood trees are more common in all regions to ensure consistency and availability more reliable.
Cons Of White Wood
The white wood also has certain limitations which need to be considered before choosing them sometimes.
Softness- The species from pine, spruce, and fir are softer than the hardwood from the tulip trees. This softness leads to dents, scratches, or any other damage easily.
No Natural Resistance- Compared to other hardwoods, they have less resistance to pests, moisture, or decaying. Without proper protection, they are more prone to insect infestation or rot if exposed to excessive moisture.
Strength is limited- These woods are less dense and have low strength. This is not the best choice in load bearing, and any other processes include higher strength and stability.
Limited color options- As this is a milder tone, precisely of white base, there won't be any color options like darker shades in white woods.
Knots- As it has a grain pattern, the overall look is sometimes like knots on your furniture or boards. And particularly when you do any repairs, you need to use a matching material for better possibilities.
Moist absorption- The soft white woods from pine spruce or fir are most frequently moist absorbents. This makes the protection or treatment go in vain. The decaying rate is high in these cases when exposed to moisture frequently.
Conclusion
Choosing the best wood for your home decor basically always depends on the budget. We might wish for the best products within our budget. That's where you can fit this white wood for your Furniture or interior design.
The white wood is more construction friendly for all types of interior and furniture toils of its special features of uniform appearance and smooth finishing. Even though it has its pros, like aesthetics, environmentally friendly, and easy availability, the cons also need to be considered before going for it, such as limited strength, moist absorption, and no natural resistance.
After knowing that the white wood from tulip trees and other varieties have a drastic difference in strength, what would be your choice of white wood when it comes to your home? Share your choice in the comment box below.