A neatly organized laundry room that has the right number of shelves and cabinets can save you from a lot of hassles and stress. By placing items in designated spots, you can prevent unnecessary clutter and organize your day-to-day lives accordingly. Customized shelves, cabinets, baskets placed in an orderly fashion, and a separate devoted space for clean and dirty laundry can work wonders when it comes to simplifying this mundane chore. Shelves can completely transform the appearance of this functional room and provide you with a contemporary, modern, traditional as well as a rustic-looking washing space.
From rustic wooden planks to simple DIY plastic racks, here are 14 shelving over washer and dryer ideas to make your laundry room, also sometimes called utility room, aesthetically more appealing and to enhance storage space at the same time.
1. Dynamic Open Shelves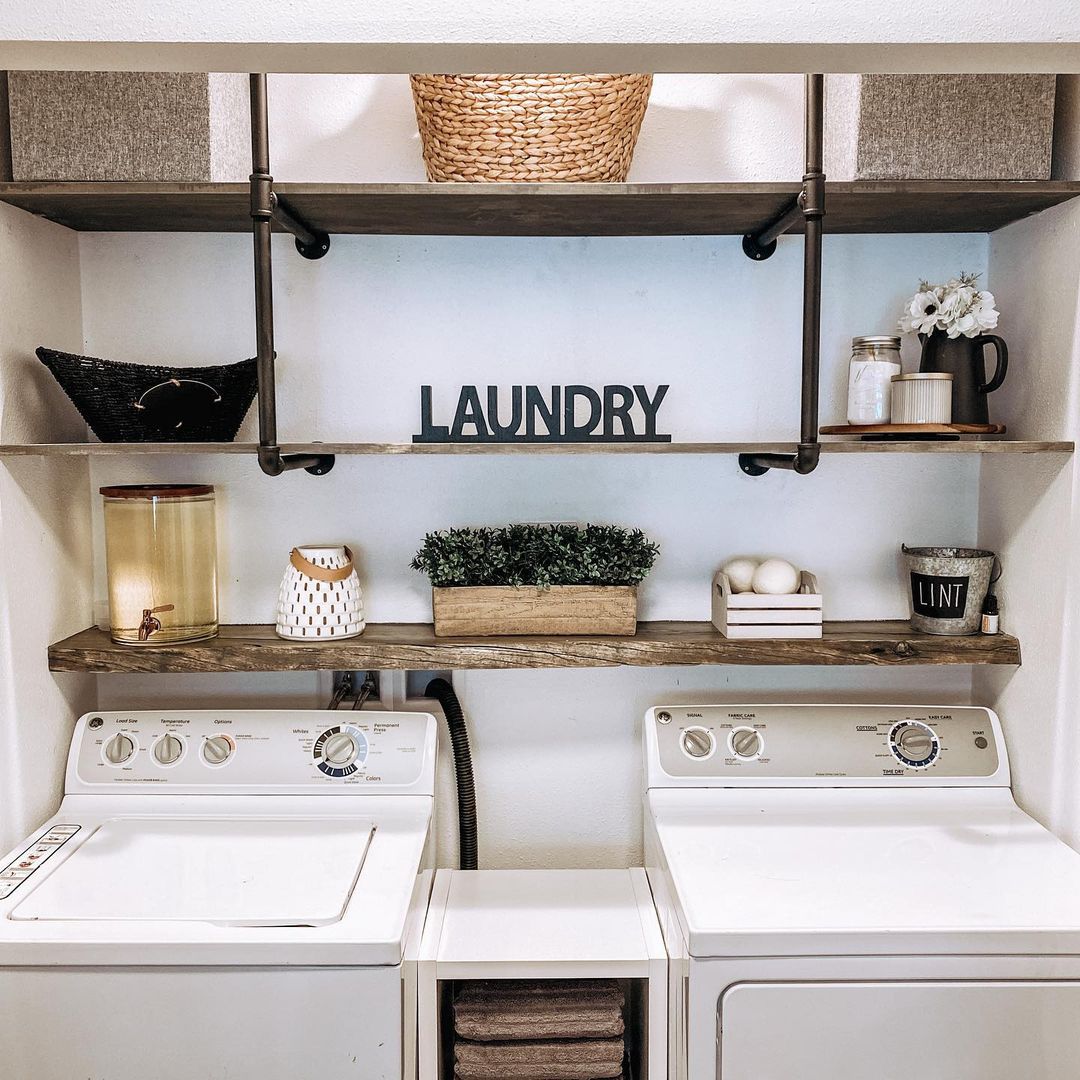 Open shelves are a very convenient option, and due to this particular reason, then it is of the most commonly adopted storage ideas as well. You can place wicker baskets for dirty clothes on these shelves, detergents or fabric softeners in transparent glass jars, and many other commonly used laundry items for easy access as well as convenience. For decoration purposes, placing flowerpots or other ornamental items is also an interesting option.
StorageWorks Wicker Basket, Baskets for Organizing, Storage Basket with Built-in Handles, Water Hyacinth Shelves (Medium 2-Pack, Natural Hyacinth)
[Natural Wicker Material] The handcrafted storage basket made from water hyacinth will keep your home looking attractive and organized, and it is made of natural, clean, and sustainable materials.
[Versatile Usages] The hyacinth storage baskets are ideal for holding magazines, games, pet toys, media, household items or hand towels and amenities in the bathroom.
[Metal Frame and Sturdy Handles] This water hyacinth basket is handwoven over a metal frame. These water hyacinth baskets have thickened built-in handles for easy carrying and comfortable grasping.
[Basket Design] Our wicker baskets for organizing are suitable for any house decor. Since they are completely natural and have a comfortable design, they are ideal for placing and exhibiting anyplace while maintaining order and cleanliness.
[Dimensions] The woven basket measures 13 inches L x 8 inches W x 7 inches H. Due to the handmade design, there may be a 1/4-inch variation in size.
2. Multipurpose Closed Shelving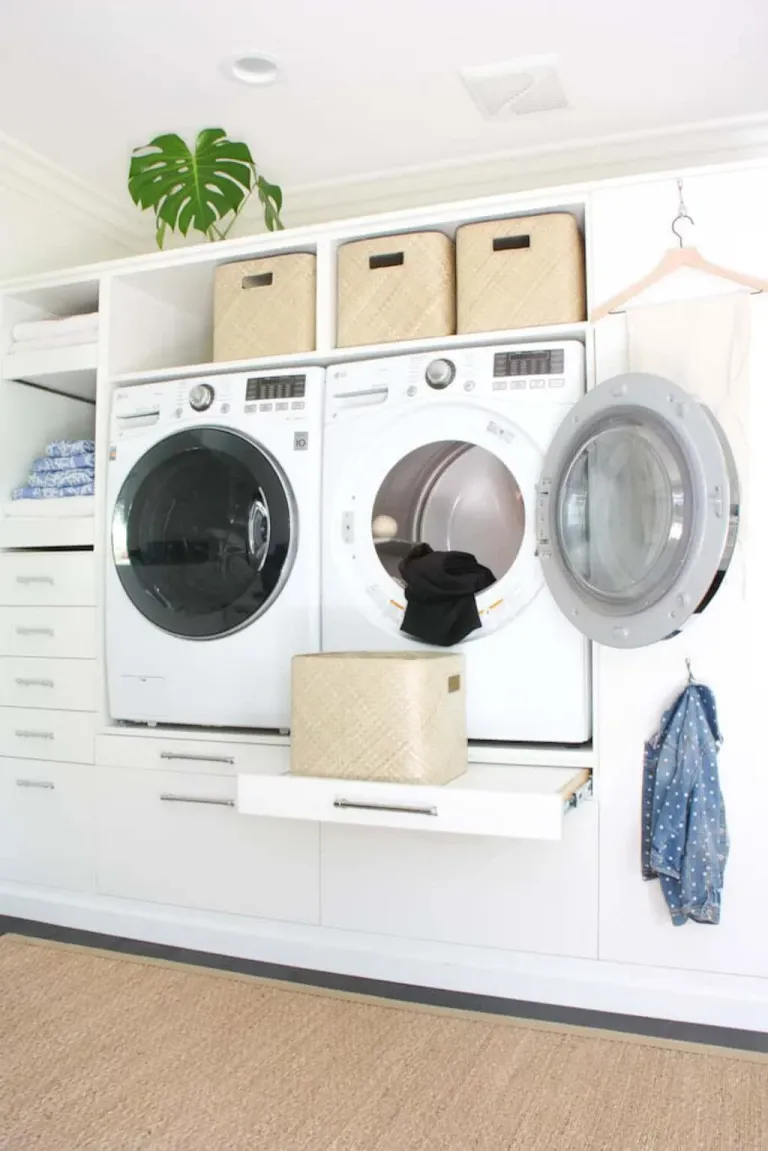 Closed shelving is a practical option because you do not need to spend time cleaning it, and you can place your detergents and fabric softeners as it is. If you do not have the time to shift these items to glass jars to make the space look beautiful and aesthetic, shelves with sliding doors are a very practical option. Drawers can also be used as it is easy to place and store items easily and in an orderly fashion. They give a neat, uniform, and tidy appearance to the room.
Sale
SUAVITEL Complete Dryer Sheets, Field Flowers, 420 Sheets Total (70 Sheets|Case of 6) | Compare to Dryer Balls | Household Supplies | Laundry Scent Boosters, Laundry Sheets & Laundry Softener (139375)
SUAVITEL: SUAVITEL Complete Dryer Sheets, Field Flowers, contain superior technology* to reduce static in your laundry
LAUNDRY SOFTENER: Each pack contains 70 SUAVITEL Complete Dryer Sheets
HOUSEHOLD SUPPLIES FOR LAUNDRY: SUAVITEL Complete Dryer Sheets feature a unique technology that wicks water away from fabric to help clothes dry 30% faster
DRYER SHEETS DIRECTIONS: Place a SUAVITEL fabric softener dryer sheet on top of wet laundry in the dryer at the beginning of the drying cycle. Discard after the drying is done
SUAVITEL DRYER SHEETS: Compare SUAVITEL to other brands of dryer sheets and dryer balls—they're also a great complement to laundry detergent, fabric softener, laundry detergent pods, laundry soap, laundry pods, liquid soap for laundry and laundry sheets
3. Interesting Wooden Countertops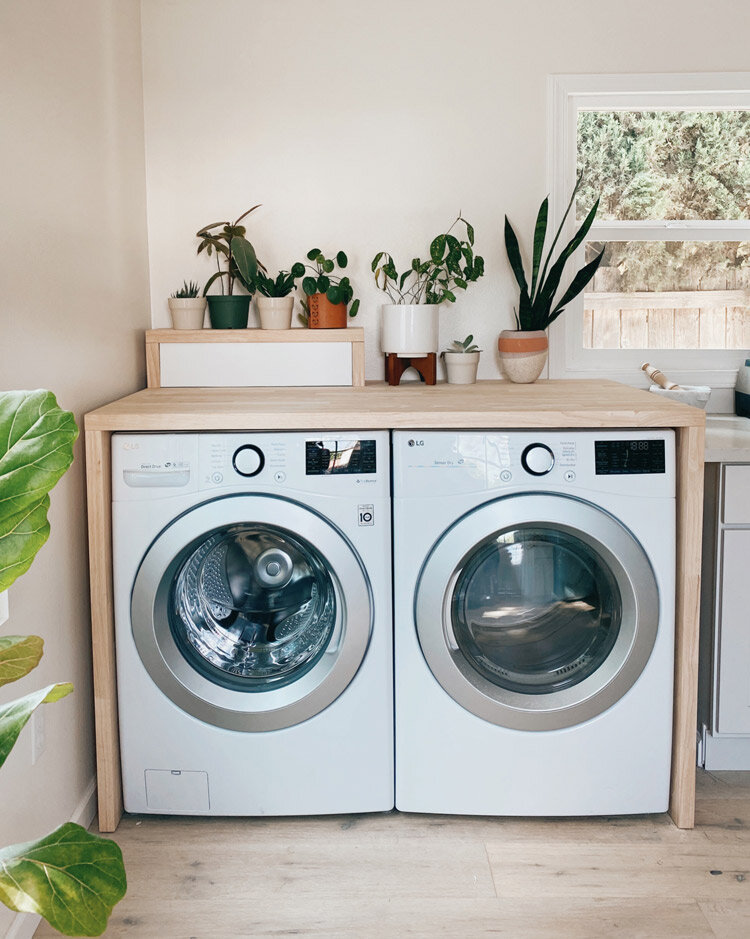 For a minimalist, nothing could be better than simply installing a countertop over the washer or the dryer for sorting and folding dirty linen. Install a countertop that is 15 inches deep and at the same height as the washing machine. Place your supplies on the countertop itself and stick wallpaper with geometric designs to give the room a modern outlook. You can even install countertops that are as deep as the machine or the dryer and store your stuff accordingly.
4. Sheek Marble Countertops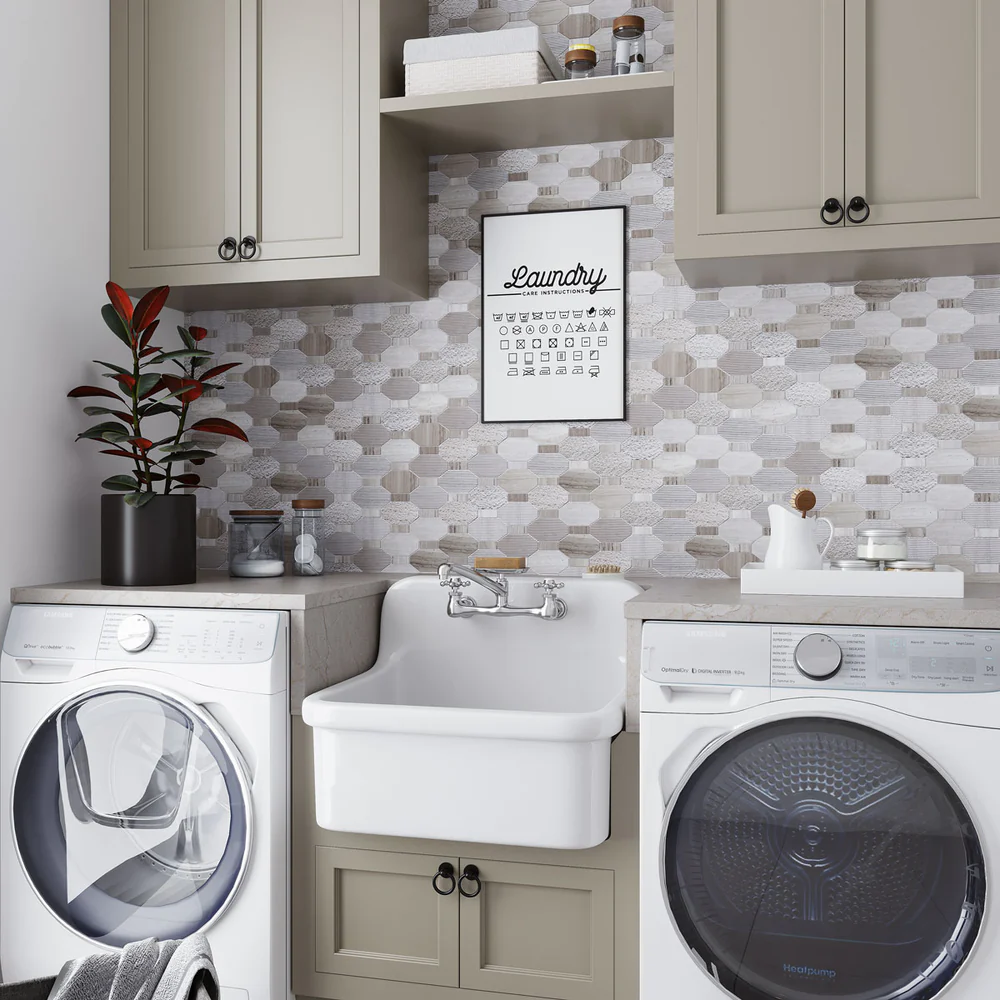 The sleek marble countertops are the most loved accessory of any modern interior design. They add some shine to the room, give it a chic finish and also go well with sinks (in case you need extra space to remove stains by washing clothes with your hands). Marble countertops are easy to maintain, are more long-lasting than wooden countertops, and can even withstand heavy weight.
5. Layers of Shelves
Why stick to single shelving over a washer and dryer when you can have multiple shelves? Not only will it increase storage capacity in your laundry room, but it will also add some drama to your room. For a cohesive look, install a countertop that is 10 inches deep and ensure that the size of the shelves is also the same.
To make it interesting, you can experiment with the length of the shelves and place all your laundry essentials accordingly. Freestanding shelves can work wonders, especially when it comes to modernizing your space. They offer a very spacious vibe to your room, an airy vibe, and are equally efficient in storing items. Freestanding shelves are available in wooden finish, PVC, and even glass. Therefore, you are spoiled for choice.
6. Shelves Between Cabinets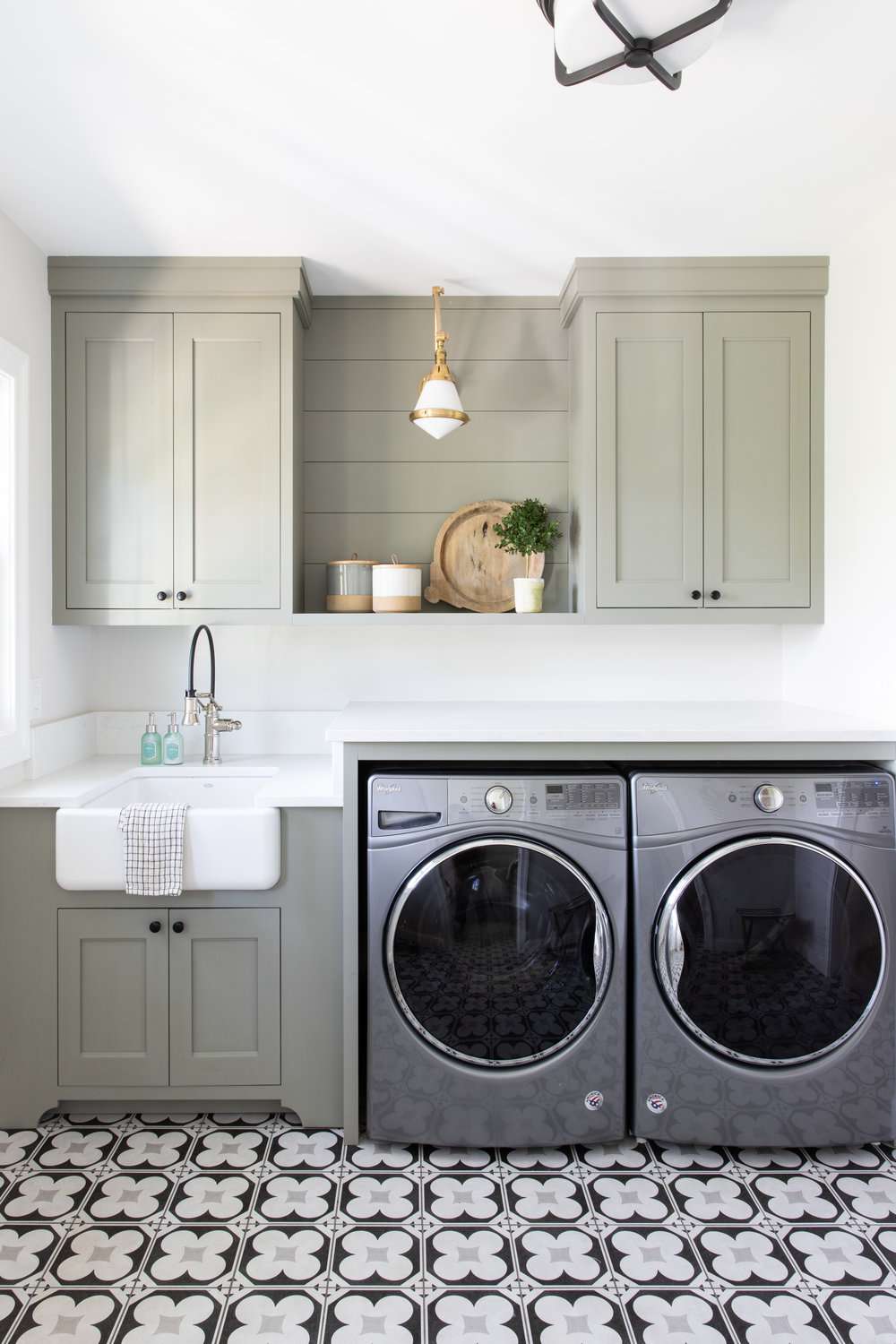 Hanging cabinets can make your laundry room look warm and cozy. If you already have one, install shelves between cabinets to add to the storage capacity. You can match the color of the shelves with the cabinets or even select a contrasting color to make the room interesting. Such symmetrical designs ensure the proper arrangement of items and will give your room a formal look. You can match the color of the floor tiles with the shelves.
7. Do Not Cut Corners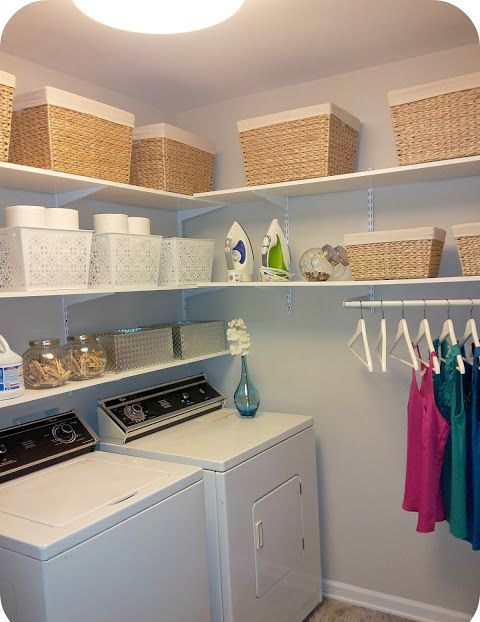 If you do not have a lot of space in your laundry room, do not waste any corner. If used wisely, these corners can be equally useful when it comes to increasing the storage capacity of your room. L-shaped shelves can provide you with a lot of storage if used wisely.
For the sake of convenience, supplies that are not needed every day can be placed in the corner, whereas those that are used regularly can be placed on the shelf above the machines. Support the shelves in the corners with a bracket and a diagonal bar so that the shelf can support the weight of all the utility items.
8. Rugged Wooden Planks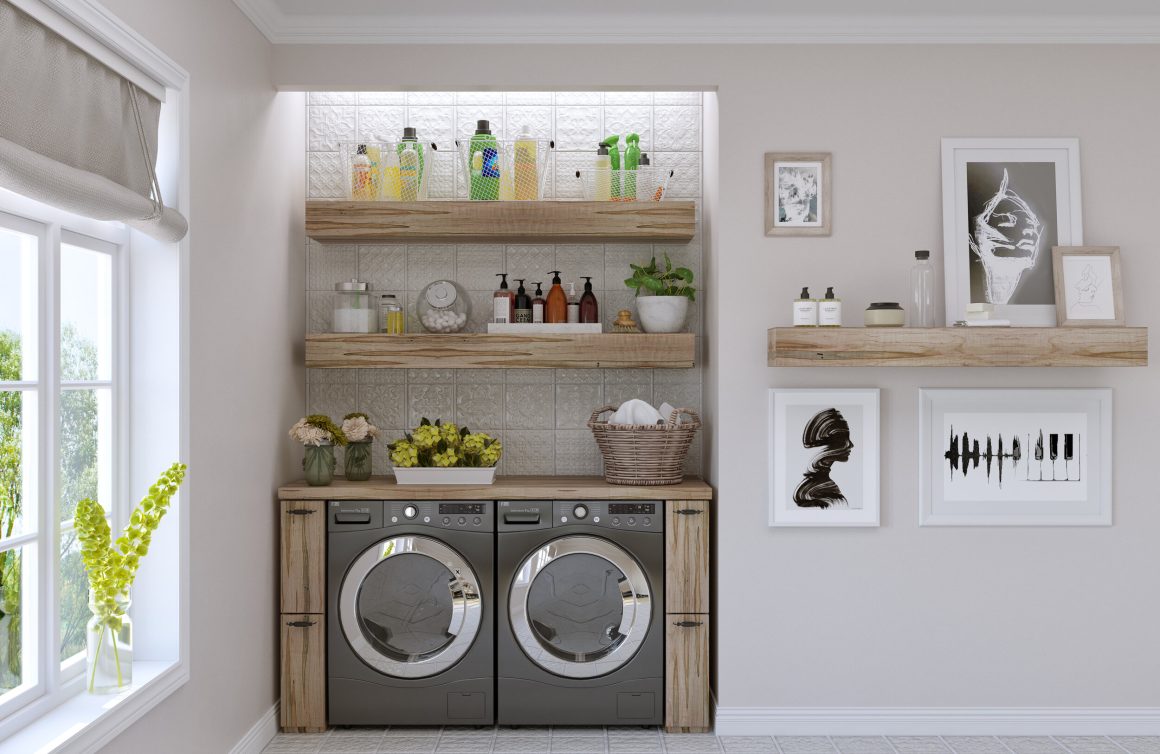 Rugged wooden planks can give your urban-looking laundry room a cottage vibe. These are easy to install, and you can even recycle old wooden logs so that they serve the purpose of shelves. Rugged wooden planks are very versatile in nature as they look equally good with silver stainless steel washing machines as well white colored machines.
They complement white floors, tiles, and walls equally well. Make sure that the wood is resistant to moisture while you shop for wooden shelves.
9. Shelves with Arched Hutch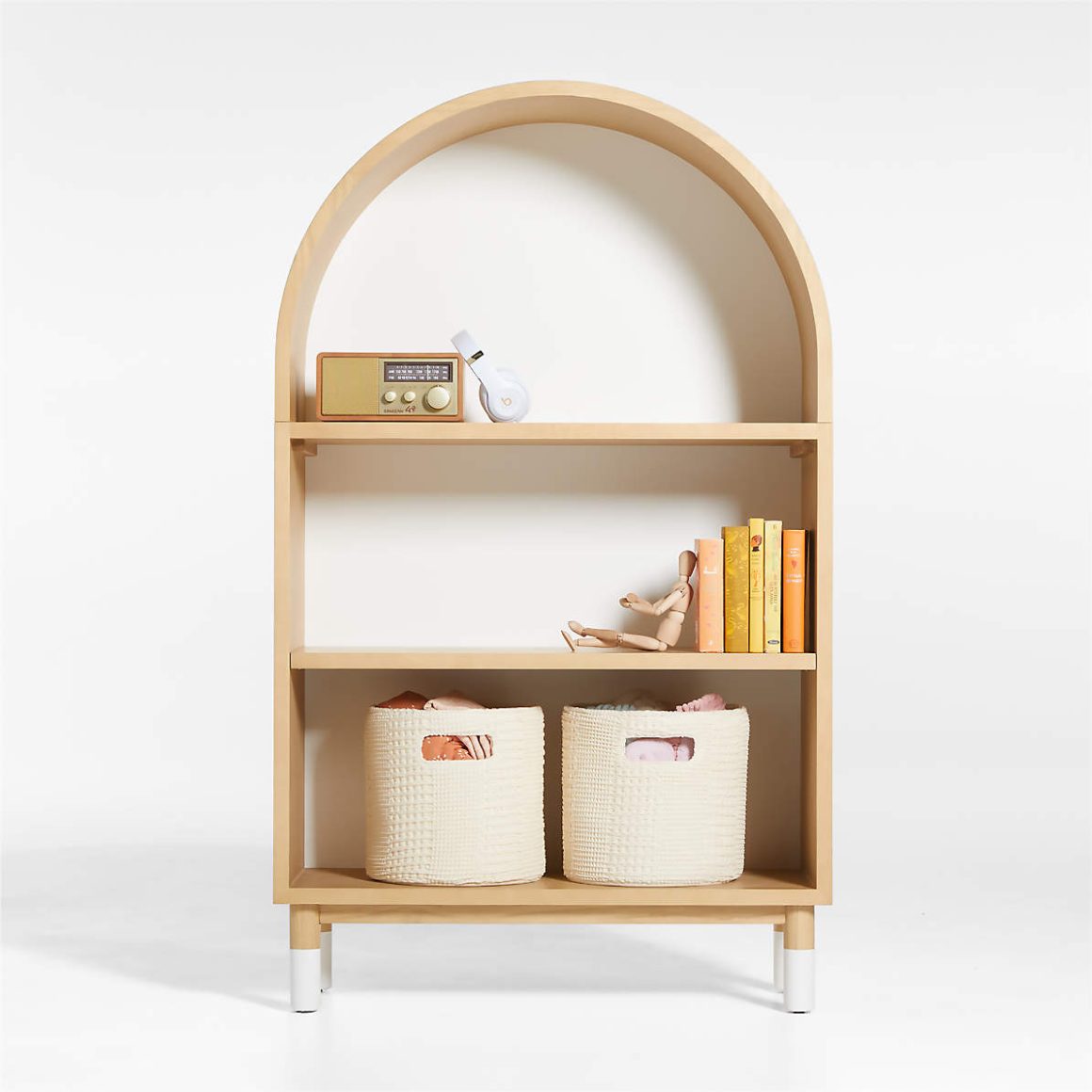 To do something unconventional with your laundry room, opt for an arched hutch along with shelves. You can keep all the laundry essentials, like soaps, detergents, fabric softeners, etc., in the hutch and place ornamental items on the shelves to create a more personalized effect. Such cute accessories are useful and ornamental at the same time.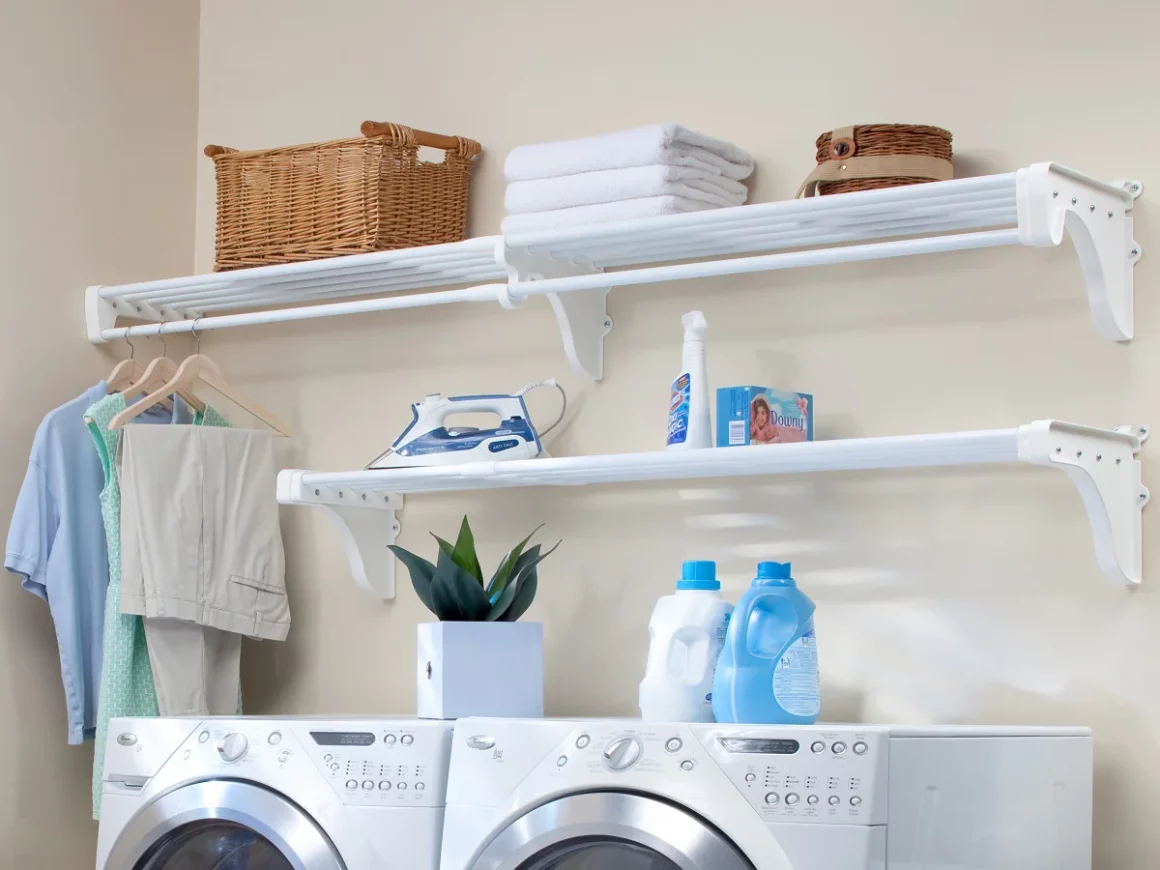 Wired racks are the most easily available and budget-friendly option. The white plastic shelves made of white plastic wires can be easily hung on the walls above the dryer or the washing machine, and they can even withstand the weight of laundry essentials. Since the racks come with a rod attached to them, the rack serves the dual purpose of placing items as well as hanging items with the help of hangers. Therefore, make sure that there is enough distance between the rack and the machines so that the room does not appear cluttered.
11. Hanging Racks with Shelves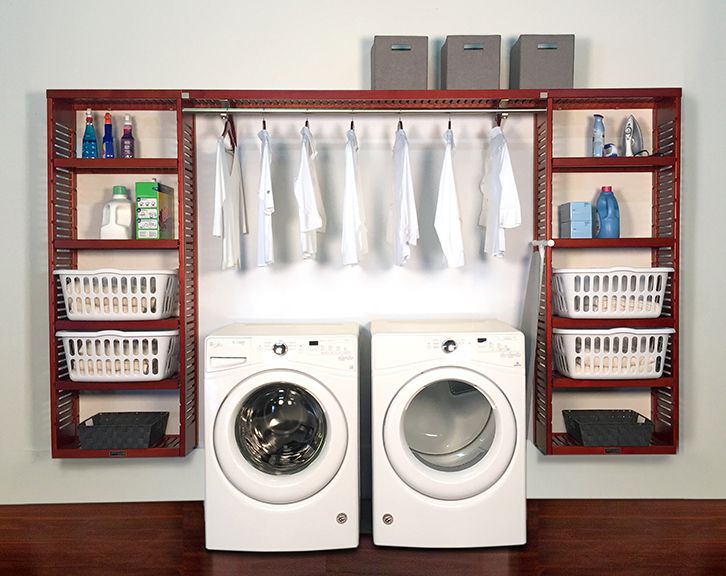 Wall-mounted hanging racks are a genius idea if you wish to hang your ironed clothing as and when you clean it. While selecting a mounted rack, make sure that the compartments are big enough to place baskets easily so that there is no waste of space. Also, while nailing it to the wall, make sure that you can reach the highest compartment without a ladder or a stool to ensure maximum convenience and easy access.
12. Built-In Shelving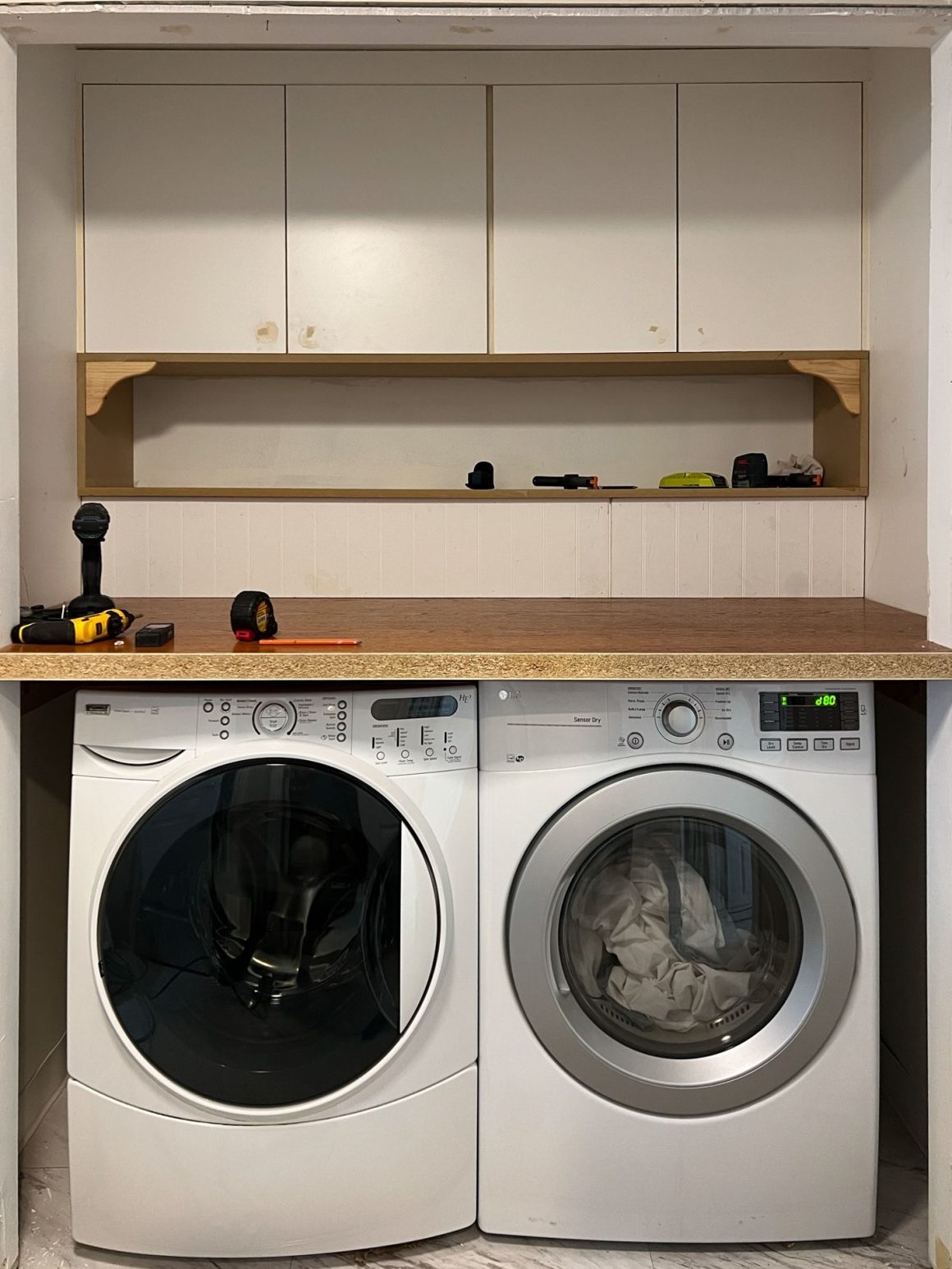 At certain times, people prefer to place their dryers and washing machines in an enclosed space with folding doors. If you do not wish to make a separate room to perform your routine laundry chores, you can go for these built-in closets for appliances and install shelves right above them.
The main advantage of built-in shelves is that they solve redundant space issues. Therefore, in case you do not have enough space in your house to make a large laundry room, you can fit the machines within the wall or in a spare corner and cover them with folding doors.
13. Stainless Steel Racks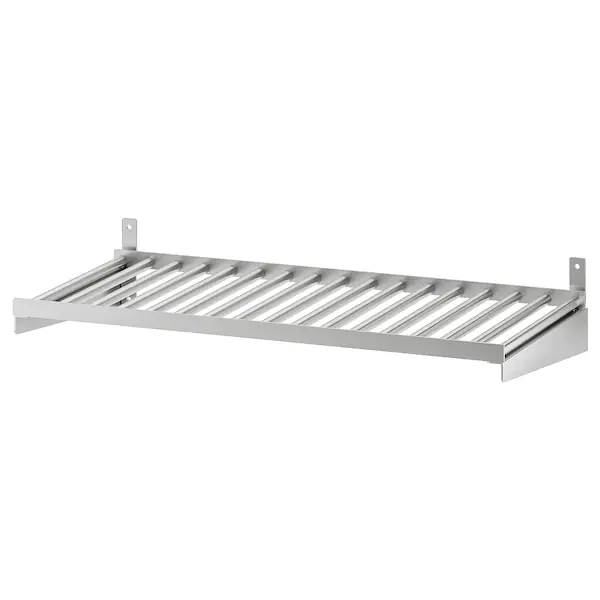 Stainless steel racks and shelves are a very practical solution for those who are facing storage problems. Install the racks over the dryer and washing machine to improve the appearance of the room. The most interesting part of the steel racks is that you can paint them according to your preference and make the room visually appealing.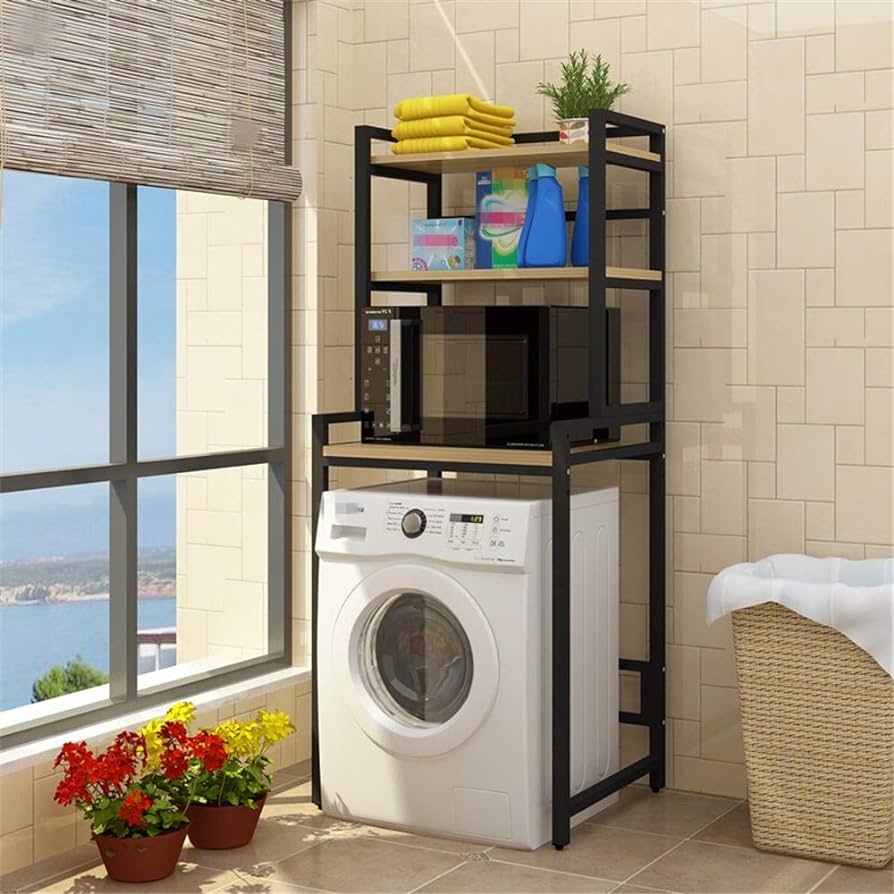 The utility racks can bear a good amount of load, are made of sturdy and reliable material, and are even stable. The design is very compact as the machine can fit in the devoted space perfectly and is even moisture-proof. These racks can be shifted from one place to another and also have foot pads that can prevent them from slipping and scratching the floor. They can be easily installed and put together by a person, and no professional help is needed.
Conclusion
Clear the space of redundant stuff to create an organized laundry room. Maintain the cleanliness of your space so that it appears well looked after and not neglected. Since laundry rooms can tend to look messy at some point, place items in their allotted spots or sections for a better appearance.For a complete look of the room, match the color of the shelves and cabinets with the walls, floors, and windows frames. Depending on your preferences, you can select a monochromatic theme or take a completely quirky approach. Comfort comes first; therefore, whether you choose open or closed shelves, hardwood racks, or stainless-steel utility racks, they must, at all costs, perform the function.
If you have any remodeling ideas for your laundry room, have better ideas regarding shelving over the washer and dryer, or any other fascinating piece of information, please share it in the comments section.
Frequently Asked Questions
What Should Be the Minimum Gap Between the Shelf and The Washer or The Dryer?
A shelf height of 62 inches is a must and tends to be the most comfortable distance for people to grab things in a standing position. This will allow you to hang your ironed clothes properly and make the room seem more breathable.
How Deep Should a Countertop Over a Washing Machine and a Dryer Be?
A washing machine and a dryer are usually 30" deep. However; countertops are generally 25.5" deep. This is the standard size, and any more distance can make it inconvenient for people to use this space. Shelves, on the other hand, are 10-12″ deep, and those that are bigger than these need extra support, like a bracket with a diagonal bar.
What is the Perfect Gap Between Two Shelves?
The ideal vertical gap between two floating shelves is 12 inches. However, for extra accessibility, you can also have a gap of 18 inches. While mounting shelves on the walls, measure the length of the tallest item to be placed on the shelf and leave a few more inches extra as breathing space.
Which is the Best Wood for Shelves that Are to Be Installed in The Laundry Room?
Any wood that is resistant to moisture is best for laundry room shelves. Some examples are plywood, cherry, oak, maple, and so on. The thickness of the wooden shelf has to be ¾ of an inch; therefore, select a wood that is sturdy enough to take the weight of all the utility items as well.