Imagining a room without cabinets, cupboards, and closets is practically impossible. A thorough analysis of one's requirements and significant research of what is available in the market is absolutely necessary before making a purchase.
The right cabinet will not only make your bedroom appear well-organized but will also enable you to design it in a way that enriches the appearance of your space to make it look more relevant and even contemporary.
The arrangement of cabinets ought to be highly practical if you want to bring order to your life. A cabinet will also help you in arranging all of your possessions together and safely.
Here are 15 amazing room cabinet designs that will sort out your life as properly as your possessions
1. Nightstand Cabinets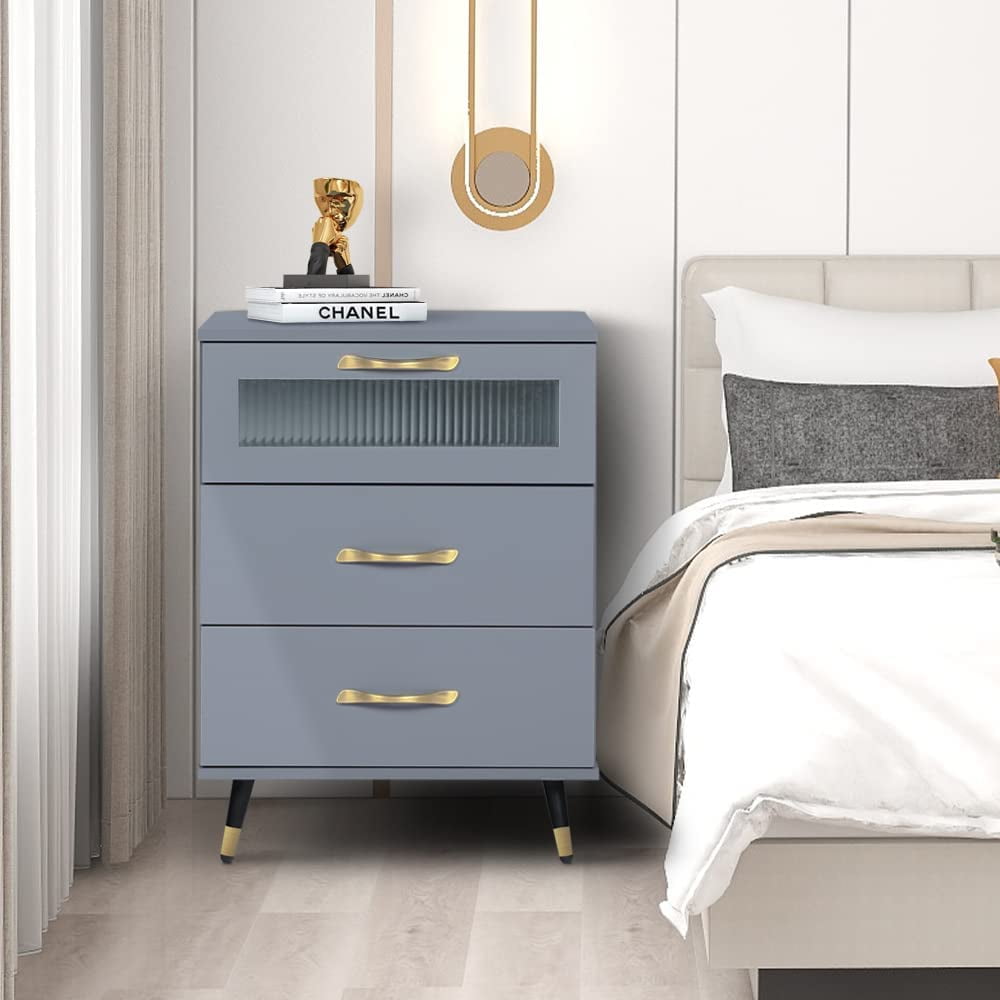 Nightstands are extremely useful, practical, and convenient storage cabinets. Traditionally, they are supposed to be placed right next to your beds. However, they can be placed anywhere because of their compact design. You can store your blankets, medicines, and other routine items on your nightstand for personal convenience.
If you wish to place them beside your bed, make sure it matches the color of the bed so that your room looks cohesive and complete. Suppose there is enough space in your room. In that case, designing professionals often suggest buying a pair of nightstands and placing them on either side of the bed so that the room appears symmetrical and well-coordinated.
2. Wooden Wonder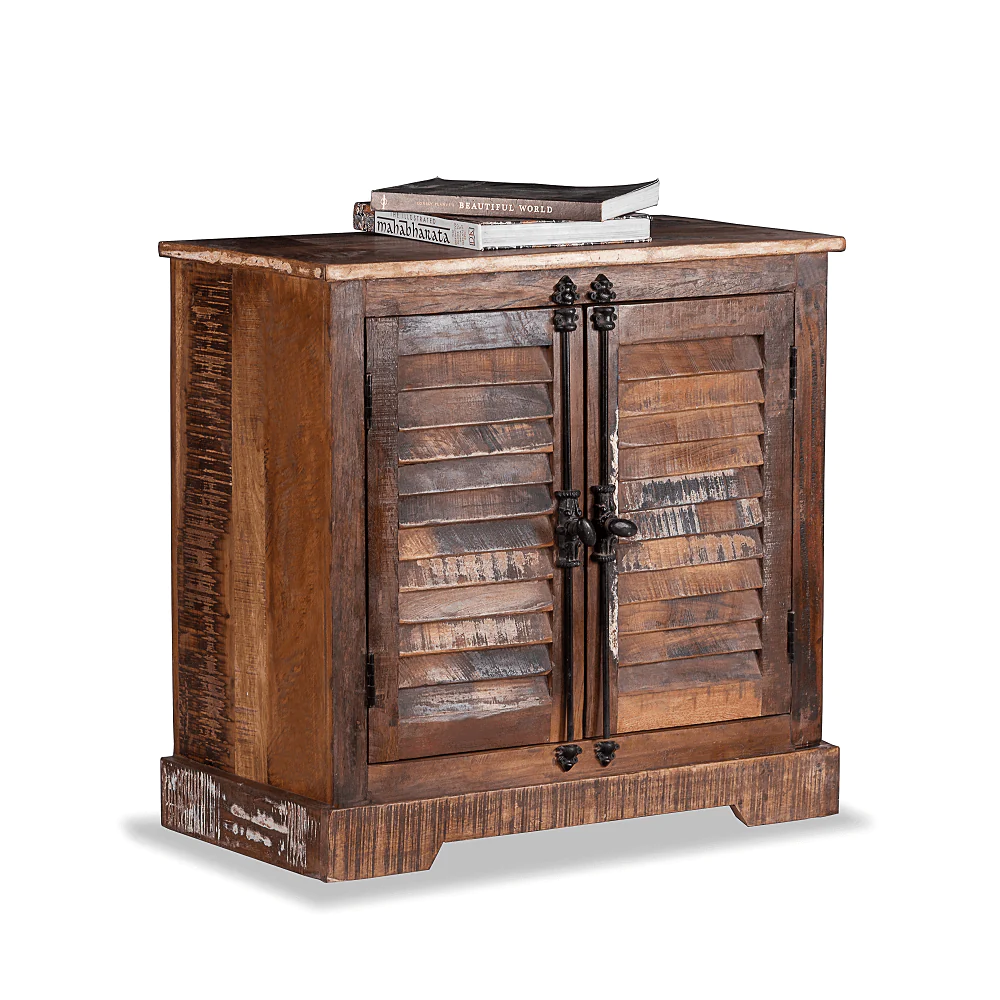 Chests are one of the oldest traditional wooden cabinets to exist. A chest can add a regal charm to your room and make your space appear warm and cozy at the same time. Since it is spacious, you can store items of all shapes and sizes.
Chests can also be placed at the foot of the bed so that it looks more like an ornamental accessory and not just another storage option. The ratan cane mesh can add to the appearance of a cabinet, lend a unique charm, and give your room a quaint touch. If used in a wooden cabinet, the mesh can allow proper circulation of air and prevent your cabinets from exuding the typical moldy smell.
3. Clothes Cabinets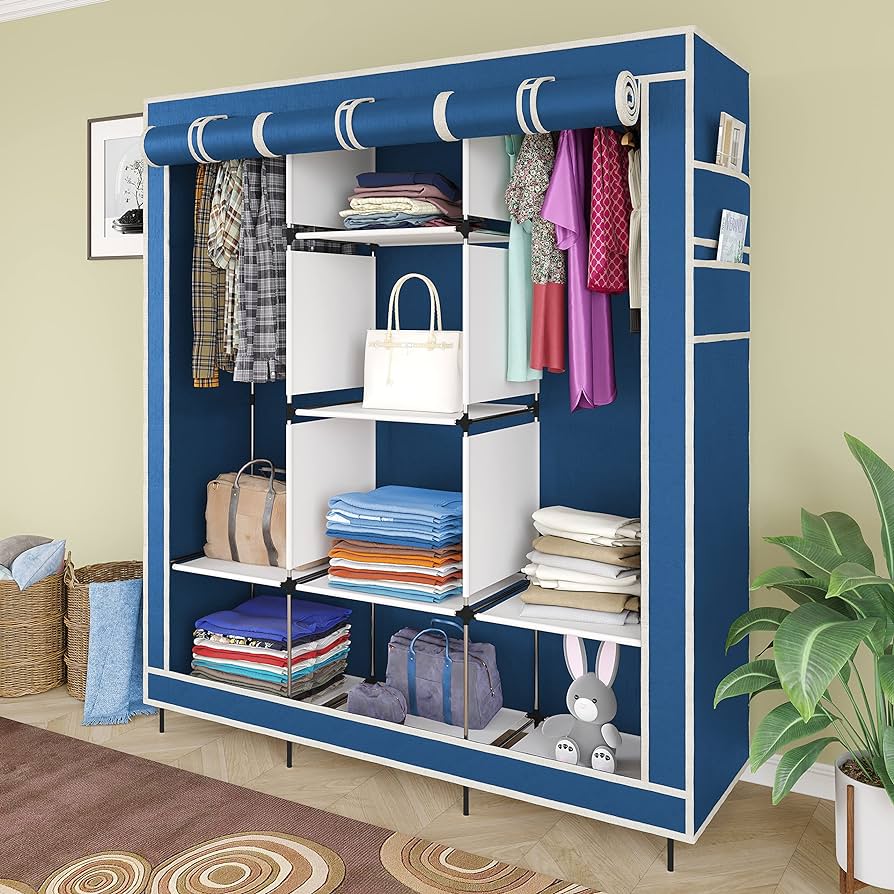 Commonly known as a wardrobe, cabinets for clothes are one of the most essential pieces of furniture to be found in rooms. These come with compartments where you can hang your clothes and even fold them and keep them, sliding racks for shoes, drawers that can be locked, and other such storage spaces for the proper arrangement of belongings.
The latest invention in the closet industry is foldable cloth cabinets with cube storage. These cabinets can be assembled by oneself, are eco-friendly, and are available in multiple colors. The size of the compartments can be adjusted according to one's needs, therefore making it a clever purchase.
4. PVC Cabinets
Polyvinyl Chloride, also called PVC cabinets, is one of the latest trends being religiously followed by interior designers who are working with clients that have budget constraints. Cabinets made of PVC are low maintenance as they are resistant to termites and insects.
These cabinets are lightweight, highly durable, extremely economical, and can withstand extreme humidity as well as heat. If you want a shinier and glossier finish, opt for PVC cabinets with an acrylic finish, making your room look chic and nice.
5. Steel Cabinets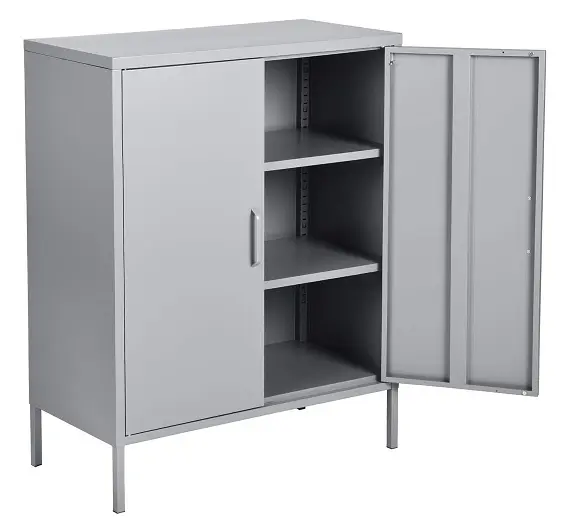 Modern and sleek designs of steel cabinets are best for those who want their space to have a modern appearance. They do not require much upkeep, are easy to maintain, and can be placed anywhere in the room. If you do not like the conventional appearance of steel cabinets, you can even get them painted.
Typical steel cabinets can look underwhelming, so to counter that, you might have to spend some time on their appearance. Nevertheless, these items are extremely functional because they do not retain any moisture, are cost-effective, and are very easy to disinfect. It is a smart investment because they are resistant to termites as well as other rodents or insects.
6. Aluminum Cabinets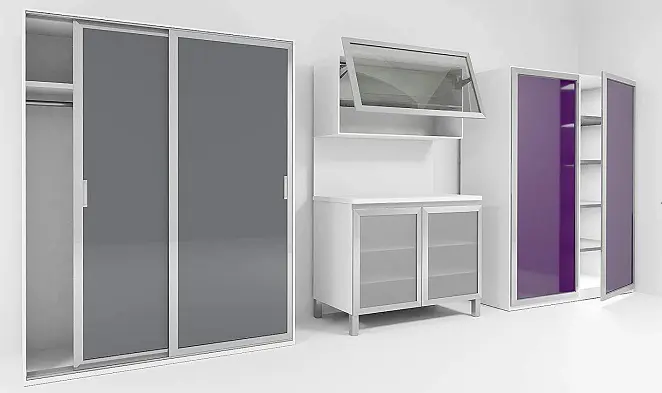 Aluminum cabinets with sliding doors have lately been one of the most favored accessories of interior designers and decorators. These cabinets come with sliding doors, drawers, and even compartments.
Certain big-sized aluminum cabinets are available in the size of regular closets. However, if you are searching for something smaller, medium-sized aluminum closets are also available. Cabinets made of aluminum are very practical because they do not absorb moisture.
7. Mirror Cabinets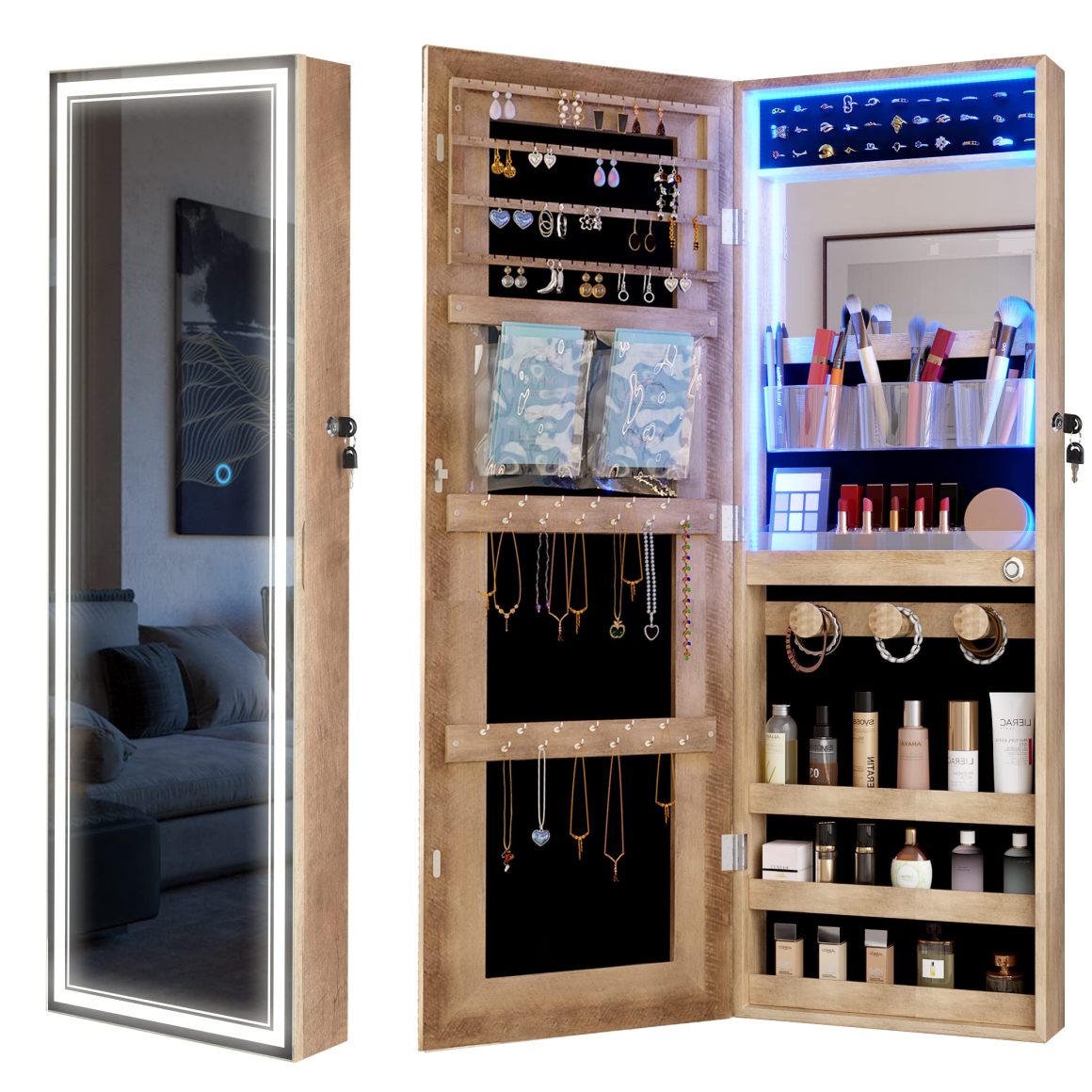 One of the most stylish cabinets is the mirror cabinet. Looking mirrors are one of the most underrated accessories. Interior designers and decorators are coming up with ideas to incorporate into the room designs as it has high functional as well as utility value.
Certain bigger cabinets come with full-sized mirrors that even serve the purpose of a looking mirror and also make your room look larger and better. Small wall-mounted cabinets can be used in bedrooms as well as bathrooms. You can use hooks to increase the storage space and organize everything in an orderly fashion.
8. Glass Cabinets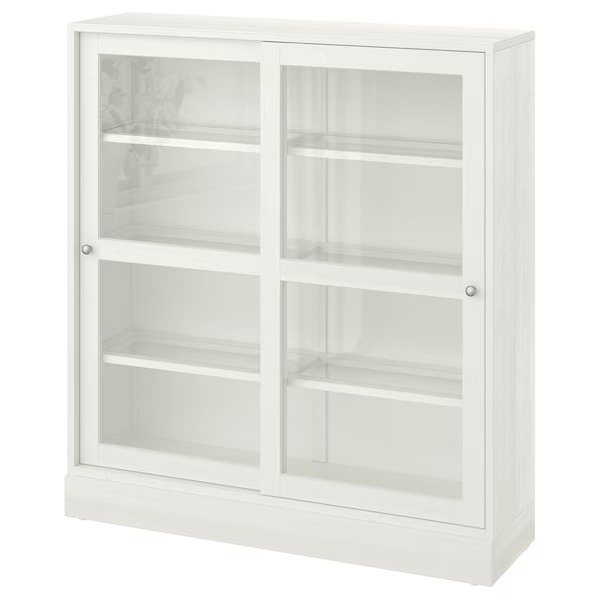 Cabinets with transparent glass have started making their way into the rooms as they were usually found in dining rooms for people to show off their crockery collection. A highly practical piece of furniture, as with a glass cabinet, you do not have to remember what has been placed where. These cabinets come with wooden frames, aluminum frames, or even PVC, as glass goes well with everything.
These cabinets are very diverse. The outlook of a room changes entirely with glass cabinets. The only drawback is that such cabinets have to be well organized all the time, or else they can make your space look shabby as well as messy.
9. Quirky Cabinets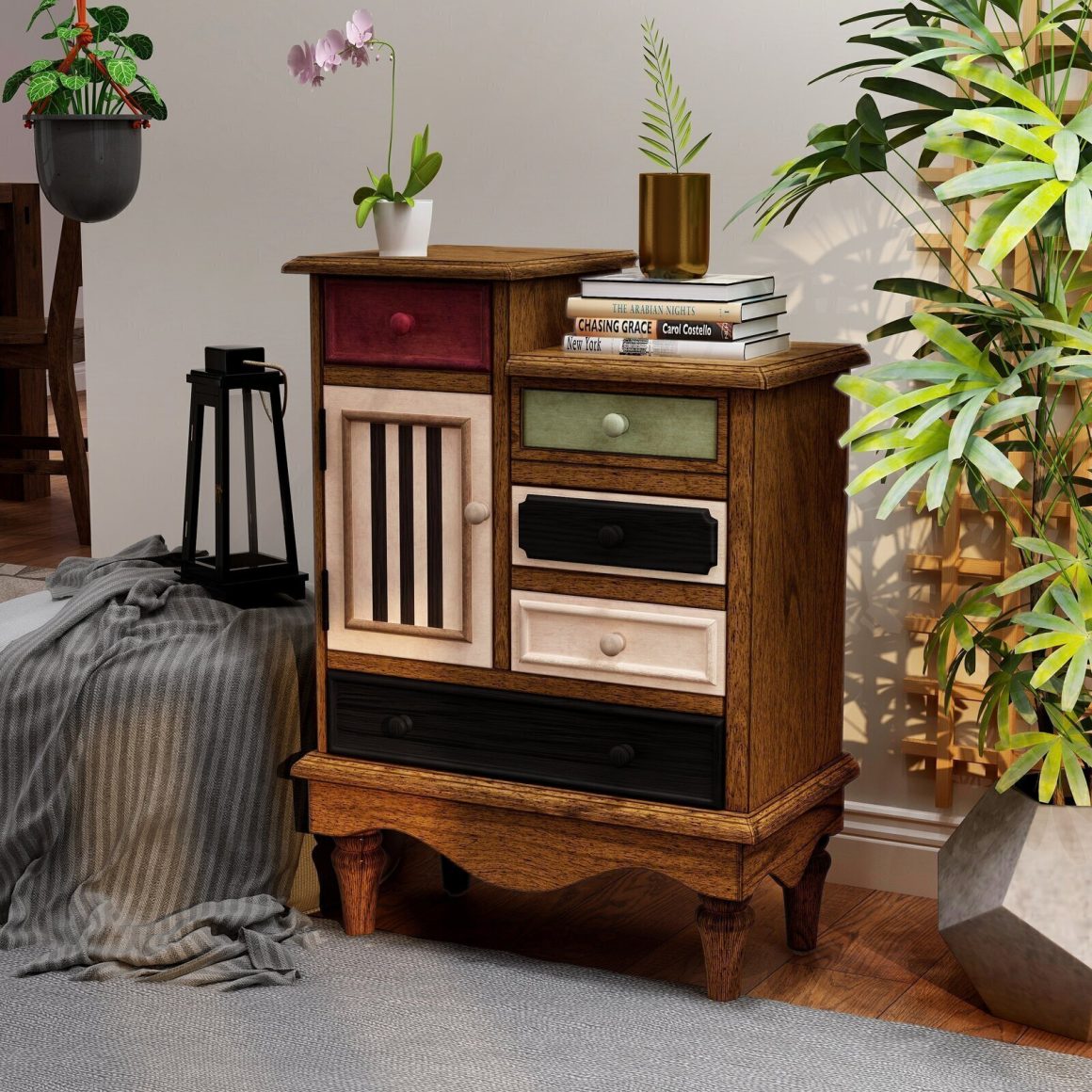 If you want your cabinets to look fun and want to add a pop of color to your kids' room or nursery, paint any old cabinet, whether wooden or steel or aluminum. You will lead by example as you will recycle old furniture and save money while customizing it according to your kids' preferences.
When painted with the right paint, wooden cabinets can turn into very interesting storage units. Select the right adhesive cabinet paints that adhere to the surface of the cabinets so that they provide proper coverage and are easy to clean as well as long-lasting. Colorful cabinets go well with all kinds of rugs, curtains, and sofas.
10. Modern TV Units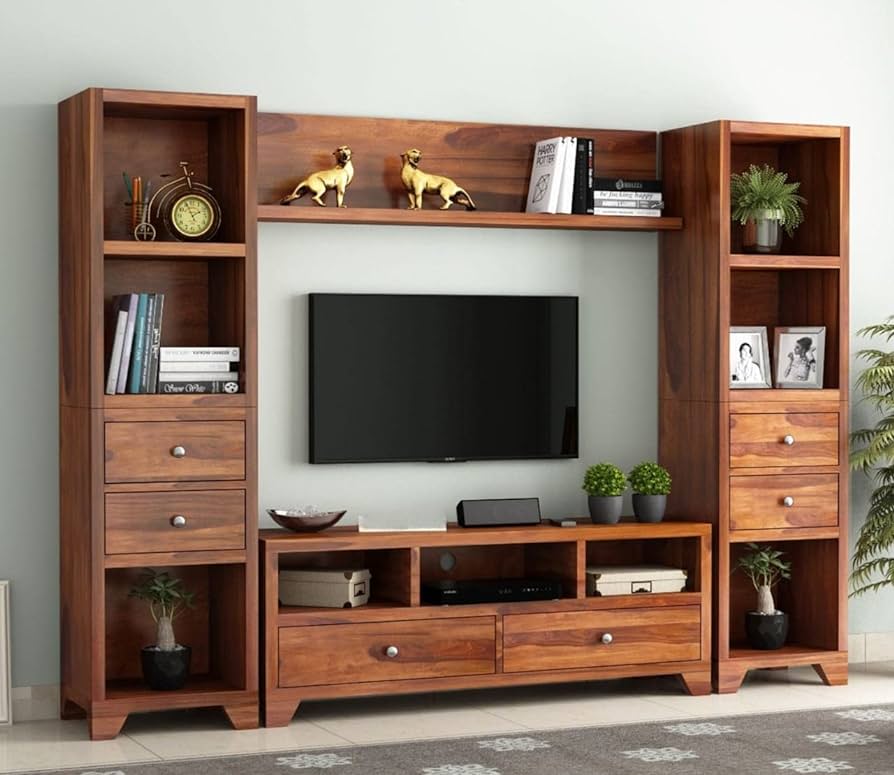 Wall-mounted TV units are a smart investment if you do not have enough space to place your TV in a cabinet. These are very compact as you can easily hide all the wires of the TV and the box and place all the essential electronic accessories like speakers in the drawers or compartments that come with them.
There are other TV units available in many colors and finishes as well. However, they are not wall mounted but have enough space to fit gaming consoles, TVs, and many other such gadgets. You can select one that complements the aesthetics of your room the most. While selecting such units, you can opt for one with both closed and open shelves. To add to the beauty of the room, you can place books, plants, and other ornamental items for a classier visual.
11. Corner Cabinets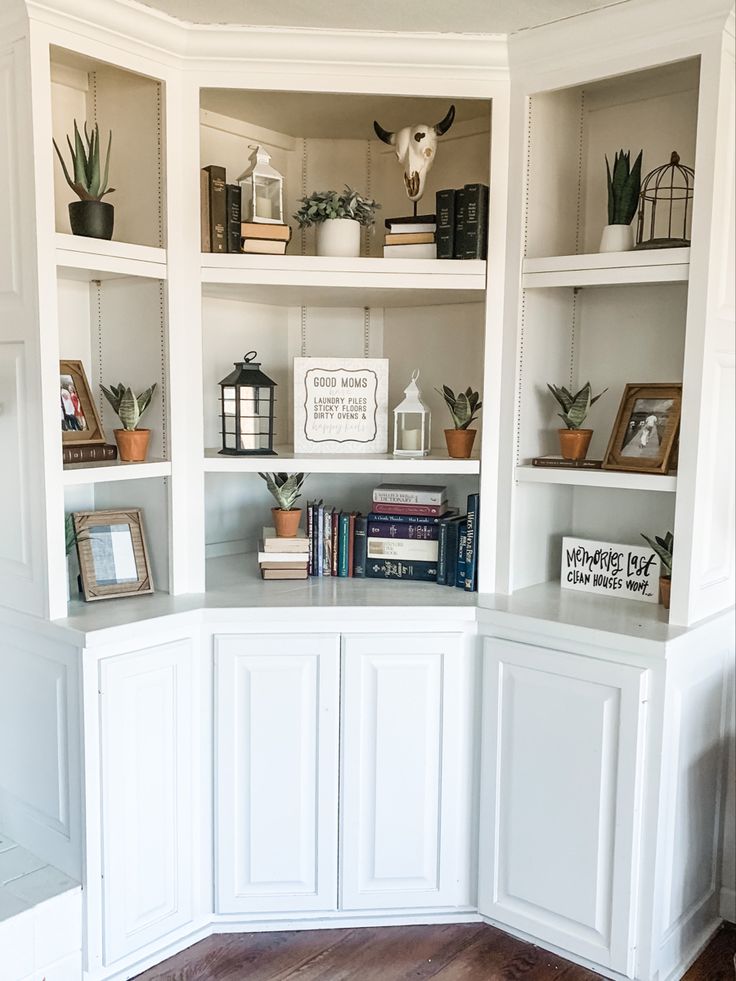 Placing cabinets in the corner of your room is the best way to optimize space that people often overlook. If you do not want your corner to look cramped, then you can opt for a cabinet with open shelves. However, if you want your cabinet to look similar to the rest of the closets in the room, then installing a cabinet with a door or drawers is also a smart idea.
If you have a big bedroom and you want to do something fun with your empty corners, place these cabinets in your room to look appealing. White corner cabinets with a matte finish can look chic and are neutral. Therefore, they can look nice with interiors of any kind or color.
12. L-Shaped Cabinets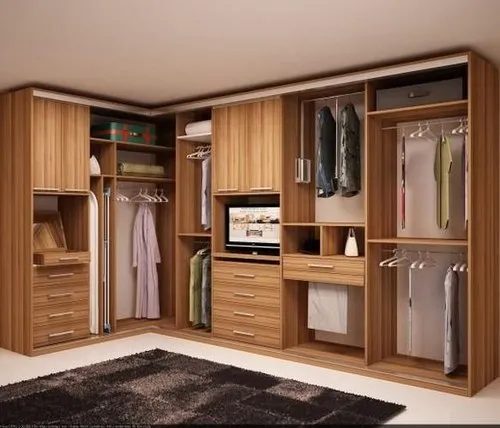 Having L-shaped cabinets is the best way to conserve floor space in your room. You can get a unit made that will fit the entire wall and serve the purpose of keeping your belongings securely. For a better visual appeal, you can place ornamental items in the corner, store your shoes in the lower compartments and keep the rest of the items in the drawers. You can select the cabinet's height according to the room's style and the color combination. You can even place digital safes in such huge storage cabinets.
13. Drawer Cabinets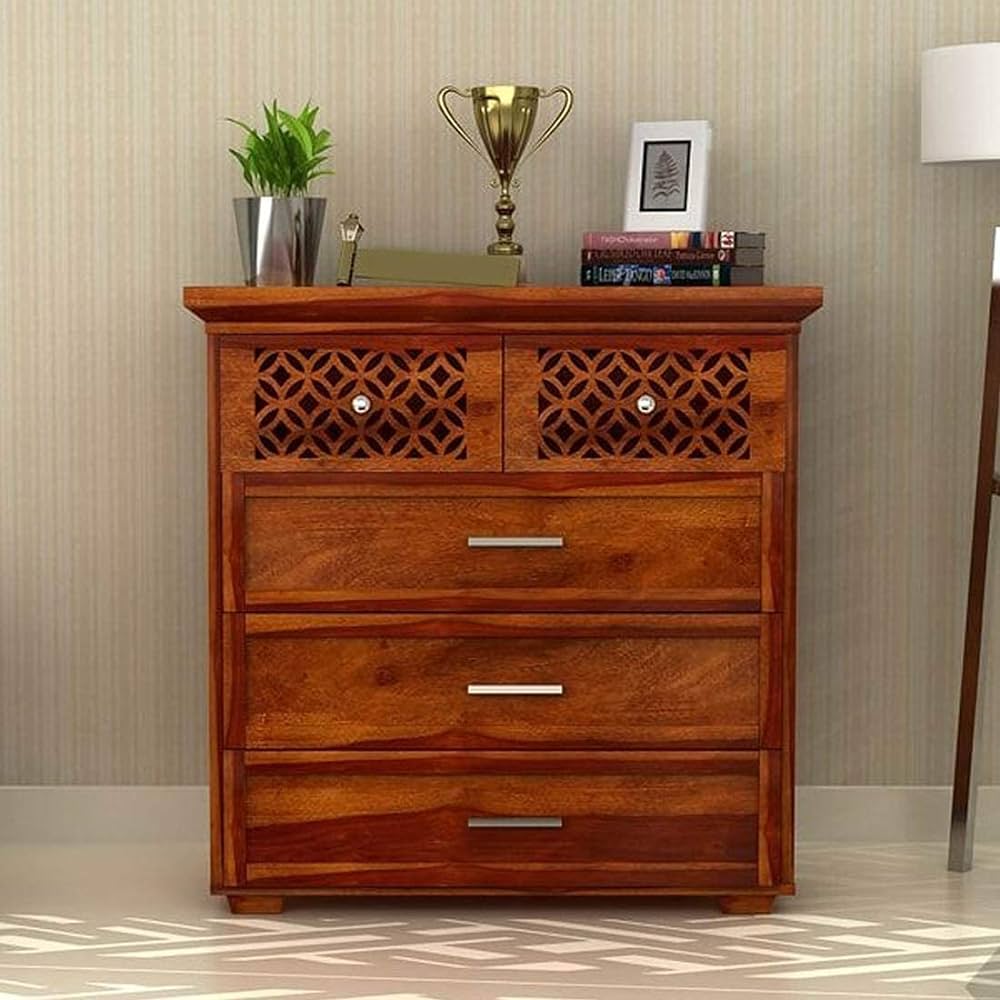 A cabinet with multiple drawers arranged in a vertical manner or horizontal manner can be very practical for storage purposes. Wooden cabinets with drawers can introduce the old-world charm to your room and can be accessorized with brass drawer pulls or cute multi-colored knobs.
Certain Victorian cabinets can be wall mounted, intricately carved, and modernized by installing a glass door with shelves.
14. Shoe Racks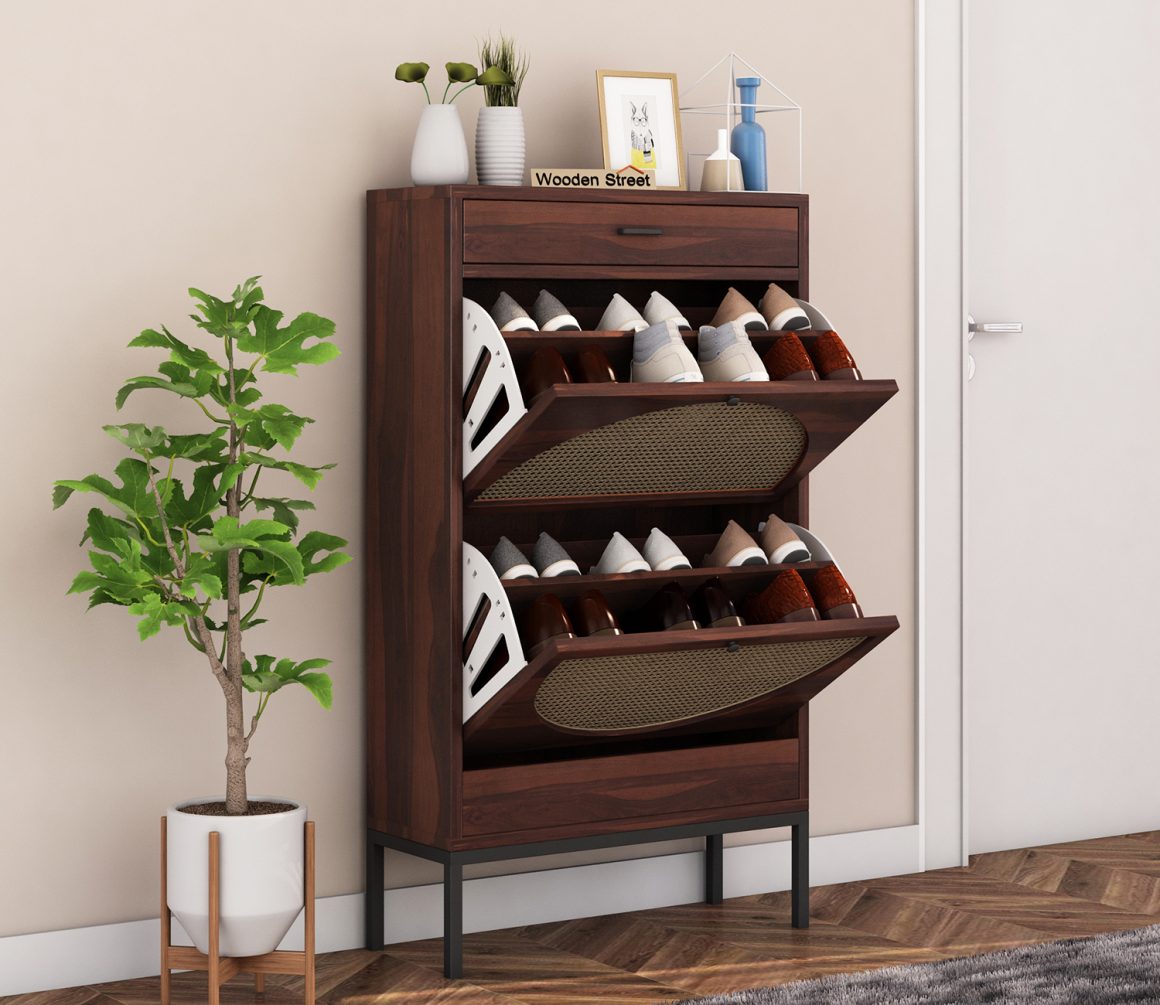 To maintain high hygiene standards, invest in a shoe rack so that you do not have to store shoes in the same cabinets or closets as your clothes. To ensure ventilation, opt for cabinets that have slatted wooden panels.
Free Standing shoe racks made of mango wood or pine wood can be moved around easily as they are lightweight, convenient to handle, and stylish at the same time.
15. Sliding Door Cabinets
Cabinets with sliding doors are a modernists' favorite accessory. They have a sleek and shiny exterior and sometimes come with a large-looking mirror on the front. Sliding door cabinets are available in various sizes, and you can opt for big ones as well as small and compact ones according to your requirements. Certain cabinets that have sliding doors can also be mounted on walls.
These cabinets have a compact size that can make your room look larger and better, as opposed to wooden cabinets that are visually heavy.
Conclusion
Cabinetry is a crucial component of a room. Not only can these room cabinet designs enhance your storage capacity, but they can also add to its aesthetic appeal. If selected wisely, a cabinet can serve your purpose dutifully, look stylish and even coordinate with other elements of the decor of your room.
Whether it is a wooden cabinet, a shoe rack, or a PVC cabinet, it must enable you to keep all your belongings securely and in an organized manner. Make sure that it is equipped with the right number of drawers and compartments to make your investment in such a piece of furniture worthwhile.
Tell us about your selected cabinet in the comments section below.
Frequently Asked Questions
How Can One Keep One's Belongings Fresh in a Cabinet?
You can keep your cabinets fresh by organizing your belongings properly and ensuring they are not cramped. Schedule weekly vacuuming and placing cotton balls soaked with essential oils is a smart way to maintain freshness.
How Can Moisture Be Prevented in a Cabinet?
You can keep moisture at bay by ensuring proper ventilation. Do not keep your cabinets next to damp walls, especially if it is a wooden cabinet. Open your cabinets for some time during the day to ensure air circulation.
What is the Best Way to Organize a Cabinet?
Investing in baskets is a good idea, even if your cabinets have drawers and compartments. Wicker baskets are eco-friendly and look aesthetically appealing over plastic ones. Place your shoes or other heavy items at the bottom and have a designated space for every item to avoid confusion.
What Must Be Considered While Purchasing a Cabinet?
Multiple factors must be taken into consideration while purchasing something as useful as a cabinet. Variables like the amount of space you have in your room, the design of the room, the kind of items you want to store in the cabinets, and the storage capacity of a cabinet must be considered.