Round entryway table styling can give your entryway more solidity. This is the entrance not only to the house, and of course, is the entrance to your friends and neighbors to see your lifestyle. Make it the best at first sight by giving your entryway a round table and styling it with the theme of timeless elegance and enchantment.
"Your home should tell the story of who you are and be a collection of what you love" – Nate Berkus.
This centerpiece of your foyer or hallway can show your refined taste and set the atmosphere of your whole house in a warm mood. One of the rationales behind using a round table is to clear any clutter and showcase your choice of art pieces like vases, sculptures, or any other floral configurations. Styling your round entryway tables is an art in which we take the priority to show you the best creative minimalist styling to create an alluring entrance.
Where Can You Use the Round Entry Table?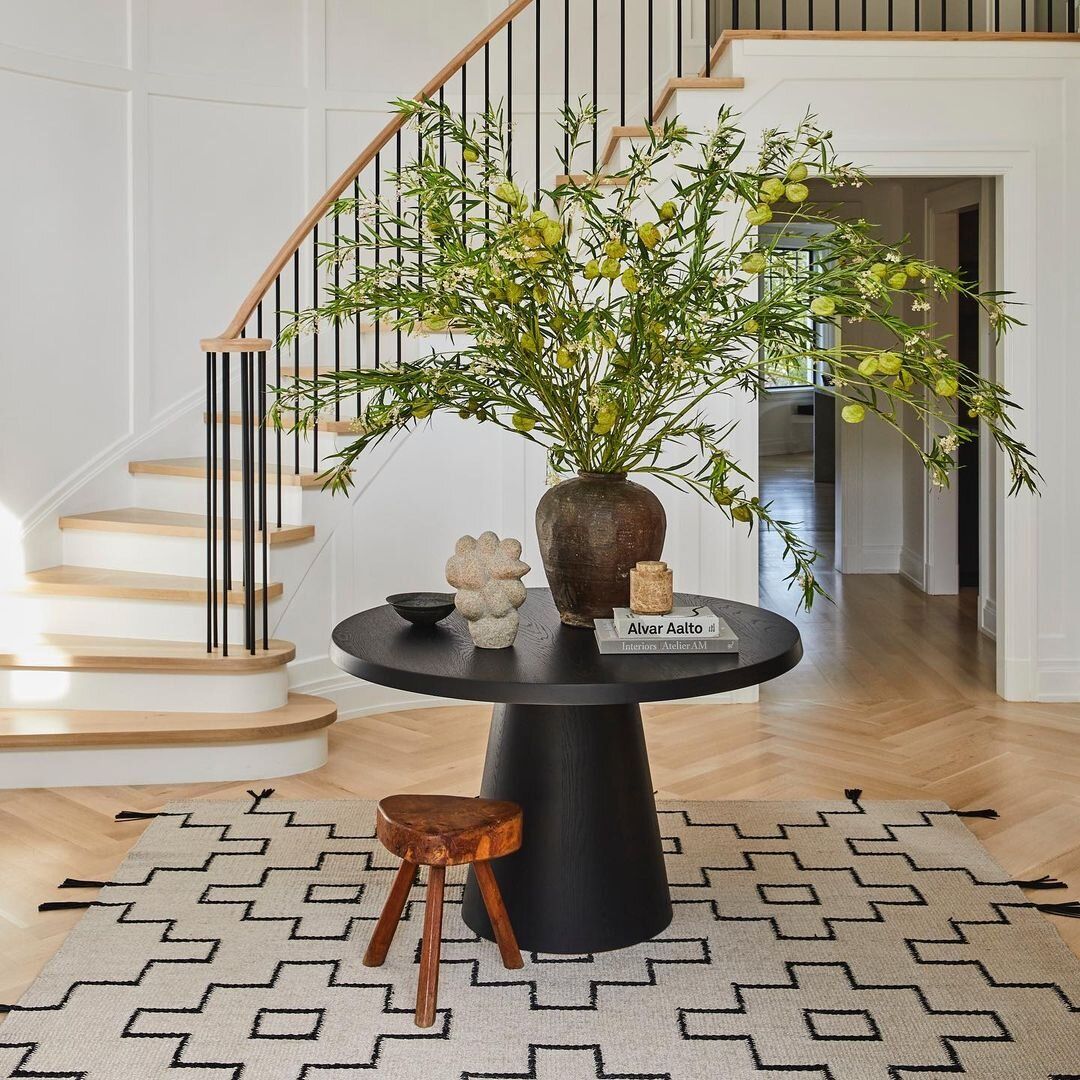 A large foyer entryway is the perfect choice of place for a round entry table. The bigger square entries and curved stairs are the suited places where you can place them.
Other than entryways, the round entry table can be used in bigger empty spaces like the back of the hallways or the dining area, which is not used. You can pair it with reading chairs to fit the filler arrangement.
Size of The Entryway Table
The round entry table is used as two categories, as is the side table, which is usually 19-30 inches. And the other one is the grand full-size round entryway table the size of 50-60 inches across.
Whether you buy it online or from a vintage shop, look for the measurements. It helps you to decide the right choice. It is best to make it fit into the hallway if it is 24-36 inches.
Color of The Entryway Table
Choose your entryway table to give the look you desire by choosing the material from below, wood, brass, glass, ashwood, bold, painted with bold color, or medium wood tone. The best possible option is to decide on your styling. You can make the other components in the room to match with it later.
Choosing Your Round Entryway Table
Even Though you may have dozens of pieces of furniture in your house, there is nothing to be compared with a round entryway table. This inspiration always looks like a grand manor or a large luxurious lobby. Choose your special piece of furniture from these ideas.
1. Contemporary Design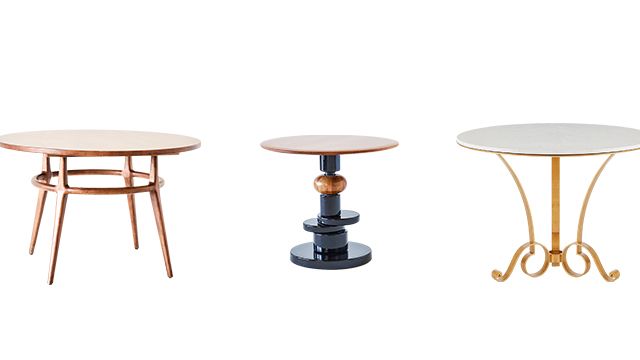 This is the most trending round table for this modern era. This is designed to incorporate the two materials as a high gloss marble on top with a wooden bottom part. And the table can be layered with free-form objects for a grand appeal.
2. Classic Design
You can choose the limited edition mahogany and cast brown centre table with an ivory top. When it is placed in the entrance the appeal is a grand Washington DC residence like classical touch.
3. Fresh Appeal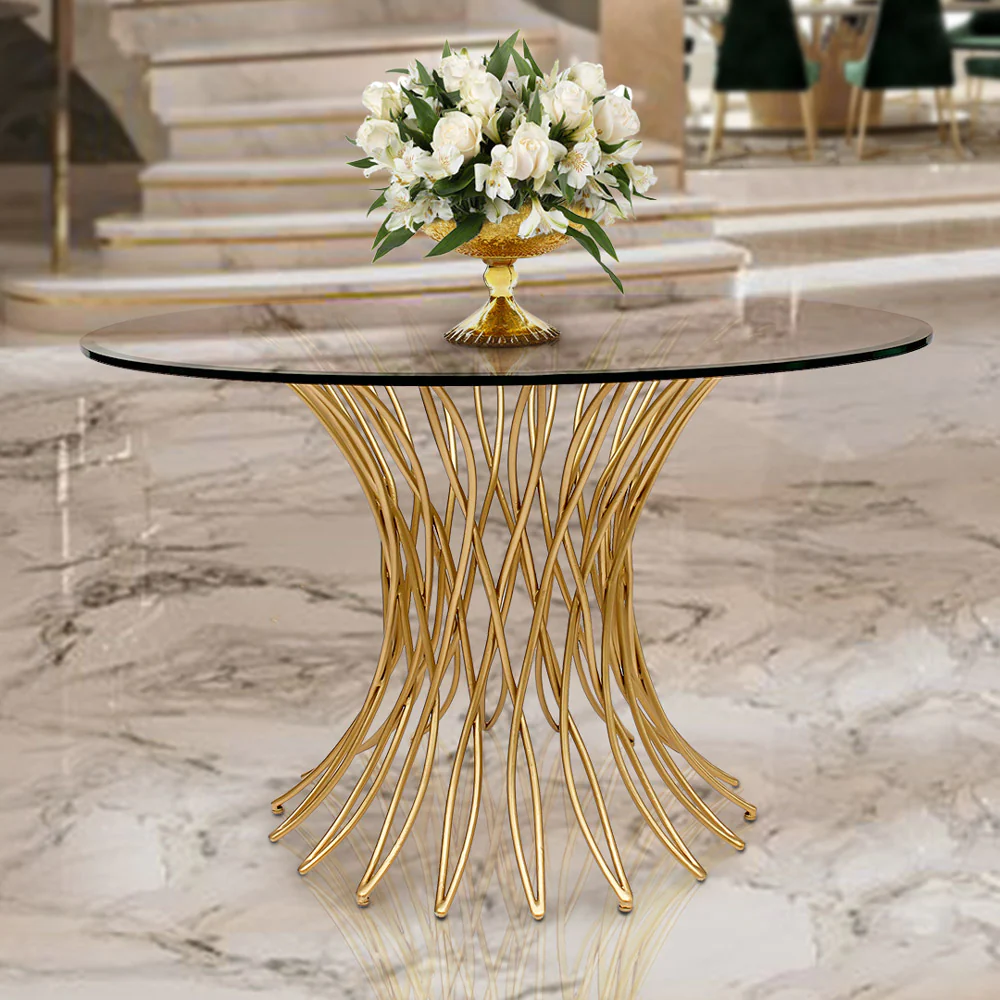 The fresh and airy option of your round table can be attained by hand-hammered steel finished bottom part with a glossy top with a beautiful combination. Either it can be a Glossy finish or glass in your color that suits your hallway decoration.
4. Neutral Design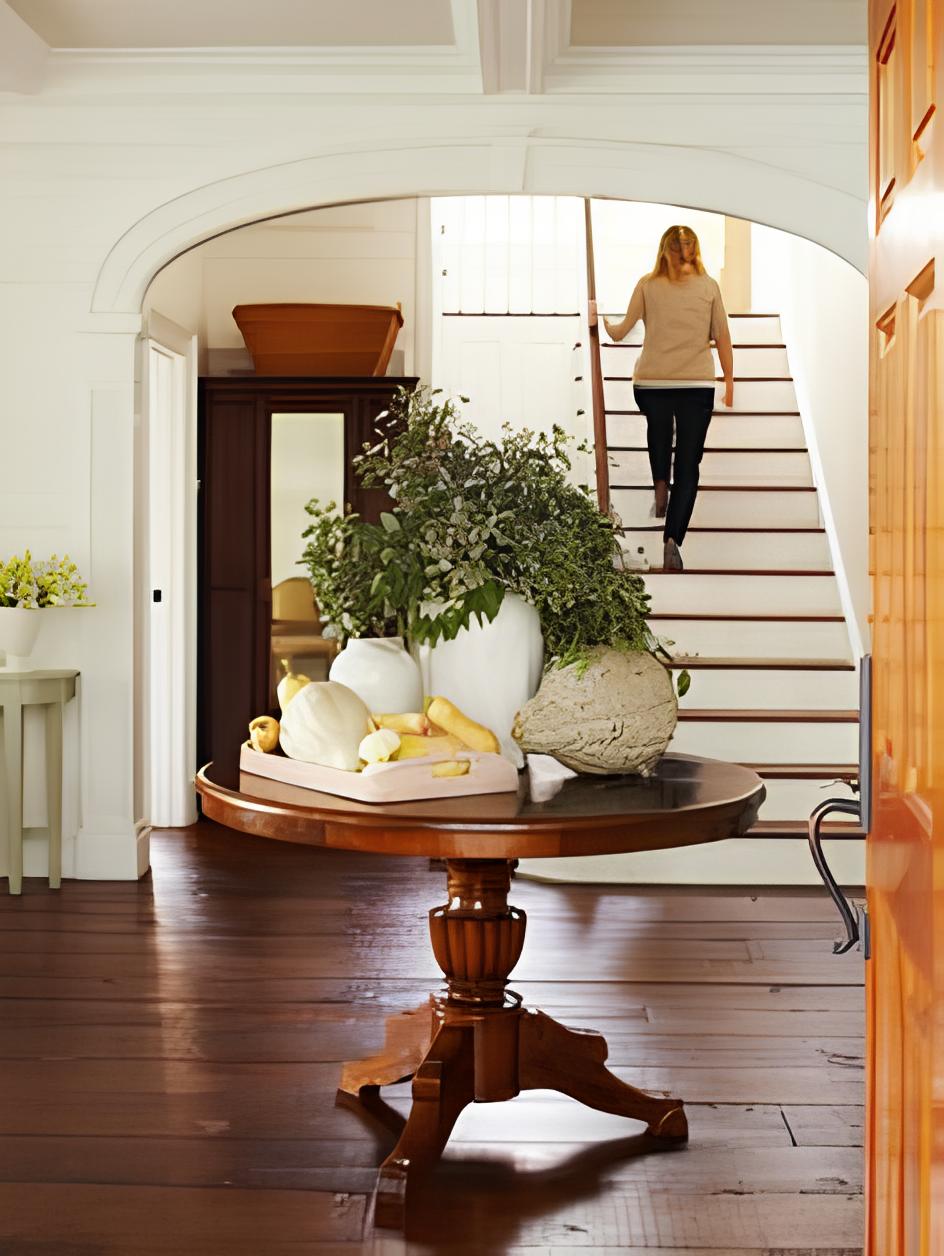 The neutral is always on trends. Here every art of the round table is preferred with a neutral tone. Like a cream-based palette with accents of a golden touch. These neutral tables can be placed with backdrops of such subtly textured walls or stairs.
5. The Timeless Country Design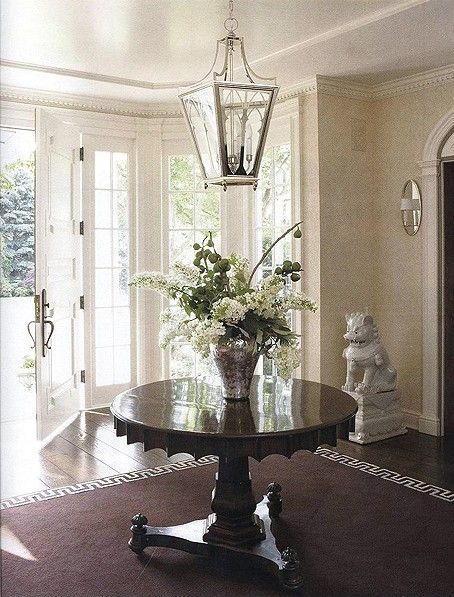 A sense of English country manor can be achieved by this timeless round entryway table. A wooden round table with the elegance of the touch from a countryside look is a perfect fit if you want something old and classy.
Ideas to Style Round Entryway Table
Now, you might have decided which type of round entryway table will be suitable for your entrance. You can place them either in the middle of your hallway entrance or near the curvy stairs, according to your space and personal taste. Styling the entryway round table is the next step, and that's not going to be more complicated with these beautiful ideas to execute.
1. Tall And Handsome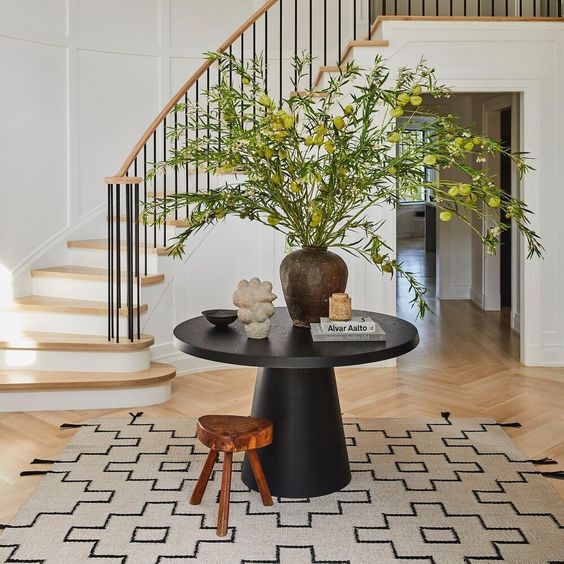 As you may already know the fact, being tall and handsome is always desirable. Something with tall objects like a styling lamp, architectural item, or a larger vase with the same tall greens. This tall object should be placed in the center or backward or on any other side of the table. Walls with large sizes look astonishing with these tall decorations on your round entryway table.
2. Articraft to Give an Attraction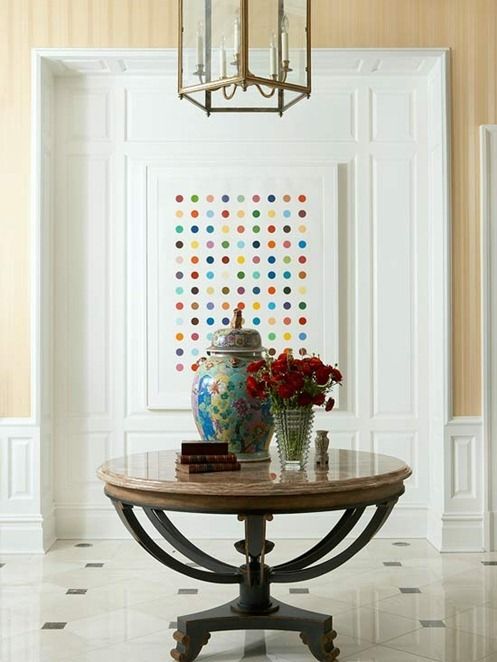 You might have some beautiful art pieces from your last trip. The entryway roundtable is the best place to display. It gives a modern look with a cultural display. Choose an art piece with various options like depicting a culture, period, or depending on your interest. It can be a small sculpture, vintage boxes, ancient coins, or any tribal items. Visually appealing pieces have a significant effect.
3. Lantern with a wreath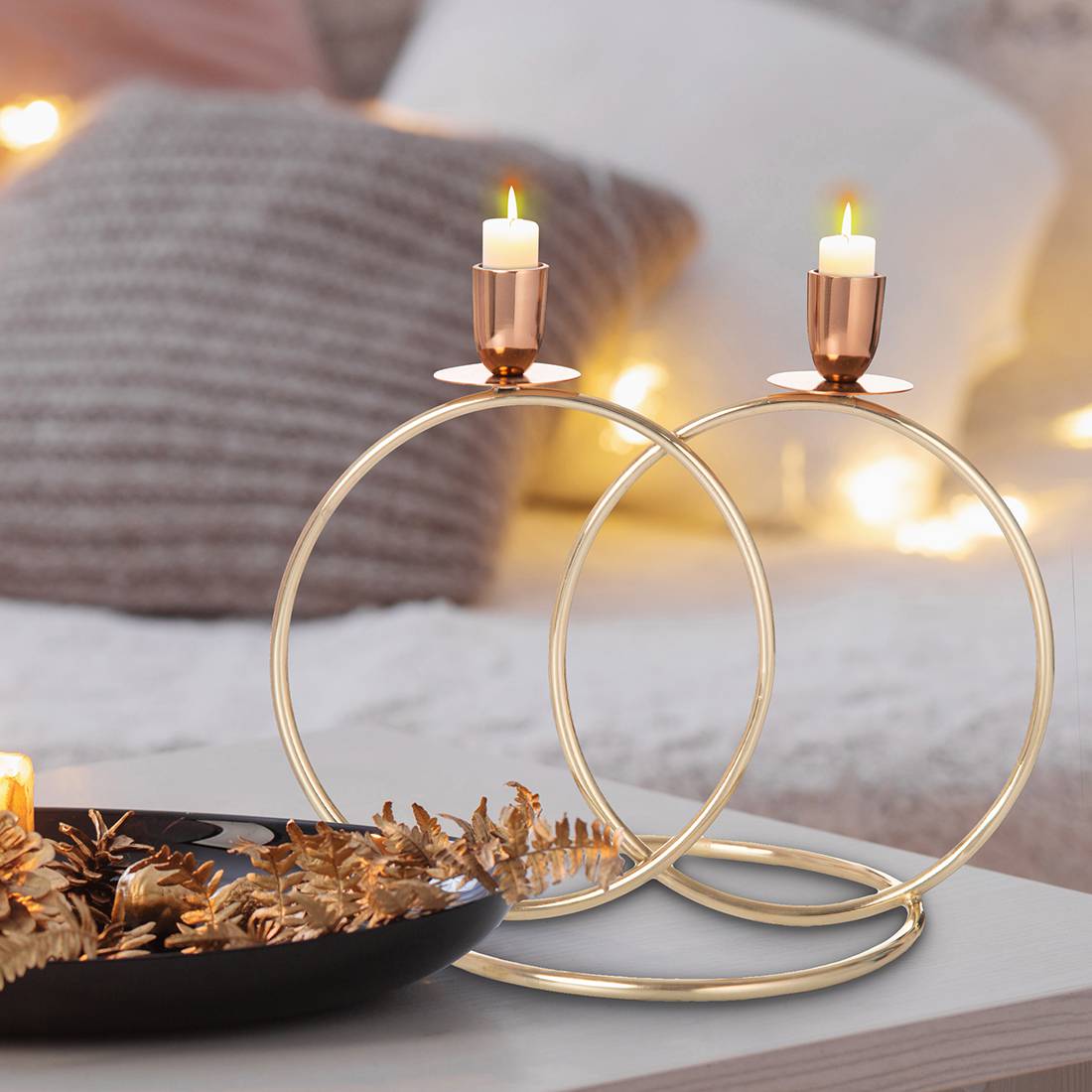 This is a classic romantic option. A lantern is decorated with a floral wreath around it. This needs a weekly twice replacement as the flowers might last for only three to four days. But it satisfies the purpose.
4. Styling With Books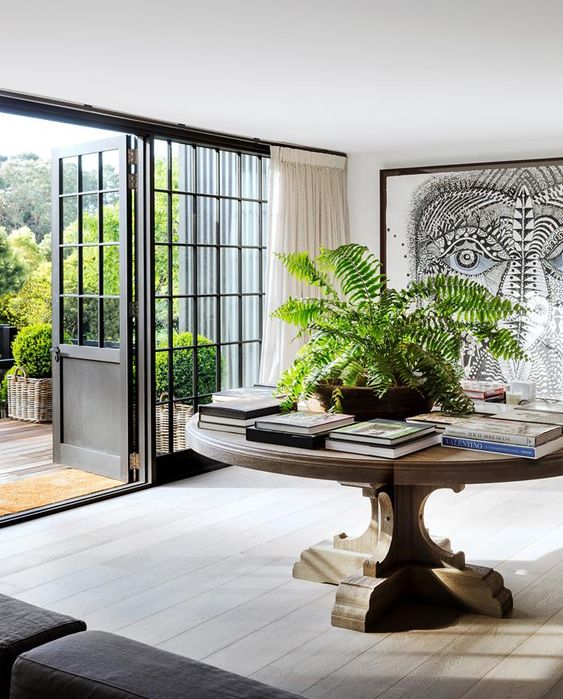 Books can be used as great props for decoration. Your personal taste is displayed with them. Select the books by a theme that interests you, like art books, novels, poetry, or biography, whichever intrigues you. The visually appealing colors are most welcome. Stack the books vertically with the same sizes. Stack the horizontal arrangement in descending order to have an aesthetic interest.
5. Textured Pieces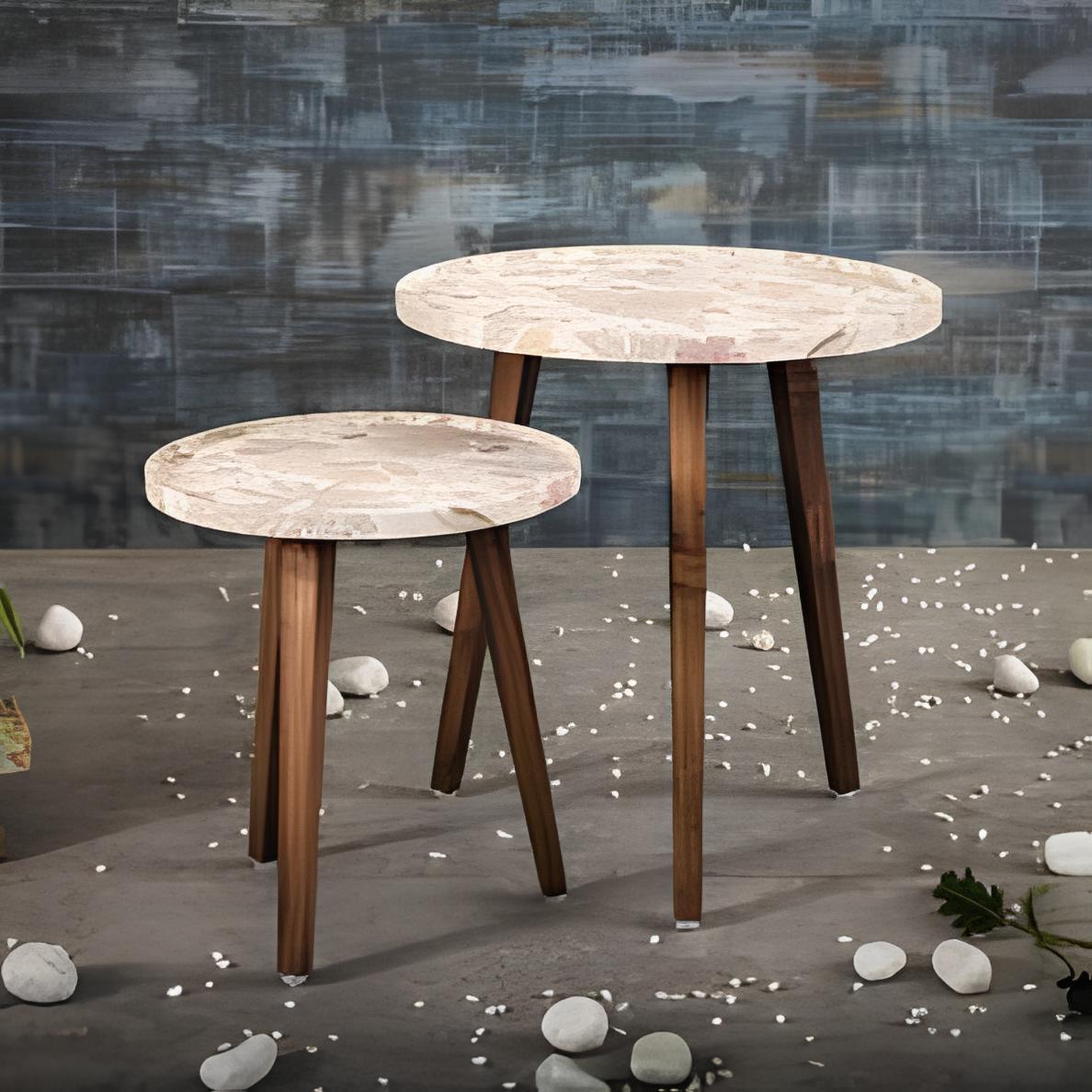 Give a textured piece of work to the center of your entryway round table. The options for your textured items are a clay pot with its rustic look or a stone vase, a wooden piece of work.
6. Style The Greens With Colours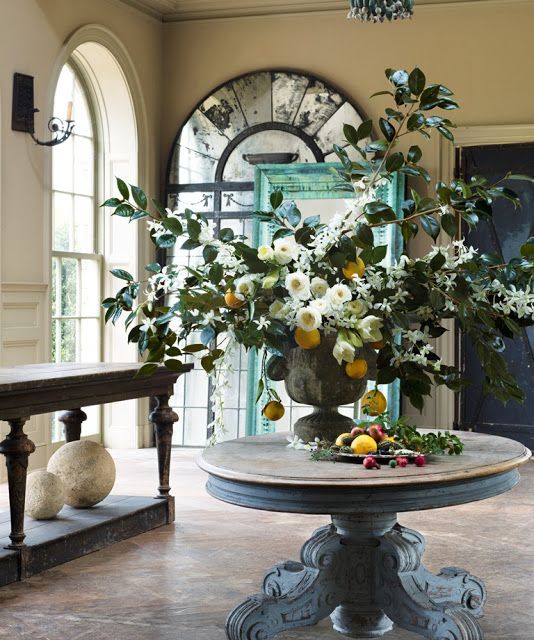 This is the most lovely and lively styling with an inviting appeal. What else could be more satisfying than a live plant and flowers? You can bring the greenery of the outdoors to your hallway this way. You have to choose the plants that thrive only in low light like the pathos to bring freshness to the entryway.
7. Styling With Vintage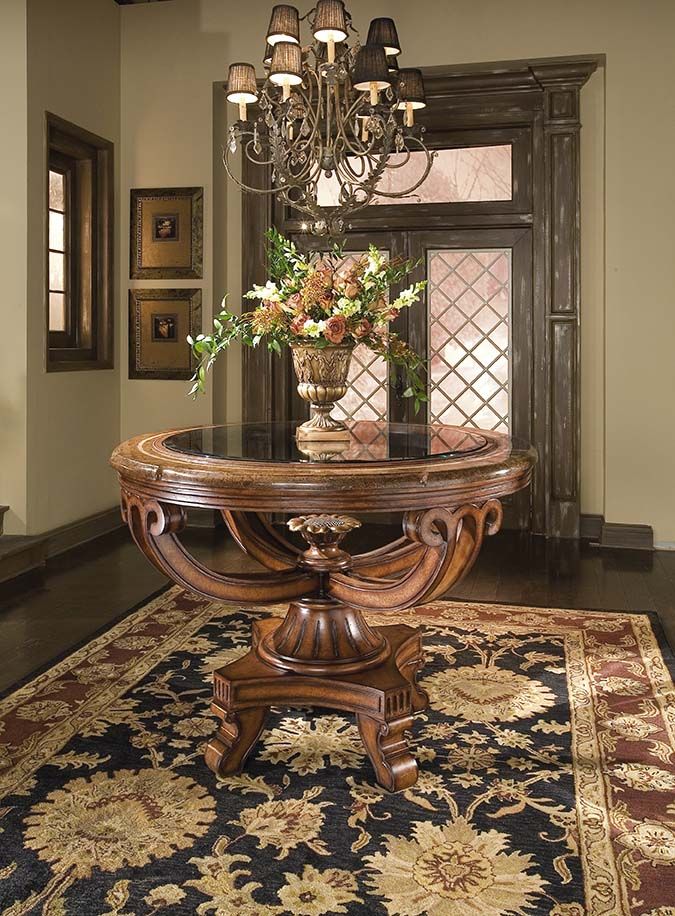 Vintage styling is always to create a personalized look. A vintage round table decorated with vintage model vehicle miniatures, gramophone patterns, or books with vintage design theme covers.
8. Give A Color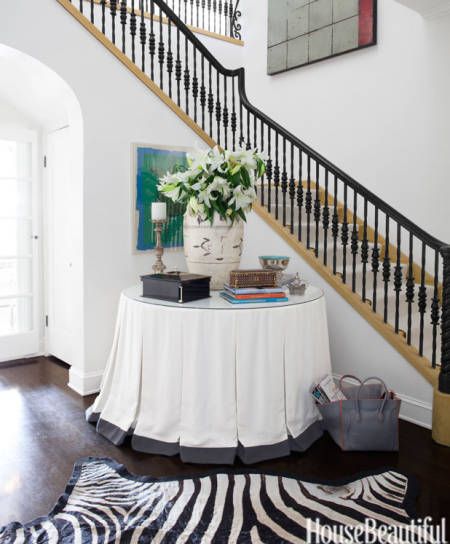 Decorate the entryway round table with a colorful piece of cloth to gain the eye of your decoration. The color of the material should get along well with the theme of your hallway and the overall interior of your entryway design theme.
9. Decorative Trays
Place a decorative tray with some functional options like keeping the small accessories like an essential bowl to place your small items. You can change these decoratives alternatively according to the availability of your recent purchases of art miniatures.
10. Seasonal Decoration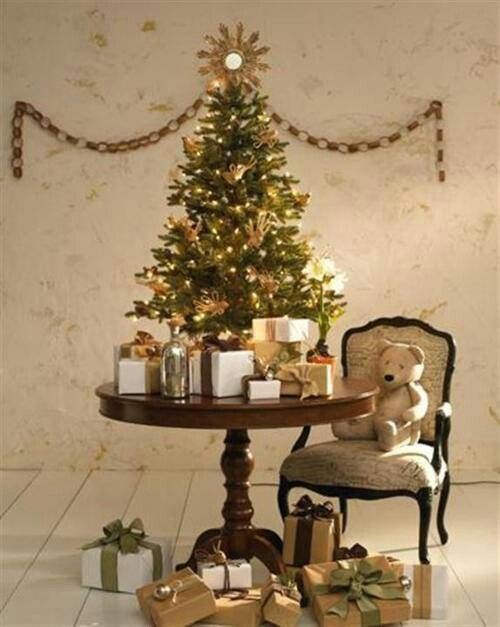 Change your entryway table decoration according to the seasons. It can reflect the upcoming holidays or autumn flowers, small pumpkins, or a hand-woven basket with colorful leaves. In winter, the festive season can take the table with centerpiece ornaments, pinecones or a miniature tree.
11. Seasonal Floral Arrangement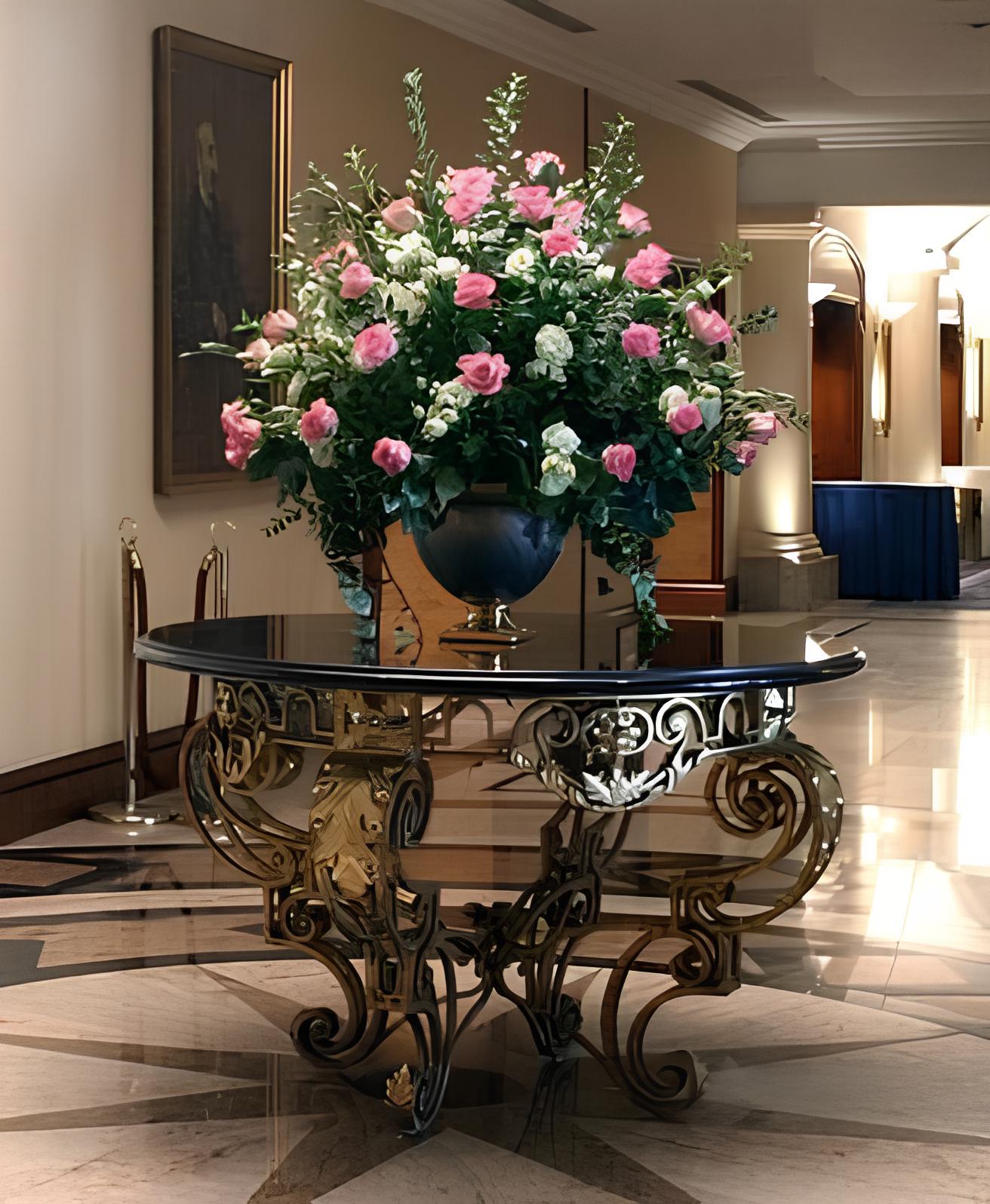 Give a floral arrangement with a tall vase. As you know, tall is the height when it comes to the decorations of the round Entryway Table. Arrange seasonal flowers with faux or fresh ones to involve the seasonal bloom. It has its way of refreshing by adding a pop-up color with freshness to your entryway.
12. Mirrored Tray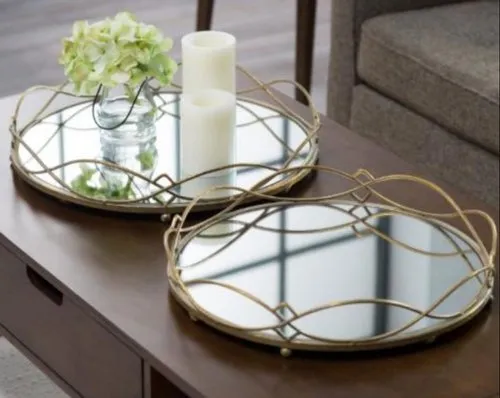 This is a unique way of decorating to produce positive energy. The mirror tray placed in the center of your table with small decor items or candles is a visual treat to your entrance. It produces a touch of elegance by reflecting the light.
13. Light And Color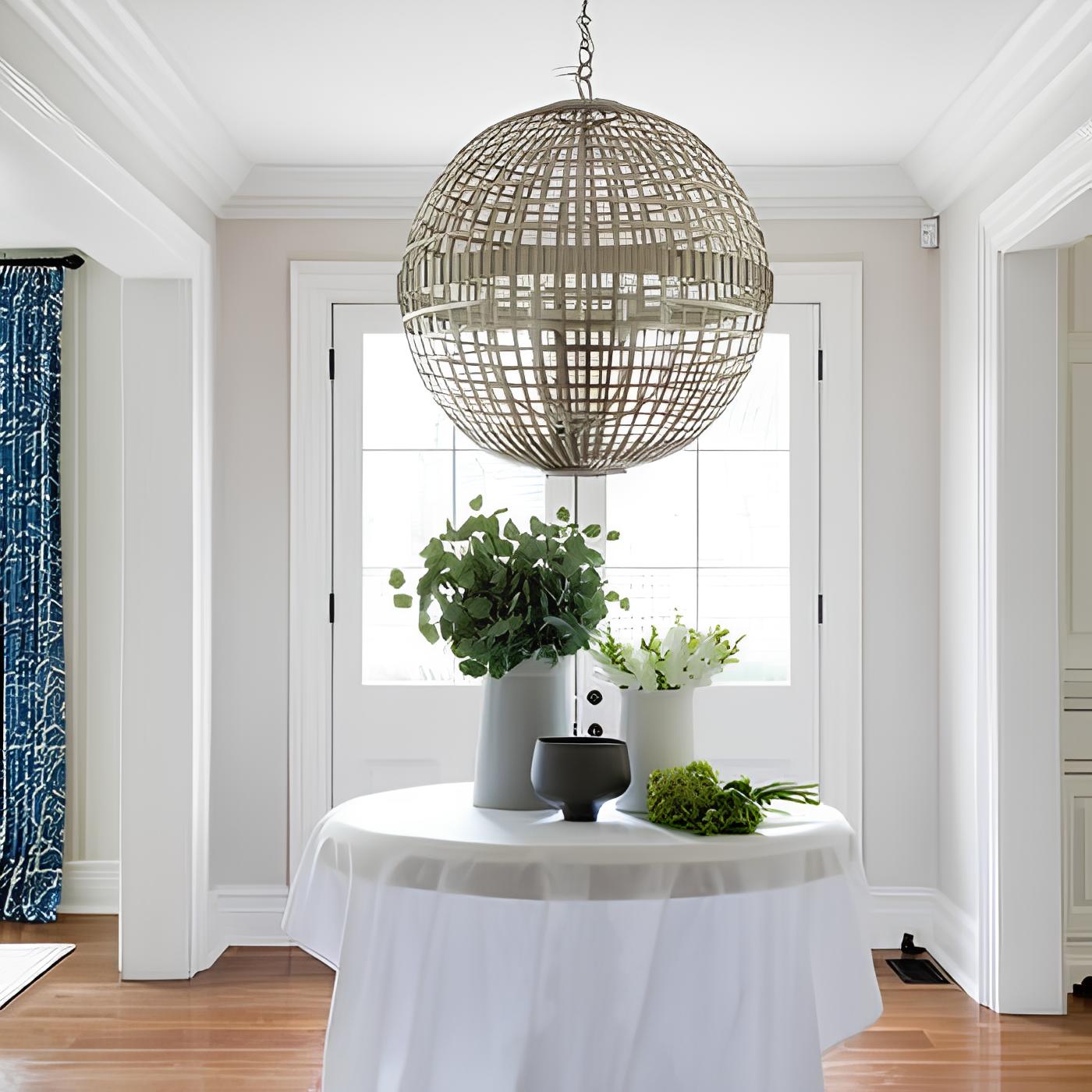 The lighting and color combination of the room and the decors should get along well for the success of your entryway appearance. The table should get the proper sunlight or suitable lighting to showcase your style of the entryway.
Conclusion
Entryway is the first appearance of your house to set you in a better and more relaxed mind. There are endless possibilities to create a visual treat for your guests by arranging the round Entryway table. It starts with choosing your table by color and size options with varieties of models.
Never forget to give the lighting for the entry to the house to add more positivity and rich brightness.
You might have mastered the art of styling your entryway round table by now, right? Remember to maintain a balance with the proportion of your entrance and arrangements to take transformation, which is so captivating and inviting. And comment below to share your favorite style from the above ideas.