Are you missing the exciting and memorable decades of the 1980s? Well, a sure shot way to take yourself back to those vibrant-lit dance floors and cutting-edge fashion of the 1980s is to dress up like that era.
If you are worried and think that wearing 80s dresses in 2023 would be too mainstream – let us tell you that it is just in your mind. You can wear these clothes to a costume party, Halloween, or just when you want to add retro charm to your day. And even if you wish to wear it to any special occasion – go for it as old is new gold!
How would you get a dress from the 80s? Ta Da! You can make it all by yourself without a time machine or big money. This blog has 16 awesome last-minute DIY 80s costume ideas that are perfect for all ages. We have you covered whether you are a kid of the 1980s trying to relive your adolescence or a member of a newer generation eager to embrace the lively spirit of that era.
Quick DIY Costume Ideas From The 80s
Fashion started evolving in 1980, which is why there is something unique about this year. The clothing styles during that era were not just different but paved the way for people to experiment and shine. To take you back, below are some easy-to-assemble costume ideas that can be made using things you already own or can readily acquire at resale shops or in your storeroom. So, let's dig in and discover the rad outfits, striking hues, and utterly tubular style that made the 1980s so memorable!
1. The Rock Star Look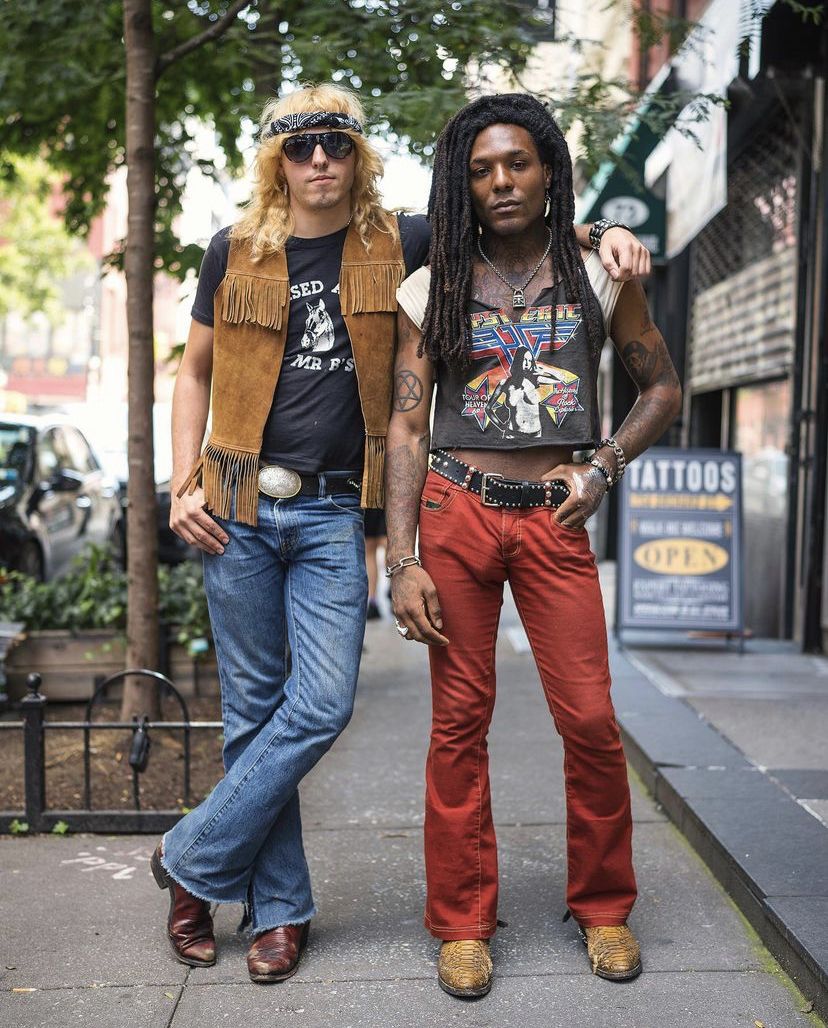 The rock genre emerged, especially in the 80s. This decade was marked as the epitome of being cool and rebellious. If you are looking for a punk and want that rock star vibe – it is best to dress up in this theme. But how? Begin by wearing black leather leggings or pants, a band t-shirt, and a studded or leather jacket. It will surely give you an amazing classic look!
You can even add fingerless gloves, aviator shades, and a microphone prop to finish the look. Use dramatic, bold makeup like smokey eyes and black lipstick for more flare. Now what about the hair? Rock star hairstyles frequently included long, unruly hair or teased voluminous hair. With this, let your inner rock star emerge as you flaunt your skills with assurance, attitude, and a hint of rock and roll swagger.
2. Be a Workout Guru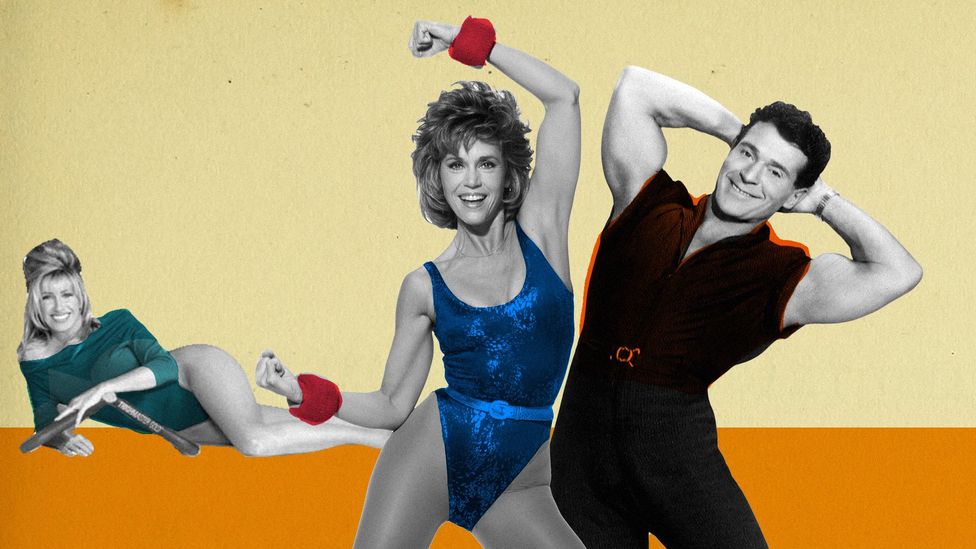 Do you wish to wear a costume that screams energy and fitness? What's better than being a workout guru from the 80s? Start with a vibrant leotard or spandex leggings paired with a colorful, oversized sweatshirt. Grab a headband, high-top sneakers, and leg warmers from your wardrobe and complete the look.
Don't forget the accessories too! Wristbands, sweatbands, and a fanny pack would best hold your essentials. Put your hair up to a side or tie a high ponytail. If you love makeup, go with a bright eyeshadow for an added splash of color. Now you are all set to take charge of the dance floor in this exercise guru costume. It will surely motivate people to start moving and have a good time.
3. Punk Rocker Style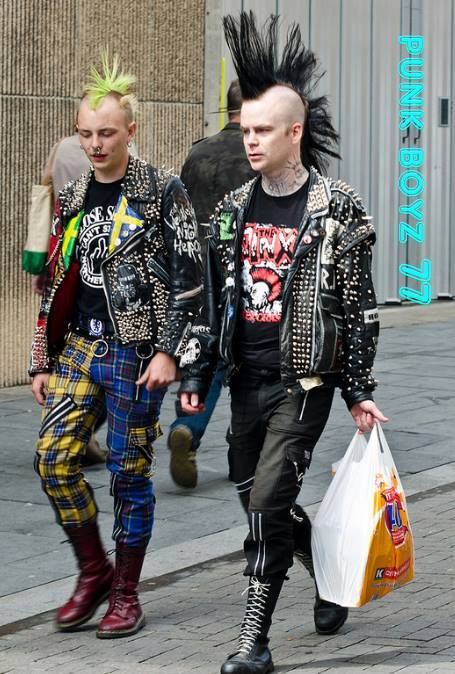 One of the most loved and easy DIY 80s costume ideas is to dress up with a punk rocker style. This costume will rock the 80s with originality, attitude, and a combative spirit. All you have to do is start with a band t-shirt, tattered jeans, or fishnet stockings. We are sure you have that in your closet. Now add a denim or leather jacket with patched and safety pins on top.
Combat boots and spiky accessories can finish the outfit. Females can apply thick black eyeliner and arrange their hair untamably for a finishing touch. On the other hand, males can go with a spike hairstyle. Don't be scared to express yourself audaciously by wearing bold temporary tattoos or coloring your hair. No matter your age, being a punk rocker will always suit you!
Sale
Hotoyannia 72 Sheets Tiny Temporary Tattoos Stickers, Fake Tattoos That Look Real And Last Long, Halloween Tattoos Include Black Scary Wolf Lion Tiger Skeleton Skull Tattoos
SIZE - 72 sheets temporary tattoos, 350+ beautiful designs, size is 4.1*2.4 inch (10.5*6cm). Shimmering long lasting temptation, great as accessories, party favors.
PREMIUM QUALITY - The fake tattoos will last several days. They are close to the real tattoo, you can choose the pattern you like to paste on your body, they can show your personality and express your ideas. Perfect for men, women, girls, boys of all ages to get noticed wherever you are.
QUICK & EASY TO APPLY - Remove clear film, Apply tattoo on clean dry skin, dab tattoo with damp paper towel, remove paper, let tattoo dry. It's that simple!
WATERPROOF & NON-TOXIC - NON-TOXIC temporary tattoos passed FDA, healthy, meet rigid safety and environmental materials standard. Safe for kids, Waterproof and sweat-resistant.
SUMMER & HALLOWEEN NECESSARY - Show off your tattoos anywhere!! Like arms, wrists, fingers, ankle, neck, shoulder, feet, legs ! You can stick the tattoo to different parts of your body, They are also great for party, wedding, holiday, festivals, pool, traveling and so on.
4. Valley Girl Persona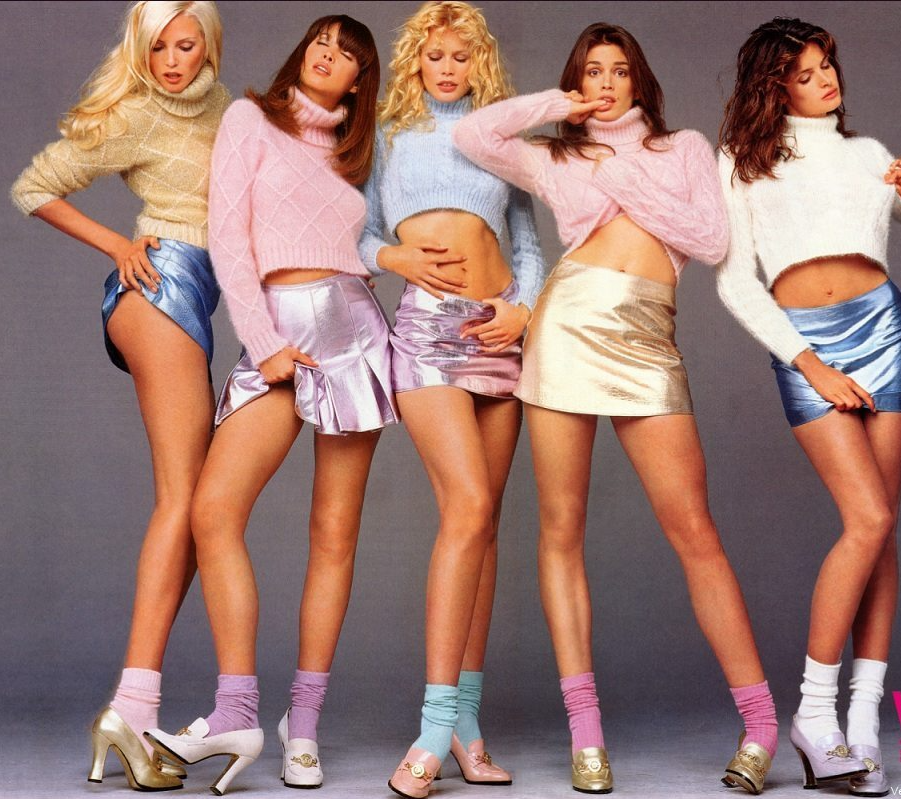 This style is just for females! Yes, you heard it right. So, if you are a female – we recommend you take on the classic Valley girl image. Dressing up in this outfit epitomizes the style and attitude of the 1980s. Dress in a showy, colorful dress with shoulder pads, high heels, and opulent jewelry. Don't forget to carry a striking purse and a pair of oversized sunglasses.
Make your hair into high, teased ponytails or abundant curls. For an added 80s touch, carry a big phone or a Walkman. You may quickly get these at any antique store. With this style, you will be ready to hit the mall and rule the 80s with your fabulousness.
VANLINKER Polarized Small Trendy Skinny Cat Eye Sunglasses Women Colorful Y2k Party Shade Yellow Tinted Lens
☘【POLARIZED LENSES,SEE THE WORLD IN ITS TRUE COLORS】:Not like other similar skinny cat eye sunglasses, our lenses are POLARIZED, which offer TRUE COLOR PERCEPTION because of the neutral color coating and CLEAR VISION by eliminating reflected and scattered light. Therefore you will be able to enjoy the sunglasses during all outdoor activities, shopping, traveling or any water sport as well
☘【HIGH QUALITY AND SKIN-FRIENDLY MATERIALS】:These trendy cat eye sunglasses are made of high-quality acetate frame ,which is better than ordinary plastic,it's super lightweight and durable.You can wear it for long time without fatigue
☘【SUPER TRENDY STYLE】: Vintage narrow cat eye sunglasses design,show your unique and personality.It's suitable for women in most occasions,like shopping,parties,traveling,a must have for your daily wardrobe
☘【PRODUCT DIMENSION】: Lens Width: 51mm(1.97inches) | Lens Height: 30mm(1.18inches) | Temple Length: 146mm(5.75inches) | Nose Bridge: 21mm(0.83inches).There may be 1-3 mm deviations by manual measurement
☘【EXCELLENT GIFT CHOICE】: Sunglasses*1, microfiber pouch*1, microfiber cleaning cloth*1, glasses box*1. It's a great inexpensive gift for your family and friends who loves the sunshine
5. Rubik Cube's Outfit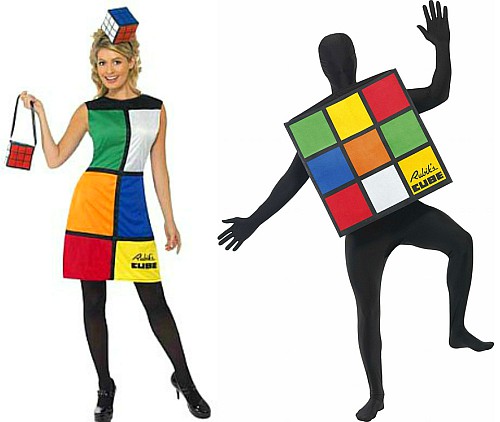 Would you like to enter a world of classic puzzle-solving? If yes, it is best to go with a Rubik Cube-inspired outfit! Believe us; it is guaranteed to draw attention. Begin by putting on a cube-shaped suit or glue construction paper squares of various colors to a box to transform yourself into a life-sized Rubik's cube.
You can add a headband or cap featuring the same pattern to finish the outfit. In addition to paying tribute to a well-known toy from the 1980s, this eye-catching outfit also encourages interaction. Rubik's Cube is a never forgotten game of the 80s, and wearing this DIY outfit will definitely flood nostalgia and appreciation.
6. Become A Pop Icon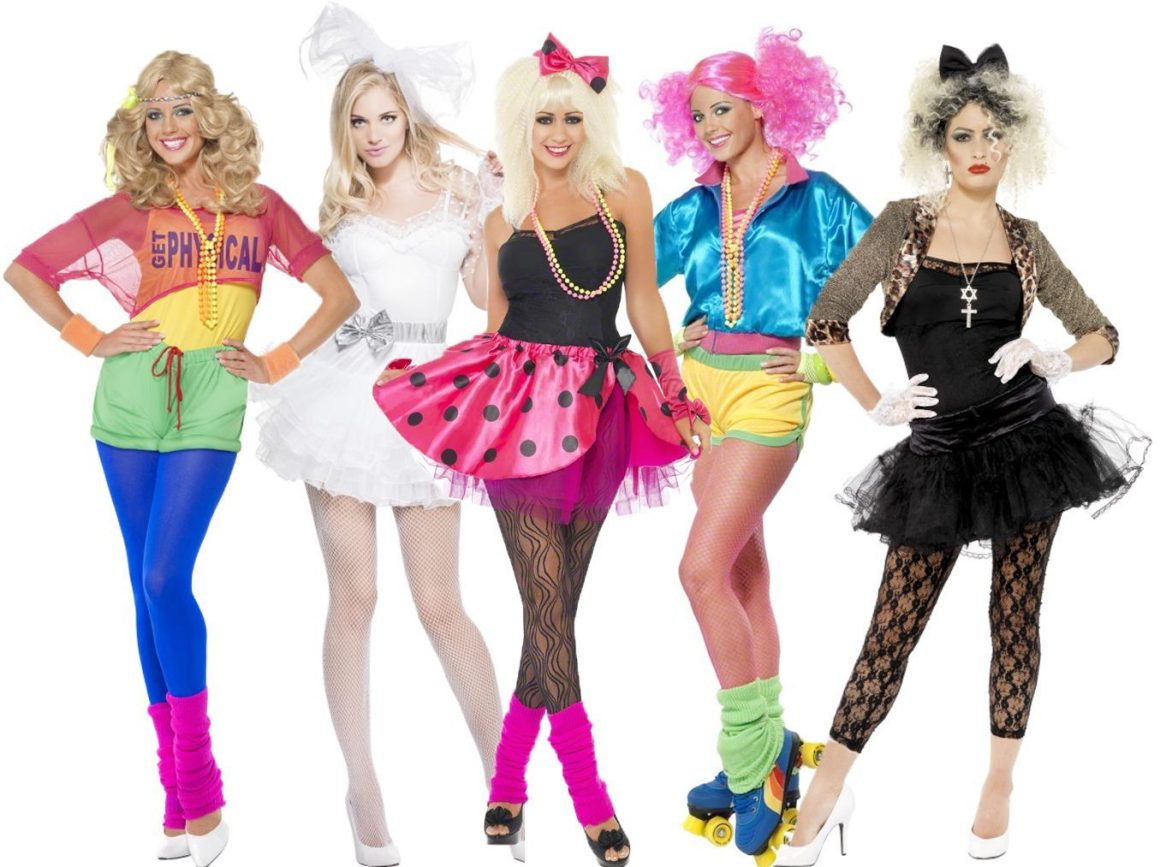 Who doesn't love the pop music of the 80s? It was the best thing about the 1980s. Various artists emerged and brought their unique style to the forefront. How about imitating renowned performers like Madonna, Michael Jackson, or Cyndi Lauper? For instance, you can put on a fedora hat, a white glove, and a black leather jacket for Michael Jackson.
If you plan to imitate Madonna, lace tops, layered jewelry, and a confident demeanor are essential. Similarly, neon hues, elaborate patterns, and huge accessories are all included in Cyndi Lauper's bright and eccentric clothing. This way, you can recreate your favorite pop icon's characteristic look, including their wardrobe, haircut, and cosmetics. This particular 80s costume idea is ideal for lighting up the stage and channeling the vibe.
7. Dress Like An Aerobic Instructor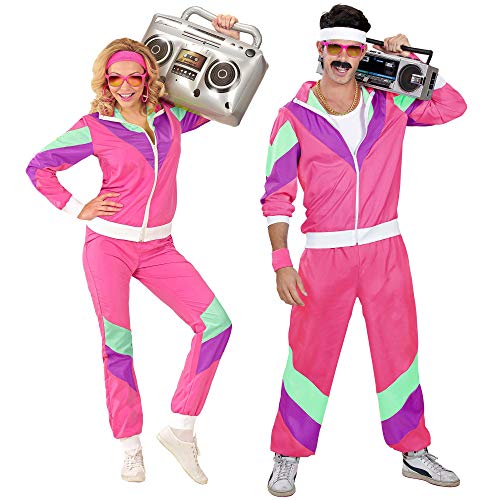 An aerobic instructor costume that radiates pleasure and fitness will help you get in the mood to work up a sweat. Also, it shall appreciate the vivid spirit of the 1980s. To carry this look, wear a leotard or sweater with the sleeves cut off and a pair of vibrantly colored leggings, pants, or spandex. Add leg warmers, sweatbands, and high-top sneakers to complete the ensemble.
Do you have a Walkman or a tape player? Keep the rhythms flowing by carrying them too! By taking this style, you will be all set to lead the dance floor and inspire people to move and sway to the beat.
8. Be A Cyborg Or Robot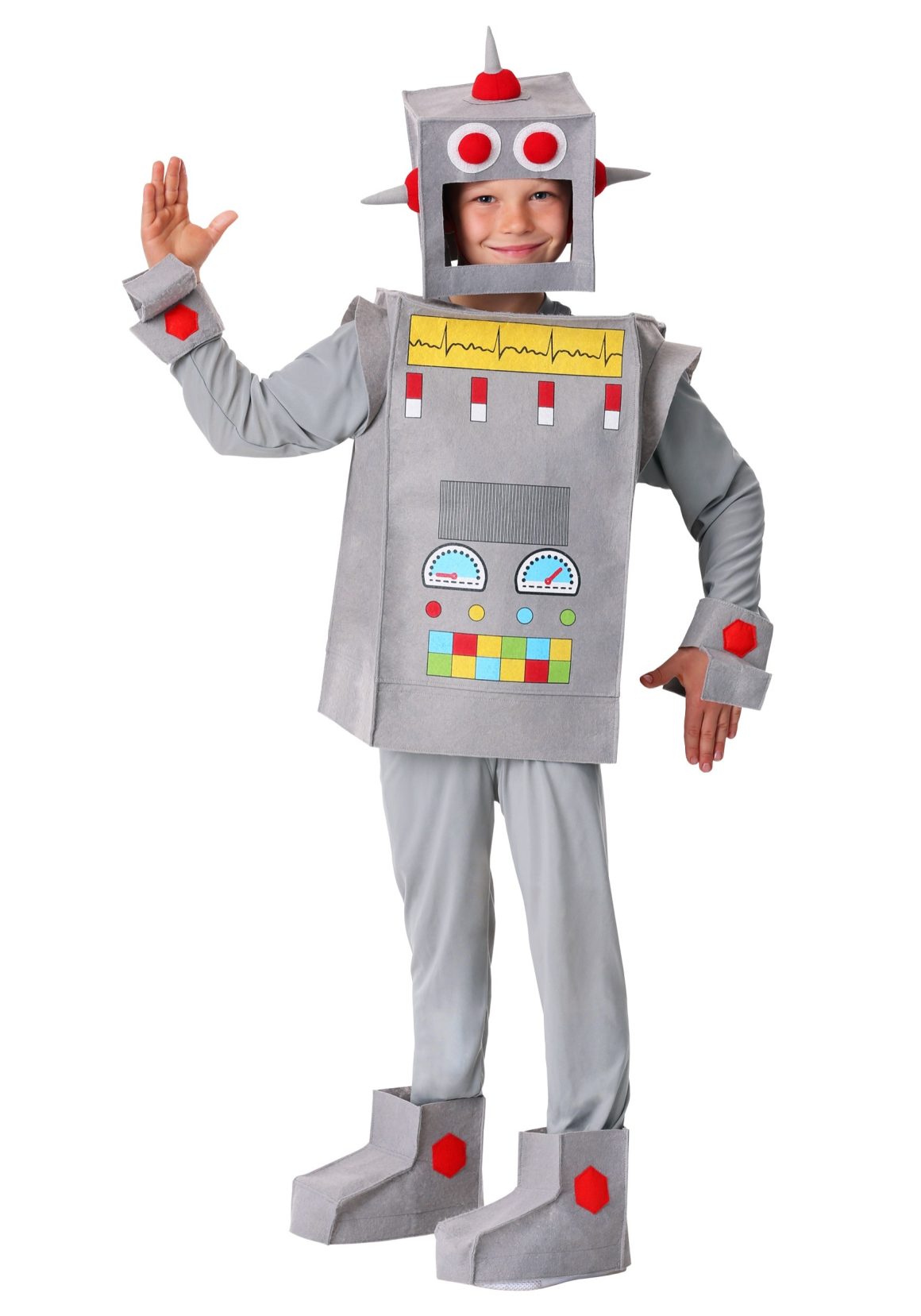 If you want to take advantage of the 80s fascination with the future, there is nothing better than dressing as a robot or cyborg. As a foundation of your ensemble, start with a metallic or silver bodysuit to depict the robotic exterior. Since we are discussing DIY, you can pair a silver jacket with silver pants and boots for a robotic look. Or else, you can even paint a box with a robotic design and wear it to showcase the same.
LED lights, circuit-like patterns, or illuminating accents can improve the appearance. You can also include robotic extras like leg armor, arm gauntlets, and a futuristic helmet. How about adding mechanical parts? That is, too, going to look amazing! Robotic makeup on the face will enhance the entire look. So, go for it as well!
Sale
100FT Smart LED Strip Lights (2 Rolls of 50ft), RGB Strip Lights Sync to Music with 40 Key Remote Controller LED Lights for Bedroom,Christmas Lights decration (Multi-Colored, 100FT)
DIMMABLE LED STRIPS:This 50FT RGB Led strip lights with dimmer and brightness controls.a variety of colors and brightness can be changed simultaneously with frequency changes. The music strip light is Dimmable,you can dim it to 25%-100% bright by the remote controller.
LIGHTS MUSIC MODE:Music LED Strip lights built-in high music sensitivity adjustment,the lights colors will change to follow the rhythm or melody.It have 4 types of music models.3/7 color jump or Fade, speed can be adjustment.If you love music,this light strip decoration gives you a different atmosphere.led light non waterproof,it is recommended for indoor use.It is a great gift for your family and friends.
COLORFUL CHANGING:RGB(Red Green Blue) Led Strip Light with 40 key IR remote controller brightness adjustment colors jump changing and gradual changing Sync with Music rhythm make for bedroom,party,The music strip light color changing Make your life more comfortable.
EASY TO INSTALL: Led strip lights is cuttable between. You can cut off extra strips to adjust to a proper length. 3M self-adhesive can be fit on any dry and flat surface.Non-Waterproof
SATISFACTION WARRANTY:We promise you the quality of our RGB light strip and 24hours quick reply. Any problems please feel free to contact us.
9. Dress Like Care Bears
Are you wondering about dressing up cute and peppy? With a care bears-inspired costume, you can transport yourself to a world of companionship and love. Also, it will surely capture the sweetness and nostalgia of the 1980s. Girls can wear a frock with a care-bears pattern or a soft, pastel-colored onesie. Similarly, boys can wear any outfit that meets the care bears theme.
Try including fluffy white accessories like headbands, leg warmers, and faux fur ears. You can even paint a heart-shaped design on your cheek to complete this 80s costume idea. Don't forget to pack a gentle care bear as your faithful companion. With this theme, you will spread happiness wherever you go and inspire everyone to be kind and compassionate.
10. New Wave Fun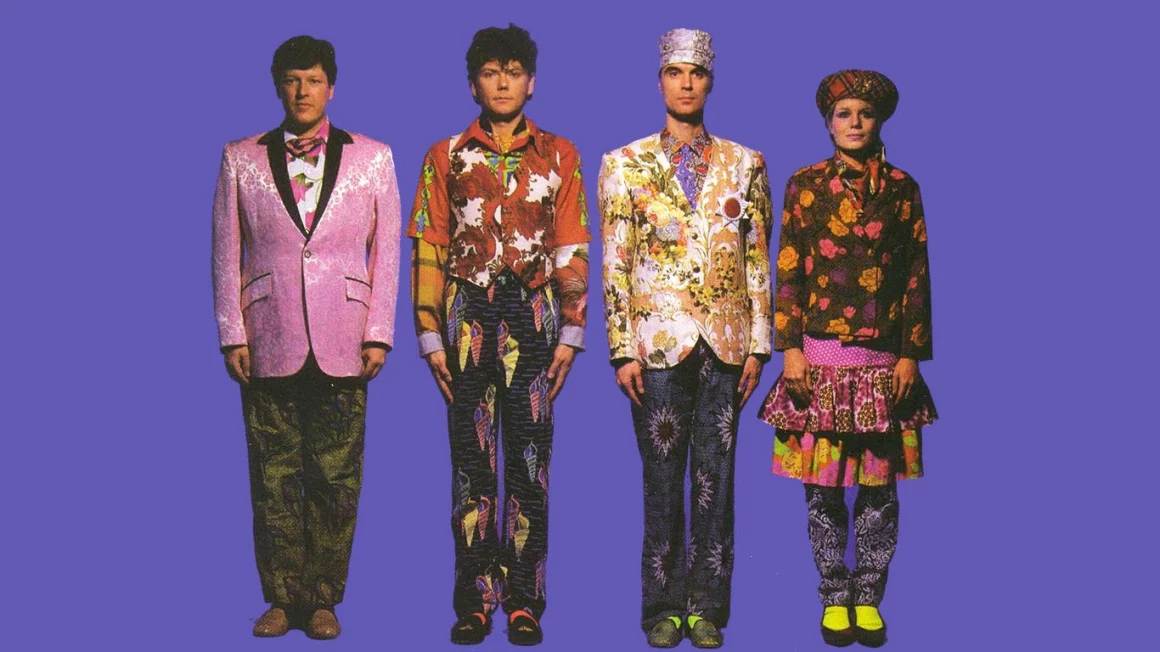 As mentioned above, the 80s was the pioneer of fashion. You can embrace the decade's various fashion and alternative music to keep that alive. Do you have some edgy clothing in your wardrobe? If yes, get that out to showcase the eccentric components of the New wave. Consider wearing leather jackets embellished with pins and buttons, slim jeans, and a graphic t-shirt.
If you like accessories, include large sunglasses and bright bracelets. Try for intense makeup with vivid eyeshadow and black eyeliner as well. Both males and females can style their hair asymmetrically or teased. Bring up a cassette tape or a vinyl record to add even more nostalgia.
11. Prom King Or Queen Costume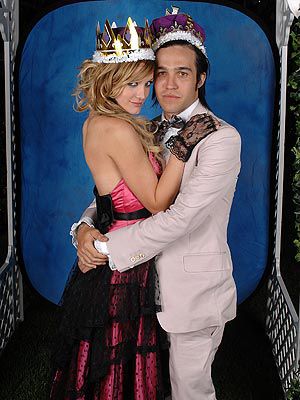 The prom king or queen costume oozes class and allure. Among all the 80s costume ideas, this one is totally recommended for its luxury and simplicity. Choose a handsome tuxedo with a fresh white shirt, a bow tie, and a cummerbund for the prom king. Remember, your shoes should have fine polish.
A stunning floor-length gown embellished with lace or sequins is ideal for the prom queen. Include sparkly extras like a corsage, spectacular jewelry, and a tiara. Hairstyle is the main here! Keep loose curls or tie a good bun for the complete look. With this style, you will be the center of attention while representing a time-honored high school custom.
12. DIY Hip Hop Dancer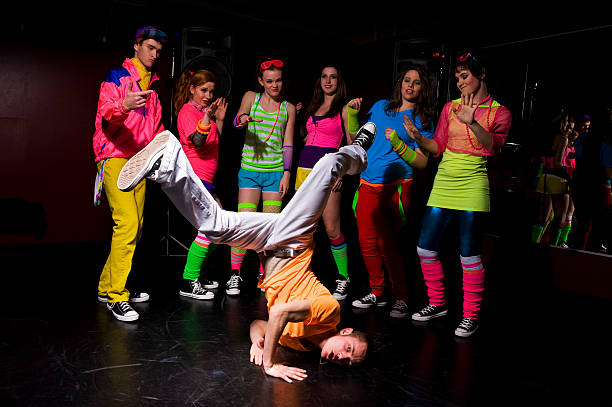 A hip-hop dancer costume displays flair and attitude. If you love dancing – this look is the best for you! Start by donning a baggy t-shirt, sweatshirt, and a pair of loose-fitting joggers or pants. Top it up with a leather or denim jacket for more style.
A thick gold chain, a pair of oversized sunglasses, and a snapback cap are essential accessories to carry this style. When it comes to hairstyle, don't forget to make an aggressive, urban-inspired one to complete the look. Above all, confidence is the key to bringing out the best of this costume. So, remember that too!
13. Video Game Character Costume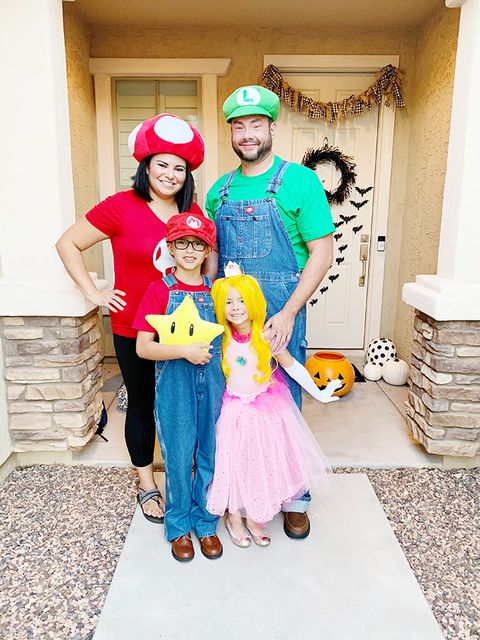 Game On! Yes, you can enter the digital world by dressing as your favorite video game character in a costume that honors the heyday of 80s gaming. Several alternatives include Mario, the Hedgehog, Sonic, and PacMan. Put on a character's distinctive attire, which includes a set of vibrant overalls, a red cap, and a bushy mustache for Mario. Sonic appearance can be made complete with swift blue sneakers and pointed ears.
Remember to accessorize with items like a gold ring or mushroom. This style will definitely take you to a world of gaming and liven up many memories.
14. Back To The Future Theme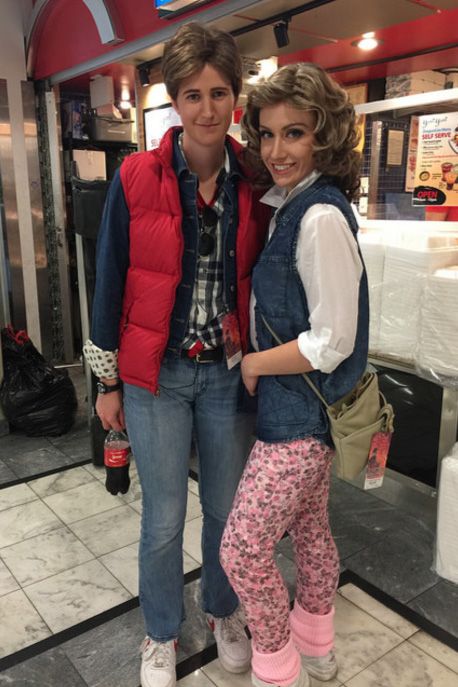 Are you ready to set out on a time-traveling adventure? With the Back to the Future outfit, you can capture the essence of this iconic 1980s movie. To wear this theme, wear a red puffer vest, faded trousers, a plaid shirt, and high-top sneakers to look like Marty McFly.
You can even add a skateboard or a fake hoverboard imitation to finish the effect. Alternately, don a lab coat, wild white hair, and safety goggles to become Doc Brown. Bring a model vehicle or a DeLorean keychain for a special touch. With this, you will harness the thrill of time travel by paying homage to the timeless classic chic!
15. Ghostbusters Costume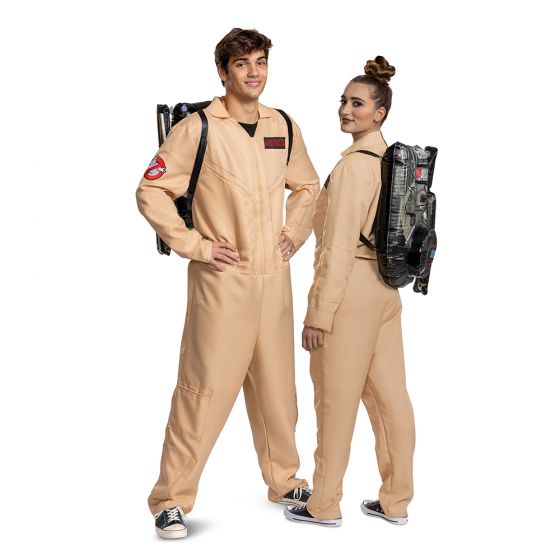 Get dressed in a Ghostbusters-inspired outfit to join the paranormal research team and channel your inner 80s nostalgia. Your outfit should start with a khaki jumpsuit or coveralls. Add a shoulder patch with the Ghostbusters emblem, or create a proton pack with cardboard and other crafting supplies.
Black boots and a ghost-catching prop will complete the outfit. So, wear these outfits, get equipped to combat any paranormal force, and end the world with a dash of 80s cool.
16. Pop Art Look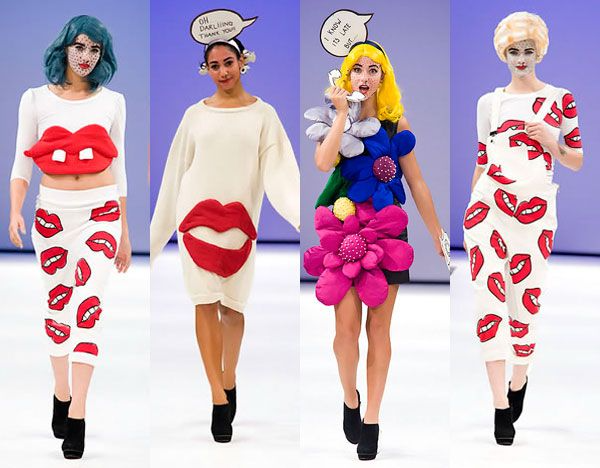 One more quick and easy DIY 80s costume idea for all ages is the Pop Art costume. With this enjoyable and imaginative ensemble, you can embrace the vibrant and bold aesthetic of the 1980s art movement. Use fabric markers or acrylic paint to add rich, comic book-style pop art graphics, such as speech bubbles, dots, and exaggerated features like bright red lips and thick eyebrows to a basic white t-shirt or dress.
This style involves creativity. So, if you can bring your imagination to reality – carry this costume and exude the creative energy of the 1980s.
Conclusion
The 1980s were a memorable decade noted for its unique cultural and fashion trends. These 16 last-minute DIY 80s costume ideas are sure to wow. There is everything for everyone to love!
Remember that embracing the vibrancy, color, and individualism that characterized the 1980s is the key to pulling off a killer 80s costume. Don't be hesitant to experiment with accessories, haircuts, and cosmetics to capture the essence of the 1980s adequately. Take an exciting journey by donning your leg warmers, teasing your hair, and dancing the night away.
Frequently Asked Questions
Are 80s Costumes Suitable for People of All Ages?
Yes, individuals of all ages may enjoy wearing 80s costumes. Different age groups can adopt a wide range of fashion and cultural trends that can be customized as per age.
Where Can I Find Ideas for Homemade 80s Costumes?
You may peruse through 80s fashion publications, view 80s films or TV shows, or search for photos and videos of well-known performers and artists. Online resources dedicated to clothing may also provide valuable information.