Pillow arrangements instantly elevate the visual appeal of the bed by adding layers, depth, and texture to the bed. A well-curated pillow arrangement can transform your bedroom into a paradise of style, comfort, and luxury.
From a romantic setup to a seasonal oasis, you can turn your king-size bed into anything you want just by changing the pillow arrangement. In this captivating blog, we will dive into some simple yet stunning pillow arrangements for your king-size bed.
From alluring decorative pillows that depict your personality to standard pillows for a comfortable sleep, we will guide you through a variety of assortments.
Reimagine your bedroom!
Types of Pillows Used in Pillow Arrangements
Before getting into pillow arrangement ideas, let's have a look at different types of pillows used in king-size bed pillow arrangements. Each pillow has its own importance and contribution to the comfort and aesthetics of the bed.
1. Euro Pillow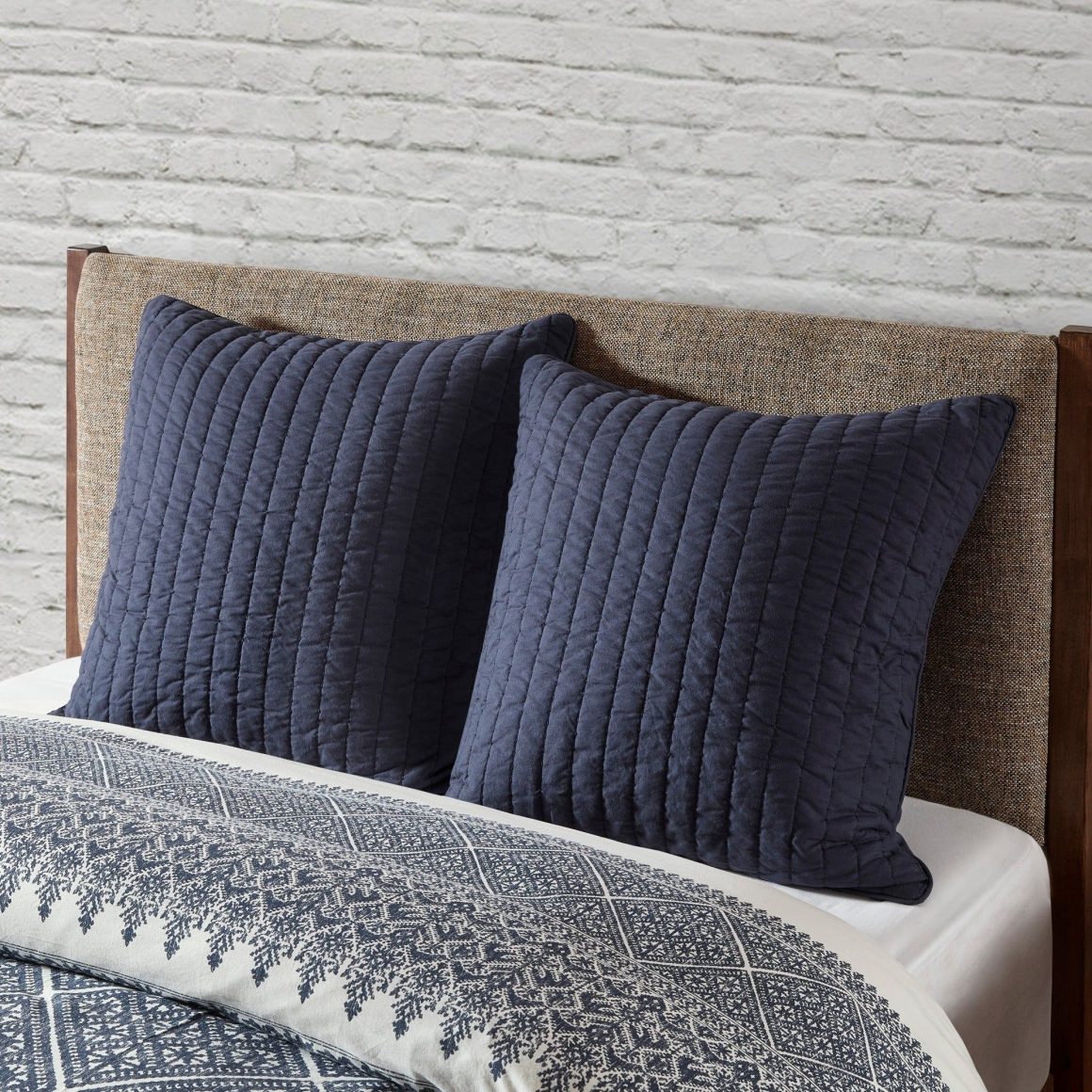 Also known as a European pillow is a large square-size pillow that usually comes in 26 x 26 inches. These are used against the headboard to provide a plush and luxurious look to the bed. They are usually available in small sizes with 18 x 18 and 16×16 dimensions, which can be used while layering the pillows.
2. King – Size Pillow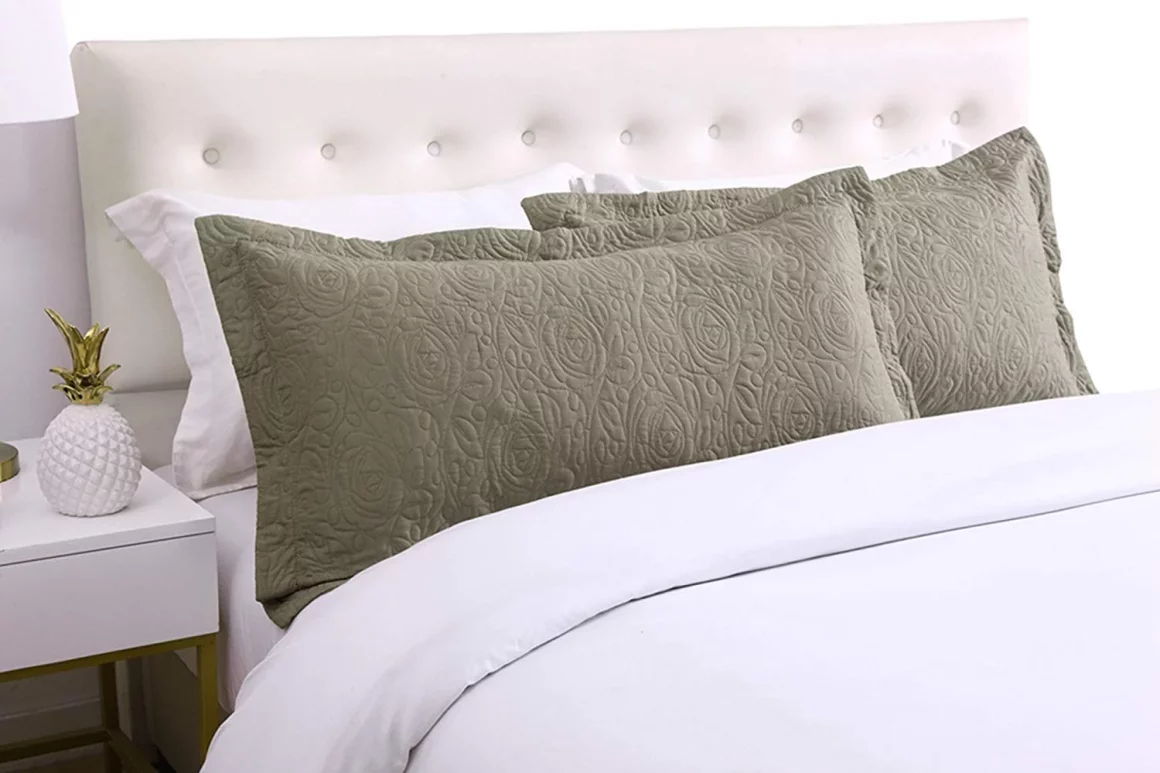 King-size pillows are sleeping pillows primarily used in king-size beds with dimensions 20 x 36 inches. They are meant to provide a wider sleeping surface and extra support.
3. Standard Pillow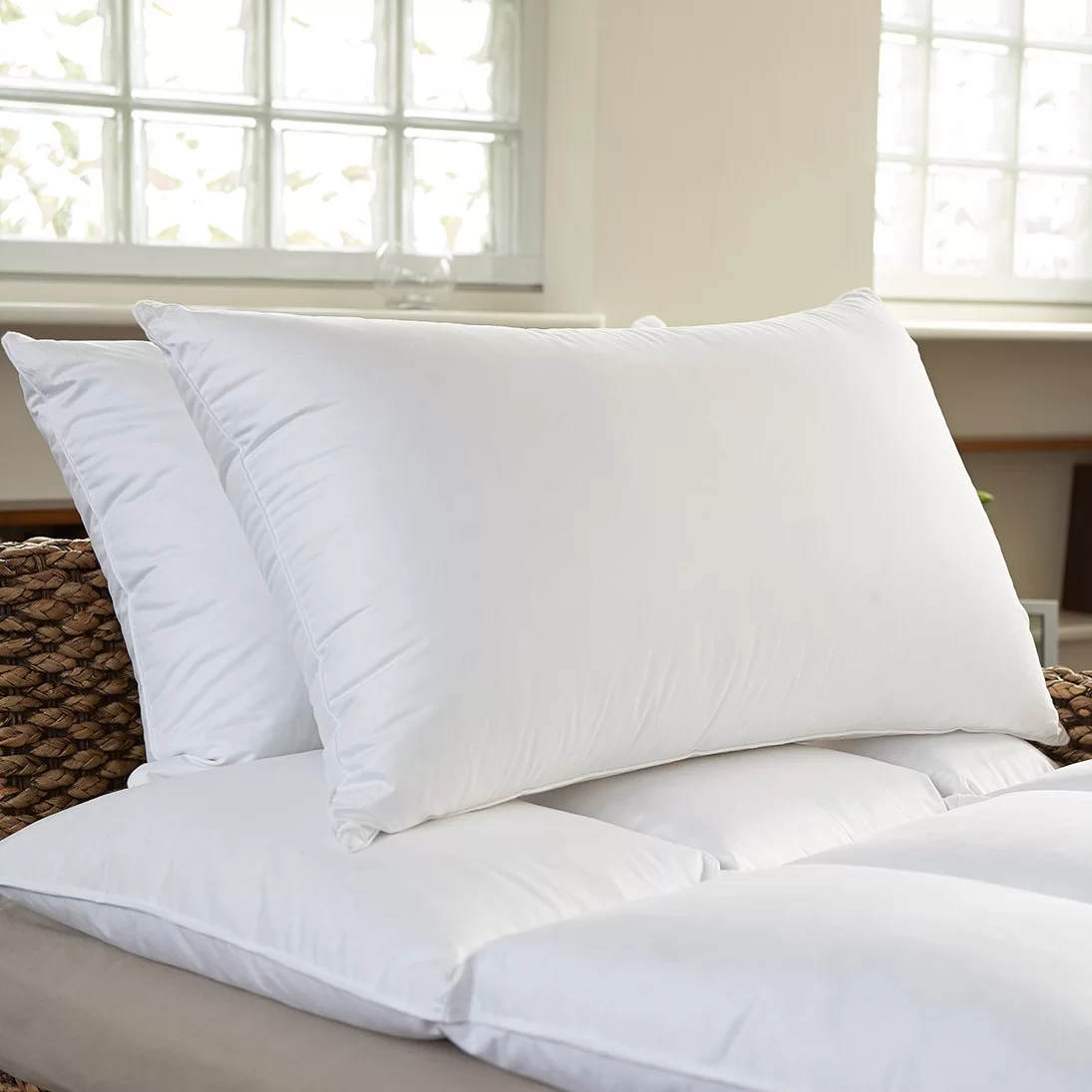 Standard pillows are rectangular pillows that come in 20 x 26 inches. These are a very important part of a comfortable sleeping arrangement as they provide support to the neck and shoulder. Most people usually prefer these standard pillows for undisturbed sleep.
4. Decorative Pillow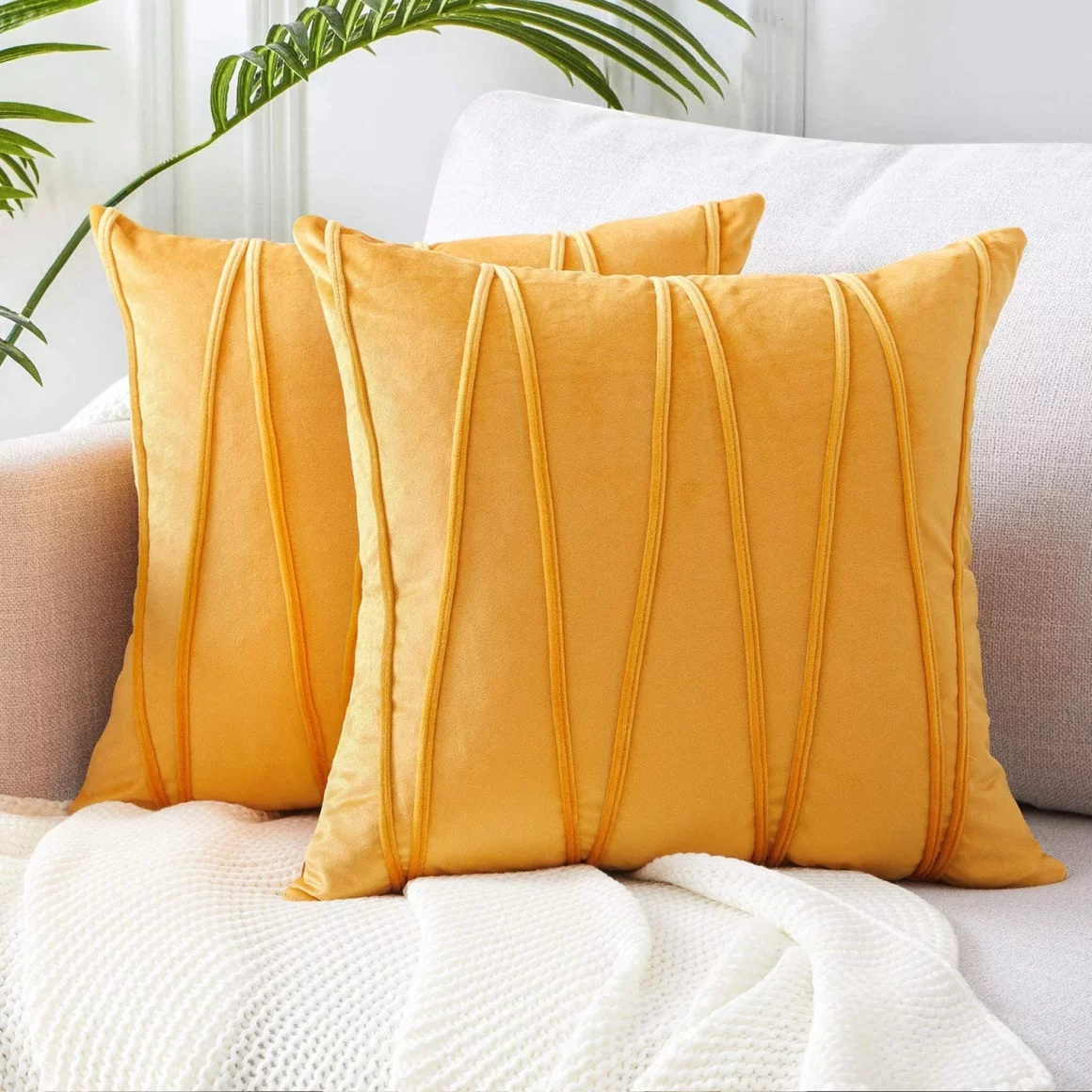 Decorative pillows come in various sizes, shapes, and textures; these are usually used to enhance the overall aesthetics of the bedroom. There are options for embellishments like embroidery, buttons, sequins, etc.
5. Accent Pillow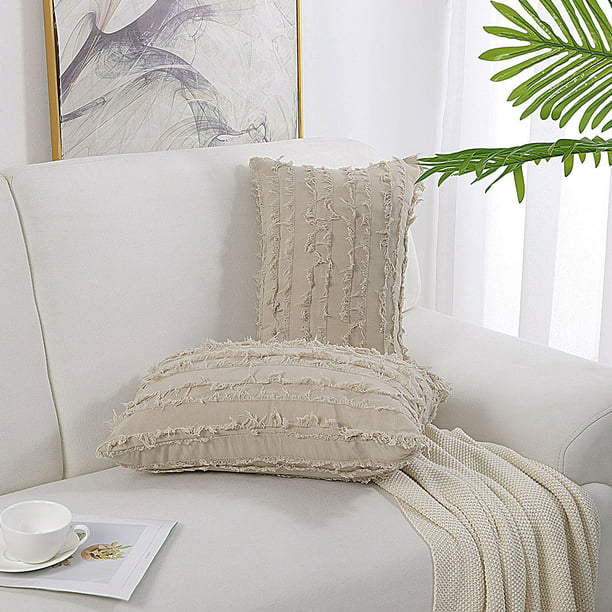 Accent pillows are smaller decorative pillows; they add a pop of color and texture to the bed or to the seating area. These are used to finish the look and improve the ambiance by adding a little style and elegance to the room.
6. Lumbar Pillow
A lumbar pillow is a long narrow pillow that adds a statement to the arrangement. They are also good for people with lower back pain; it is used in both bed and chairs for extra support to the lower back.
Let's see how to use these different types of pillows for unique and beautiful pillow arrangements for your king-size bed.
Simple Pillow Arrangements for King-Size Bed
1. Crisp & Classic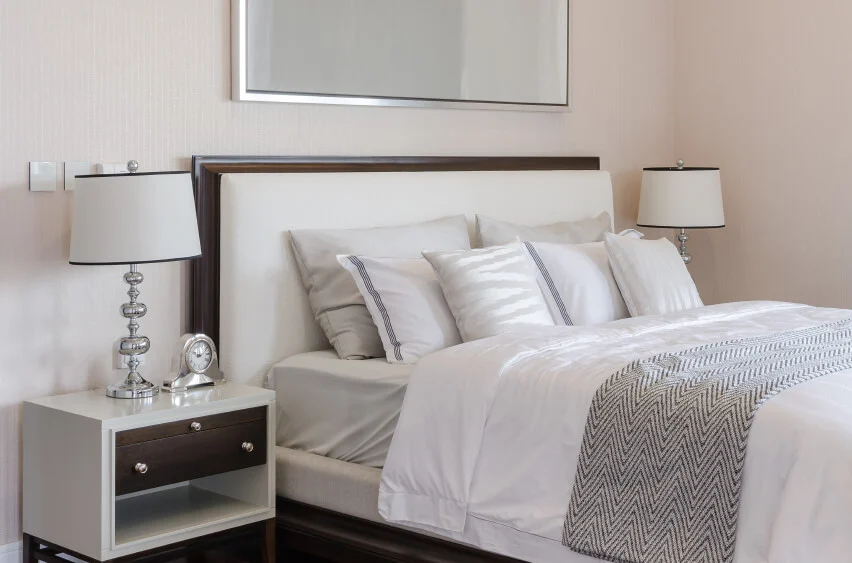 The crisp and classic pillow arrangement with hues and beiges will make your king-size bed look more elegant and welcoming. Start by adding two-euro pillows, then add 2 king- size pillows with hue shams and a couple of decorative pillows to add visual interest and add a throw pillow of different shapes and patterns. Use hue and beige colored shams for the pillows for a very warm and comforting vibe.
To create a cleaner and more tailored look, fluff the pillows before arranging them.
2. The Gold & Ivory Scheme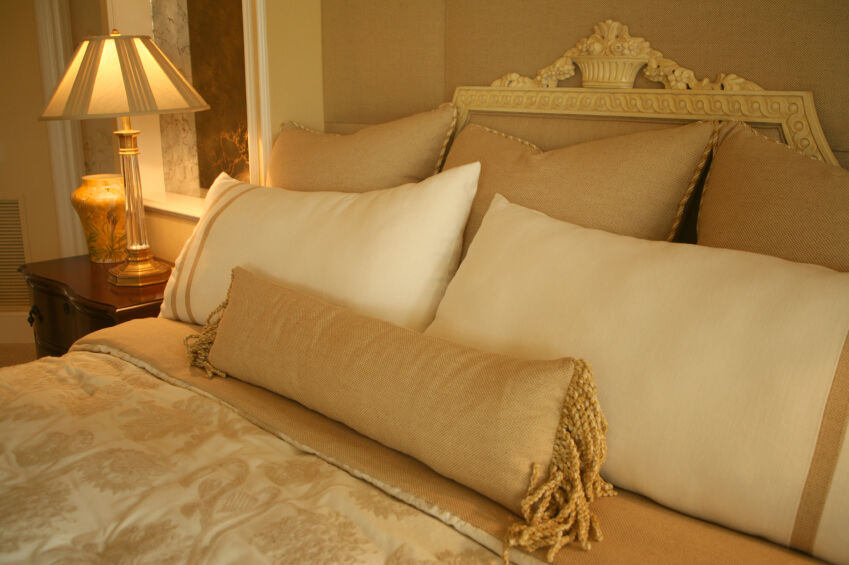 Gold & Ivory schemes add elegance and sophistication to the room. Place 2 large Euro pillows with gold-colored shams against the headboard, let them overlap a little to create a puffy look, and add 2 king-size pillows with ivory shams. Layer up the arrangement with large gold sham lumber, which you can remove while sleeping. To match the arrangement, use beige-colored sheets.
To make the colors pop up and for a warmer and more royal look, add yellow-colored side lamps, which complement the gold & ivory scheme.
3. Layered Arrangement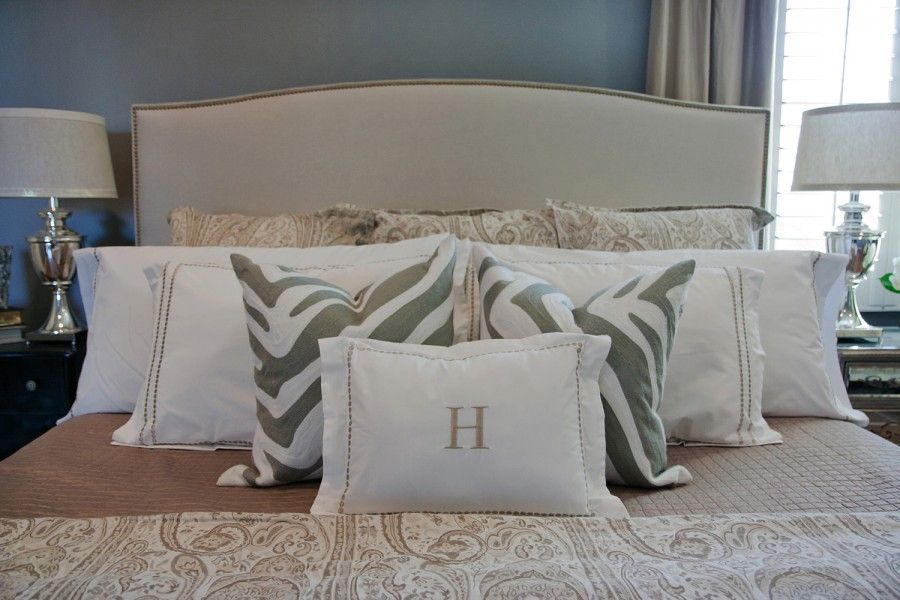 Layered arrangements can create a luxurious and visually appealing look. Start by adding 2 large king-size pillows against the headboard, add 2-euro pillows, take 2 standard pillows, and arrange them horizontally or overlap diagonally, to add visual interest; add textured decorative pillows and a small lumbar pillow to finish the look. If you are using light colors, add a solid-colored complementing bedspread.
There isn't any written way to do it; you can experiment with different colors, shapes, and patterns that match the interior of the room.
4. The Peacock Blues and White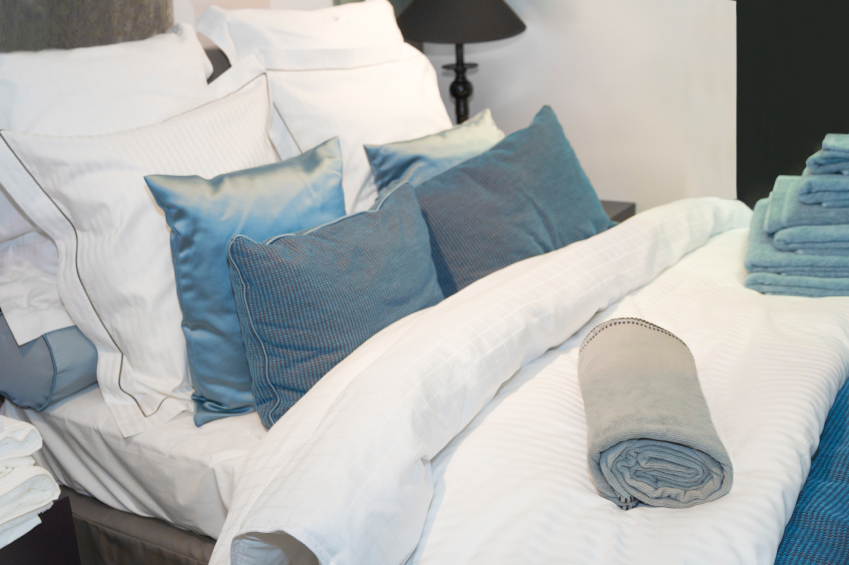 Peacock blue and white creates a stunning and vibrant look for your king-size bed. Take 2 king-size white pillows and rest them against the headboard. Add 3 small euro pillows in peacock blue shams and place them against king-size pillows. To create a layered effect, add decorative pillows of the same color and finish the look with a small standard pillow. To break the color, use white colored sheets and bedspread.
For a more welcoming and plusher look, do not forget to fluff the pillows.
5. Stack & Scatter
Stack & Scatter pillow arrangement gives your king-size bed a natural and fun look. Start by stacking king-size pillows, then rest euro pillows against them diagonally to add variation in height. Place standard pillows of a contrast-colored sham to further enhance the layered look. To finish the arrangement, scatter around some decorative pillows of various shapes, colors, and patterns.
Feel free to experiment with the textures and colors depending on the aesthetics of the room.
6. Textured Pillow Shams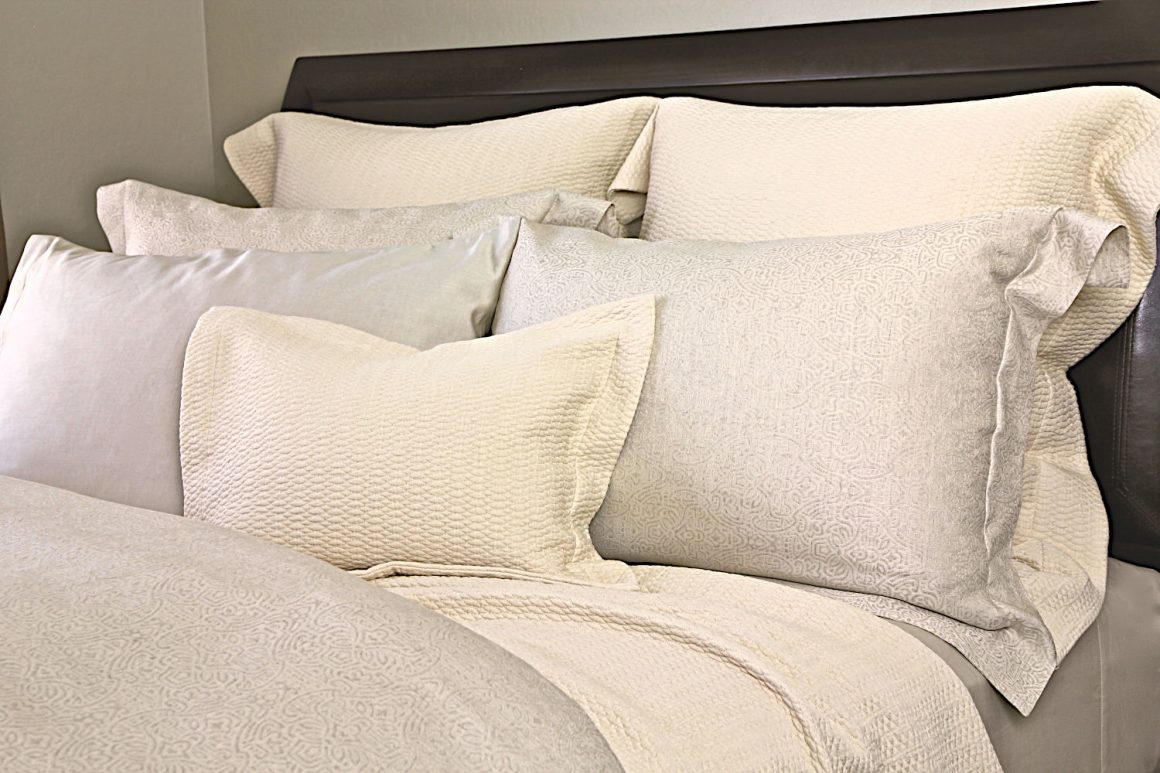 Textured pillows add visual interest, style, and comfort to your king-size bed. Add king-size pillows with textured shams in subtle colors, followed by small euro pillows with medium texture and colors that complement. You can add decorative pillows that come in different textures, shapes, and patterns. To add depth and layer, add a lumbar pillow with hand-woven shams.
Various textured shams like fur, velvet, woolen, hand-woven thread works, etc. add an aesthetically pleasing vibe to the bed.
7. Striped Pillows
Striped pillows add a bold statement and a very stylish modern look to your king-size bed. Start by arranging 2 large Euro pillows with textured striped shams, and add a layer of solid white-colored king-size pillows. A few accents striped pillows for more depth and layers.
Striped pillow shams are available in a wide range of textures to add personality. Go for black and white if not, you can always experiment with colors based on the aesthetics of the room.
8. Minimal with Lumbar Pillow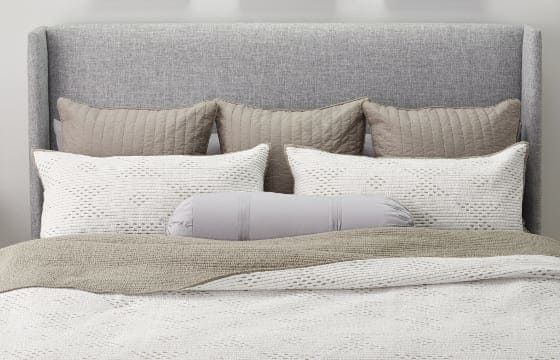 Minimalism can never go wrong; a king size bed with minimal pillow arrangements adds a touch of class and elegance. All you have to do is add two king-size pillows against the headboard and overlap a little at the edge to add depth. Layer them with diagonally placed small euro pillows of the same color, and then add a contrast-colored lumbar pillow. If the pillowcase is hand-woven, it will act as a focal point.
For a richer and more tailored look, fluff the pillows while setting the bed.
9. Bohemian Style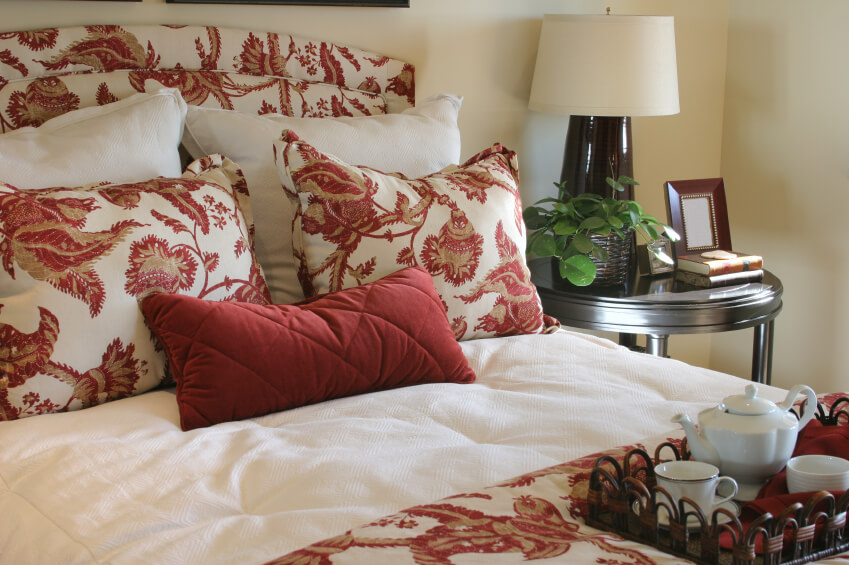 Bohemian-style pillow arrangement infuses a relaxed and eclectic vibe to the room. The bohemian is all about the textures, colors, and patterns. Start with the sleeping pillows, opt for solid neutral colors, and throw in some decorative pillows of various sizes, shapes, and patterns. Add textured lumbar pillows for an intriguing look.
Choose vibrant boho-inspired prints, floral prints, or tribal motifs, and mix and match the color's vibe with the interior of the bedroom. You can also go for embroidery shams and global prints and try to overlap for the strong boho effect.
Boho's arrangement is all about depicting the free-spirited personality. This style gives space to experiment with colors and patterns.
10. The Rustic Style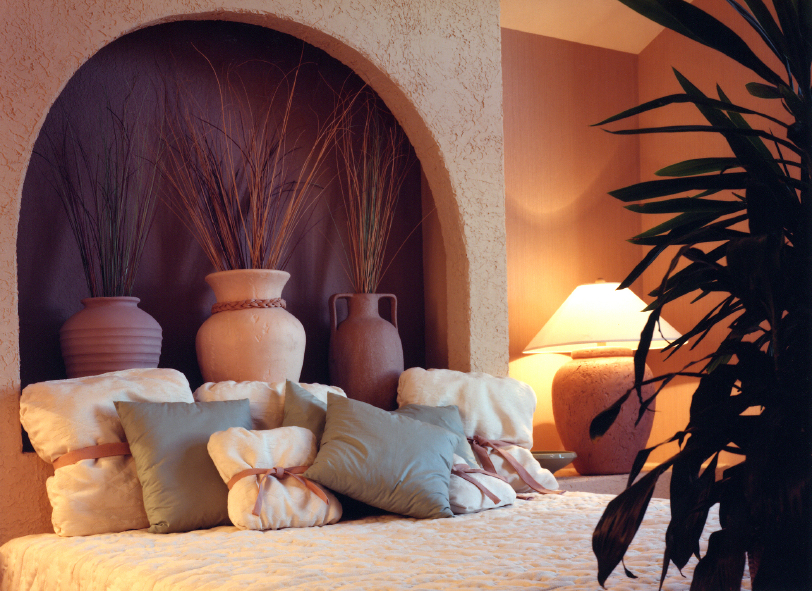 A rustic look adds a cozy and inviting look to your king-size bed. Start with king-size pillows against the headboard with simple neutral-colored pillowcases to blend into the rustic theme. Layer with two or three small euro pillows of earthy colors like browns, dark greens, and mustard yellows to enhance the vibe. Add some accent pillows with embroidery work, buttons, beads, and textured shams. To add variation, place a lumbar pillow with woodsy prints that complement the overall template. Scatter some small accent pillows to finish the look.
The rustic arrangement is characteristic and self-expressive; feel free to try eclectic mixes and matches that will suit your taste.
11. The Floral Style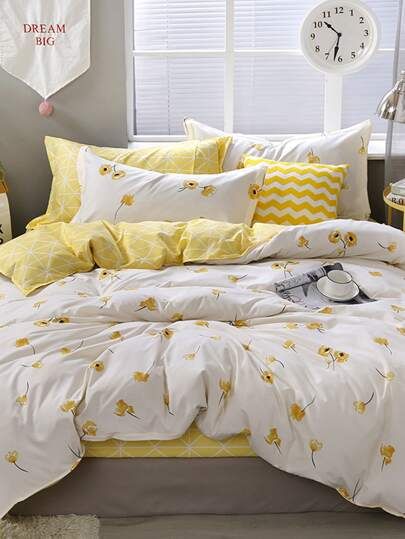 Floral prints are very refreshing, adding a touch of elegance and natural beauty. There is a wide range of floral prints and textures available to choose from. Large floral prints make the space look spacious, whereas small floral prints give a cozy vibe. Start by adding two sleeping solid pillows of one solid neutral color and another floral print pillow against the headboard. Layer up with two-euro pillows of similar format and arrange alternately; add in a couple of decorative pillows and arrange alternately to finish the look.
You can also go minimal floral with just 2 king-size sleeping pillows with floral shams and layer up with standard solid shams that complement the floral print and throw in a decorative pillow of a similar floral print.
There are numerous ways you can do it but try to break the floral prints with solids to make them look richer and more elegant.
12. The Seasonal Vibe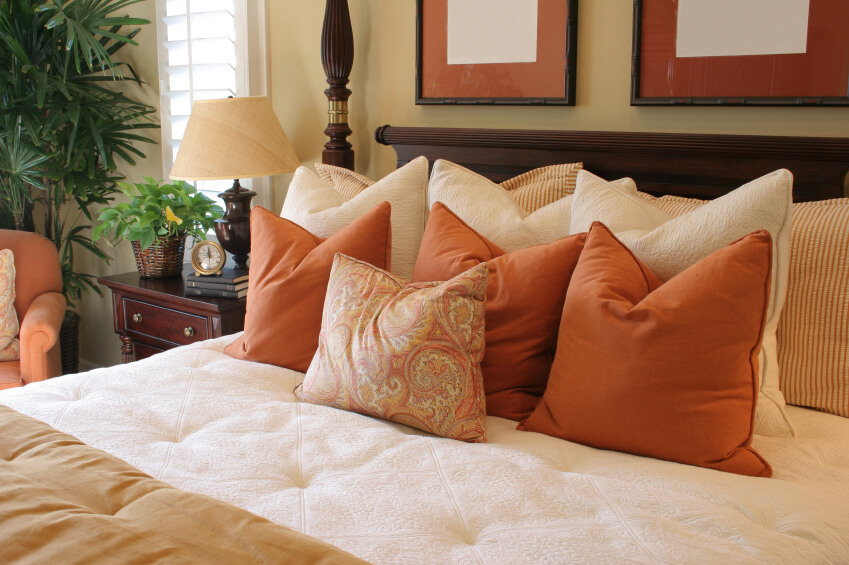 A seasonal color pillow arrangement transforms the whole look of the bedroom. Seasons are associated with certain colors, the colors that evoke the sense of the beauty of the season.
Set the base by resting 2 large euro-size pillows with neutral-colored shams, and add 2 king-size pillows with a pop of shams of seasonal colors. To add deep variation, add 2 standard pillows diagonally that complement the colors of the arrangement, and throw in a couple of accent pillows with textured shams to enhance the look.
While choosing the seasonal colors, start by picking up the right sheets. Fall is associated with rustic yellow, burgundy red, and earthy colors. Pastel colors like baby pink, blue, green, and lavender represent spring. White, silver, and icy blue for winter and bright, vibrant colors for summer.
Align colors with your personal choices and create a unique look to make your king-size bed welcoming and fun.
13. Kid- Friendly Arrangement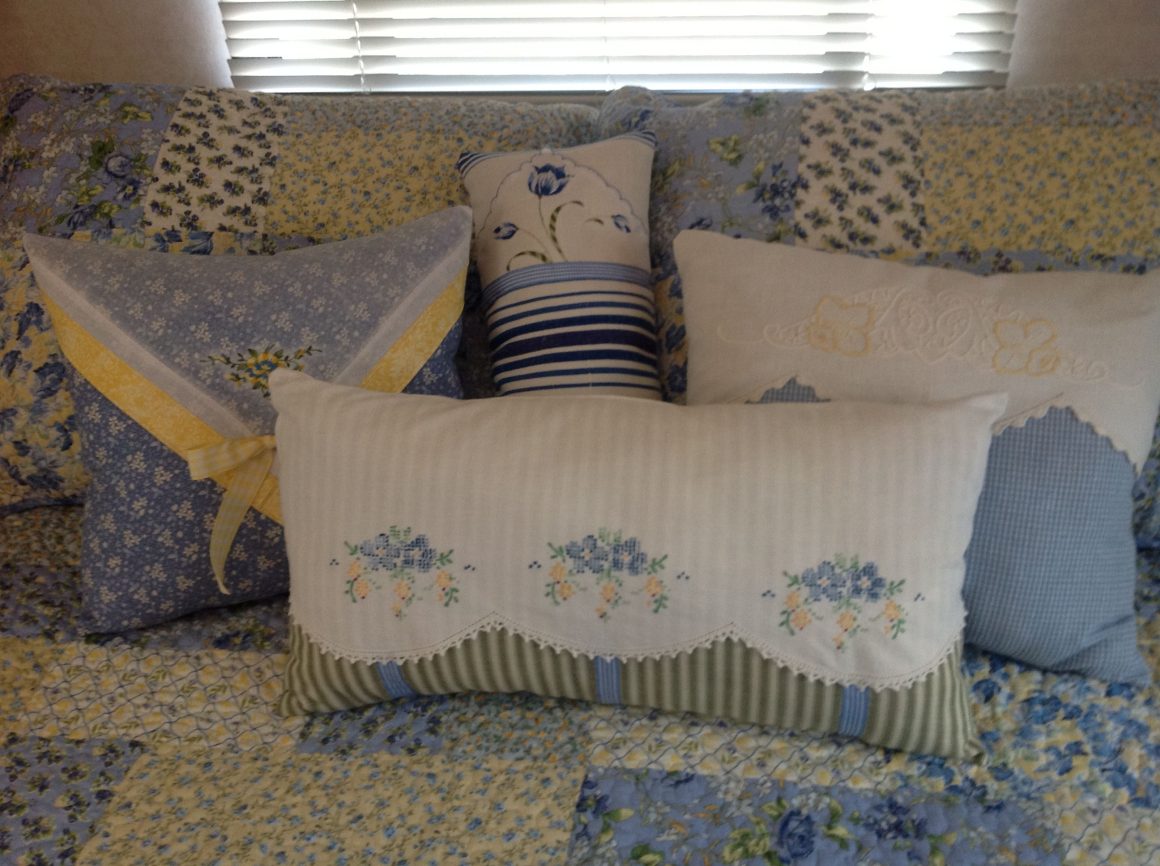 Kids love bright, vibrant colors with patterns and small decorative pillows to play with. To create a fun and welcoming atmosphere for your king-size bed, start with large Euro pillows against the headboard. Opt for some vibrant solid-colored shams, layer up with 2 king-size pillows and 2 standard pillows with fun floral prints. Throw in some small decorative pillows for kids to play with, pillows that are available in various shapes like sun, animals, stars, and clouds with cute prints.
For kids who do not like layering, you can choose simple arrangements. Start with a lumbar pillow with a cute animal print, then add standard pillows of their favorite colors and decorative pillows of their choice.
One can create a very fun pillow arrangement for kids just by prioritizing their choices. There are so many options available in the market for kids' pillows.
14. Romantic Arrangement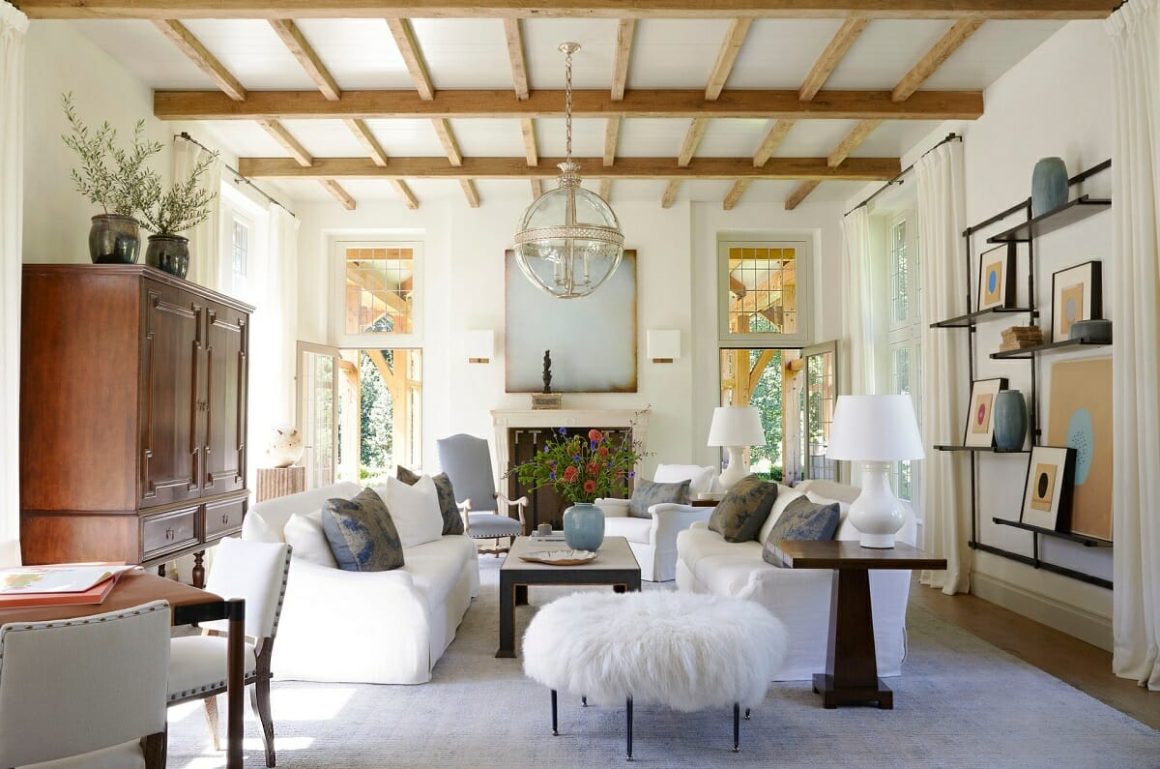 Creating a romantic pillow arrangement can set the mood and add a touch of romance to your king-size bed. This arrangement is all about choosing the right pillowcases and the placement of accent pillows. Start with 2 king-size sleeping pillows with soft and luxurious shams. Add 2 standard pillows with satin or silk pillowcases to enhance the romantic atmosphere. Throw in 2 or 3 decorative pillows; there is a wide range of romantic decorative pillows available in different colors, shapes, and textures that your partner will love.
You can also go for customized pillows of a couple's photo, artwork, muffled flower textures, etc. To complement the romantic pillow arrangement, choose bed sheets in neutral solid colors or in pastel florals.
Conclusion
Pillow arrangements are like icing on the cake and add a very delightful touch to the room. Euro pillow as a foundation to accent pillows to enhance the aesthetics; the pillow arrangements shared in this blog will help you express yourself.
Whether you choose a minimalistic placement or an extravagant display of puffed pillows, you can create a comfortable and stylish haven. With the classic pairing of pillows and strategic placement of decorative pillows, we have explored 14 different styles and arrangements that can transform your bed.
Remember that there is no right way to do this, the true magic lies in experimenting with colors, patterns, and shapes that resonate with your comfort and style.